This article may contain affiliate links; if you click on a shopping link and make a purchase I may receive a commission. As an Amazon Associate, I earn from qualifying purchases.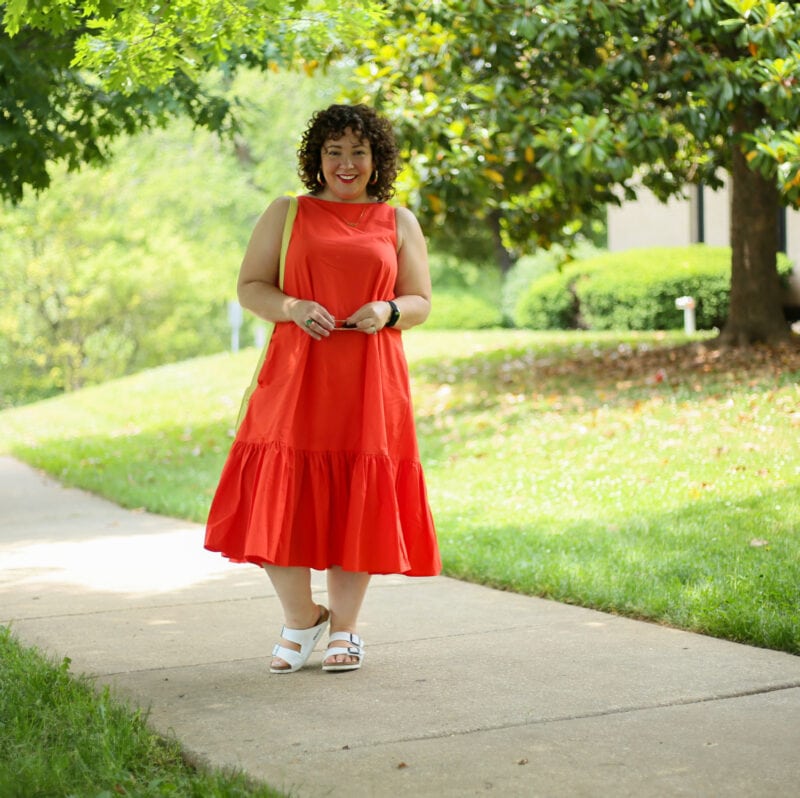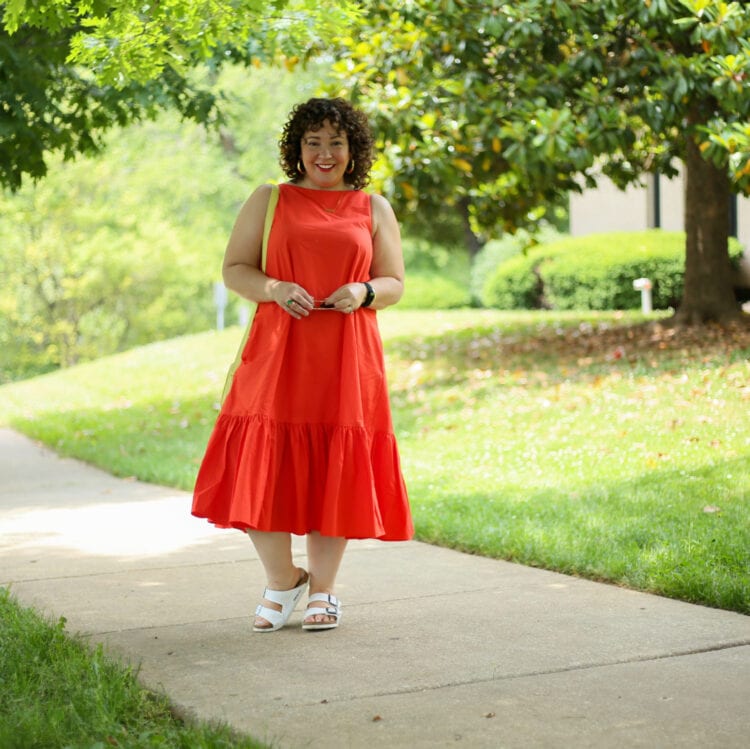 If you follow me on Instagram (which you should because I share completely different content in my Instagram Stories and more outfits in my feed) you know I got all of my Target Designer Dress Collaboration orders last week. I ordered a lot of styles, knowing at least one wouldn't work and would have to be returned, but I only ordered one size because I'm not a Target collab monster (I see you, folks who buy 6 of each and sell them for a markup on eBay). Anyway, I ended up keeping two and one is this Christopher John Rogers for Target orange shift dress.
I LOVE Christopher John Rogers, but I can neither afford his line nor can I fit into most of it. I was excited for this collaboration with Target because it would make this talented designer's style more affordable, and more equitable as it was available in sizes XXS-4X.
Who is Christopher John Rogers?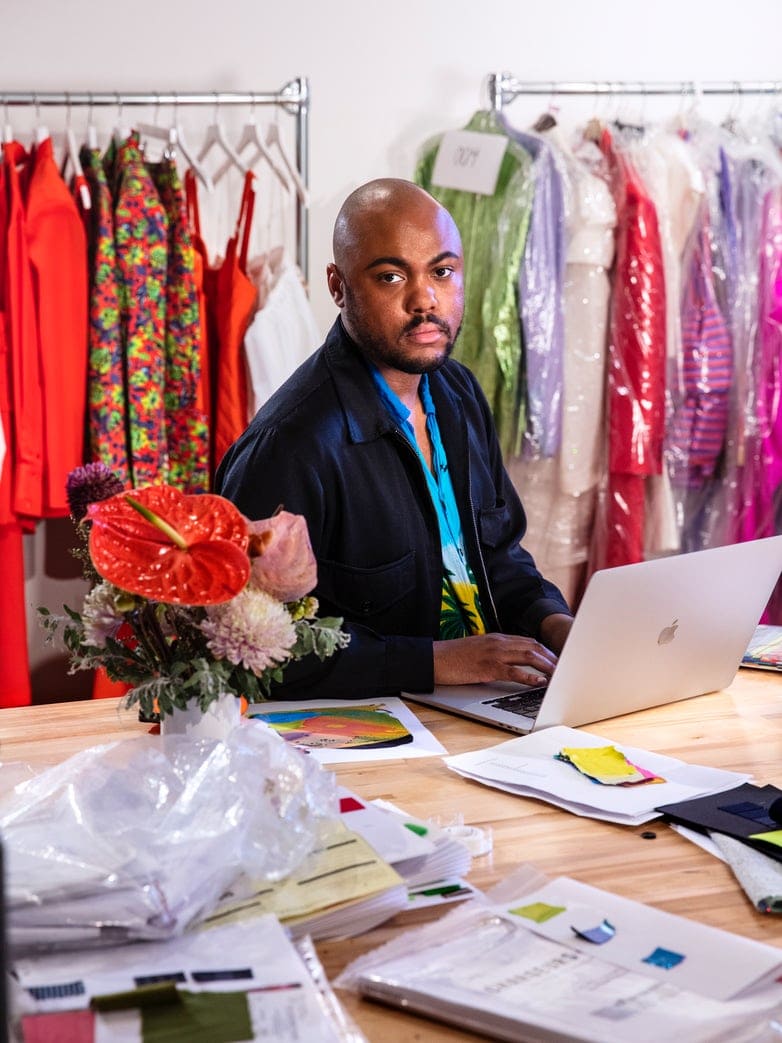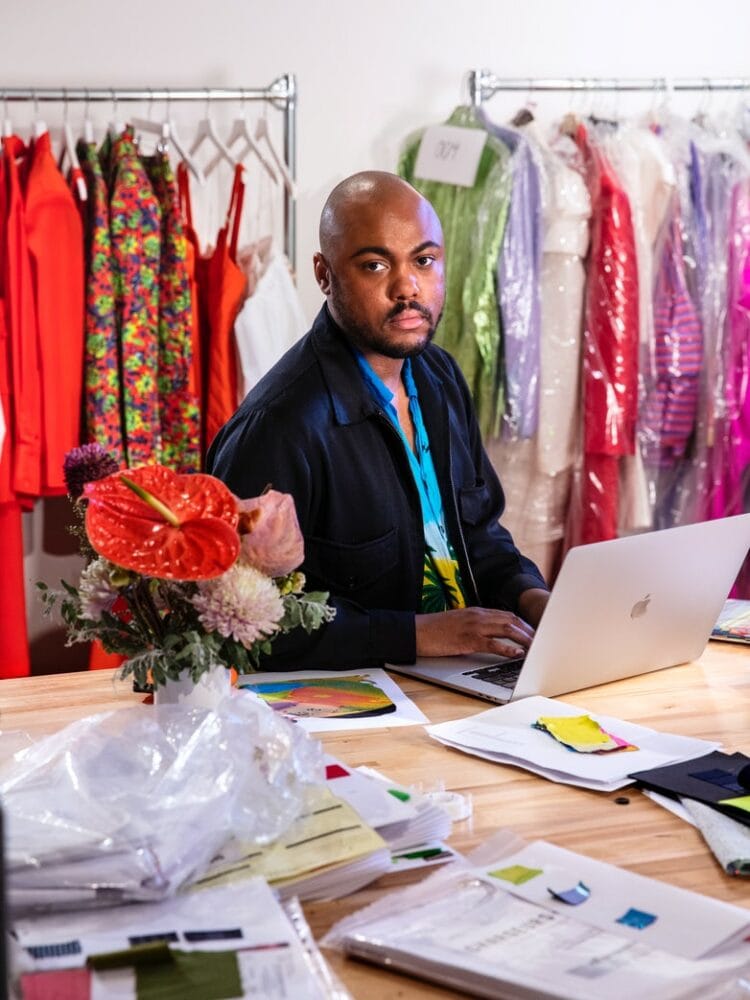 Christopher John Rogers was born and raised in Baton Rouge, Louisiana. Inspired by anime and the fashion he saw at his Baptist church on Sundays, Rogers began designing clothing for superheroes from random fabric and even trash bags. Rogers attended SCAD and created his label as his senior thesis. He received his first major press when Cardi B wore one of his coats to the 2017 BET Hip Hop Awards. (BET)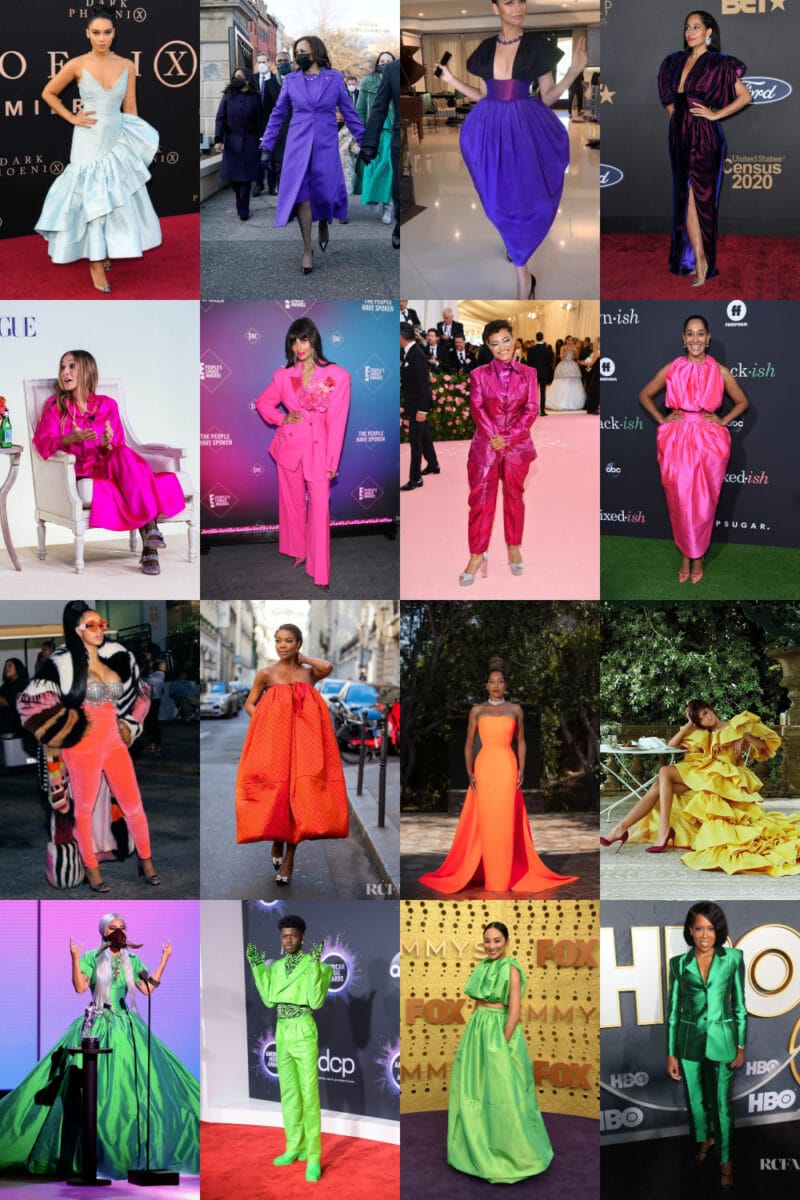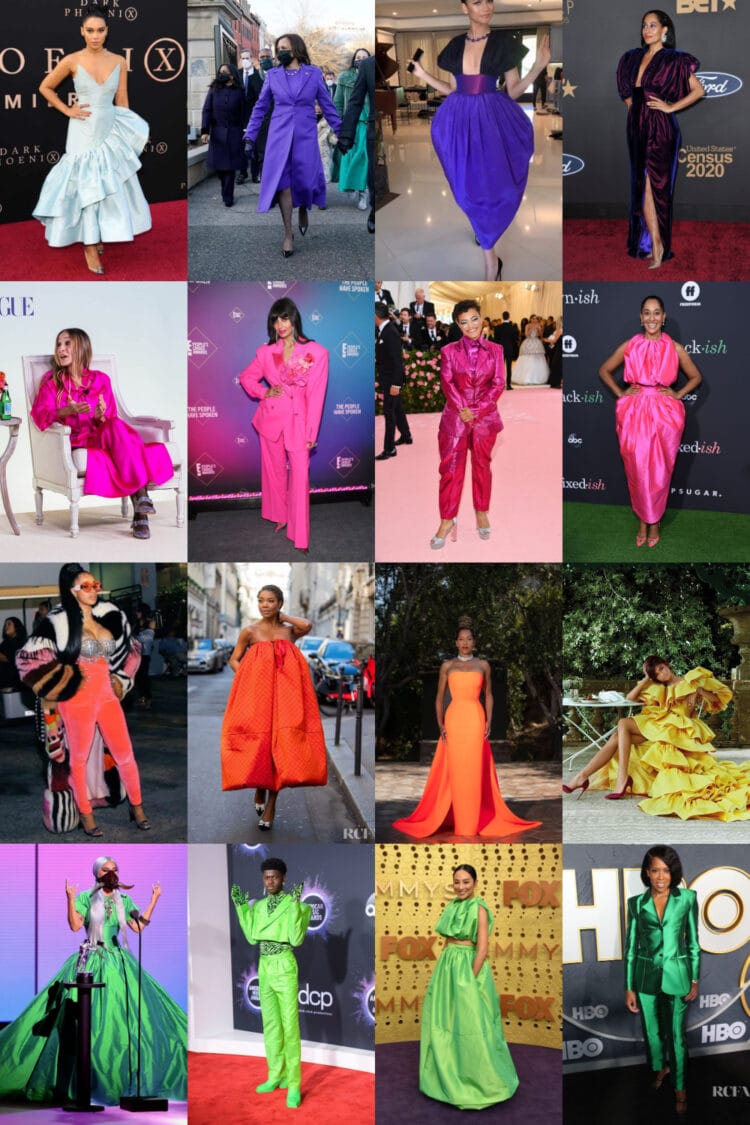 Christopher John Rogers has dressed some of the biggest celebrities, including Vice President Kamala Harris' iconic purple dress and coat from the Inauguration. Rogers won the 2019 CFDA/Vogue Fashion Fund award (Vogue) and is on the shortlist to win the LVMH Prize (LVMH) this fall.
Christopher John Rogers for Target Review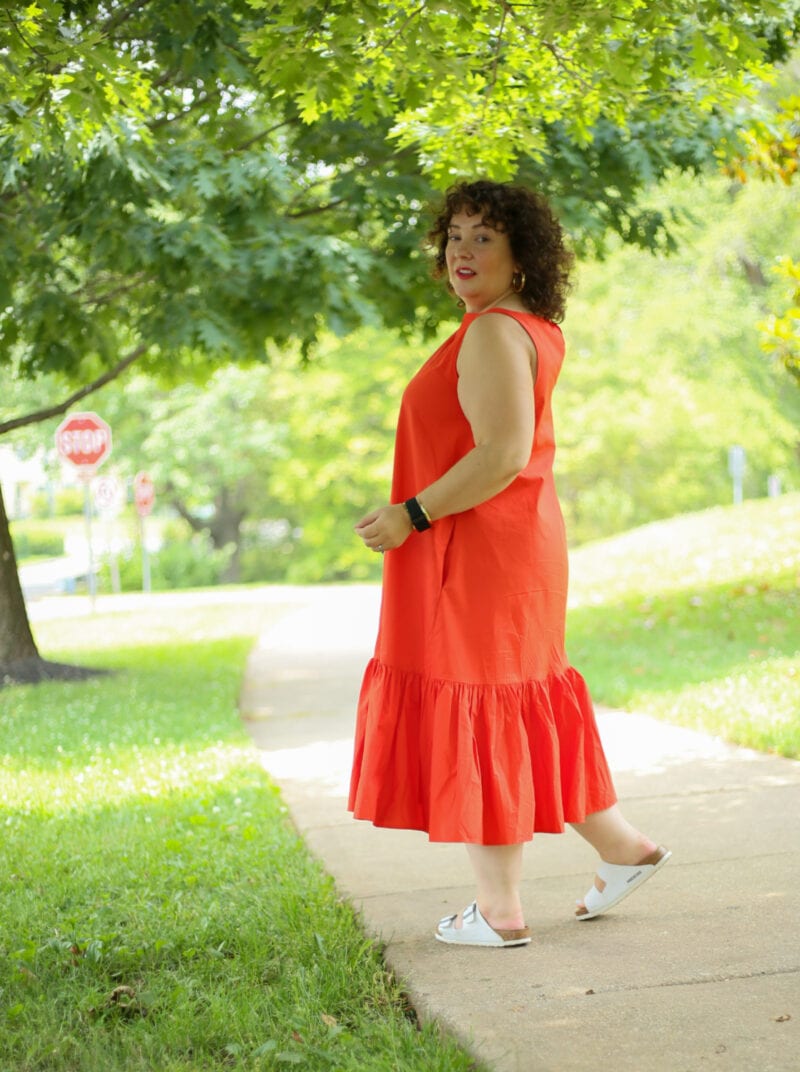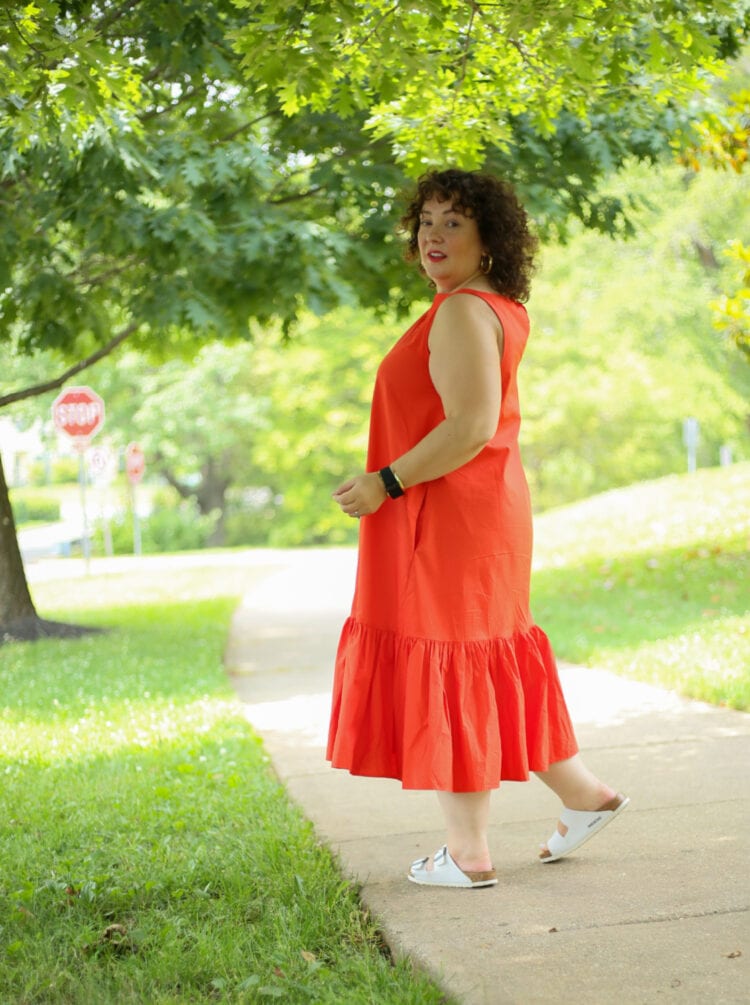 I love Christopher John Rogers' use of color and silhouette and was excited to see how he would make a size-inclusive budget-friendly (nothing over $60) collection for Target. While I have had much luck with past Target designer collections (Liberty, Proenza Schouler, and Isaac Mizrahi pieces I either still own or wore to death), some others have been a miss with cheap fabrics, cheap manufacturing, and really poor fit.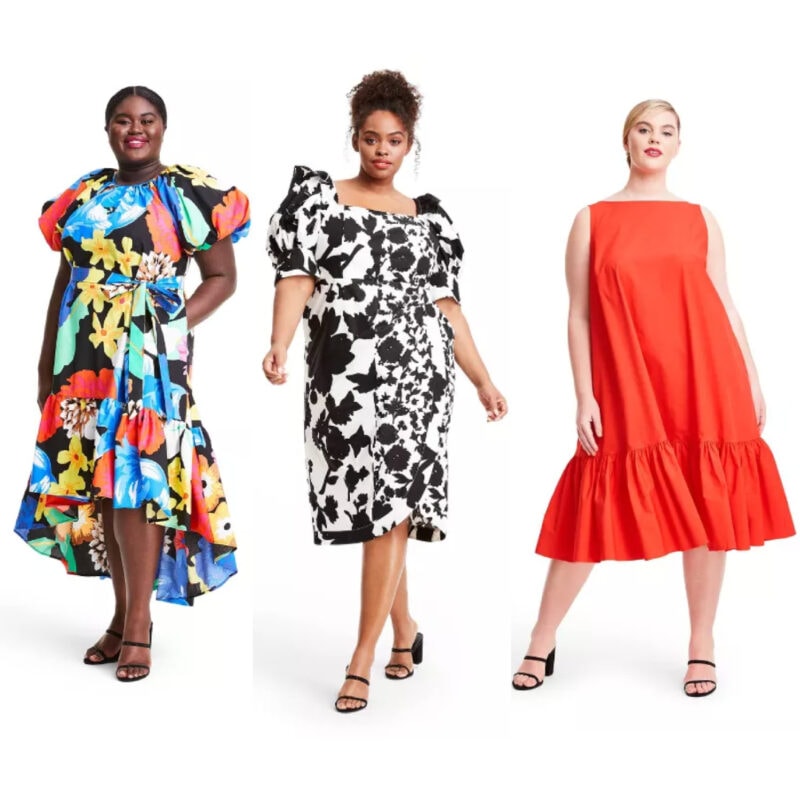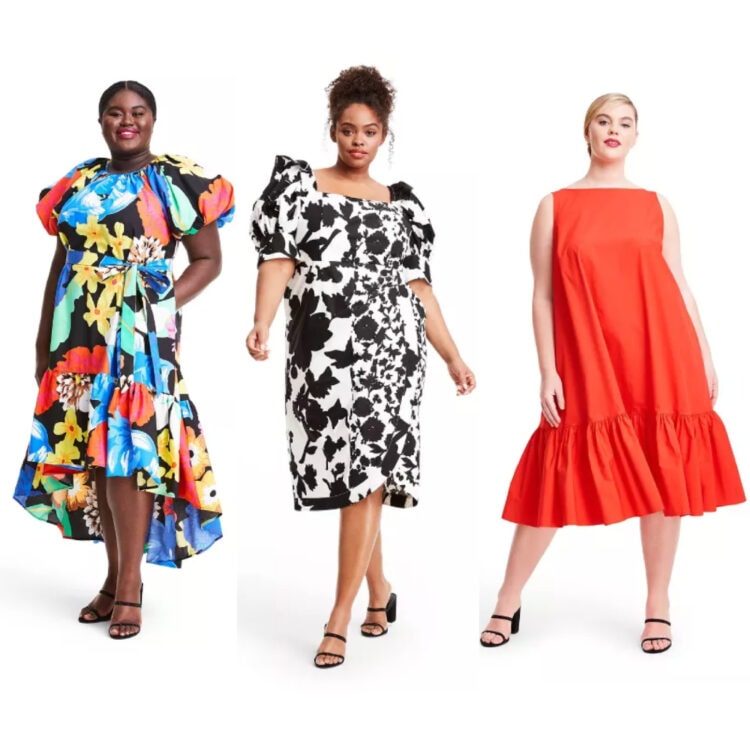 From the Christopher John Rogers for Target collection, I ordered the three above. They were the only ones that were available in my size (Target collabs run big so I went with Large) and looked like something I'd actually wear.
Shop Christopher John Rogers for Target:

If you tried to shop the designer drop when it launched and your size or style was sold out… try again. I think many people are returning their hoards and possibly they restocked because writing this post, I have found almost a dozen dresses that were sold out in my size last week but are now available.
Christopher John Rogers for Target Orange Shift Dress Review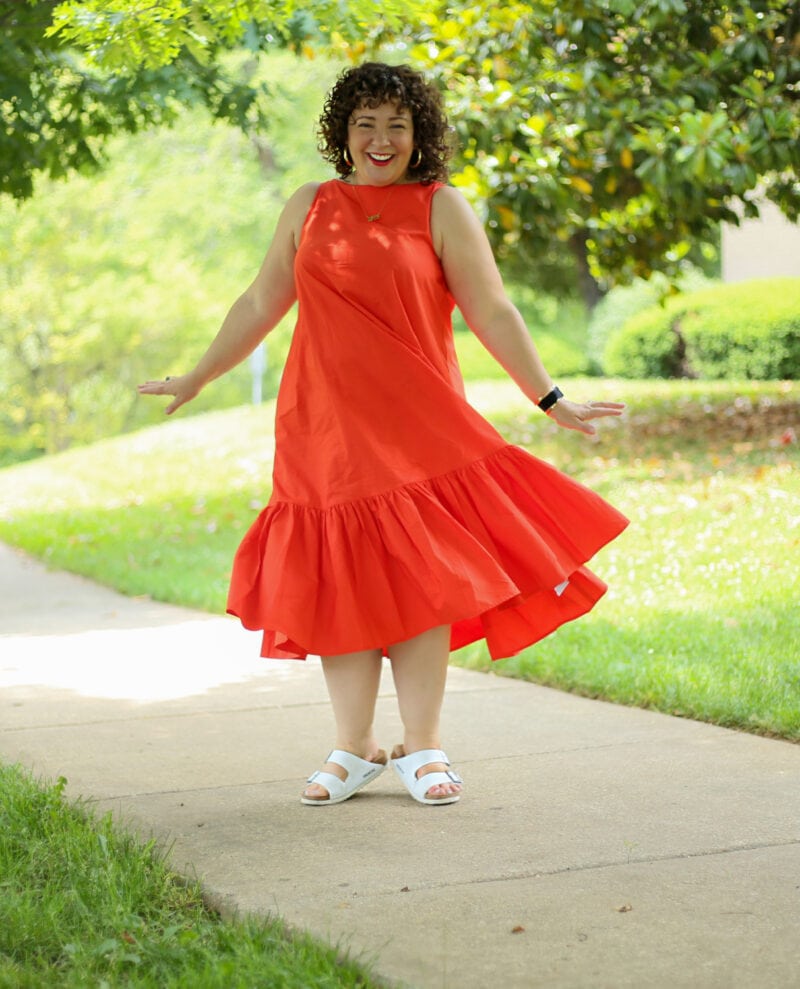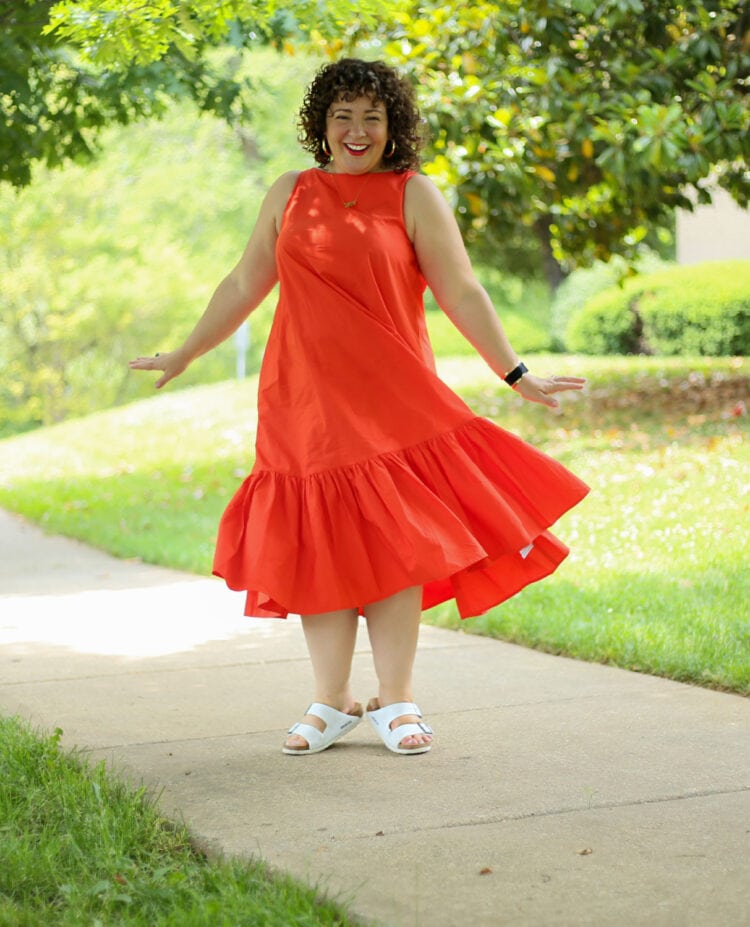 When I got this dress I tried it on and shared some quick mirror selfies on Instagram Stories. I wasn't sure if this was a perfect summer dress that won't cling but still has fun to it (and it's my favorite color), or if I looked like a tent. I polled those watching and it was almost 50/50 whether I should keep it or return it.
I kept it. That evening K and I went to our friends' house so our dogs could have a puppy date and we could all hang out and catch up. I wore this exact look, minus the purse (the pockets were deep enough to hold sunglasses, face mask, phone, and lip balm). And this past weekend, I wore this look to run errands. It was so perfect for both.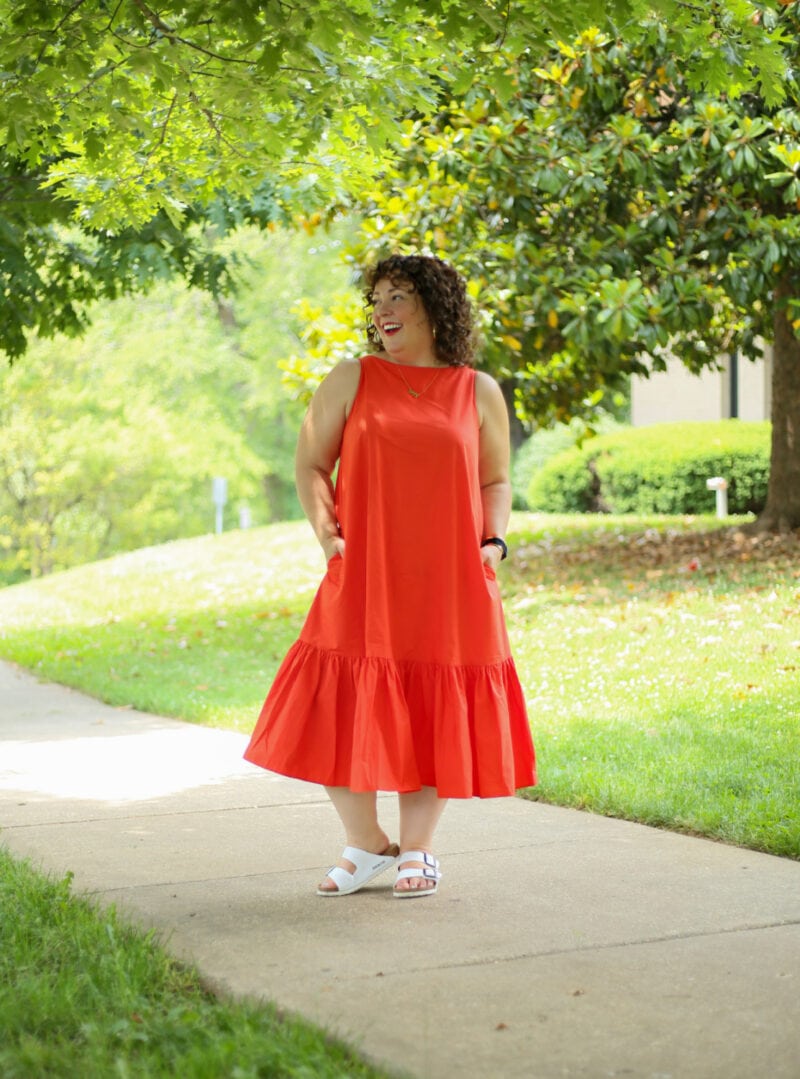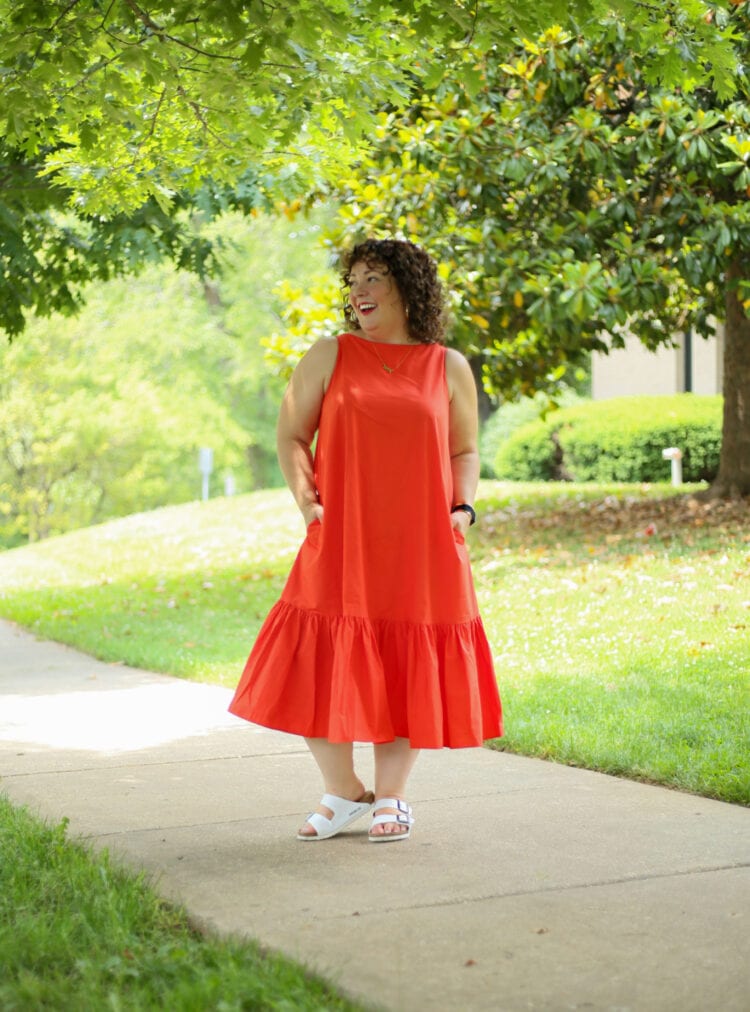 Shop This Look:

A lot of replies in my Instagram Stories about this dress were regarding figure flattery. Maybe if it had a v-neck to elongate, or if I added a belt to show my shape. The dress is too long for my height, the color is pretty extreme for my height/shape, the fabric too stiff for those of us with large busts. And these were things I was thinking when I first tried on this dress.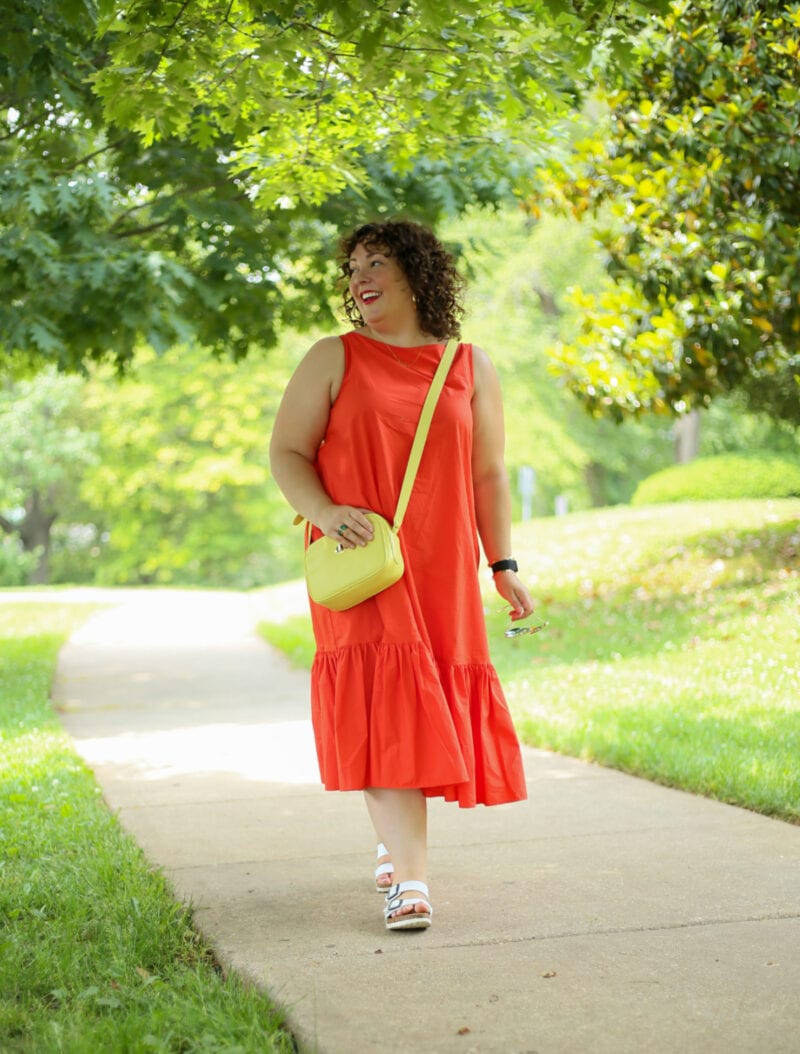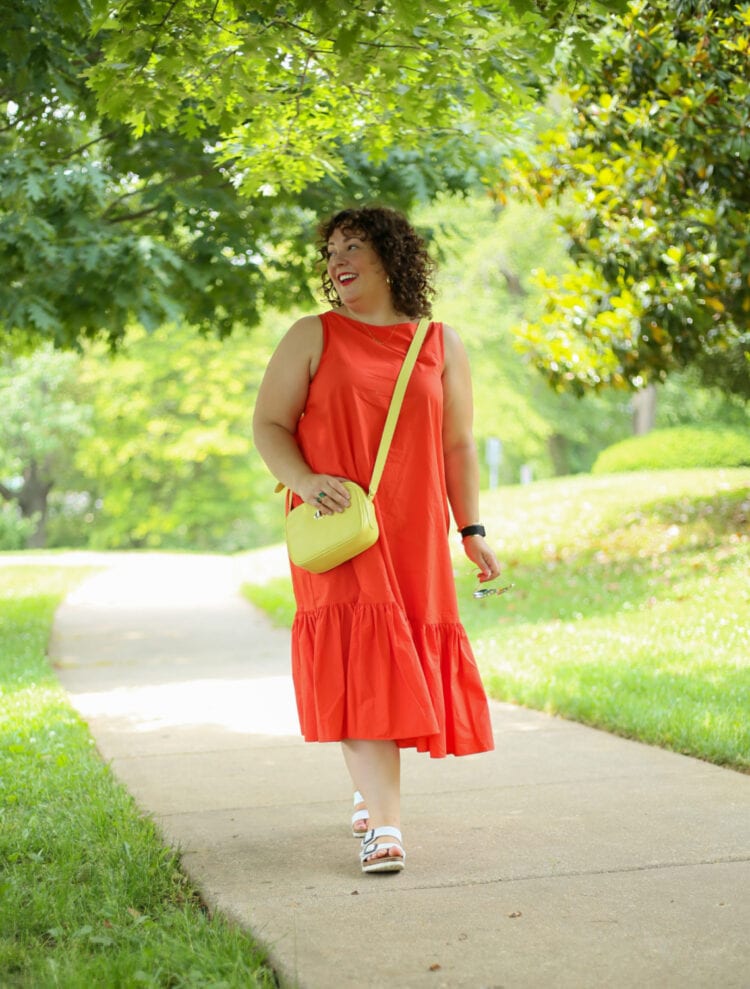 Eff that noise. Seriously women, let's stop sacrificing our comfort and joy for figure flattery.
I live in Maryland right outside of Washington DC. While on a map this may look to be the middle of the East Coast of United States and therefore may not appear to be especially hot or cold, a map doesn't show the extreme humidity we experience from May until October. It's the kind of weather where those adorable jersey dresses you bought in March look like utter torture come July.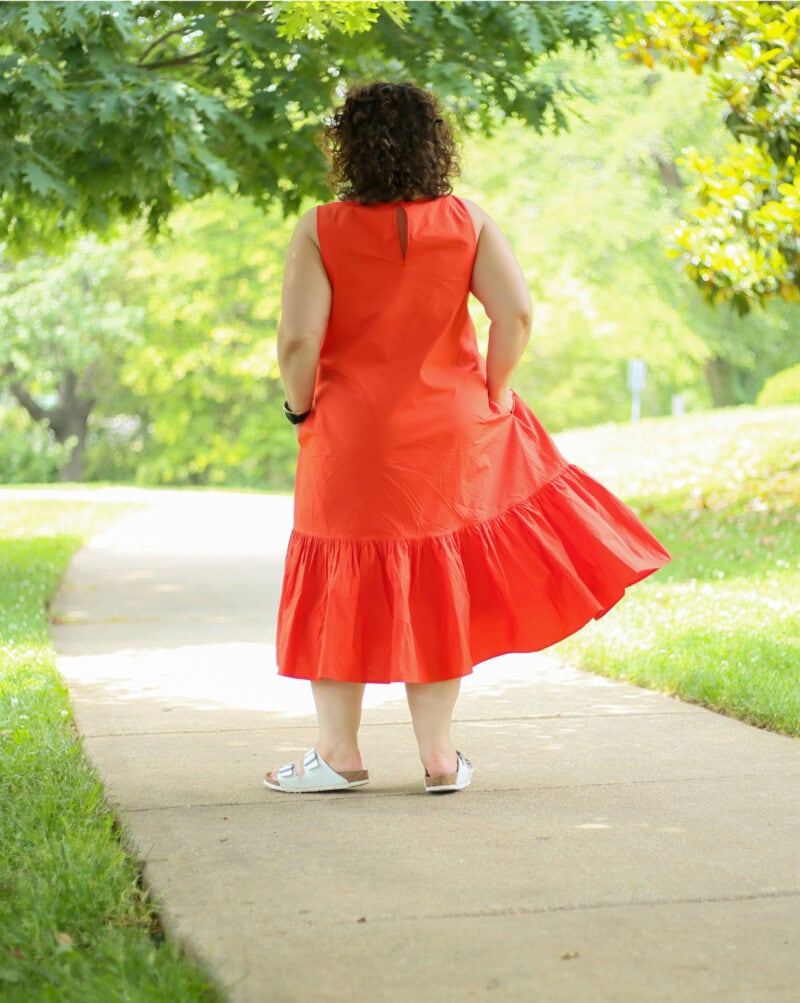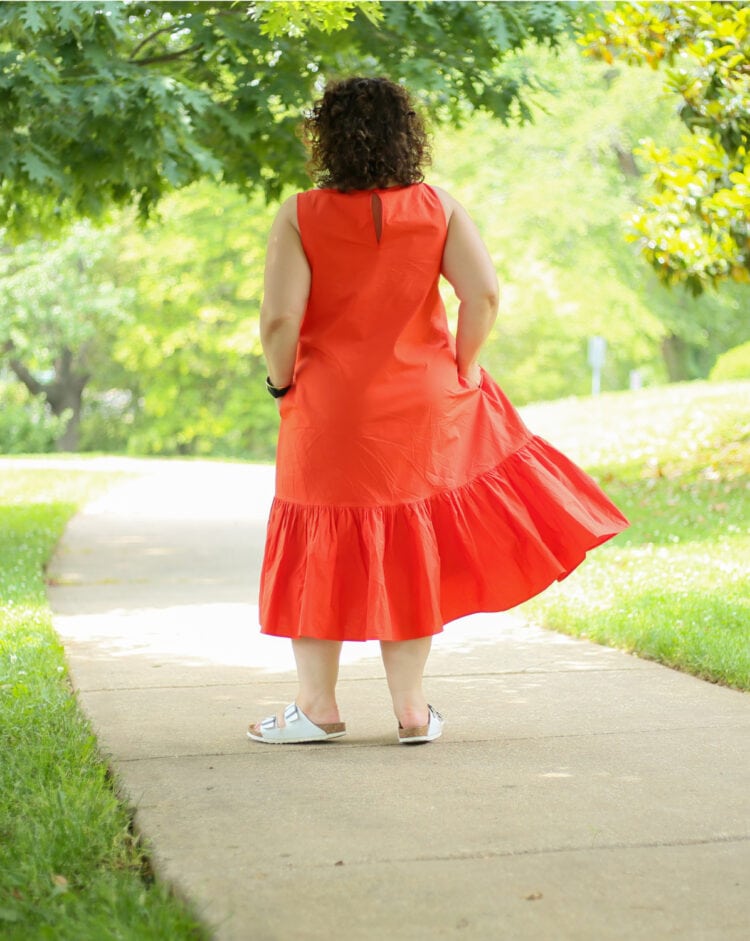 Over the decades I have bought so many flattering summer dresses. Dresses like this one, which is so beautiful and makes me feel beautiful… until I am outside more than 15 minutes and I feel as though I am wearing a girdle made of wool and latex covered with a tarp. Maryland summers need clothing that doesn't cling; even better is clothing that is designed to barely touch your body.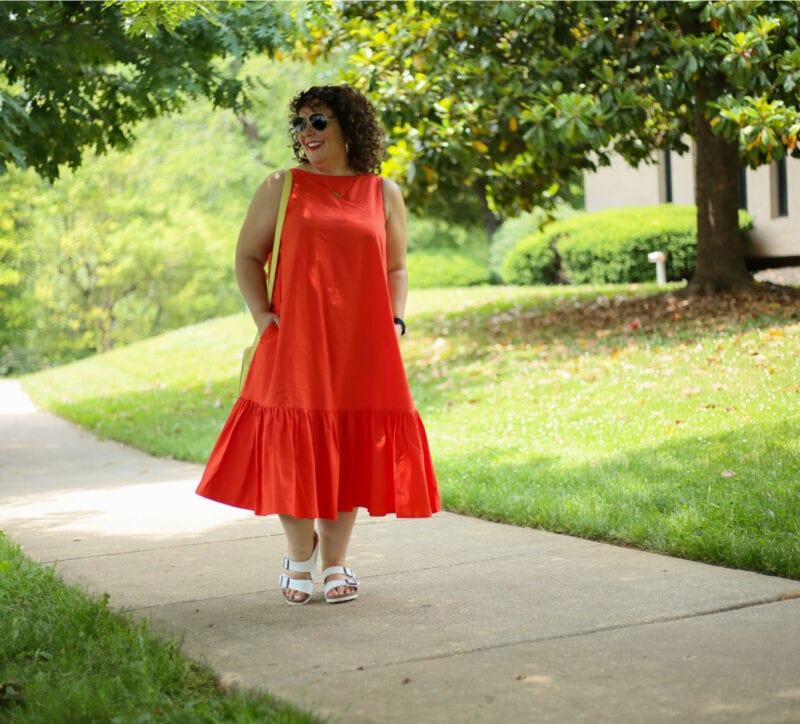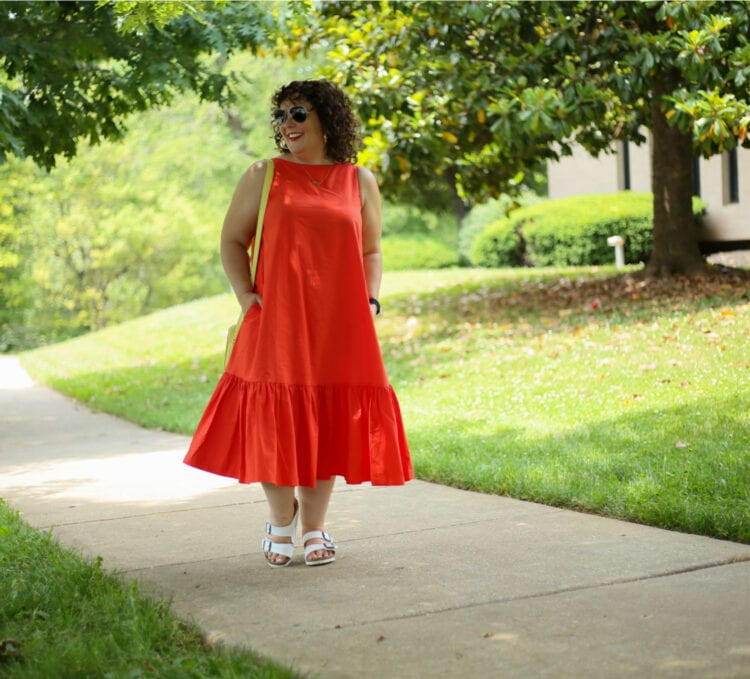 Dress: Christopher John Rogers for Target (Large) | Sunglasses: Ray-Ban | Bag: c/o Talbots (on sale and available in other colors) | Necklace: Etsy | Earrings: Baublebar | Green and Gold Cocktail Ring: c/o REALM | Sandals: Birkenstock
You know what isn't flattering? Being the person in the gorgeous dress who is hiding in the shady corner with her legs wide apart, sweat running down her thighs, fanning herself with a paper plate, a dark wet band around her belt and running down the zipper along her spine. I have been that gorgeous and uncomfortable woman and I have run out of f*cks to continue to be her.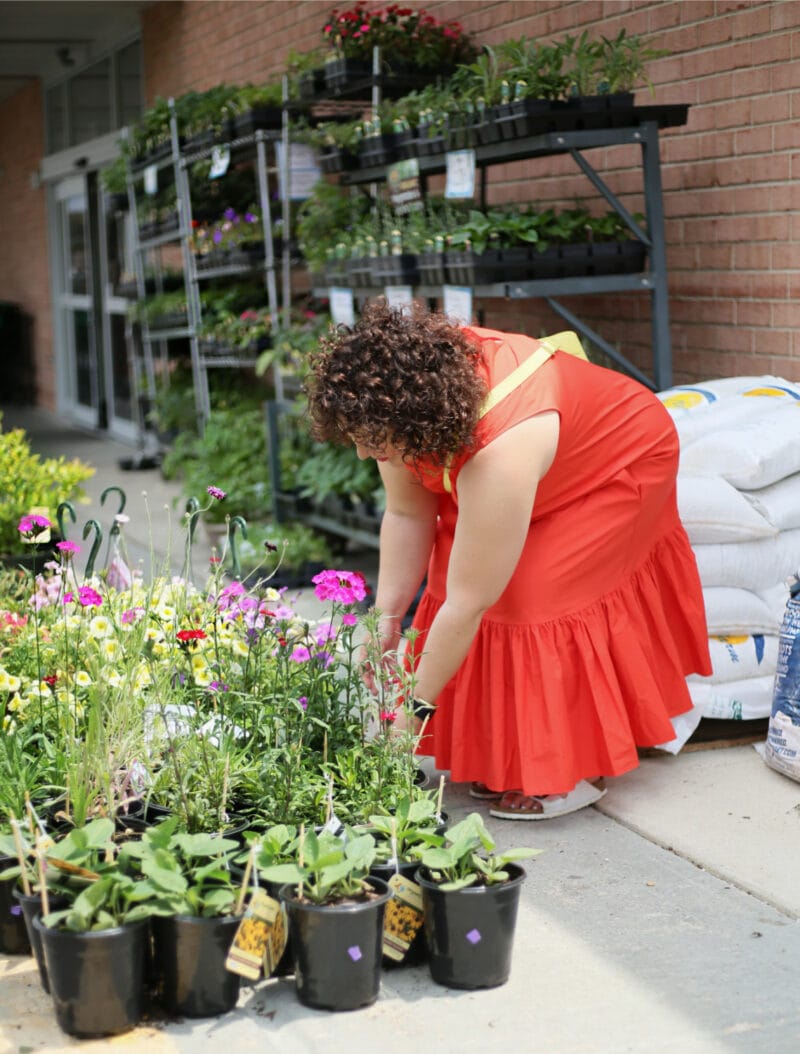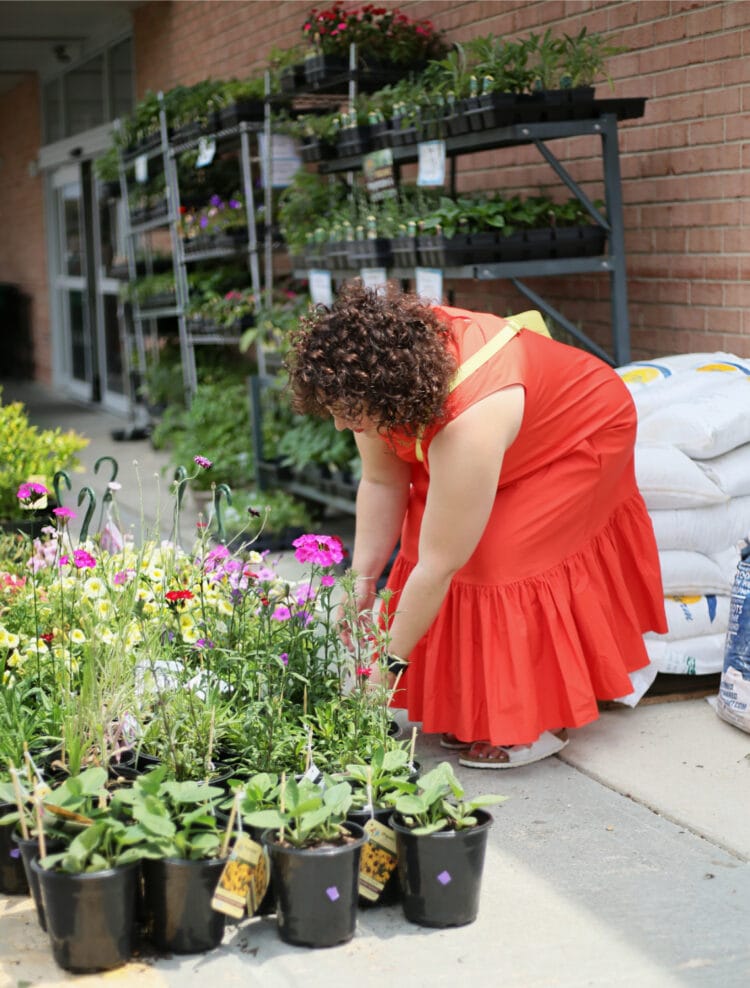 This dress I can bend down, I can sit on a picnic blanket, I can wear slip shorts and wireless bras or moisture-wicking briefs and Megababe on my thighs and comfy sandals with arch support. I have pockets to hold my stuff or just hold my hands when I don't know what else to do with them.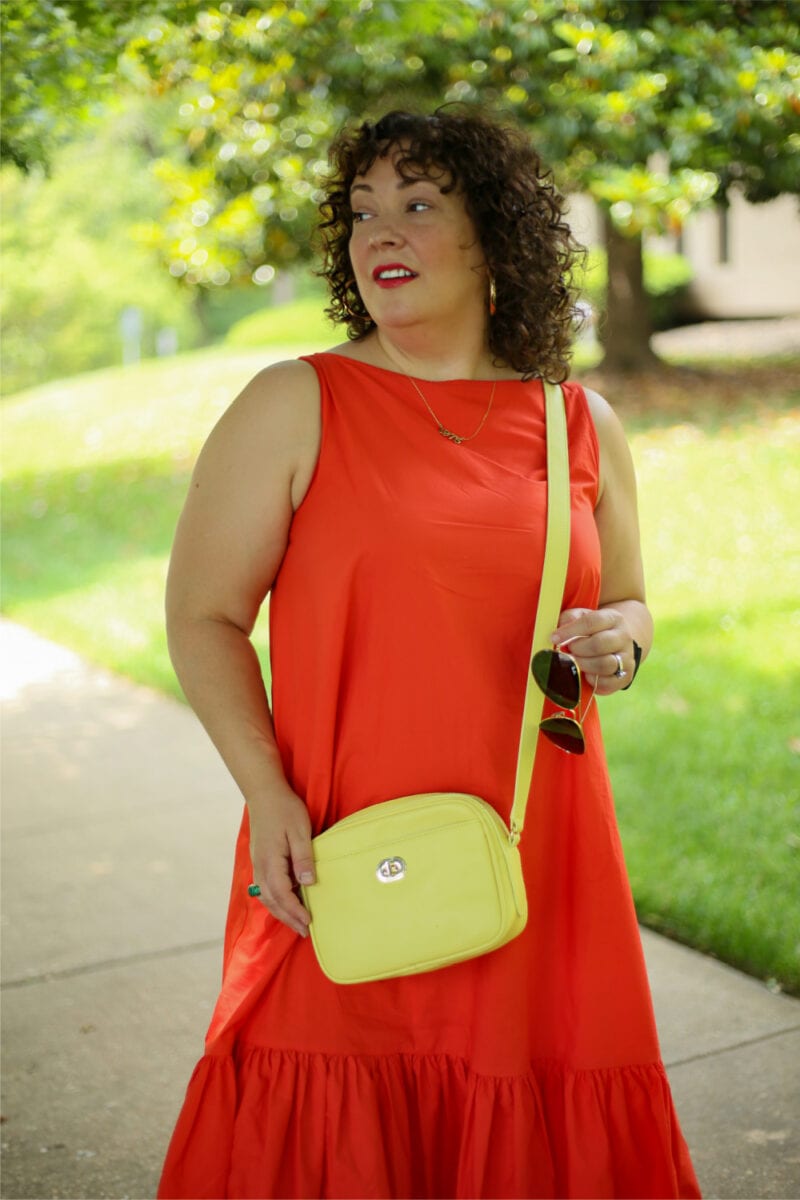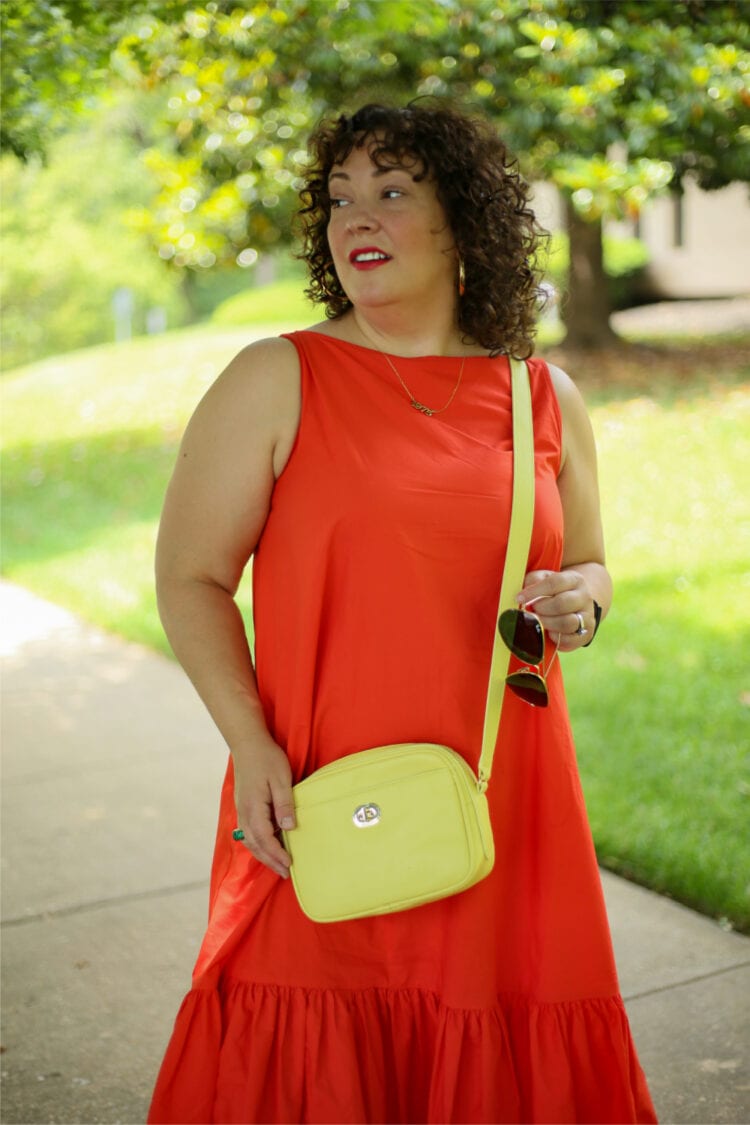 I can dress it up with gold sandals and a badass pendant necklace. I can wear it as a swim coverup when I leave the beach and head to a restaurant for lunch. And because it's cotton, I can wash it, and spot treat it, and steam out wrinkles.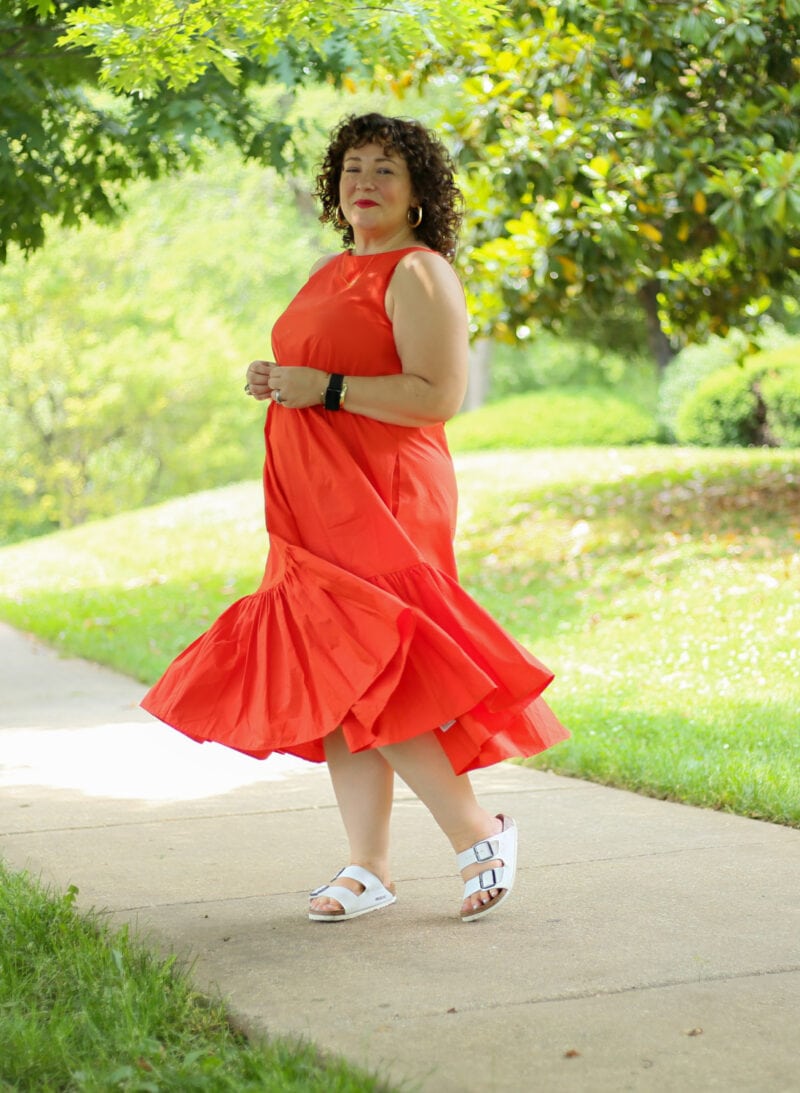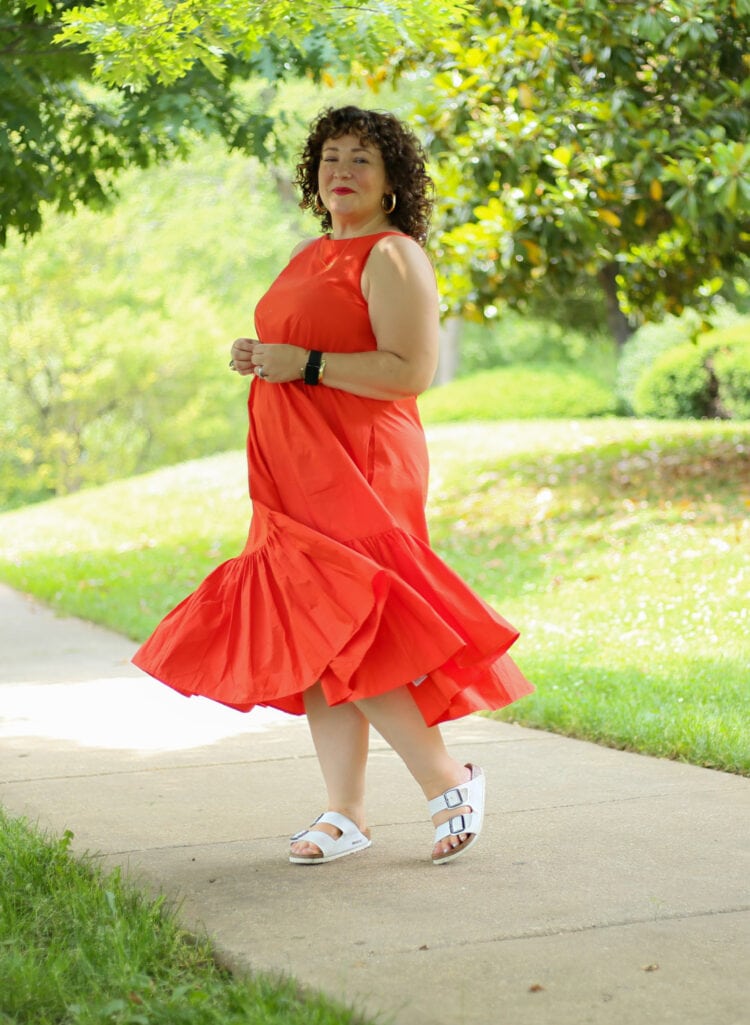 Speaking of wrinkles, I have worn this dress now two times before laundering. I have sat in cars and worn seatbelts and carried groceries and plants. I have played with dogs and sat in grass and I haven't ironed or steamed it since. I know 100% cotton can be scary for stiffness and creasing, but you can see neither are an issue with this dress. And I think it will soften with laundering.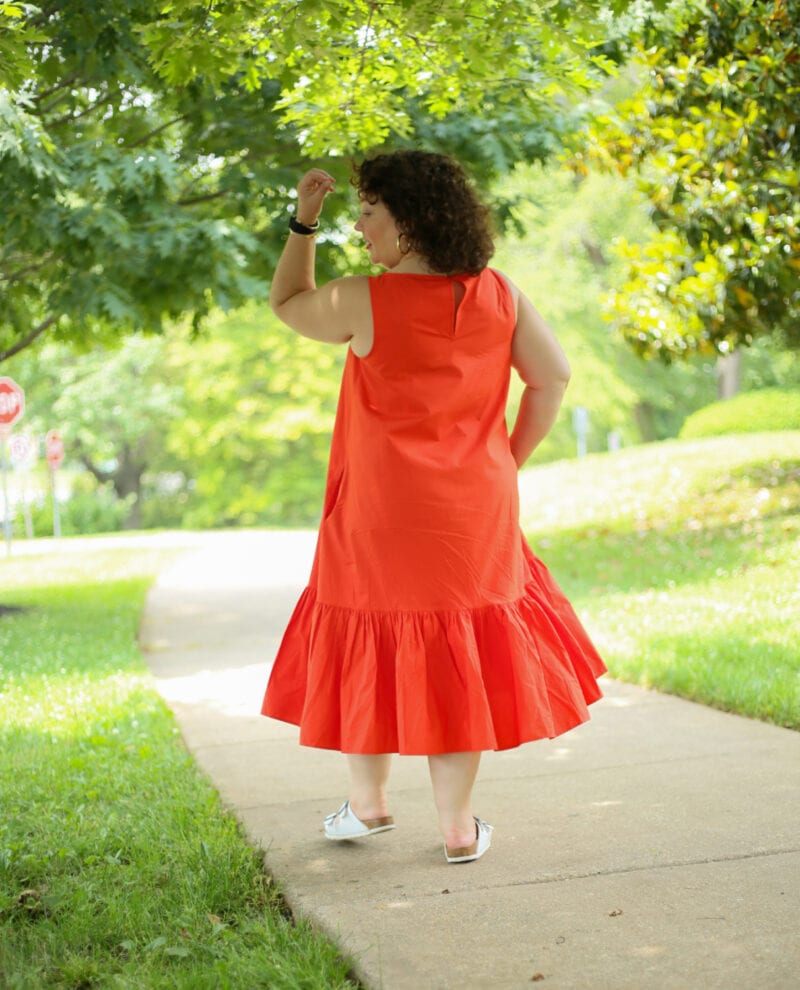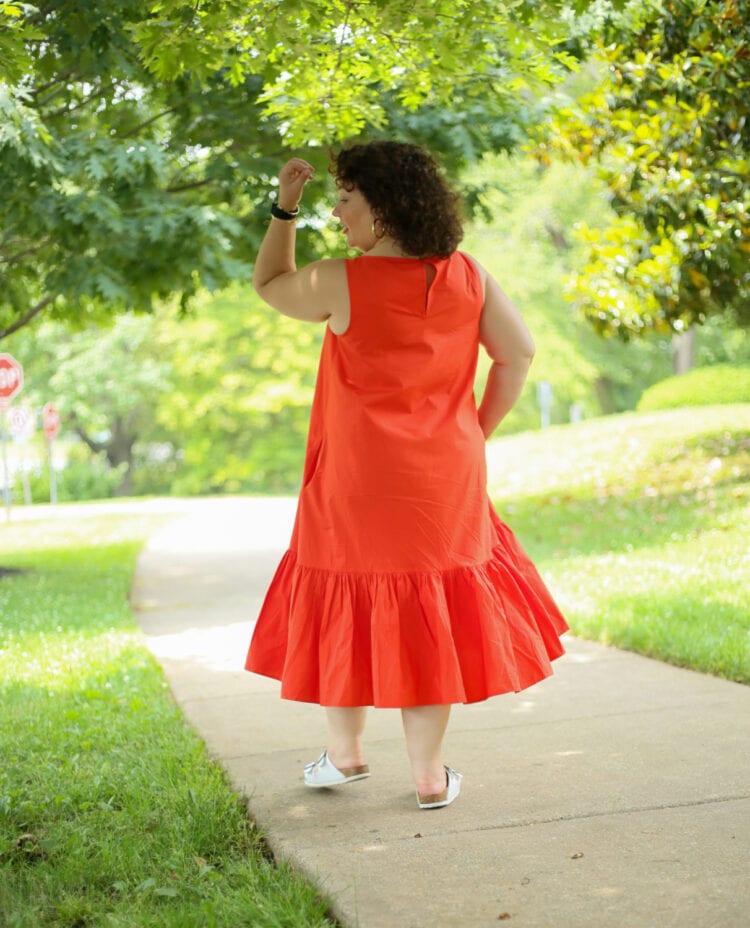 At the time of writing this, the Christopher John Rogers for Target Orange Shift Dress is back in stock in every size, but I know orange cotton isn't everyone's jam. So below I have a carousel of similar dresses that may be more your vibe:

I am partial to this one from J. Crew Factory which comes in a floral, three solids, sizes up to 20, and petites up to 12. Oh, and it's less than $90 (at the time of writing it was under $75). This one from Madewell comes in coral and white up to size 3XL with petites up to XXL; it is $128. And don't forget about Etsy when shopping for fashion; this dress is available up to 5XL and customizable (change the neckline, sleeves, and color) and is around $100.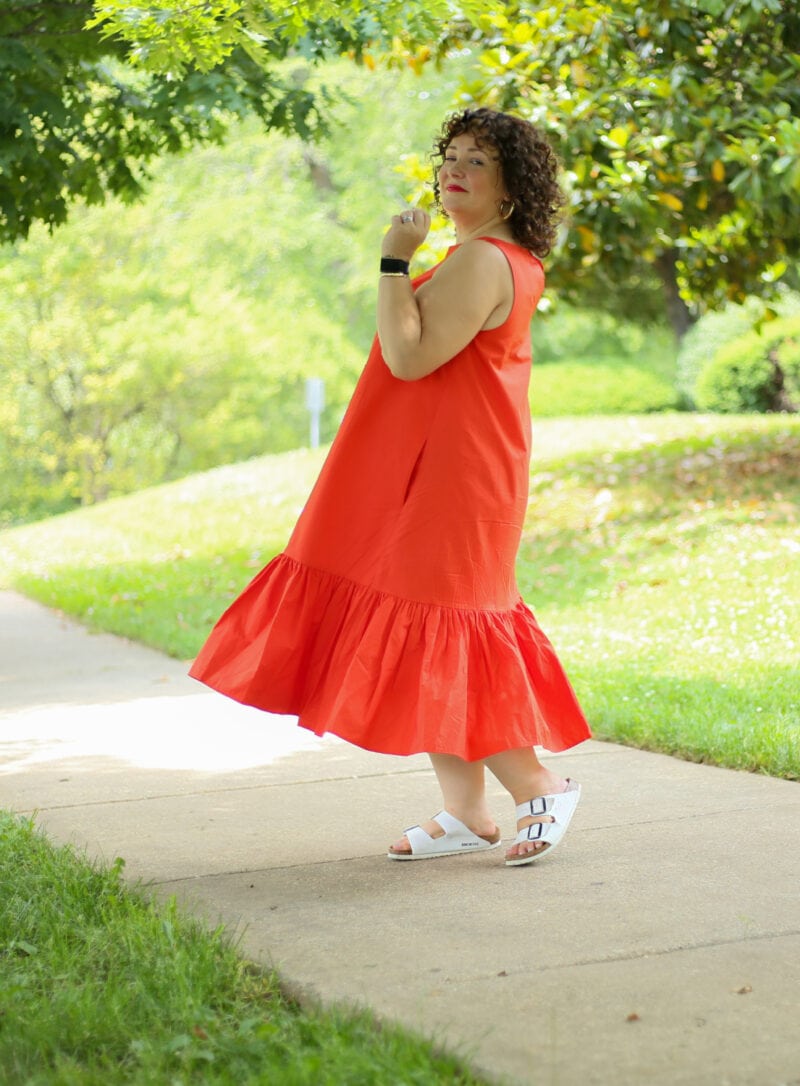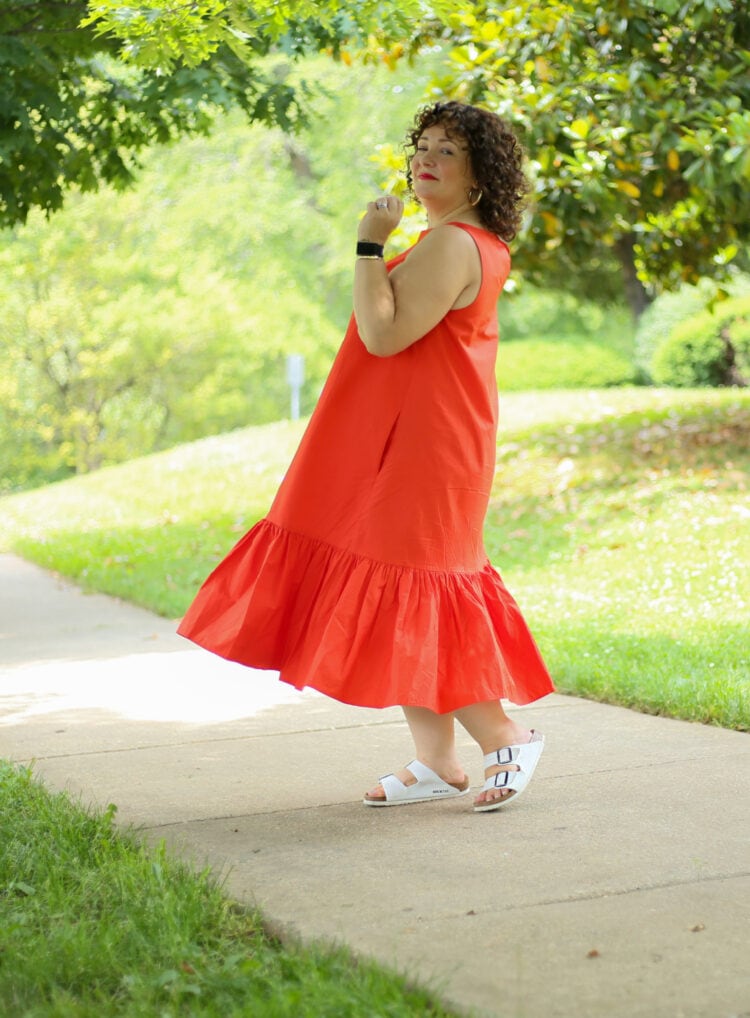 Y'all, we survived a pandemic. Okay, it's still going on, but we're HERE and because we survived, we deserve a reward. And I can't think of a better one that letting go of those damn rules about figure flattery that cause us to overheat and be uncomfortable and end up on the sidelines of life. Wear what makes you feel good, there is nothing more stylish than that!