This article may contain affiliate links; if you click on a shopping link and make a purchase I may receive a commission. As an Amazon Associate, I earn from qualifying purchases. 
Have you seen this quote floating around Pinterest? I have and every time I see someone I know pin it I cringe.
I believe in the power of clothing. A great outfit can be a suit of armor that helps you feel confident during a stressful or difficult situation. Wearing a certain type of clothing can show respect to your workplace, to a house of worship, for the deceased, or those hosting an event. And sometimes just the right cut of a dress can take you from schlump to sex goddess.
However there isn't a single purchase you can make for your closet that will change who you are. I don't care what name is on the label or how amazing it makes your boobs or ass look, it's not going to change your brain, your heart, or your soul. And maybe I sound like your mom, but it's what's inside that counts.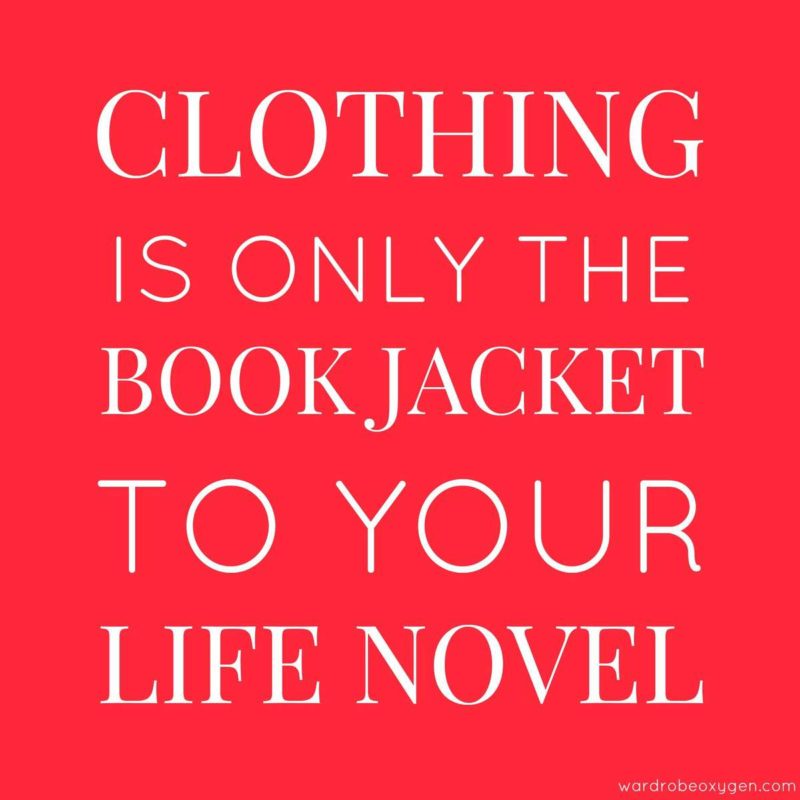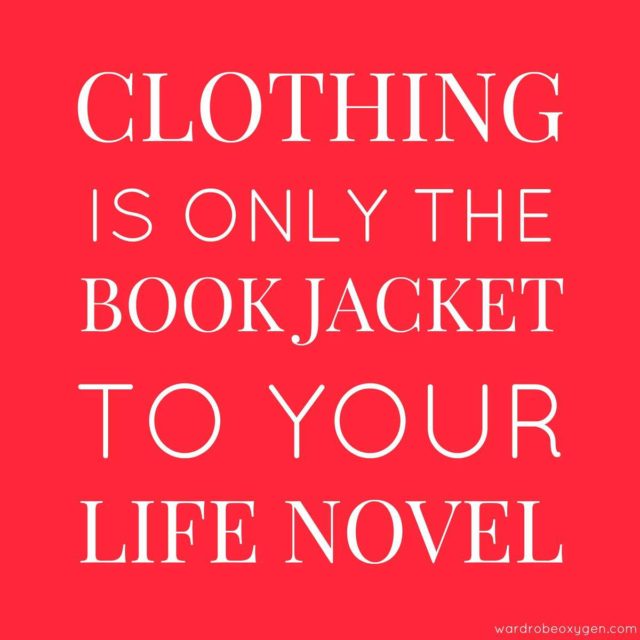 Clothing is only the book jacket to your life novel. Choosing clothing that fits and flatters not just your figure but your lifestyle and personality help better represent your novel and may attract more interested readers, but they don't affect the plot or the outcome.
I've caught myself many times doing what I know many of you have done – shopped for a new self. This year I'm going to wear more power colors, I'm going to embrace my femininity, if I start over with a new minimalist capsule wardrobe my life will be simpler, I'm not going to be "that" mom, "that" corporate drone, and yes "that" blogger.
And the closet gets new additions, but one's core, one's self is unchanged. Because money can't buy happiness, and it can't buy a new soul. It's easier to throw money at a closet than do self-analysis and work to improve our selves, but it doesn't work. You have to do the work, not your wardrobe. Life is more than clothes, don't let purchases define you, don't let that which was unpurchased haunt you. You're so much more than what you buy and own, so much more precious and interesting and beautiful. Believe that, and remember that a book jacket is just marketing; the plot of the novel is what really matters.