This article may contain affiliate links; if you click on a shopping link and make a purchase I may receive a commission. As an Amazon Associate, I earn from qualifying purchases. 
Maybe it's the time of year or my recent new product reviews, but I am getting a ton of emails about my personal makeup and skincare routine and my makeup collection.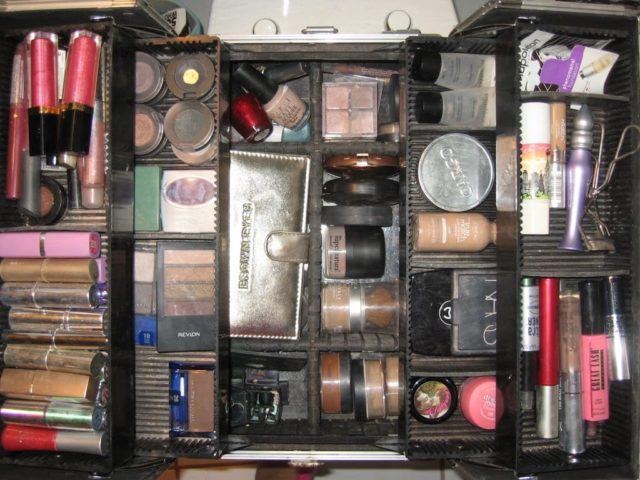 So here you go, a peek into my makeup box (if you click on the image you get a big honking picture showing all the detail and all my foundation fingerprints on everything)! I have a traditional train case used by makeup artists. I got mine for about $50 at a Nordstrom Half-Yearly sale and it was one of my best purchases ever. Instead of little boxes and trays everywhere, I have all my product in one carrying case – easy to move around, slide under the sink out of sight, etc. As you can see by the size of the products inside, this is a lot bigger than those Caboodles you can pick up at Wal-Mart.
You can also see I have a lot of product, but if you read my posts, you see I use most of what is in there. I try to never purchase anything that doesn't seem to work on a regular basis. I toss what I don't use and check regularly for products past their prime. The only things I keep that I don't use at least once a week are lipsticks or eye shadows in kooky/fun colors. I may not wear electric emerald green shadow on a daily basis, but it's a fun thing to have for St. Patrick's Day. Same with things like bright red lipstick or sparkly hot pink gloss – I don't buy it often but when I do I usually keep it "just in case." I rarely ever do this for my wardrobe, but a little lipstick doesn't take up much space!
I try to clean this box out once a season or whenever I am in need of new product. Just as I always say to shop inside your closet, also shop inside your makeup drawer before you buy more. No point in having three half-empty bottles of the same foundation. When you have too much or your product is stored in 50 different places amongst clutter, you often end up purchasing more than you need and often not wearing it all.
So a breakdown of my collection:
FACE:
Smashbox Photo Finish Foundation Primer – two travel-sized tubes (bought one then got one as a freebie)
philosophy The Supernatural Airbrushed Canvas foundation (my current product)
L'Oreal Bare Naturale mineral foundation (will not be replaced – not worth it – doesn't hold up nicely or look as nice on my face as b.e.)
L'Oreal True Match foundation (worn often with moisturizer as a tint, more of a winter shade)
Bare Escentuals mineral foundation (worn when need flawless face, will be sweating, etc. Have in two colors because got one as a gift)
Bare Escentuals concealer
MAC Studio Fix foundation (same purpose as the Bare Escentuals, but a summer shade)
L'Oreal true Match concealer (the only one I use)
Chanel pressed powder (my winter shade – for summer I have MAC's Blot Powder, which is in my purse)
FACE EXTRAS:
Urban Decay Eyeshadow Primer Potion
Benefit's That Gal
Smashbox Soft Lights highlighter/color
Cargo Matte BeachBlush
Body Shop Bronzing Powder
Nars blush
Maybelline Whipped Mousse blush
Benefit's Dr. Feelgood (freebie)
Bare Escentuals Warmth (bronzer)
Bare Escentuals Clear Radiance (highlighter)
Maybelline brow powder
Body Shop clear brow gel
Tweezerman tweezers (hot pink, natch.)
EYES:
DiorShow mini mascara (freebie)
Imju Fiberwig mascara
Maybelline Great Lash (my waterproof mascara)
Body Shop's Eye Definer pencils in white, black, slate and dark brown
Sephora's chunky eye pencils in green, silvery-blue and blue-gray
Shu Eumura lash curler
Maybelline UltraLiner waterproof liquid eyeliner
Revlon ColorStay shadow quad
Maybelline shadow quad
Pop Beauty shadow set
Trish McEvoy shadow set (under the gold Pop Beauty set)
Body Shop Simmer Cubes of shadow – three different sets of color
About a dozen individual shadows from Body Shop
Individual shadows from L'Oreal, Clinique, Garden Botanika
Every sharpener size I could need – I think I have three.
LIPS:
A good 30 different lipsticks, glosses and stains. No preference for brand – drugstore and high-end and everything in-between. Unless it's special or good for a costume/event, I toss it if it hasn't been worn in three months. I have two lip pencils – a nude one from L'Oreal and Beech from The Body Shop (same color as MAC's Spice but far cheaper). I hardly ever wear them though.
NAILS:
Opi's I'm Not Really a Waitress and Coney Island Cotton Candy, a white polish in the offchance I get a French manicure and need a touchup (last used for a wedding where I had to have a French), a clear pink from Orly that is a great non-manicure manicure look in a jiffy.
And that is it. Nothing crazy out of the ordinary, may seem like a lot to some, and surprisingly little to others. I promise other than my powder and my Nars' Dolce Vita and Revlon Super Lustrous in Glossy Rose, everything else was in this case.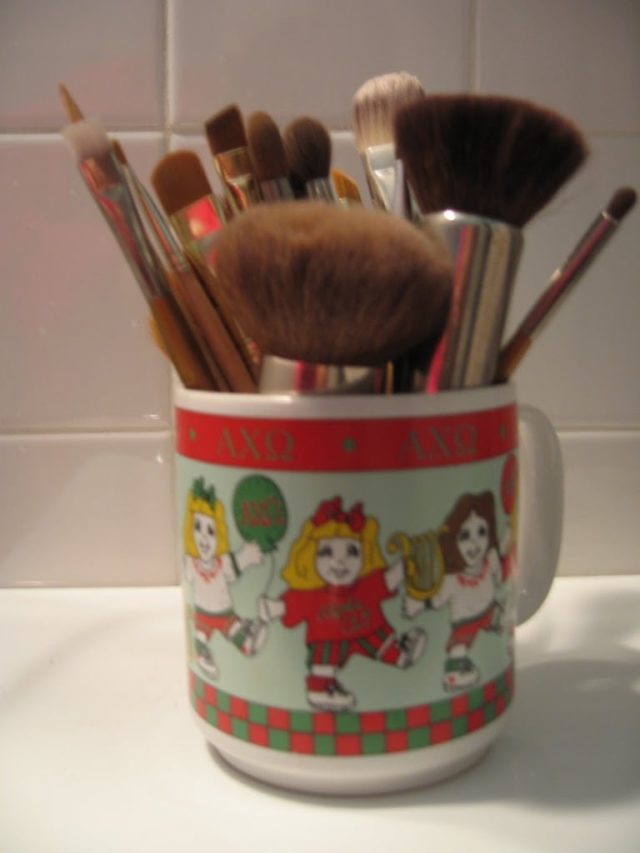 I also have a decent collection of brushes. High-quality brushes rarely need to be replaced if cared for. Nothing classy, these brushes are stored in a coffee mug from my college sorority.
Among the collection, you see a bronzer brush from Sephora (front) that I use to apply bronzers in summer and Bare Escentuals mineral foundation come winter. The other big brush is my blush brush from Trish McEvoy – gives the perfect application to the apples of my cheeks. To its left is one of my favorite brushes – a little soft sable brush also from Trish that gives a great smudged shadow look along the lash line. In the center are two rounded brushes from Trish – these two are used daily for my lid/crease look. The flatter one applies color to the lid, the rounded one fits nicely into the crease and with a window-washer motion applies a nice shadow. Behind them is a foundation brush from MAC that I only use for special occasions and when I wear MAC's Studio Fix, and a few random shadow and slant brushes from Body Shop. To the left you will see a white stiff brush – this is also from Trish McEvoy and when full of a dark shadow, wiggled along the lash line it gives the look of liner.
I was my brushes around once a month with baby shampoo and lay them flat to dry. To remove color between washes, I use Body Shop's Chamomile Makeup Remover and a paper towel.

Questions Answered…
I'm curious to have to wax personal about your feelings on liquid vs pencil liner, powder vs. cream blush.
I don't like pencil liner. I am a klutz and find them hard to manage. The only time I wear them, I rub them back and forth against a taut lash line for a "rocker" look. I find liquid liner to be easy to manage (prefer brush to felt tip). Maybe this is because I paint and the tool makes more sense to me? More often than not, I use a dark shadow and a slanted or stiff brush (see above) and wiggle it right against the lash line to mimic the look of a pencil liner.
As for blushes, I have a cream one (the mousse by Maybelline) but rarely wear it because I usually wear a powder-based foundation and the two do not mix well. I usually do foundation or powder, then blush or bronzer. This gives the effect I like best.
Regarding cosmetics… Do you own more than you use? Do you use exactly what you own? Do you buy new colors for a season, or do you stick with what works for your coloring, etc.?
I don't purchase specifically for a new season, only if what I see that season inspires or intrigues me. I suppose I do own more than I "use" (see above), but I don't purchase randomly. I know what colors I like on me, occasionally will get creative with a shadow or lipstick but rarely venture too far out of my comfort zone for any other product. I'm 32, I have a relatively conservative job, there are very few places in my life where I can wear a lot of the creative and funky new cosmetic styles. And I like the traditional smoky eye/glossy lip for a night out on the town. My husband said once I like my makeup to look like it belongs on a Playboy Bunny. I guess he's right – I love thick lashes, liquid liner, smoky eyes, flushed cheeks and glossy pink lips. I always have and luckily it looks decent on me as well.
How often do you wash/exfoliate/moisturise? You have good skin, wondering what exactly is your routine?
I only wash my face once a day, usually at night (unless I pass out on the couch and forget). I wash with a multitide of items – it may be a new product from the Body Shop, something on sale, something a friend recommended. Right now in the shower I have St. Ive's Apricot Scrub and Noxzema (I know, old school!). In the medicine cabinet I have Body Shop's Moisture White Cleansing Powder (and love it), Body Shop's Vitamin C Exfoliating Wash and Body Shop's Vitamin C Cream Cleanser. I wash at night, apply eye cream (currently Body Shop Vitamin C Eye Reviver or Neutrogena Eye Brightening), any treatments (Body Shop Vitamin C Intensive Night Repair and/or Clean and Clear Advantage Acne Spot Treatment) and then night cream (Body Shop's Wise Women – LOOOOVE it!). Oh, I use Body Shop's Chamomile Makeup Remover for liquid liner and waterproof products before washing.
In the AM, I use Body Shop's Moisture White toner to remove any leftover moisturizer, then use Body Shop's Vitamin E SPF 15 for my lotion and the same eye cream as the night before (sometimes putting it around my lips a la Josephine Esther Mentzer.
I try once a week to give myself a facial, but it is more like once a month. Cleanse, exfoliate (usually with a face brush or else with the Neutrogena Microdermabrasion kit), sometimes do a mask, steam and then hydrate (Body Shop's Vitamin E Face Mask is awesome).
How do you maintain your brows?
I get them waxed maybe once a year, then maintain almost daily with my Tweezerman slant tweezers. It's far easier to grab one or two hairs daily than to pluck for half an hour every couple of weeks. It also helps me maintain the shape. I then use a short slanted brush (Trish McEvoy) to fill in my sparse and short brows with Maybelline brow powder in Dark Brown, then set with Body Shop clear Brow and Lash Gel – brush the hairs up, than out. I used to trim long hairs, but now I just keep them groomed with the gel.
How do you apply concealer and where on your face?
I am so not elegant with this. L'Oreal True Match is a liquid and has a brush applicator. I take the brush and draw a circle around each eye, then a dash under each nostril, then a dash on the bow of my lips and a slash on either side of my mouth. I then may spot dab on any zits. I rub in with my ring finger. The bow of my lips is a tad crooked and has a scar so the touch of foundation seems to make it less noticeable. Sides of my mouth have some weird scars and veins from living and having teenaged skin, so a little bit of concealer airbrushes it. Under the nose, I have the normal-person little red veins. And then I have allergies, so i wake up with purple eye sockets most days out of the year. A yellow-tinted concealer seems to work with all these skin issues.
Concealer before or after your foundation?
If I am wearing a liquid foundation – after. Powder or mineral – before.
I think that's it for now! 🙂