This article may contain affiliate links; if you click on a shopping link and make a purchase I may receive a commission. As an Amazon Associate, I earn from qualifying purchases. 
I have never understood the desire to look like a total fool on a holiday. Tunic sweaters with appliqué bunnies for Easter, American flag shorts, socks and scrunchies for Independence Day, light-up pumpkin earrings for Halloween, tacky theme ties for Christmas, green everything under the sun for St. Patrick's Day.
Why America, why? Do you see other countries sporting Quacker Factory sweaters, battery operated jewelry or unnatural hair and lipstick shades for their holidays? Do they decorate their person as much as their tree? I think not.
It is possible to look festive, have fun and not portray yourself as missing a few chromosomes.
For Work:
Do Wear:
Holiday colors. Nothing wrong with a green sweater on St. Patty's Day or a red dress to your holiday party. Today on St. Patrick's Day I am wearing a bright green refined tee under a denim blazer with chinos, with a green beaded bracelet. I look festive, but I still look appropriate for work. For men, a subtle holiday tie is appropriate if you have children – if you are young or single, these ties look pitiful and corny.
Do NOT Wear:
Theme clothing – sweaters with crocheted Easter eggs, "Kiss me, I'm Irish" tee shirts (or any other message or logo-ed tee shirt), overly casual clothing just because it fits the holiday, holiday themed makeup (emerald green eyeliner, sparkles, holiday colored lipstick) or visible theme socks (if your socks can be seen while standing or walking, your pants are too short. If your socks are neon orange or red or candy pink – wear them with boots or at home, not the workplace).
I understand that when one goes out to celebrate a holiday, the outfit may get to be more… festive. Festive is great, as long as it does not ruin your reputation or image.
For Play:
Do Wear: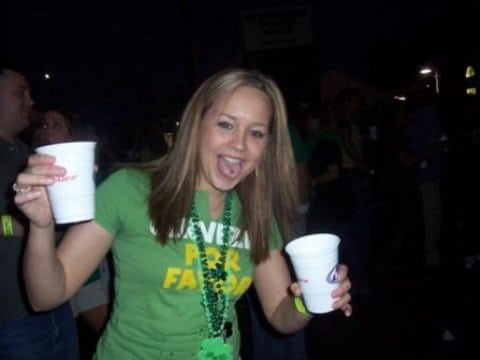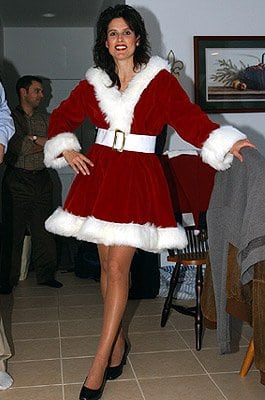 Again, holiday colors. Orange top in place of a Halloween costume (for those of you who don't like to dress up), a cute green chino skirt with a top for St. Patty's Day, a sparkly red shell at Christmas. This is where theme and logo-ed tee shirts fit into the wardrobe – they look great with chinos or jeans as long as they fit well and are clean. This is where costumes can be appropriate – leprechauns, elves, Mrs. or Santa Claus, Halloween costumes that are flattering, well constructed and tasteful.
Do NOT Wear:
Holiday color from head to toe – just because it's St. Patrick's Day does not mean you should wear olive cargo pants, an apple green tee shirt and a forest green vest with green sneakers. If you wouldn't be caught dead in it on a non-holiday day, then don't wear it on the holiday. Don't wear ill-fitting or old/stained/dated clothing just because it is holiday-appropriate. Again, if you would not wear it on a non-holiday day… Do not wear costumes that are not age-appropriate. Yes you may have great gams for a 50 year old women, that does not give you license to dress as a French maid (and Madonna, I saw your Purim costume, I am including you in this!). Think about the crowd you will be in when planning your costume – a crowded bar is not the best place for wings, balloon "grapes" or other large pieces on a costume. If it's cold, plan to have an appropriate cover or tights so you don't freeze or hide your costume under a coat. On the other hand, do not wear heavy wigs, longs capes and tons of makeup if you will be in a hot or humid location – your hard work will be ruined in just a few sweaty minutes. Do not wear a garment or outfit that makes you look foolish – why wear green lipstick or a giant foam hat or a belly shirt or antenna when you normally wouldn't – remember when there's holidays, there are cameras. Your outfit will be forever immortalized, and often you don't have the time to strike that small tummy/small hips pose before the flash goes off.
So after all these don'ts, how does one know what to buy? What are safe bets?
For Work:
Sweater, blouse, twinset or shoes in a holiday color
Sheer red lipstick for Valentine's Day or Christmas
If you are of the appropriate elegant age, a brooch (not plastic chicken pin ) can be lovely on the label of your suit
Costumes only come out when you know it's a popular act of your coworkers – then make sure they are tasteful.
For Play:
A dress or one piece of clothing in a holiday color
A costume that is well fitting, tasteful and age appropriate – if unsure, leave your costumes to Halloween.
Mardi Gras beads are a safe way to make your outfit more festive – they are always being passed out, and now at every holiday
Festive makeup – red lipstick, green eyeliner, smoky eyes. Just don't do all of them at once.
Fun tee shirts – bring out the "kiss me I'm Irish" and silly references to mistletoe – these are appropriate at bars, casual parties and festivals.