This article may contain affiliate links; if you click on a shopping link and make a purchase I may receive a commission. As an Amazon Associate, I earn from qualifying purchases.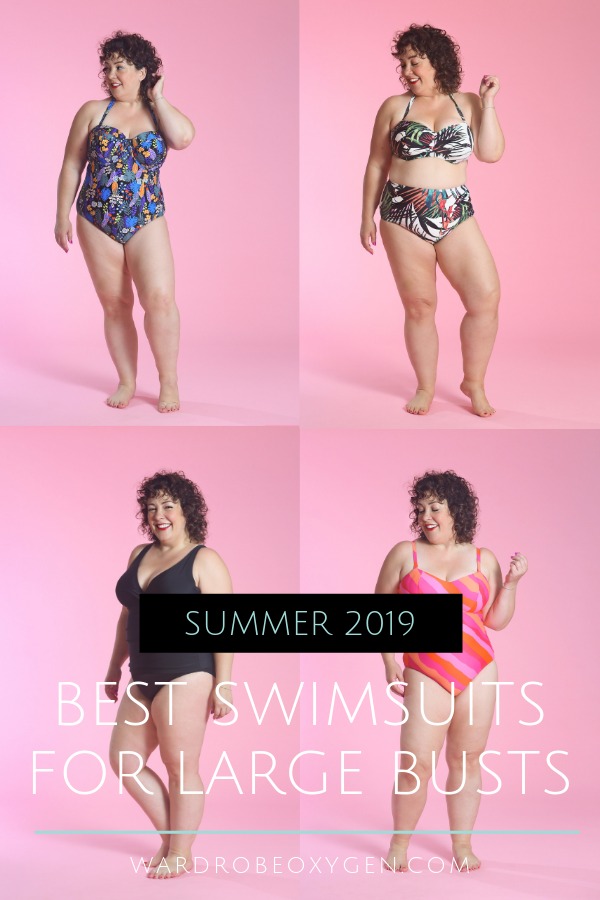 If you're like many women, myself included, summer seems to have suddenly arrived and you're not prepared. Oh gosh, the pool is open, the beach trip is scheduled and you need a swimsuit! Well, I have you covered with a review of 12 different swimsuits for large busts in a variety of price points and from many popular retailers with great shipping and return policies.
I shared a swimsuit review recently on the blog but was still on the hunt for a great swimsuit for a large bust – something that is a bit sexy, a bit fun, yet provides support and coverage where I desire it. I am 5'3″ tall, have a 36 F chest and wear a size 14 in most clothing. I'm looking for a swimsuit that will lift my bust without hurting my neck (I'm looking at you poorly-designed halters), something that will cover my stomach and go up to or over my belly button. If the suit has tummy control great, as long as it doesn't cause gas pains, requires me to be double-jointed to put it on, nor does it cause me to spill out from the back and leg openings. Speaking of leg openings, since I am petite I like the look of a standard leg opening – not too high, not too low. I have a great one-piece (the burgundy one from Miraclesuit from this blog post; see me wear it to the pool at this link) that is perfect for going to the pool with my daughter. Now I'm looking for something with more personality, and maybe a bit of sex appeal.
Swimsuits for a Large Bust: Target
Looking for more reasonably priced swimsuits, I headed to Target. Many of you let me know you had success with Dreamsuit, the brand from Miraclesuit that is available at Target. My local Target has terrible selection so I went online where I didn't find a lot of pieces specifically for large busts, but many suits that looked as though they could accommodate my chest and slim the midsection.
I have found in the past that DDD-cup swimsuits from Lands' End fit my bust so I thought I'd have success with this top. I liked the ability to cross the back straps, and the clasp in the back looked like it would offer great support.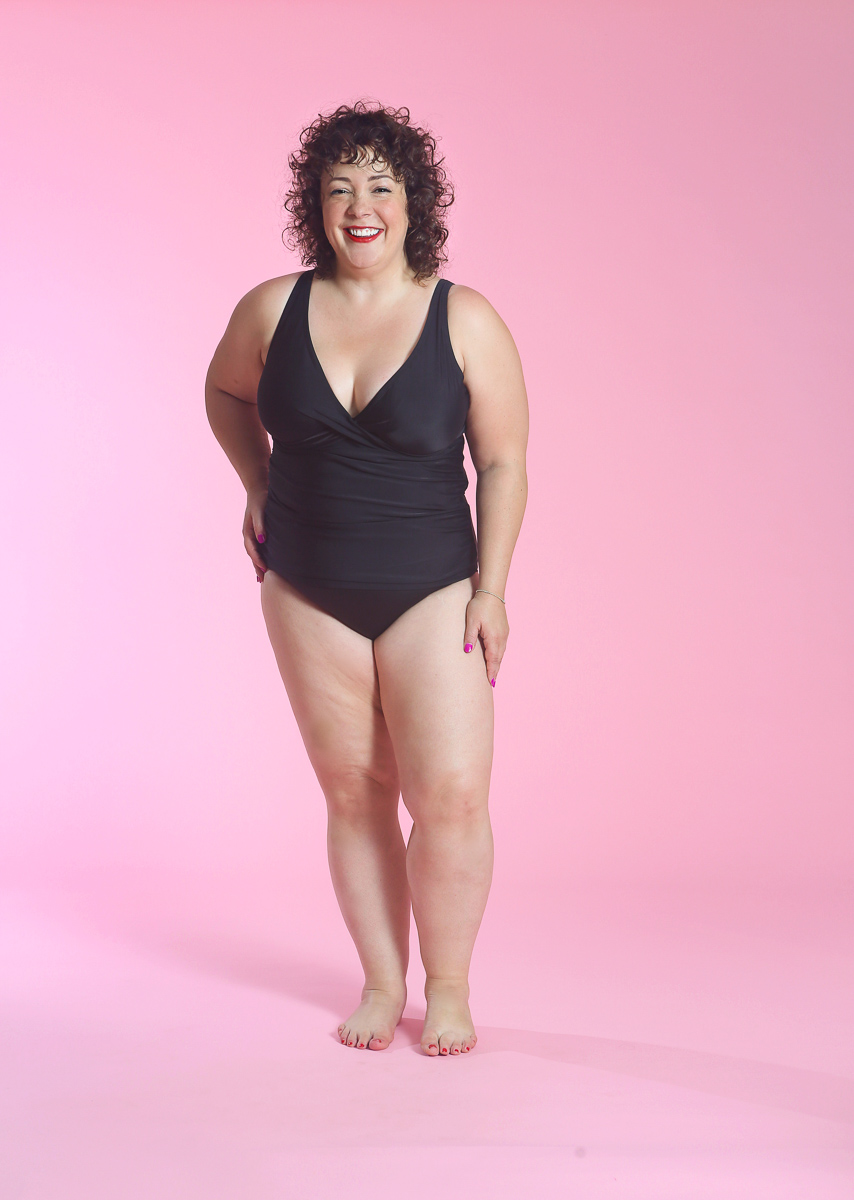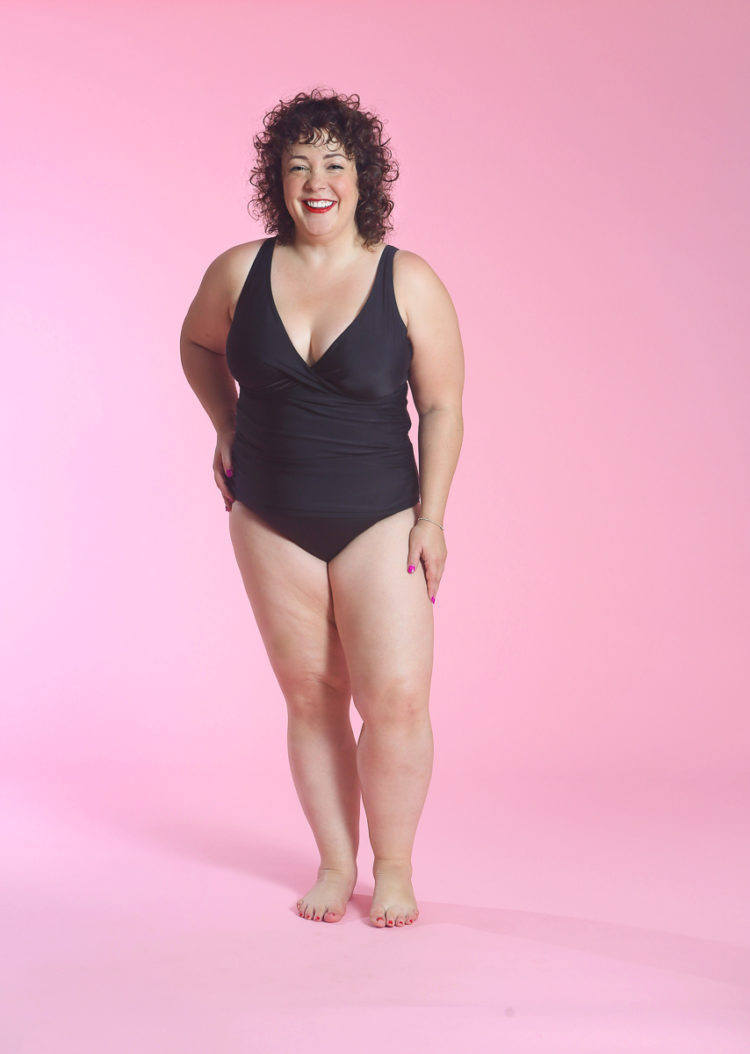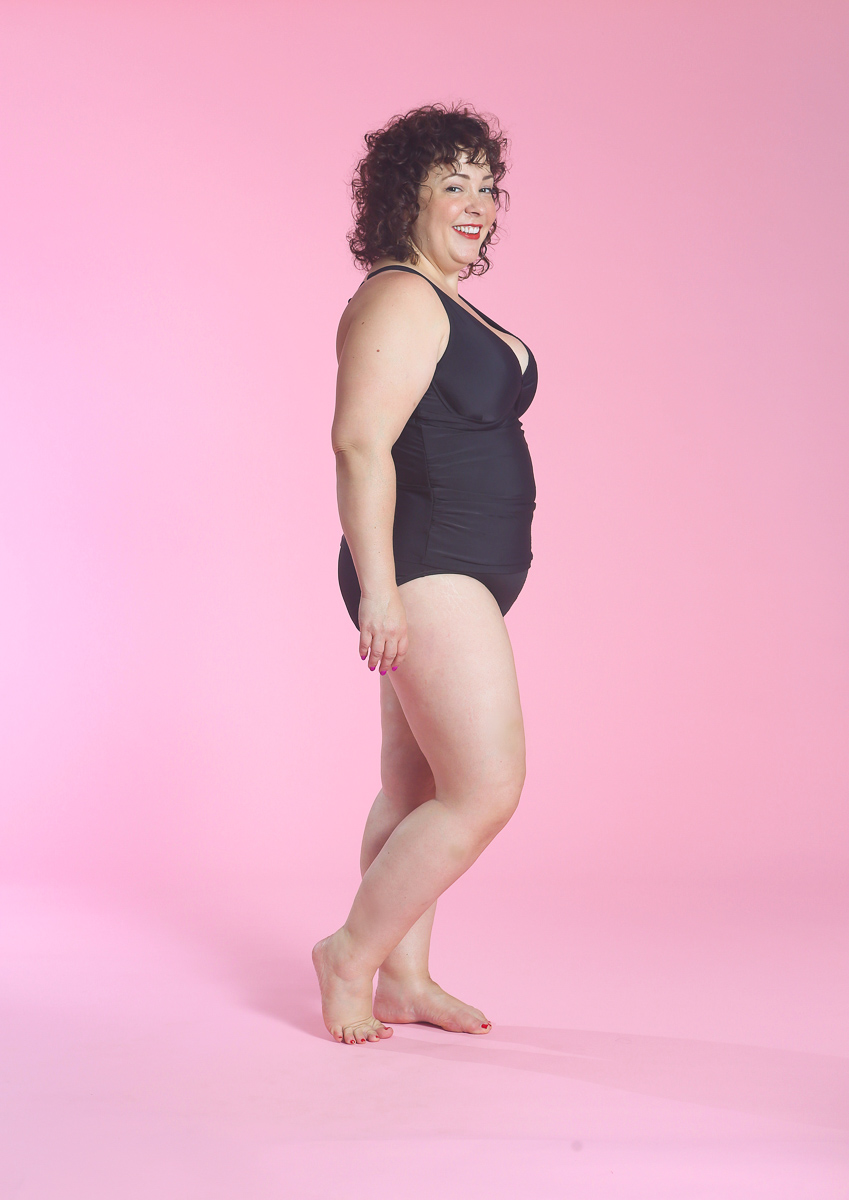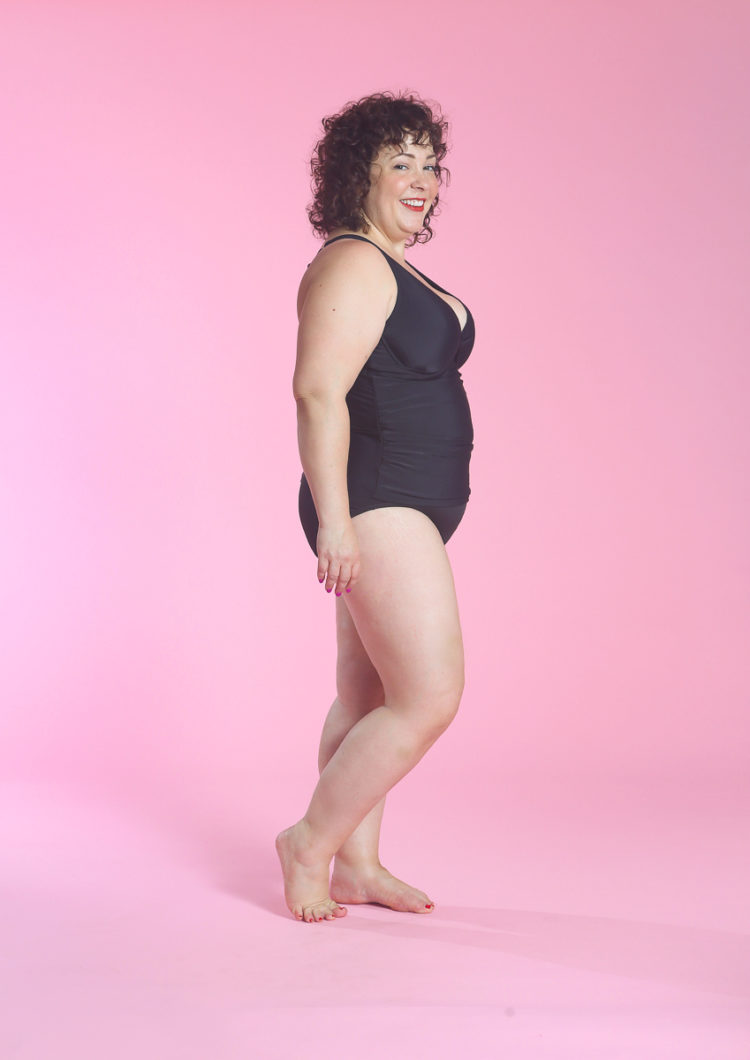 This suit is overworked, complicated, and accomplishes little. Putting it on was like putting on a straightjacket. Inside there is underwire, and padded cups, and an elastic band in back. The straps are very thick, there's the clasp in back that I couldn't get done on my own. I asked Emerson for help, she couldn't get it, Karl was finally able to get it closed. You'd think with all these contraptions I'd have great support. Thing is the cups are poorly shaped so the breasts sort of sat on a ledge and look lumpy. I don't think a larger cup would improve things; in fact, I think it would encourage my breasts to spill out of the neckline.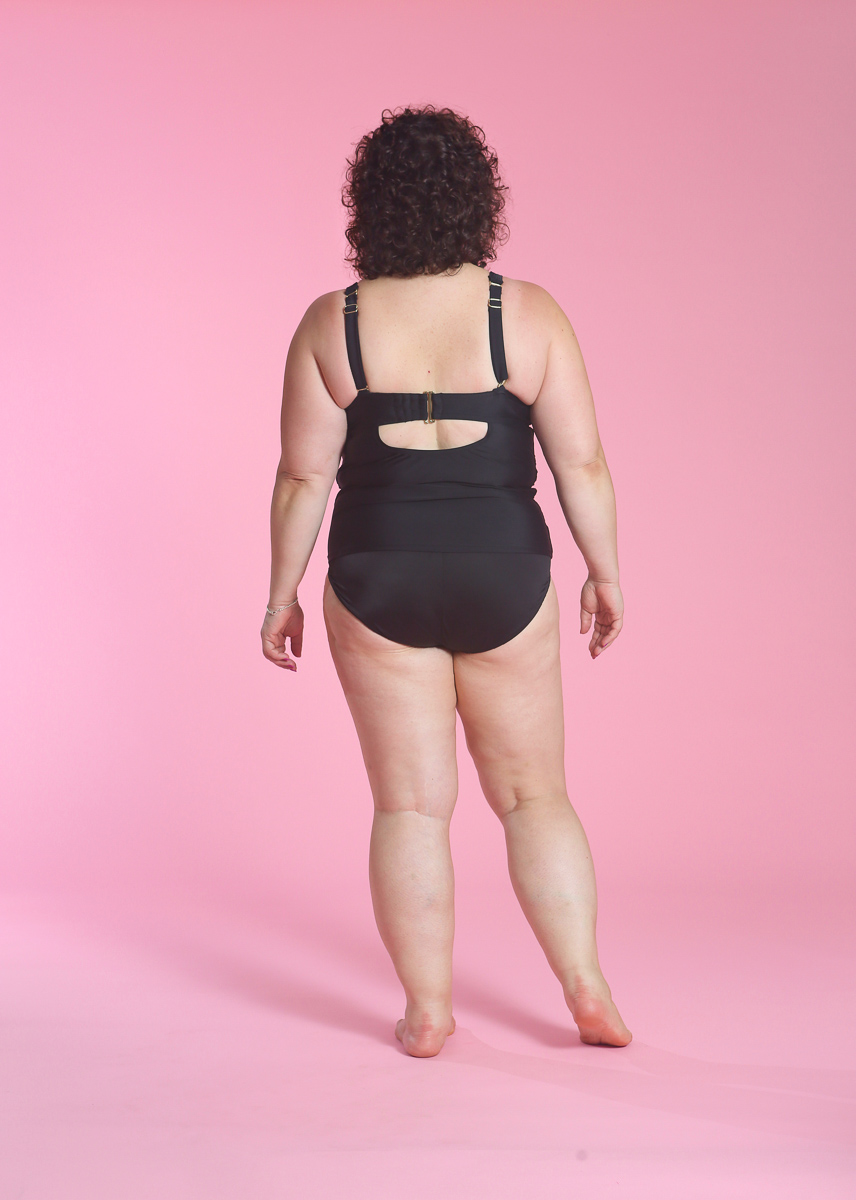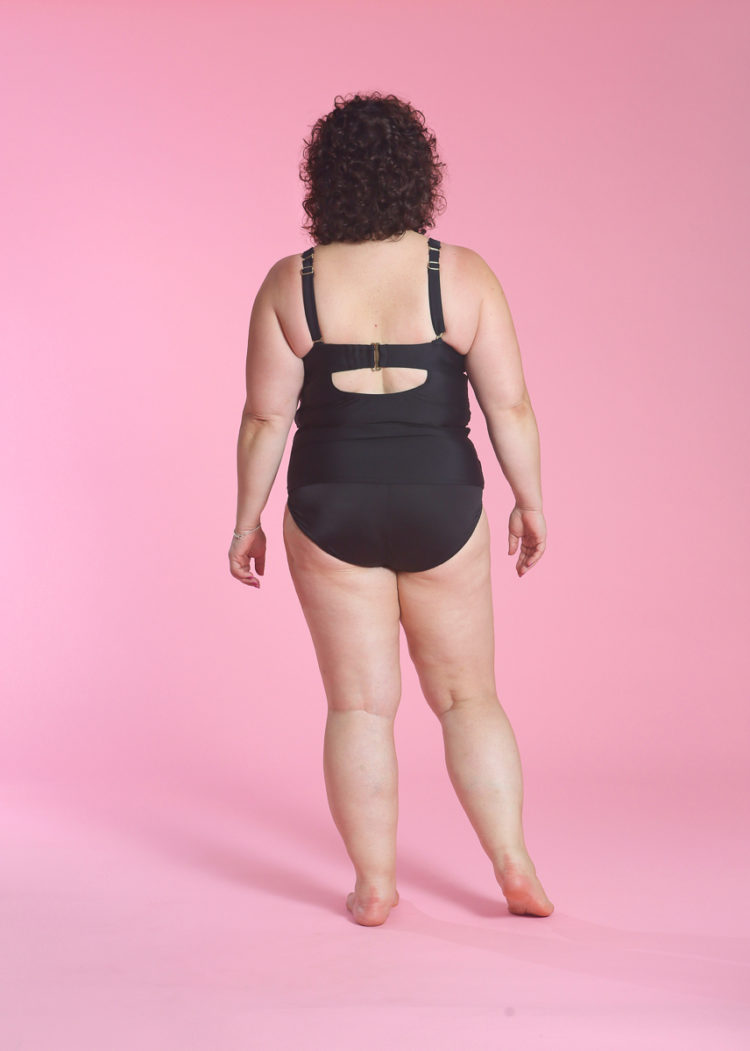 And this is just not a cute suit. It looks as complicated and awkward as it feels. The gold hardware isn't cute but makes it look more like some sort of posture device or archaic girdle and it easily slides to the side and pops open. Sure the price is nice ($29.99) but the fit and function are pretty bad.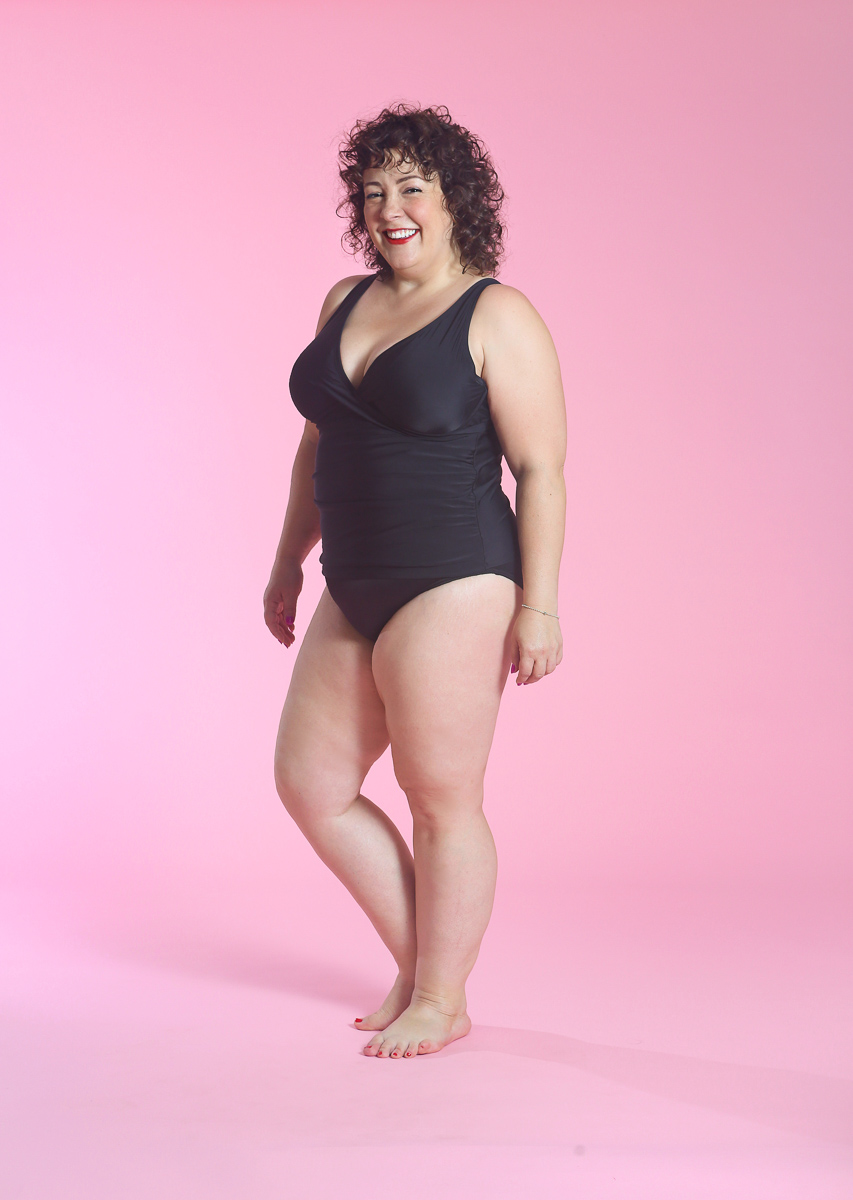 Oh, and I want to share this picture to show that angles are everything. The photos above show how frumpy this suit is. But an angle and a smile can make it look great. Looks can be deceiving, this top is the least liked piece not only from this review but my previous swimwear review. Miss.
A surplice top and adjustable straps have done me well in the past with Miraclesuits so I took a chance with this suit. I thought the suit looked attractive and stylish, and a bit sexy with the slim straps and neckline.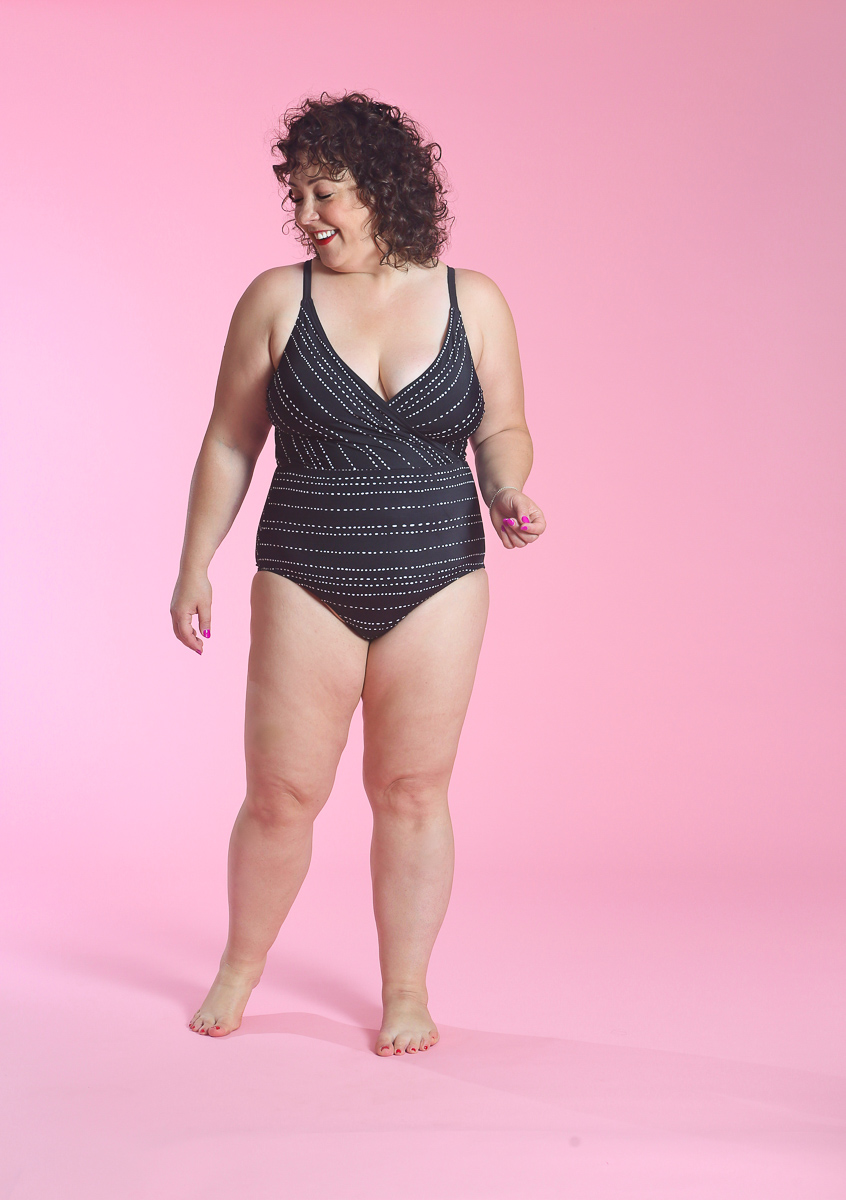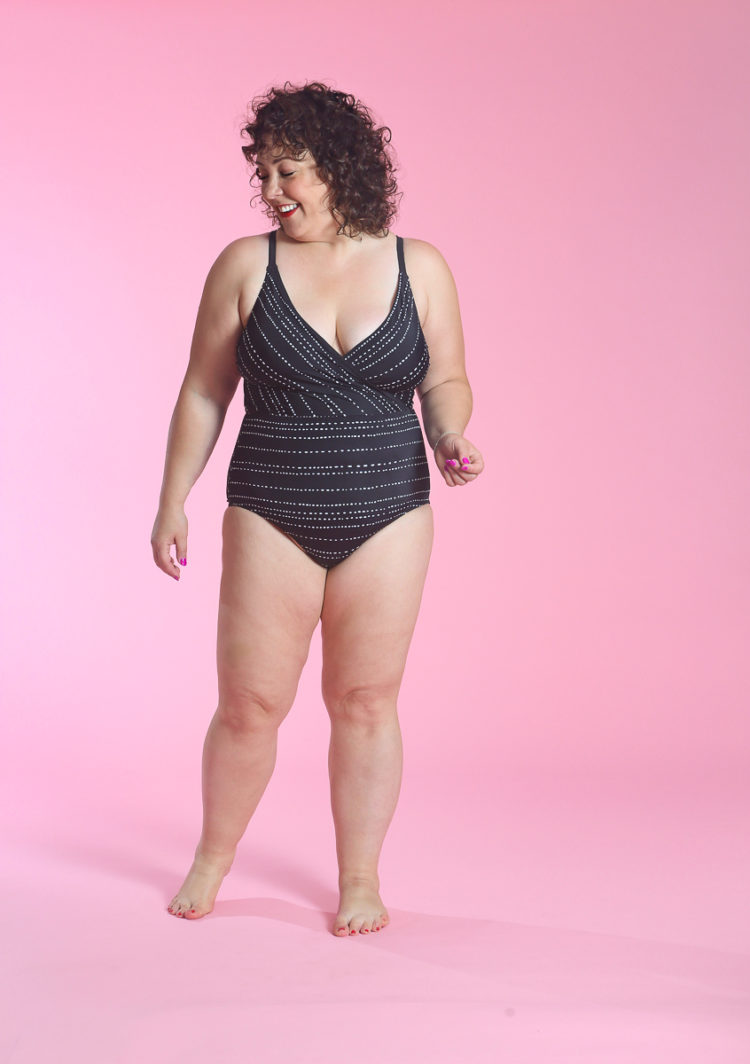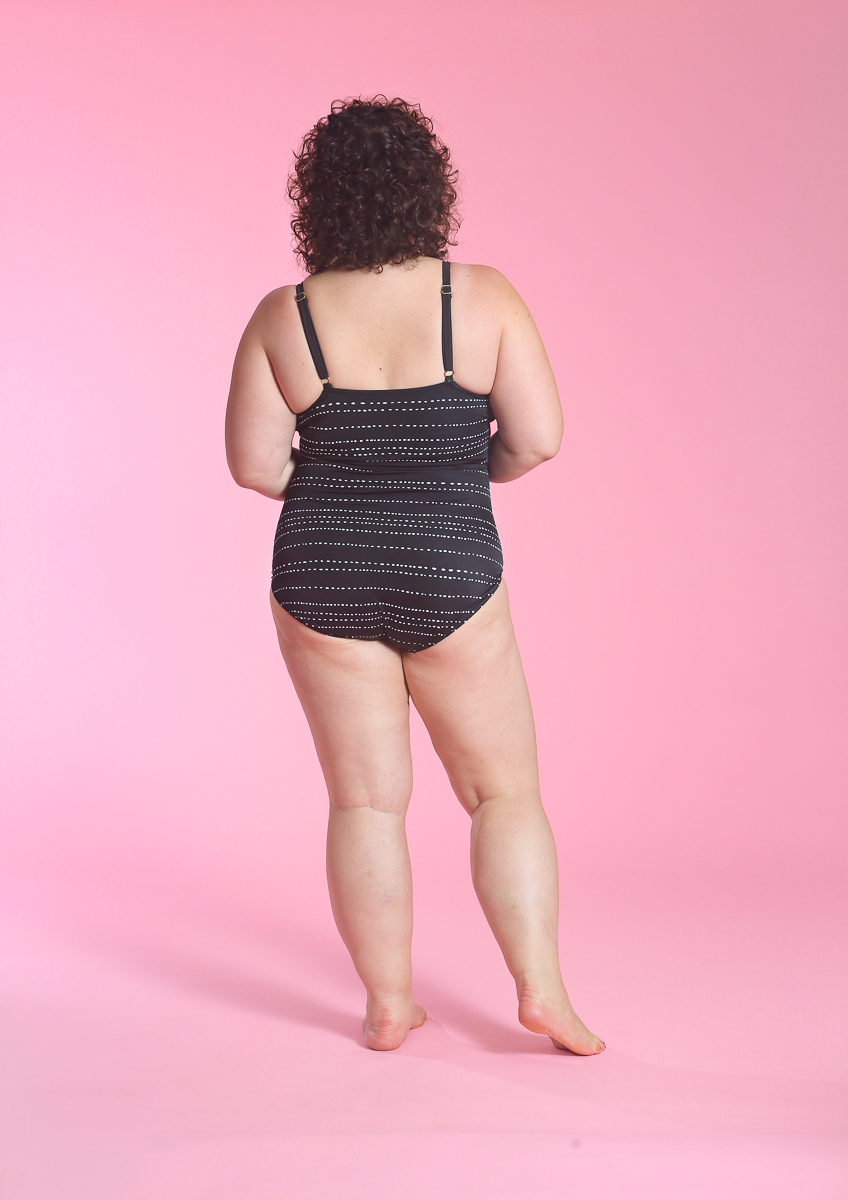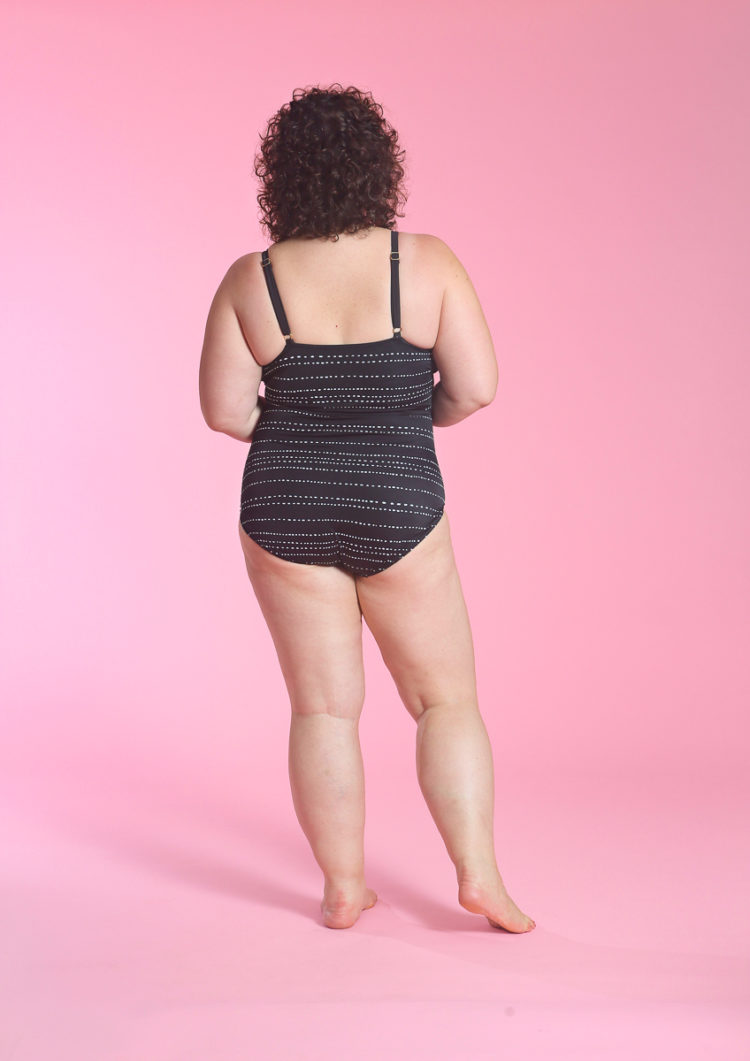 This is a cute suit… if I was smaller and firmer. My breasts are pouring out of the top and my belly pushes the suit out causing too much to be exposed at the leg openings. As I mentioned in my previous swimsuit review, I find a curved back to be kinder to a soft body; my back sort of pours out over this one. The straps are too thin and stretchy to offer much support. Unlike a Miraclesuit which is like heavy-duty Spanx, this suit only offers moderate tummy control, about the equivalent of a double-layered snug-fitting suit.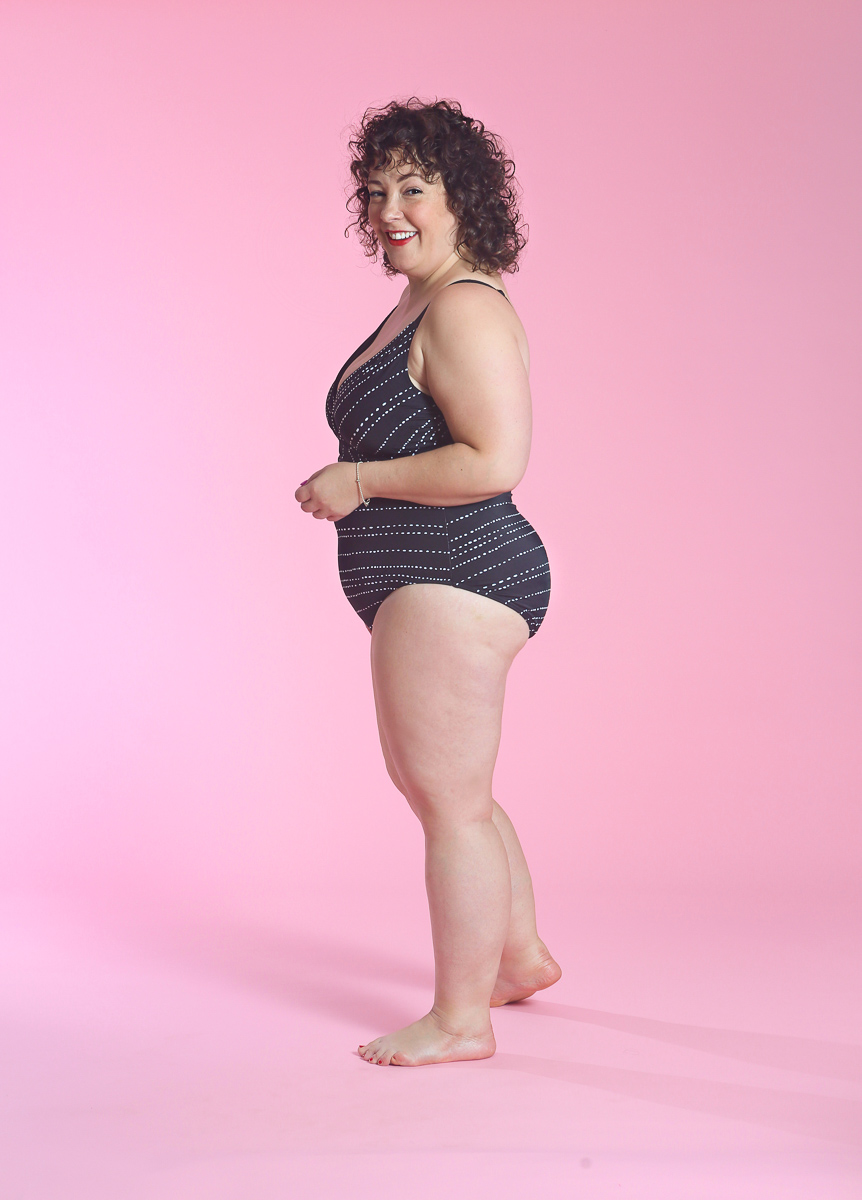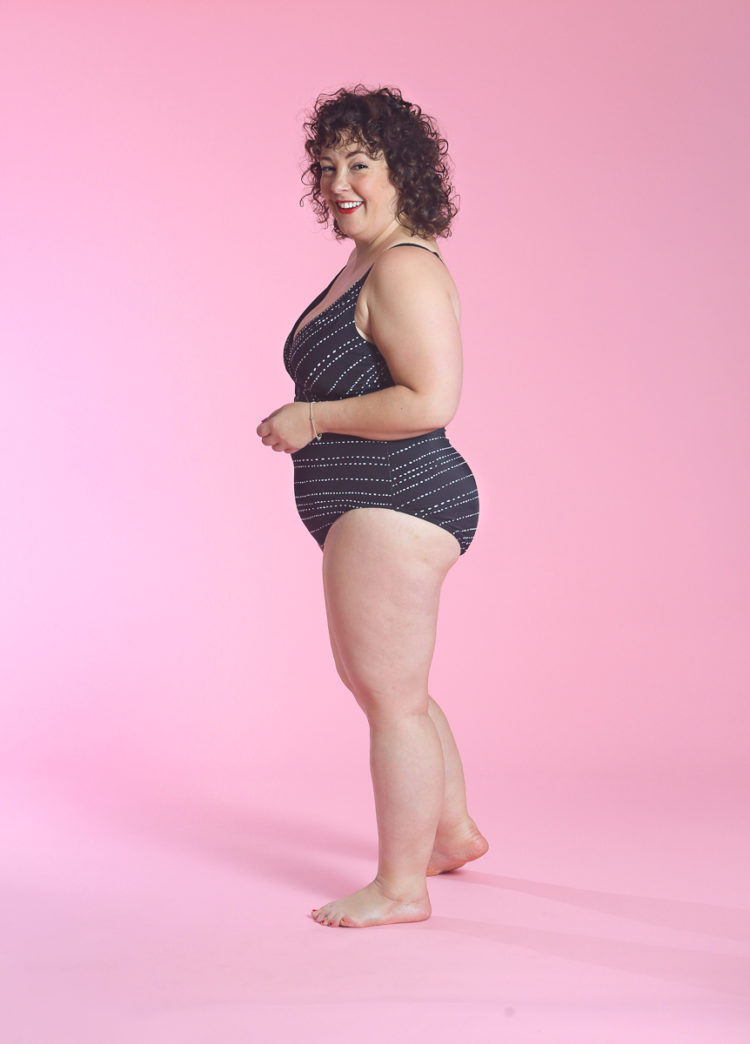 If I were younger, firmer, and a bit smaller I'd totally keep this suit. It's half the price of a Miraclesuit ($64.99) and with the right body, it's a good value. So while it's a miss for me, it could be a hit for another.
I'll be honest, I didn't like the looks of this suit. I didn't care for the print for me, and I thought the lace-up back would be complicated and possibly gape and pinch, emphasizing my back fat. I ordered it because I knew I'd be doing this review and thought it may be a good choice for a pear-shaped woman who liked the color and print. Maybe seeing it on me would help her envision it on herself.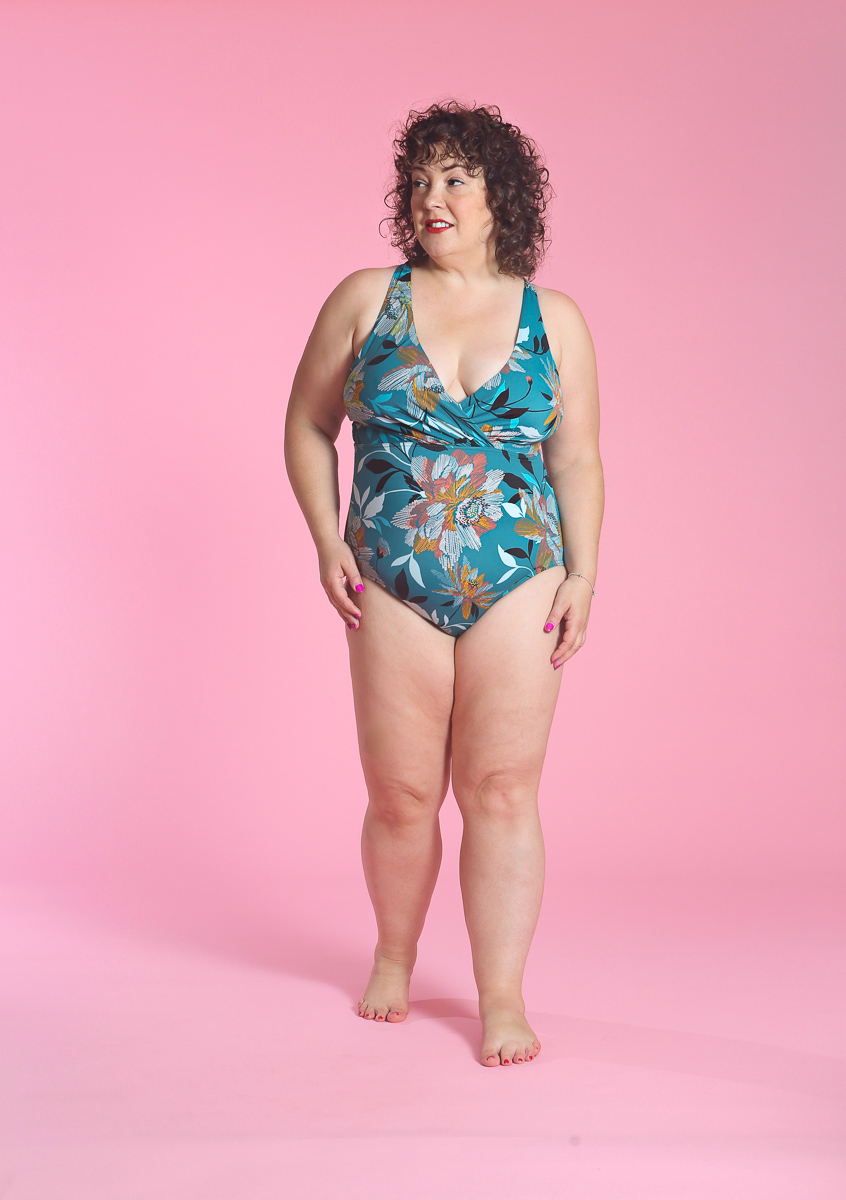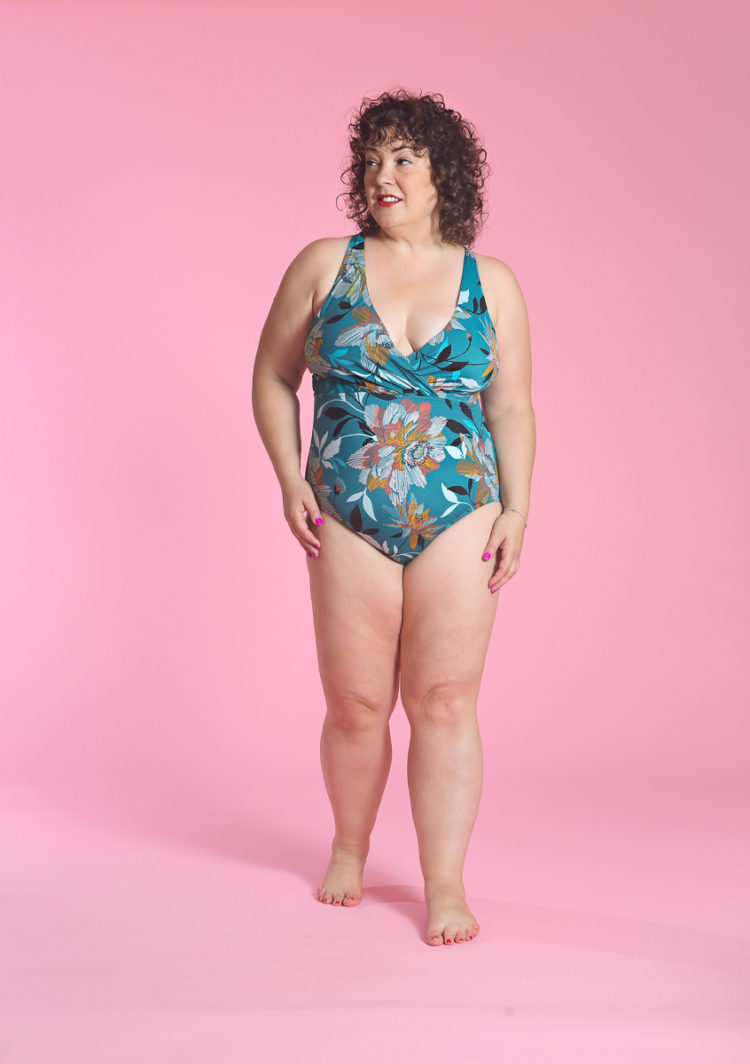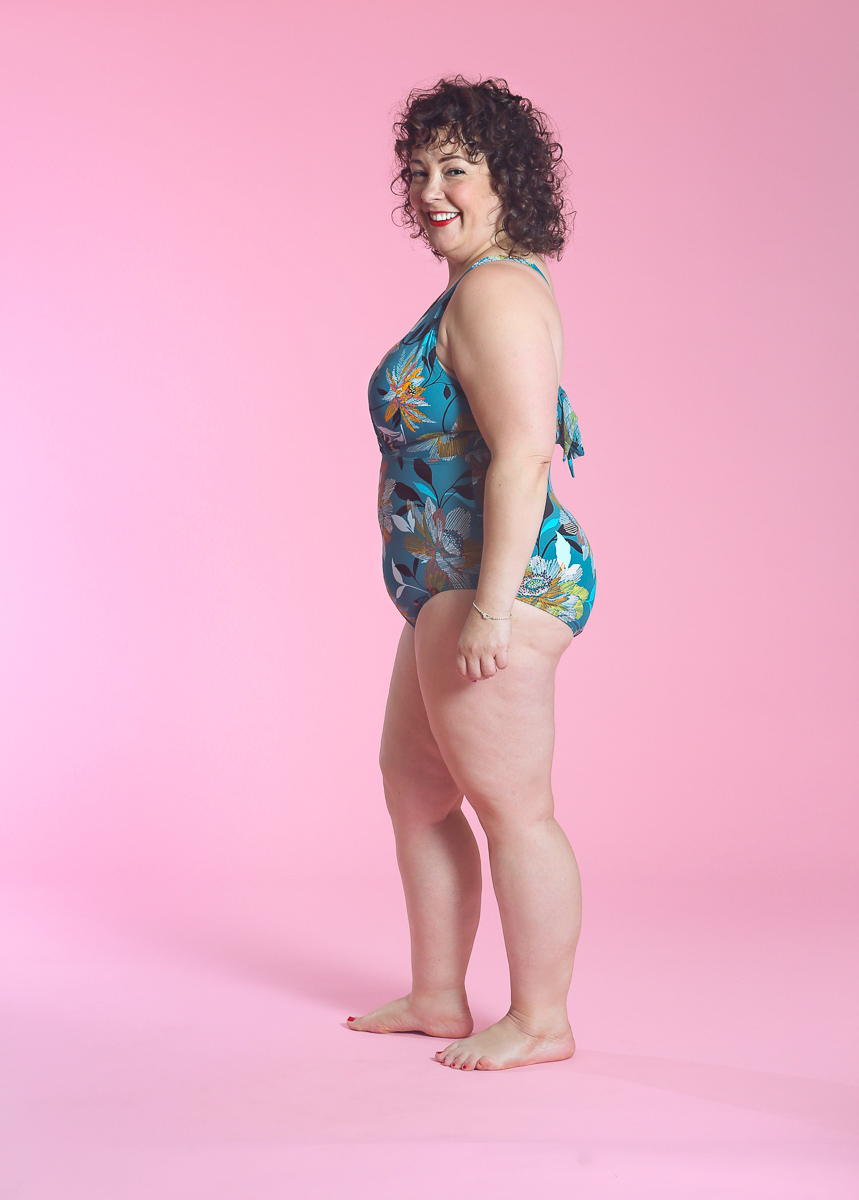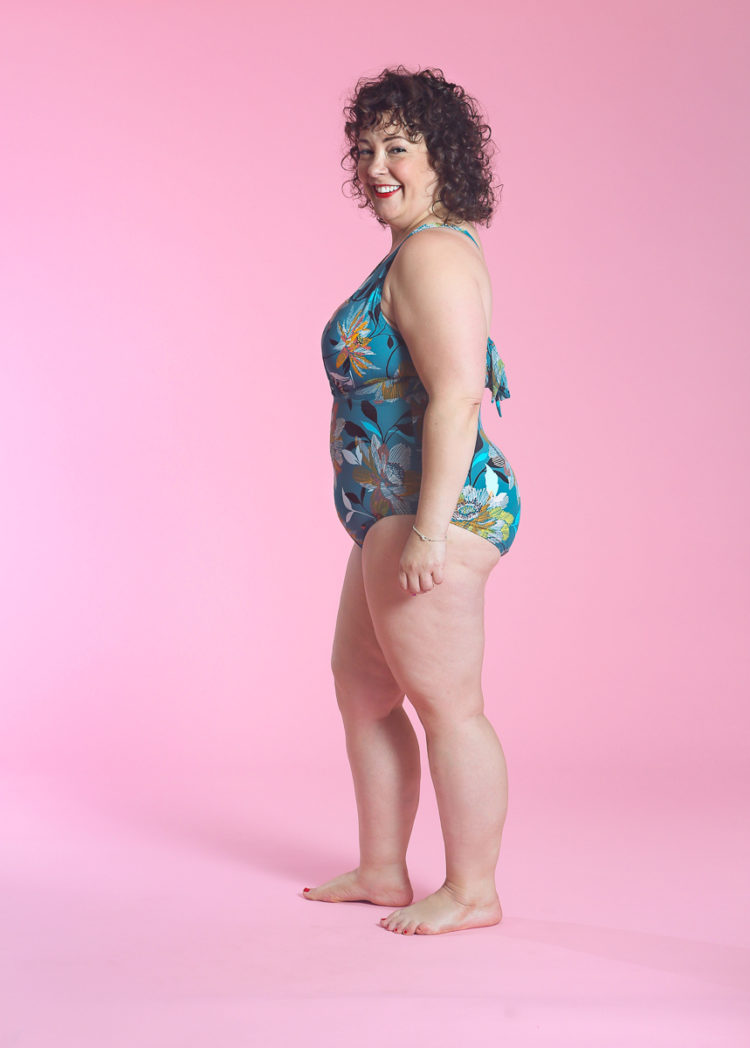 Yeah, I pulled this suit out of the bag and KNEW I wouldn't like it. This is not my kind of print; in a swimsuit, it just felt dated and like it would age me. And the lace-up back looked cheesy. While the description says soft cups, it's more like extra padding in the bust area and no real shape or support.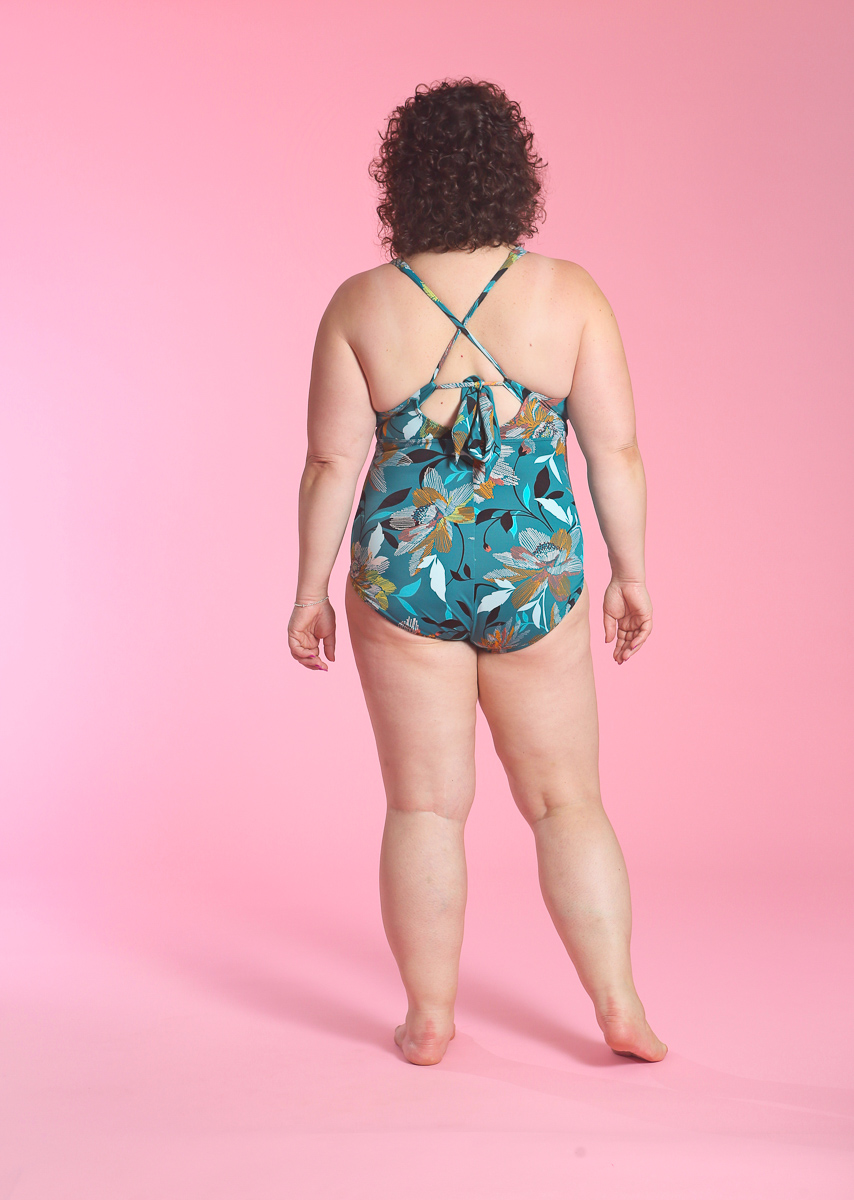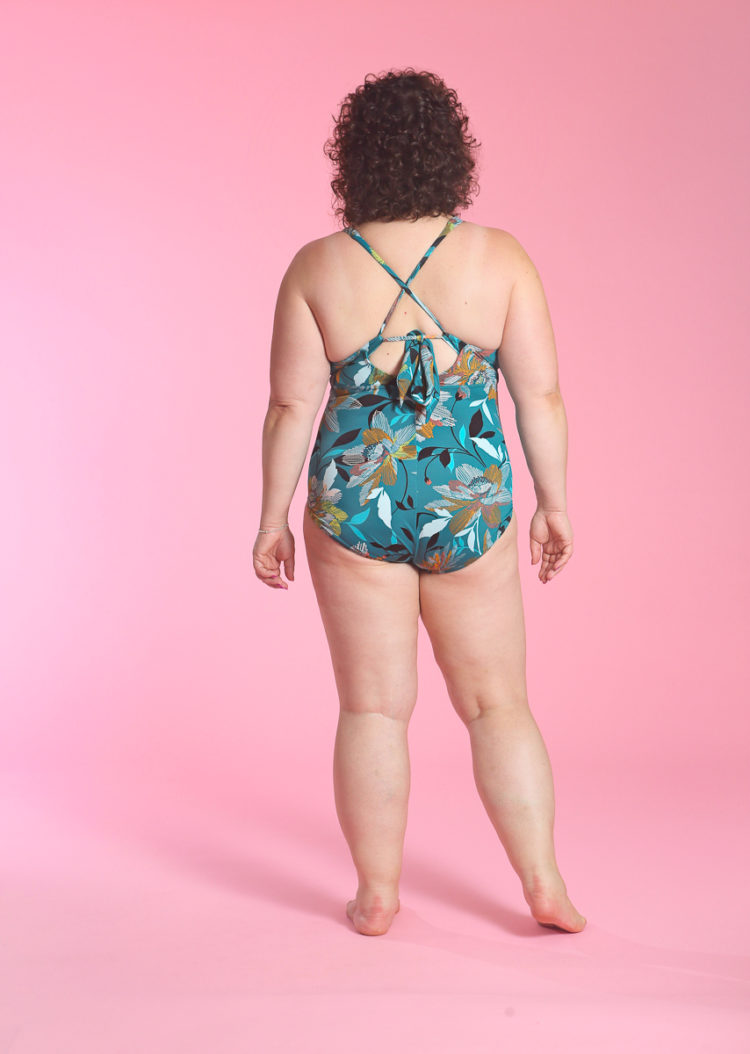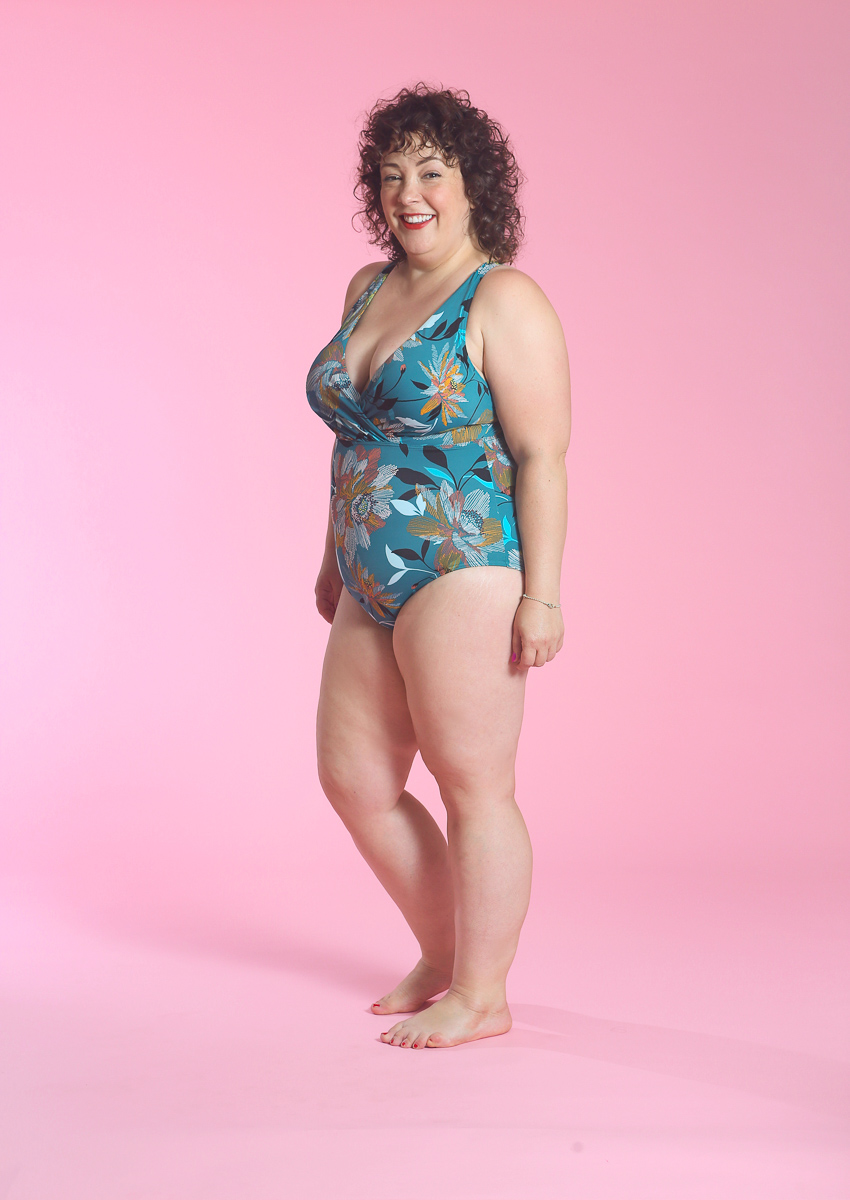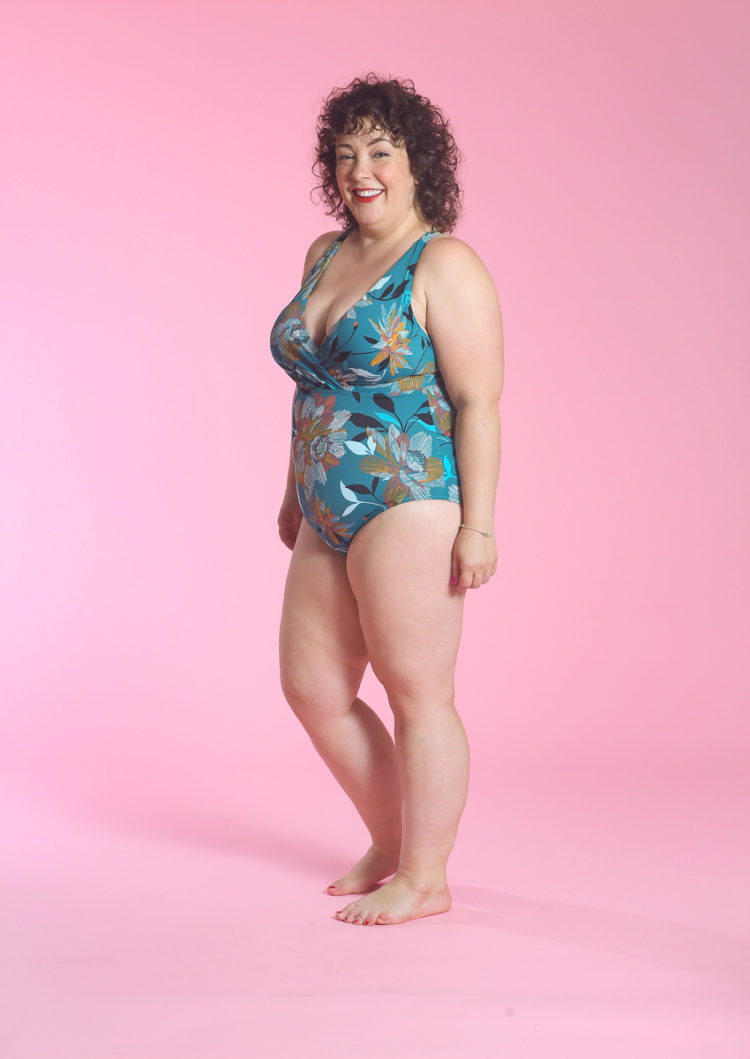 Without any shape or support my breasts spread out and hung down. If it got wet I think my breasts would completely fall out. The "slimming" aspect was the equivalent to a snug double-layered suit and did little other than hide the indentation of my belly button. And the butt was saggy. Again I shared the final photo because angles can really improve the look of a suit and this suit needs serious angles to look halfway decent. This suit is also $64.99 but should be priced less since it's such a mess. Miss.
Animal print swimsuits are back on trend this season, and I liked how the print on this suit was subtle. I was worried the neckline would be a bit low but figured I'd take a chance since Target offers free shipping and returns on all swimwear and I knew I'd be returning a couple of pieces.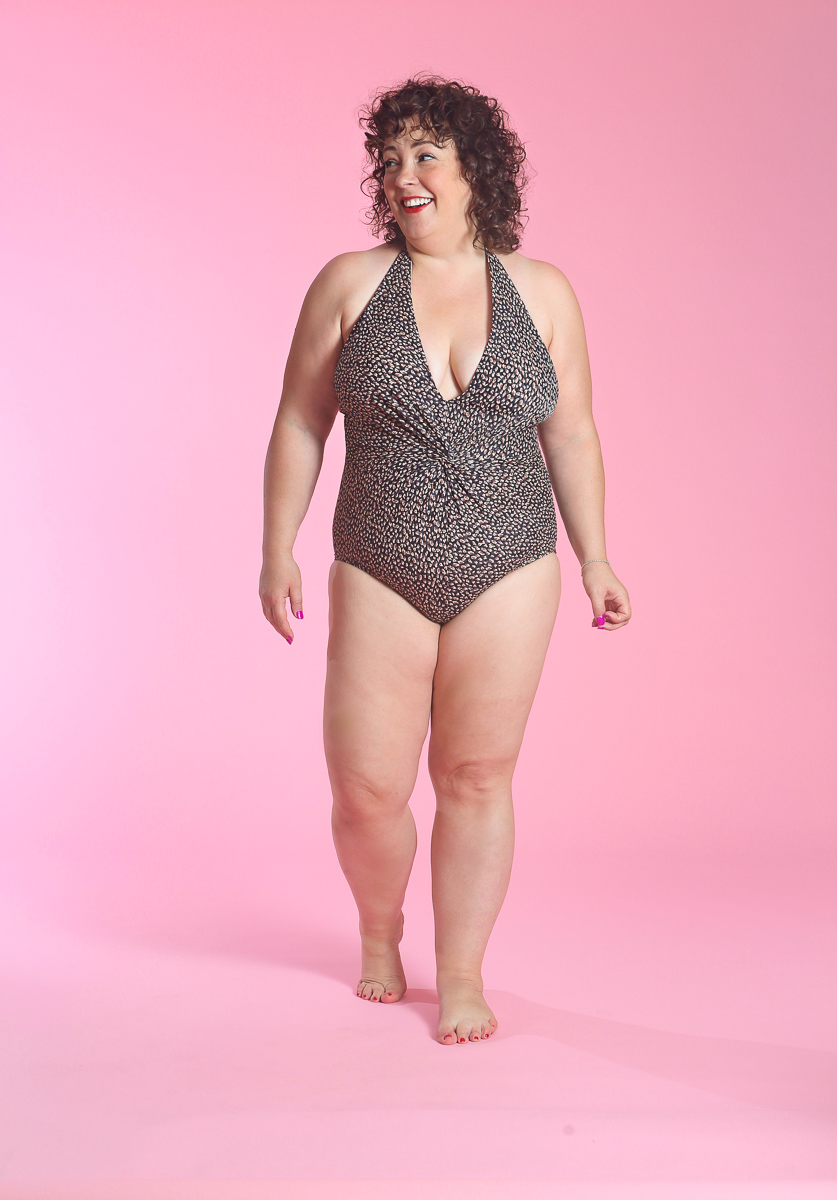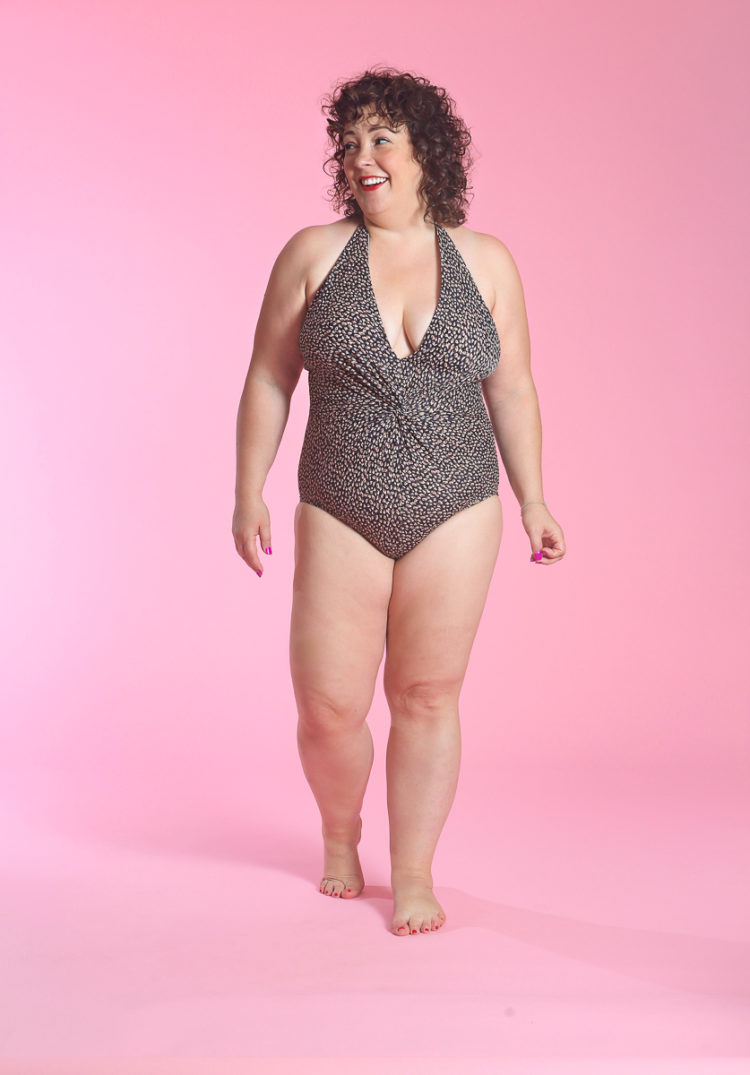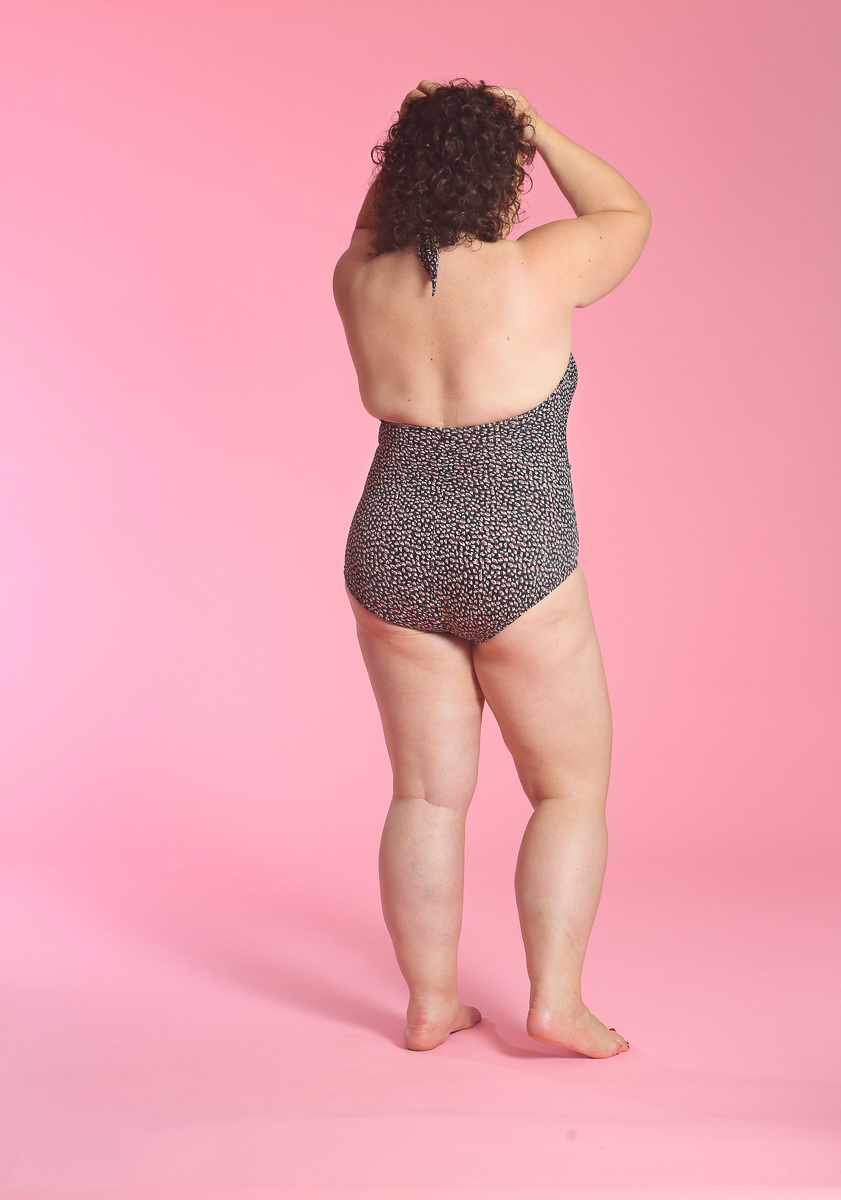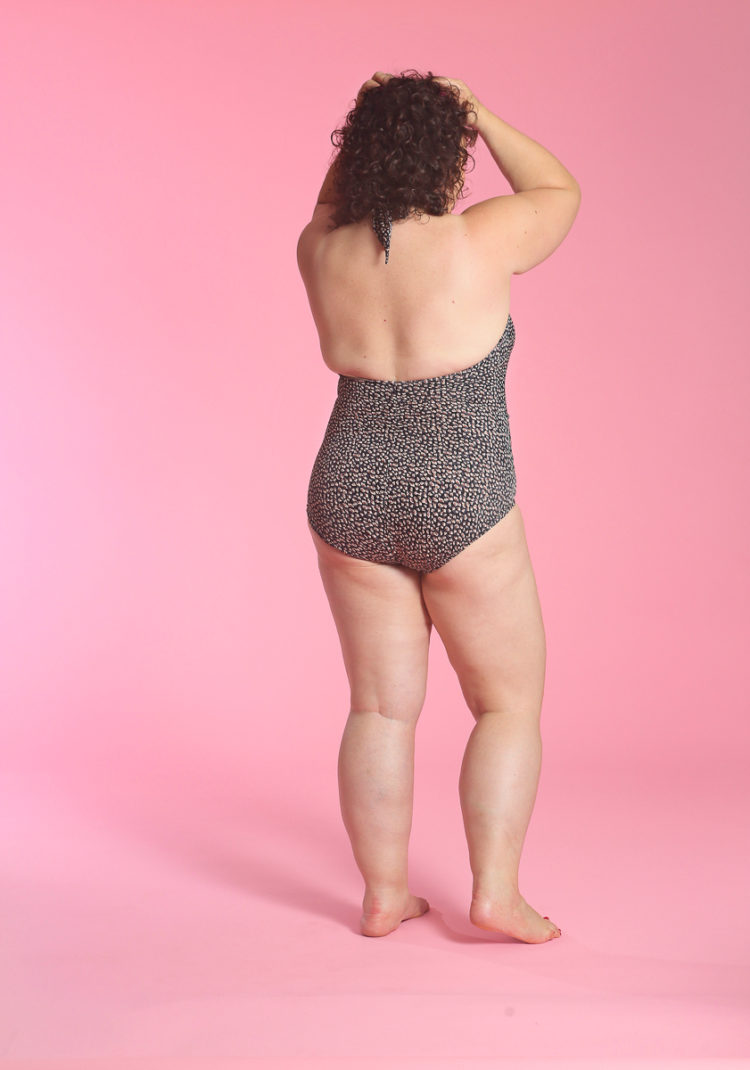 After this shoot, I asked Karl which suit he liked best and no shocker he liked this one though he agreed it would not be wise to wear it to the local pool. I found this suit to be pretty ridiculous on me. The lack of bust support caused my chest and belly to merge into one lump in the front. There is even less tummy control in this suit than the previous suits from this brand. Since this suit is cheaper ($64.99) I am forgiving of how the edges of the suit occasionally fold over showing the seaming.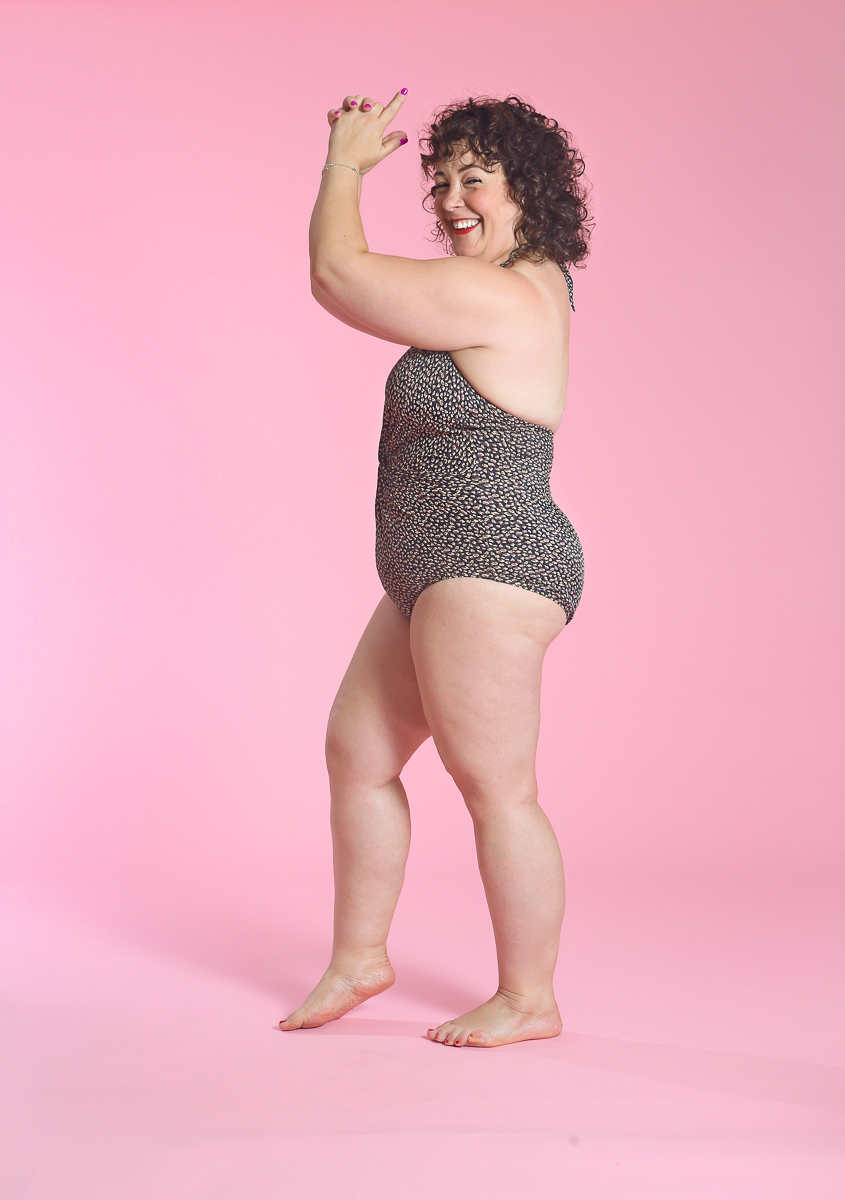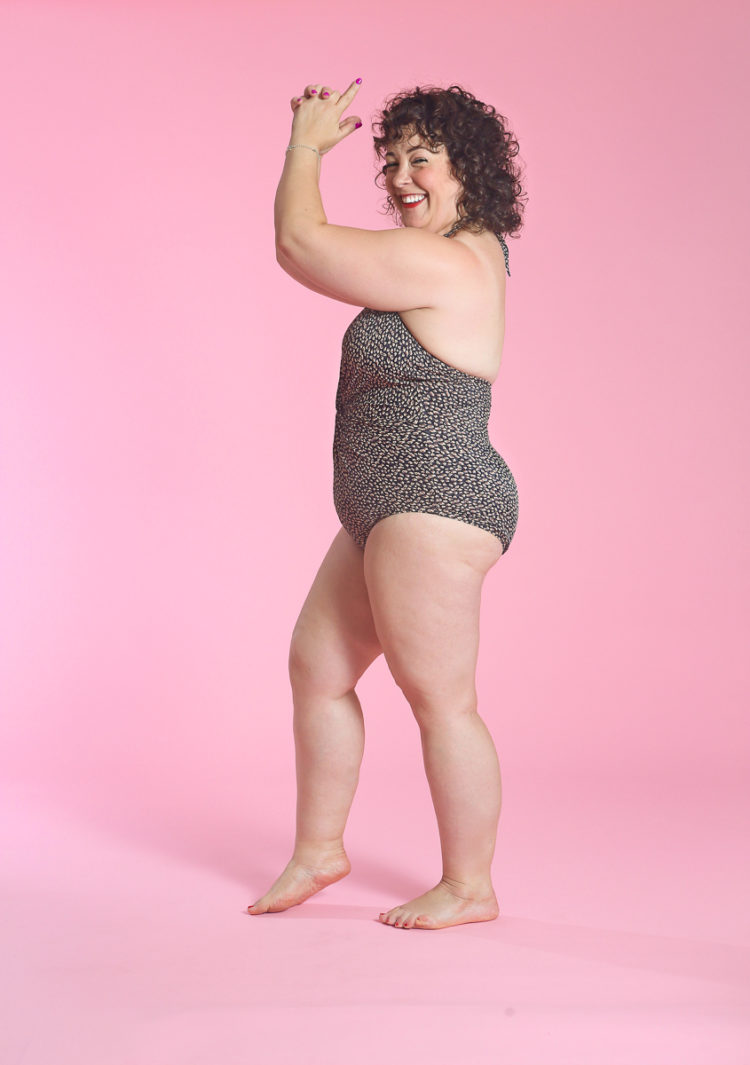 I think this would be a really glamorous and sexy suit on someone who has a smaller or firmer bust. This is a honeymoon kind of swimsuit, but for my body, lifestyle, and comfort level this is a hard miss.
I figured this bottom would work with the black tankini top above as well as other tops I ordered from different retailers. As I've mentioned before, no need to buy a matching set. Swimsuit fabric is pretty universal so you can mix and match retailers to get the fit and the price you desire. This bottom is just fine. It's nothing revolutionary, but it has a decent fit, is high enough that it won't roll down, and heck, it's under $35. Being petite it is a hair too high of a rise and the waistband will fold over, but it's not so obvious I'm willing to pay twice for a different one. And honestly, I have an old one I got at Nordstrom for twice the price and I dealt with the same exact issue. I have worn this bottom twice and washed it twice and it kept its shape and color saturation. It's the bottom featured with the first tankini top above, and is the black swim bottom seen with all the tops featured below. It's a hit!
Swimsuits for a Large Bust: Figleaves
When I shared my success with Bare Necessities for cup-sized swimwear, several of you recommended I also check out Figleaves. I've shopped Figleaves before for lingerie, and figured they were essentially the same as Bare Necessities. Not so; Figleaves has their own in-house line of swimwear that is cup sized and pretty darn cute! I was thrilled with all the color and the modern silhouettes; something hard to find when you're looking for cup-sized suits. Like Target, Figleaves offers free shipping (though only on orders over $70) and free returns within the US.
Pour Moi is a brand that is available at other retailers, and this was a top I admired at Bare Necessities but passed on. Seeing it on sale at Figleaves I decided to order it. It looked a lot like a top I had from Freya that I loved but no longer fit. This is similar to my Freya suit but has some specific things that make it not a hit. As an FYI, this top is shown with the Dreamsuit bottom mentioned above.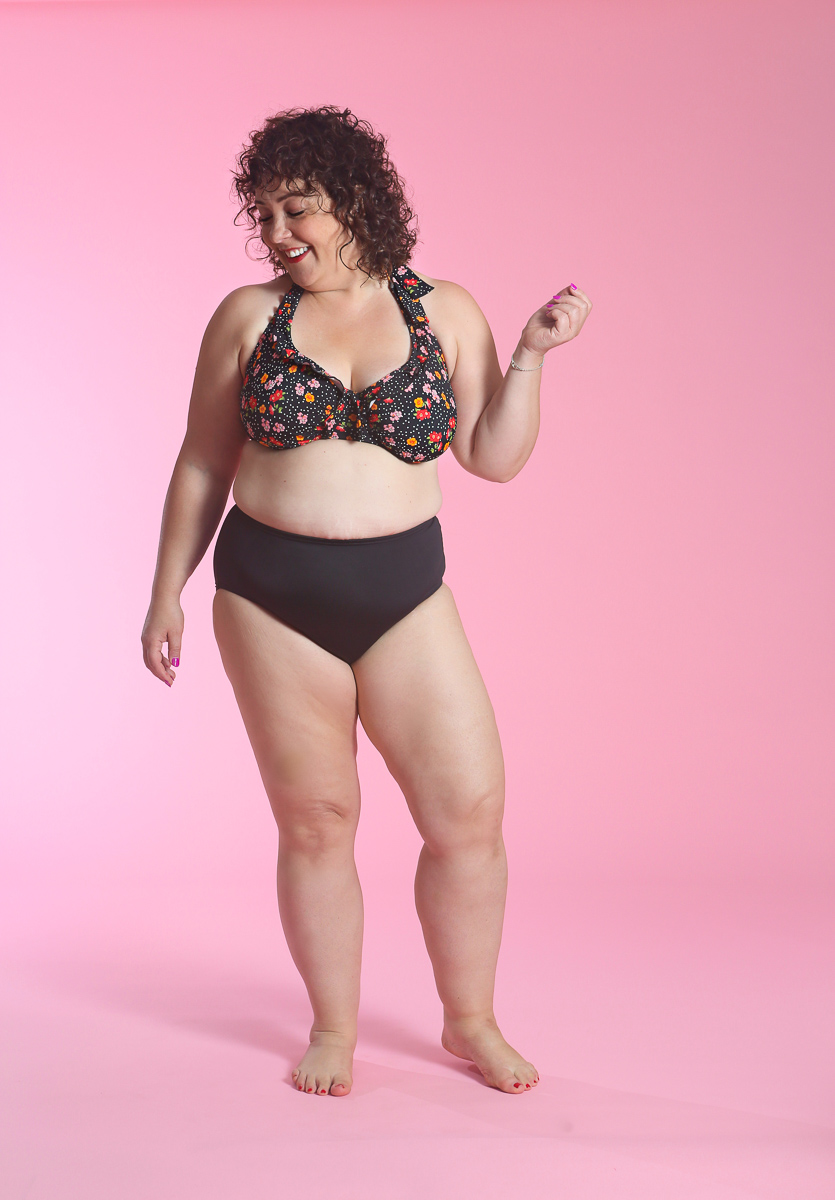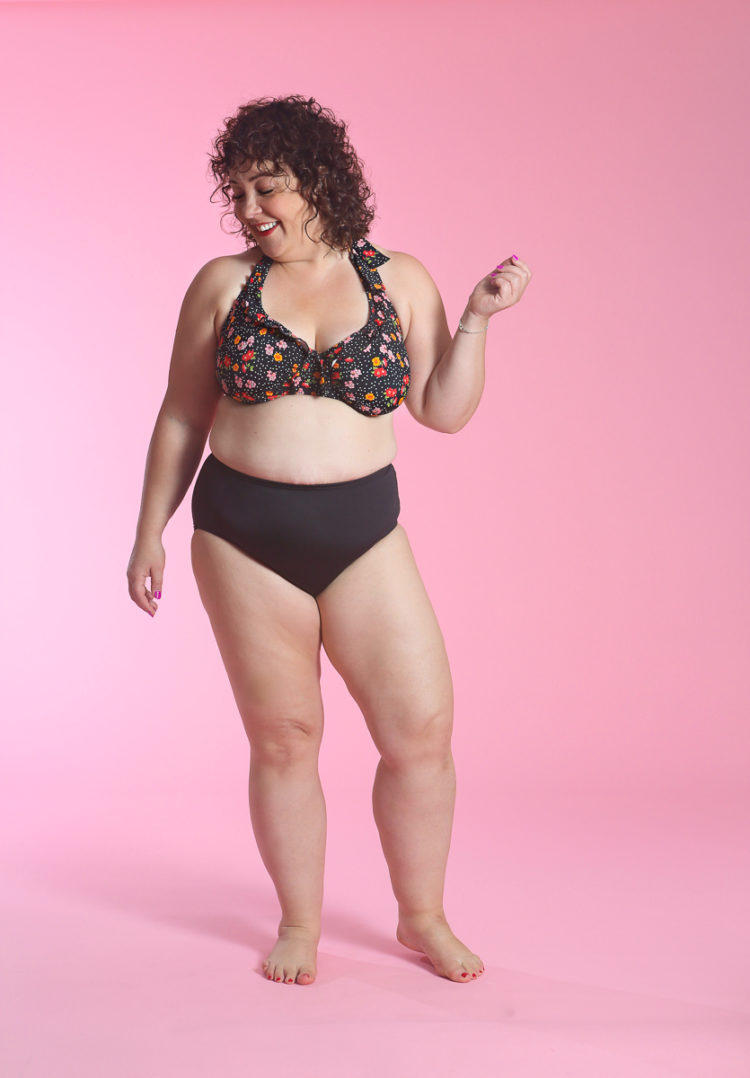 The fabric is thinner and more stretchy, so it doesn't offer as much shape and support. The ruffle trim is white on the bottom and a bit more narrow so the white regularly shows. The straps are thinner; the combination of that plus the stretchy fabric made me have to tie the halter super tight to keep my breasts from hitting my belly button, which caused my neck to ache after just a few minutes.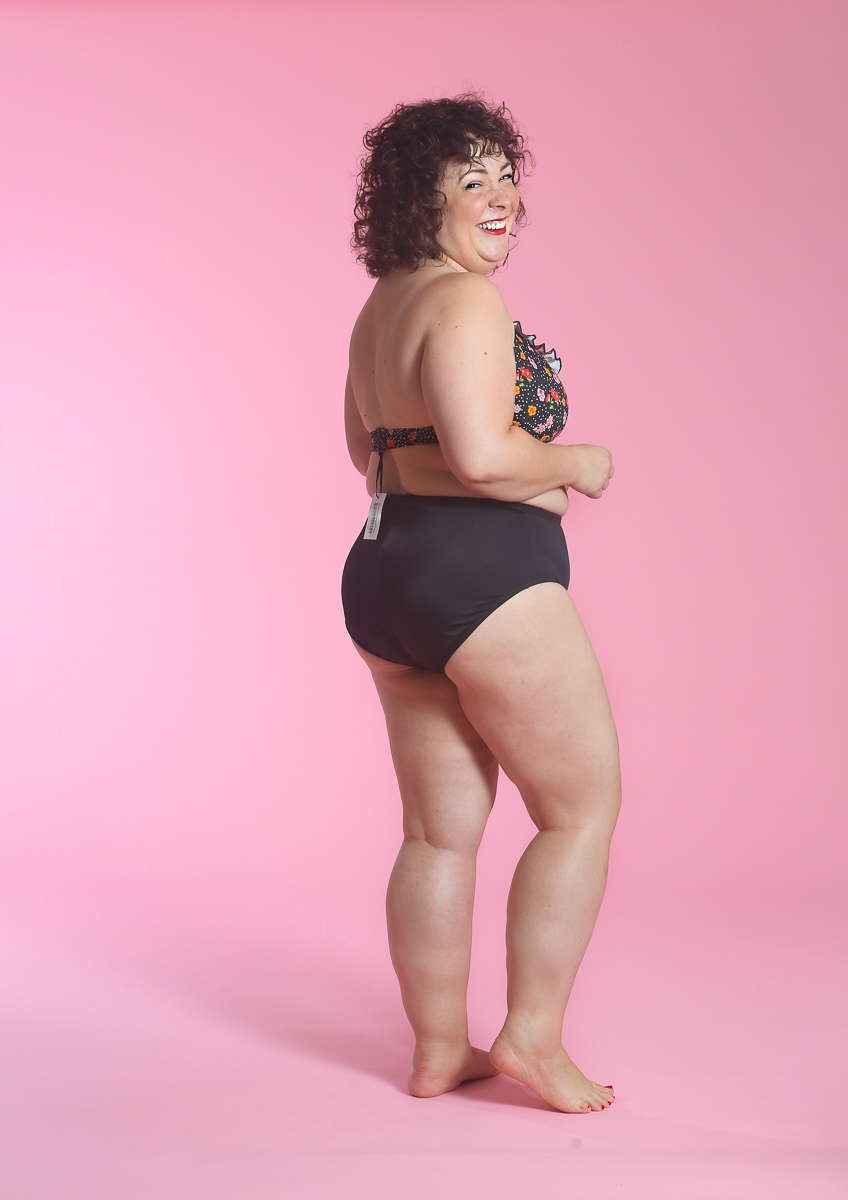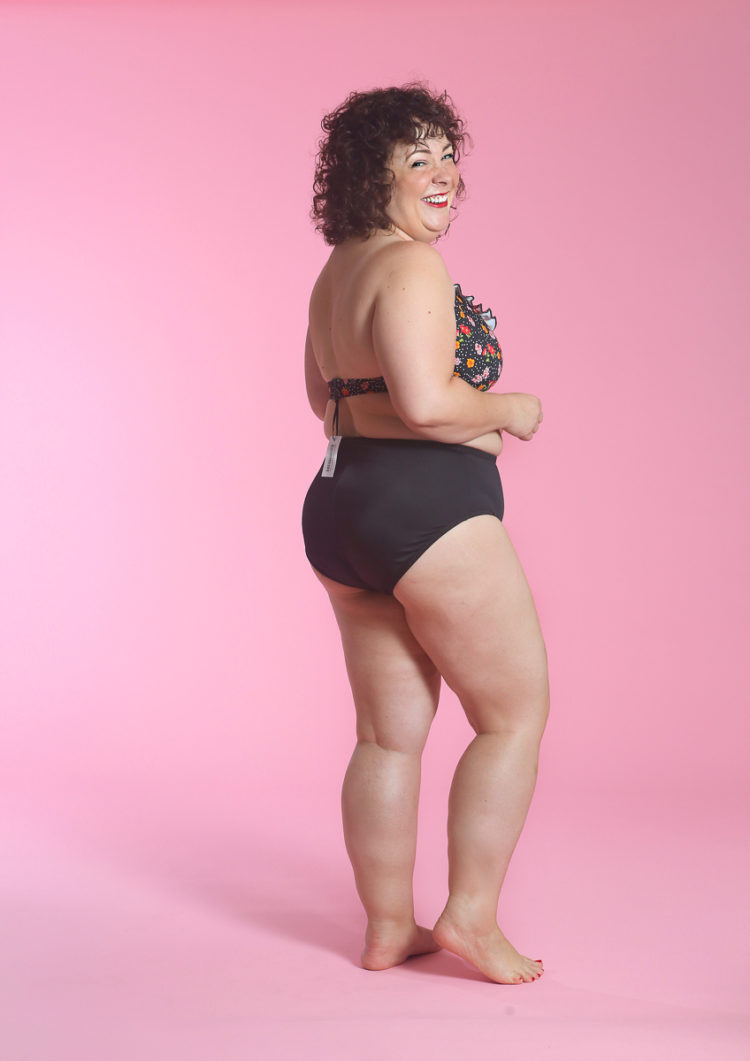 I also felt very naked in the back. This isn't any different from the back of my Freya top, but it may be due to now having shorter hair. Anyway, it made me uncomfortable. The print is just as cute in person, but this is a top better made for a smaller and firmer bust.
Figleaves said their F was equal to a G and their 16 equal to a 14 so I ordered the top in an E and the bottom in a 16. I loved the idea of a bikini I could make strapless if I desired, and how the print had black in it so I could switch it up with a black bottom or top and have it nicely coordinate with black coverups.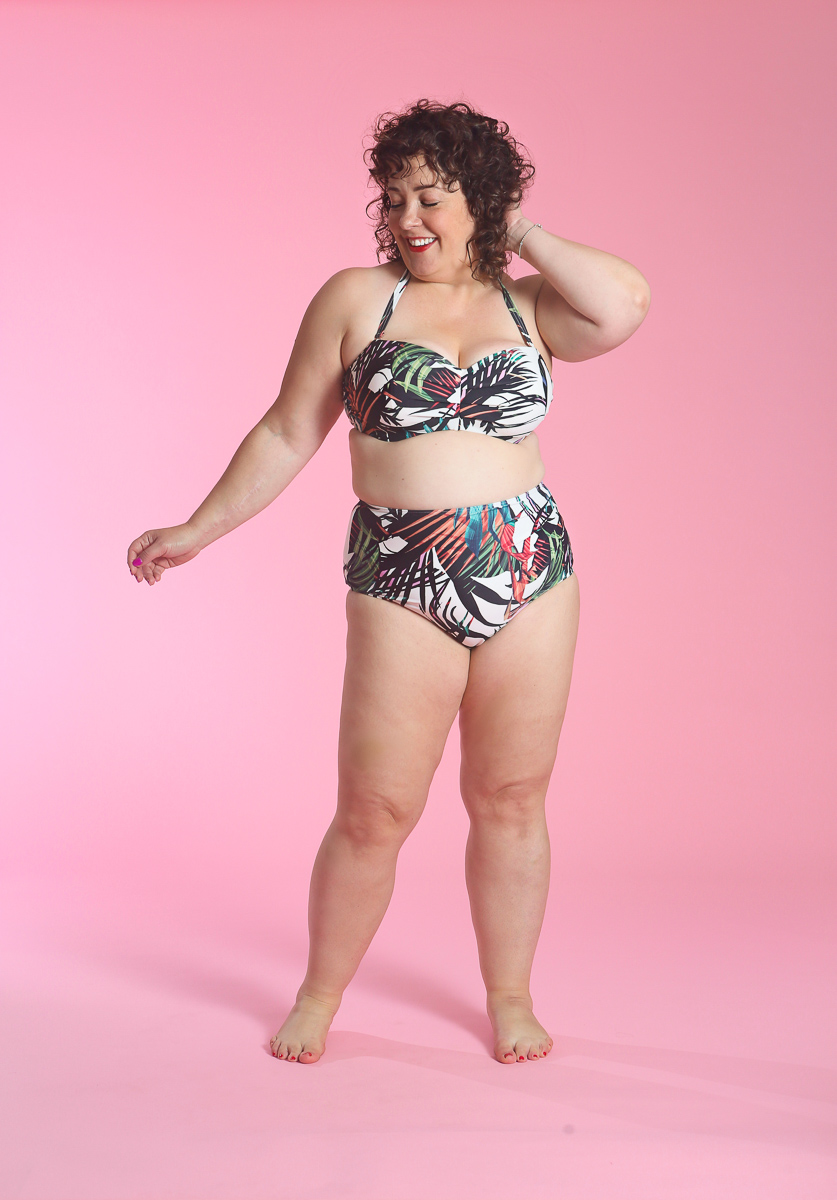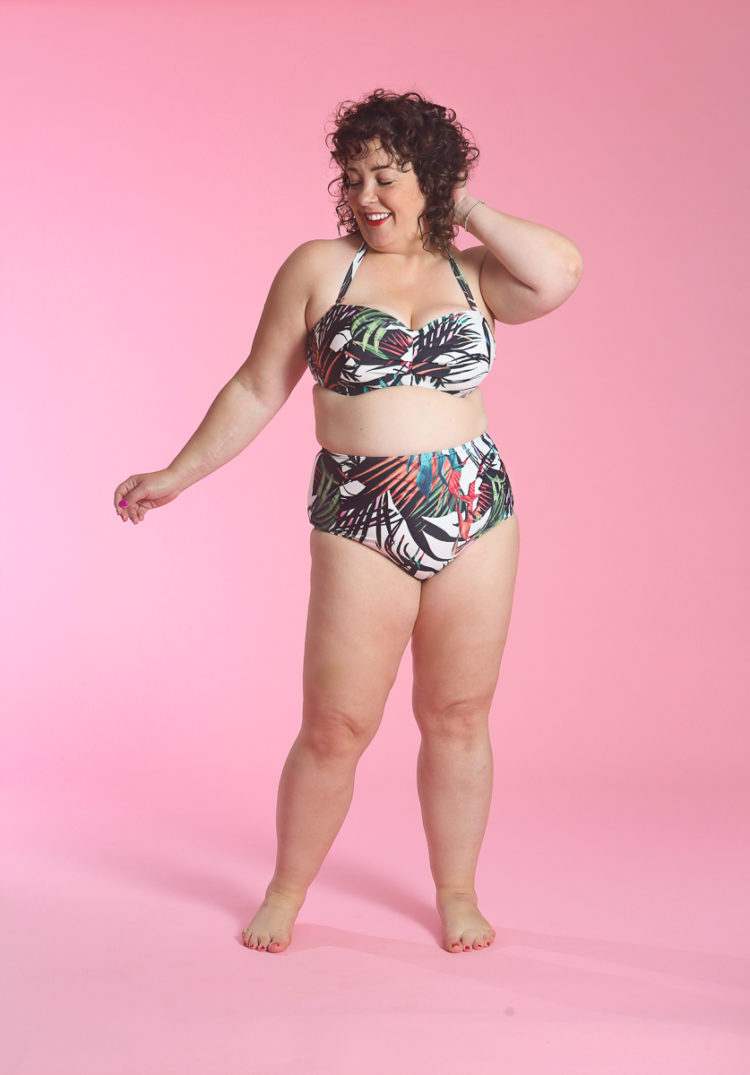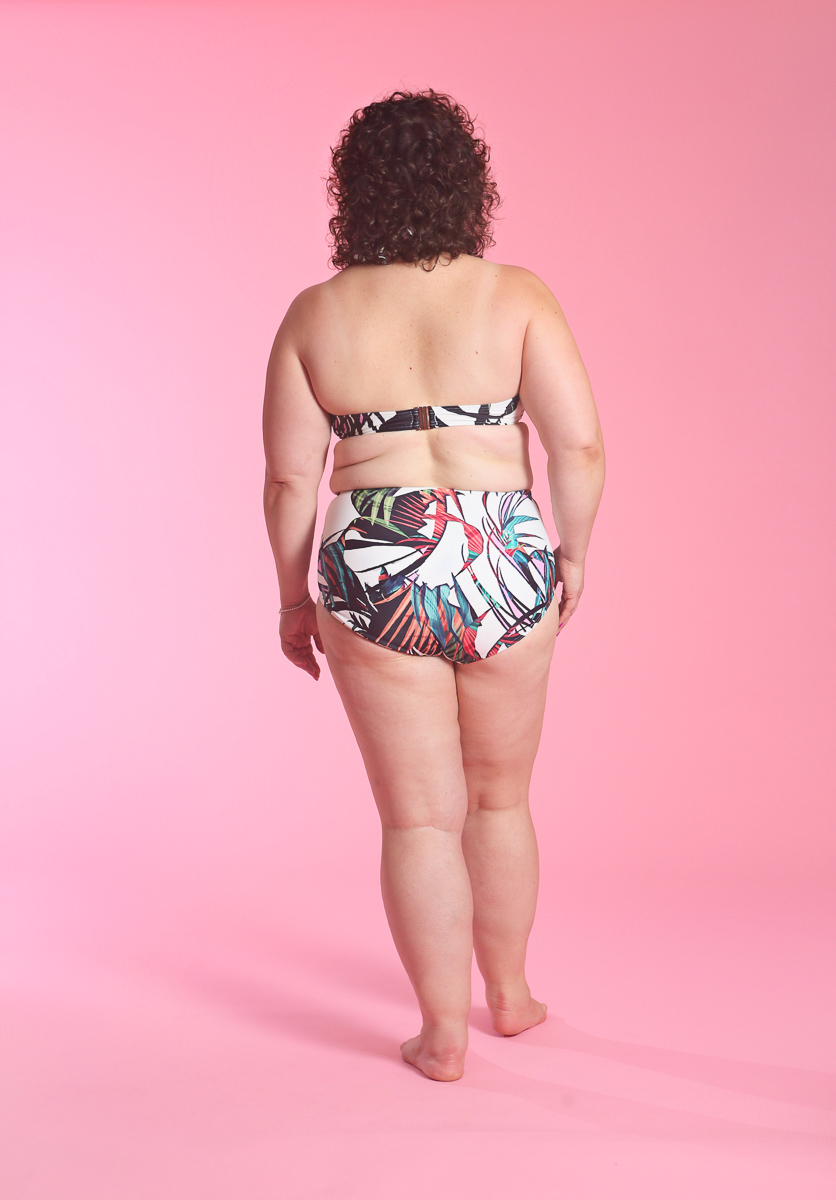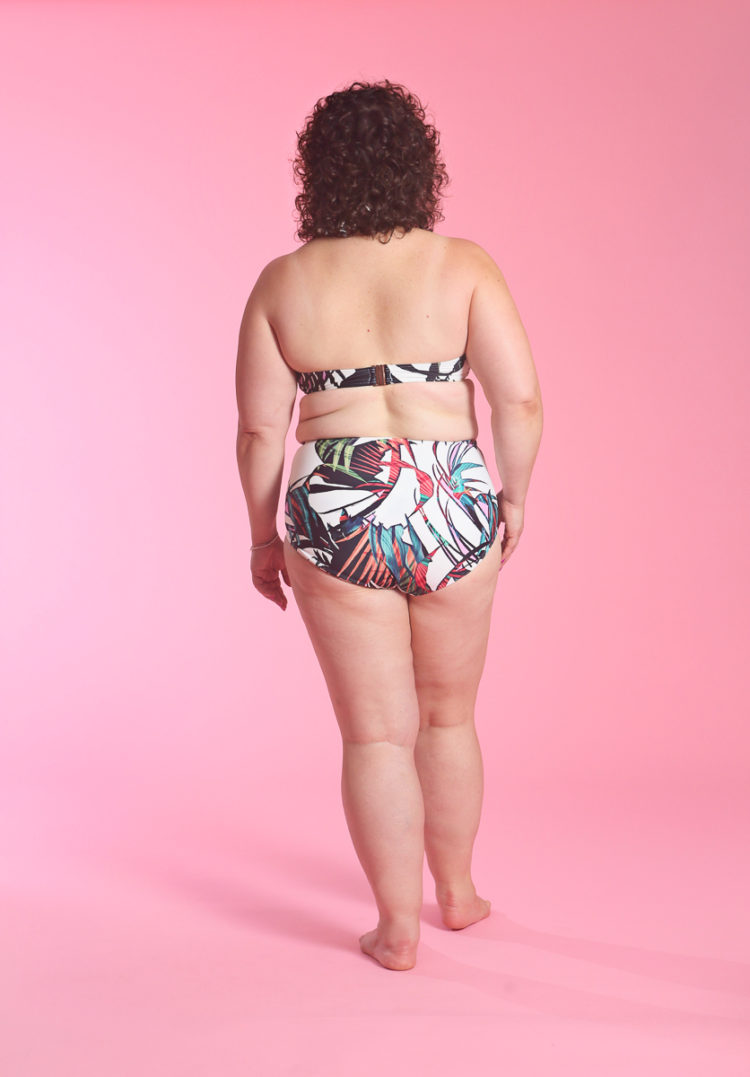 This suit is almost perfect. I wonder if an F cup would be too big, maybe a 38 instead? A 14 bottom would fit better, especially when it gets wet and stretches. I did like the subtle ruching on the side of the bottom and in the middle of the top; it added style and made the suit look more expensive. Speaking of price… the top is $45 and the bottom is $32 and if you use FIGLOVE you can get 20% off your first order. This makes the suit cheaper than anything at Target and a far better fit and quality of fabric!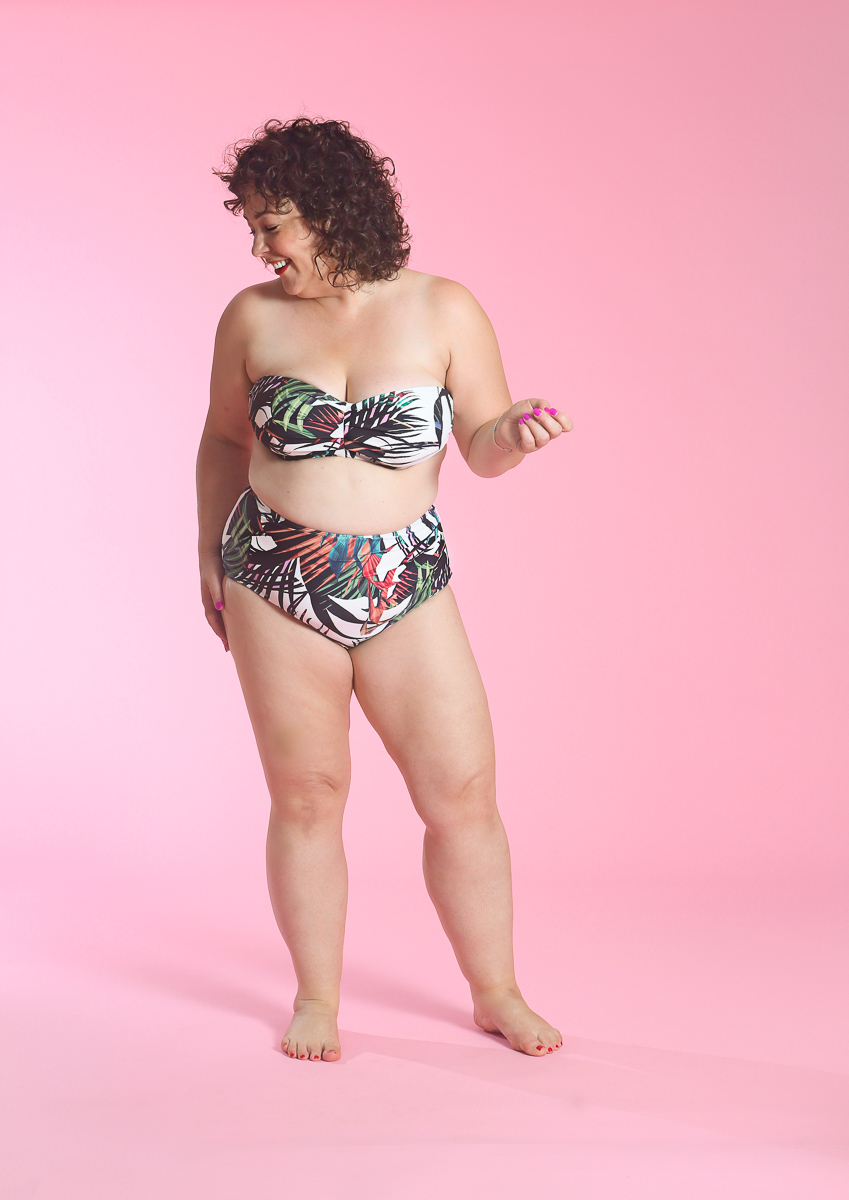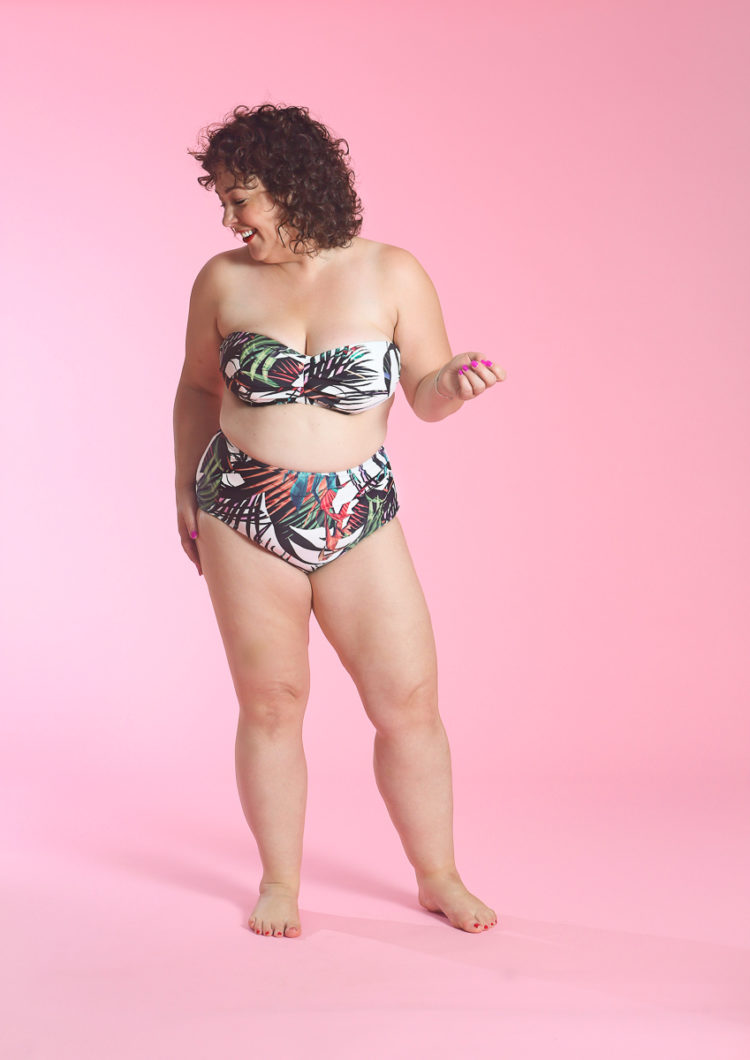 I kept the top… for now. I have a few weeks left before it has to be returned. I returned the bottom, ordered it in a 14 and the top in a 38 E to see. If they work, I'll keep it. If it's still not quite right I'll return it all. So stay tuned, fingers crossed this ends up a hit!
I saw this suit on Instagram and it immediately drew me to the Figleaves website. My favorite color is orange, my favorite color combination is orange with hot pink. That combo was even our wedding colors! They didn't have a 36F so I took a chance with a smaller cup size. This suit is $70.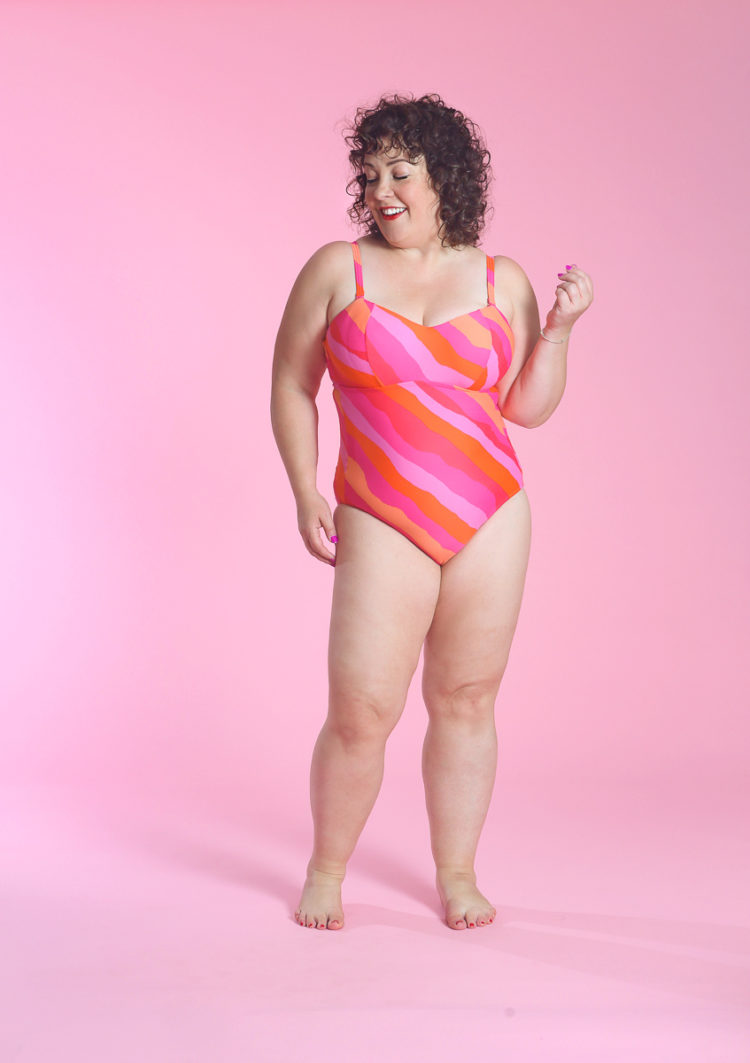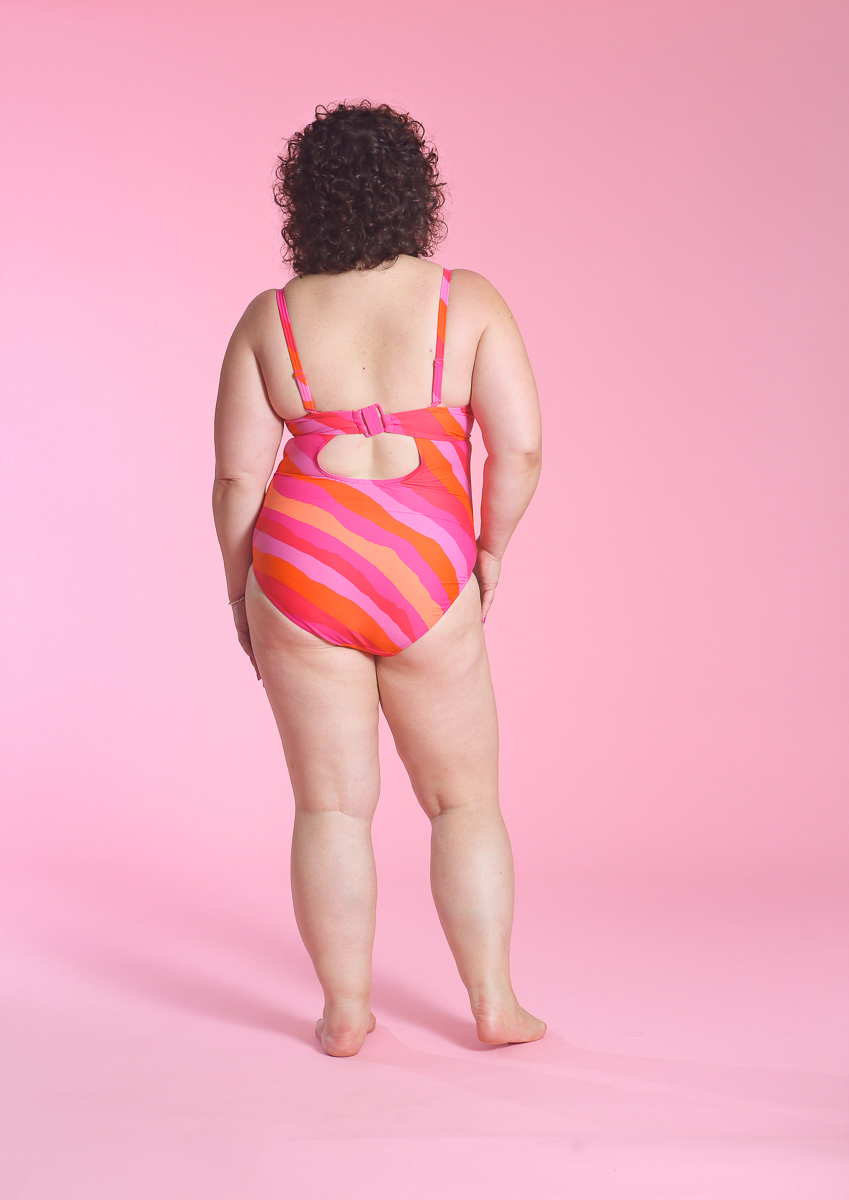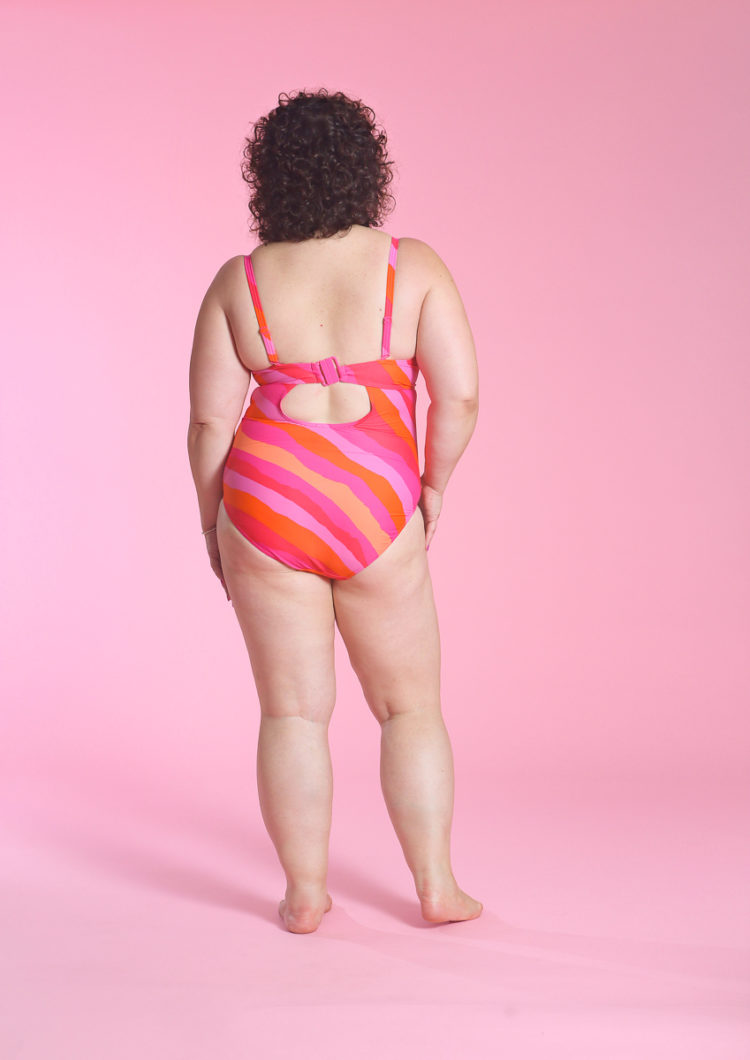 This suit has underwire, but also a white foam molded top. Not cups, but a completely molded bust. And when you shimmy and move (and likely swim) the pretty colored fabric slides down a bit and the white foam interior sometimes peeks out. I don't think this suit would stay up without the straps; if you go strapless only do it for sunning and put them back on to walk anywhere.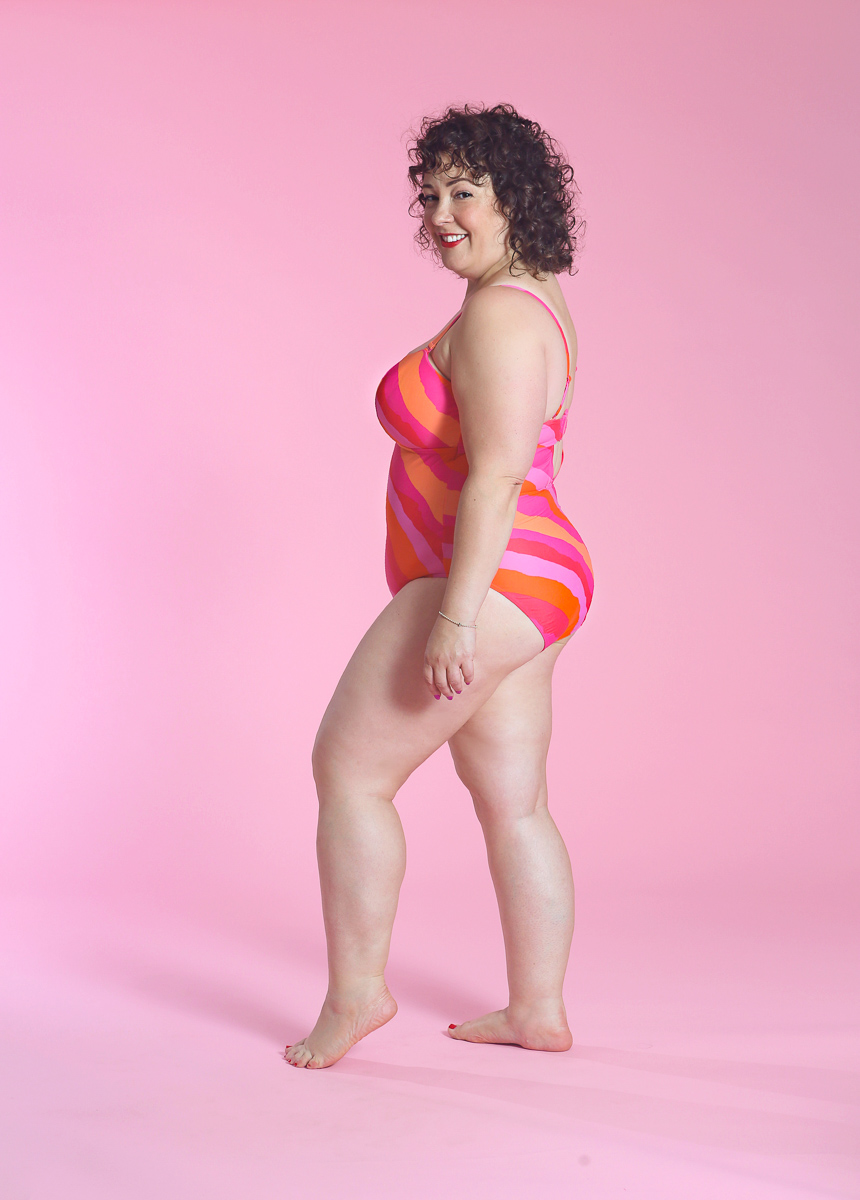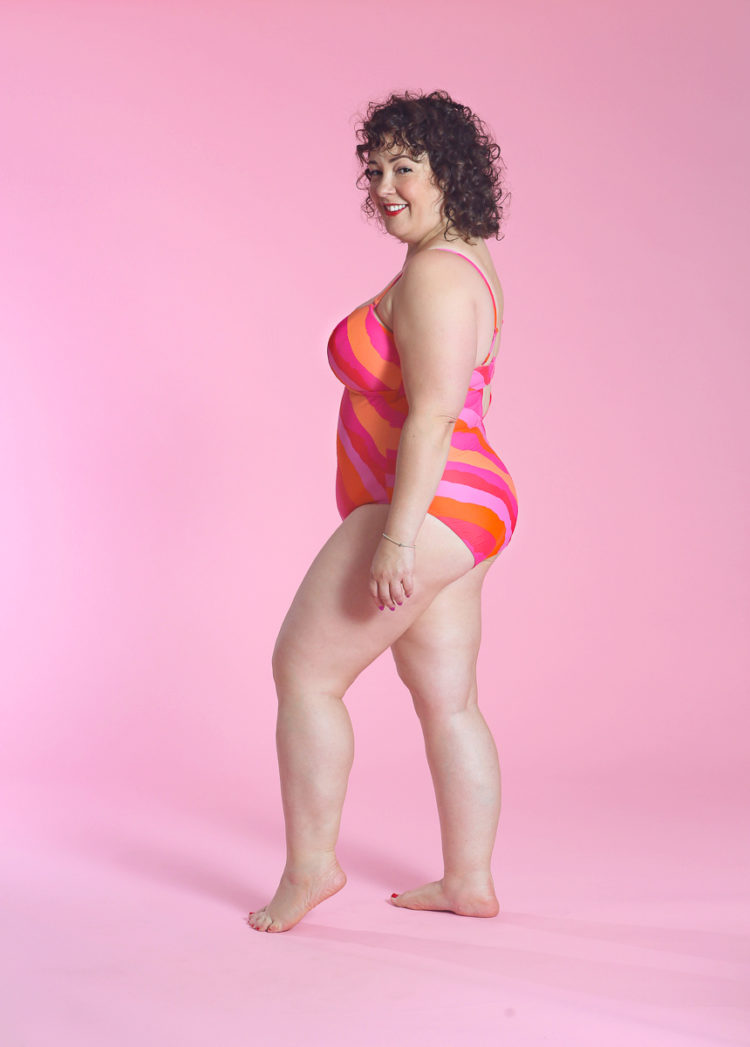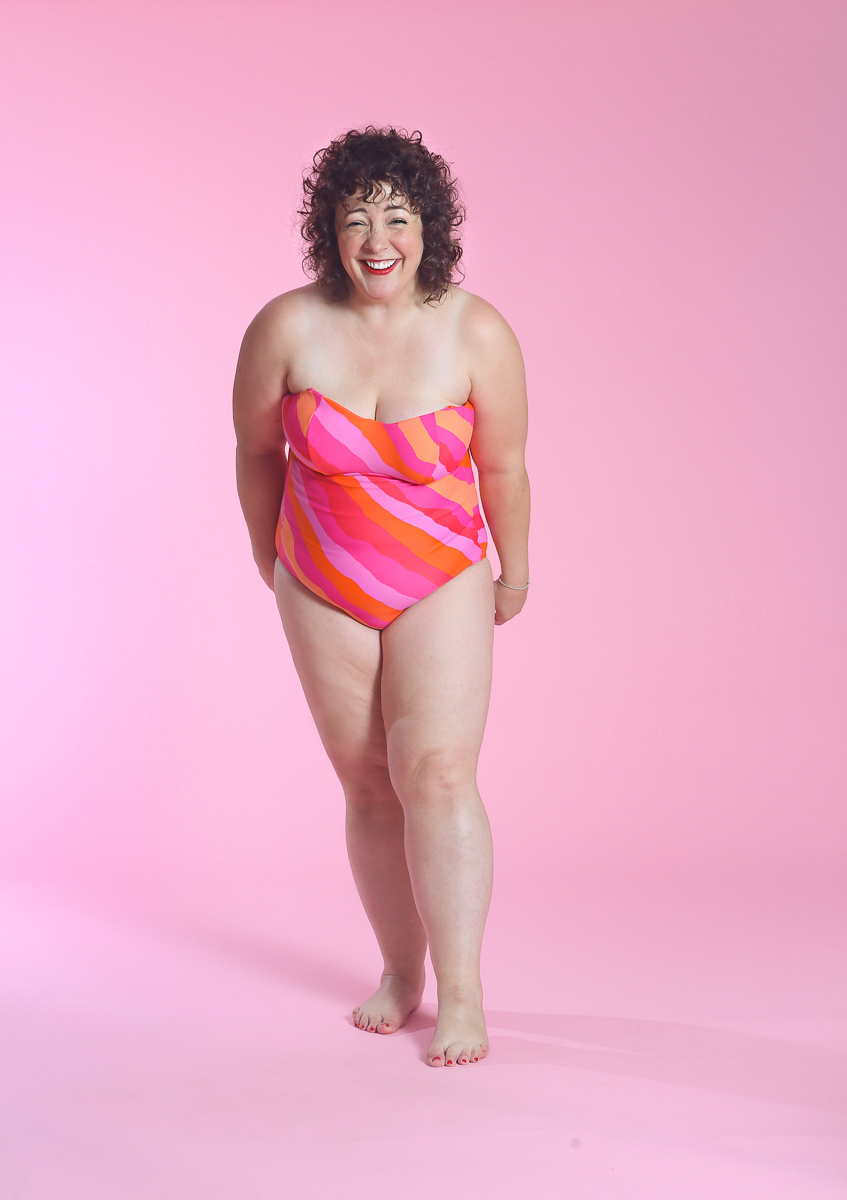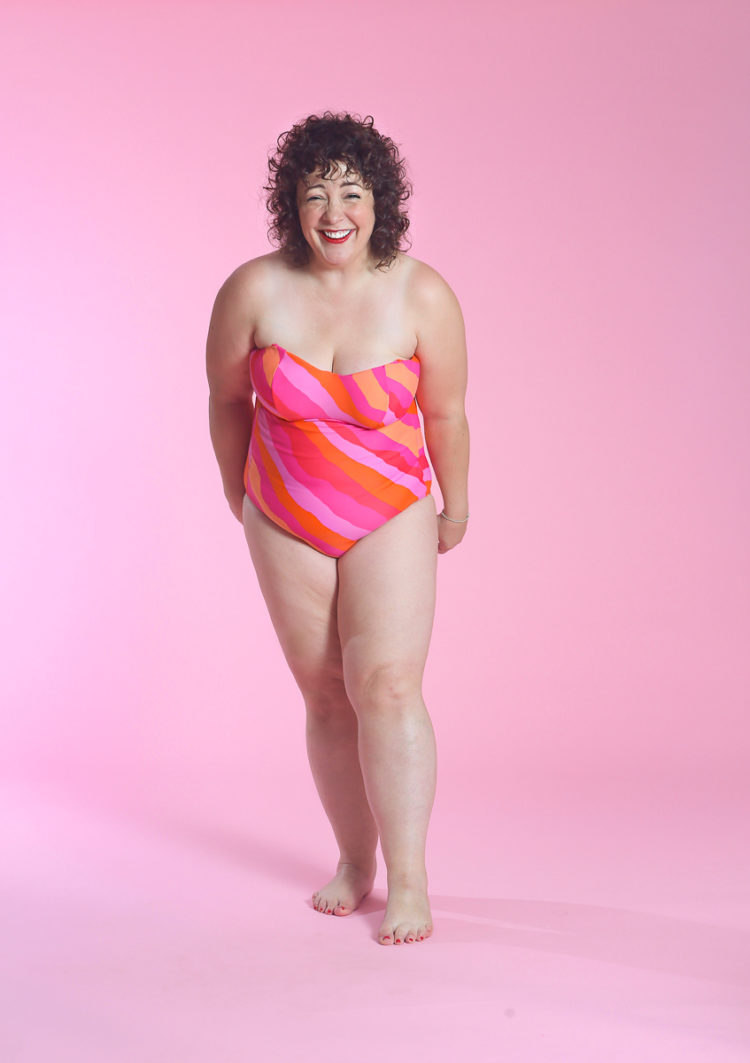 Speaking of the straps, like many suits I've tried before, those straps and the back clasp are holding on for dear life and if you move too fast a strap will snap off. I also wish the torso was thicker fabric, had another layer, a control panel, something. With such a thick and molded top the relaxed bottom I think made the body look weird and a bit saggy in comparison. Gosh, I wanted to love this suit but it was a miss.
How could I resist the print of this swimsuit? It was like Rifle Paper Company and Liberty of London had a large-bust swimwear collaboration. I love the look of strapless one-piece suits; pre-baby it was my go-to look for coverage while still looking sexy but they rarely will stay up with my current shape. This one looked promising, and it was on sale for less than $50. Since it was on sale they had limited sizing so I went with an F cup though Figleaves recommended an E for me.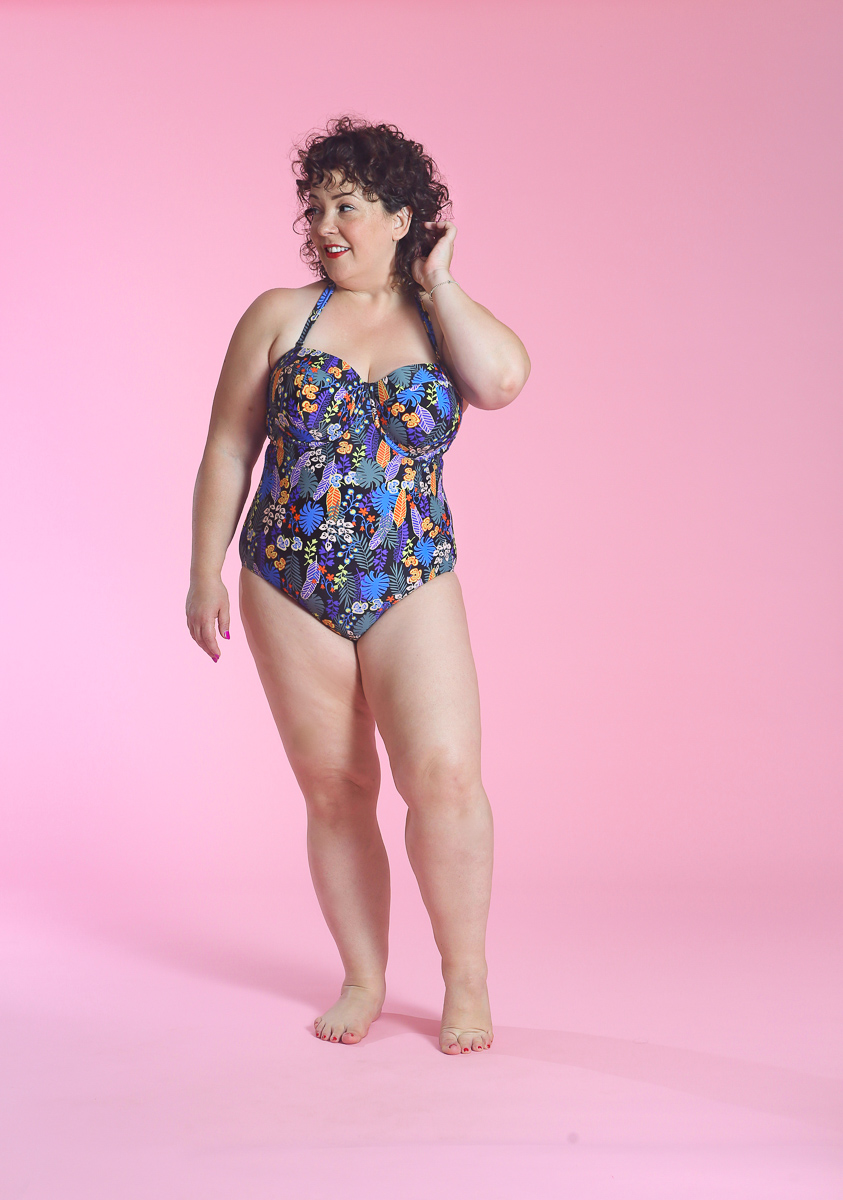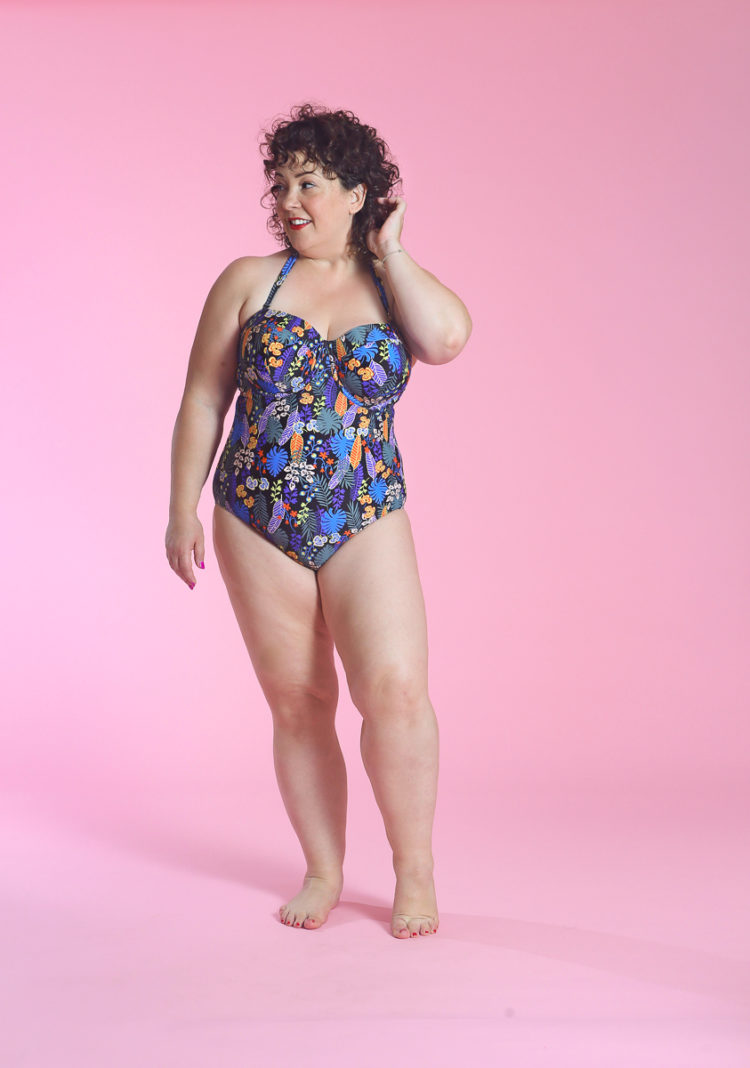 I love the print even more in person. It's so darn happy and such a departure from most swimsuits that have tropical, watercolor, or animal print patterns. However, an F cup was too big and like the orange and pink suit above, I was desiring more control or another layer of fabric in the torso to complement the structure of the bodice. I did not take pictures of it without the strap because I knew the cups were too big and I would spill out.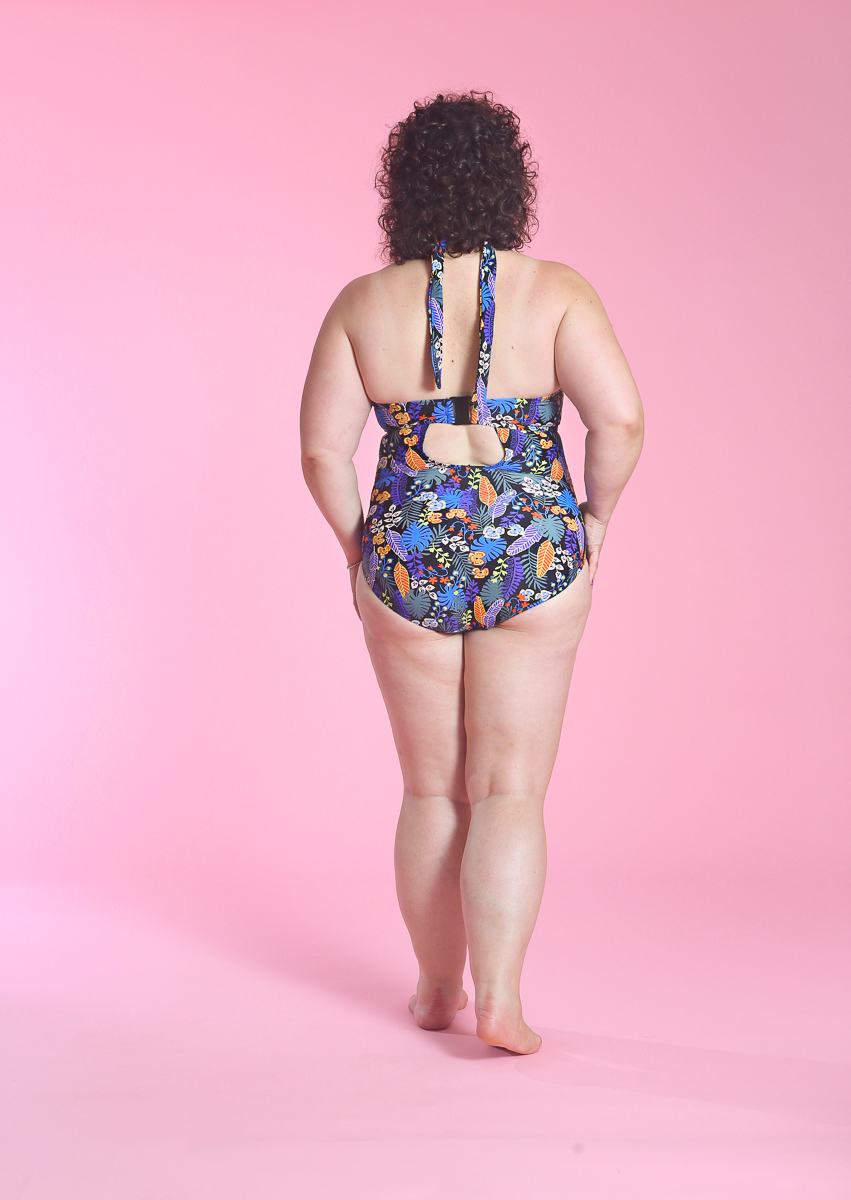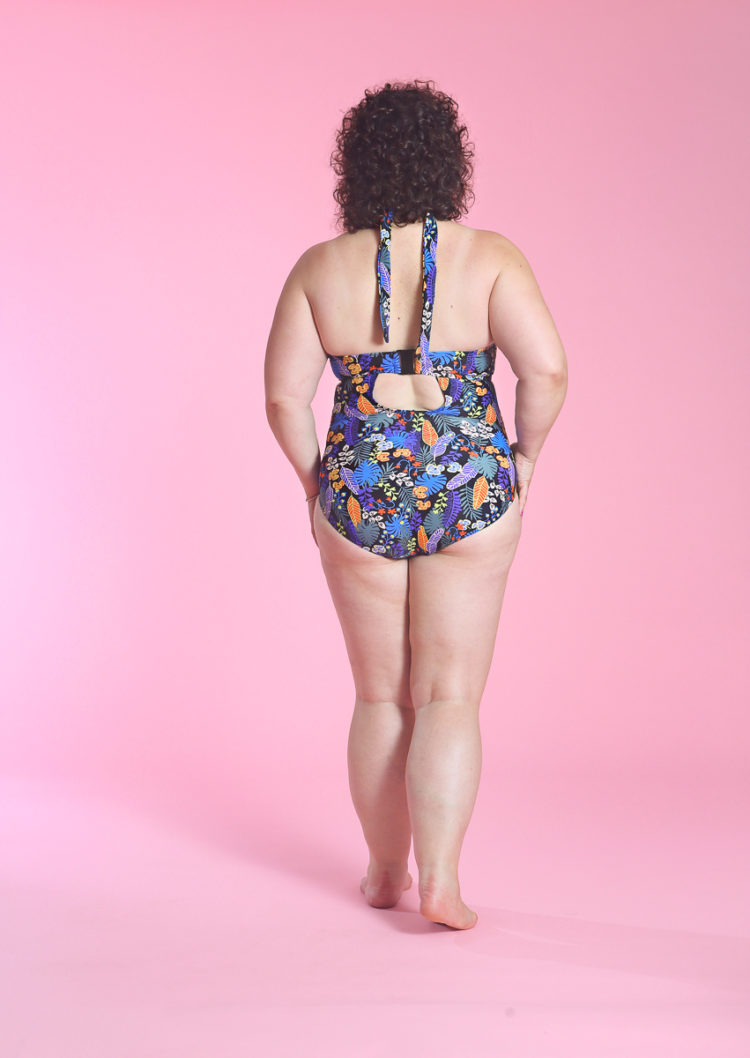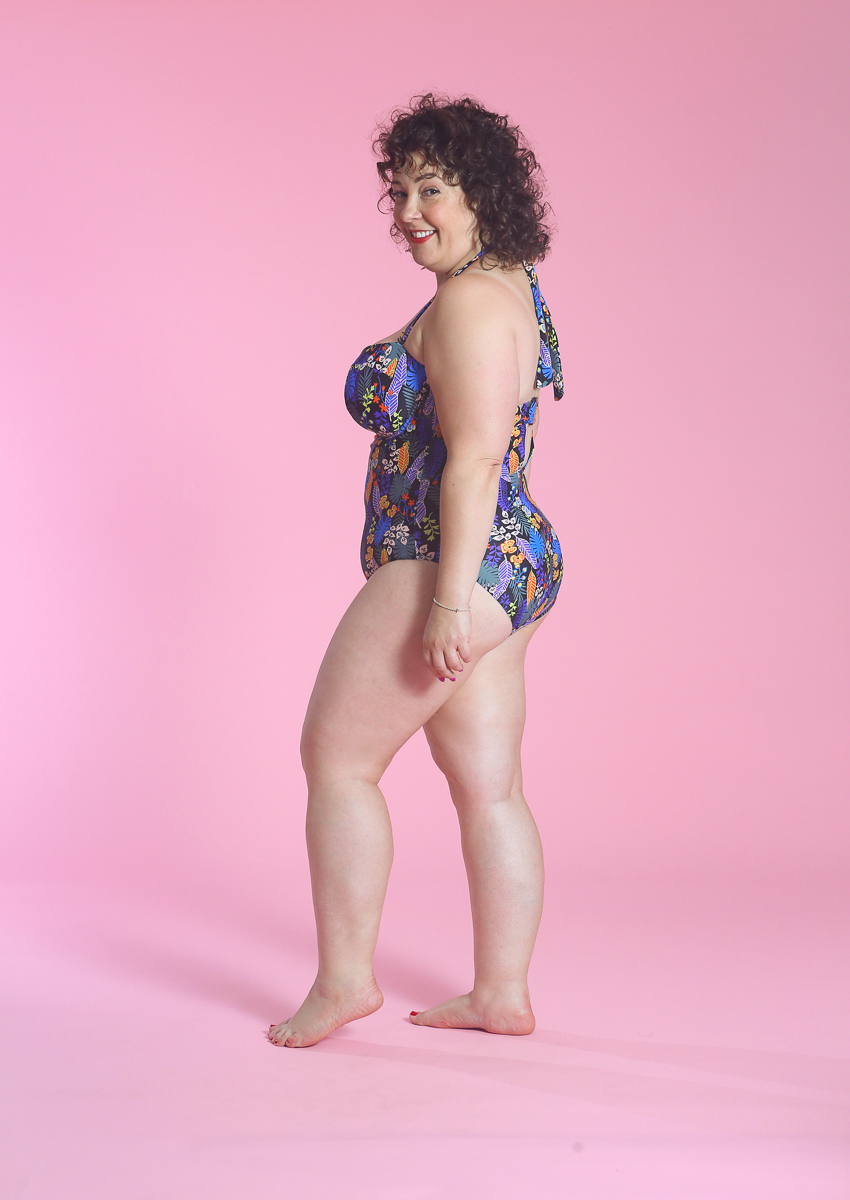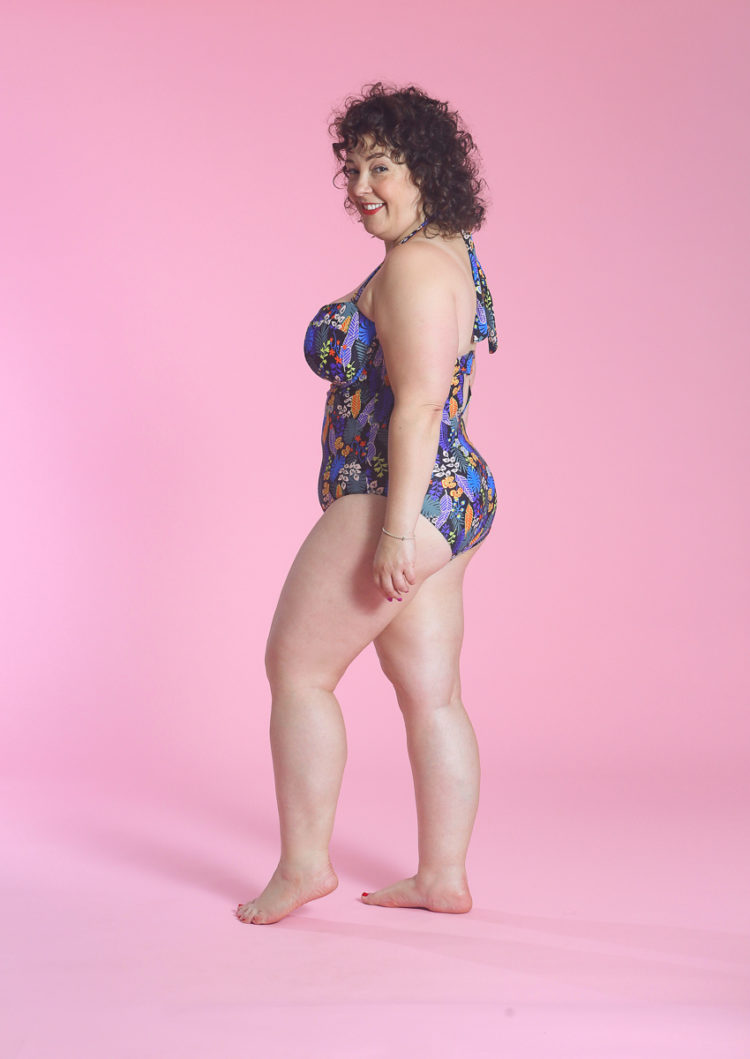 I returned this suit, but because I love the print so much I ordered the bikini top and high-waist bottom in it and we'll see which I like better, it or the white printed bikini above. But this is a great suit for someone with a firmer or smaller belly but a larger bust. So while it's a miss for me it could be a hit for another!
Again, going with the Figleaves size chart I ordered this top in an E cup. Bandeau suits often ride down; I thought a tankini wouldn't have that pull from the crotch and rear and be more likely to stay in place. This tankini top sells for $50.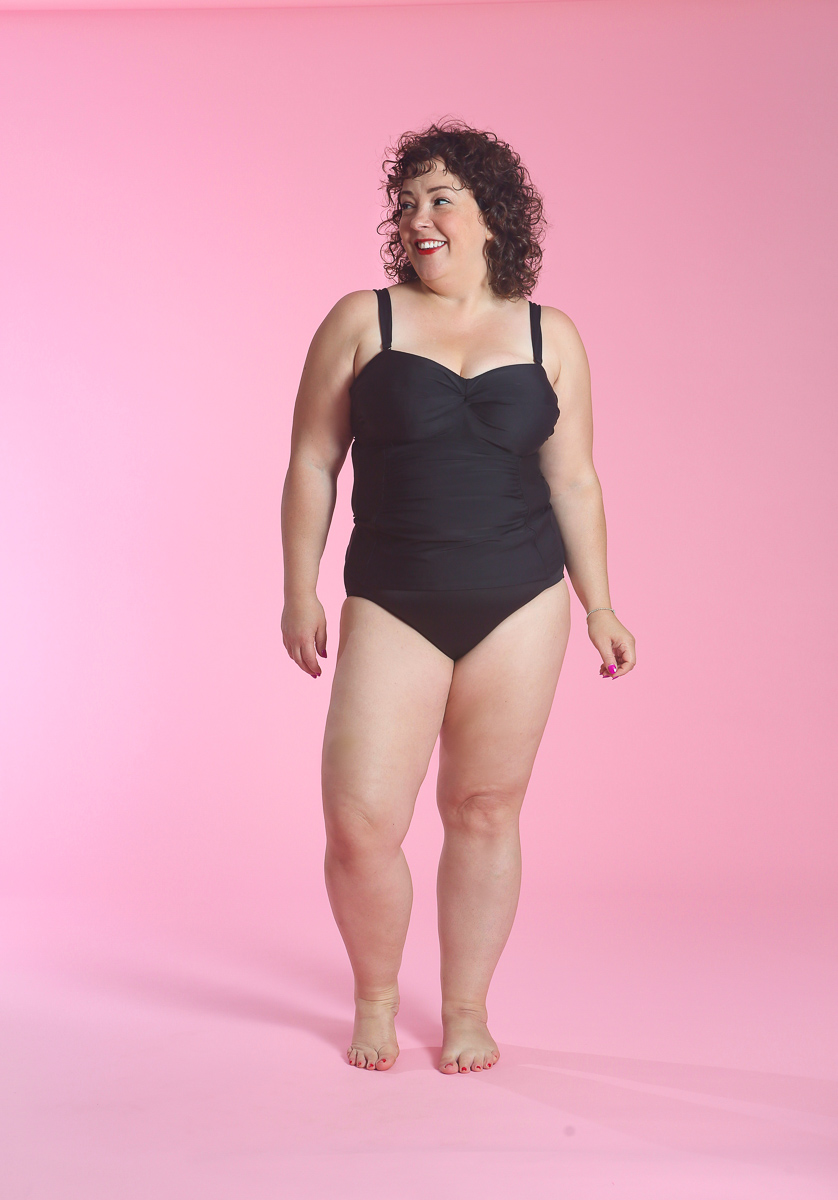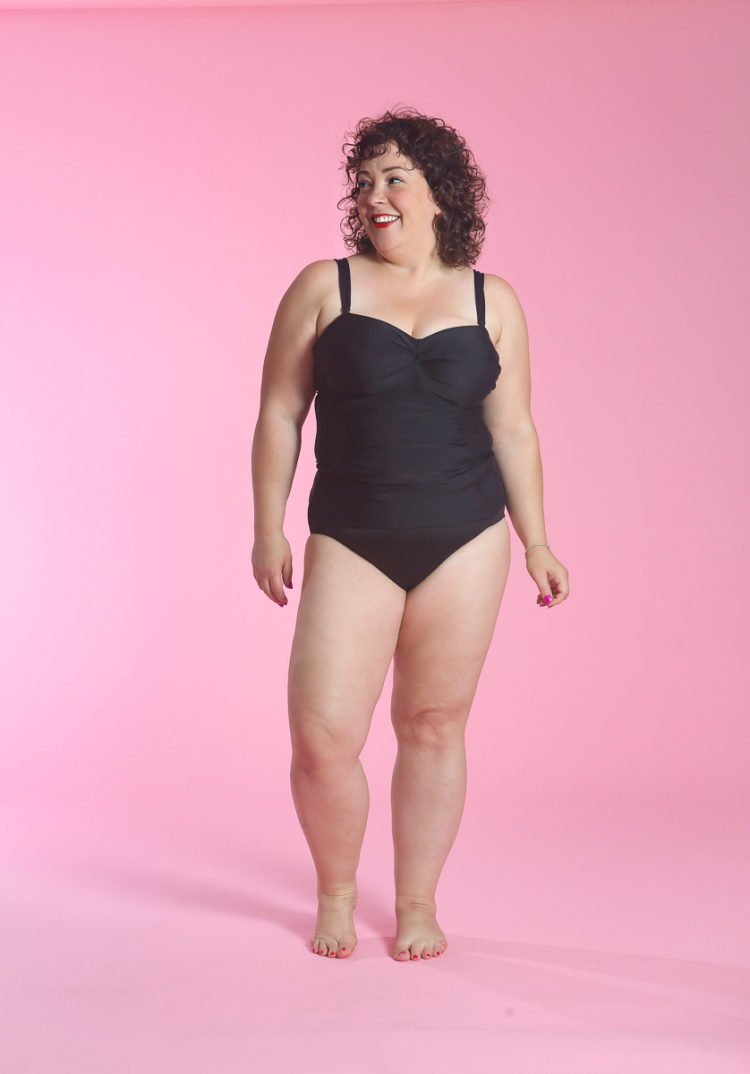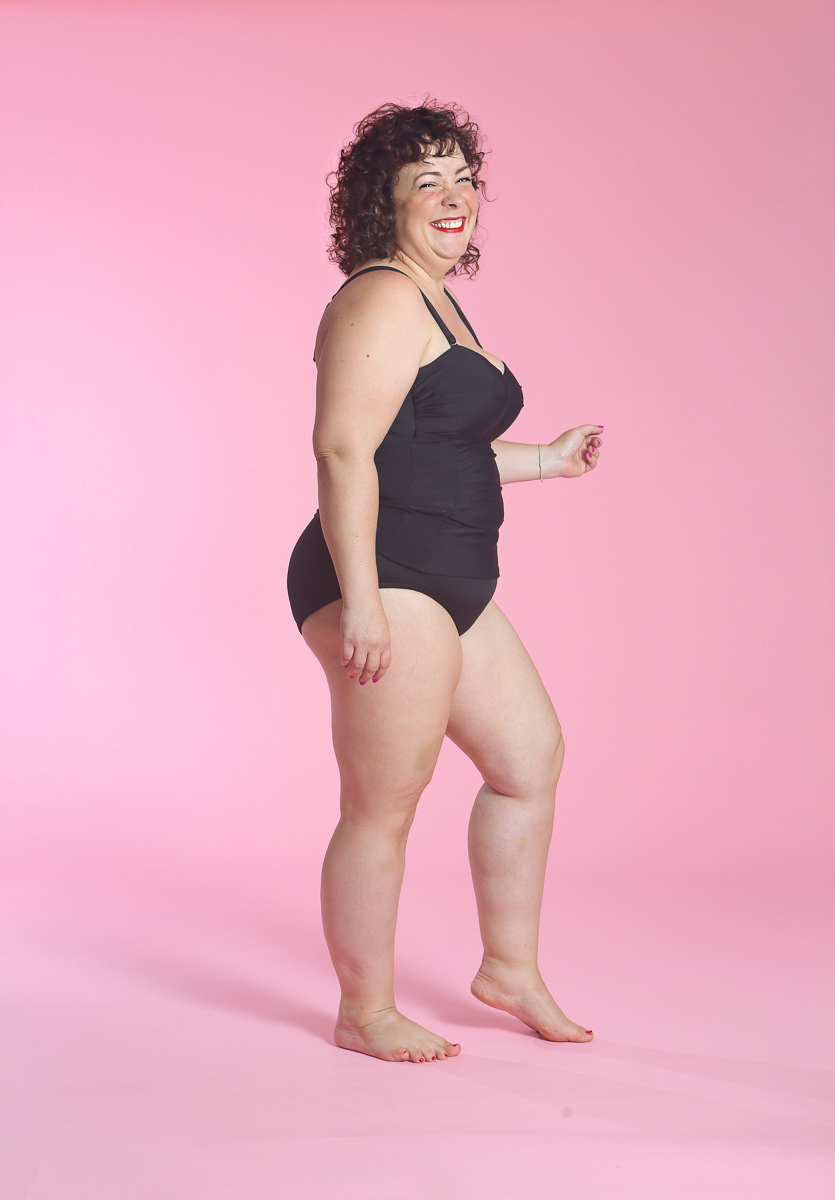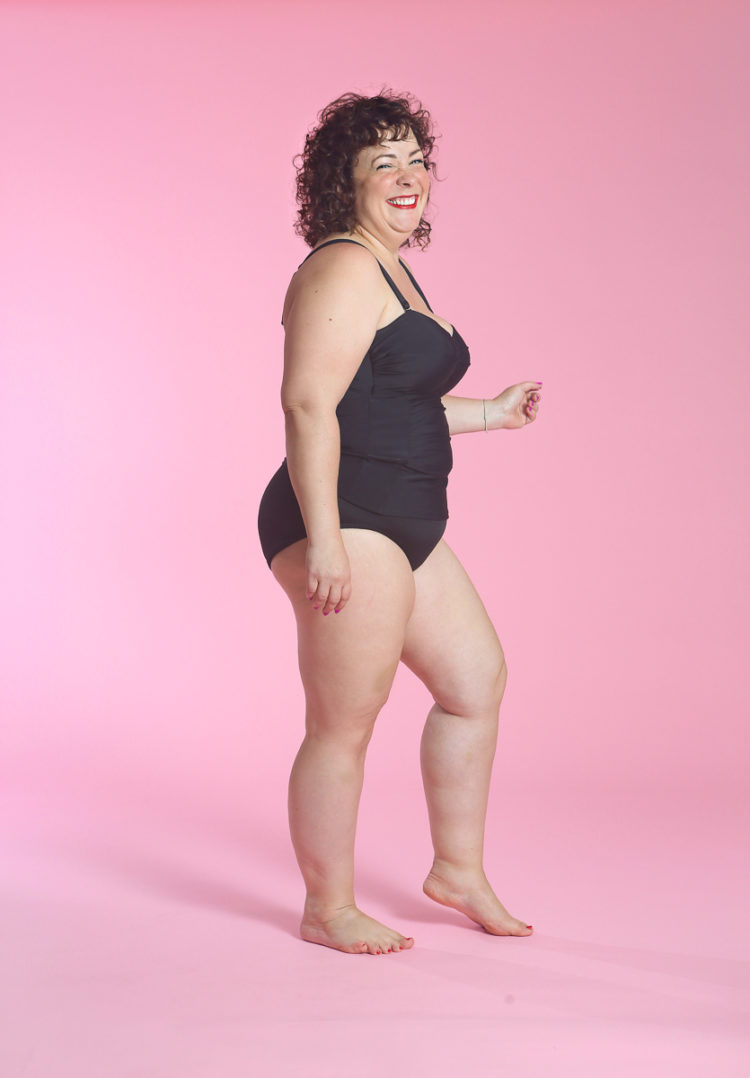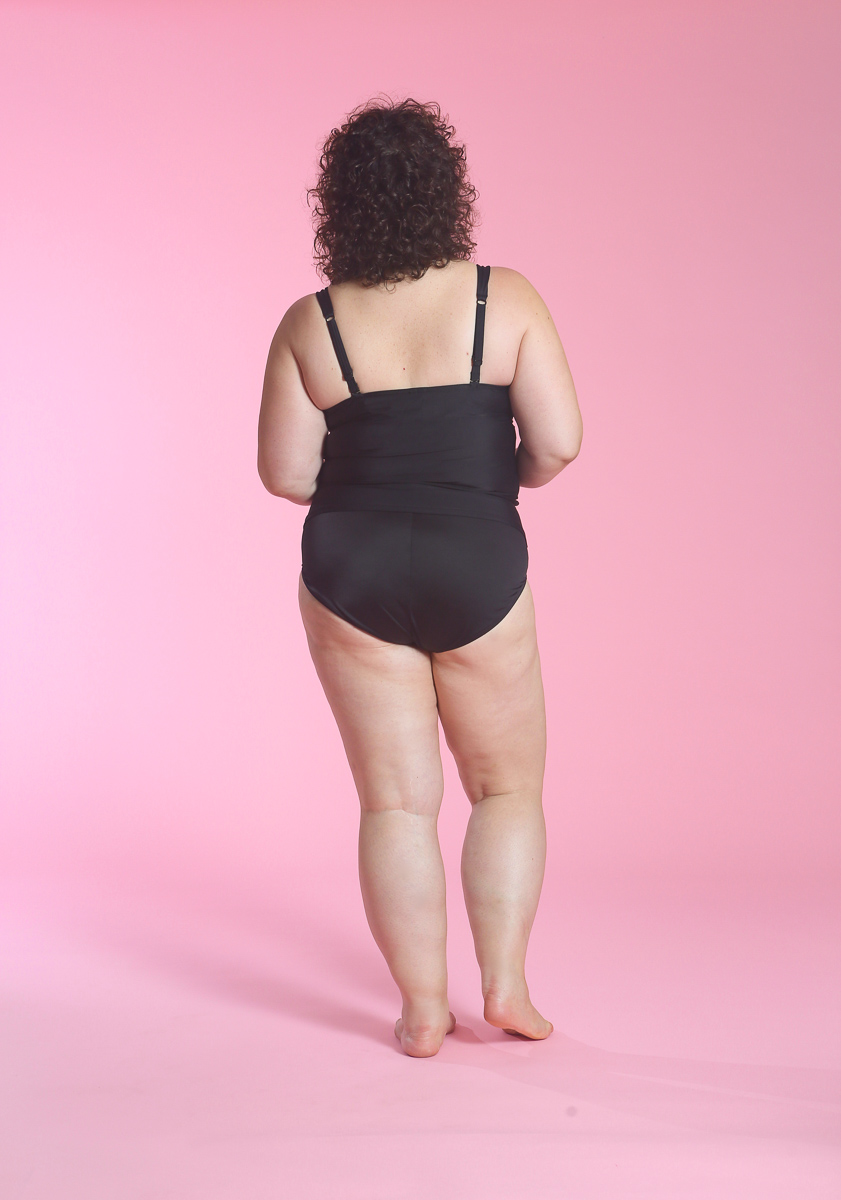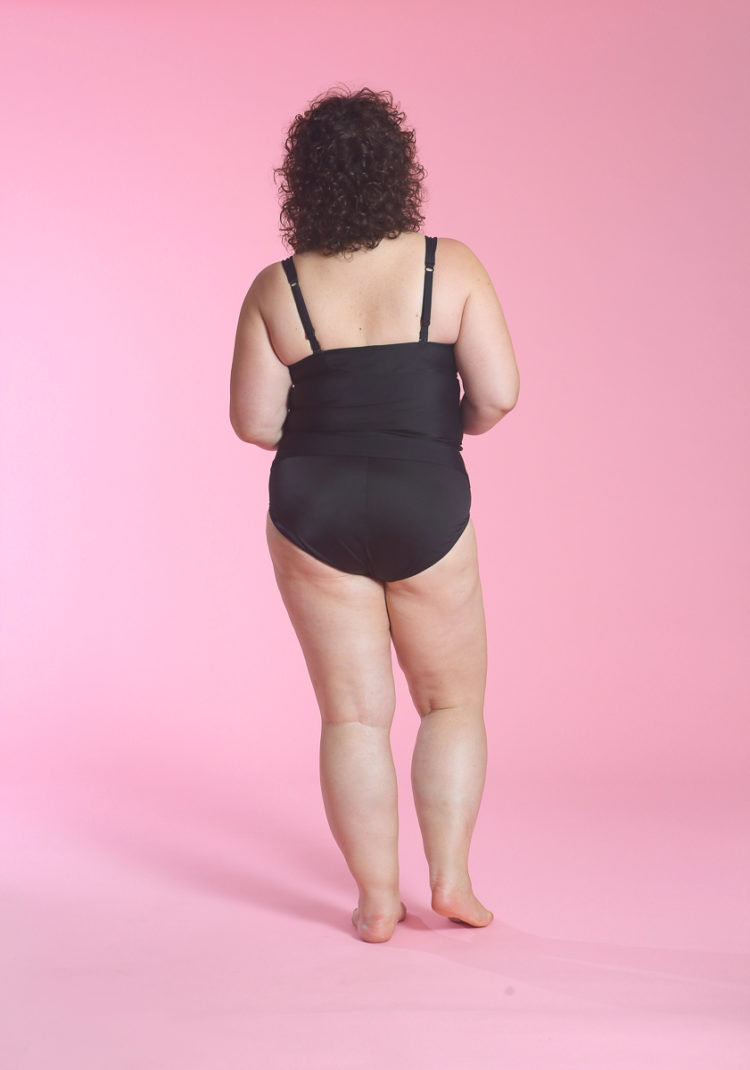 I found this to be very ordinary. The straps looked like an afterthought. The way it has three panels in the torso and ruching in the middle I felt it emphasized a belly. This is not a control suit, but the ruching and base layer made it thicker than the other Figleaves suit but still lacking any slimming features. Again, this top is worn with the Dreamsuit bottom from Target featured above.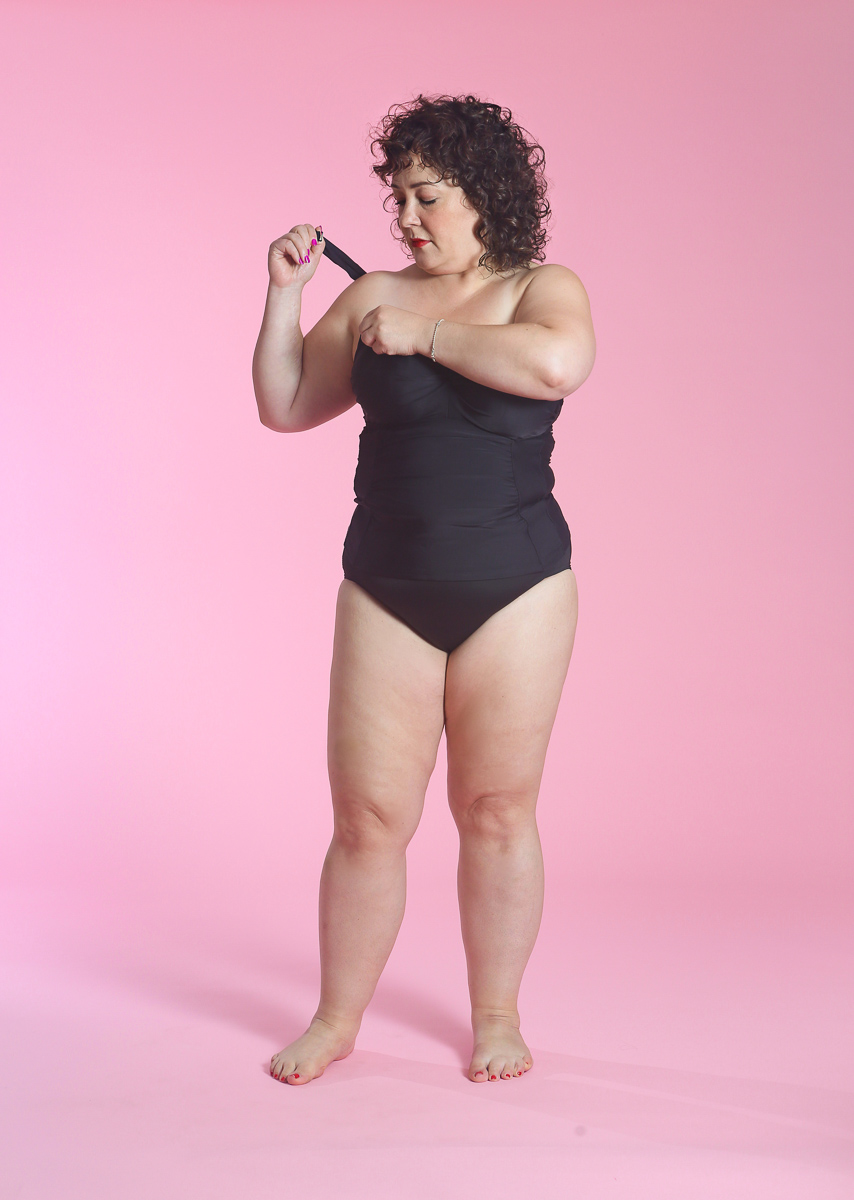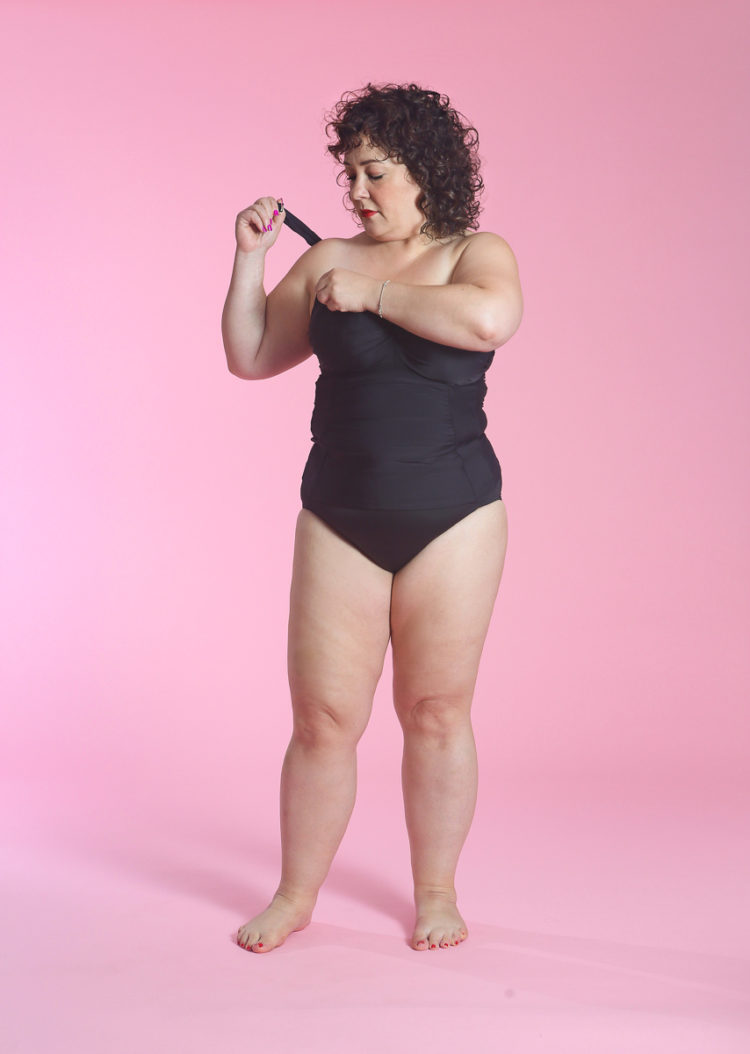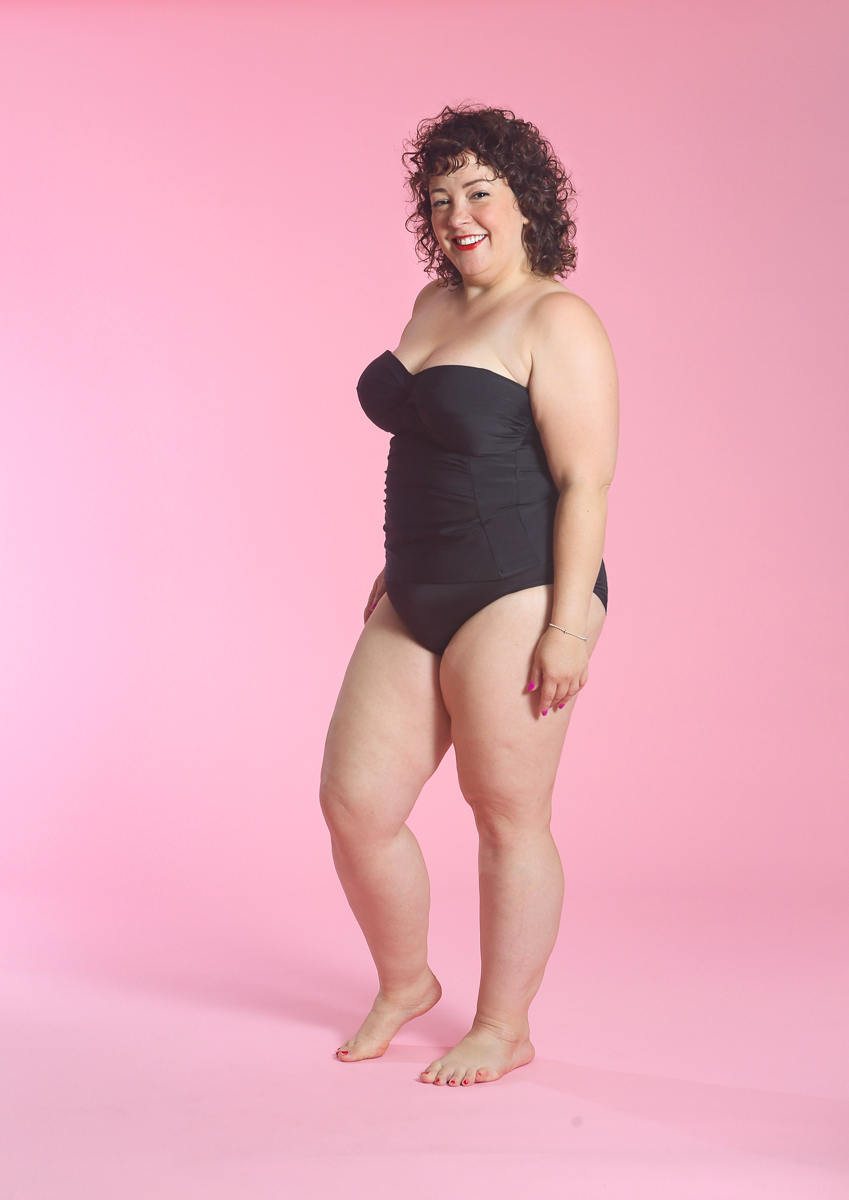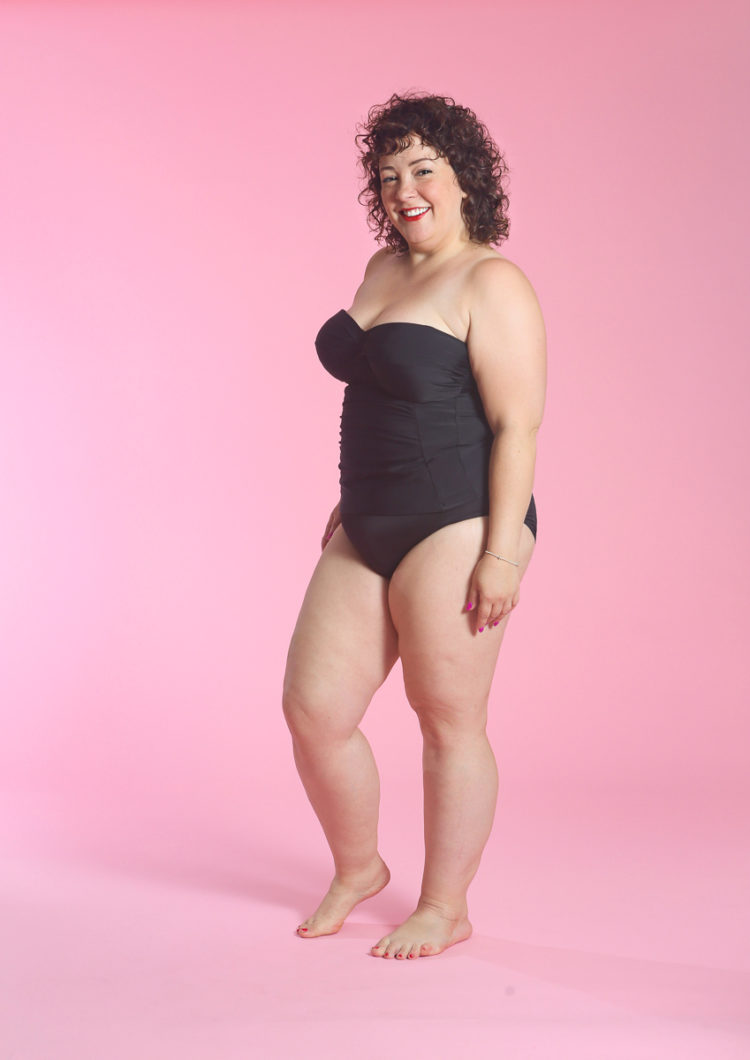 I was impressed to find that when I took off the straps the suit stayed in place even with jumping and shimmying around in my bedroom. It was also easy to get the straps on and off by myself without being double-jointed. However, this tankini top didn't "spark joy" for me so while it was functional and fine, I returned it. A miss for me, but if you're looking for a black bandeau tankini that can hold up a bust, this could be a good choice.
Additional Suits Ordered for a Large Bust
I ordered this suit from Nordstrom but it's now sold out; I found the same exact suit available at Lord & Taylor. I thought the shape of the top may provide enough support; I liked the adjustable straps and how the pattern mixing created and hourglass shape.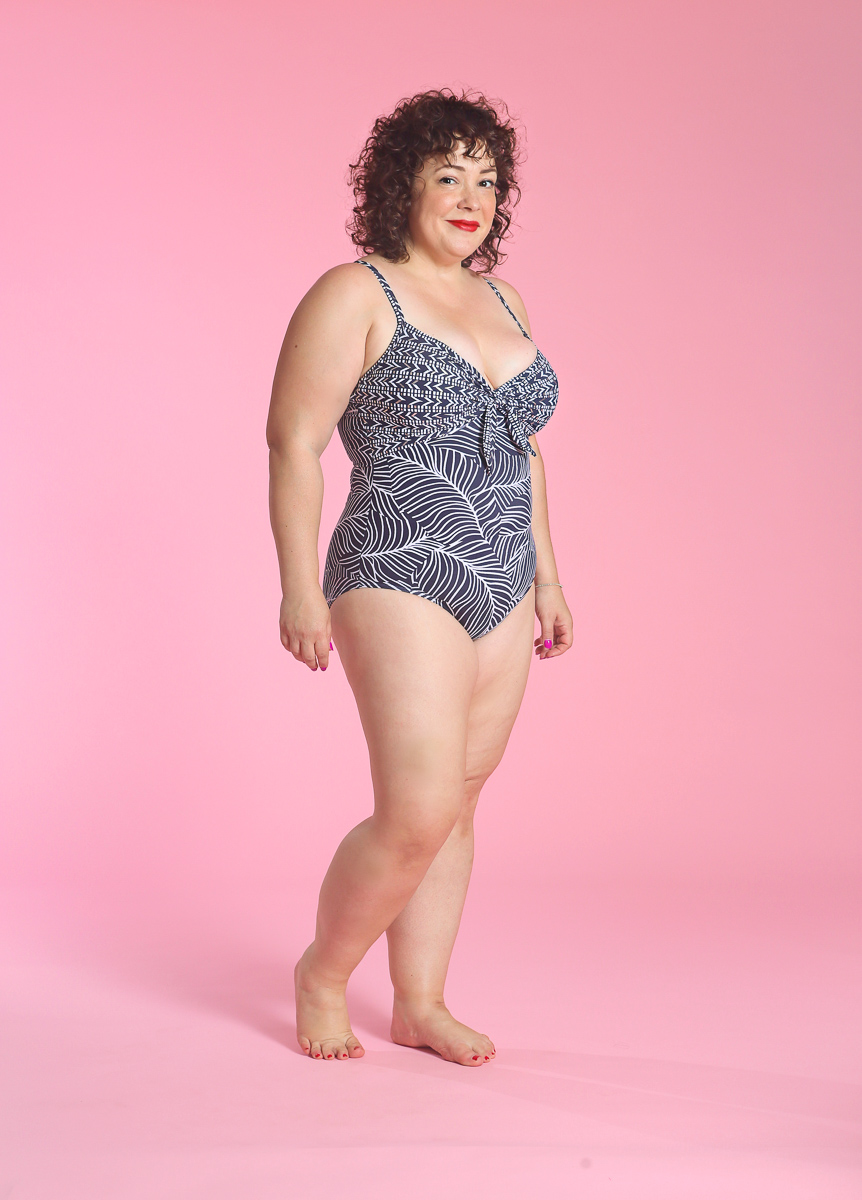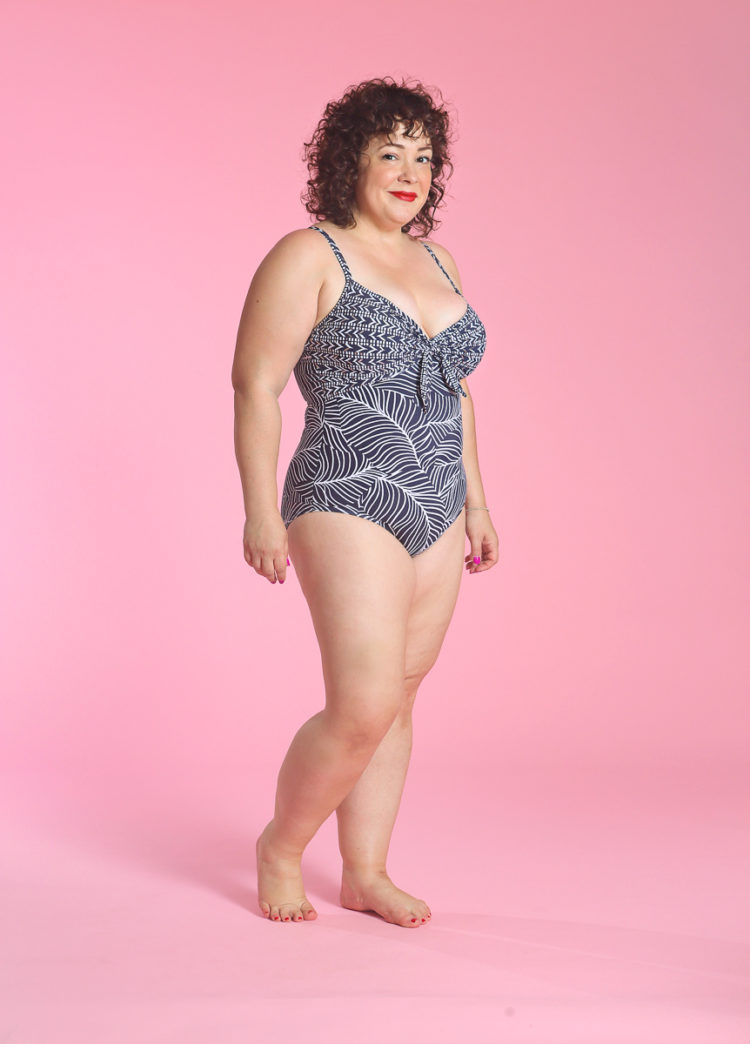 I was surprised when it arrived to find the navy and white print also has silver metallic in it; not a tacky silver but one that made the suit look more expensive and interesting. This suit was $178; at the time of writing this it's on sale at L&T for less than $100.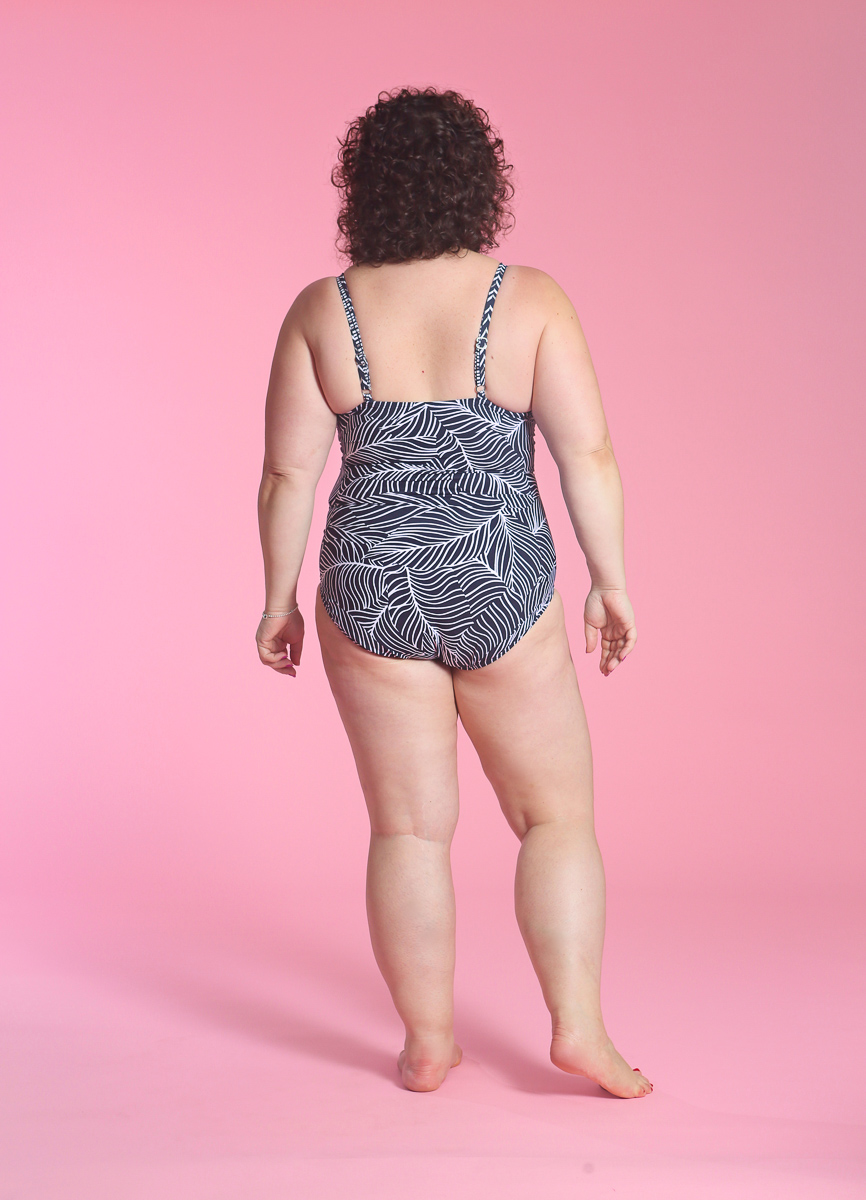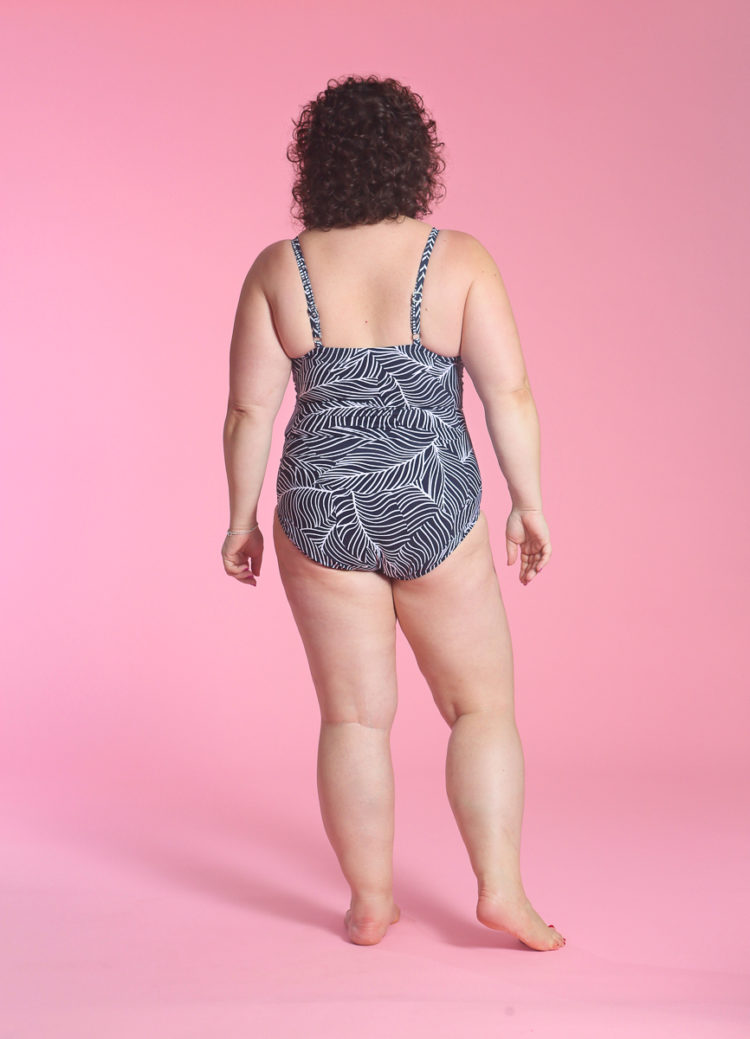 " data-pin-description="Miraclesuit Lanai Pinup One-Piece">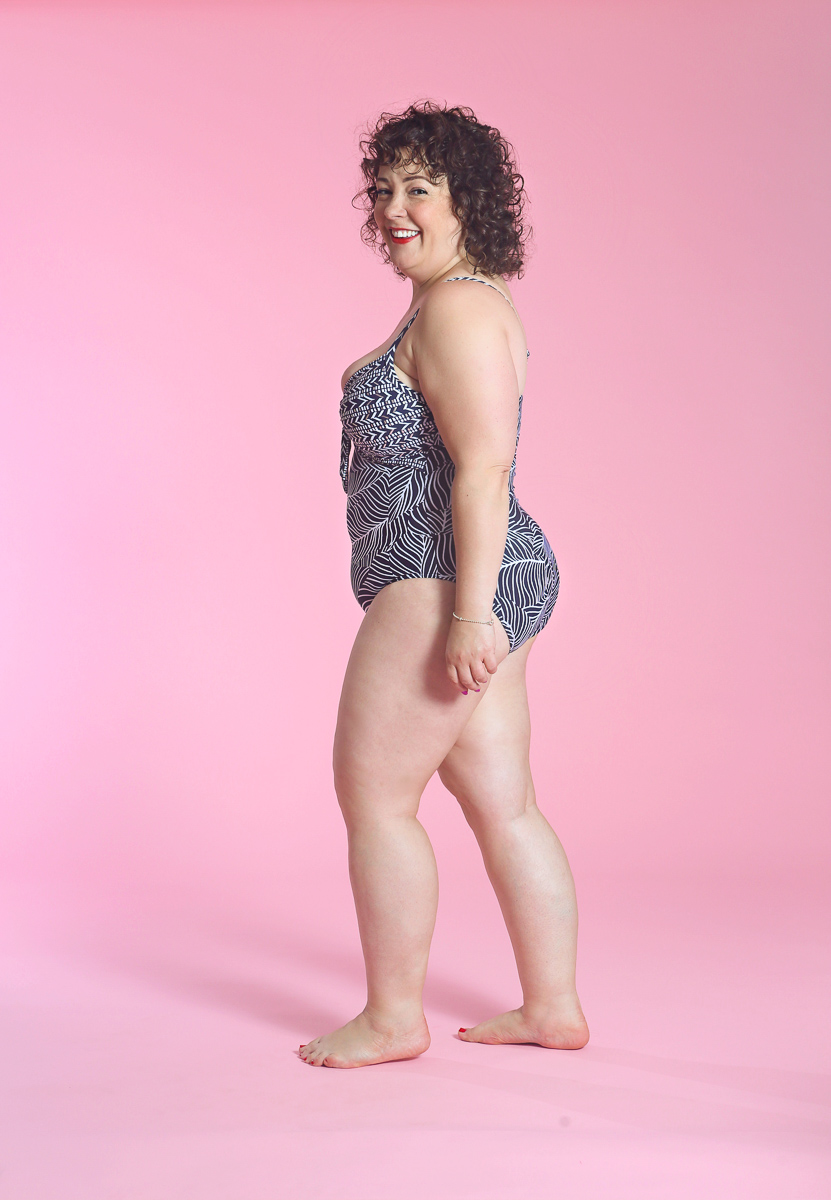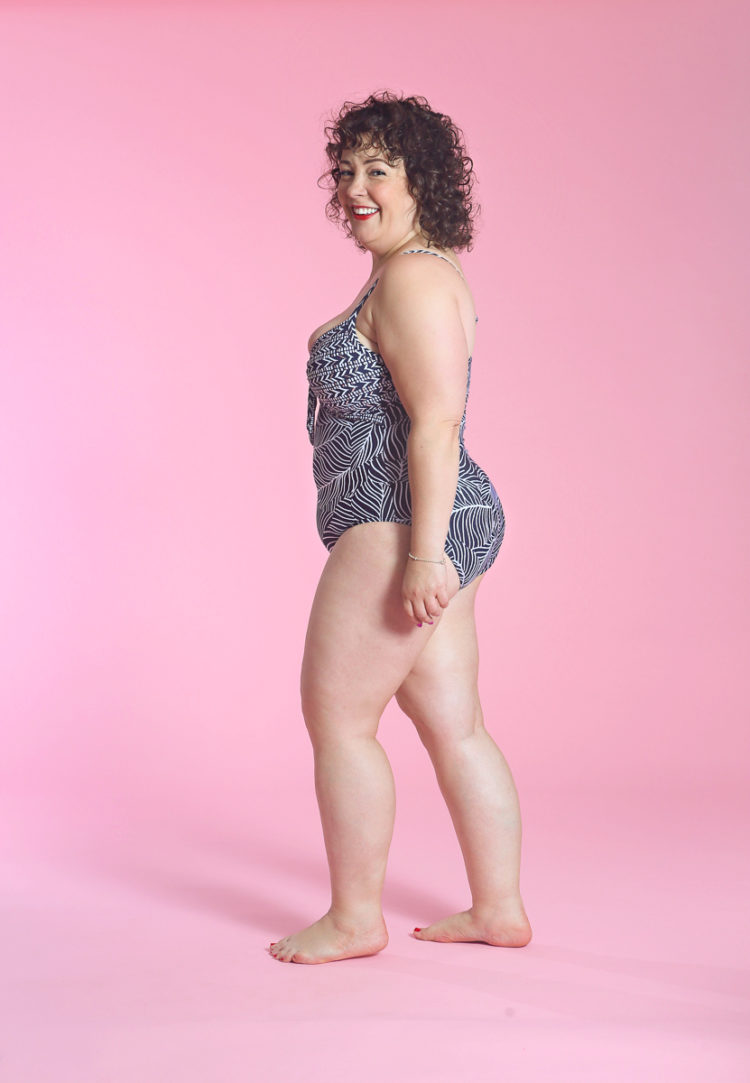 " data-pin-description="Miraclesuit Lanai Pinup One-Piece">
I am short-waisted but this suit made me feel as though I had a ridiculously long torso. I had to lengthen the straps, and usually, I have straps almost to the shortest setting. The back is straight, and I find I like how a curved back looks with my shape. Oh, and this suit gave me quad boob because there just wasn't enough room for my chest. Thing is, this would be a really great looking suit on someone with a slimmer body and smaller bust; someone looking for a bit of tummy compression as the only feature. It does look expensive and is a style that wouldn't look dated in a couple of years. But for me, it was a major miss.
I can't recall which three of you readers told me in Instagram DMs to order this suit. All three of you said this suit was magical, it was cheap (less than $30), whittled the waist, held up the bust, and looked cute too. How could I resist? This suit comes in 11 colors with this ruffle detail and eight colors without the ruffle. With 515 reviews totally 4.5 stars and dozens of photos of real women in the suit, I felt confident this suit wouldn't be complete crap.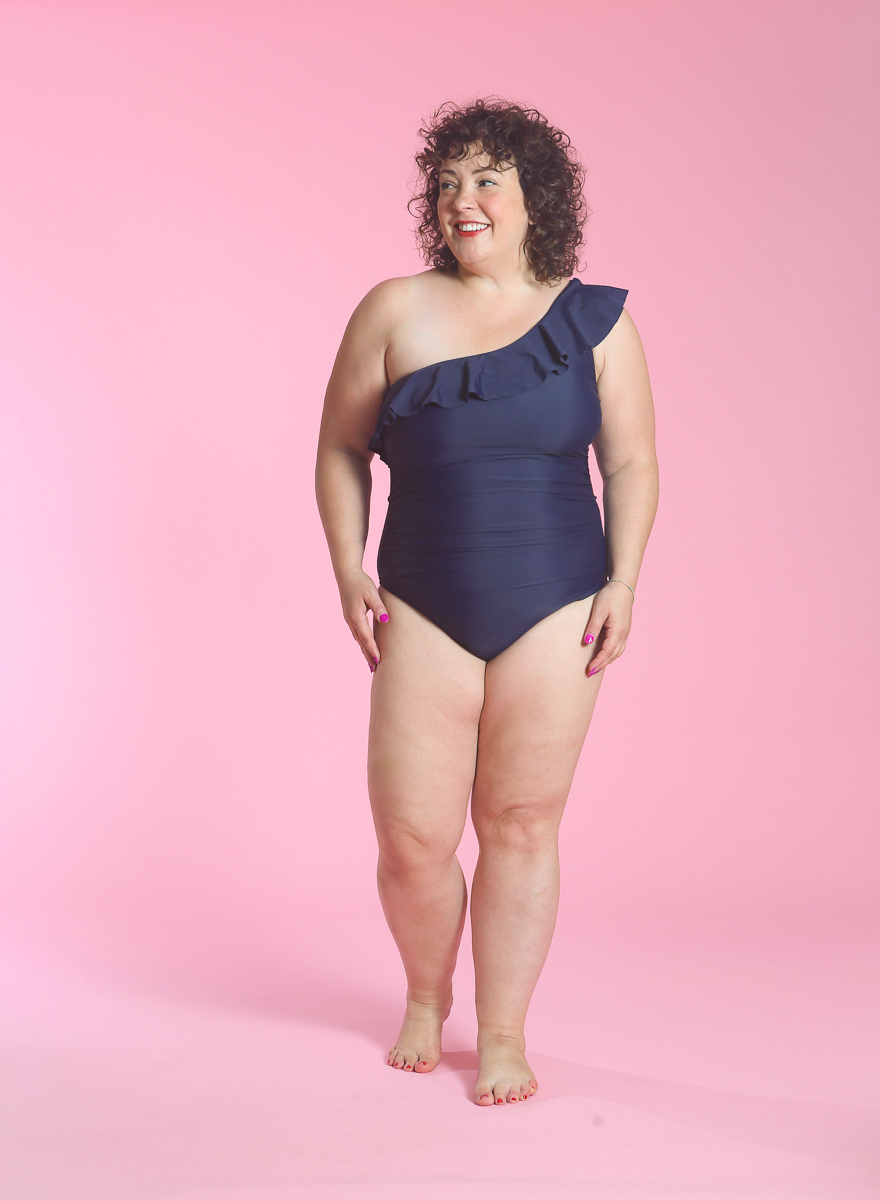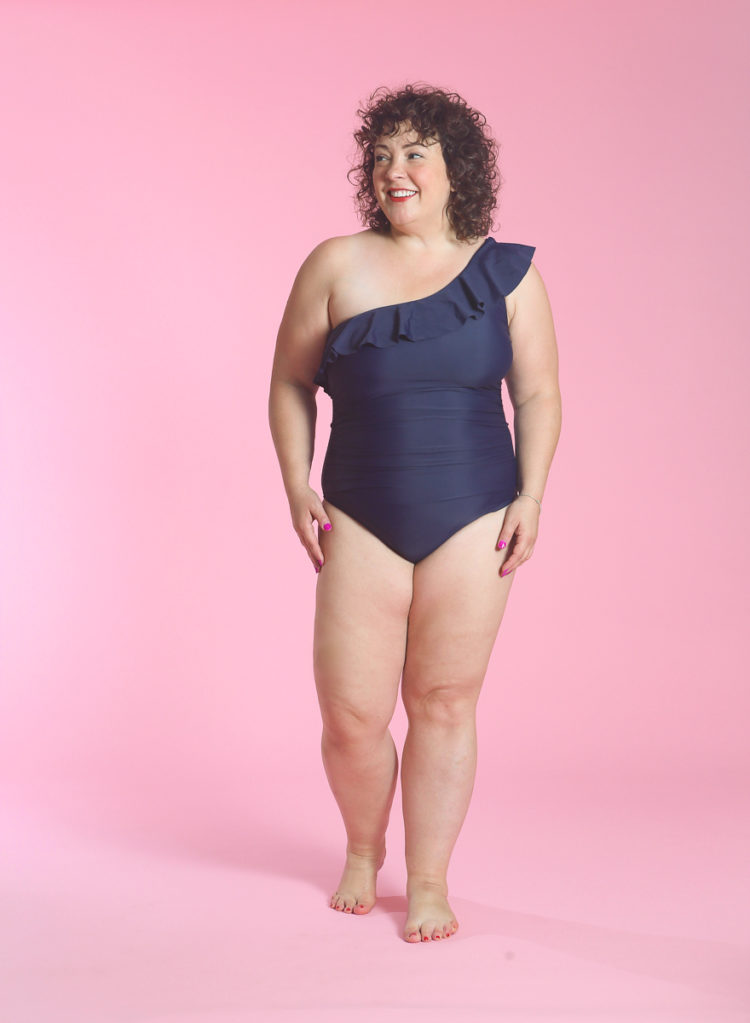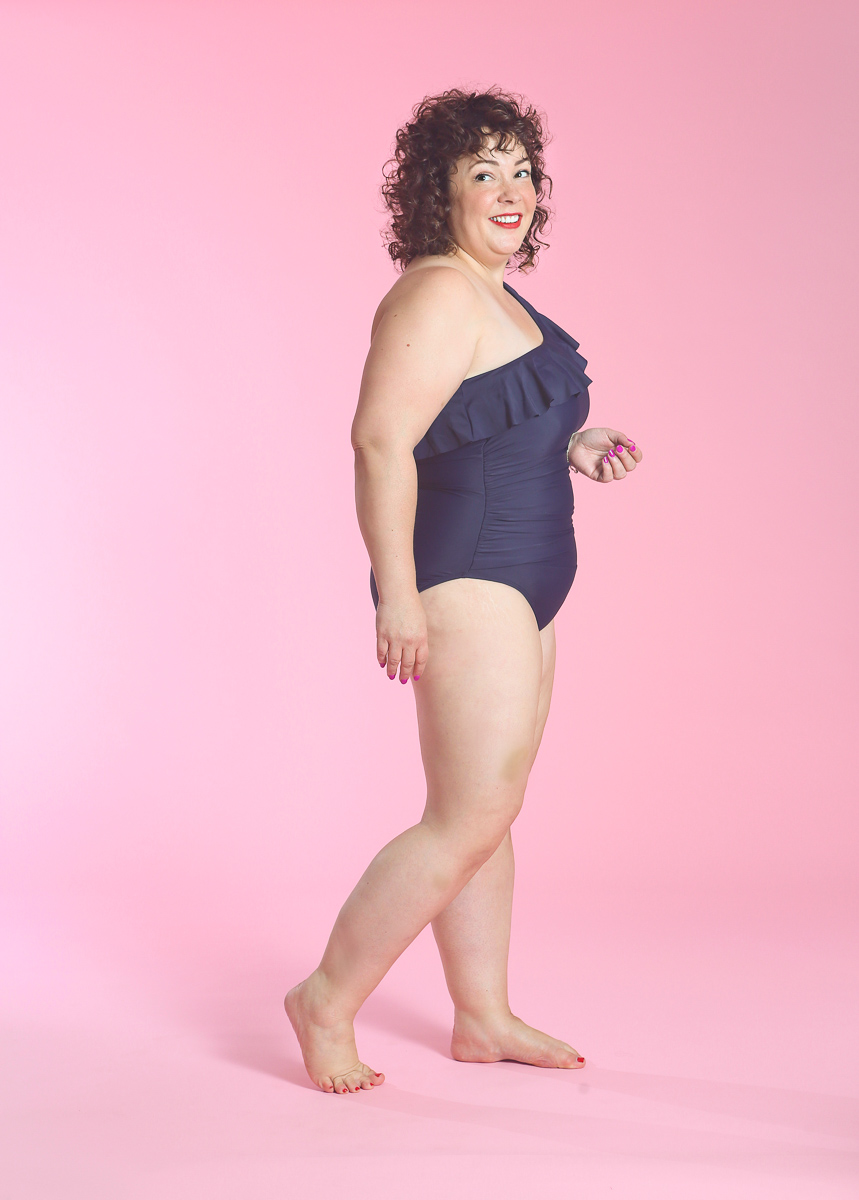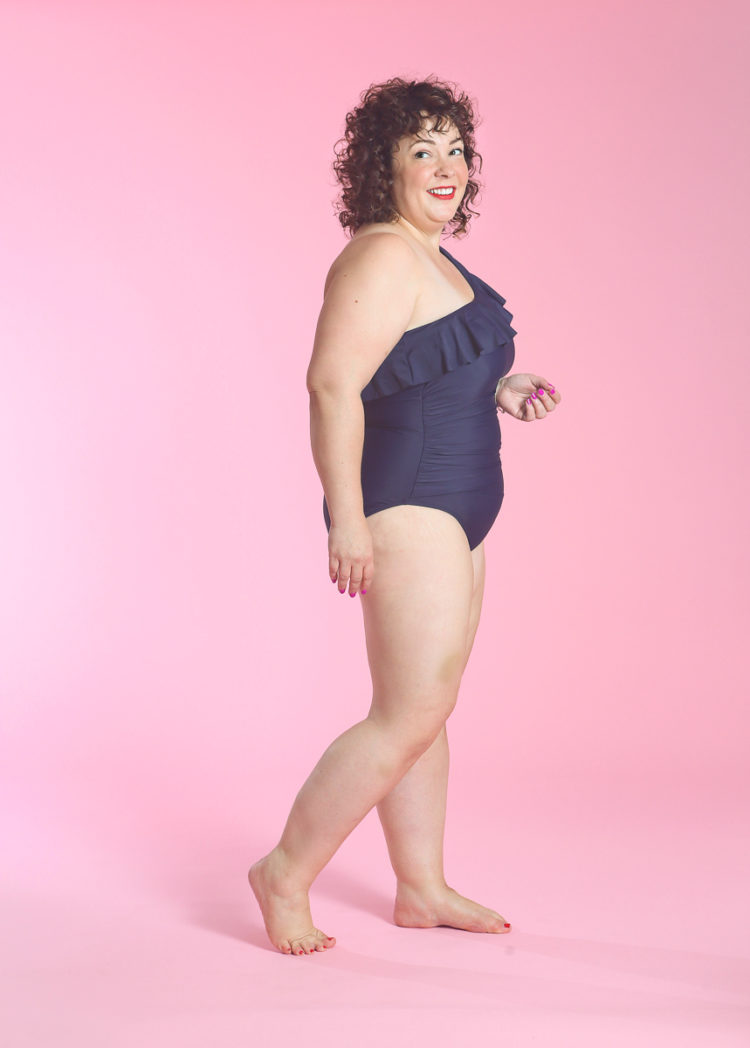 And this suit isn't complete crap. In fact, it's better quality and construction than many of the other suits featured in this post. And if I had a smaller bust, I'd totally be rocking it at the pool this weekend. This suit is a fantastic deal, and I am so glad it was recommended to me.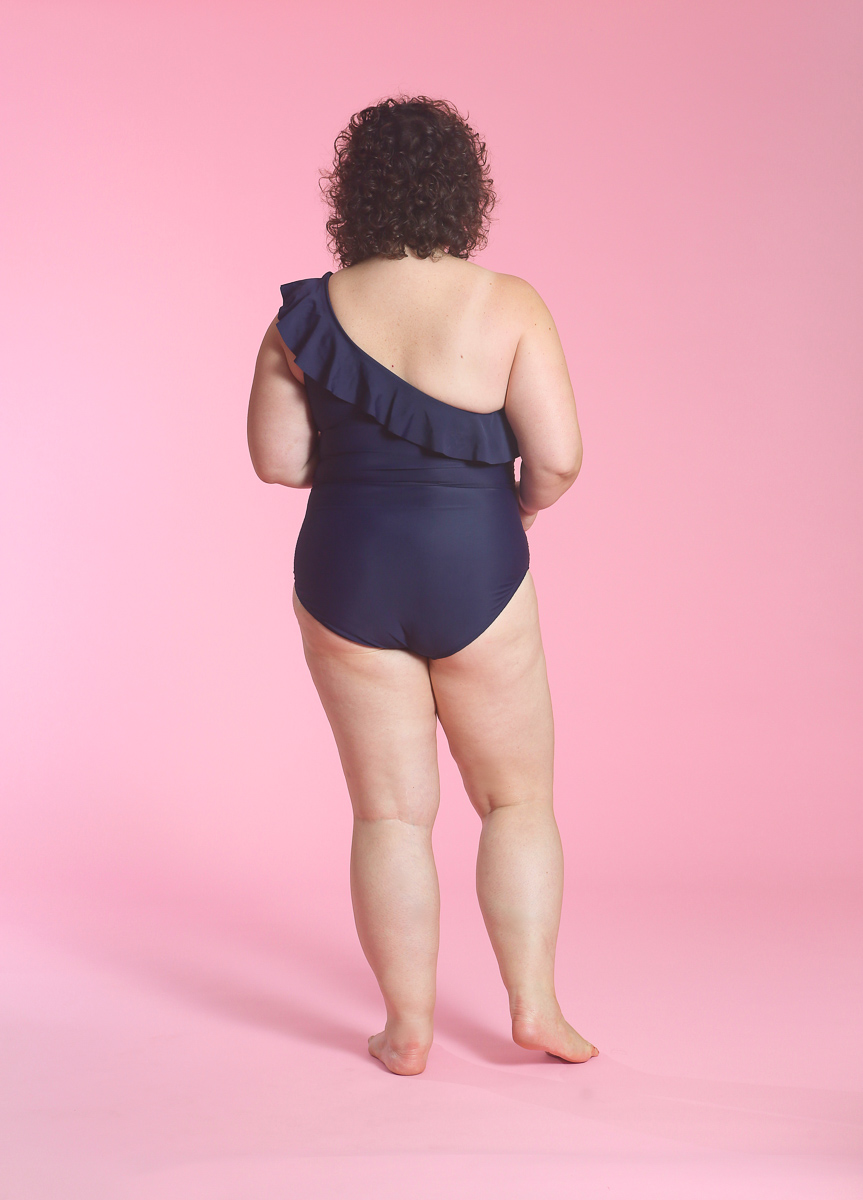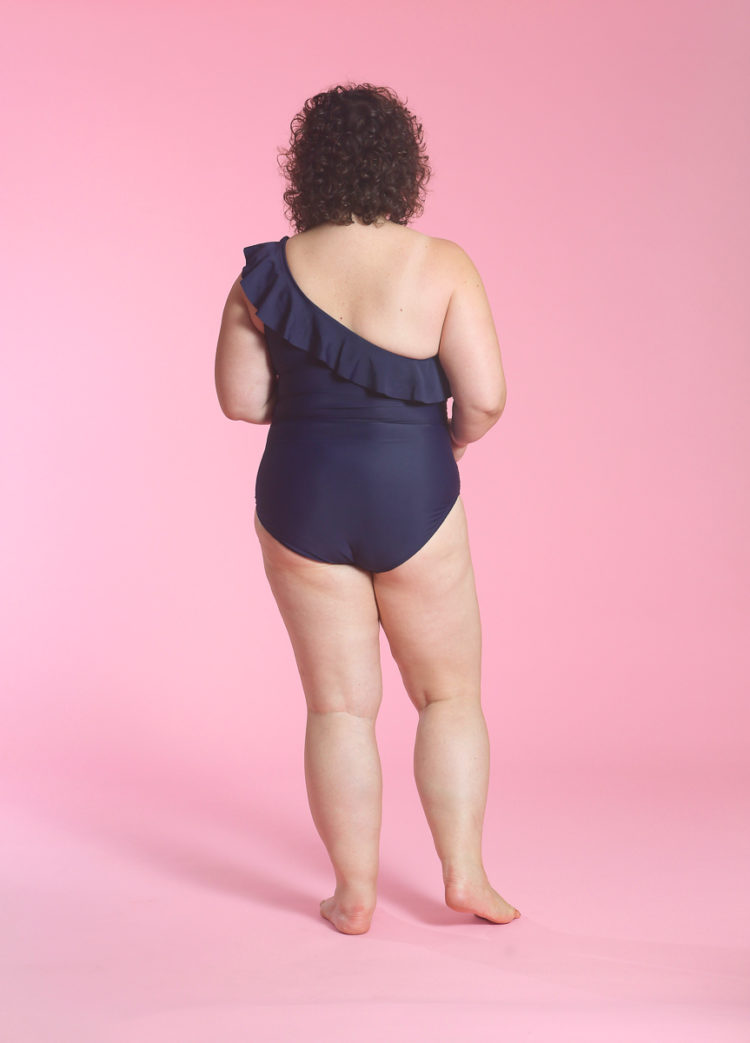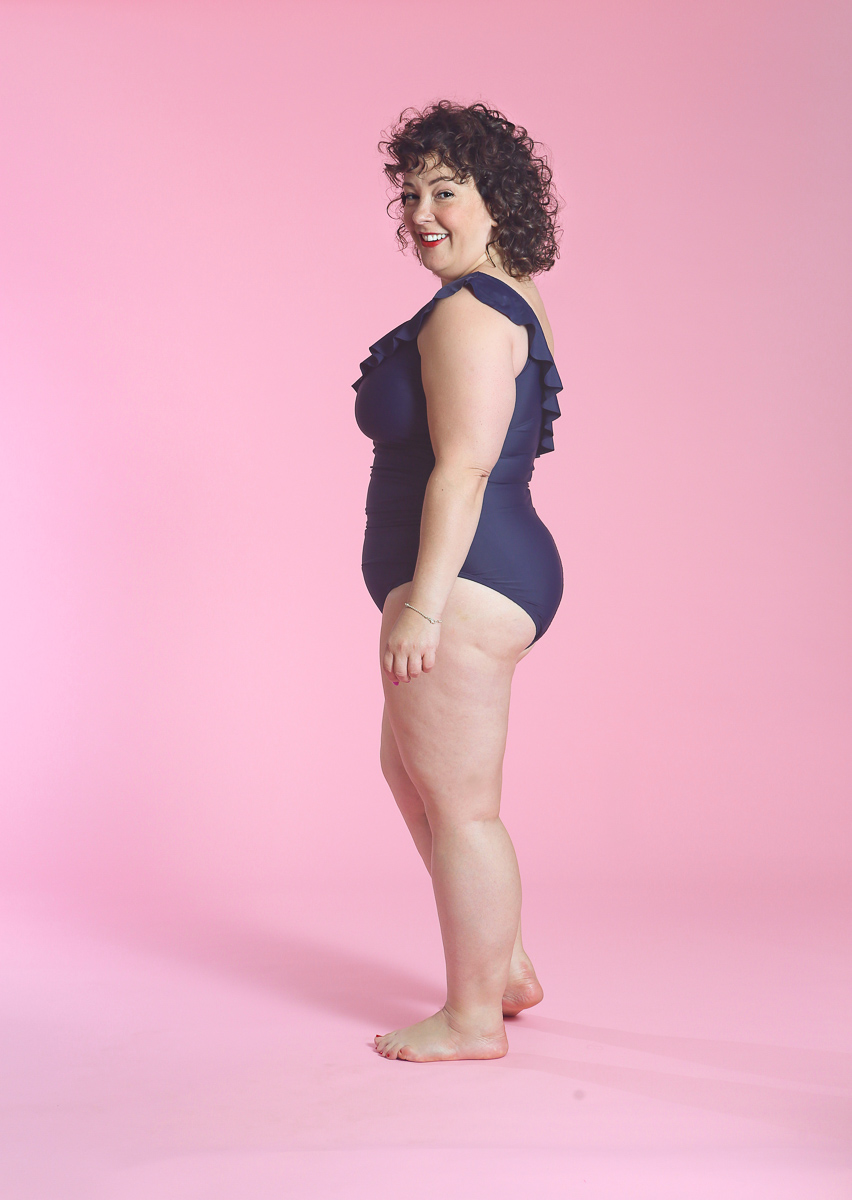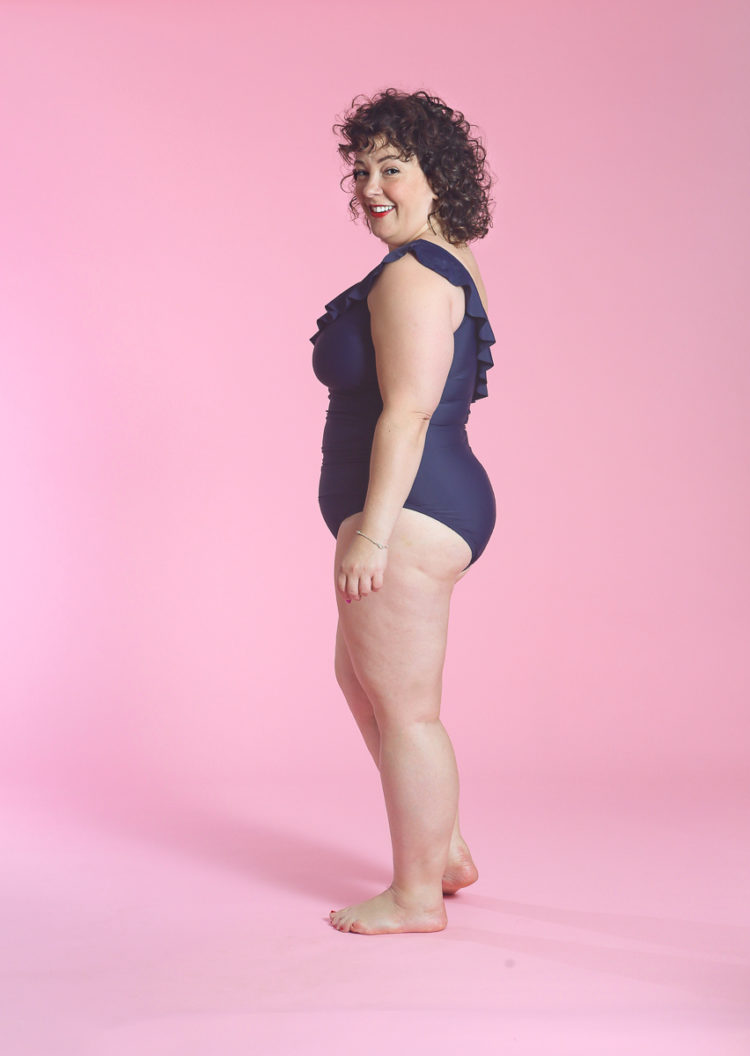 However, it doesn't fit me. My bust is just too big and I'm ready to spill out of the side without a strap. Unfortunately, I also missed the return cut-off (I planned on doing this post WEEKS ago but there's a lot that goes into turning my house into a photo studio and we never had the opportunity). I'll be doing a giveaway of this suit in the WO2 Community on Facebook because somebody with a smaller bust is going to look adorable in it this summer. So while it's a miss for me, it's could be a hit for another.
I love a rash guard for sun protection as well as when we go to the beach and I play in the surf. I loved the idea of having a rash guard that could double as streetwear, and many reviews said they wore this rashguard as a top without issue. And you know I love stripes!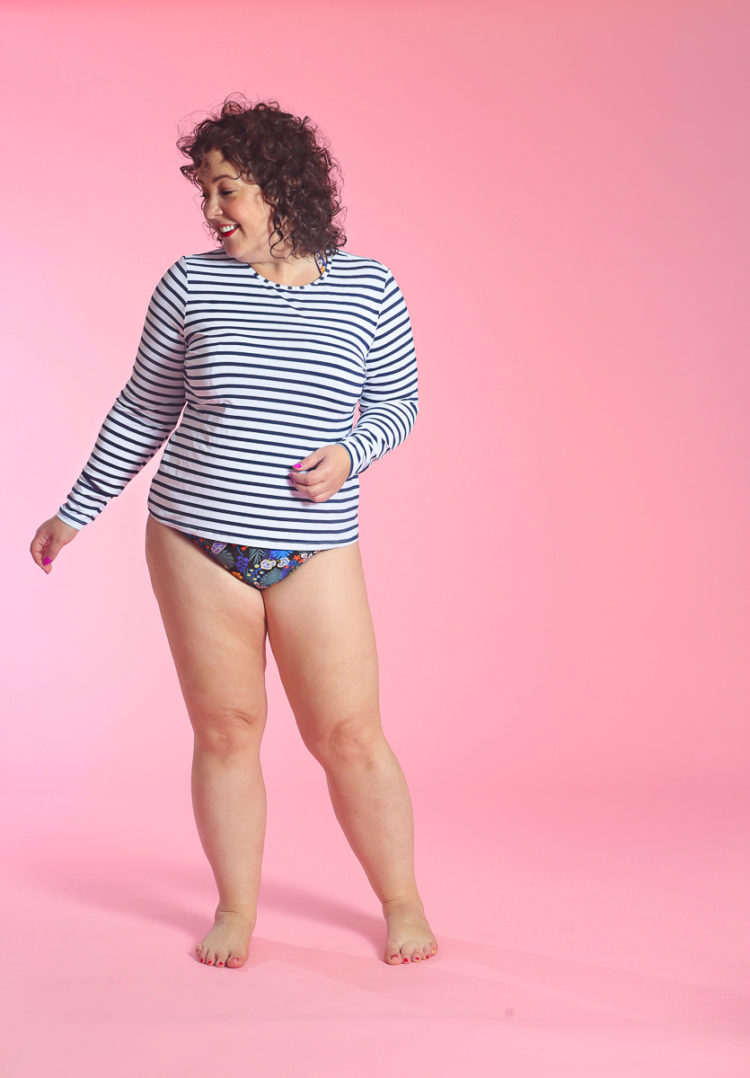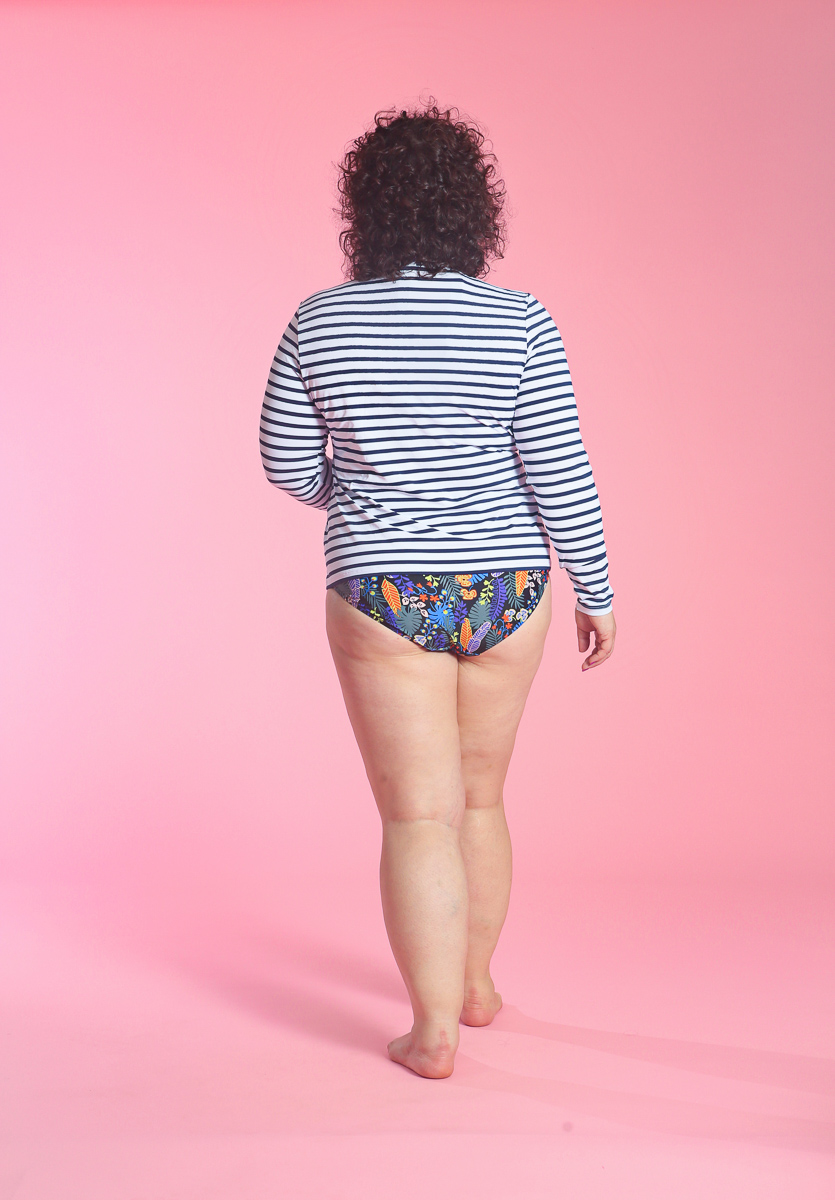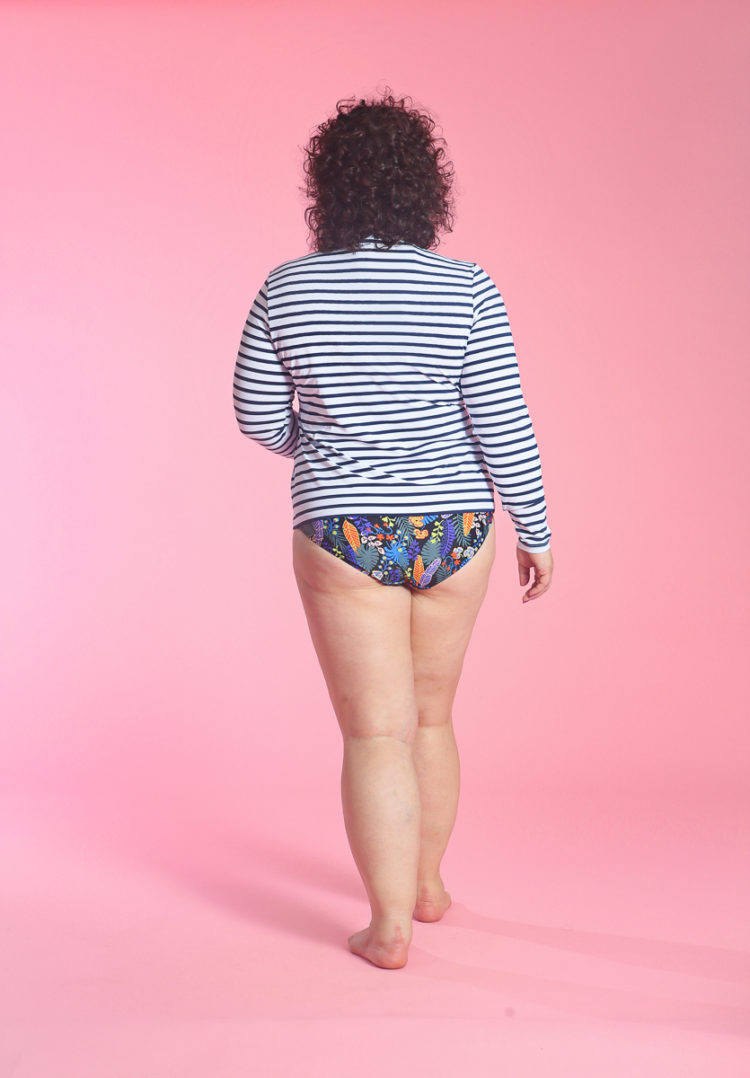 I didn't want it to be too tight on the bust or too short because of my bust, but since it had long sleeves I went with petite. Wow, glad I did as the sleeves are still quite long. If I got regular large I think I would have been swimming in it (pun not noticed until after I wrote this sentence!). This was on sale at the time I bought it, and it still on sale for less than $30. And while I got petite, it's also available in regular and long and this is the link for it in plus sizes. Hit!
After my first swimsuit review, I went back to Bare Necessities to see what else was available from the brand Sunsets. While I didn't like the bikinis, I liked the fit. This tankini top looked like a great choice, something that would be a bit sexy but also wearable to the community pool with my kid.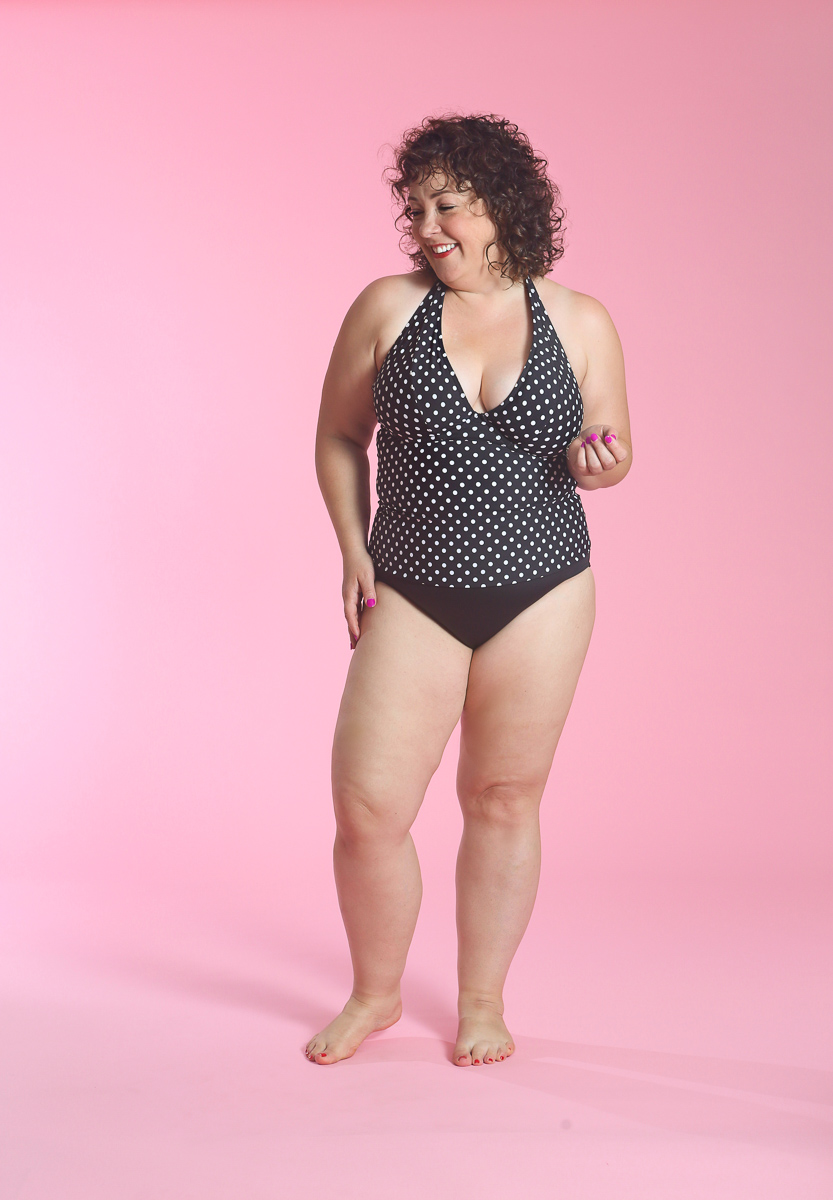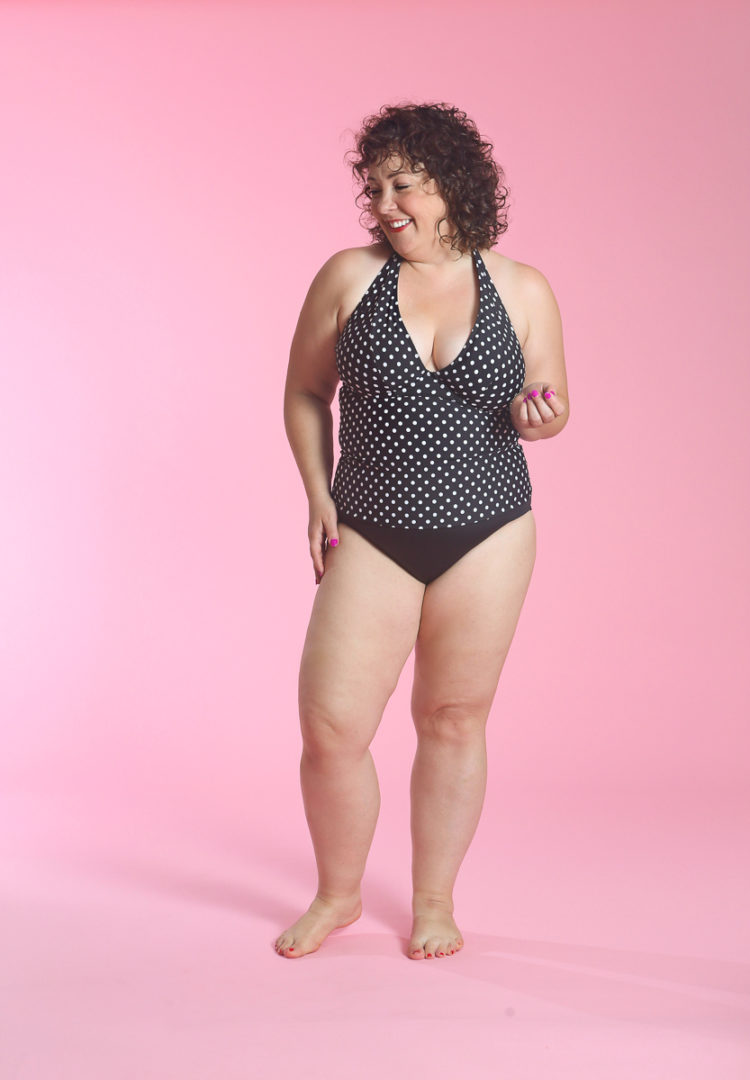 I really like this suit. Spoiler alert, I kept it. It's exactly what I wanted – functional but also has sex appeal. I've worn it twice, it's been washed and has held up beautifully (like most suits with removable foam cups, you need to either remove them or readjust them after laundering). You can see me wear the suit after being in the pool at this Instagram post.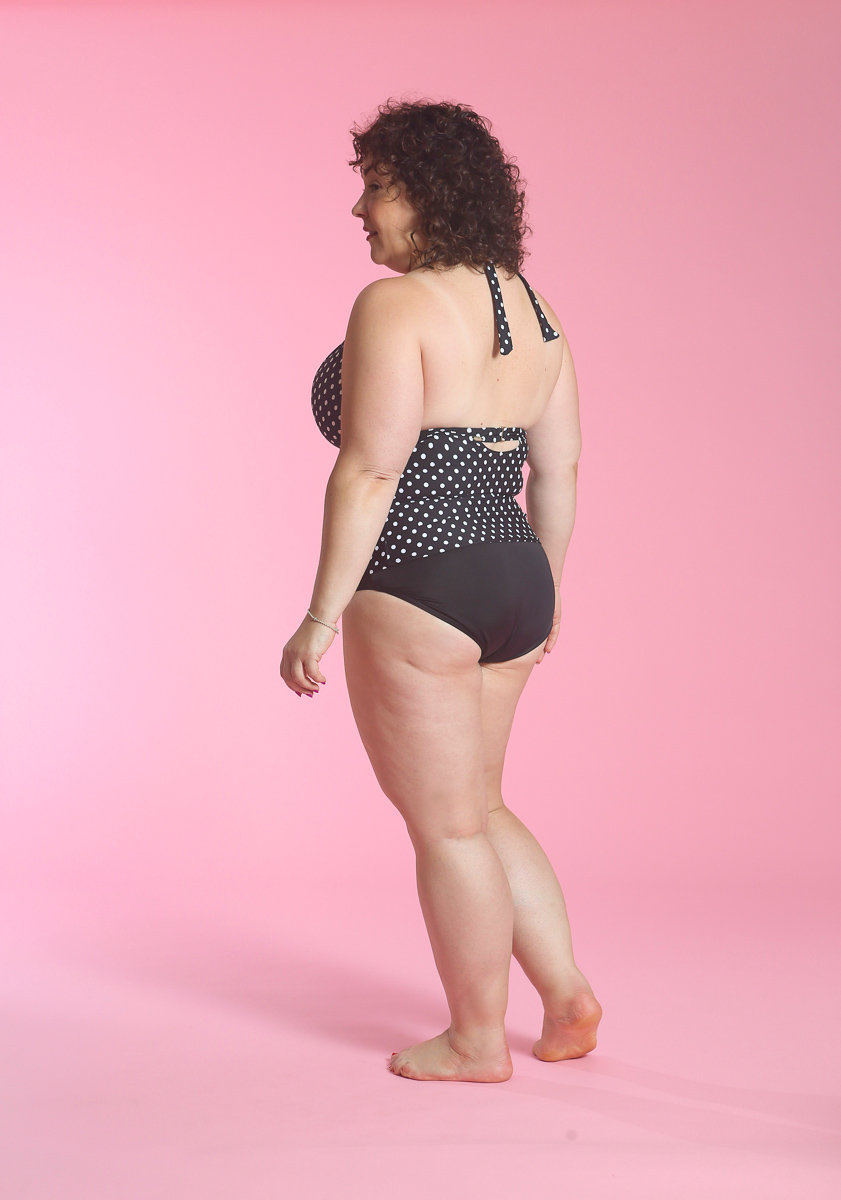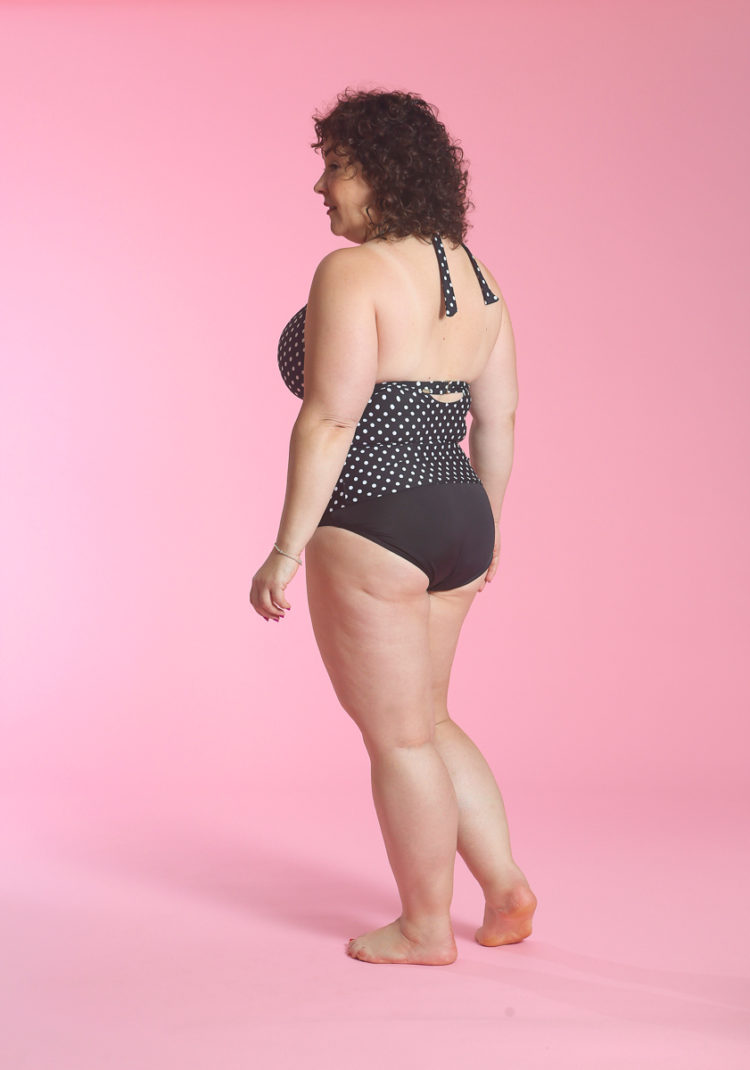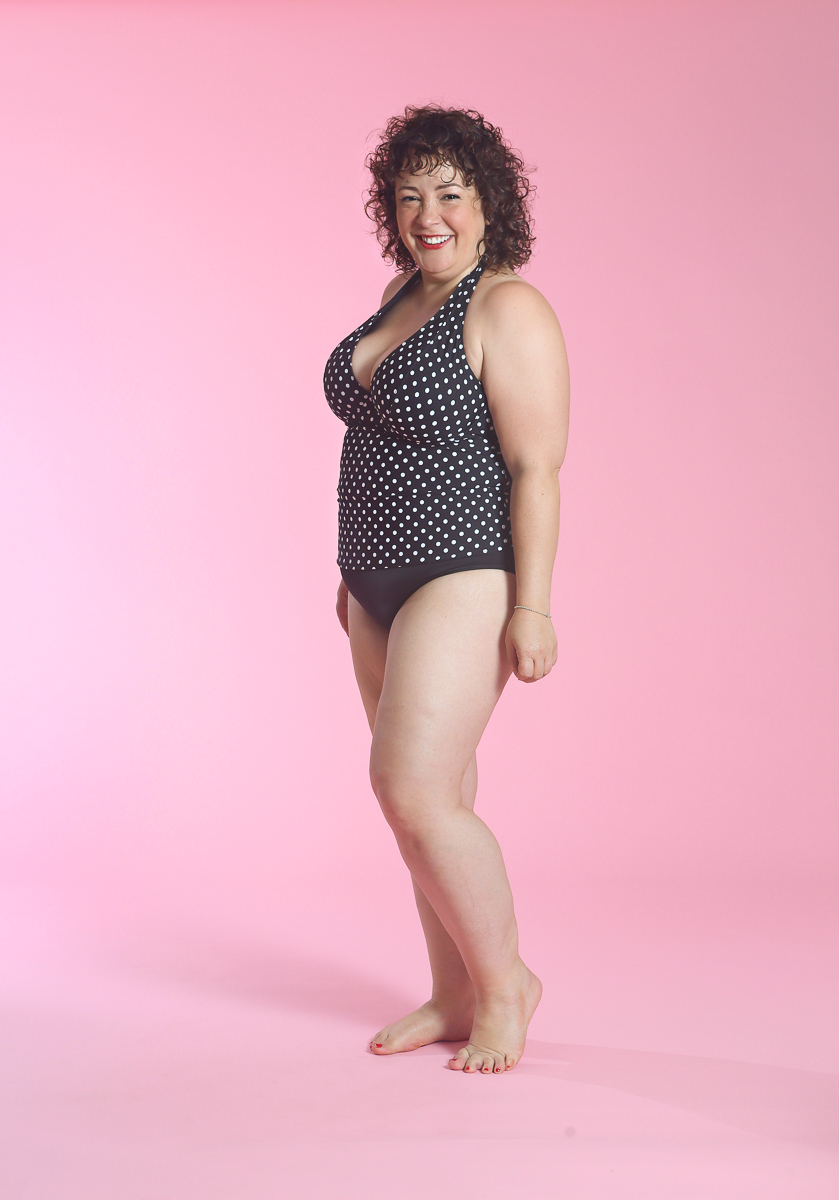 This suit retails for $86, but at the time of ordering Bare Necessities had a promo code so I got it for $64.50. And at the time of writing this post, Bare Necessities had a sale for an extra 25% off swimwear and free two-day shipping with promo code POOLSIDE. Needless to say, this top is a hit!
What I Learned from this Swimsuit Try-On
Suits that are made for large busts may not be made for large older breasts. I had a D by freshman year of college and a DD by time I was 25. Those boobs were full and firm and would have looked phenomenal in a few of these suits. But after gaining and losing weight, nursing for over two years, and adding a couple of decades these breasts need both more support, shape, and coverage to look the way I desire.
If you need construction for the silhouette you desire, it's worth it to spend more. Target's Dreamsuit is by the same company that makes MiracleSuit, but they aren't the same weight or quality of fabric, have thinner stretchier straps that don't support as much, not as well-shaped of a rear, and in general didn't fit or support nearly as well as MiracleSuit suits.
Your bra size may not be your suit size. If you can afford it, order a few different band and cup sizes. Especially with UK brands, you may find you'll do better with a smaller cup and a larger band.
Swimsuit Questions Answered
I hate one-pieces because it's hard to go to the bathroom, how do you do it? I spent a decade as a lifeguard and my tip is to pull it to the side. This is what I do, and I haven't had a suit stretch out weirdly because of it nor have I accidentally dribbled on my suit. That being said, I don't wear boyshort styles; it likely would be more difficult with such a cut of suit.
Don't halter neck suits hurt your neck? It's all about the construction. As I shared above, I've tried halter suits that feel fine, and others that gave me neck pain after five minutes. As with strapless suits and bras, look for suits that have wires, boning, and/or molded cups so the suit itself can provide support and you're not relying on the halter strap. Also, straps that are thicker/doubled up fabric and wider will better disperse the weight of your bust, causing less pain on your neck.
How can I wear a skirted suit and not look like my grandma? Your grandma may be an extremely stylish woman, but I'm guessing you don't want your suit to age you. I get it, but a skirt these days does not equal old. You can go a few different ways:
Think retro. Look for suits with vintage-inspired details and the skirt will look purposeful. Polka-dots, Hawaiian florals on a light ground, seamed ruching, a halter neck, something that Esther Williams or Betty Grable would wear. This works for both one-piece and two-piece styles.
Go sporty. Sites like Lands' End carry a-line swimskirts that are clean, modern, and provide the coverage you desire. They give the effect of a tennis or golf skirt and look great with more athletic tops like a rashguard, tank-style tankini or bikini top. Also, solid colors and athletic details like piping and racing stripes add to the sporty vibe, making a skirt look smart.
Try a two-piece. A bikini or tankini with a skirt looks modern and flirty. Not all bikini tops are tiny; there are many that go down to the end of your ribcage or have wide straps or even sleeves. If you go with a tankini, consider the top in a print and the skirt in a solid to make it clear it's a two-piece. It feels more youthful to have a mixed suit; right now the trend is NOT to be matchy-matchy.
How do you wash your swimsuits? You should wash them by hand and lay them flat to dry to keep their shape and maintain their color and elasticity. I don't. I close all the hooks and put it in a lingerie bag and wash it cold on the gentle cycle along with all my other delicates, and then hang it on a hanger on my shower curtain rod to dry. I have suits that are years old and still look great even though I don't follow the washing instructions. Just steer clear of any oxygen cleaners or bleach.
If you have any questions, or have any suits you recommend, let me know in the comments!
Shop the Post: