This article may contain affiliate links; if you click on a shopping link and make a purchase I may receive a commission. As an Amazon Associate, I earn from qualifying purchases.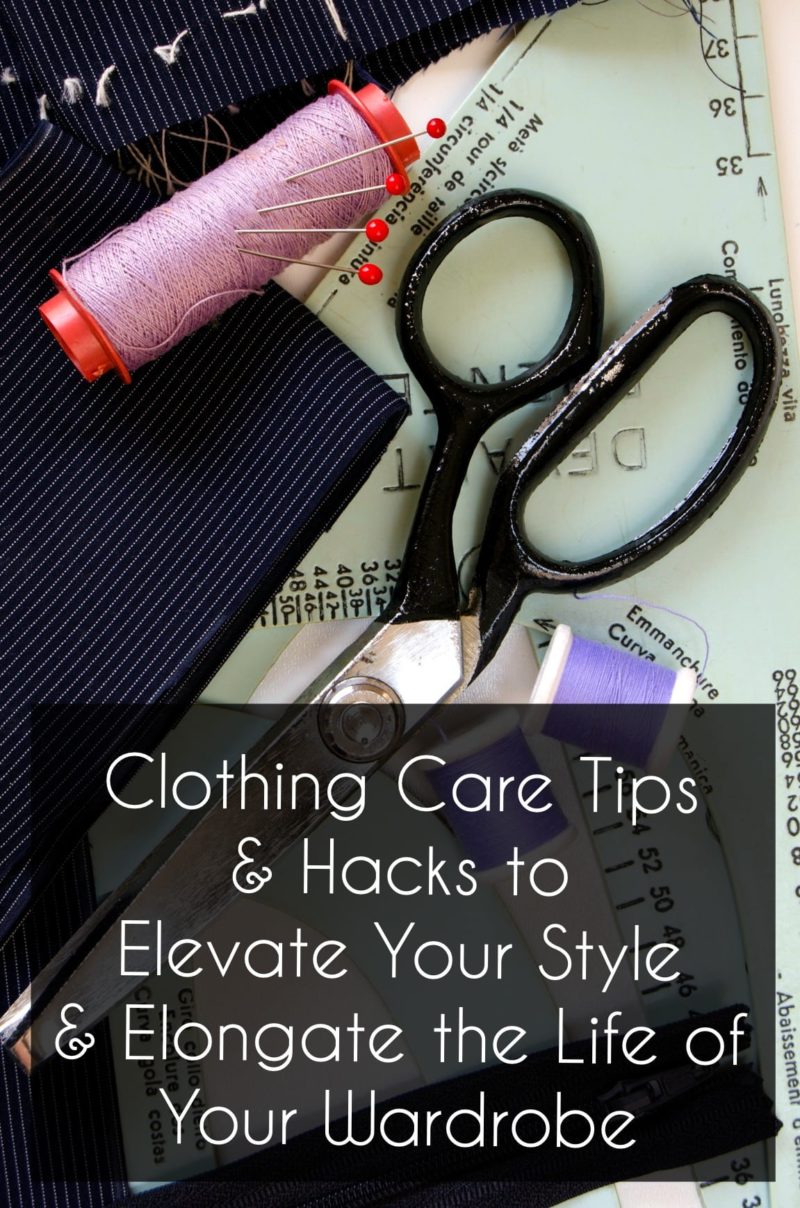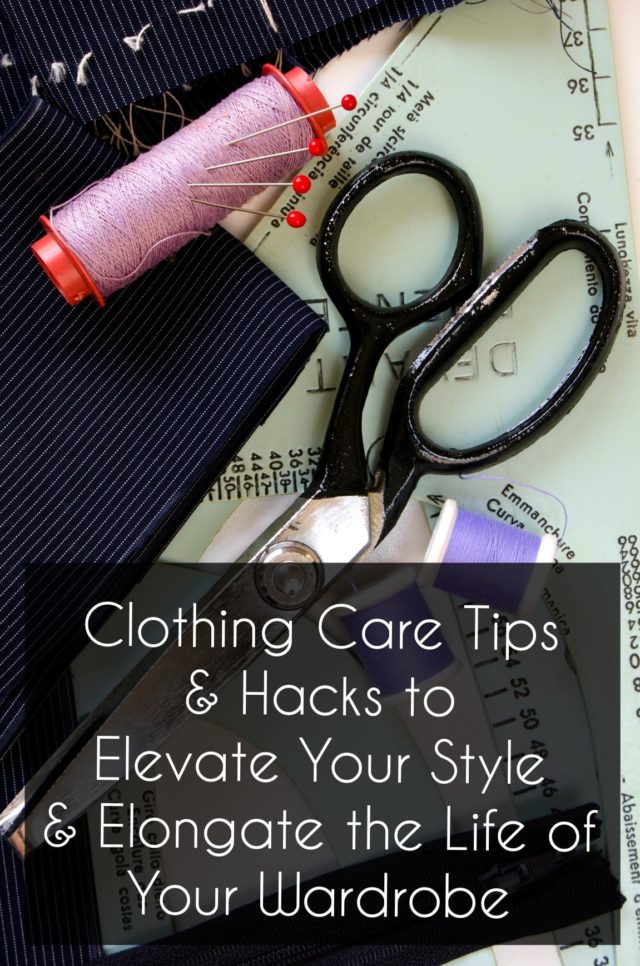 While what you wear is important, how you wear it, how you care for it, and how it fits is what really determines great style. I've been writing this post for a while, but reader Jennifer's comment on a recent post not only inspired me to complete it, but also inspired the title. There are many tools, gadgets, and products I've found over the years that really elevate style and improve any wardrobe; below I share them and my favorite clothing care tips.
Clothing Storage Must-Haves
If you're paying a pretty penny (or really any penny) on your clothes, it's worth it to store them carefully. How you manage your closet can determine the condition and longevity of your clothing. Some of my must-haves for clothing storage:
Velvet flocked slimline hangers. I worked apparel retail for many years and had gathered quite a collection of black plastic hangers with swivel necks. Over the years as they broke, they were replaced with quite a mishmash of hangers from online purchases, quick trips to Target, and even a bag I scored on Freecycle. A couple years ago I replaced all my hangers with the slimline velvet flocked style and it was one of the best style decisions I ever made.
These hangers are really slim, so you have more space between garments, preventing creasing and snags. The velvet keeps wide-necked and spaghetti strapped pieces from slipping off. They also are less likely to put dents in the shoulders of your clothing. But the best thing is by having all the hangers the same size and width, nothing gets lost in the closet. I've found packs at TJ Maxx for a low price but they often break; Joy Mangano's version is the most durable I've found; Amazon Basics is the best lower-cost option I've tried.
As for skirts and pants… everyone has different tastes. I prefer clip hangers for both because that's what I used in my retail days and I like the height in my closet. Amazon carries clips to add to existing hangers but I find the ones with the metal clips and metal bar to be the best. For pants, many choose to just fold them over the bottom rung of a suit hanger.
Rolled magazines for tall boots. Knee-high boots are an investment, and it makes sense to take good care of them. If not filled, tall boots will fall over, creasing at the ankle. There's so many gadgets on the market to prevent this – inflatable inserts, cedar boot trees, even ones with built-in fans to keep them dry and fresh. My favorite? A relatively thick magazine. After reading, roll it up and tuck it in. It's free and gets the job done and once it gets a bit beat up, throw it in the recycling bin and grab a new one from the magazine rack.
Cedar shoe inserts. I have feet that sweat and can get a bit stinky. I find switching my shoes so I don't wear them two days in a row helps a lot not only with smell but the longevity of my shoes. I've also found benefit with these cedar shoe inserts. They absorb moisture, keeping insoles looking nice longer. They also absorb odors. Finally, they maintain the shape of your shoe. When your shoes get all hot and soft from being worn all day they can keep them in proper shape. I find that super helpful with flats, which get stretched out from sweaty feet sliding around in them. If you have narrow feet these specific inserts may be too wide to fit into your shoes, but Amazon has plenty of alternatives.
Hanging storage. Unless you have a custom designed closet, there's a good chance you have lots of bars for hangers but not a lot of compartments for all the other items in your wardrobe. I have a hanging storage gadget like this one and it's awesome. I have half with "drawers" to hold scarves and small accessories, and the rest I use as shelves to hold bags. I recommend something like this instead of the accessory organizers on hangers as those get lost in the shuffle and it's easy to forget you even own those items.


Clothing Care
How you care for your clothes determines how long they last and how good they look. And unlike ads on TV, you don't need a lot of different products and chemicals or a lot time to properly care for your clothing.
Spot treatment. On the go, I always have a Tide to Go pen. I hate how these things smell but they work better than anything else for getting a spot out immediately. At home, my go-to product is Bac-Out. Unlike Tide's pen, this stuff is both eco-friendly and smells great, like lime Skittles. I've used Bac-Out on carpets, on comforters, on silk blouses, on wool blazers. I use it as a pre-treater but have also just left it on clothing and let it air dry without it leaving a spot.
If you have a tough stain, I highly recommend a mix of Dawn and hydrogen peroxide; I have the recipe at this blog post. But be sure to examine your garments for spots before laundering as washing and drying can set those stains.
The right detergent for the job. We have a variety of detergents in our laundry room to be sure we're using the right product for the situation. For activewear, it's Rockin' Green Activewear. For towels, washcloths, dishcloths and rags it's Persil and sometimes a bit of Borax is added for extra cleaning power. For most things, we use Seventh Generation or Mrs. Meyer's. For handwashing I use Dr. Bonner's Baby Unscented castile soap. No need for heavy duty detergents for most laundry, it (as well as fabric softener) can leave residue and also wear down the fibers.
Speaking of which, I hardly ever use bleach. Bleach may initially make clothing whiter, but over time it can yellow fabric and break down the fibers. We do have it as well as oxygen bleach, but try instead to use hot water, pre-treat stains, and keep clothing separated so colors don't bleed.
Use the dryer sparingly. I line dry the majority of my clothing. Most things I hang off plastic hangers on the shower curtain bar, things like sweaters that can get stretched out from hanging up, I put on a drying rack in the shower. Reducing dryer usage will keep your clothes stronger longer, the colors richer, and it will also benefit your electricity bill!
Lingerie bags. I love lingerie bags and have a variety of sizes. I put all my delicates in them to prevent them from getting twisted up in other clothing or having hooks snag garments. However, I also put clothing in garment bags. Those super stretchy knits that can stretch out, tissue-weight tees that can tear, silk blouses… they all get the royal lingerie bag treatment.
Don't wash after every wear. Unless your clothes are actually dirty, they don't need to be washed after every wear. Let them air out, spot treat stains, consider a laundry refresher spray like one from The Laundress (or make your own with half distilled water, half vodka and about 5 drops of your choice of essential oil).


Shoe Care
Shoes and boots can be a serious investment; it's worth it to care for them so they look their best and last a long time.
Find a cobbler. I have a cobbler who replaces worn-down and missing heel caps, resoles my shoes after a season, and even will fix leather nicks on my heels. Some cobblers can even lower a heel height, widen a boot's shaft, and taper a boot shaft for a better fit. If your shoes are slippery, a cobbler can add a grippy sole for security.
Polish your shoes. It's weird how this concept has become so archaic yet it's still so important. I still have my dad's shoe shine kit; it's essentially tubs of shoe polish, a rag, and a brush. Apply a small amount of polish the same color as the shoe with a rag, then use a brush like this to buff the polish into a shine.
Condition and waterproof. Especially if you walk to work, consider treating your shoes before wearing them. Most waterproofing products darken the shoe's color a bit, so be prepared and test in an inconspicuous place. For boots and other leather shoes that get a lot of wear, condition them from time to time to keep them supple and looking new.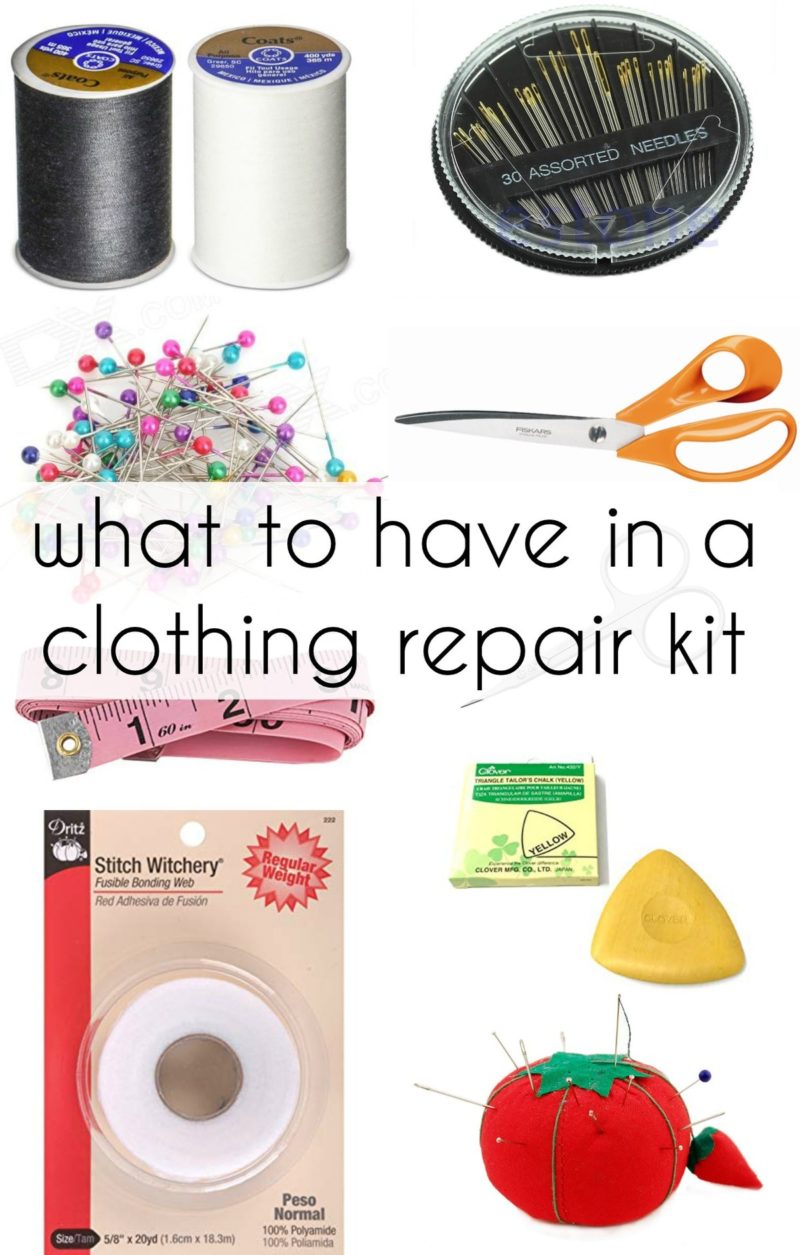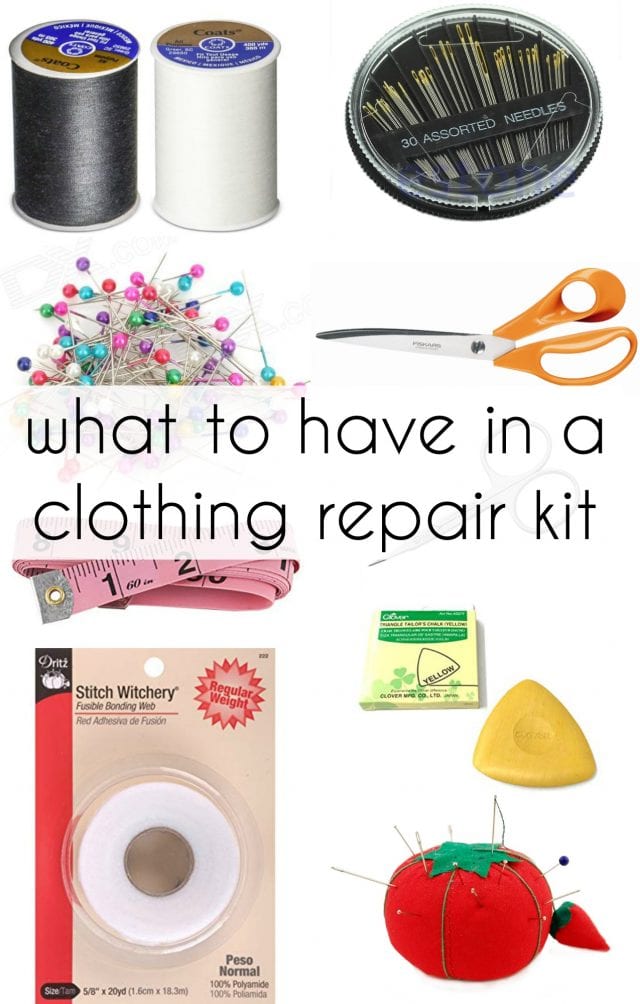 Clothing Repair Kit
I have a Rubbermaid food storage container that is my clothing maintenance kit. In it is all of these items and they have served me quite well over the years:
Cuticle scissors. Very sharp with a pointed tip, cuticle scissors are great for snipping the X of thread on a jacket's vent, trimming threads that appear on well-worn leather bag straps, nipping off clothing tags that irritate or show, and much more. Some choose a seam ripper, but I find cuticle scissors to be more versatile. Don't use them on paper or plastic hang tags or you will dull the blades.
Stitch Witchery. I recommend having clothing hemmed by a tailor, but when you don't have the time or have a fashion emergency, this stuff is amazing. It comes in a roll, tear a bit off and place between two pieces of fabric and use your iron to fuse them together. Great for a quick fix to a fallen hem, but also for holding down wonky lining and even holding together your blouse between buttons. Usually you can peel the two pieces apart later so a tailor can do a more permanent alteration.
Measuring tape. For evenly cutting off jeans, hemming pants, knowing your waistband or calf size, it's good to have a measuring tape. They're cheap, they last forever, every home should have one.
Tailor's chalk. This is chalk you can use to write on clothing to mark where to cut, press, or sew and the chalk disappears with heat from your iron. Again, it's cheap, it lasts forever, and is a smart purchase.
Set of needles. You want a variety of needles: a slim one for delicate fabrics, a basic one for basic sewing of buttons and busted seams, and a couple bigger ones to handle heavier fabrics like denim and canvas.
Pincushion and pins. I like the pins with the colorful ball tips so I can easily see them. Use these for holding pieces in place when hemming or fixing a broken seam. A pincushion will keep them and the needles in one place even if the box tips over. FYI, the little strawberry hanging off some pincushions is to sharpen the pins and needles.
Variety of thread. I always have white, black, and a gray-blue color in standard weight, and then a heavyweight in black. Then take a gander of your wardrobe and buy a spool or two in the colors you wear most. For most repairs, you can use a similar color, so no need to buy both hot pink and red, turquoise and emerald. Pre-made sewing kits usually have a good mix of thread colors, but the thread is usually poor quality, hard to thread, and easy to break. It's a good start, but worth it to buy a few small spools of basic colors. If you're unsure which kind of thread to buy, ask an employee at the fabric store and let them know what sorts of fabrics and use it's for.
Fabric scissors. Fabric scissors have a flat side so you can cut while keeping the scissors on the table, ensuring a straighter line. Like the cuticle scissors, don't use these on anything but fabric so they'll remain sharp.
Outside of this kit, I have a jar full of spare buttons which has helped out in the pinch. I also have a bag of scrap fabric which has been useful when patching clothing, padding a rough place on a seam, and various other clothing repairs. As you get to know your wardrobe you'll find what additional items will prove useful.
The Finishing Touch
Details take everything from good to great, including your style. Having the right tools makes attention to detail easy.
Clothing steamer. This is the wardrobe tool I use more than anything else. My garment steamer is never put back, it's constantly next to my full-length mirror ready to be filled, plugged in, and used. As soon as I get an online purchase and decide to keep it, I steam it. If you stuff it in your closet unsteamed, you'll just increase the creases from packing. You very well may have to steam it again before wearing, but that initial steam will make the second steam easier (and if you are in a rush getting dressed and don't have time, you won't look like a crumpled paper bag). I steam t-shirts and suits, silk, and sweats. Not only does it remove wrinkles, it also freshens your clothing. A steamer is also great for touch-ups around the house. I steam curtains, comforters, and more. I just have this small travel steamer which provides enough steam to fully care for one garment. Depending on how much you steam you may wish to have a larger device.
Sweater stone. Some people prefer sweater shavers, but I've been known to press too hard and eat a hole through my sweater so I stick to a sweater stone. Whatever your preference, it's good to have a device to remove fuzz-balls on your favorite knits.
Lint remover. I always make more of a mess with the "magic" lint brushes and stick to the tape versions. I have one in my toiletries kit for travel and one in my linen closet for home use. In a pinch I've used packing or masking tape, but I think it's smart to have a dedicated lint roller so you never end up needing one just after packing up all your online returns.
Iron and board. These days, few clothes need to be ironed. But when they do, there's no worthy alternative. If you live in a small space, they make space-saving ironing boards; you really need one, a towel over a table won't give you the hard creases and crisp finish you desire.
Shop the Post: