This article may contain affiliate links; if you click on a shopping link and make a purchase I may receive a commission. As an Amazon Associate, I earn from qualifying purchases. 
Okay, I am not a major fan of sites like WebMD; often when I go there to learn more about a symptom I have, I leave my computer feeling as though I have six months to live and will need an appendage removed. However, the Internet is wonderful due to sites like this where you can collect information, interact with others with similar issues and find a cure/solution.
Last winter many of you may remember that I was getting something like hives all over my body. Doctors couldn't figure out what it was, but I was able to deduce it was eating blue cheese after some time with Google. Removed the food from my diet and less than 48 hours later I was back to normal.
Well I have been plagued with a far harsher form of hives ever since October. I can go for weeks without an outbreak, and then I can have a day like today where I fear leaving my house because I look like The Elephant Man. It seems to be cyclical – I get them worst the week before and the week after my period, and usually the really hard-core outbreaks are the days after my period. However they can spark up at any time, and usually happen a day after I have been stressed out (yesterday we got our taxes done).
I have tried cutting various foods out of my diet with no change. Looking at my body care products, nothing seems that drastically different. Went to doctors, they say it is stress related and to try to keep calm (HAHAHAHA, you try being calm when you are covered in big red itchy welts!). Reading online, people get hives from so many different causes, it was hard to figure out what the trigger may be.
So I walked through yesterday, trying to figure out how I left the house at 7am hive-free, started seeing welts around 11am, and by 8pm I had a hard time walking or even blinking due to inflamed skin. And then this morning… well I like being honest with you guys but I just can't bear the thought of photographing my mug in this condition.
So I started the day with my shower – pureology's shampoo and conditioner which I have used for months (and removed from my routine without any change in skin). Olay body wash, again used on and off for several months and no change when removed from my routine. Ran out of shaving cream so shaved with Olay. Same Secret Clinical Strength deodorant, same Neutrogena Body Oil. Washed face with a Body Shop product I have used for two years, Body Shop moisturizer I have used for seven, Olay eye cream and a bit of Clean & Clear Advantage Acne Spot Treatment because I had some post-period bumps on my chin and around my mouth. Hair styling products I am also very familiar with and you guys KNOW I wear almost the same makeup every day.
Dress was dry-cleaned; maybe I have a reaction to the chemicals? No I wore a dry-cleaned item the other day without issue.
Took the Metro, but I get hives when I drive.
Got to work… but I get hives on weekends and got them at my old job. Drank water and coffee…
Then went to lunch with office mates. Drank water with lemon, didn't consume anything strange or spicy…
By 2pm I was a mess. This morning I wake up and want to cry at my reflection, but instead I examine it more closely. Tweeze a stray hair at my brow, notice my little beginning zits are gone thanks to that amazing silver tube from Clean & Clear…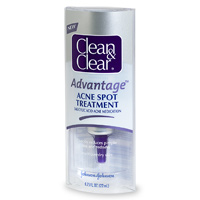 IT'S THE CLEAN & CLEAR!
Google "Salicylic Acid Hives" and "Clean & Clear Hives" and get TONS of articles from people telling their stories about how this ingredient causes horrible hives, and how some vegetables have this same ingredient. These are vegetables I often end up eating at times where the occasional hive ends up being a horrific event. I get PMS, I get breakouts, I use my trusty silver tube of gel. I am a vegetarian so I eat a lot of nuts (pistachios and almonds have Salicylates) and recently have been on a broccoli kick (also contains Salicylates). I stress over the hives and get breakouts so I apply more Clean & Clear. Then on a Wednesday like today I am The Elephant Man.
Well the tube went in the trash.
I also think that last January when I broke out in hives, I was also using this product. I stopped using it because I lost it on vacation. Maybe it wasn't blue cheese, maybe it was Salicylic Acid the whole time!
Anyway, the point of this post is – be informed. Don't let doctors tell you it's stress or in your head or just mindlessly prescribe you something like Prednisone. As you are informed with what came down the runway at Fashion Week, or the new Heatherette line of MAC Cosmetics, be informed about your body and what you are using to feed or treat it. Yes, sites like WebMD told me I may have some incurable disease due to my hives symptoms, but I also found out about this one ingredient that may have been giving me months of misery.
Any suggestions on a replacement product that battles minor breakouts?

Be an informed and educated beauty!!