This article may contain affiliate links; if you click on a shopping link and make a purchase I may receive a commission. As an Amazon Associate, I earn from qualifying purchases.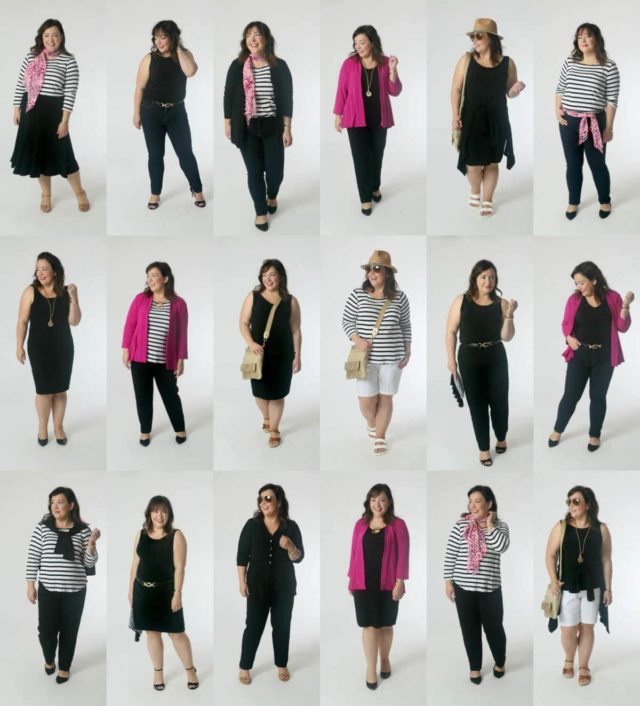 Thank you Chico's for agreeing to be part of this project. While this post is sponsored by Chico's, I had full creative and editorial control.
Chico's Travelers Collection is a cult favorite, copied by many but never as good as the original. Wrinkle-resistant fabric that moves with you, doesn't cling, dresses up and down with ease, is seasonless and also machine washable; the Travelers Collection from Chico's is pretty perfect and a perfect base for any capsule wardrobe.
I was scrolling through the Chico's website recently and my mind kept creating capsule wardrobes from their offerings. Chico's has one of the most cohesive collections, season after season. Prints, solids, and even jewelry all in color stories. Fabrics like the Travelers Collection that remain year after year to be able to build a coordinating collection. A perfect mix of staples and those necessary statement pieces to add interest and style to any wardrobe. I had so much fun with my last real life capsule wardrobe I wanted to do one with Chico's, focusing on their Travelers Collection. I reached out to Chico's and they thought this sounded like a fun project. The capsule wardrobe I created is one that is great for travel, as well as the office and the everyday. With the mix of pieces I chose, this capsule wardrobe works now but will easily transition into fall and beyond.
This travel capsule wardrobe focuses on the here and now – summer. Thinking of vacations, I made looks that are great for sight-seeing in the sun, but also dining and dancing at dusk. Believing a wardrobe should extend past one event and season, I also made a few looks that show how the Chico's Travelers Collection can go from a cruise to the classroom, sight-seeing to shopping at Target. To switch up this real-life capsule, I photographed myself in all of the outfits instead of making collages. This way you can better see the details – where to put the belt, how to tuck in the blouse, how the outfit hangs on the body. Let me know what you think!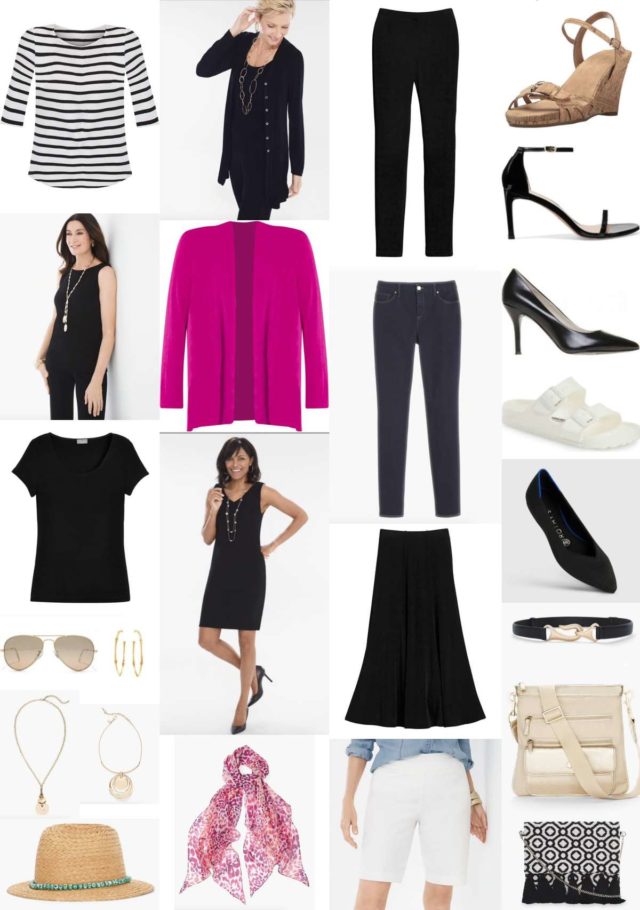 Shop the Capsule Wardrobe:
Scoop Tee | Tank | Skirt | Pants | Shorts | Jeans | Magenta Jacket | Cardigan | Striped Tee | Dress | Crossbody Bag | Clutch Bag | Long Pendant Necklace | Short Gold Necklace | Gold Bracelet | Scarf | Adjustable Belt | Hat | Hoop Earrings | Sunglasses | White Sandals | Tan Wedge Sandals (lower version) | Black Flats (not in collage but in outfit photos) | Black Heels | Black Pumps | Smoothing Shorts (not seen)
For sizing in the photos below, everything is a size 2 in Chico's unique sizing. The jeans are a 1.5 because I wanted them very slim. The dress, tank, shorts, and pink peplum jacket are all petite options, the pants are the short option, the rest are regular/standard.Sample Outfits from the Capsule Wardrobe
With ten pieces of clothing, I created 24 outfits for vacation, day, evening, weekends, and work (I actually created 28 but ran out of time to photograph them all and chose the best outfits). I have them separated by the 16 vacation/summer looks and 9 fall/work looks but you'll see that there are looks that can span the seasons and situations. Click on any thumbnail graphic in the galleries to see the full-size images and descriptions. Hover over the images to find arrows to advance and go back within the gallery. If there's an ad in the way, x it out to read captions. Click the X at the top right of an enlarged image to close the gallery and return to this blog post.
Sample Outfits for Summer and Your Next Vacation
Sample Outfits for Fall, Weekend and at Work
Sure, it's easy to pair together a bunch of black clothing and call it a day, but there are specific elements of this capsule wardrobe that help it looks cohesive and stylish.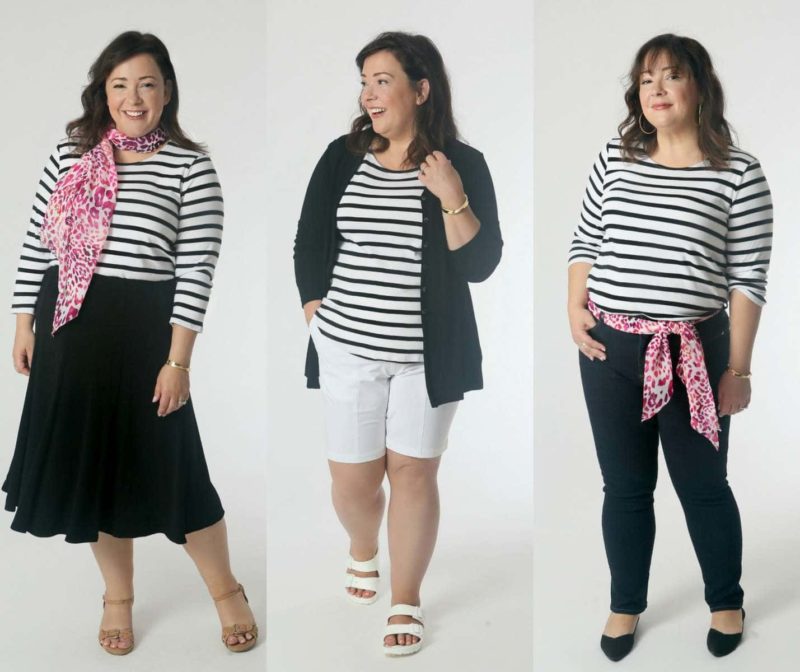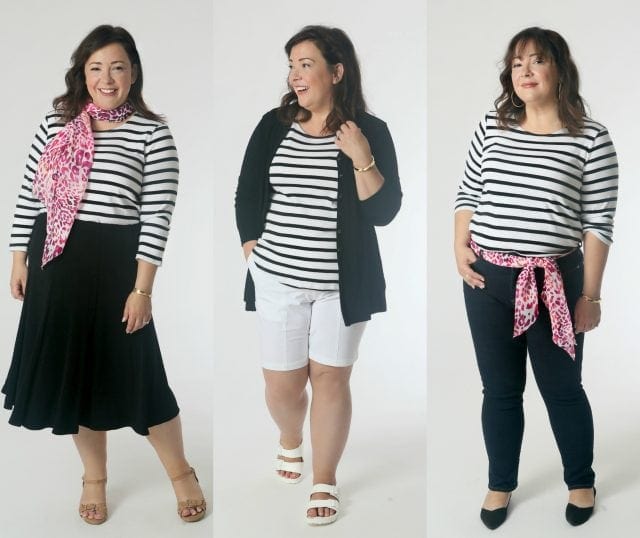 Any capsule wardrobe needs an element of interest. This can be a statement top, a skirt in leather or an unusual fabric, or a pattern. Wanting to keep this capsule versatile for day or night, casual or dressy, I chose a striped top. I love striped tops, I find them a great way to add style to your look without a lot of effort. Stripes look great with other prints, as seen in this capsule with how it complements the Convertible Watercolor Leopard Flip Scarf. Stripes are also classic, they transcend trends. I wear my Chico's Pima Cotton Striped Scoop Neck Tee all the time. It launders great and is such a flattering silhouette (it also comes in two other color options).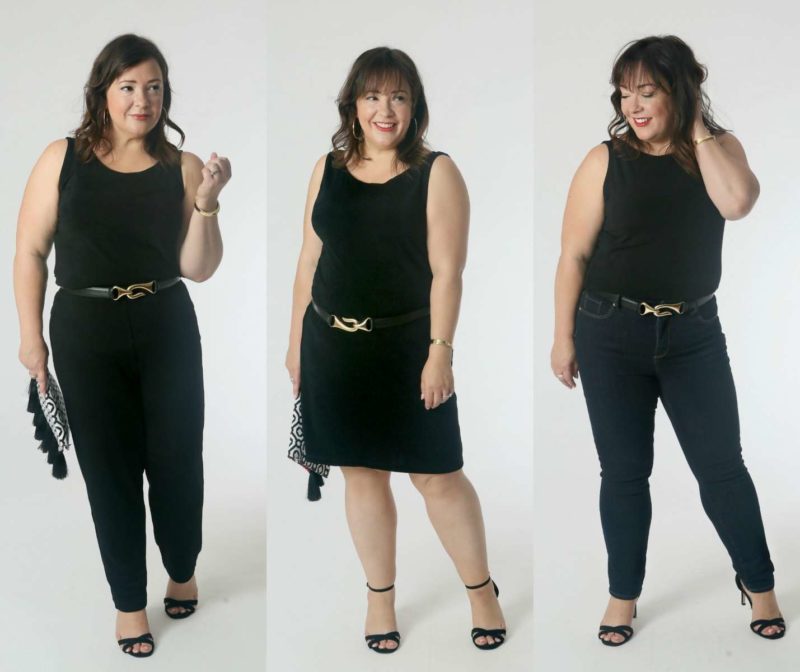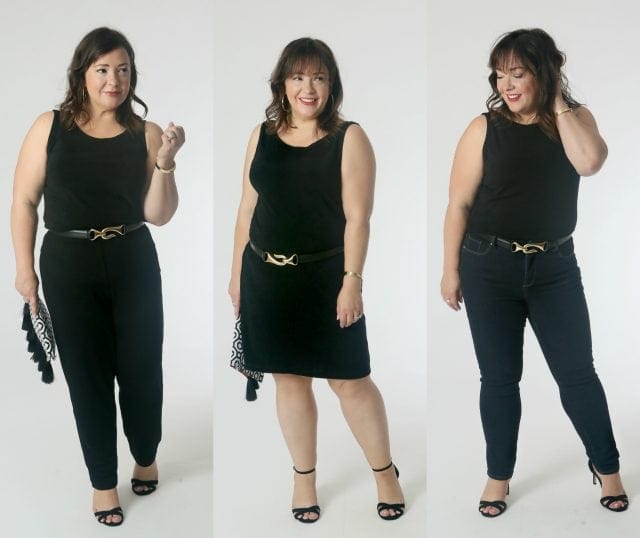 Accessories are key, and when I saw Chico's Adjustable Hook Belt I knew it would be a must for this capsule wardrobe. Available in two colors, I chose gold as I went with the gold accessories (this bracelet, this pendant, and this shorter statement necklace). This belt is bold, yet it will slide through your belt loops without issue. The width of the belt is adjustable so you can cinch it for higher waist looks or open it to have it slung low on your hips.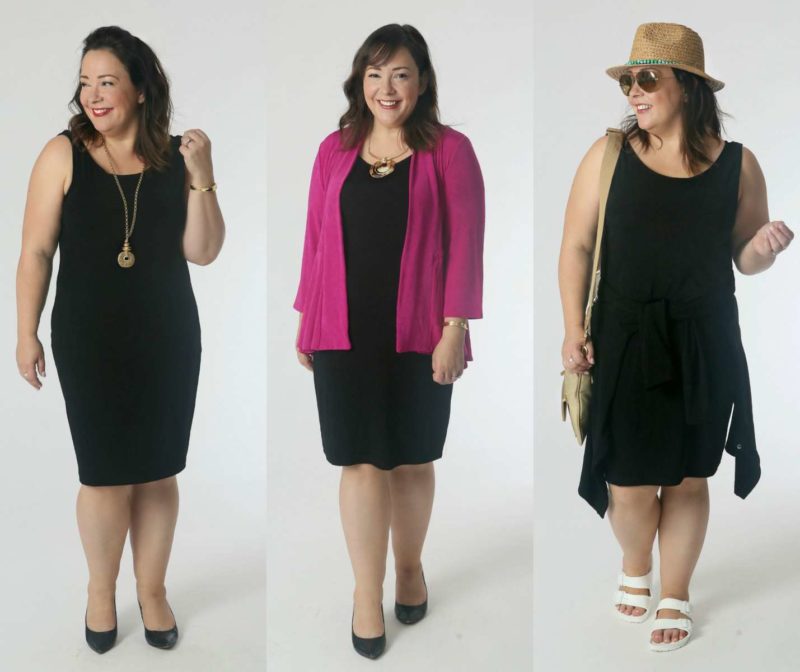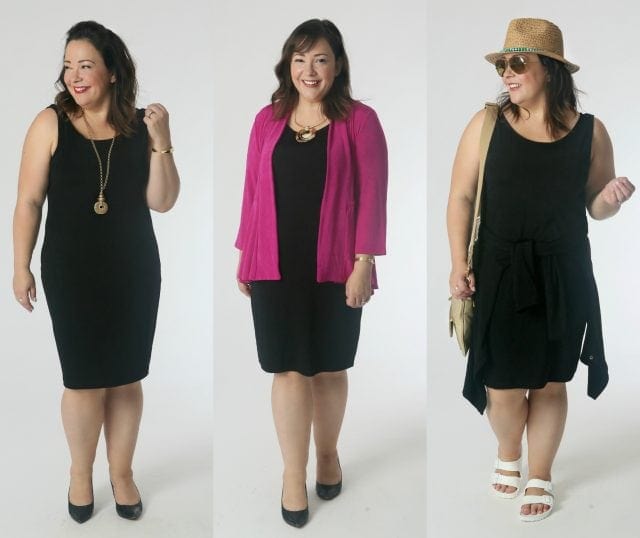 While separates are great, a dress can prove even more versatile. Chico's Travelers Convertible-Neckline Dress is one of the most versatile dresses I've owned. The dress has two different necklines; flip the dress around for a higher neckline. The fabric is perfect for day or night, and the simple silhouette can go from beach to boardroom to ballroom with a switch of accessories.
I hope with these real-life capsule wardrobes it will help you start to see you can achieve more style with fewer items in your closet. By shopping smart, shopping the best quality you can afford, and choosing items that can live multiple lives, getting dressed each day won't be such a chore.