This article may contain affiliate links; if you click on a shopping link and make a purchase I may receive a commission. As an Amazon Associate, I earn from qualifying purchases. 
I made this list a few years ago, and this list still applies to today's trends. If you buy the correct pieces, you will have to purchase fewer pieces and you will have more options each morning as you decide what to wear. A rule to a wardrobe – QUALITY NOT QUANTITY!!! Repeat this mantra as you ponder over buying those pink pleather pants or that faux fur handbag. Will you like in in two months, let alone two years? Does it go with anything else in your wardrobe? Is it flattering? Comfortable? Versatile? Well made?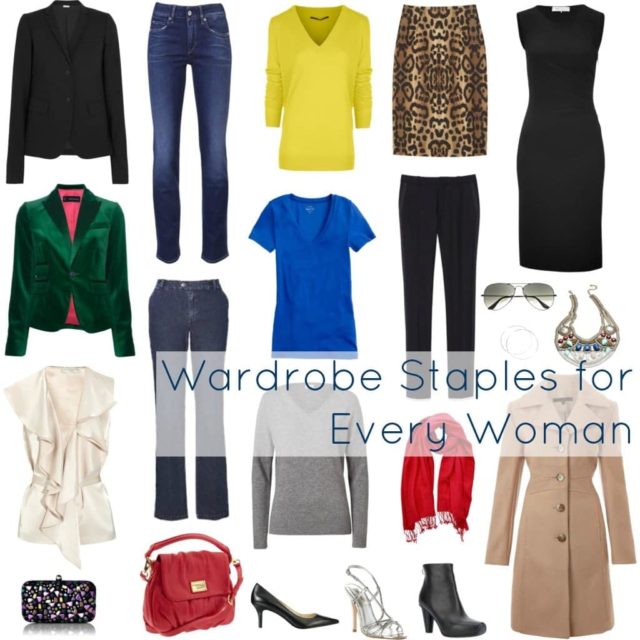 1. Black Tailored Pantsuit in Seasonless Fabric
Boy I use the term "seasonless fabric" a lot. This is triacetate, gabardine, crepe, something with a bit of polyester in it. Note that I wrote a BIT. This shouldn't look like scuba wear, a bathing suit or a rain jacket. No more than 5% stretch. Look at the fabric of men's suits. It's a fabric that is smooth, doesn't wrinkle easily, looks good in winter and in summer. You want an equivalent.
This is a suit that is right for work, or even for a cocktail party. I am a huge fan of the Triacetate line from Ann Taylor. It's seasonless, classic, travels easily, and due to being synthetic, is slightly stain resistant. J. Crew has a few great lines of suits as well – it's a good idea to buy from a reputable brand that is known for suiting so you can replace or add to this suit over the seasons. My Triacetate suit from Ann Taylor is now a skirt, two different cuts of trousers and two different cuts of jackets – all found on sale, different seasons but all the same color and fabric.
2. Black Seasonless Trousers
See above for the type of fabric. These really should be a separate pair from your suit because they will get more wear. These are pants for work, for dinner, for nights out.
Express carries a Microfiber pant called the Editor Pant. It is a stretchy crepe-textured fabric that wears well. Stretchy but not shiny, can dress up or down. They often sell coordinating suit jackets. These are a great choice for women up to size 10 or 12, as that they come in lengths and you can wash them in Woolite and hang them to dry.
You are looking for a pant with a slightly lowered rise, a straight to slight bootcut leg that is not too tight in the thigh. A classic fit. These are trousers that go with a fun top for a night out, with a twinset for work, with a cute jacket and tank for dinner, with a sweater for a jaunt to the mall. Sometimes it's nice to give the jeans a vacation and dress up a smidge. You'll find that the right black trousers will be more comfortable and as easy care as your favorite denim.
3. Jeans – and I Don't Mean ANY Sort of Jeans
I mean a pair of FLATTERING jeans. Jeans can be stylish, comfortable and flattering. It may take several attempts, but when you find the right jeans, both you and your butt will know. A lower rise is more flattering to the belly. Having the waistband start just below the belly button will flatten the tummy and lengthen the torso. This will also make the jeans bind less when you sit. The leg should be slim, but not tight. A slight bootcut leg opening is the most universally flattering. It lengthens the leg, looks great with sneakers or boots or heeled sandals, and it's look won't be going out of style for several years. The color should be a bit darker than stonewashed. Having the fading on the thighs often makes the leg look slimmer. A slightly vintage look is always flattering, and will be less likely to show wear as you wash and wear these jeans month after month. Darker means slimmer, and more stylish. Toss your faded jeans, your high waisted jeans, your tapered jeans.
Great and flattering jeans can be found anywhere from high-end denim boutiques to your local Old Navy. When you go to try on, plan to spend a good hour or so in the fitting room. Befriend a salesperson – I know they often can be annoying but they usually know their product. Tell them, "I am a size 8, but sometimes buy a 10 for my hips. I hate my hips, I usually buy a regular length, but sometimes they're short on me…" and things like that. The more information, the better. Stores really push denim at Back to School time. They often have the biggest supply, largest selection, and most knowledgeable employees. I know stores like Express and Levi's have "Denim Experts" who they hire at Back to School time to spew out denim information and find the right fit for everyone. I have had a lot of luck with Gap with having a good variety and tags to explain which jeans work for which figures. Same with Nordstrom and Old Navy.
4. Jeans Again – But These Have a Totally Different Purpose.
These are dressy jeans. Jeans are not just for everyday, jeans have become haute couture. Not all of us can afford a pair of $250 denim, but we can acquire a pair that is a bit more refined, a bit nicer, reserved for special occasions.
These jeans can have a similar cut to the above mentioned jeans, but you want to be more specific with the type and color of denim. Again, you want them darker than stonewashed. You want them to look a bit more… crisp. The hem not so frayed. Maybe even with a crease in the front. Many like jeans with appliqué and sequins on them, but I find those to be too trendy – they won't be wearable in two years. A lot of denim is called "premium denim," "ringspun denim" or "Japanese denim." These mean a higher quality denim resulting in a more refined look. These are jeans that you baby. You wash inside out and dry inside out. Some don't even dry, they let hang dry and then iron. Consider them dress pants. These jeans are for nicer nights out, going out with friends to a club, when you want to look a bit more dressy or sassy.
Another option is denim trousers. These are very popular now, and can be found in many stores. They are usually lighter in weight, sometimes have a cuff and/or a front crease. These are nice enough for business casual, yet look very sassy with a silk camisole to a club. If you go this route, do not get patch or flap pockets on the rear – this draws negative attention to that area and look dated. Slash front pockets are usually a poor choice for anyone with hips or a tummy. Look for coin pockets or go pocketless and reduce the bulk.
These jeans may seem silly, but trust me – once they are in your wardrobe you will find uses for them. I convinced my 60+ year-old mother to buy a pair, she wore them to a concert, to a church dinner and on a first date with a guy she met online. She even wears them to the mall when she wants to look sassy.
5. Black Heeled Boots
These can be knee high or ankle height. The point is to find a well-constructed, well-fashioned pair that look great with jeans, with trousers, for work or for play. Knee high is a great option because they can be hidden under pant legs, worn over jeans for an equestrian look, or paired with skirts or dresses. For those who do not find knee high boots comfortable, an ankle height is perfectly fine. You want a pair that covers your ankle when you cross your legs.
Heel should be at least an inch and a half tall. If you find heels uncomfortable, look for a heel of rubber, and look for a thicker heel. Heels may be hard to get used to at first, but they make you walk straighter, they make your clothes hang better, your butt looks better, your calves more toned.
The heel should be black as well. Many boots have the heel covered with leather, but this is prone to being scuffed and torn. If you can find black rubber or black stained wood, all the better. Otherwise, take your boots to a cobbler at the beginning of each season to have the heels cleaned up. The toe should not be overly round or pointy. You want a shoe that is comfortable, but stylish. A more squared toe or almond toe has been stylish for years, and there is plenty of room for all your tootsies. Steer clear of platforms – they occasionally have their day in the sun, but normal leather or synthetic soles persevere. Stay away from adornments. The more decoration, the more likely the boots will seem dated next fall. I have a pair of black boots I got from Nine West in 1999. They are 3 inch heels (I like 'em high), classic toe, ankle height with elastic gussets on the inner side of the boot. Each year I have them re-heeled and resoled. Each year I receive compliments on these years-old boots I got on clearance for $35.99. What a bargain! These boots have been worn to bars, parties, work, interviews, the mall, the grocery store, the zoo. They slide on easily, sit right at the front door in case I need to jet out at any time.
Why not brown? "Fashionable" browns change from year to year. One year it's distressed, next year it's glazed. It's a reddish brown, then a chocolate, then more of a tan. It clashes with the belt, the purse, the coat. I realized recently that I own own one pair of brown shoes, and they are alligator pumps. I have not owned a pair of brown boots since college, and I am no worse off from it. You will see that black leather is more readily accessible, easier to match, blends with more of your wardrobe and is less likely to show age.  You can read more about my opinions of black and brown in this post.
6. Black Leather Pumps
These shoes should be able to take you from the boardroom to the ballroom. Leather, basic soft leather is the most versatile, and the easiest to maintain season to season. A simple pump with an almond to pointy toebox and at least an inch and a half of heel will be stylish for years to come. Like the boots, forgo adornments; they only age a shoe, and make it more memorable and less versatile.
It's okay to go with comfort over trends with these pumps. Just don't forgo heel height. Think feminine, think classic. Think "What Would Jackie Wear?" Jackie Onassis wouldn't wear 4″ stilettos in patent leather, but she wouldn't wear dowdy black microfiber elastic shoes with a clunky heel.
I take my black leather pumps to a cobbler every year to reheel and resole if needed. Every couple of months I sit down with all my black shoes and give them a shine with polish and a brush – just like my dad used to. When these pumps are not worn, I stuff newspaper in them and put them in a box in my closet to maintain them. These pumps have been worn to every job interview, every night at the theater, every funeral, client proposal presentation, Christening, or Bat Mitzvah.
7. Not So Little Black Dress
This is not a "hot date" dress, a "sexy siren" dress, yet not an "old fuddy duddy" dress. This is a classic, simple cut that would be appropriate for any season, in an easy-care, versatile fabric. One would look for a dress in crepe, silk, triacetate, matte jersey, gabardine or something similar in weight.
This dress is your "in a pinch" dress. With pearls you are ready for a day wedding. With a cardigan, it's perfect for a christening or funeral. Add jet beads and dangly earrings and you are dressed for your company holiday party. A white oxford underneath some styles, and the dress becomes a sassy jumper appropriate for the workplace.
The dress should not be tight, but skim your curves. The most flattering length (and most versatile) is either right above the knee or right below it. A kick pleat in the back adds panache and the ability to walk effortlessly. If the dress is lined, it will be less likely to bunch, crease, or cling.
The neckline should be classic, yet flattering. A conservative v-neck or scoop, a slightly draped neckline, jewel neck or boat neck are all winners. The armholes should fit well that they don't cut into the skin, yet do not show your bra even when boogieing on the dance floor. Sleeveless styles are the most versatile for day to night and winter to summer, but three-quarter sleeves are a good second choice if you are uncomfortable with your arms (or desire more coverage). I however do believe that fabric over arms adds girth and you notice the flesh more than others. Sleeveless is often more slimming than sleeves, and sleeveless is more flattering to larger arms than cap sleeves.
The best dress is one with little adornment. Your pizazz comes from the accessories. This is a dress that fits well, but is so basic you can wear it to event after event without people noticing. Simple, flattering cut, seasonless fabric, conservative yet not school marm-like hemline. This dress will last you for years and years of special occasions.
8. Silver Hoop Earrings
Gold is lovely and colors can be a lot of fun, but silver is a budget-friendly bit of flash for your wardrobe. Sterling silver can be found at the mall kiosk, your favorite boutique or the department store at a very reasonable price. With a bit of rubbing with a polishing cloth, these can look gorgeous for years. You may love gold, but most women cannot afford larger real gold hoops, and goldtone soon becomes green, copper or brown with wear and tear. These staples are about longevity and quality.
These hoops should be larger than a quarter, and if you ears can handle it, larger than a silver dollar. This may be a change from your norm, but these are not necessarily earrings to wear every day. Nothing jazzes up a simple outfit better than a visible pair of hoops. They add shine and sparkle, make a simple top and pants into a "look," and dress up everything in your wardrobe. Wear with your simple black dress for your company's holiday party, your merino v-neck and skirt for a date, with a simple tank and jeans for a night out with the girls.
These hoops should be slim, well constructed with a clasp that will hold tight through dancing and a whole evening out. If they are slim, they won't be as weighty and be more wearable for long periods of time. Once you have these in your wardrobe, you will see how often you will end up wearing them to add flash to all your basics in your closet.
9. Black or Gray Merino V-neck Sweater
Merino wool is amazing – it's lightweight enough to wear the majority of the year, it can be washed on the gentle cycle of the machine and hung dry without needing to reshape, it has a refined finish that is dressier than many other knits, it doesn't pill or fade easily and it looks expensive even after multiple washings. What's nice about this fabric is that it has give and it glides over curves without clinging or adding bulk.
This is a basic go-to sweater. Pair with jeans and boots for most any casual affair, with your seasonless pants for work or dinner, with a skirt, even with capris and cropped trousers in the spring and fall months. Having a basic like black or gray is a must – this is a color that will not go out of style. I have a merino v-neck in charcoal from J. Crew that I purchased in college and still wear a decade later. The merino v-neck will replace your sweatshirts, faded knit pullovers and bulky cotton sweaters; it is just as comfortable but far more refined.
A v-neck elongates the neck, makes one look slimmer, adds interest without being too trendy or flashy. The v-neck should be elegant – low enough to elongate the neck, but not so low that you are showing major cleavage. It should be wearable at work without raising eyebrows. As for fit, it should be a feminine cut without being too tight, and the length should end around mid-hip so you do not show off your tummy when raising your arm, but do not overwhelm your figure in a tunic of fabric.
Why not cashmere? Cashmere is an elegant choice, but cashmere requires more maintenance to launder and is often outside the pricepoint for many individuals.  Cashmere blends are known to pill and lose their shape over time; merino is known to keep its color and shape after years of wear and washing.
10. Trendy Skirt
This list is mainly of basics that one can wear from year to year. This description may seem as though it does not fit. On the contrary, it is possible to have a trendy skirt that spans the time of style.
Have a hankering for animal prints? Consider a leopard-print pencil skirt. Are you a crafty lady? Consider a twill a-line style with crewel work or felt embellishments and embroidery. Bit of a rocker? How about a dark denim slim skirt with stretch that comes to the knees. Love the classics? Consider your traditional straight skirt in one of your favorite colors or an unexpected textured fabric.
This skirt will jazz up your simple merino v-neck or tee shirt, it will add pizazz to your simple button-downs, sweaters and jackets. A fun skirt can add necessary humor, personality and even formality to a very basic wardrobe. Consider fabrics that have some give (about 5% Lycra), so they don't wrinkle throughout the day, move with you and don't get baggy with wear. A heavier fabric will hide the lumps and bumps and work better from season to season. If the fabric is more delicate, it should have a lining to keep the shape. Your lifestyle will determine what fabric is best. If you work in a conservative office environment, a straight skirt in a seasonless fabric would be a good choice. If you have a more casual lifestyle, a twill or denim may be a great choice.
A warning about twills, cottons and denims – they can easily look bummy or casual. This is a refined skirt that can dress up or down. A twill should have a slight sheen to its finish and have clean lines (no cargo pockets, drawstrings or flap pockets). Denim can be dressy if it has Lycra, a dark finish and fray-free edges. Cotton can easily wrinkle – consider an a-line or fuller style if you love this fabric and again stay away from adornments that make an item seem less like a skirt and more like active wear or fatigues.
11. Trendy Jacket/Blazer
Nothing pulls basics together and makes an outfit better than a jacket. A simple ribbed tank and jeans is appropriate for lunch with friends when topped with a blazer. Your basic black pants and a simple tee is work-appropriate when matched with a jacket. When it's fun, funky, and "trendy," it takes basics to the next level and adds your personality to your wardrobe.
I had a denim blazer that I wore to death. I wore it out on the town with a black cami and pants, a gold necklace and heels. I then wore it on Monday to work with a silk shell and suiting trousers. For a bridal shower, it was worn with white twill pants and a light aqua ribbed tank. In winter it was worn with a corduroy skirt and tights, in summer it was paired with white jeans and a lightweight shell.
For you it may be a stretch twill military-inspired jacket in your favorite shade of red, a washed velvet blazer in an unusual pumpkin hue, a collarless zip-up jacket in crackled black leather, a belted safari jacket in olive green cotton sateen. The point is that it can be appropriate for work or for play, it complements the majority of items in your wardrobe, and is a color and style that makes you happy. Sometimes the oddities in your closet get more wear than the simple pieces – this is a wardrobe piece where it's okay to go outside the box and show a little flair. For a jacket to be versatile, it actually needs to be out of the ordinary.
Make sure this jacket fits well – even if you are tall if you have a short waist you may want to look at petites. Consider a tailor for a true custom fit. Unlined jackets are more forgiving to curvy shapes, adding less bulk and adding a bit of give. The jacket should button or zip comfortably across your body and not bind in any place. When you go to try it on, try it with a shell the weight you plan on wearing with it in the future.
12. Slim V-neck Sweater in a Signature Color
Don't think you have a signature color? Look around you. What color is the wallpaper on your computer and phone? when you order Post-it notes, what color do you choose? What color are the towels in your bathroom, the undies you are wearing, your puppy's collar, your beach towel? You'll see that you are drawn to a certain color or range of colors. For me it is shades of bright pink and orange. My mom is always drawn to bright cobalt blue, and my good friend always seems to buy thinks in a pale shade of lemon yellow. this is the time to buy something that makes you smile every time you take it out of the closet or your dresser drawer. Don't worry about what colors are en vogue, worry about what is right for you.
Since colors do go in and out of style, consider stores you normally don't shop at for options. This is a simple garment (should follow the same rules as the merino v-neck in regard to fit), so you may have luck at the unexpected store or online boutique.
As for fabric, merino is always a great choice, but other fabrics can also work. A silk blend is nice for work and pairs well with skirts. A lighter weight cotton sweater, if treated well, can be a great choice. If your budget can handle it, consider cashmere for a long-term wardrobe investment. As with everything else on this list, look for quality – well made, well constructed, color-fast. This sweater will brighten the most gloomy days if you chose the right color. It can be worn with skirts, jeans, work pants, capris. With the right accessories it can work for a luncheon, work, the mall, the weekend, a cookout and even a cocktail party. Since it's your signature color, you probably won't ever tire of the color, making it a wardrobe mainstay.
13. Signature Accessory
Like the sweater, this is an item that makes you smile just looking at it. When others see it on you, they get a peek into your life and of your personality. For me, it is a wide silver cuff bracelet that I have worn almost daily for the past decade. I bought it after a job interview in a field that I always wanted to delve into. I bought this bracelet as a congratulations present to myself for having the guts to go out on a limb. I ended up getting that job, and consider this cuff to be a bit of a good luck charm for me. The bracelet fits my style – it's bold, clean lines, modern with a hint of flash.
For you it may be a strand of pearls you inherited from your grandmother, a necklace of colorful clay beads you bought on a trip to Mexico, an amber ring that was given to you by your first boyfriend, a charm bracelet holding coins from all the countries you have visited. Maybe it's a necklace you found in a local boutique and fell in love with because of the use of metal and glass or an Hermes scarf you bought with your first bonus check. Whatever it is, it should go with a good 70% of your wardrobe. On the days you feel a bit uninspired, putting that accessory on makes you fell more alive, more polished and more yourself. It should work with any other accessories you wear on a regular basis (wedding set, watch, earrings) without competing against it.
A signature piece has some heft to it – it is noticed by others and helps define your personal style. This is not a delicate gold chain with a small heart, it's not the Tiffany bracelet that every other woman in America owns, and it is not your wedding set. This is something that you add to the picture, something that takes your staples and makes them a wardrobe.
14. A Sparkly/Evening Shell or Top
A night out on the town, a cocktail party, a company event, a date with your significant other… often these things come up unexpected and you scan through your knits and wovens trying to find the right thing to wear without any luck. Often you dash to the mall last minute and buy a dress you'll never wear again or a cheap polyester top that "will do" for the event.
A great evening top will get miles and years of wear. Under your basic black suit, you are ready for a company event or cocktail party. With a simple black or ivory skirt, you're dressed for a wedding. Pair it with black pants or dark jeans, you have a great outfit for a night of dancing.
I bought a top from Nordstrom a couple of years ago – it is blush-colored chiffon with flutter sleeves, a graceful v-neck and is covered in blush-colored sequins and tiny beads. The color is subtle, but the embellishment gives it pizazz. I have worn it to countless occasions with ivory trousers and pearls, with my black suit, with jeans and strappy heels. It's not tight, so it works even when I am not feeling svelte.
Currently I have a dark red silk top – it is sleeveless, v-neck and an empire waist accentuated by a band decorated with a rosette in the same fabric. I have worn it with black pants, a black suit, with ivory pants, a black skirt and even jeans with great success. the silk captures the light and look formal, the color is flattering and looks festive, the rosette gives it interest.
Unlike your signature color, this should be a color that you like, but is versatile. Gray/silver, soft gold, blush, ivory, dark red, teal, bronze are all good choices because they are not exclusive to a time of year, they work well with a variety of neutral colors, and they are attractive without being so memorable that they cannot be worn again. If you choose to go with a lighter basic such as gray, ivory, blush or taupe, ensure it has beading or embellishments to make it look dressy and elegant. Brighter and darker colors can get away with being just of a more formal fabric.
You may not like your arms, but sleeveless is far more formal than sleeves (and far more classic). Often having sleeves accentuates the size of our arms, bare skin often recedes. If you do feel the need for sleeves for modesty or personal preference, consider flutter sleeves (loose short sleeves with a slit through them so they flutter from the shoulder), cap sleeves, or a more loose style (kimono or bat-wing). having the drape of fabric adds to the elegance, femininity and formality of the garment. On the other side of the coin, baring too much is never elegant and restricts the amount of places a top like this can be worn. Bustiers, tight tops, and low-cut tanks may be fun for a night out, but do not have their place at many other events. Tanks and camisoles are fine, as long as you can still wear foundation garments without them being seen, and you wouldn't be embarrassed to see your in-laws, your minister or your boss in such a getup.
15. The Perfect Tee – or Two
This tee is not from Fruit of the Loom, it is not unisex, and it is most likely not 100% cotton. These are tees that are refined, feminine and flattering.
These shirts should hit mid-hip and like the sweaters previously mentioned, skim over your curves. It should not cling, it should not be see-through and it should be comfortable when you raise your arms, sit, and move around. As for a neckline, it depends on your personal preference, but do know that a standard crew-neck is not flattering on most people. A scoop or v-neck will elongate the neck and give a more feminine and flattering look.
If you can only get one, I suggest your signature color. I don't recommend white because it isn't a flattering color on most complexions, it gets stained easily, and can look old quickly. Same with black – nothing is worse than a faded black tee. However, if you do plan on buying a few, I recommend one white, one black, and two in happy colors, making sure to baby the heck out of them.
No pockets, no contrast stitching, no stripes or patterns or logos on these shirts. You are looking for true, clear saturated color free of adornments. Any detail, even that of a popular brand's logo, will make the shirt less versatile, and eventually out of style. If you look at True Fashionistas, they are never wearing obvious logos or patterns. Clean, simple lines and solid colors are the foundation of a stylish and classic wardrobe.
When shirts have Lycra in them (and these should to ensure a good fit and a nice finish), they shouldn't be thrown in the dryer. Heat destroys Lycra and your shirt will soon end up faded, misshapen, and thin. Treat them as you would your merino v-necks and you will have to replace them less often.
These shirts are your summer version of the merino and signature v-neck sweaters. They pair with most anything, and with an accessory prove to be a nice comfortable outfit. If they are of high quality, they can be work-appropriate under a jacket or cardigan.
16. Well-fitting Wool Winter Coat
Keep your parka for your ski trips and snowball fights in your backyard. You need a coat that will work for every other occasion in your life. We don't all have the money or the room to house a closet-full of coats, so it's best to invest in one coat that will work for every occasion that takes place in the colder months.
If you buy a single breasted lined coat that hits mid-thigh to just below the knee, you will be set. This length will work with skirt, jeans and trousers. the longer length is more elegant (and warmer!). A single breasted style is classic and far more flattering on curvy and petite figures. Look for simple styles – no epaulets, embellishments, decorative pockets. There should never be pockets at the chest (makes the style more casual and is not flattering to curvy shapes), the buttons should be the same color as the coat. the collar should be very simple – traditional or shawl style, also free of adornments.
As for color, you have options. Black is always a wise choice as that it can dress up or down, doesn't show dirt, and is timeless. Ivory is a beautiful option – it also dresses up and down, is a fresh change from all the black in the winter, and can look quite elegant. Other colors can work depending on your sense of style – my personal preferences are camel, a very dark brown (works with black), dark red, robin's egg blue, teal, and dark berry. these colors can be a great alternative, but if not of good quality can easily look cheap and dated.
To add a bit of personality to this basic, use accessories. I wear a bright turquoise pashmina looped as a scarf with my basic black wool coat. My best friend has a tangerine cashmere scarf and hat that she wears with her chocolate brown coat. Camel can look great with an unexpected bright like candy pink or apple green.
This is a worthy investment – a great wool coat can last you for decades, so take your time in choosing your piece. Look at discount places like TJ Maxx and Marshall's – I found my Calvin Klein wool knee-length coat there for less than $60 in the mid-1990's and it still looks stylish today.
17. Great Fitting Bras
There are bras for romantic evenings, bras that have pretty straps to wear with tanks. Bras that match your panties, bras to wear to the gym. This bra is not any of those. This is a bra that makes your bustline look fantastic. It may not be the sexiest bra, but when worn under a slim sweater, it makes you look taller, younger and slimmer.
No matter your size, underwire gives you the best all over support and shape. Straps should not be overly stretchy, or they will wear out and start to have your breasts sag. The bra should fit best when secured on the middle set of hooks. The cup should cover your breast entirely and not allow "quad-boob." If you haven't been fitted for a bra before, or ever you should run, not walk to your closest lingerie boutique or high-end department store. These places are usually better than Victoria's Secret or the frantic messy lower end department store lingerie department – the employees are better trained and know not just how the measure, but what styles would fit your figure best.
If you can afford only one of these bras, get one as close to your skin tone as possible. The bra then can be worn under white, light colors, and even black without show-through. If you wish to pick up a second, I recommend black for dark colored tops (in case of showing at armholes or with flash photography).  Be sure to get fitted each year – your bust will change with age, weight gain and loss, and pregnancy.
18. Panty Line-free Underwear
Nothing ruins an outfit more than the wrong foundation. You now have the right bras, you also need the right underwear. Baggy, wrinkled or binding underwear DOES show, even through jeans, and can ruin your figure as well as your outfit.
Thongs are not the only style of underwear that provides a smooth line. Microfiber fabrics have seamless edges that are virtually invisible under even the thinnest dresses. Boyshorts are a comfortable style that has the hems below the bum, removing the chance of seams cutting into your back view.
As with bras, you may be wearing the wrong size of underwear. We gain and lose weight over the years and our shape changes drastically with exercise, children, and life changes. Consider trying on underwear before you purchase, either trying on over your thinnest undies you own or using one of the disposable panties that are found in most lingerie and swimwear stores. Underwear should not bind or dig into the skin. It should not give you the quad look to your bum. It also should not bag, and should be cut so that it will never show over the waistband of your pants.
A few facts to consider with underwear:
White is not invisible under white pants. In fact, it is often more obvious than a color. If you are wearing white pants or a skirt, invest in underwear that is as close to your skin tone as possible. Only this will provide a clean look.
If it is fraying, is stretched out or losing its elasticity, it has no place in your wardrobe. I may sound like your mother, but think about how much time and money you have invested in your wardrobe to end up at a hospital in your ragged and stained underwear. You deserve to look and feel great from head to toe; even if they are the cheap three-pack at Target, you need new underwear.
If you are wearing a dress, wear appropriate underwear. Us curvy women often do best with a boyshort or brief under a dress so that fabric doesn't get caught in our rear curves. A high rise will make sure the tummy is not cut in half, and always consider that a draft could make you like Marilyn Monroe for a moment, so think before you dress.
19. A Pashmina or Wrap
Think this doesn't fit your lifestyle or personality? Think again. In the right color and weight, this item may get more wear than your favorite pair of jeans. With sundresses to ward off an evening breeze, with cocktail dresses year-round it's a great coverup. I usually use my pashmina as a scarf with my coat in winter, then have it to drape over my shoulders if it gets chilly inside. A pashmina around the neck adds intrigue to a simple sweater and jeans set and can be looped or knotted in a multitude of ways. When on a plane, I always take my pashmina – it's small enough to toss in my carry-on bag, wards off chill and is far more cozy than the standard-issue airplane blankets. Once at my destination, it works for nights out, cold conference rooms, a light coverup when sightseeing and adds warmth and coziness when in your hotel bed. Make sure the fabric feels good against your skin, is lightweight enough to loop around your neck, and is in a color that you love (you'll find a color is more versatile than basic white or ivory).
20. Clutch Purse
A clutch purse will add instant chic and formality to your outfit. Switch your day purse for one of these, and your suit is now cocktail-party worthy. Your simple black sheath is fine for day, but with a clutch it is evening attire. Black is a safe bet for a clutch, but this is a great chance to show your personality. A beautiful printed silk, a quirky beaded design, sequined Pucci-inspired pattern, vintage brocade… you'll find an interesting fabric or print will get more mileage and be more versatile than a basic piece, and doesn't then have to coordinate with your shoes.
Make sure the bag is big enough to hold your essentials – for some this is only your phone, your ID and a lipstick. For others, it may be reading glasses, a notepad, tissues, medication. Remember for a social affair, essentials are all you need – get a bag to fit your entire wallet, cosmetics bag and day planner and you are no longer able to be a social butterfly. Ensure the bag closes with everything in it without looking as though it strains at the seams. Treat it well, store it properly and you will have this bag for years to come.
21. Daily Purse
Most of women have a purse we carry every day, but how often do we really think about it? Your daily purse gets more exposure than anything else in your wardrobe and it's often the least cared-for item. It gets the most wear, the most time, works harder than anything else you wear, so it should be purchased with care, maintained and replaced when past its prime.
I find that leather bags seems to wear better over time, but there are some great microfiber fabrics out there that are sturdy and easy to clean. If you are not one to change your bag with the seasons, go for a seasonless fabric like leather or microfiber. Black or brown is a safe bet, but like your winter coat sometimes a color can be a more versatile choice. Red, camel, purple, green are all great colors that will go with your gray suit as well as your favorite Levi's.
Your bag should never be more than 70% full – more so and you will ruin the line and condition of the bag. Once a week or so, you should go through you bag and remove all the superfluous things that get caught in there – ATM receipts, gum wrappers, the 20 pens and 15 lip glosses that collect through a week, lint-covered tissues… you get the idea. Your daily bag should have what you need on a daily basis and no more. It's great to have a purse survival kit, but you don't need to keep all the contents of your kitchen's junk drawer.
22. Sexy Shoes That Can be Worn for at Least Five Hours
I promise you, they really do exist! These shoes are sassier than your traditional leather pumps. Maybe a strappy heel in a matte gold, possibly a peeptoe heel in black satin. These shoes will take your basic black dress from day to evening, make your work suit suddenly cocktail party-appropriate, and even jazz up jeans and a sparkly top for a night out on the town.
Don't get too creative with this selection – you want them to work from season to season. I have a pair of strappy heels that are in a Pucci-inspired pattern. The straps are very slim, the heel is slim and about 2″. The shoe is free of rhinestones, fancy bows or baubles and have gotten compliments every time I have worn them over the past five years.
Be careful with ankle straps – they often make your leg look shorter and thicker. A peep-toe or slingback style adds drama and formality to a usually conservative style. yet maintains support through the evening.
Unlike the other shoes, these shoes may be more versatile if not in traditional black. For strappy heels, a matte metallic can be quite beautiful with a multitude of colors. A contrast color like purple, red, or teal or even an animal print can often complement more pieces in your closet than a neutral.
23. Sunglasses
Every woman needs at least one pair of great sunglasses, and great sunglasses does not equal expensive sunglasses. I have some great metal aviators that are classic and chic that were found for less then $10 at a mall kiosk, and some Jackie O-inspired black plastic frames for a song from my local Target.
Sunglasses protect your eyes from glare and from sun damage. A large pair is good because they will also protect the skin around your eyes from the elements. Sunglasses are far more chic than squinting, and they pull an outfit together. Somehow that bit of mystery does really add to one's appeal! I have written more about finding flattering sunglasses here.
Are you new to Wardrobe Oxygen? If so I also recommend you read: