This article may contain affiliate links; if you click on a shopping link and make a purchase I may receive a commission. As an Amazon Associate, I earn from qualifying purchases. 
I don't believe you need to purchase anything to look stylish each season. Fashion has become so all-encompassing, it really is possible to be true to your personal style and look great no matter the trends. However, I have had many of you contact me asking for a post where I break down the fashion trends for Fall 2011 – what I like, and what I don't. There's very little I don't like for Fall 2011, and many trends I find to be easy to incorporate into most anyone's wardrobe. Below I share some of my favorite general trends for the season, along with a few very specific trends for fall that may be just right for your specific wardrobe!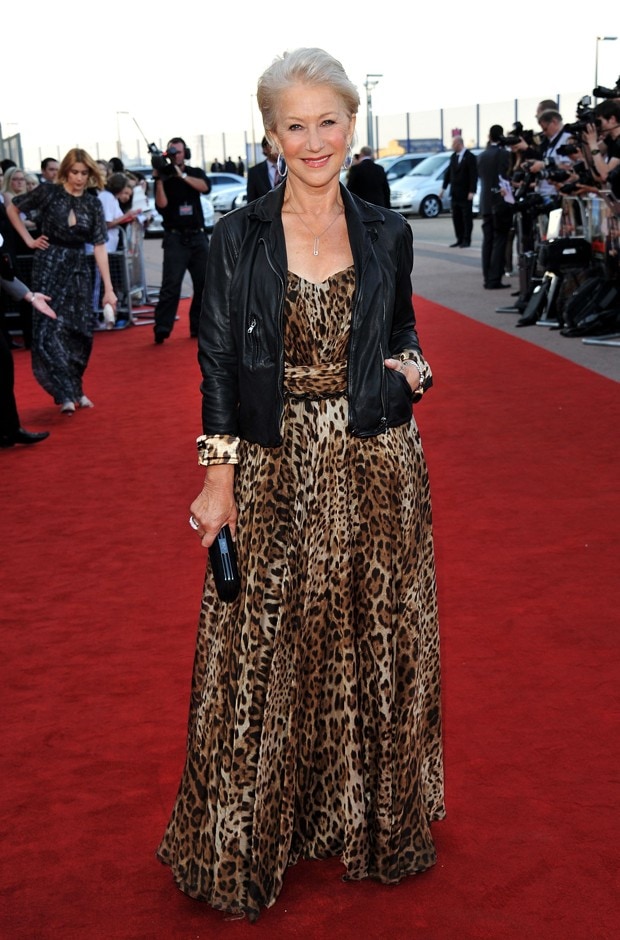 Animal Magnetism. Animal prints are back, and I couldn't be happier. I love animal prints, especially cheetah and leopard because they add a touch of elegance, class and still some whimsy to an ensemble. I already own a pair of classic leopard-print haircalf pumps, but if I didn't I would totally be purchasing a pair this season. I have also embraced this trend by purchasing a skinny cheetah-print belt. Ann Taylor has a cheetah-print silk blouse that I adore, and a faux fur short jacket that is utterly divine. A leopard-print pencil skirt would look amazing with all the jewel tones on trend this fall, and is a piece that will still be stylish after this fall.
If you're new to animal prints, I recommend choosing an accessory to get started. My pumps work with everything from dark denim jeans to little black dresses. A skinny belt is a great addition to many wardrobes – use it to cinch your dresses and cardigans from last fall to give them a 2011 look; I like wearing them over pencil skirts to add a level of interest and depth to a simple ensemble. Replace the self-belt in your dress or tunic with an animal print belt for a completely different look.
Leopard and cheetah prints incorporate black and brown so they can match most everything in your wardrobe, and really highlight colors like teal, pumpkin, red, merlot, purple, and bright pink. Zebra isn't as prevalent this fall and can be a bit too graphic for the season's colors and silhouettes – an ivory/brown variation would look fresh and on trend. For this fall, the best animal print is one with black and brown in it, something that will work equally well with denim and leather as it would with ladylike fabrics and silhouettes.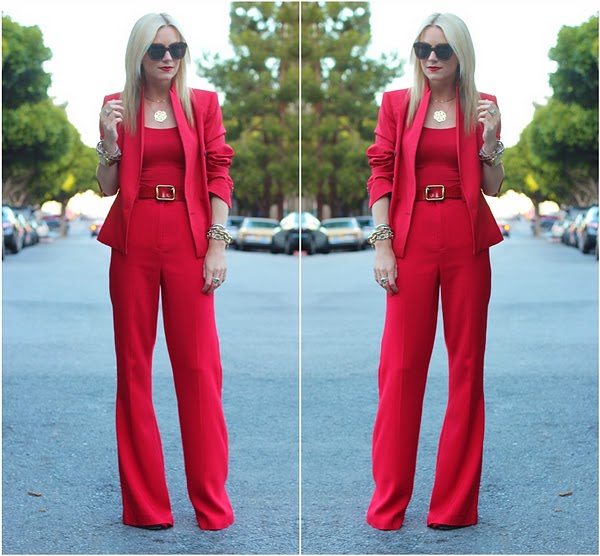 Seeing Red. Red is THE color for Fall 2011. Whether it's the color of a fire engine, or a deep shade of wine, the more red the better. A popular trend this fall is called monoblocking – this spring was about wearing multiple strong solid colors together (colorblocking), but this trend is to wear head-to-toe color. Some do this by different shades in the same color story (magenta with red with berry), and others do it by wearing the same shade throughout (seen above by the blogger Atlantic-Pacific).
If monoblocking is too strong of a look for you, don't discount red this season. Red is a phenomenal accent color that can give a much-needed pop to neutral-based wardrobes. A red shell under a black jacket, a red belt over your cardigan, a pair of red pumps peeking out under gray trousers. Red also looks great with other colors for a fall version of colorblocking – a red blouse with a purple pencil skirt, red trousers with a teal blouse, a red dress with a mustard belt.
If red fits your personal style, by all means take advantage of this trend this season and stock up. You can't go wrong with a pair of red trousers or a red skirt to mix with what you already own. If you wish to try red for the first time, you can go small with a belt or pair of heels, or maybe try a blouse or sweater in your favorite shade of red to wear with your current clothes.
Going Mad. If you haven't seen Mad Men, you're not alone (I have only seen one episide myself); however you'd have to be living under a rock to not realize how this show has affected style. From home décor to fashion, Mad Men has taken over. For fashion, this means ladylike silhouettes, tweeds, capes, sweater sets, and skirts galore.
If you have an hourglass figure, you're in sartorial heaven. However if you have a straighter or a softer frame you may find these defined shapes difficult to wear. The thing is you don't have to wear this trend (or any trend for that matter) to be stylish. You can also use this trend as inspiration and adapt it to fit your figure and lifestyle. Rock the red lipstick, wear a similar silhouette in a softer fabric or embrace the Mad Men-eque fabrics and colors in a different silhouette. Polka dots and lace are ways to bring the vintage vibe to your wardrobe without looking like an extra from the show; just wear these prints on your terms in your own personal way.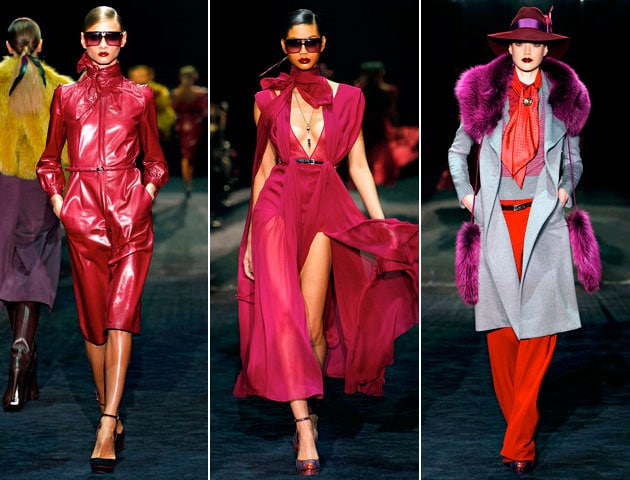 Gucci Fall 2011 featured leather, fur, chiffon, & many other fabrics & textures
Talking Texture. This season is about tactile fashion. Faux fur and feathered trim, buttery soft and glazed leathers, velvet and suede, embroidery and beading. Even everyday fabrics are getting the luxe touch with quilting, accent fabrics, and embellishments. I find this to be the most unique trend of fall – after many seasons of focusing on silhouettes and colors, we're back to how things feel, how fabrics play with one another… and I couldn't be happier.
This is a trend that like red, is good to stock up on when en vogue. I think this is a trend that is stylish most any year, so when it is mass-produced it makes it easier to build your wardrobe. Adding unique textures and rich fabrics to your wardrobe gives your closet depth and makes your staples more versatile. A black merino v-neck can have one life with jeans, another with tweed trousers, another with a leather pencil skirt, another with a feathered mini skirt. Take your LBD – imagine it with silk D'orsay pumps and a beaded clutch. Now imagine it with tall suede boots and a fitted jacket with faux fur collar. Now envision it with opaque tights, T-strap heels and a long brocade jacket over it. What makes these drastically different looks work with a simple piece is the addition of interesting textures.
Instead of a simple pair of leopard print pumps, look for a version in suede or haircalf. Consider a faux fur "chubby" coat, or even a collar you can attach to your classic black wool winter coat. Amp up your after-five wardrobe with a simple skirt in an unexpected fabric like feathers, metallic brocade, buttery leather, or piled-on paillettes.
I usually don't delve into specific trends on Wardrobe Oxygen because they don't work for every person. However, there are some very cool trends for this fall – if these are items or trends that work with your personal style, by all means stock up!
Capes. Back and better than ever, capes are coming in all lengths and fabrics and with some beautiful details. Capes are part of that Mad Men-esque trend, but can work for so many different personal styles, for day or night. I love the idea of a tweed cape with suits for the work week and jeans for the weekend. While a cape may seem very prim and proper, in the right fabric (hello leather!) it can be tough and very modern.
Leather. This is a trend I have always embraced (have a pair of leather pants and a pencil skirt waiting at the back of my closet for when I am back to that size). While classic styles like pencil and a-line skirts and jackets are available at every retailer, designers have gotten creative with the fabric and have made full skirts, midi-length skirts, and all styles of dresses and toppers. Black is the most popular color of leather this fall, but you can also find pieces in cognac, olive, gray, russet, and many richer colors like purple and forest green.
Menswear. The Le Smoking, cigarette pants, tailored trousers a la Katherine Hepburn, elegant suits… this season has some of the most elegant and graceful versions of suiting and trousers. If this is your thing, head to a department store or favorite retailer pronto! Be sure to have these pieces properly tailored – this season is about well-fitting, flattering clothes.
Bright Pants. Crayola-red jeans, acid green cropped pants, fuchsia full trousers… this is the season if you like trousers that get noticed. A skinny jean in a bright hue is a great addition to a casual wardrobe – pair with chunky knit sweaters or a blazer and booties. A flowing trouser in an eye-catching color can rev up a work wardrobe – pair with simple blouses and refined knits in subtle colors for simple elegance or get bold with some colorblocking and choose a solid-colored blouse in a similar or complementary hue.
Maxi Skirts. A trend that doesn't fit my personal style, but I admire on others. Maxi skirts make sense in the cooler months – they keep your legs warm while still giving a feminine look. Pair with figure-grazing knits and chunky boots or clogs to balance out the volume; adding a belt can also help balance out all that fabric. Designers have shown maxi skirts in all sorts of colors and fabrics for fall, but be sure to keep the skirt as a true maxi – there are midi lengths currently on trend and if you hover somewhere between the two you will head into Little House on the Prairie territory.
What are your favorite fashion trends for Fall 2011? What will you be adding to your closet this season?
Follow Me | Twitter | Facebook