This article may contain affiliate links; if you click on a shopping link and make a purchase I may receive a commission. As an Amazon Associate, I earn from qualifying purchases.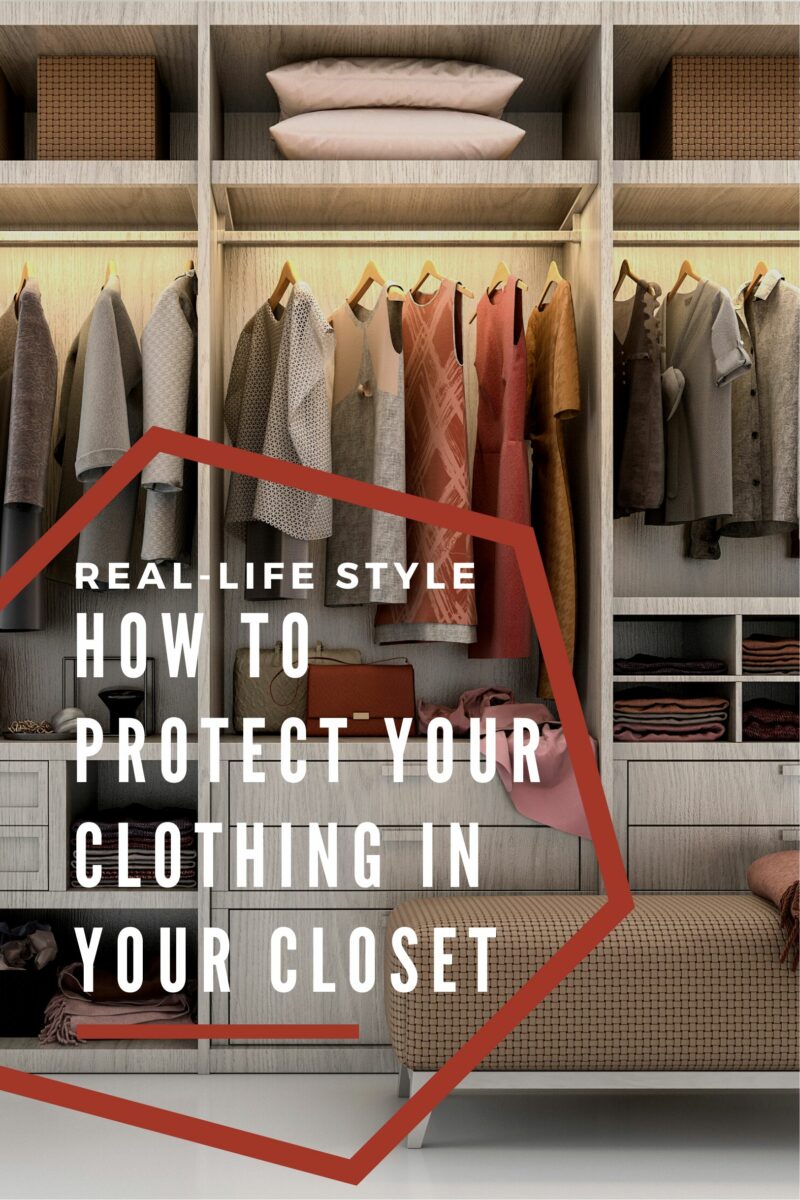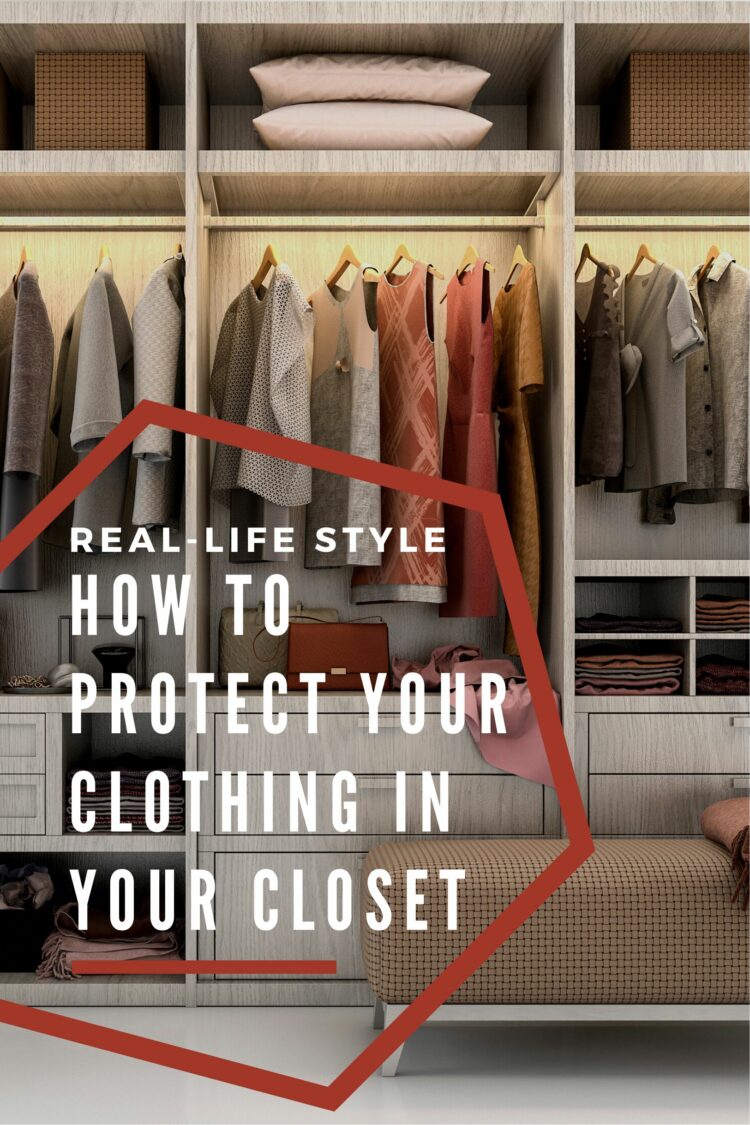 I'm going to tell you a little story about how a hurricane saved my closet. Yes, a natural disaster helped me when it broke open my closet and I learned quickly the best way to protect my clothing, my accessories, and my shoes. Not to ruin the end of the story, but the only things in my wardrobe that survived a hurricane were those that I properly protected ahead of time. Read on to learn from my experience how to protect your clothing.
We live in a very wooded community and the house backs to woods. Each major storm we hear of a tree falling and damaging someone's fence, toolshed, or even home. We have been lucky thus far – a few branches to clean up but no major damage. Well, this weekend Hurricane Irene ravaged the Eastern Seaboard… and our house.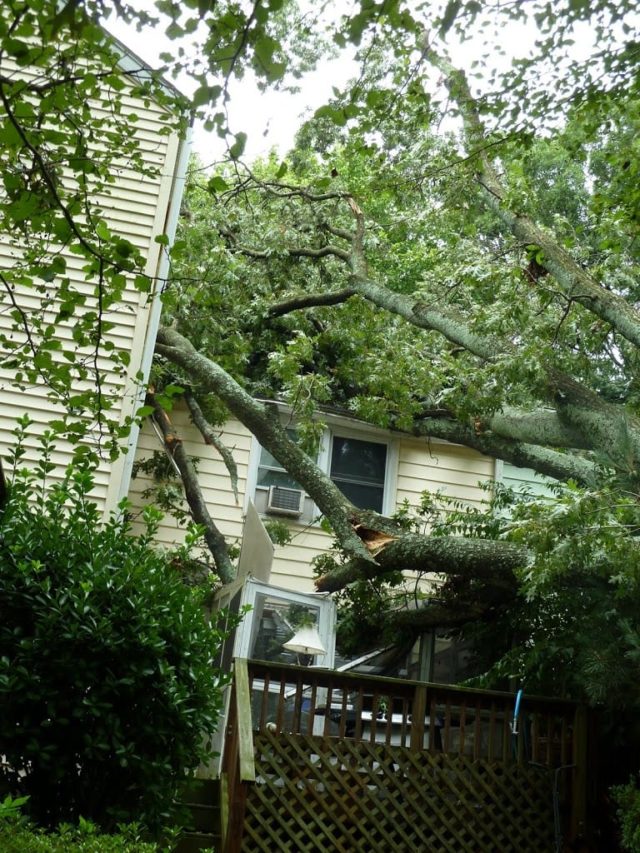 In the middle of the night, my husband and I were woken by the whole house shaking and a loud BOOM. We've lived on the Eastern Seaboard all our lives and with a forect behind our home, we've learned to keep shoes by the side of the bed during hurricane season, just in case. Well that case finally happened to us. An 80-foot tree from two homes away was uprooted due to the wind and over-saturated ground and fell on our house.
The tree fell from the woods behind a neighbor's house but was so tall it hit our roof, coming through our bedroom ceiling, just feet from where my husband lay. The majority of the tree rammed right through our small walk-in closet which had a skylight that shattered all over the contents as branches shoved clothes to the closet walls and rain poured into the gaping hole. Below, the row house next to us had their aluminum and glass sunroom decimated (luckily they were out of town).
We are so glad that we and all our neighbors are safe, and so grateful to live in a cooperative community that will take care of the repairs and has a stake in ensuring repairs are well-done and keep the home structurally sound. Knowing all lives are safe and sound (our daughter slept through the whole thing!), I am now able to focus on the superficial damage – the contents of my closet.
When I texted my boss to let him know I would be out of the office the following day because of this situation, he texted back, "How ironic is it that the fashion blogger had her closet decimated by a hurricane." I must say at 1:30 am, armed with a poncho, headlamp, and a pair of sunglasses to shield my eyes from the falling glass as I tried to protect my clothing, I was actually thinking the same thing.
How to Protect Your Clothing
Yesterday I went through the contents of my closet that I literally threw across the room in haste mid-hurricane, and saw how some things survived the event unscathed, and others were completely destroyed. The fate of my wardrobe was completely based on how I chose to store the pieces.
While a hurricane probably won't deposit a 90-year-old oak tree into your walk-in closet any time soon, how you store your wardrobe contents can determine their longevity and looks. Dust, mildew, critters, water damage, and yes the occasional natural disaster can wreak havoc on fabrics and leather goods. Learn from my experience, and care for your wardrobe. Here's some things I learned this weekend:
Keep your Shoes in Boxes
I think many of us have drooled over a closet of Loubies and Manolos all on display, looking like beautiful little works of art on the shelves. While this may make for lovely eye candy, it's not too practical if you want to preserve your footwear. This weekend, the only shoes that survived were those in shoe boxes, the rest (even in shoe boxes sans lid) got damaged or destroyed.
Water and flying glass won't happen to everyone, but dust does. If you keep your shoes in boxes, you won't have to worry about them getting covered in dust between wears. I go old school – I keep my shoes in the cardboard boxes they came in, and take a Sharpie to write a description on the outside. If you want to see your collection, shops like The Container Store sell clear shoe boxes that will preserve your purchases while still making them visible. Many a fashionista has been known to photograph her shoes and stick a photo on the outside of the box for easy reference.
A Place for Everything and Everything in Its Place
You know what really got trashed this weekend? All the crap on the floor of my closet. The shoes I kicked off when half-asleep, my dirty clothes that missed the hamper, the belts that fell off my belt hook, the scarf that was hastily shoved in a drawer and was half-sticking out, and all the crappy shoes like flip flops that reside in a pile in the corner.
If I took the extra few seconds to put things away carefully, I would still own them. I sound like my mom just typing this, but Mom knows best! I'll throw another mom-ism there – haste makes waste. My haste made a waste of some very loved wardrobe pieces that cannot be replaced.
Invest in Proper Hangers
The other things that got destroyed in the hurricane were all the pieces I tried to make work on the wrong type of hanger. Wide-necked dresses on those slippery plastic tube hangers, heavy sweaters on skinny velvet "huggable" hangers, three skirts hanging on for dear life on one clip hanger. All the items that ended up sliding off hangers or were hanging by a thread (or dress loop) were damaged.
Use molded hangers for jackets to help them keep their shape and be able to support the weight. Hangers with rubber or velvet to grip silky fabrics, and ones with cut-outs to hold dress loops or spaghetti straps in place. Taking dry cleaning off the metal hangers so they don't get creased (or if get wet, stain garments), and having enough hangers for the entire wardrobe. Hangers aren't expensive, and at many retailers you can even ask for one with your next clothing purchase. Take good care of your pieces, and you will get many more miles of style from them.
Protect Lesser-Worn Pieces
My husband has a gorgeous black suit from Banana Republic; it's his wedding/Bar Mitzvah/special event suit. While his basic gray suits and blazers are in the front of his side of the closet, he keeps this suit in a canvas garment bag at the very end of the rod. This keeps the suit looking fresh, free of dust… and kept it looking pristine through the hurricane.
I have a few pieces that shouldn't go in the attic but aren't worn now (leather pieces that are a size too small, more formal of dresses, pieces with beading or sequins); most are in their own canvas garment bag but some were not… and they didn't make it through the storm. While weeding through my clothes I saw that these pieces were not just torn and stained from the hurricane, but had pretty sticky dust on the shoulders from everyday exposure.
If you can't afford canvas or cotton storage bags, use an old sheet or pillowcase and slice a hole for the hanger hook. Plastic storage (and dry cleaning bags) don't let clothing breathe and can cause humidity and fabric decomposition. A heavy breathable fabric is best, but any fabric will help protect your special pieces from dust.
Use Those Dust Bags
Most quality leather bags come with dust bags – a drawstring bag made of cotton, flannel, or canvas. As with shoes on shelves, many women forego these dust bags to be able to view their collections. Because I didn't have all my bags in dust covers, I ended up losing a classic black leather tote from J. Crew that I purchased when I got my first "real" job. I bought this piece on sale for $199, and have used it for many a business trip, interview, and corporate event. Even though I cared for it with leather cleaner and stuffed it with tissue to keep its shape, it was ruined (may possibly be able to be restored by a leather person but nothing I can do on my own) due to a lack of dust bag.
Just as with your clothing and shoes, if you cover your bags you will protect them from dust, sunlight, and other naturally occurring factors that hurt leather and fabrics. lately, I have been cinching my dust bags below the handle, so I can see a bit of the bag to recognize them on the shelf. If I had done this with all my bags, then I would have only had minor damage on a minor piece of the purse.
If you don't have dustbags, old pillowcases will do just fine. I also know many who use plastic storage units for bags, storing one or two in each clear plastic drawer. Whatever is best for you and your space, but be sure to protect those items you found deserving of your hard-earned cash.
Be Kind to Your Dirty Laundry
I have a bad habit, when I am tired or short on time, I peel off my dirty clothes and just toss them on the closet floor. Then come laundry day, I collect them, throw them in the hamper, and take them down to the washer. I am so glad I did laundry earlier on Saturday so there were only a few pieces on the closet floor. Everything that was on the floor was destroyed.
Even if you aren't having Hurricane Irene make a stop in your closet, you still should be kind to your dirty laundry. Just because it has marinara on it doesn't mean it should be crumpled, stepped on, shoved in with dirty shoes and bags of last season's fashion. Carefully place clothing in a hamper or laundry basket until Wash Day – protect the fibers and help your clothes look great longer.
Remember, It's Only Clothes!
Seriously, it is only clothing, and clothing can be replaced. Until I had the time yesterday to go through everything, I was living in my casual clothes from my chest of drawers – the same pair of denim cutoffs (two pairs of shorts were in the closet hamper and had to be washed), a few knit tanks and old tee shirts. Since all my shoes except my DUO "Bern" boots were in the closet, I wore this crazy getup with calf-high tan boots. And I survived just fine. I believe in having a functional, stylish wardrobe that fits your personality and life, but I believe that life is more important than what you wear for it.
I feel so blessed that we made out as well as we did with the storm. We are all safe, our house is still livable, and we didn't even lose that much in the storm. I think, if I hadn't had a system to store all my garments already I would have dealt with far more loss from my closet. I now know how to protect my clothing. Learn from my experience!