This article may contain affiliate links; if you click on a shopping link and make a purchase I may receive a commission. As an Amazon Associate, I earn from qualifying purchases.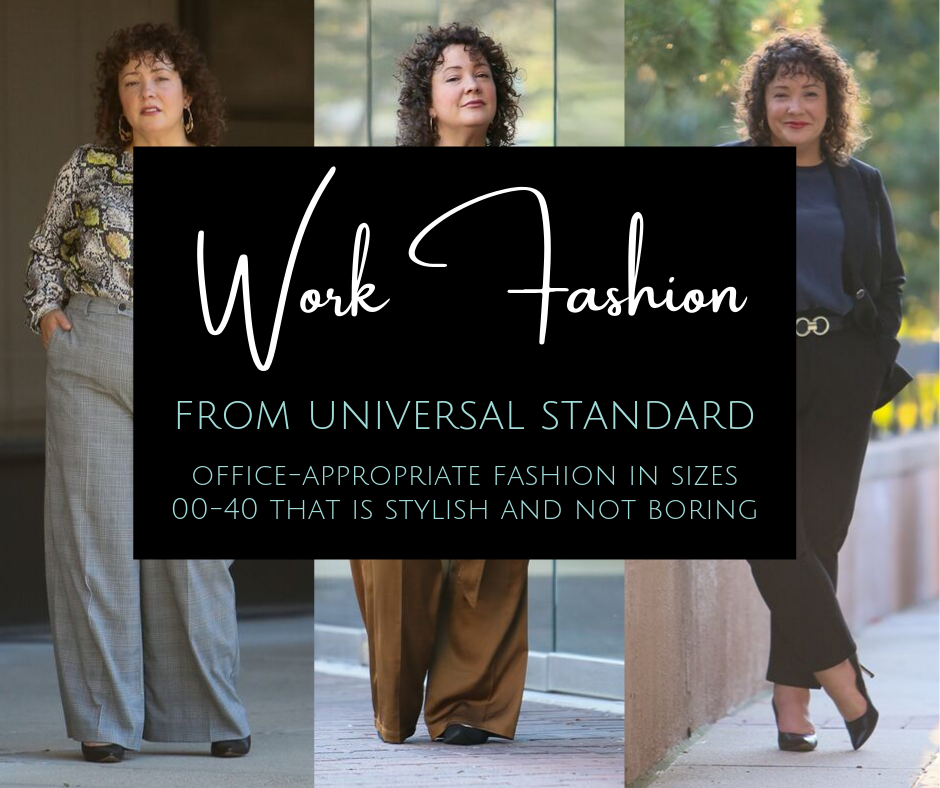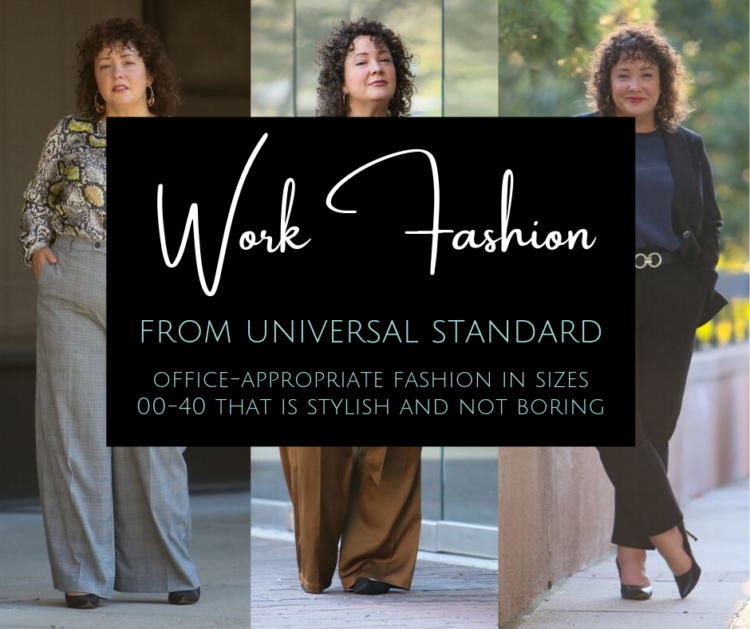 Universal Standard invited me to share a week of workwear looks from their brand on my Instagram Stories. While Universal Standard is known for elevated wardrobe essentials, they also have great office fashion and wanted to showcase it. I agree, and below are the looks I used for that campaign. While I was paid for my Instagram Stories campaign, this post is not paid and just shared because I thought they were pretty good outfits and wanted to give further detail about the items and review fit, quality, etc. Also, I have a 20% off promo code for you which I share at the end of this post.
For those unfamiliar with Universal Standard, it's a company that offers elevated wardrobe essentials in sizes 00-40 with some of their options available in petite. Many of the pieces are available as part of Universal Standard's Fit Liberty program – change size within a year, no matter the reason and no matter the condition of the garment, you can exchange it for free for your new size. When they started, their smallest size was a 10/12 which they called an XS, hence the unusual sizing mentioned below. This is their size chart for reference.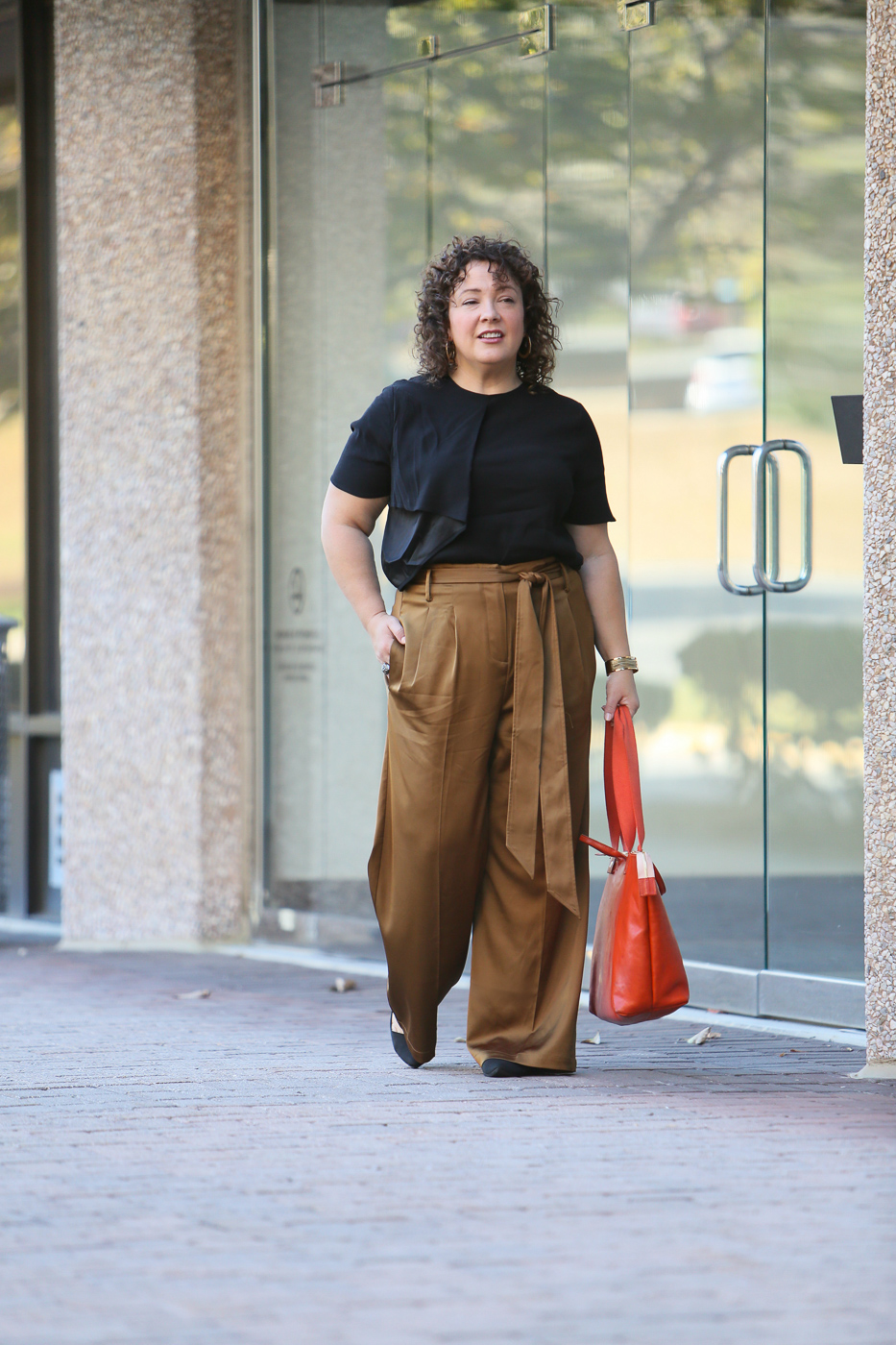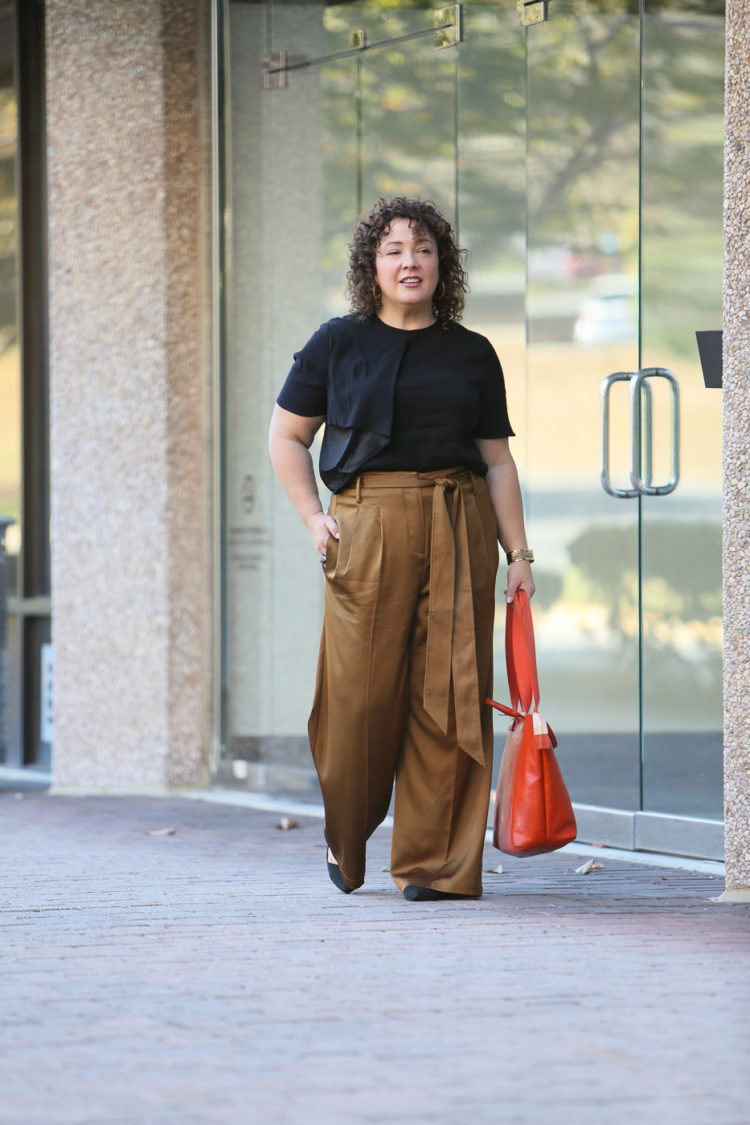 blouse | pants | bag | shoes | earrings | bracelet
These wide-leg pants are the same pants I am wearing in this post. I thought the brown would look weird but it's almost a copper shade in real life. I wore them to see Lizzo in concert with a black tank, but they're also great for the office. They're stretchy and comfy yet polished and hold up even through a hot sweaty concert full of dancing. They are machine wash, line dry. These are the petite, the length is right from the box, no tailoring needed even when styled with these flats. These pants can be styled in a variety of ways:
Remove the sash and add a belt of your own. I have a leopard haircalf belt that I love with these pants
Style with rich jewel tones like plum, teal, pumpkin, and berry. This pant color seems to glow from within and would highlight such colors.
Since there is a sash at the waist, don't feel you need to stick to a fitted top. As long as the top is lightweight and has good drape, it too can be a bit loose (though tucked in).
This top is satin-backed crepe with a cool architectural detail in front; when it arrived I was raving to my husband about this top. This is the kind of fabric and design you rarely find in larger sizes. Something so simple yet so chic and elegant. It looks good tucked in or left out. It fits beautifully, has a hint of stretch, and feels amazing against the skin. It looks super chic just untucked with black ankle pants and a pair of pointed toe flats.
The earrings are these from Jenny Bird which is a style you're going to see all over the place this fall and winter. I've worn this bracelet many times before. And this tote I featured in this blog post; orange is no longer available but Clare V. still carries it in other colors.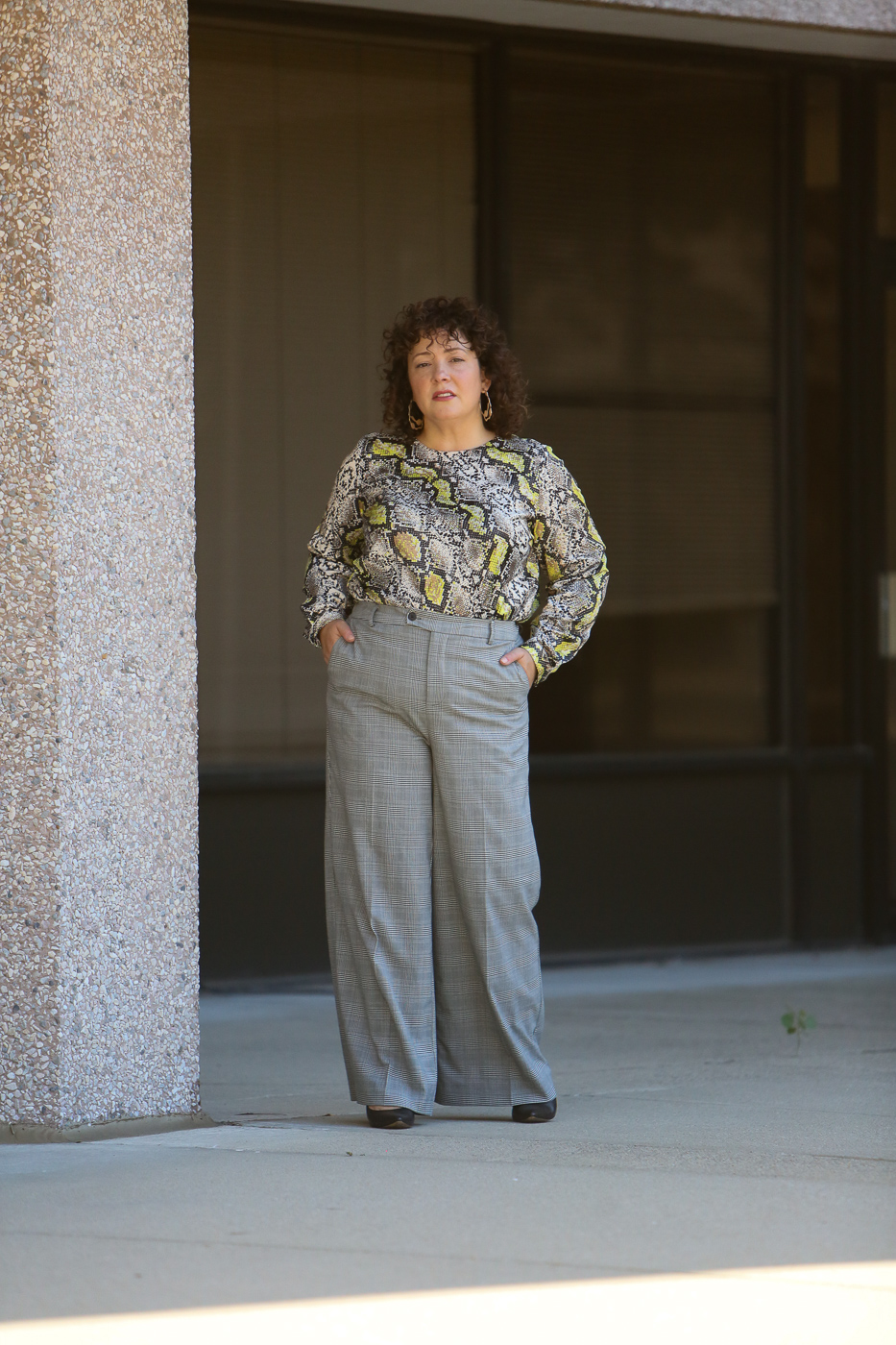 blouse | pants | shoes | earrings
I'm totally into skin prints so when I saw the Michaela Pleated Top in Python I had to get it. The description mentions the pleating on the side but I didn't realize how pronounced it is until I received it. It kind of reminds me of some of my old maternity tops, and unfortunately on me fits like this. I think if it came in petite or I was taller the pleating would be in a better place making it a great-fitting top but on me it looks best tucked in or at least folded over at the bottom. The fabric is super luxe, a gorgeous weight, there is an exposed zipper in the back easy to pull up on your own that helps it have a higher neck but still a great fit.
When I hung this blouse in my closet I noticed my Emma Pants and thought… now THIS is pattern mixing for the office! These pants I've had for a while; I don't think they've had their own dedicated outfit post but they were shown in this round-up post when I wore them to a blogger luncheon with LAGOS. If you would love a matched set, the Meg Blazer comes in the same print for a chic suit.
The earrings are from Denisa Piatti; click here to read about Denisa Piatti and how to order a custom piece like these (you can even order these exact earrings!).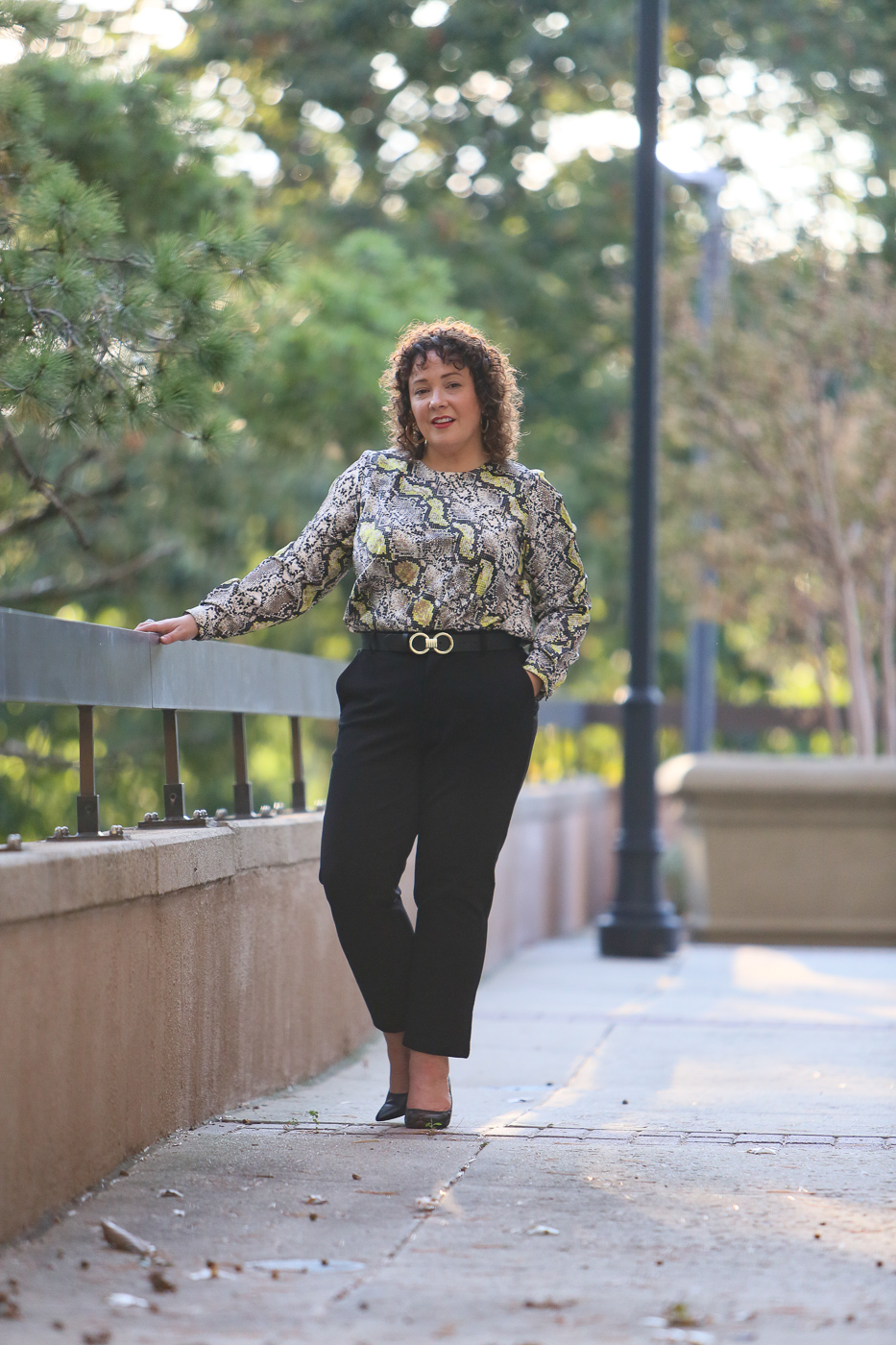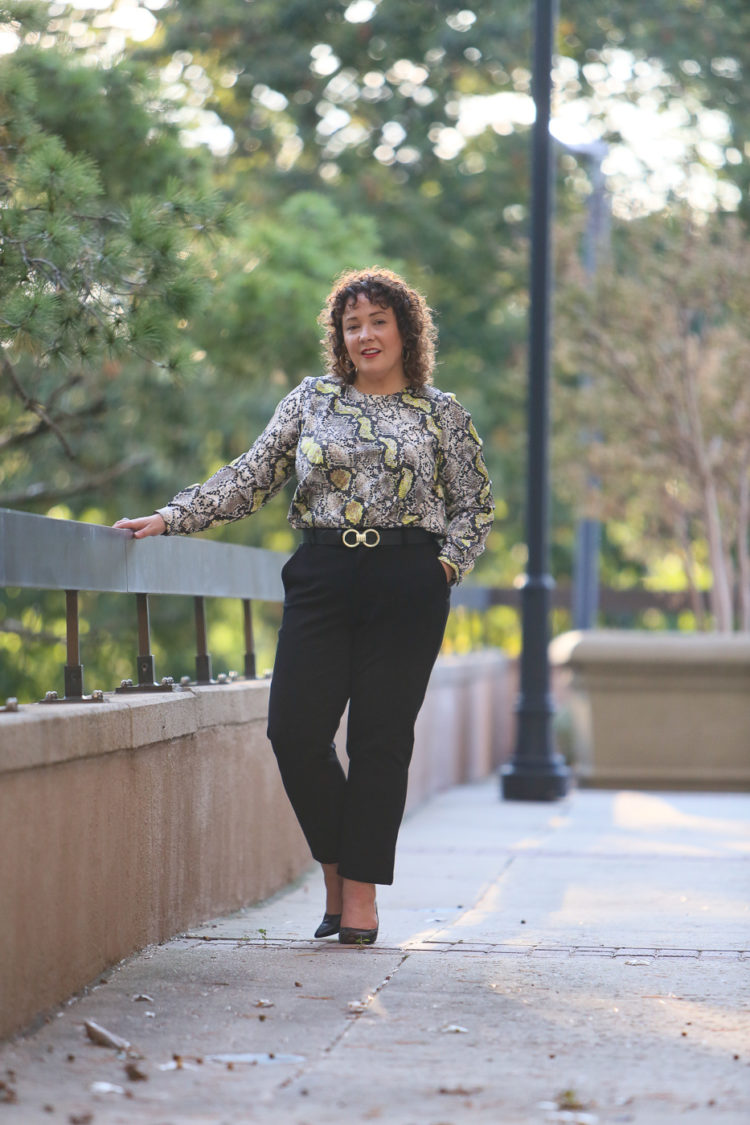 This is the same blouse, but for those who aren't big on pattern mixing, I styled it with the Universal Standard Cigarette Pants. These pants run smaller than other pants from US; these are XS, my usual size, but they're super-duper snug in the waist. I wish I sized up, they're not doable the week before my period or after a larger meal. That being said, the fabric is super luxe and a great weight for fall and winter, they can dress up or down, they have a beautiful shape that works with a tummy or rear, and even though there are pockets they don't add bulk or gape weirdly. I like that unlike many cigarette pants, these do not cling to my calves. This length can work with a boot that slips under the hem, pumps, or flats. The belt is old and from ASOS; it gives the effect of the Gucci belt that is seen everywhere without the pricepoint and without being a copy. This is a similar belt that comes in regular and plus sizes.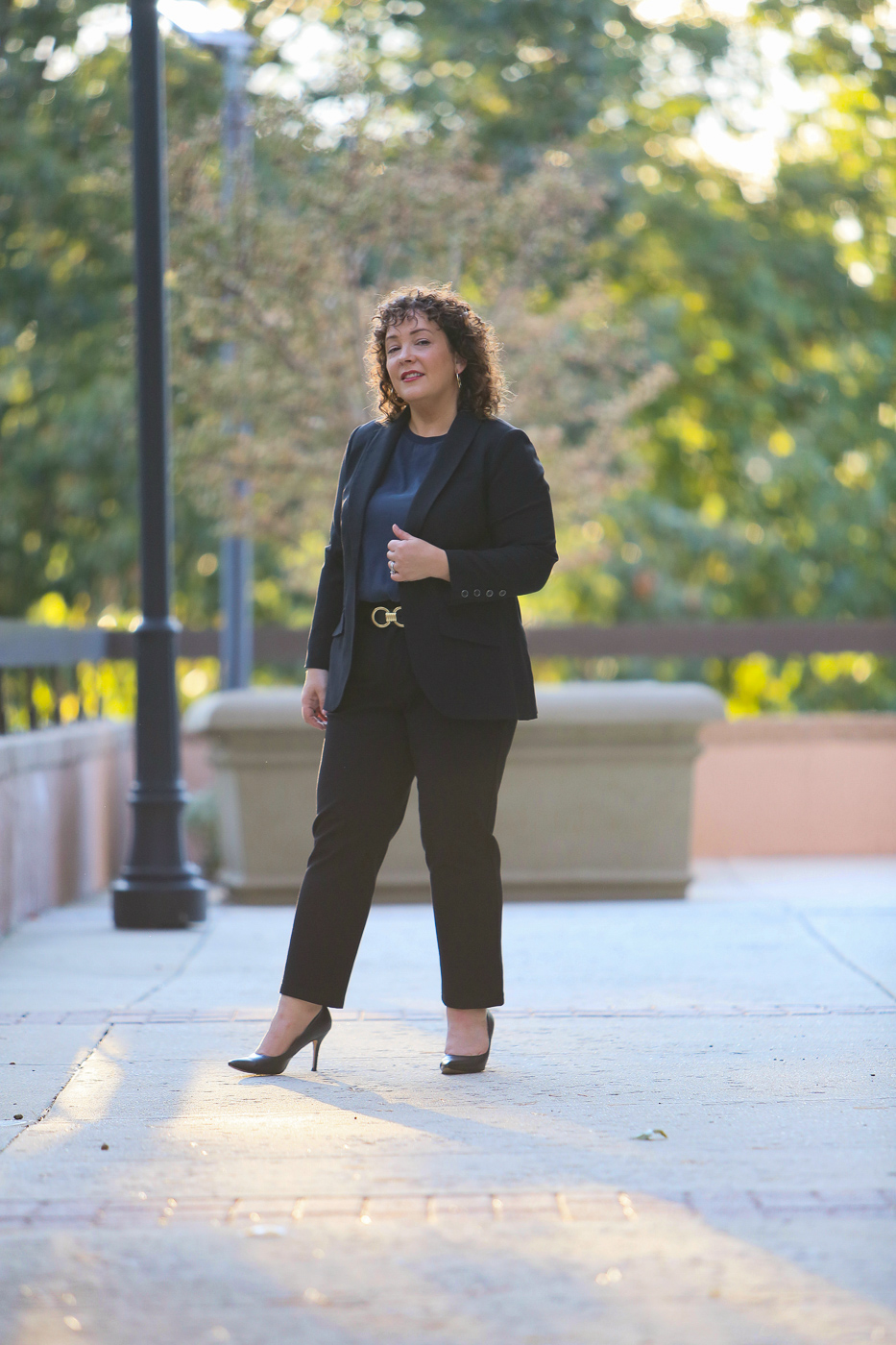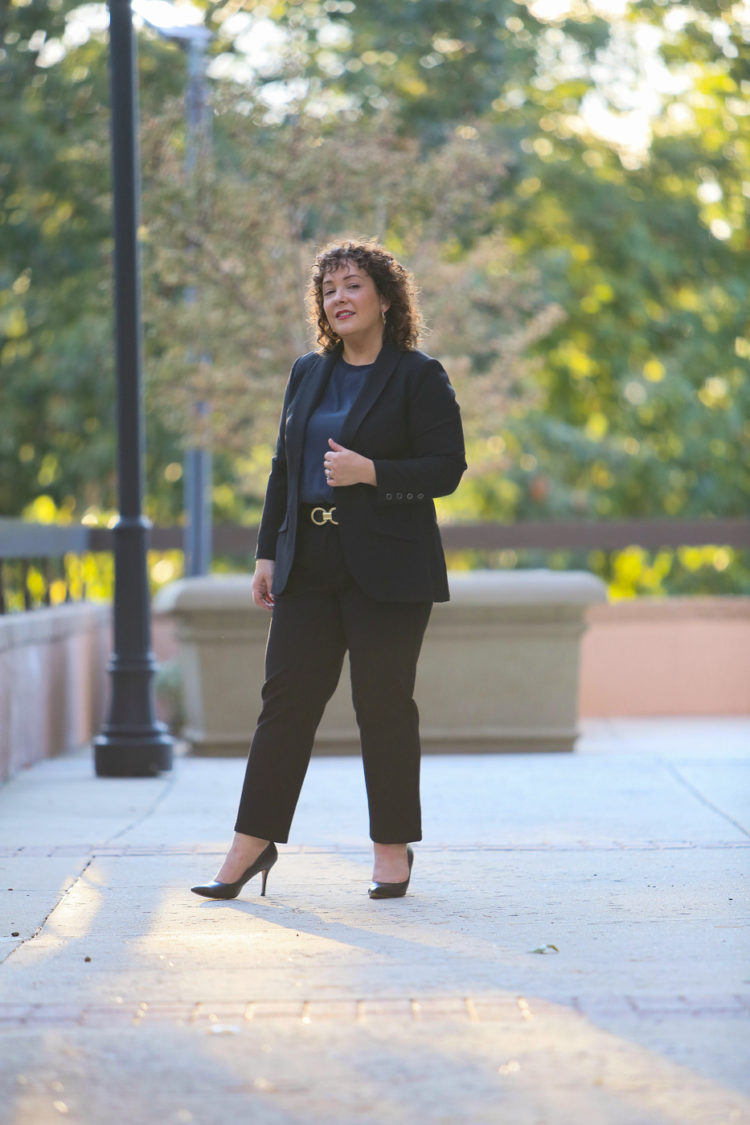 blazer | t-shirt | pants | belt | shoes
The Cigarette Pants are so good, I wanted to turn them into a suit. I just want to let you know before you consider this look that the blazer and pants aren't the same fabrication and therefore not perfectly matching blacks. They're close but not exact and you may be more comfortable with the blazer in a different color (it comes in three colors).
When styling these looks for Universal Standard I got super confused because I swore I was styling the Meg Blazer. I had the Meg Blazer a few months ago, you can see it in this post. When I first got it, I liked it. And then with weight training I no longer liked it. The Meg has straight short sleeves and a more boxy cut through the body; when I was a softer shape it worked but as I gained muscle it looked cheap on me. This blazer is really nice, well-shaped, has interior pockets and lining and is very elevated and luxe. I realized that it is the Rio Blazer in petite; below you will see the Rio Blazer on me in regular. The Rio Blazer is $20 more than the Meg but it reads like a jacket at least $50 to $100 more expensive in fabric, shape, and details.
Under the blazer is the Arvo Cupro Mixed Tee in navy. The back of the shirt is a soft stretchy jersey, the collar is ribbed knit like a t-shirt, the front of the top is cupro which is a dupe for sandwashed silk. The shirt has a curved hem so it's cute with leggings and a jacket or cardigan, but also tucks in nicely. This isn't the kind of top I'd usually buy. The sandwashed look to the cupro makes it look a bit… faded. That made it look better with black, but wasn't totally my jam. Also cupro wrinkles quickly and I found I looked pretty sloppy soon after putting this on. It's crumpled cool like linen, which is great, but not for the office.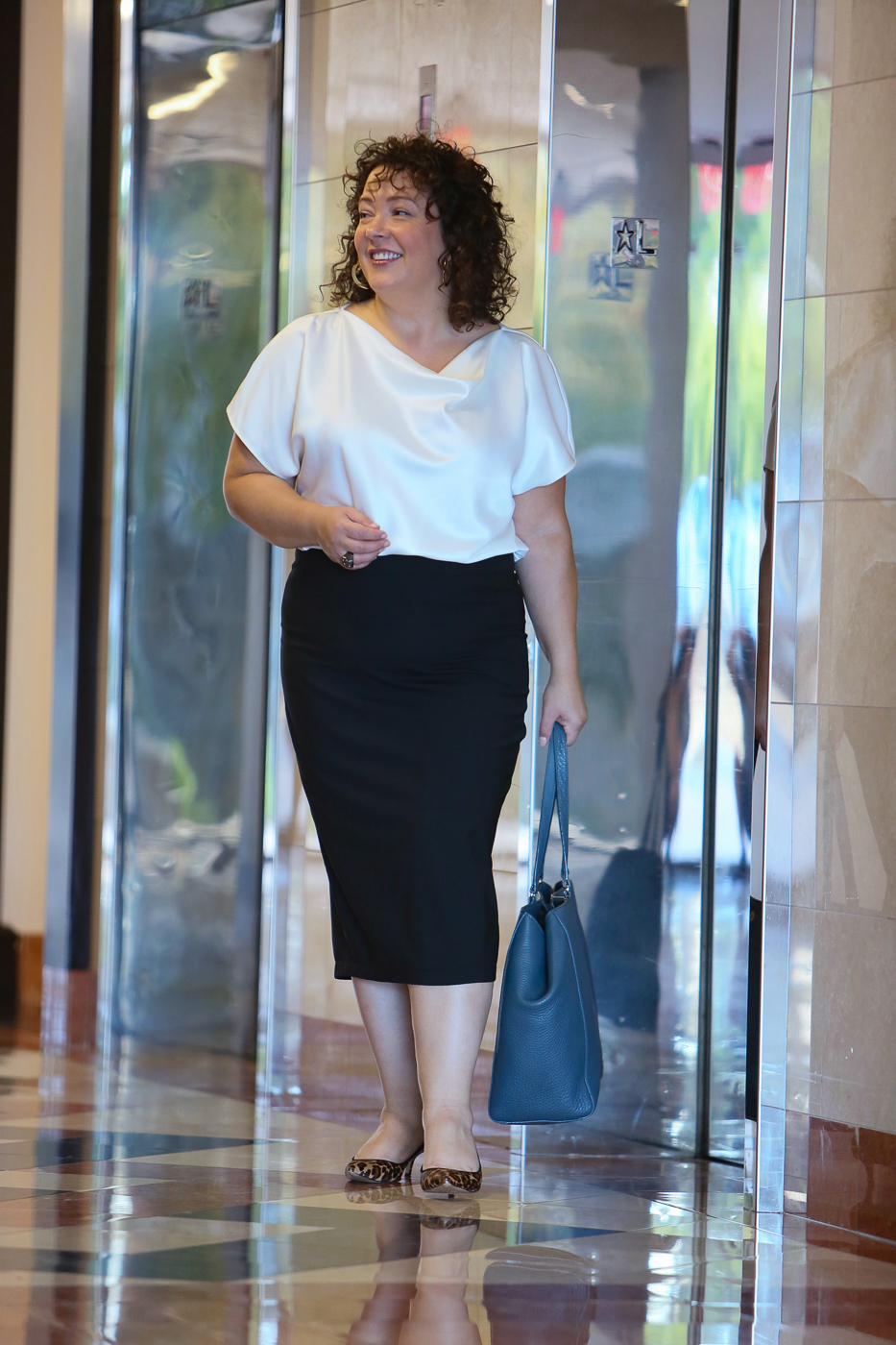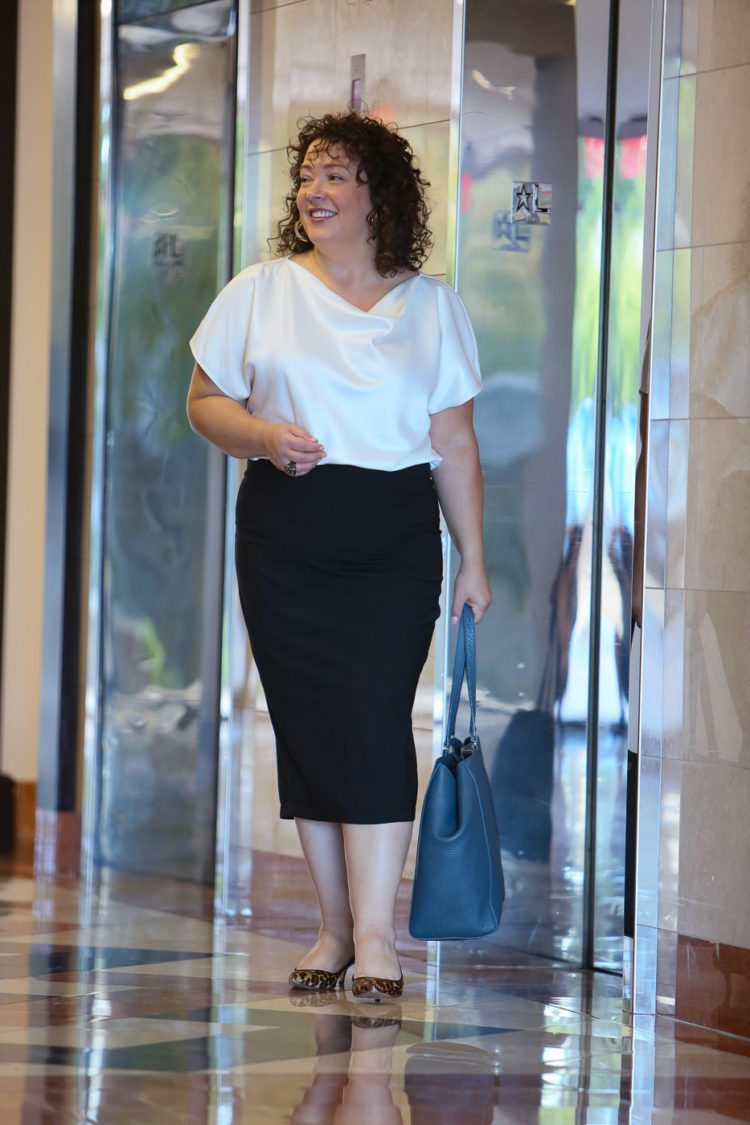 blouse | skirt | bag | shoes | earrings | ring
This is the Viva Boatneck; it's the same blouse I am wearing in this outfit post. It's a nice blouse and it is machine washable. Because I am petite, I like it best tucked in, but if you're taller you may like bit untucked with a slim ankle pant or legging. It also comes in navy. In this blog post I suggested the navy top with the navy Tresa Wide Leg Pants to create a jumpsuit effect but sadly the two pieces do not match perfectly. I wish brands like this would match fabrics and colors better, it would make more of a capsule collection and offer more opportunities to be creative with their clothes.
This skirt is something I did NOT think I would like. I figured as a petite it would be too long but I like this retro length. The fabric is elegant, looks expensive. There is a wide waistband that is elastic on the back for good shape. The back seams are reinforced in a way that becomes a design element. There is a back slit, a hint of stretch, and a shorter super stretchy lining inside. An FYI, it is the same fabric as the Rio Blazer so they can work together for a smart skirt suit.
With it I am wearing these kitten heel pumps from Ann Taylor and this tote; click here to read my Dagne Dover Allyn Tote review.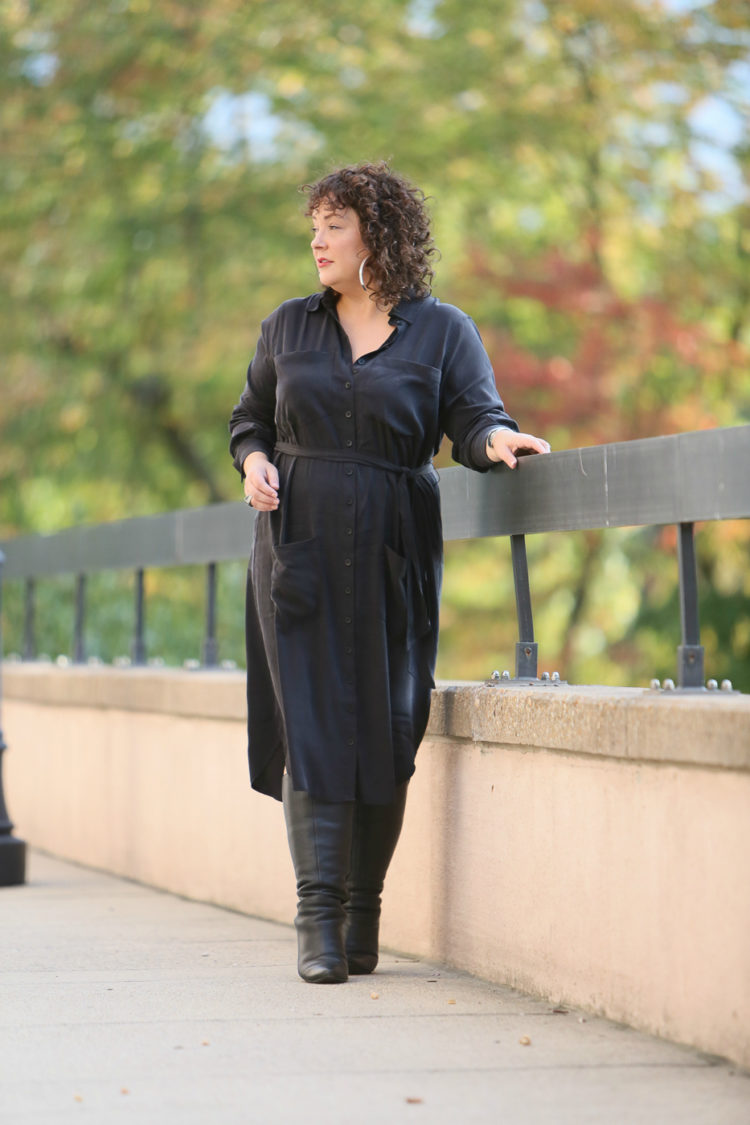 dress | earrings | similar boots
This is the Michelle Cupro Shirtdress. Here is me in Universal Standard's older cupro dress. This one is the same fabric weight and quality, but an updated cut that is shorter with longer sleeves. There are four patch pockets on the front and a self belt. Like the Arvo Top above, this has a sandwashed effect and can wrinkle. Unlike the Arvo Top, I think this dress looks good rumpled. It may not be the perfect look for a buttoned-up workplace but can look quite chic in a more relaxed or creative office. I'd like to style this again switching out the self-belt for a leather obi belt like this one and maybe a scarf at the throat to glam it up some. But this dress is super comfy, the kind I want to wear with my silver Birkenstocks and the sleeves rolled up, or maybe partially unbuttoned over leggings with sneakers. It looks like silk but is machine wash and dry making it a special-looking and feeling piece that can take a bit more of a beating.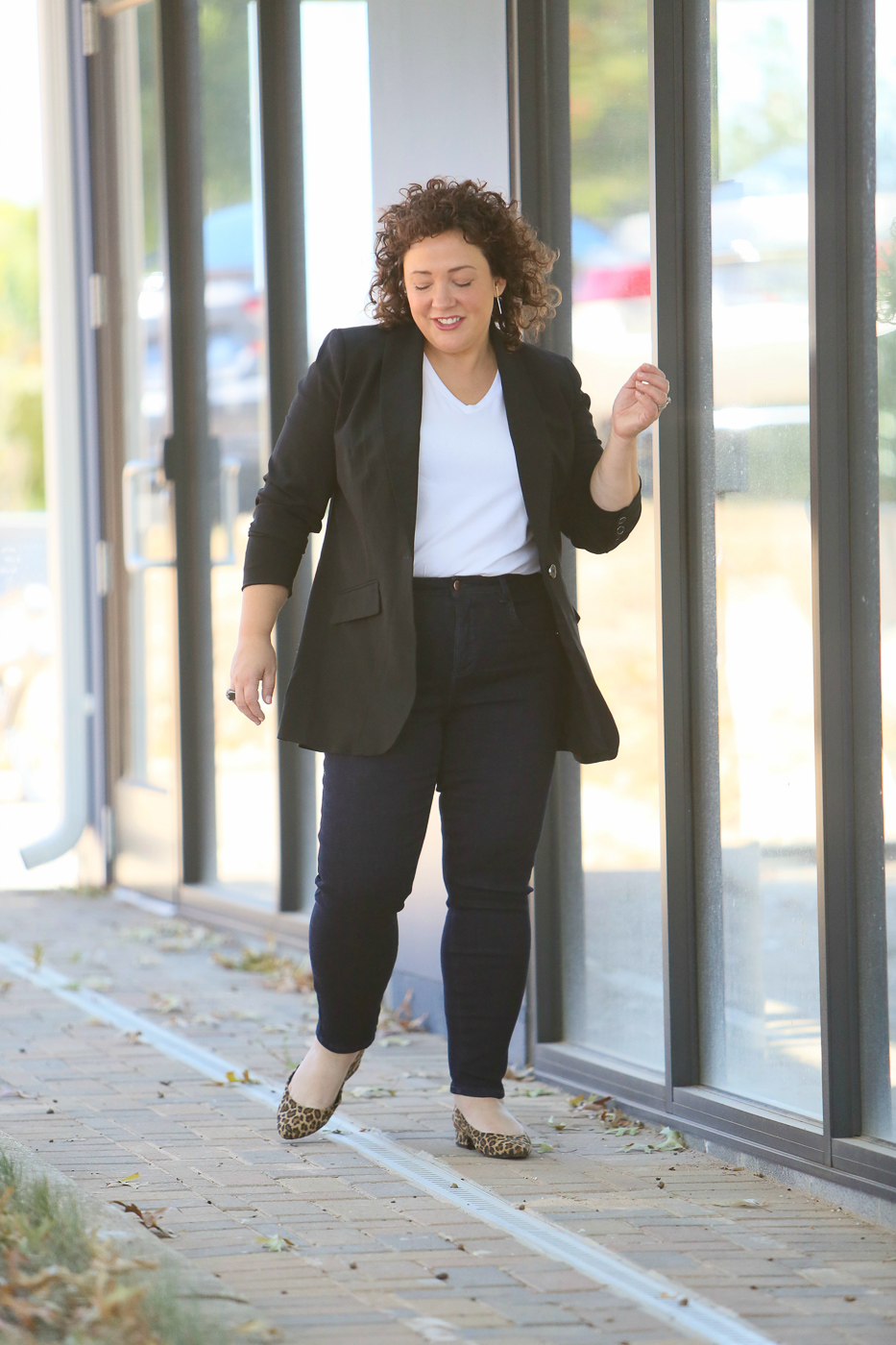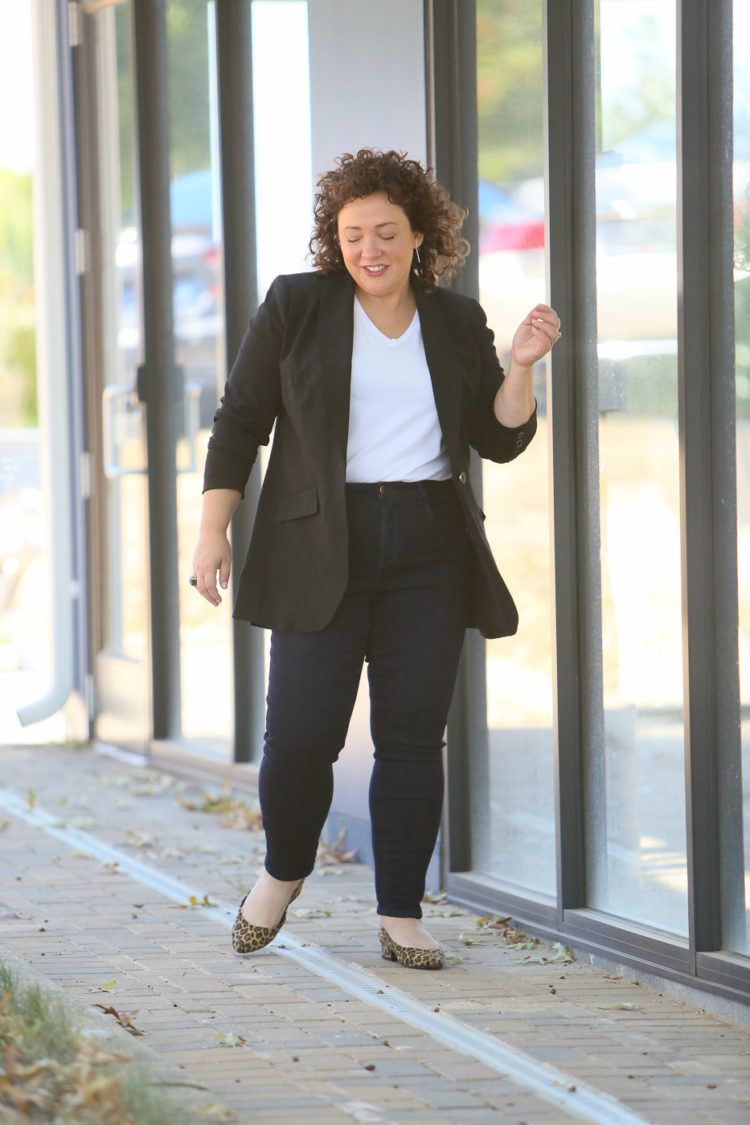 blazer | t-shirt | jeans | shoes | earrings | ring
Have to finish with Casual Friday! As I mentioned above, this is the Rio Blazer. When I received it, they didn't have it in petites so this is an XS Regular so you can see the difference in length and shape. Longer blazers are in style this season and will likely become more prevalent in upcoming seasons, I think it's a more relaxed look. This length looks best with a skinny pant or leggings. These are the Siene 27″ regular. While the petite cut of the Siene fits my upper half better, I find they are too short on my legs so I went with the regular in this length. They still fit nicely, but not as well as the petite. I'd love a 27″ petite Siene!
The tee is my first V-Rex after owning many T-Rex shirts. I love these t-shirts, they're completely opaque, silky with great drape, perfect length of sleeve and hem. They also hold up great, I have US T-Rexes over a year old, they've gone in the wash and dryer so many times and still look fantastic. For shoes, I'm wearing these from Easy Spirit. This is the second of this shoe I've owned, I also had them in purple suede. It's a perfect alternative to a flat; more structured while still being uber comfy.
Since you read to the end, I have a treat for you! Universal Standard is offering Wardrobe Oxygen readers 20% off their first order with the code WARDROBEOXYGEN20.
Shop the Post:

All the items featured in this post have been gifted to me by the brand except for the Clare V. tote, the Denisa Piatti earrings, the belt, and the Ann Taylor shoes. The looks were created for a Universal Standard Instagram Stories campaign but I chose what pieces to feature and how to style them.