This article may contain affiliate links; if you click on a shopping link and make a purchase I may receive a commission. As an Amazon Associate, I earn from qualifying purchases.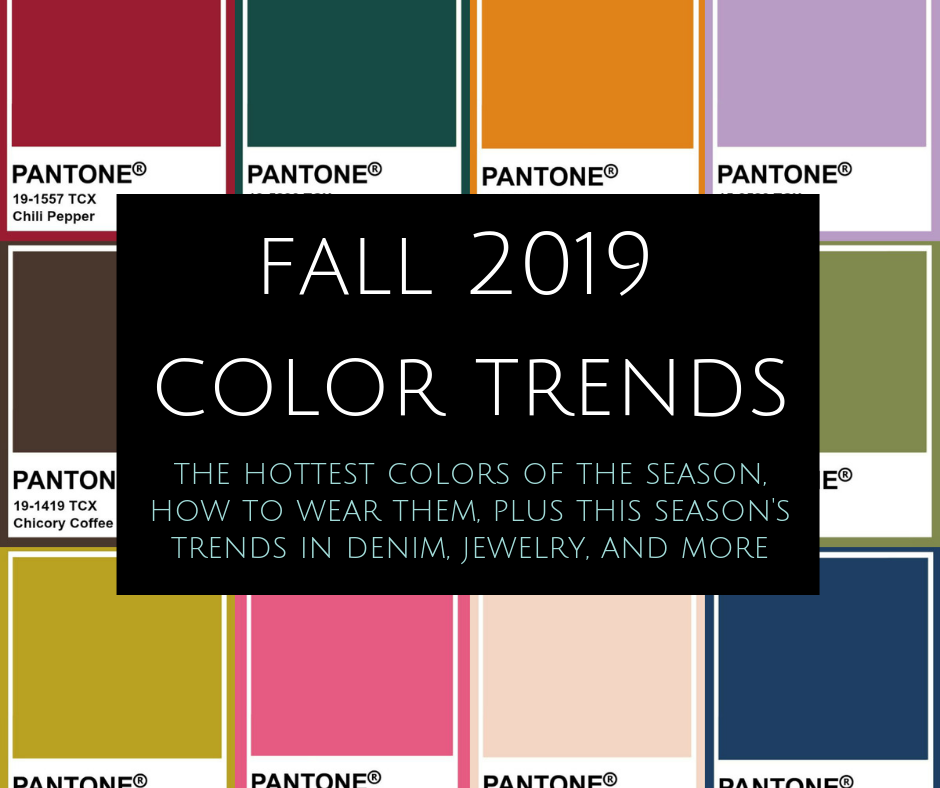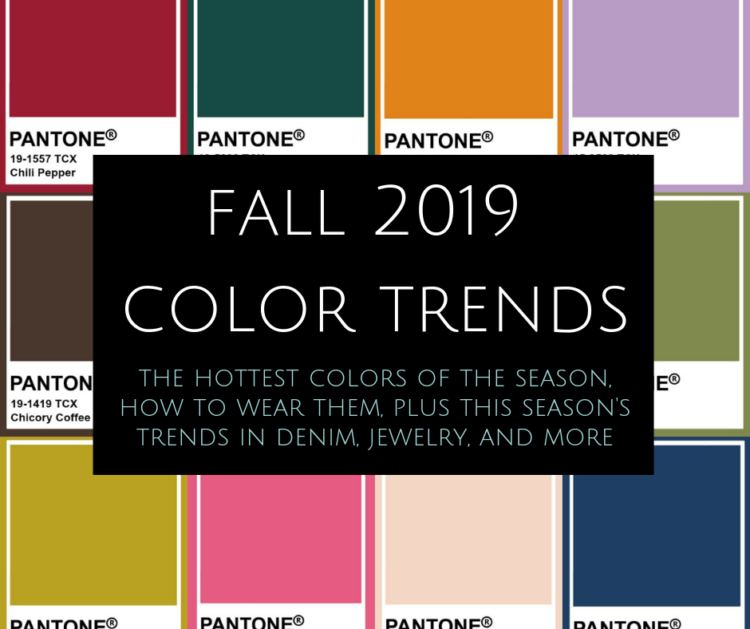 Before I start this post about fall 2019 color trends I want to reiterate that you can wear any color you like. Love jewel tones? Rock those jewel tones 365 days out of the year. Feel happiest in a wardrobe of black? Do it, and know you're fabulous. We no longer live in times when certain colors are out of style. However, each season there are trends for silhouettes, prints, concepts, and colors. Color trends come from a variety of places – non-fashion marketing, nature, fashion designers who showed it almost a year ago on the runway, and Pantone to name a few.
What is Pantone?
Pantone, as it is known today, began in 1962 when Lawrence Herbert bought the company. Before 1962, Pantone was a small business that manufactured color cards for cosmetics company; under Herbert's direction, Pantone created a system for identifying, matching and communicating colors for consistency across the print and textile design industries. In 1963 he created the Pantone Matching System, a book that standardized colors across the print and textile design industries. For fashion, Pantone is best known for their Pantone Color Institute™, which provides customized color standards, brand identity and product color consulting as well as trend forecasting (AKA the famous Pantone Color of the Year as well as their Fashion Runway Color Trend Reports).
What is the Pantone Color of the Year?
The Pantone Color of the Year has less to do with what people will be wearing that year and more about the temperature of society. The colors represent the mood or the hope of a people. This year's color is Living Coral and while we have seen a decent amount of coral in stores this year, I wouldn't say 2019 has been defined by it (in fact I can think of many other colors like yellow that better define it). However, if you visit the Pantone site and read why they chose Living Coral to represent 2019, it makes sense. And when you see the colors that are trending for fall/winter 2019 they may not be coral but they are all colors that complement or highlight a color like Living Coral.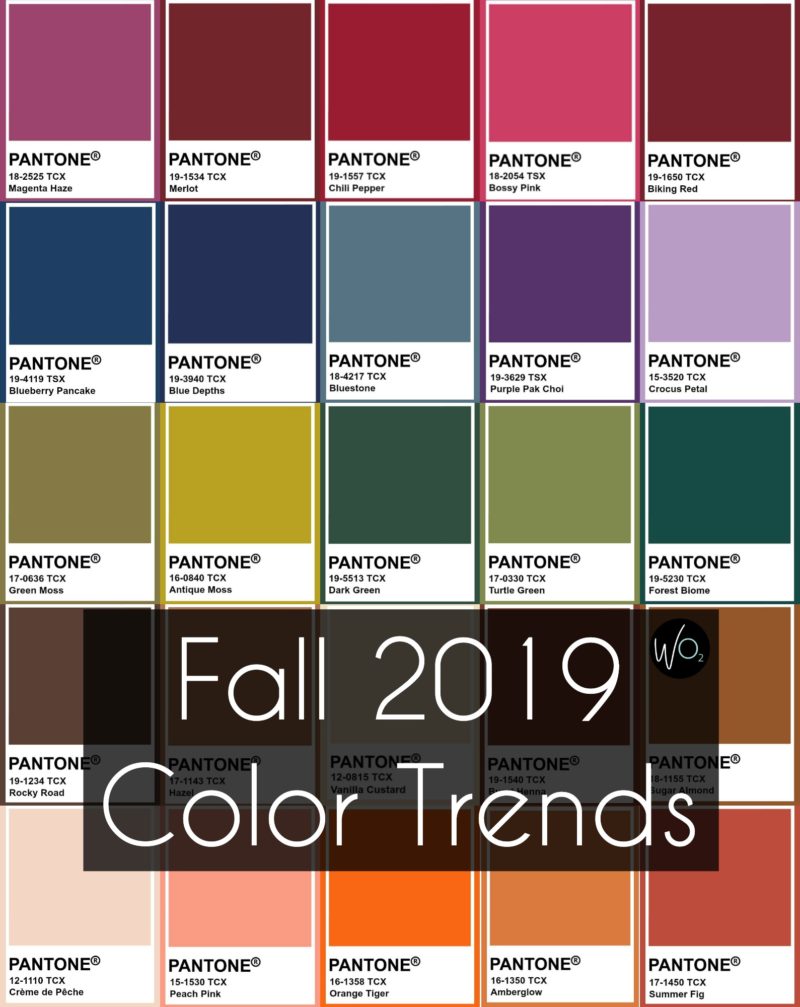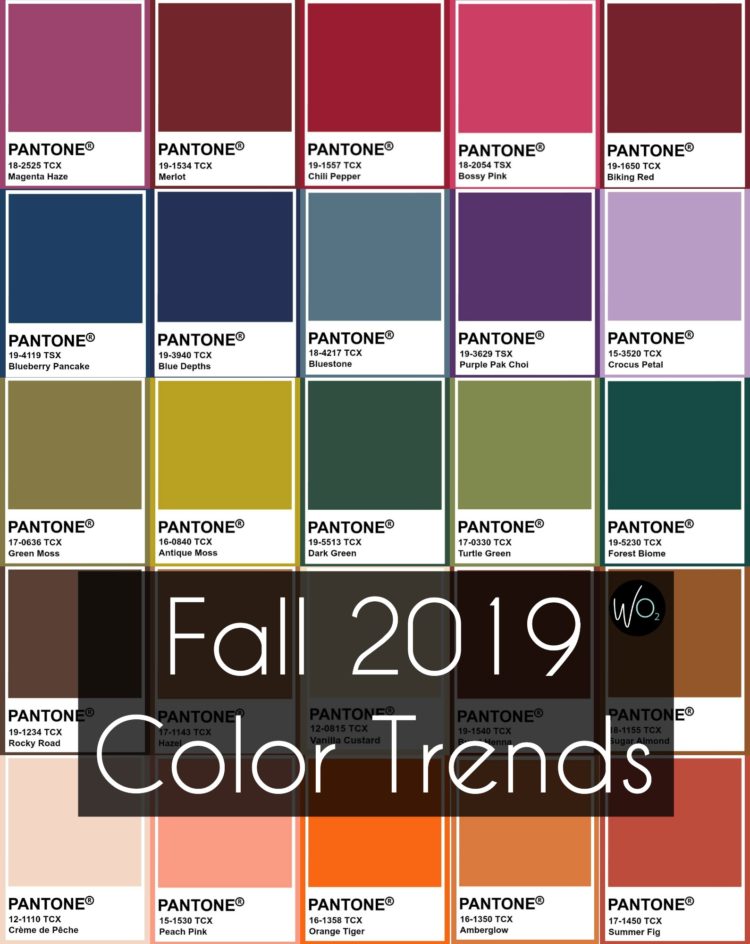 What are the Color Trends for Fall 2019?
Okay, back to the important topic – the trendy colors for fall and winter 2019! Like most fall fashion, the colors reflect the season – the colors of turning leaves, nature in all its colorful glory. Rich reds, pumpkin, saffron, dark green, and browns. This year, these colors are more luxe and vibrant than in past seasons – even the browns feel rich and deep. It's not a barn red but a rich ruby, not the green of fatigues but the green of pine trees and damp moss. The gold and orange colors are less pumpkin and sunflower and more flame and gold.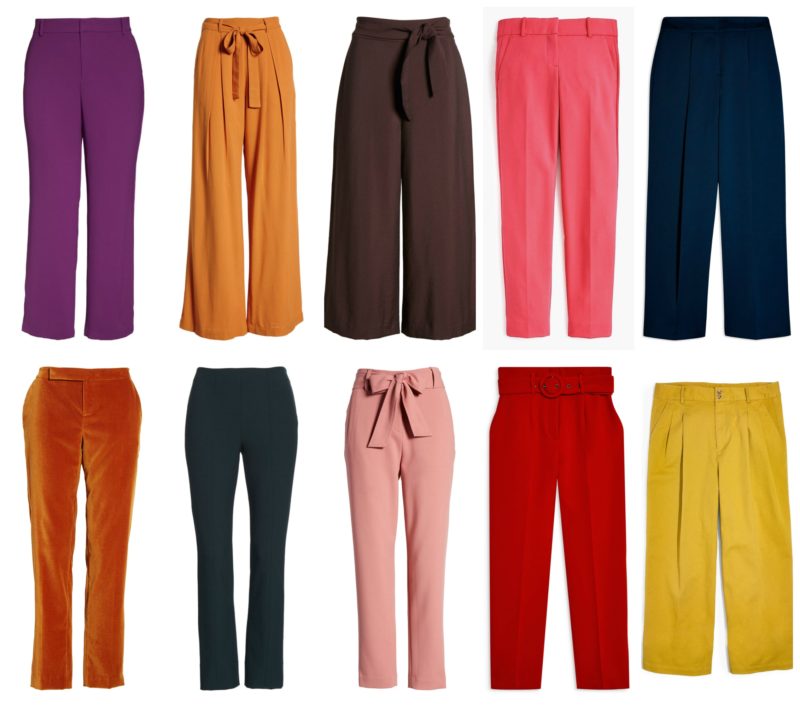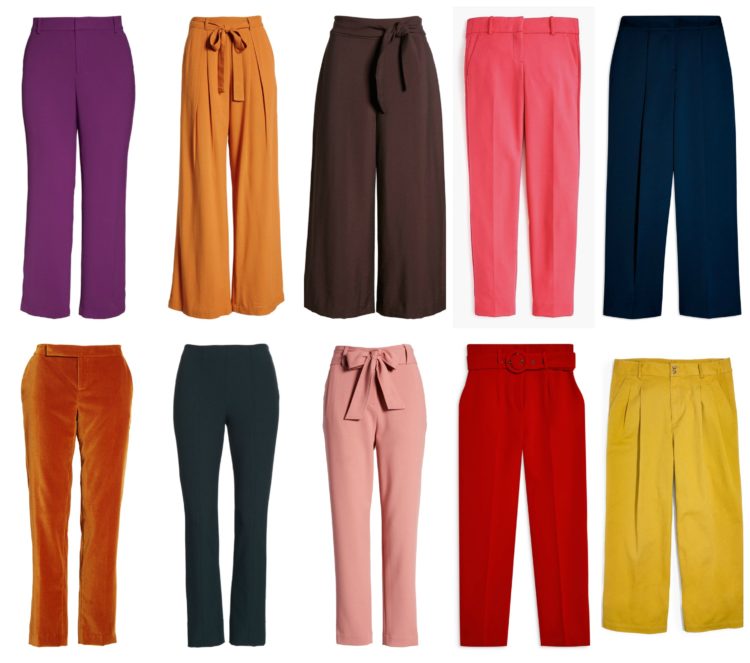 A fun and easy way to incorporate fall's colors into your wardrobe is with a pair of colorful pants. Slim, wide-leg, cropped, or a classic trouser – they're all in style and look great in the rich brights, pastels, and glowing neutrals of the season.
Top row from left to right: one | two | three | four | five
Bottom row from left to right: one | two | three | four | five
But what's cool is these rich, vibrant colors are not the only shades for this fall. What is unusual about fall/winter 2019 color trends is mixed with all those classic autumnal hues are plenty of pastels. Blush pink, French vanilla, pale peach, and even lilac are trending. They can be worn in a monochromatic manner which is usually seen in spring and summer or paired with their deep vibrant counterparts for a very modern result.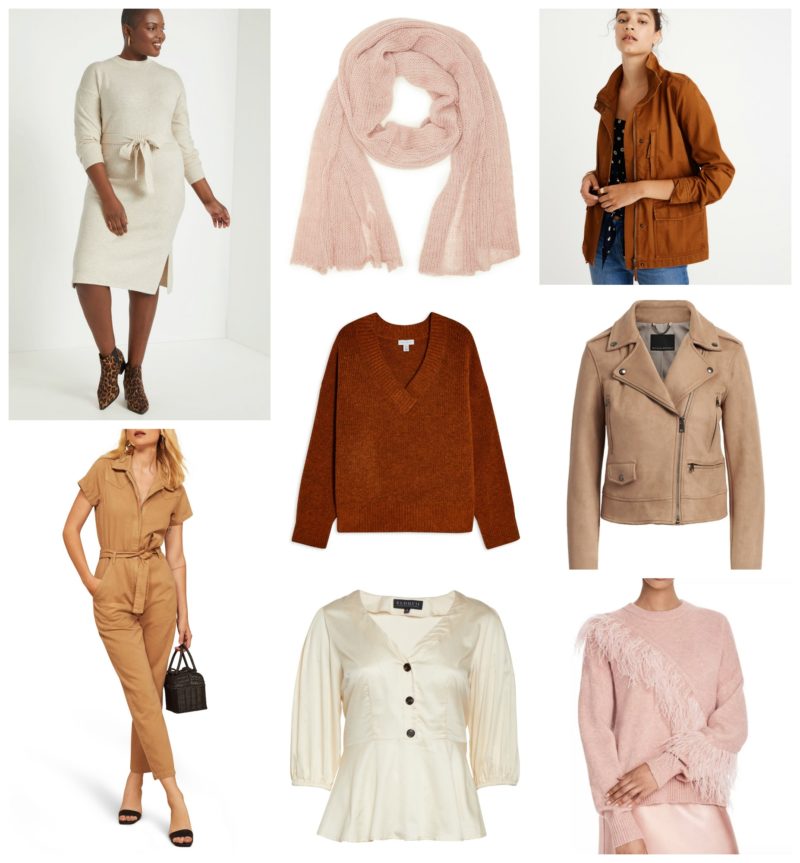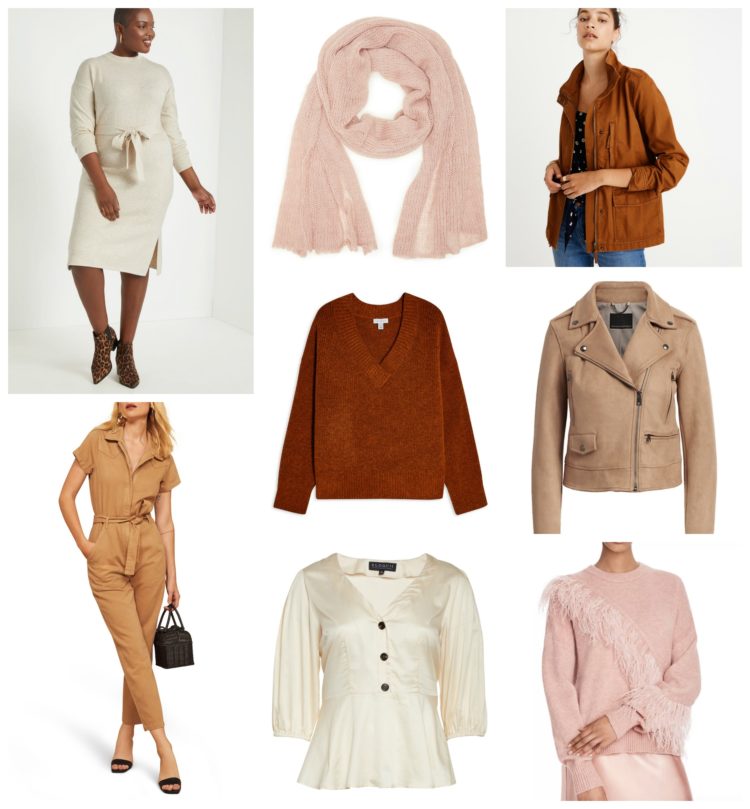 "My colors are blush and bashful." This season, neutrals seem to glow from within with a blush tint to desert-inspired hues. Shop the looks: sweater dress | jumpsuit | scarf | open jacket | v-neck sweater | moto jacket | blouse | textured sweater
Neutrals are big, but they're beyond the basic beige. Think colors of the desert – clay, rust, cream. Neutrals have a hint of peach or warm pink to them this season; even white and cream seem to glow from within. It really shows how the Pantone Color of the Year has affected all the colors for 2019.
What Are the Color Trends for Accessories This Season?
When it comes to metals for jewelry and hardware, as with recent years anything goes. There is a trend for more gold than silver, but all colors including rose gold are seen and not only popular, but mixed together. There is something very modern about mixing metals, whether it's silver with rose gold or yellow gold with hematite, or all of them at once.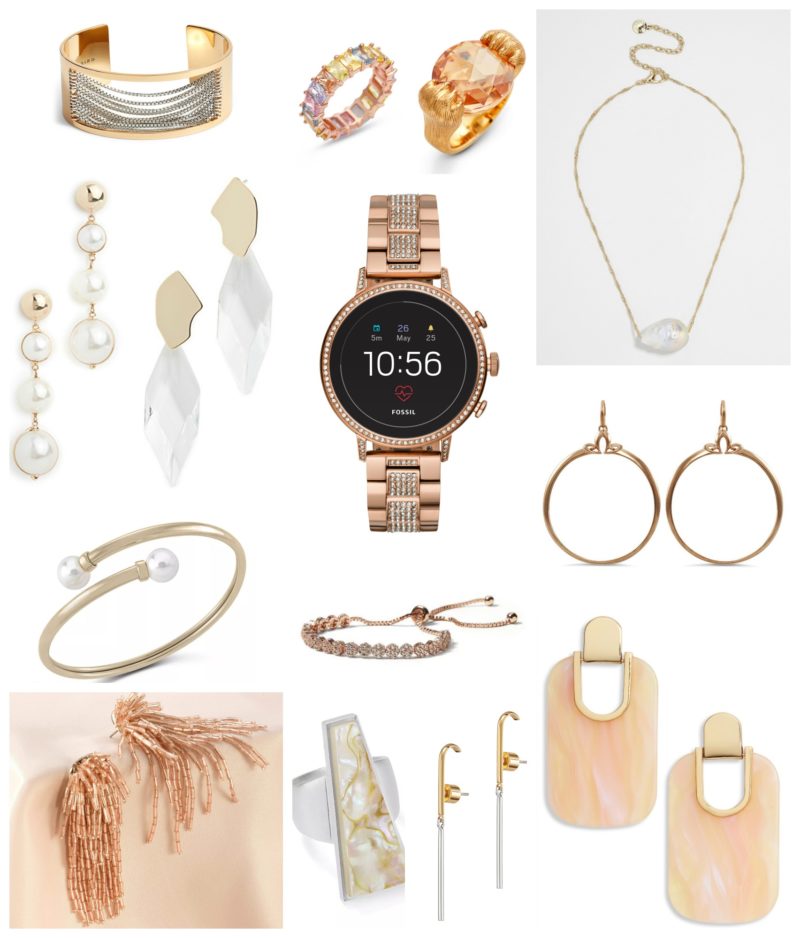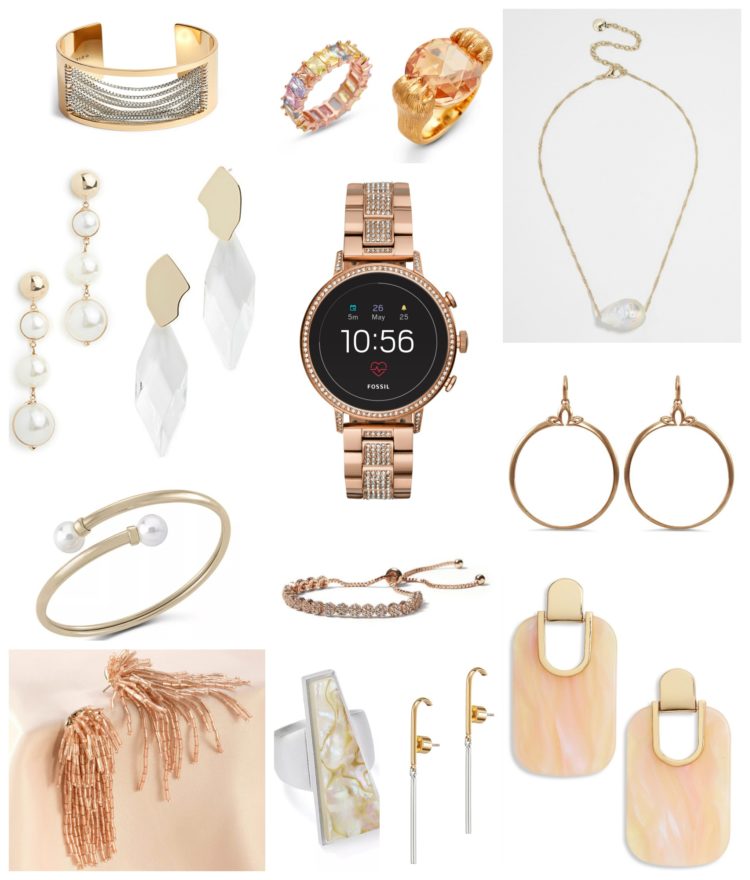 Rose gold, colored crystals, and pearls oh my! The fall jewelry trends seem to glow from within.
Shop the collage: two-tone bracelet | multicolored ring | cat paw ring | pearl necklace | pearl earrings | gold and crystal earrings | watch | portrait hoops | gold and pearl bracelet | rose gold and crystal bracelet | tassel earrings | ring | two-tone earrings | statement earrings
If you were afraid rose gold was a passing trend, this season proves the metal isn't going anywhere. Like the neutrals for fall 2019, this is a metal that has a blush tint that seems to make everything else in your ensemble glow and modernizes your jewelry collection. Glow is a theme for accessories; expect to see a lot of mother of pearl, abalone, colored crystals and semi-precious gems. Pearls are back, as is tortoiseshell. Bold or delicate, jewelry this season seems to radiate from within.
Anything goes is also the theme this season for footwear and leather goods. Gone are the old rules – mix brown with black, navy with black, suede with leather with patent with snakeskin. While matching used to be the epitome of luxe and class, sophistication now comes from playing with texture, finish, color, and pattern. While black is always a safe bet, if you are a fan of brown, cognac, or camel this is a year where you will find more offerings than previous seasons.
What Are the Denim Trends for Fall 2019?
Each year I am asked what denim washes are on-trend. This season, anything goes. Everything from a deep rinse indigo to super faded blue as well as dyed denim in colors like black, gray, olive, merlot, and rust. No need to pack away your white, cream, and ivory denim. They look ultra-chic in fall and winter with this season's pastels, rich colors, and always elegant with neutrals and black. Denim on denim is still a trend, and you will see plenty of denim shirts, denim jackets (look for the longer "chore" style jacket as well as the classic silhouette), coveralls, skirts, and dresses. Denim is either intact or severely distressed and the unfinished/cut hem is popular both on the bottom of your jeans as well as the bottom of your jacket. However, if you prefer a more classic hem, that is still and always will be on-trend.
What Are the Pattern Trends for Fall 2019?
Skin prints are hotter than ever, so pull out all your leopard print and snakeskin accessories. While leopard and cheetah prints are the most popular, every other skin print is also chic. Snakeskin is back in a big way and seen especially on delicate fabrics like silk and chiffon. Zebra print is popular, but instead of the bold black and white version, this season it is more natural with hints of brown and ivory. And this season you will see skin prints mixed – a snakeskin blouse with a leopard print belt, or multiple prints mixed in a single garment. Animal prints are a neutral, and even more so this year where a hint of skin print will add depth and interest to an ensemble, even if it already incorporates non-skin prints. Don't be afraid to mix snakeskin with floral or leopard with plaid.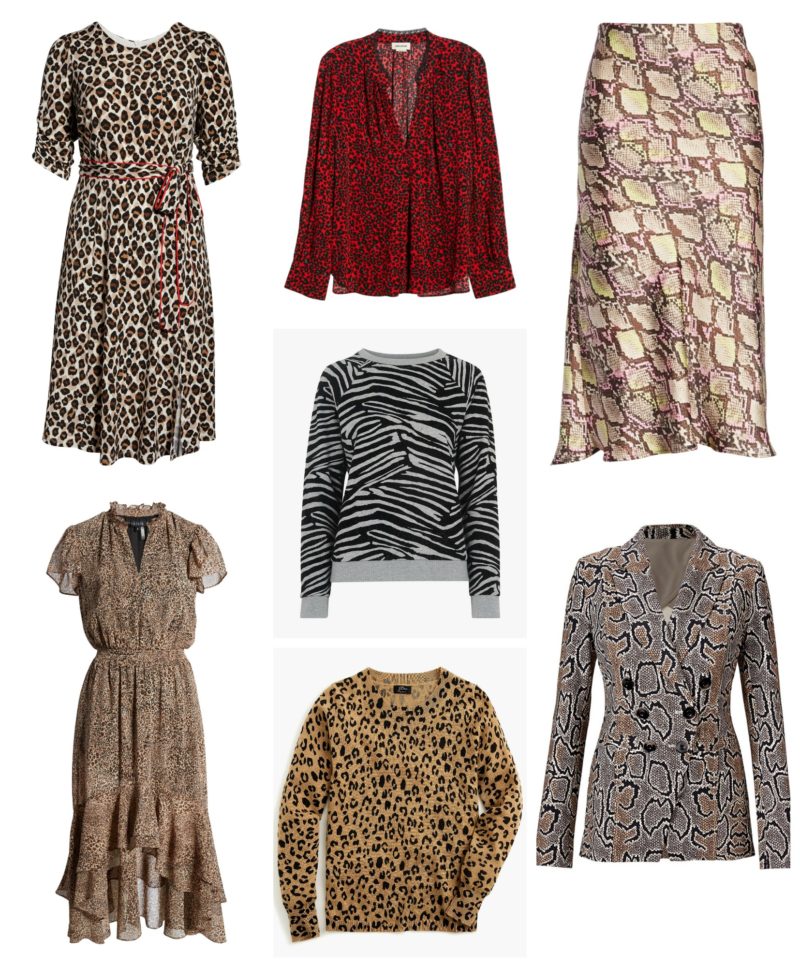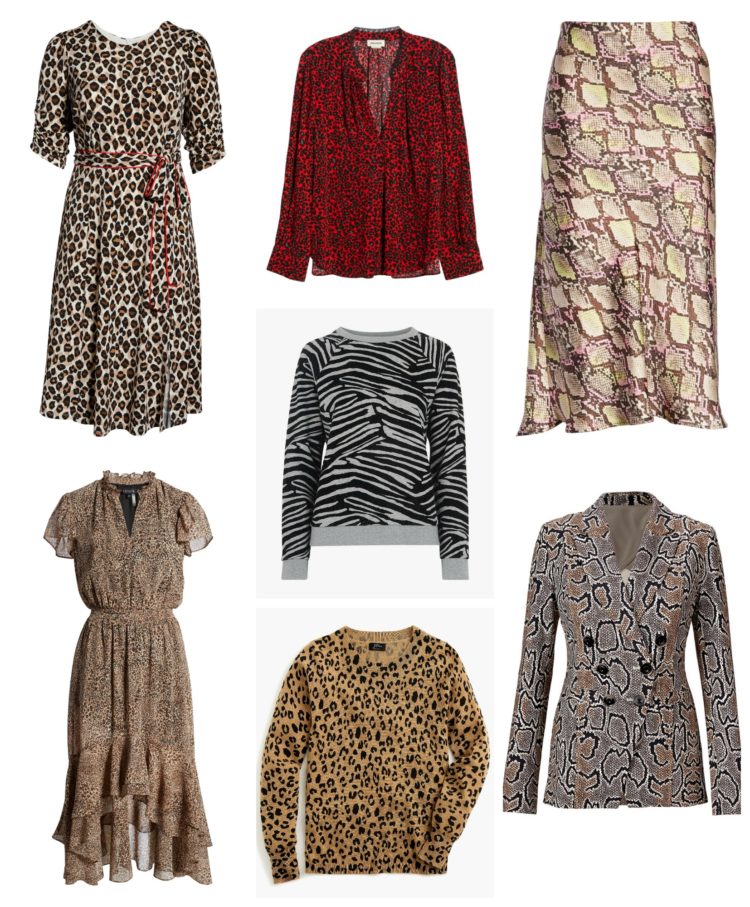 You can wear skin prints without looking like Peggy Bundy – this season they are sophisticated silhouettes and fabrics or else punk-inspired brights and cuts.
Shop clockwise from upper left: belted dress | red blouse | skirt | blazer | leopard sweater | chiffon dress | zebra sweater
Speaking of floral and plaid, both are on trend this season.
Plaid always returns each Back to School season, but this season the trend is more sophisticated than the '90s "Clueless"-inspired checks from last year. Think classic tartans, subtle checks, or traditional Buffalo plaids in elegant silhouettes and mixed with other prints like snakeskin and leopard. Bold or muted, you'll see equal amounts depending on the designer and the garment.
This season, florals are big – literally. Called "wallpaper florals," think cabbage roses and large-scale florals on dark and richly-colored grounds. Used with modern silhouettes and mixed with other prints and fabrics like leather, what could look dated ends up feeling very modern with a punk flair. See florals not just on clothing but leather bags, boots, and other accessories mixing ladylike with a touch of grit.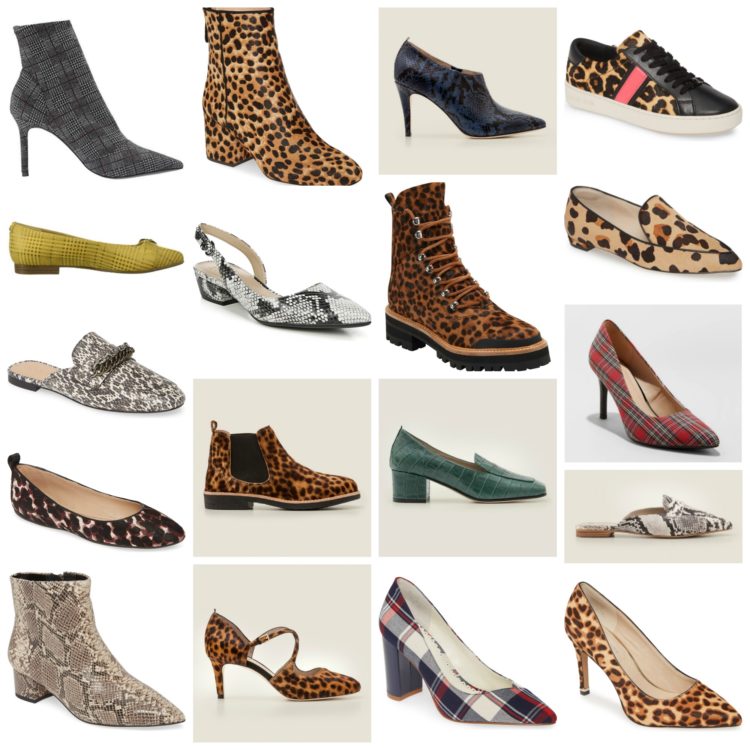 Footwear is a great way to incorporate the prints of the season. Snake prints are neutrals and this season, pattern mixing is very on-trend. You'll be surprised by how versatile you'll find a pair of printed shoes to be.
Shop left to right, top to bottom: plaid boot | leopard boot | blue heeled shootie | sneaker | yellow flat | slingback flat | lace-up boot | leopard loafer | snakeskin mule | Chelsea boot | green loafer | red plaid pump | dark leopard flat | white snakeskin loafer slide | snakeskin bootie | leopard heel | plaid pump | leopard pump
How Can I Update My Wardrobe With Color?
There is no need to adopt a current color trend to look stylish. However, if the season's colors are appealing to you, there are easy ways to add them to your closet without a major overhaul.
Mix metals. Love your gold bracelets? Consider adding some rose gold to the mix. Delicate versions of "arm parties" are back, where you can mix a bangle with a chain with beads and the effect is fun and modern.
Change up your denim game. Consistently wear blue jeans? This season, try a pair in cream, red, or even a print. You may find the color to be just as versatile as indigo.
Update your outerwear. It's so easy to default to black and dark neutrals for coats and jackets, but this is a great way to add cheer to a dreary fall or winter day while also updating your wardrobe.
Lighten up your shoe game. Again, we often resort to black when it comes to shoes. A pair of cognac, camel, tan, or blush boots can go with so many looks and provide a completely new look to your wardrobe staples.
Accentuate with accessories. A leopard printed belt, a scarf in pine green, a pair of merlot leather loafers, a blush-colored beanie and matching scarf – it's amazing how small and oftentimes wallet-friendly accessories can dramatically update your look.
What do you think of the fall 2019 color trends? Which ones are you thinking of adding to your wardrobe? Do you already own any of these color trends?