This article may contain affiliate links; if you click on a shopping link and make a purchase I may receive a commission. As an Amazon Associate, I earn from qualifying purchases. 
What shoes and boots do you consider wardrobe basics. I'd like to update shoes and boots for this fall.
Basics will vary for each person dependent on her lifestyle and personal style. While I do share a few footwear choices in my list of wardrobe staples, I know that many find such shoes impractical for their lives and the list isn't recent. So below are the shoes I find get the most wear from me each fall and winter: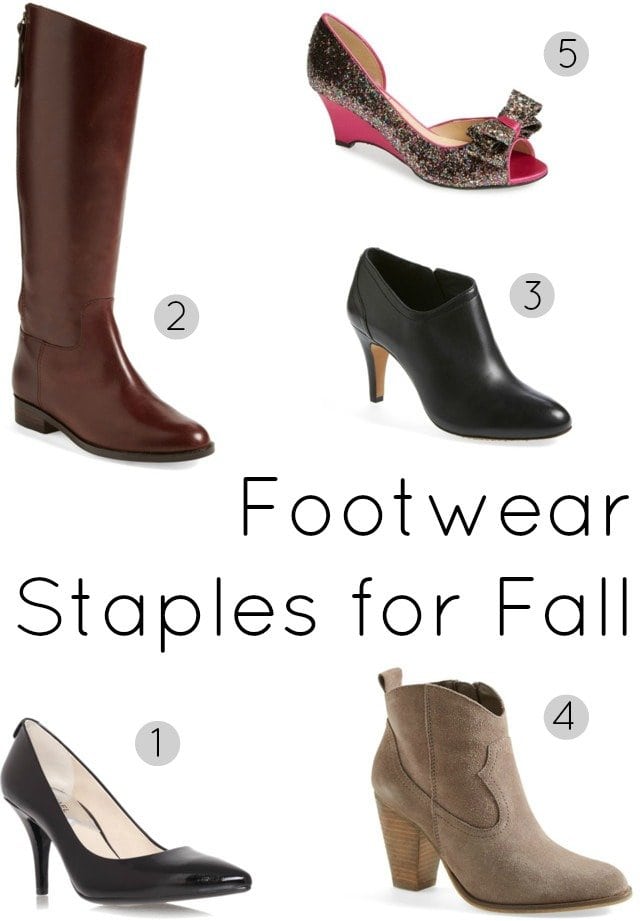 Black Leather Pumps
A pair of simple black pumps free of decoration, buckles, or unique finishes is a workhorse in my wardrobe. I like a pointed toe because it elongates the frame and is classic, but an almond toe is also a good choice and many find more comfortable. Steer clear of square, round, peep toe, or platforms which can quickly look dated and aren't as versatile. As for the heel, choose a height and width that is comfortable for you; luckily this fall thicker heels are back in style as are low or kitten heels.
Wear With: Trousers, skirts, and dresses. From work to a wedding, a pair of well-maintained black pumps can dress up and down with ease and work with almost everything in your wardrobe.
Tall Leather Boots
A pair of knee-high boots may be a wardrobe investment, but my experience has shown that they are worth the money. My fall and winter weekend look is usually slim jeans, tall boots, a knit top and sweater or vest (example), and I love how tall boots add warmth and weather protection come winter. As for color, choose what calls out to you and coordinates best with your current fall wardrobe. This past winter I wore black boots, but I recently added a pair of brown to my wardrobe that I believe will be just as versatile. Be sure to use a waterproofing spray on them to help them survive snow and slush, and use rolled up magazines in them to keep the shafts upright and well ventilated.
Wear With: A tunic and leggings, over slim trousers or jeans, with skirts and dresses of every length and silhouette.  If you require wide calf boots, check out my reviews of companies who provide them!
Black Ankle Boots
When the weather outside is frightful, it's nice to have your foot fully covered and protected. Instead of sacrificing your style by pairing your pumps with socks, consider an ankle boot or "shootie" with a similar toe and heel to your pumps.
Wear With: Jeans and trousers. As for skirts and dresses, dependent on the style you may be able to wear with black tights for a polished look (like I do with my Nine West booties), or pair with sweater or neutral colored tights for a more casual effect (boots that have a more open ankle like these from Frye).
The Weekend Shoe
The weekend shoe really depends on your lifestyle and personal style. For some, it's a pair of "Chucks" that they pair with jeans and band tee shirts. For others, it's loafers that look great with chinos and oxfords. A pair of ankle boots with a low heel is a great choice to slip on with jeans, leggings, and even tights and casual dresses. This is where you can get creative, have fun with colors and embellishments to show your personality and add interest to casual wardrobe basics.
Wear With: Jeans and casual tops, leggings and tunics, casual dresses and tights, slim pants and sweaters. Look for a style that works well with all the different opening of trousers in your wardrobe and can look stylish with a warm pair of socks come winter.
The Special Occasion Shoe
This is a shoe many may not feel necessary, but it's a great way to jazz up the LBDs and jeans in your wardrobe. For me, this shoe is a leopard print silk heeled sandal that looks great with a black sheath, red silk dress, or peeking out from the hem of a pair of dark denim. For others it may be a hot pink beaded flat, gold metallic strappy heels, or green satin D'Orsay pump. This is a shoe that can take your wardrobe staples to the next level, be it for a cocktail party, holiday fete, or a friend's bachelorette party.
Wear With: Your little black dress, a simple black camisole and dark denim, a cocktail pantsuit, a dress that can easily dress up with the right accessories, a bunch of mascara and a bold red lip.
What are fall footwear wardrobe staples for you?