This article may contain affiliate links; if you click on a shopping link and make a purchase I may receive a commission. As an Amazon Associate, I earn from qualifying purchases.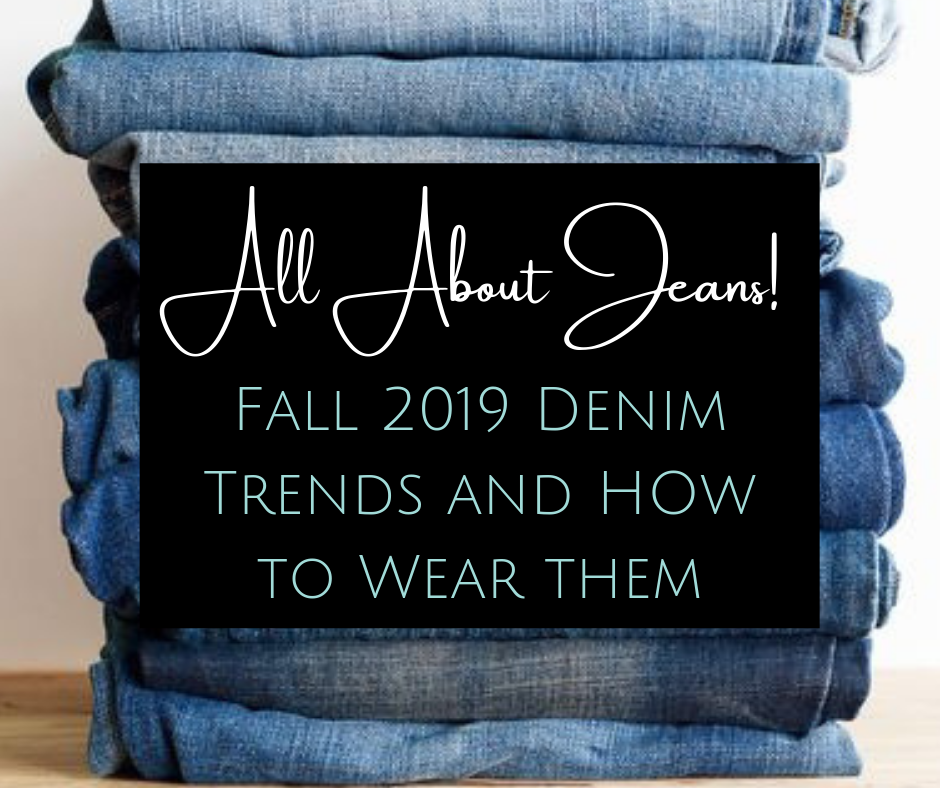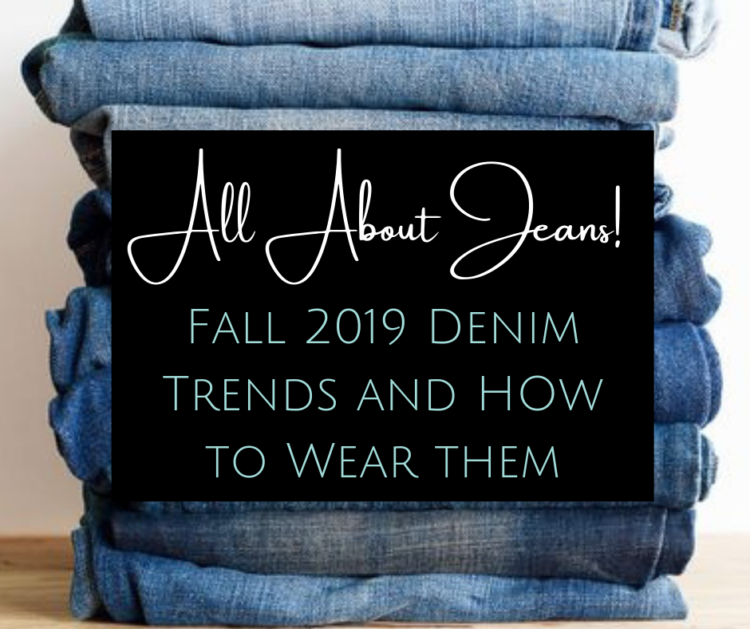 The most asked question I get each fall is what kinds of jeans are in style this season? What are the fall 2019 denim trends? You'll be happy to hear the answer – after many years where the skinny jean has reigned supreme, this fall, other cuts and styles are on the scene offering variety for every wardrobe and silhouettes to work with a variety of bodies, footwear, and personal style aesthetics. Below I share the most seen and most wearable fall 2019 denim trends, some concepts to look out for, and what denim trends you may want to retire:
What Are the Fall 2019 Denim Trends?
The Slim or Cigarette Jean
After years of painted-on denim-looking leggings, this subtle change to the slim jean is like a breath of fresh air. This jean feels more like traditional denim than the spongey jeggings of previous seasons, however, it still has plenty of stretch for comfort and bounce-back. The rise is higher, preventing muffin top and giving a smooth look under untucked tops. The leg is skinny enough to tuck into a tall boot but instead of being skin-tight to the ankle, the leg has a hint of space, making the jean look more balanced with curves and more stylish with low-profile shoes like flats and loafers.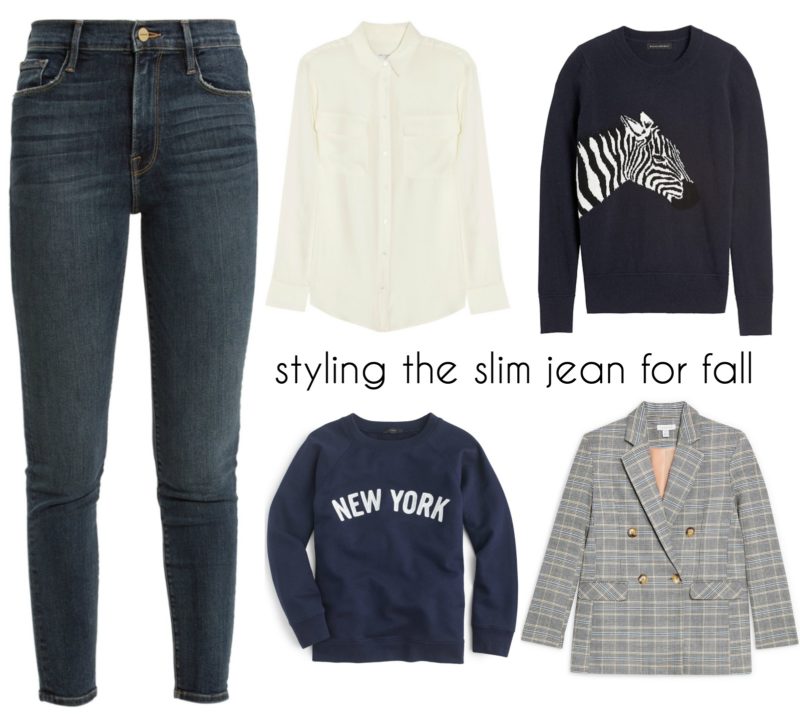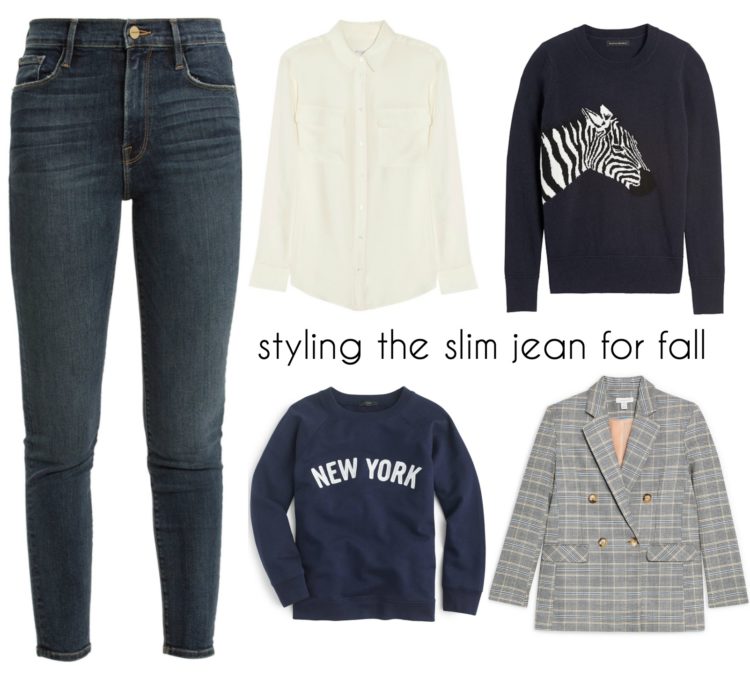 The slim jean is one of the easiest styles to add to your wardrobe. Pair with sneakers, ankle booties, loafers, and flats. This jean can easily be styled with a silk blouse, a graphic sweater, a blazer, or worn with a sweatshirt on the weekends.
As for wash and finish, everything goes. Rich colors like merlot, pine green, brown, and black are trending as well as soft neutrals like blush, French vanilla, and dove gray. Faded and distressed, or a pristine indigo rinse, both work this season so wear what makes you happy. Zipper is still the most popular fly, but the exposed button fly has returned and the metal buttons work like a pair of Spanx to slim the midsection and also add interest.
Shop My Picks for Slim and Cigarette Jeans:

The Skinny Ankle Jean
Skinny jeans aren't going anywhere, but they are getting a bit of an upgrade. For seasons, we have purchased stretchy spongey skinny jeans so long they tuck beautifully into ankle boots or else get rolled or cuffed to show above them. This season, the ankle jean is a bit thicker of denim (actually made of denim, not dyed to replicate the fabric), and it is ankle length. If you have a favorite pair of skinny jeans, consider taking them to a tailor or even your local dry cleaner to have them shortened to an ankle length – it's a cheap way to embrace the trend and update what you already own. You can still style them with your sneakers, your flats, your loafers, your brogues, and your ankle booties. It's just a cleaner look for the new season.
Shop My Picks for Skinny Ankle Jeans:

The Baby Bootcut Jean
Bootcut jeans are back, hooray! Well… should we be cheering? If you have missed bootcut jeans and try them on again this season you may feel the look a bit dated. What happened is the shoe trends have also changed so your current footwear wardrobe may not be doing bootcut jeans any favors. Enter the baby bootcut, also described as a mini boot or demi boot. Not as flared as a traditional bootcut, but still kicking out at the bottom, this jean still provides balance to your figure and is a cure for skinny jean fatigue without requiring you to buy a new shoe wardrobe.
Even with a smaller flare, the baby bootcut can look dated with the wrong details. I find it looks most modern in a dark solid color – forego whiskering and distressing and choose darker indigo shades or even black. Again, look for a higher rise which feels modern and also prevents muffin top, plumber's crack, and having to hike up your jeans every five minutes.
Length is up to you – the baby bootcut has been shown grazing the floor with a block heel boot or exposing the ankle with a pair of pumps. This is a silhouette that if the wrong length can look super dated, so try a few lengths and don't be afraid to head to your local dry cleaners or tailor to have them altered to just the right length for your shoes. If you go full length, there should be a bit of a "break" (bend in the denim) on the front of the leg so the jean can cover the whole ankle and top of your shoe.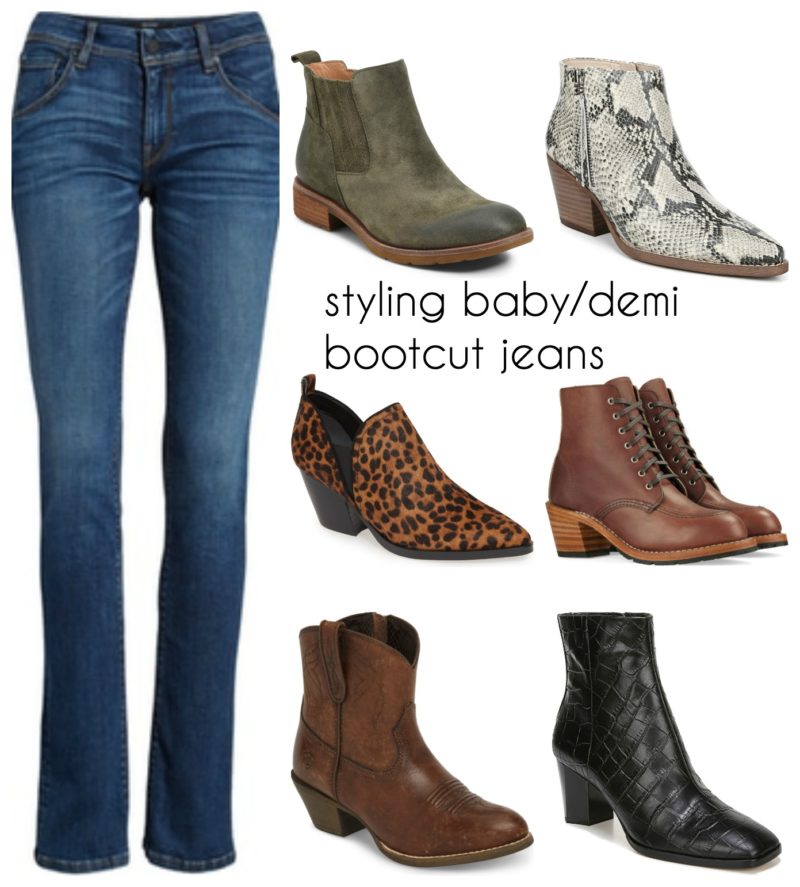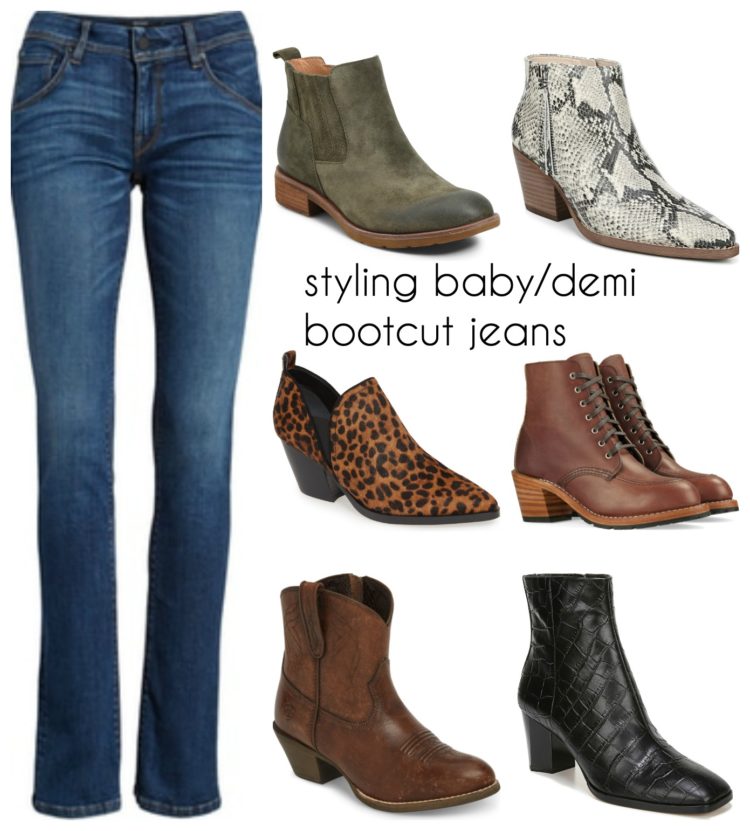 When it comes to a bootcut or baby bootcut, it's important to have a shoe with some substance. A block heel, lug sole, solid toe… something that takes up space and can balance the hem's volume. Here I offer as example olive suede Chelsea boots, snakeskin bootie with stacked wood heel, leopard calfhair bootie, lace-up work boots, cowboy boots, and a dressier ankle boot with a square toe and texture to add substance.
As for shoes, you do still want something with substance to balance the hem's volume. A lug sole is back on trend and looks great on a Chelsea or lace-up boot. Combat boots are a hot trend this season and you can find in many colors and finishes other than solid black. A wedge boot like this waterproof beauty from Sorel will be great especially when the winter weather begins to hit. And a baby bootcut looks great with a sexy heel – pair with pumps or strappy heeled sandals for a night out.
Shop My Picks for Baby/Slim Bootcut Jeans:

The Skinny Flare Jean
This is the flare jean's version of the baby bootcut. Flares are back, but they are more restrained. The flare starts below the knee, and it's nowhere near bell-bottom territory. Like the other jeans mentioned, this jean has a higher rise and is a slim, tailored fit. This jean looks most modern in dark saturated washes or deep colors, just like the fall 2019 color trends. And like the baby bootcut, this looks best with either a sexy heel or a proper boot to balance the volume.
Shop My Picks for Skinny Flared Jeans:

The Straight Jean
Classic jeans like Levi's 501s are back with a medium rise, skimming but not tight fit, and a straight leg. This jean comes bleached out and distressed, in '90s inspired stonewash and acid wash, saturated colors and rinses. What is consistent with the straight jean this season is it's ankle length. It's not cuffed, it's not puddling at your ankle, it's hemmed to show a bit of ankle bone or at least be near but not touching any part of your foot or shoe.
This length is great now with sneakers, sandals, and slides. Come fall, it will work with ankle booties and mules that show a peek of skin. In the winter, look for higher-shaft booties to tuck under the hem to keep out the cold.
Since this is a jean that is usually low on stretch, a heavier weight denim, a bit looser, and a rise that can possibly segment, it looks best with shorter or tucked-in tops. Keep your tunics and slouchy knits for slimmer silhouette jeans.
Shop My Picks for Straight Jeans:

The Cropped Wide Leg Jean
This was a denim trend that gained popularity last year, but continues to have fans (see me wear the trend at this link and this link and talk about it at The Washington Post). With a slightly higher rise, a slim fit through the hips, and then an a-line fit that ends between the calf muscle and the ankle bone, it's the modern-day denim version of gauchos.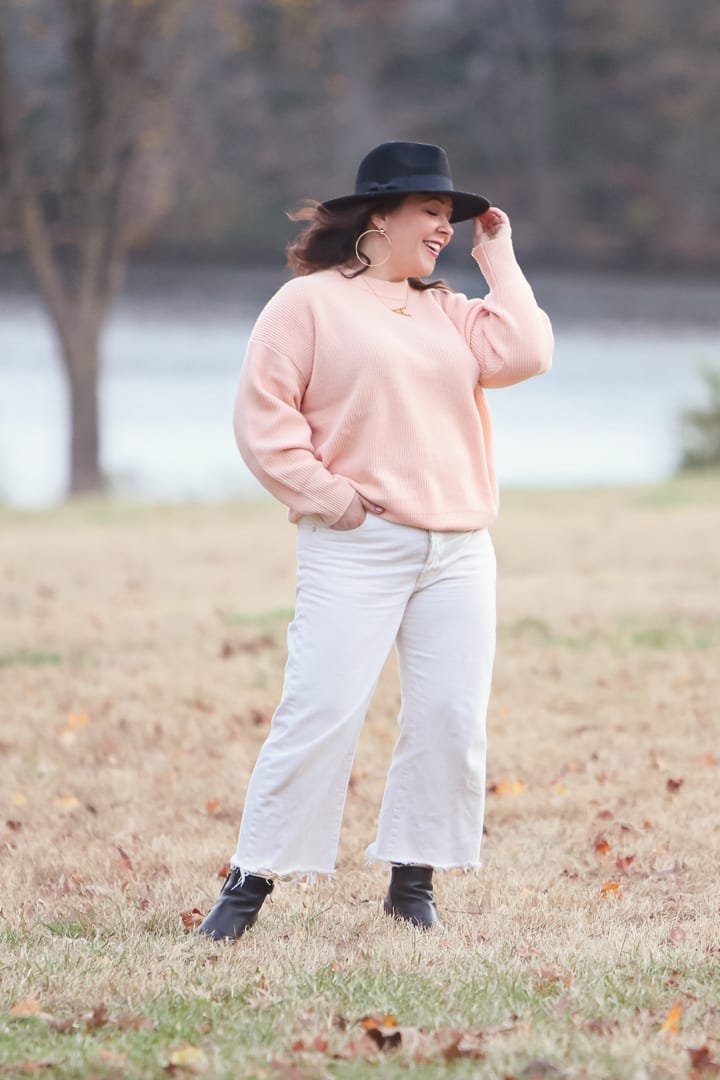 Me wearing wide-leg cropped jeans last winter. Shop the look: similar hat | similar earrings | necklace | sweater | jeans | boots
You will see this trend in everything from non-denim fabrics to denim in colors, washes, distressed or pristine, unfinished edge or hemmed, even in snakeskin. The width of the leg can also vary from a bit wider than a straight leg to a full bell. The key is that it's a tailored fit to the hips, the fabric is rigid (no chambray or floppy fabrics for fall), and the pant hits at the top part of the skinny length of your ankle.
This jean works now with sandals, with low-profile sneakers, and your Birkenstocks. Come fall, they can still be worn with your sneakers, but you'll see them worn a lot with a bootie with a higher shaft that tucks under the hem.
Shop My Picks for Wide-Leg Cropped Jeans:

The Kick Flare Jean
This jean has been around for a couple of years and continues to be popular. In the same concept as the cropped baby bootcut, this jean is fitted and then flares out just before the hem and ends at the bottom of your shin where your leg begins to slim into your ankle. These jeans are made to show some skin between your hem and your shoe. Sneakers, mules, pumps, slim-fitting ankle booties with a heel, and shoe-ties are all good choices. However, with this jean silhouette I say if it seems complicated to style, leave it at the store. I don't feel this is a trend that will last for long and isn't terribly wearable for many bodies and personal styles.
Shop My Picks for Kick Flare Jeans:

The Wide Leg or Sailor Jean
Essentially this is the same jean as the cropped version, but full length. Look for a mid- to high-rise, a jean that is fitted to the low hips, and then flares out anywhere from a subtle a-line to two straight bells on each leg. The jean ends with it just touching the top of your shoe (more causal look) or having a subtle break (more polished and dressier).
The wide leg jean can be bleached out and beat up, or a dark wash with a hard crease down the front. The denim can be rigid, or the lighter-weight fabric often seen with denim trousers. You want this, even if full of holes and fraying, to feel crisp. These are not the JNCOs from the '90s, they are more like sailor pants with clean lines.
To keep with the clean lines concept, this jean looks best with a more polished shoe. Something with an almond or pointed toe, something with a bit of a heel and substance. A pump, a loafer, a bootie, even a cowboy boot. If it's not as high volume, this is a jean that can glam up with a pair of your favorite heels. This jean also looks best with a top that is tucked in or ends higher on the hip (you want some of the fly to show).
Shop My Picks for Wide Leg Jeans:

The Tapered Jean
This is essentially the "mom" jean. It's a medium to high rise jean that has room in the rear and thighs but tapers to a slim fit at the hem. It's also called a "slim boyfriend" or a "relaxed" jean. This silhouette can quickly look dated if not styled correctly, and to be honest, when worn on certain body shapes. It's not one I plan to have in my closet any time soon, but it is a silhouette that can work really well with some bodies and personal style aesthetics.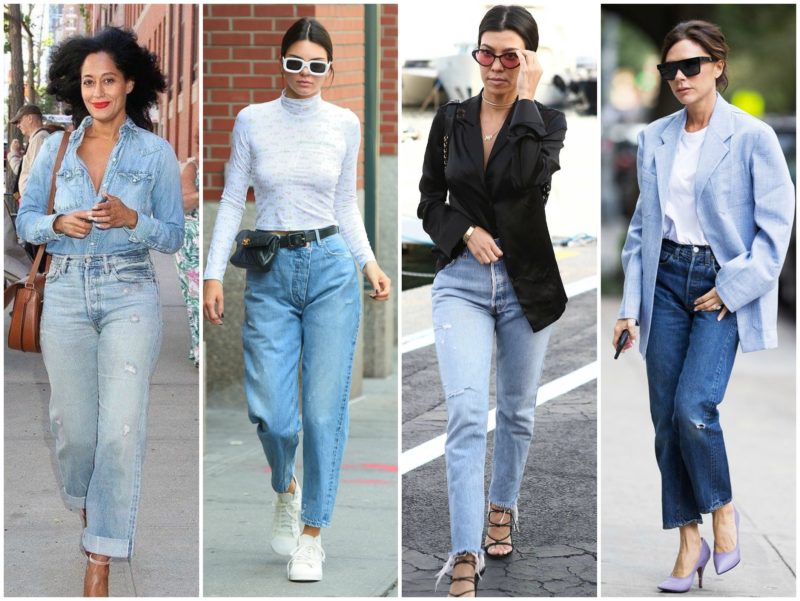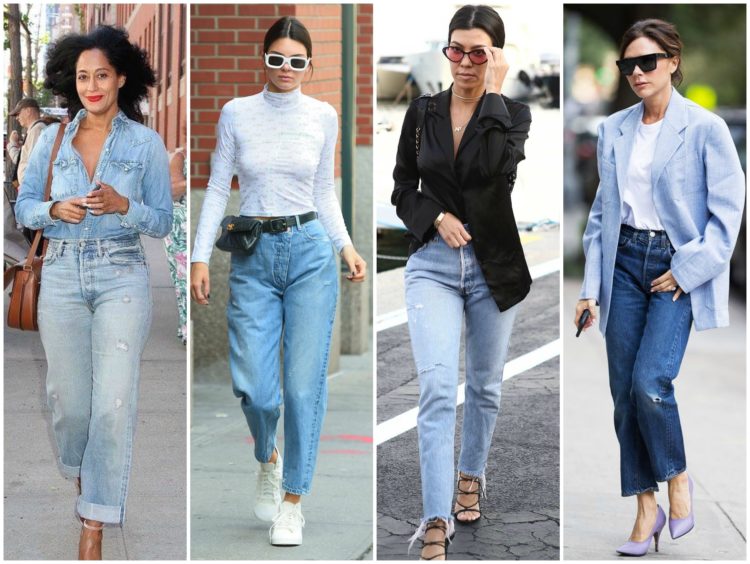 The "mom" jean or tapered jean as seen on celebrities Tracee Ellis Ross, Kendall Jenner, Kourtney Kardashian, and Victoria Beckham
The key is to nod to its vintage roots, and have your jean look a bit ironic and as though you found it at Goodwill. Go retro with acid wash, stonewash, or a faded black. Pair with a silk shirt and pair of pumps, balancing the blatantly trendy look with classic, elegant pieces.
Shop My Picks for Tapered or Relaxed Jeans:

What are the Fall 2019 Denim Trends for Design?
The Chewed/Torn/Unfinished Hem – This is a hot trend in all denim, not just jeans. Expect to see denim jackets with the bottom chopped off, skirts with a hem that look as though they got caught in a weedwhacker and jeans with uneven frayed ends that go from looking freshly trimmed with a pair of scissors, to looking as though they were torn apart in a fit of fury. While there are plenty of tutorials online on how to do this to your jeans, it is hard to replicate and not have it look sloppy. If you love this trend, I'd either recommend buying it, or using another pair for guidance to achieve the right effect.
Black Denim – Whether it's faded charcoal, acid-washed to achieve almost a marbled effect, or a deep rinse of color, black jeans are back in every cut and silhouette. For those who are able to wear jeans to the office, this is a great alternative to dark denim and in some cuts like the wide leg, can almost replace a trouser.
Colored Denim – While black is back in a big way, other colors of denim are also hot. I've seen a lot of the fall color trends in denim: rich colors of red, green, and desert hues as well as pastels.
Paperbag and other Novelty Waistbands – Yokes, ties, super high rises, foldover hems, paperbag-style gathered waists… the '80s are back when it comes to novelty denim. And if you like it, buy it but know it will never be as versatile, seasonless, or on trend as long as other cuts. I recommend tucking in tops with low volume and keep accessories simple to let the waist detail be the highlight of the outfit.
Tuxedo Stripe – This was a trend that started last year and you'll see still around this season. Along the outer seam of the jean will be a strip of fabric or ribbon or a different wash of the denim creating about a 1" stripe from waist to hem. This is a fun detail that can make basic jeans look more dressy or fun, while also creating an optical illusion to elongate the leg.
Exposed Button Fly – This is also a trend inspired by the '80s and '90s, but unlike acid-washed "mom" jeans, I think this trend will last a while. Unlike your favorite button-fly jeans from high school that tool forever to open and close, 2019 denim has more stretch making it easier to get them on and off and less likely to gape between the buttons.
Patterns – This season I've seen a lot of printed jeans, especially in skin prints like snake, zebra, and leopard. Tie-dye is also a trend. They're fully saturated prints and a fun way to update the solid-colored tops and jackets in your closet. I've found most printed jeans this season to be ankle length or a bit shorter and a modern silhouette like straight, tapered, or with a kick flare.
Pintucks and Creases – With the return of vintage-inspired silhouettes, so has come the trend of a pintuck or ironed crease down the front of jeans. If you're the kind of person who loves to iron their jeans, this is your season and it looks fab with the trouser and wide-leg styles as well as the flares and vintage nods.
Split Seams – With a slit the last few inches on the front or the outer side of the jean leg, this is a trend that comes in and out of fashion every few years and has returned this season.
High Rises – There are plenty of articles out there saying the hip bone-exposing low rise jeans from the early '00s are coming back, but any look at street style and trendy online boutiques will see the high rise is more popular… and more flattering. I feared the high rise, thinking it would make me look shorter and be uncomfortable. Come to find out when wearing it I no longer have to hike up my jeans after sitting, I don't get muffin top, and the bulk of buttons and beltloops aren't flush with the largest part of my stomach. This season has all sorts of rises, if you're wary of a high rise, try a midrise. You may find them more comfortable and kinder to your figure while also modernizing your existing wardrobe.
What Denim Trends Should I Retire?
I am all about wearing what makes you happy. If any of these trends before spark joy and define your personal style, continue to rock them this season. However, if you're wondering if something is on its way out, you can use this as a guide.
Cuffed Jeans – Look at the runways and the retailers and you won't see a whole lot of cuffed jeans this season. Jeans are either more polished or purposefully distressed, and there is more of a focus on specific length. We've spent a lot of seasons cuffing jeans; no need to get rid of those jeans just look to get them hemmed to a proper length for a modern update. If you do love a cuff, it's best when it's a single cuff and one that is an inch or so in width.
Patched Jeans – Denim on denim, plaid, graphic patches, even sparkly fabric peeking out from the frayed threads. Patched denim has been a trend for a few seasons. And while there are still some retailers offering it, this isn't as popular a trend this year and I can see it looking very dated by spring. If your look is boho/vintage, patched jeans can still look great with your wardrobe. But otherwise, I'd steer clear from buying any more patched styles.
Slouchy and "Boyfriend" Styles – Yes, you will still see jeans labeled "boyfriend" in stores, but they're not the same as they were a few years ago. These are more rigid of denim, a cleaner fit, and if there's a cuff it's a single fold maybe 1″ wide at most. The slouchy, sloppy jeans of previous seasons have been replaced by more stylized or polished denim.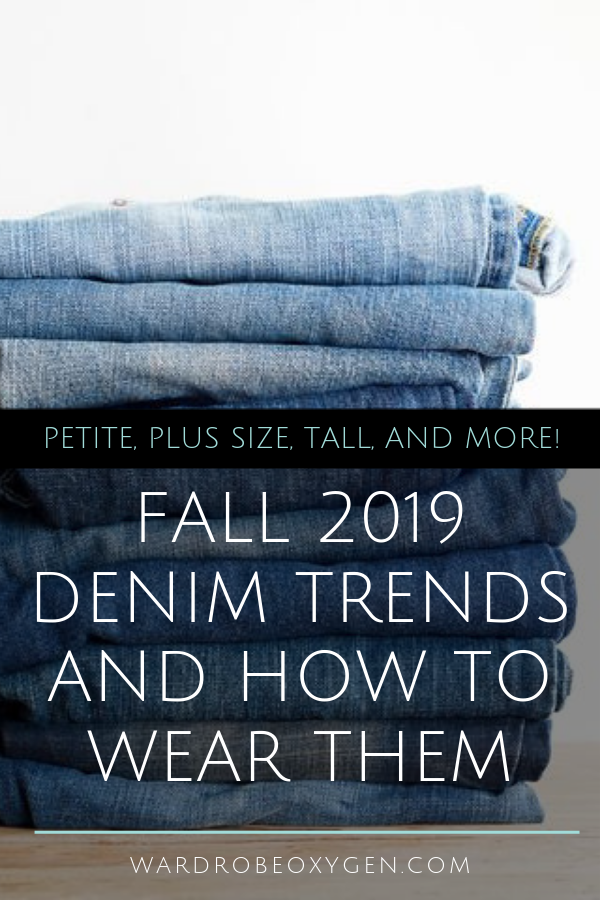 Fall 2019 Denim Trends: A Concept
The general tone of this fall 2019 denim trends is that it is a valuable part of your wardrobe. It can be utilitarian, it can be sophisticated, it can be slim, it can be loose, it can be bleached out or a saturated indigo rinse. But whatever silhouette, brand, or color you choose, it should be purposeful. No wearing a pair too tight and hiding it under a sweater, no too-loose pairs hanging off hips or cinched with a belt, no too-long pairs "fixed" with a cuff or roll. Unless the jeans are for doing manual labor, your jeans should have as much respect and receive the same amount of care as a pair of work trousers. Instead of buying new jeans, consider using that money for tailoring and hemming pairs you already own. They will likely fit better and look better than any pair you can find at the mall. And as always, wear what makes you happy. Posts like these are guidelines, not gospel. Confidence is the most stylish thing you can wear!