This article may contain affiliate links; if you click on a shopping link and make a purchase I may receive a commission. As an Amazon Associate, I earn from qualifying purchases.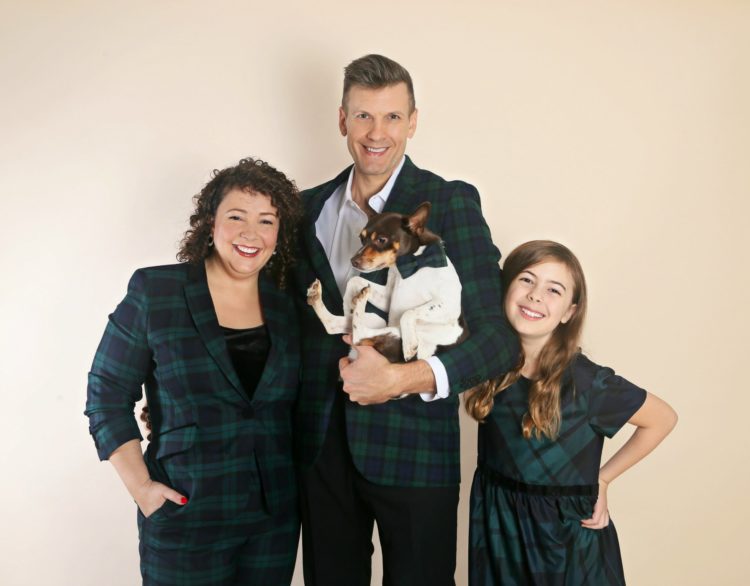 This is a spoiler for anyone getting our holiday cards but I just couldn't wait in sharing photos we're using on them this year! The cards just arrived tomorrow and will be mailed out today! Last week, we put up the backdrop in our living/dining room to take a few photos for a brand campaign on Instagram and left it up so after school we could get into our Black Watch plaid finery for a family photo!
Shop Black Watch Plaid Fashion:

Last year we also rocked plaid for the holidays, but I must say it was far less formal. We loved the photos, but found that loved ones did not. I didn't think how our daughter was making a silly face in all the pictures and relatives living far away wanted to see how she had grown since the last holiday card. This year we decided to keep it more traditional… and of course, we had to include the newest member of our family! Oscar is so photogenic, but that's when he has the photographer to look at. With us using the self-timer we struggled to get a good photo with him; we only tried a handful of times because we wanted to quit while he and our daughter were still having a good time.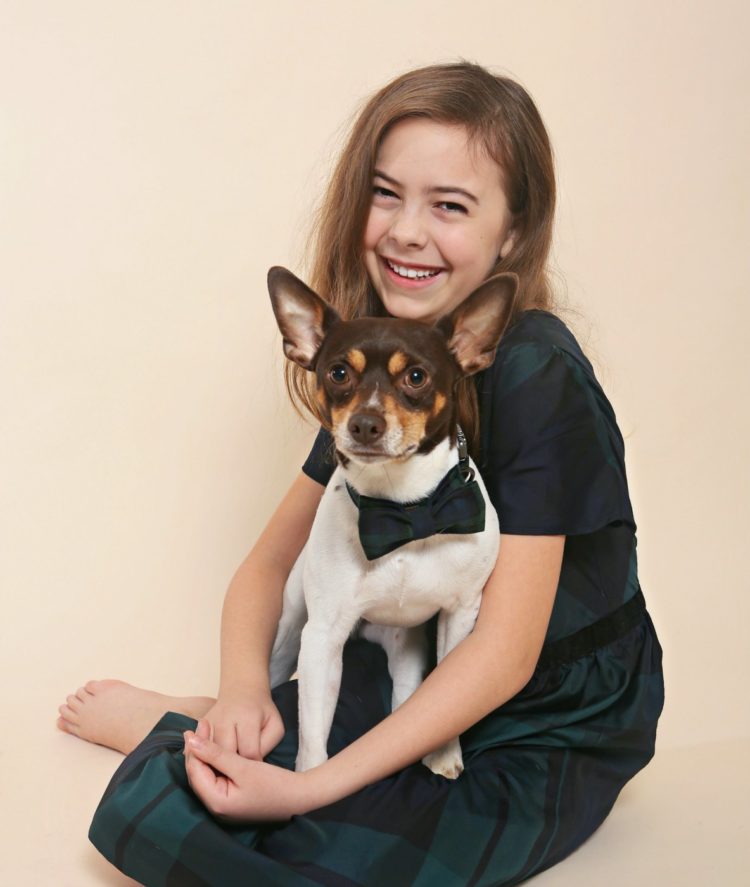 When I saw this Black Watch plaid suit at Talbots I asked if I could have it in my size and they were generous enough to send it. And then I saw Talbots has a few dresses in girls sizing to coordinate with their Occasions collection and I had to take advantage of my daughter loving to be my Mini-Me with the Black Watch Fit and Flare dress! We found Karl's blazer at J. Crew Factory (FYI they have the same one for women) and Oscar is wearing a collar with a removable bow tie that we found on Amazon. Under the suit, I am wearing the Talbots Velvet Tank in black. I think this suit is so classic, and like the cocktail pantsuit in my holiday capsule wardrobe, one that works as separates beyond the holiday season.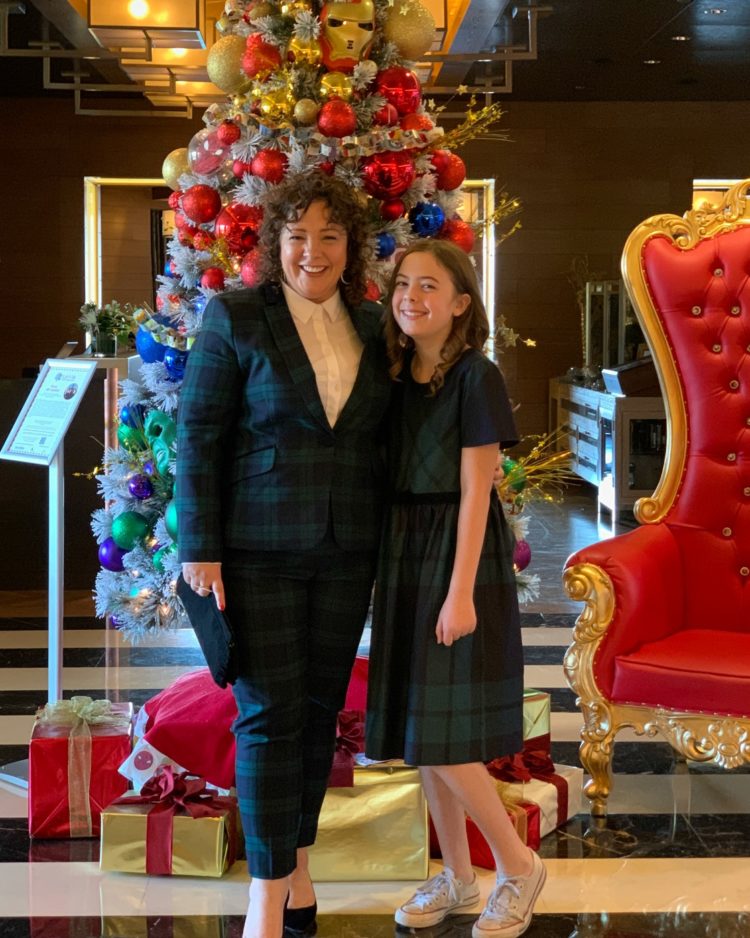 My daughter and I decided to continue the Black Watch twinning moment this past weekend when we attended a Mommy and Me tea at the Four Seasons Georgetown. The event was to promote Light Up the Season, the third year that the Four Seasons hosts this fundraiser for Children's National Hospital. Trees like the ones we're standing in front of are created by DC businesses in partnership with a child at Children's. The trees are then auctioned off with the money supporting the hospital. Light Up the Season takes place on the 15th with plenty of activities and fun for the whole family. Click here to learn more about Light Up the Season and to purchase tickets.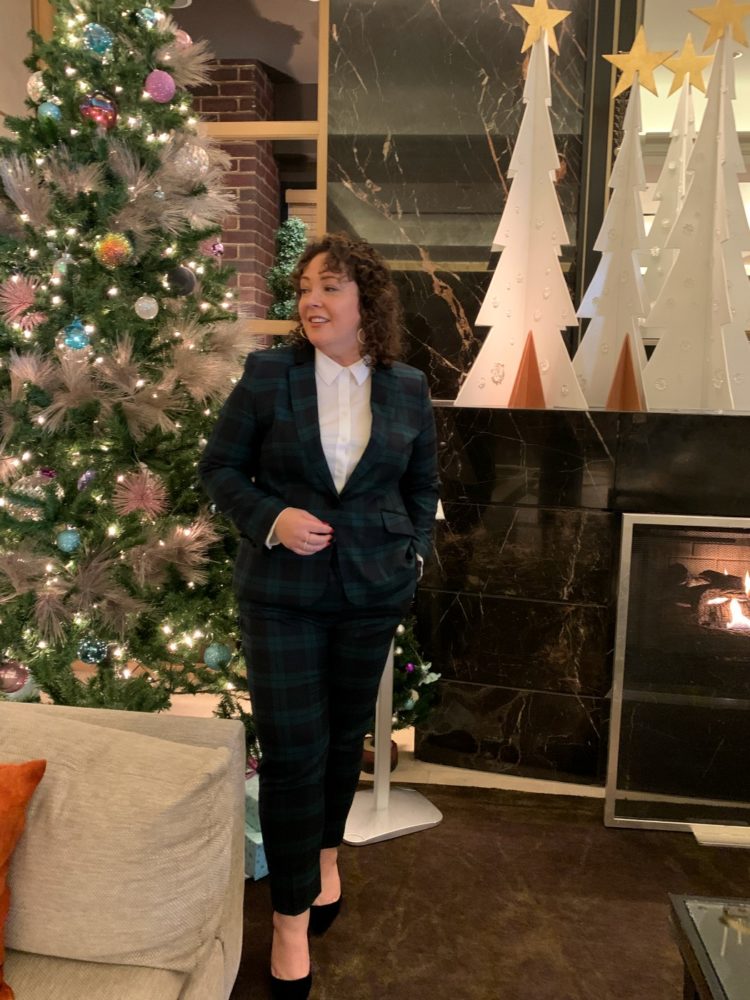 This was a perfect look for me to wear. For an afternoon tea that was also a fundraiser, I felt conservative cocktail attire was appropriate. We knew we wanted to twin with our Black Watch, but I switched out the black velvet tank for the white Perfect Shirt used in my holiday capsule wardrobe. I felt having it buttoned all the way up looked modern and more formal than leaving a few buttons open. If I wanted to take it up a notch, a piece of black velvet ribbon tied in a bow would be a nice addition. I just added some glam with my REALM Domain Pave Portrait Hoops and this badass yet luxe ring. I felt right at home with other attendees who were wearing haute couture; appropriateness and fit can make most any outfit look great!
As an FYI, we three still adore our Lands' End family pajamas from last year. If you're looking for a fun family idea, I highly recommend them and they have some fun prints and combos this year. They are high quality, they've been washed and dried sooo many times and still look and fit fantastic. We will be rocking them again as a family this Christmas morning; too bad they don't have the same plaid this year so we could get Oscar a matching bandana!