This article may contain affiliate links; if you click on a shopping link and make a purchase I may receive a commission. As an Amazon Associate, I earn from qualifying purchases.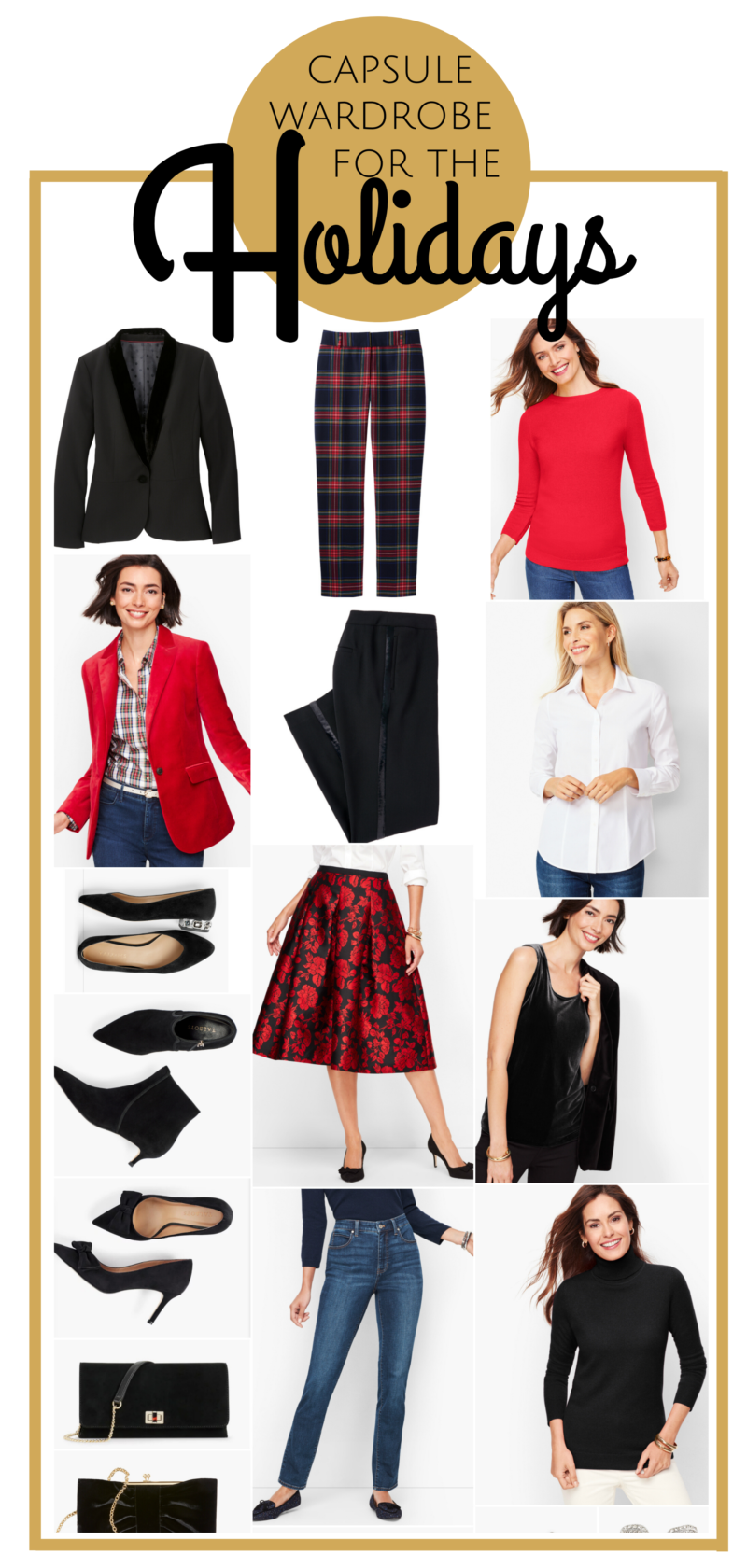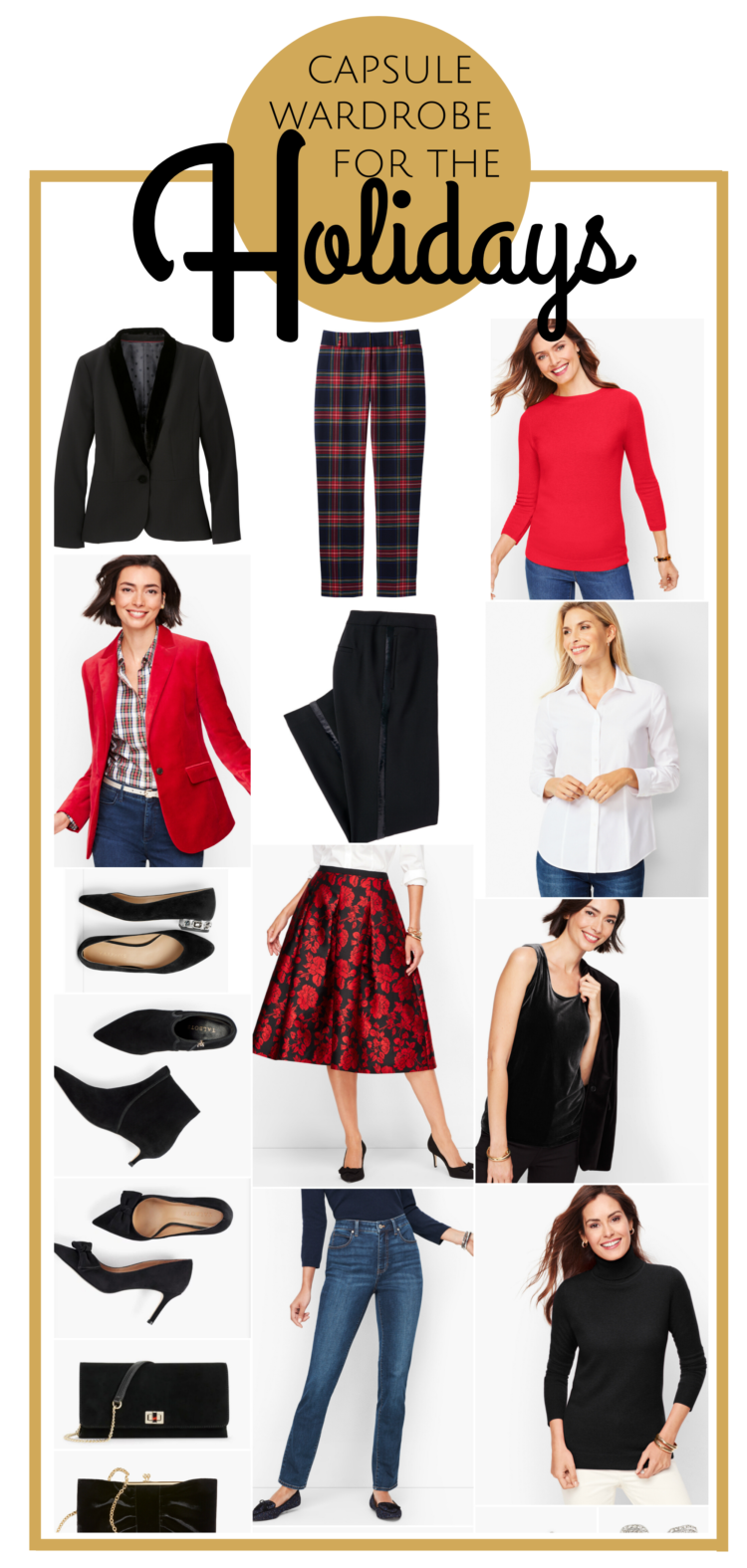 The holidays are right around the corner, is your closet ready? This is the time of year where your social calendar fills up. Friends from out of town are back for a quick coffee catch-up, neighbors host cookie swaps, your aunt hosts Thanksgiving, your cousin hosts Christmas dinner, your bestie has her famous New Year's cocktail party, and your company has its annual holiday gala. It can seem overwhelming for your schedule, your budget, and your wardrobe. I believe in capsule wardrobes; they're a way to achieve more style with fewer pieces. In partnership with Talbots, I have created a holiday capsule wardrobe. With only ten pieces of clothing (and a few shoes and other accessories) I have created 24 looks all available in Misses and Plus sizes to get you through the entire holiday season in style.
This post is sponsored by Talbots
Last year I created a capsule wardrobe for the holidays and wore it for several events throughout the season. For that capsule I focused on blue and black; this year I chose to have a holiday capsule wardrobe based on black with red. Red is a great color all year round, but feels especially festive during the holiday season. Looking great with most any neutral and able to dress up and down with ease, red accents are good for this season and beyond, ensuring this capsule wardrobe will be practical even after the holidays are over.
A Talbots Holiday Capsule Wardrobe
This holiday capsule wardrobe is inspired by the Talbots cocktail pantsuit – their Stretch Crepe Tuxedo Jacket and Stretch Crepe Tuxedo Pants. I own this very Talbots cocktail pantsuit; you can see me wear it in this photo on Instagram to a "cocktail attire" gala (for reference I am wearing a 14 petite in both pieces). This is not my first Talbots cocktail pantsuit; you can see me wear previous year iterations of a "lady tux" in this blog post, this blog post, and this Instagram post. I am a big fan of owning a cocktail pantsuit; it's a way to look dressy without having to wear a skirt and it's also warmer during the winter months. Not only that, a cocktail pantsuit or lady tux is more versatile, as you can see from this capsule wardrobe.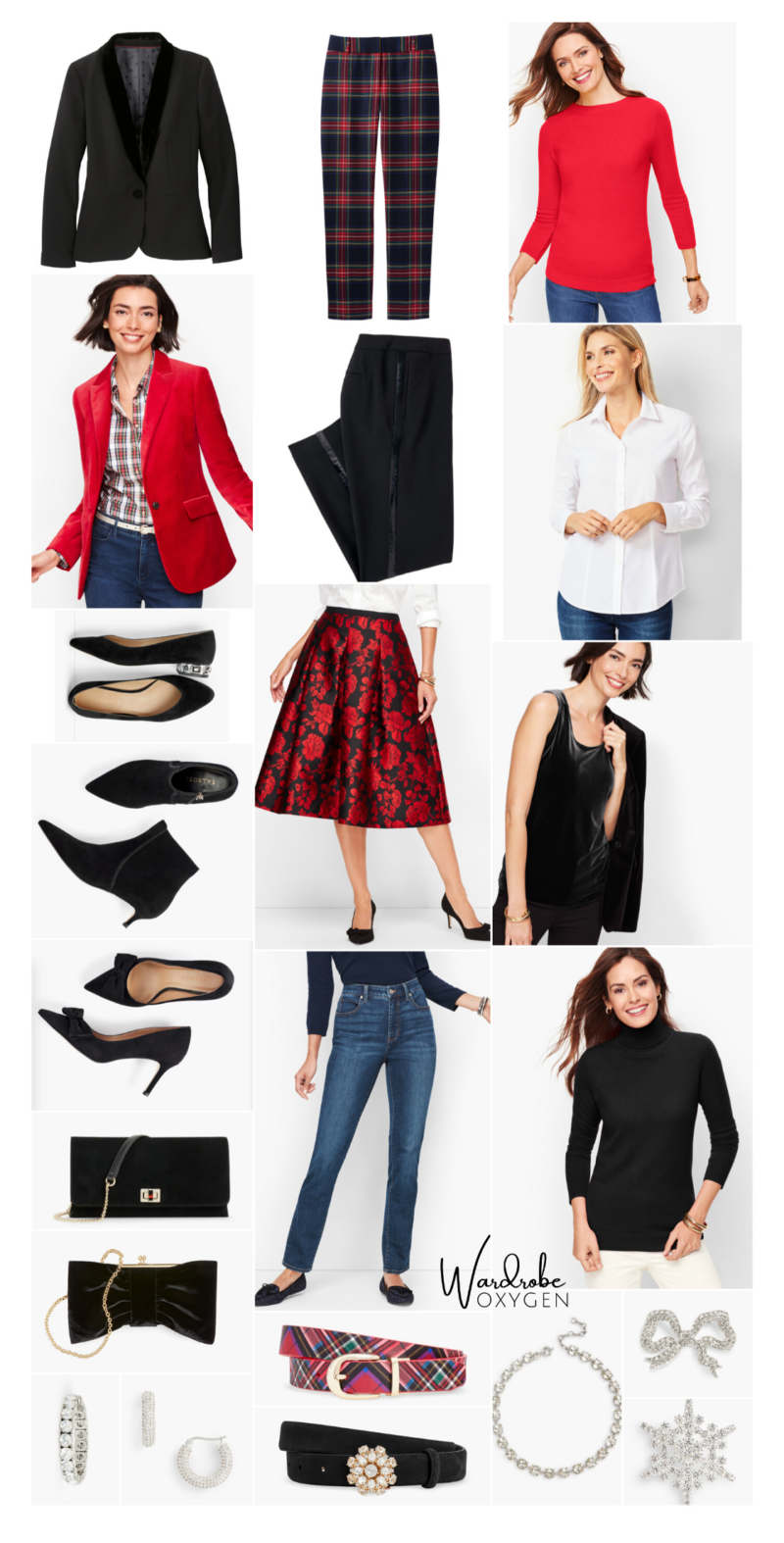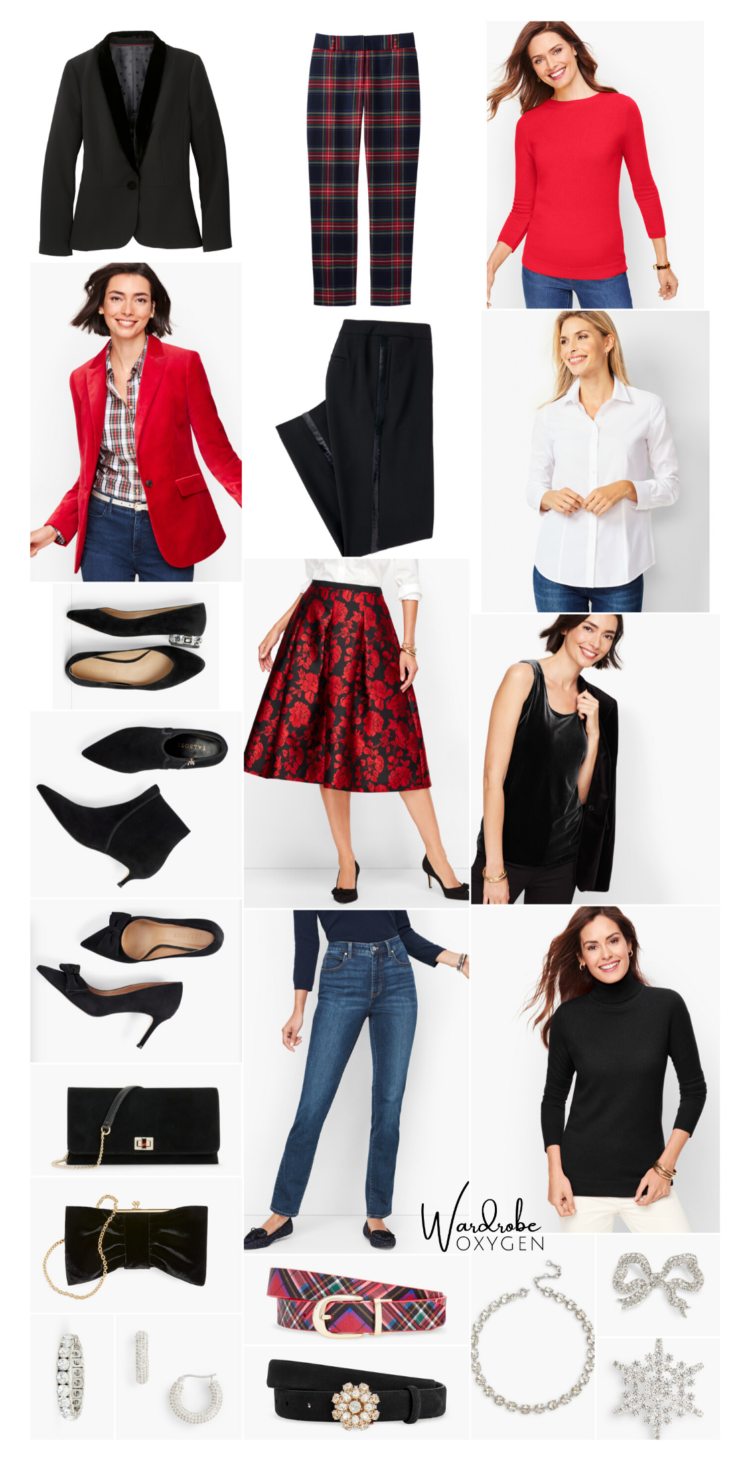 Shop the Talbots Holiday Capsule Wardrobe:
black tuxedo blazer | red velvet blazer | black tuxedo pants | plaid pants (plus-size option) | jeans (plus-size option) | red and black floral jacquard skirt | red cashmere crewneck sweater | black cashmere turtleneck sweater | white button-front shirt | black velvet tank | suede handbag | velvet clutch purse | pumps | ankle booties | flats | reversible plaid belt | black and bejeweled belt | earrings | necklace | bracelet | bow brooch | snowflake brooch | tights (not pictured; plus-size option)

Using luxe fabrics like cashmere and velvet, seasonal prints like plaid and floral jacquard, and plenty of sparkly accessories, this capsule wardrobe feels festive without being over the top or too Christmas-y. Each piece can be worn beyond the holidays – the plaid pants with a sweater and loafers to the office, the red velvet blazer with a graphic t-shirt and jeans with leopard-print loafers, the reversible plaid belt with a denim shirtdress and suede ankle booties, the tuxedo pants as dressy trousers (see this blog post where I styled Talbots tuxedo pants in summer).
Sample Outfits from the Talbots Holiday Capsule Wardrobe
With 10 pieces of clothing and a few accessories, I created 24 outfits for work, evening, and weekend holiday occasions. Click on any thumbnail graphic in the gallery below to see the full-size images and descriptions. Hover over the images to find arrows to advance and go back within the gallery. Click the X at the top right of an enlarged image to close the gallery and return to this blog post.

As you can see from the sample outfits, accessories really make each look. A switch from a casual plaid belt (which is reversible to solid red) to a dressy one with a bejeweled buckle transforms an ensemble from casual get together at a friend's house to a holiday party at a nice restaurant. Jeans with booties are perfect for Casual Friday at the office; jeans with pumps are perfect for a night out. A clutch bag is an instant way to dress up a look; the two featured have optional shoulder straps so you can use them to keep your hands free for hugging or holding a cocktail. When it came to the brooches, I chose to add two because I love using brooches in place of a tie on a button-front shirt or blouse. I couldn't resist adding the Crystal Bow Brooch for this very reason, though it would also look quite lovely on the lapel of a blazer or your winter coat. The Sterling Silver Crystal Snowflake Brooch is a simple way to make any wardrobe staple look festive for the holidays. I featured one in last year's capsule wardrobe for the holidays and have one just like this in my jewelry collection.
Shop Holiday Accessories from Talbots:

How to Extend the Capsule Wardrobe
This capsule wardrobe can easily stretch beyond 24 looks with a few additional pieces – consider a striped knit top with a holiday motif, a denim jacket, a lace pencil skirt, or a plaid shirt that would incorporate pretty seamlessly into the existing collection.
Shop Great Pieces to Add to the Holiday Capsule Wardrobe:

I hope this Talbots holiday capsule wardrobe gets your sartorial creative juices flowing. It may inspire you to see existing items in your closet in a fresh way for the holidays, or see how adding one or two new garments can create several updated looks. There is no need to buy a separate outfit for every event on your holiday social calendar, or to be bored by wearing the same look over and over. By creating a holiday capsule wardrobe, you can achieve multiple looks without requiring a large closet. Thank you, Talbots, for sponsoring this capsule wardrobe, I had a blast creating it and you'll be sure to see me wearing some of these outfits throughout the holiday season!
Shop the Talbots Holiday Capsule Wardrobe: