This article may contain affiliate links; if you click on a shopping link and make a purchase I may receive a commission. As an Amazon Associate, I earn from qualifying purchases.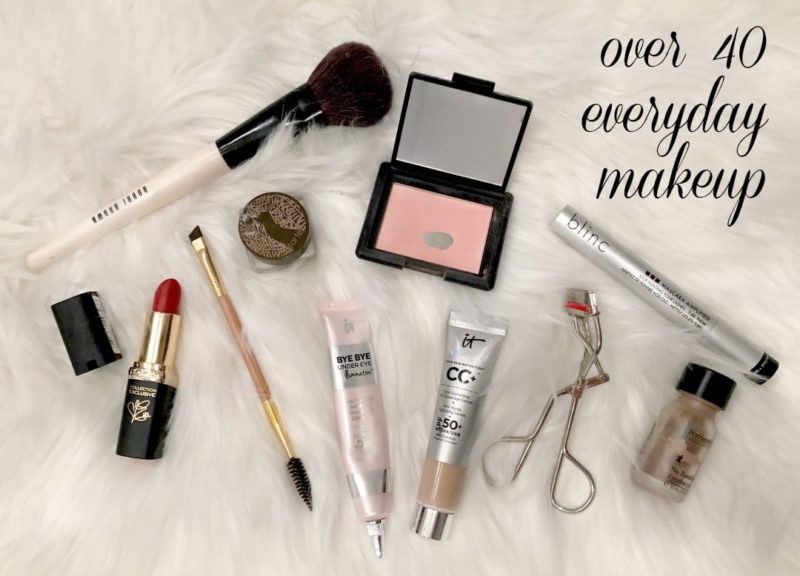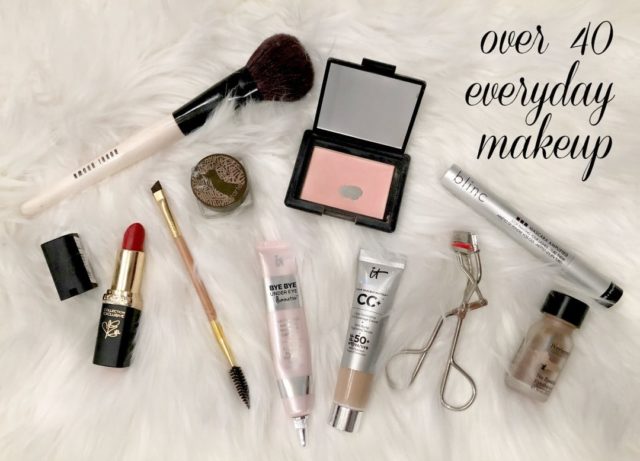 In a recent blog post I mentioned my non-crease concealer and many of you wanted to know what I used. Well after writing that post I tried yet another concealer I find to be even more perfect. This post will share both of my under eye concealers as well as my everyday makeup look. Get ready for some unfiltered no-makeup morning photos!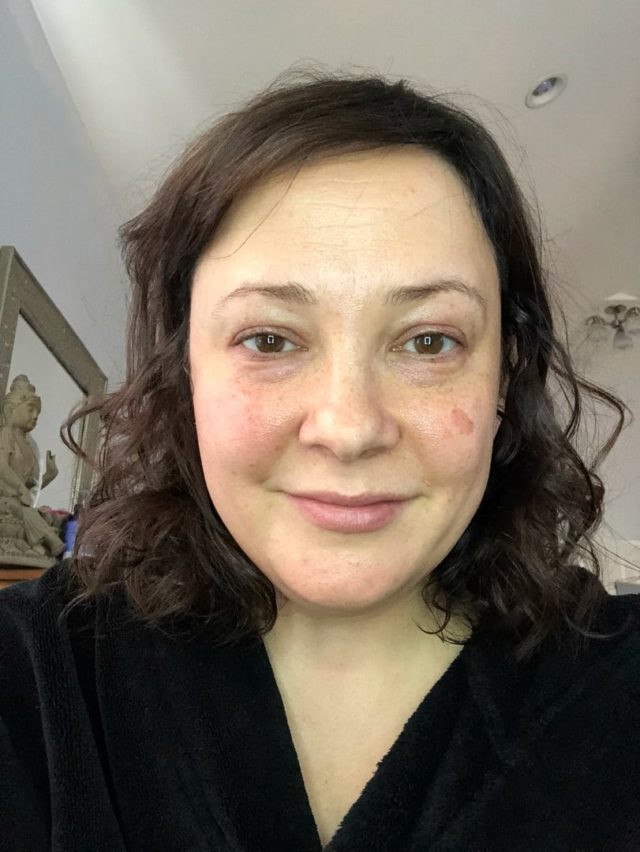 This is me completely bare face, only moisturizer. You can see under my eyes I deal not only with darkness but bags. I also have a couple small breakouts on my chin, and it's hard to see in this photo but I deal with redness under my nostrils.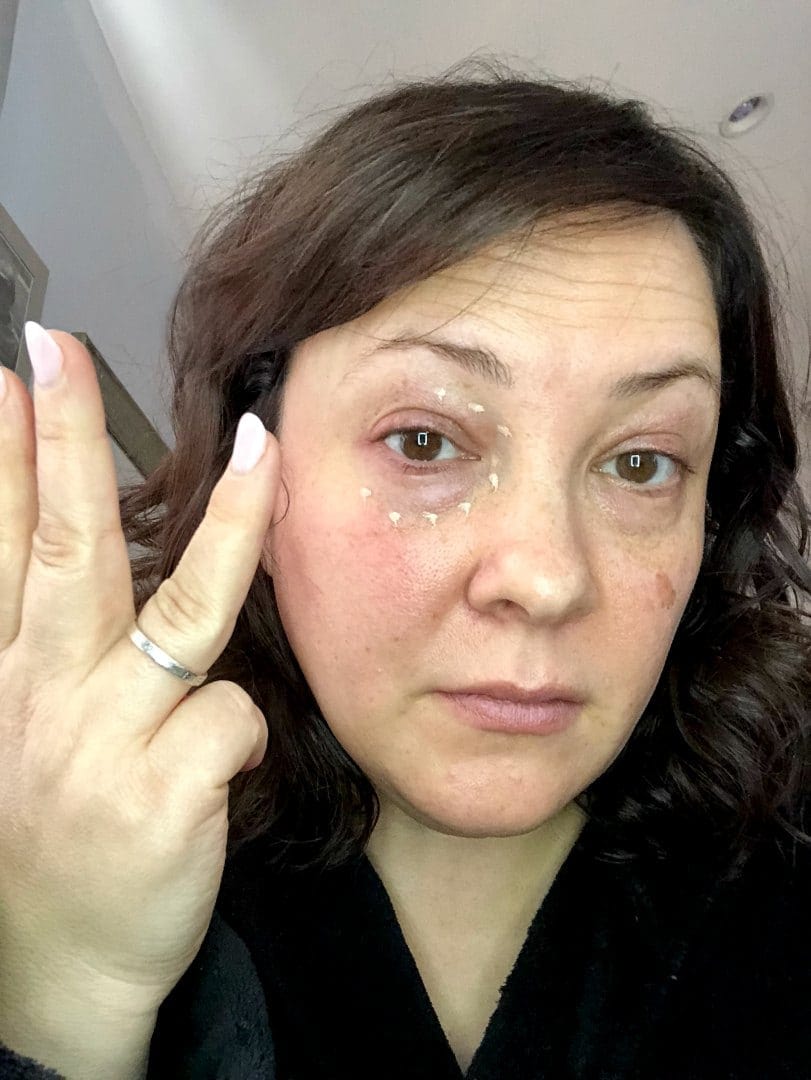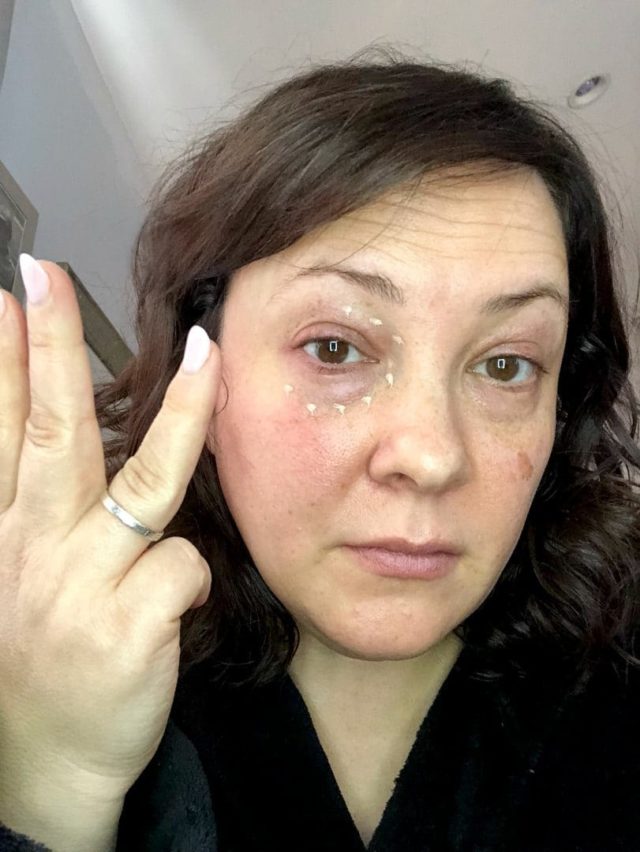 On your left my right I am going to do my latest concealer fave – IT Cosmetics Bye Bye Undereye Illumination Anti-Aging Concealer. I have it in Medium. You need an extremely small amount, smaller than a pea or any other term used. I use my ring finger and dot it in a C around my eye, spread it a bit with my finger, and then buff it in place with a soft brush (IT Cosmetics has their own brush but I'm all about using what I already have if it can get the job done, I'm using the Expert Face Brush from Real Techniques which I picked up a few years ago).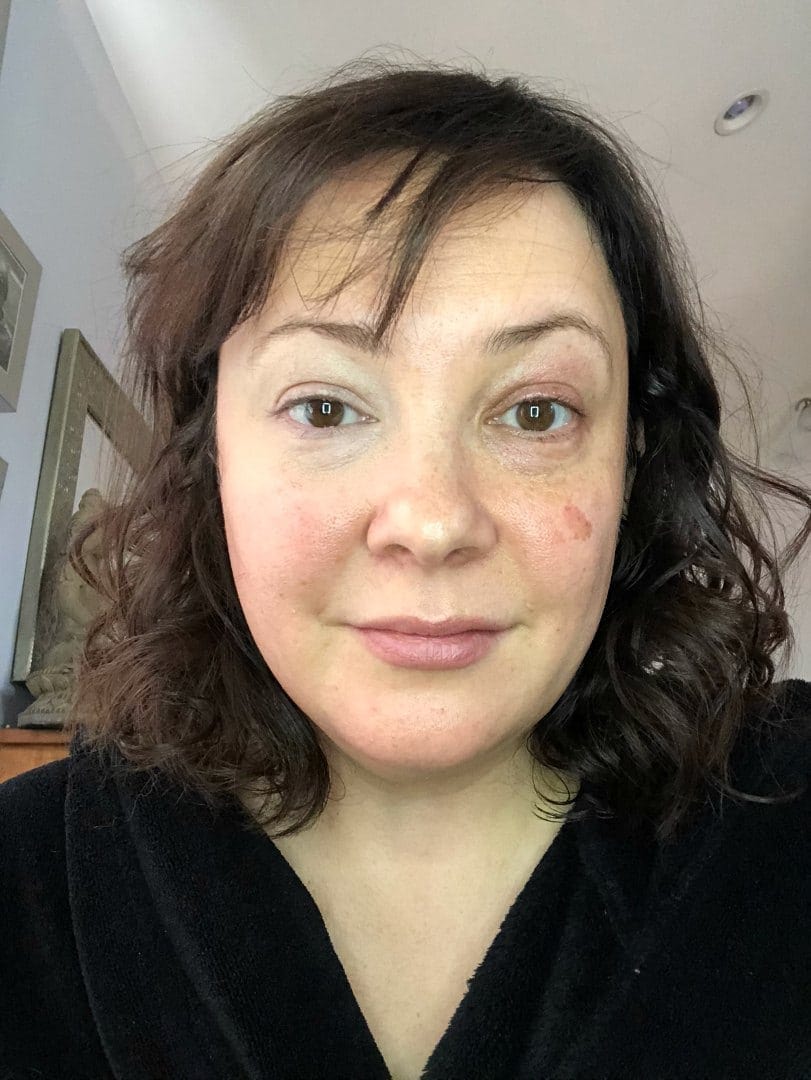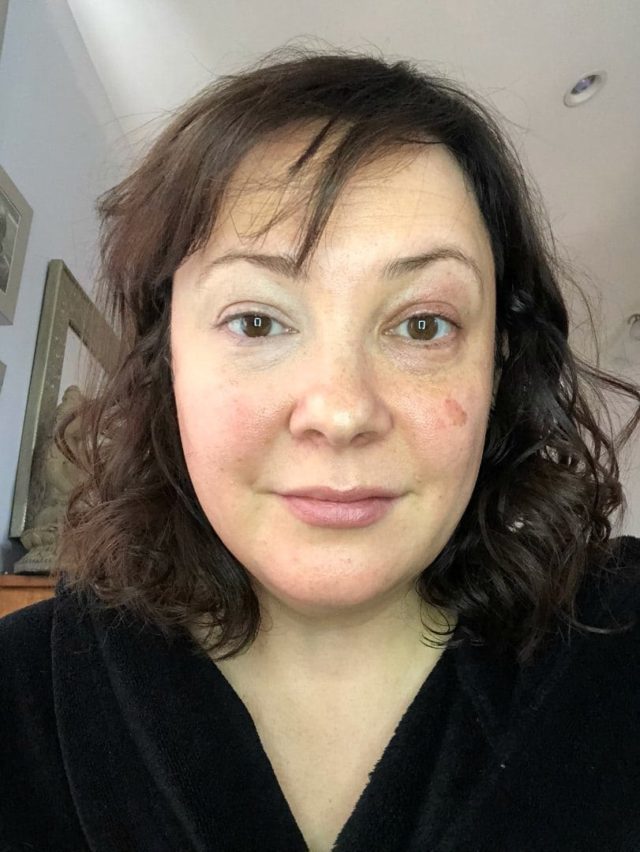 And here's the eye with the concealer, and one without. This concealer is a bit lighter than my skintone, which helps hide the dark circles. But this means I can't wear it by itself, it really looks weird until it's under at least a BB cream or a lightweight foundation. But as you see, it does a great job of hiding everything without looking like my skin is caked in product. I'm really loving this concealer, and it has become my go-to when I want a complete face or need makeup that will last for a long day or evening.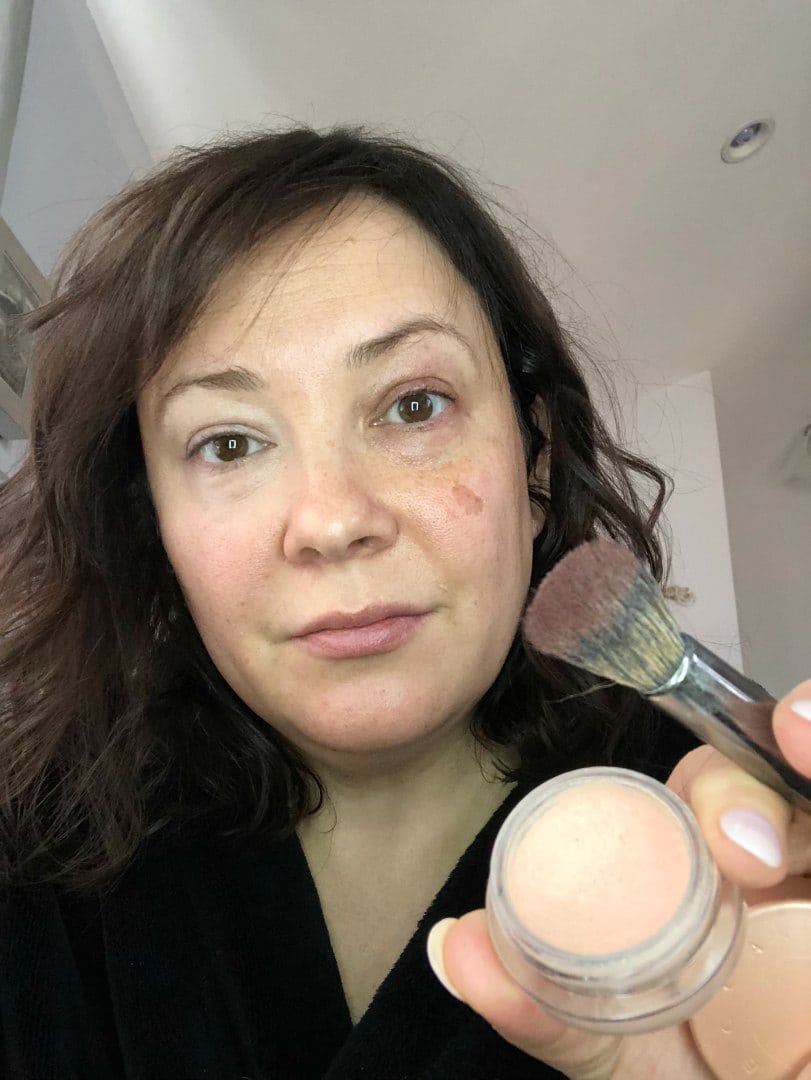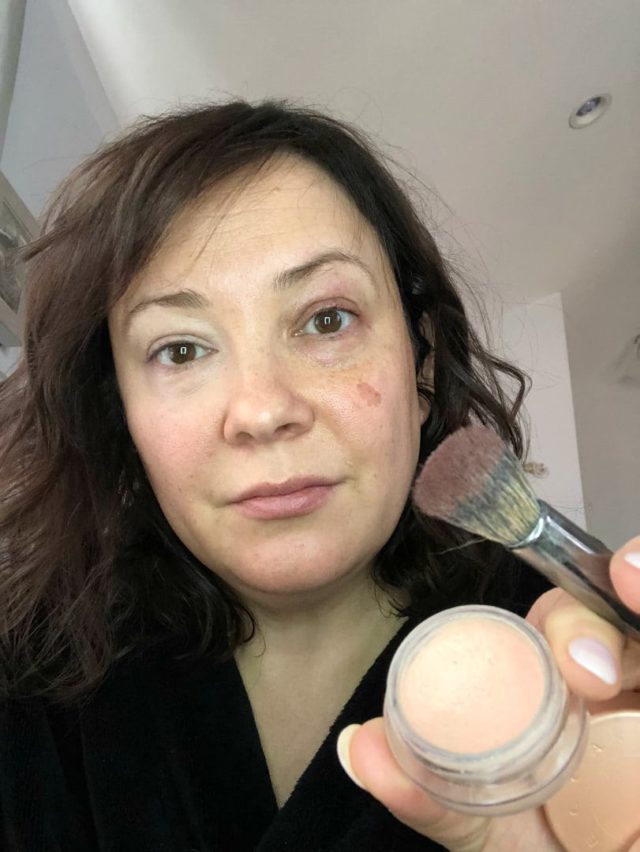 On my other eye (your right, my left) I am going to show the concealer process I was doing for months before I tried IT Cosmetics. It's a two-product process, but ends up looking natural and will hold up for a few hours. I start with Becca Under Eye Brightening Corrector in Light to Medium, applied with a brush (this is a Mophe brush that does NOT want to stay attached to its handle, here is a similarly shaped brush). I tap the dry brush into the Becca Brightener, tap around my eye, and use the brush to gently buff.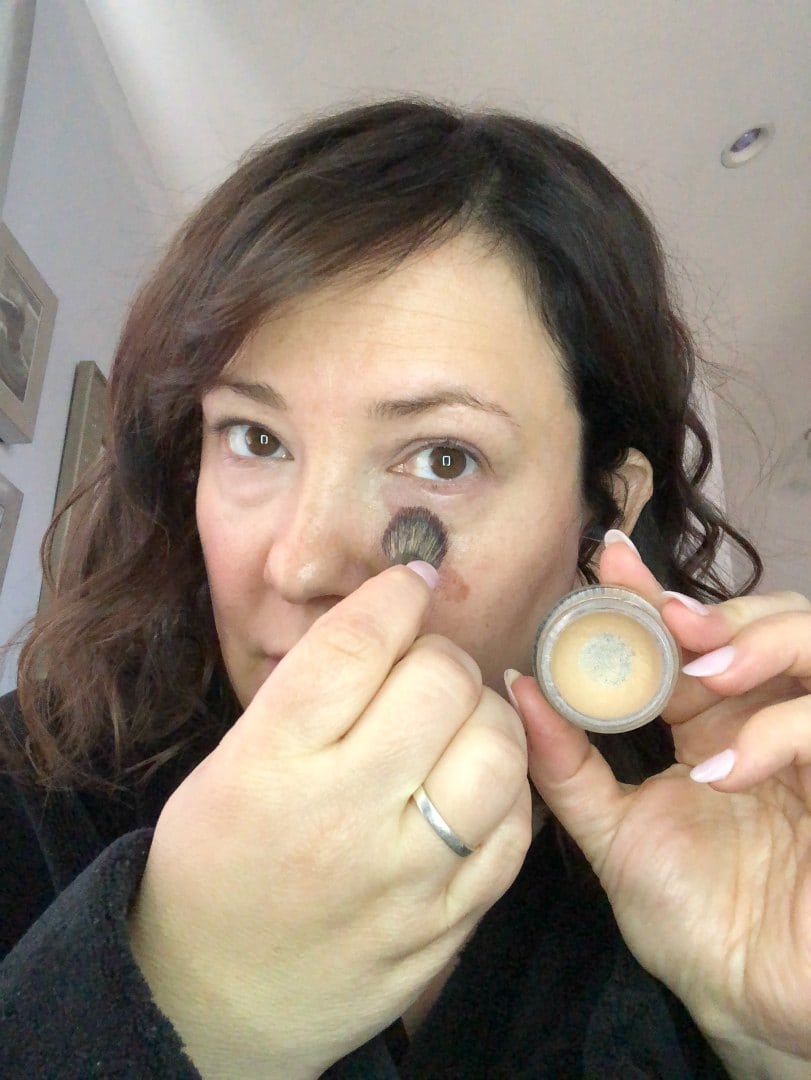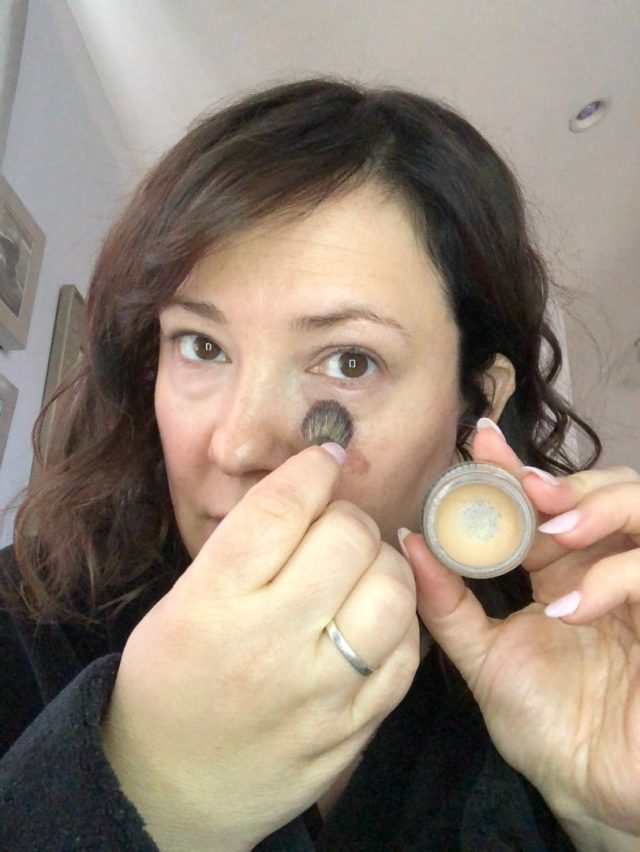 Then I use the same brush with Glossier's Stretch Concealer in Medium. I like the consistency of this concealer, that it stays in place without being too dry, and the color is a good match for my skin. Same process, I tap the brush in the pot and buff on the skin.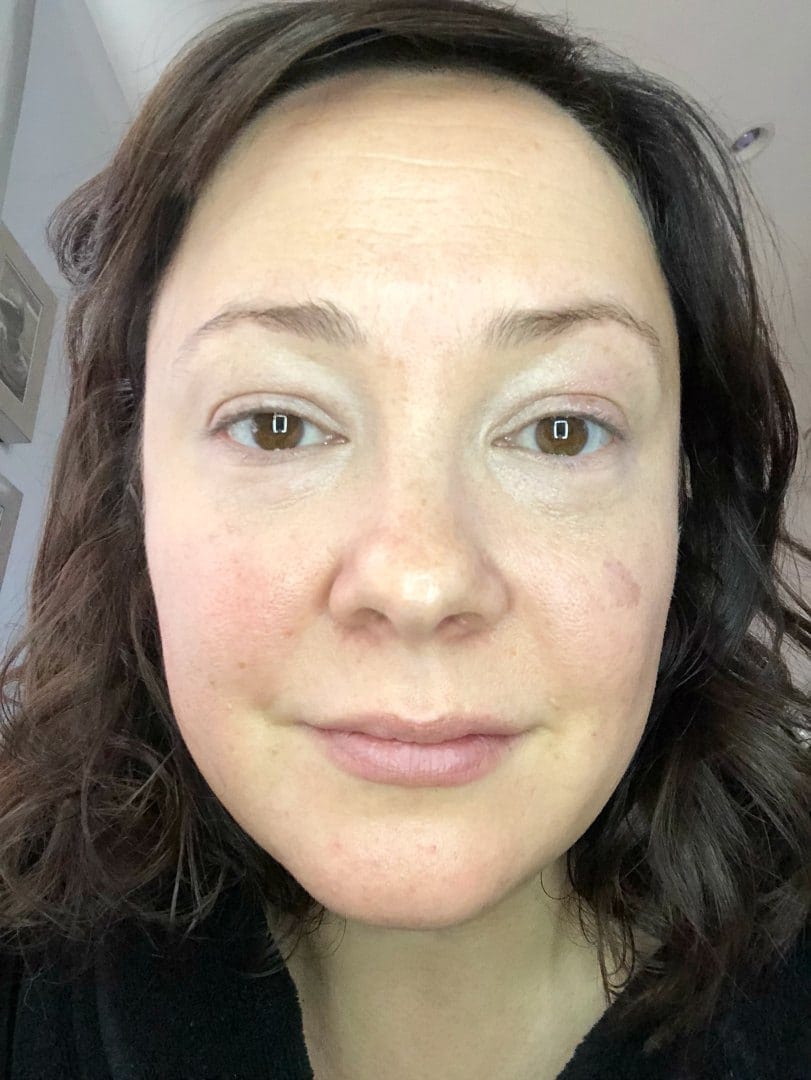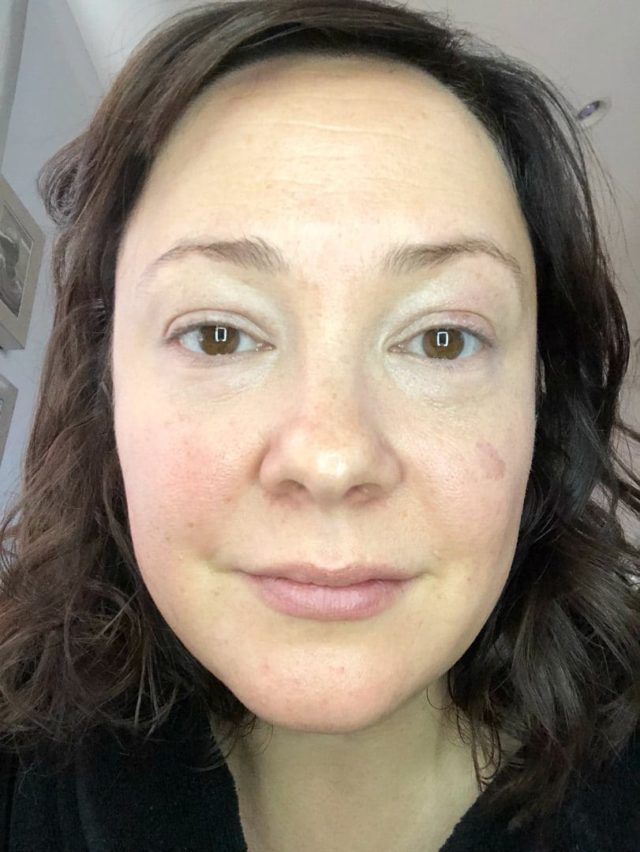 And here is the final result. Your left, my right is IT Cosmetics, your right and my left is Becca with Glossier over it. The Glossier option is a bit more creamy looking, closer to my natural skintone, and can be worn without foundation over it. However, it doesn't last as long and can sometimes crease.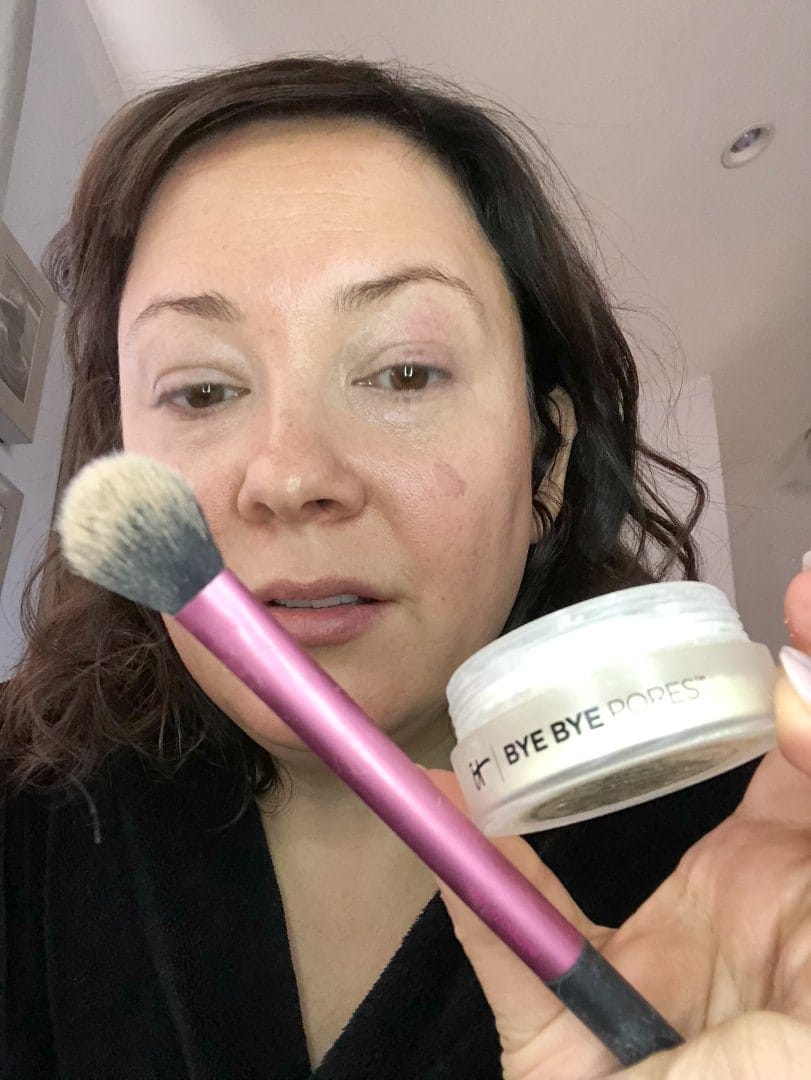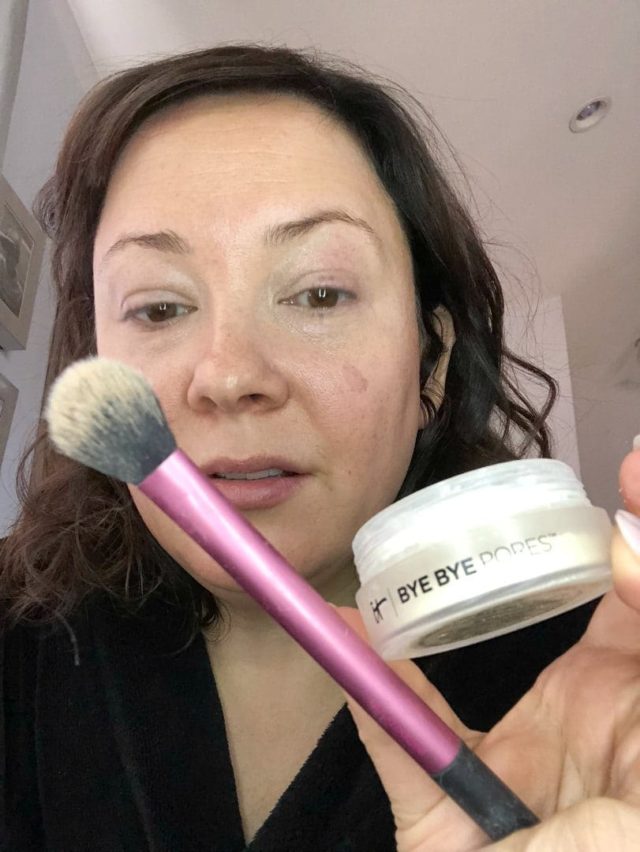 To prevent creasing, I will tap another Real Techniques brush (this one is the Setting Brush) into a tiny bit of IT Cosmetics Bye Bye Pores loose powder and gently brush/tap it under the lash line. Not so much it looks dry, but enough to set the concealer and prevent creasing.
Before trying IT Cosmetics, my normal daytime look was first applying Dr. Jart's Cicapair, and then the two-step concealer process, the hint of powder, a bit of blush, brows, mascara, and either lip balm or a red lip. Since I started with a completely bare face, I am going to bypass this look and show you the one I do with IT Cosmetics (though the Glossier concealer is still on the one eye).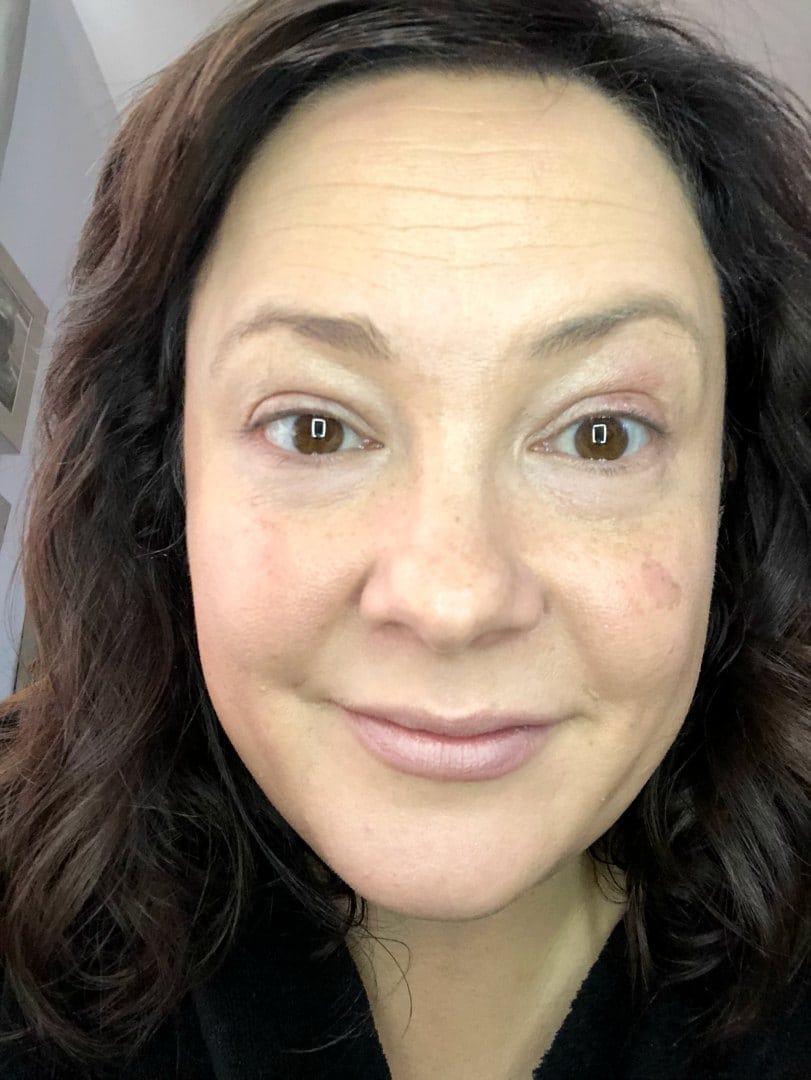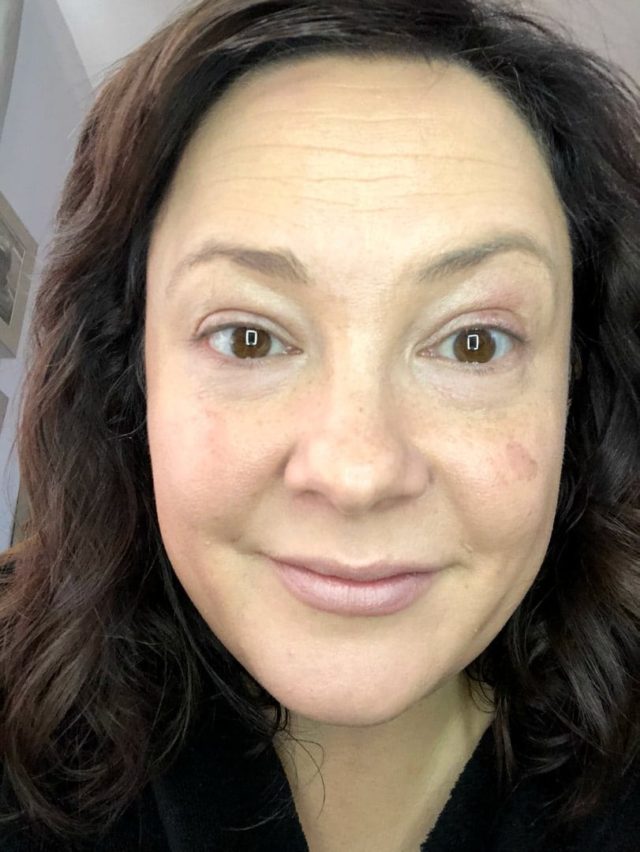 I apply the IT Cosmetics Your Skin But Better CC+ Cream in Medium in dots all over my face, and then use my fingers to blend. Sometimes I pull out the Real Techniques Expert Face Brush again to buff it all; soft swirls of the brush helps the product settle into the skin and look more natural. My goal isn't to hide everything, just to look myself only better. This CC cream is buildable; I use more of it instead of concealer to hide the bumps on my chin and the redness under my nose and can apply it heavier if I wish to have a more perfect finish to my skin. I love that it is SPF 50, and is inflused with hydrolyzed collagen, peptides, niacin, hyaluronic acid, antioxidants and vitamins A, B, C and E. My skin stays looking hydrated and this doesn't cake, crease, or get weird throughout the day. This is the effect with maybe a pea-sized amount of the CC Cream: me only better.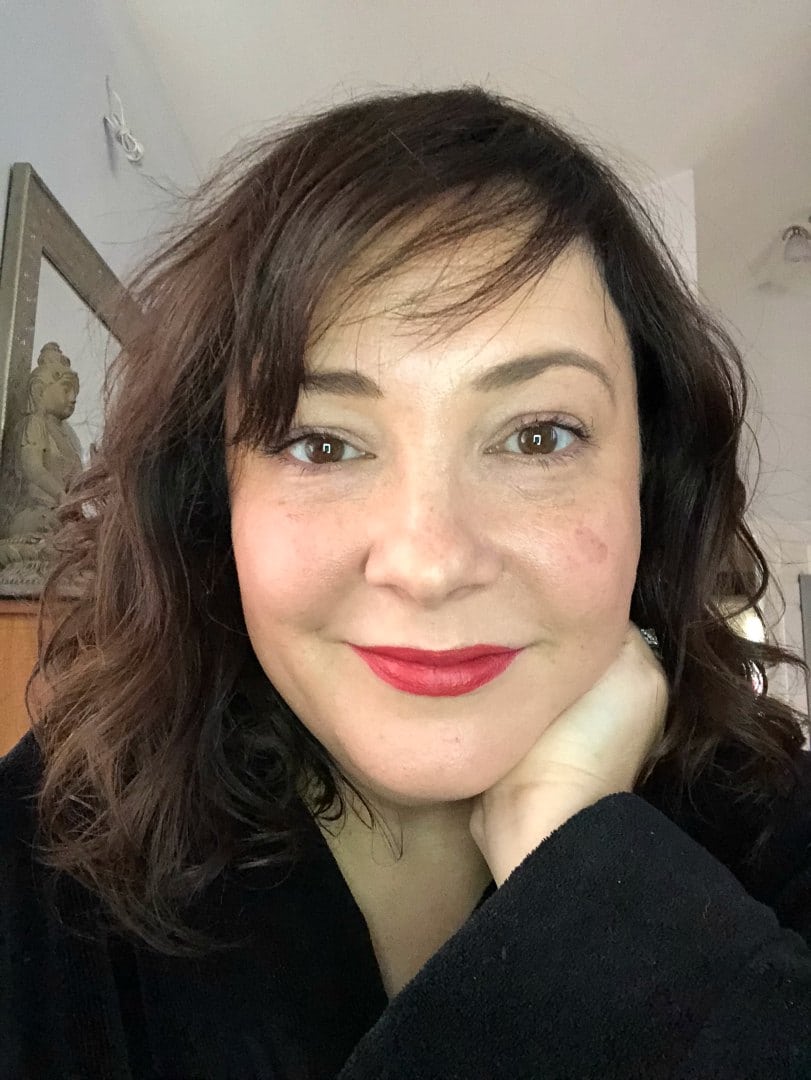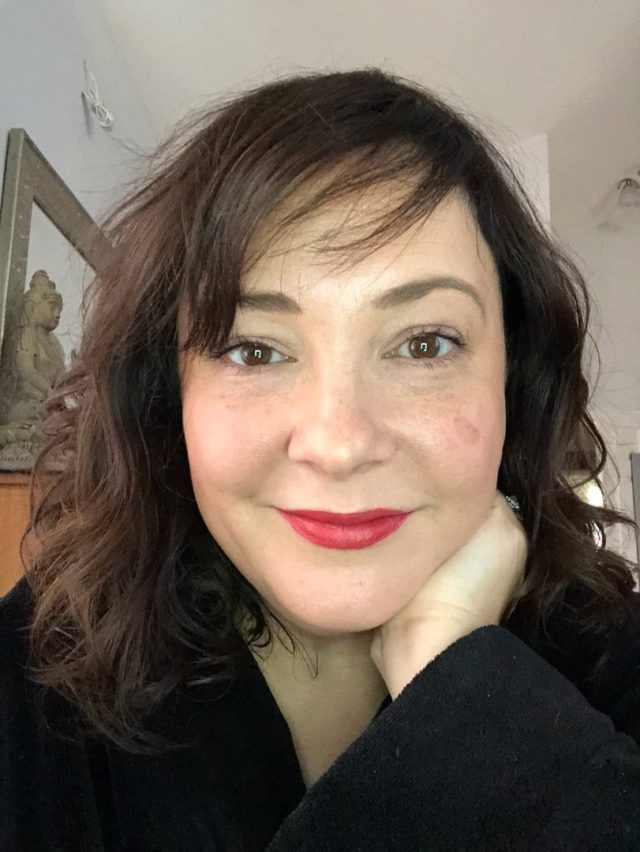 And this is my finished face. I use Tarte Amazonian Clay Brow Mousse on my brows (it comes with a two-sided brush so you can apply with the slanted brush and blend with the spoolie). On my cheeks is NARS blush in Sex Appeal, applied with the Bobbi Brown blush brush. This blush is like their famous blush color Orgasm, but a little less intense of color and without the shimmer. I used to focus on the apples of my cheeks but as I have gotten older I think it looks better to start at the back of the apple and swipe up towards my temples. I curl my lashes with the Kevyn Aucoin lash curler and then applied Blinc's Mascara Amplified in Black (original review of this mascara here). My lids were looking a bit red, so I added some Perricone MD's No Eyeshadow Eyeshadow to them. To set it, a spritz of rosewater and glycerine. Today I felt like a red lip, this one is my everyday go-to: L'Oreal Riche Matte in Eva's Red. The final effect is polished, it lasts for several hours, but isn't a lot of color or a lot of effort.
Many of you were curious about IT Cosmetics, which is why I bought the concealer and CC Cream last month. I get the hype, this line can really transform your skin without making it look caked on. I listened to an episode of the podcast Fat Mascara where the founder, Jamie Kern Lima was on. I liked her, I liked the story about the brand, and was pleased to find the products work as well as they claim to on the informericals. I also dig that the line is and always has been cruelty-free. I only wish the line had a more extensive color range. It's ridiculous to have only seven shades available, especially with the darkest being "Deep" which looks like a shade of medium tan that is likely too light for most women of color. A quick glance on their website shows negative reviews for their limited size range going back for years yet they haven't added more colors. IT Cosmetics can be purchased on the brand's site, but I got mine from Sephora so if I didn't like it I knew it would be easy to return.
Full Face Recap: