This article may contain affiliate links; if you click on a shopping link and make a purchase I may receive a commission. As an Amazon Associate, I earn from qualifying purchases.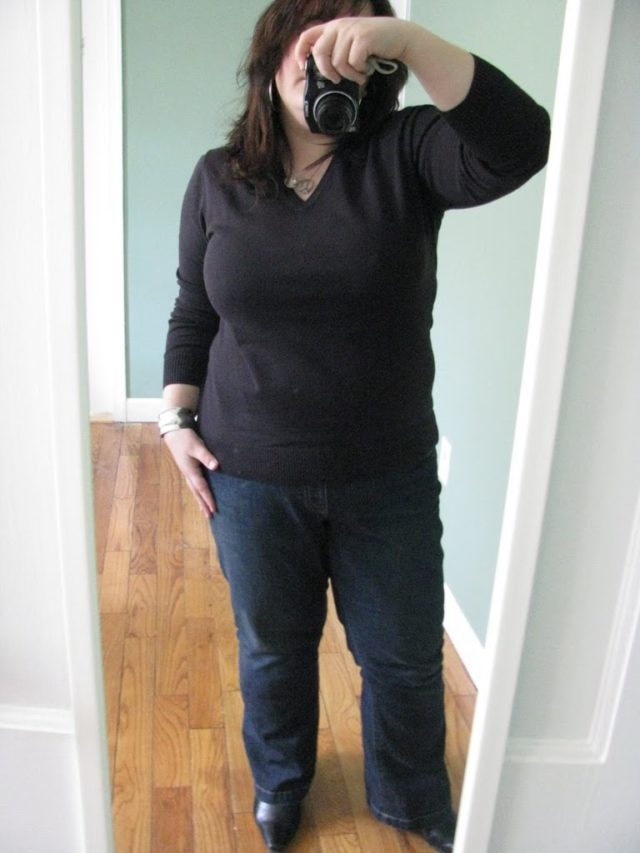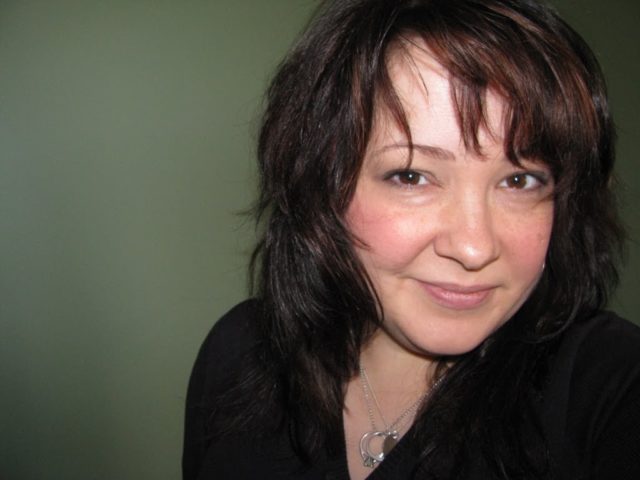 Attire:Lands End – Black fine gauge cotton v-neck
Gap Maternity – Long & Lean jeans (regular jeans don't work yet)
David Tate – Black leather city boots
Silver hoops & cuff
Hair:
Second day
Straightened dry with round brush and dryer
Beauty:
L'Oreal – True Match foundation in C3
Nars – Blush in Orgasm
Revlon – ColorStay shadow quad in Neutral Khakis
Cover Girl – LashBlast mascara in Rich Black
Benefit – Lipstick in Bouquet Dive (though applied a couple hours before this picture)
Today I worked from home and had my six-week post partum appointment. They say I am healing just fine and I have the green light for exercise and what got me pregnant in the first place. 😉 I wanted to weight myself (I don't own a scale) but completely forgot so not sure how much I have lost. That's Life reminding me it's only a number and what is important is feeling good, being healthy!
I haven't lost a ton – I do not fit in any of my old pants and don't really fit in a size above except in some forgiving cuts. However my arms and shoulders and lower legs do feel as though they are back to normal. I haven't been exercising other than 11 lb. Baby Curls each time I pick up and put down my daughter (and breast feeding burns 400 calories a day). However since her birth, I have had French fries once (last night to celebrate my first day of work), pizza once, and that is the only fast food.
Other than an occasional veggie, carrot or orange juice with breakfast or a random glass of wine immediately after Emerson's feeding I have only consumed water as a beverage, and tons of it (at least 60 oz. a day). I really think it is being stuck at home – portion control, no fast food, not really any alcohol, fresh foods (and yes, you can find time to cook with a newborn – you just have to know how to cook fast and fresh beforehand). I hope to continue this when back to work by being good about bringing my lunch and having breakfast at home before I leave.
Success Foods The Past Two Months:
Pre-made Quinoa for Breakfast – Quinoa is awesome for fiber and protein as well as many other things. I cooked up a whole bag of Bob's Red Mill quinoa and stuck it in the fridge. I took a bag of frozen blueberries and dumped it in a food storage container, and with it added brown sugar and raisins. For breakfast I would take a cup of quinoa and pour some blueberry mixture on top, drizzle some water on top and heat it up in the microwave for a minute. Super fast and delish. The first couple of weeks I would add some of that no-flavor fiber stuff to help with… well you read about it in the post about Emerson's birth.
Stir-fry Dinners – Uncle Ben's 90 second brown rice packets, and then in a frying pan I would toss some frozen or fresh veggies, occasionally mixed with a can of water chestnuts or bamboo shoots. There are tons of pre-made sauces on the market – teriyaki, chili sauce, etc. A bit of that and in a couple of minutes you have a really great, healthy, and speedy meal.
Chik'n Sandwich Lunches – We throw the faux breaded chicken patties (I love the spicy ones) in the toaster – two times on the highest setting gets them crispy (foil under the toaster to catch drips). Multigrain bread, horseradish mustard, half a smashed avocado, a slice of cheese, and various veggies (field greens, tomato, thinly sliced carrot, cucumber, red onion, whatever is on hand). I add mayo or hummus on occasion to switch it up. Can be made in under five minutes and it tastes super yum and fun. These are great ot be made ahead of time, toast the bread, then wrap in foil and take to work. All the stuff melds together and it's a delish bag lunch.
Not Your Average Spaghetti Sauce – We use regular or whole grain pasta, and the sauce is a random mix. Can of crushed tomatoes, leftover spinach, two leftover mushrooms, can of black olives, some faux beef, crushed red pepper, shredded carrot, a bit of salsa, cream of mushroom soup, the drips of red wine at the bottom of the bottle, feta cheese… not all at once, but a combo that makes sense and cleans out the fridge. At least as much sauce as pasta so you're filling up on veggies and protein, not carbs. We do this like once a week before we go to market to gut out the last of the crap in the fridge.
Well the day is done so I am off to hang out with the family! Have a wonderful weekend!