This article may contain affiliate links; if you click on a shopping link and make a purchase I may receive a commission. As an Amazon Associate, I earn from qualifying purchases.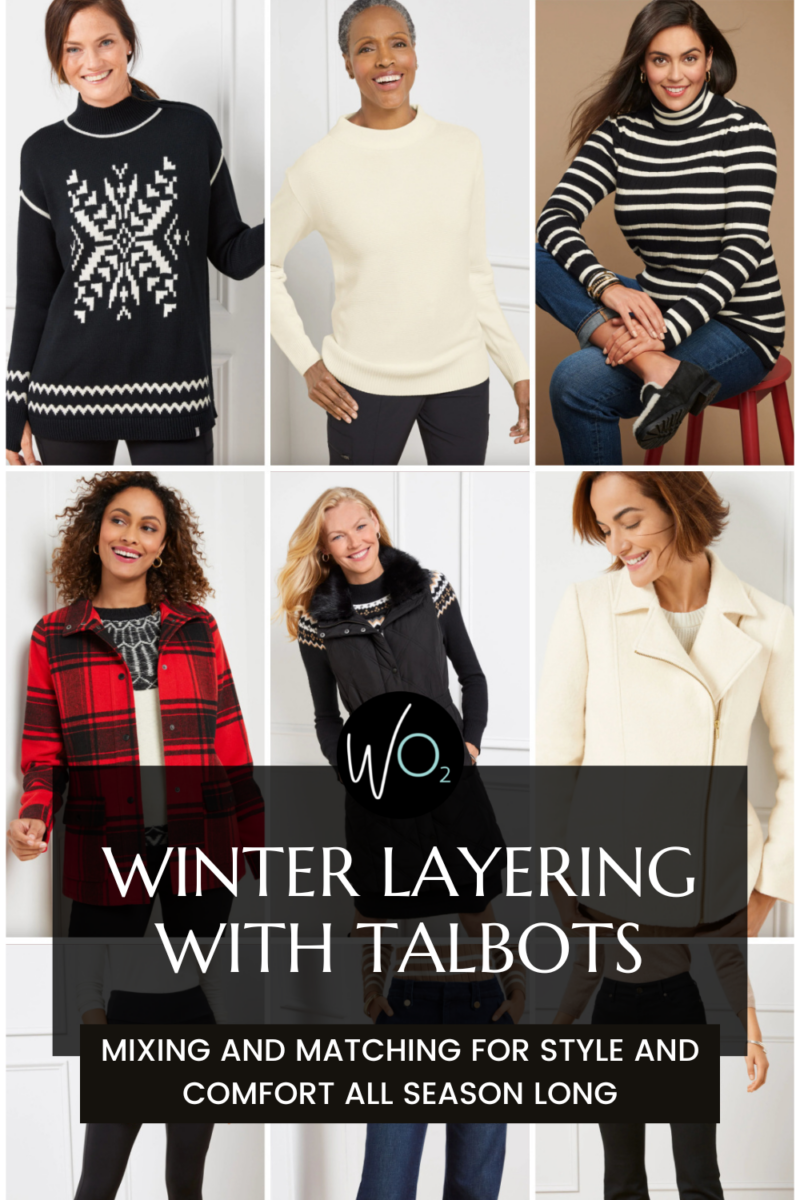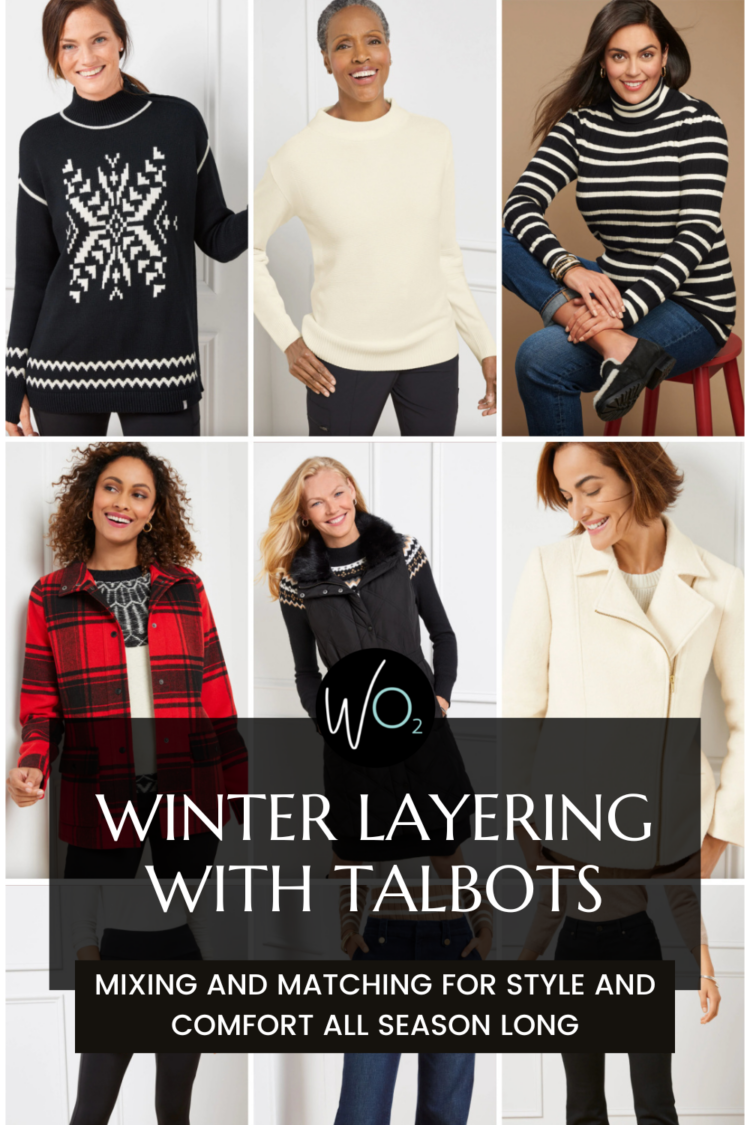 Where I live in the U.S. it can be 60 degrees and rainy one day in December, the next day it can be below freezing with snow, and the day after it can be sunny and in the mid-50s. I've learned that winter layering is a must. It not only means you can shed layers when it gets warm; layers will keep you warmer and more comfortable than a single heavyweight piece. Below I share how I layer for winter with Talbots, and how layers can be quite versatile!
This post is sponsored by Talbots.
Talbots Winter Sale: Fa La La La Event For 40% Off
Talbots currently has 40% off your regular-price purchase, no promo code is necessary, discount will show in your virtual shopping cart. On top of that, Talbots is offering 50% off markdowns (again your discount will show in your cart). This is a fantastic way to save on what I find to be one of Talbots' greatest winter collections yet. See below just a few of the pieces from their current collection and how I layered them for winter!
Winter Layering with Talbots
Any style icon or individual who lives in a part of this world with multiple seasons knows the power of layering. Layering offers more warmth, more versatility, and more opportunity to express your style and dress appropriately for the occasion. I took three different cuts and purposes of pants, three sweaters with different cuts, and three different layering pieces to show how you can extend your wardrobe and achieve appropriate looks for different situations with a small wardrobe.
The Talbots New Arrivals are full of pieces made to perfectly layer with one another. Offering color stories and patterns designed to play well with one another, it's easy to create a mini capsule wardrobe that you can switch up to create beautiful looks. I decided to stick with a color story of black and ivory with red as the pop of color.
For reference, I am 5'3″ tall and in Talbots, I am usually 14 petite. I appreciate that Talbots is one of the few retailers that carry petite in Misses and Plus sizes. I also usually find Talbots to be sized consistently; the size I wear in jeans is the same size I wear in trousers, skirts, and dresses.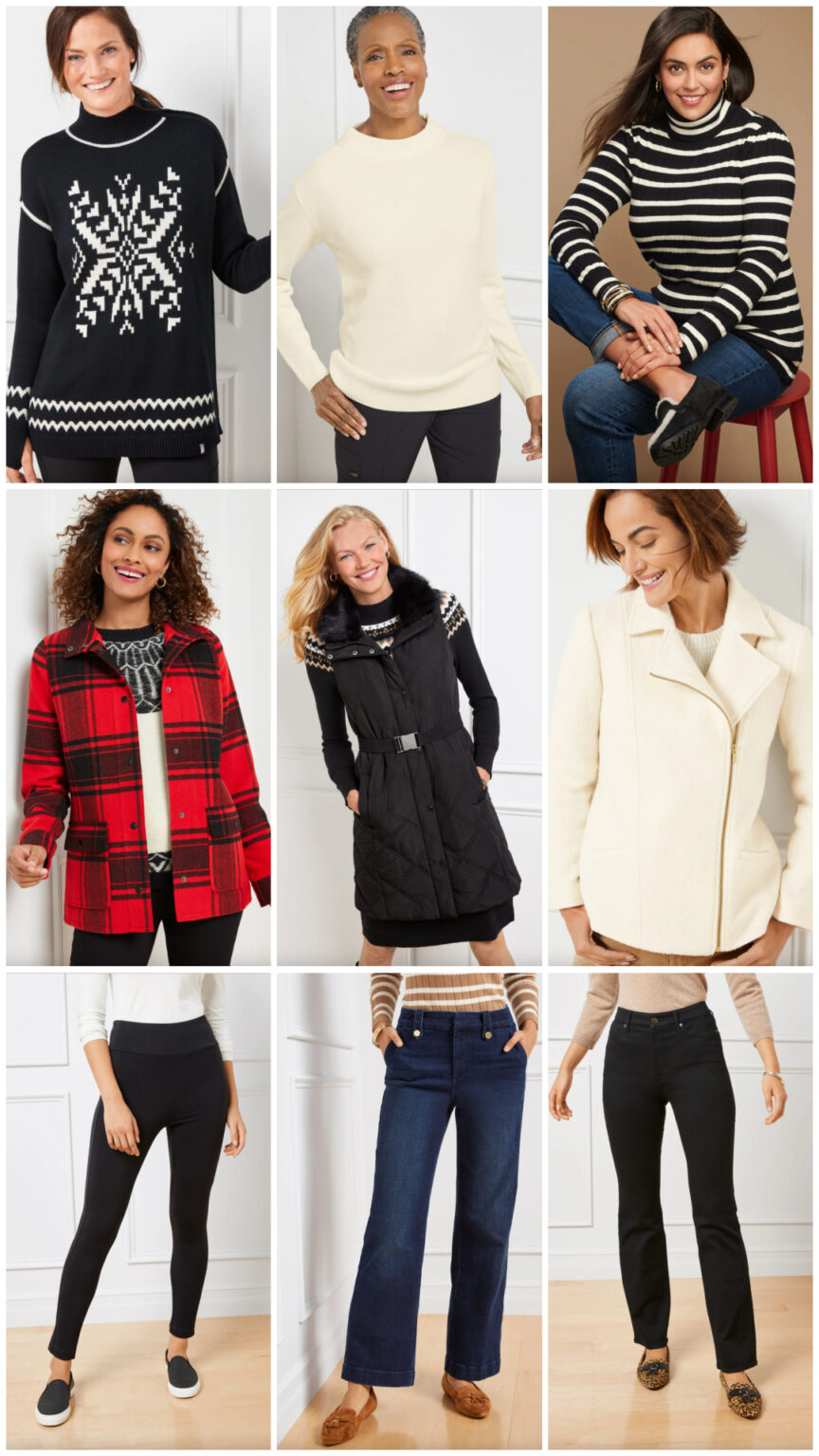 Everything I am wearing below from Talbots is a Large Petite or 14 Petite except the leggings which are XL, the plaid jacket is XL, the jeans are regular, not petite, and the snowflake sweater is L regular, not petite. Non-petite sizing was chosen when applicable to provide additional length.
Styling a Sophisticated Shacket, The Must-Have Layering Piece for Winter
The "shacket," a jacket and shirt hybrid, has been a popular layering piece for two years and I doubt it will disappear any time soon. A shacket looks like a shirt but is of a heavier fabric that makes for a lightweight jacket or a very cozy layering piece in the winter. This jacket from Talbots is an elevated shacket with a lining and stand collar. I appreciated these extra details, and how they add versatility to dress up or down.
Called the Fireplace Plaid Jacket, the classic cut with snap closure and snap patch pockets makes for a great fall jacket, or can dress up and replace a blazer for many ensembles. It can be worn with a graphic t-shirt and distressed jeans, or over a cashmere turtleneck and wool trousers.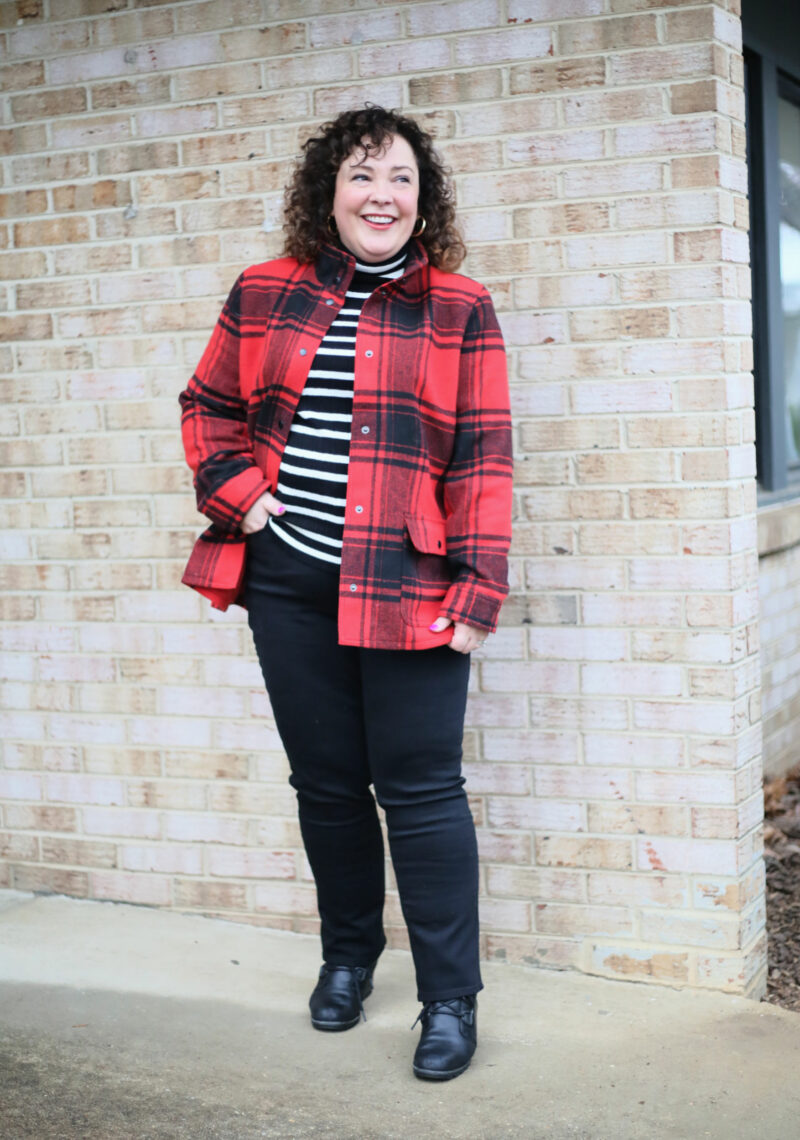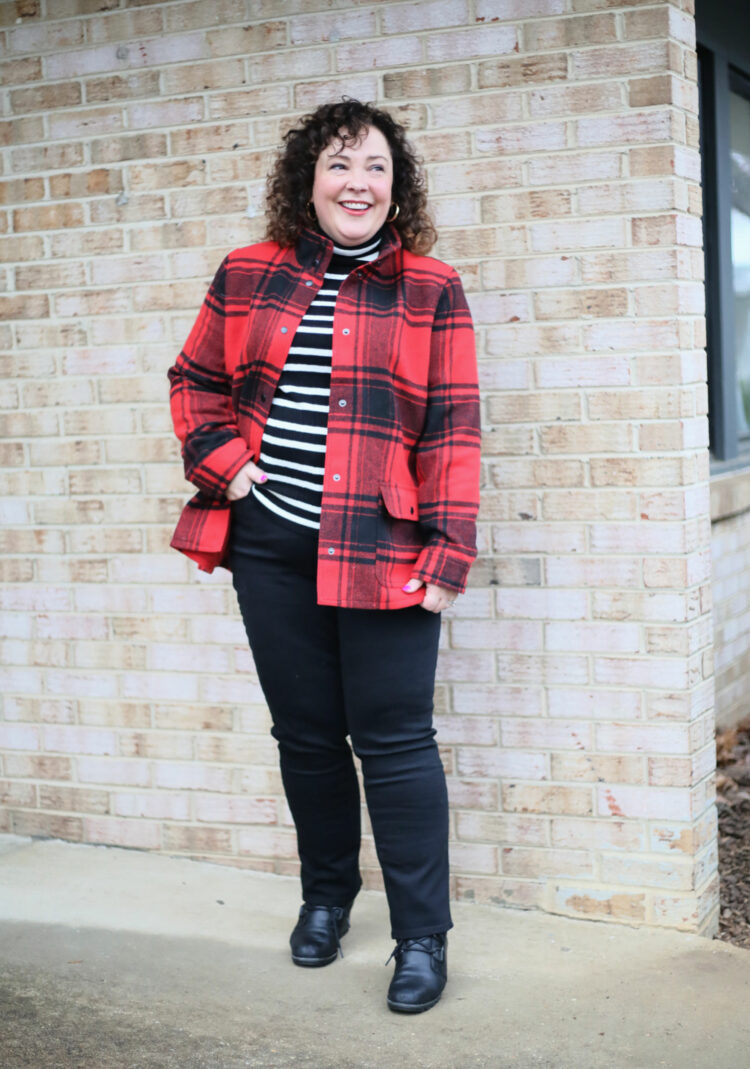 Here is a casual weekend look for this elevated shacket, styled with this turtleneck from Talbots and these jeans and a pair of comfy waterproof boots perfect for backyard firepits, leaving the sidewalk and heading into the woods on a walk with the dog, taking the kid to their games and practices, and just heading to Target for last-minute holiday supplies.
You'll see throughout this post that I LOVE this turtleneck. It is ribbed, but with a different finish on the cuffs and hem to add elegance. The sleeves are slightly puffed just to add style and dress it up. For me, the turtleneck is perfect – not too tight, not too floppy, and it keeps its shape. It looks great tucked in or left out, dressed up or down, and isn't too heavy to wear under all sorts of layers.
I have always been a fan of Talbots jeans; go through my archives and you'll find me raving about the fit, the washes, and the weight of denim. I lacked black denim in my wardrobe and these black jeans with a high (but not too high) rise and a subtle baby bootcut flare are perfect for fitting over winter boots and under fleeces or glamming up with a subtle heel and sequins.
This look could be elevated with a switch of shoes to a black leather bootie or loafer. Tuck in the turtleneck to dress it up further; this also provides an opportunity to add a third pattern for interest (my personal favorite is a leopard calfhair belt).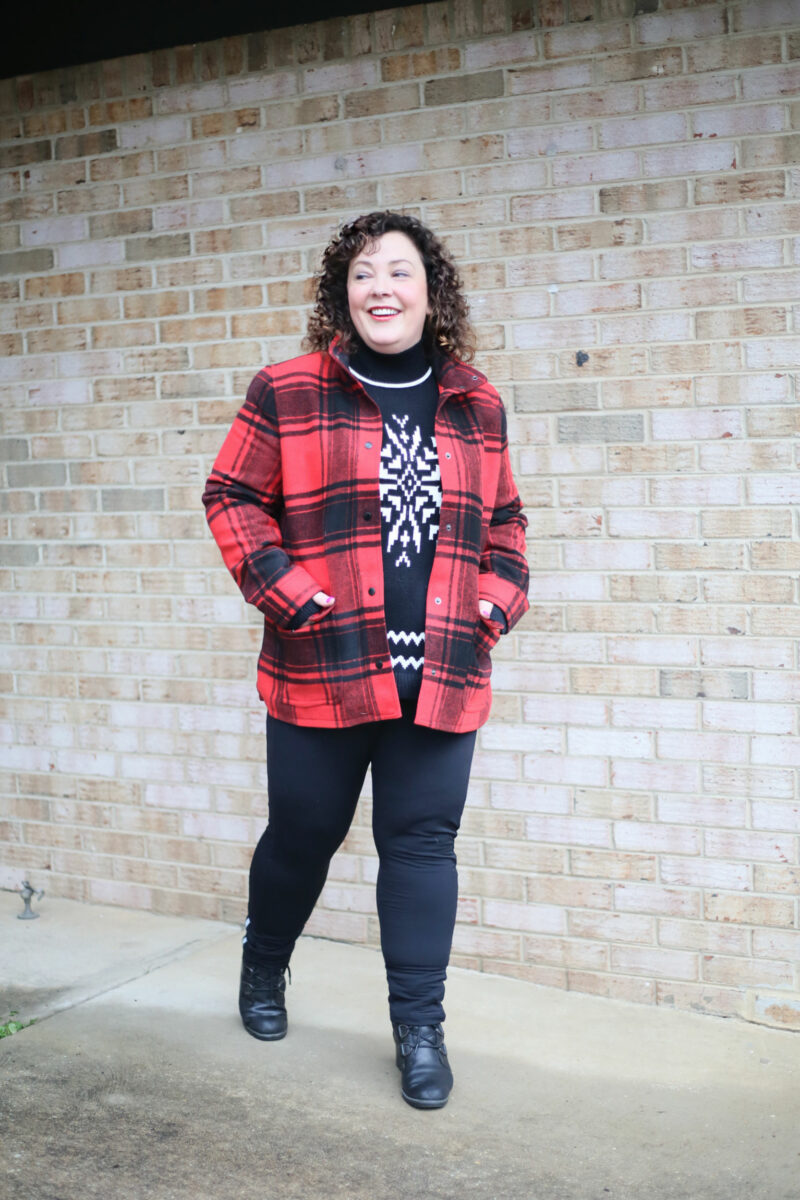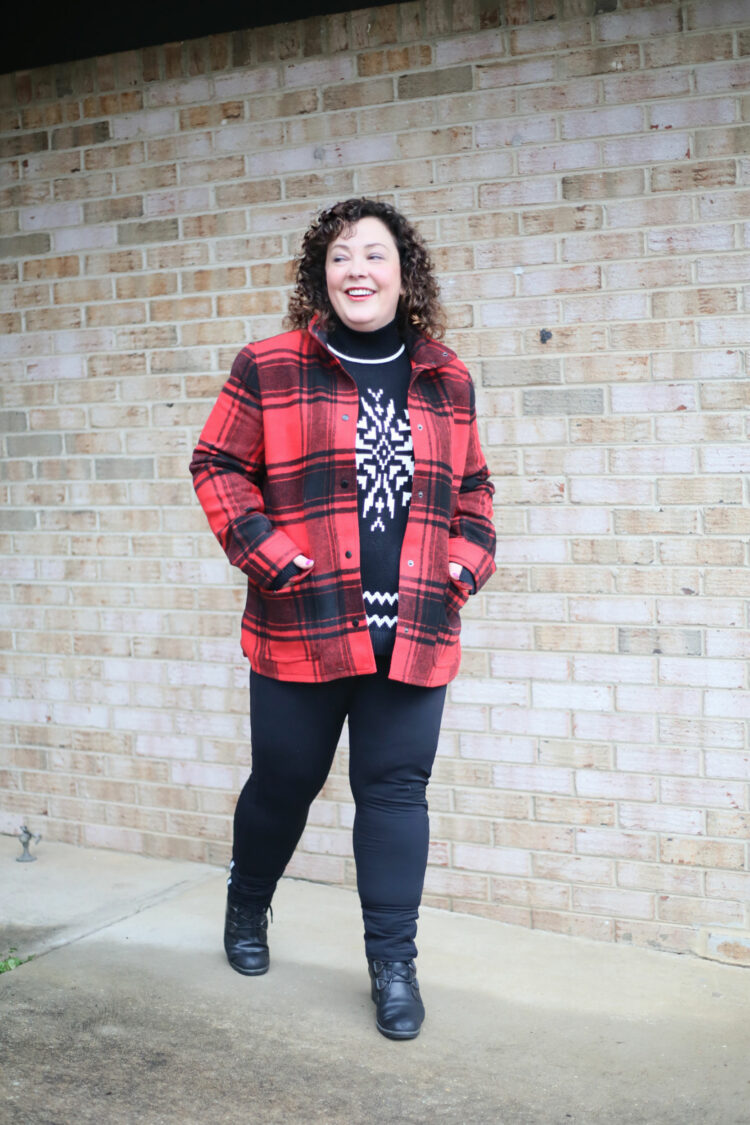 Similar yet different… here I styled the same Talbots Fireplace Plaid jacket over the Talbots Thermolite Snowflake Turtleneck Sweater and Talbots Therma-Stretch Leggings. A bit more casual, a bit more warmth. You could easily switch out the shoes for taller boots or snow boots and throw a parka or puffer vest over for more warmth. I forgot to bring this hat for the shoot, which I've been wearing nonstop, especially with this sweater. It finishes the look beautifully.
This sweater isn't bulky but a blend of cotton, wool, and Thermolite it's surprisingly warm for its weight. I really like the shoulder to neck zipper; it keeps the mock neck looking crisp and fitted and means you can get this over your head without mussing your hair. I also sometimes leave it partially unzipped and fold over the neck. The sweater has thumbholes, but the cuffs are designed so you can fold them up if you don't want to utilize that detail. This is a sweater that can dress up and down while also being practical.
The leggings have a brushed fleece interior and wind-resistant exterior to keep you cozy on chilly days. There is a reflective stripe at the ankle of each leg and a back zipper pocket for your keys, ID, and other small essentials. If you have tried the fleece-lined leggings from Talbots in the past these are different in a good way. Better stretch and bounceback, better fit. I sized up based on previous years' winter leggings but really didn't need to. They've washed great; I washed and dried them twice before this shoot!
Styling a Dressy Wool Moto Jacket, a Chic Blazer Alternative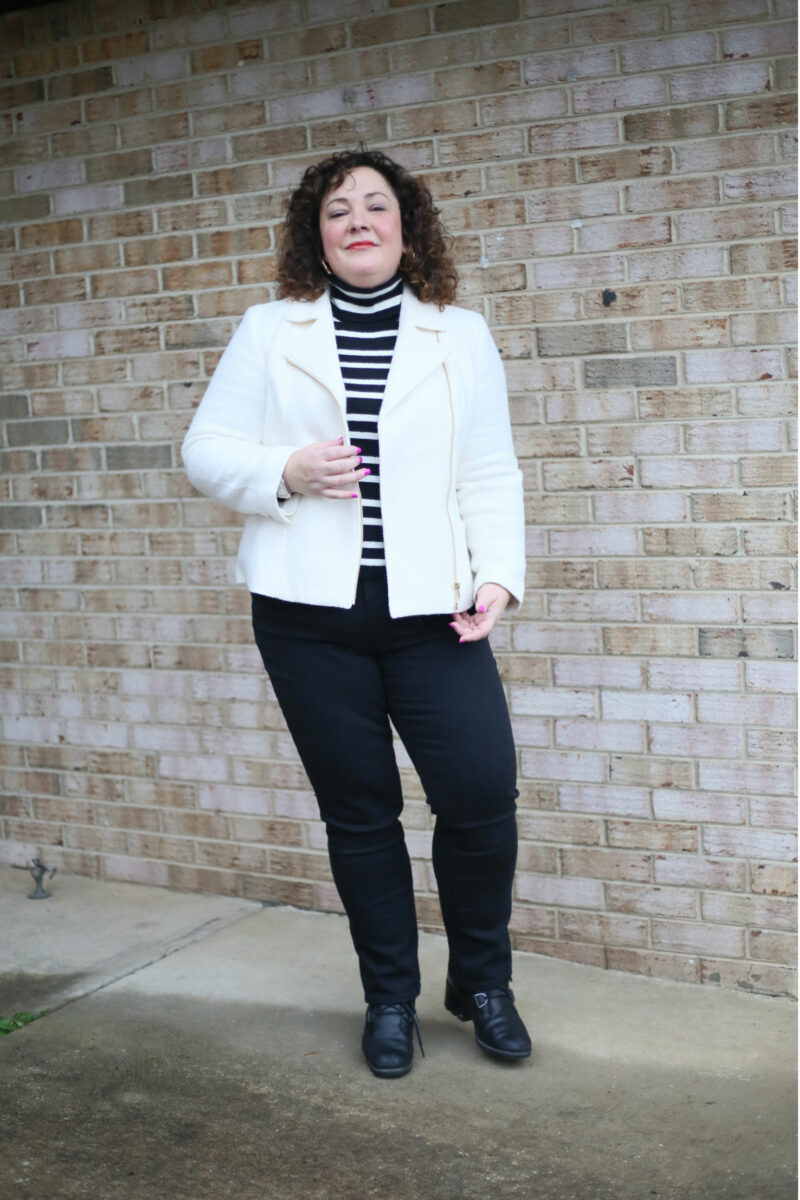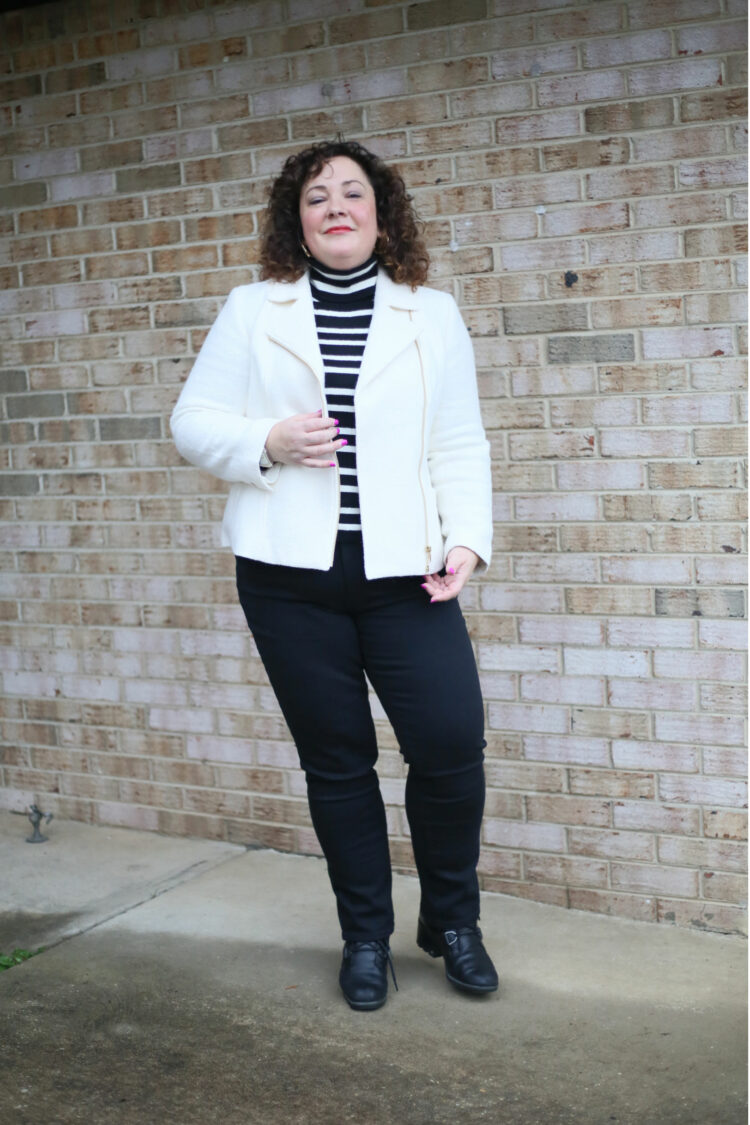 Does this outfit look familiar? It's the same exact one I was wearing at the top of this article, I just switched out the plaid jacket for this ivory boucle-textured moto jacket from Talbots. With gold zippers and gold working snaps at the cuffs, this lined jacket is elegant and cozy. And it's amazing how just switching out the top layer transforms a look into something that would be at home in a business casual office. This jacket really elevates this turtleneck, and black denim dresses up far more easily than a blue wash.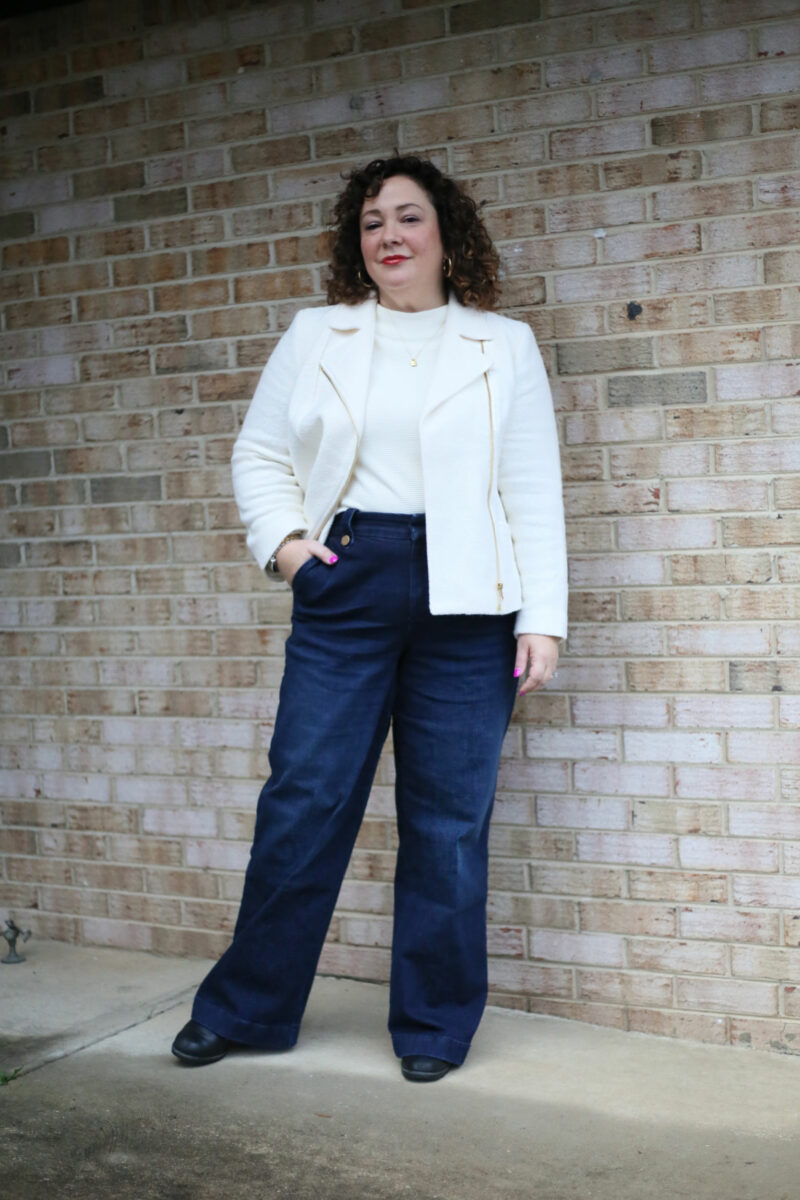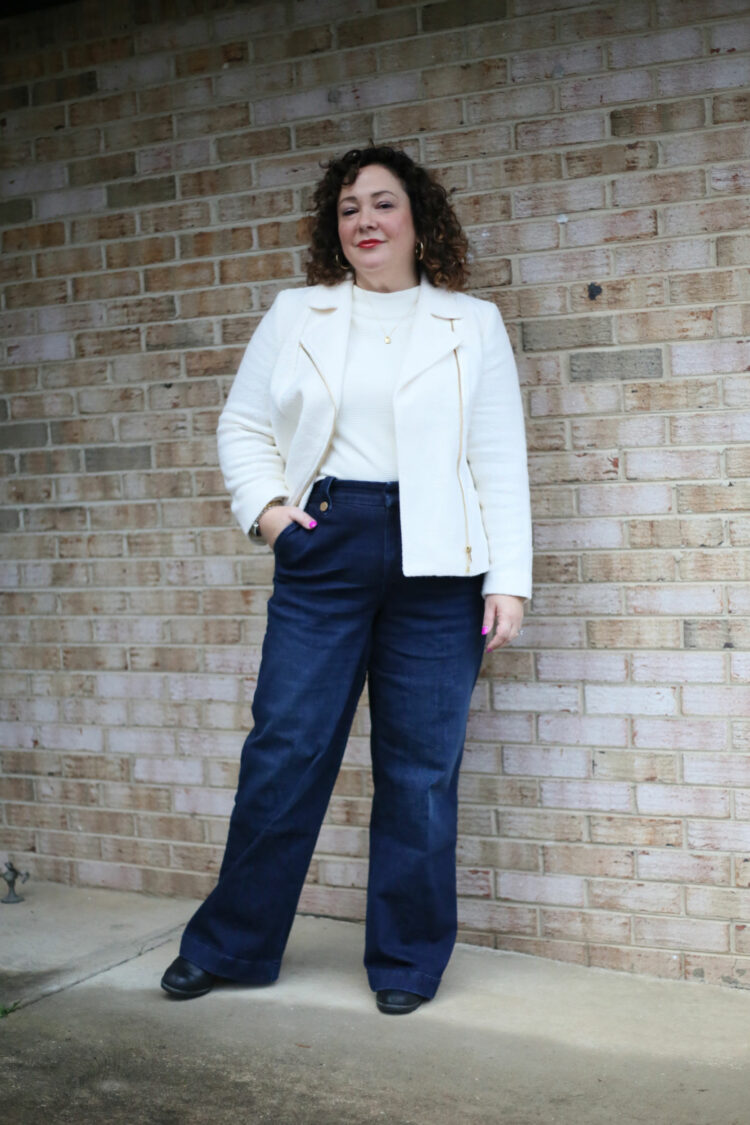 Here, I dressed up the ivory moto jacket by adding an ivory sweater and wide leg jeans, both from Talbots. It would be elevated even further with a switch to a polished boot or loafer with a slight heel.
The exact sweater from Talbots that I am wearing is sold out in this color but it's still available in black. I love how soft and smooth it is, and the variety of ribbing adds interest and makes it look more elegant. However, this look would be equally as lovely with one of my favorite cashmere sweaters ever – the Audrey from Talbots. I own several from over the years and find the weight, quality, and fit of this sweater excellent.
I've been on the hunt for wide leg jeans for a while, finding it hard to find pairs that work on my petite frame and my soft curves. I really like these from Talbots, which are an on-trend wash and have cool sailor-inspired details but unlike most sailor jeans with a side zipper, these have a traditional fly and belt loops. I went with a 14 so I'd have more length to style with heels; a petite would have been a bit more perfect in the rise and great with flat shoes. I really like these jeans, in fact, I'm wearing them as I type this!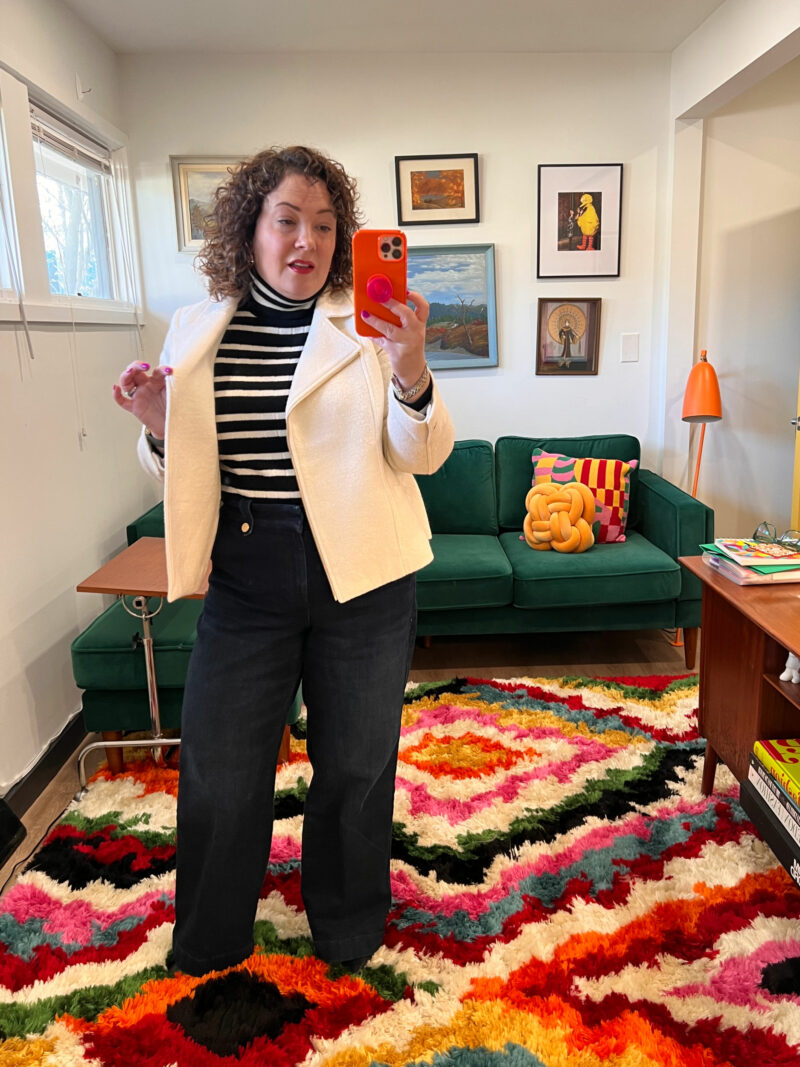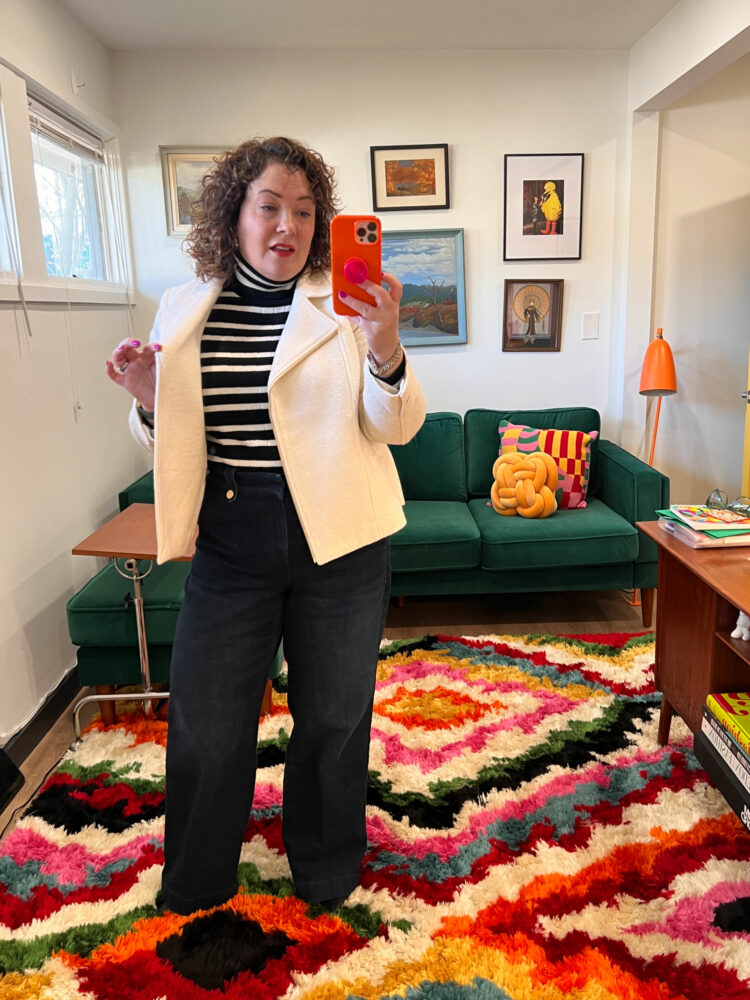 In fact, I am wearing a hybrid of these two looks today! The same moto jacket with the ribbed turtleneck tucked into the wide leg jeans, this time styled with a sleek leather boot. This look would be at home at most workplaces that allow polished denim, and would be great for brunch with friends, dinner out, or almost any winter activity.
Styling a Long Puffer Vest
When I shared the pink Talbots puffer vest I added to my wardrobe this season, a few said they prefer outerwear that covers the rear. Far better for cold weather (and cold stadium and bus stop seating), this elongated Faux Fur Collar Belted Puffer Vest from Talbots is a chic choice. The belt is removable, as is the faux fur trim. The two-way zipper lets you customize fit and be comfortable in the car, and the snap placket hides the hardware elevating the entire look. This is the kind of puffer you could rock with a dress and boots.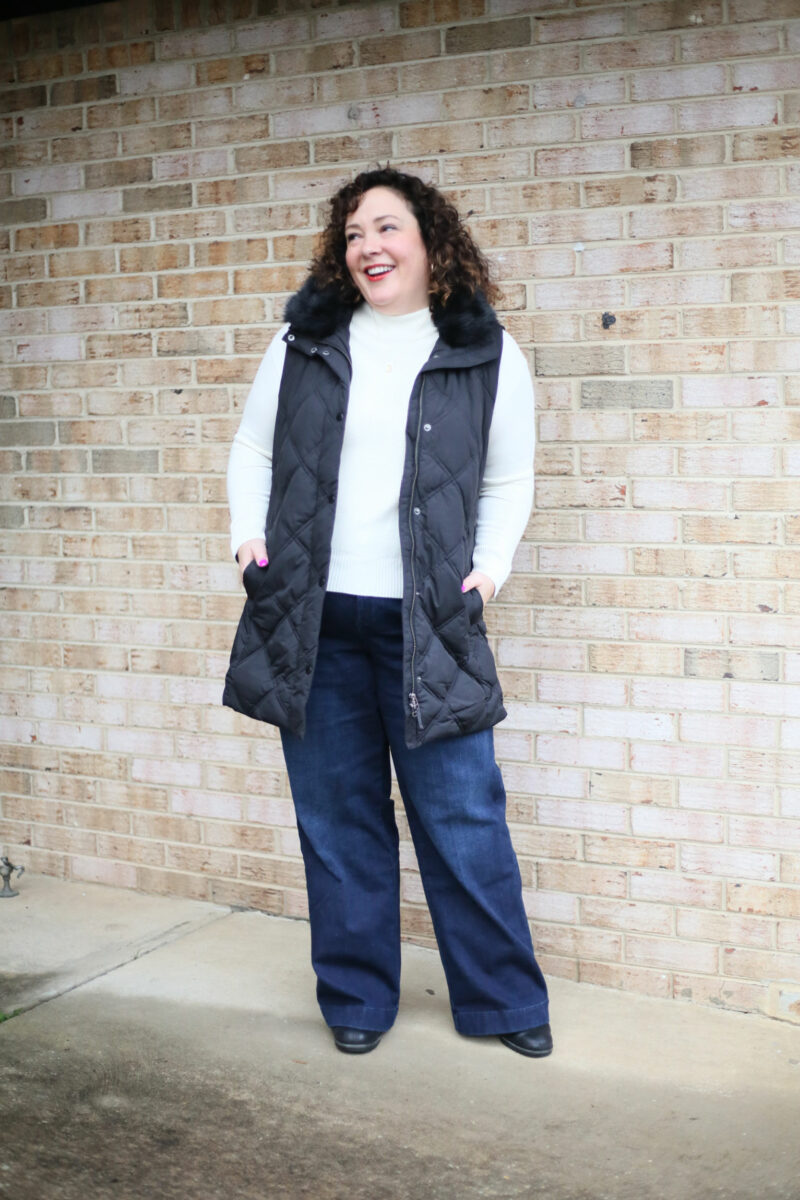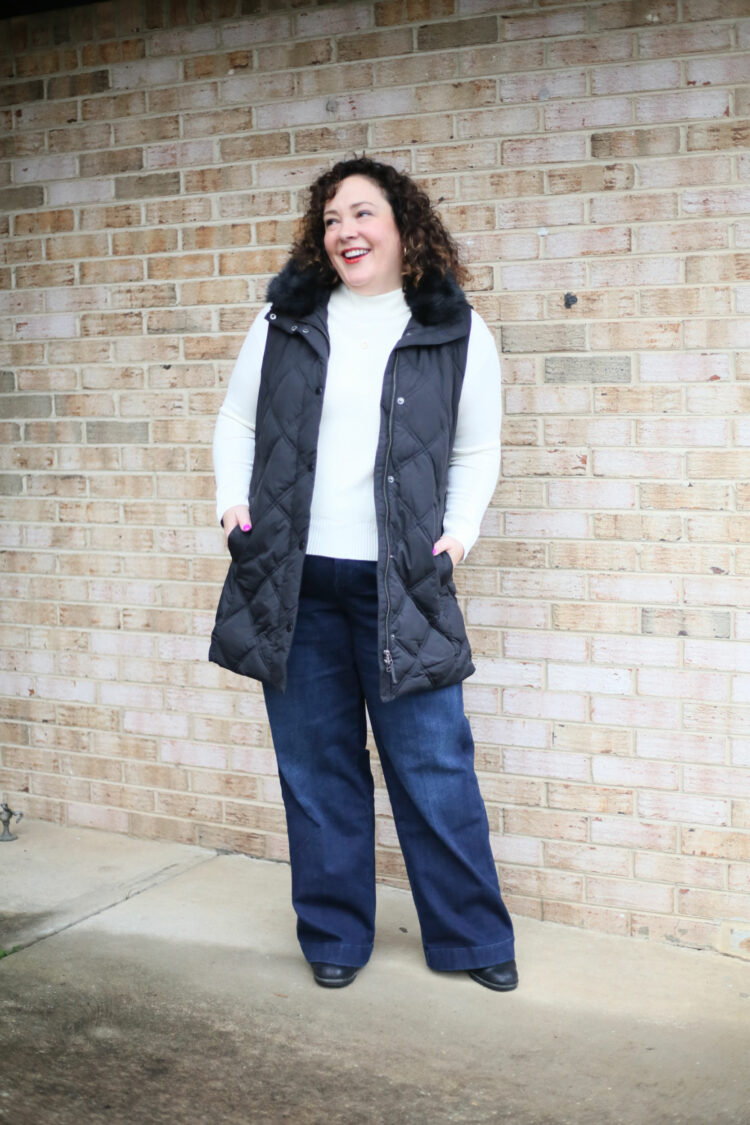 Here, I styled the long puffer vest with the wide leg jeans and cream sweater. The shaping of this vest is made for a woman's figure and it nips in and flares out to mimic the tucked-in sweater and high-waisted wide leg jeans. It's an easy way to dress down an otherwise elevated look; consider how differently this sweater and jeans combo read with the cream moto jacket!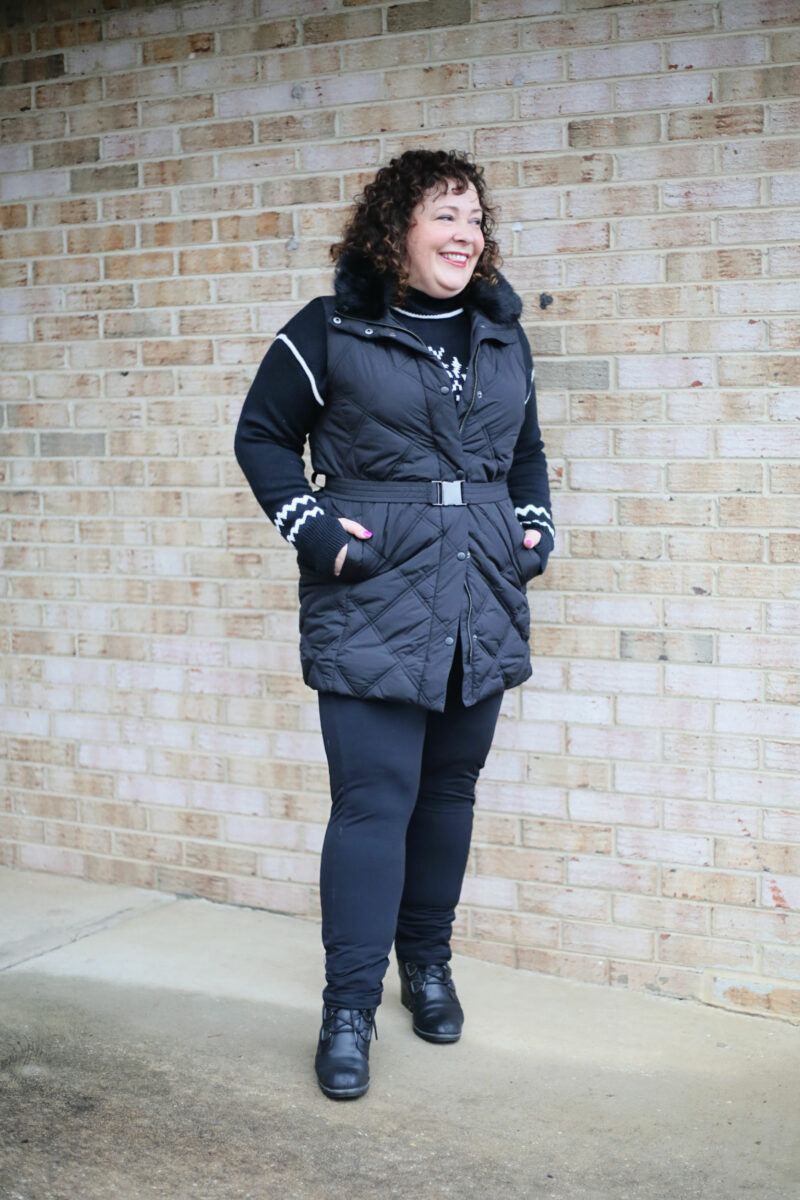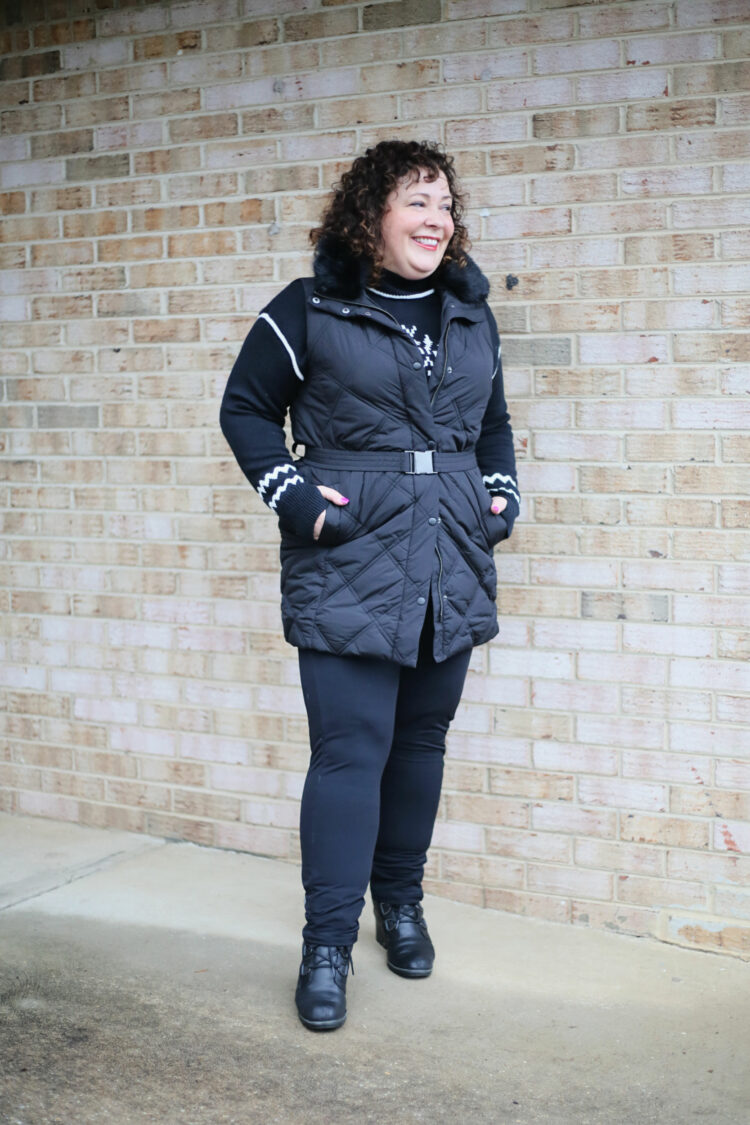 Here I belted the puffer vest over the snowflake sweater and fleece-lined leggings. I've already worn this exact look (with the matching hat and different boots) for a casual outdoor event. We were sitting part of the time, walking part of the time, and playing games part of the time, and this combination was great for all three. I was comfortable, able to move easily, not too cold or warm, and it was easy to add and remove layers as needed.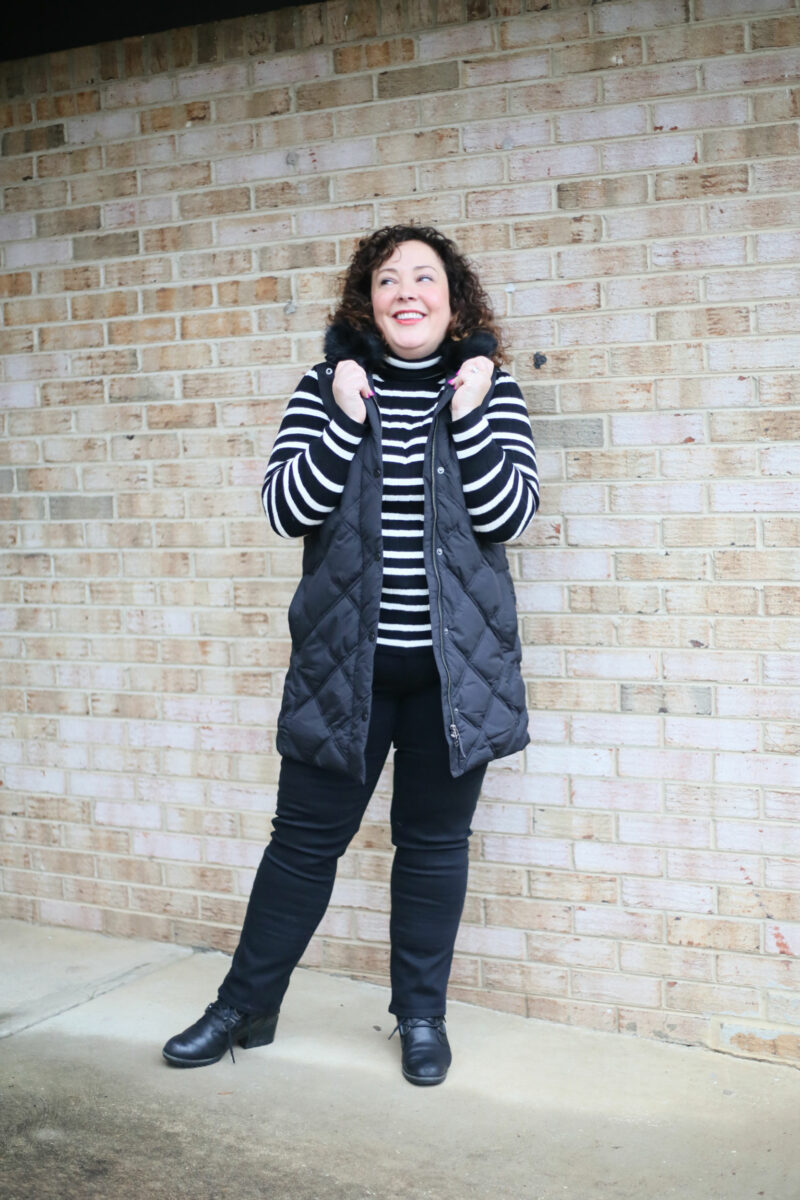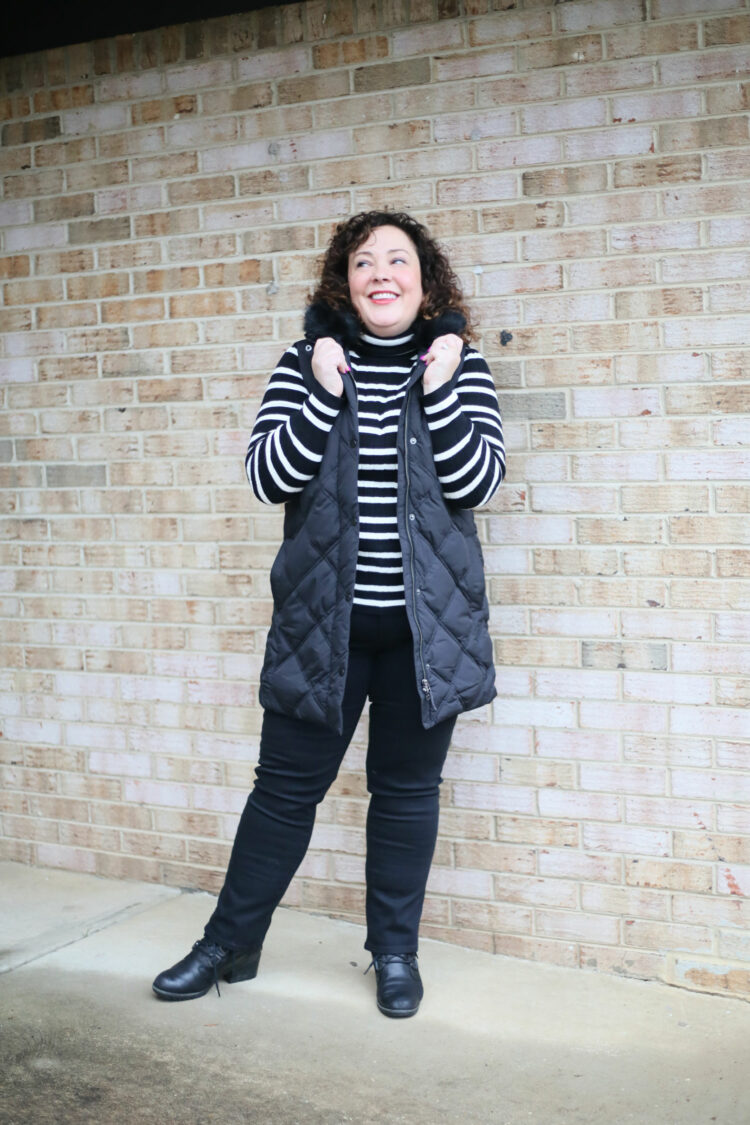 And here is the elongated puffer vest sans belt with the ribbed turtleneck and black baby bootcut jeans. I think this is a great alternative to coats when it's not as cold. This vest is also great for situations where a coat is too bulky for movement. For example, I wore this vest and turtleneck with different jeans when shopping at the mall. I didn't overheat indoors so I didn't have to carry it along with my packages and had my arms comfortable to carry bags and a beverage or examine items in stores.
It's clear I am a fan of Talbots and have been for many years. I appreciate their size range, their quality, their consistent fit, and how I find their clothes to work great with the bodies of us grown women without looking dated or frumpy. Thank you Talbots for partnering with me on this post about winter layering; expect to see me rocking these great pieces all season long!