This article may contain affiliate links; if you click on a shopping link and make a purchase I may receive a commission. As an Amazon Associate, I earn from qualifying purchases.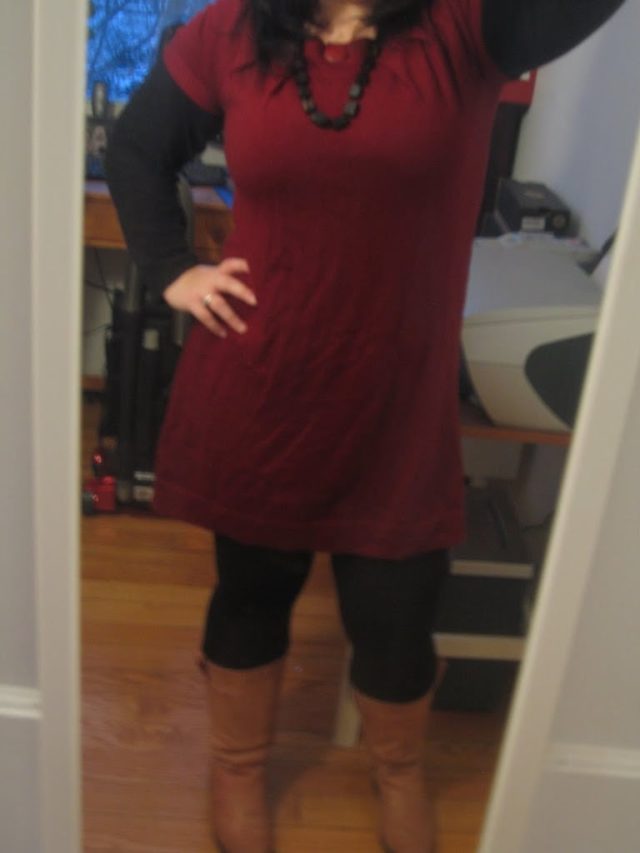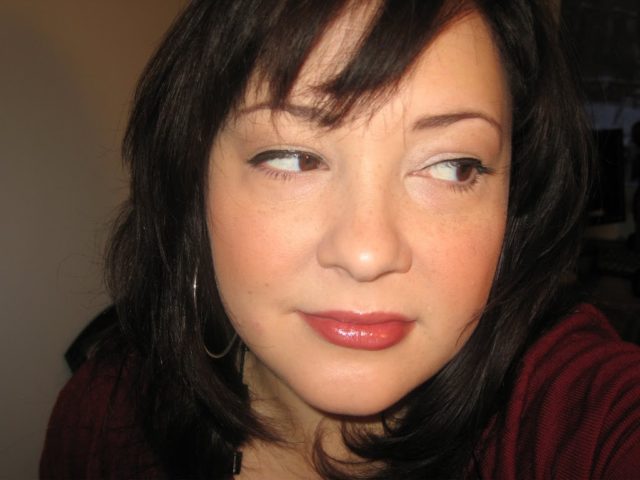 Burgundy merino shift dress from Banana Republic, black thermal long sleeved shirt from Old Navy, black heavy-weight tights from Target that have the feet cut off, tan "Bern" boots from Duo, black coral necklace from Mexico, silver hoops and cuff bracelet.
Yeah, the dress is wrinkled. Yeah, I dug it out of the hamper because I wanted to wear something cozy today. I'm human, I bet most of you have done the same. The only things on top of it were like towels and stuff. It didn't smell, it wasn't stained…
Hair is acting weird today. I washed and conditioned like usual, added a small bit of Jonathan Silky Dirt and let it air dry for about 15 minutes, then dried with a paddle brush, then a round brush. It acted dirty – limp, almost greasy looking at the scalp. All day it has been limp and strange. It didn't help it's raining today so I walked to work in spittle and walked to and from lunch in drizzle.
Makeup is L'Oreal True Match concealer in W1-3, philosophy The Supernatural in Beige, Cargo Matte BeachBlush in Tenerife, Revlon ColorStay shadow quad in Neutral Khakis – ivory in inner corners, khaki on lid. Lashes curled and Cover Girl Lash Blast in black applied, thin line of Maybelline UltraLiner in black on top lash line and on lips is Revlon Shiny Sheers in Sheer Cocoa Glaze.
Winter has officially hit my system. Suddenly yesterday I had sore and chapped lips, flaky forehead, scaly hands, itchy everything. You can even see in this picture how my bottom lip on one side is a bit swollen from the cold. My hives have not stopped, they seem to be cyclical and last night came back with a vengeance and I spent a good portion of the night scratching my wrists and hands. If you enlarge my face picture (to scary proportions so I do not recommend) you will see a welt on my jaw line – they are all over the edges of my face and my neck/scalp. Now I have good insurance; I just need to get settled in before I start taking time off to visit dermatologists. I guess I am a sensitive chick after all.
Anyway, the body moisturizer that seems to be the least irritating to this rash and the most soothing is a product I used back in high school – Neutrogena Body Oil. I love the smell of this stuff (though the smell does not compete with my Burberry London) and it really leaves your skin feeling soft and silky. Only problem is Ruckus likes the taste and I put it on and have to jump right into my long bathrobe or else he'll start licking it off my calves! But this stuff is cheap, it's a luxurious treat and it has really held up pretty well to the weather. I think I'll pull back out the Body Shop Body Butter for places like my thighs and elbows that get super dry but leave the Neutrogena to the entire body.