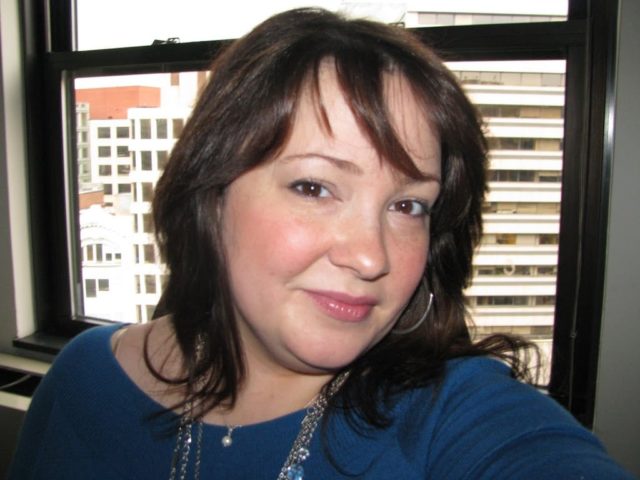 Attire:
Banana Republic – Teal merino sweater
Gap – Low-slung pants in black
David Tate – Black leather city boots
Same jewelery as yesterday
Hair:
Washed and conditioned with Pureology Volumizing
Redken – Satinwear 02
Dried upside down with paddle brush, then used round brush to smooth
Jonathan Product – Silky Dirt
Beauty:
Body Shop – Vitamin E Face Mist
L'Oreal – True Match foundation in C3
Cargo – Matte BeachBlush in Tenerife
Stila – Lip Glaze in Fruit Cake
Revlon – ColorStay shadow quad in Neutral Khakis
Avon – Glimmersticks in Black
Cover Girl – LashBlast waterproof mascara in Black
Sorry, left my camera at work so you get a picture of me at my desk as soon as I arrived, gosh bra strap and all (whoops!). 🙁 No body shot.
The weather is a bit ick today and tomorrow – chances of rain and cloudy (as you can see from my office window). Please do a non-rain dance for tomorrow in the Annapolis, MD area – I am officiating a wedding for a really lovely couple and they are having an outdoor ceremony at a beautiful location. They know the chance of rain (April showers bring May flowers…) and because of this it is a short ceremony. But still, I would like some lovely weather for these lovely people!
For the rest of my weekend… think the hubby will be out tonight. The plan was for him to leave tonight for a bachelor weekend (he is the Best Man) but instead they are leaving early tomorrow morning for the trip. I think tonight they will all just get a meal and maybe hang out at a bar in the city. That means it's me and Little Miss E.
Tomorrow my sister and a good friend are coming over. We'll hang out until I have to leave for the wedding, and they will babysit E for the first time. Sunday we will head to my mom's house for Easter brunch (not a big holiday in our family, but we like to spend it together). My sister is planning some Easter-related crafts that we can do with E – like maybe some pastel colors and do some hand and foot prints, etc. Should be fun!