This article may contain affiliate links; if you click on a shopping link and make a purchase I may receive a commission. As an Amazon Associate, I earn from qualifying purchases.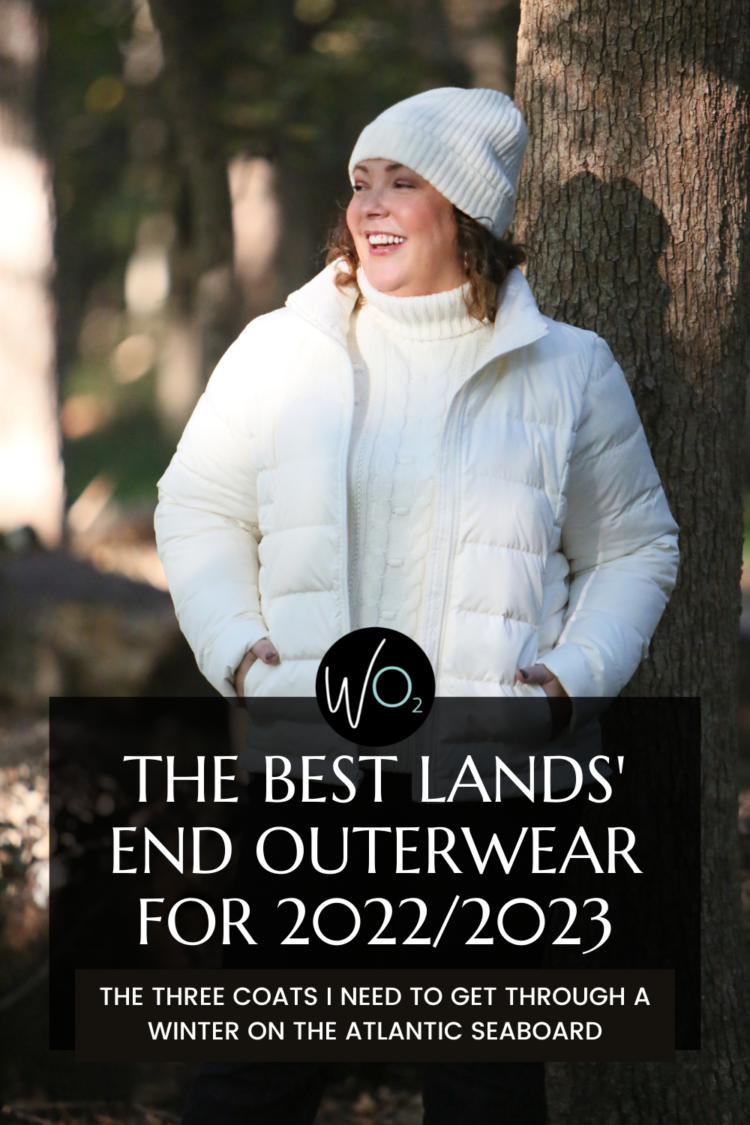 I have been a fan of Lands' End outerwear for decades. I still own a Lands' End Squall Parka that I purchased in my 20's and have reviewed Lands' End outerwear in the past but haven't bought a coat from them in a bit. Lands' End invited me to check out their outerwear selection for this season and below I share my picks for the most practical and stylish outerwear from Lands' End. This post is sponsored by Lands' End.
Details on My Size for Lands' End Outerwear
I am a 40-something with soft curves and a large bust. I usually wear a size 14 or XL. Since I am 5'3″ I love when I can find petite outerwear so the sleeves aren't too long, the waist hits at the right place, and the look is more polished.
I find Lands' End has a generous fit, but I still am usually a Large in this retailer. However, I find a petite is needed to get a truly great fit. I am so glad that Lands' End carries such an extensive selection of petite apparel and outerwear and while many brands end their petites at size 10, Lands' End offers petites up to size XL/18.
My Picks from Lands' End Outerwear for a DC Winter
I chose three different types of outerwear from Lands' End to cover the three stages of winter in the DC area: warm wet fall, medium cold early winter, and what I call True Winter which is later in the season but far colder while still having a lot of precipitation.
Lands' End Women's Waterproof Hooded Packable Raincoat for Warm and Wet Falls and Early Winters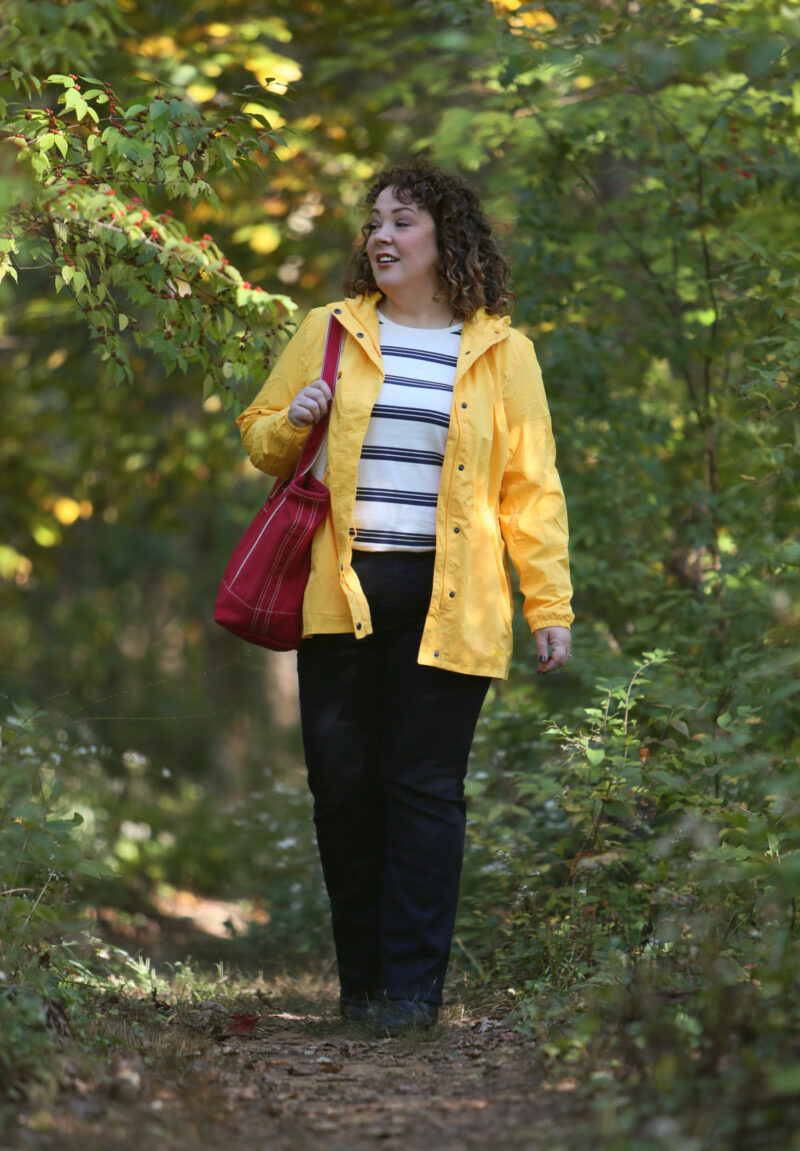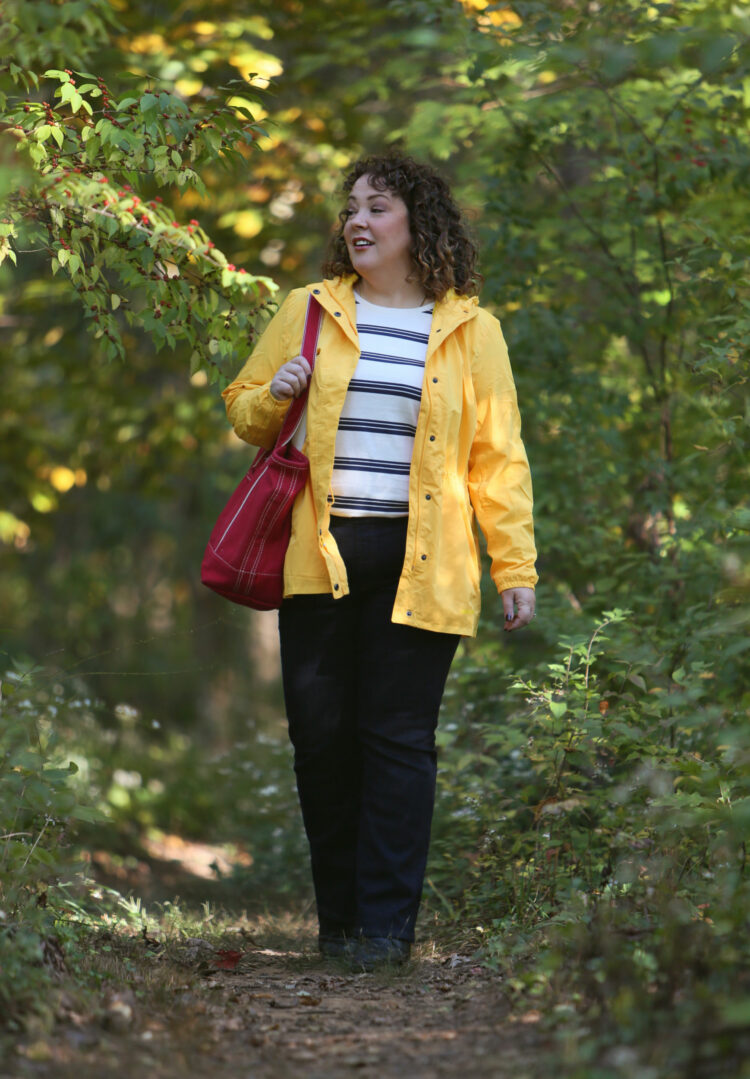 Living in the DC area, we are used to having a warm but wet fall and early winter. While there are a few days where a heavy coat is needed, I find that a water-repellant jacket over layers is best for this climate. While I own a more classic trench, I desired a proper raincoat for everything from morning walks to afternoon Target runs to weekend hikes and camping trips. I also wanted a jacket that would fit over a thick fleece or sweater without making me look like a box.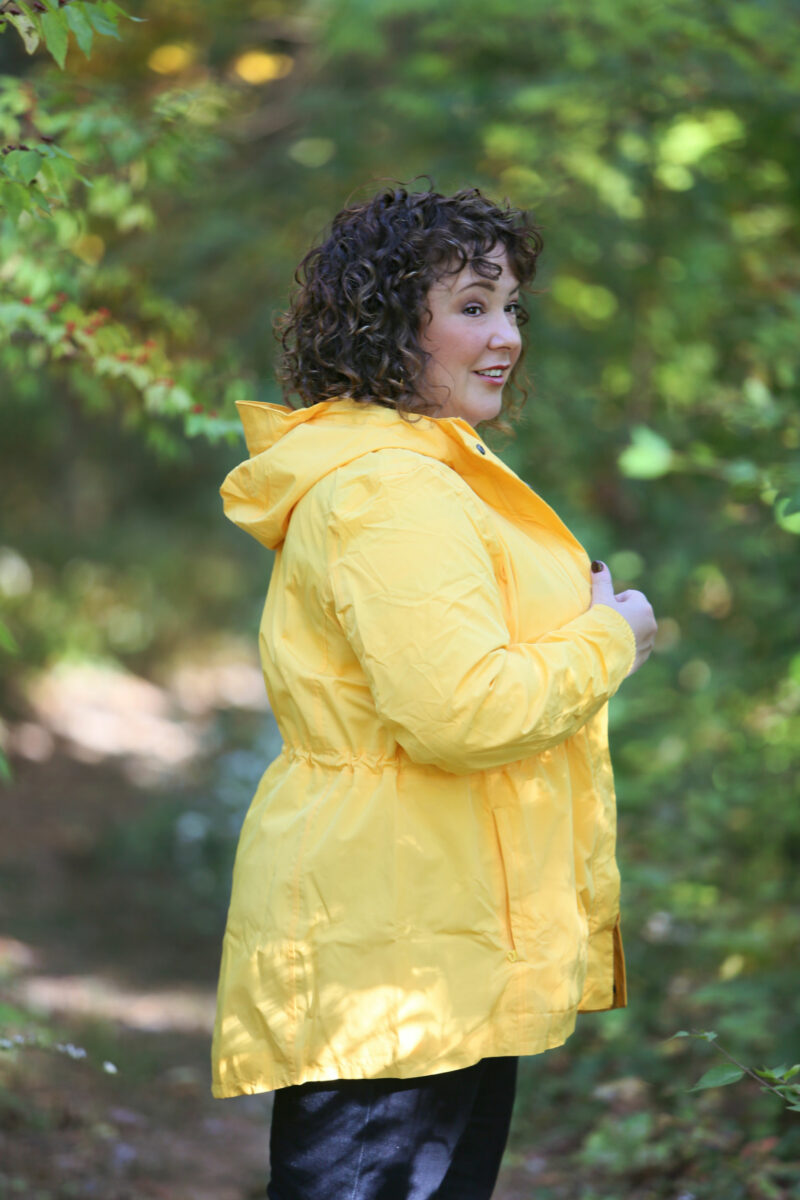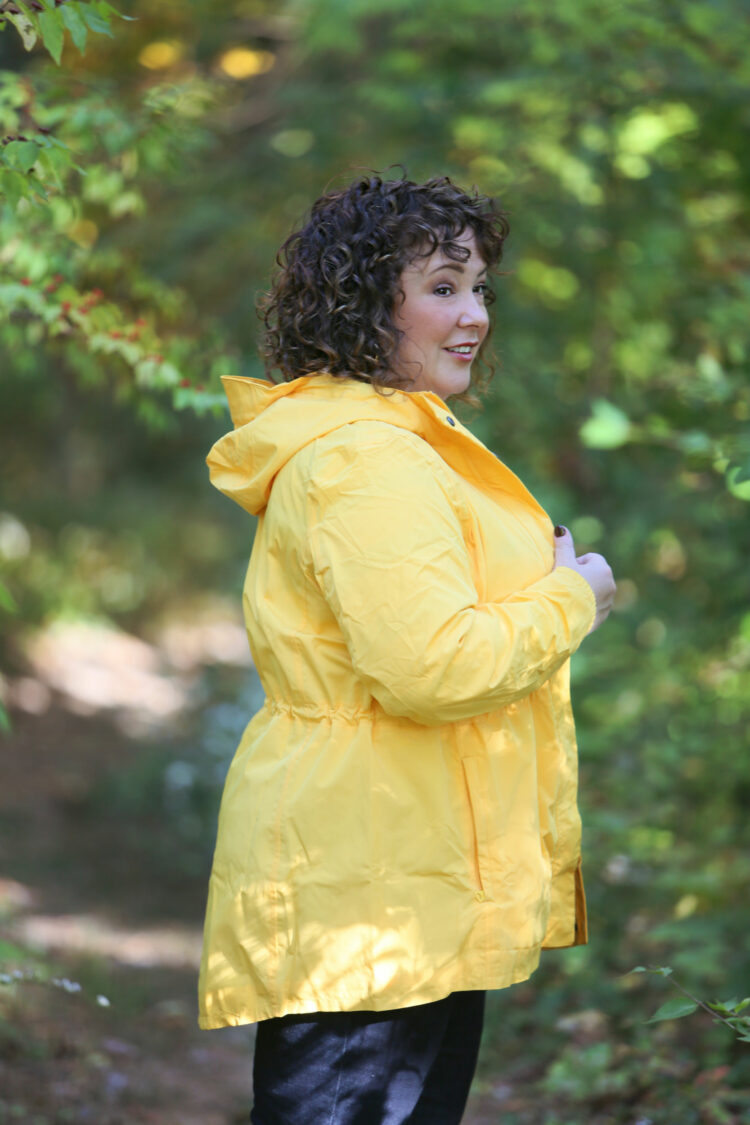 The Waterproof Hooded Packable Raincoat from Lands' End is a perfect choice. I owned a packable raincoat in the past but it felt like wearing Saran wrap, especially when it was warm. This one is a non-cling fabric that feels soft and is comfortable even in humidity.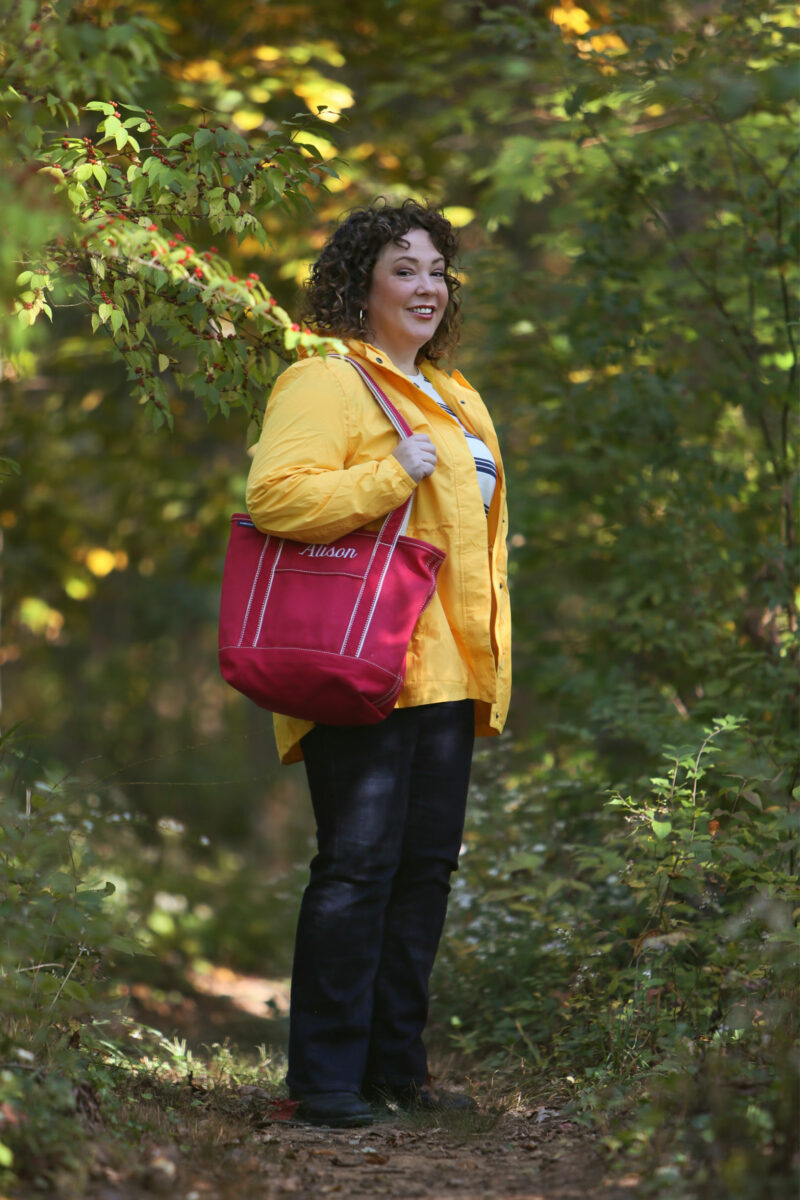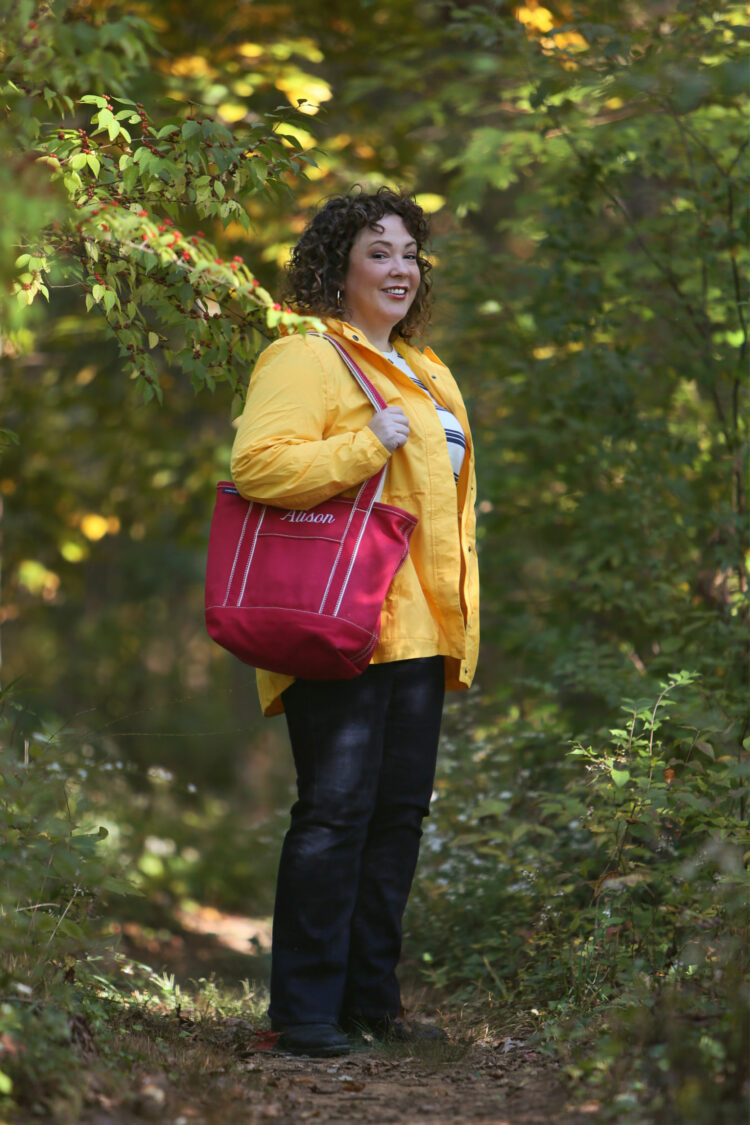 Available in Misses, Petite, Tall, and Plus Sizes, this packable rain jacket has an adjustable hood, an interior drawstring to give shape at the waist, and a high-low hem to cover all my curves. A zipper and snaps keeps me dry even in a windy rainstorm, and I love the zipper-close pockets.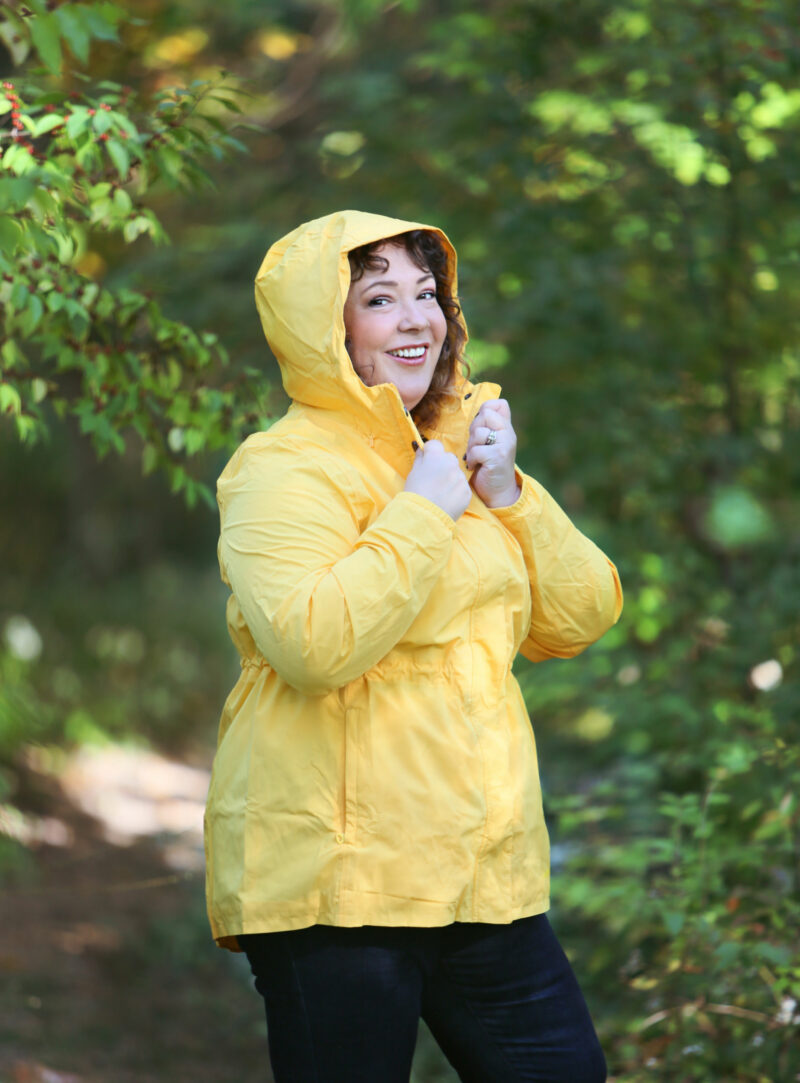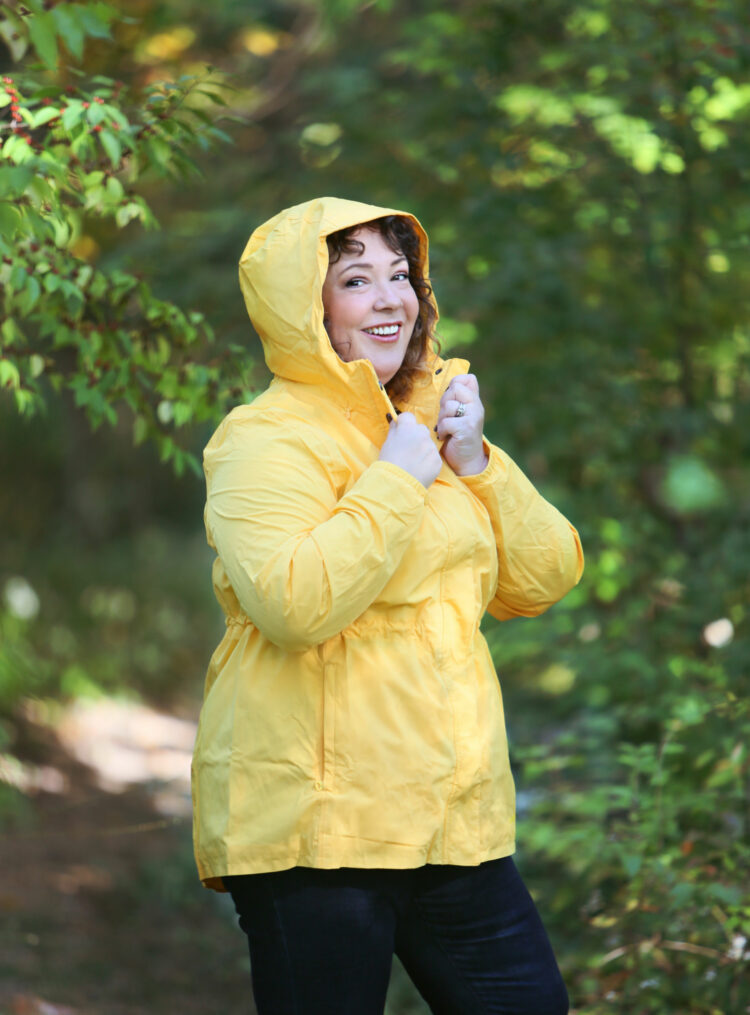 I am wearing a Petite Large, which is plenty roomy over this Lands' End striped long-sleeve shirt, but would also be comfortable over a sweater or sweatshirt. If yellow isn't your jam, this raincoat comes in four other colors.
Lands' End Women's Down Winter Puffer Jacket for Early Winter Casual Situations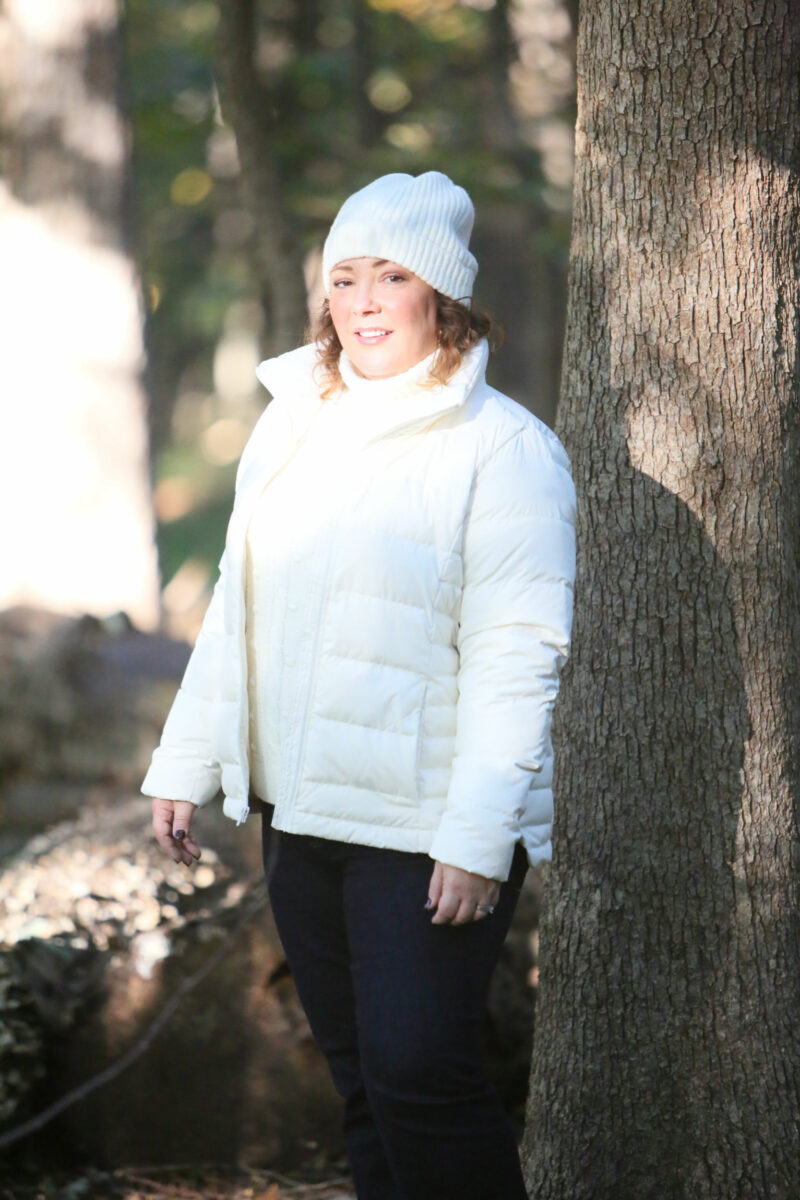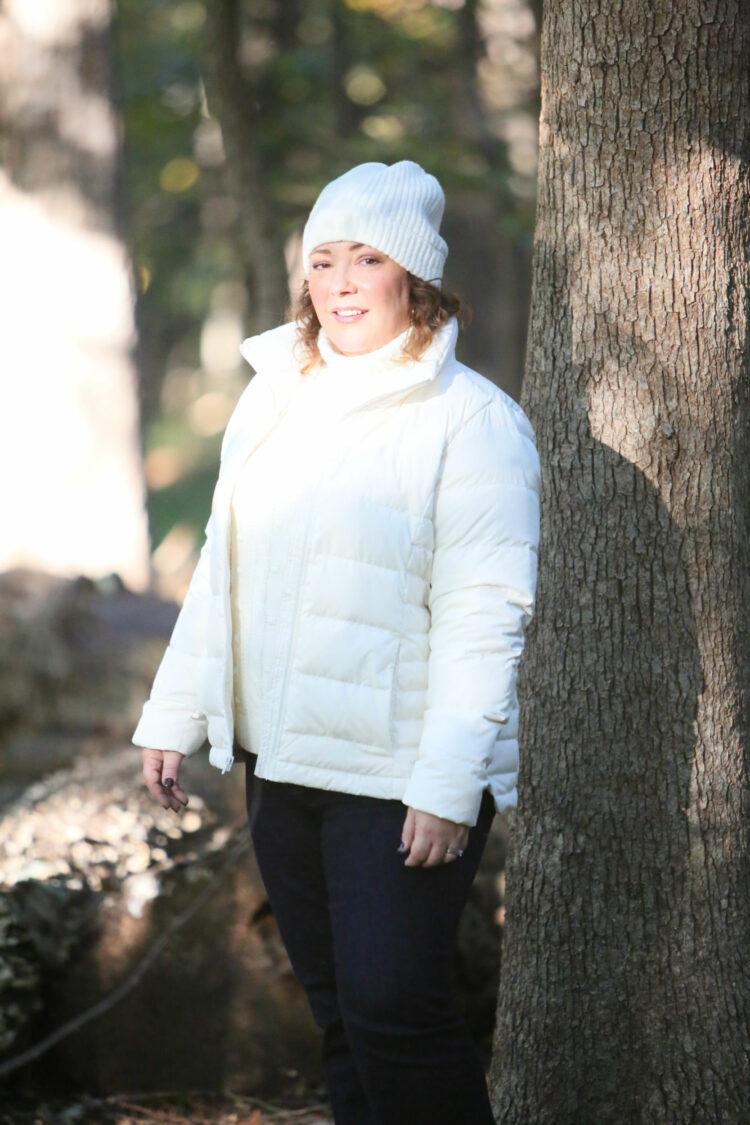 Come late November and December, this is when I take advantage of my outerwear wardrobe and often my coats coordinate with my outfits. I love a short puffer jacket to throw on over my casual looks. Nothing too heavy, I am in the DC area, but warm enough for chilly evenings and a stand collar to keep my neck and lower face warm. I prefer no hood, usually wearing such a coat with a beanie or beret. I was drawn to the elegance of the Lands' End Down Winter Puffer Jacket in ivory. It is more elevated than any other casual winter coats in my closet.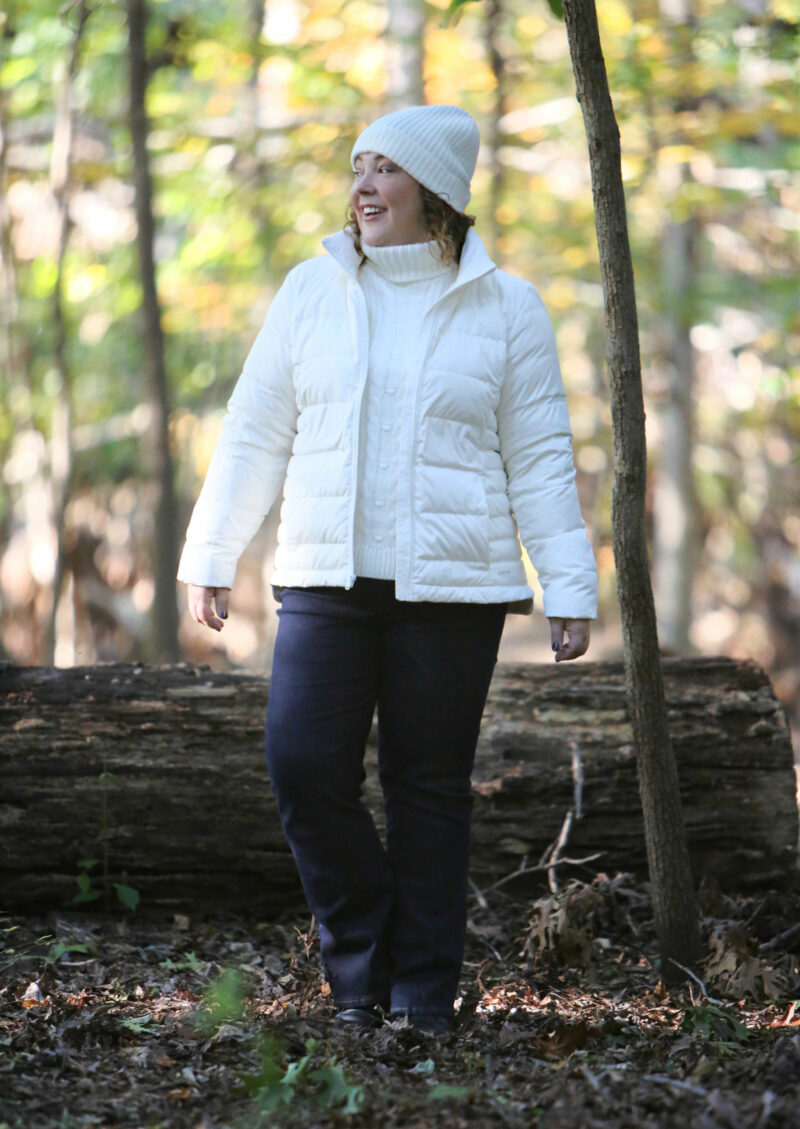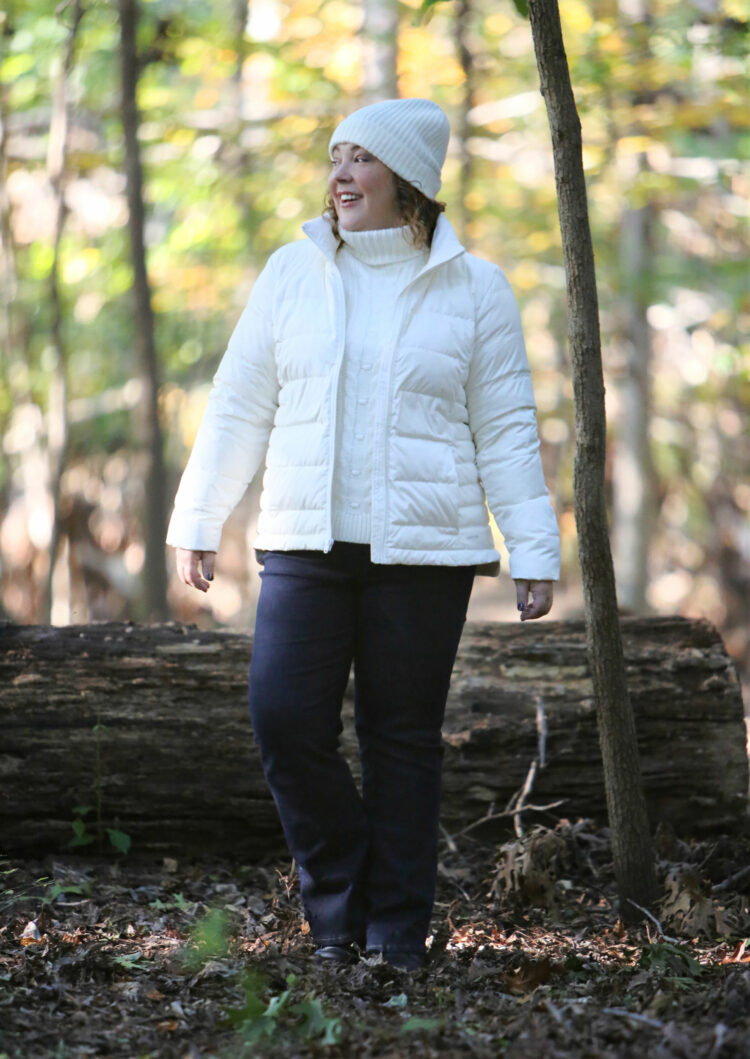 Also available in Misses, Petite, Tall, and Plus Sizes, this midweight puffer jacket from Lands' End is available in five great colors. I am wearing a Petite Large and as you see it fits over this thick turtleneck sweater which is also from Lands' End (wearing Petite Large). And I love to see that all the ivory items from Lands' End match – the hat is also Lands' End!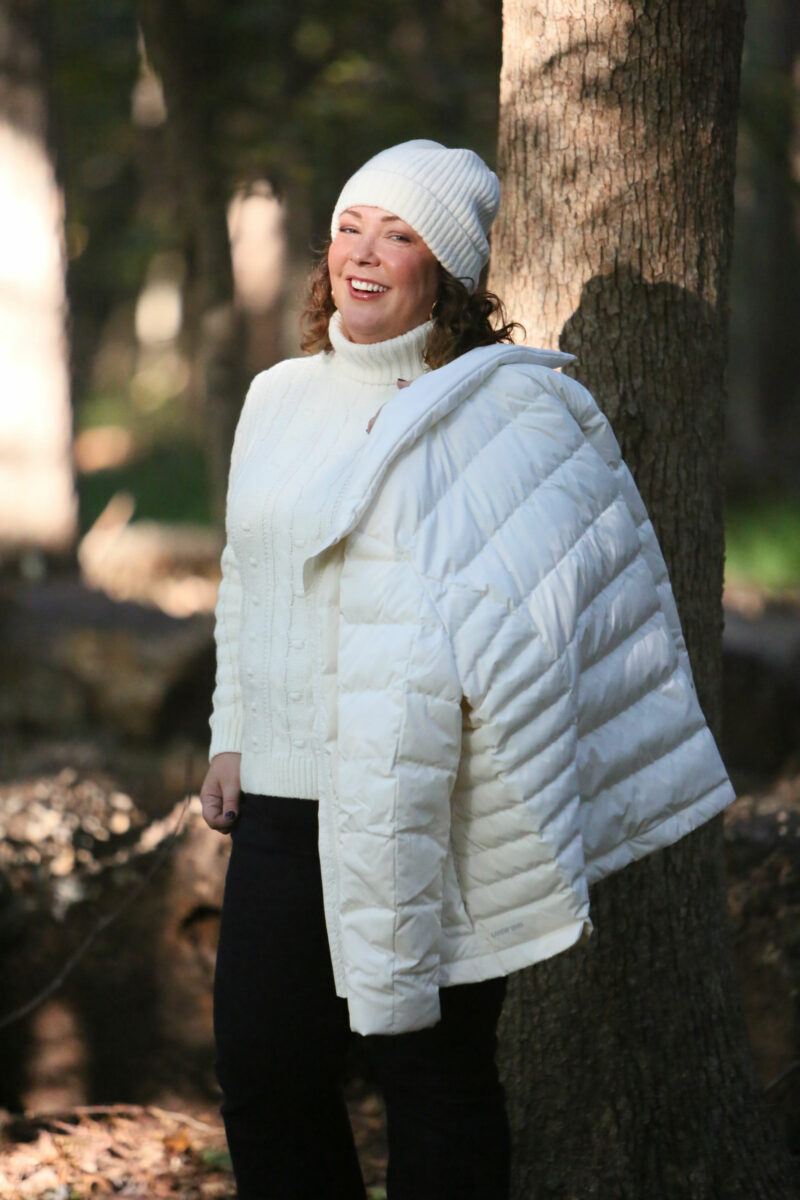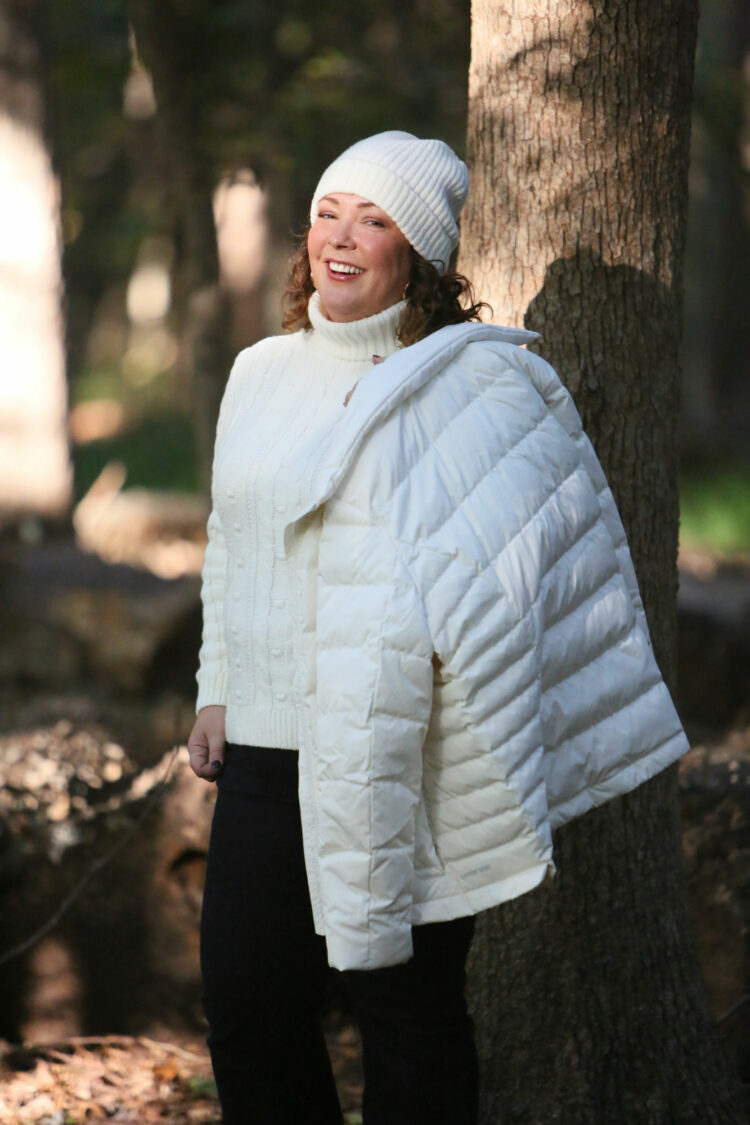 I appreciate the details of this jacket which set Lands' End outerwear above the rest: a storm flap, soft fleece-lined pockets, Responsible Down Standard (RDS) down, and strategic quilting to make the most of a woman's curves. This fit great over my shoulders, arms, bust, and rear showing it is designed for a grown woman.
Lands' End Women's Insulated Cozy Fleece Lined Primaloft Coat for Style with Warmth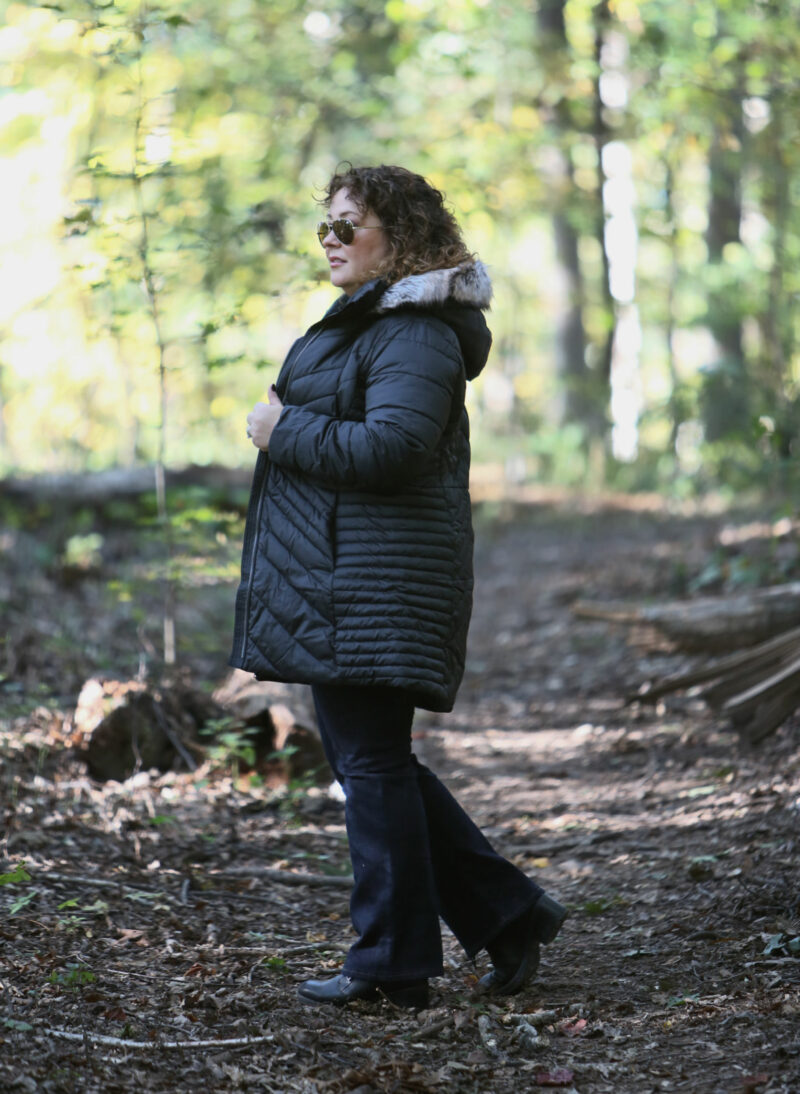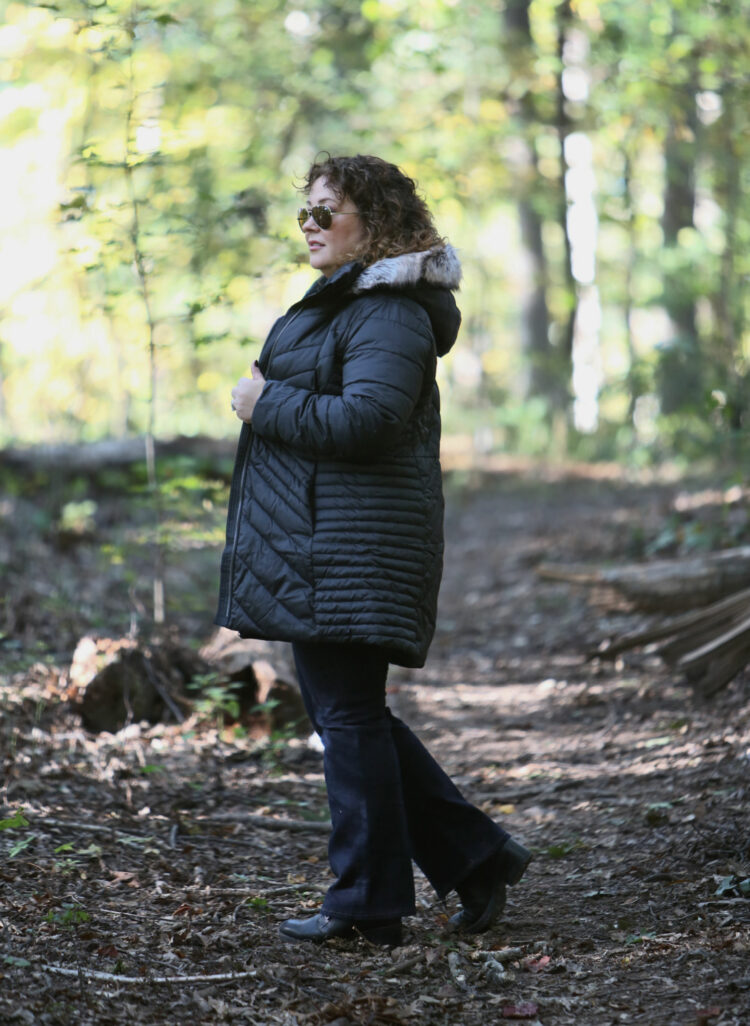 True winter arrives in the DC area at the end of January. We usually get our snow between Superbowl Sunday and St. Patrick's Day and when we get snow, it's often heavy, wet, cold, and causes some power failures and days away from the office and school. It's time for a longer coat with a hood and more insulation to stay cozy even when the wind is biting. Perfect weather for the Insulated Cozy Fleece Lined Primaloft Coat from Lands' End.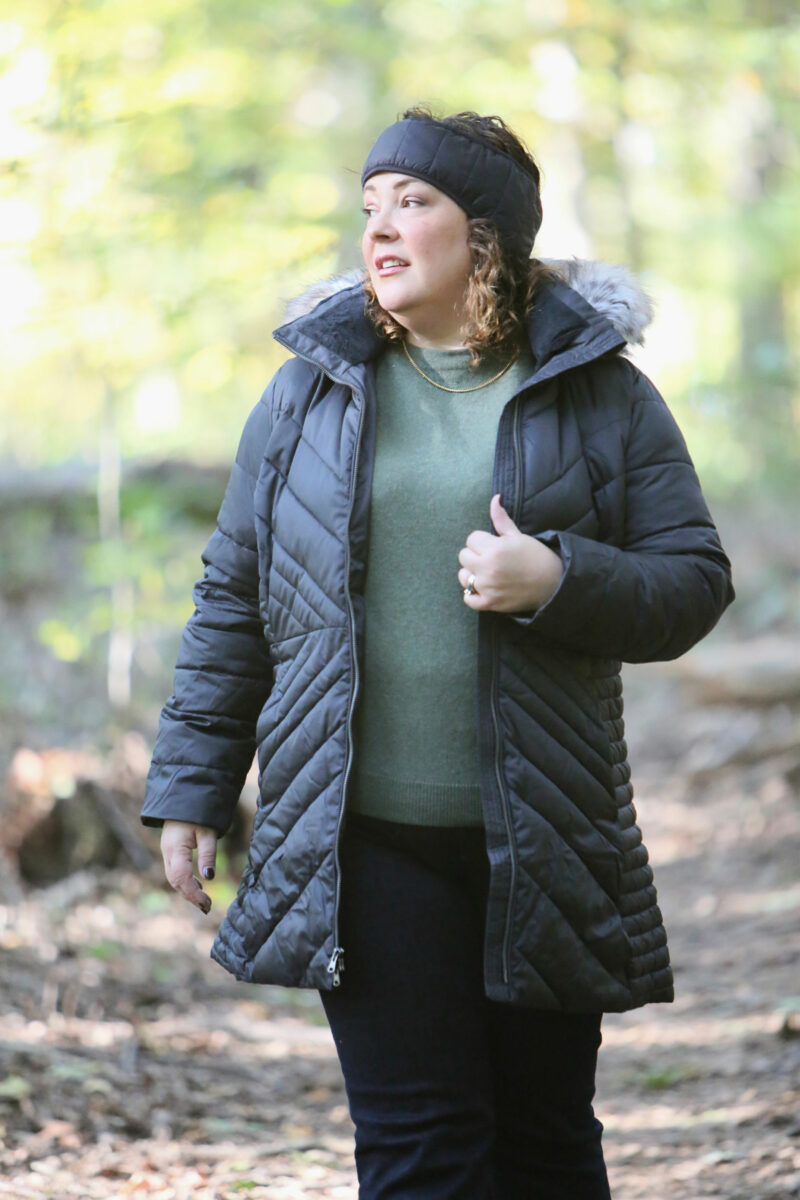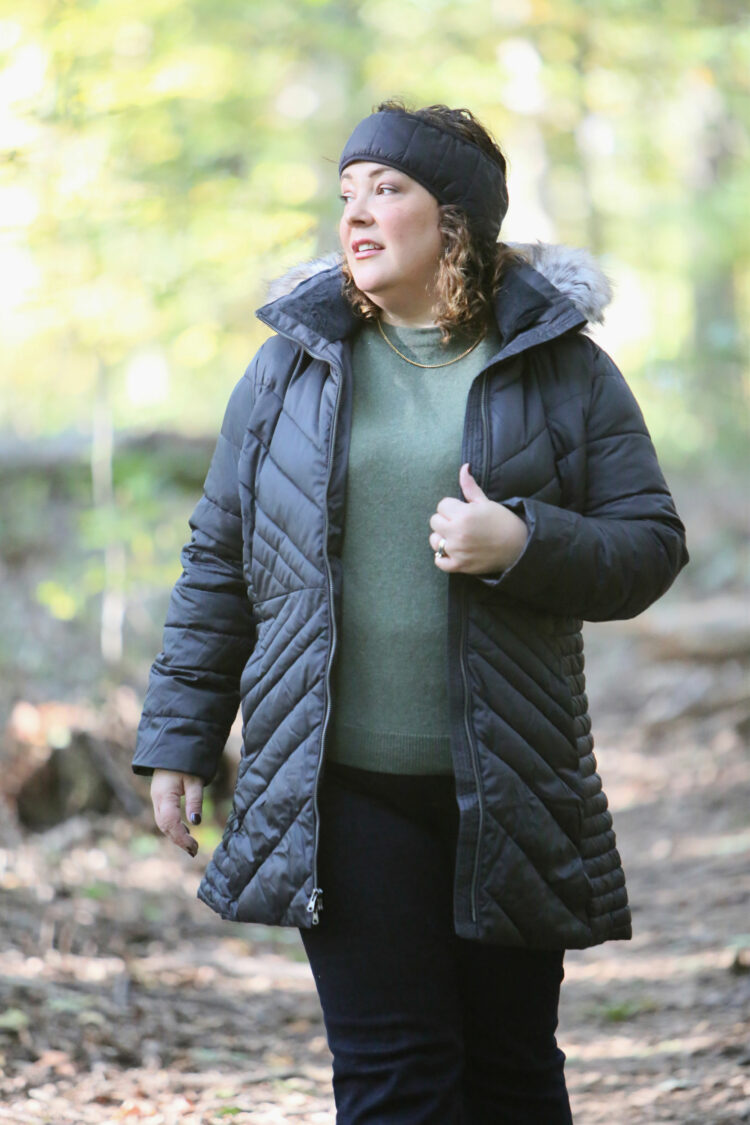 Again, I went with a Petite Large; this coat also comes in Misses, Petite, Tall, and Plus Sizes. It comes in seven different colors and I really struggled with which color to choose but picked black because it's the easiest to dress up. Because once True Winter arrives, I am not trying to look cute in faux furs and wool, I want to be warm and dry and protected. And I think the faux fur trim on the hood of this coat and the subtle shine of the fabric elevates this coat to look more polished for work and for evenings out.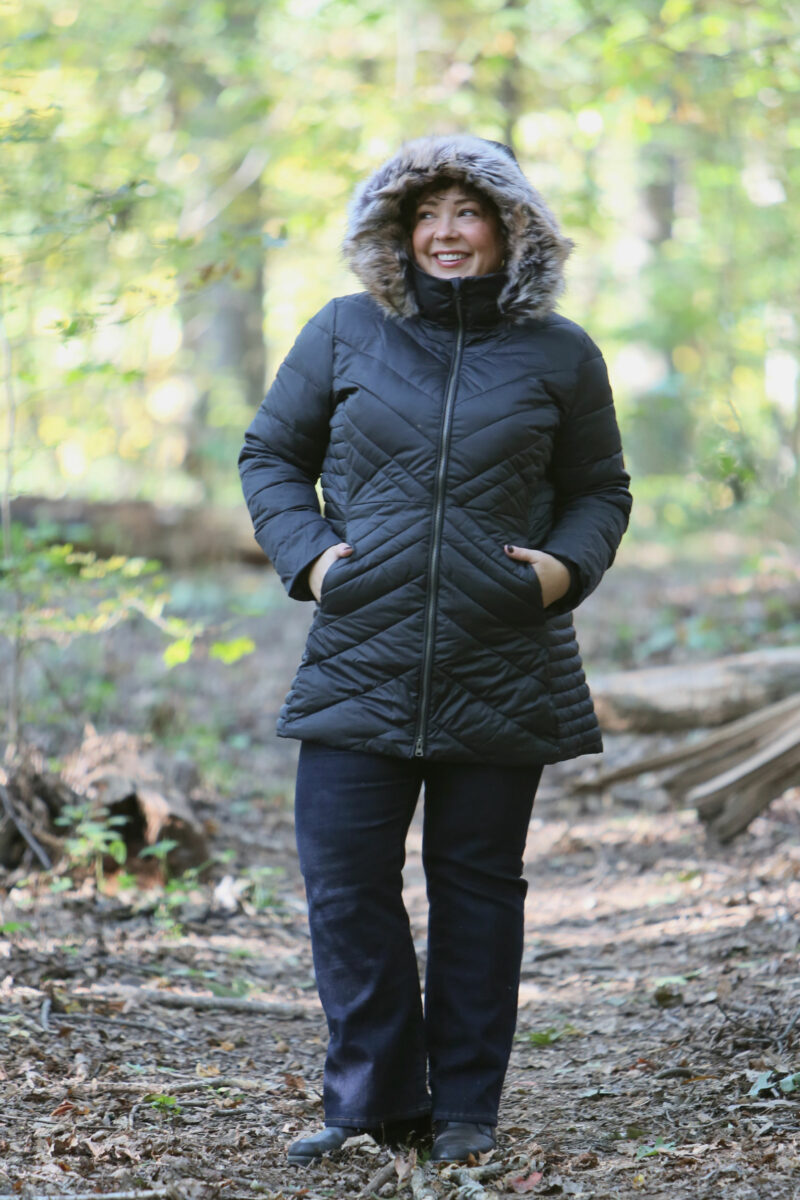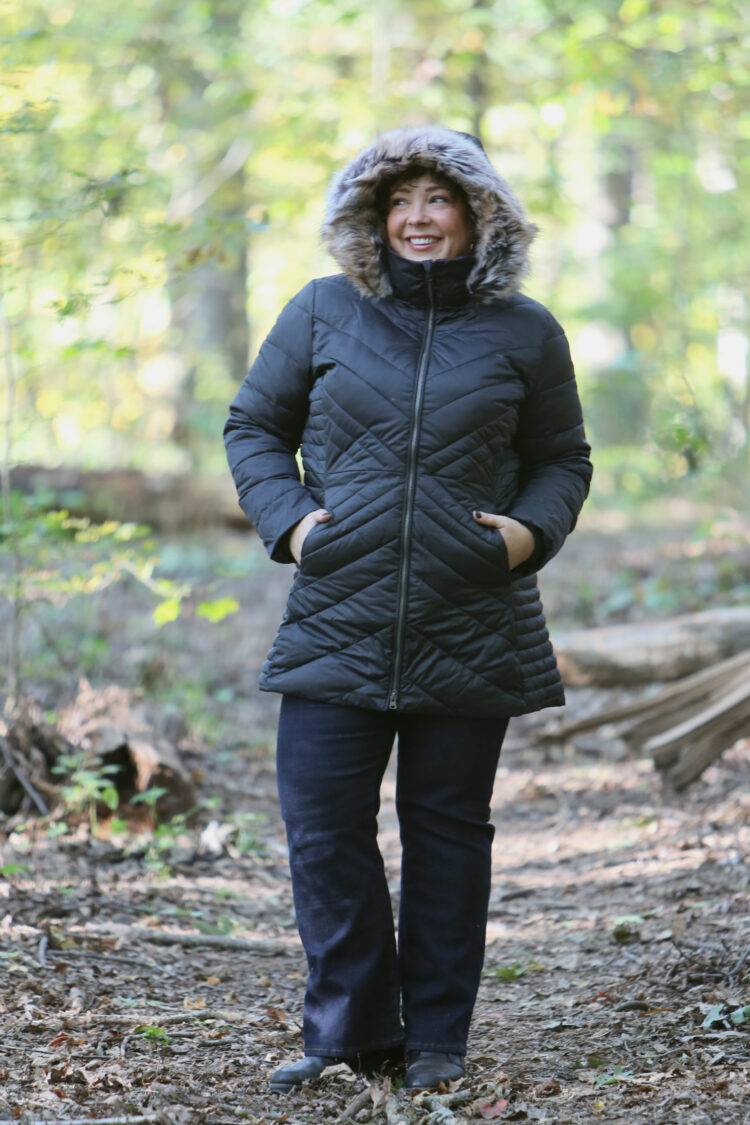 Temperature rated -5 to +24 degrees Fahrenheit, this coat has a water-resistant exterior and is filled with recycled primaloft and will continue to keep you warm even if the coat gets wet. The faux fur trim is removable and the coat is machine washable. A two-way zipper means you can keep your coat on but opened for comfort while sitting and driving.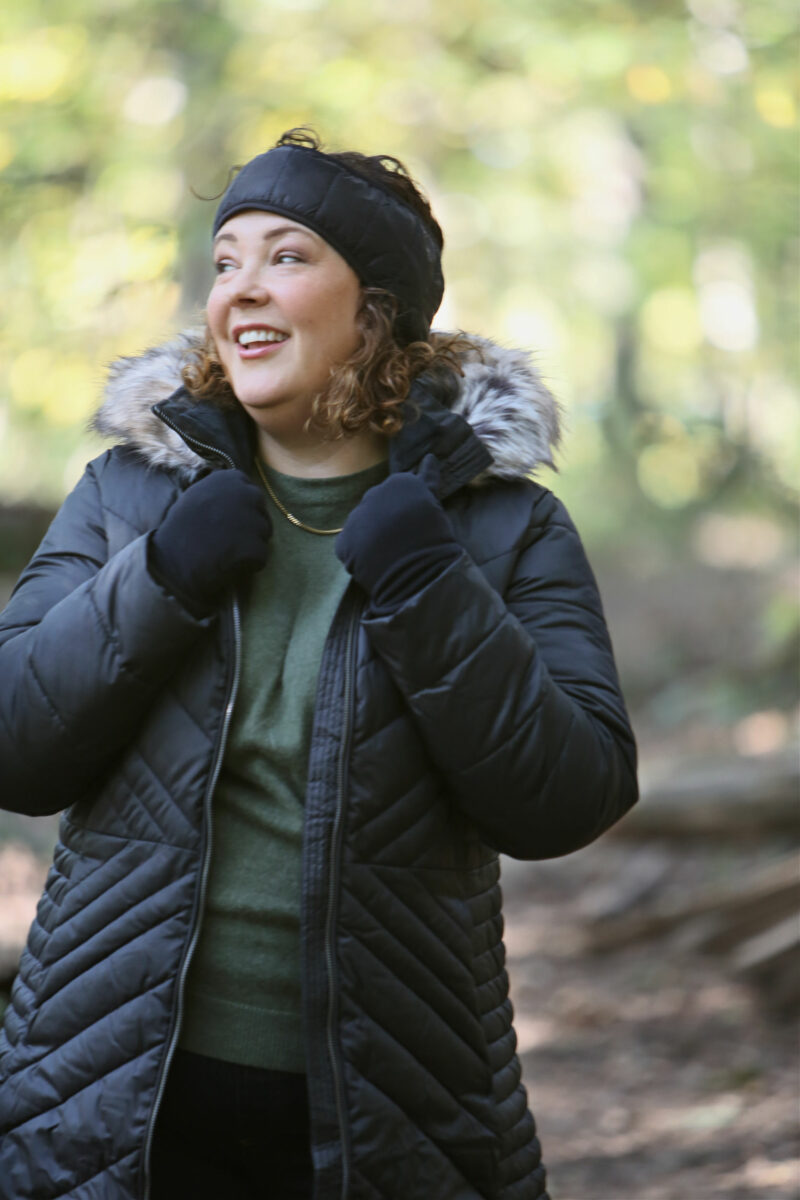 An interior chest pocket deep enough for your phone and keys and exterior zipper pockets can hold all your essentials. And the plush lining in the pockets, collar, and upper torso is so soft and cozy! This is a coat that offers everything I could need for the coldest winter months where I live.
Lands' End Promo Code
Lands' End is offering a promo code to help you face winter in style. Use promo code PARKA at checkout to get 40% off full-price styles! This is a fantastic deal, and it's not limited to just outerwear!
The small print: Receive 40% off full-price styles online or by phone (excludes buy more and save pricing, monogramming, gift boxing, gift cards, shipping, taxes, duties, Lands' End Business Outfitters purchases, and excluded items as marked). Promotions and products may vary in-store. Prices as marked in-store. Excludes clearance in-store. Discount will be applied at checkout. This offer has no cash value. Promotional savings may be deducted from returns. 5-7 business day delivery to most addresses. Free standard shipping is valid on orders of $99 or more (after promotions and discounts are applied) shipped to US and Canada addresses only. Offer valid through 11:59 p.m. Central, November 30, 2022. Not valid on previous purchases or when combined with any other promotional offers.
Shop My Picks of Lands' End Outerwear:

Thank you Lands' End for partnering with me on this post. I am a true fan of your outerwear, recommend it regularly, and was thrilled to receive these coats for winter. Do know you'll see me rocking these Lands' End coats and jackets all season long. Great fit, great function, and great style all in one!