This article may contain affiliate links; if you click on a shopping link and make a purchase I may receive a commission. As an Amazon Associate, I earn from qualifying purchases.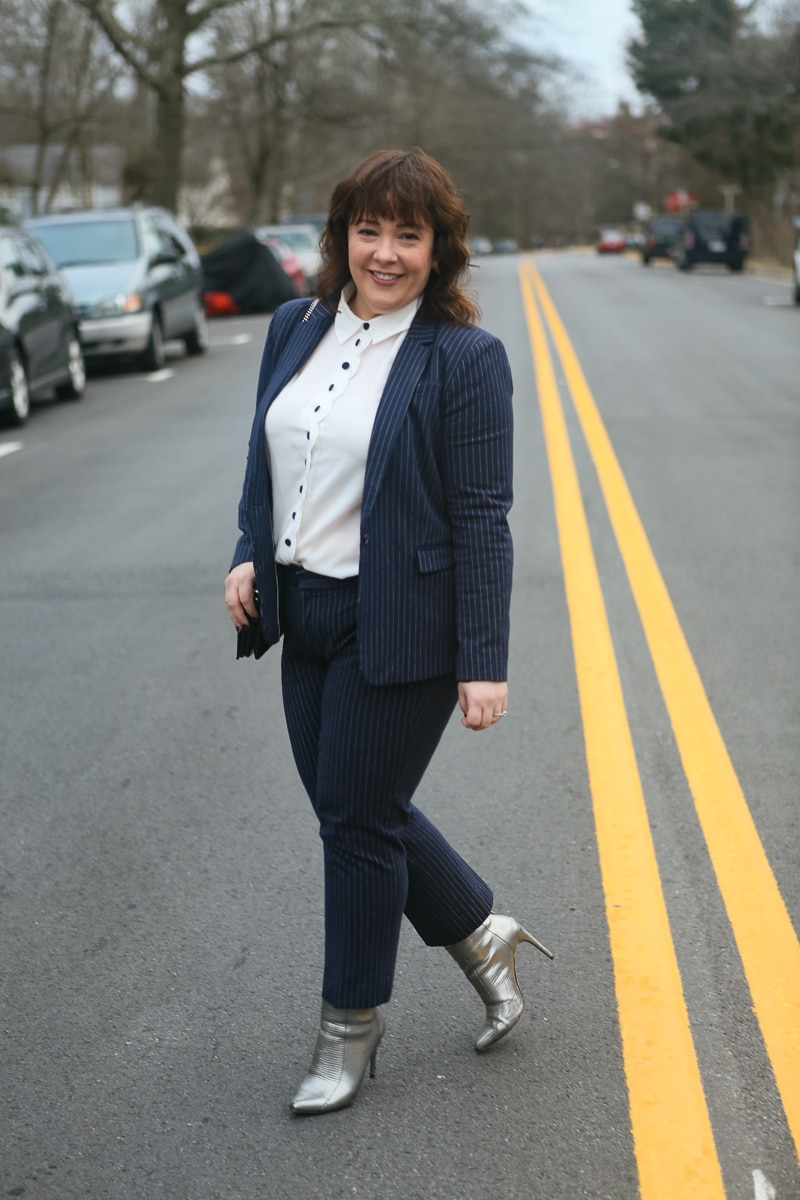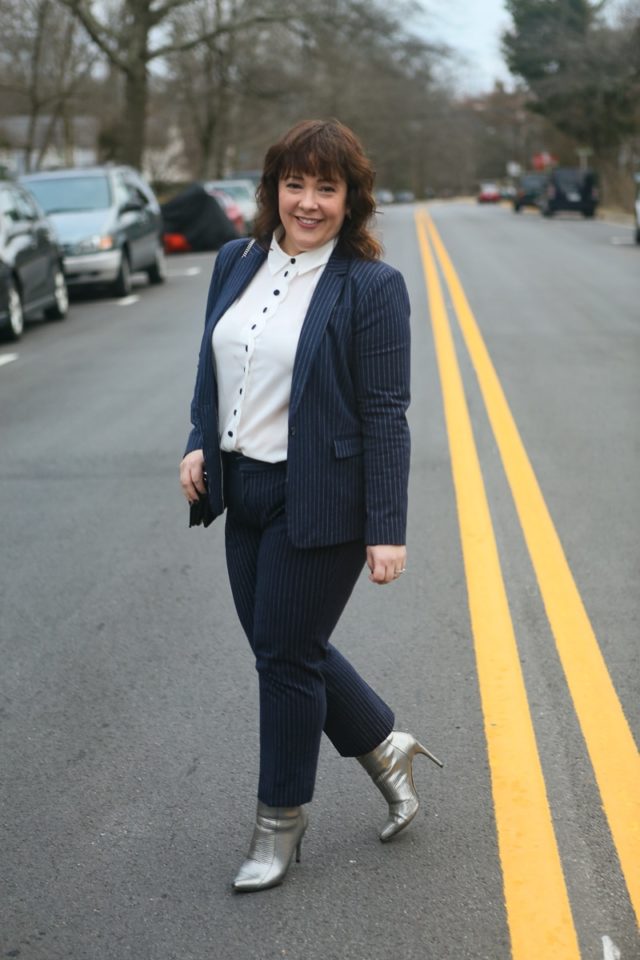 This suit is no stranger to Wardrobe Oxygen. The first time it was on the blog was in March of 2016 and I'll be honest, it was a bit snug. The fabric is stretchy so it did stretch a bit with time but the jacket always pulled a bit across the shoulders. The pants are unlined so they stretched more and got more wear; here they are in May 2016.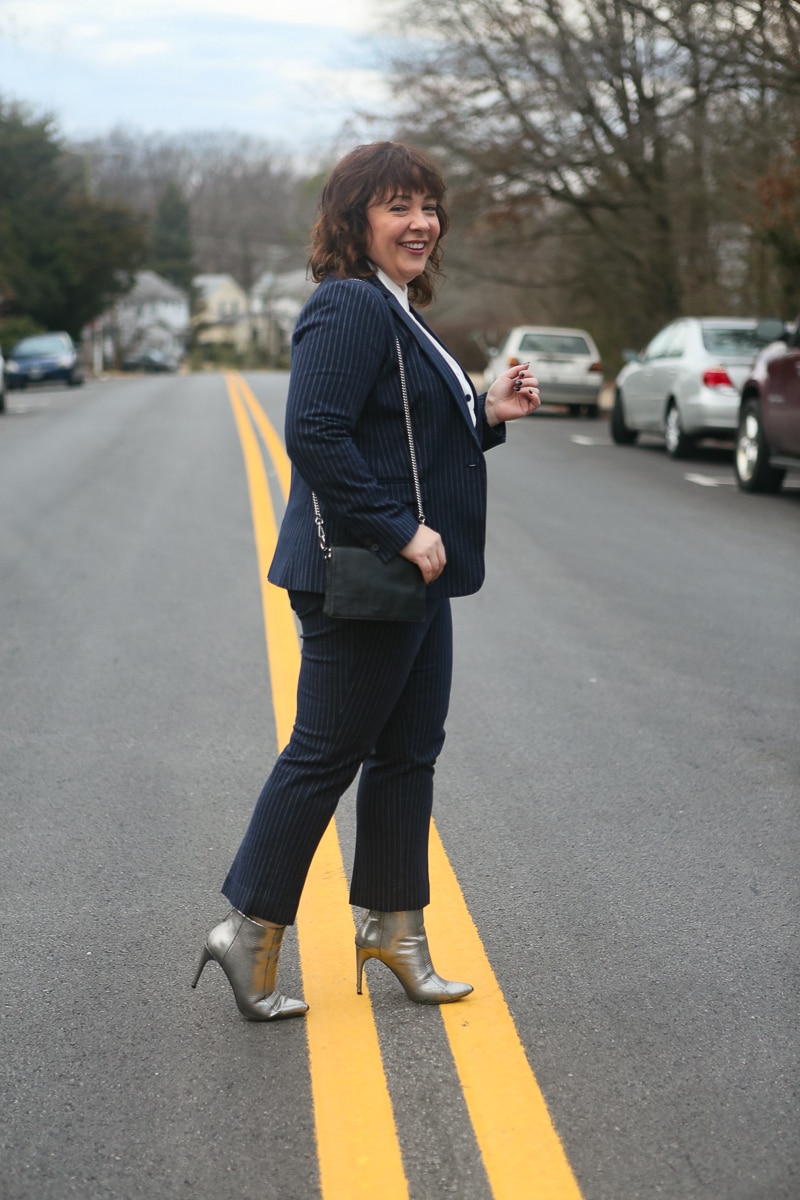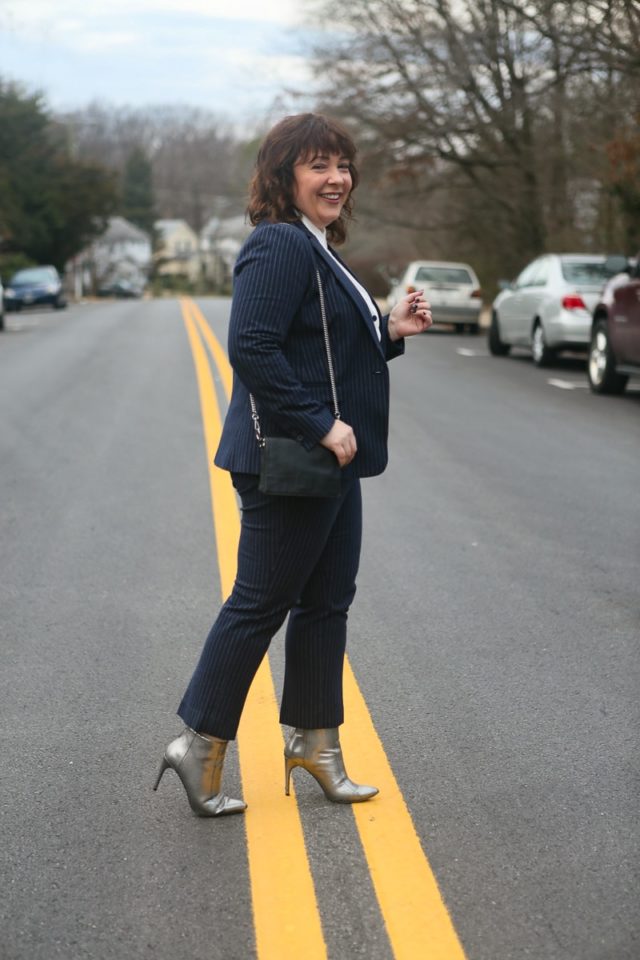 Pants: Banana Republic (14P; same cut of pant in solid navy) | Jacket: Banana Republic: (14P; similar cut of jacket that matches the similar pants) | Blouse: ELOQUII for Draper James c/o ELOQUII (12; similar concept, plus size option) | Boots: BCBG Max Azria (similar) | Bag: ALLSAINTS | Earrings: Lovestruck Earrings c/o Jenny Bird
The suit ended up gravitating towards the back of the closet because it stopped fitting well. Since the pants are both stretchy and unlined they emphasized my soft belly and I hid them deep in the back of the closet because they were a "last resort" pant I could throw on with something for work and be appropriate. End of 2017, this suit went into a pile to donate to Dress for Success. I'm glad life got too busy and it took a couple months to finally get through the pile and donate because it fit again! Here I am in February 2018 in the blazer; I wore the blazer again on the blog this past September and when I spoke at Howard University.
Shop the Look:

Sunday night I went out with my family to dinner to celebrate my birthday. It wasn't an uber fancy place but it was a special occasion so I decided to dress up. It was cold, I wanted to be covered yet look badass. I pulled out my pink suit… too big. My ivory suit… too big. Then I grabbed this suit and it was perfect.  The reason I kept it all these years even though it didn't fit is because it's classic with an edge.  Very clean lines, an ankle pant that can work at the office but also dress up and look cool for a fashion event,  The stretch makes it travel friendly, and the navy isn't too blue or too black and I find it goes with a lot of other navy items.  Also with the fabric and color, it's relatively seasonless.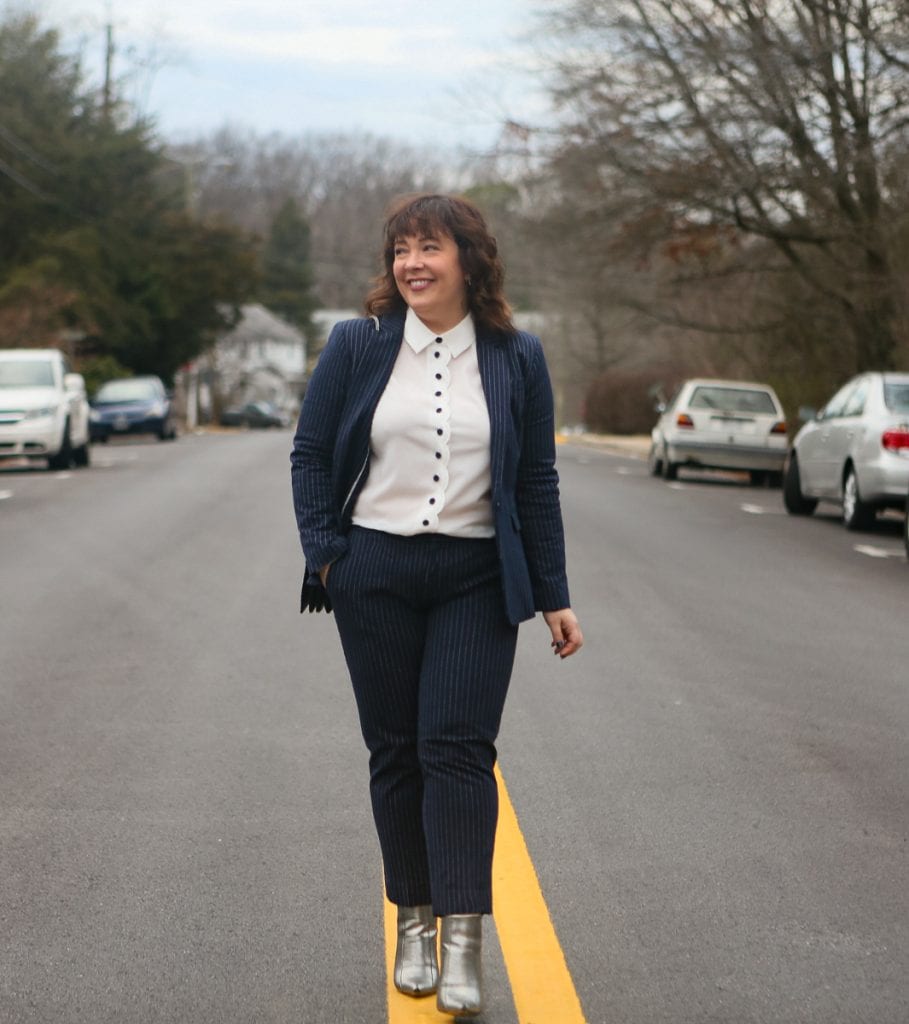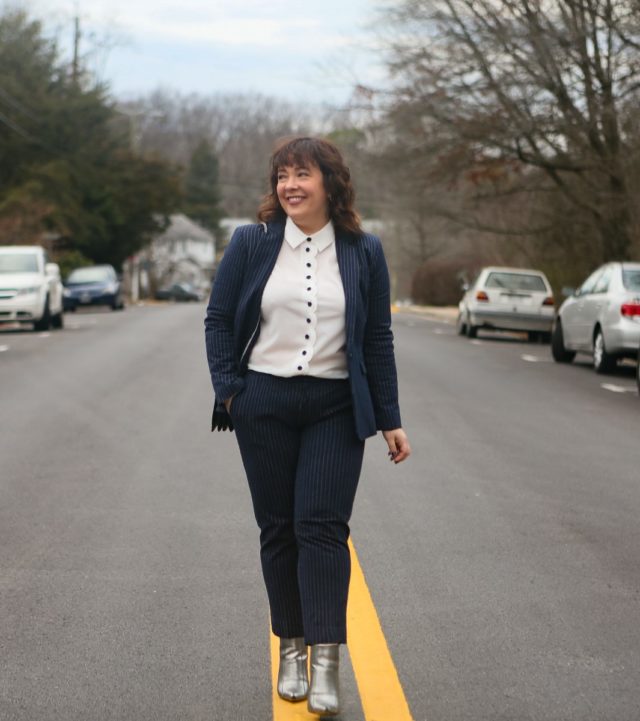 This blouse is from the ELOQUII for Draper James collection. While I wear it often and even mentioned it in this post, I think the only time it made an appearance was in my post about being an election judge.  The blouse gets a lot of wear because it's not too utilitarian.  The scalloped edge and navy fabric-covered buttons add interest.  If I wore a plain white blouse with this look, it would have felt too stiff.  The details add a feminine edge which is a nice contrast to suits, the navy complements denim making the top with a pair of jeans a complete outfit.  Because the fabric is lightweight and drapey, it doesn't feel bulky under cardigans and jackets.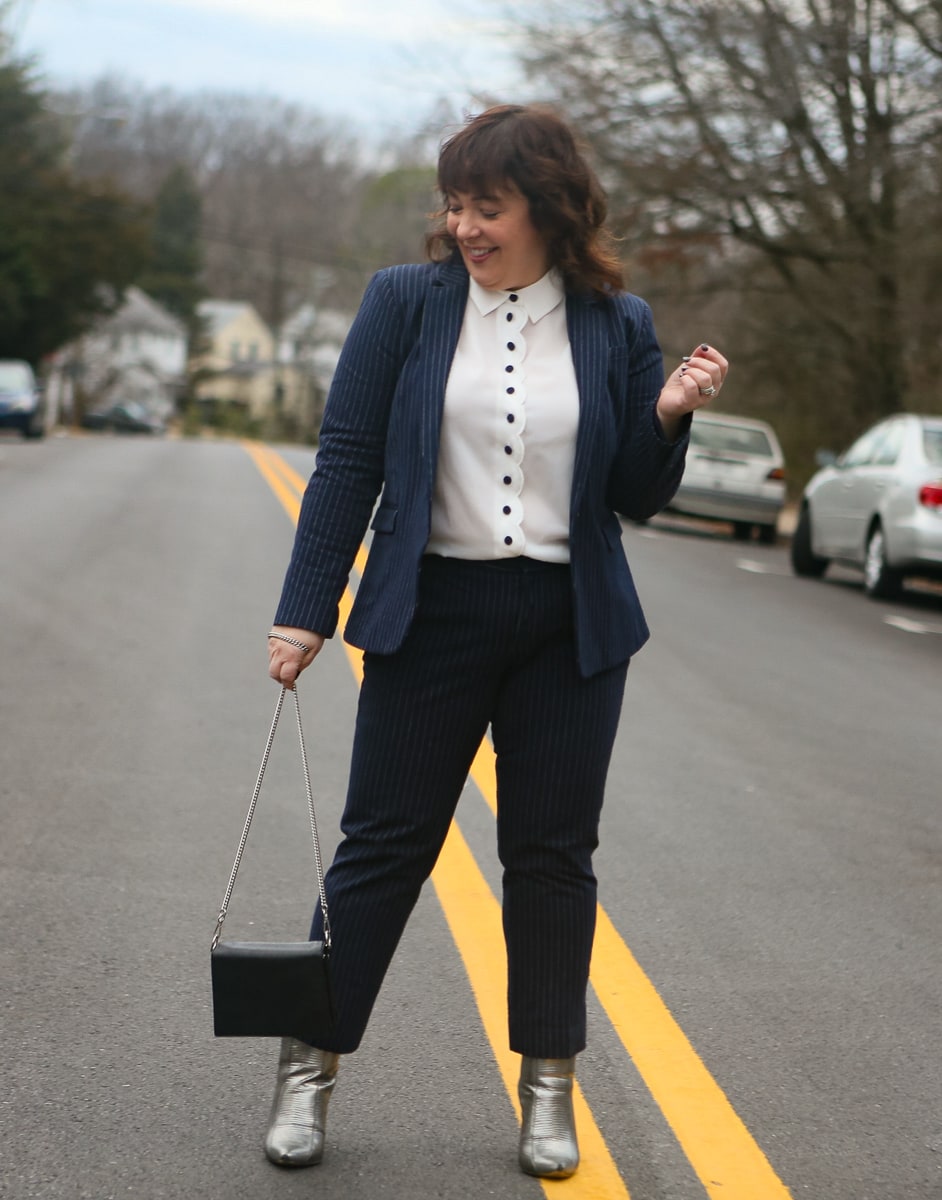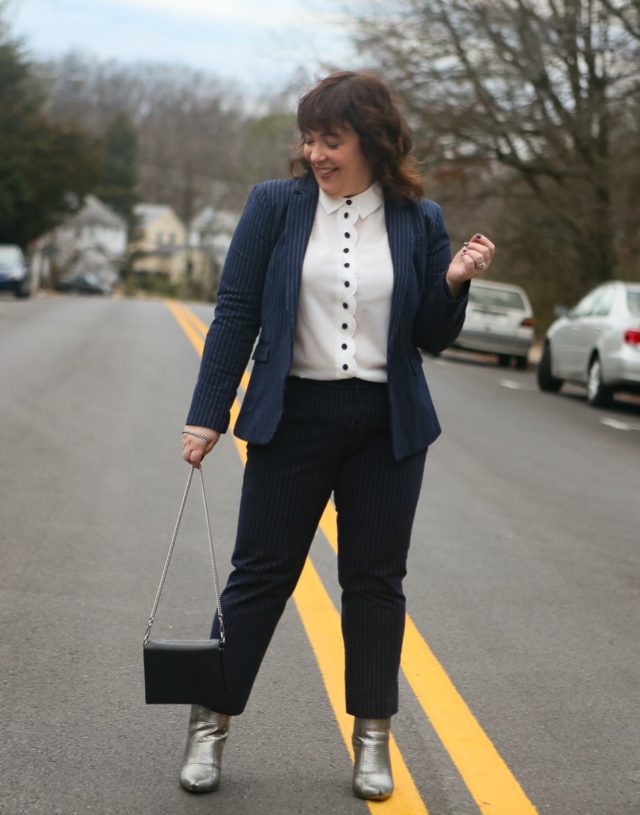 And the booties… going through the archives it seems I bought them either at the end of 2015 or the beginning of 2016 and were worn with jeans and sweaters (this look is an example). It's amazing how much these crazy silver snakeskin high-heel booties go with: coveralls, dresses, and dressy joggers. Since they're a bit higher, they also work with ankle pants to keep the ankles warm in winter.  I originally planned to wear this look with my silver brogues to share an example of what I discussed in Friday's post.  However, to make brogues work your pants have to be just the right length and these are a hair too long to give the right proportions. Once winter is over, I may take these pants to the tailor to shorten them to the right length so I can wear this suit more often. While these heeled boots are surprisingly comfortable (so comfy I have an eBay alert in case someone lists a pair), it would be nice to wear this suit with something lower to the ground!
Shop Metallic Booties:

Since the top has detail and the suit has a pattern, I kept accessories to a minimum.  Jenny Bird sent me their Lovestruck Earrings and in silver they bring up the silver of the booties without competing. Again, since the clothes have so much going on, I chose a very minimal bag.  The silver chain (one of the two straps that comes with the bag) again ties everything together without being too obvious.  And yes, you can wear black with navy.  In fact, I think the black bag is a much better choice than navy because it gives a feeling of effortlessness that you miss when you're too matchy-matchy and a color would compete with the outfit.  This is the same mindset with my makeup; instead of my usual red lip I went with a mauve that added pigment without making a statement and kept my eye makeup relatively simple.  However, I did add highlighter.  It added femininity to the menswear-inspired look and heck, your birthday is the best excuse for wearing shimmer!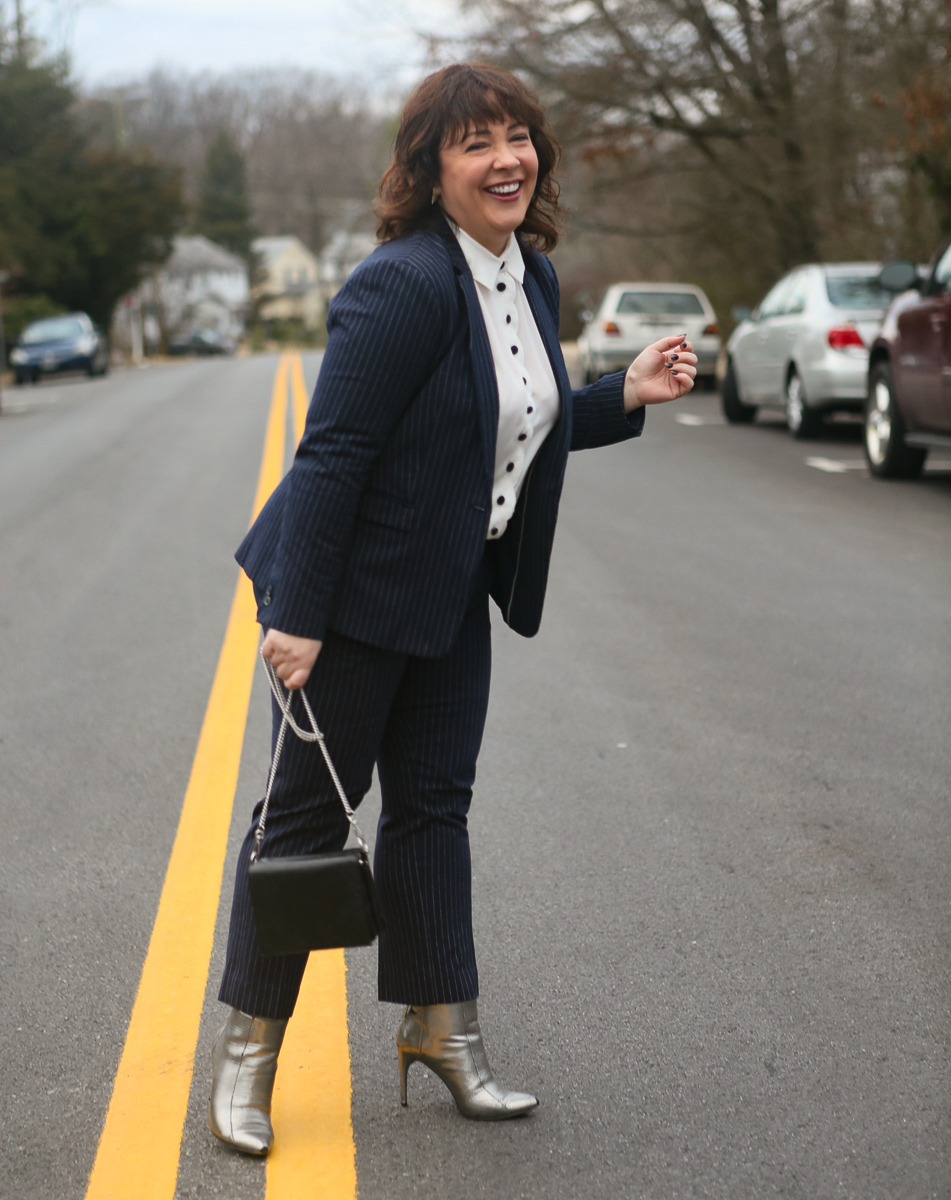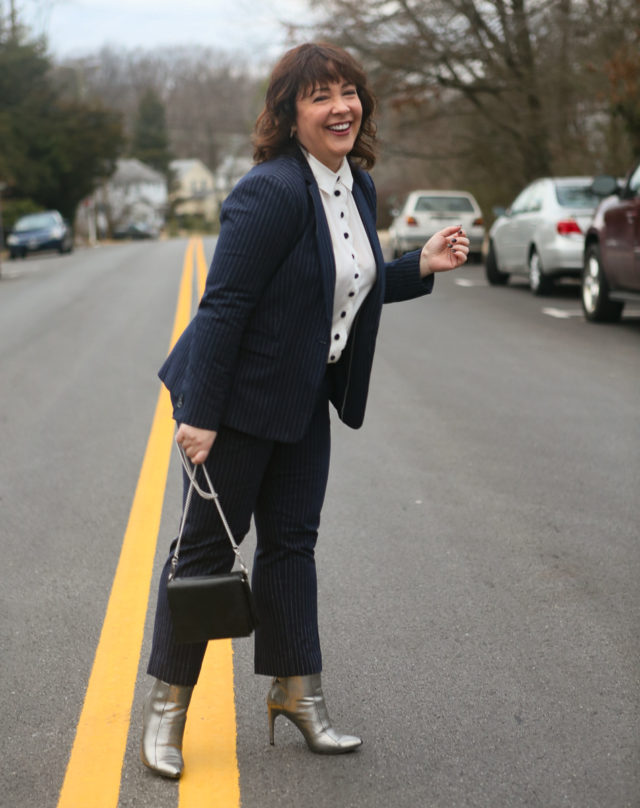 While this suit is no longer available at Banana Republic, below I have shared several other suits from the retailer.  Banana continues to be one of my favorite suiting destinations.  I love how they offer a variety of pant cuts with their jackets, they have fun colors and patterns, regular, petite, short, and long as well as sizes up to 20. They even have washable suiting!
Shop Banana Republic Suiting: