This article may contain affiliate links; if you click on a shopping link and make a purchase I may receive a commission. As an Amazon Associate, I earn from qualifying purchases.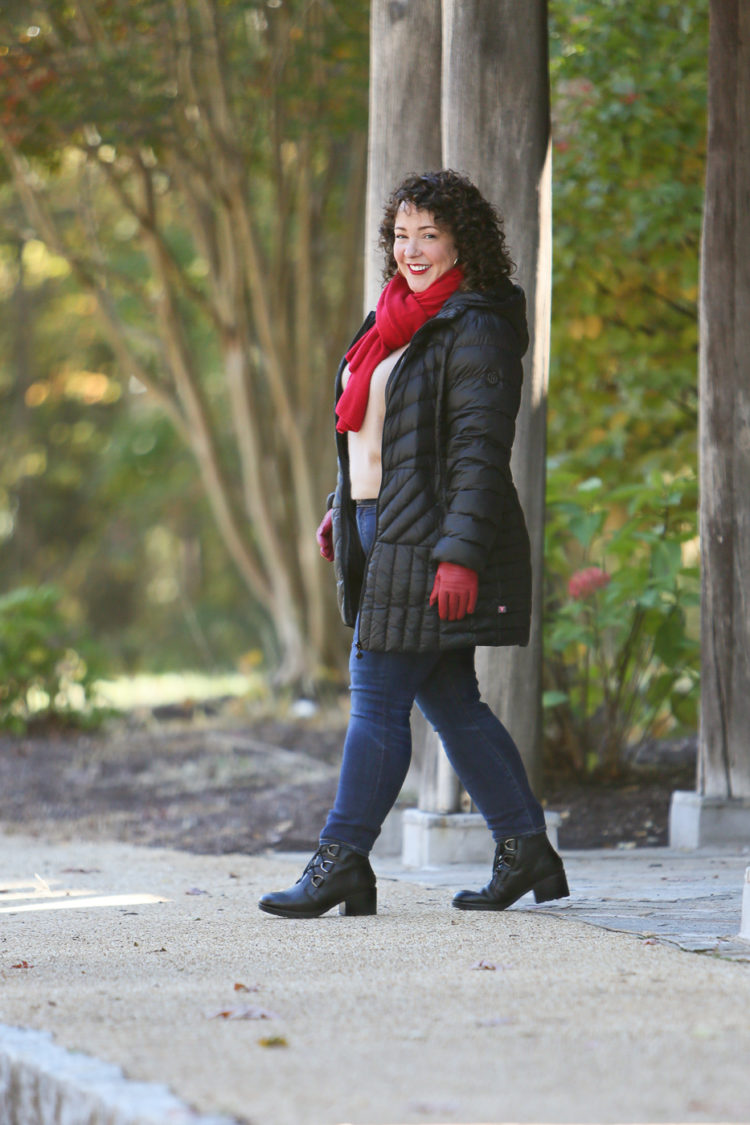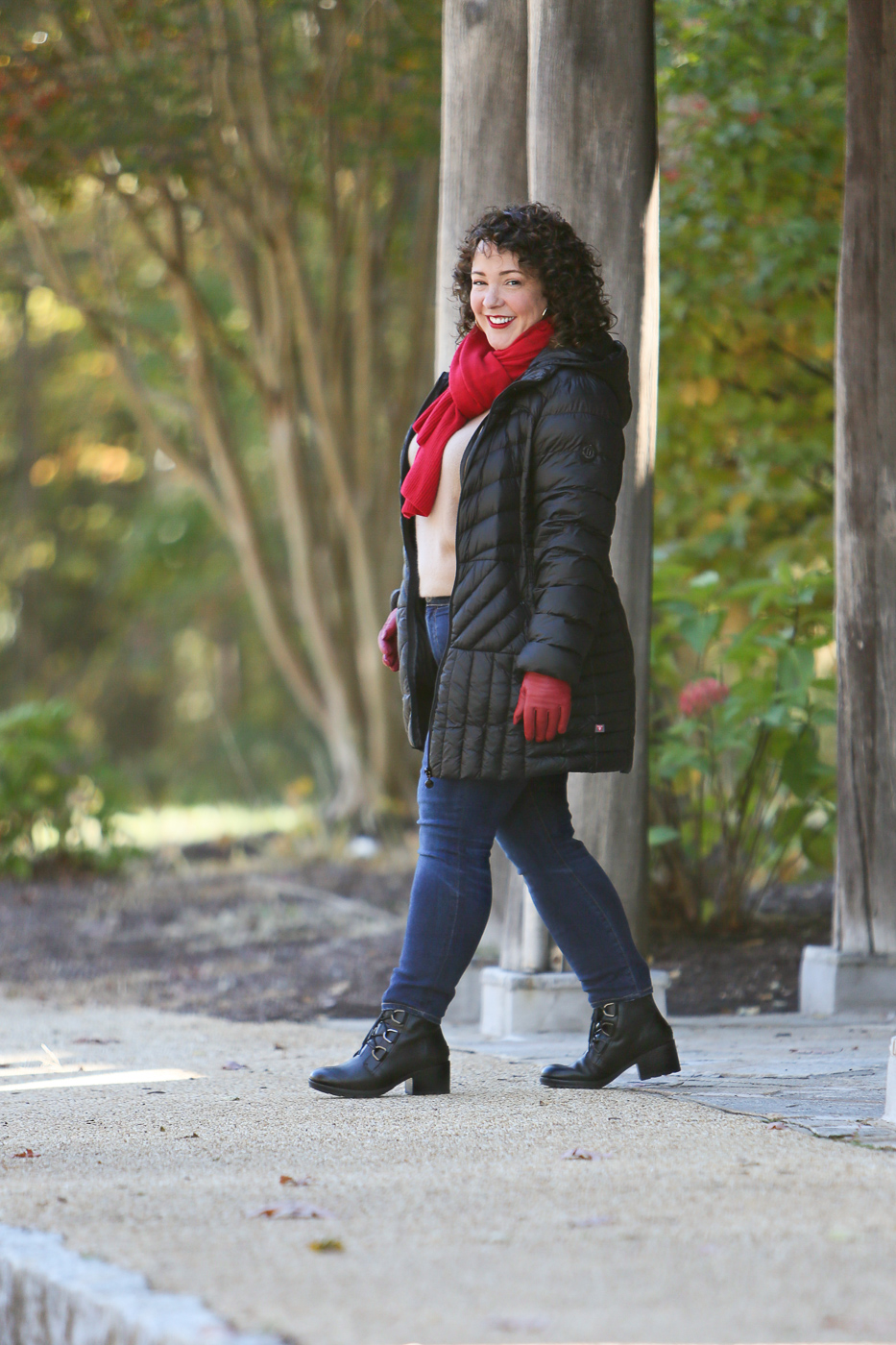 It feels as though Labor Day was just a few weeks ago but here I am typing this wearing shearling boots and a fleece pullover! Fall is here and winter is right around the corner, is your wardrobe ready? Living in the DC area, we can have Christmas so warm we're in shorts or it can get cold so quickly we have snow on Thanksgiving. I've learned to have my winter weather wardrobe ready to go by mid-November so I'm ready for whatever Mother Nature throws our way. Below I share my winter weather wardrobe must-haves and why they are so important.
This post is sponsored by Nordstrom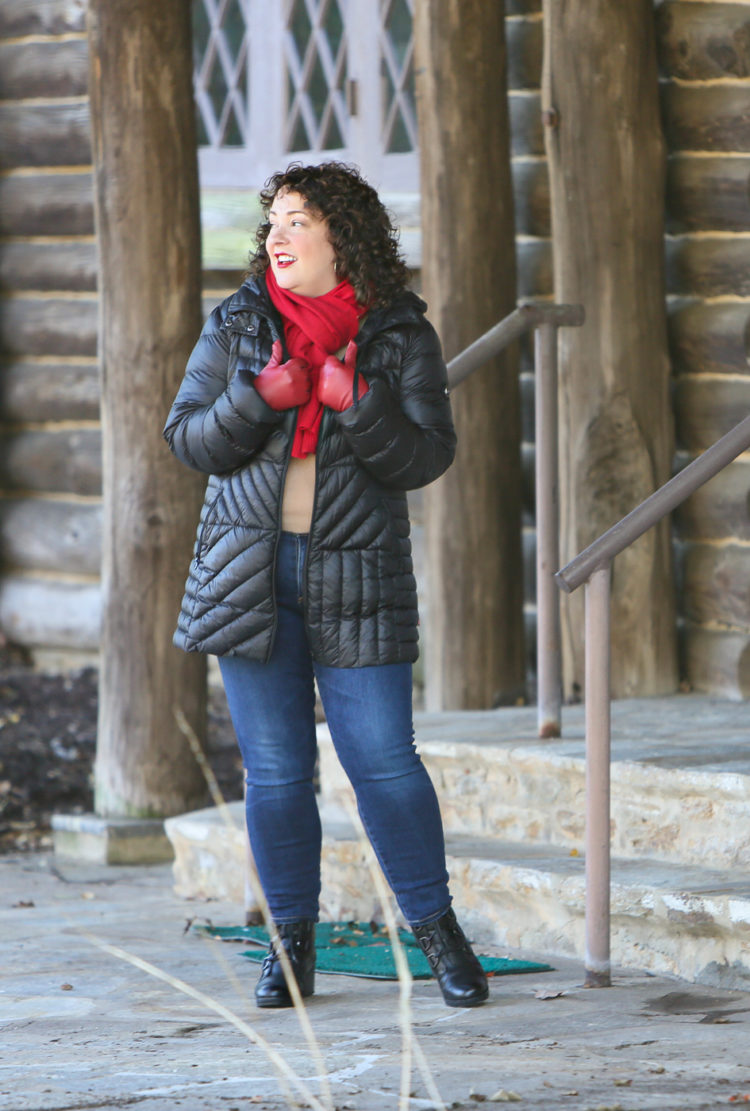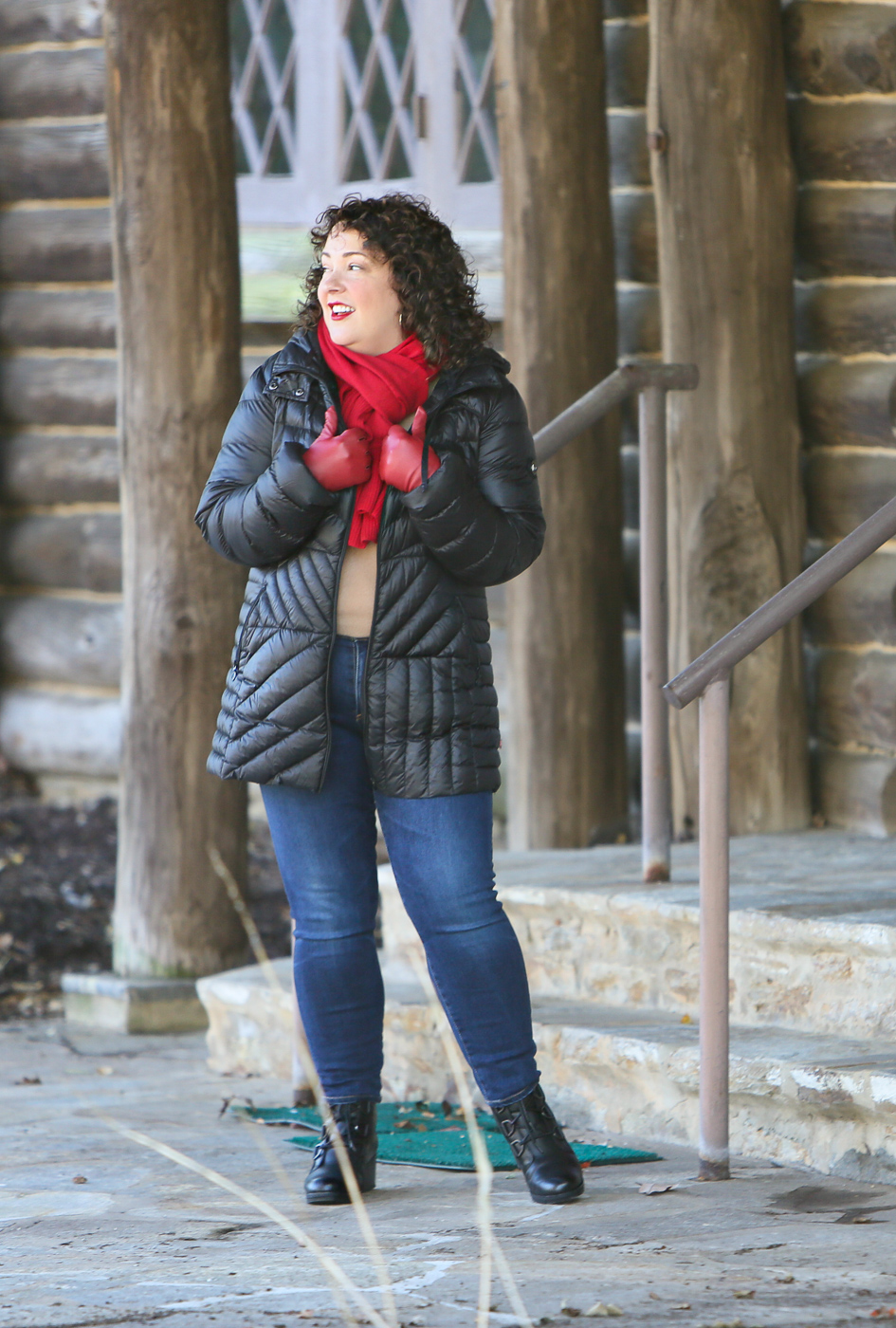 sweater | jeans | coat | gloves | scarf | hat | sunglasses | boots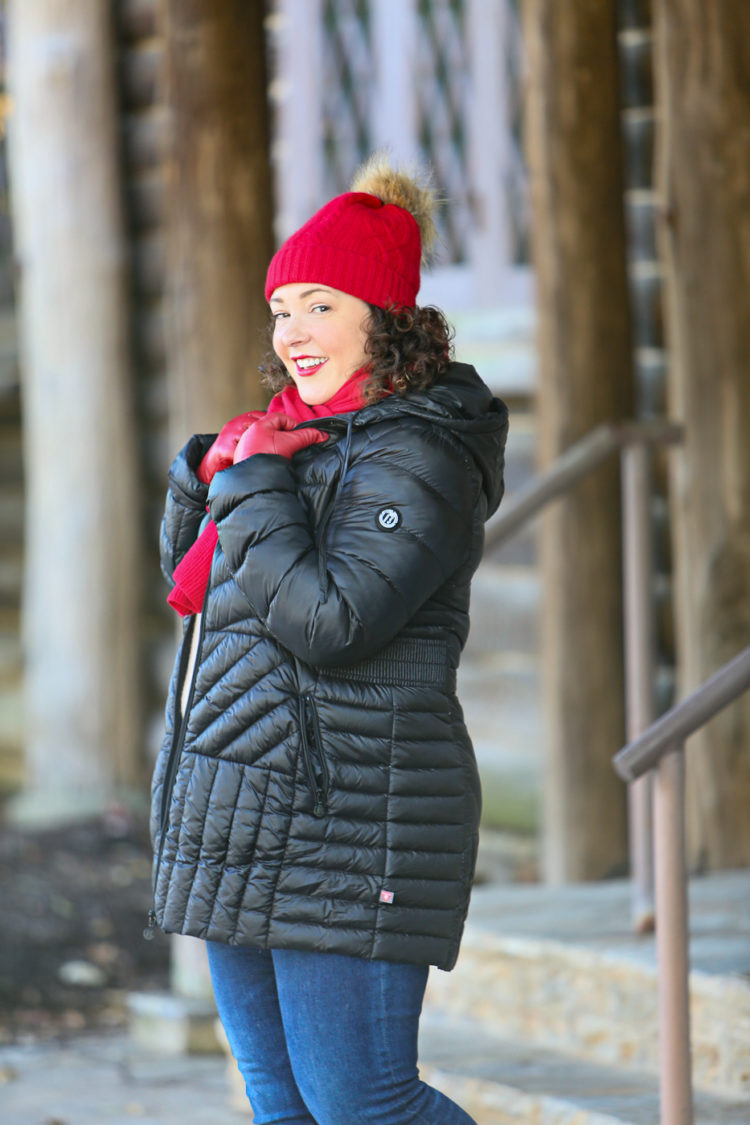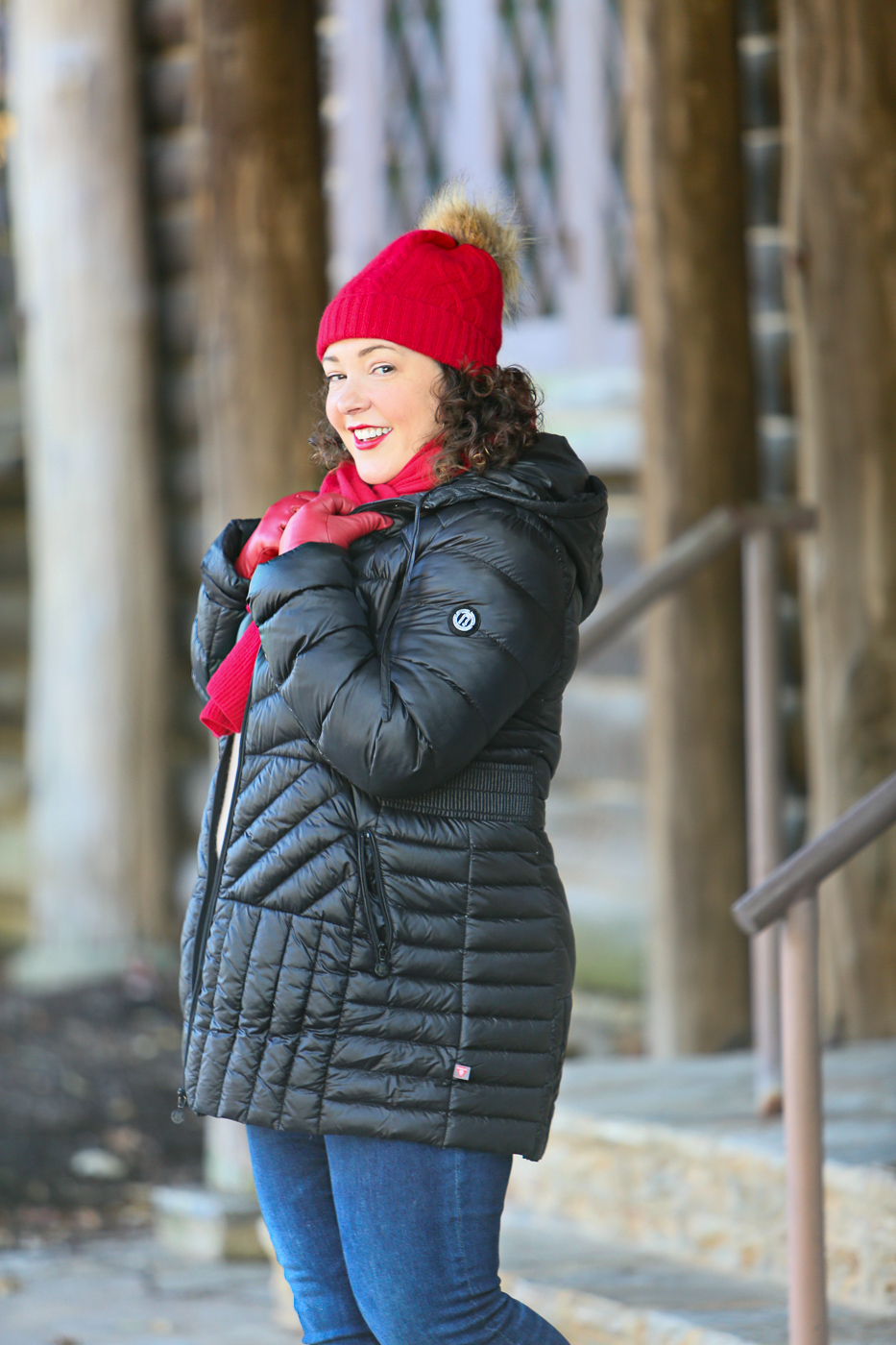 Sweater: Halogen (Large) | Jeans: AG (32; this year's version) | Boots: Sorel | Coat: Bernardo (Large petite; similar, plus size option) | Scarf: Halogen | Hat: Halogen | Gloves: Nordstrom | Sunglasses: Ray-Ban | Lipstick: Lancome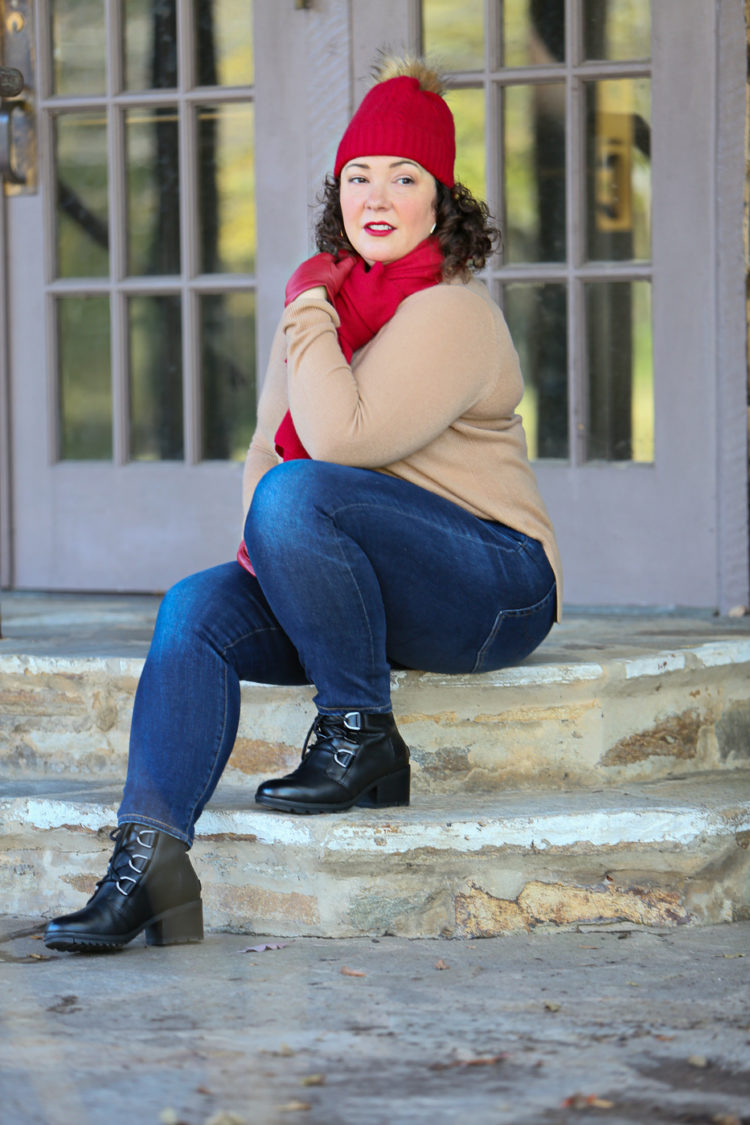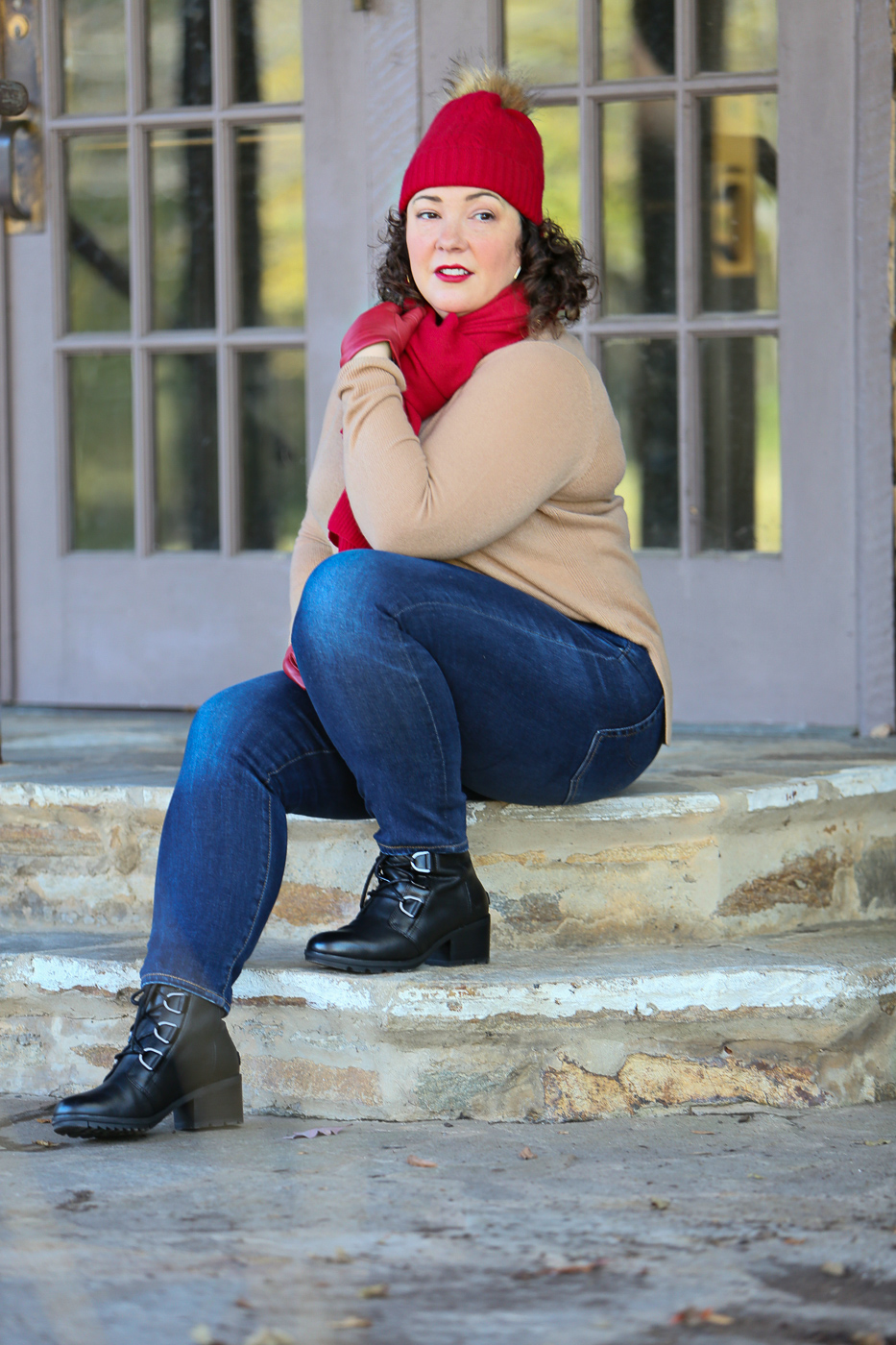 If you've read this blog for a couple of winters, you know my love for Bernardo outerwear. I love how smartly they are designed to work with a woman's curves. Strategically placed seaming and quilting, stretch panels in just the right places, shorter jackets have a curved back to keep you warm even if you bend over, even the hoods are nicely shaped to fit on the head without too much space or covering the eyes. Bernardo also carries many of their styles in petites and plus sizes. I bought this Bernardo coat several years from Nordstrom and it still looks fantastic (here is me wearing it in 2016). While this specific style is no longer available, this walker coat looks like a worthy alternative; here is the link for the same coat in plus sizes. Below I share my picks of Bernardo coats at Nordstrom:
Shop Bernardo Coats: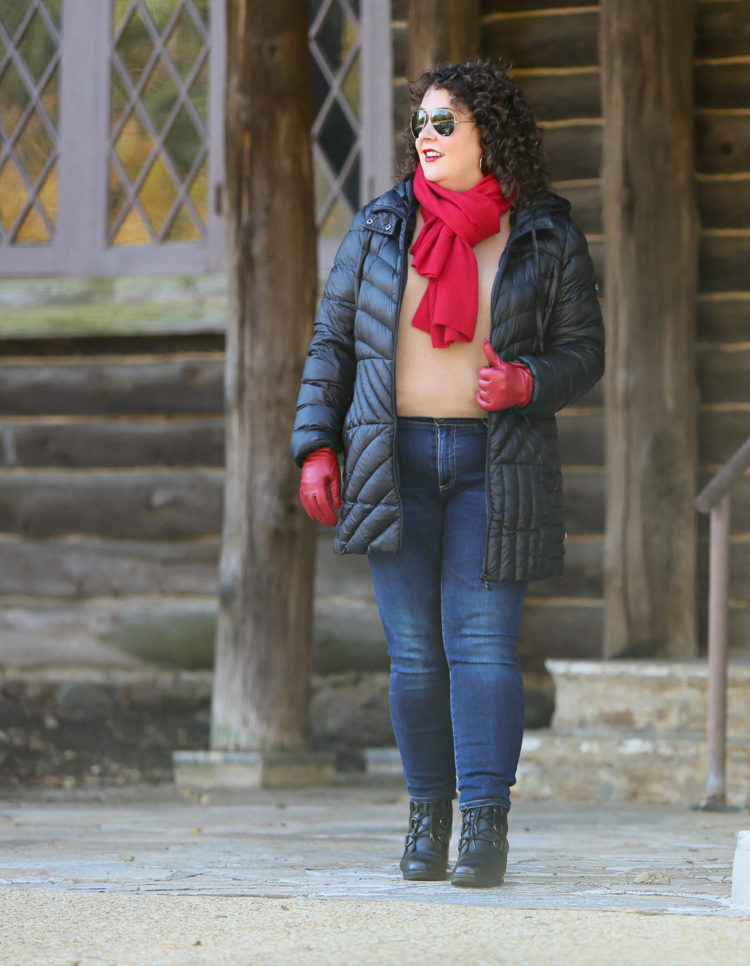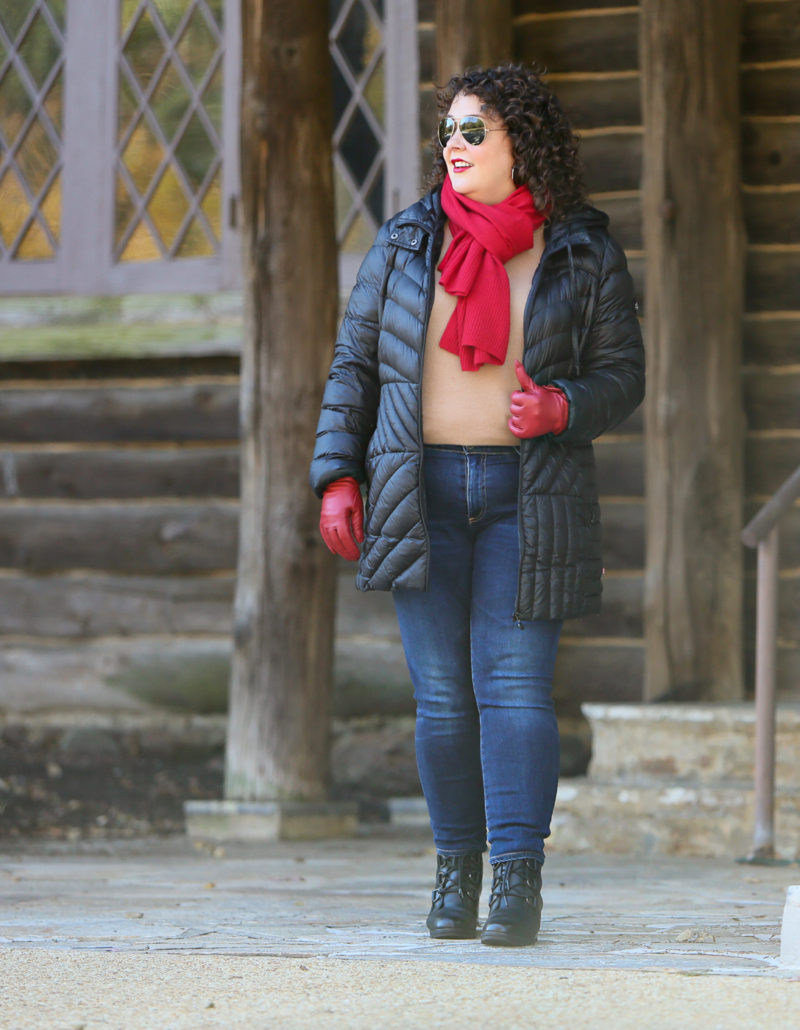 I like having a dark-colored everyday winter coat in a water-resistant, machine washable fabric so it can handle whatever life throws my way. I've tossed this coat into the washer and dryer a dozen times and it comes out looking new. It can handle being shoved into a suitcase or under an airplane seat, makes a great blanket for my daughter in a chilly movie theater, yet keeps me warm and dry when shoveling snow or sledding on a Snow Day. The zipper pockets are deep; when pulling it out for this season inside I found two lip balms, a pair of leather gloves, a pair of cashmere fingerless gloves, around 86 cents in coins, several receipts, and one of those adapters to make traditional corded headphones work with a new iPhone! During this shoot the fingerless gloves were still in there along with my lipstick, car keys, and my oversized iPhone. But the pockets can be stuffed to the gills and it still zips up comfortably and looks great on.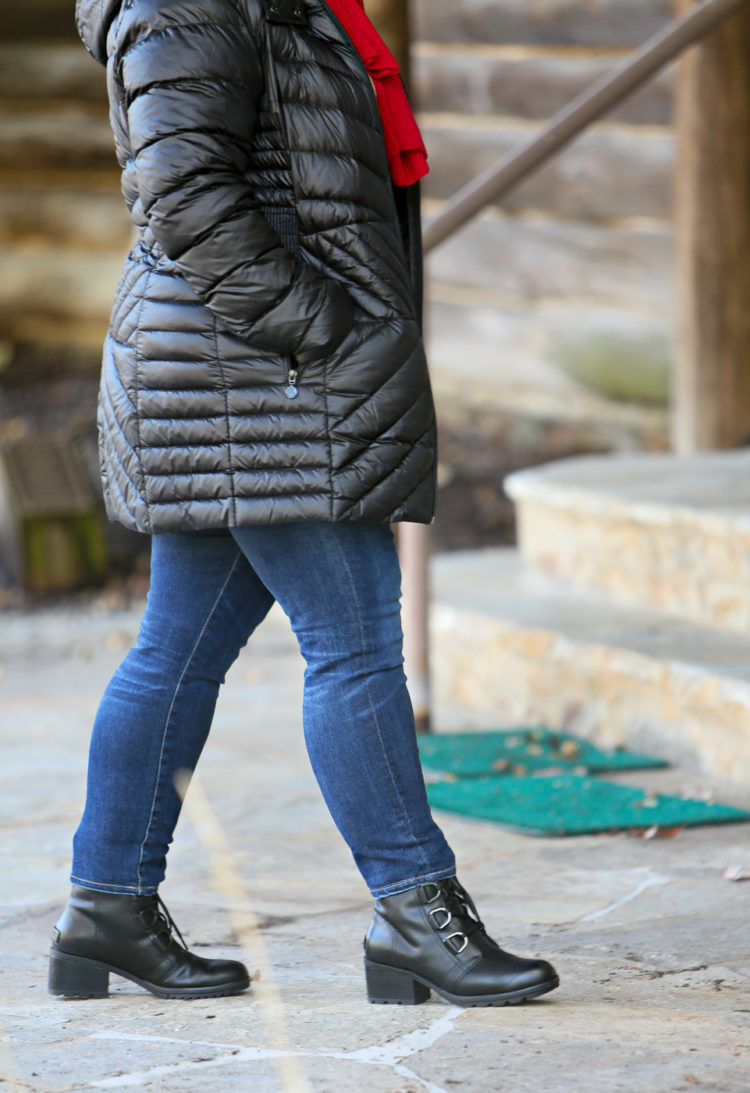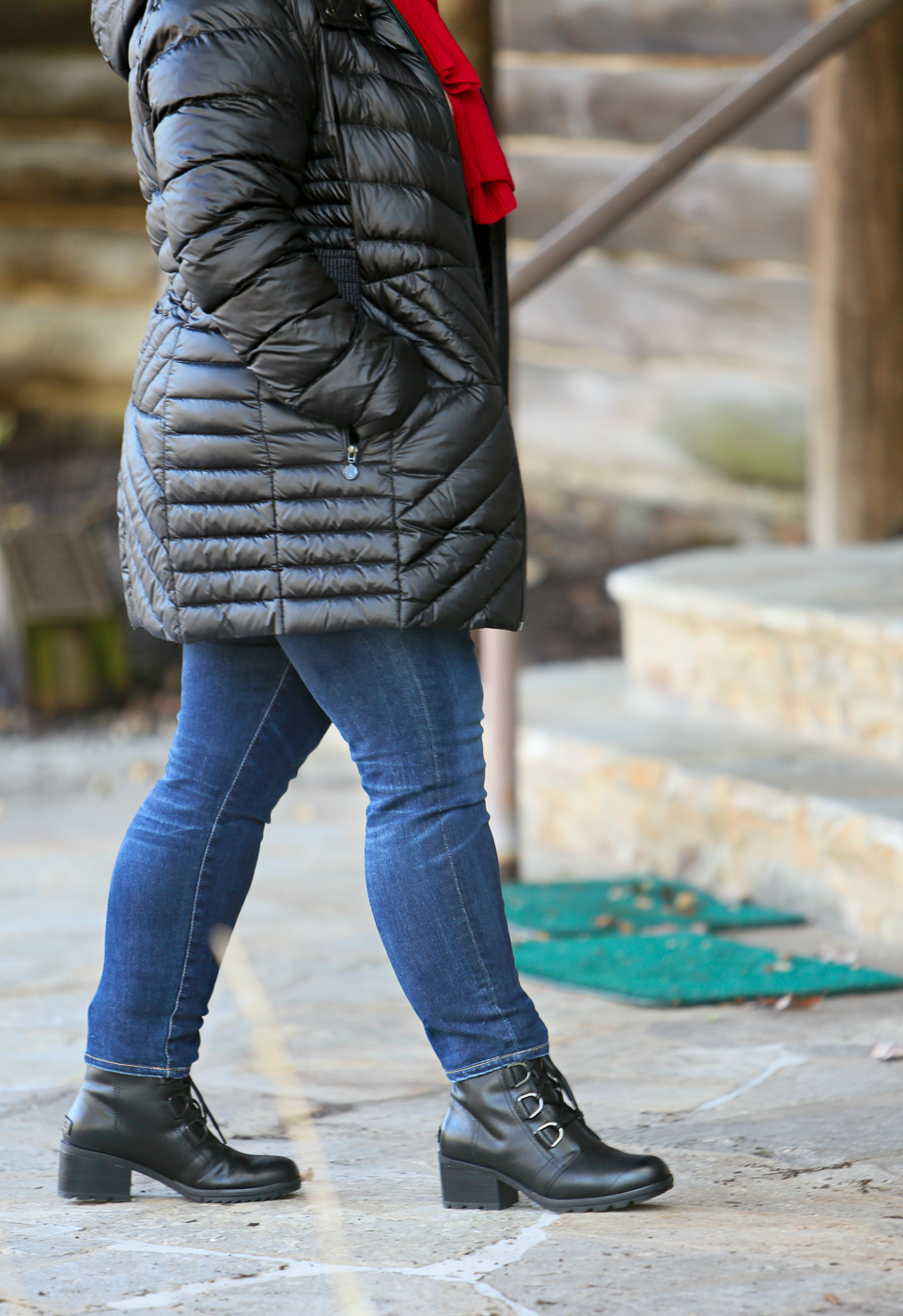 After slipping on black ice and breaking my arm, I am very particular about my winter footwear. Sneakers and smooth-soled boots don't cut it. I am a big fan of Sorel footwear. Great quality, great fit (even with my wide feet I find their standard sizing comfortable even with thick socks), and great style. For several years I have been rocking their Joan of Arctic wedge bootie (here's a link to this year's version) in a dark brown. I love that the heel kept my pants from dragging during slushy work commutes and the boot looked chic under trousers or laced up over leggings. I even have worn them with maxi dresses! I wanted a black pair for this season, and loved how the Sorel Cate Boot has the combat-boot styling that is so on trend this season while having a chunky lug sole and articulated treads great for grip and a waterproof exterior. These are also roomy and comfortable right out of the box – the first day I wore them I had them on for six hours of walking and standing and had no blisters or hot spots. They look cute with a midi or maxi skirt, slipped under jeans (I've rocked with a straight leg, skinny leg, and even a cropped wide leg), or laced up with heavyweight leggings.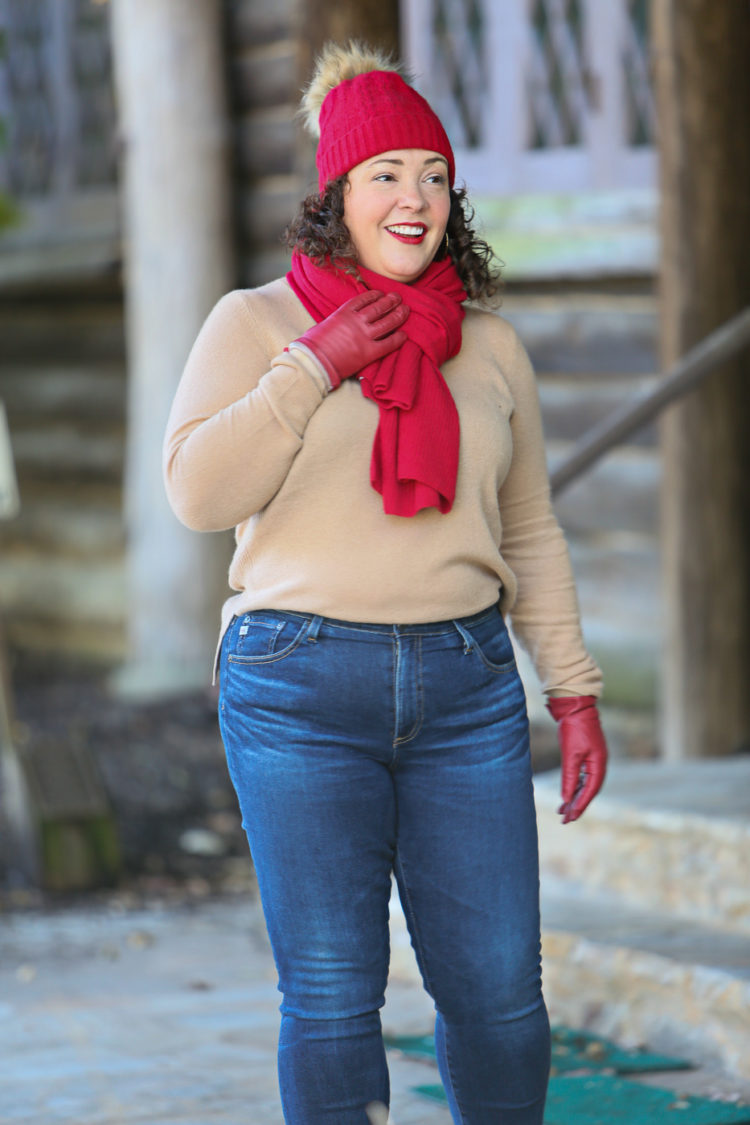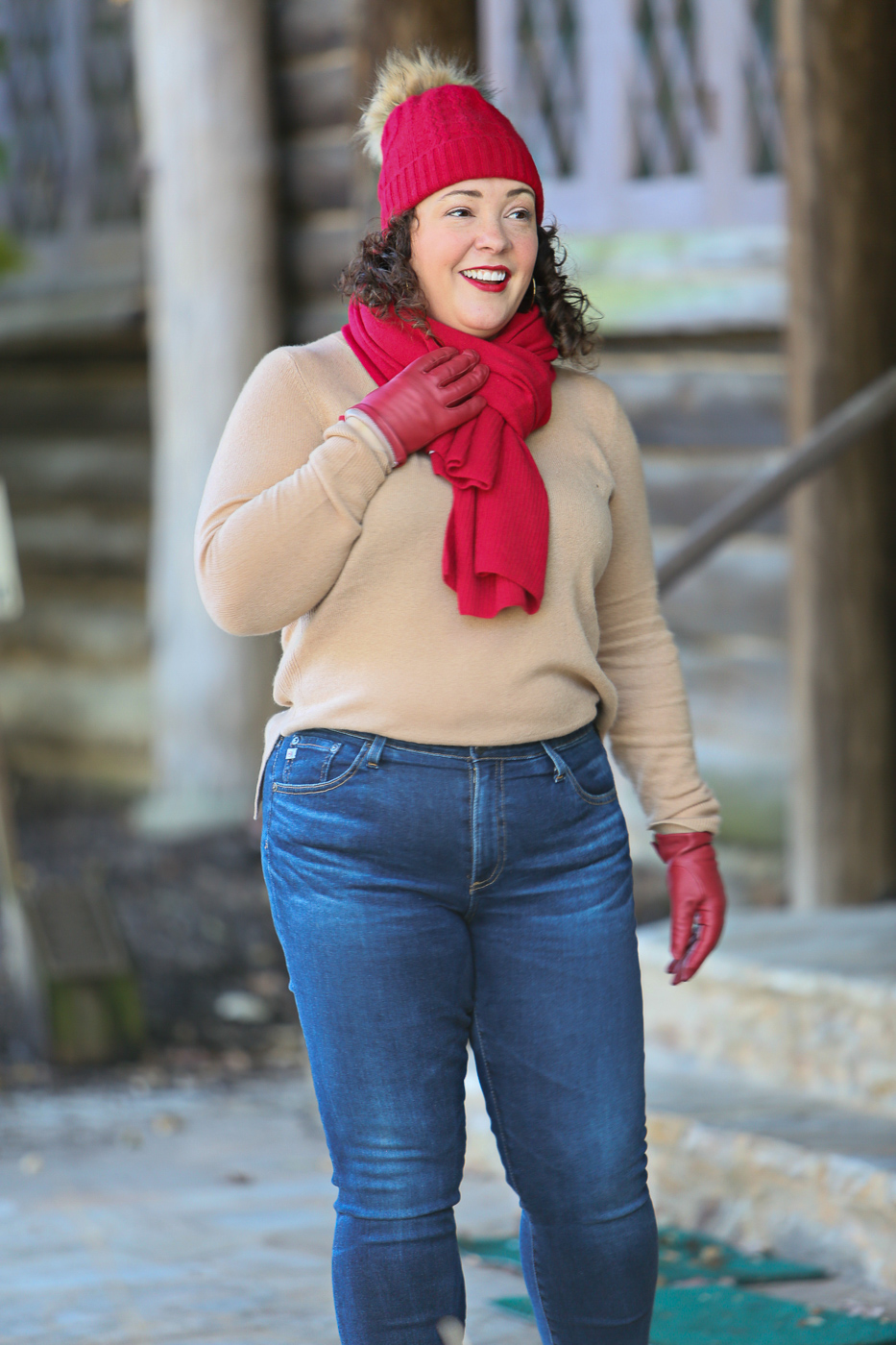 So let's talk about accessories! I look for accessories that are fashionable but also functional. I'll take practical over cute any day, but you can truly find both and Nordstrom has a great selection of styles and pricepoints.
I love the non-itchy warmth of quality cashmere, and I have never been disappointed from Nordstrom and Halogen cashmere accessories. Those fingerless gloves in my coat from last winter? Halogen. I've been wearing Nordstrom cashmere pashimas as winter scarves for over a decade! Here's proof from 2007! And I still own that same avocado-colored Nordstrom pashmina! This year I decided to switch it up with a cashmere knit scarf that doesn't have any fringe and has a bit of stretch to be more versatile. It can be a shawl, can be worn as an X across the body under a zipped-up coat for chest warmth, looped as I have it here or wrapped around the head and neck under a hood to keep the ears, neck, and head warm. It's stylish enough that you can leave it on even if you take off your coat. The red is rich, more ruby than fire truck, which would look so elegant with gray, camel, and ivory coats as well. The scarf comes in several different colors. Cashmere accessories can dress up or down with ease; I can use this scarf with my dress coats too.
When it comes to gloves, my favorite are leather. They can keep me warm, but also I have good grip on the steering wheel, my child's hand, or those bags of groceries. I have two pairs from previous years, one pair black, one pair purple. My black pair is older than my 5th-grade daughter, that's how good the quality is. I decided to get a pair of red to match the accessories; these are silk lined so they aren't bulky but still provide protection and warmth. I am a size medium and find the fit great; many gloves are too long in the fingers for me. I love the variety of colors available, and Nordstrom changes up the selection each year!
I may sound like your mom, but you need to wear a hat! We lose 10% of our body heat through our head; wearing a hat is a quick way to feel warm and also protect your delicate ears. I wear a hat the majority of the winter, even inside. I thought the faux fur pom on the top of this beanie was so cute and loved the mix of the camel pom and the rich red hat. With curly hair I sort of pile the majority of my hair up into the hat so it doesn't get flattened while wearing it. But to be honest, once winter is here I am not ashamed to rock a hat like this at Target, the bank, my house, and my friend's house! If the hat is cute, there's no need to take it off unless it's a dressy or professional situation.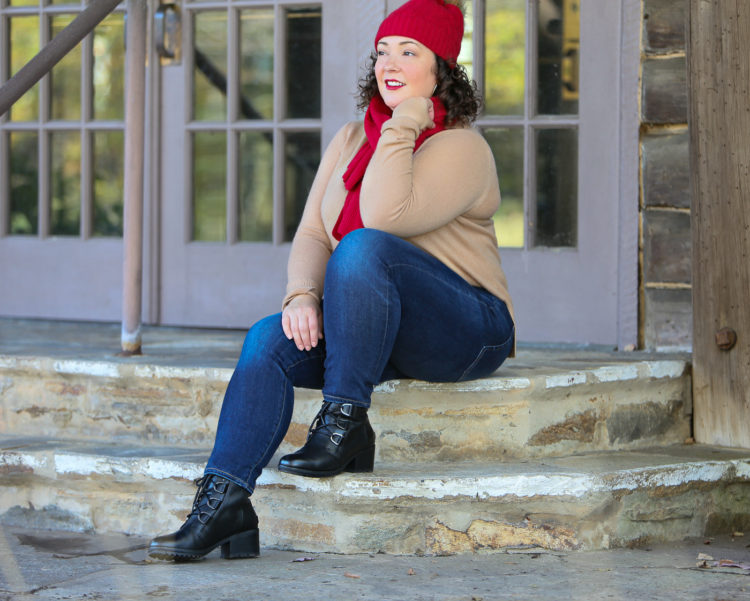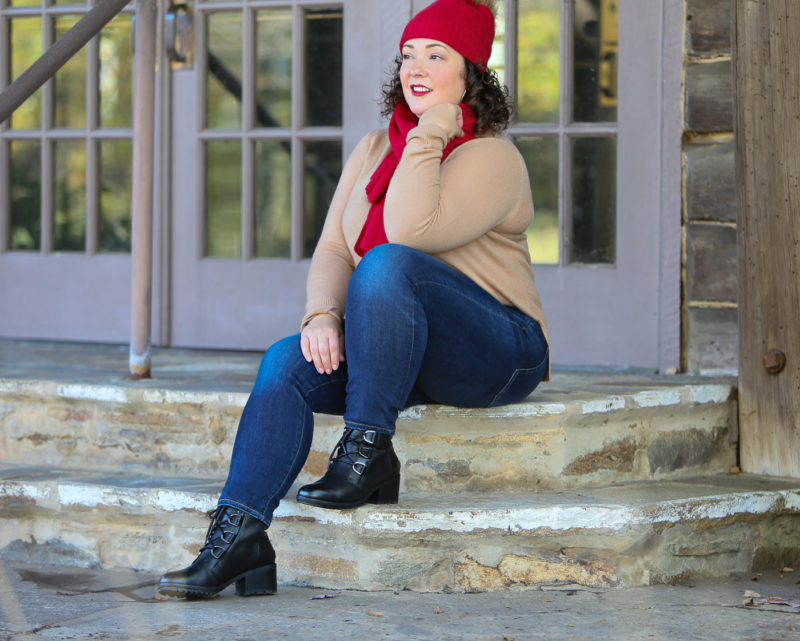 I own a lot of winter accessories from Nordstrom. I love the color options, the price, and the quality. Below I share all the pieces I personally own that have done me well over the years:
Shop Winter Weather Accessories: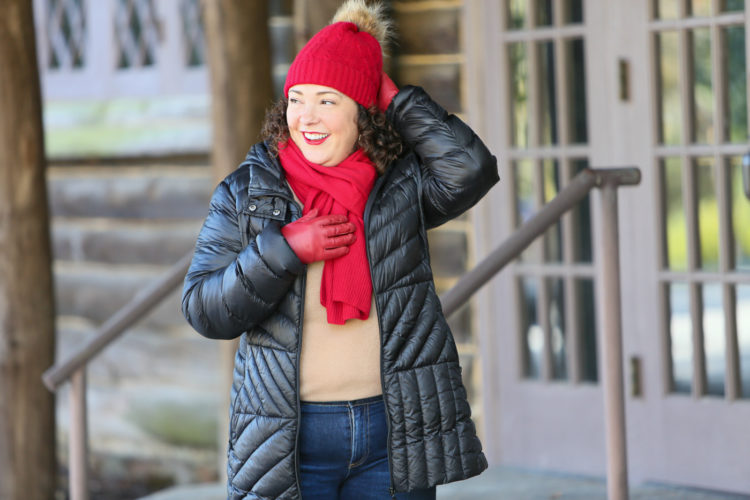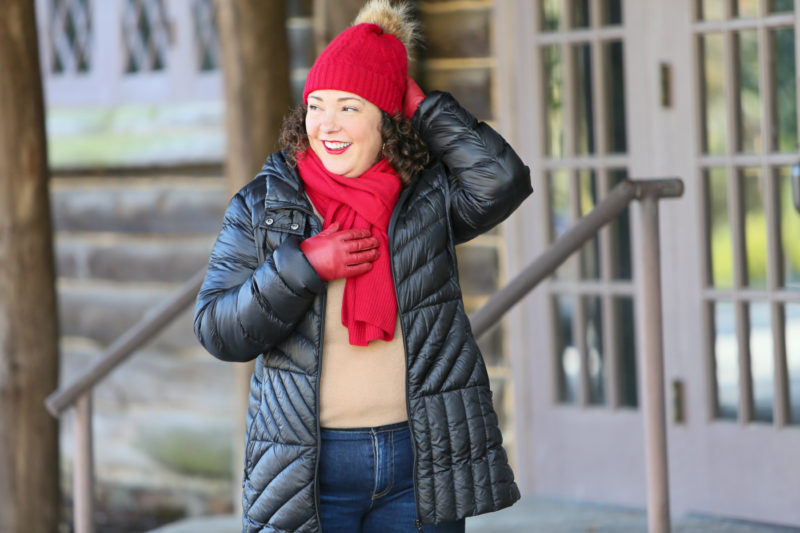 For winter it's important to keep your head warm, look for shoes that are waterproof and offer good grip on slick surfaces, accessories that are practical (grip, waterproof, multi-functional), and a coat that can take a beating and still look fantastic. Prepare now for a cozy and stylish winter!
Shop the Look: