This article may contain affiliate links; if you click on a shopping link and make a purchase I may receive a commission. As an Amazon Associate, I earn from qualifying purchases.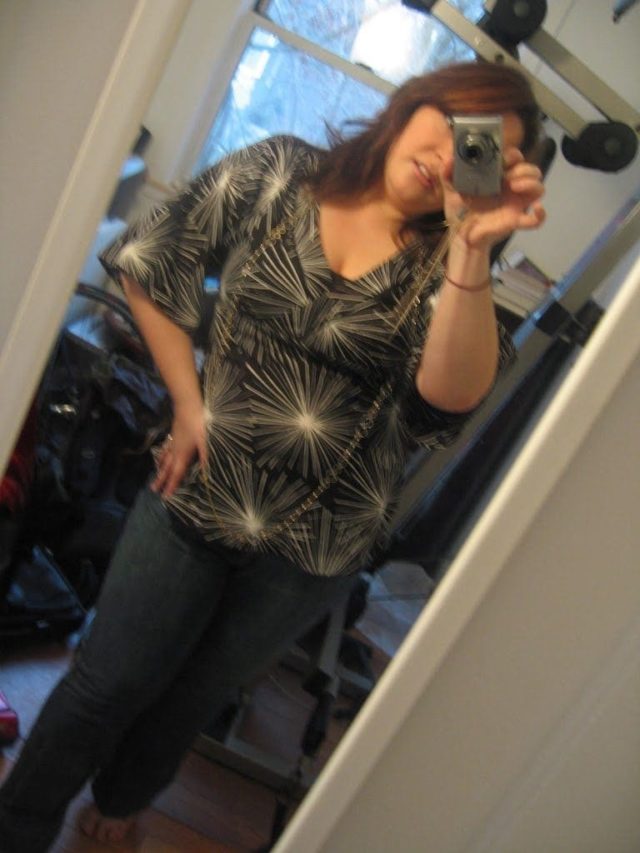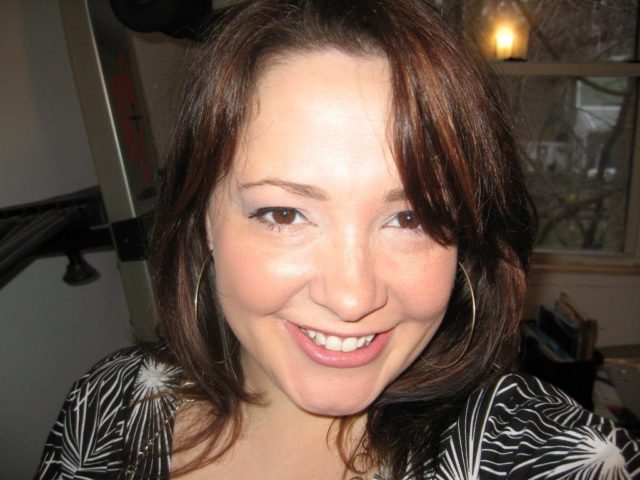 Yesterday my office mate had to have her computer worked on by IT. They said it would take 1-2 hours. Bossman told us to take an early lunch and take our time so we headed to the mall. The nearby mall just opened an H&M so we went in to look around. We each left with a top. I had tried this top on a few months ago in white with red pattern, but felt it looked a bit cheap. I liked the black with white pattern, but they only had sizes 2 and 16. This new location had a 14. I didn't even try it on, I jsut took it straight to the register. I am still a 14 on top thanks to my bosom and with a safety pin and a cmi for some modesty, it looks great!
Black and white cotton kimono-inspired top from H&M, same black Victoria's Secret cami as yesterday, Gap's Curvy Fit bootcut jeans, black city boots from Aldo. Gold chain from Express, thin gold hoops from Diva. It's so warm out, I left my coat in the car.
Hair is a bit weird, but I am okay with it since I have an appointment Wednesday with the Talented and Fabulous Kathleen (cut and color!). I washed and conditioned it, and then the hubby had to get ready for a breakfast appointment with family. While he showered and brushed and whatevered, I got dressed and took care of the dog and next thing I knew my hair was partially dry, and partially stringy. I put a bit of the Sexy Straight Hair's Shine On! and a bit of VO5 volumizing mousse into the hair, and tried to dry straight with a round brush. it wasn't cooperating. I gave up, blew the rest dry quickly with a paddle brush and applied some jonathan Dirt to make it look purposeful in it's scraggly-ness.
Makeup is a bit potent, but who cares? Last day of work until 2007! Time to party! L'Oreal True Match foundation in C3, same brand concealer in W1-2-3, a bit too much Smashbox Soft Lights in Tint (need to wash my brushes this weekend!), Physician's Formula Magical Mosaics bronzer in light, Revlon ColorStay shadow quad in neutral – the ivory int he inner corners of the eyes and along the brow bone. The Body Shop's Slate shadow on the lid. L'Oreal Voluminous mascara and Maybelline's Ultra Liner in black on the top lash line. On lips is Revlon LipGlide Sheer in Sheer Burgundy.
As an aside, though I will not be working next week, I will attempt to post outfits as situations arise (party tonight, Christmas Eve at Mommy's Christmas Day at the cousin's, beach weekend for NYE…). If I do not post this coming week, I will save and post in order the first week of January. If I don't see you beforehand, i wish all of you a happy holiday season and a fantastic New Year!