This article may contain affiliate links; if you click on a shopping link and make a purchase I may receive a commission. As an Amazon Associate, I earn from qualifying purchases.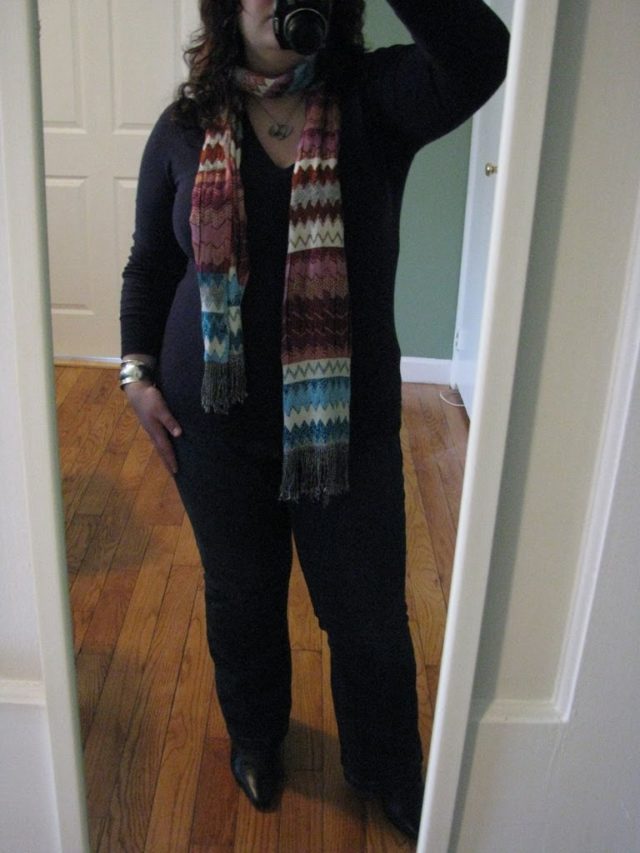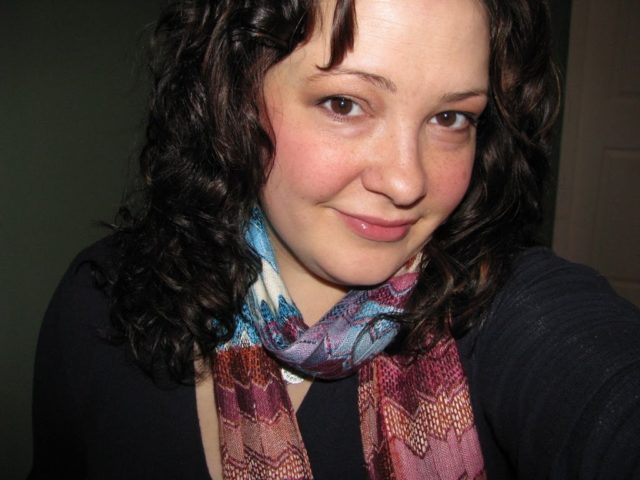 Attire:
Banana Republic – Navy stretch cotton v-neck sweater
Gap Maternity – Long and Lean jeans
Tolani – Blue Zig Zag scarf
David Tate – Black leather city boots
Nordstrom – Silver dangly earrings
Silver cuff and necklaces
Hair:
Washed and conditioned with Pureology Volumizing
Matrix – Curl.Life Contouring Milk
Let air dry 80% and dried rest with dryer on low setting because I am not sure where my diffuser is (still not settled from the remodel)
Beauty:
Philosophy – The Present
Stila – Illuminating Tinted Moisturizer
Laura Mercier – The concealer from the Flawless Face Kit
Nars – Blush in Orgasm
Benefit – Her Glossiness in Next Question Please
Three Custom Color – Sweet Indulgences Shadow Trio
Check out the Tolani scarf, thanks to chickdowntown.com! I love it – it's a great quality, thick yet stretchy, really rich colors. I can't believe how quickly it shipped! It arrived in a lovely white chickdowntown.com gift box tied with a black satin bow.
So as you can see I tried out some new makeup today. The Stila tinted moisturizer – FAIL. It's so sheer, it's as though it's nothing. more sheer than Cover Girl or Laura Mercier tinted moisturizer. I think the illuminating feature makes me look a bit greasy, when I was hoping it would give me some brightness that is lacking due to sleep deprivation. You can see how it just doesn't give that bit of coverage needed to not look like a cadaver. I had to up the blush to balance it out.
As for the shadow trio from Three Custom Color Specialists? WOW. Talk about some intense pigment. A light swipe gave me three times the color than I get from any of my other shadows (Revlon ColorStay, Clinique, Pop Beauty, Body Shop, etc.). As for wearability, well I just went to the bathroom and checked out my eyes and they still have as much intensity as they did at 7am. I only used two of the colors, I hope to play with this trio more this weekend (looking forward to see how the colors do wet as a liner alternative).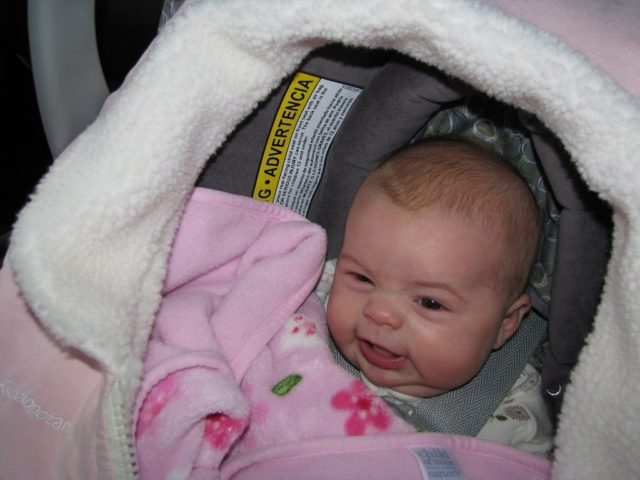 And for all you Emerson fans, here's the little one in the car just before I left for the Metro.
I know it's a weird face, but I thought it was too cute. We were playing Nose, where I would touch hers and say "Nose!" and then touch mine and do the same. This is the face she would make when I touched her nose, and then she would usually grin afterwards.
Happy Friday everyone! Hope you have a wonderful weekend. We don't have much planned except for dinner with some new neighbors on Sunday night. Looking forward to that, and getting to know them better!