This article may contain affiliate links; if you click on a shopping link and make a purchase I may receive a commission. As an Amazon Associate, I earn from qualifying purchases.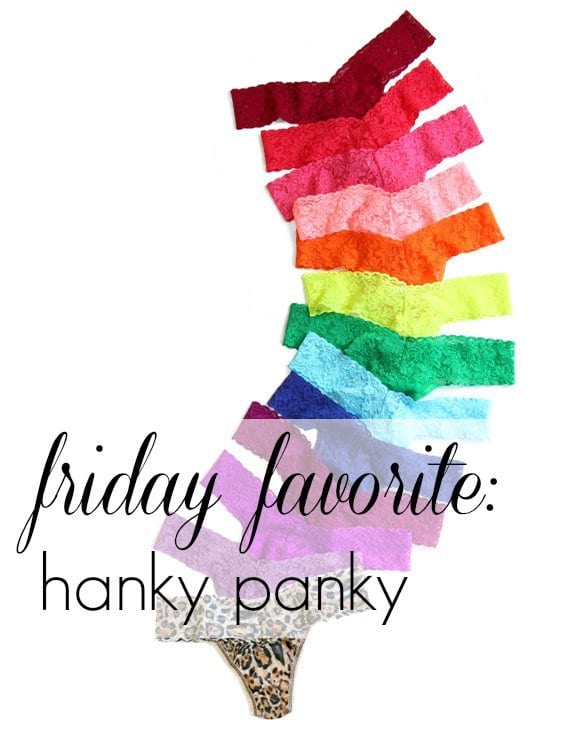 If you've read this blog for a while you know I'm a Hanky Panky devotee. Since having Emerson and now having a soft lower belly, I am a big fan of their "Retro" line, which has a higher rise. Their Retro Thong is the most comfortable thong I have ever worn and I love that it's lacy so it looks pretty while still being soft and stretchy. Their Retro Lace V-kini is my everyday favorite underwear. It's the perfect height, the lace makes them sexy, but they're breathable, stretchy, soft, don't roll down or ride up in back.  Every nSale I stock up on the discontinued colors on sale and every year when I get my annual bonus at work I buy a few pairs.  If you were to open my lingerie drawer, a good 40% of it would likely be stretchy lace in a multitude of colors, all from Hanky Panky.
So when Hanky Panky reached out and asked if I'd like some of their latest collection I was thrilled. While I am quite familiar with their panties and thongs, I had yet to branch out and try any of their other items.
Did you know Hanky Panky carries sleepwear? I had seen their lace chemises and babydolls, but didn't know they had more traditional pajamas and gowns in Supima® cotton, organic cotton, silk, jersey, and of course their signature lace.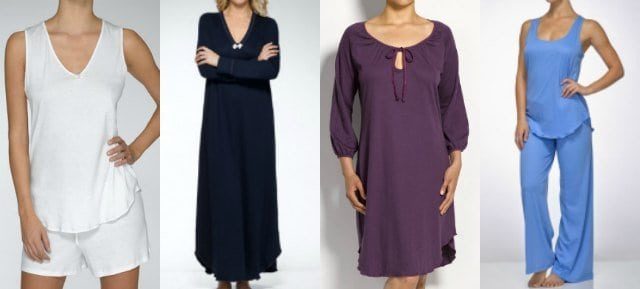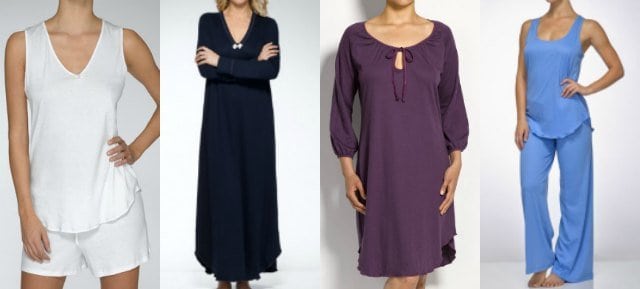 I know many of you have asked about brands that sell 100% cotton sleepwear so I requested their Supima® Cotton Sleep Set. Made in the USA of 100% cotton knit, this tank and matching shorts set is simple luxury. Other than the tiny bow detail on the tank, this set is pretty utilitarian but that's what I like about it. They're extremely soft and silky, wash well, and feel great. I got a size Large; as a busty and curvy size 14 they fit, but I think I'd be more comfortable in a size larger. I'd recommend if you're unsure to size up.
Hanky Panky has several styles of sleepwear in this Supima® cotton; gowns and nightshirts with and without sleeves, tank pajamas, and this fabulous poet nightshirt that would be perfect for fall.


While I have many bottoms in Hanky Panky's signature lace, I never tried the tops. Many of you have raved about them saying they are flattering on soft curvy bodies and even flatter a large bust so I had them send me their Signature Lace Classic Camisole. You were right, this camisole is pretty amazing, even with a soft body and large breasts. I felt very sexy wearing it (size XL) with a pair of the Retro Lace V-kini in the same color. The lace is so soft you can comfortably sleep in it. However, this camisole can do more than be underclothes.
I wore the camisole over a bra, and it gave me the lacy look I desired from a bralette. I wore a white shirt over it with an extra button unbuttoned to show a hint of lace. I wore it instead of a solid cami under a dress that has a bit too low of a neckline and it gave a completely different effect. I wore it over a solid black cami and tucked it into a long silk skirt for an evening look. I never thought a sheer lace camisole would be such a wardrobe workhorse. And it has been laundered at least three times (gentle cycle in lingerie bag and hung up) and looks like new.
In the past I have also tried Hanky Panky's BARE line and they really are like wearing almost nothing.  They're not my favorite as they're a bit too thin and can shift especially on a body with soft curves, but I always have a pair of the BARE thongs in my drawer as they completely disappear even under white linen, don't feel gross when it's hot and humid, and are more comfortable than any other brand.  I know many of you have raved about Hanky Panky's slips and slip shorts for not getting static cling and coming in a lot of sizes and lengths.
Shop My Picks from Hanky Panky:

It's nice to have the opportunity to try new items from a brand I have loved and worn for over a decade. I know Hanky Panky's quality and fit, I know that if laundered properly their underwear will last for years. I now know that quality and fit extends past their panties and thongs. I love that they are committed to quality, they carry a broad range of sizes, they have every bit of their pieces made in the USA, they support several charities, and they strive to be environmentally responsible. There's a reason why Hanky Panky has been around since 1977 and continues to be a cult (and personal) favorite!