This article may contain affiliate links; if you click on a shopping link and make a purchase I may receive a commission. As an Amazon Associate, I earn from qualifying purchases.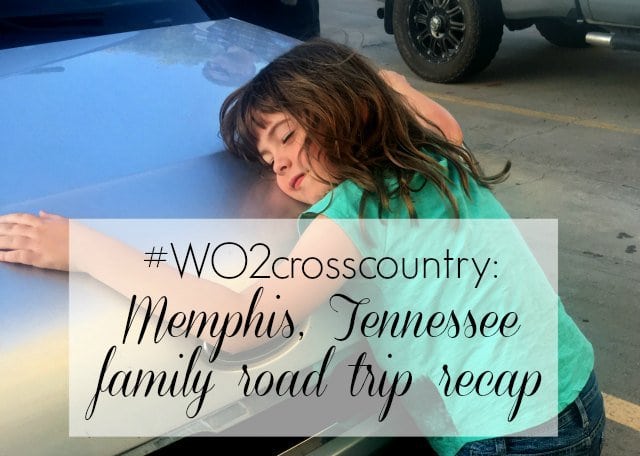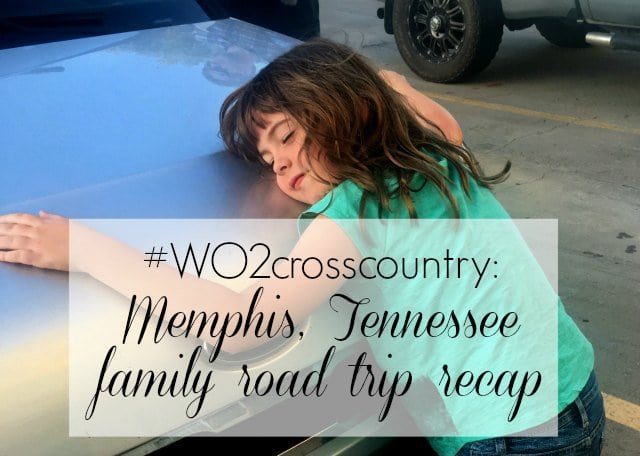 The drive from Amarillo to Memphis is over 10 hours and a drive that wasn't terribly fascinating. On top of that it was cloudy and rained from time to time. We would have loved to stop in some of the cities on the way, but that kind of drive day meant we even rushed bathroom breaks.
Memphis, Tennessee
I reached out to the city of Memphis regarding our trip. They were excited and said they'd get back to me and did the day before we were set to start our road trip. In a brief email they just stated we were being hosted by The River Inn. I was trying to wrap everything up at work and doing last-minute suitcase stuffing so I didn't have time to research this hotel and was just grateful that they agreed to partner with me and we had a place to rest our heads.
We arrived at the hotel around 6pm completely bedraggled and road weary. I was in my Gap tee shirt dress (which was laundered in Albuquerque but worn since so not terribly fresh) and Birkenstocks, Karl was in a polo shirt and Adidas track pants with Minnetonka driving mocs, and Emerson was in a pair of shorts too small and a tee shirt we bought at The Big Texan that was too snug and kept riding up. We parked our bug-splattered 2011 Kia Soul in front of the hotel and staggered in. Why am I telling you this?
The River Inn of Harbor Town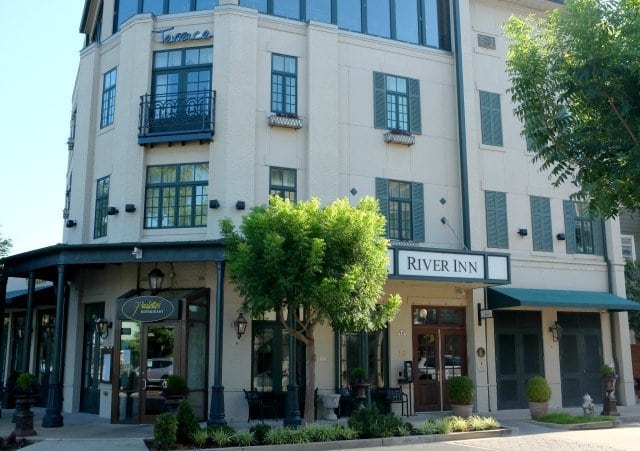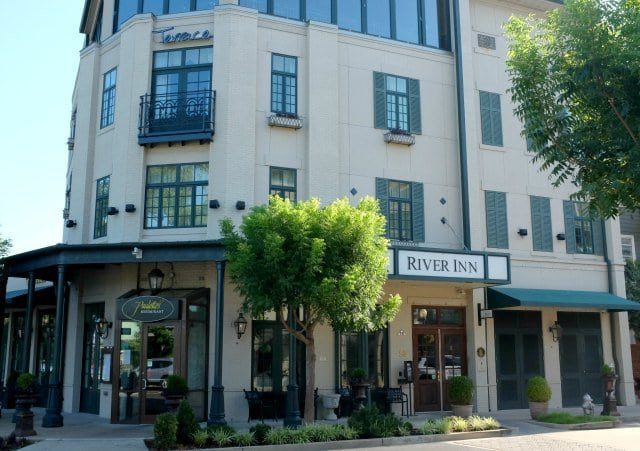 The River Inn of Harbor Town has won the prestigious awards such as #1 best hotel in Memphis by US News & World Report, Top 100 Hotel in the whole world by Travel and Leisure, and Top 25 Hotel in the United States by Condé Nast. Walking into the lobby we could immediately tell it deserved it by the décor, the vibe… and the service.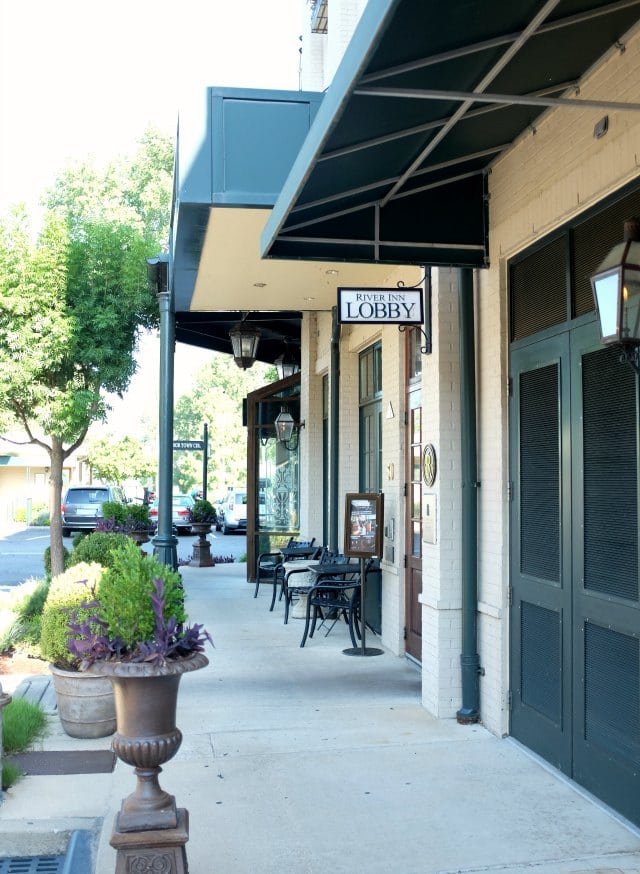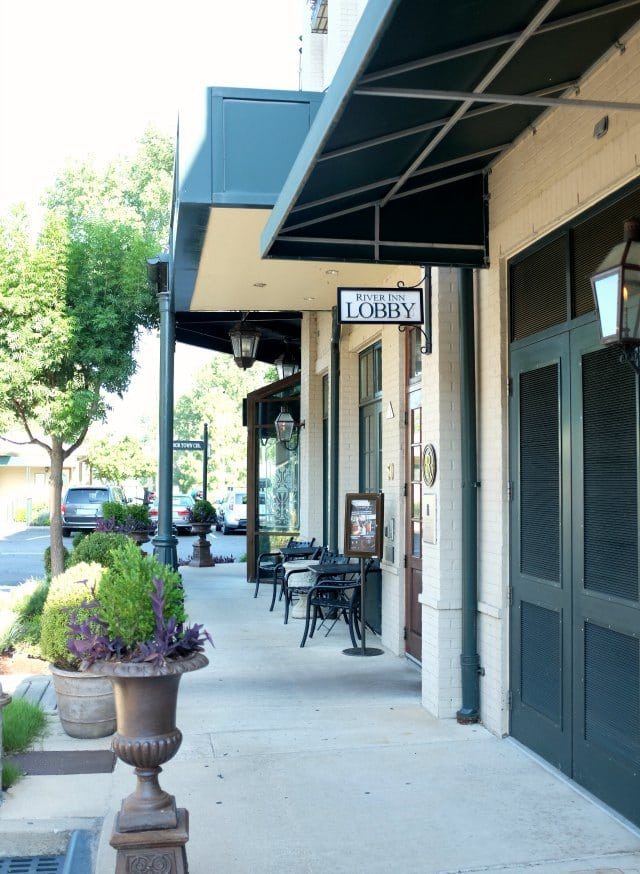 Walking in, we were treated like royalty without even stating our reason for entering their doors. When I let her know my name, the concierge's eyes lit up and she said they were excited for our stay and were honored to host us in their Penthouse Suite. Like any other guest at The River Inn of Harbor Town, the staff is there to make your experience exceptional. Need a car to visit the sites of Memphis or wish to book a tour? Forgot to pack something? Wish to have flowers delivered to a room or an in-room massage? The River Inn staff is there to assist. They also welcomed us with glasses of champagne!
Mud Island, a peninsula that jetties into the Mississippi River, is home to the River Inn of Harbor Town. Just a stone's throw from downtown Memphis (or a $6 Uber ride), The River Inn has a gorgeous view of the bridge, the Mississippi River, but still feels remote, romantic, and a retreat. Harbor Town has everything for a luxurious and relaxing stay – restaurants of all types, a market, even a day spa and nail bar. Inside The River Inn is the famous Paulette's Restaurant, a Memphis institution for over 40 years and is regularly rated as the most romantic restaurant in Memphis. Paulette's is also home to Little Bar, which is exactly that – cozy and utterly charming. On the top floor is Terrace, a rooftop bar with delectable little plates and a panoramic view of the Mississippi and Downtown Memphis.  Across the street from the hotel is Tug's, a more casual bar and grill restaurant that is part of the River Inn.
Every floor of the hotel has a library with sitting area, and in the morning there will be a table in the library with hot coffee available. Entering our room, there was a spacious living area with sofa bed, armchair, table and two chairs, an electric fireplace, armoire with TV, a wetbar, and yet still plenty of space. The bathroom was larger than our dining room at home with a large shower and a deep whirlpool tub and high-end toiletries. The bedroom had a four-poster king sized bed, desk, armoire with TV, and a large closet with two terry robes. Looking out the windows of the suite, we had a spectacular view of the Mississippi River and the setting sun.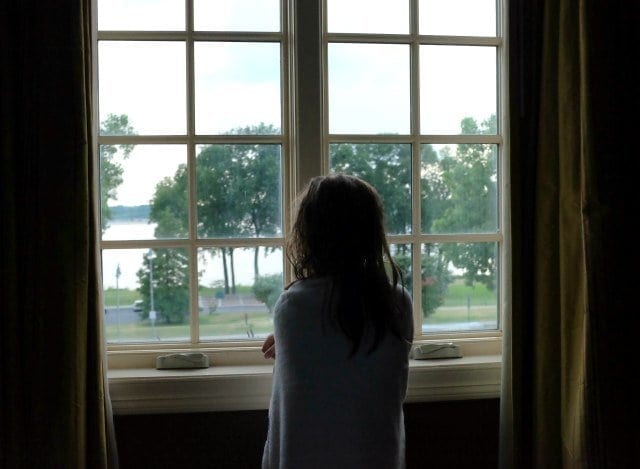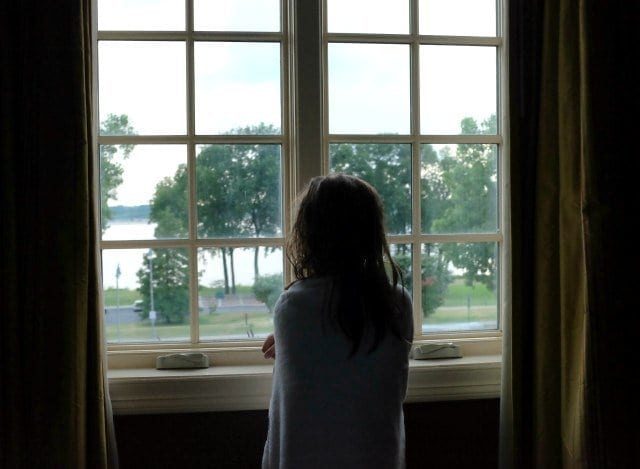 We unpacked and all bathed; Emerson was so excited to take a bath in that huge tub!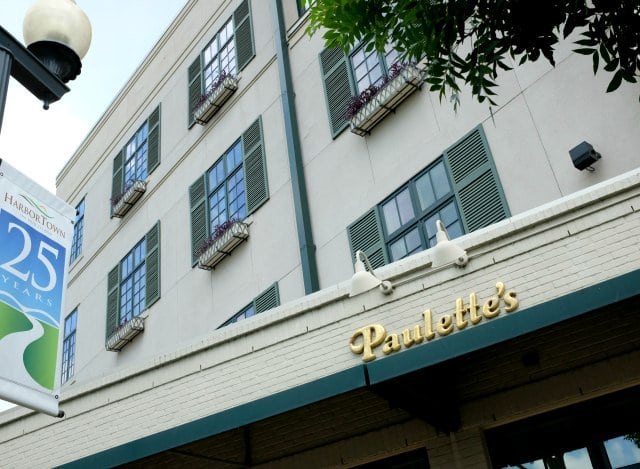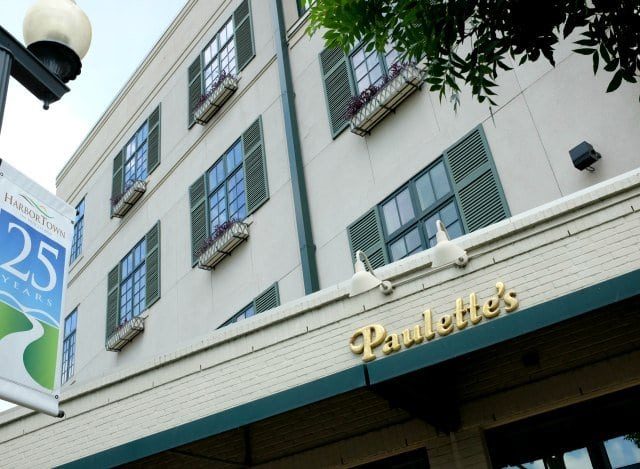 Knowing nothing about Paulette's we headed there for dinner. I wore my green Boden off the shoulder top with white jeans, gold sandals, my yellow bag with the strap off to make it a clutch, and gold jewelry. The patrons wore everything from jeans and nice tops to cocktail dresses, it was a resort vibe.
I'm still torn over which meal was better, the one we had at The Turquoise Room in Winslow, or our dinner at Paulette's. I had a wedge salad (a guilty pleasure of mine) and the lamb chops, which were like butter. It was a very romantic setting, but we were treated with respect even though we came with a child (who was very respectful herself). We drank wine, we savored every bite, we laughed, and we slowly relaxed. While we felt relaxed in Durango, the drives, the tire, the everything was wearing on all of us and we were in need of some TLC. Emerson had dessert, we had coffee, the sun set, and it was an utterly perfect moment.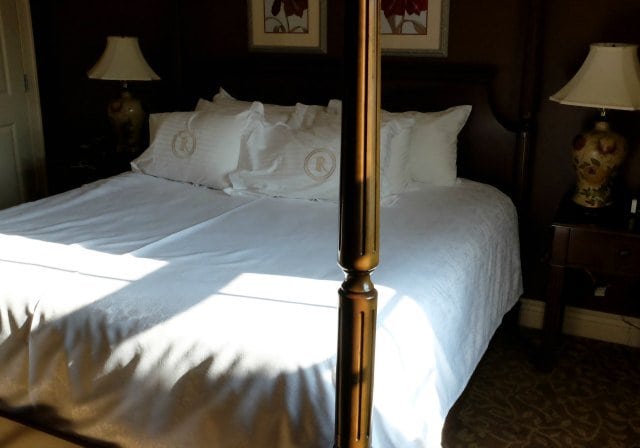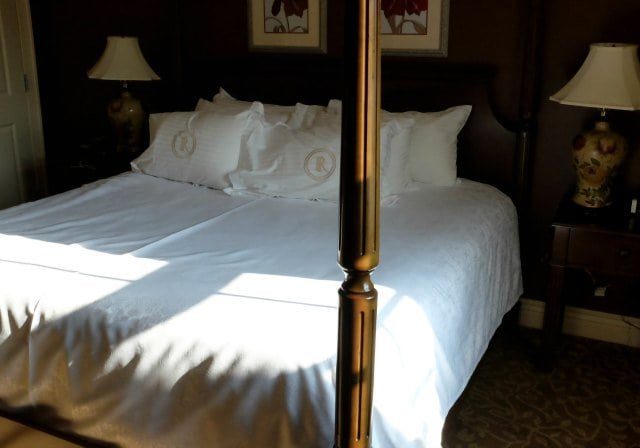 The bed at The River Inn is insane. I've slept in those other hotel's famous beds, and we have a pretty wonderful mattress at home but it was nothing compared to our bed at The River Inn. This was the first hotel where we didn't use our own pillows, the ones they offered were so perfect we wanted to order some to take home! The Democratic National Convention was taking place and we tried to stay up for it, but silky high-count cotton sheets, a million fluffy pillows, and the truffles and port they left bedside for us had us drift off and experience the best sleep we had since starting this journey.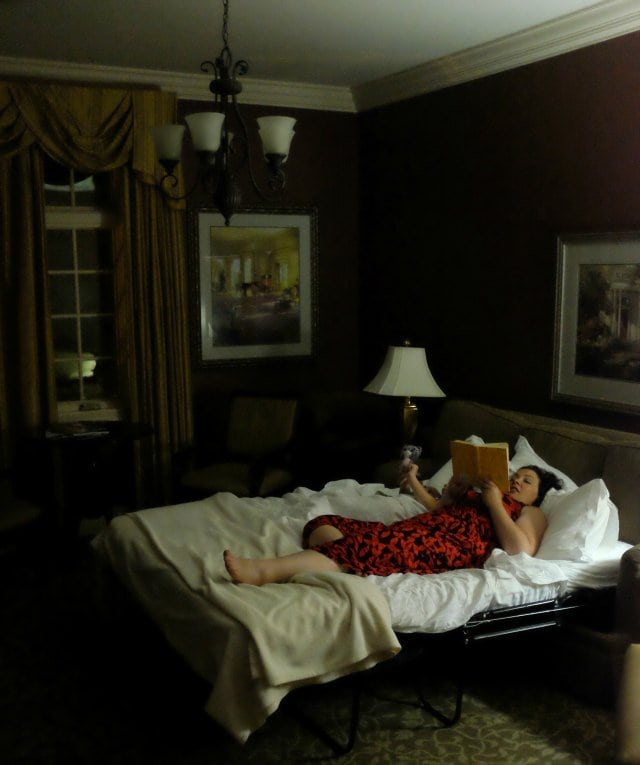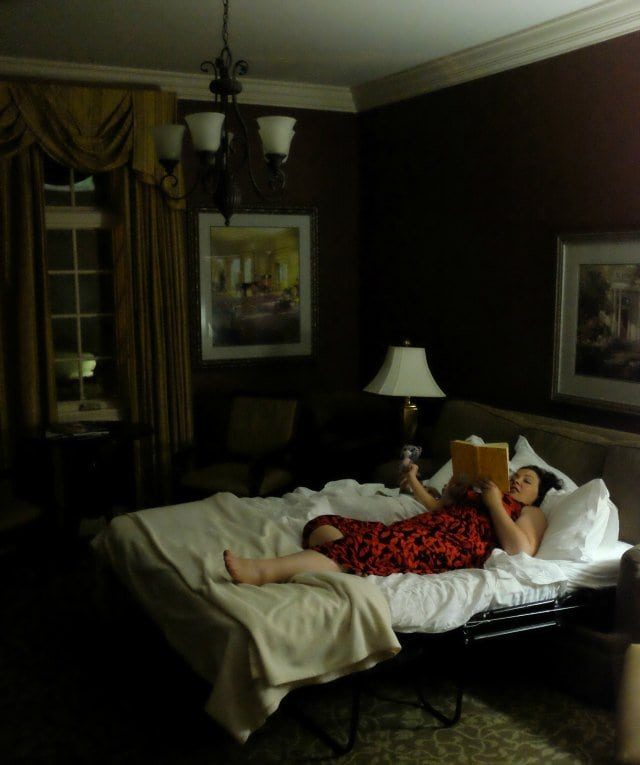 Emerson even said her bed was the most comfy of the journey and she was on a pull-out sofa!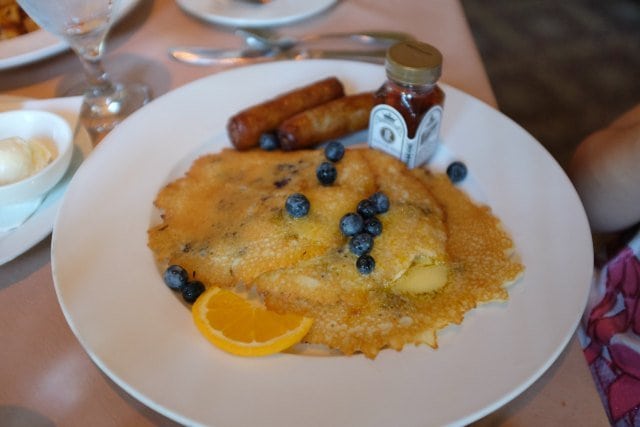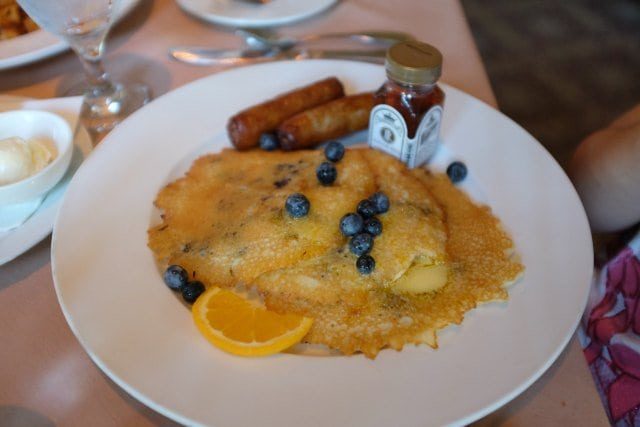 The next morning, we all bathed again just to enjoy the fabulous shower water pressure and the decadent tub, and went back to Paulette's for breakfast. Breakfast is complimentary with your stay at the River Inn, and this is no traditional continental spread. You have your choice of entrees, beverages, and sides. We had fruit, I had Eggs Benedict, Emerson had blueberry pancakes. It was so delicious, we lingered over the meal, not stressing about the day.  We had hoped to visit the National Civil Rights Museum but it was Tuesday and the museum is closed on Tuesdays.  So we went back up to the room and caught up on the previous night's speeches via YouTube and then decided to explore a bit of Harbor Town.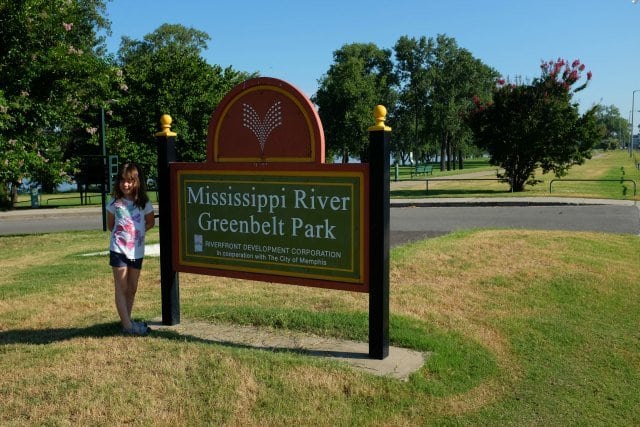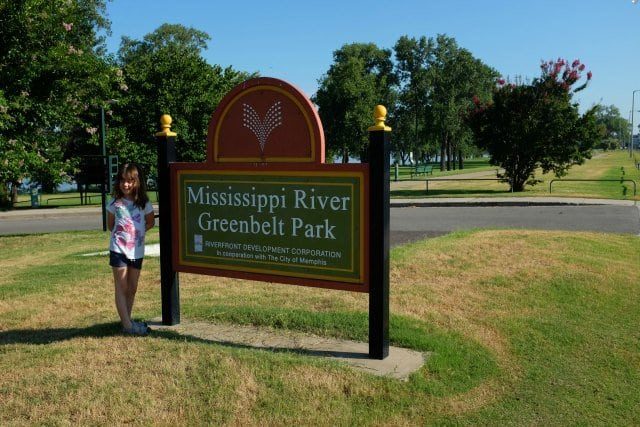 Across the street from the hotel is the Mississippi River and a park called… Greenbelt Park! We drive across the country but we still can't get away from our hometown!  Of course we had to take a picture and share it with our neighbors on Facebook!  We walked around the shops and restaurants and saw there was most anything you need for a lovely stay in Harbor Town – a variety of restaurants, an adorable market, day spa, gym, and even a nail bar.
Sun Studio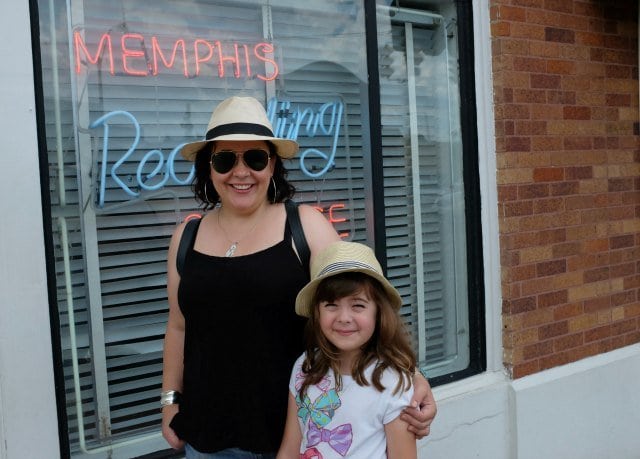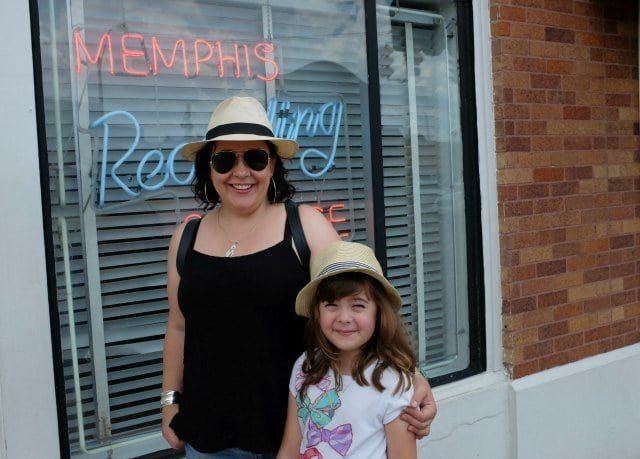 We then headed to downtown Memphis for the day.  The River Inn is happy to call you a taxi, and an Uber ride to the Beale Street area is only about $5.  We headed to Sun Studio, a must on our list.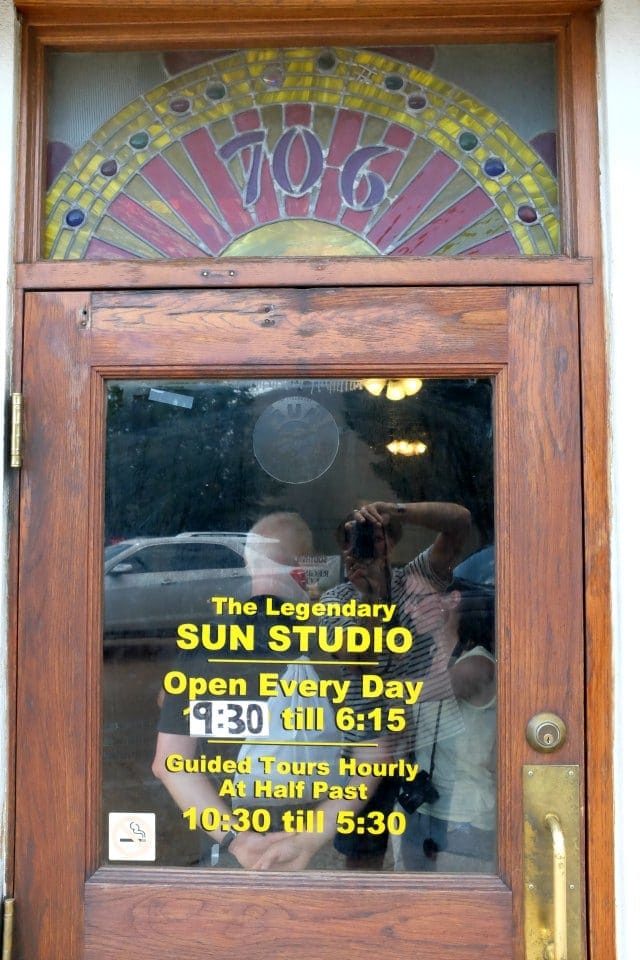 Sun Studio is a recording studio opened by Sam Phillips in 1950.  It's considered the birthplace of rock & roll, and famous blues and rock & roll artists like Howlin' Wolf, BB King, Johnny Cash, Carl Perkins, Roy Orbison, and Jerry Lee Lewis recorded there.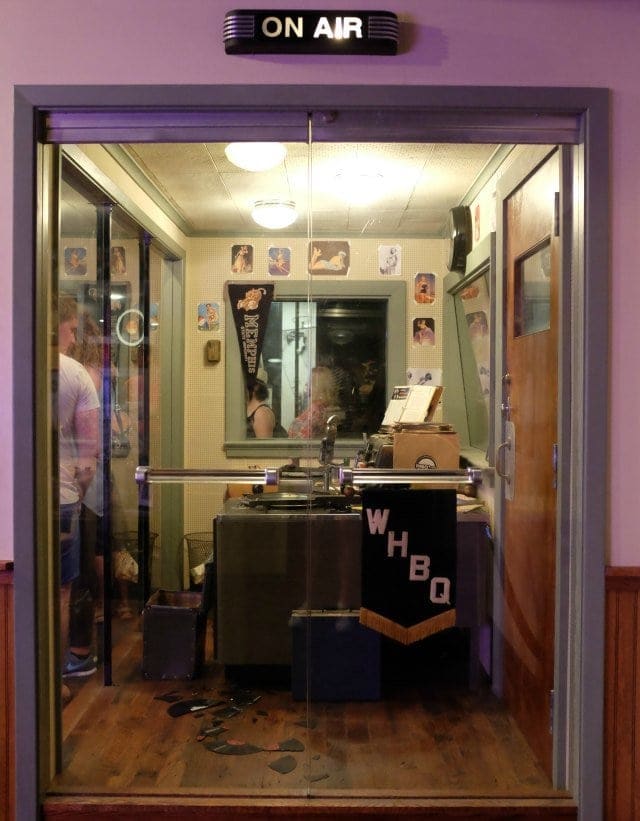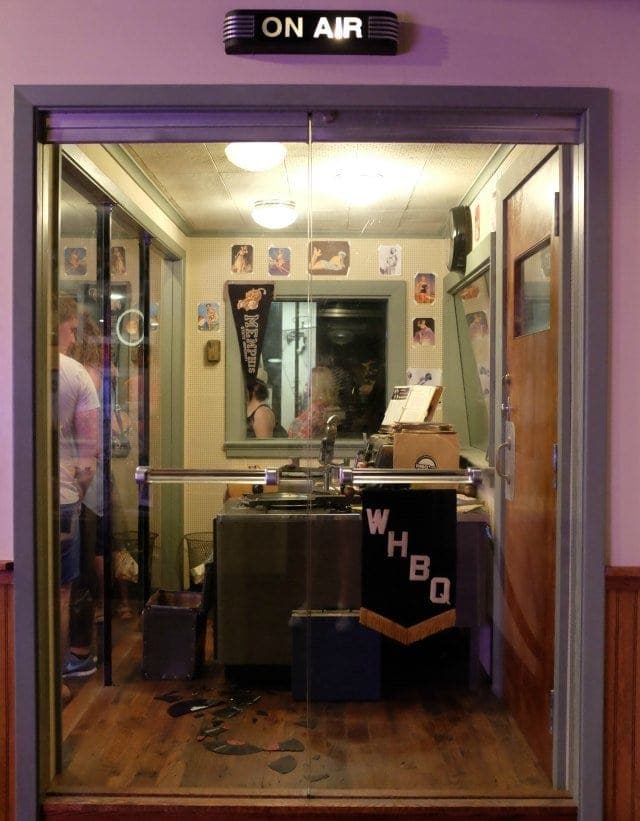 However the studio is best known for introducing the world to Elvis Presley.  Sun Studio then (and now) would let anyone come in and record.  Fresh out of high school, Elvis stopped by. Sam Phillips wasn't there that day but Marion Keisker was and she pressed Phillips to listen to Presley, even though he was a "ballad singer" and Phillips was more into rock.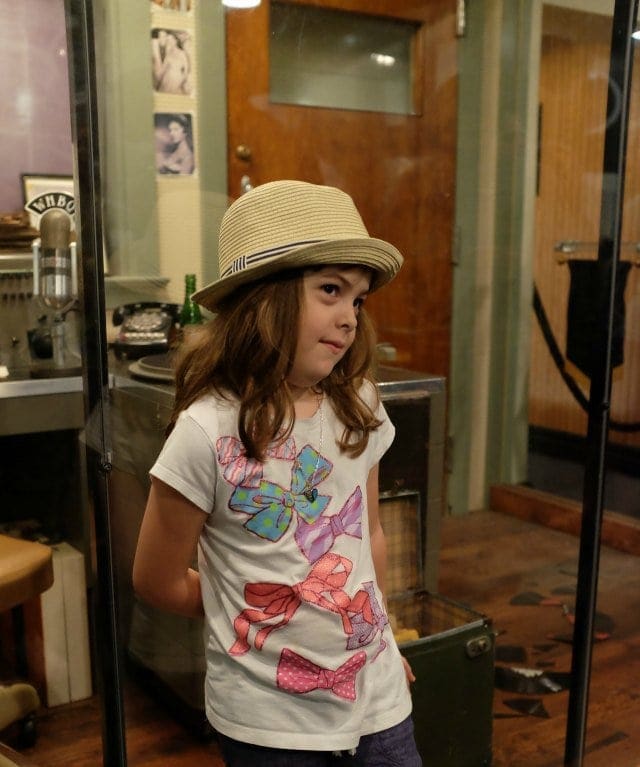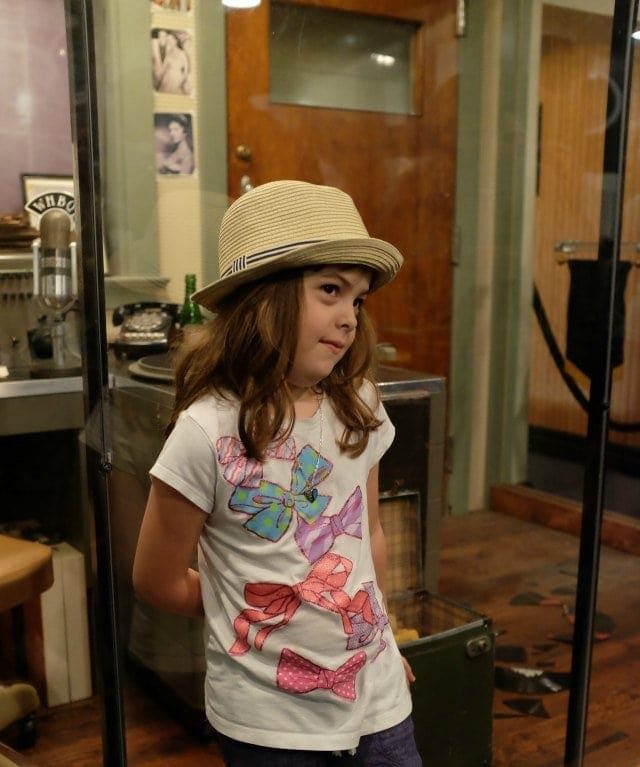 Phillips brought Elvis Presley back in, they did a recording, it was given to DJ Dewey Phillips and the rest is history.  They rebuilt Dewey Phillips' DJ booth inside Sun; this is Emerson in front of it.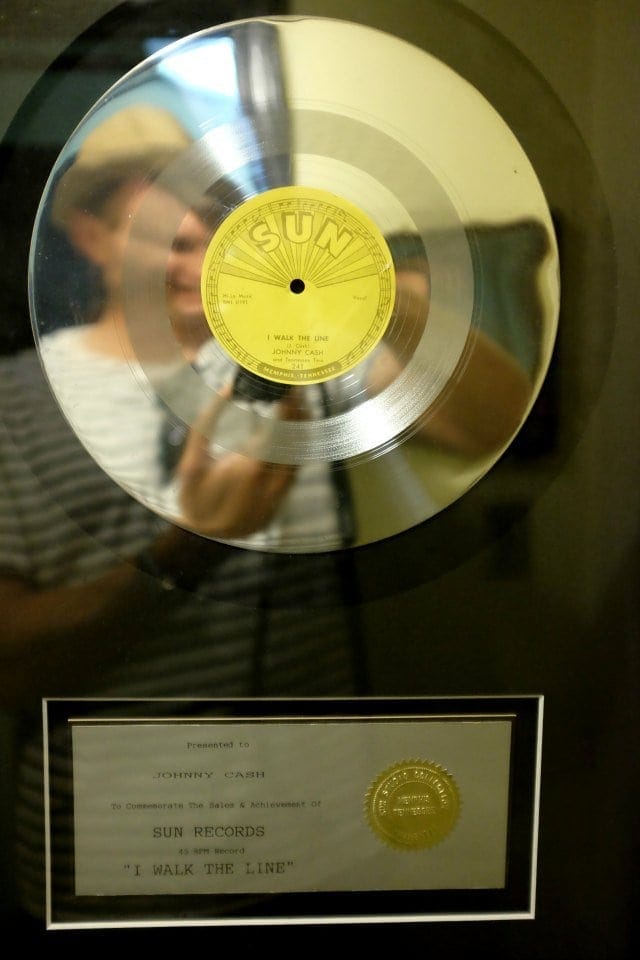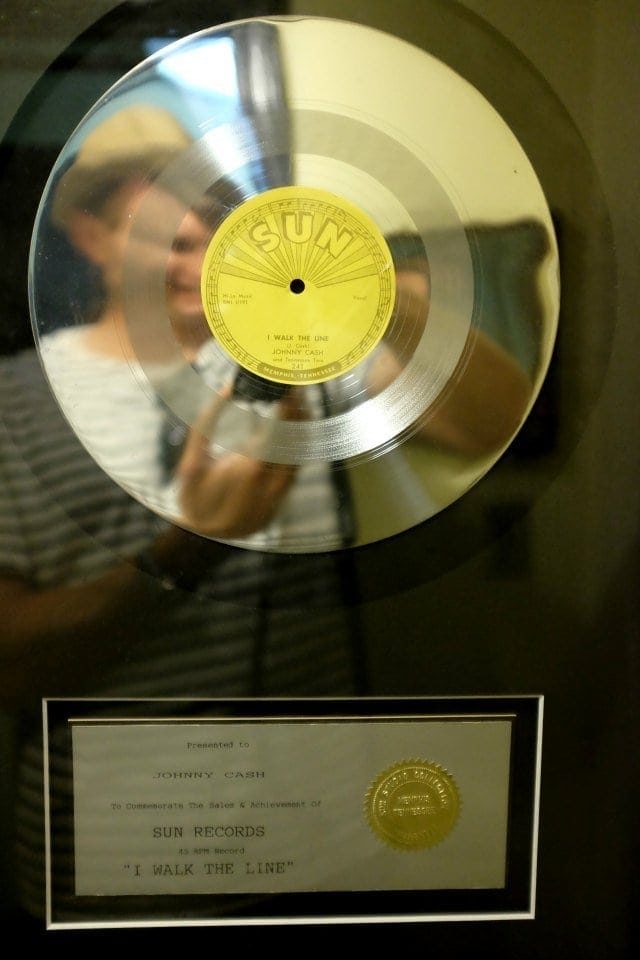 Sun Studio has guided tours, $12 for adults, kids under 11 free (FYI kids under 5 are not allowed).  If you visit Yelp you may see negative reviews for these tours, saying it's a ripoff as there's really only two rooms on the tour.  I think those grumpy heads aren't music fans.  All three of us were highly impressed by the tour.  Our guide was phenomenal; she knew the history, had funny stories to add, and engaged our entire group.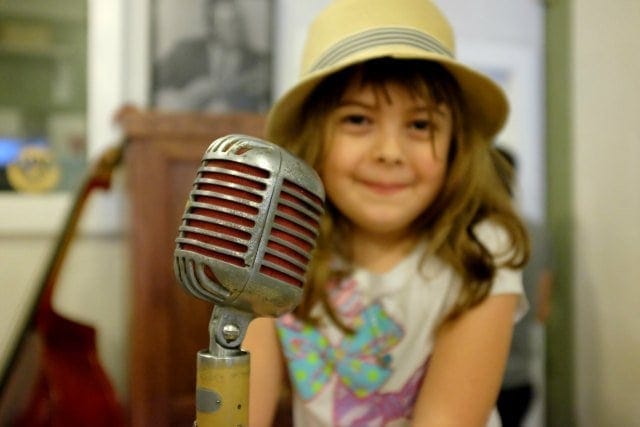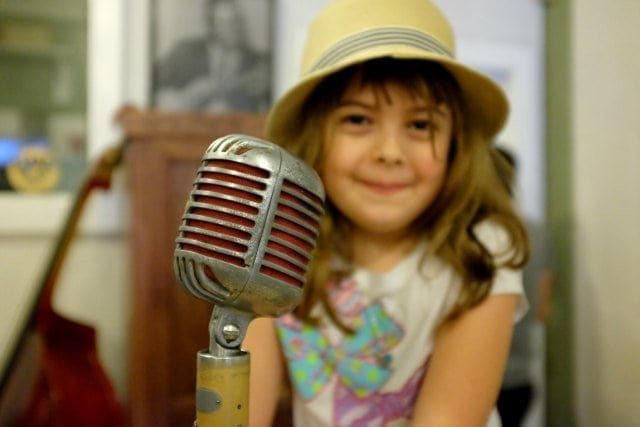 Without the tour, it really would have been two rooms but with it, the tour of Sun Studios was a highlight of our trip.  Karl and I both got tee shirts and we got a pint glass with the Sun Studio logo on it; the tour guide gave Emerson a Sun Studio sticker.  Emerson was psyched to hold the microphone that Elvis used!
Beale Street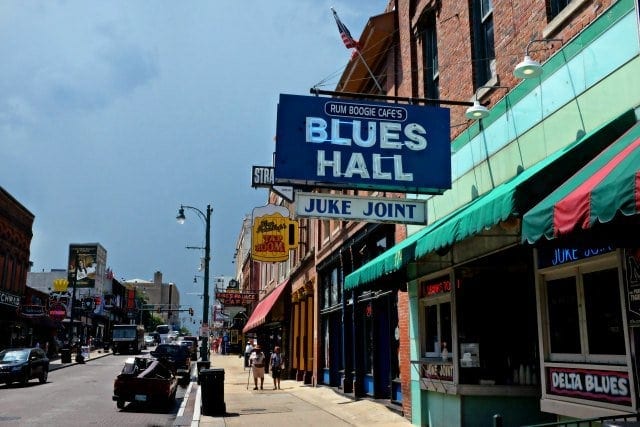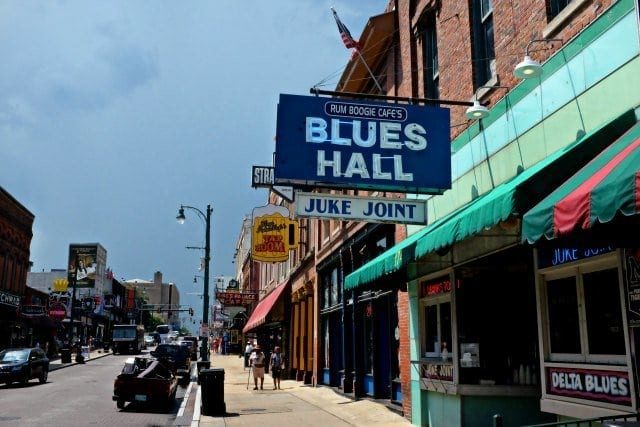 Sun Studio offers a free shuttle to Beale Street so we took advantage of it.  It's a clean, comfortable and very air conditioned mini bus with a TV in front playing Elvis movies on a loop.  A really nice feature, and proves even more that the tour price is worth it.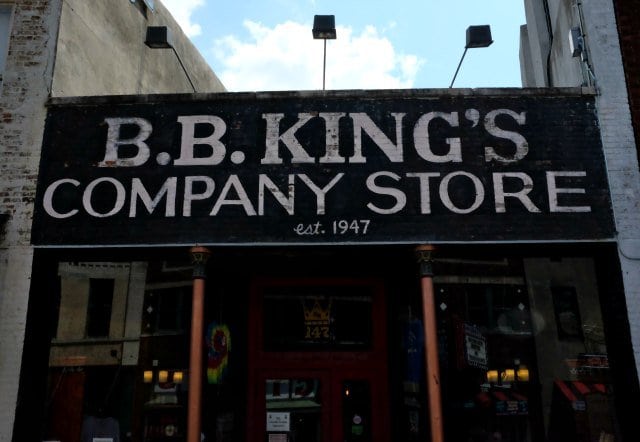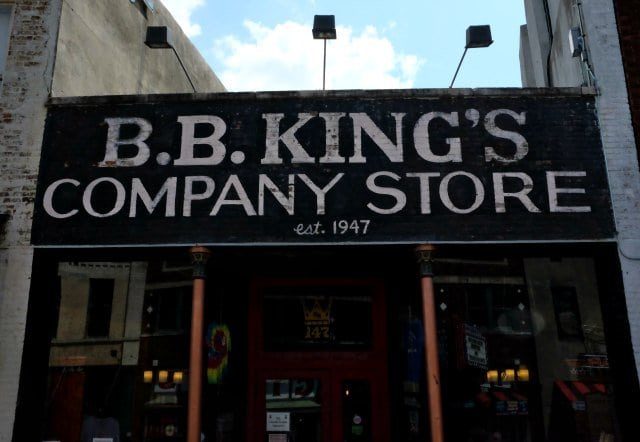 We walked around Beale Street because we knew it was a must while visiting Memphis, but it wasn't anything thrilling.  Restaurants, bars, gift shops, and plenty of folks out on the street trying to woo you into their establishment.  It was hot and humid and gross outside so when we saw what looked like a quiet air conditioned art gallery we popped in.
Withers Collection Museum and Gallery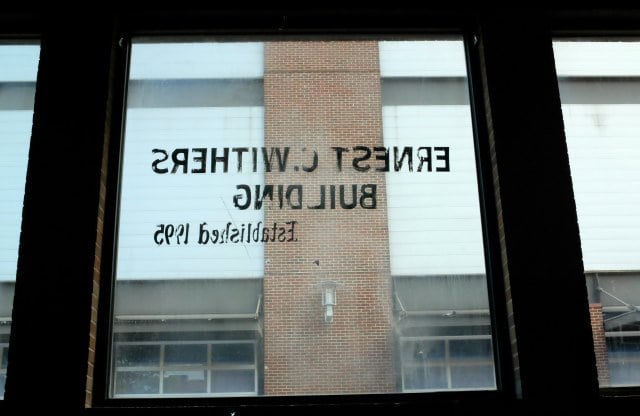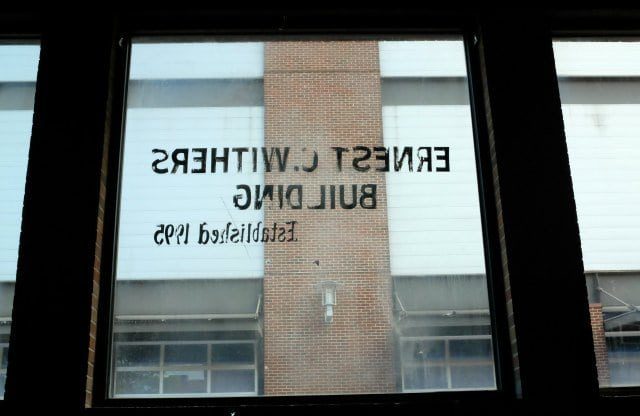 The Withers Collection Museum and Gallery is dedicated to the works of photojournalist Ernest C. Withers.  Withers began his career as a military photographer and when he returned home after World War II, he chose to be a photographer by profession.  Withers was the only photographer who covered the entire Emmett Till trial; he self-published a photo pamphlet about Till's murder which helped spur the movement for equal rights. Withers's pictures of key civil rights events from the Montgomery Bus Boycott to the strike of Memphis sanitation workers are historic; he was often the only photographer to record these events as the mainstream press wasn't interested at that time.  Withers traveled with Dr. Martin Luther King, Jr. and captured many iconic images of him, including the ones of him in room 306 of the Lorraine Hotel the night before his murder.  Withers captured many historical photos of baseball, especially the last years of the Negro League, and jazz and blues musicians in Memphis (many early photos of Elvis Presley, Tina Turner, Ray Charles, and Arethra Franklin).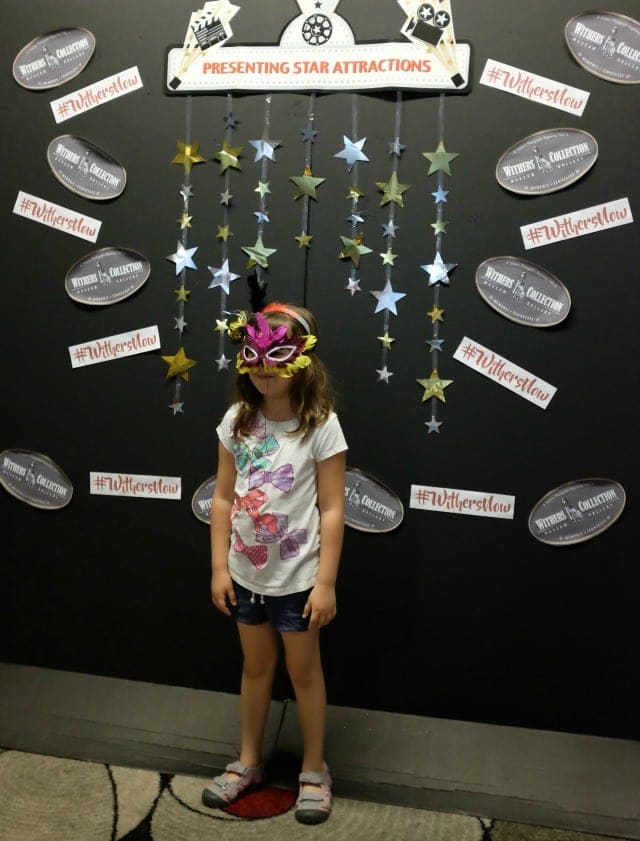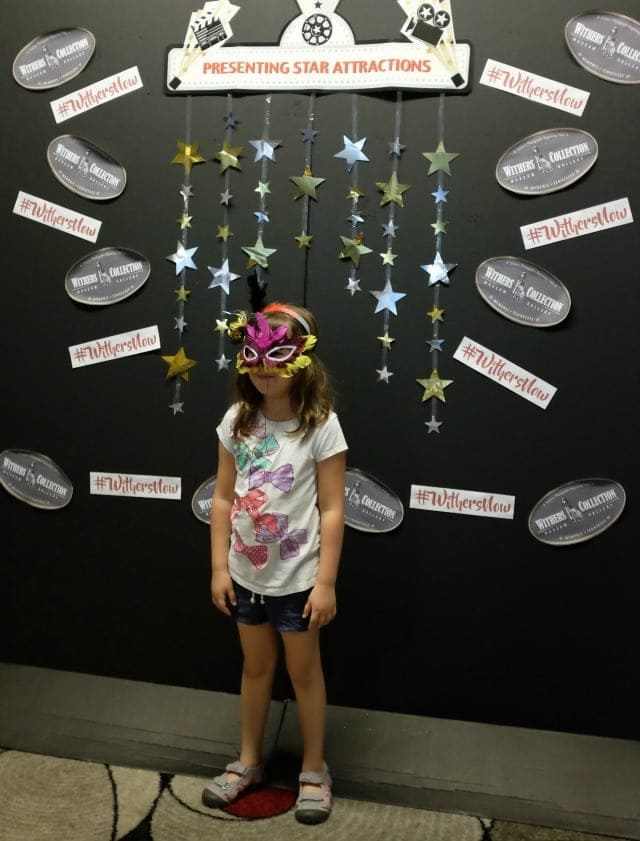 We were able to see a documentary about Withers, view many of his over 5 million photographs, and they even had a room where you could dress up and take a picture for social media.  Withers' goddaughter was at the gallery and gave us a tour and provided a lot of interesting tidbits and moving stories to go with the powerful photographs.  With the Civil Rights Museum closed, we were glad to be able to share some of the history of the civil rights movement with Emerson while we were in Memphis; I'd recommend visiting the Withers Collection.
The Peabody Hotel
After the gallery, we headed to the Peabody Hotel to see the ducks.  Back in the 1930's the General Manager of the Peabody and his friend returned from a hunting trip and thought it would be funny to put their live duck decoys into the hotel's fountain. Hotels guests loved the ducks.  Peabody bellman Edward Pembroke,. who used to be an animal trainer with the circus, taught these ducks the now-famous Peabody Duck March.  Pembroke became the Duckmaster, a role he held for 50 years until his 1991 retirement. The Peabody ducks march to the fountain every morning at 11am and leave at exactly 5pm, directed by the current Duckmaster.  It wasn't even 4pm but we had enough of Beale Street and figured we could at least sit in the lobby, have a cold drink, and relax before the Duck March.
Walking into the hotel, there's a few stores.  One had this fantastic paisley tux jacket on a mannequin and I said, "Karl I could totally see you in this."  He agreed and we decided to walk in, not realizing at that moment what store it was.  It was Lansky Bros.  In the late '40s, Samuel Lansky bought a store for his two sons, Bernard and Guy.  They sold clothing for those who wanted to look dapper and were part of the Beale Street music scene and outfitted famous musicians like Count Basie and Duke Ellington.  In 1952 Bernard Lansky saw a young man looking in the store window.  The man said when he had enough money he would buy the store.  Supposedly Lansky replied, "Don't buy me, buy from me!" That young man was Elvis Presley.  Once Elvis was famous, he got much of his clothing from Lansky Bros. including his wedding suit and what he wore for his first appearance on the Ed Sullivan Show.  Lansky Bros. has two locations – one in the Peabody Hotel and one on Beale Street.  They also have a "Clothier to the King" line which offers reproductions of clothing that Elvis actually wore as well as 1950s-inspired clothing.  Musicians and celebrities love Lansky Bros., they have a gallery of all their celeb customers on their site.
We walked in all bedraggled from a day out on Beale Street and were treated like celebrities.  Edith assisted us, and she was able to take a quick glance at Karl and immediately know what size he wore.  Karl tried on some pretty fierce jackets including a black version of the jacket Elvis wore for his wedding, but really fell for a grey blazer with blue flowers on it (it helped that it was on sale!).  He also got a cool printed shirt which some of you saw on Instagram.  When heading to the fitting room we saw The Speedway Jacket.  When I met Karl, he had a cerulean blue jacket from some surf brand.  It was a lightweight jacket that he wore all the time, and the color was amazing, made his eyes pop.  This jacket was the same blue color, and had a similar utilitarian but stylish vibe.  Karl tried on the jacket and we knew he had to have it.  Karl NEVER buys clothes, so to buy three items was huge for him.  But everything fit so well and had such a unique vibe and personality, they were great purchases.  If he had the money I think Karl's entire wardrobe would come from Lansky Bros.!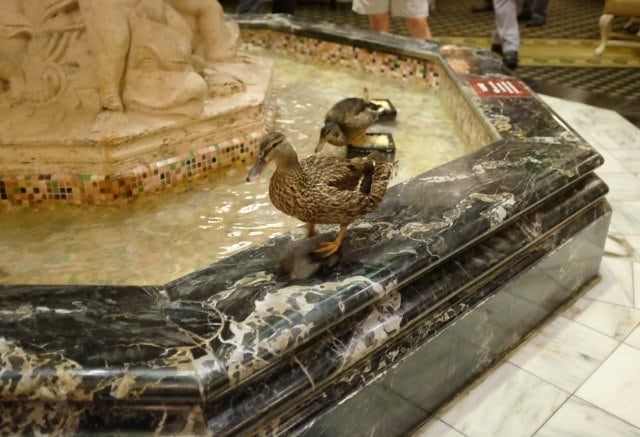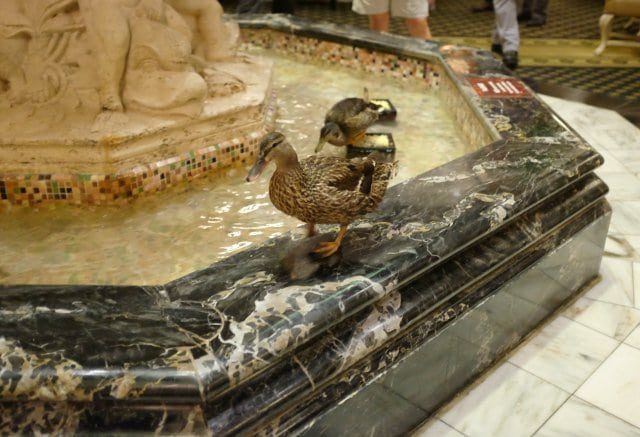 We left Lansky and went to the lobby.  There were a lot of people already there, but it wasn't too crowded.  Emerson was positively absolutely in love with the ducks and was "talking" to them.  There was a set of twins from Canada her age and they instantly became BFFs so Karl and I each got a Mint Julep and sat down in two chairs to relax.  Five minutes later came the deluge.  Suddenly the whole lobby was packed with people. Folks were scrambling to grab a seat and were hovering around the ropes around the main part of the lobby.  Security asked everyone without a seat to leave the main lobby area (kids were permitted to hang out and enjoy the ducks).  We had no idea, we arrived at the perfect time!  We clinked glasses and sat back to enjoy the spectacle that started 15 minutes later.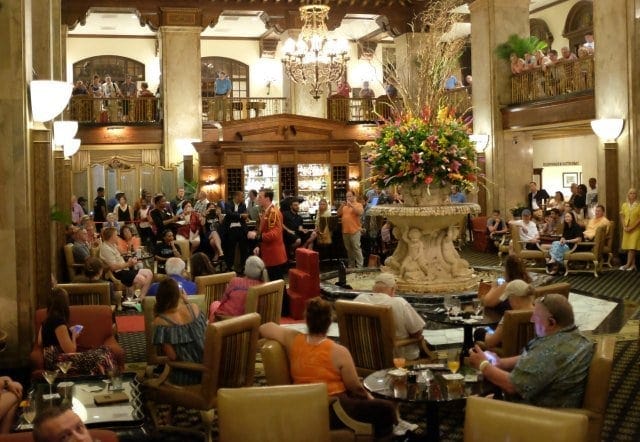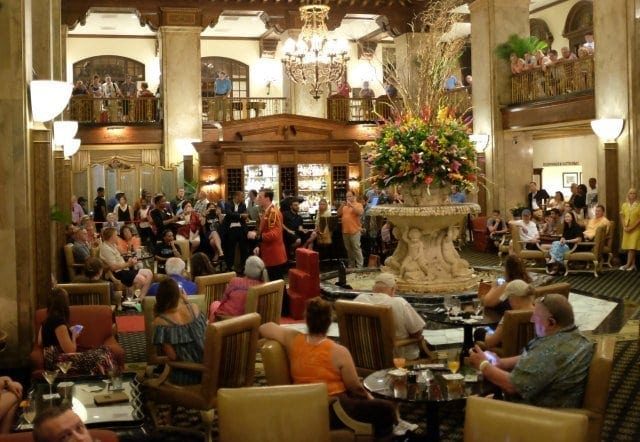 And spectacle it is. Hundreds of people were there to see the Peabody Duck March.  The Duckmaster, in a red coat with a gold baton, shares the history of the Peabody Ducks.  Stairs are rolled out, the music swells, the Duckmaster marches around the fountain, and then one by one the ducks climb out of the fountain, walk down the steps, and march in a single file line to the elevators.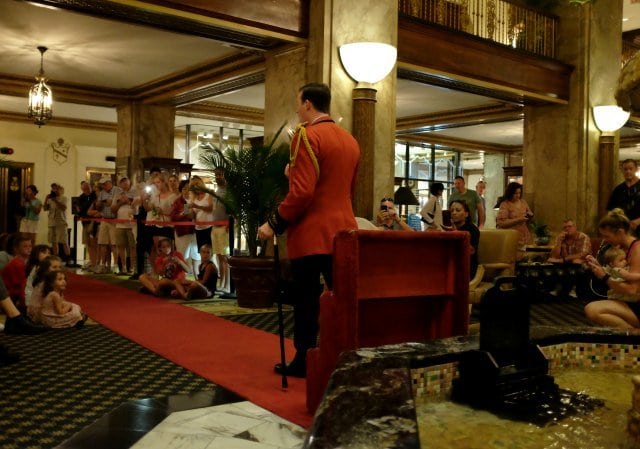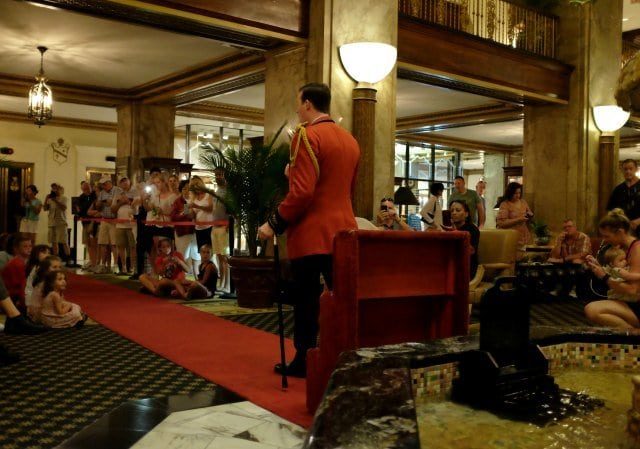 Emerson was right on the path and saw the whole thing while we had an obstructed (but comfortable) view.  This is a free and fun activity if visiting Memphis; if you do it I recommend getting there earlier than you'd think.  Grab a drink, sit down and relax, let the kids bond with other children from around the country and world and cool off.  We're so glad we did it, and next time we visit Memphis we plan to see the 11am march.  I heard if you get there early they sometimes let you go upstairs and see the ducks' home too!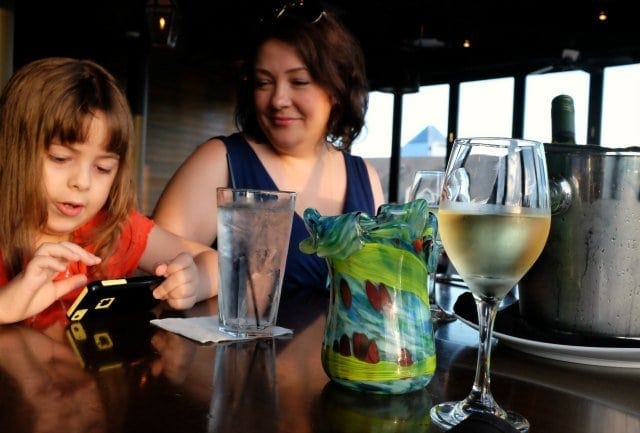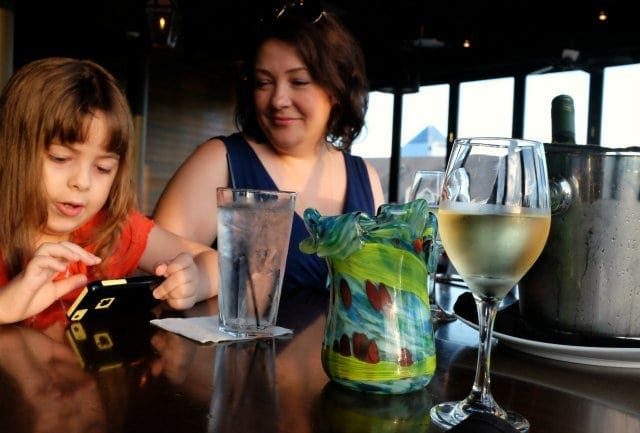 After the Duck March, we were hungry.  We checked out Yelp and TripAdvisor looking for a place to eat nearby, but we were hot and sweaty and dressed like tourists and had bags of purchases so we decided to snag an Uber and head back to the hotel.  We came back to our beds turned down and a treat of truffles and a little bottle of port.  We all showered and changed and decided we didn't want to go back into downtown Memphis and decided to check out Terrace, the rooftop bar and restaurant at The River Inn.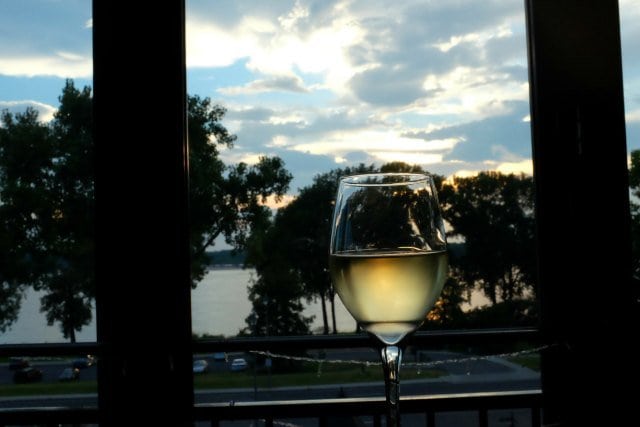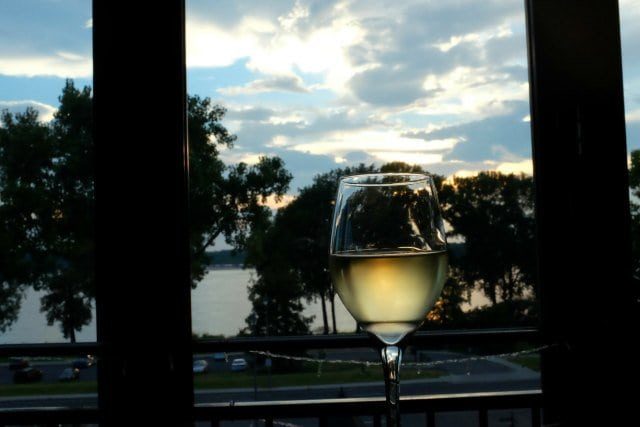 Terrace is small but stylish.  With panoramic views of the Mississippi River and the bridge, Terrace has a bar but also several tables.  Emerson picked a high-top table for us and we all sat so we could look out the windows and watch the spectacular sunset.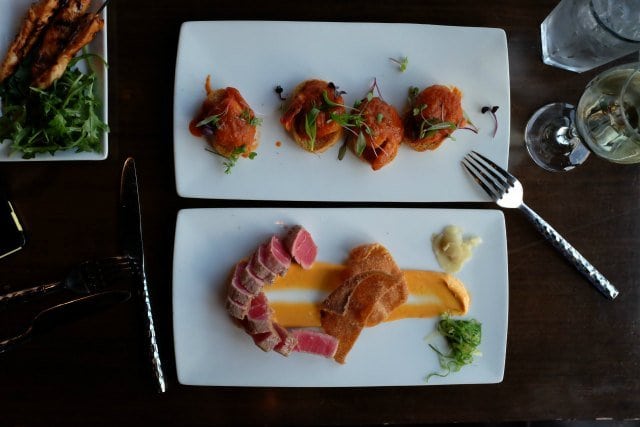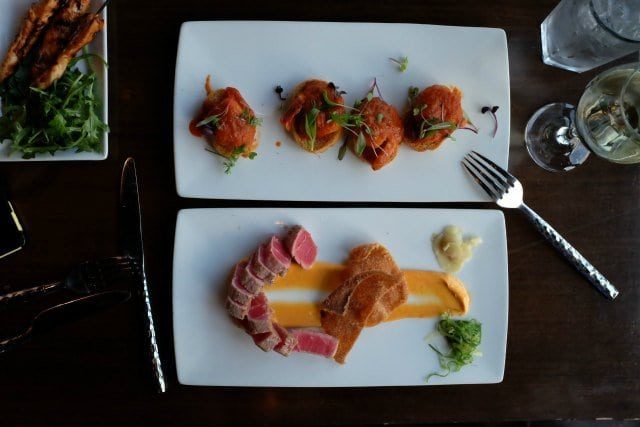 Terrace offers small plates; Emerson had chicken satay, Karl got the Mojo shrimp and we both ordered the seared tuna, and we shared an order of French fries.  It was a perfect ending to a really fun day in Memphis.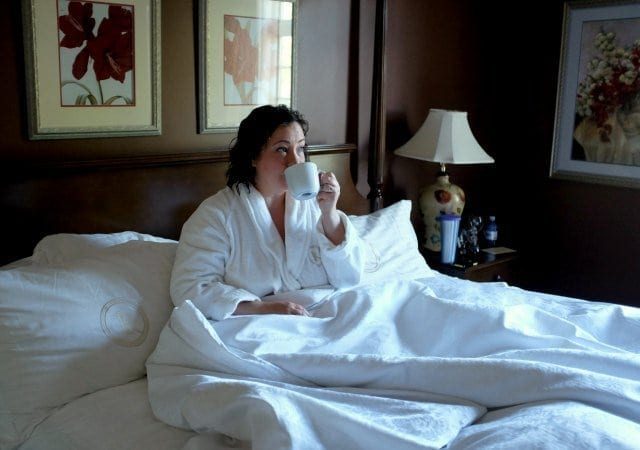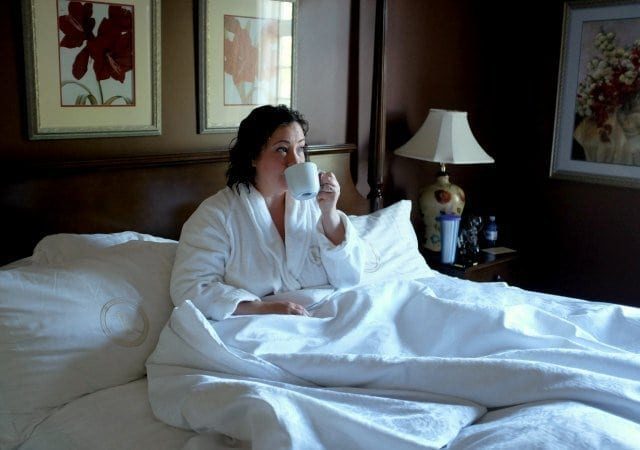 The next morning, I went right outside our room and got me and Karl cups of coffee, we put on the bathrobes and got back in bed and watched the news.  So decadent!  When Emerson woke, we returned to Paulette's for another amazing breakfast.
We had originally planned to next visit Nashville, but we learned by this point there was no point to visiting a city with only one night.  We didn't have a hotel booked, so we decided to change our plans and head to Virginia.  It was an almost 13 hour drive so we knew we'd have to crash one night en route.  Still with a lot of travel on the schedule, after breakfast we packed up, said our sad goodbyes to The River Inn and Memphis, and got back on the road.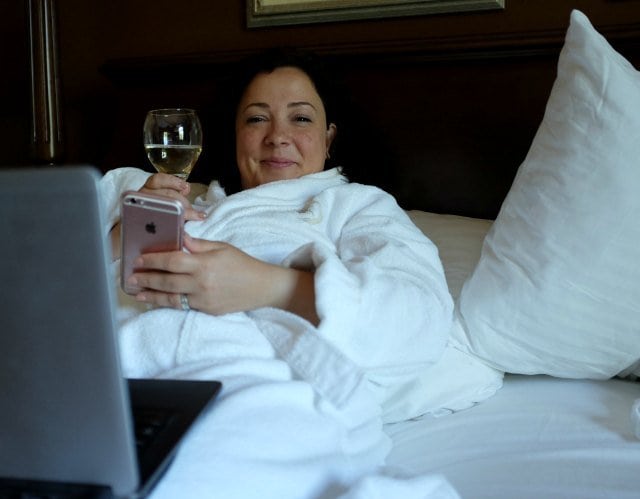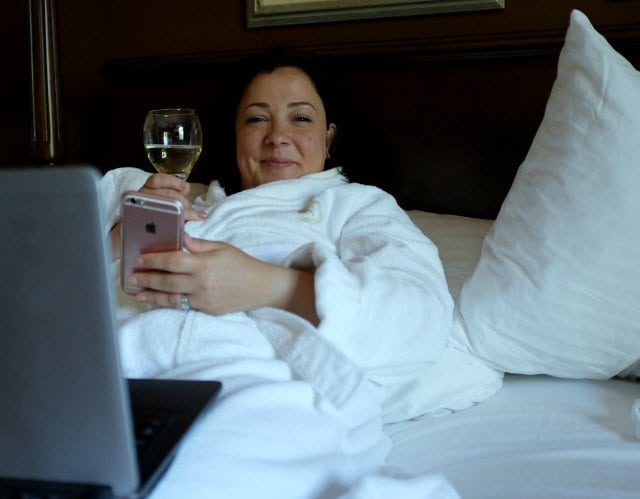 I seriously can't recommend The River Inn enough.  If it's an anniversary, a special birthday, or a night when you want to be romantic or pampered, The River Inn is the perfect place to stay.  It was like a mini vacation within our vacation, it recharged us, relaxed us, and was much needed after some stressful driving and long days on the road.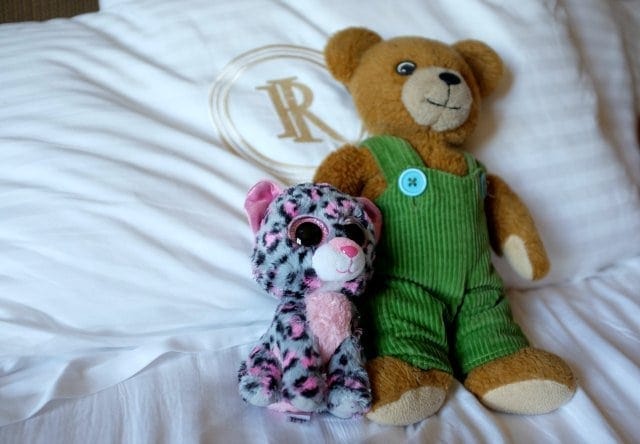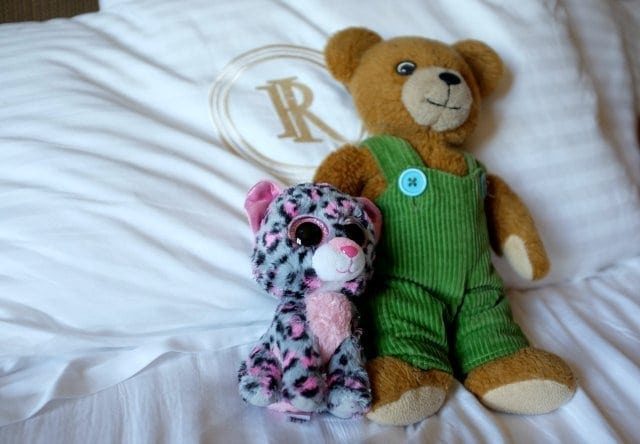 I worried staying at such a posh place with a child, but they were wonderful with her and Emerson LOVED it.  In fact, just this past weekend Emerson randomly said, "I miss the River Inn, it's my favorite place on earth after home."  Thank you to the city of Memphis and The River Inn for our fantastic stay, we WILL be back!
Next and last post… Jamestowne and Williamsburg, Virginia!
Save