This article may contain affiliate links; if you click on a shopping link and make a purchase I may receive a commission. As an Amazon Associate, I earn from qualifying purchases.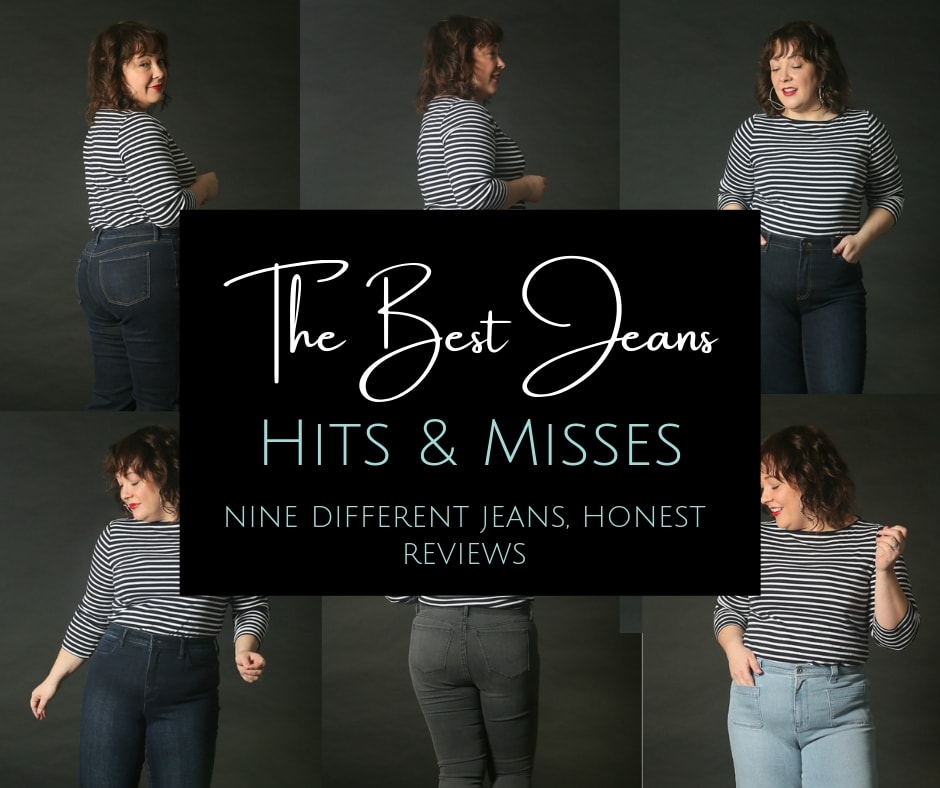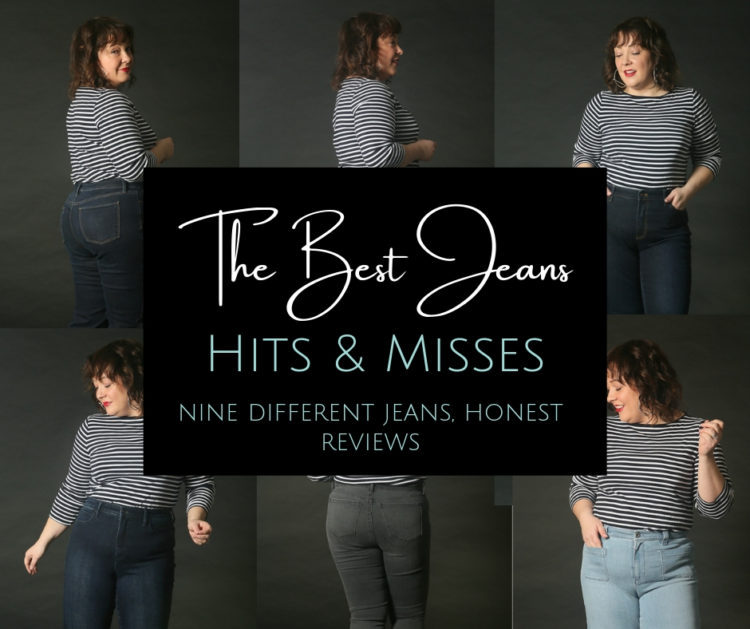 We're back with another review of denim! For reference, visit this link for my last extensive denim review. From lifting weights, my body has changed drastically in the past year and I am in need of some new jeans to replace old favorites that no longer fit. These days, there's a cut and style of jean for most any situation. I am looking for an everyday jean that will work with sneakers and flats as well as a pair of heeled ankle booties. Not desiring a jegging style, I want a pair of jeans with a bit of substance so I don't look half-naked with a short or tucked-in top. These will be jeans that will be worn more with such tops than tunics and casual knits. No holes or distressing, a pair that could dress up with a blazer or sparkly top but can still be worn on the weekend. For reference, I am 5'3″, sometimes preferring petite cuts, sometimes finding petite to be too short waisted. I have a large, round rear and solid legs but not very large hips. I usually wear a 32 in jeans so for all of these I chose a size 12. If I learned anything from this denim review, it's don't assume because it's your size it will fit. It's not you, it's the clothes and the wacky Wild West sizing system of women's clothing. Anyway, here's the review of jeans from the brands Mott & Bow, Talbots, and J.Jill.
For reference, this is my top, these are my earrings, this is my lipstick, and my boots are old but these are similar and a much nicer price. I wore white boots so you could clearly see where the hem of the jeans ends (but also I love them). I also wore the top tucked in to get the best view of the jeans.
Talbots High Waist Straight Jeans in Marco Wash, Size 12 Petite
So many of you have raved about the fit of Talbots jeans. Heck, I have raved about the fit of Talbots jeans! So I asked Talbots if I could try this cut and they were kind enough to send me a pair. The jeans arrived after a day of shooting in a pair of comfy jeans. Folded up these felt heavy and stiff and I didn't have any desire to put them on. I let them sit for quite a while. Then I put them on and wondered why I waited so long.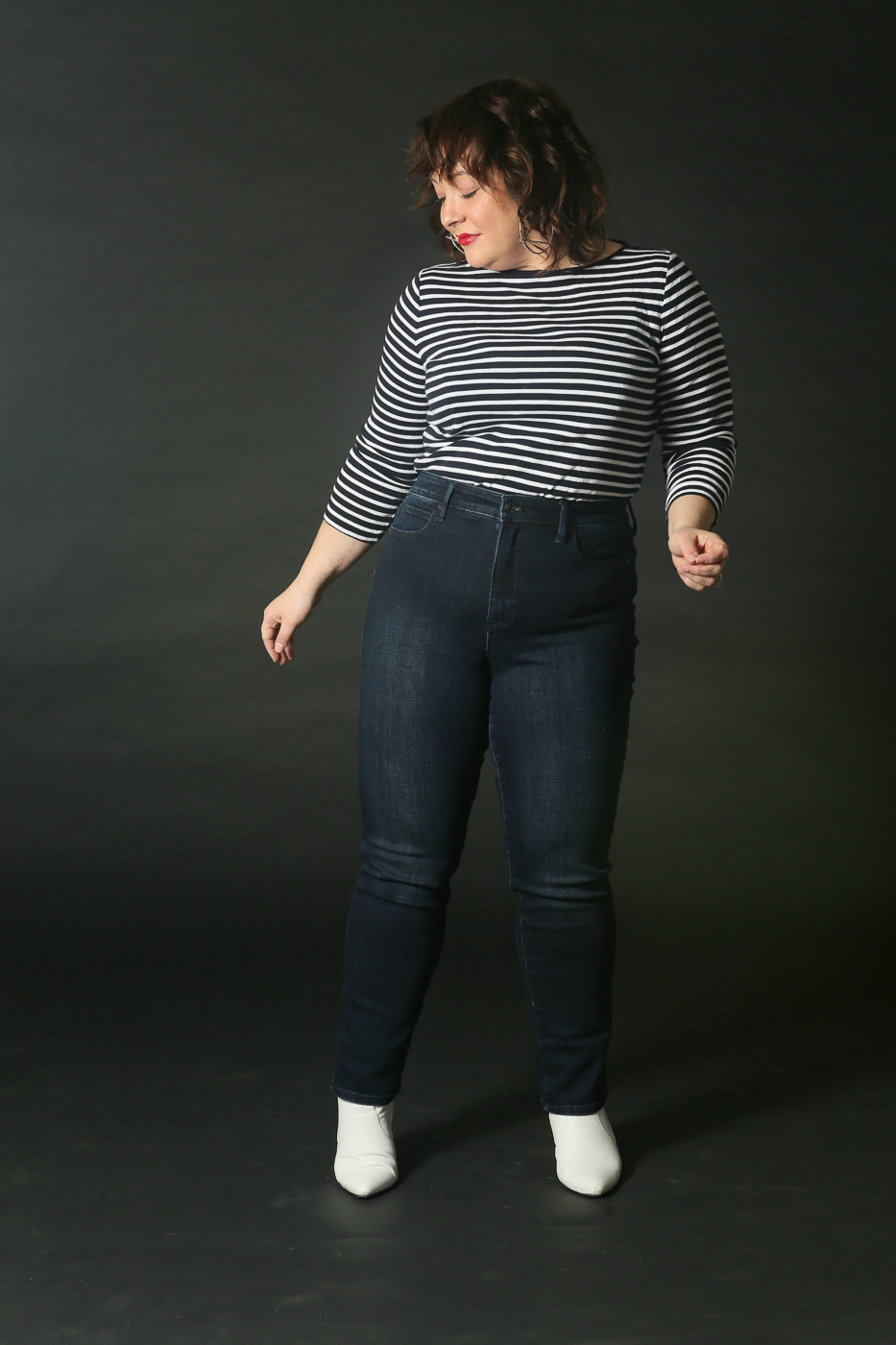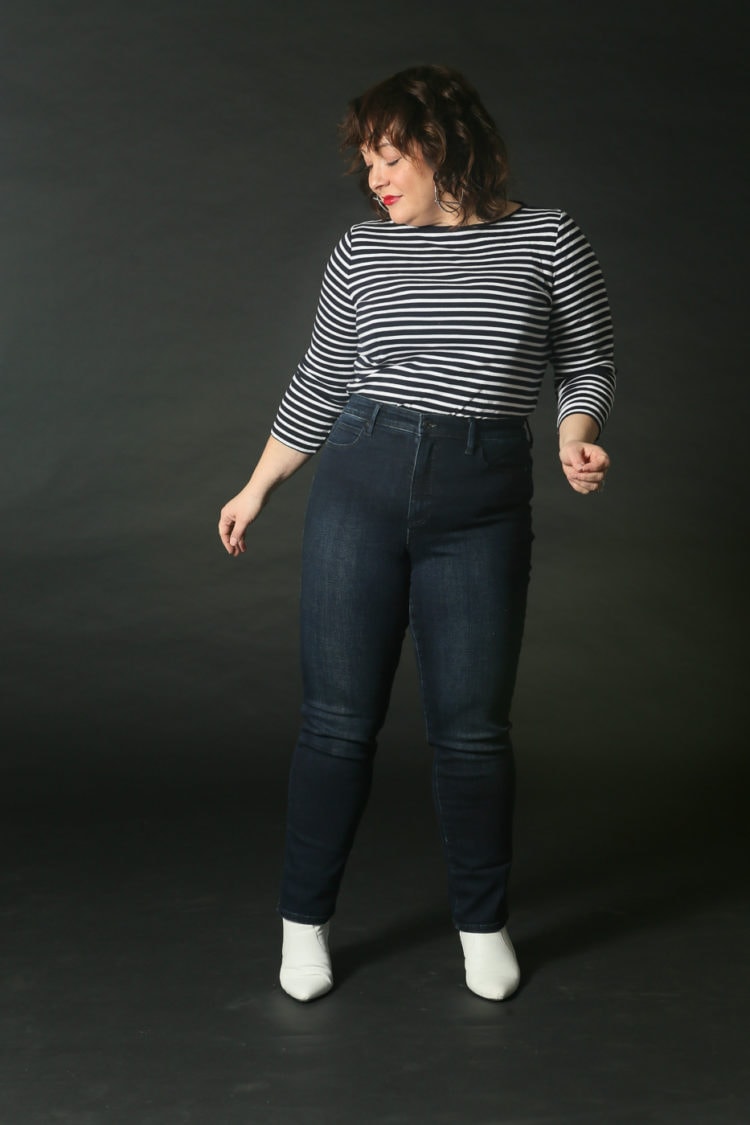 From the Talbots website: "A classic silhouette with a straight fit from knee to hem. This updated wash is exactly what your closet's been missing! The super stretch denim, flattering high rise and invisible slimming panel work to hold you in, smooth you out and contour curves for a flawless fit. If you have an hourglass figure, check out our High-Rise Straight-Leg Jeans – Marco Wash/Curvy Fit."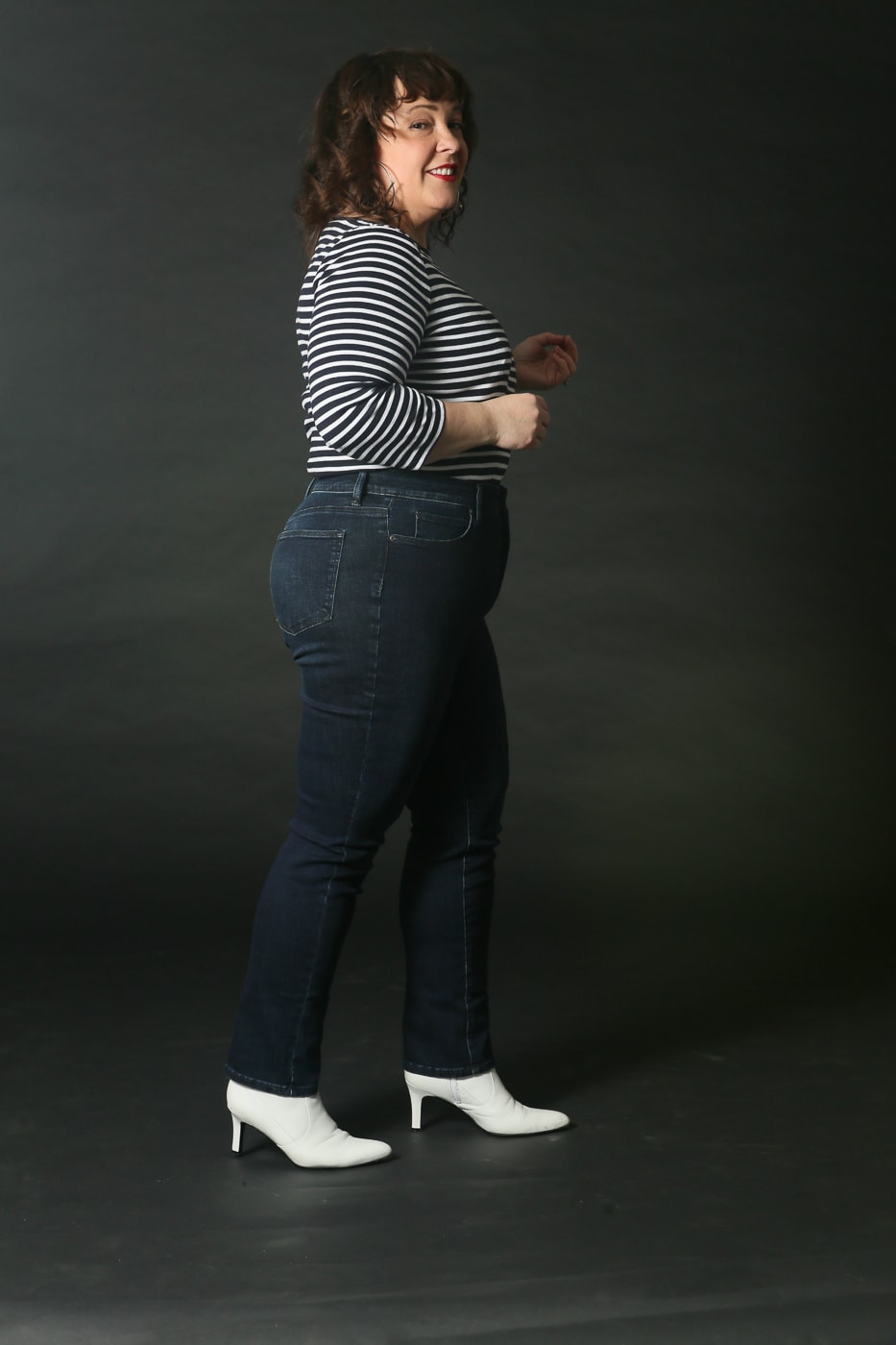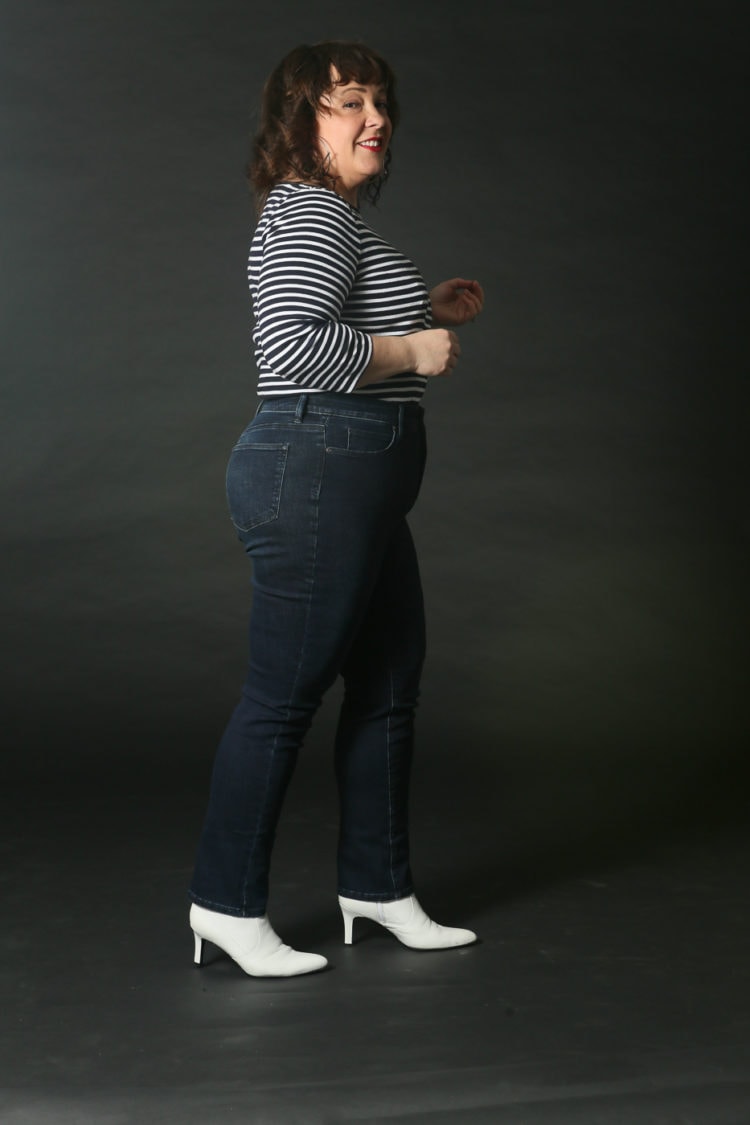 These jeans are 93% cotton, 6% T-400, and 1% LYCRA® spandex. The petite cut has a 28.5″ inseam. If this dark color isn't your jam, these jeans also come in the lighter Aurora wash. If you want some glam, Talbots has these jeans with a beaded tux stripe down the sides. The jeans also come in black as well as Galaxy Wash which is a faded black/dark gray.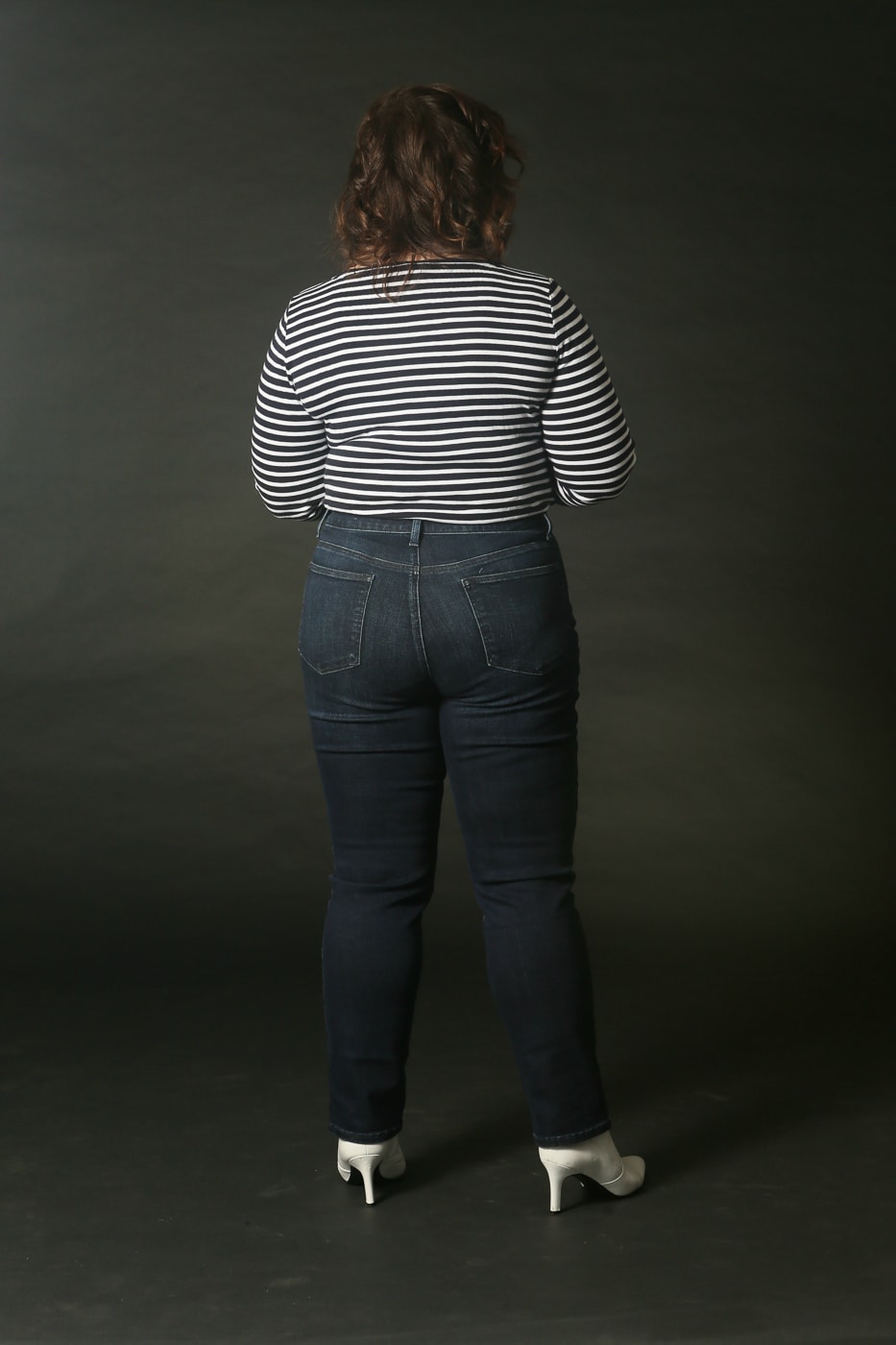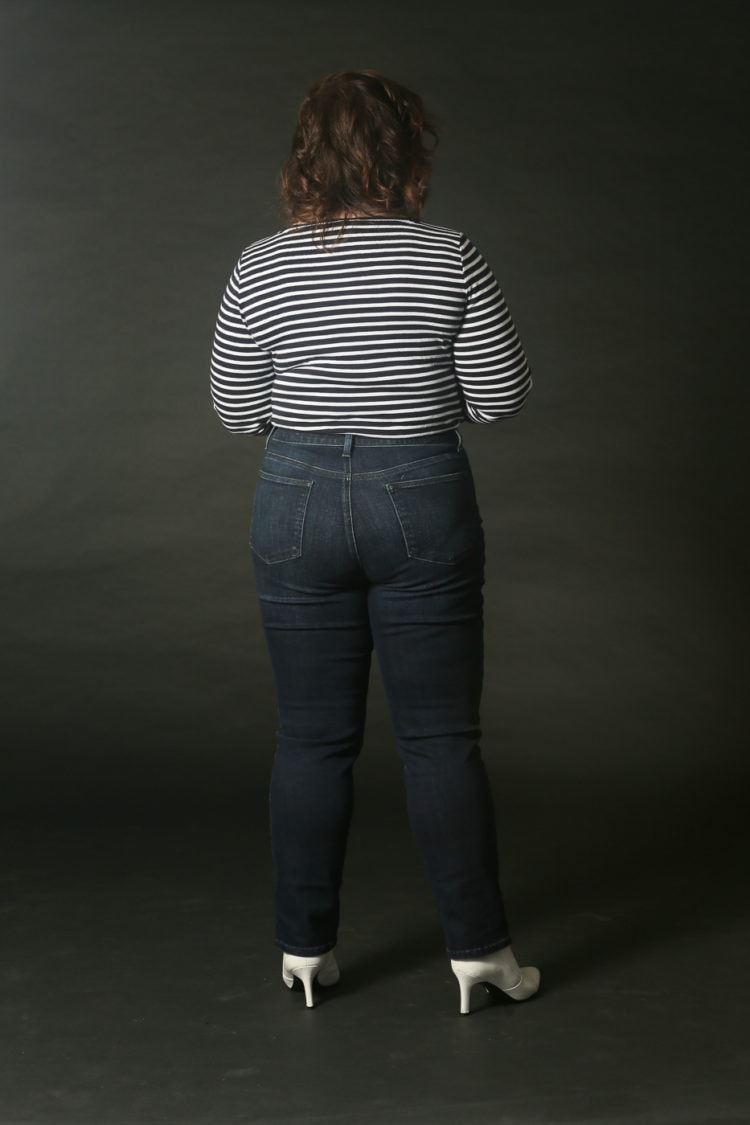 Spoiler alert, these are my favorite jeans from this entire review. I unfolded the jeans are realized that while they're a bit rigid they're not that thick or heavy. And they have a good amount of stretch, that kind of stretch that keeps your jeans from falling down after sitting, the kind that keeps you from having diaper butt at the end of the day. I could do squats and sit and they stayed in place and didn't stretch out. I haven't yet washed, but I have other pairs of Talbots jeans and they've been laundered several times and have come out great.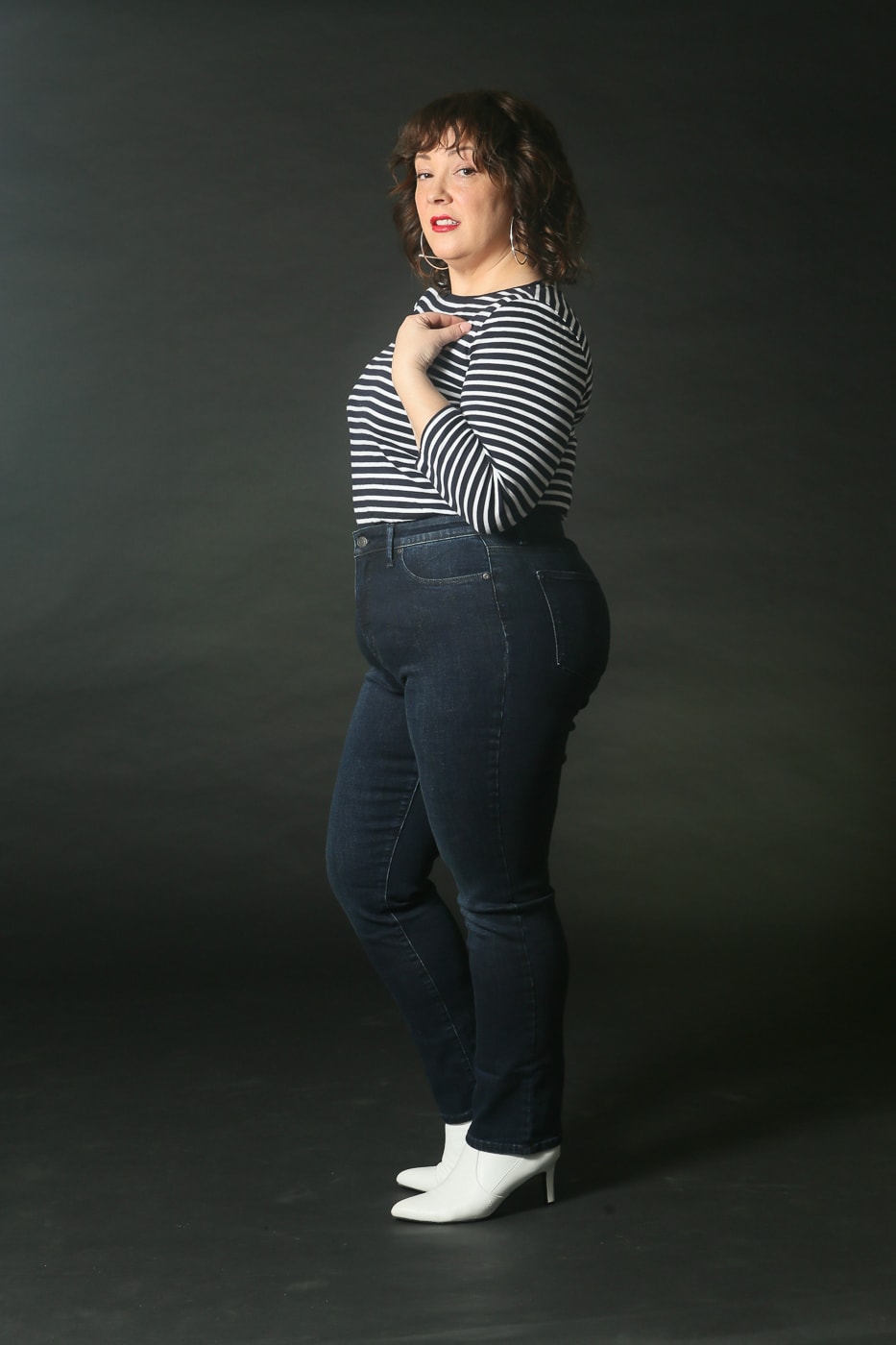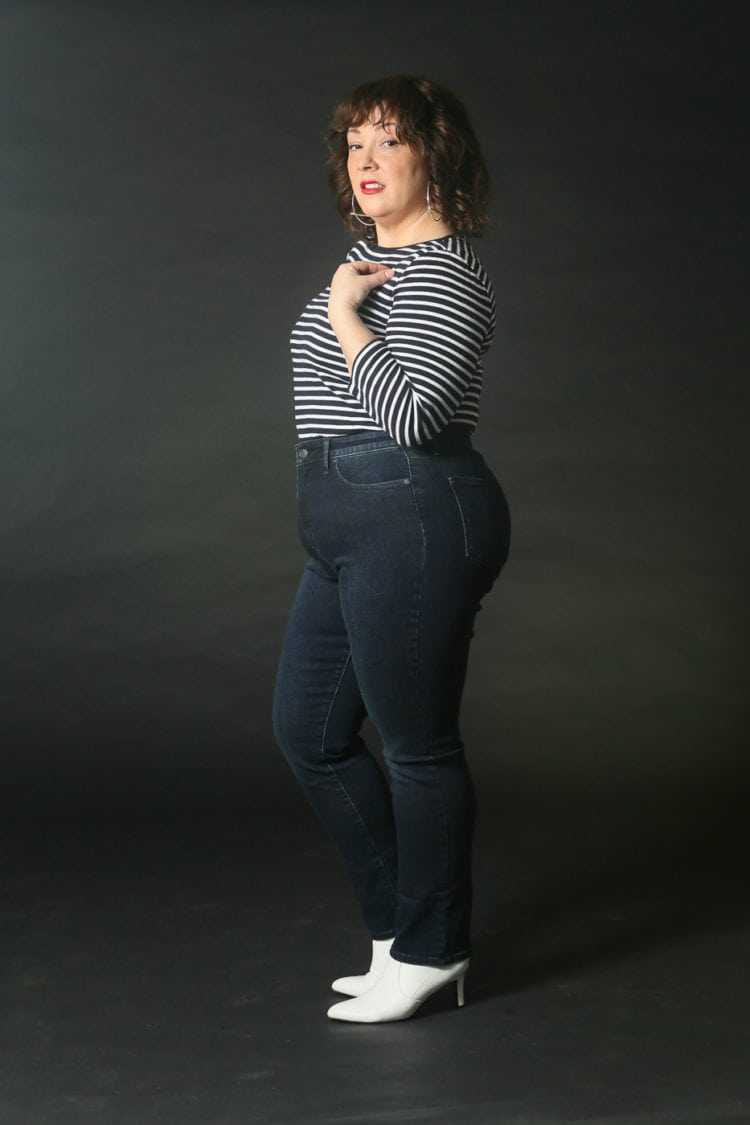 These jeans retail for $95 and come in regular and petite sizes at this link, and plus size and plus petite at this link. Since there are so many versions of this jean, I made a carousel of them for you:
Talbots Slim Ankle Jean in Indy Wash, Size 12 Regular
With Talbots, I have found in the past that their petite fit is sometimes just too petite. So to have a good gauge of the fit this season, I asked for these jeans in regular, not petite. I so wish I picked them in petite.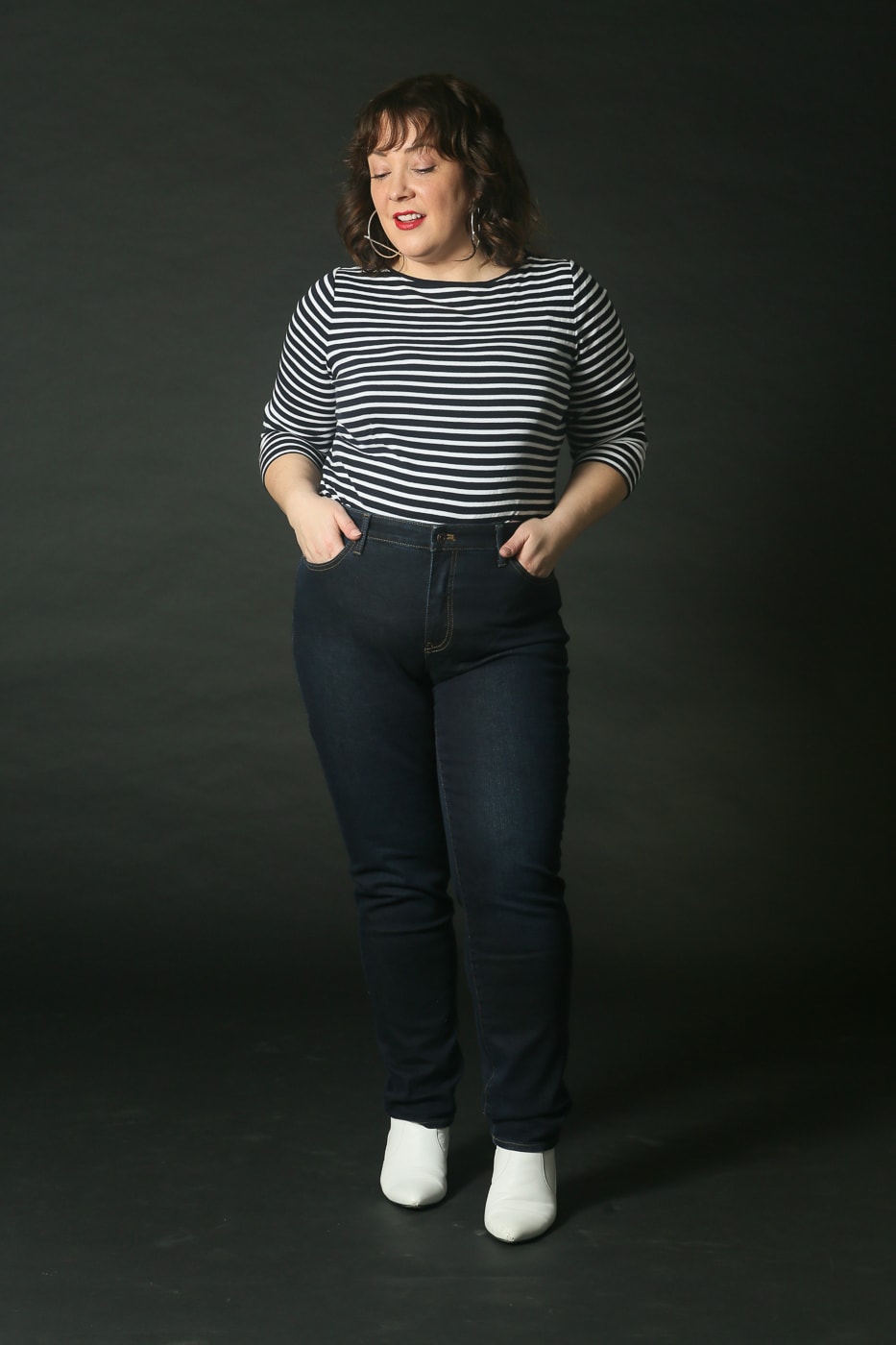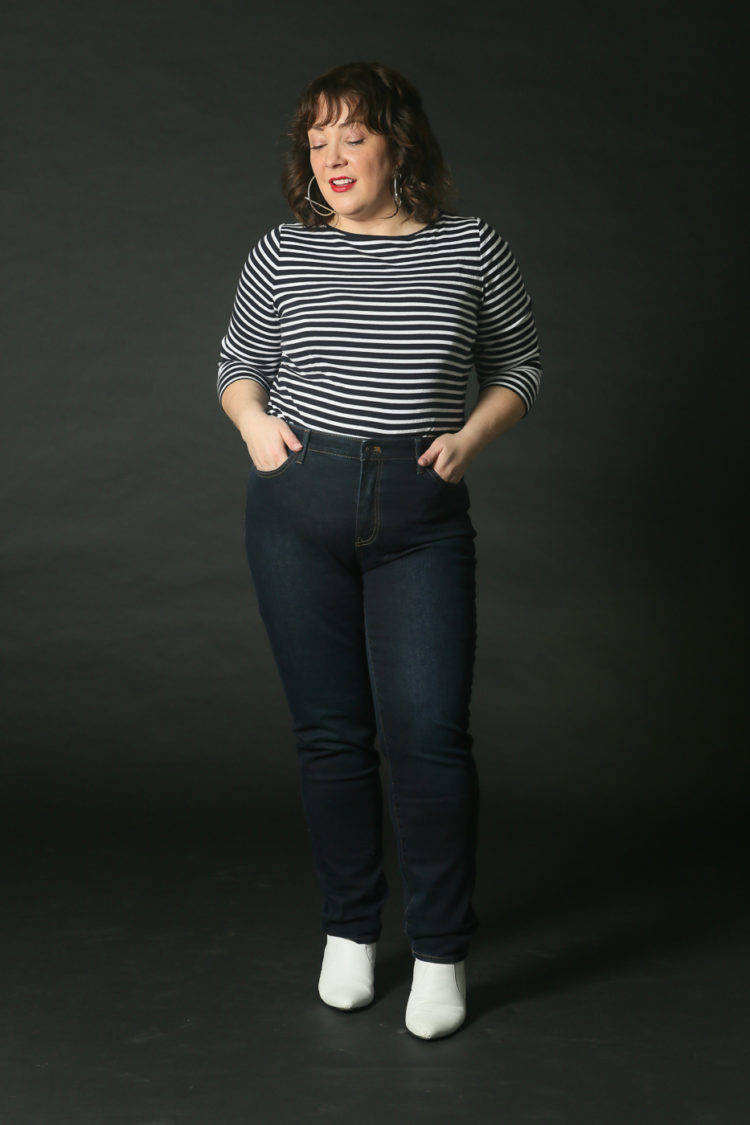 From the Talbots website: "Designed to lift, smooth and sculpt, these essential jeans are an everyday staple in an easy denim wash. Plus, they're finished with our exclusive slimming panel for the perfect, most flattering fit. Pair with a solid, stripe or statement tee for an effortless casual look. For a curvier figure, try our Slim Ankle Jean – Curvy Fit/Indy Wash." The jeans are 93% cotton, 6% polyester, and 1% spandex. The Misses fit has a 29″ inseam.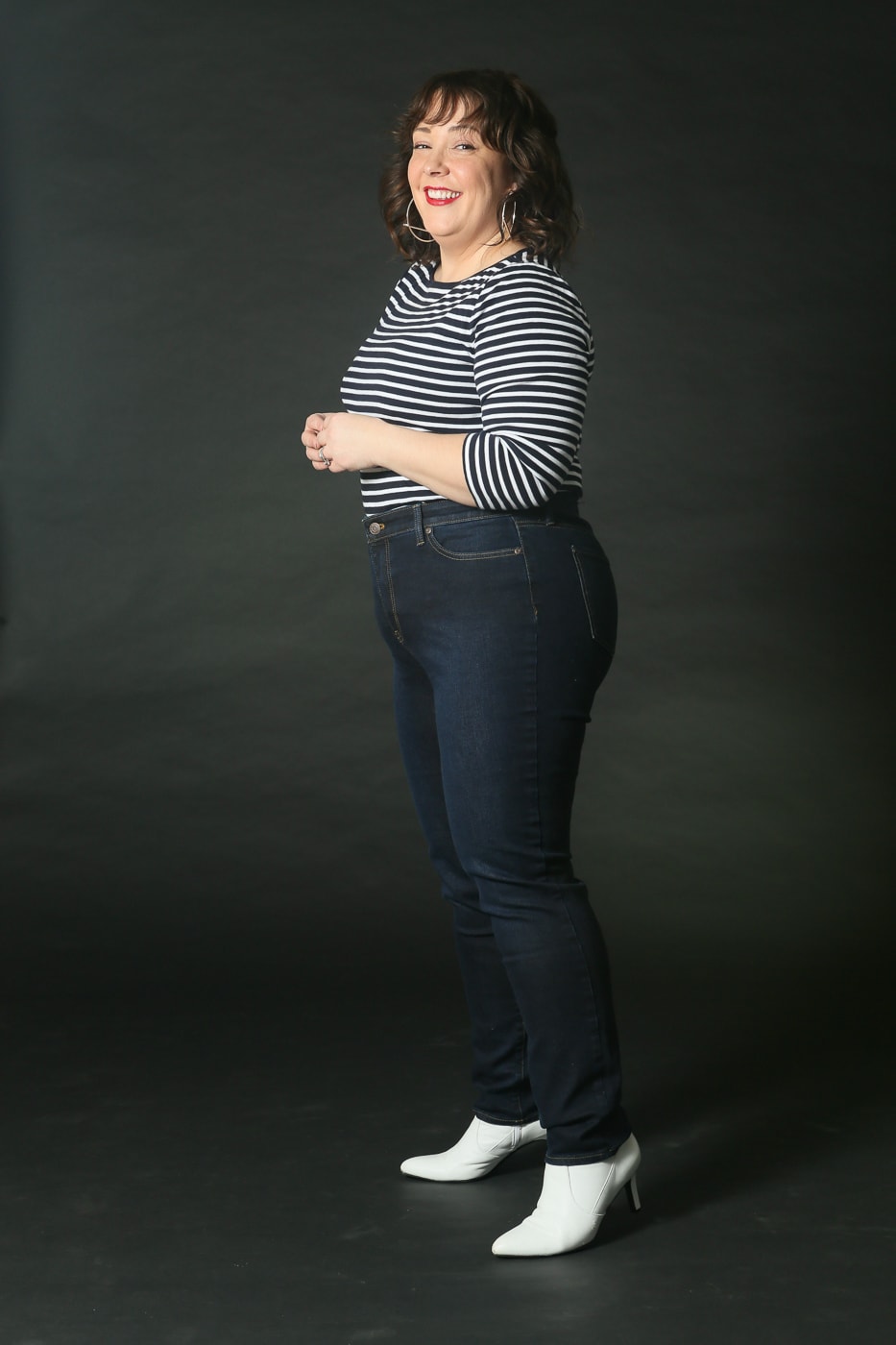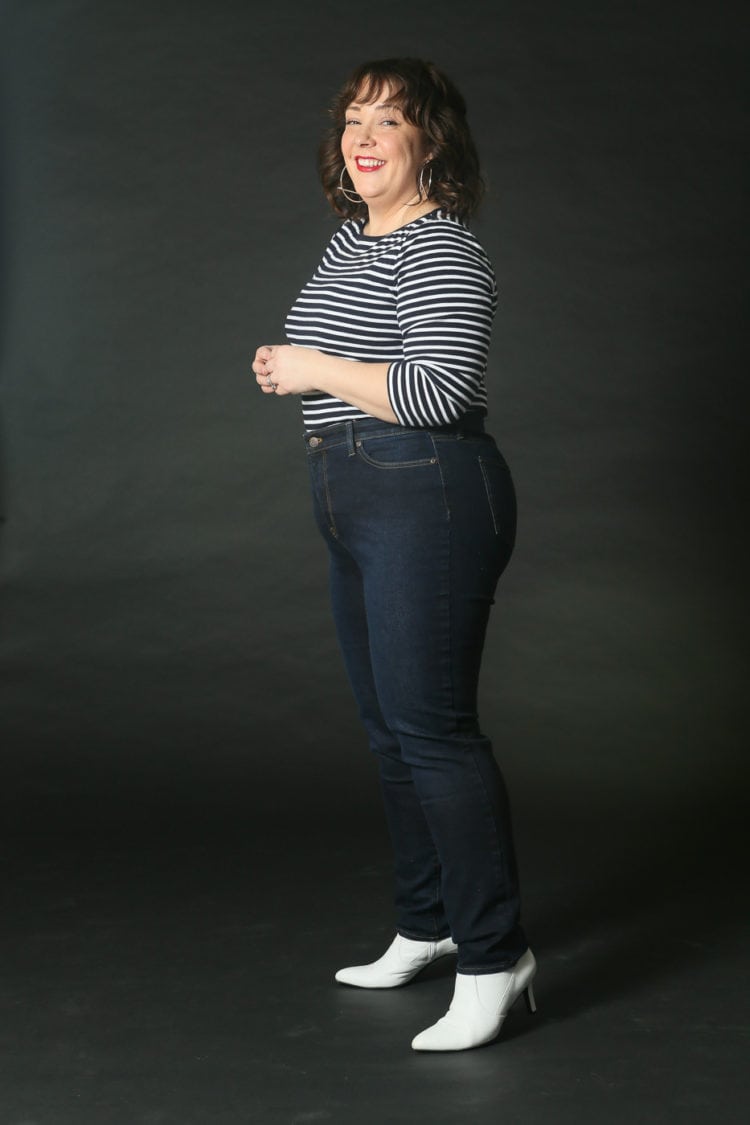 It's clear I need petite. The rise is higher than they're supposed to be, the length too long. While the High Waist Straight Jeans worked with my curves, these just missed.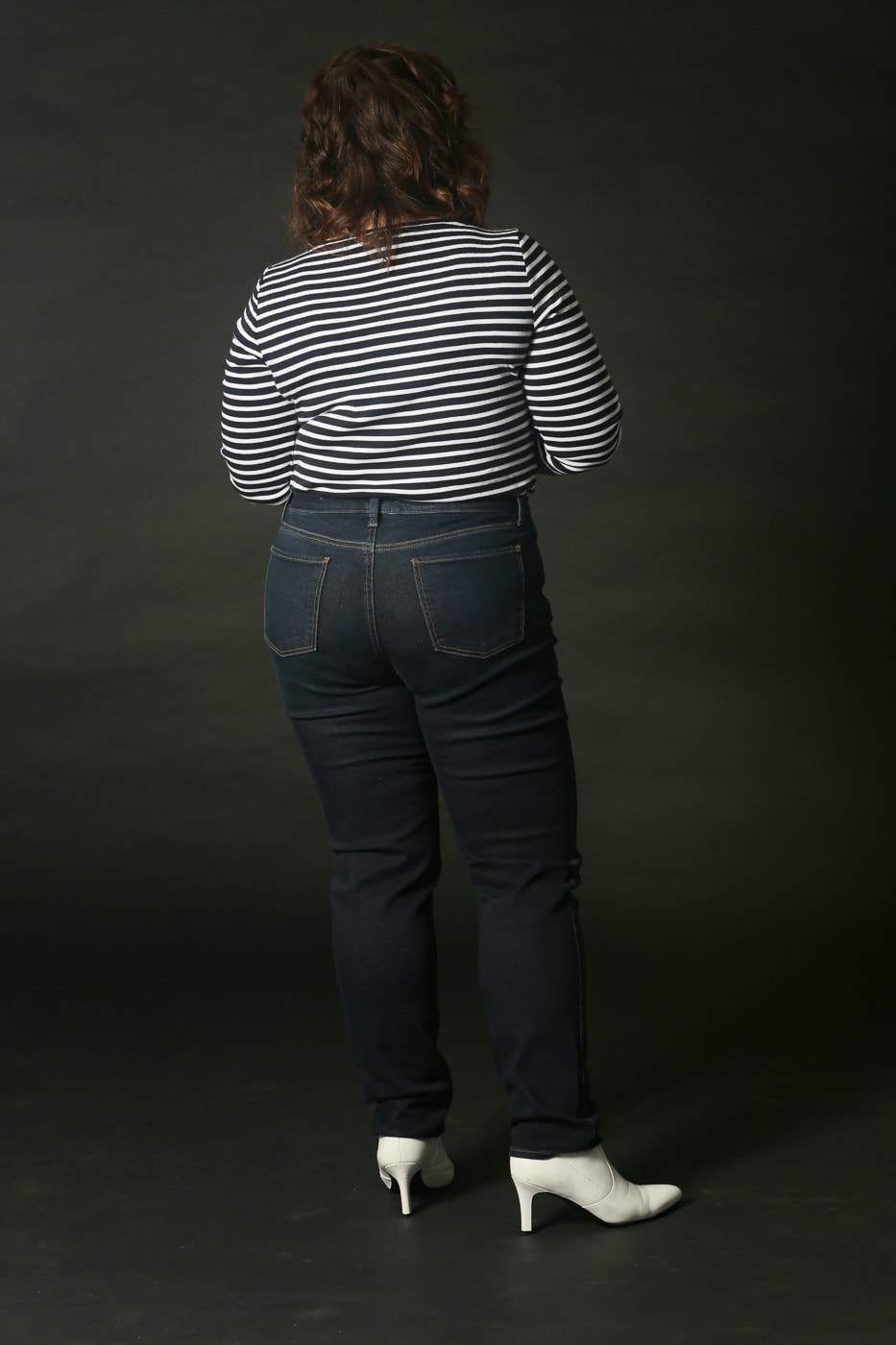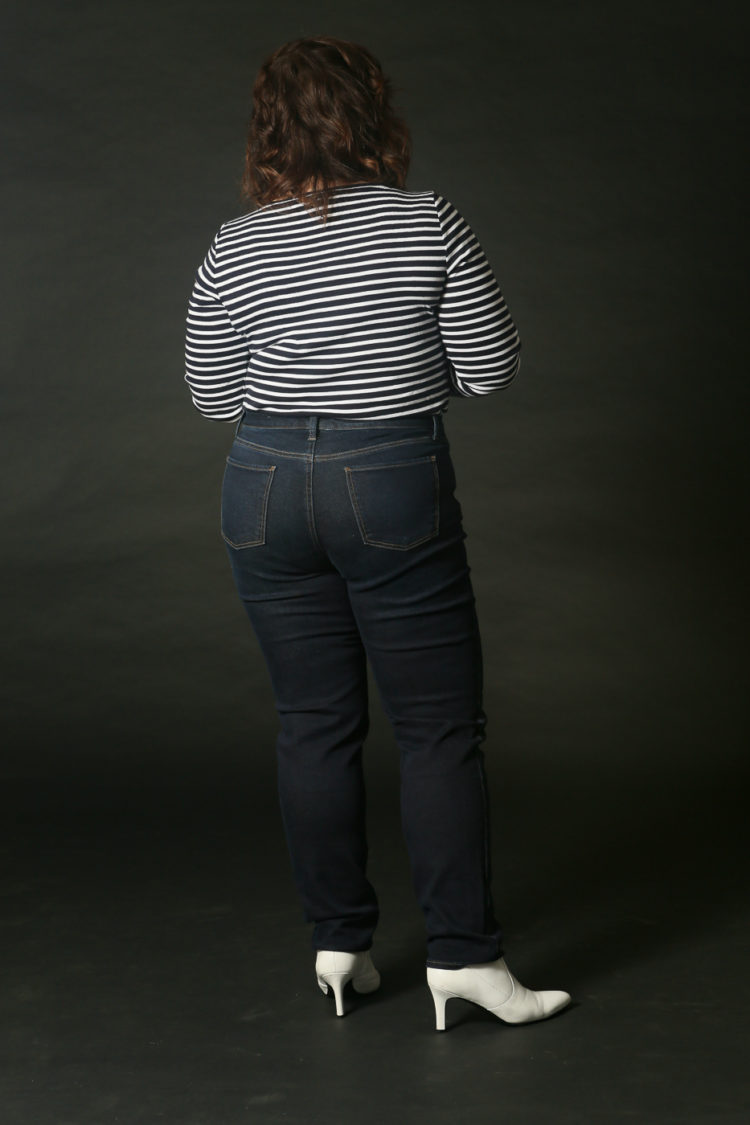 Also, I need a petite for length. This is a good length for heeled boots, but they are cut to be an ankle jean so they taper a bit and look wonky at this length. I think petite would have fit better and been a more wearable length. After wearing these I realize they are the same jeans as these which I have worn so many times.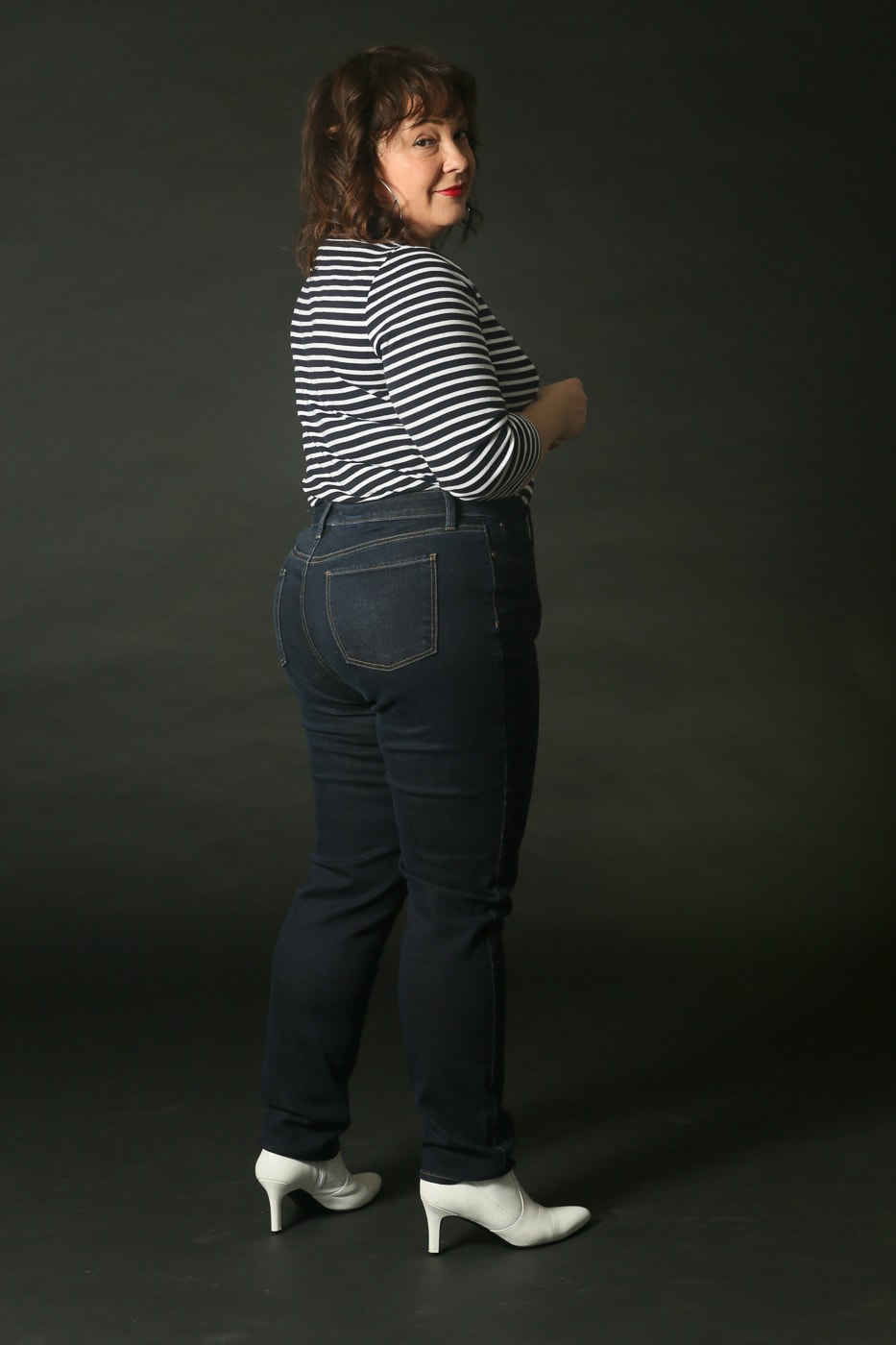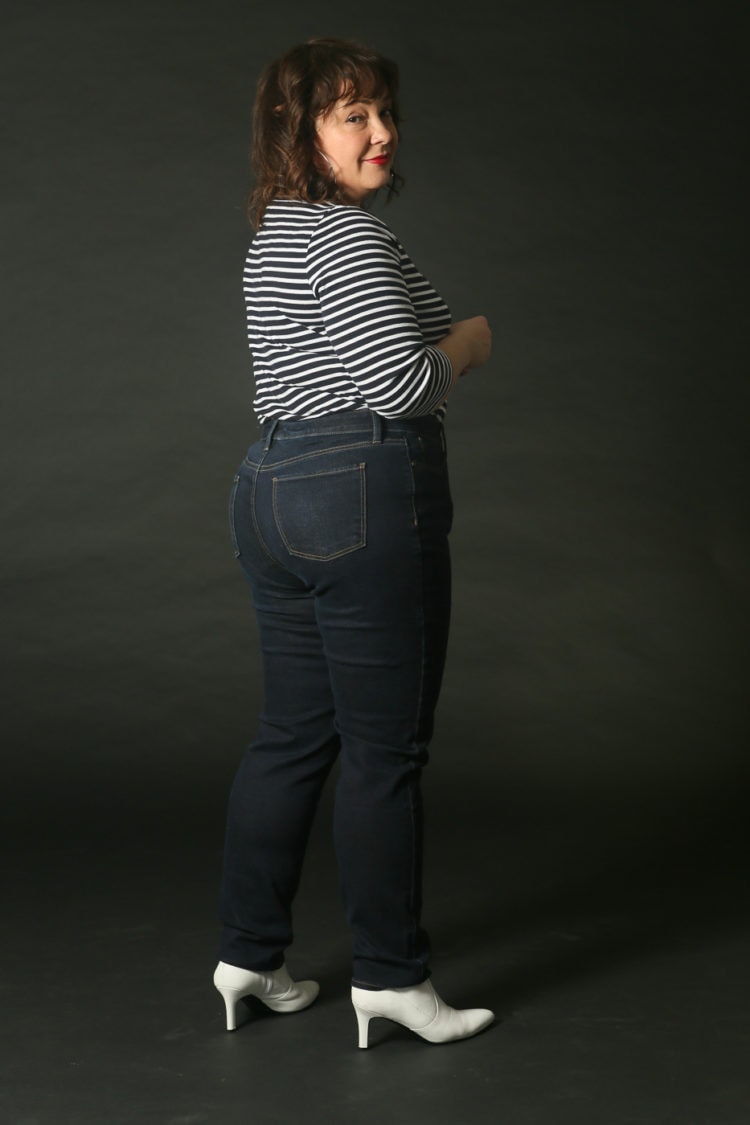 These jeans retail for $95 as well. This is the link for the Misses/Petite sizes, this is the link for the Plus/Plus Petite sizes. The jeans also come in colors, the lighter Equinox wash, the Baxter wash, and so many other options I again made a carousel of the selection:
Mott & Bow High Rise Skinny in Orchard Wash, 32″ x 28″
I tried Mott & Bow in the last denim review; since I ordered a longer length they offered to send me two more pairs with the 28″ inseam (you can choose 30″ or 28″). I chose to try both rises to get a good feel for this denim brand. This is the high rise option in a dark gray wash known as "Orchid."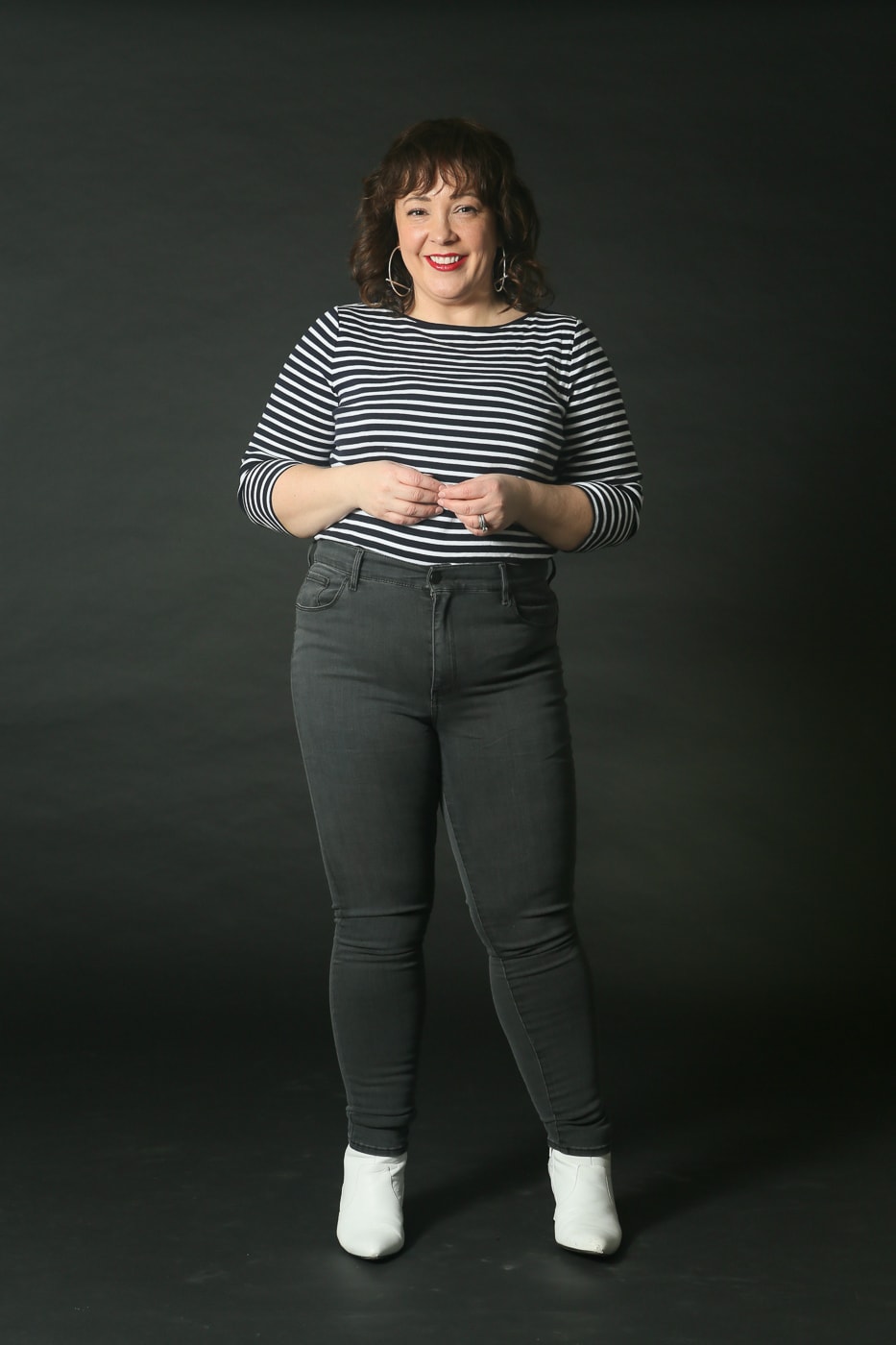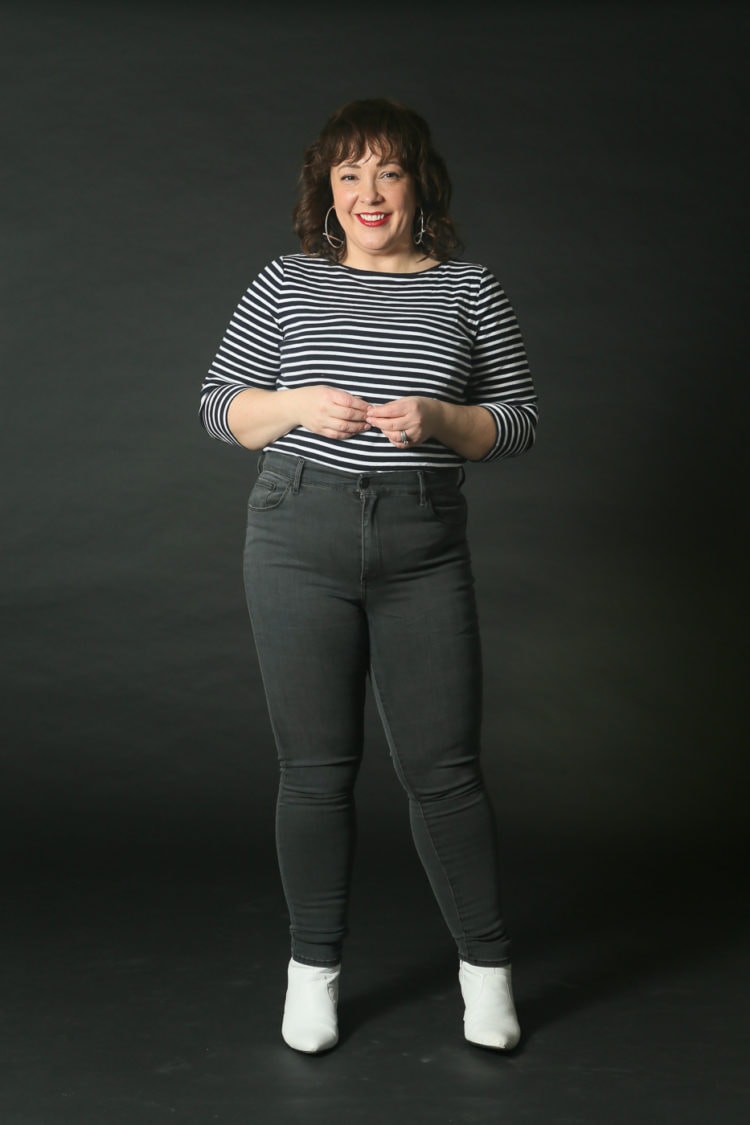 From the Mott & Bow website, "Our 'Orchard' denim is a dark gray hue high power stretch fabric from Orta Anadolu with 55% elasticity and a weight of 12.75 oz. Fabric composition: 69% Cotton; 15% Modal; 14% Polyester; 2% Elastane." The wash is described as, "9 Month Wash. Hand sanded. Stone Washed. Bleached. Dried. Sprayed. Rinsed. Dried."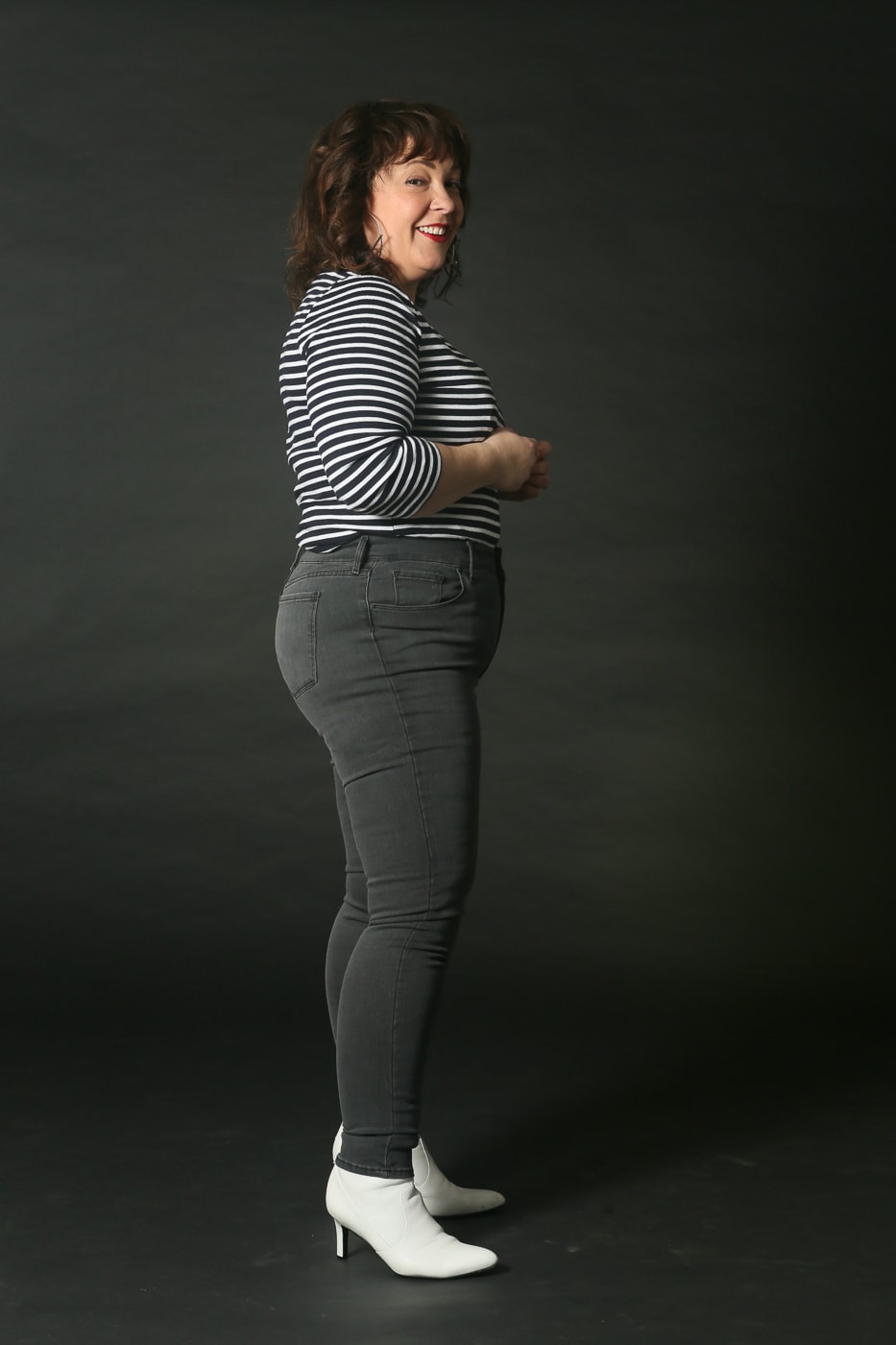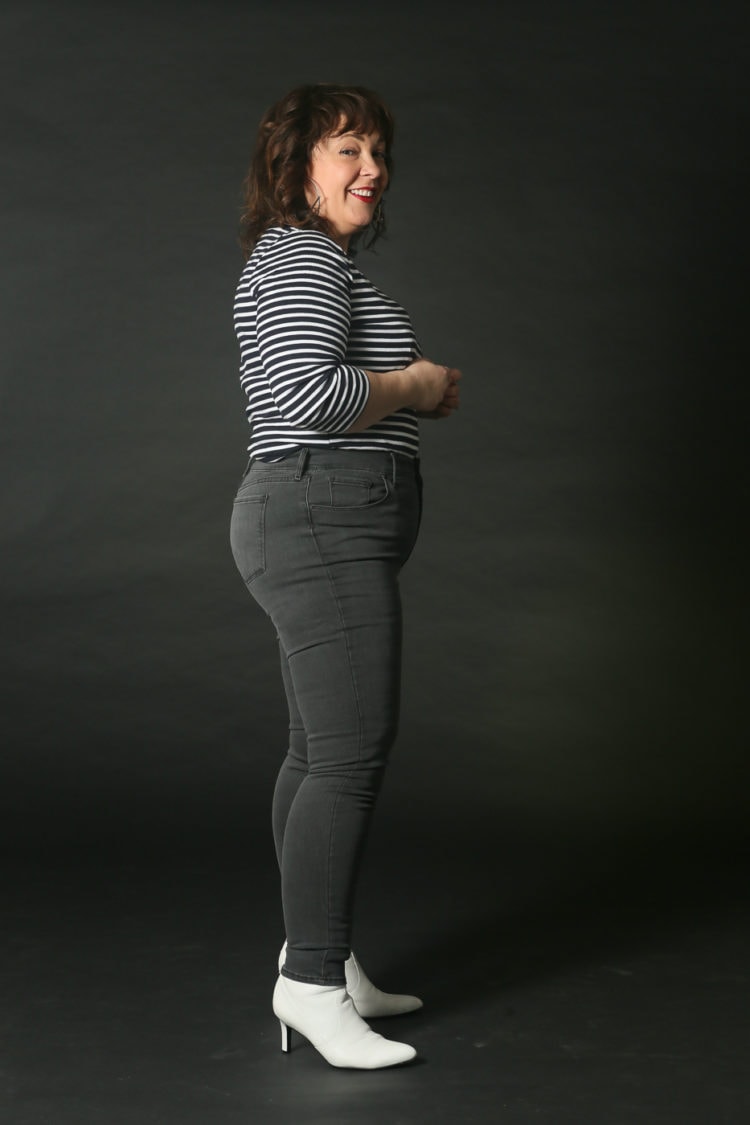 Mott & Bow has customer reviews on their website and these jeans get a 4.8 out of 5 stars. Most of the reviews rave about how comfortable and soft they are and how they don't stretch out. I completely agree with this assessment. These are really comfy jeans and would be the perfect jeans for weekends to wear with sweaters, sweatshirts, maybe a t-shirt with a blazer or long cardigan. However, I am looking for a heavier weight jean to wear with tucked-in tops and these jeans are not that. I must say, these jeans wash great. Since this shoot I washed and dried these jeans twice and they're the same fit, same wash, same everything. They're also comfy all day long without getting saggy or stretched out.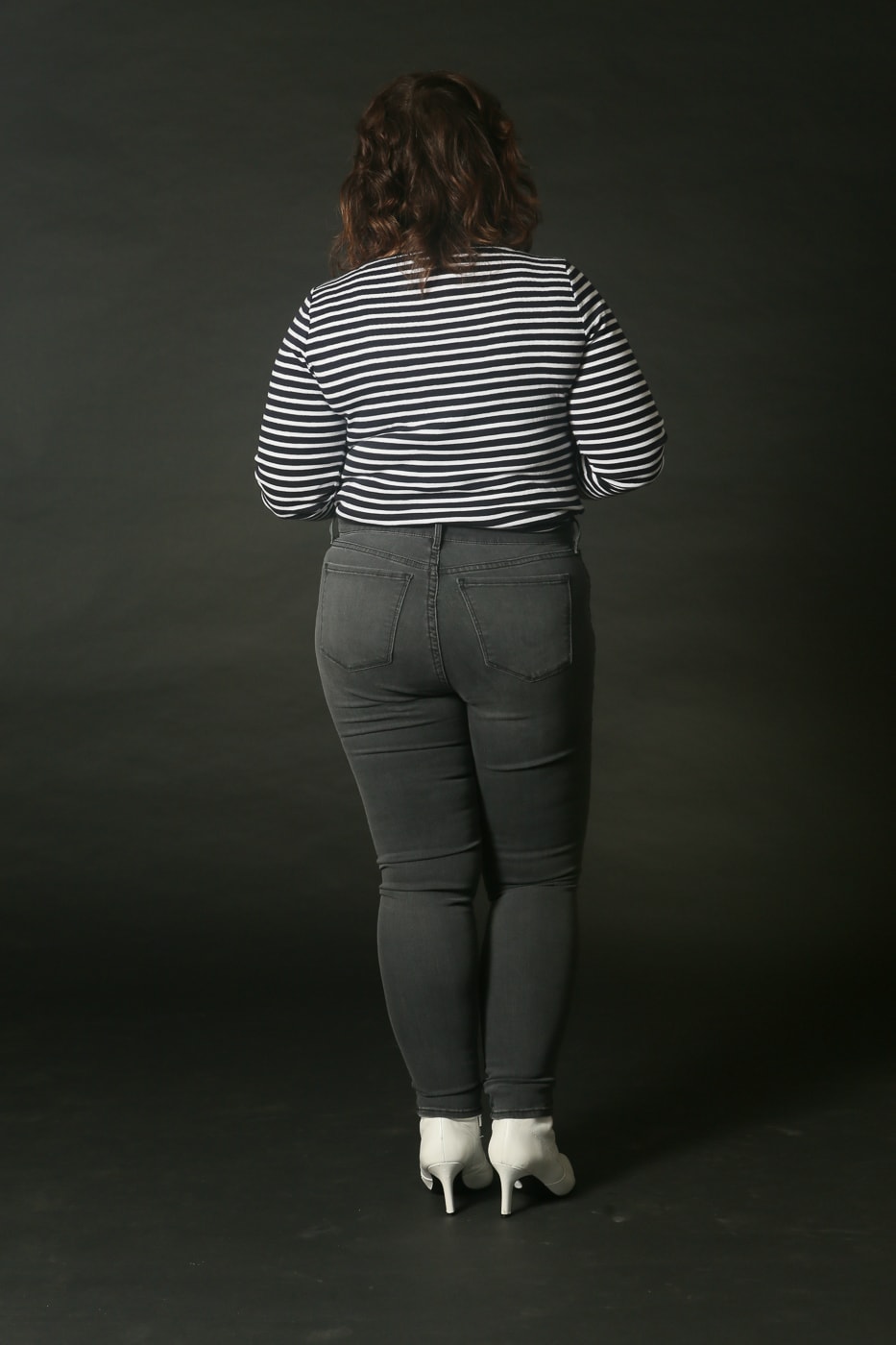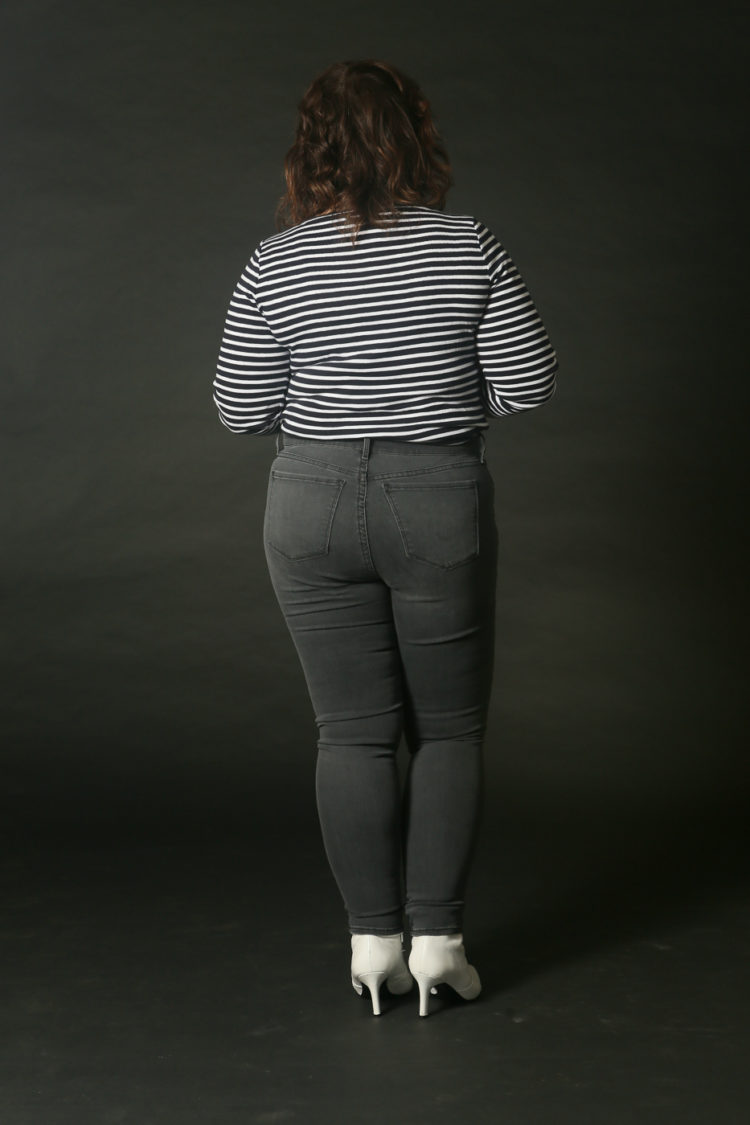 The High Rise Skinny from Bott & Bow retails for $118, comes in two lengths and up to size 32. This jean comes in a lot of washes; click here to see all the options. At this link you can find the same jean available in three washes in a curvy fit that goes up to size 40.
Mott & Bow Mid Rise Skinny in Bond Wash, 32″ x 28″
Same brand, same fit, but these are a mid rise. Boy, the difference between these two jeans makes it clear that it's not just about the size but the rise. Who would have thought a 5'3″ woman who usually chooses a petite offering would find a high rise jean not only more comfortable but fit better?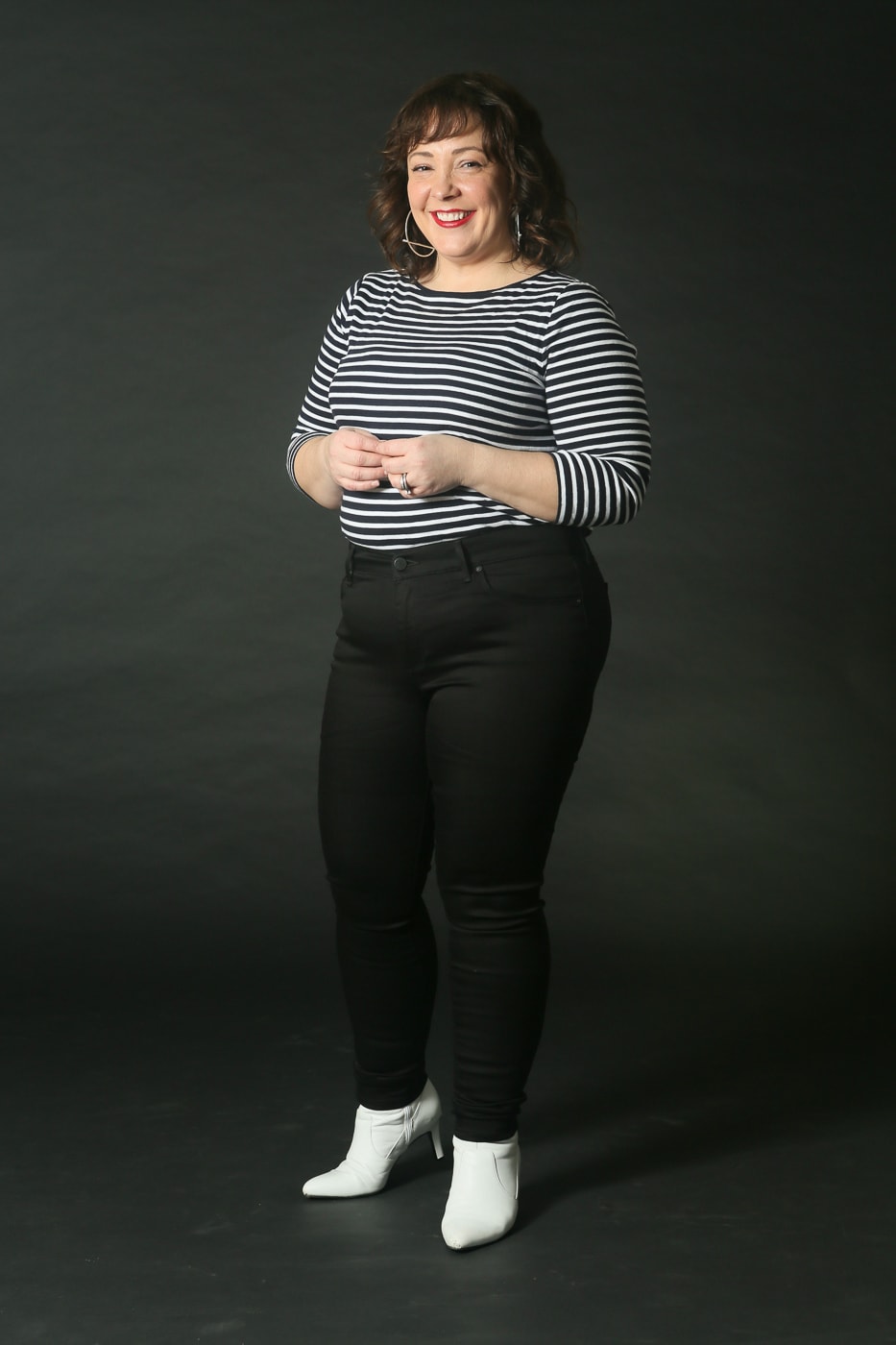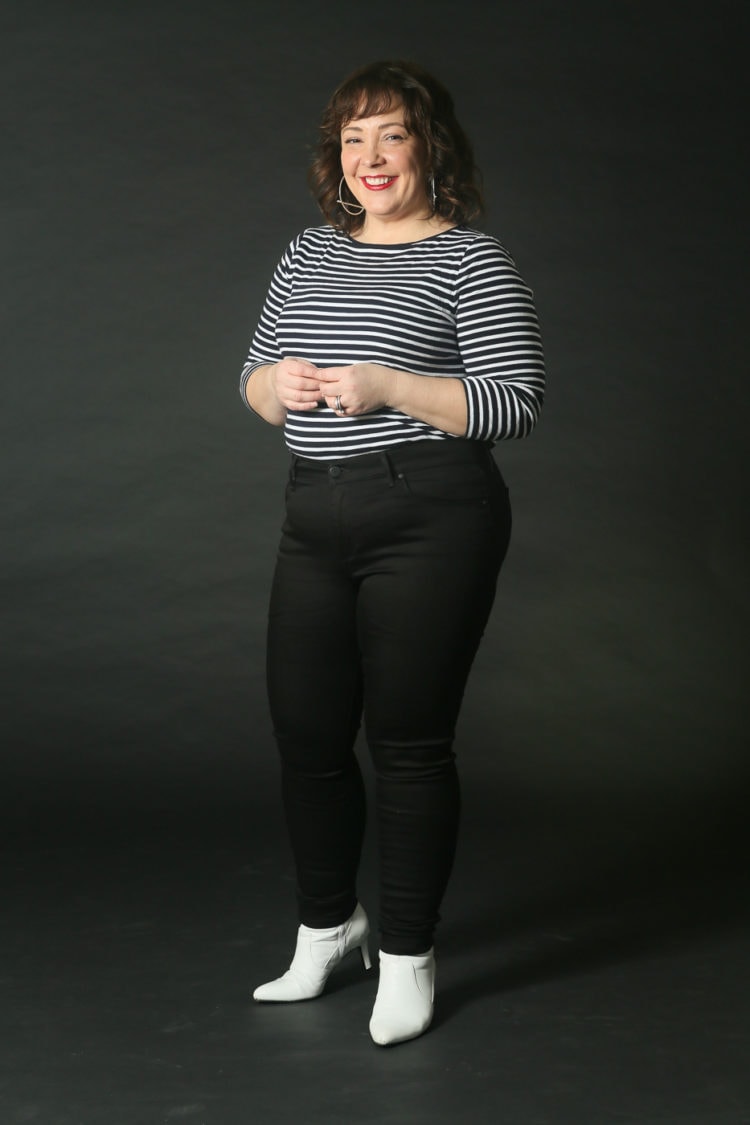 From the Mott & Bow website: "Our 'Bond' denim is a stay black (technically called 'reactive black' as it resists fading) power stretch fabric from Orta Anadolu with 43% elasticity and weight of 11.5 oz. Fabric composition: 63% Tencel; 30% Cotton; 5% Polyester; 2% Elastane."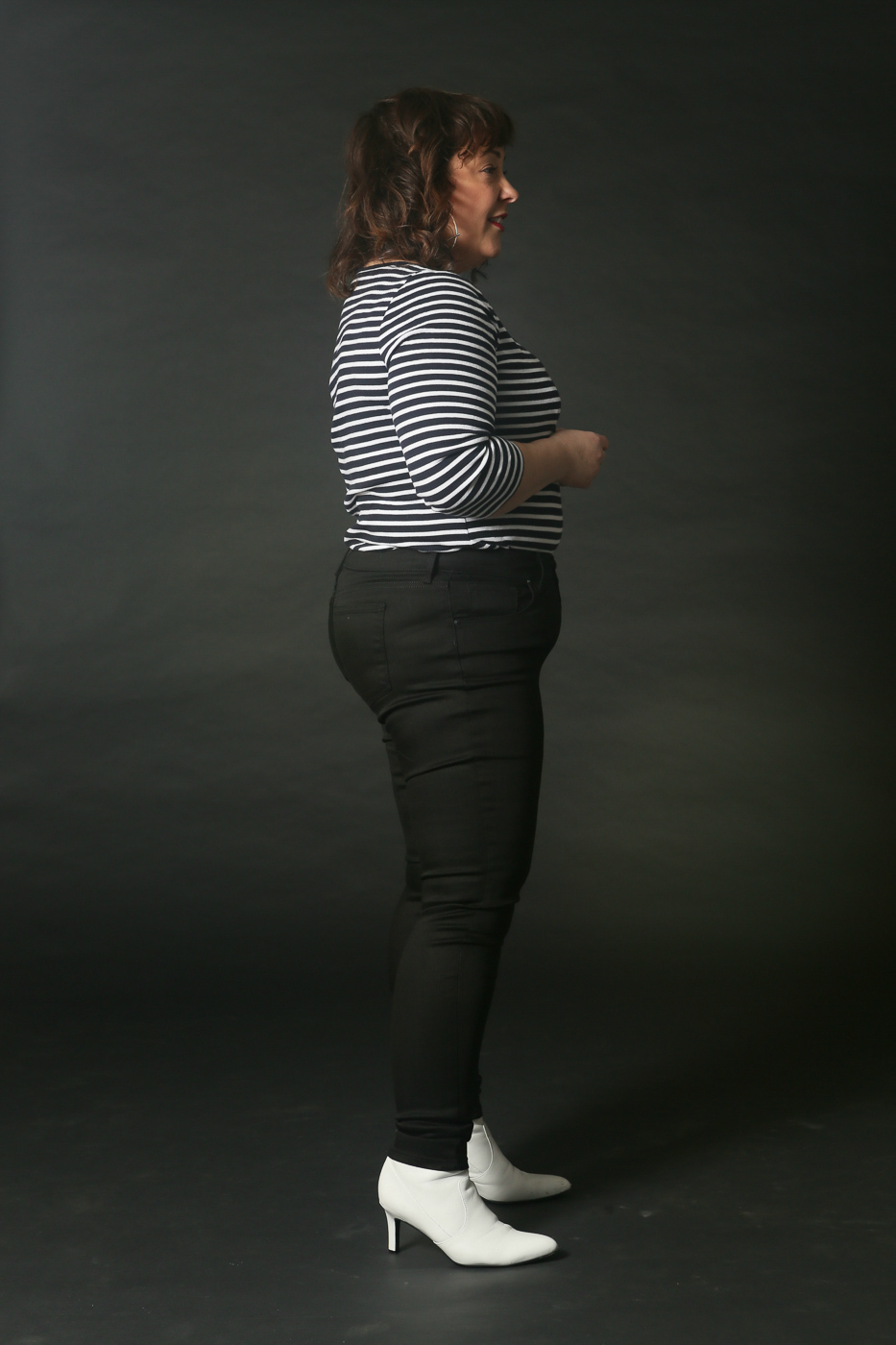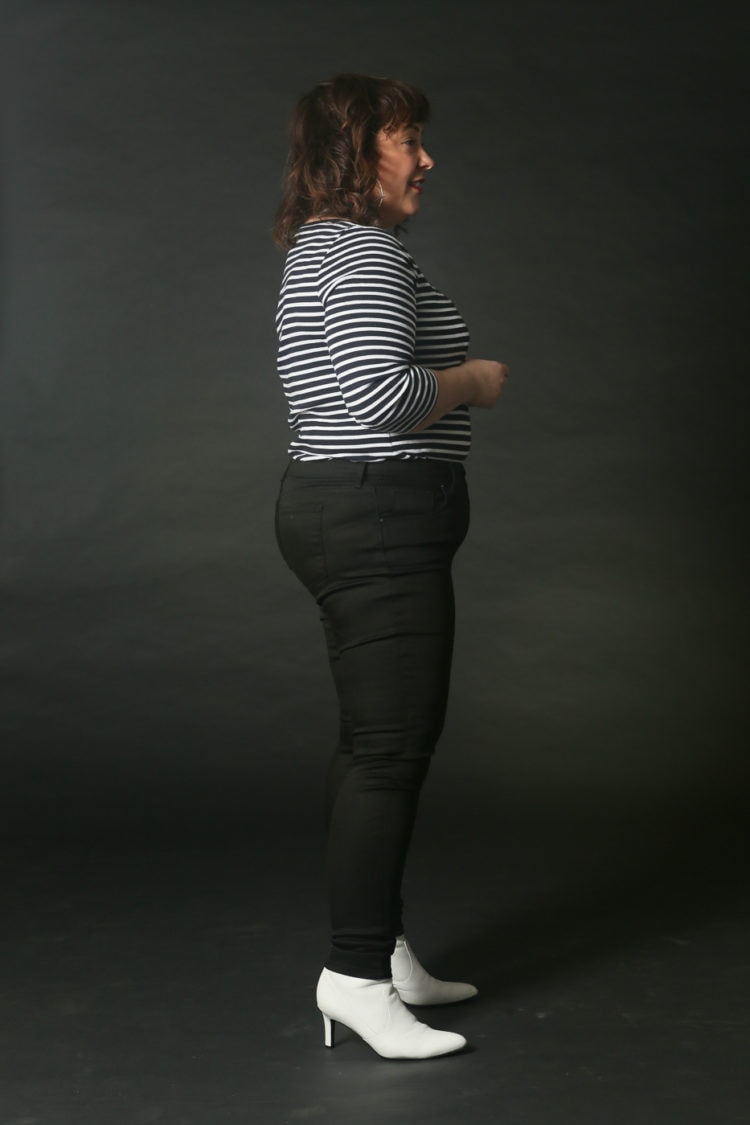 The Mid Rise Skinny is only available in sizes up to 32; it has the option of 28″ inseam or 30″ inseam. I find the denim of the deep black (called "Bond" on the Mott & Bow site) to be the same quality, weight, and stretchiness as the gray ones right above, and the rinse wash ones I already own. Many brands, you'll find different washes fit differently and I appreciate this consistency from Mott & Bow.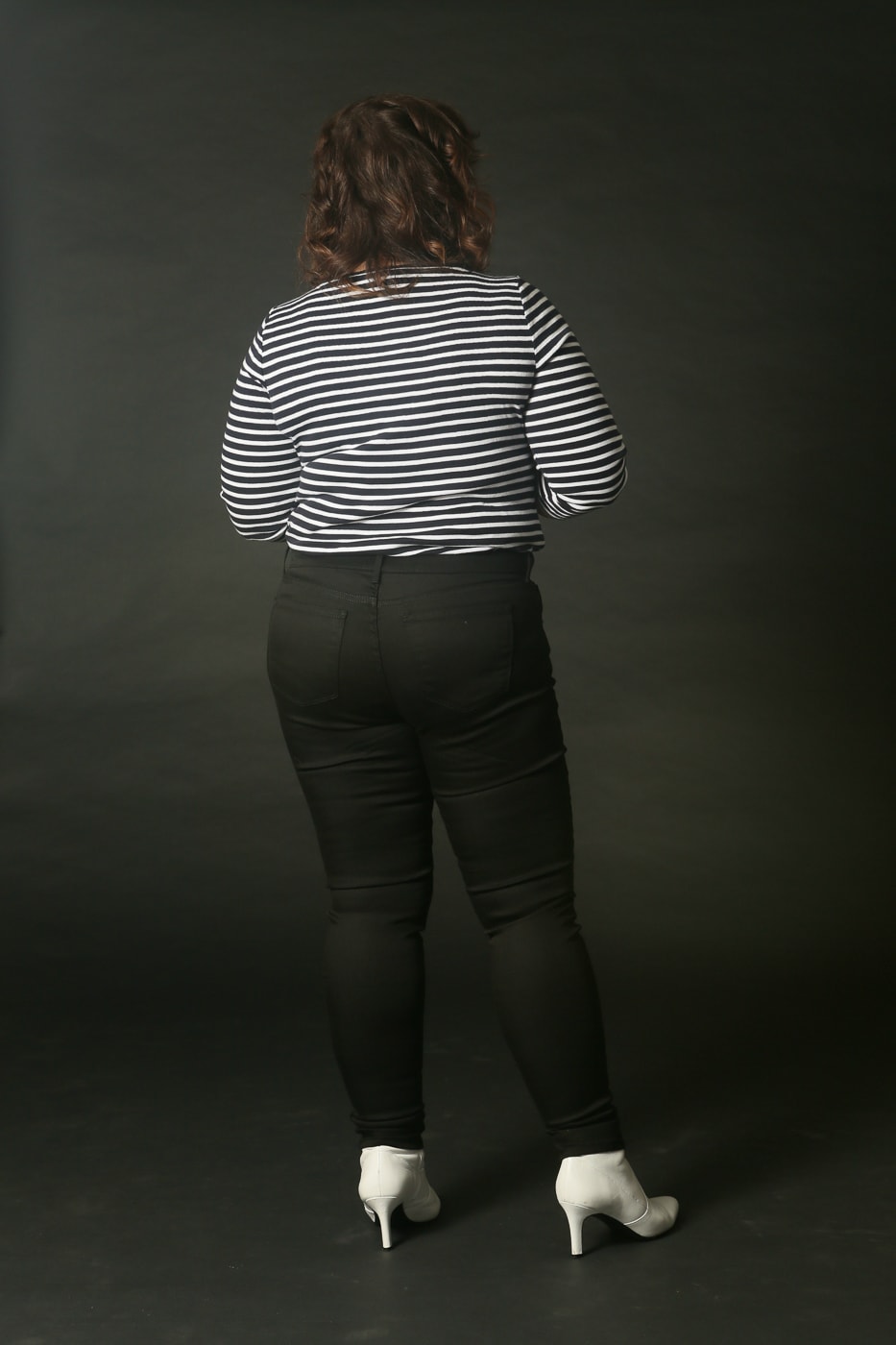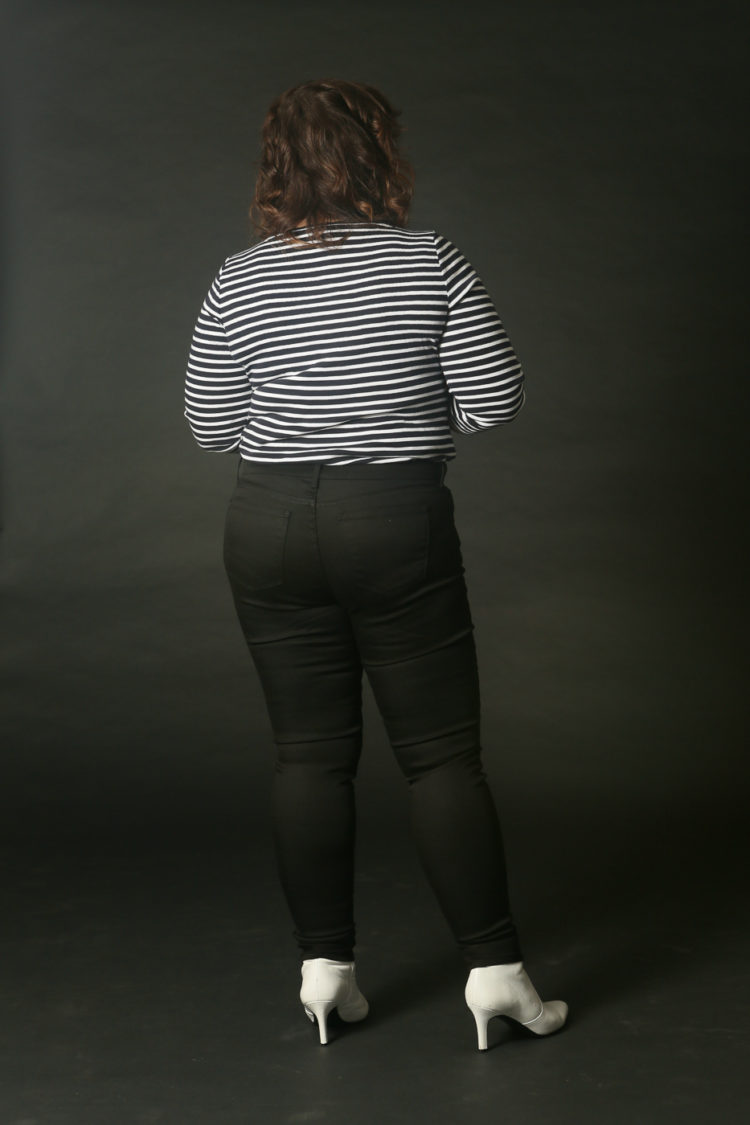 However, these jeans are not cute on me. The mid rise is too low for this woman's booty. There just isn't enough fabric to accomodate my rear and my belly and when I would bend down or sit the jeans would ride down. I think this fit would be far better for a woman with hips; while you can't see it from these photos I found they had room in the hip area and would better flatter someone who has the curves… on the sides and thighs than where I have them. As with the gray ones, this fabric is perfect for those who want something more polished than a legging but to wear with sweaters, blazers, tunics, tall boots, and anywhere you'd rock a lighter weight skinny jean or jegging.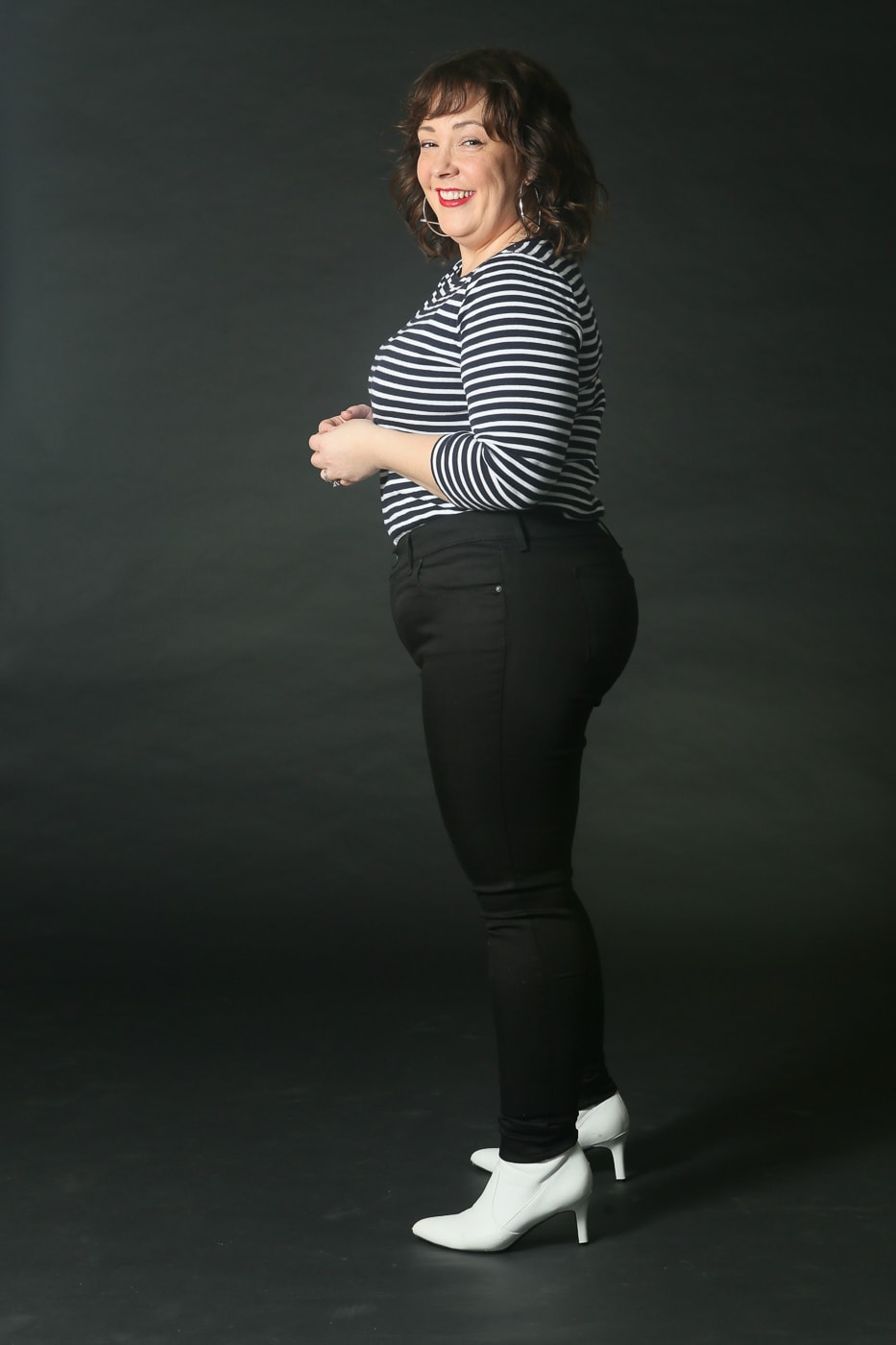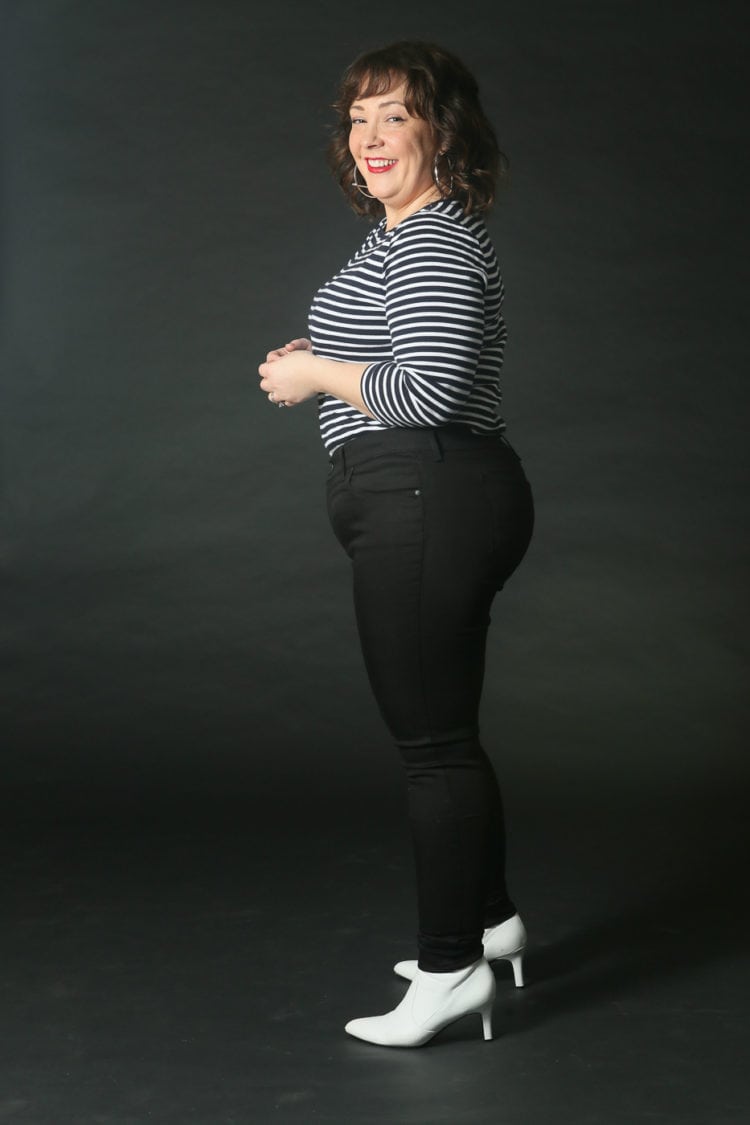 These jeans retail for $128. At this link you can find them in black and a cool option of black with slits. However, the Mid Rise Skinny comes in a great variety of washes; click here to see all of the options in this cut.
J.Jill Released-Hem Full-Leg Denim Crops in Pacific Wash, 12 Petite
J.Jill reached out asking if I'd like to try some pieces from a specific lookbook from their spring collection and I used the opportunity to try their denim. I know many of you love J.Jill; to be honest I haven't worn the brand in years and was curious about their jeans. Loving my American Eagle cropped wide-leg jeans but not loving the return policy (and I know you all choose brands based on their shipping and return policies) I asked for their Released-Hem Full-Leg Denim Crops.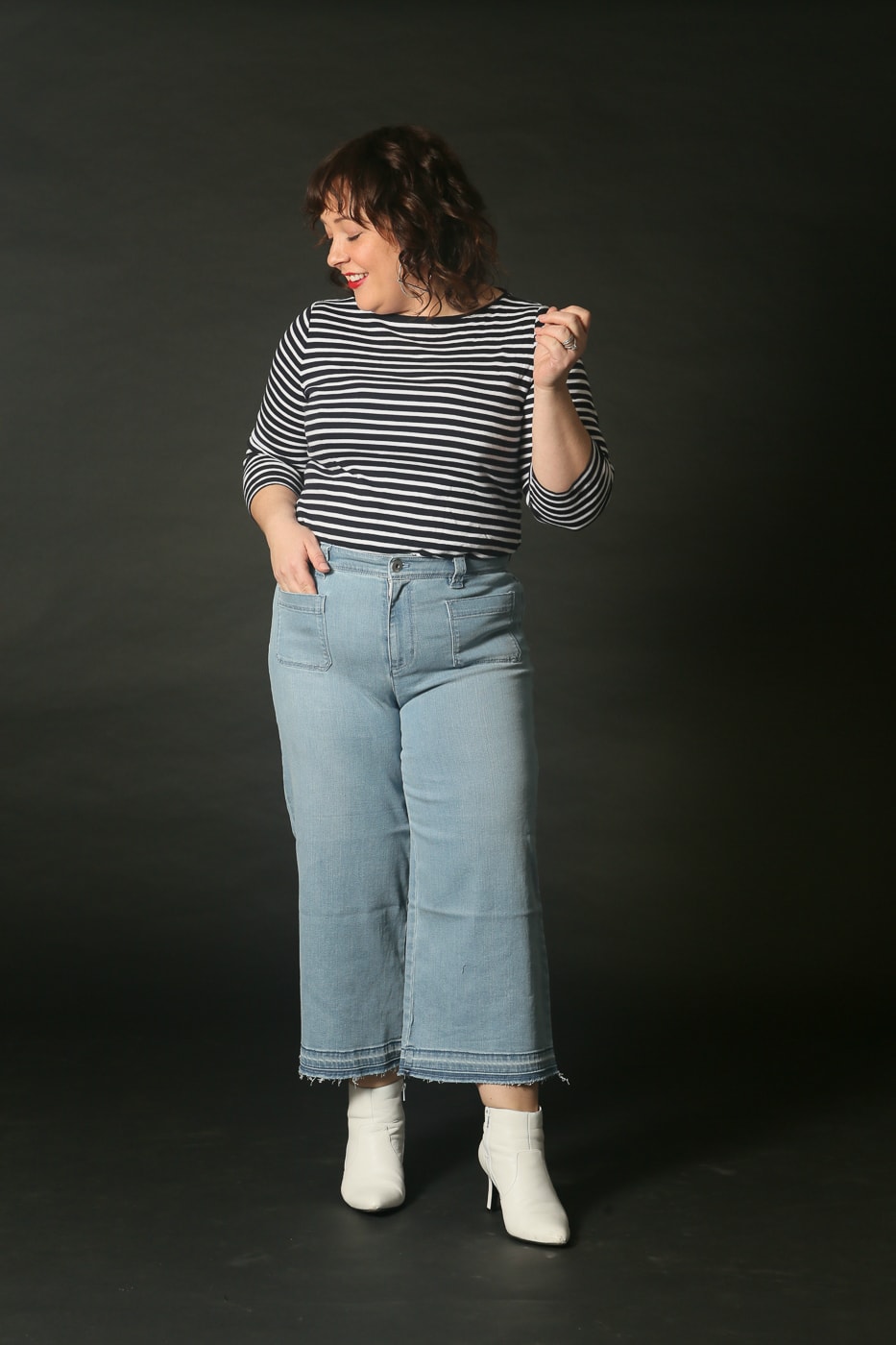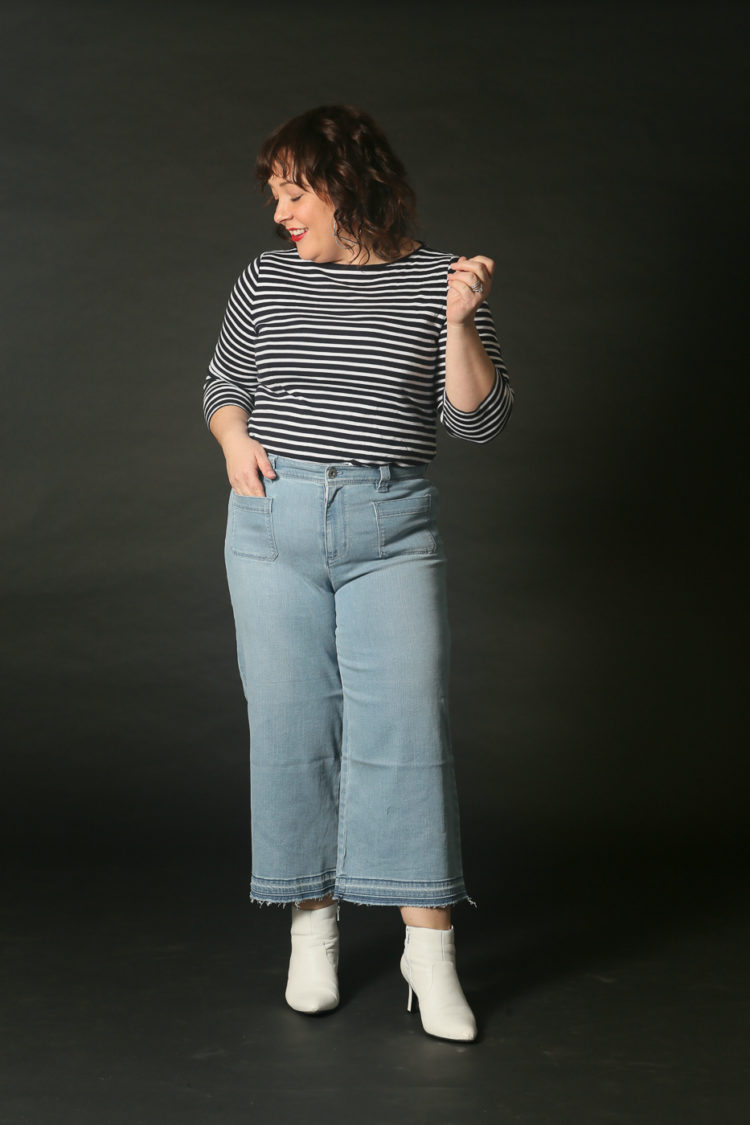 Not knowing how J.Jill fits me but knowing lately in a good dozen brands I am a 12 or 32, I asked for these in a 12 Petite. I need a 14 in J.Jill, these are too small. While soft and stretchy, they create a serious muffin top and are very tight over my rear and belly.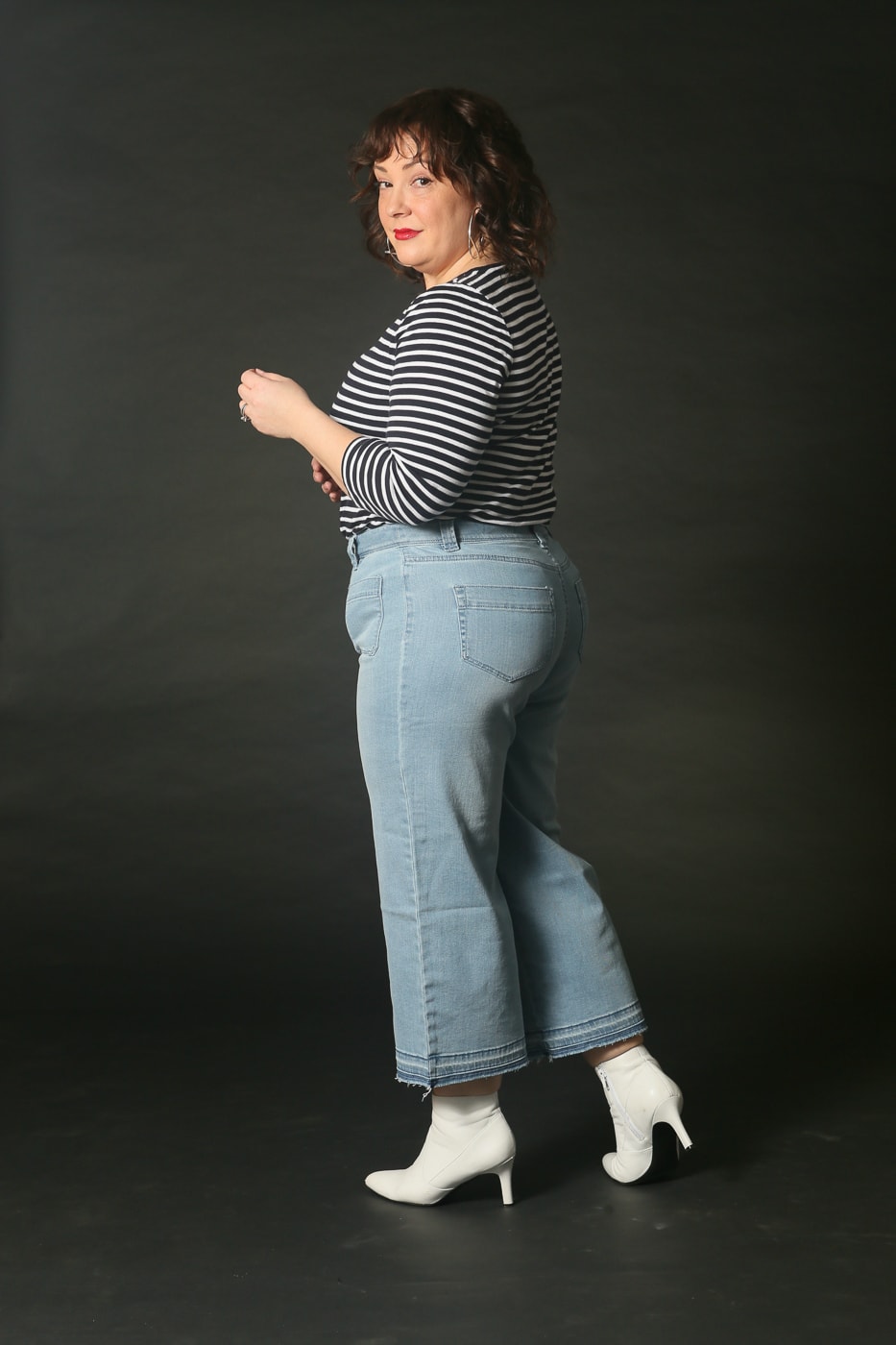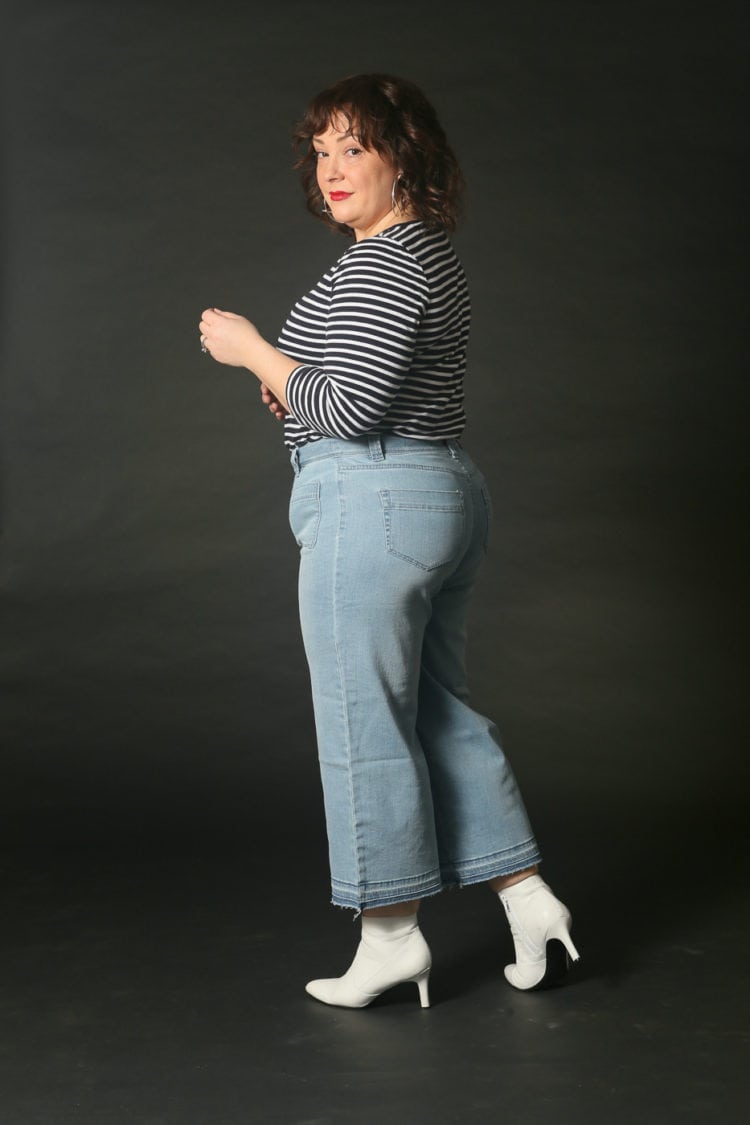 However, these are a very lightweight denim (65% cotton, 27% Tencel® lyocell, 6% polyester and 2% spandex woven) and they already started stretching out by the end of this shoot. I worry that a larger size would stretch out beyond wearability. I also know that with my belly and rear, I need a more substantial denim or they will stretch out just in this area leaving me with saggy diaper looking jeans by noon.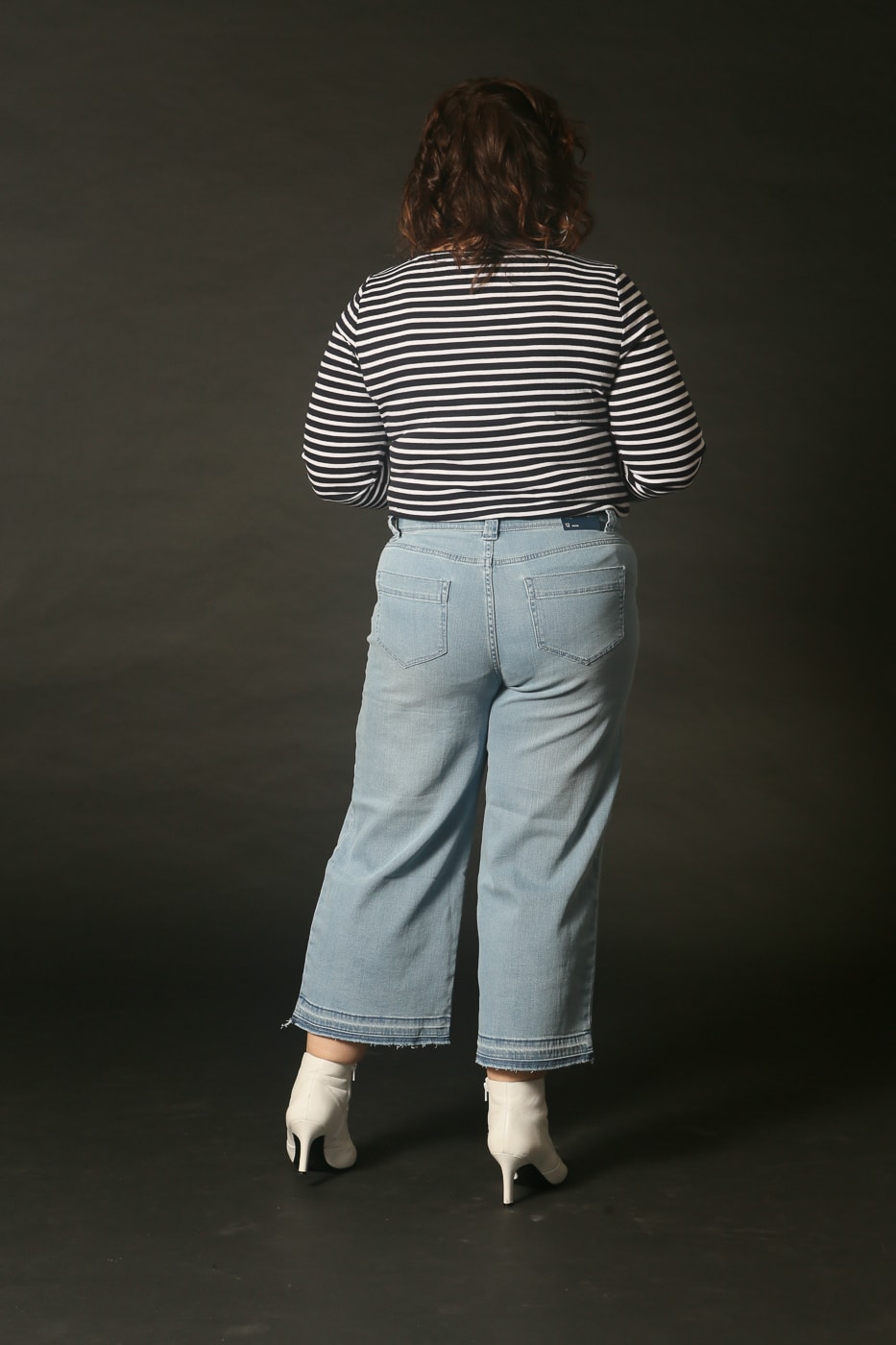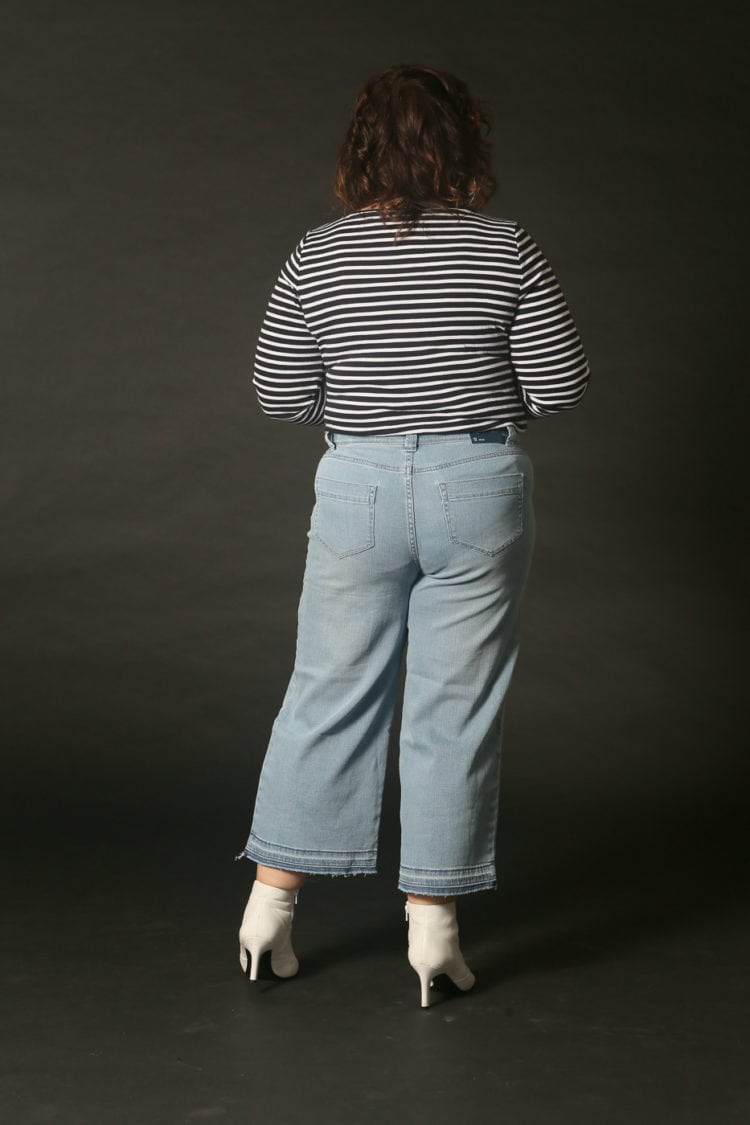 The wash has a slightly green tint to it, and I am not sure why. Maybe this helps them better match the spring collection? I think it makes the jeans look a bit dated and cheap. If they were plain faded or even a darker wash I think they would look more modern.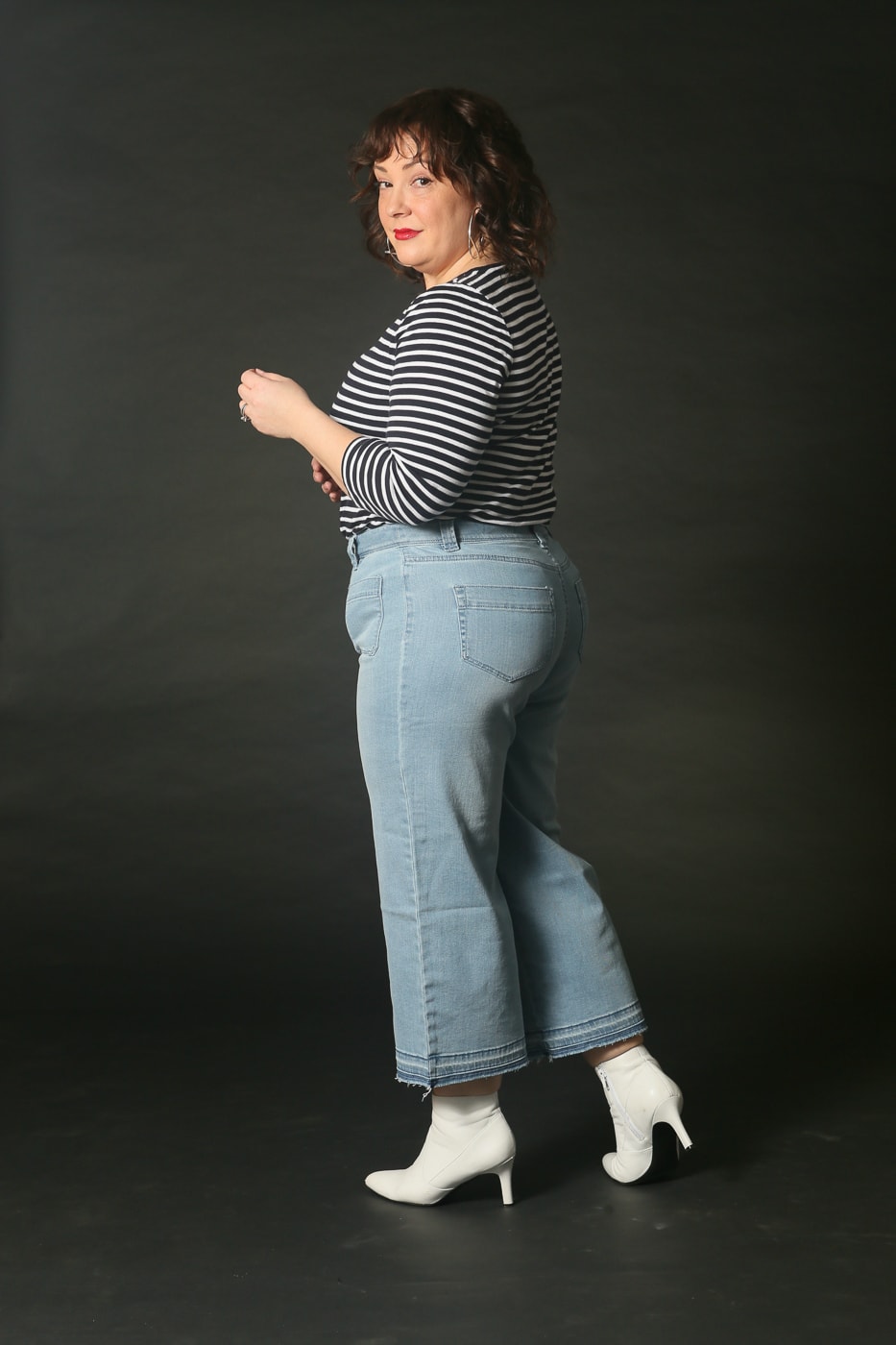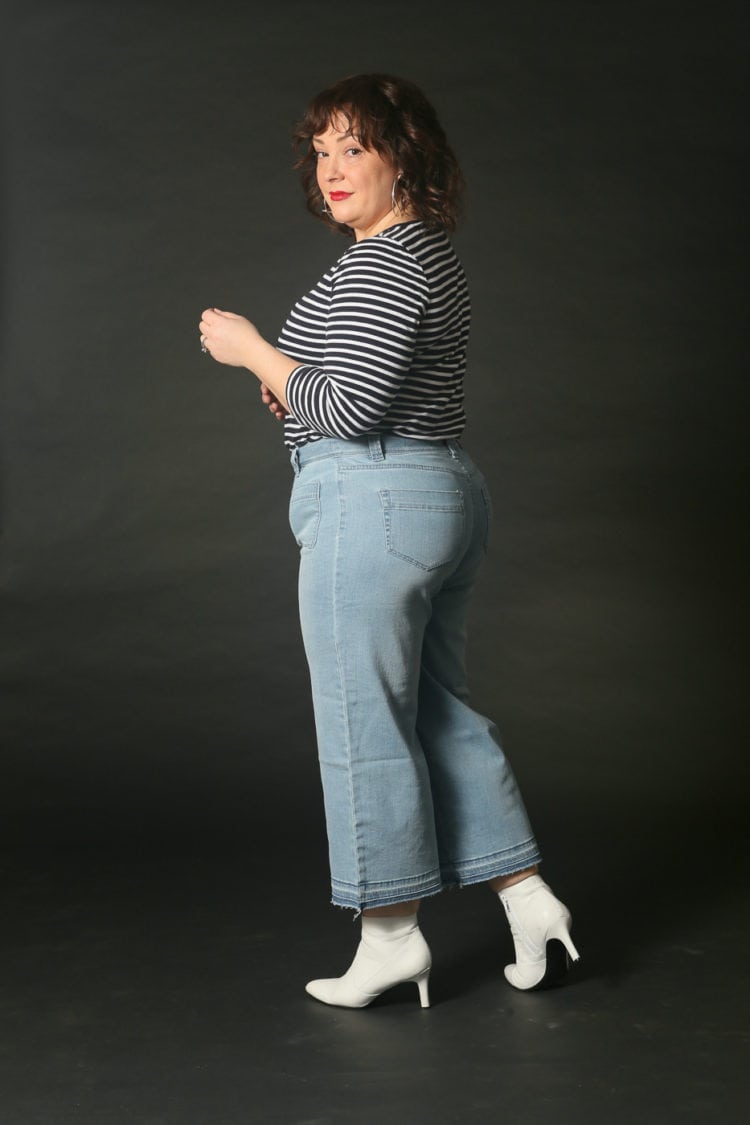 These jeans retail for $89 and are available in Misses, Petite, Plus and Tall.
J.Jill Kick-Flare Ankle Jeans in Black, 12 Petite
I didn't like the idea of kick flare jeans until cabi sent me a pair last year. I was surprised how cute they were, especially with ankle booties. I wore them for cabi Blogger Day and ended up wearing those jeans quite often all spring and summer. The idea of a black denim kick flare for this year sounded like a great idea so I asked J.Jill for a pair of these jeans.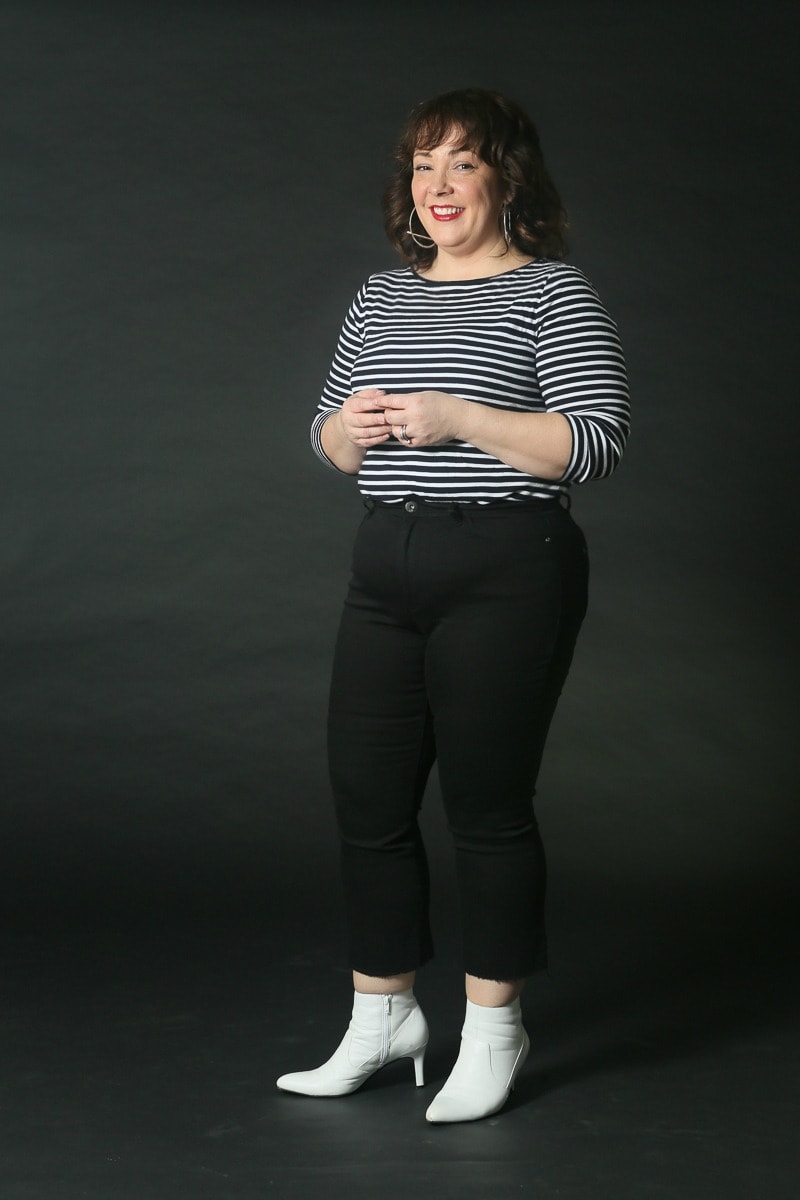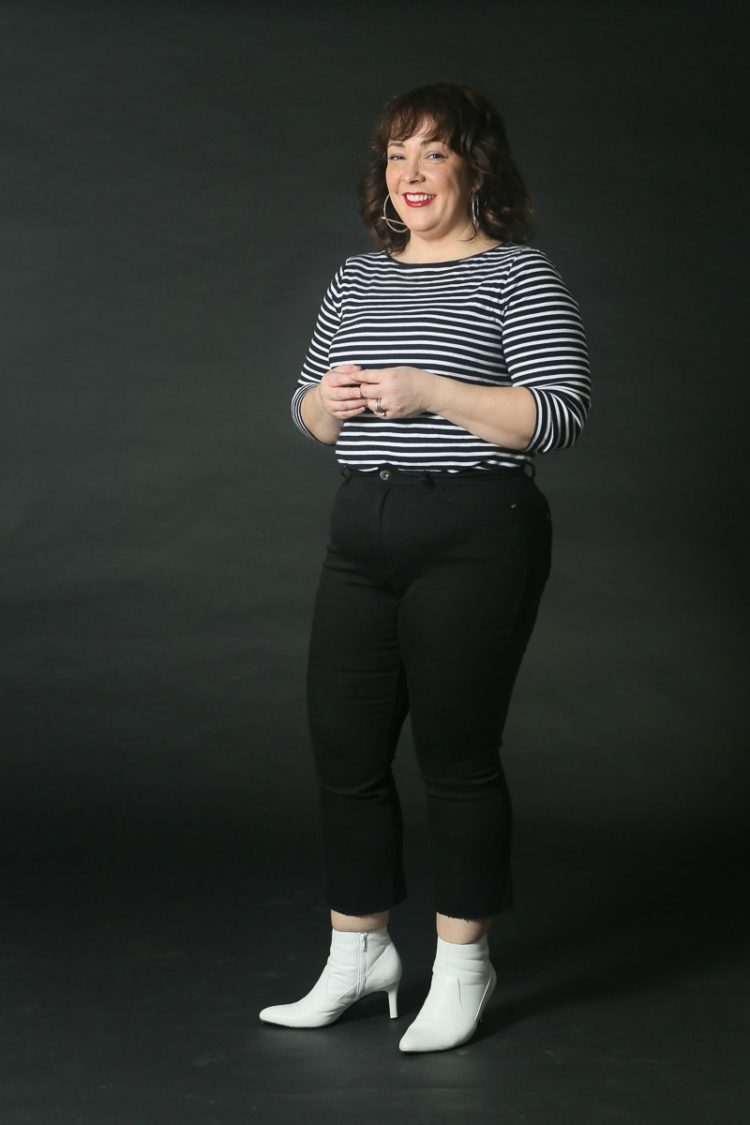 Again I ordered a size 12 since it's my standard size for jeans, and petite because I'm far too familiar with ankle jeans dragging on the ground. A kick flare can't really be tailored because you'll lose the flare part of the jean. Again, the 12 was far too small for me in J.Jill. Sigh.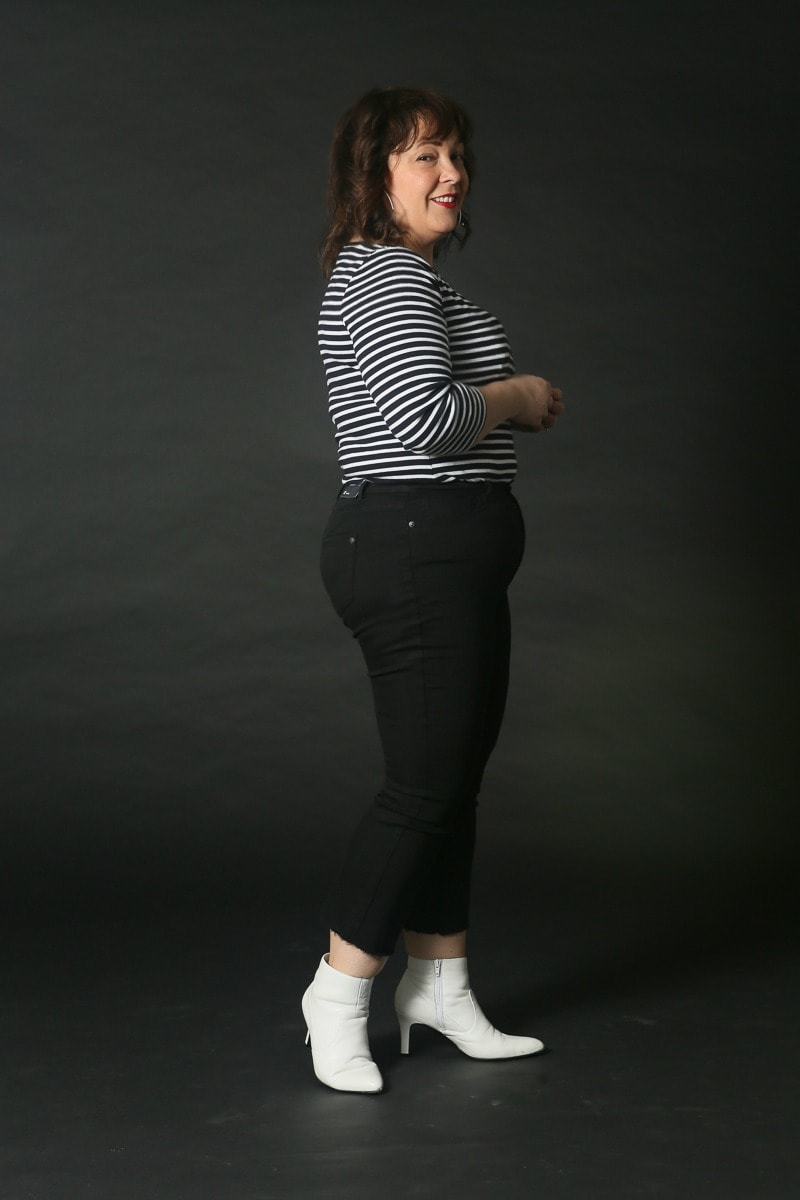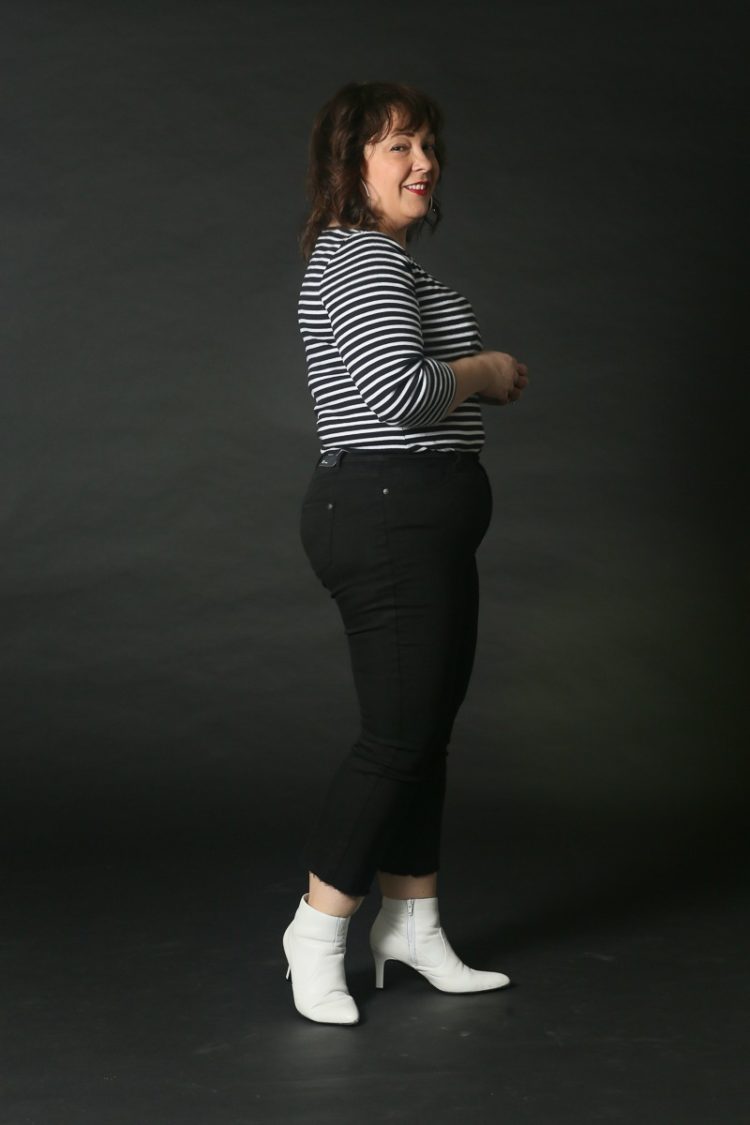 This denim is thicker than the wide-leg crops from the brand, more like the weight of Mott & Bow but not as soft and stretchy. And I know I have very large calves, but this kicky flare is more like a baby bootcut with how little it flips out at the bottom.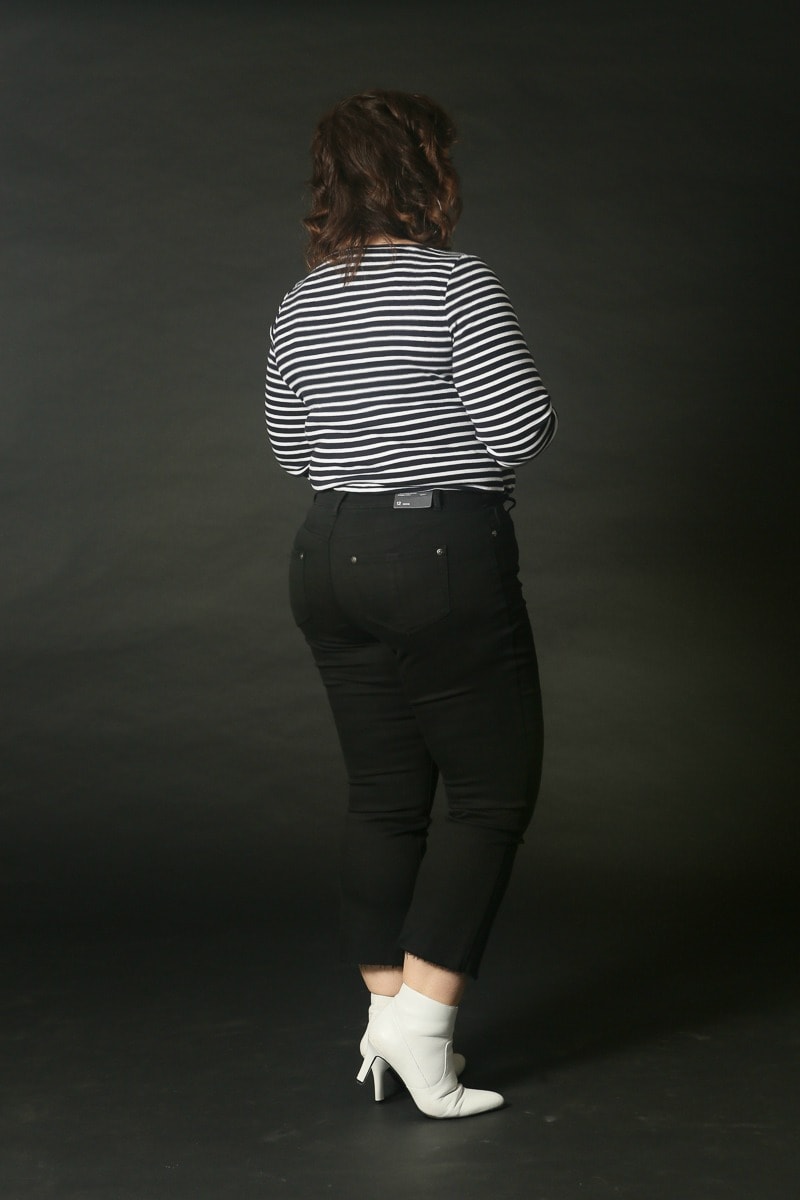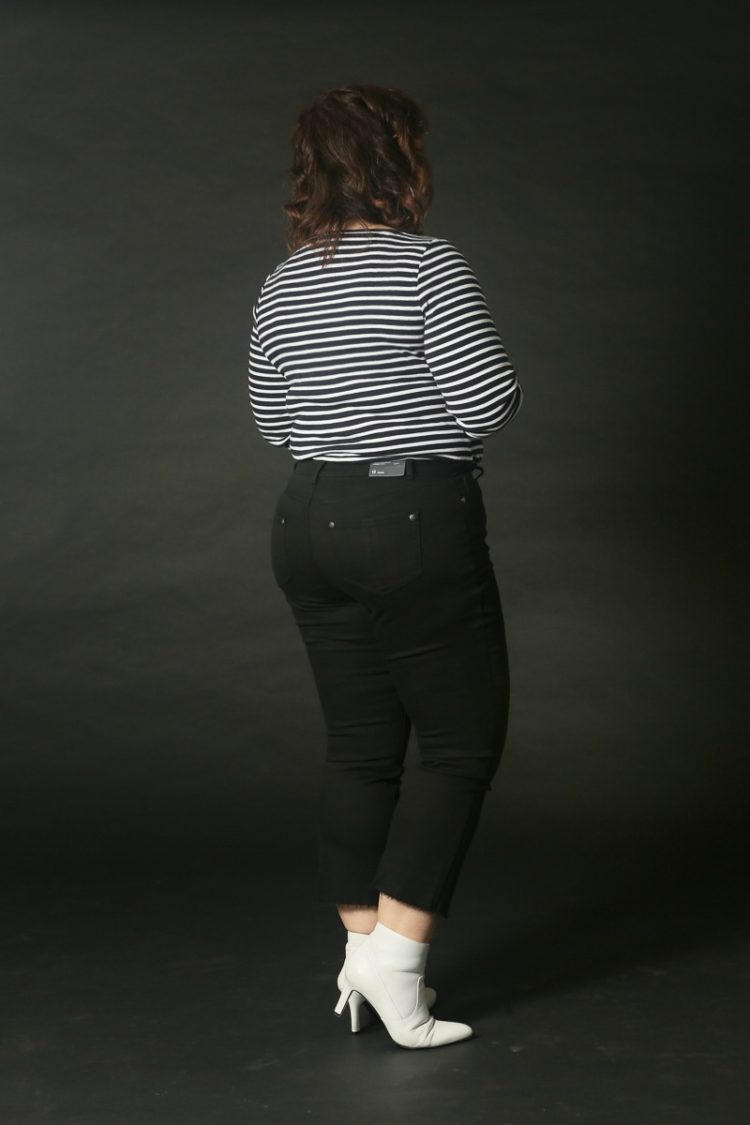 From the website, "Our comfortable high-waisted, ankle-length jeans are designed with a purposefully unfinished hemline and abrasions on the back pockets and front thigh for a trend-right, nonchalant appearance. The subtle flared leg shape is flattering and goes with everything in your wardrobe. 5-pocket style. Sit at the waist. Coolmax helps maintain a comfortable body temperature." The black denim is 54% cotton, 28% rayon, 9% polyester, 7% cupro rayon and 2% spandex woven.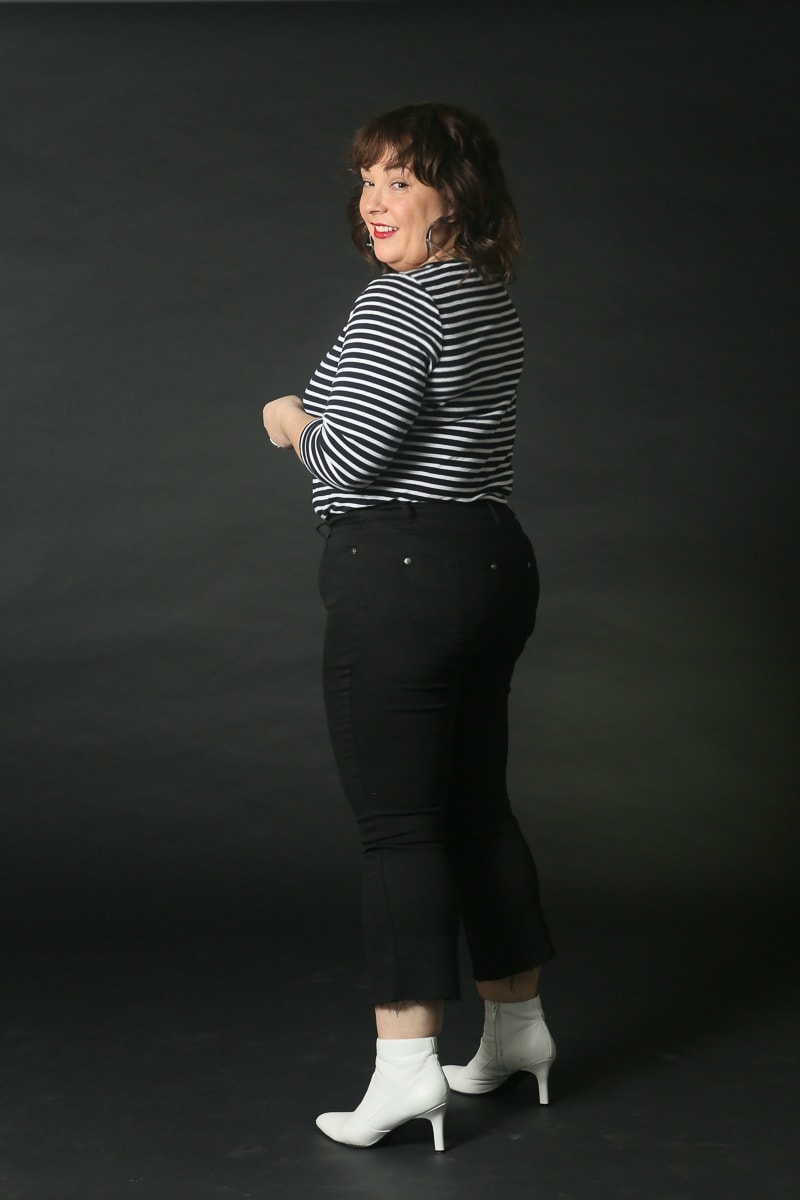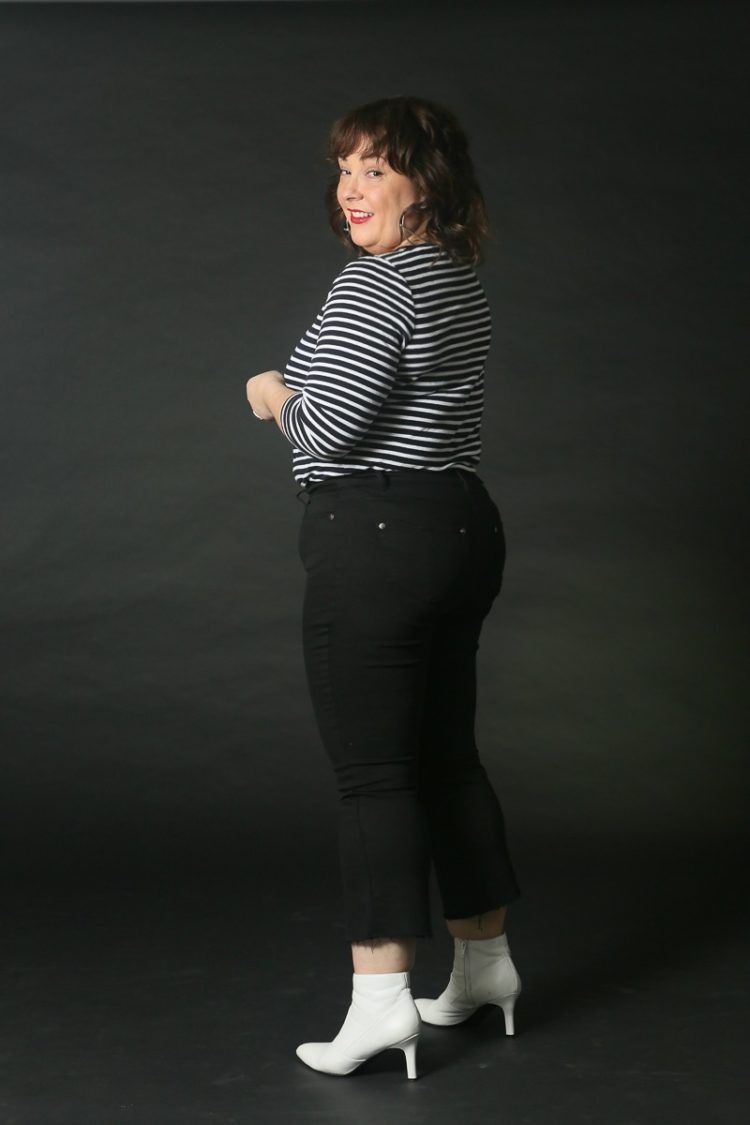 I think these could be great jeans for a slim body with slim legs. Not so much a flare they look crazy, but enough to look on trend. Good quality denim, no weird details. I don't know how they are for smaller sizes, but I recommend sizing up. These jeans retail for $89, they come in three colors and petite, regular, plus, and tall options.
In Summary…
Lesson #1: Talbots jeans are a sleeper hit. The quality, the fit, the cuts, and the washes are stellar. However, it's important to have your right size and the right cut for your frame or else they'll be pretty meh.
Lesson #2: If the jeans make you look awful, it's not your body's fault it's the jeans. Seriously, these photos were all taken within the same hour or two and aren't even in chronological order of when the photos were taken during the shoot. My body looks pretty different based on the fit as well as the cut of the jeans. So if your jeans make you sad, get rid of the jeans and thank your body for being so great, so strong, for being there so you can live life.
Lesson #3: If the jeans look good (or bad) on someone else doesn't mean it will be the same for you. Seriously, a lot of these jeans are no bueno for me, but they're good jeans that look really good on other bodies. This is why I share the quality of the denim, as we're all uniquely shaped and my meh may be your MAY-JORRRRR.
Lesson #4: Different cuts at different retailers look drastically different. Just because a stovepipe/cigarette leg/wide leg crop/high waist/low rise/whatever looked like doo-doo at Retailer 1 doesn't mean you can never wear that cut of jean at any retailer. The same goes for that favorite boot cut/skinny jean/straight leg/baby boot from Retailer 1 that makes you look amazing; that doesn't mean all you can wear is that cut.
Lesson #5: Buying jeans is hard. Go in knowing this. It's not you, it's the jeans. You're dealing with a difficult fabric with so many variations on cut, wash, weight, stretch, style, and more. Get hydrated, if it's your thing get a glass of wine or a can of La Croix, put on some side lighting to make things cozier, slip on your best fitting undies, the bra that makes your boobs look awesome, a top you'd actually wear with jeans, and get to work in front of your mirror. Know this won't be quick, and know that there will be jeans that are not deserving of real estate in your wardrobe or to don your body. If you're braving the mall or boutique, go in with more than you think you want to try on because you know once you have to put your own clothes back on you won't try anything else.
Tips for Shopping Denim Online:
If your wallet can handle it, purchase more than you need for your try-on session. Buy a size larger or a size smaller. Get the regular and the curvy cut. Go with the skinny and the straight leg. Try a brand you have never before experienced. When you have variety it's easier to see it's not you that is the problem, it's the denim.
Use Amazon Prime Wardrobe with caution. Read my experience ordering denim through them with this blog post. It's a way to try several pairs without charging a single dime to your card, but selection, price, and condition may vary. However, it is a low-cost way to try new-to-you brands.
Read the reviews. I don't want to read the "They fit great, I wore them with a white sweater and tan booties Friday night!" Congratulations on your lovely Friday night outfit but you're not helpful. Dig in and find the reviews where they mention the amount of stretch, how they fit over their rear, how tall they are, what size they usually wear in that brand. Okay, she has wide hips and you don't, but if the jeans fit her like a glove they may be a no for you. She's super tall and found they fit great yet you're 5'3″? You may find them not only too long but also too long in the rise. Me personally, I love reviews by women over 35 and postpartum moms of any age and size as I deal with gravity and a soft lower belly. Be real with your body and your needs before even reading reviews. You may need to spend ten minutes scrolling through reviews but that time will help you narrow down the right styles for you.
Reach out to the brand. These days, brands realize they need to have a decent social media presence. Leave a comment on their Instagram post, send them a Tweet, use their live chat feature on their site and ask them any and every question. No brand wants you to make a return, they want to help you choose the right jeans that you will love and keep.
Use social media for research. Let's say you're interested in Universal Standard denim (which now goes from size 00-40 WOOT!). Go to Instagram, visit US's Instagram page, click on the pale gray icon that looks like a person in a box. You will see all of the photos of regular people (and bloggers, and models) wearing the brand. Scroll through, find people who are your shape and/or size and see what style they're wearing. I find this far more helpful than the size 2 Photoshopped model standing in a weird bent leg/stretched torso pose on many websites.
Get outside your comfort zone. There's more denim out there than Old Navy, Levi's, Gap, and Universal Thread. And you may be surprised to find a lot of other retailers aren't much more expensive and fit your unique shape far better.
Be real with your denim needs. If you're someone who wears jeans almost every day, it may make more sense to spend a bit more for a more perfect pair than having a dozen meh pairs that wear out by the end of the season. If you only wear jeans when bumming around the house, you don't need to be looking at $150 pairs. If you wear jeans out a lot for clubs, bars, and social situations; you may find a $150 pair worth it for cost per wear and the fit/fashion factor.
As always, share your denim wins or losses in the comments to help your fellow women. You never know, you may have purchased the perfect pair for another Wardrobe Oxygen reader and will save her lots of denim anguish with your share!