This article may contain affiliate links; if you click on a shopping link and make a purchase I may receive a commission. As an Amazon Associate, I earn from qualifying purchases.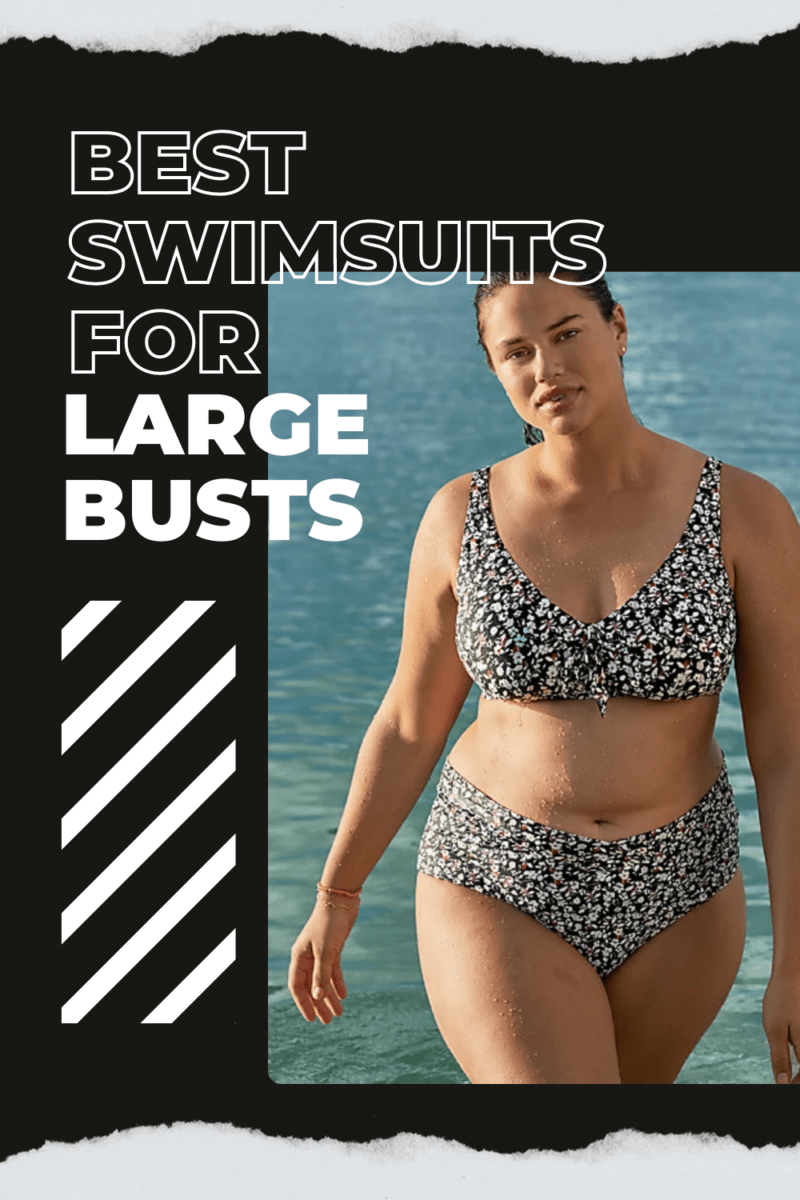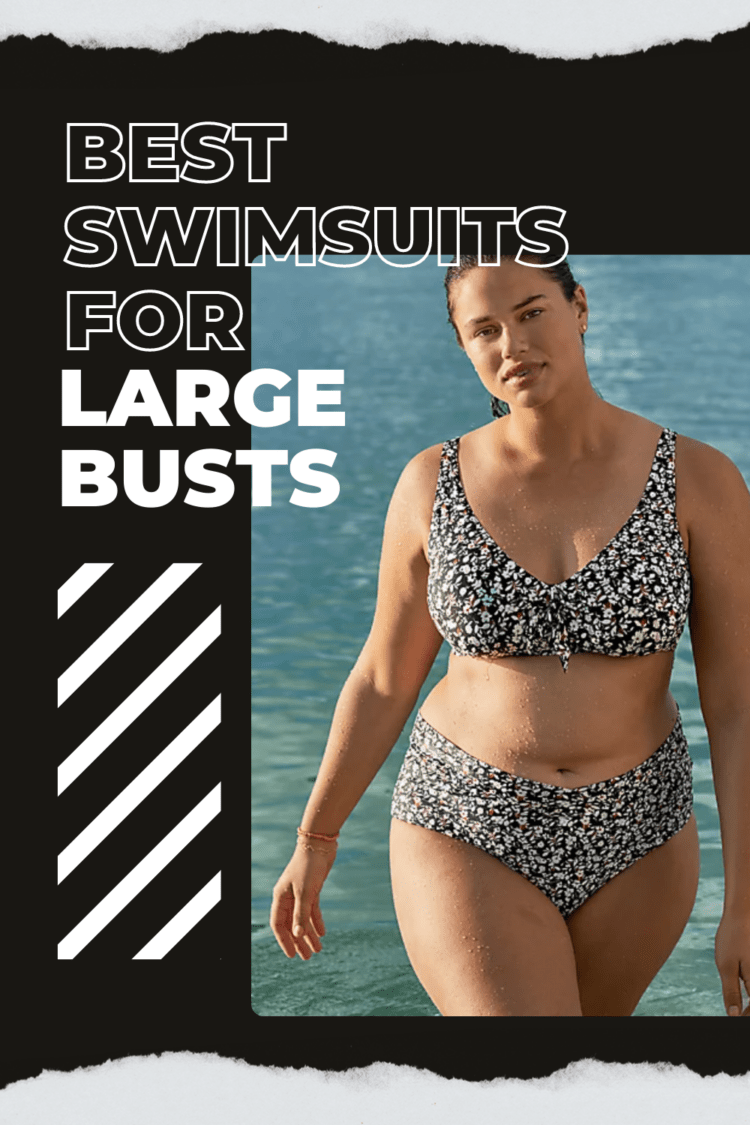 If you're a grown woman with a large bust, you KNOW why I had to write this post! Google swimsuits for large busts and you'll have plenty of articles but they feature styles that are no match for grown-women breasts that have led adventurous lives. I know myself, the large bust swimwear I wore in my 20's and 30's covered but would be no match for my breasts now. So here are the best large bust swimsuits for grown women.
What Makes Large Bust Swimsuits for Grown Women Different?
I say any woman, any size, any shape, any age, any anything can wear whatever she darn well pleases. There is nothing more stylish than confidence, and we deserve to wear what makes us happy and feel good. But I know as a grown woman who has nursed a baby, experienced weight fluctuation, activity and fitness changes, and has a few decades under her belt has different swimwear needs from when I was younger:
Support: I don't need my breasts to be up near my neck, but I don't want them down near my belly button either. I desire a swimsuit that will have my breasts somewhere close to what I get with my favorite wireless bra.
Coverage: I am still sexy, but I know as a grown-ass woman I don't need to expose all of my skin to look great. I feel more confident when I have more coverage over the breasts, the rear, and like a higher-waisted bottom if I choose a two-piece.
Function: Sure, I sometimes just want to lie on a lounge chair or float and relax, but I don't want to have to constantly adjust myself if I choose to have some fun activity in the sun. And I want my suit to still function once it gets wet (we've all experienced swimwear that sags, bags, and turns transparent when in contact with water).
Style: I want a swimsuit that looks stylish, even though I have a large bust and desire support and coverage. I deserve cool prints, tasteful silhouettes, and on-trend details but fashion that looks cool on a grown-ass woman.
Size Range: I spent my college and young adult years in D-cup bikinis from popular retailers and they worked well enough. Now that I am a grown-ass woman, I know that a true swimsuit for large busts needs to be available beyond a D cup. It needs to offer a variety of band sizes, and bottoms need to be offered larger than an XL. Grown women come in a range of sizes and shapes, and suits needs to have a good size range to accomodate many of us.
The Best Large Bust Swimsuits for Grown Women
Now, not all grown women desire the same sort of swimsuit. We know what we want and what we need. For some, we want a large bust swimsuit for swimming laps, for others we want a large bust bikini for catching rays. We may desire a large bust swimsuit for activities like stand-up paddle boarding or kayaking, or just want a swimsuit that can contain our bust while we chase around our kids or grandkids.
Below I separate the best large bust swimsuits for grown women by specific desires for bathing suits, and share why I chose these swimsuits over many others. There are more than 25 different styles, some from brands you are familiar with, and some that may be new to you. And if I own any of these swimsuits, I will share a photo of me in them (for reference, I am 5'3″, a size 14 and wear a 36 F/G or 38 DDD bra).
To make it easier to toggle to the category of large bust swimsuit you desire, I have made a table of contents:
The Best Large Bust One-Piece Swimsuits
When searching online for one-piece large bust swimsuits I am surprised by how many claim to be large bust, but don't have cup sizing and think a simple shelf bra will get the job done! When ordering one-piece swimwear in the past, I have found many suits too short for my torso because I need to take so much fabric for my bust. That's ridiculous, considering I am 5'3″! So these one-piece large bust swimsuits are made for truly large busts, offering extra fabric, underwires, soft or molded cups, seaming, and more to accommodate as well as support breasts: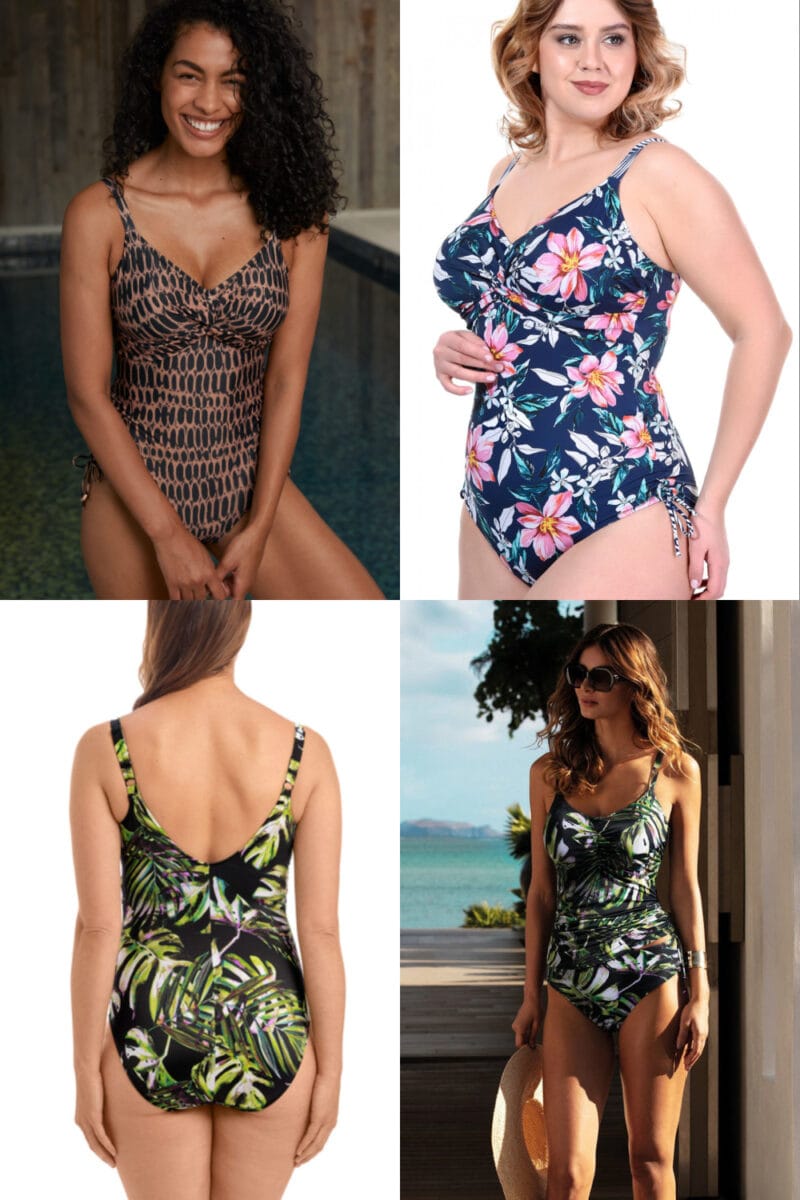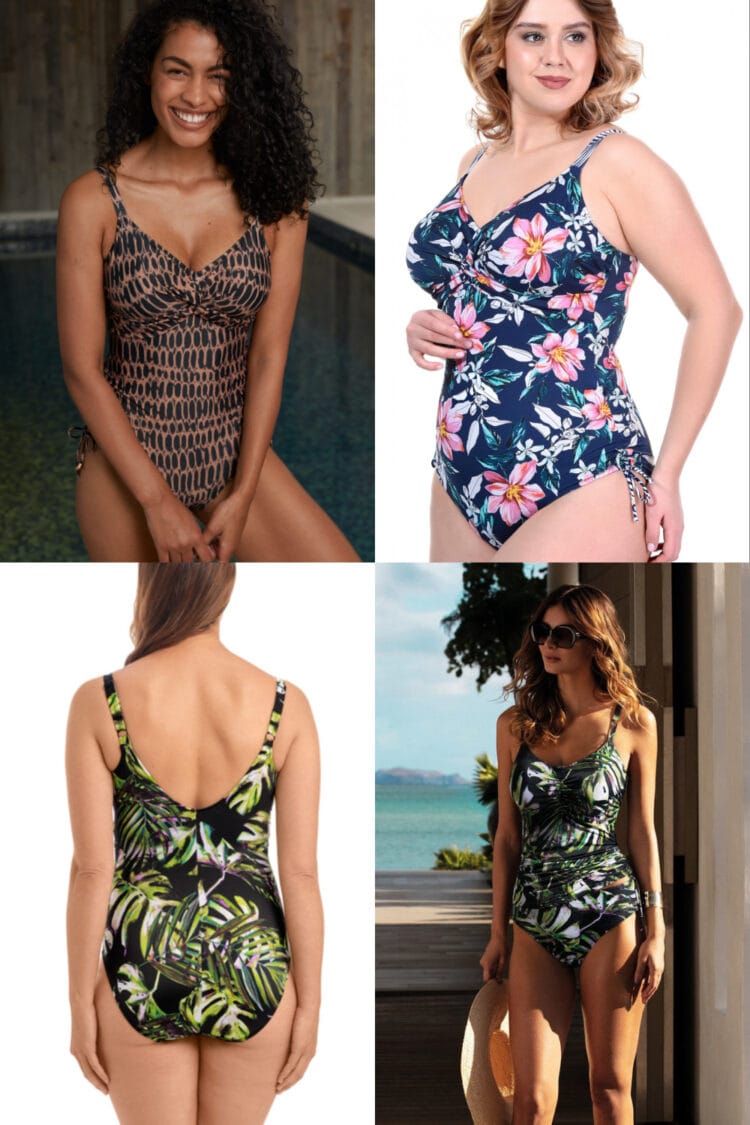 1. Fantasie Twist One-Piece Swimsuit
By the end of this large bust swimwear post, you will tire of hearing the brand Fantasie. But as someone who has owned many suits from this brand, Fantasie truly knows how to design for a large bust. The "Twist" suit is their most popular one-piece, available in a range of patterns, solid colors, and even versions with tummy control. Available in bands 32-42 and cups D-GG, I have found The Twist has worked when I was a size 10 and when I was a size 16. The back is low enough to look classic but high enough to provide support. The straps are adjustable and just wide enough to hold everything up. And the leg openings are adjustable with adorable ties on the sides.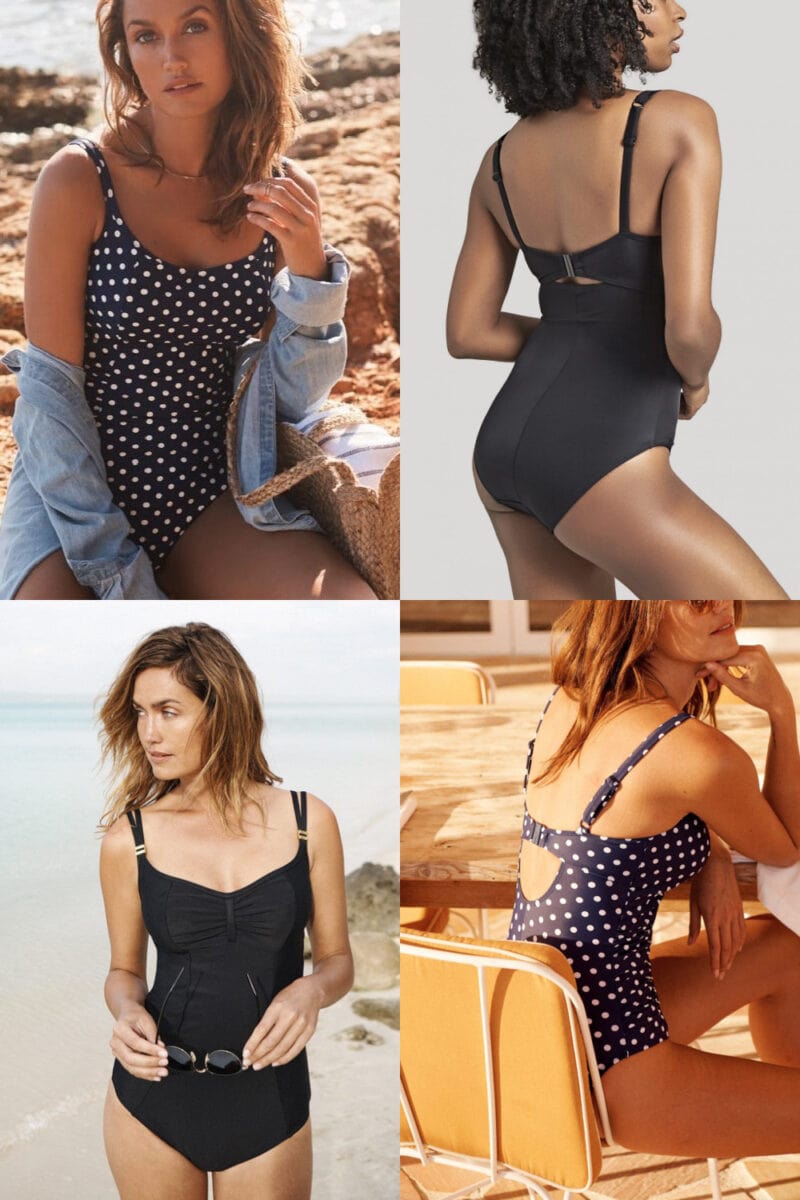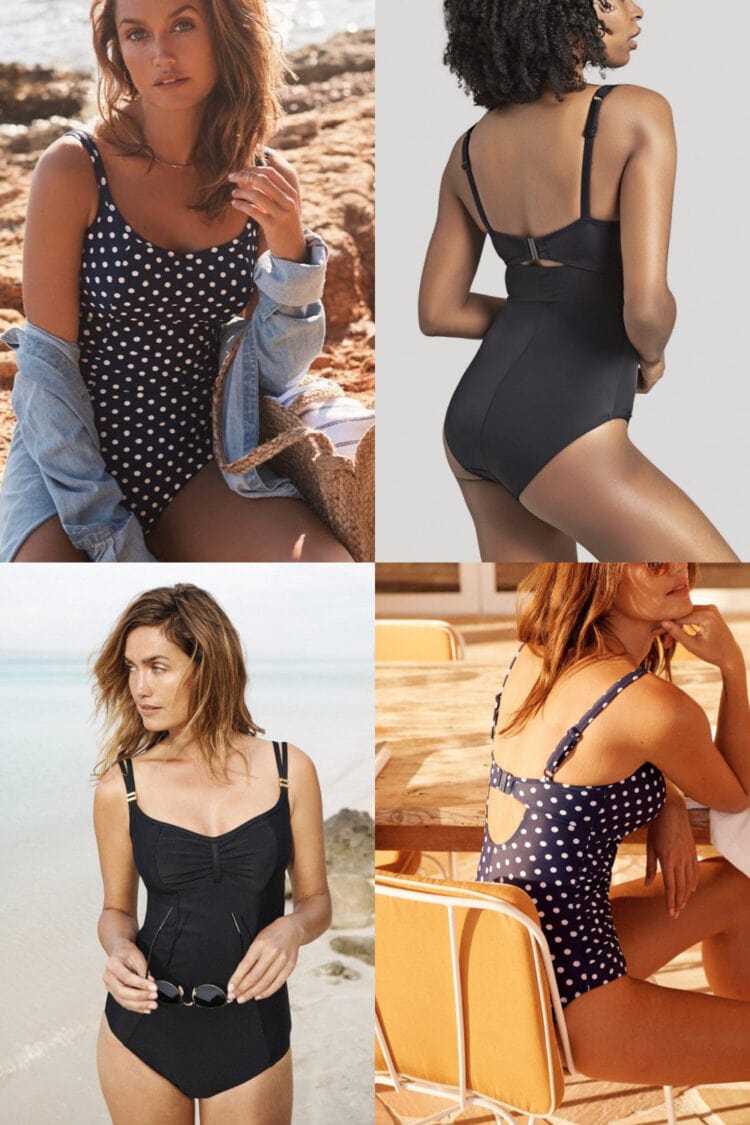 2. Panache Anya One-Piece Swimsuit
Available in bands 30-40 and cups D-K, this suit is made for large busts but isn't like wearing a suit of armor. Double-layer balconette cups support and lift your bust, a back closure for additional support, and adjustable straps will keep you contained and comfortable. Elegant with luxe details, the Anya one-piece from Panache is a classic that is begging to go on your next vacation.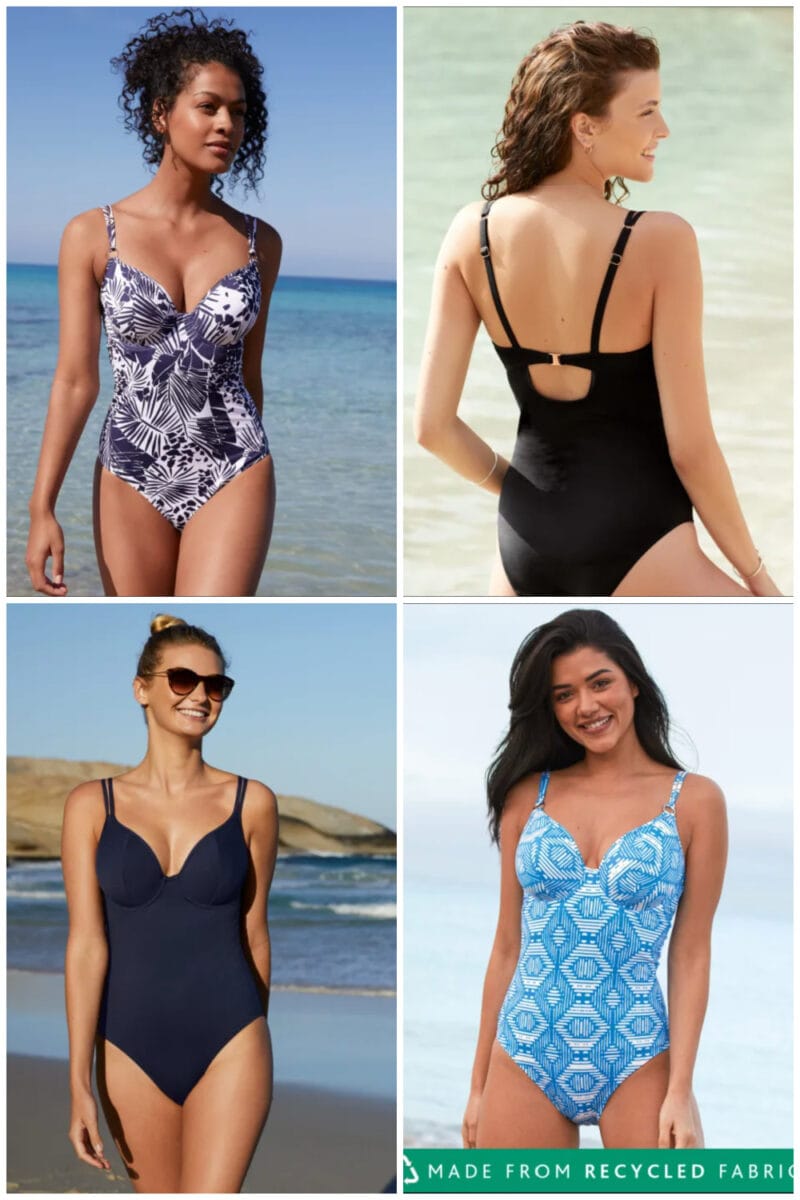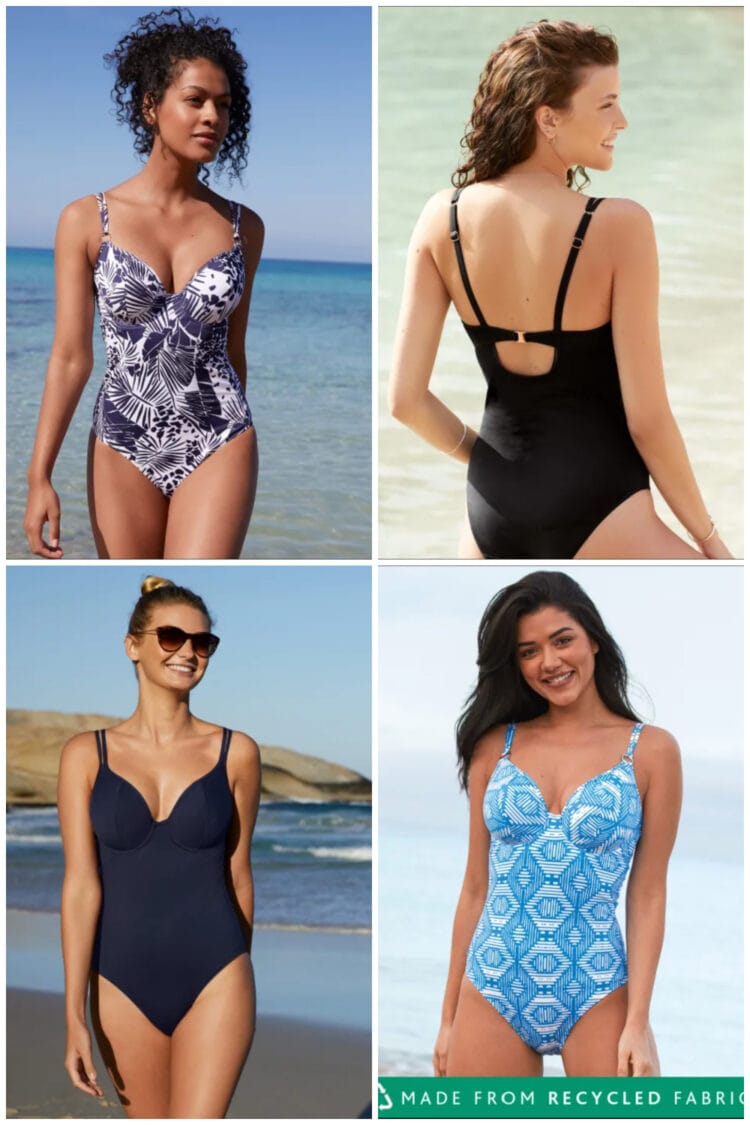 3. Bravissimo Amalfi One-Piece Swimsuit
For those who desire coverage and support without the padding found in most large bust swimsuits, this one-piece is a great choice. Bravissimo is a UK brand that focuses on lingerie, sleepwear, swimwear, and clothing for those with a large bust but has easy shipping and returns for US customers. With a wired bra, adjustable straps, and a clasp in back for additional support, this one-piece comes in band sizes 28-40 and cup sizes D-K and a range of colors and sizes.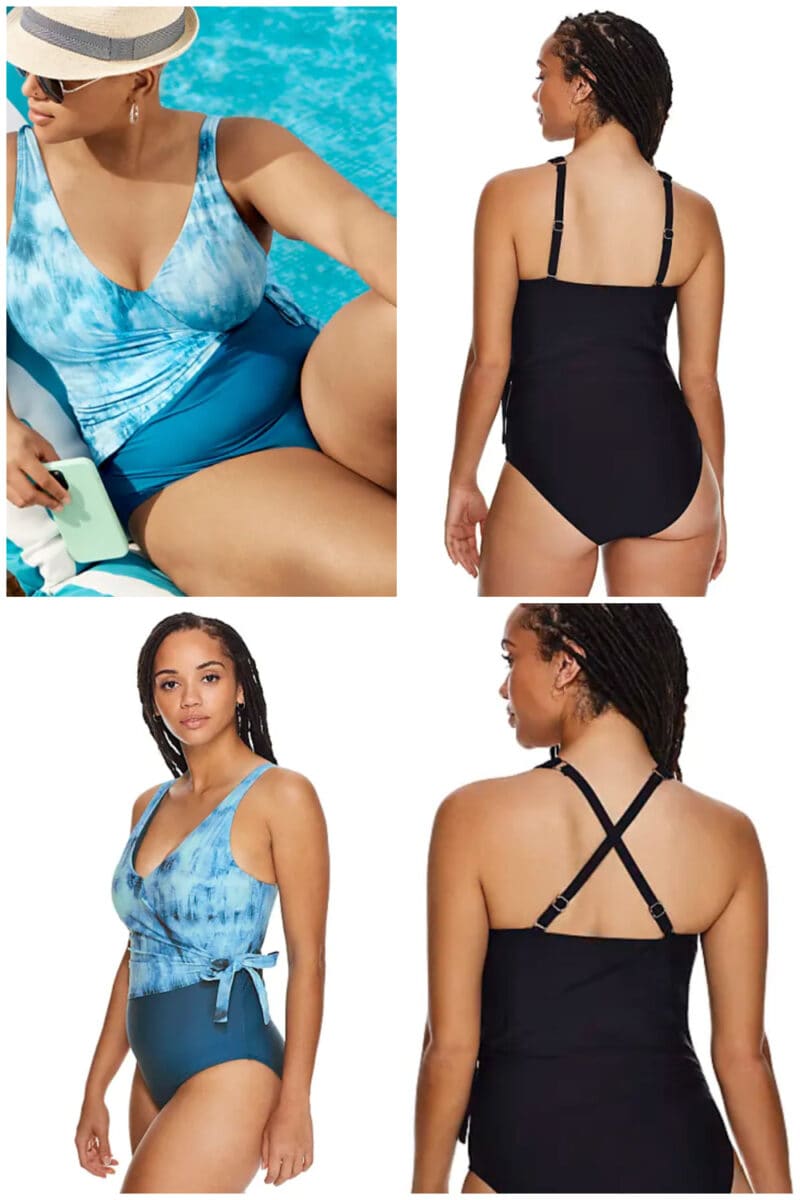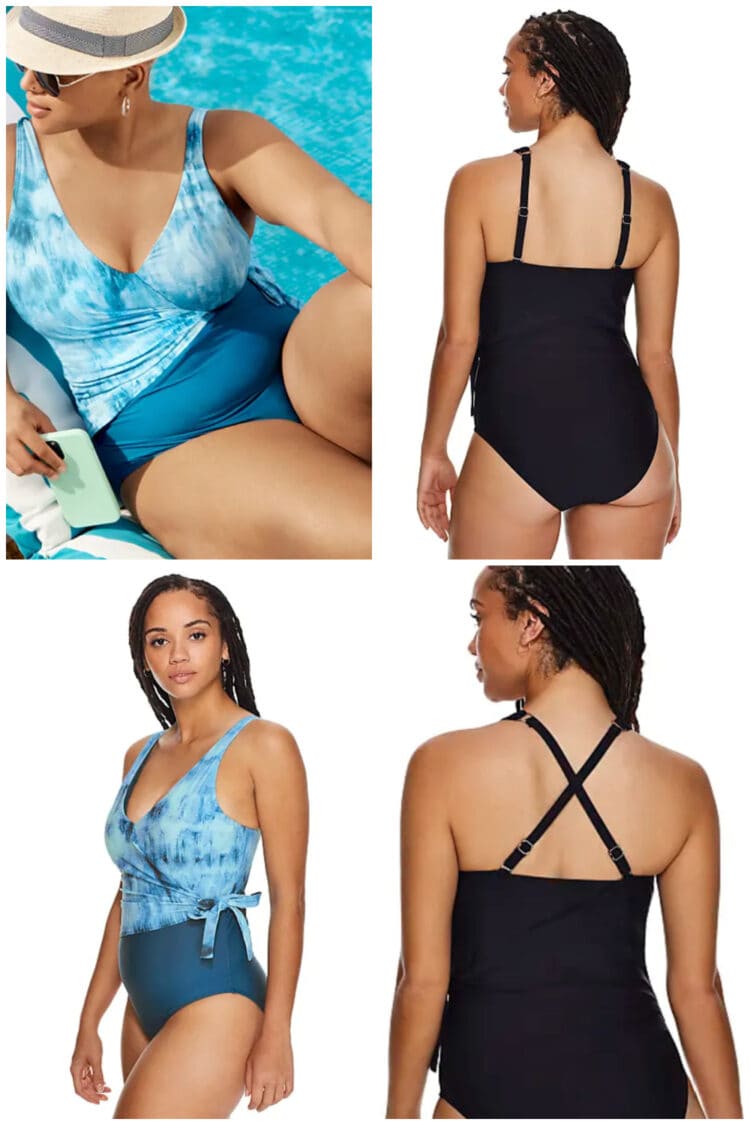 4. Birdsong Wrap Underwire One-Piece
If you love the wrap look of the Summersalt swimsuit, but like me didn't find it supportive enough for a grown woman's large bust, this suit from Birdsong is a great alternative. Available in two colors this season (though previous seasons have had different colors and prints), this suit comes in sizes 8-16 with cup sizes from D/DD to J/K.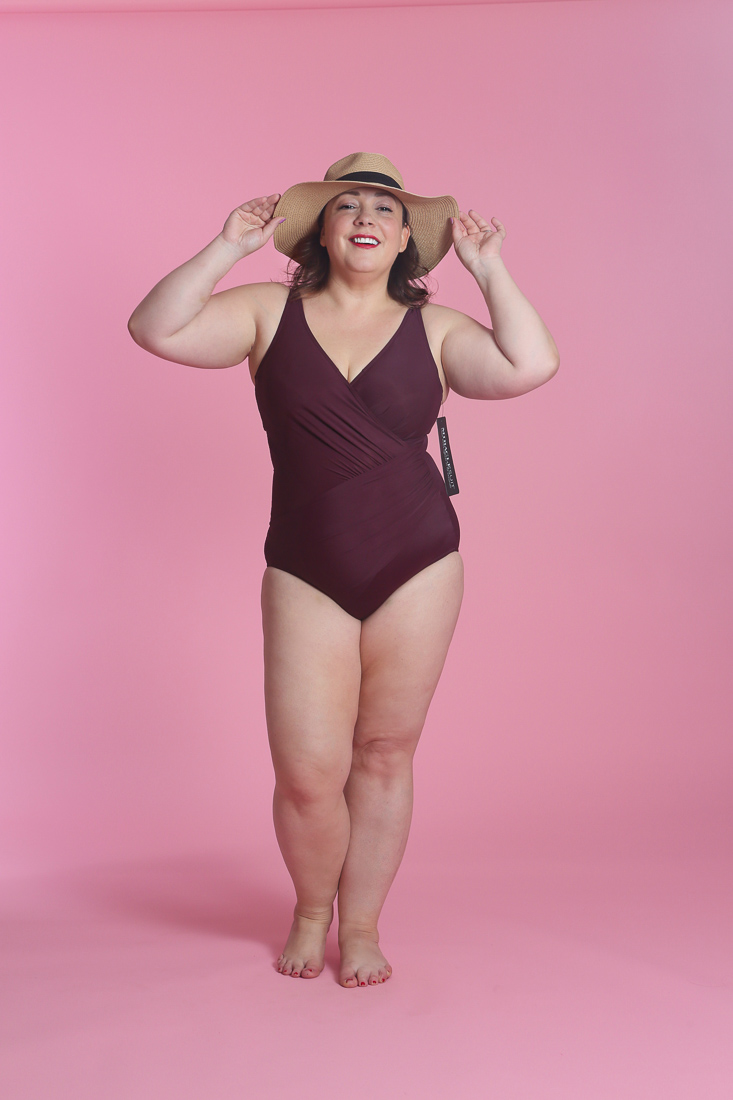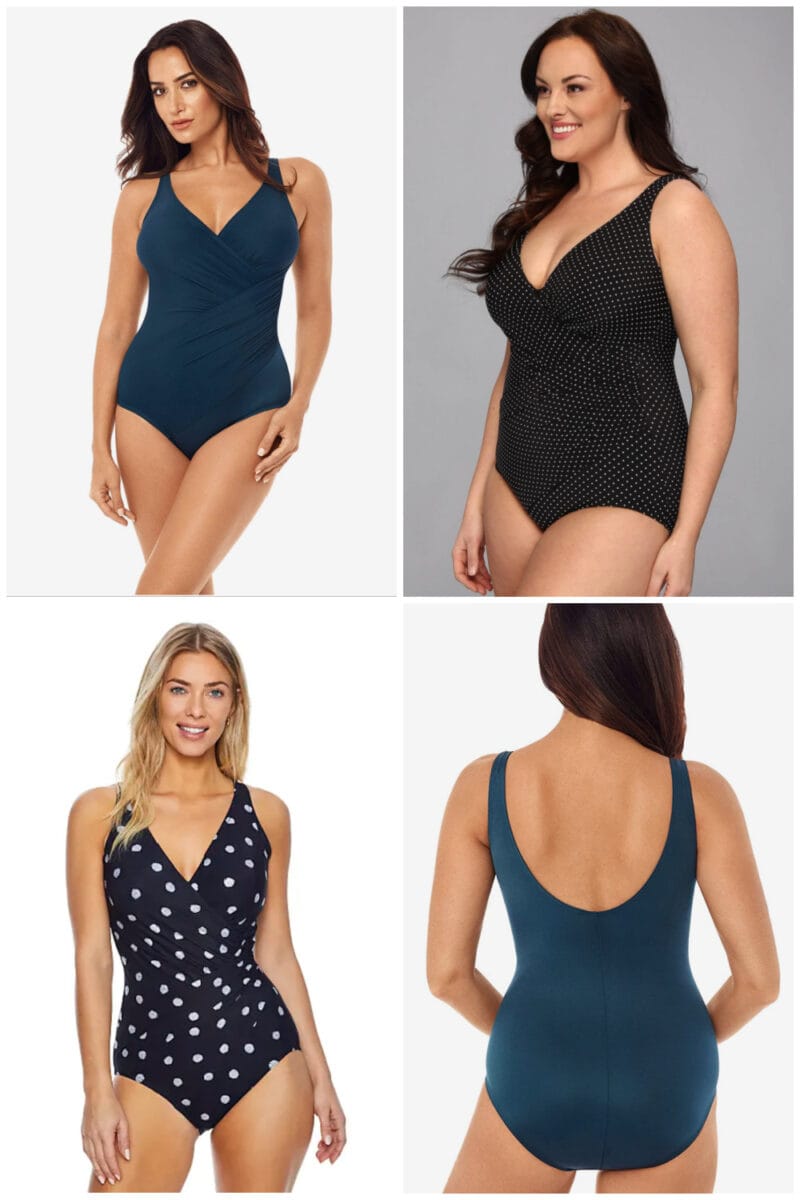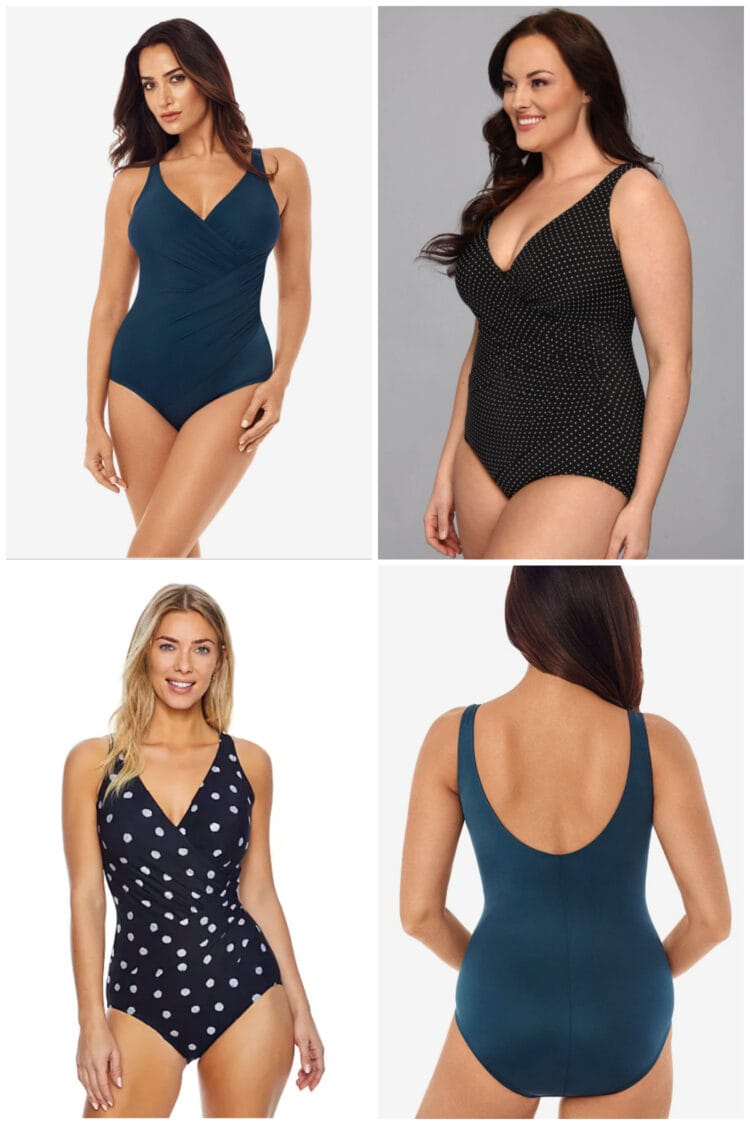 5. Miraclesuit Oceanus DD-Cup Swimsuit
This is a classic favorite for slimming the body, but I always felt that Miraclesuit didn't cater to truly large busts. However, I owned this suit and the DD-cup version fit my F-cup breasts comfortably while giving them a great shape. Available in sizes 10DD-18DD, if you usually go down a size for swimwear I recommend going with your regular apparel size for Miraclesuit; you'll still get compression but it will be easier to get on and off.
The Best Large Bust Tankinis
If you desire your midsection to be covered, but like the ease and custom sizing of separates, a tankini is for you. Tankinis are also great for those who have a longer torso as a tankini can look chic even if there is a bit of skin between its hem and your swim bottom. Tankini tops are also great when you wish to wear board shorts or have more of a "beach to street" look. Below are the most stylish tankinis for large busts that I found that are great for grown women: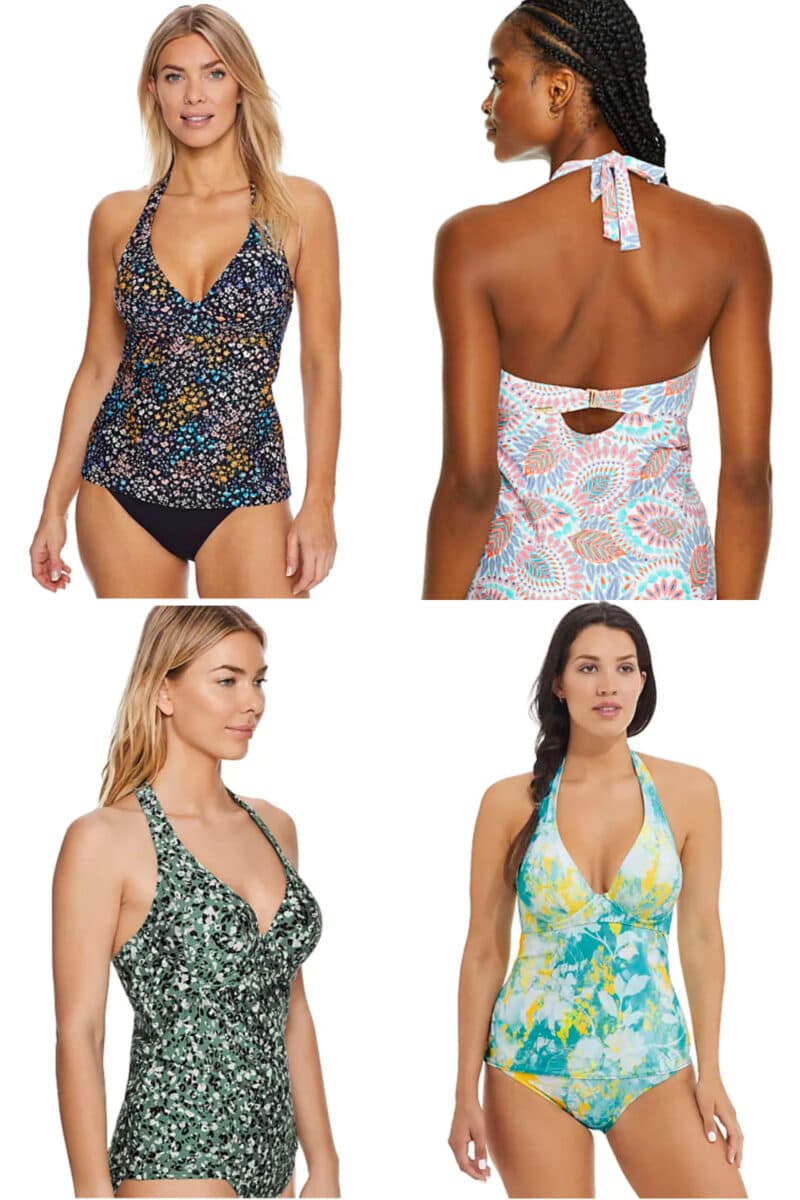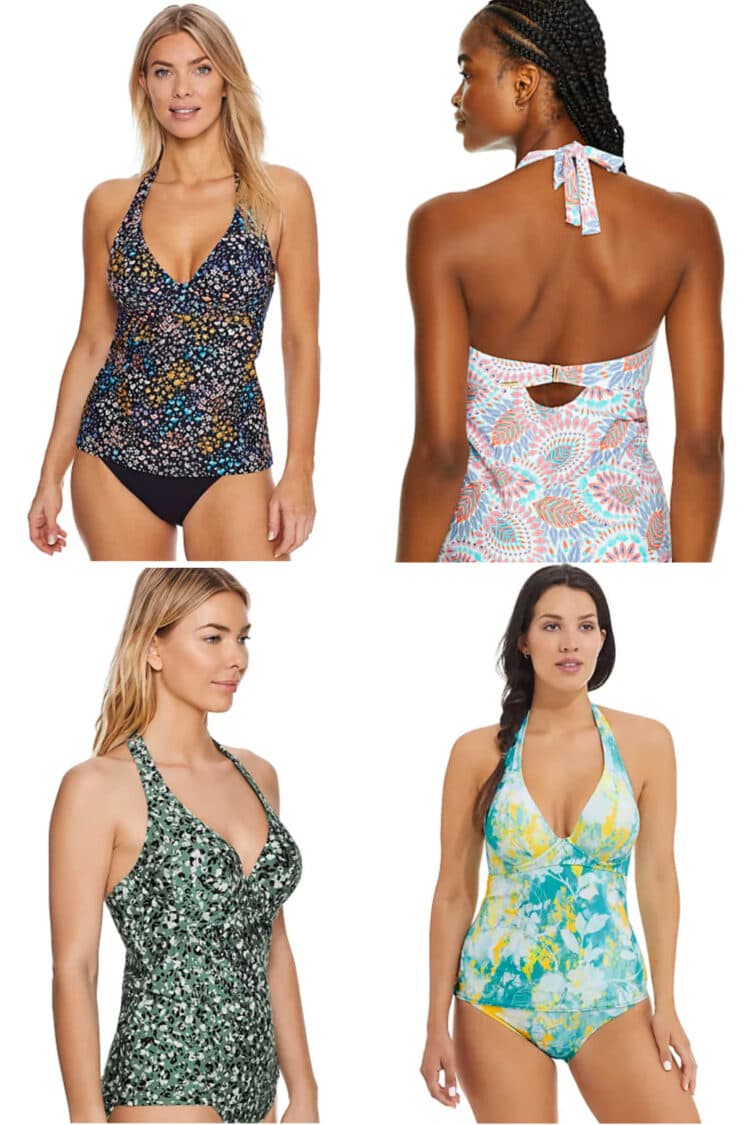 1. Sunsets Muse Halter Underwire Tankini
I have owned several swimsuits from Sunsets over the years and appreciate the combination of style, support, and quality. I've had my Sunsets suits in chlorine, in saltwater, sat on concrete, let them bake in the sun, and they have even gone in the dryer by accident and still look and perform great.
Available in sizes 34D to 40 G/H and in a range of colors, this is a great tankini top. The halter neck is sexy but also customizable for shorter torsos or if you need a bit more support. The cups are molded with removable foam inserts and the clasp in back provides additional support. Sunsets has a great range of coordinating bottoms from low-rise bikinis to high-waisted bottoms and stylish skirted options up to size 22W. Though I'll admit from owning this line, it's classic swimwear fabric so don't hesitate to style this tankini top with your favorite solid-colored bottom from another retailer!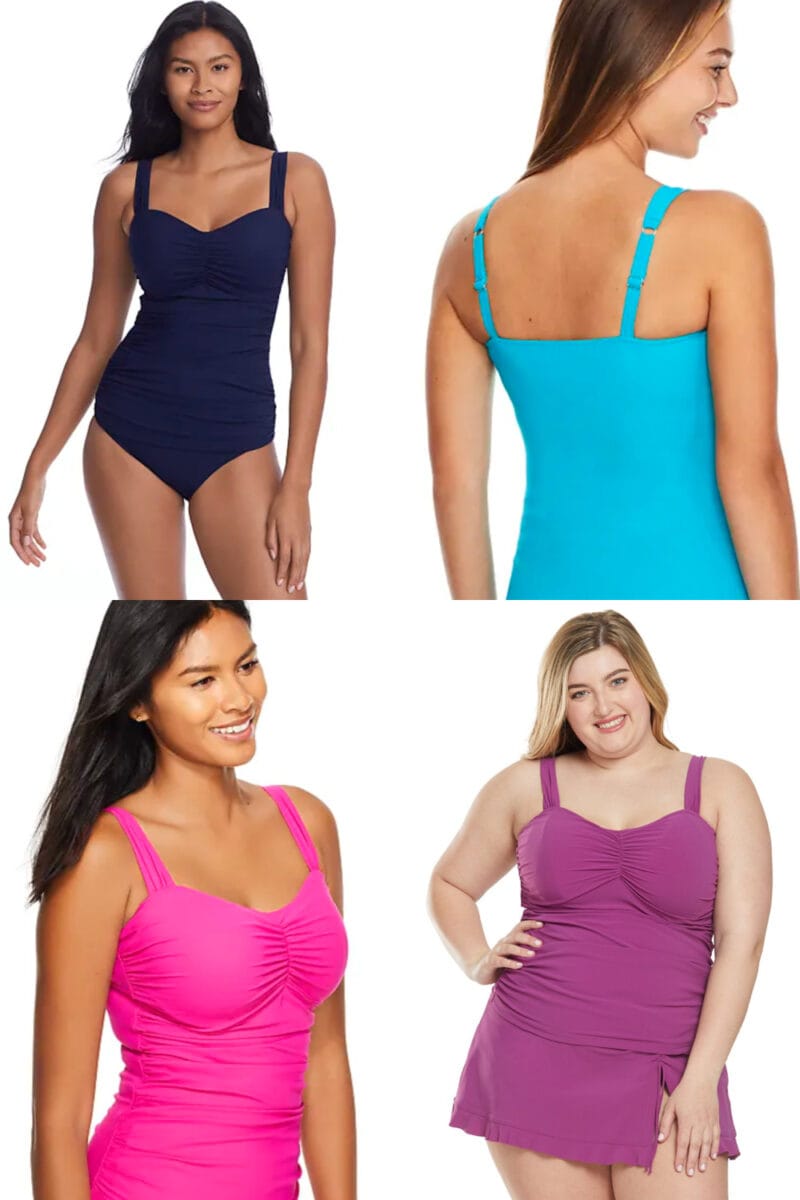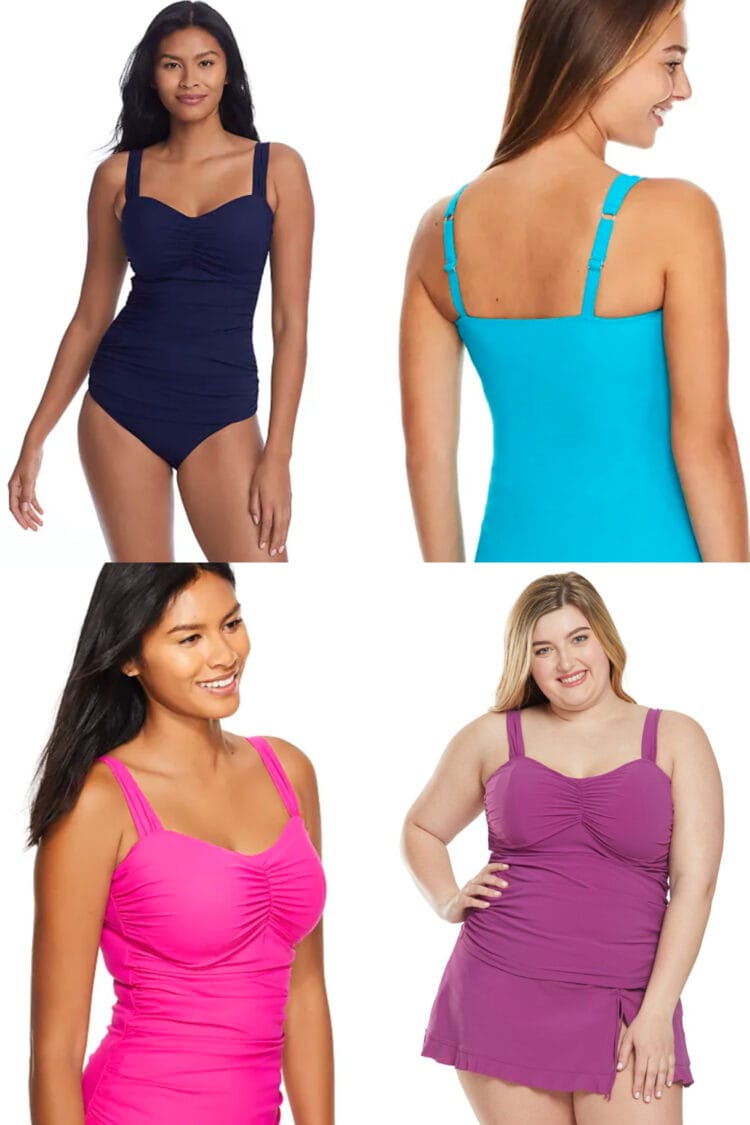 2. Profile by Gottex Tutti Fruitti Tankini
If you are looking for a simple but elegant and supportive tankini top for large busts, the Tutti Fruitti from Profile for Gottex is a great choice. This tankini top has a hidden bra with foam-lined underwire cups and two-hook and eye closure and wide adjustable straps that don't look frumpy. The torso is shirred which offers modesty and camouflage and the entire tankini top is double lined for opacity and a bit of a slenderizing feature. Available in bands 32-40 and cups D-G. Click here for the coordinating bottoms which offer a range of coverage and modesty in sizes 6-16. While not available in cup sizes, this tankini top also comes in plus sizes 16W-24W.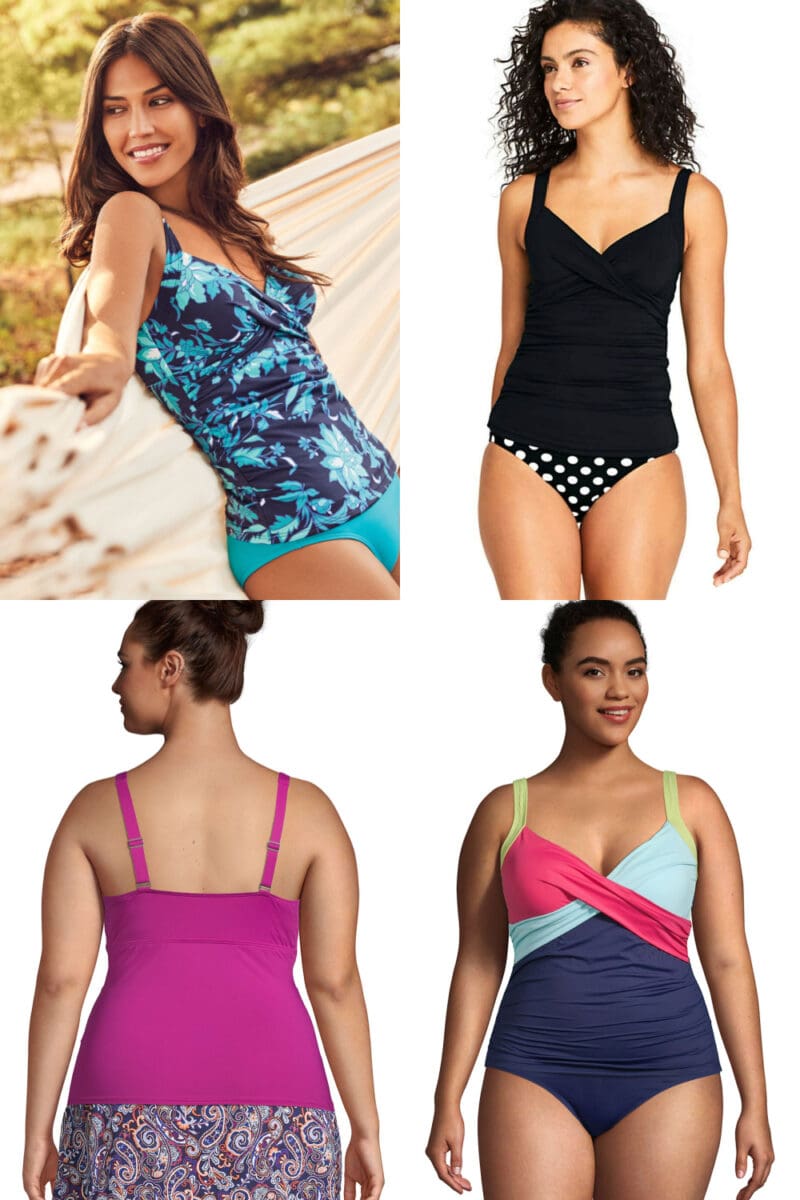 3. Lands' End V-Neck Wrap Underwire Tankini
This tankini top has been a Lands' End staple summer after summer for years because it's a customer favorite and a classic silhouette. This tankini has adjustable straps, underwires, and removable soft cups. The bodice is double lined for modesty and a bit of a slimming effect. Available up to a DDD cup in a variety of prints and solids, Lands' End also has a great range of bottoms that are classic, skirts, and shorts in a range of coverage and modesty. Lands' End suits last; I have some that are several years old and still look and perform like new.
The Best Large Bust Bikinis for Grown Women
I love a bikini, they're sexy and fun and let's be honest, a lot easier when you need to use the facilities! As someone who is a different size on top from the bottom, and someone who has a short torso, bikinis often give me a better fit than a one-piece. And with a higher rise bottom, there isn't a ton of skin exposed on the midsection. Below I share the best bikinis for large busts that I found on the internet, with details perfect for us grown-ass women.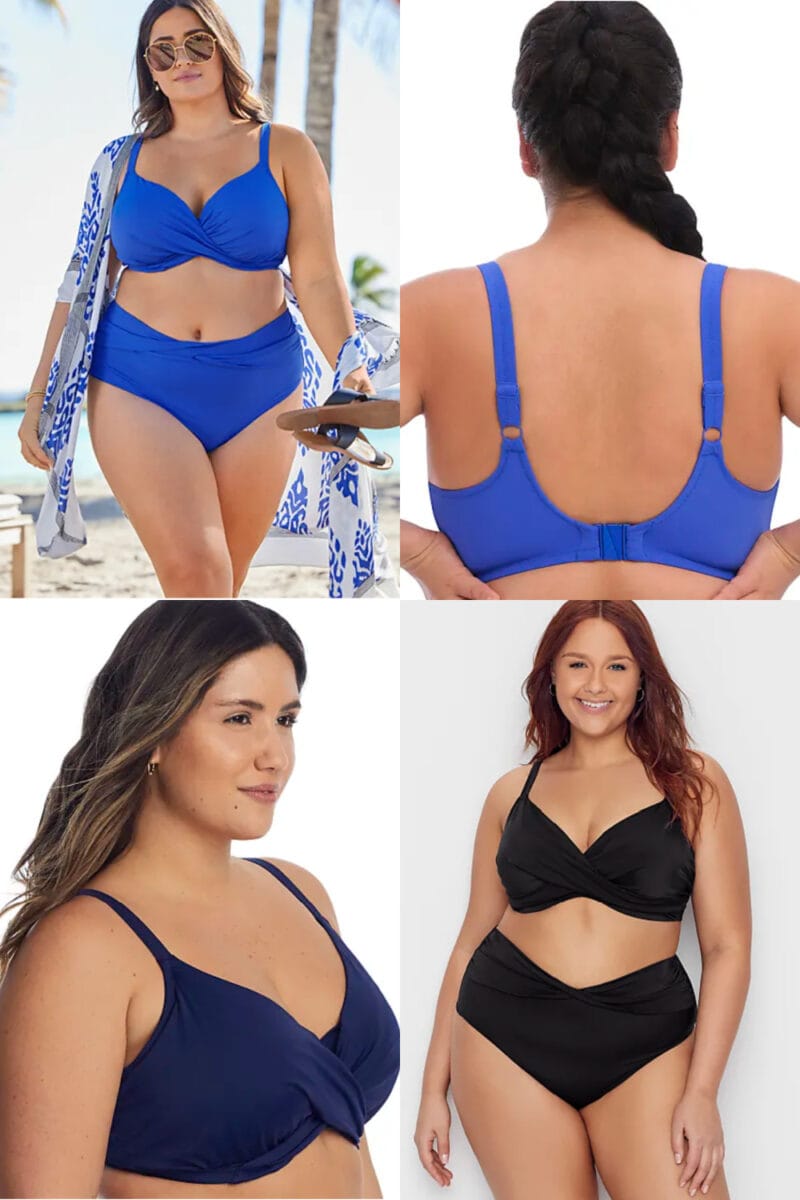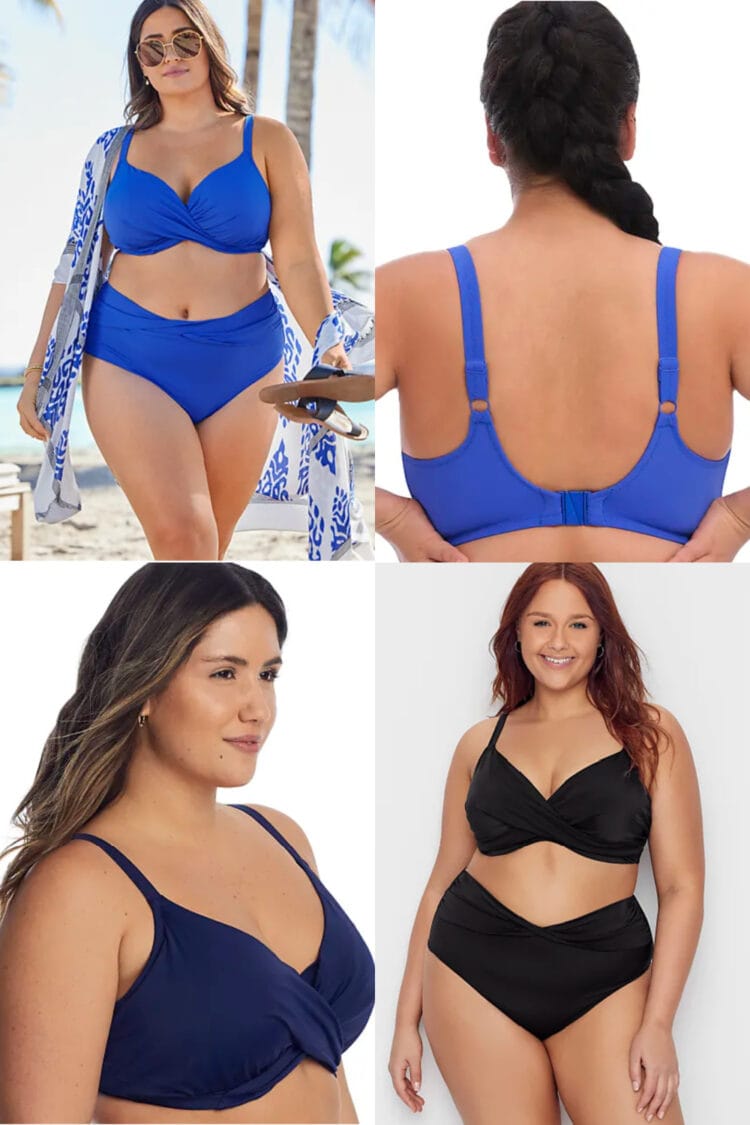 1. Elomi Magnetic Bikini
When looking online for the best bikini tops for large busts and cup-sized bikini tops, the Elomi Magnetic was recommended over and over for looking great, providing good support and coverage, and staying in place even if you're active. With close-set adjustable straps, 4-part mesh-lined cups, and bra-inspired details, this is a top that is quality. While Elomi has several coordinating bottoms, the fabric will also match with most any swimwear bottom in your collection! Available in bands 34-44 and cups E-JJ.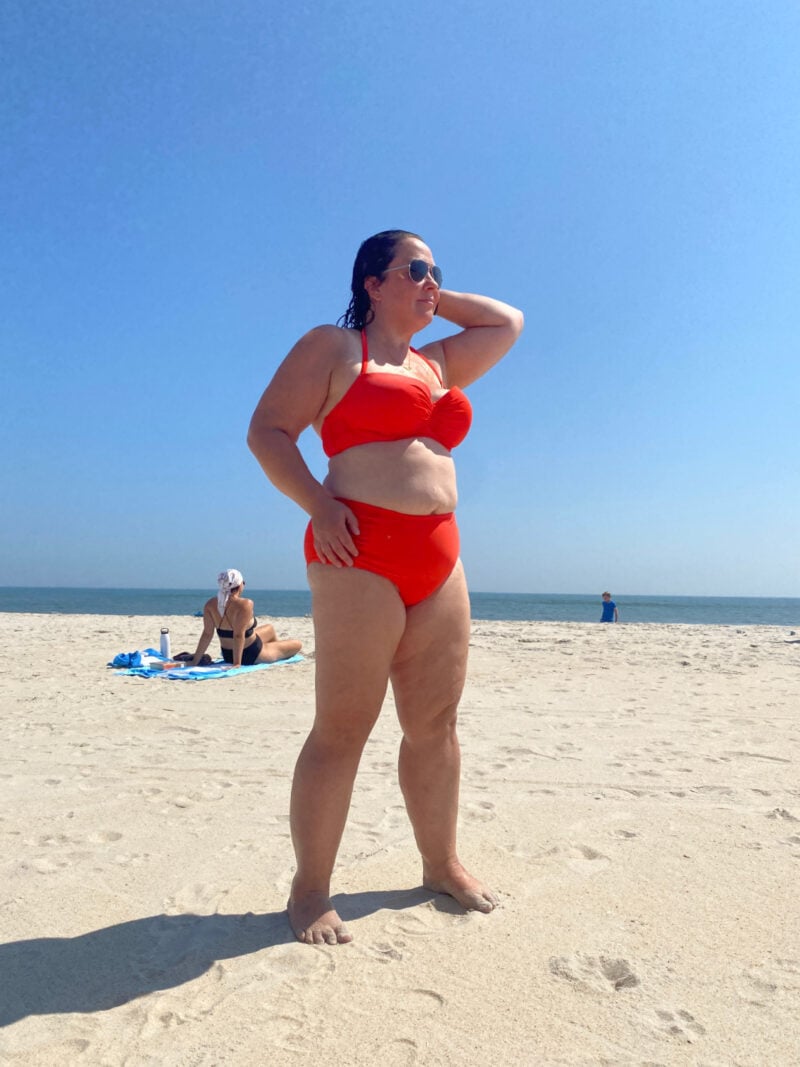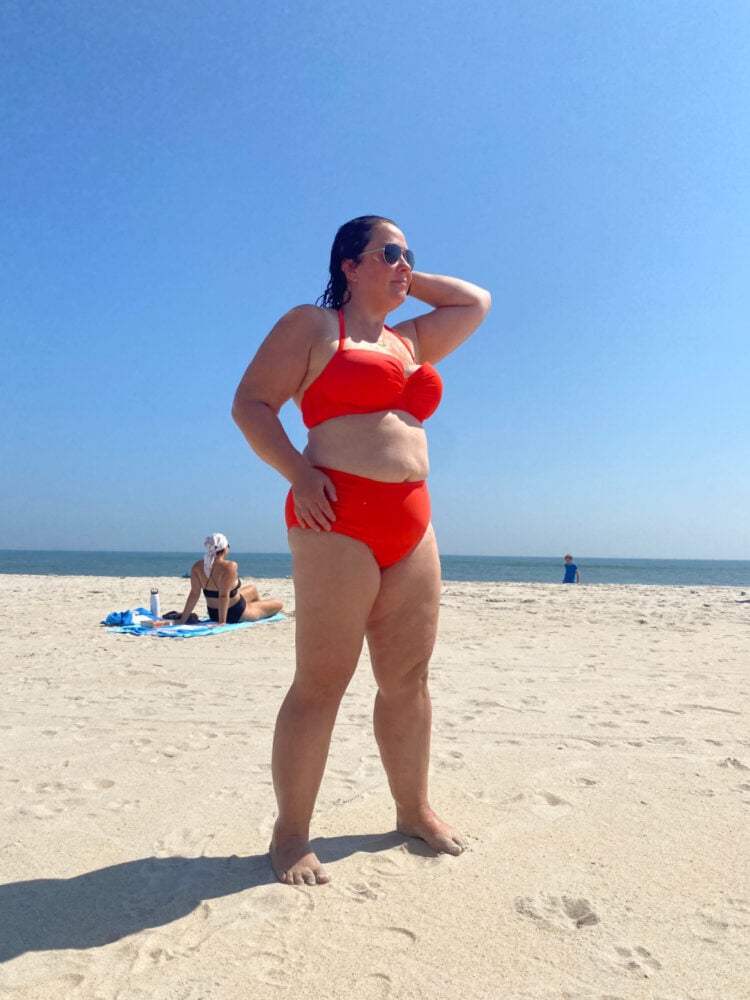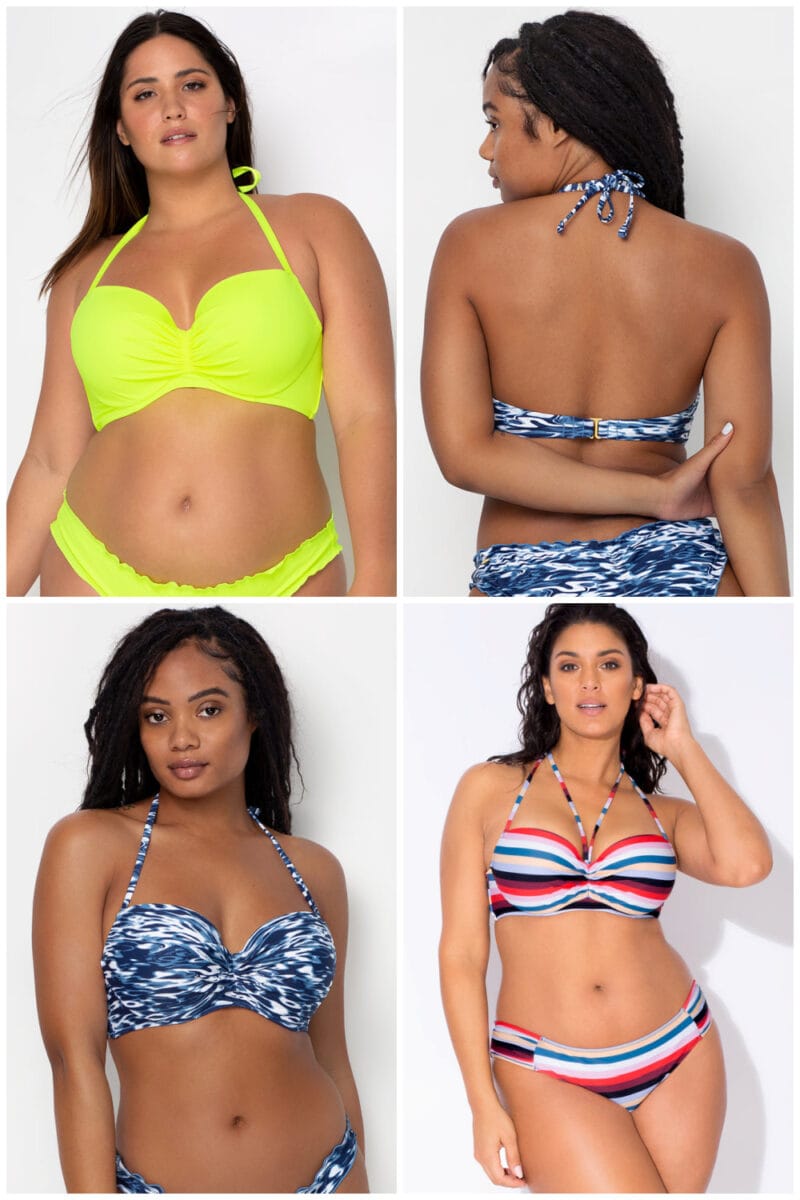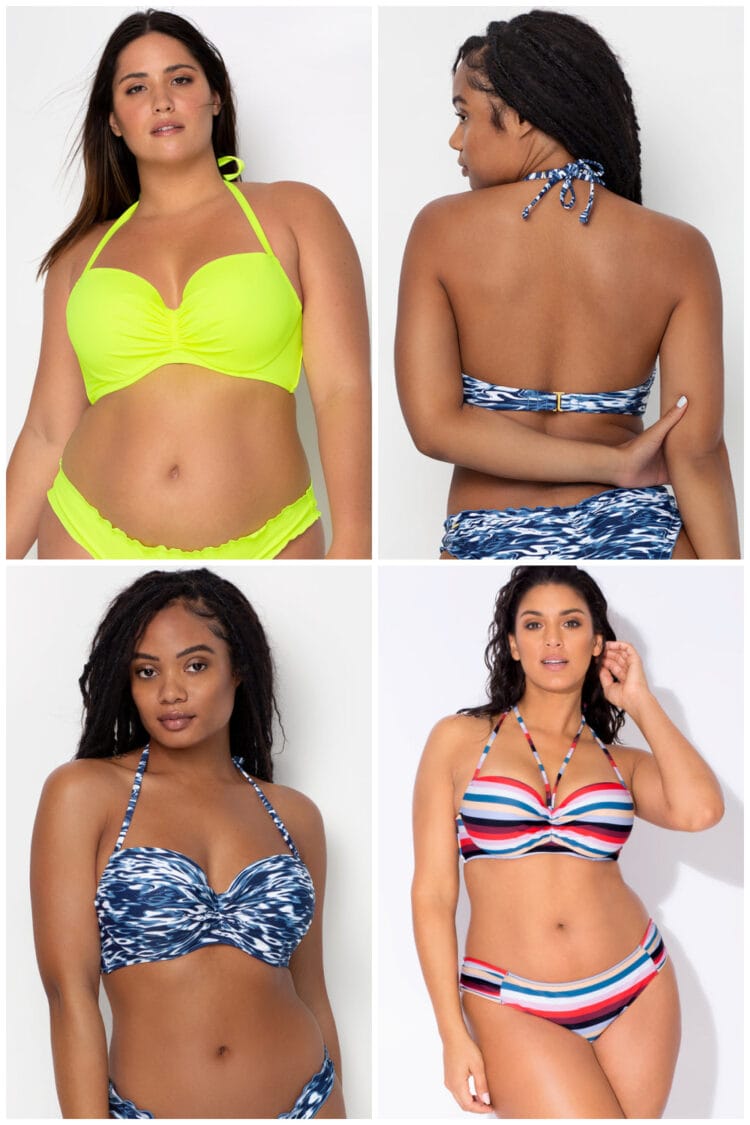 2. Smart & Sexy Swim Secret Halter Bikini Top
I feel confident recommending this bikini from Smart & Sexy because I own it! That's me above last summer at Fire Island. Available in 34C to 44DD and a fabulous range of on-trend colors and prints, this bikini top is budget-friendy while offering a lot of support. The second strap is removable so you can add it for interest or remove for a more classic version. It's from classic swimwear fabric so you can wear with any bottom of your choice; Smart & Sexy also has a bunch of different swim bottoms to choose from up to size XXL (I have this one). Heads up, I found the cups ran big (see my initial review). It seems others in reviews also found this top runs bigs in the cups.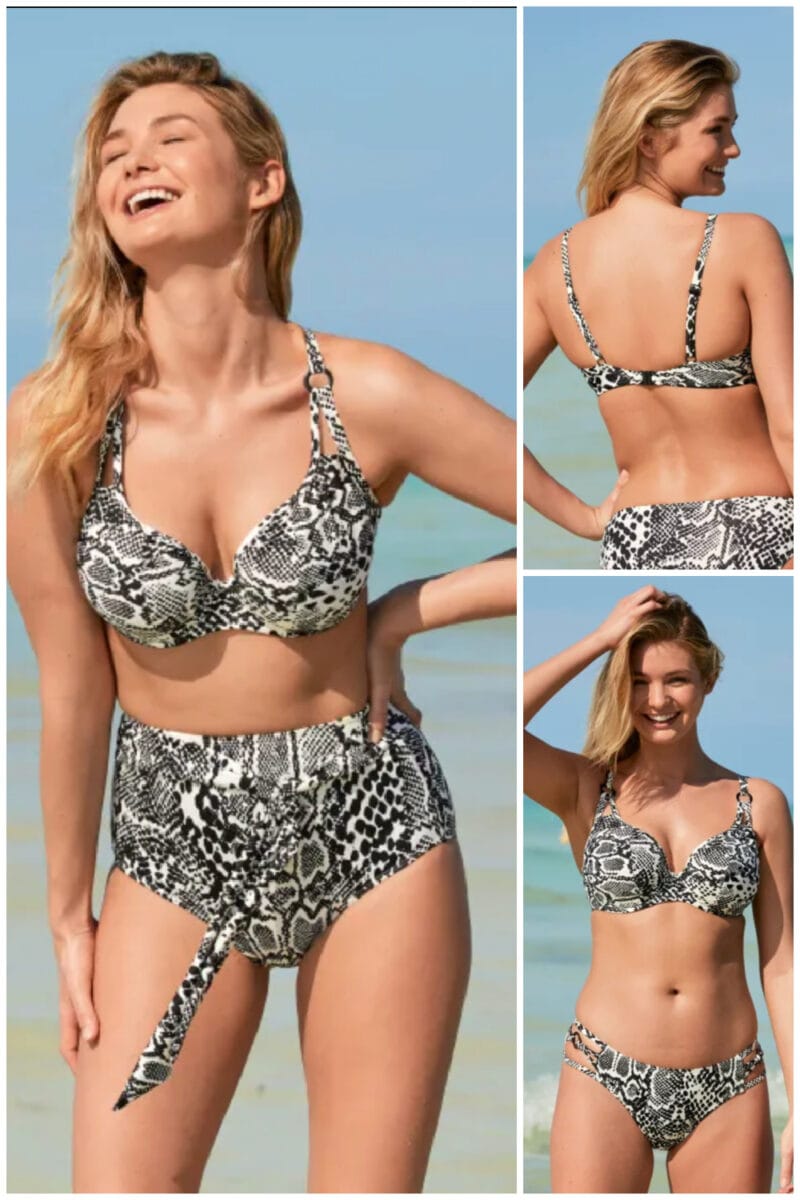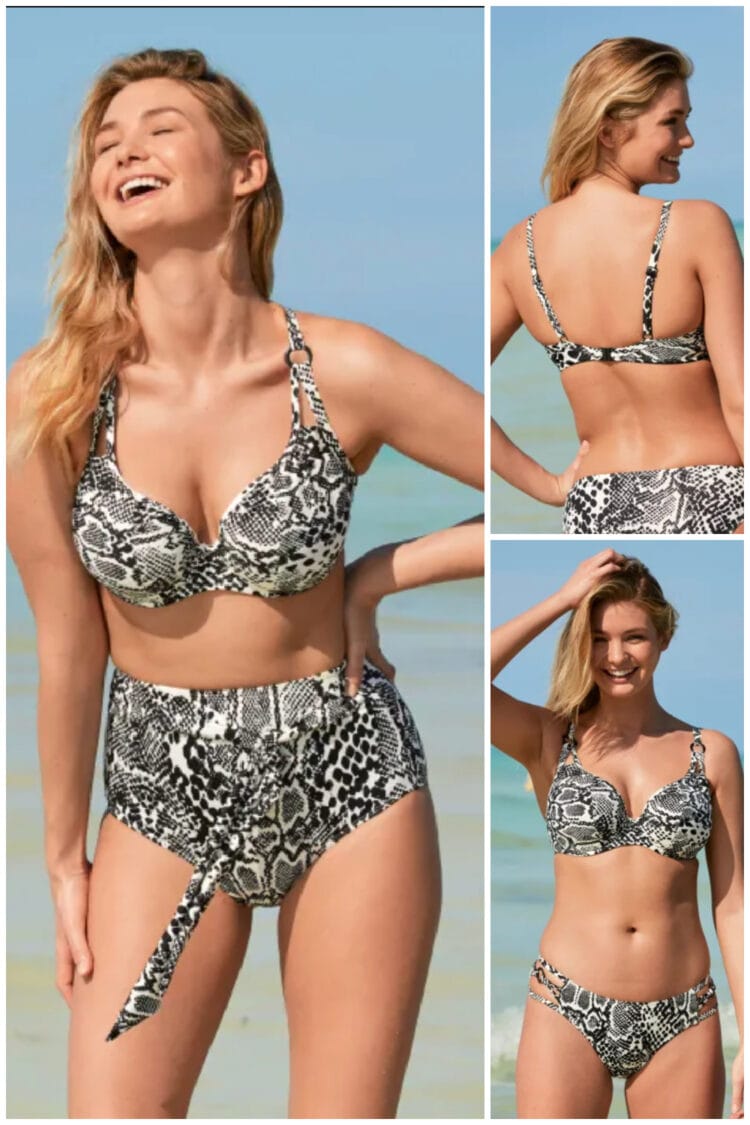 3. Bravissimo Budapest Bikini
This bikini top from Bravissimo has subtle details to make it a great choice for those with a large bust. The front straps are double to provide support from multiple locations and they are adjustable in back. The cups are unlined, but shaped and wired for lift. And this sultry snakeskin print is available in band sizes 30-40 and cup sizes DD-K. Bravissimo offers two matching swim bottoms on the same page so you can choose your coverage, or style this black printed top with a solid black bottom in your wardrobe!
The Best Trendy Large Bust Swimsuits
Who says grown women have to only wear wide straps, cabbage roses, leopard prints, and frumpy skirts? There are plenty of trendy and stylish swimsuits for large busts out there that truly support and provide coverage. Below I share my picks for the best trendy large bust swimsuits for grown women: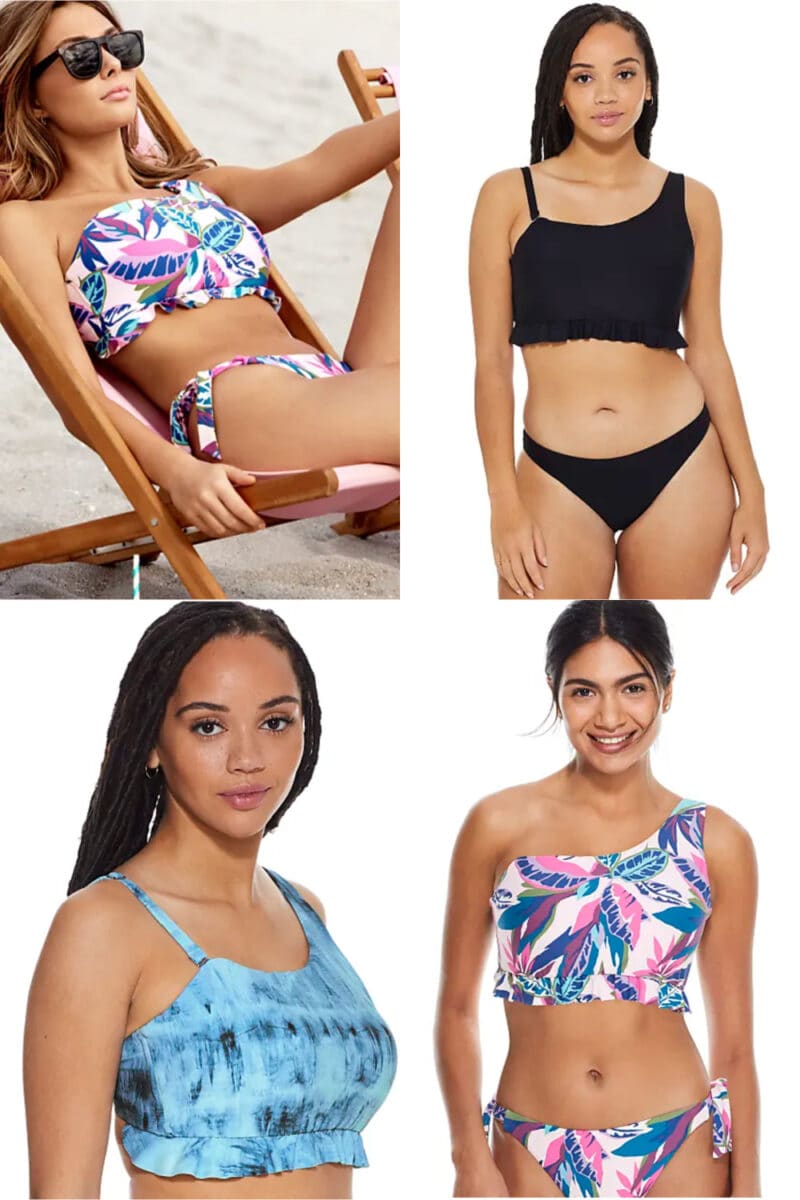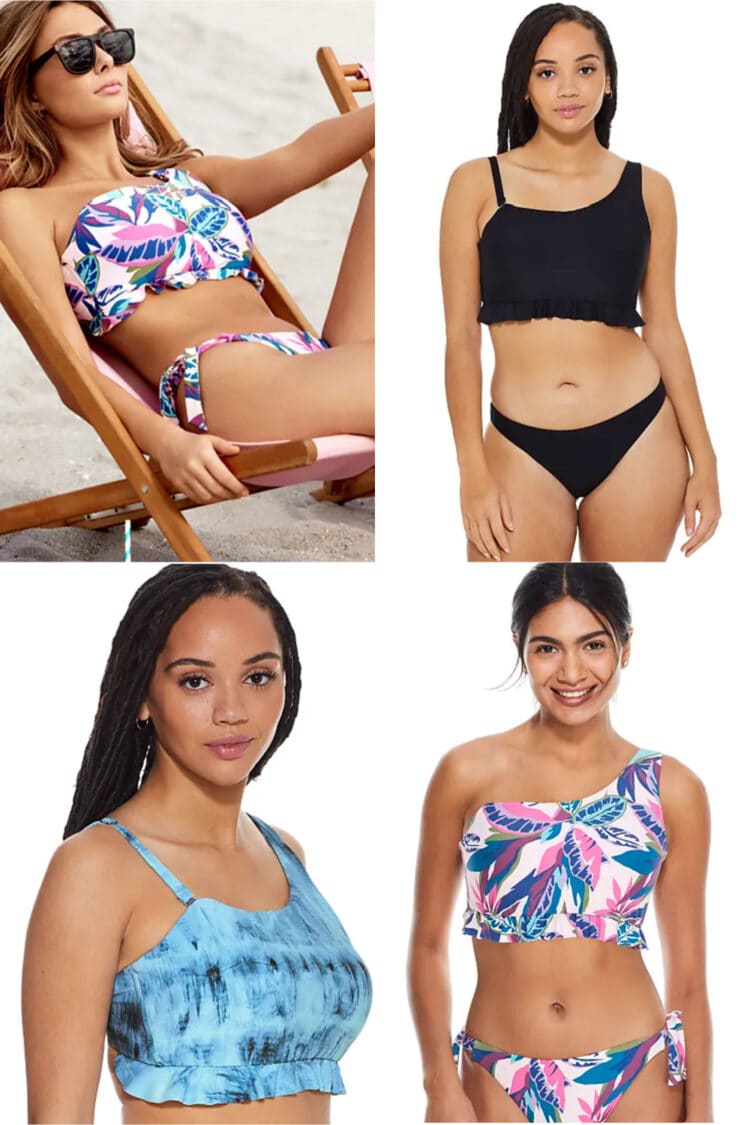 1. Birdsong One-Shoulder Underwire Bikini
Available in a range of prints and solids, this top has the on-trend asymmetrical silhouette for bands 32-38 and cups D-I. This bikini top comes with a removable second strap you can have straight or crossed in back for additional support The top is sold separately from the bottoms, and Birdsong has a range from cheeky side-tie bikini bottoms to full-coverage and skirted options in sizes S-3X. I linked to this suit at Bare Necessities, which has a great selection, lots of customer reviews, and reasonable shipping/return policies.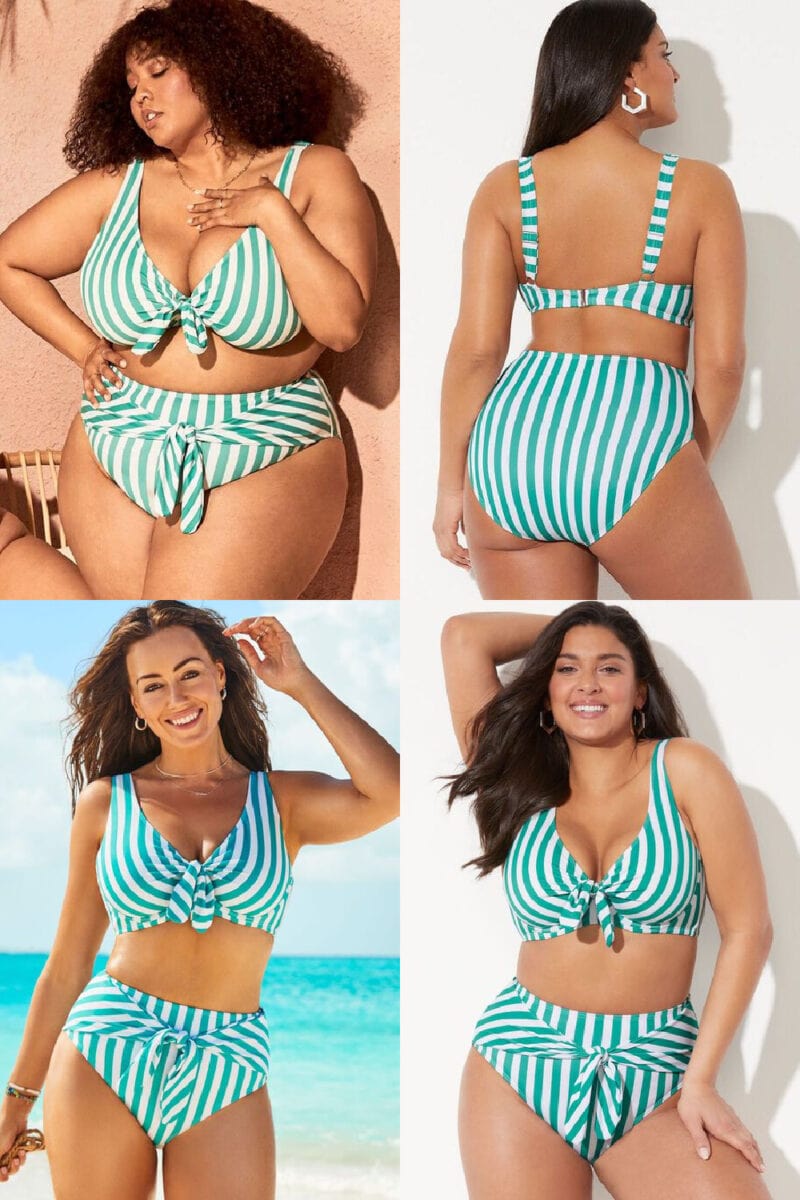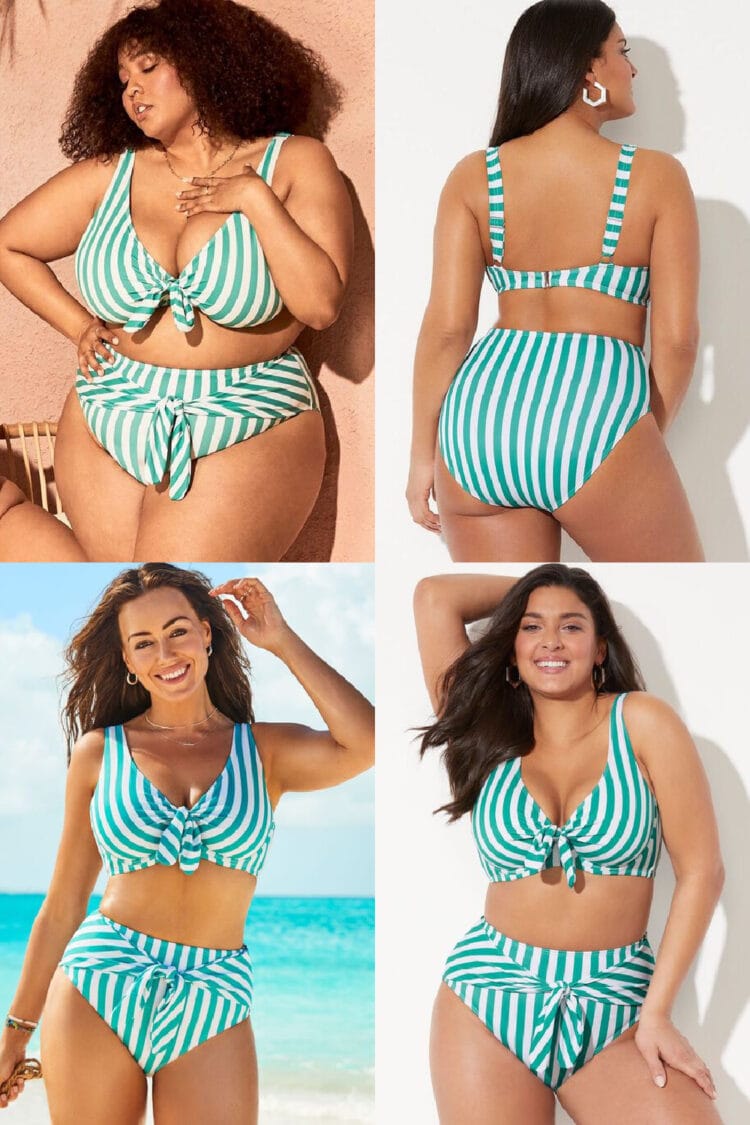 2. GabiFresh Tie Front Underwire Bikini
While many recommend Swimsuits for All for large busts, few of their suits are truly designed to support a heavier large bust. However, Gabi Fresh's collection at the retailer has a few cup-sized swimsuits, and this adorable striped number gets rave reviews for fit and style. Trendy and stylish while still offering plenty of coverage on top and the bottom to look great but also have fun in the sun. While you have to buy the pieces together, you can still choose different sizes for top and bottom. Available in sizes 10-26 and cups up to G/H.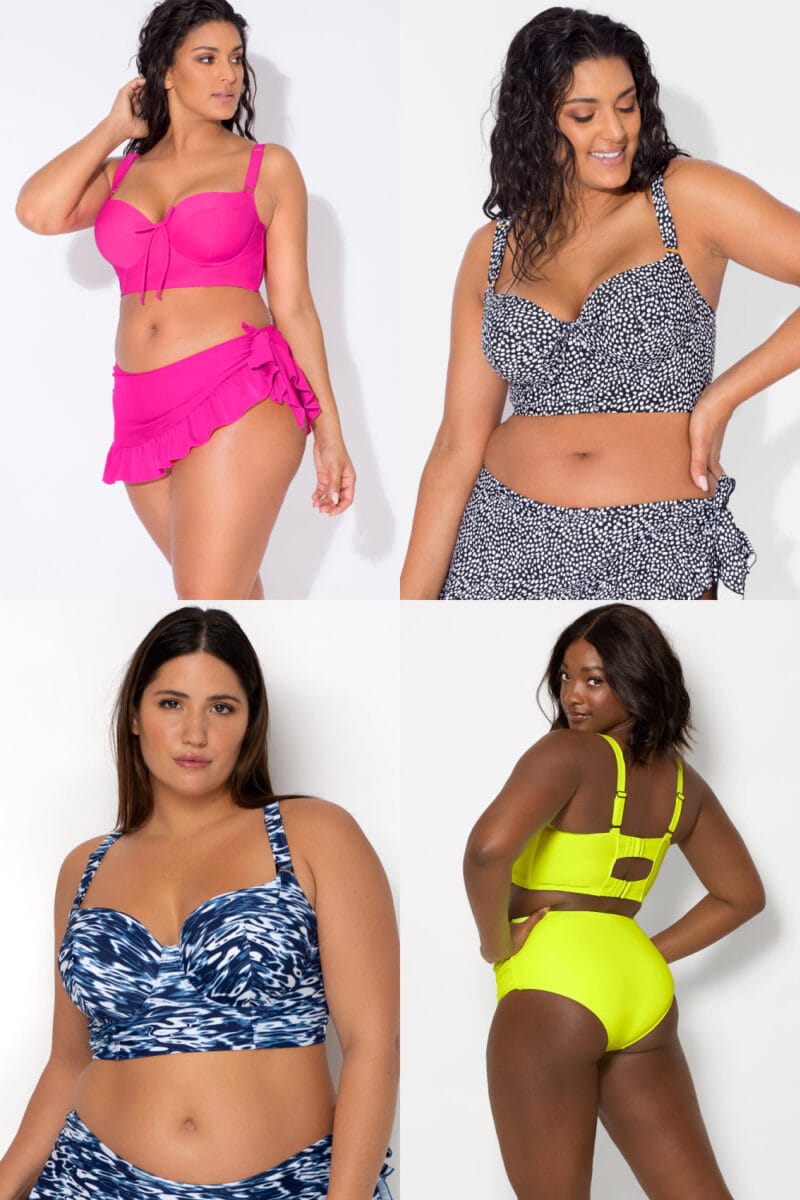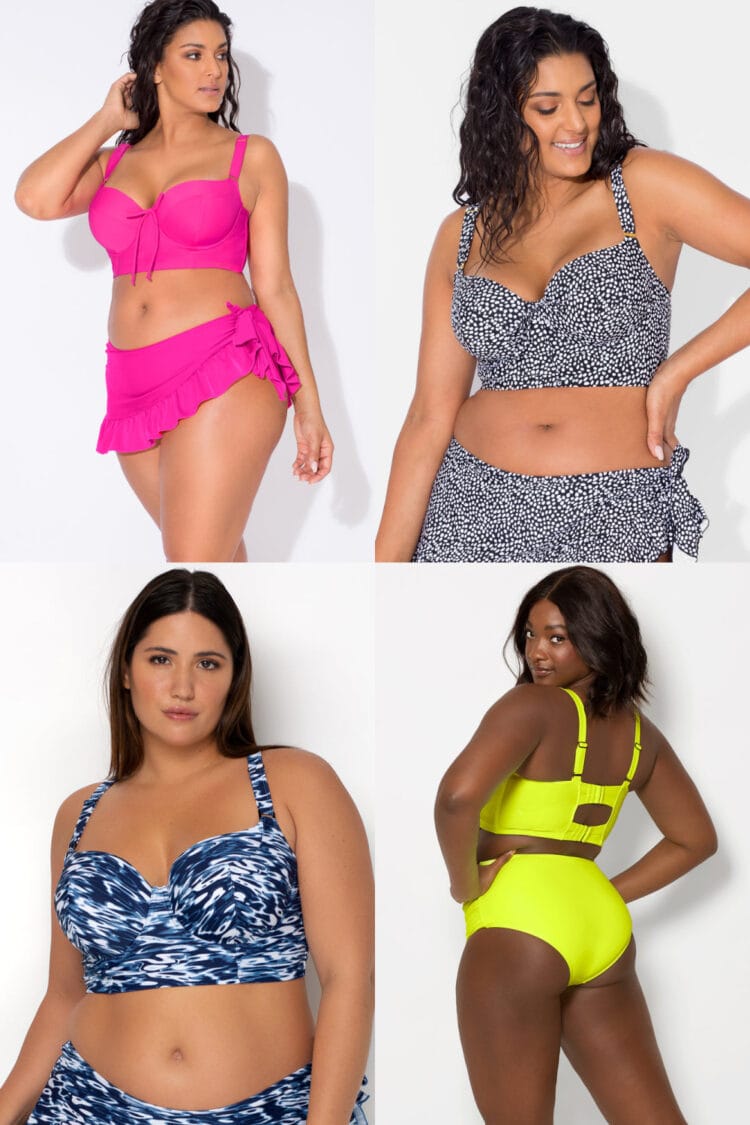 3. Smart & Sexy Long Lined Underwire Bikini Top
With the same support as the previous Smart & Sexy bikini I featured, this version has a longer profile that is inspired by lingerie while also offering a modern look. From neons to bold prints and classic colors, you are sure to find one that works with your personal style aesthetic. Available in sizes 34C – 44DD; tap here for coordinating bottoms available up to XXL.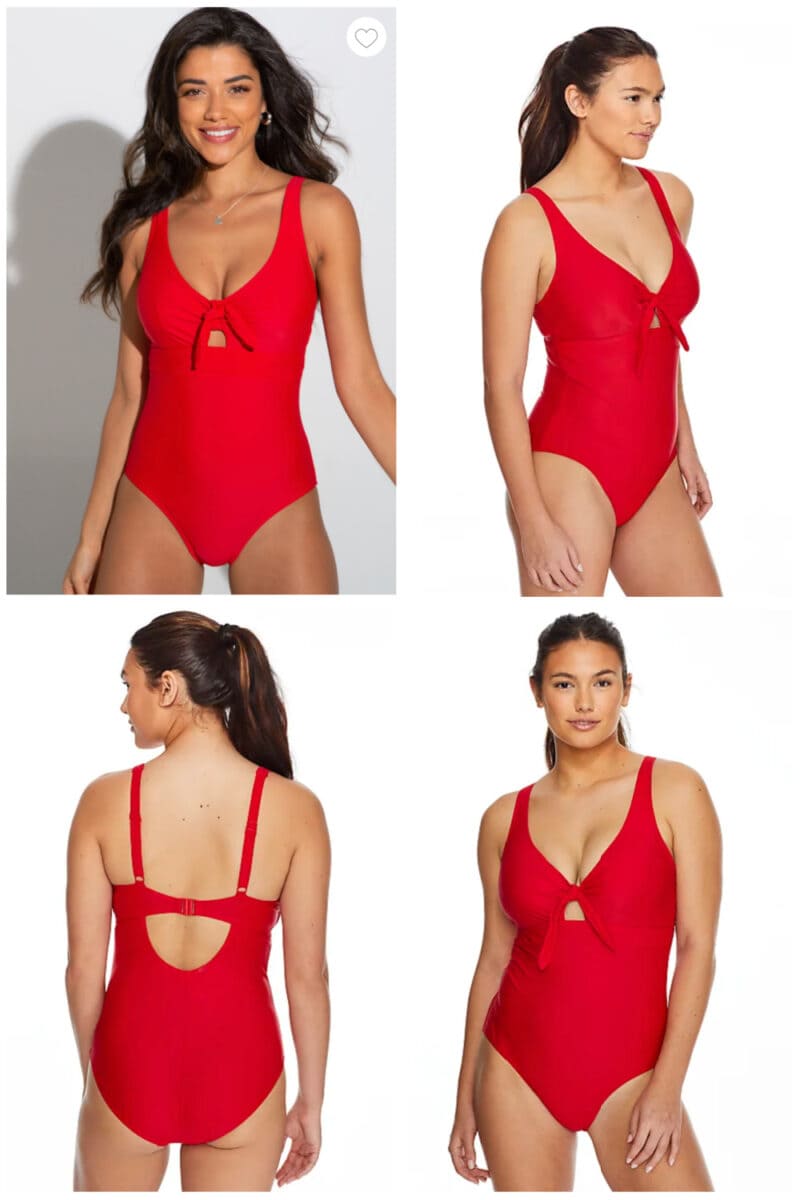 4. Pour Moi Bow Front One Piece
The cut-out trend is very popular this summer, but it's a tough trend to wear if you have a large bust, and many cut outs may not be where us grown-ass women will want them. This suit from Pour Moi feels youthful, has a modest bust cutout, but offers tummy compression in bands 32-38 and cups B-G. Mesh-lined underwire cups with slings and adjustable straps means this swimsuit will give your bust the support you need without sacrificing style.
The Best Large Bust Swimsuits for Swimming Laps, Paddle Boarding, and other Water Activities
A lot of companies that carry swimwear for laps and water activities carry maybe up to a C or D cup, but usually the size selection is limited for both bra size and apparel size. However, I found some winners and think these are the best large bust swimsuits for fitness and water activities: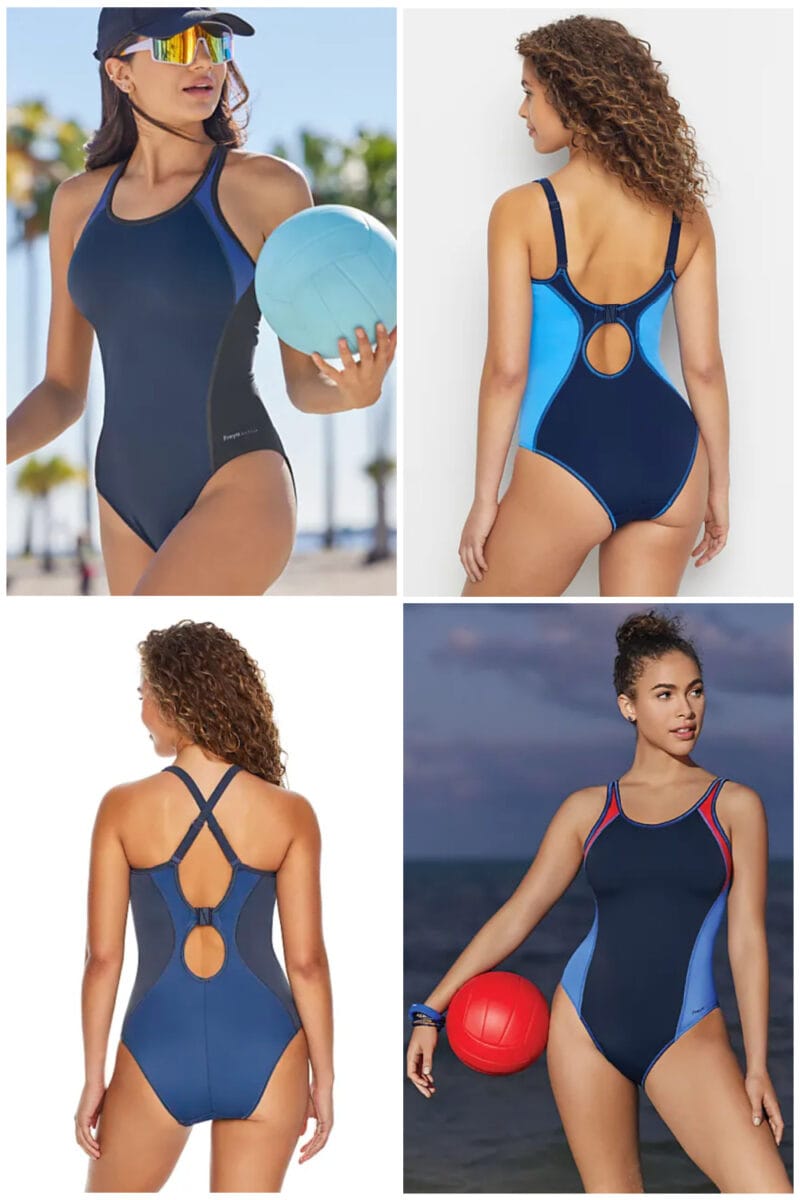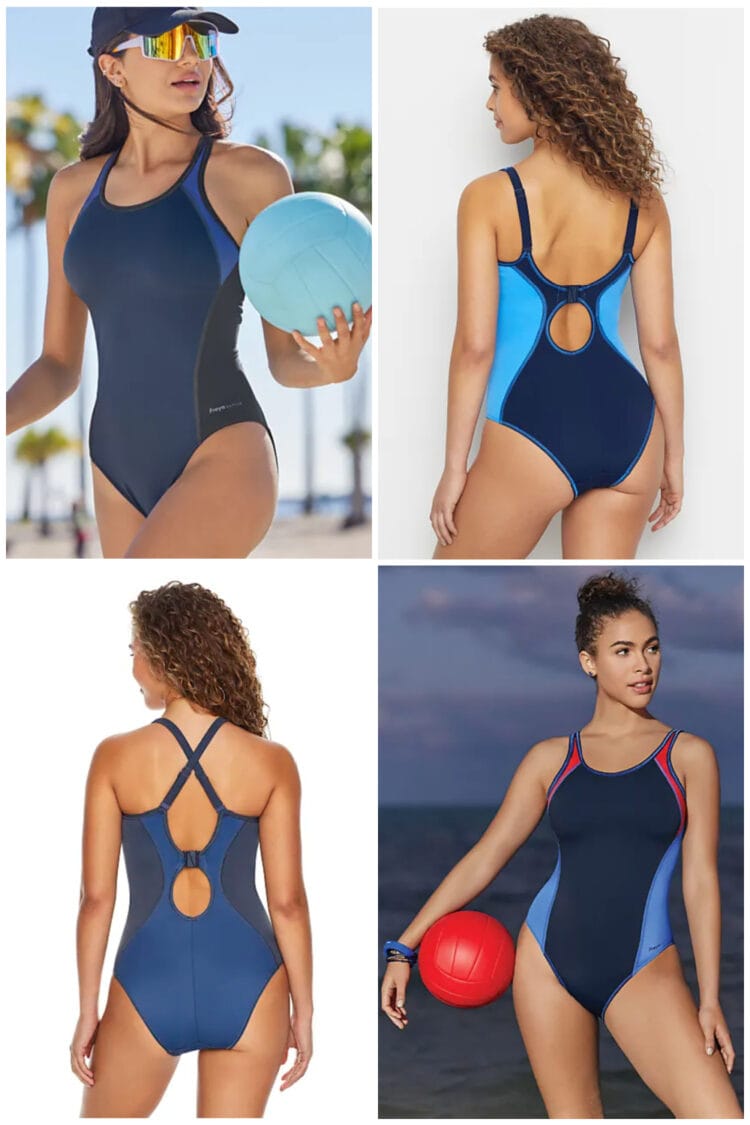 1. Freya Freestyle Underwire One-Piece Swimsuit
This suit is designed for performance, and reviews across the web at different retailers claim it's supportive, survives seasons in chlorine and saltwater, provides compression without discomfort, and will hold you in place as you dive for that volleyball, dive and do kick turns, and surf the waves. Adjustable straps for length and whether straight or crossed, snap back closure, and molded underwire cups. I've linked to Bare Necessities which has the biggest selection of color and size and a good shipping and return policy. Available in two colors, band sizes 30-40 and cup sizes D-H.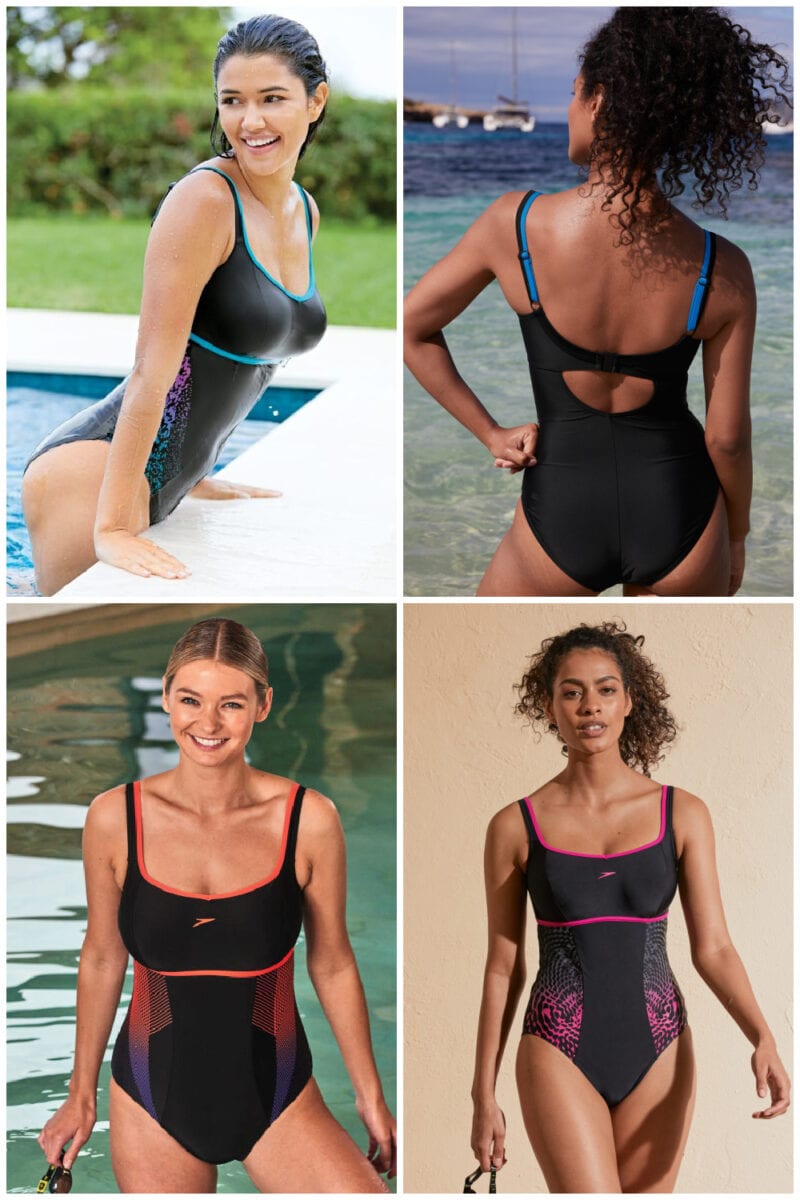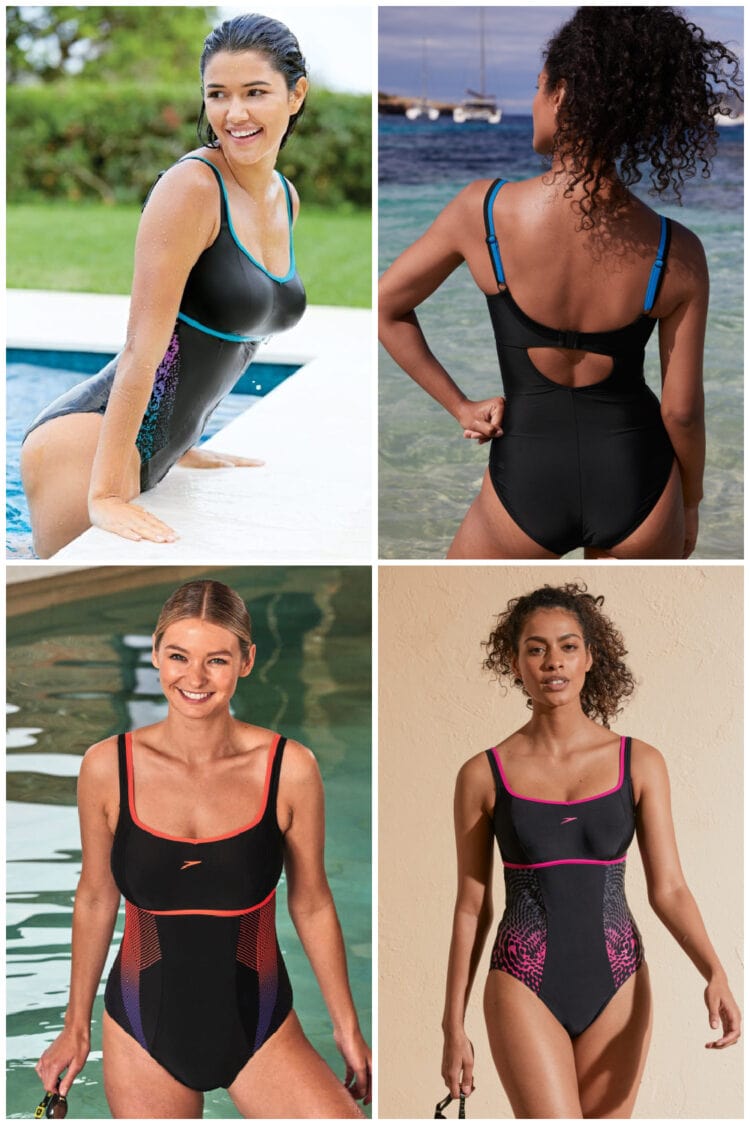 2. Speedo Premiere Ultimate One-Piece Swimsuit
Speedo is the go-to brand for swimmers, but they have few suits that are made for large busts. The Speedo Premiere Ultimate however, is made for a range of bust sizes and gets great reviews for fit, support, and performance. Available in three colors, band sizes 30-38 and cup sizes E-K.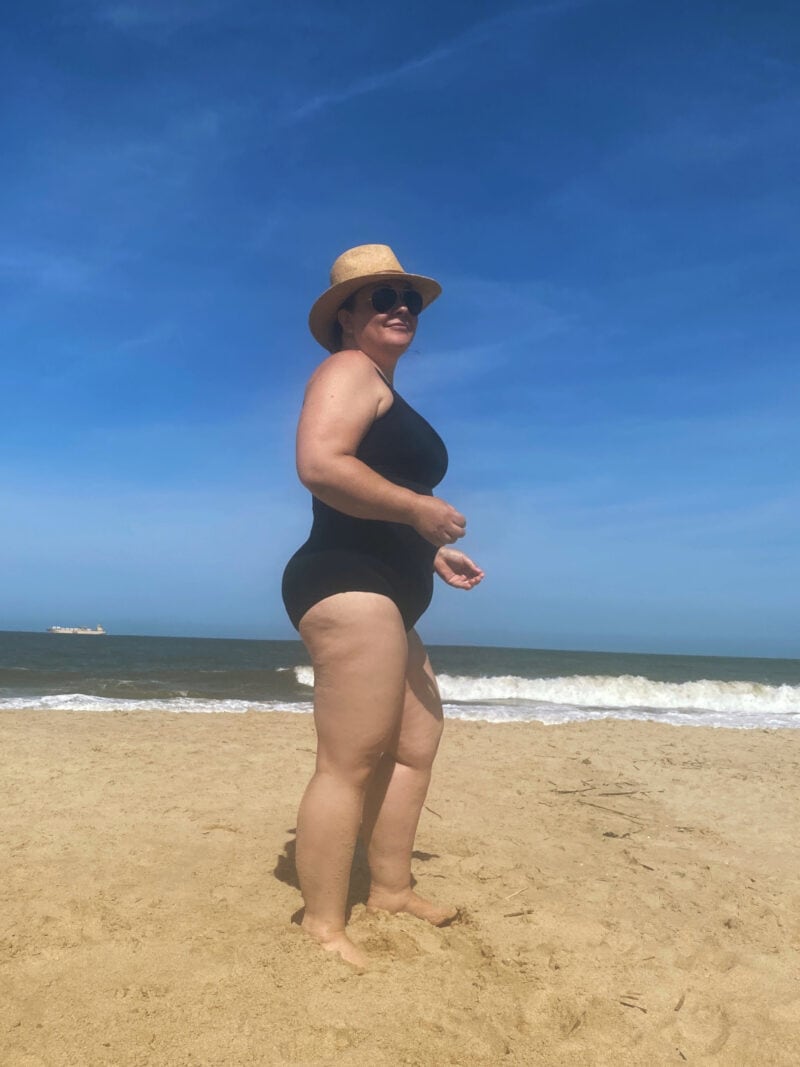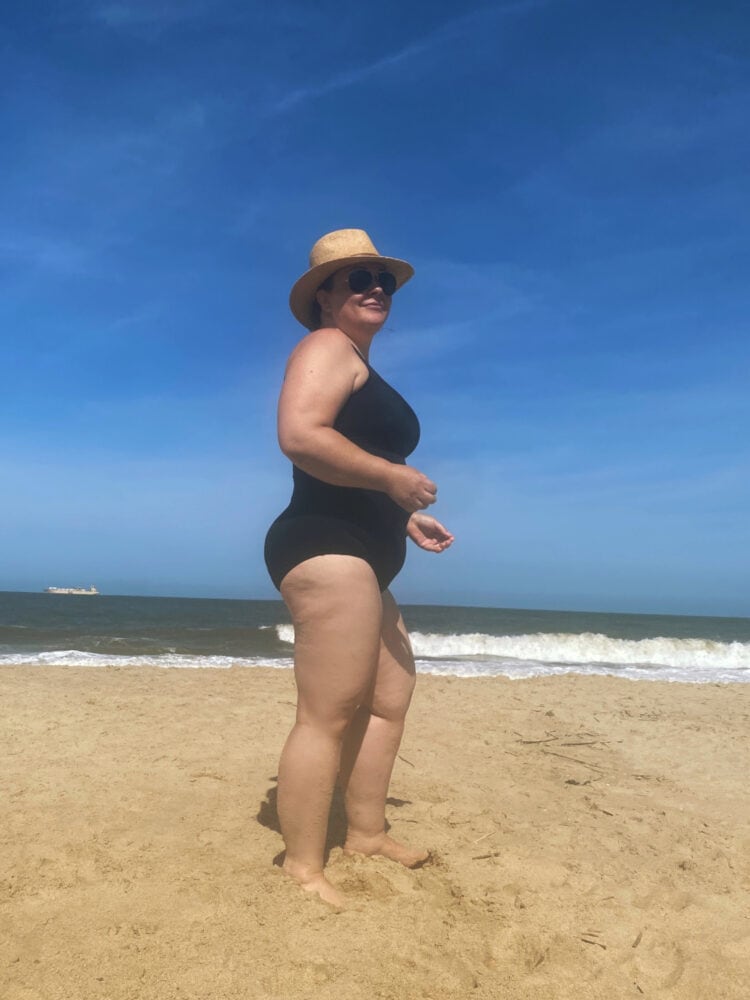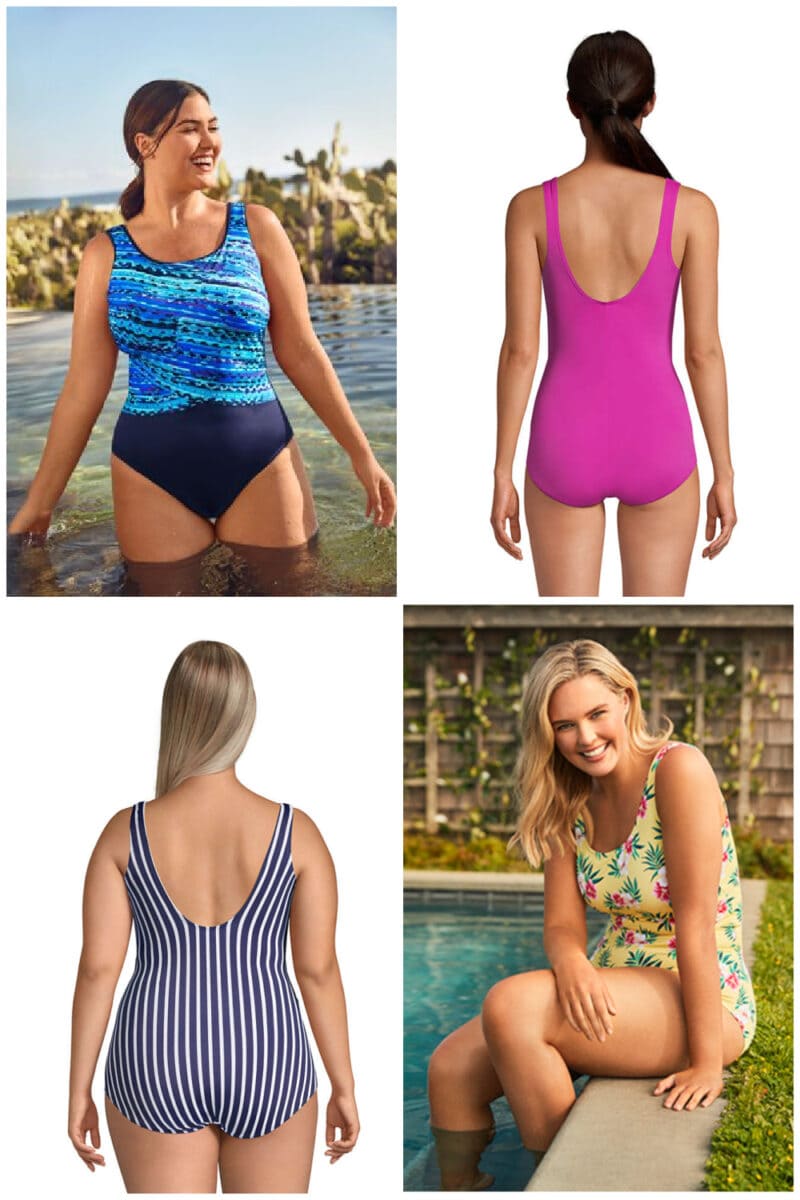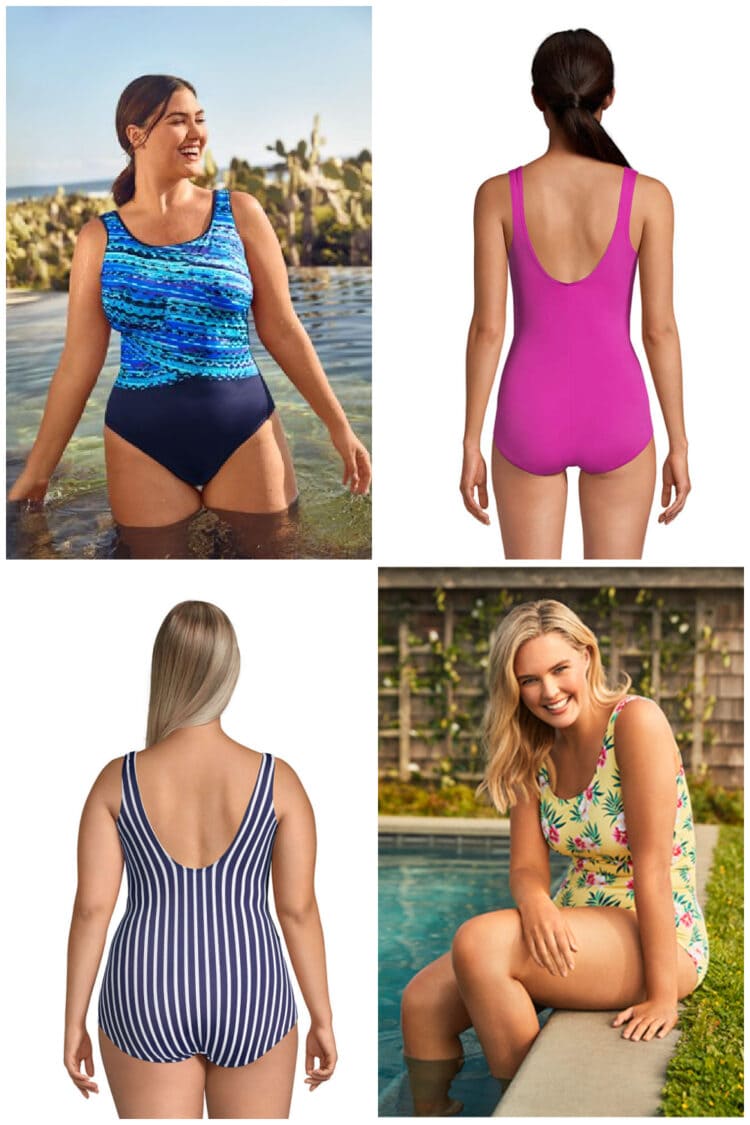 3. Lands' End Tugless Tank
If you want a classic suit that can go from swimming laps to sunbathing, looks chic with a sarong but will stay in place as you chase after kiddos or chase the next wave, the Lands' End Tugless Tank is a smart choice. It comes in sizes 2-16, up to a DDD cup, long and petite options, a mastectony option, and a tummy slimming option. The leg openings are low enough to hold everything in, but high enough to not look frumpy. While I have it in classic black, it comes in a great range of solid colors and prints. It will hold up to chlorine, salt, and sun and is a classic, chic, and stylish option for most anyone.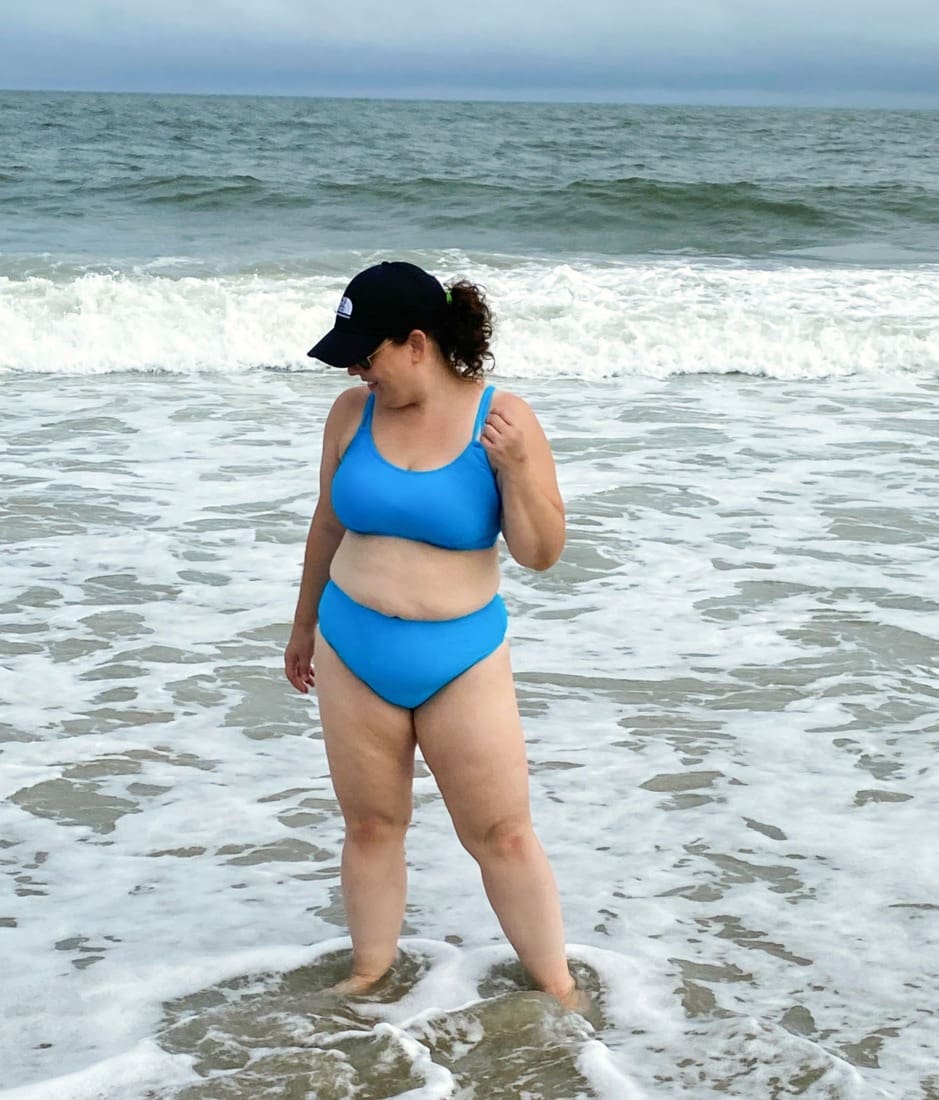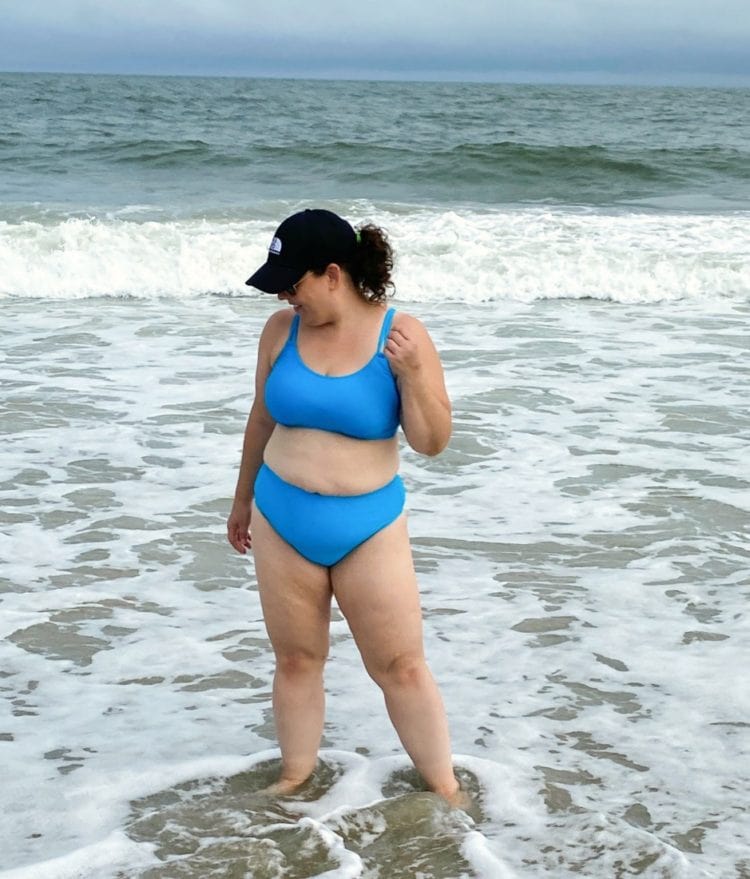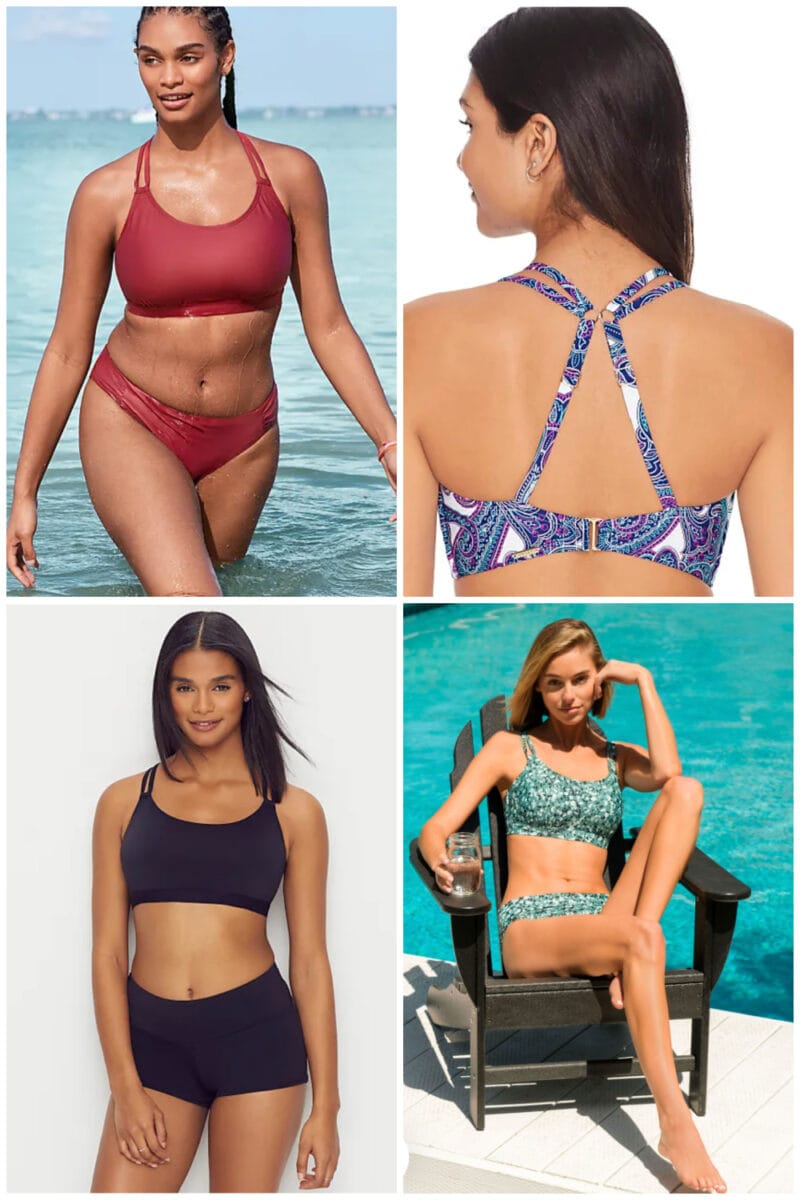 4. Sunsets Taylor Bikini
If you want support and coverage, but prefer a two-piece, may I recommend this sports bra-inspired bikini top from Sunsets. I own it and can attest to it being supportive and holding everything in even if you bodysurf or do flip turns. It looks like a classic sports bra, but has foam cups, underwire, side boning, and adjustable straps you can wear straight or crossed. Available in band sizes 28-40 and cups D-I for tops and a range of coverage options for matching bottoms, which are available in sizes XS-2X, this is a suit I will be wearing my third summer and it still looks and performs like new.
The Best Large Bust Swimsuits with More Coverage On the Bottom Half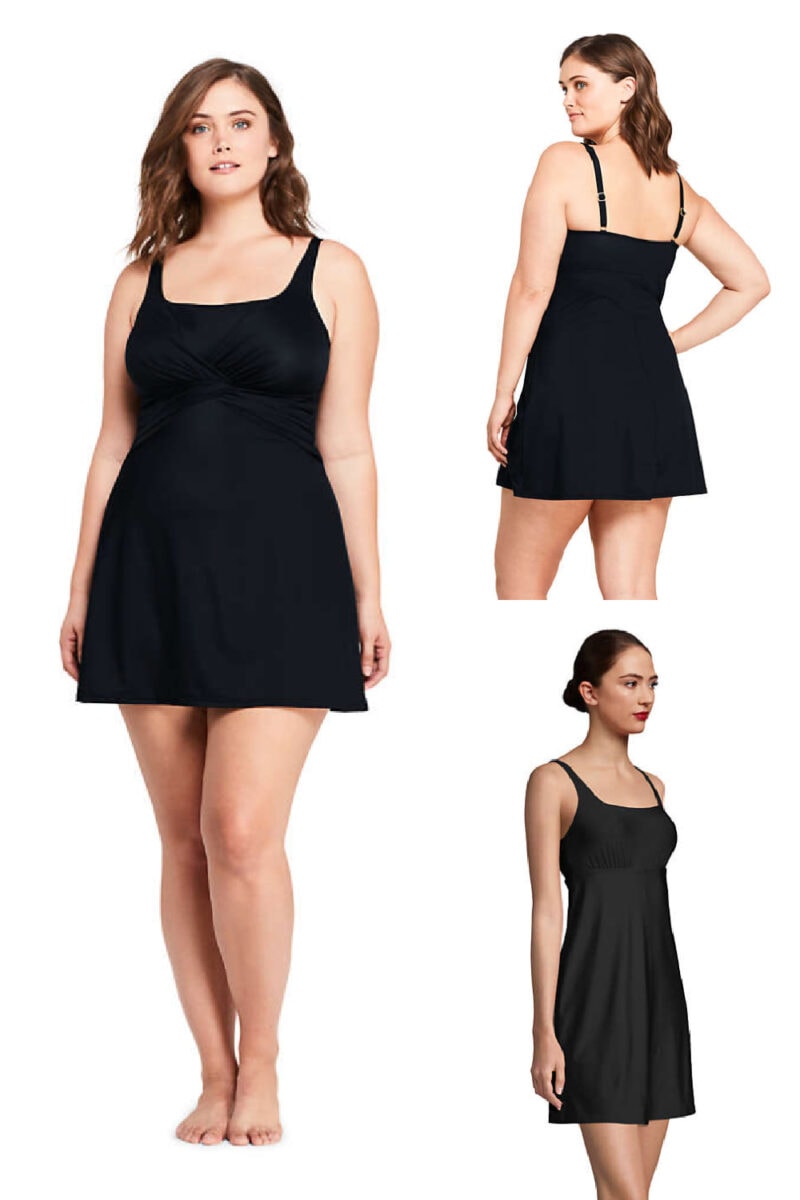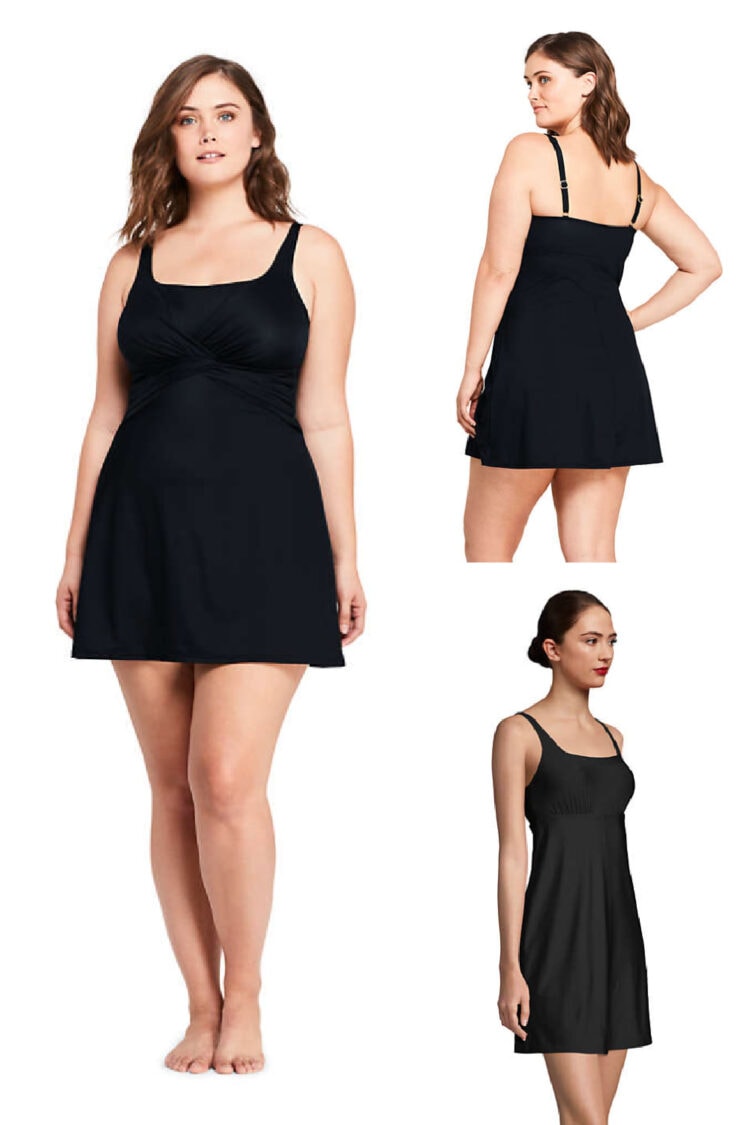 1. Lands' End Square Neck Swim Dress
Some swim dresses look frumpy, some look vintage cute, and some just look clean and chic. And I think this swim dress from Lands' End is elegant with clean lines and a square neck, you can pretty much go straight from the beach to the beachside cafe. Undershorts mean you have great coverage even if you bend over or swim laps. The misses option comes in a D-cup with regular and long lengths; the plus size option comes in a DDD cup version.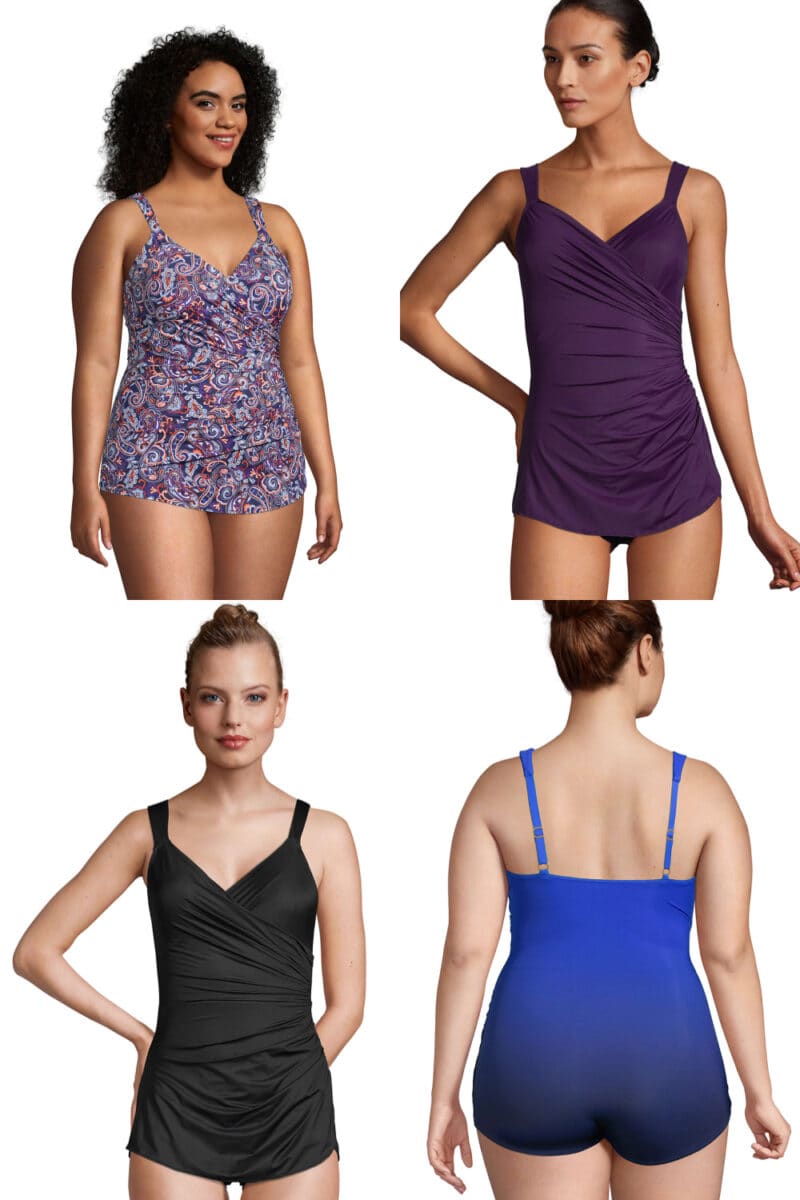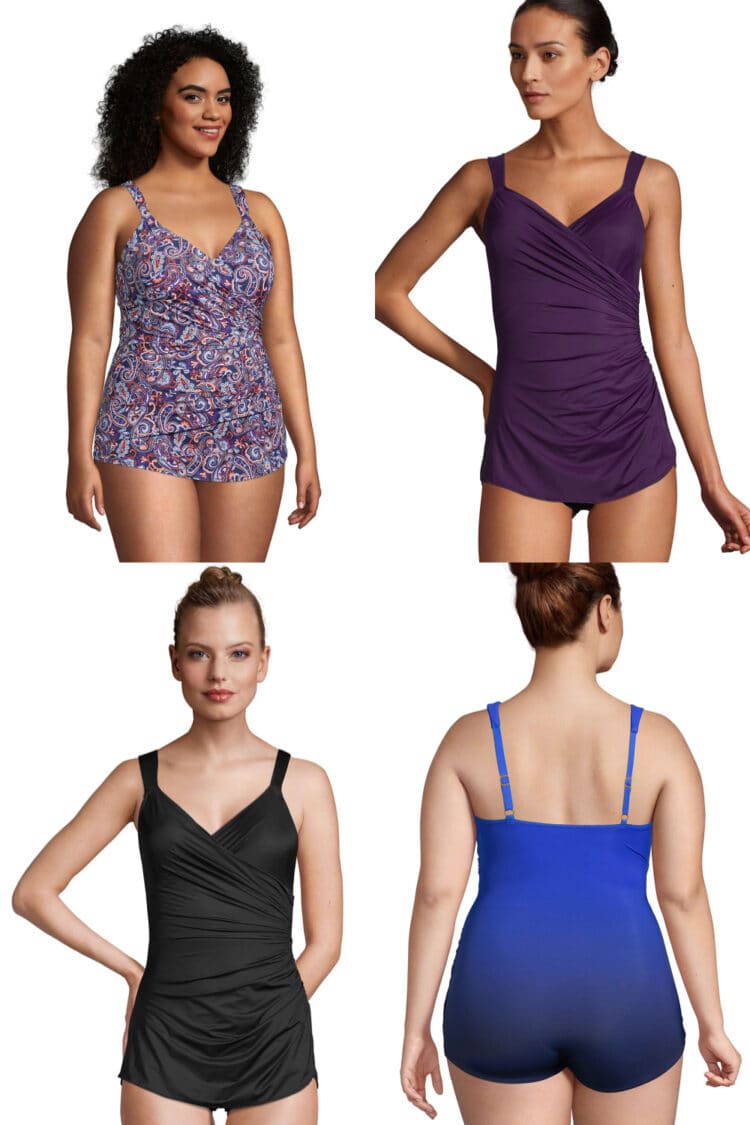 2. Lands' End V-neck Skirted One Piece
If you just want a bit more coverage for the lower upper thighs and rear, this suit from Lands' End is a classic yet stylish option. It has lower leg openings and a skirted front overlay for subtle modesty. With padded straps and padded soft cups, this suit is chic as well as comfortable. Available in a range of colors and prints, this suit has slender control and fits busts up to a DDD with DDD-cup plus size options as well.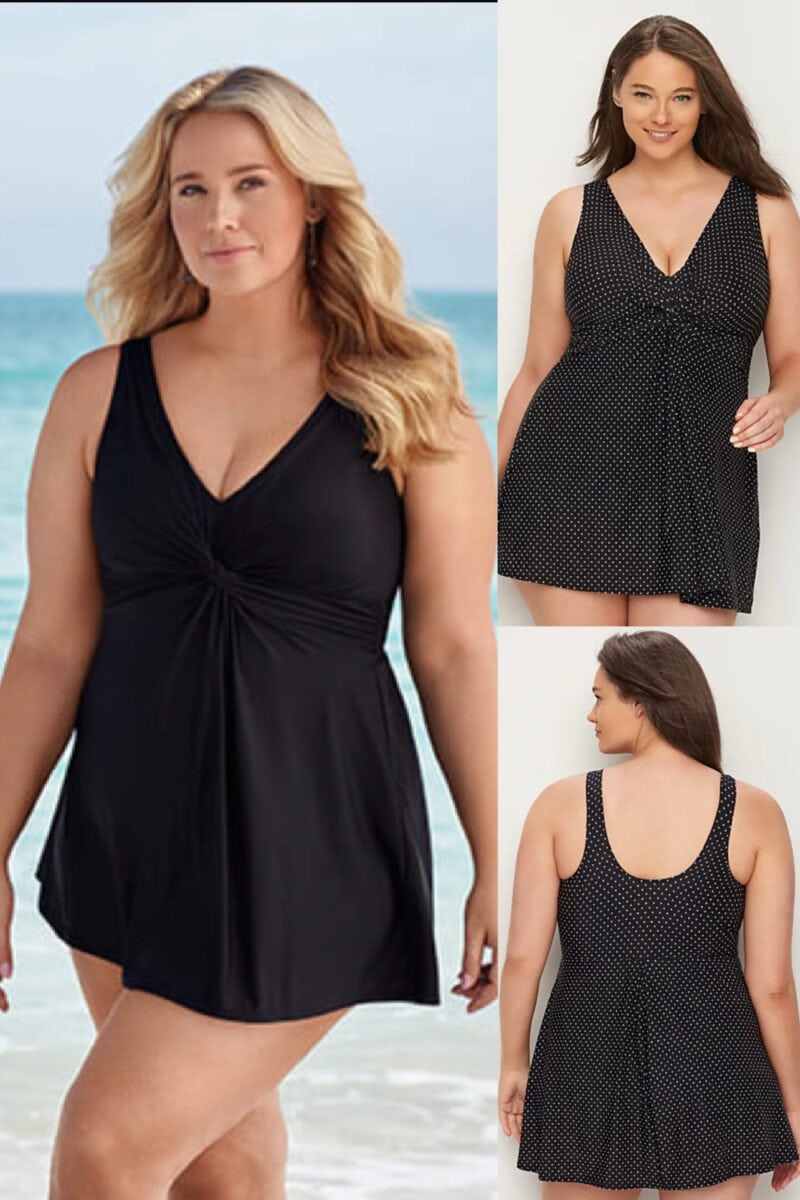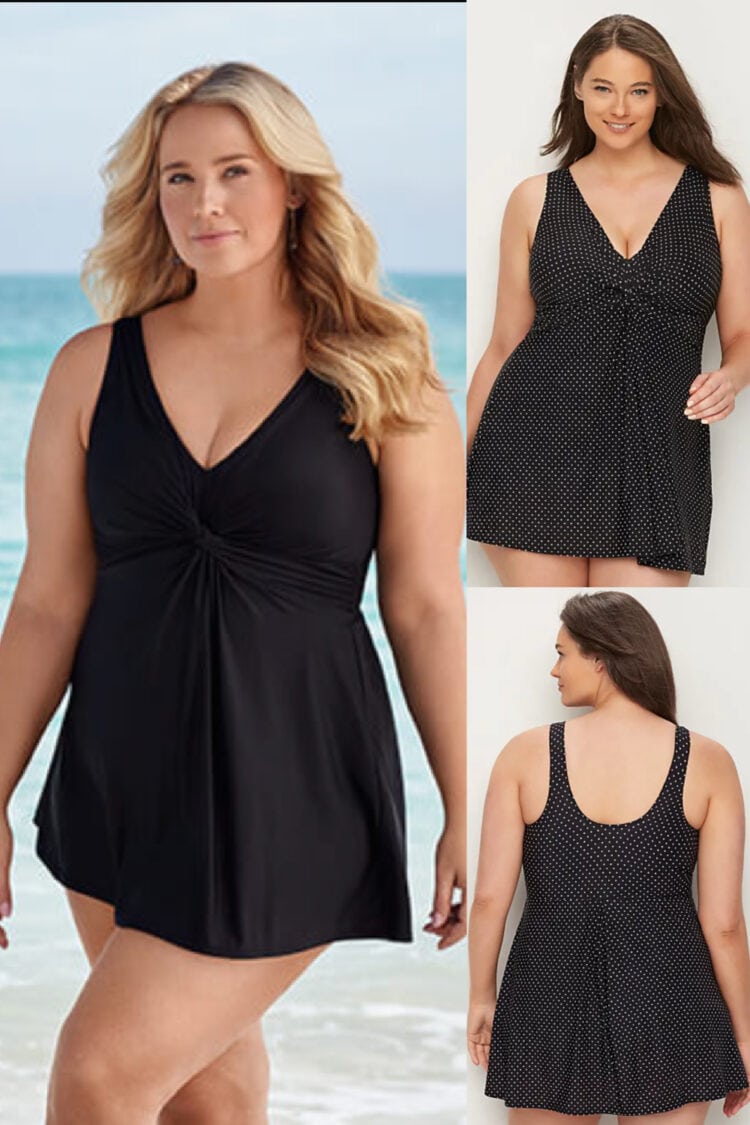 3. Miraclesuit Marais Swim Dress
This swim dress from Miraclesuit comes in a regular option and a DD option, but multiple reviews state that the "regular" version is also quite supportive for large busts. For those who desire torso compression and/or a wire-free swimsuit for large busts, this is a great option. This link goes to a variety of colors and prints of this suit and the misses options in sizes 10-18 and plus options in sizes 18W-22W.
The Best Plus Size Large Bust Swimwear
While many of the styles above come in plus sizes, these suits are designed for both plus sizes and those with D-cup and larger busts: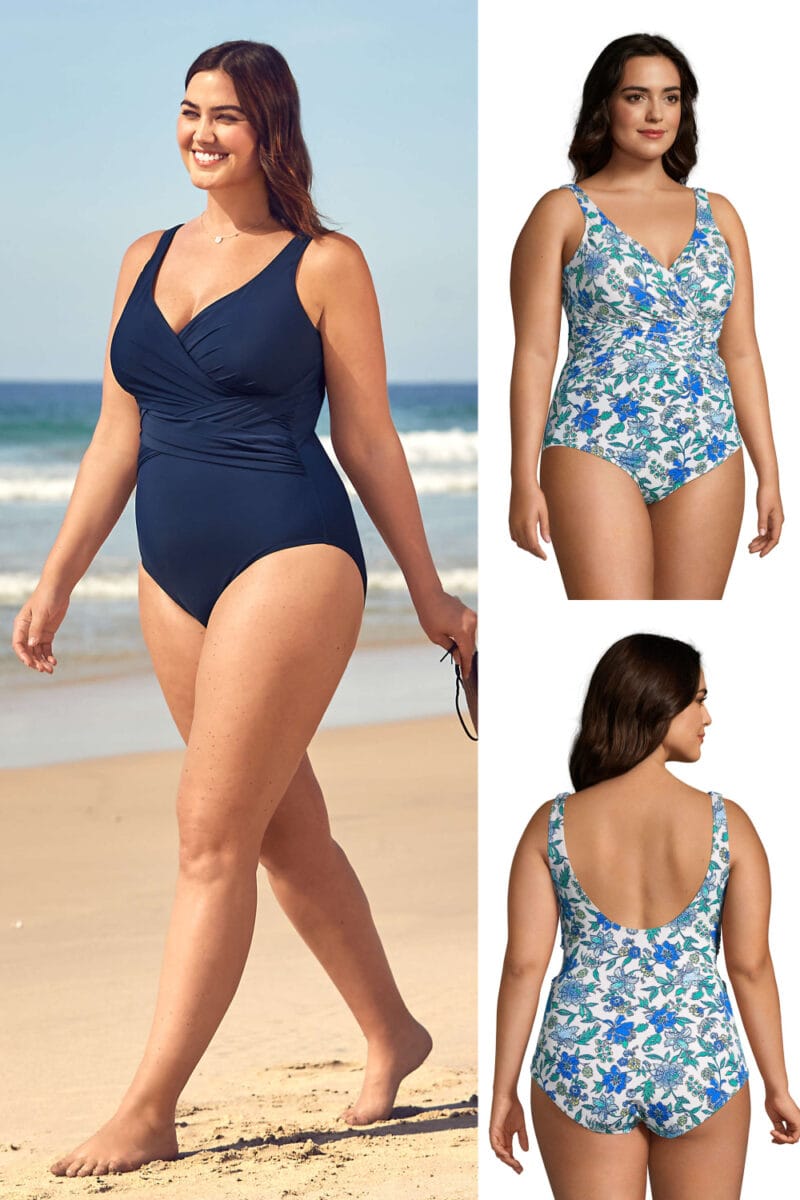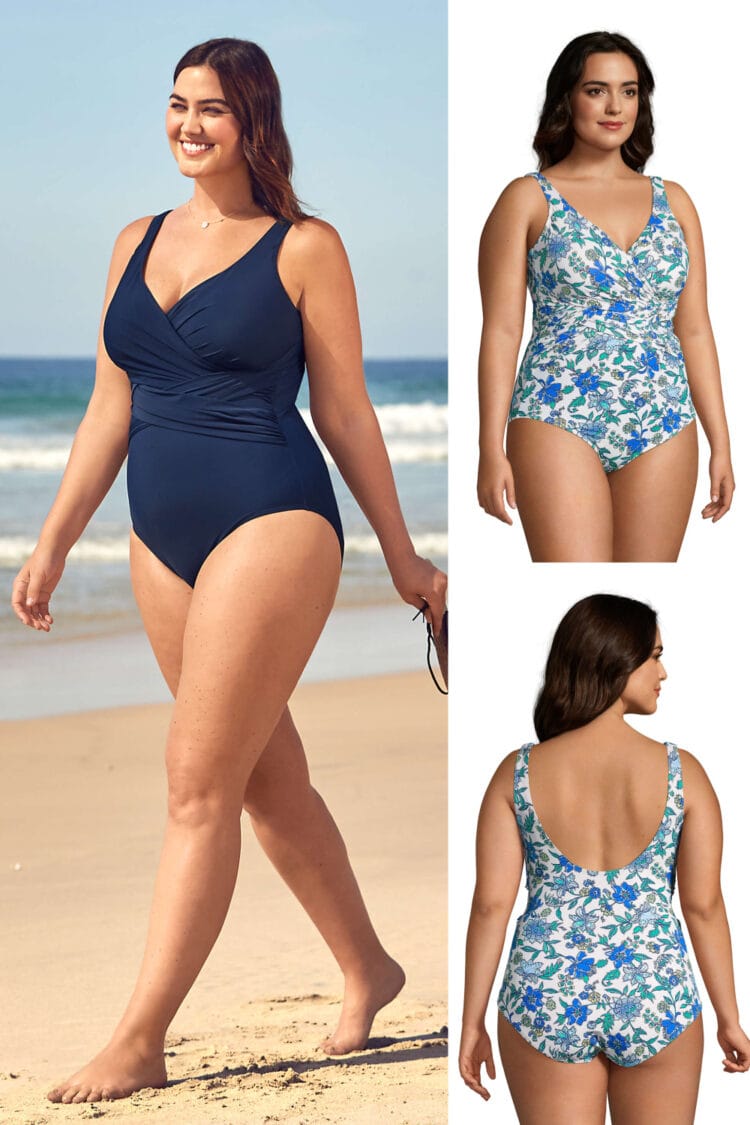 1. Lands' End Slender Wrap One Piece
This is the swimsuit that so many retailers carry that look great on the skinny small-busted models but once on, there just doesn't seem to be enough coverage where you want it. Not so with this swimsuit from Lands' End which comes in sizes 16W-24W and up to a DDD cup. Designed to lift and smooth, Lands' End claims it will make you look as size smaller while offering soft cups to shape and support your bust.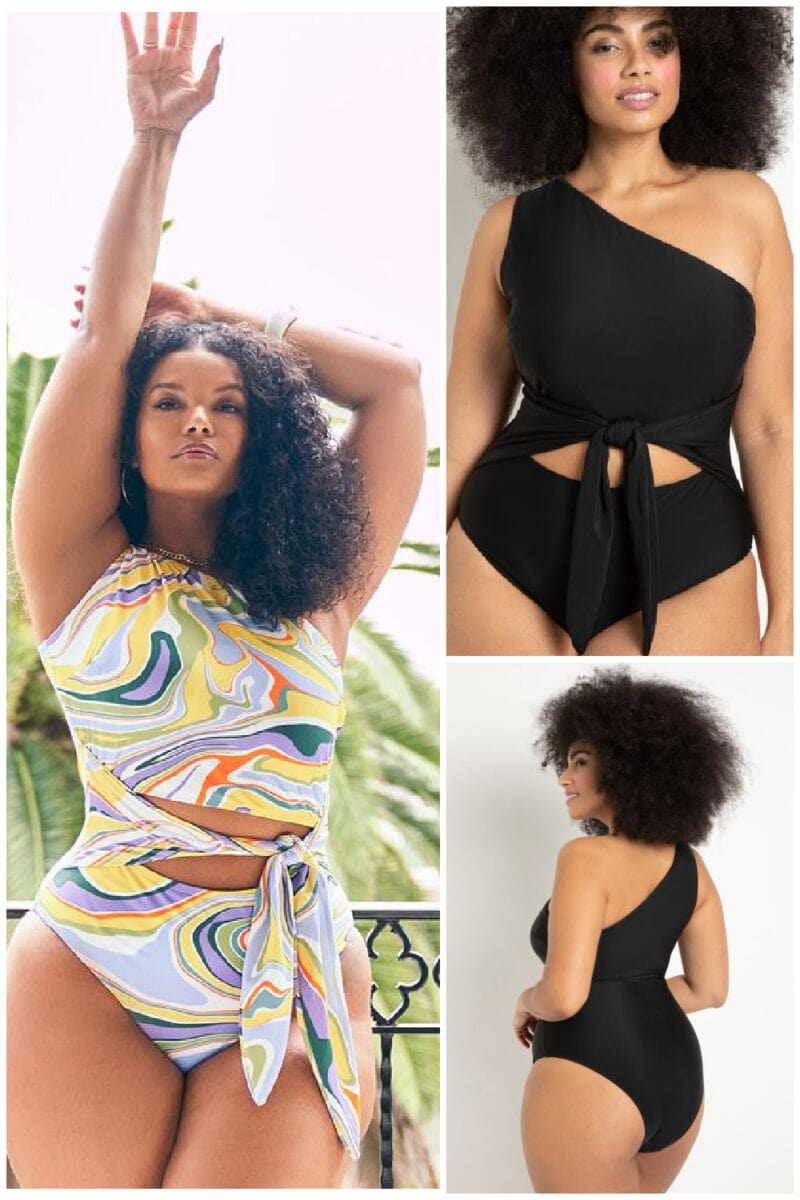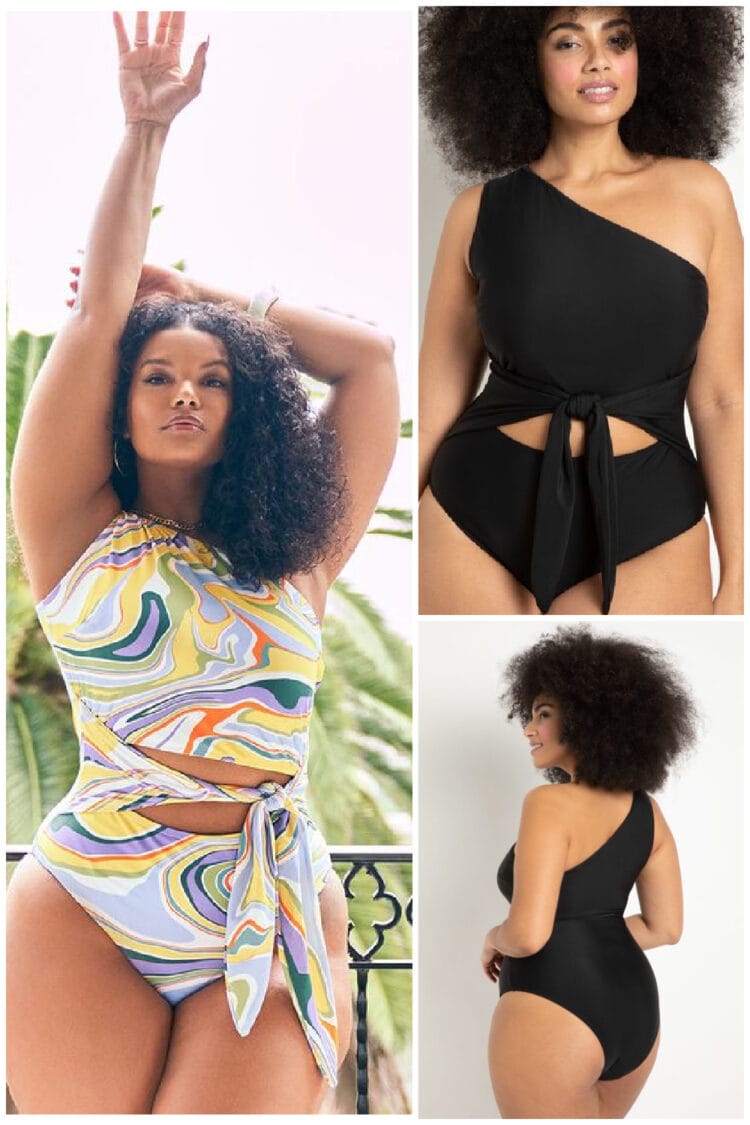 2. ELOQUII One Shoulder Tie Front Swimsuit
While this one-piece swimsuit doesn't come in cup sizes, it gets rave reviews for offering awesome support and coverage for large busts. Available in sizes 14-28 and two color options, this swimsuit from ELOQUII is fully lined and the bust has powernet lining, removable soft cups, and a hidden sling bra for shaping and support.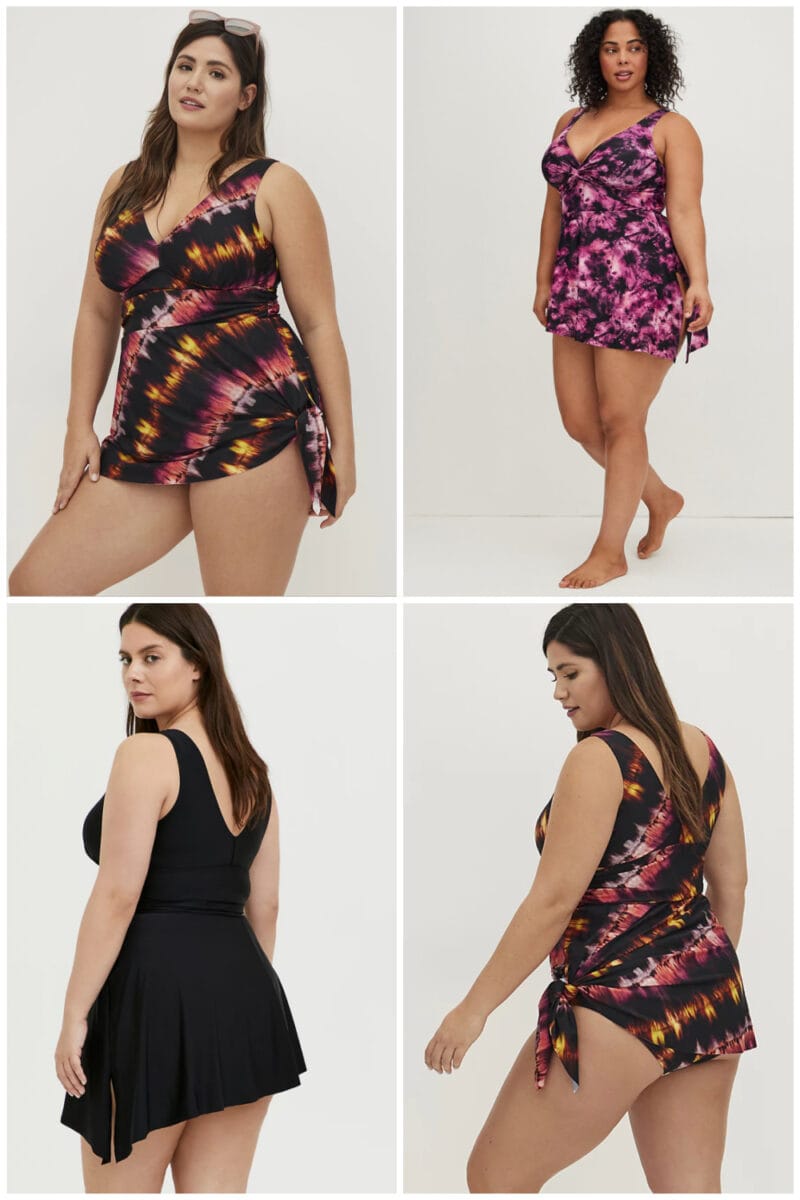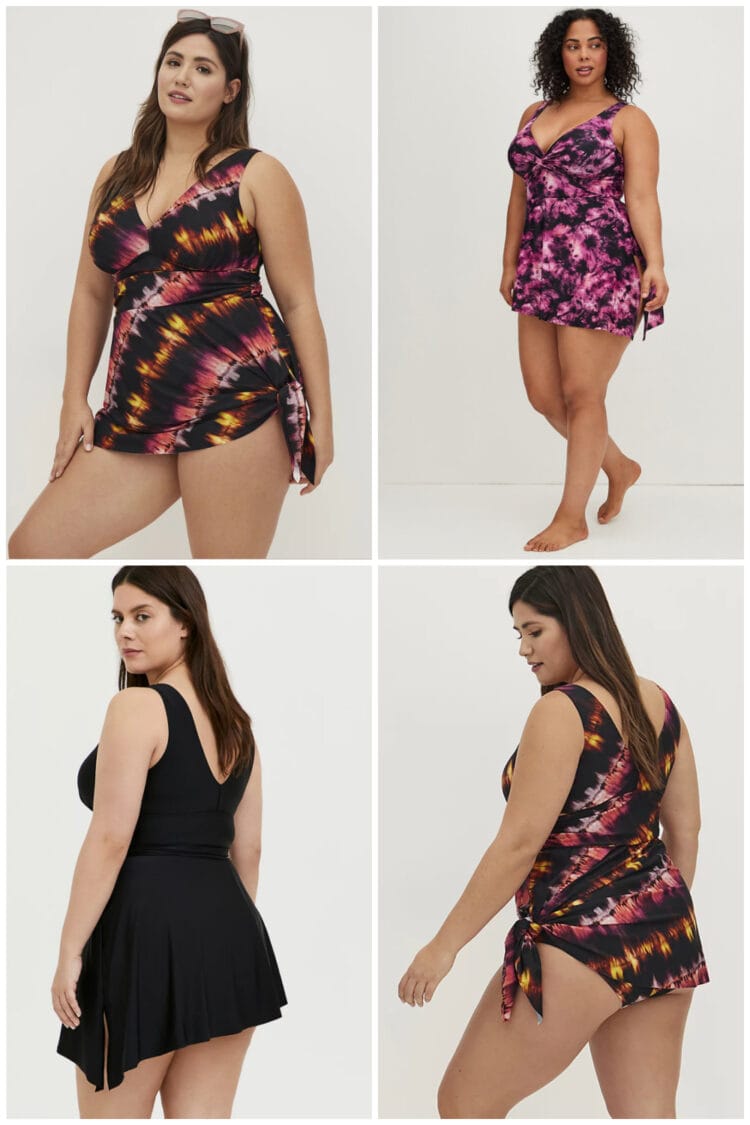 3. Torrid Short Length Side Tie Swim Dress
Year after year, this swimsuit from Torrid receives rave reviews for fit, and those with larger busts also love it. Go through the reviews (this suit has separate links for solid black and a print) and you will see individuals with F-H cup busts say how much they love this swimsuit and how well it handles their large bust. Available in sizes 10-30.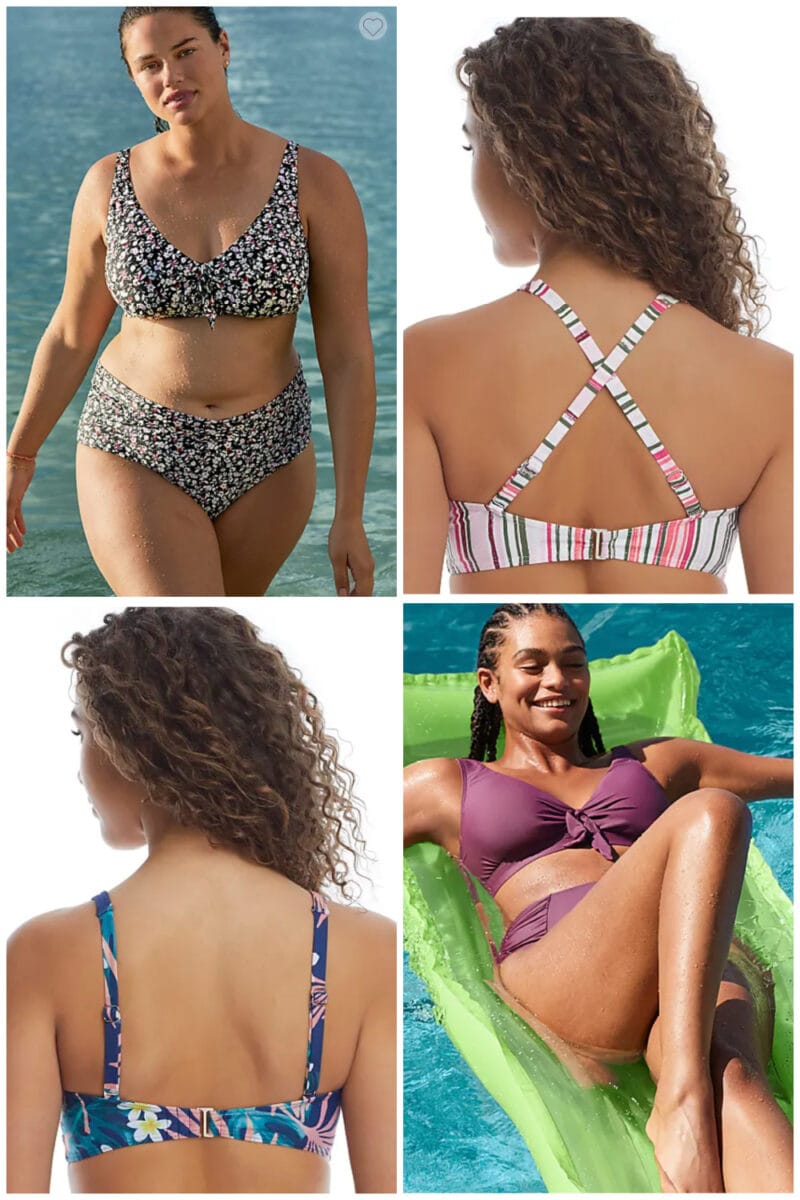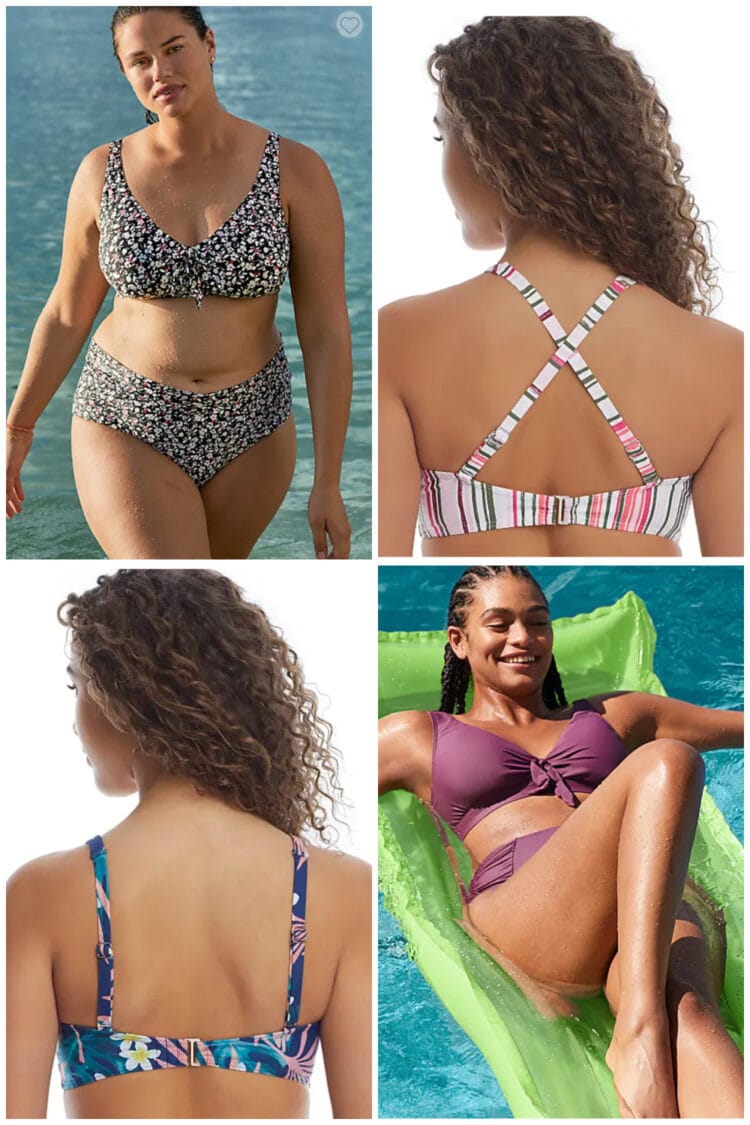 4. Birdsong Tie Front Bikini
Birdsong is a great brand for great size options and on-trend styles. This tie-front bikini top has underwire cups with removable foam inserts, adjustable straps, and the band clasp has three settings so you can get similar support and shaping you'd receive from a bra. Available in bands 30-42 and cups D-I, this top comes in a fantastic range of prints and colors; tap here for the matching bottoms in sizes S-3X.
---
Are there any great swimsuits for large busts that I missed? Share them in the comments and help out a fellow busty sister!