This article may contain affiliate links; if you click on a shopping link and make a purchase I may receive a commission. As an Amazon Associate, I earn from qualifying purchases.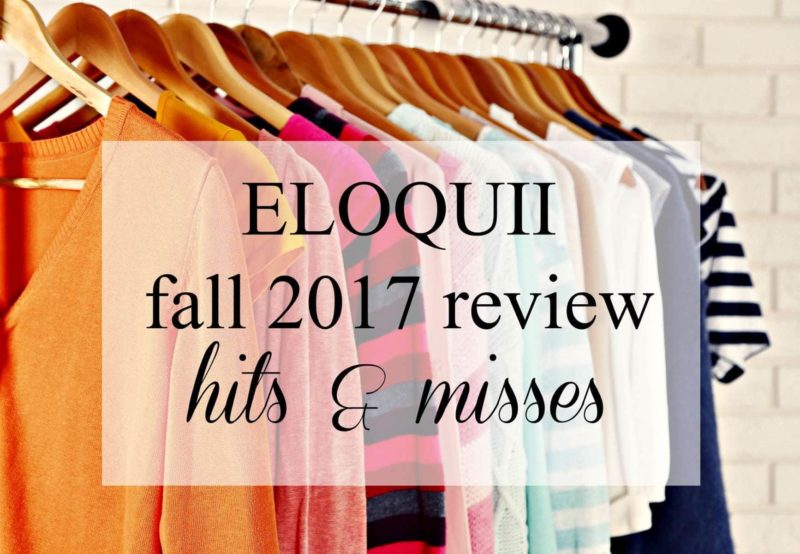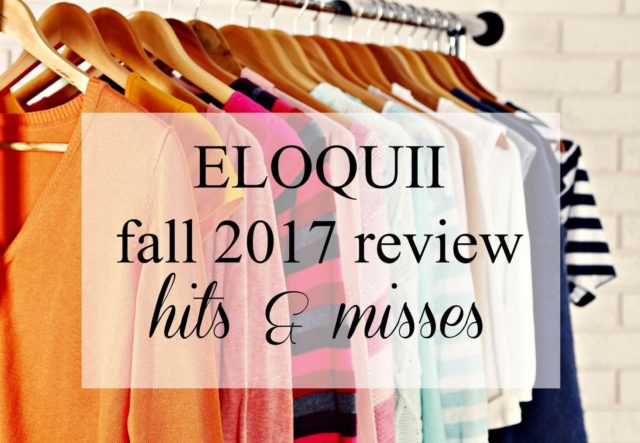 I've been doing a lot of shopping from ELOQUII this year, plus they have sent me some things. ELOQUII for me is hit or miss, sometimes it fits as though it was custom made, sometimes I need to be 4" taller to make things work, sometimes (especially with their pants) I don't have enough hip or thigh. But for those pieces that fit like a dream and stop people in their tracks and get worn over and over and over… that's why I keep returning to ELOQUII.
Some of you have said you find ELOQUII too trendy. Shopping ELOQUII is like shopping a department store – you need to scroll and scroll and use your imagination. While they may style a blouse with a sequined skirt and statement earrings and platform heels and a funky clutch, that same blouse may be quite lovely with work trousers and flats. Brands style pieces to evoke an idea or feeling but that doesn't mean it's the only way to wear a piece. I've found many ELOQUII pieces that are great for a casual weekend, for a conservative workplace, dinner with grandparents, and more. Below I review pieces from their recent collection and whether they were hits or misses on my 5'3" size 14 figure: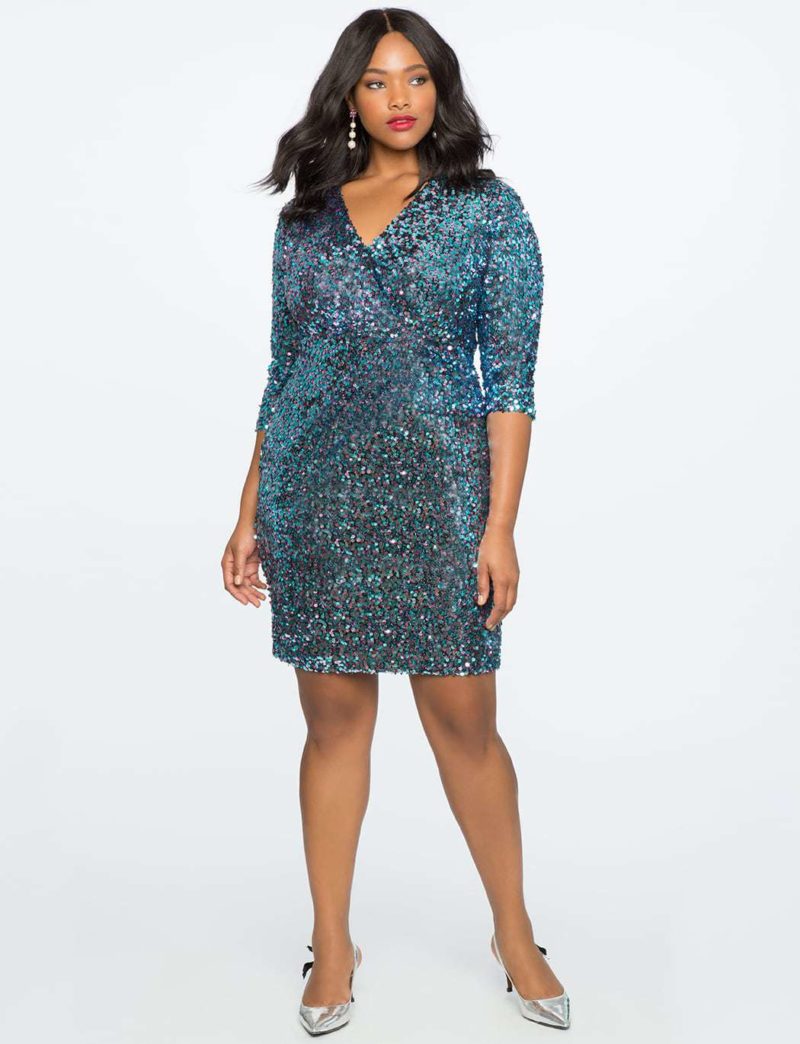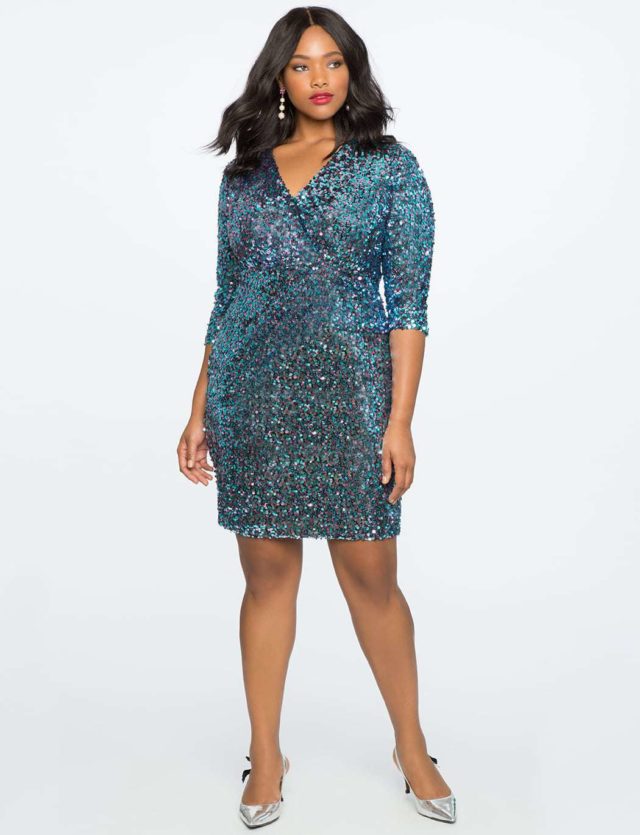 Right now this dress is sold out online. I am not surprised (and expect it to come back in stock). As soon as I saw it show up on my Twitter feed I reached out to ELOQUII and asked if I could have the dress for an upcoming event. And it's the bomb. Does using that phrase make me old? I don't care, I love this dress and I feel like a freaking bombshell in it. No photos… yet. But this weekend I am wearing it to an evening event with strappy black heels and lots of mascara and I cant wait. For my 5'3" self I needed to hide a safety pin in the bodice to close the neckline a bit, but it's completely invisible and everything else seems to hit at the right point. The dress ends just below my knee caps. It has a back zipper but the fabric is stretchy and I was able to pull it over my head no problem. I'll likely be wearing it New Year's Eve too and looking for other occasions to rock it! HIT!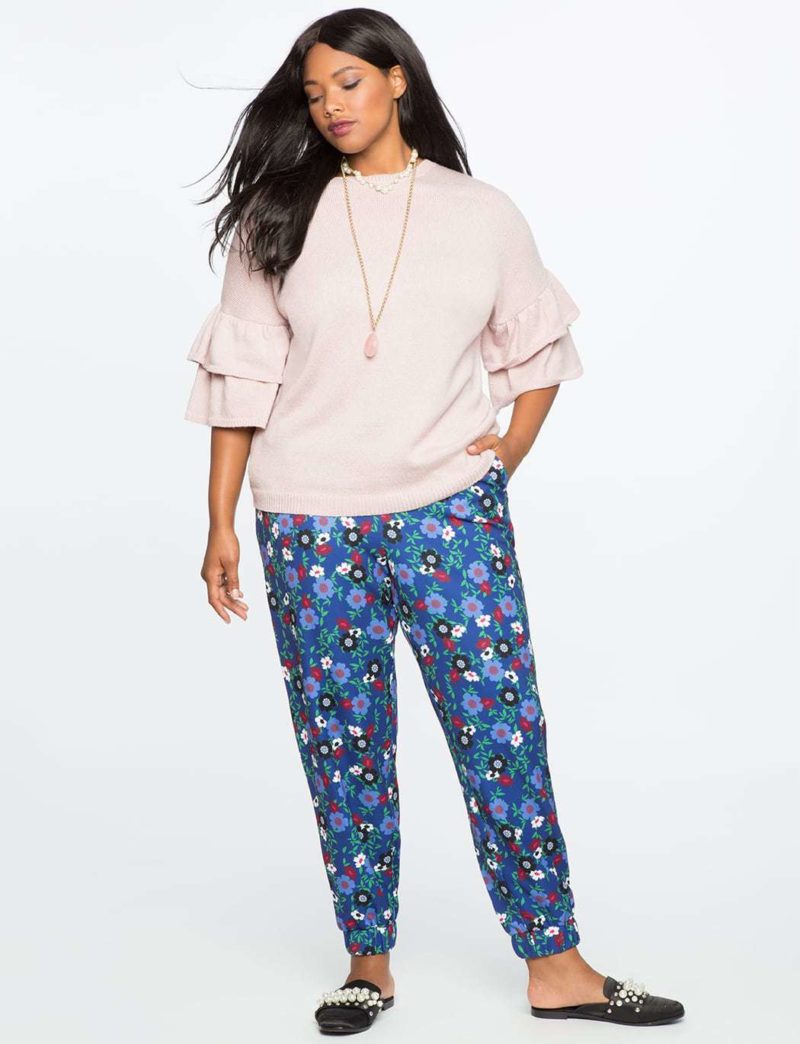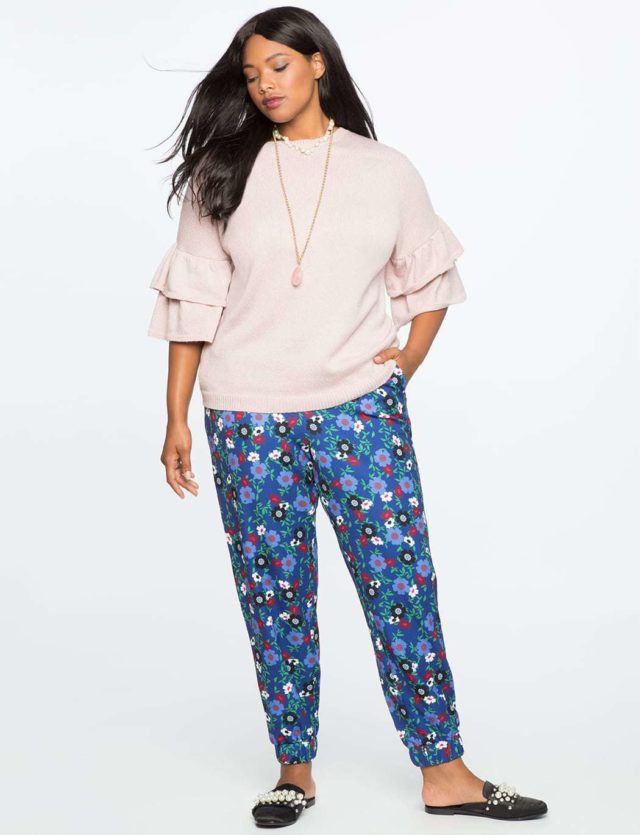 I really wanted the wrap sweater in blush but at the time it was sold out so ELOQUII sent me this one instead. It's not itchy, it's not bulky, but it's thick enough to give some warmth, be opaque, and not cling. Since I'm short this sweater is long, like goes past my bum long, but that makes it's easy to tuck in. It has a straight hem and is a straighter cut like a sweater that should end mid-hip, so leaving it untucked on my short frame looks odd. I think it also has to do with the sleeves which are really voluminous. But by folding the hem under or tucking in, it looks more balanced. I don't adore this sweater, but I know I'll wear it on weekends with grey jeans and some Adidas or glam it up with coated jeans or faux leather pants and heels. So it's not at all a miss, but not the biggest hit.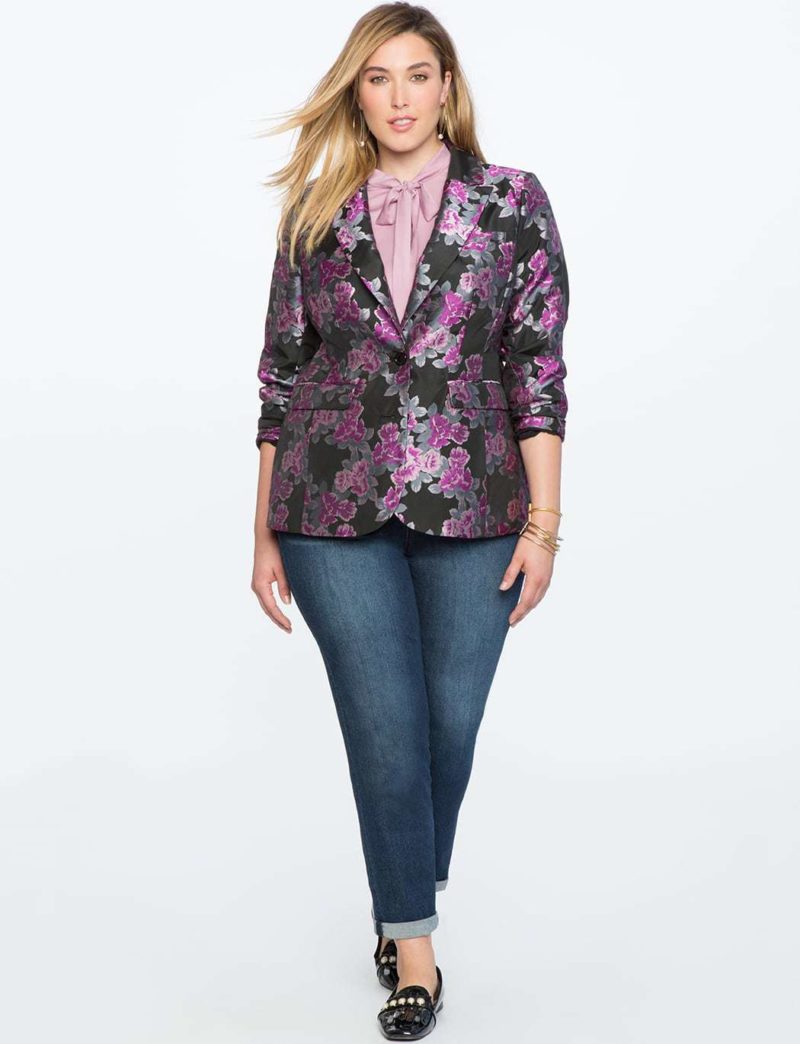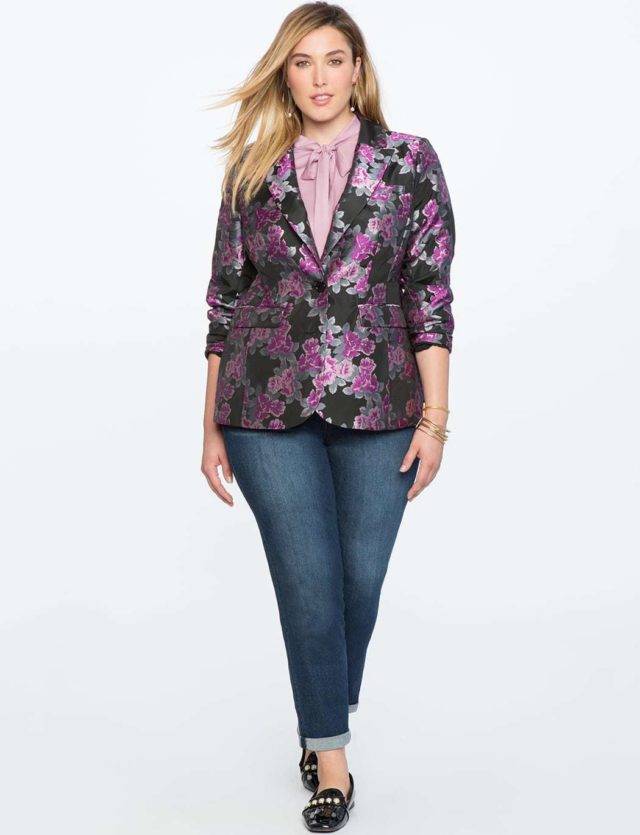 I tried a brocade suit from ELOQUII before and it was a bit of a fail but I decided to try again and ELOQUII gifted this blazer to me.  I'm not sure how I feel about this blazer.  It's a bit long on me, and I feel like it needs longer vents in back, but that may because I am petite.  It fits better than the brocade blazer from this spring It's super pretty in person, but I wish the silhouette was a bit more… badass.  This one is very classically cut and designed which if not styled correctly can end up looking Golden Girls.  But I like enough to try and see if I can make it look cool (outfit post in the future).  I'm thinking black coated jeans, a black low-neck camisole, some high heels, and a subtle smoky eye. So not a fail, and I think I can turn it into a complete hit.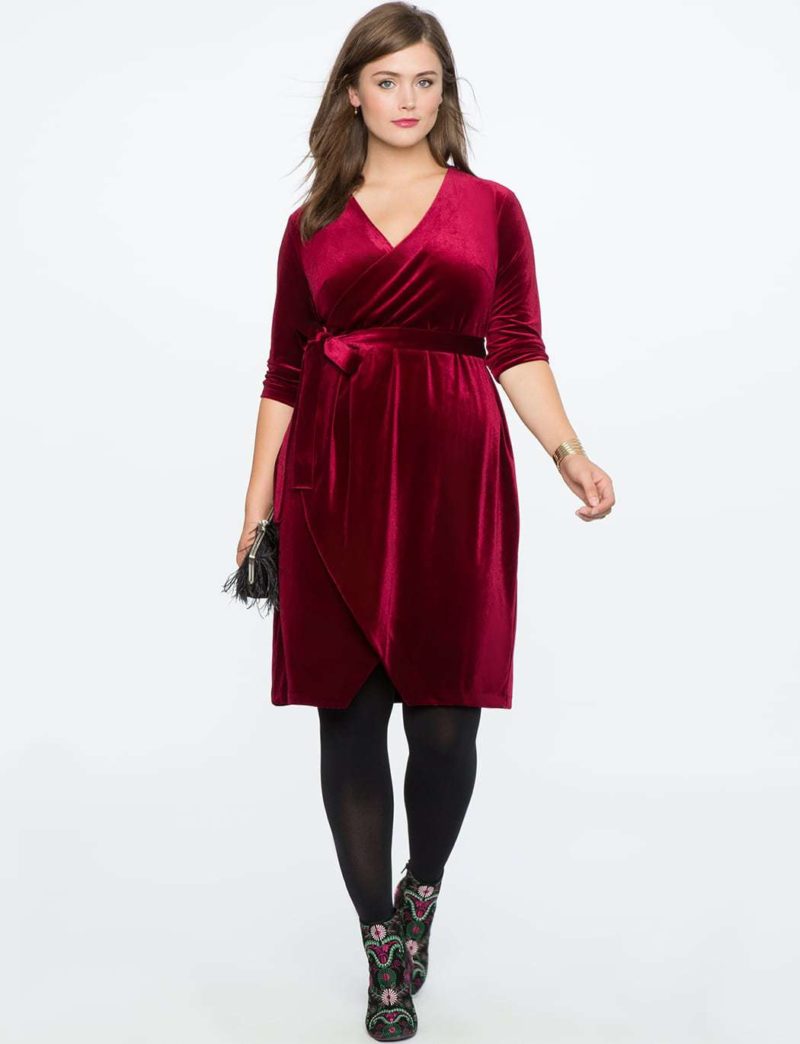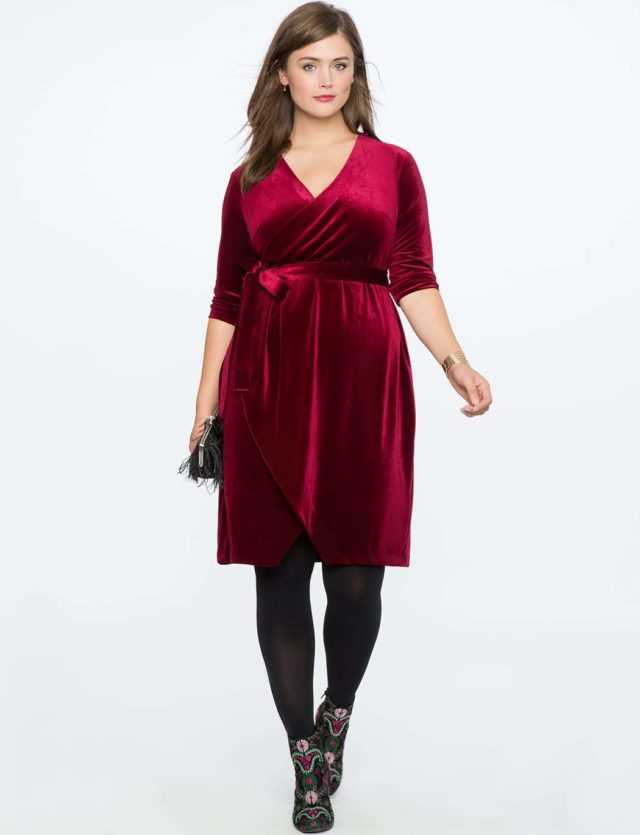 I really really wanted this dress in blue but it was sold out in my size so I got the red, thinking it was a god autumnal color and also great for the holidays. The dress is gorgeous; it's a stretch velvet but not crushed and it doesn't look cheap. Sadly this is one of those pieces where I need to be taller to make it work.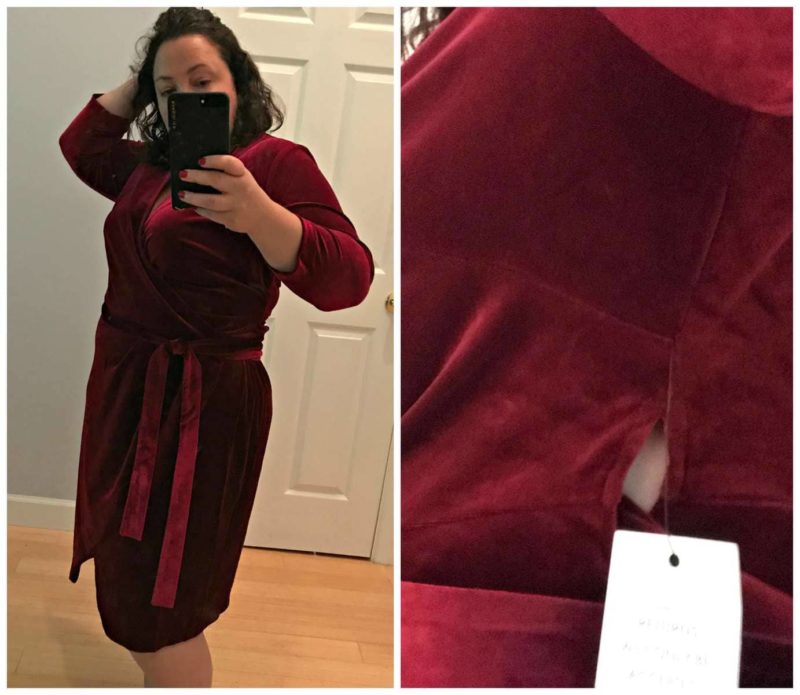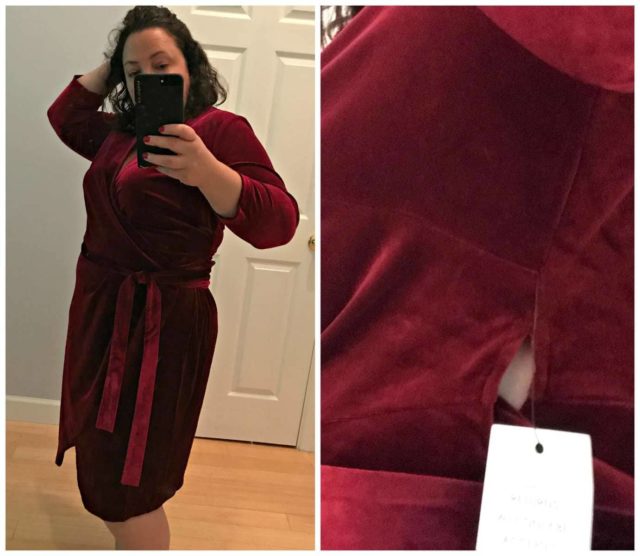 A safety pin at the bust won't cut it, the waistband is at the wrong point and the whole thing is just too long. I also don't like that the hole for the wrap tie is so large, a portion of my skin was showing. I recently borrowed a Melissa McCarthy Seven7 wrap dress from Gwynnie Bee and was uber impressed how they sewed in a little placket to cover this hole so no matter what there wasn't skin showing. I think this is a good idea for any wrap dress but especially for plus sizes and curvy women as we often rely on wrap dresses' ability to cinch here and let out there to work with our hard-to-fit figures. However, I may be in the minority in having this issue with the skin showing as this dress gets rave reviews online and from people I know in real life who own this dress. So if you're taller, consider this dress but for me it was a fail.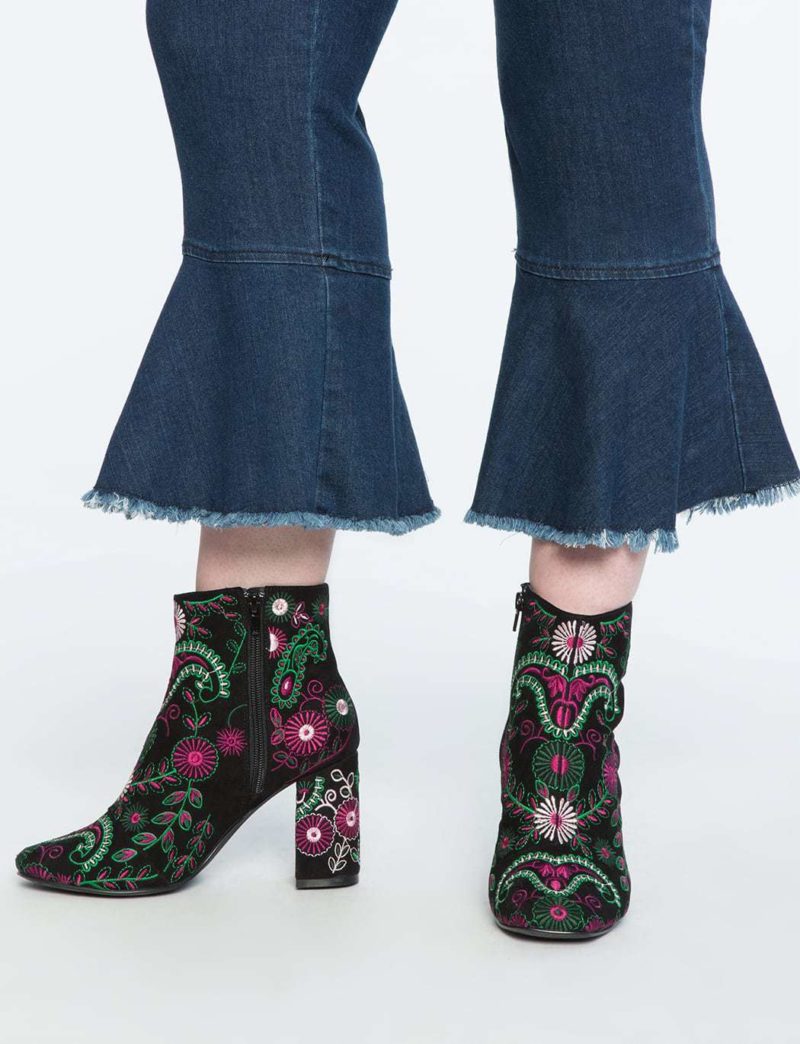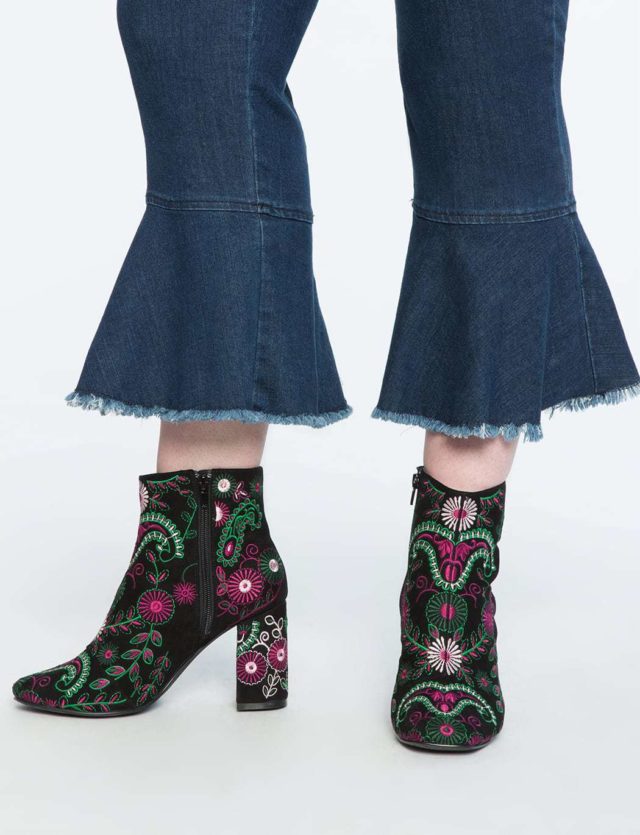 I love the embroidered boot trend, and was psyched to see ELOQUII embrace it. I have feet that are a bit wide; I have to do wide for sandals and strappy shoes but can usually do medium for boots. However, a lot of boots are too tight on my ankles and I can't zip them up. ELOQUII's boots are wide width, so I figured they'd also be wider in the ankle. Sadly I was wrong. These boots fit amazing in the foot, comfy but not too roomy. The embroidery looks exactly as it does online, the shoe looks great. However, I couldn't zip them up so back they went. Fail.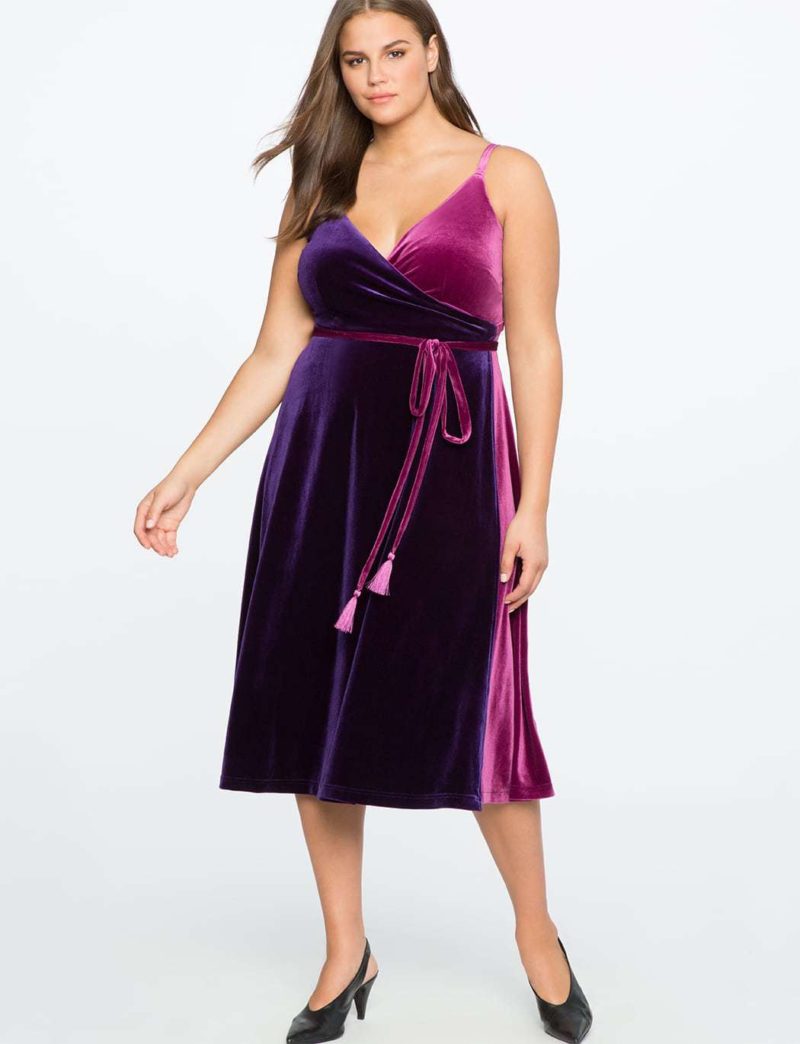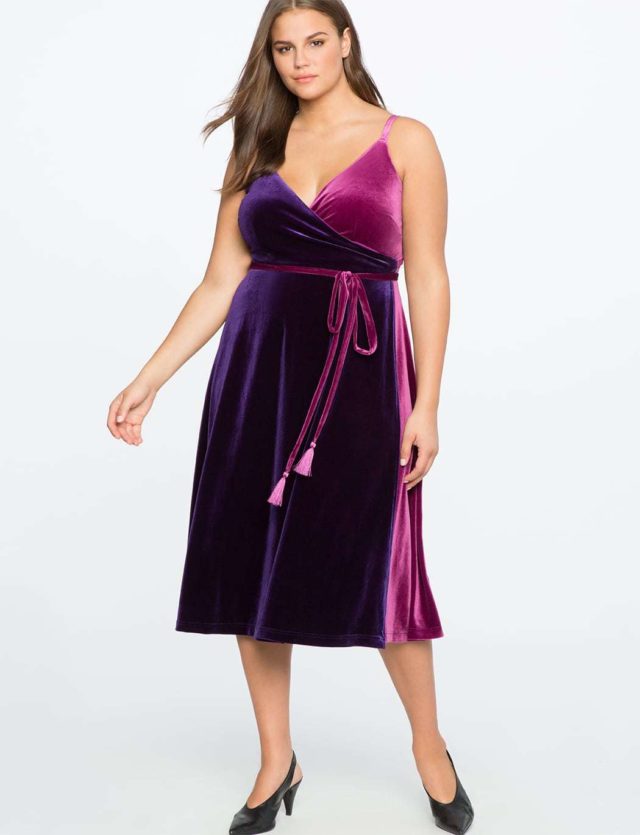 No idea what I was smoking when I ordered this dress. But I did because it looked pretty. Like the other velvet dress it's just too long for my short body. But also there's no way you can wear a bra with this dress.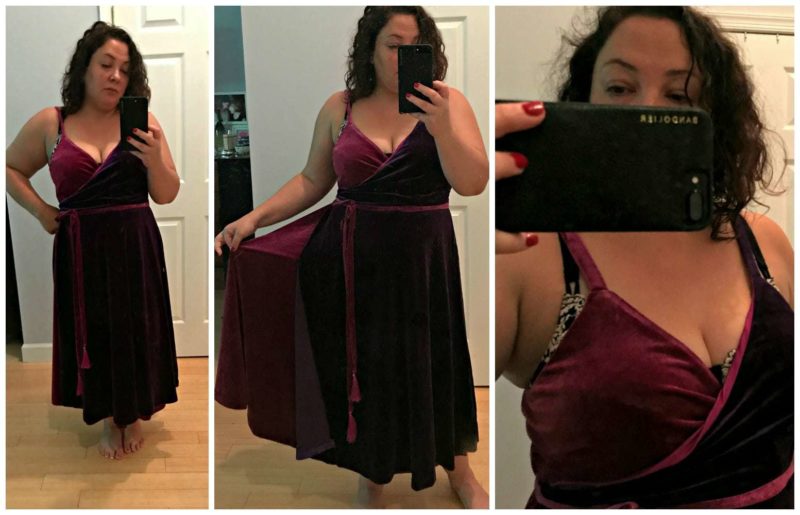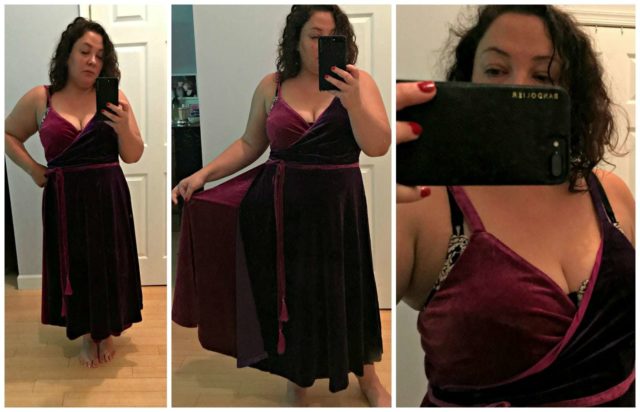 Side boob, cleavage, back of bra, straps, essentially the whole bra is on display no matter how low-cut or strapless or whatever. And well, plus size women usually need to wear a bra. And the way it hung on me, it couldn't even work with a top under it. It looked like a bathrobe that got transformed into a dress, and not in a cool Project Runway challenge sort of way. Too bad, the colors are even more gorgeous in person. Fail.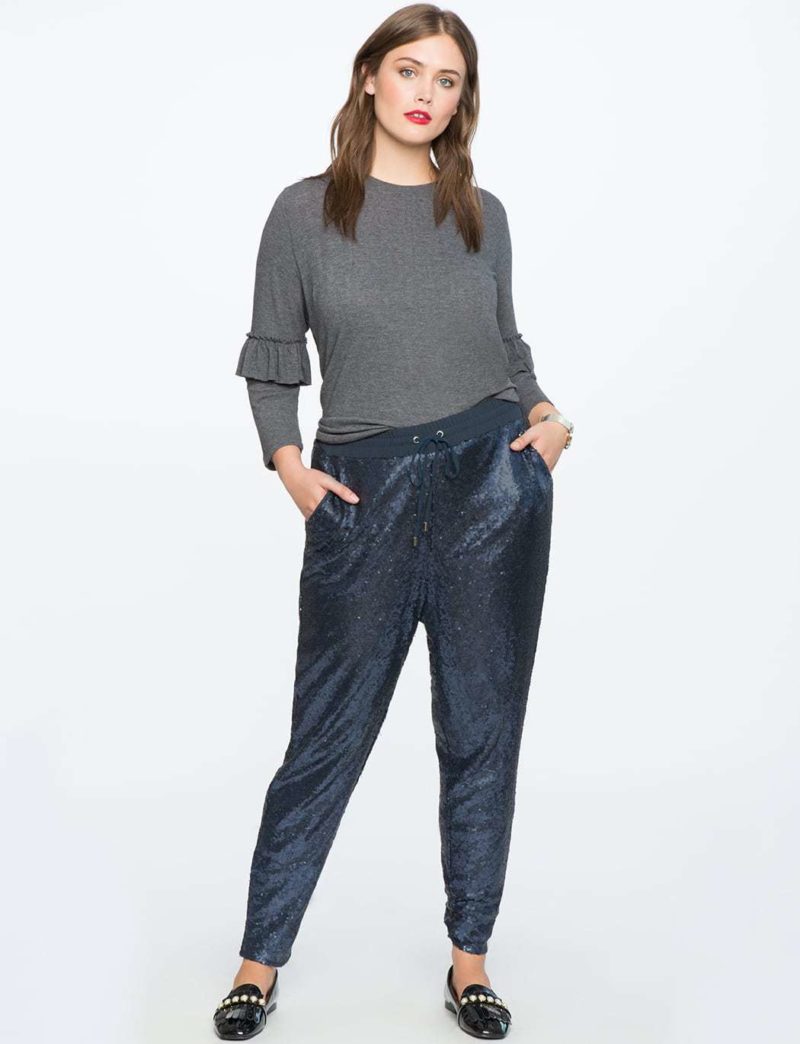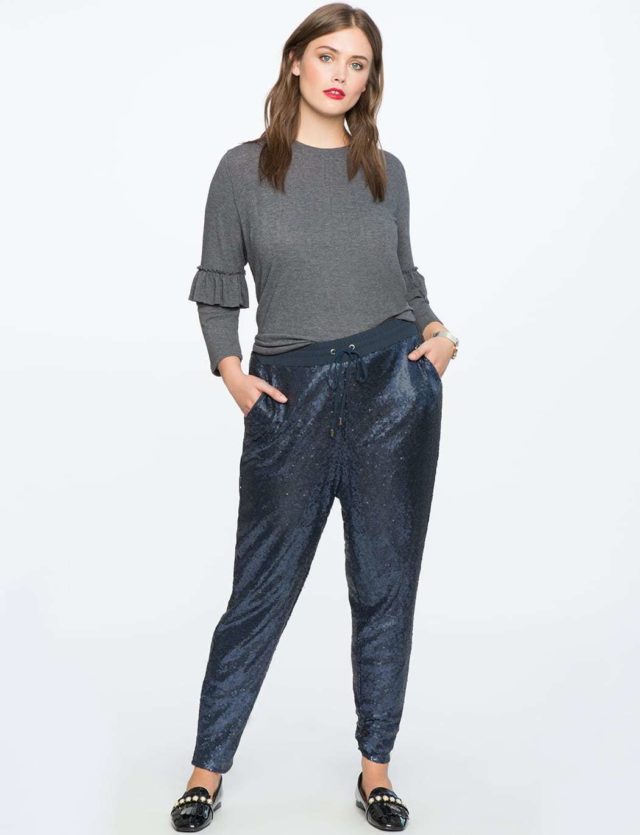 I love the jogger trend but with my big calves they always end up looking like ill-fitting regular pants on me. I figured if the joggers were made by ELOQUII they'd have room for my calves and if too long could sort of puddle at the bottom like harem pants. I'd wear with a black drapey camisole, maybe a tux jacket. Well yes there was room for my calves and probably a whole baby cow in those pants.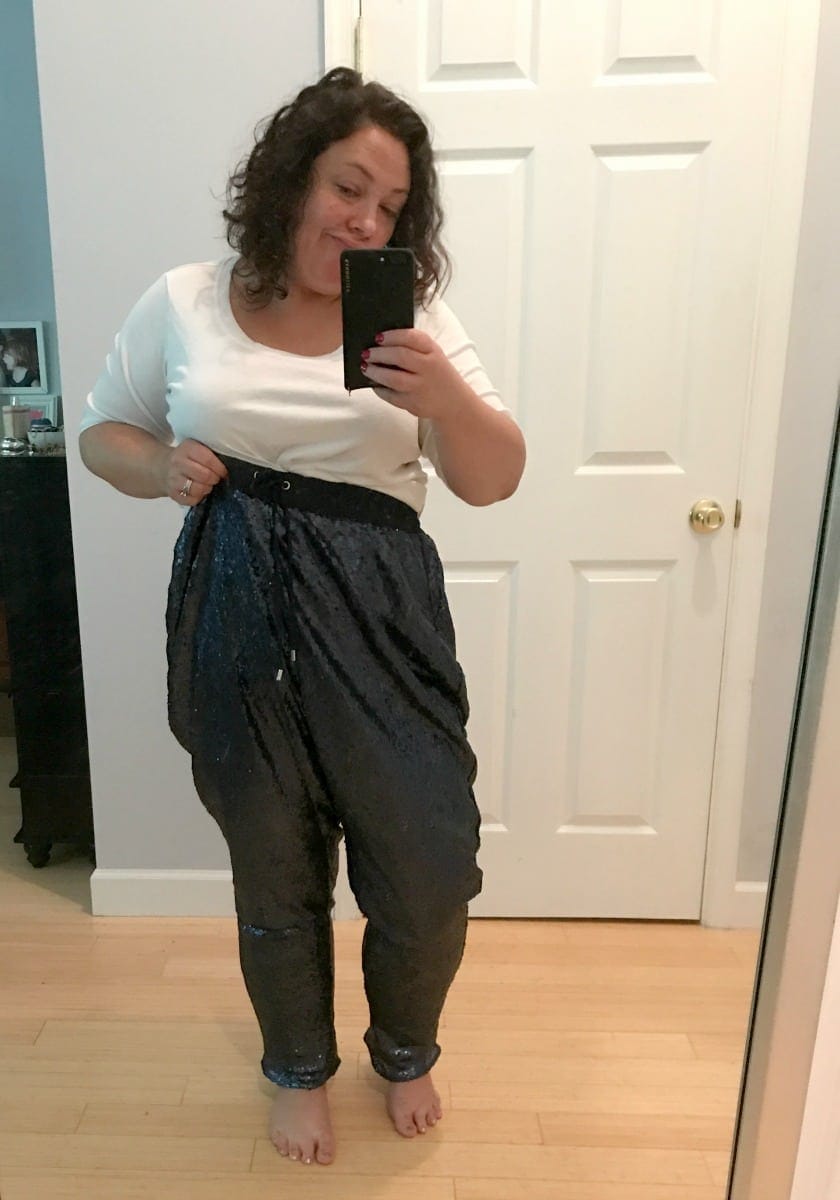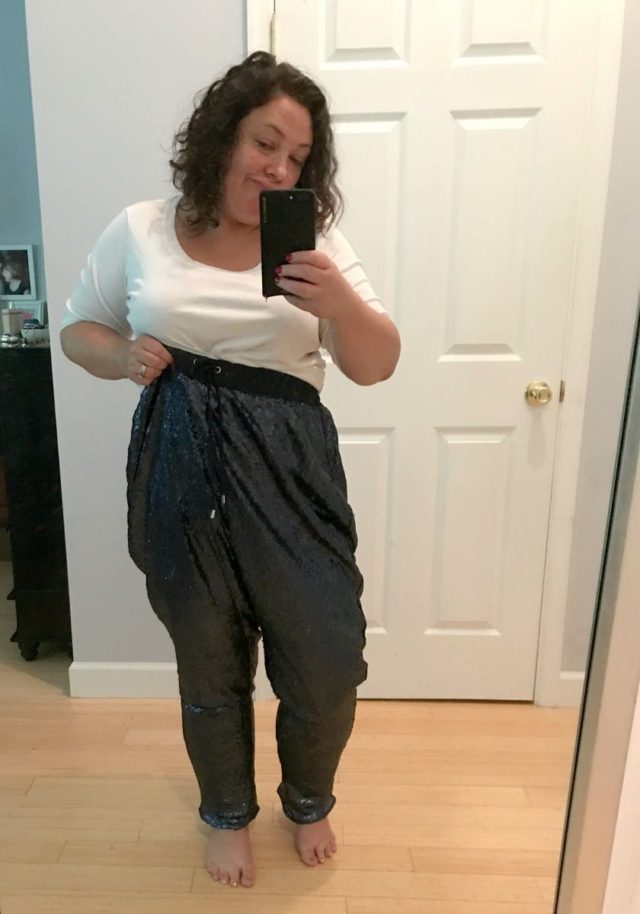 They were soooo big, I could almost pull them up over my breasts and make them a jumpsuit. And even so the legs were too long. The whole thing was comical. Too bad because the pants are really gorgeous in person, small sequins that don't look cheap or cheesy and don't shed and nice details. If you're taller, size down. Otherwise, fail.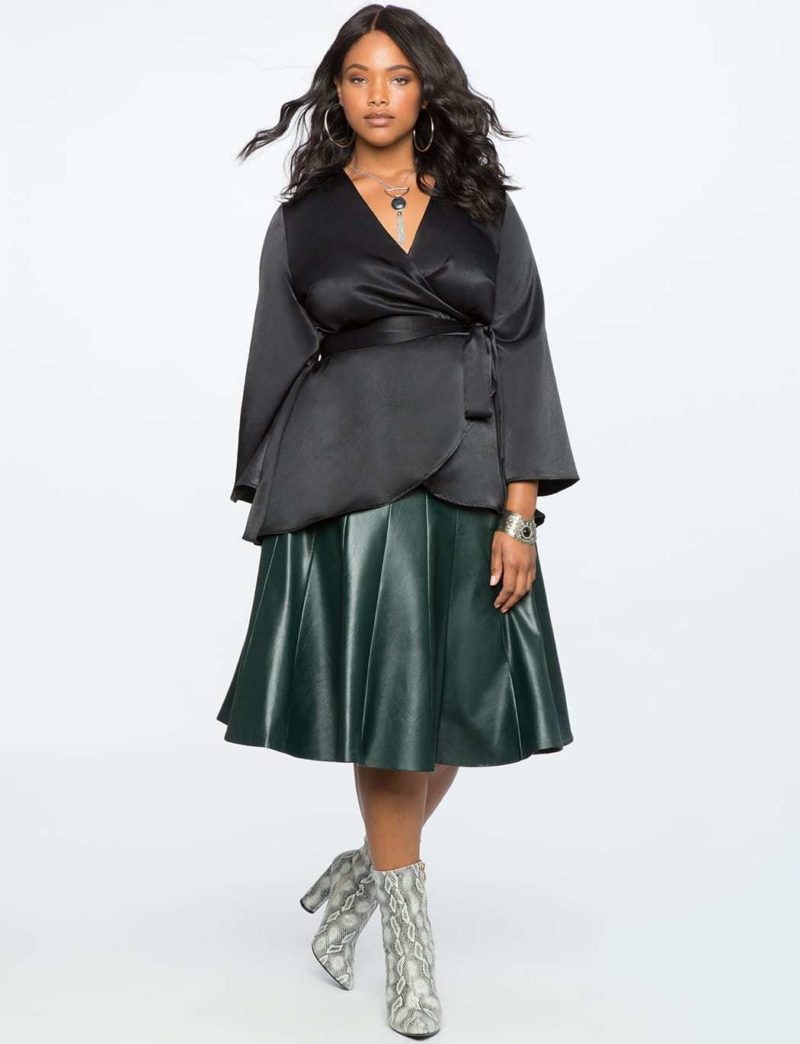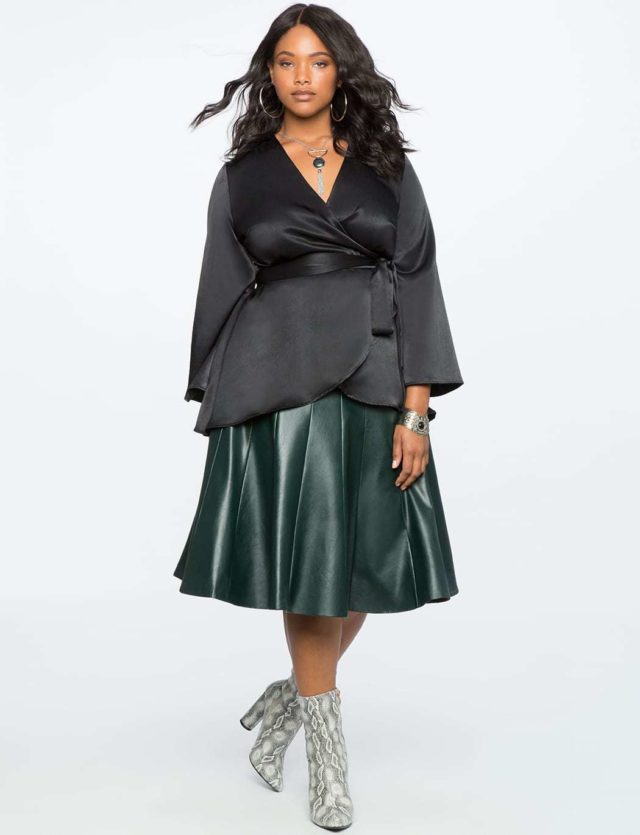 I saw this blouse in the ELOQUII store in Pentagon City and HAD to have it. ELOQUII was kind enough to gift it to me. I love having a dressy blouse like this in the closet. Pair with wide-leg pants and heels for an evening event, with skinny jeans and boots for a night out. This top is clearly made for a taller person but I just don't care. I wore it last weekend with skinny dark jeans and black pointed toe pumps and a clutch for dinner out. It's long, like a tunic on me and I need to safety pin the neck and have good posture but I freaking love it.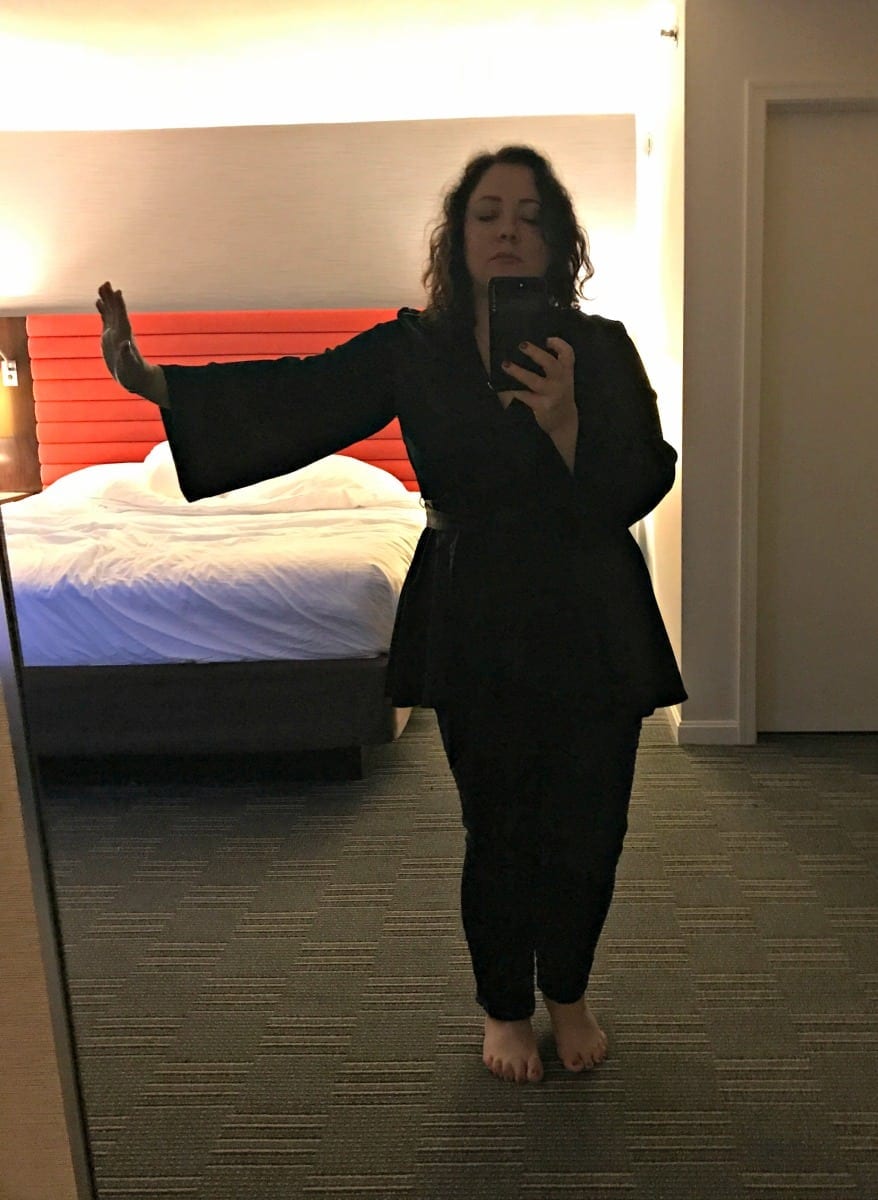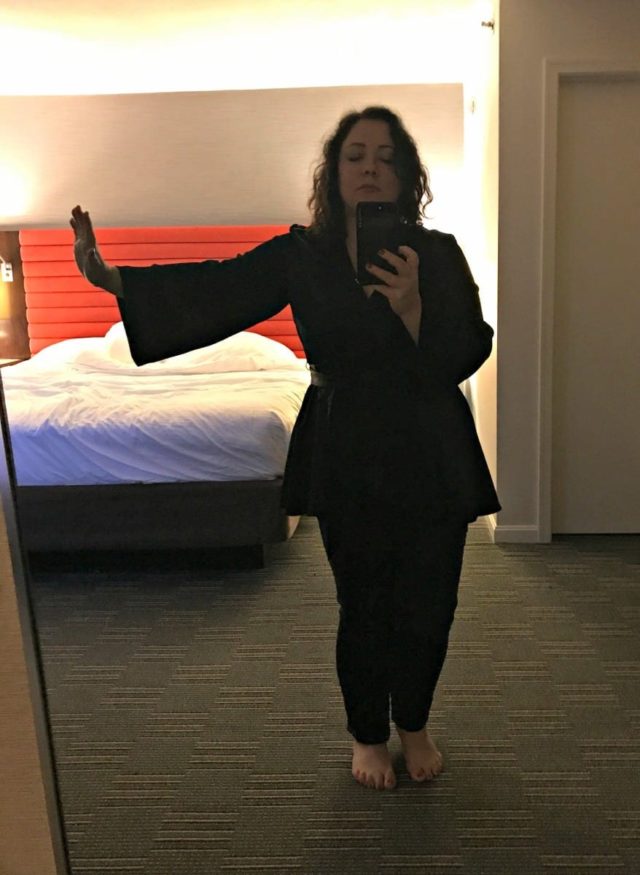 It's soft and silky with gorgeous lustre. It feels like you're wearing an elegant piece of lingerie, and I felt very cool in the outfit. And when I by chance spill a bit of your dinner on it, you have a couple seconds to blot it off before it leaves a stain. Heard it from a friend, I'm never the type to spill all over myself at every meal, never oh no not me. But in case you are, it's both soft, expensive looking, and a bit stain resistant! I saw the Smoky Cream in person and it's utterly gorgeous to the point I was torn which color to get. It looks expensive and is opaque. If you're taller than I, this is a good buy. Win!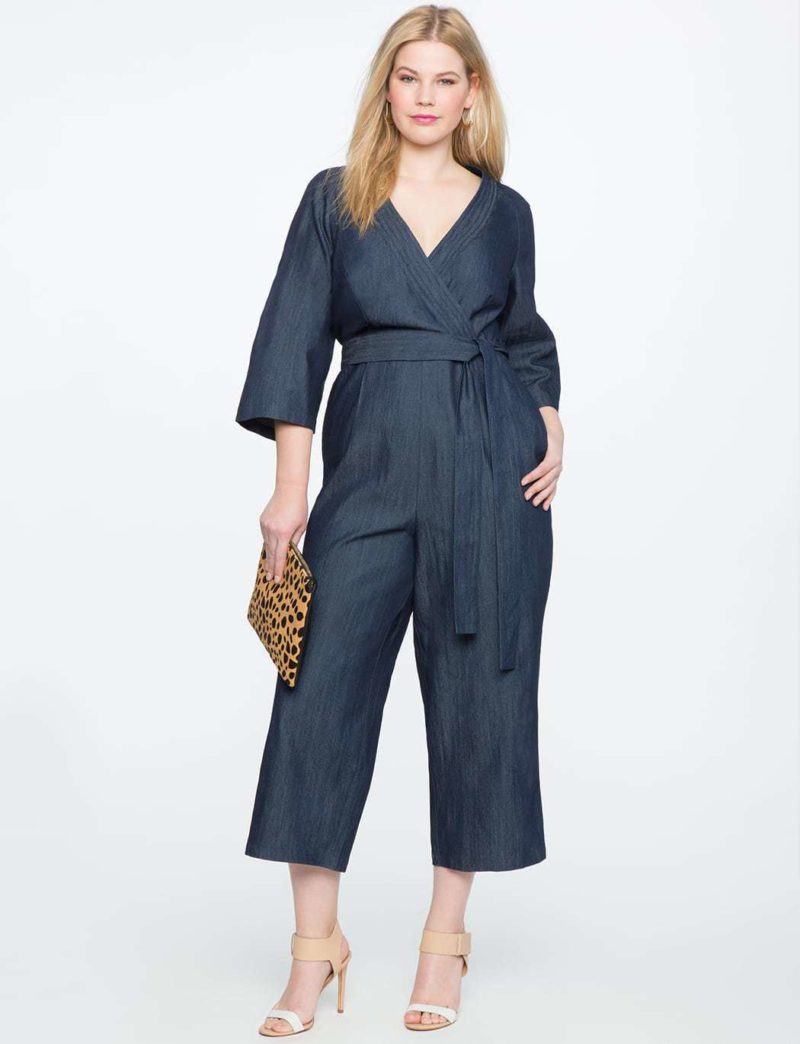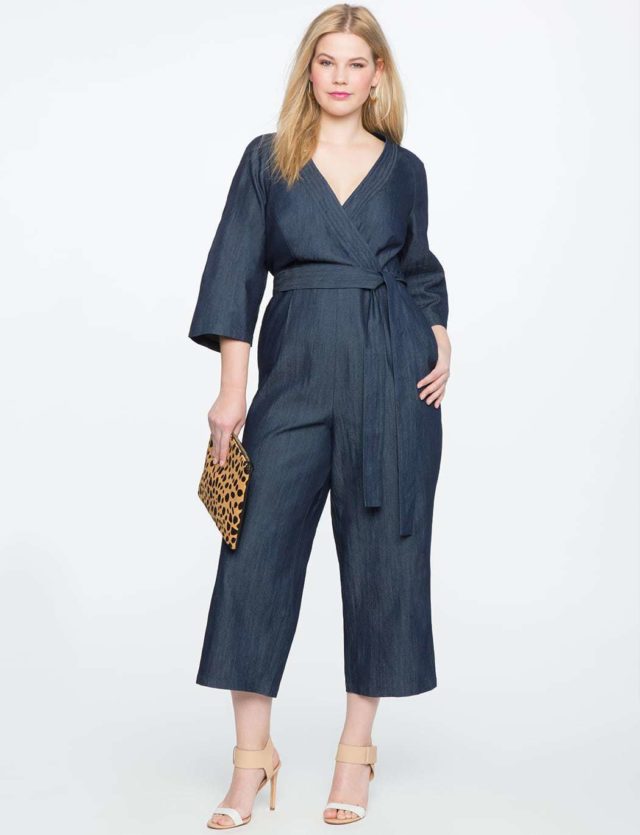 I saw this cropped jumpsuit and thought just maybe, on me it may be full length? So I ordered it. And I am so so glad I did! This jumpsuit is a wardrobe fave. I've been wearing the heck out of it and I've only had it a bit over a month. I wore it to work, I wore it to a conference, I wore it to a concert, I wear it hanging around the house, I wore it to Target and four women stopped me to ask me where I got it.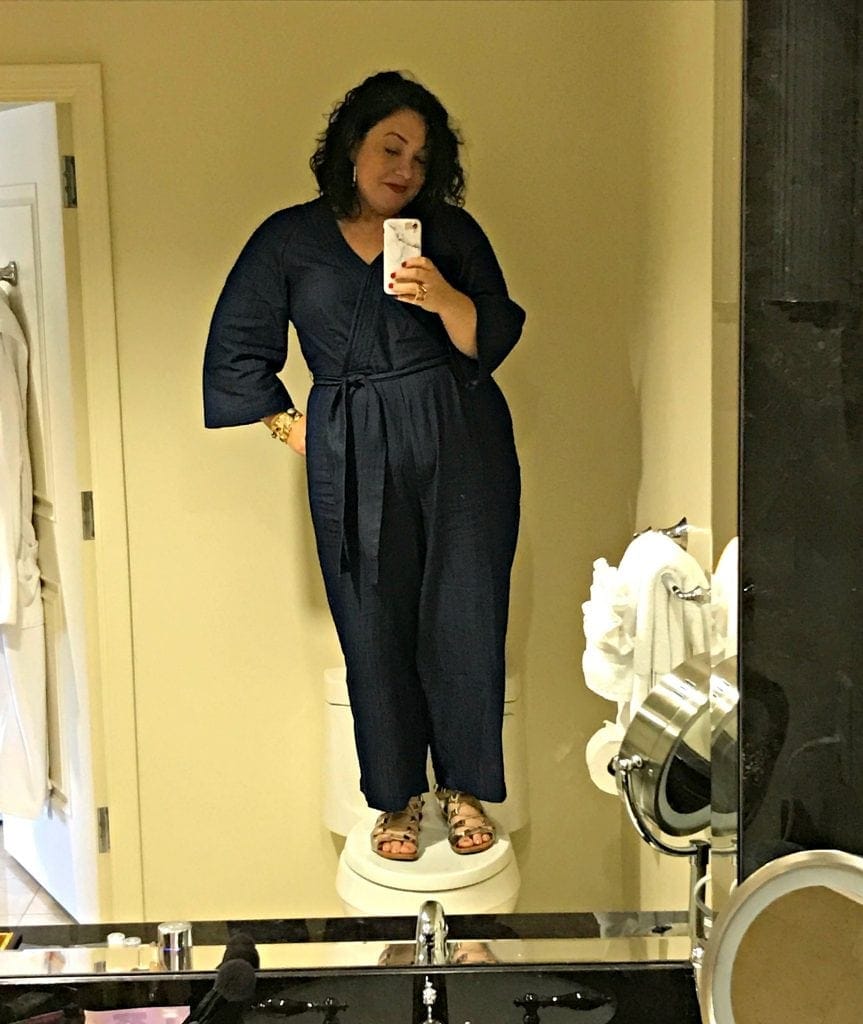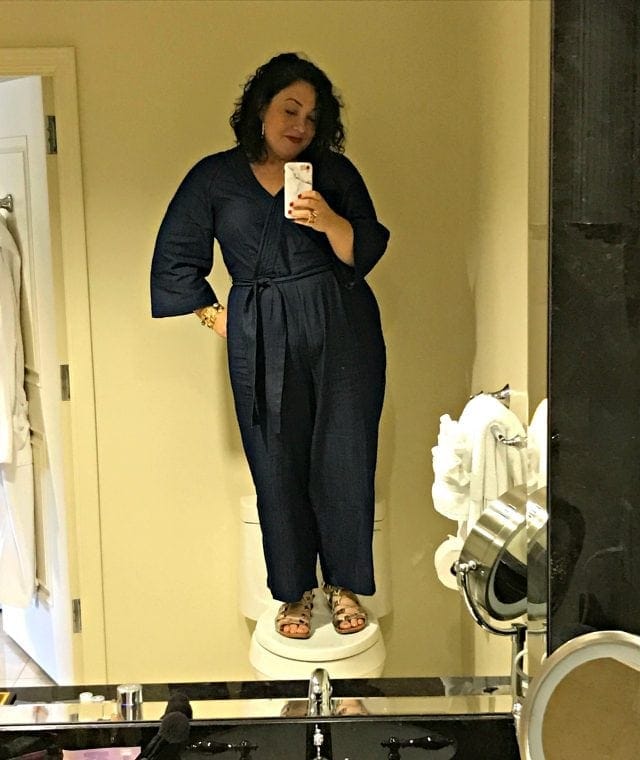 It's not quite full length but a slightly cropped length I think looks best with a flat shoe (I've been wearing with my Bella Vita gold sandals but need a replacement for fall… maybe the Rothy's I just ordered…). The fabric is light, but doesn't really wrinkle. It looks super expensive. It holds up looking great all day. It has deep pockets. It looks like live in an airy NYC loft and use Vintner's Daughter and wear aviator-shaped fake glasses and are BFFs with beauty editors. But I sort of Allie it up with the gold sandals and really big gold earrings and red lipstick. But I think it's versatile, it's comfortable, it definitely needs a Zipper Genie, but it's a big time win.