This article may contain affiliate links; if you click on a shopping link and make a purchase I may receive a commission. As an Amazon Associate, I earn from qualifying purchases. 
We're having a couple more crazy weeks at my job. Vacations, family circumstances that have had people out of the office and clients hoping to get the world created in a day. On top of that, there's still weddings and showers to shoot and attend, family situations and babies who are learning to eat solids and are going to crawl any day now! However I will still try to post regularly to keep this lovely blog (and you readers) going.
As you have noticed, comments are currently turned off. I just don't have the time and was going through a bit of guilt not responding to comments and questions. If I turn them off… then I don't get an Inbox full of sweet comments and valid questions and a head full of guilt and thinking I cannot maintain a proper blog. I hope to turn them back on very soon. Do know I wouldn't leave you readers hanging – if I ever did plan on ending this blog I would provide notice. And that is NOT the plan any time soon! 🙂
Friday – Sunday
This past weekend I returned to the beach. This time it was the annual trip with my mom and sister (see 2008, 2007 and 2006) and we brought Emerson along for the ride!
What I packed:
– White Gap low-slung flare trousers (two pairs – were on sale and then got 30% off!)
– Old Navy puff sleeve tees – black and Kelly green
– Gap ribbed tanks – White and black
– Ann Taylor matte jersey wrap dress in black
– Callisto heeled sandals in tan
– J. Crew flip flops in black
– Miraclesuit one-piece in black
– Old Navy jersey flippy skirt in black (wear as skirt and also as tube-top style beach coverup)
– Aqua sleeveless v-neck sweater tunic from Gap (has ties at the shoulders – think on clearance right now)
– Black yoga pants and dark red Bravado nursing tank for PJs
What I wore on the trip down:
– Gap low-slung flare trousers in light blue-gray
– Purple Old Navy v-neck tee with silkscreened pattern on front
– Flip flops
After unpacking, we headed out to Rehoboth Avenue to grab lunch and do a bit of shopping. I switched out of the silkscreened tee to my black puff sleeved tee and added a bit of silver jewelery.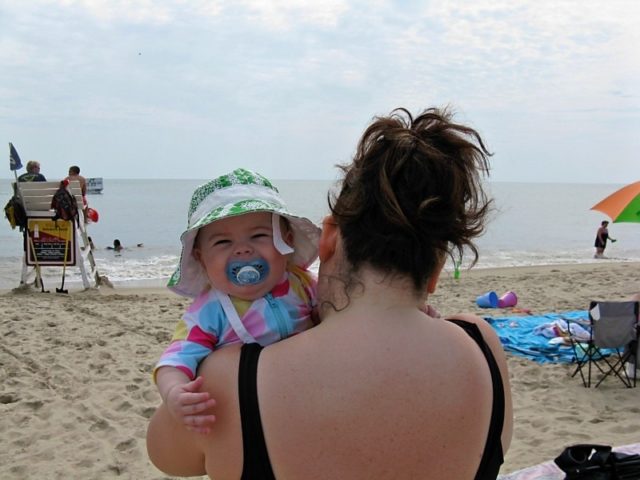 Friday night I didn't go out because Emerson and I were exhausted. My mom and sister brought me back dinner and E slept while I had a pajama party eating decadent Italian from Adriatico in my bed while watching The Soup. Not too glamorous, but it really was a treat after how hectic life has been as of recent (and Emerson slept through the night too!).
Saturday we went to the beach all day. I wore the black jersey skirt, the green tee and flip flops. I pulled up the skirt to be a beach coverup when necessary, and threw back on the tee when we headed back to dry land for lunch and when we went back to the hotel. The bod is not back to normal, and a Miraclesuit did a great job at pulling everything in. This is the one that I wore – I felt that the neckline did a good job at not making it look like a "Mom Suit." I may BE a Mom and I may not be skinny, but I don't want to look dumpy or dowdy! This Mom still is hot! 🙂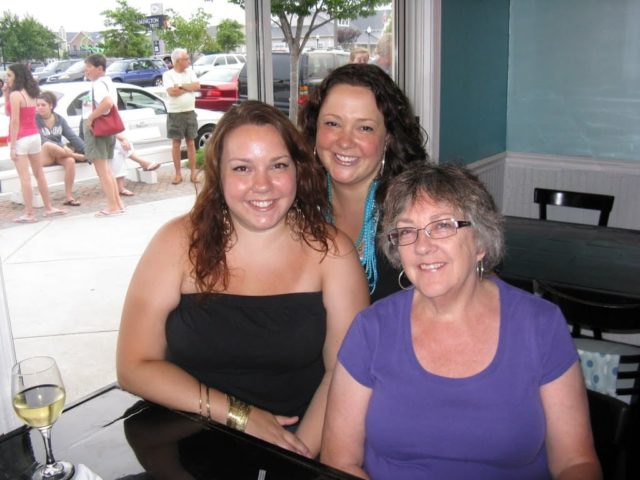 Saturday night we went out to dinner and roamed around the town a bit. It was still an early night because I didn't want to get Emerson off her sleep schedule. I wore the black ribbed tank over the white one, the white trousers and a new turquoise multi-bead necklace I purchased the day prior. Tan sandals with the look.
Sunday we had breakfast and then headed to the outlets to do a bit of shopping. I wore the aqua sweater with white trousers and the tan sandals and silver jewelery. We didn't stay at the Outlets long because we didn't want to torture Emerson but I did get two really cute tops from Banana Republic Outlet!
The beach was really fun, and Emerson LOVED the hotel pool. She was a bit freaked out by the waves and putting her feet in the water and sand, but was fascinated by it when safe in my arms. I look forward to taking her back again next year!
Monday: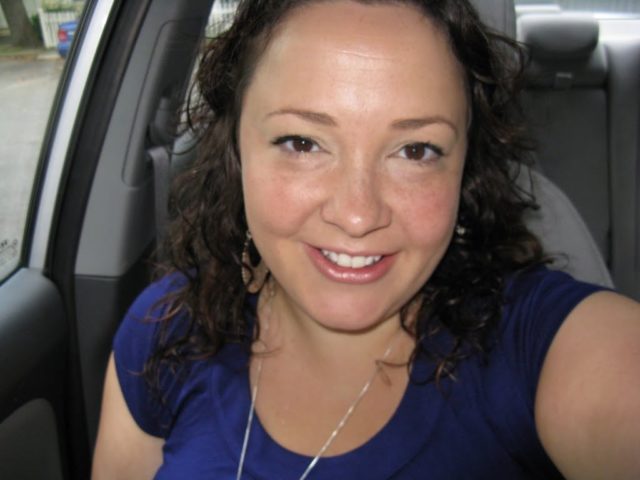 Attire:
Banana Republic Outlet – Indigo Jersey top
Gap – Low slung flare trousers in White
Sofft – Black patent T-strap heels
Silver jewelery
Hair:
Only conditioned with Matrix. Curl.Life conditioner (trying to shampoo less)
Frederic Fekkai Luscious Curls Cream
Let air dry (sister drove me to work so no wet head on public transportation)
The no-poo worked – I ended up with lovely silky ringlets
Beauty:
Estee Lauder – Nutritious Vita-Mineral Makeup in Intensity 3.0, some beige shadow that came as a gift with purchase
Cargo – Matte BeachBlush in Tenerife
Maybelline – UltraLiner in Black
Cover Girl – LashBlast mascara in Rich Black
Stila – Glossy Lipstick in Amber
Tuesday:
No pictures Tuesday, running late. Too bad because my top was cute. Oh well, you'll see it next week! 🙂
I wore my new emerald green short-sleeved sweater from Banana Republic Outlet with my off-white jeans from Ann Taylor and my orange leather thong sandals from Born. Gold knot necklace from Ann Taylor. Hair was second day and still looked pretty fab – I gently brushed out the ends and then used a touch of Jonathan Silky Dirt to separate and smooth.
Makeup was pretty basic – same Estee Lauder foundation and Cargo bronzer, but I used the Revlon ColorStay shadow quad for a day-worthy smoky eye.
Wednesday: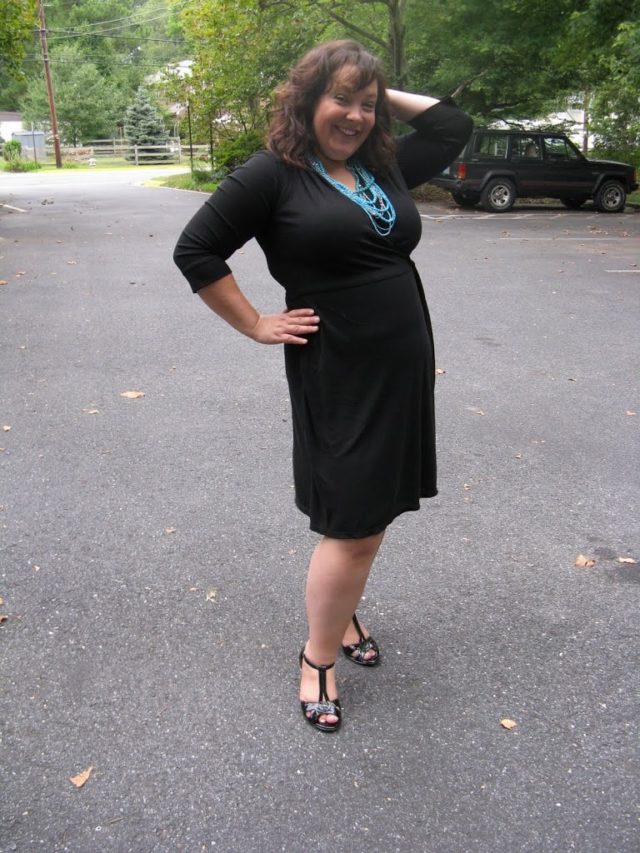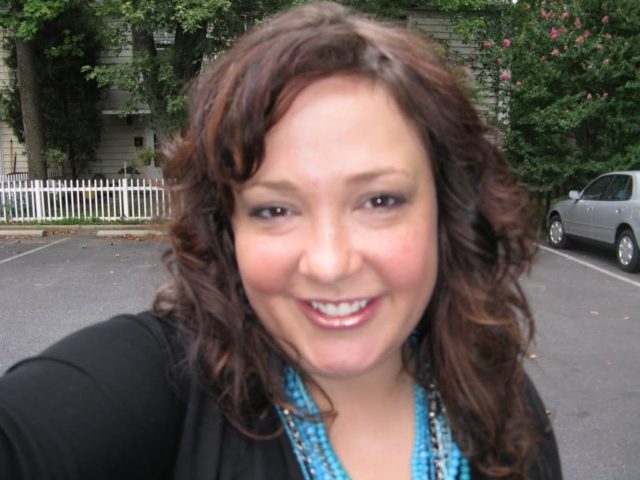 Attire:
Old Navy – my VERY trusty black matte jersey wrap dress
Treehouse – New turquoise multi-bead necklace
Sofft – Black patent T-strap heels
Hair:
Teeny bit of Pureology shampoo, only at the roots and the Matrix conditioner.
Wanted to do the same thing as Monday with the air drying the Luscious Curls Cream, but I showered and applied then E needed to be fed. She likes to yank on my hair and break off the ends while nursing so I have to put up in an elastic to feed her. By time I took it out, my hair looked as though I was in an over the hill metal band. So I took large sections in a curling iron, let the big curls cool, then finger combed. This was the result.
Beauty:
Same Cargo bronzer, same Stila lipstick, same Estee Lauder foundation, same Revlon ColorStay shadow quad. I think it's the same face I had on Tuesday! 🙂
I know it's a corny pose, still trying to perfect the five-second daily photo location. The parking lot of my court isn't that great though I am providing morning entertainment for all my neighbors! 😉