This article may contain affiliate links; if you click on a shopping link and make a purchase I may receive a commission. As an Amazon Associate, I earn from qualifying purchases. 
It was a holiday week, so what I wore last week was a mix of nicer, more casual, and appropriate for long car rides and cold sunrises.
Monday: Luxe Fabrics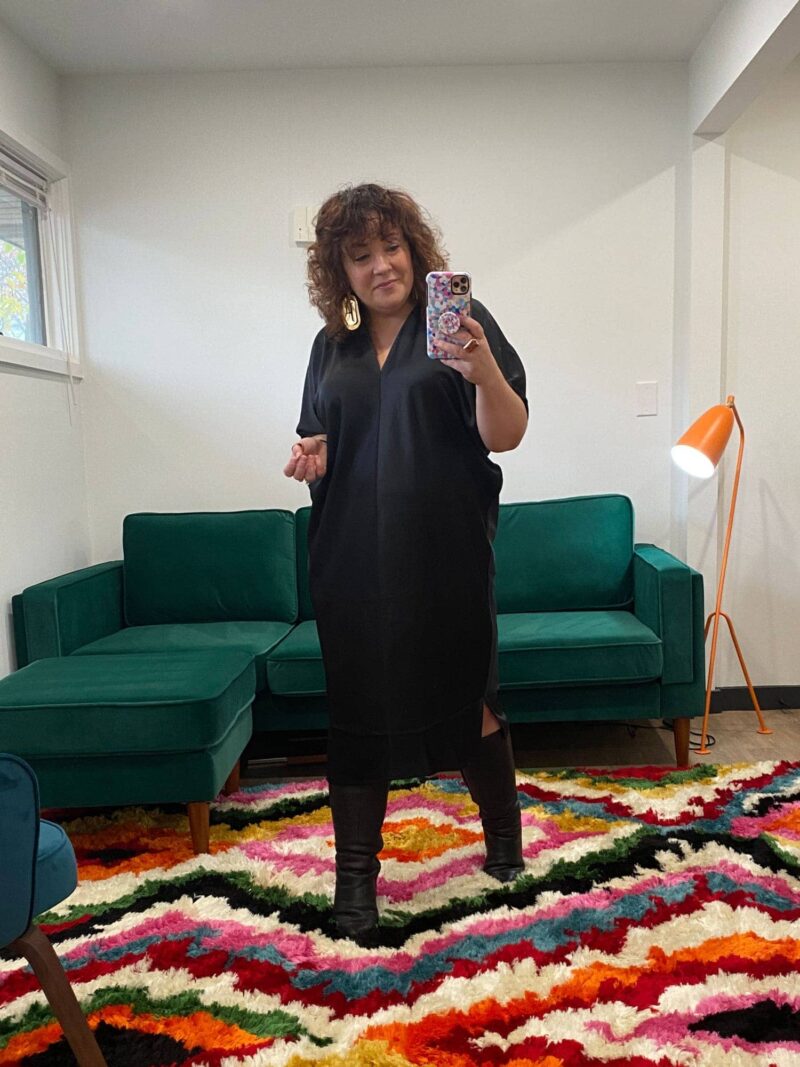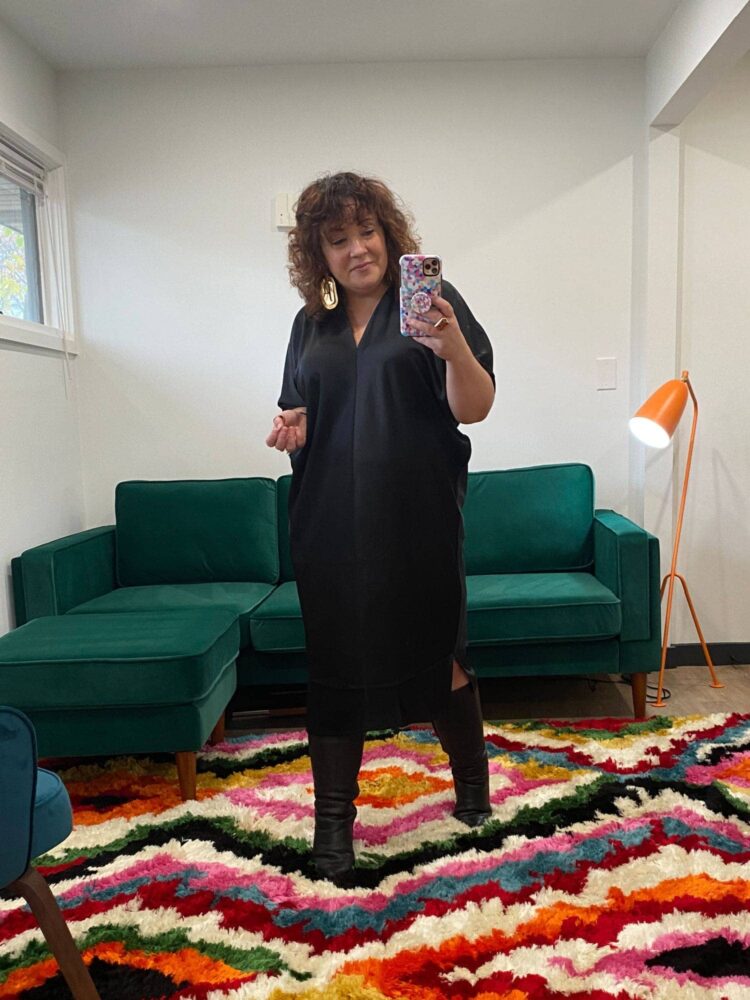 Monday morning, I looked in my closet and immediately gravitated towards my black satin caftan from Universal Standard. This isn't a piece Universal Standard has anymore, but you can often find it in black or snakeskin print on resale sites. It's called the Levana, I am wearing it in an XS. I got it a couple of years ago in snakeskin as a gift from the brand and didn't like the weird silhouette that bowed out on the sides, and didn't like the black stripe down the front. But then when Universal Standard had a sale earlier this year and sent me some pieces to promote the sale, they sent this caftan in black and I really liked it. Amazon how the color of a garment can change the whole vibe.
While this could glam up with heels or even metallic sandals in the summer, for winter I paired it with my old heeled knee-high boots. I felt very art gallery owner in this combination. At first, I thought the look needed a heavy long pendant but it ruined the line and ruined the vibe I was feeling.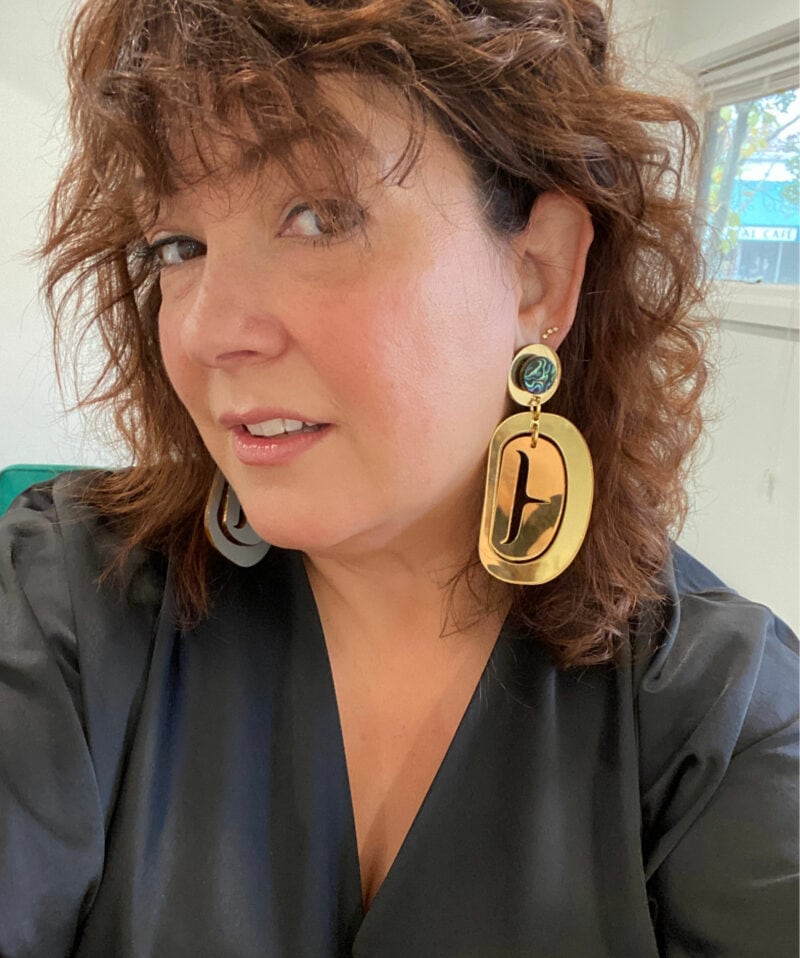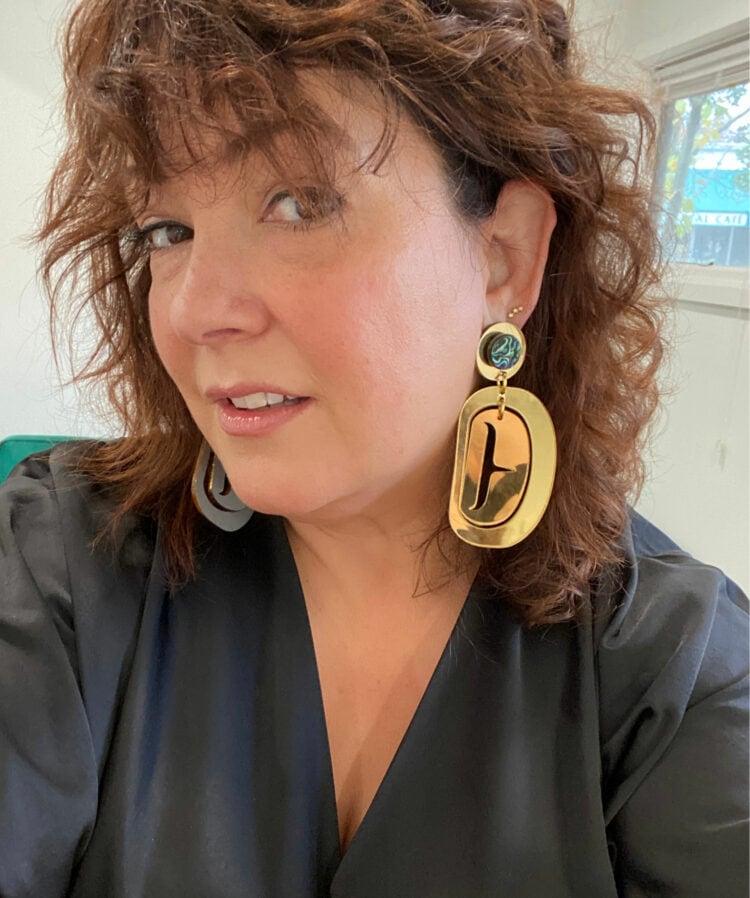 I went through my earrings and decided on these I got at By Yellowtail, an online boutique that features the designs of Bethany Yellowtail as well as other Indigenous designers. These earrings are by Copper Canoe Woman. They're big but quite lightweight. They're made from mirrored acrylic with abalone accents.
Tuesday: Winterizing a Summer Staple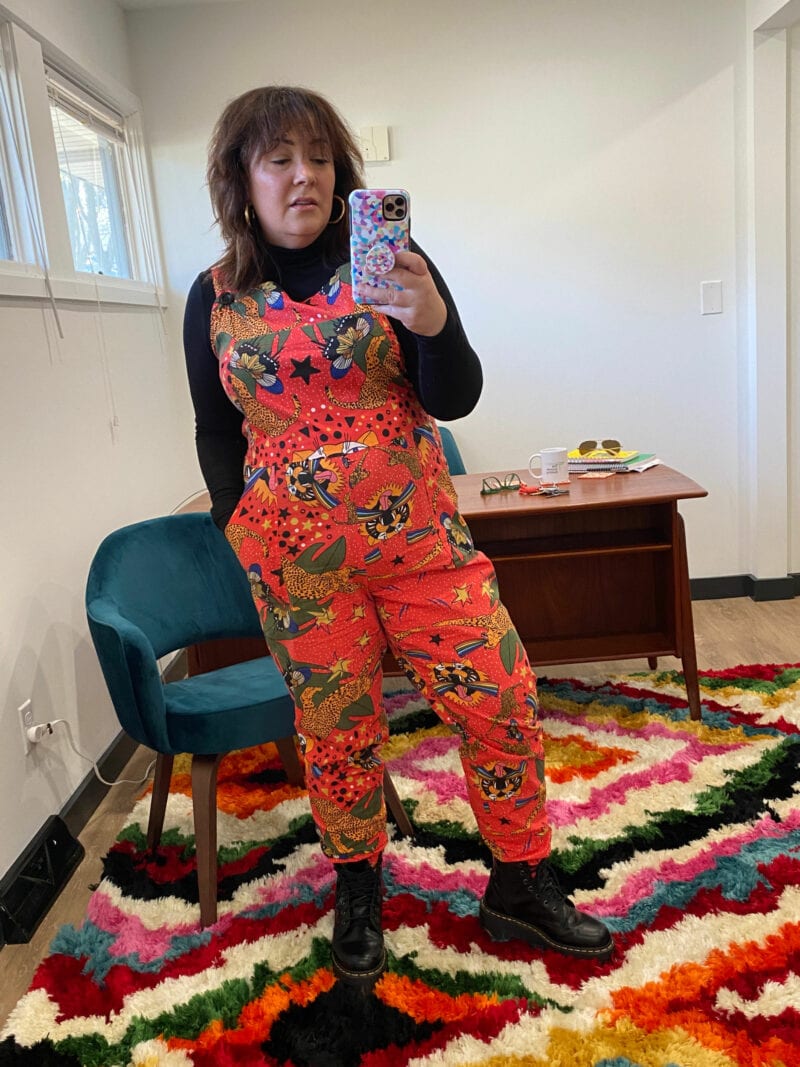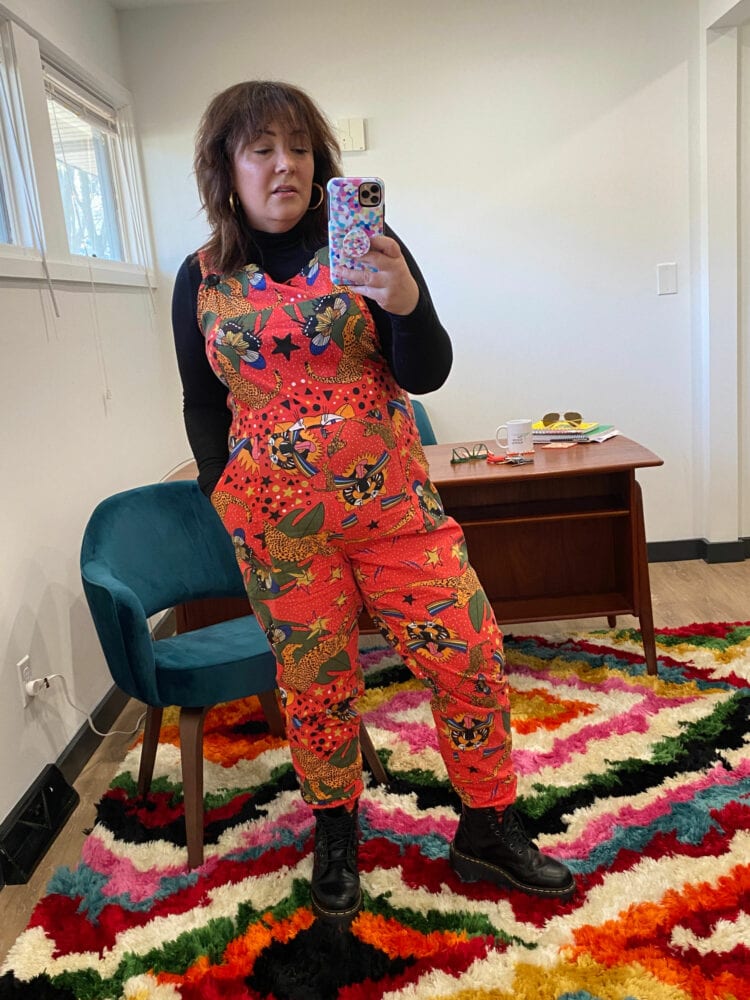 These are the same Nooworks overalls I wore in this blog post. I love these overalls and have worn them a lot the past two summers, but this is the first time I have worn them in cold weather. They're not heavyweight cotton, but I was comfortable enough on a mild winter day pairing them with a turtleneck and boots. This specific pair of overalls are no longer in stock, but Nooworks has a range of fun prints in overalls and jumpsuits up to size 3X (I'm wearing XL).
this is the Universal Standard Foundation turtleneck which seems to be discontinued as Universal Standard only has it left in navy, gray, and white and in limited sizes. No idea why, this turtleneck is amazing. I own three of them and they're so good for layering yet look great on their own too. This turtleneck has been washed and dried multiple times, is three years old, and while it has stretched a bit over time, it still is saturated black and looks great.
I tucked the hem of the overalls into my Dr. Martens' Jadon boots. I like this effect of tucking hems into boots; it gives a bit of a military/flight suit/joggers effect and is also a great way to make those summery shorter hems look good in the colder months.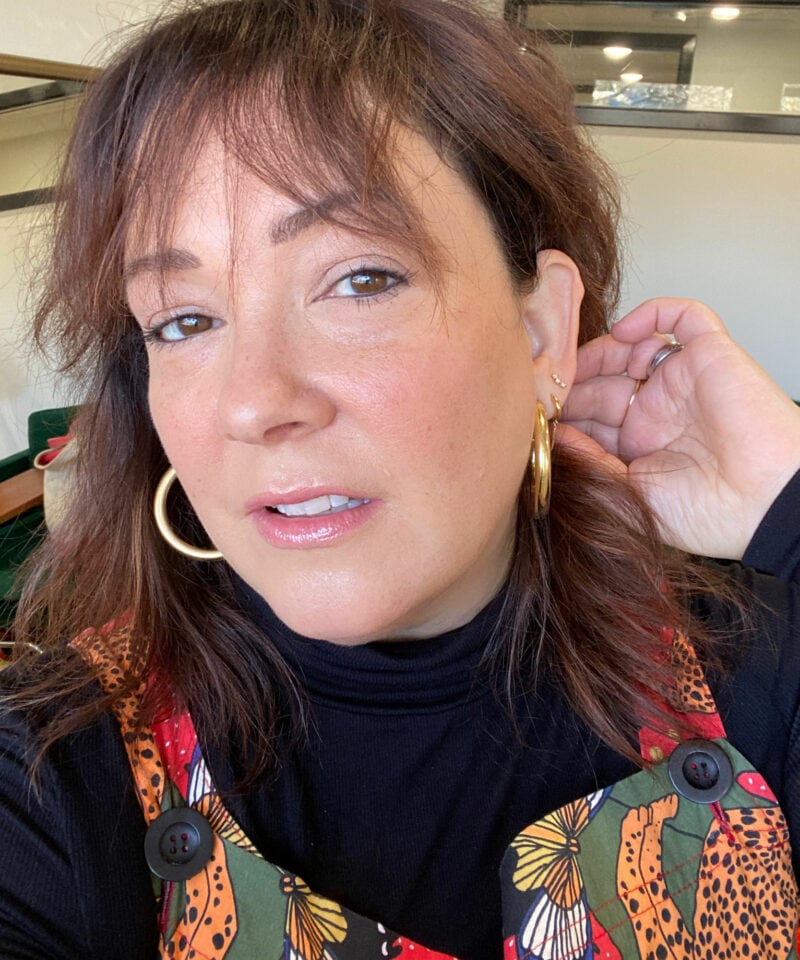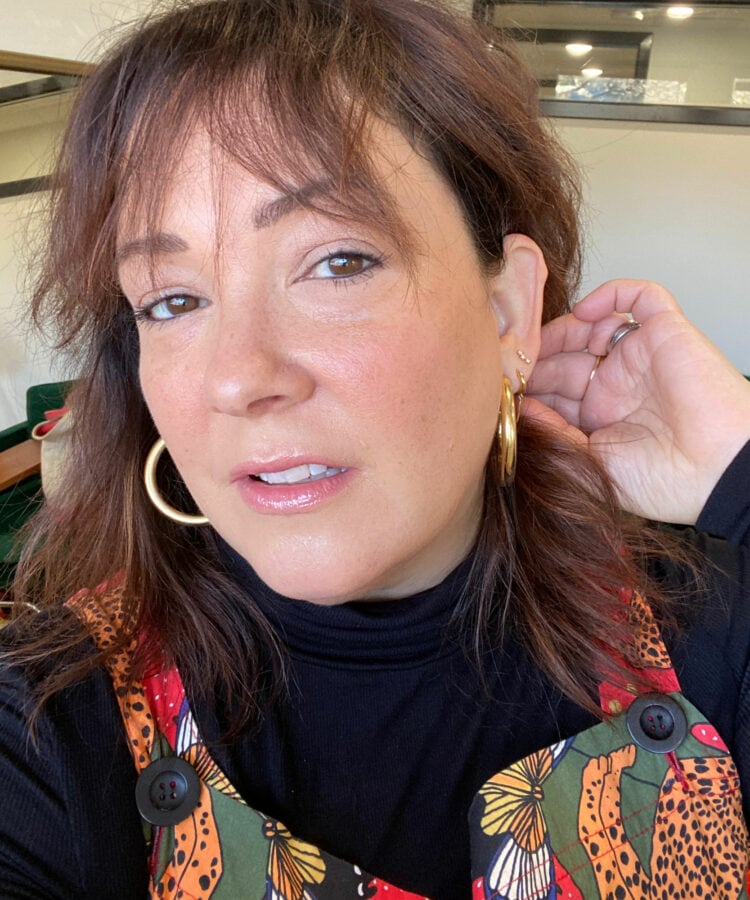 The earrings are the large Dalilah hoops from Baublebar. These have been by far, the most worn earrings I bought this year. They are hollow so not too heavy, they're big but not ridiculous, and when I put on a mask I make sure it goes around them so when I take off my mask, the hoops are like hooks to hold my mask at my neck making it easy to slip on and off.
Wednesday: Dressed in Joy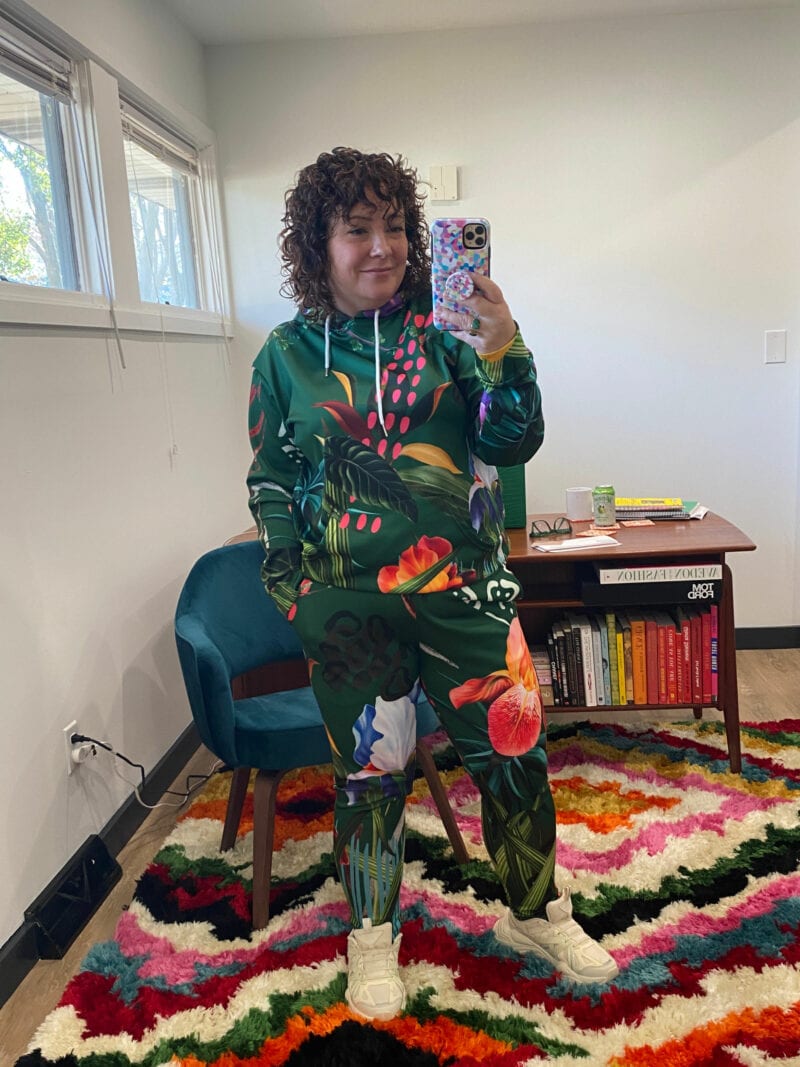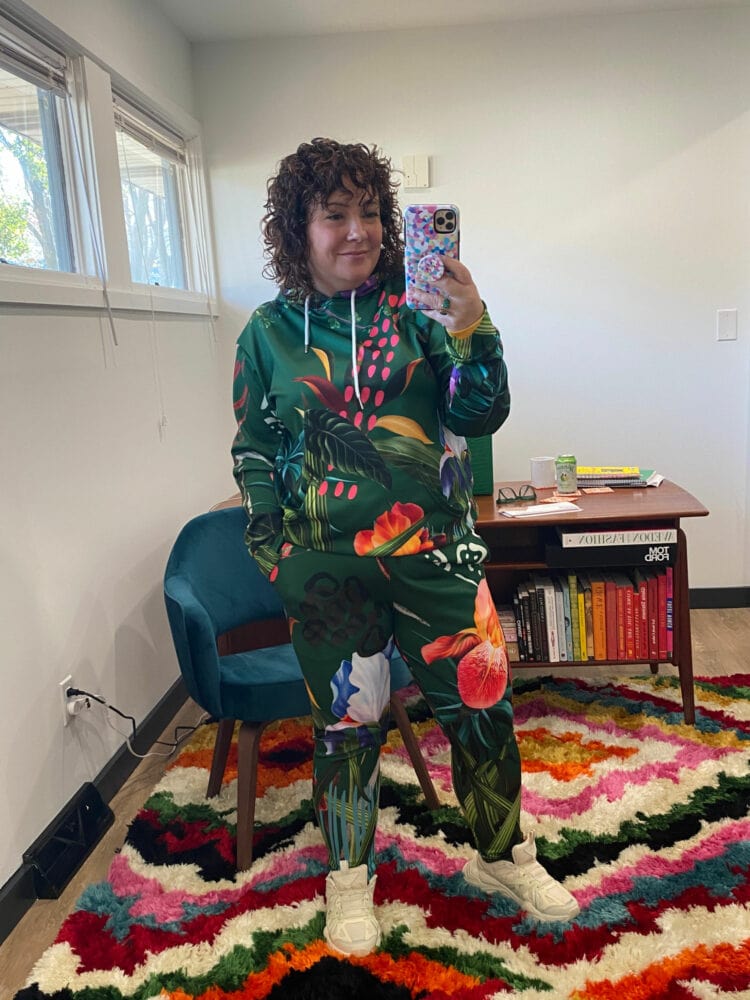 I knew Wednesday would be a short day at the office, and then a lot of running around preparing to host Thanksgiving the following day, so I dressed for movement with Dressed in Joy. You have seen this Dressed in Joy sweatsuit before. in this post. I love the print, it's so joyful. In fact, I was at the grocery store wearing it with a floral face mask (from J. Crew and sold out, but it's print #5 from this Etsy seller) and an older man told me I was "human sunshine" and that made me so happy!
The shoes are my FILA Electrove sneakers, and to glam up the look because I can, I am wearing this ring and these hoops from REALM. Why keep fancy jewelry just for fancy occasions?
Thursday: Thanksgiving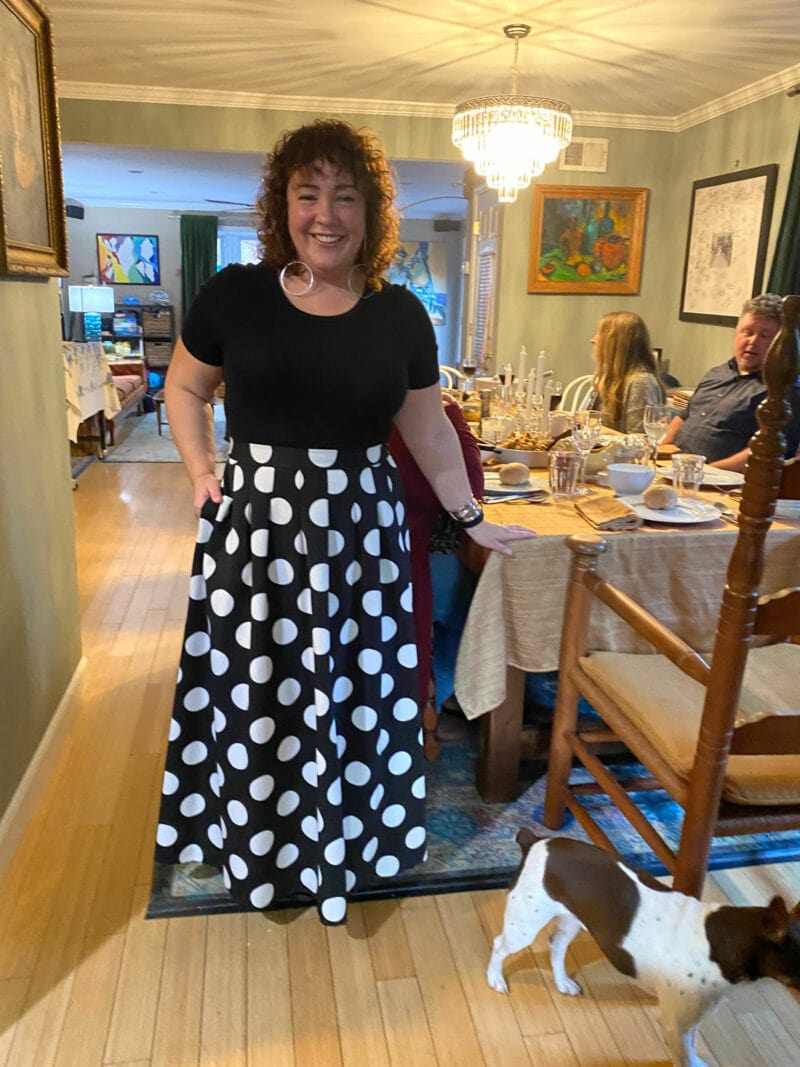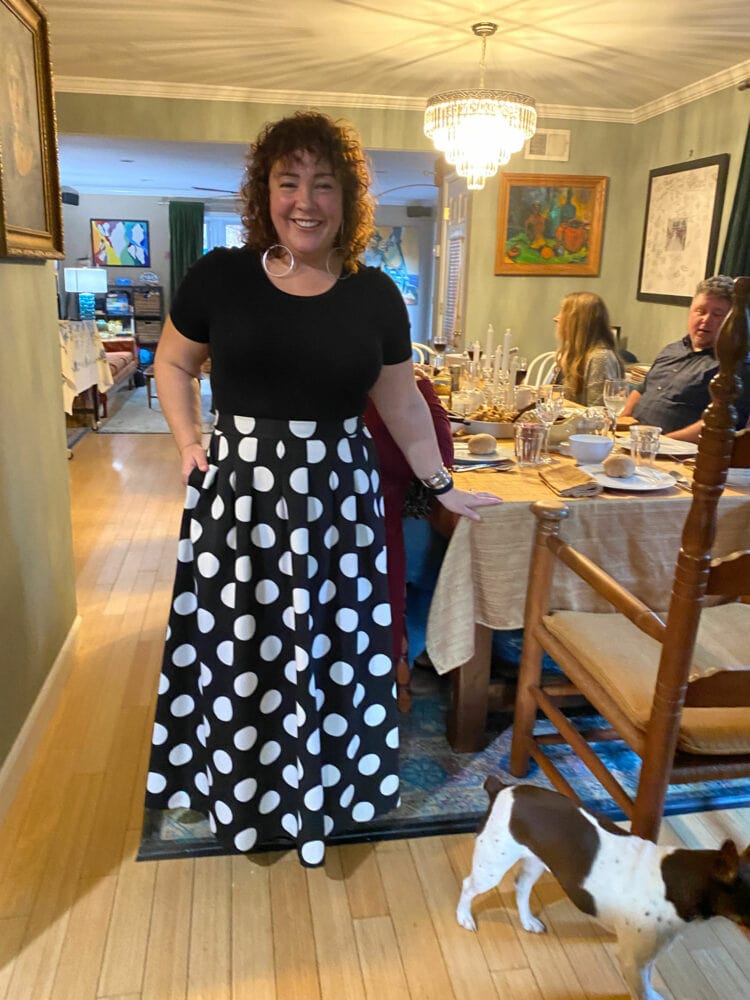 For the fourth Thanksgiving we have hosted, I have worn pretty much the same exact thing! This black and white polka-dot ballskirt is from Talbots; I first wore it in this blog post. There are few places where one can wear such a garment, but hostessing is one of them. And it's surprisingly useful for the event. The skirt is so full, you can climb under tables and get up on ladders and not feel exposed. You can wear slipshorts underneath to feel comfortable without VPL. If you get hot, you can go outside and stand wide and cool off. And this skirt is easy to spot clean and has very deep pockets!
On top I am wearing a Universal Standard Foundation t-shirt, which is now discontinued and like the turtleneck, I find it to be a shame. This top is near the end of it's life as a "nice" top, but it has been worn like crazy and laundered a lot over the past four years. It still is dark black and looks nice enough to be a casual layering piece, but has lost some of its structure and elasticity to make it the kind of piece I've worn for four years hosting Thanksgiving.
I always pair this look with some bold silver hoops; this year I wore my Large Edie hoops from Jenny Bird (no longer available). On my feet, I wore my black LISSOM flats. Per my LISSOM flats review, I have had a bit of an experience with the brand but I do find these shoes very high quality, comfortable, and perfect in-home shoes. I ended up bringing them with me on our trip this weekend to wear around the hotel room.
Friday: Road Tripping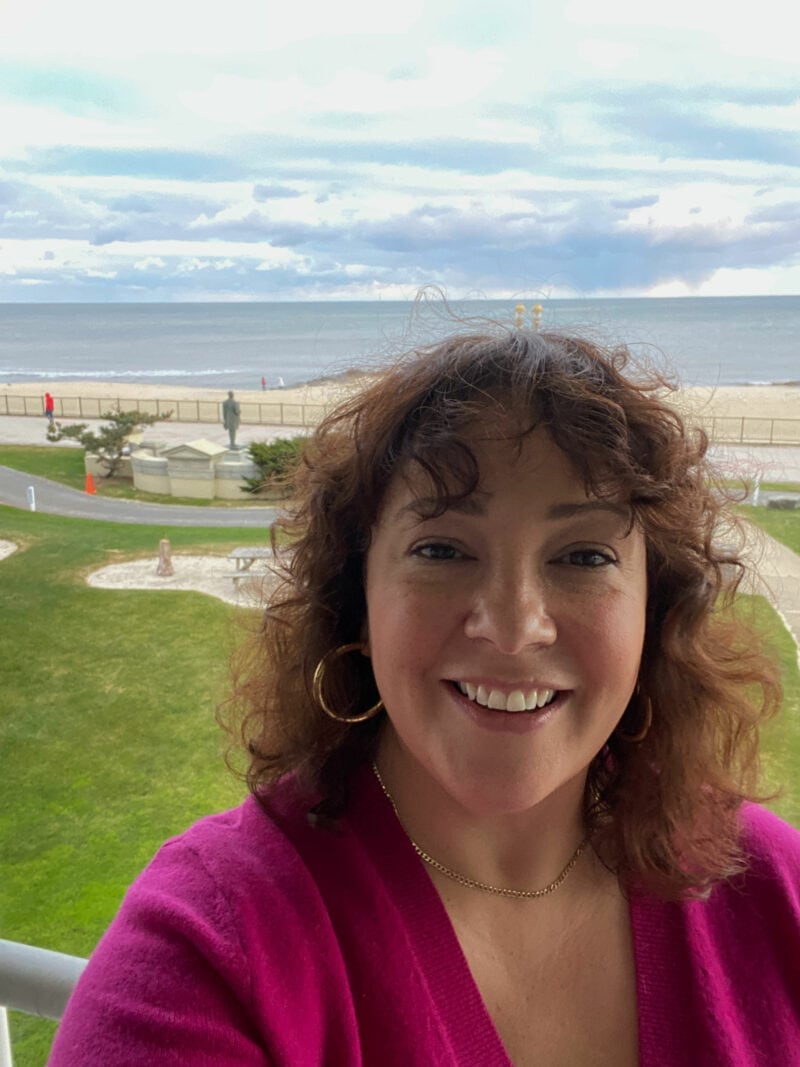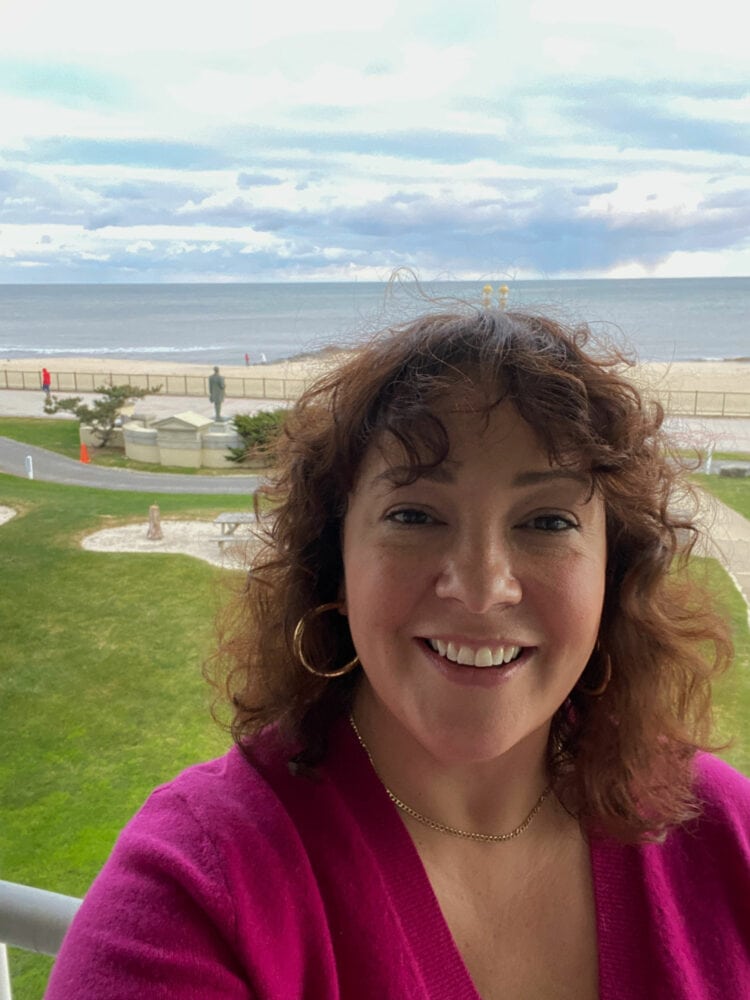 We drove up to the Jersey Shore to enjoy the weekend with relatives. For the ride I wore my berry Universal Standard cashmere v-neck (size XS) with my Spanx faux leather joggers and my Sorel 'Cate' boots. I have again the Dalilah hoops from Baublebar and this little chain from Rellery. This was comfortable enough for a few hours in the car but still polished enough to stride into the hotel and get a good deal on a room upgrade.
The hotel we stayed at was pet friendly, but only specific rooms. When we booked at the beginning of October, all they had available was a double queen room without a view, though I saw on the site they had other styles of pet-friendly rooms. I called, they said that was all that was available. But I figured I'd ask when I checked in.
While chatting with Robert, the gentleman working at the front desk, a guest strode up to the desk and began asking for assistance. Robert kindly said if you can please wait, I am assisting this woman. The guest got really huffy and stated how rude Robert was and proceeded to stare a hole in me, his arms crossed. Robert took his time, I did too, often smiling at this jerk thinking he could somehow intimidate me into rolling out or letting him interrupt. Robert share a king oceanfront suite was available and he would give it to me for the rate of a junior suite without a view. I thank that jerk for being there, I think he helped us get a good room. But not being dressed like I just got out of bed I think also helped!
The day was so busy I didn't change from this look until bedtime. It worked visiting relatives, going out to dinner, etc.
Saturday: Snuggled Up Sunrise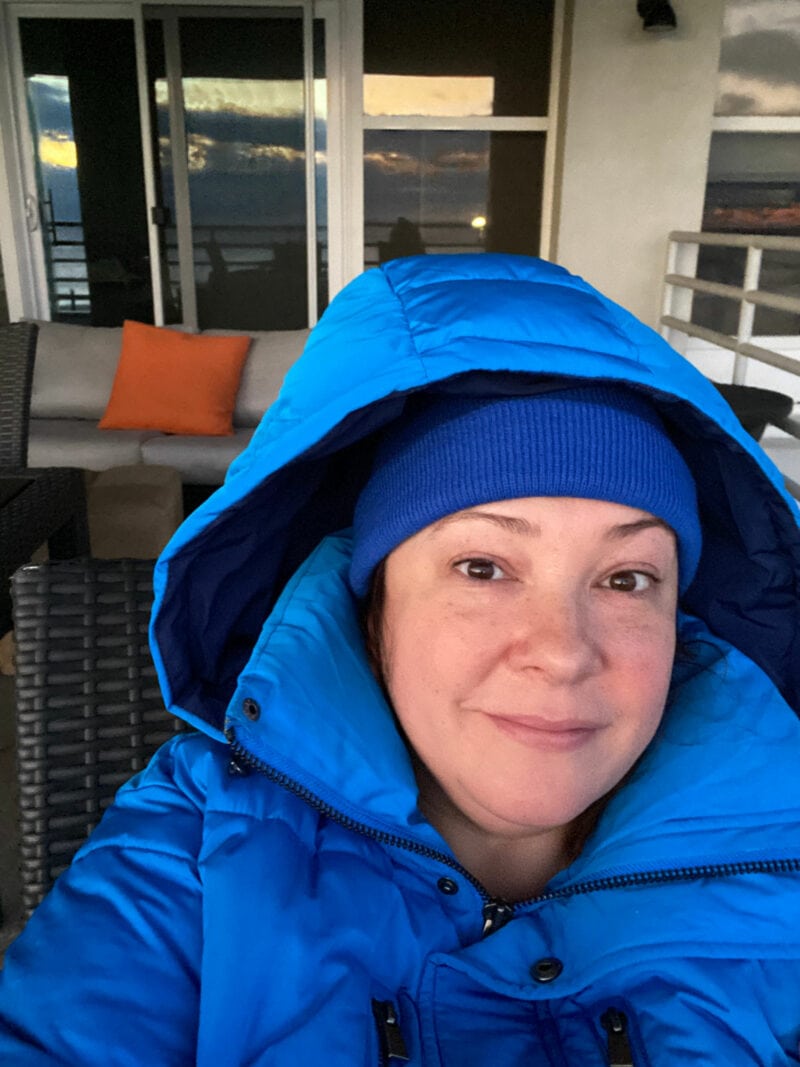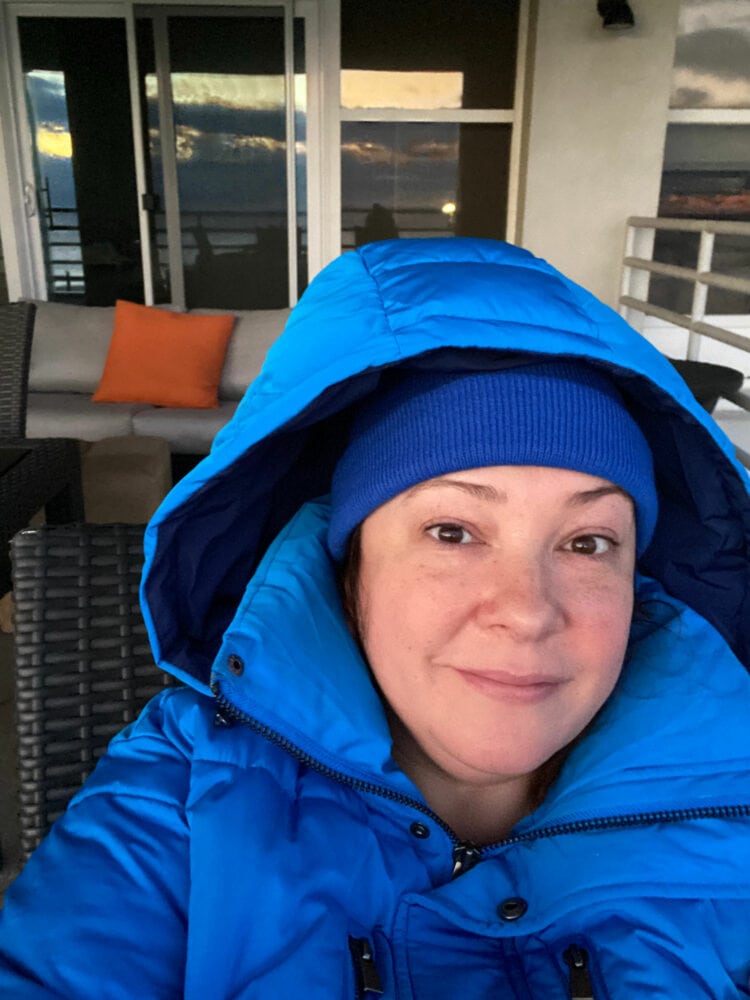 I woke to catch the sunrise from our balcony. It was cold, so I wore the full Universal Standard 4-in-1 Hybrid Puffer with a beanie, some Primaloft leggings and my Sorel boots. Read my review of this Universal Standard puffer coat.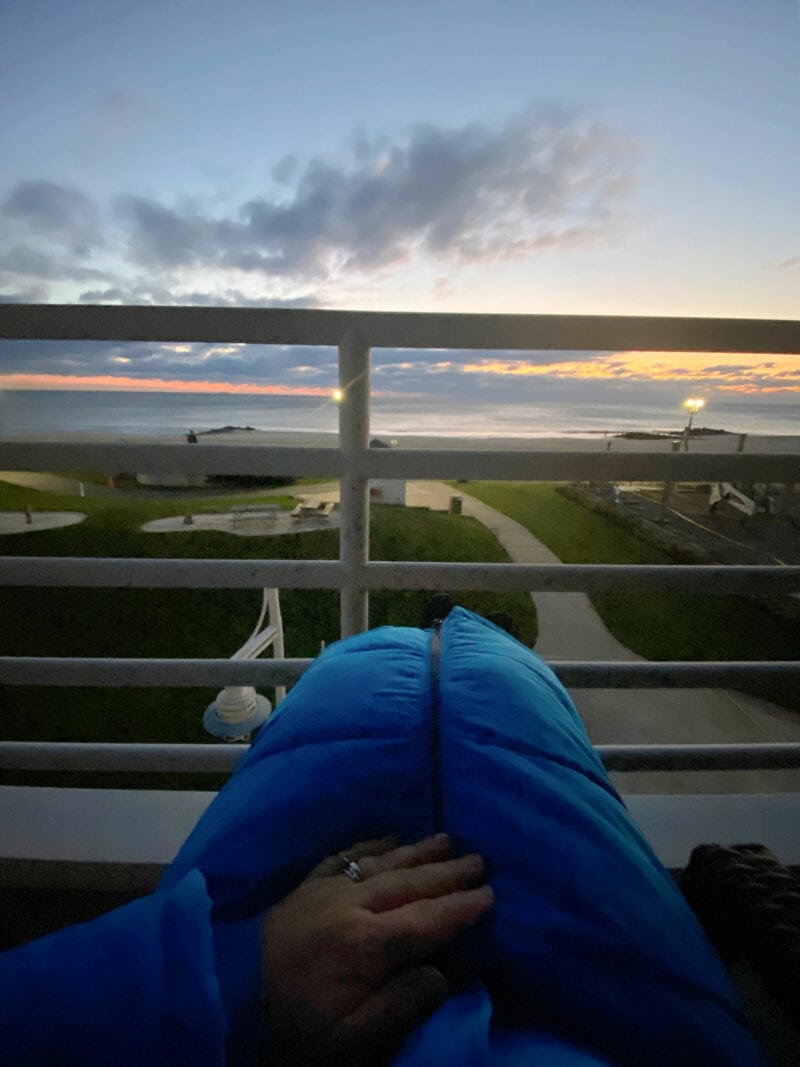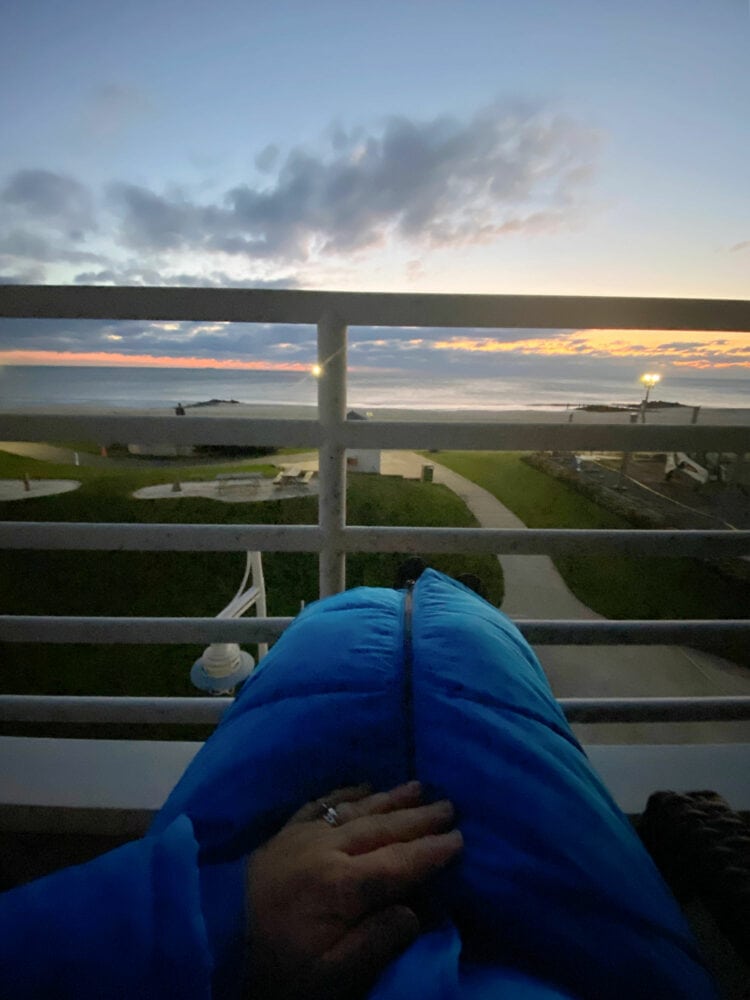 I was super cozy, and stayed out there to finish my book on Kindle with a coffee. Later that day, we joined family on a weekly Zoom call. My husband and I took it outside on the balcony so the Atlantic Ocean was our backdrop. Again I wore the same outfit so I was cozy and also colorful!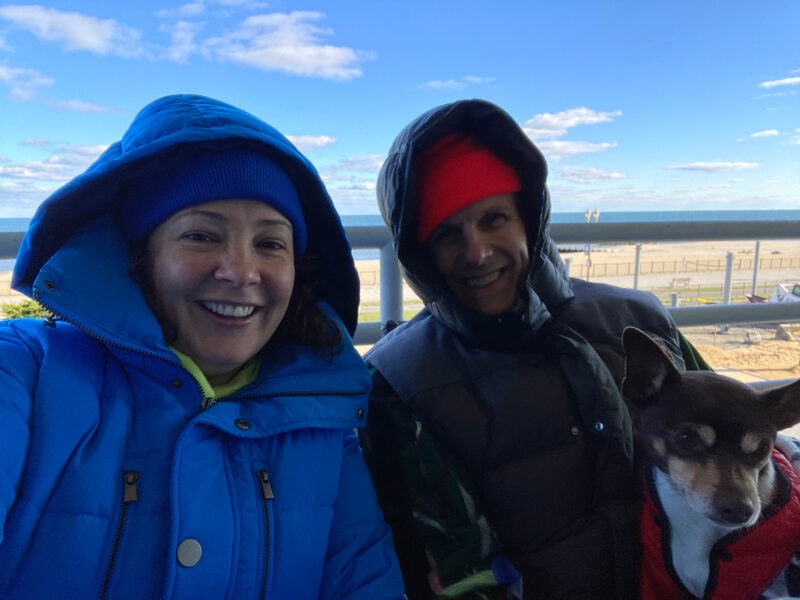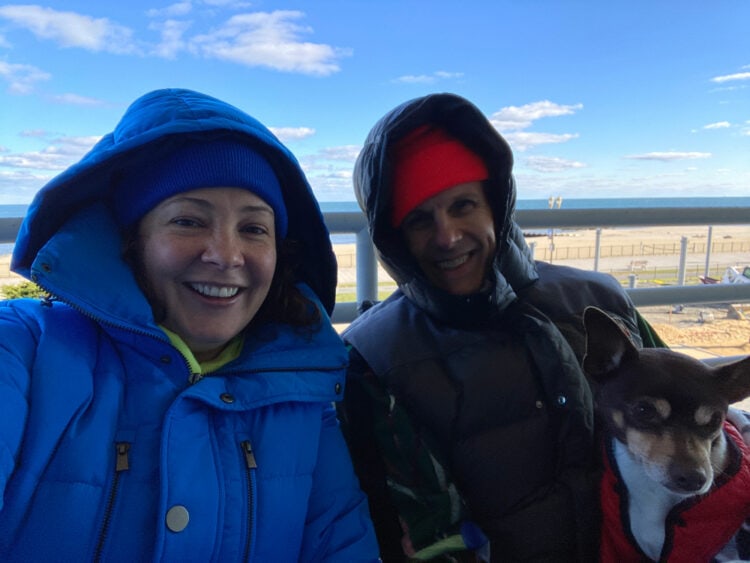 I didn't capture any other photos this day, but it was casual so I kept on the thick leggings from L.L. Bean and wore with a lavender Talbots cashmere turtleneck I got last year (here is this year's version; I chose XL for a more relaxed fit).
Saturday Night: The Family That Dresses Alike…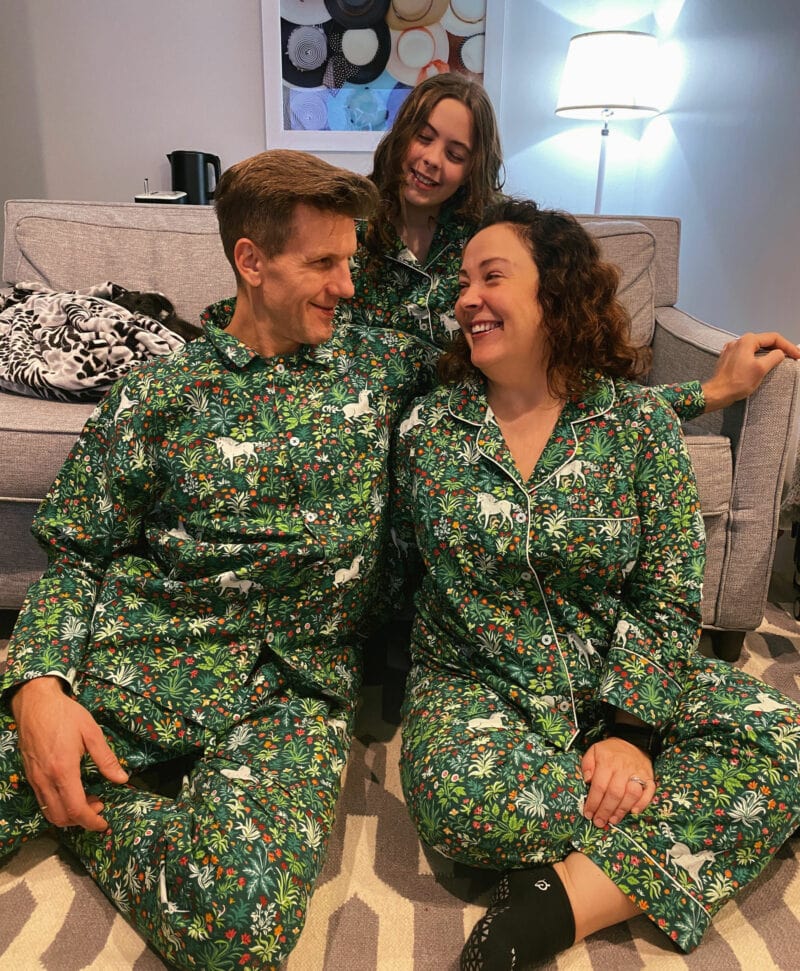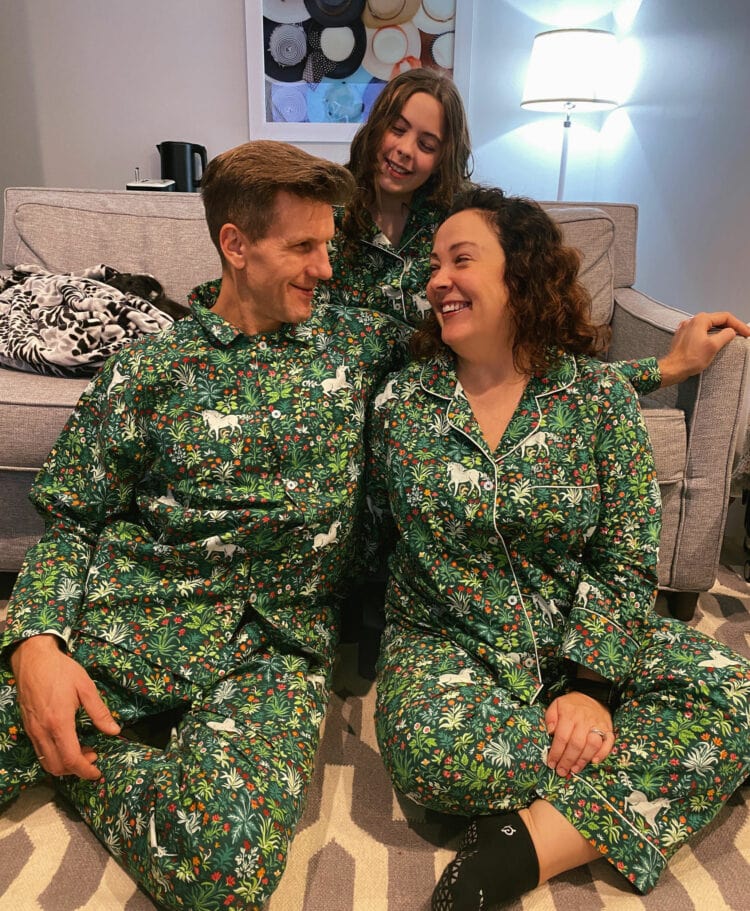 Our family loves matching pajamas, and Printfresh sent us their Unicorn Garden pajamas earlier this month. Printfresh now carries men's pajamas and petite pajamas. I am wearing XL petite. We'll try to get a clearer photo while we're on our trip. Printfresh is a sustainable woman-owned brand that offers up to 6XL; read my Printfresh pajamas review. I now own four pairs of Printfresh pajamas and two robes; I really am a fan!
We decided to stay an extra day on vacation so this is written in haste Sunday morning while my husband is out for a run and my daughter is catching up with some friends on Hangouts. We plan to have a fun day; right now I'm wearing these pants from Athleta in black and my dark green Universal Standard cashmere crewneck (read my Universal Standard cashmere review). We'll see where the day, and my wardrobe takes me!
Shop the Post: