This article may contain affiliate links; if you click on a shopping link and make a purchase I may receive a commission. As an Amazon Associate, I earn from qualifying purchases. 
When I swimsuit shopped for our Costa Rican honeymoon in 2004, I decided to go bold and leave my all-black swimsuit routine. I got a bright red halter tankini from J. Crew and felt terribly sassy… that was until I got back the pictures from that trip and realized the lighter color and lack of support made my breasts look droopy, displayed the indentation for my belly button, every lump, and every bump.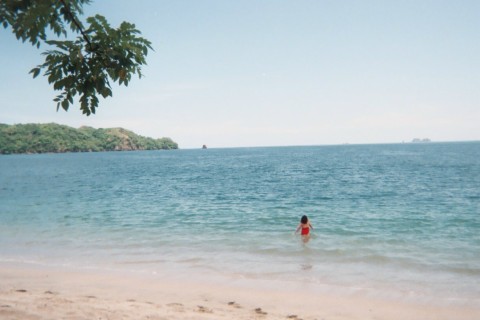 The only remaining picture from our honeymoon where I am in the red bathing suit.
After that experience, I was a bit more gun shy with swimwear. Strategic rouching, dark prints to camouflage curves, brands that specialized in slimming the figure. While I felt more secure in such suits, I often felt they looked too old and somber for my age and personality. After Emerson was born, I was so uncomfortable with my new figure I welcomed the black gathered fabric with strong mesh interiors to suck in my flesh. It felt like a suit of armor to defend me against…
…against what?
I sat on the beach in this frumpy bathing suit, and looked around. I saw women older and larger than I sunbathing in bikinis, women slimmer and younger than I in matronly too-large suits with too-long skirts, women built just like me in fun printed suits splashing in the surf and women built just like me in the same suit I was wearing, hiding behind strategically draped towels.
The biggest thing I saw was that no one was out there judging. Okay, maybe the teens giggling behind US Magazines were judging, but they were judging everyone, and I knew they would judge no matter what swimsuit I was wearing. Because no matter what I put on my body, it will still be the same body. The same cellulite, the same belly, the same curves, the same flesh. No swimsuit will make me look five years younger or 25 pounds slimmer.
And so this year, thinking about my beach experience and seeing phenomenal women like Gabi Gregg and Brittany Gibbons and Chastity Garner rock the heck out of fun and flirty two-piece suits I decided to do the same. There's nothing wrong with a classic black one-piece that slims and flatters the figure, but there's also nothing wrong with buying a suit that is fun and fits your personality and personal style.
I have always had great success with Lands' End swimwear – well made, doesn't ride or stretch or fade. I also like that they have cup-sized tops going up to DDD. I decided to try a two-piece suit (the Beach Living Tahiti Paisley Floral Shirred Bikini Top in 12DDD and the matching Flounce Mini SwimMini in 12 Petite), and the Beach Living Bardot Floral Scoopneck One Piece Swimsuit with Tummy Control in 12DDD and see which I liked better.
The two suits arrived promptly and the prints were even prettier in person. I first tried on the one-piece which fit quite nicely. I loved how I could adjust the neckline with the drawstring detail. It fit, it flattered. The print created an optical illusion, you couldn't quite tell what was print and what was spare tire. Sucked me in without causing intestinal distress.  Not too shabby.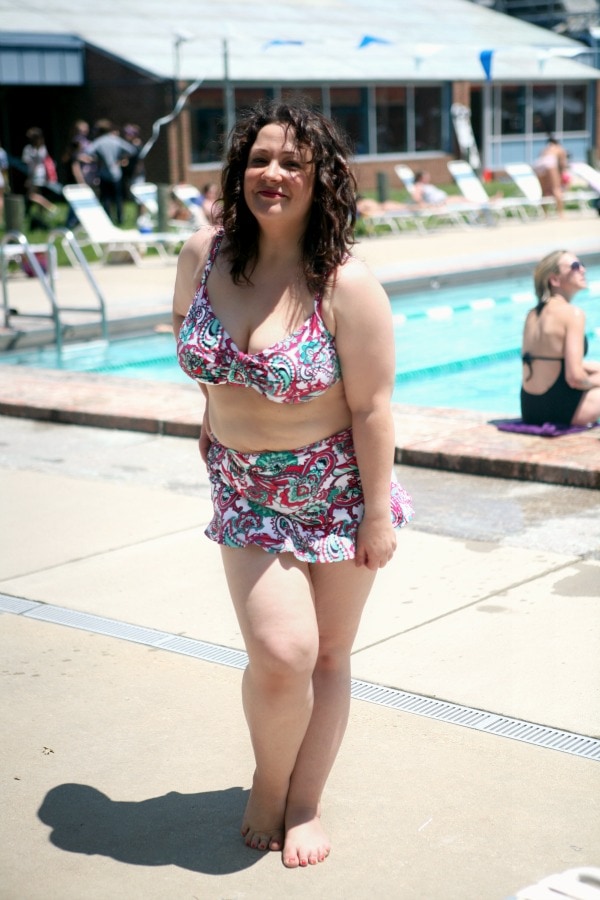 And then I tried the bikini. Somehow the two-piece made me look taller. Boy did it make me look softer but it made me look curvy in a good way. No Lycra to hide the rolls, the stretch marks from pregnancy, how my tummy is a bit lopsided from carrying Emerson. But the top had underwire and adjustable straps to support my breasts even if I dove into the pool, and the skirt was flirty instead of matronly and provided a bit of fun as well as distraction.  And I liked it, I liked me in it.  I felt like me.
Whether I am in a black slenderizing suit, a printed one-piece, or a "fatkini," I am still me. I am still a 38-year old working mom who wears a 12/14, should go to the gym more often, and should watch her portion sizes. But in this suit I feel sassy, I feel as though I have to walk with confidence since I made such a bold decision with my swimwear.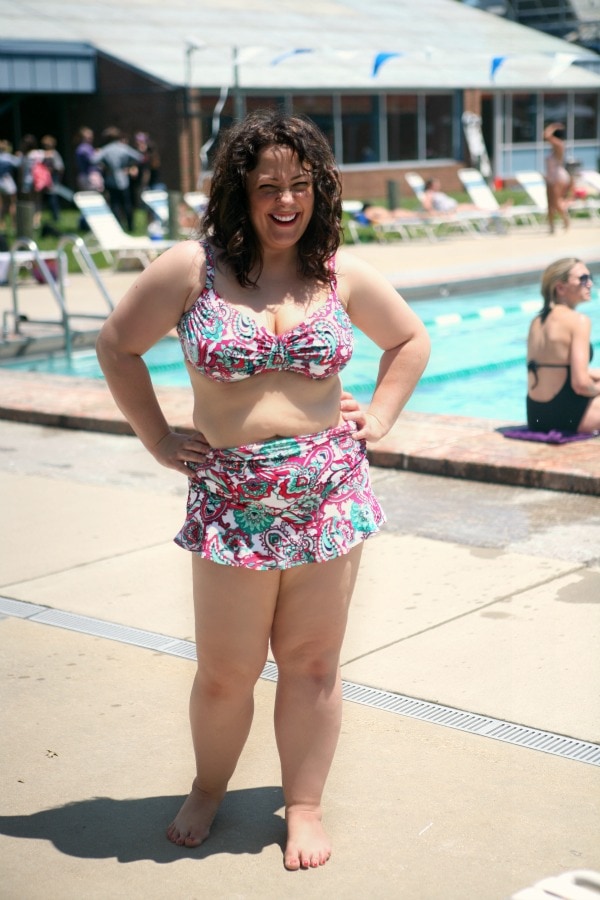 I wore the suit to the pool on a busy day. I played with Emerson, sat with Karl on the side of the pool watching the kids play, floated around in the deep end, gave Emerson piggy-back rides over and over in the 3′ section, sat on the ramp and watched E splash in the shallow section, had a great time. The suit held up well, it fit great, and I didn't feel terribly on display. In fact, I don't think one person even looked twice at me.
Often all the judgment we feel about our bodies and sartorial choices is in our heads. And for the judgment that may be real… who is it coming from? Does that person even deserve time or real estate in your brain? Some people will judge anyone about anything… might as well have a blast yourself while they're wasting their time with their lame hobby.
Now go out there and have FUN this summer!
Note: This post was not sponsored by Lands' End, I just think they're pretty rad.
Follow Me | Twitter | Facebook | Instagram