This article may contain affiliate links; if you click on a shopping link and make a purchase I may receive a commission. As an Amazon Associate, I earn from qualifying purchases. 
Having this blog, I often get comments that I have a small and boring collection of clothing, or people comment on how much clothing I have and ask where the heck do I keep it all. I think both groups of folks are correct – I have a pretty simple collection of clothing, but I feel as though I have a lot because I shop smart, stay on track, and take care of the quality items that I purchase.
If you go to this post, you can learn about my recent closet clean-out and see pictures of my closet. Though it is considered a walk-in closet, it is pretty small and I share it with my husband. I believe that my bar of clothing is shorter than most individuals have in a regular closet in their homes.
When my husband and I moved into this home ten years ago, we didn't have this closet. Out house was build in the '40s and the bedroom closet seemed to be an afterthought – it was placed over the stairwell so it had a sloping side wall, making half of the hanger bar useless. my husband and I shared about four feet of closet space in our bedroom. We didn't have a hallway closet, or our guest bedroom's equally small closet (sloped wall was replaced by built-in deep shelves made from splintered scrap wood – not useable for clothing) was used for outerwear and out-of-season clothing that could not handle being packed into a box in the attic.
Due to such little closet space, I learned to make do with less. In fact, when I moved from my bachelorette pad to our nest, I had to get rid of several lawn and leaf bags full of clothing because I just didn't have the room. After working so many years in apparel retail, I had amassed quite a collection of clothing and accessories. I went through cocktail dresses with the tags still on them, sparkly tops for a night out that were worn only once, dozens of pairs of jeans in my current size, a size bigger, and several sizes smaller just in case I lost the weight I had been carrying for more than two years.
I thought about my life – I am not one who attends cocktail parties on a regular basis, and I rarely go to flashy nightclubs. I needed clothing for work, and casual attire for the weekend. A handful of fun tops and versatile dresses would get me through any social event. I went through each item, deciding whether it was worthy to be in my closet, should be stored for the future, be donated, or be passed on to a friend. I ended up keeping about 25% of my original wardrobe.
Once I had my core wardrobe, I had to stick to it. No shopping sprees – where would I store my purchases? If I bought something new, it had to be for a good reason. Usually if I bought something new, it meant it was replacing something I already owned. Shoes had the same rules, as that I only had so much space on that single shelf above the hanger bar.
Off-season clothing was stored in plastic tubs in the attic, and I had one tub in the attic that held clothing that I kept for sentimental value – my denim jacket from high school, a sweatshirt with my sorority letters on the front, the Diane von Furstenberg wrap dresses I bought for a steal that weren't my current size but were too nice to donate. Because I kept it to being in just one tub, I had to be picky with what was worthy of sentimental real estate.
I lived with this cramped clothing setup for ten years, and it was the best experience. Not having space made me care more about what I purchased. There wasn't any dusty corner of a closet for bad purchases to hide, or the room to wade through too-small or dated pieces to find something to wear to work each morning. When I went into stores, I was constantly thinking, "Do I need this? Will it go with what I already own? Is it worthy of my precious closet space?" If I had any hesitation, I wouldn't purchase.
Now I have a bigger closet – my daughter's room is the old guest room, but we still have that sloping old bedroom closet which now holds our coats (and camping gear, and boxes of photographs we inherited from my father-in-law, and winter boots, and Christmas gifts I buy in advance, and the vacuum cleaner, and…). Though my new closet has more space, I try to stick to the habits I acquired over the past decade. What is currently in my closet:
Click on image to see it larger
Abbreviations: AT (Ann Taylor), ATL (Ann Taylor LOFT), S/S (short-sleeved), L/S (long-sleeved) NYDJ (Not Your Daughter's Jeans),  BR (Banana Republic), B&W (black and white), Cardi (cardigan), LE (Lands End), LEC (Lands End Canvas), RL (Ralph Lauren)
As you can see, it's not as much as you would think. Go ahead, go through the past couple of months of outfits I have worn on here, you will see that it's the same darn things I am wearing over and over and OVER, just in different ways. The items in gray are out-of-season items that I still have in my closet because I think they could possibly be combined with other items to make them wintry. That which is in red are items I need to replace or remove from the closet – too big, worn out, etc.
As for shoes, I currently have: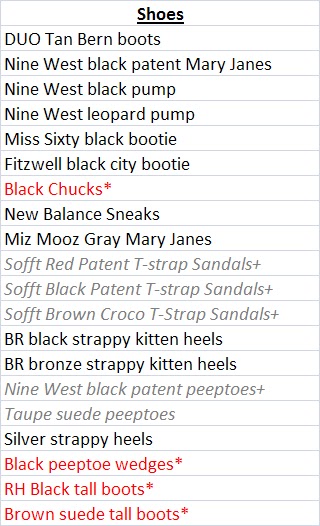 Click on image to see it larger
Same rules apply – red means they need to be replaced (old, no longer fit, etc.), gray is out of season (I store all my shoes in my closet at all times – nowhere else to keep them). Pretty small collection, especially when you consider that three of the 11 current shoes are for dressy occasions.
I don't have a specific clothing budget for each month, or each season. I have a budget for that which isn't necessary for the family unit – clothes and beauty products for me, clothes for Emerson and my husband, home décor, dinners out, concerts, Starbucks runs, that sort of thing. Some months I find a show at the 9:30 Club more important than a new pair of shoes, sometimes the shoes win. Some months, there is no money for shoes or shows. I go with the flow, and know I have a base wardrobe that will cover any last-minute situation.
I don't go to malls to shop because there is too much temptation. I will go into stores to try on, but rarely purchase same day. I will mull it over, and then either return to buy or look online to find it cheaper. I do a lot of online window shopping where I will find things that look good, put them in my virtual shopping cart, then close the shop's site and think about it. If I can come back later and still find it as lovely and versatile and useful, then I may purchase if it fits into my current budget.
I stick to a pretty simple color palette, and purchase mainly solids so they are more timeless and mix and match with ease. Lately I have been on a stripes kick, which is a cheap and easy way to add some variety to the wardrobe. In the past I have had kicks for animal prints, pinstripes, polka-dots, leather, all things green… this is usually the way I add a fresh spin to my wardrobe basics. These little accent pieces can become wardrobe staples or can easily be replaced come the new season without losing too much money on the situation.
I carry with me a list of what I really need – right now it's pencil skirts in black and denim in my new size, new tall boots in black, and I would like a crisp white shirt that looks great with the sleeves buttoned or rolled up. This way, if I get distracted by some expensive indulgence, I can think, "Do I really need this sequined miniskirt more than a black pencil skirt? Think how much mileage I got out of my current black pencil skirt – wouldn't it feel good to have another great piece like that in my wardrobe?" It keeps me balanced and always on the hunt for the perfect blend of quality, price, and fit.