This article may contain affiliate links; if you click on a shopping link and make a purchase I may receive a commission. As an Amazon Associate, I earn from qualifying purchases. 
I am starting with great excitement and a bit of fear a new career of being a Day of Wedding Coordinator. I have a figure like yours, but am taller (5'8″) and I have serious foot problems- heels are a no go. I have been wearing a uniform of either [work uniform] or all black for years and I have very little colour in my current closet. Got any advice or help for how to look professional, polished and glam in my new role?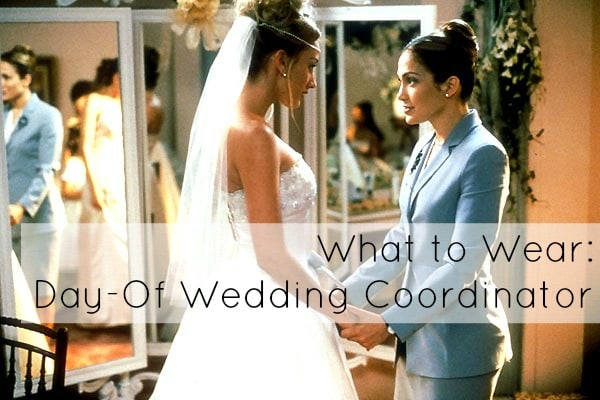 What a fun and exciting change for you! When I was planning my wedding, I befriended a few women who were getting married at the same venue and we did day-of coordination services for one another. After our weddings, one of these women started her own coordination business and I assisted her for many events. Since then, I attend several weddings a year as an assistant to my photographer husband, usually falling back into that day-of coordinator role steaming trains, collecting family for cake cutting, and fixing hair. Sometimes we even sell me as a separate day-of coordinator for weddings he shoots. I have learned how to create a uniform that is professional yet comfortable.
When I do day of coordination, I really like wearing pantsuits. I find that I can take off the jacket and scramble around in the pants and shell, and then put on the jacket and look pulled together. Also there's the benefit of many pockets. Though black is a somber color, as you know from your job it's really great for hiding stains and it always looks professional. I find when coordinating weddings I get pretty dirty – I crawl under tables to plug in lights, pull chairs out of dirty cob-webbed storage sheds, even climb on roofs to secure bunting and wreaths. Black also hides sweat, and sweat is something I do quite a lot when coordinating. To keep a suit from being too somber or too much like the catering staff, I choose a shell that is more interesting and festive, be it a surplice tank in a cheery hue, a ruffled chiffon blouse, or a sequined or beaded tank. The style of the shell can make the suit look appropriate for a more casual day affair or a swanky Black Tie evening event.
When I don't do suits, I really like wearing shirt dresses with a fuller skirt. I find as a coordinator or photographer's assistant, I can't be running around everywhere with my bag of necessities. I usually tuck my emergency bag (stain removal, safety pins, Tylenol, batteries, sewing kit, that sort of thing) in a hidden corner, but pack my pockets with what I may need immediately. A shirt dress is charming, in cotton it will be comfortable in the heat, in silk or a dressy fabric can look retro-adorable for a more formal affair. Best of all, shirt dresses look cute with flat shoes. With dresses, you can be more creative with the color, but still don't wear a shockingly bright color or print that draws attention to you. Choose a style that hits middle of the knee or longer so you have coverage when you need to crawl under a table or up a ladder. I like wearing such a dress so much for coordinating, I have considered hiring a seamstress to recreate my favorite full-skirt shirtdress in different fabrics and colors and even a full-length version for more formal weddings.
When it comes to shoes for such a profession, flat or almost flat shoes are a must, even if you don't have bad feet. You'll rarely get a chance to sit, and you will be walking on soft wet grass, cobblestone, gravel driveways, and slick dance floors. I have a couple pairs of shoes that are dedicated just to working weddings. One is a very low thick heel T-strap with a retro vibe that looks great with shirtdresses but I can wear for 12 hours without pain. Another is a leather sandal with thick soft straps that never dig and a very low wedge with a grippy rubber bottom that is great for garden weddings. For pantsuits, I have a pair of black flats that have arch support, and a pair of black ankle boots with a very slight wedge and nice grippy sole. The only non-black shoes are my T-straps, and they are patent leather so it's easy to clean them off after a rainy day. Because I do wear a lot of black, my black shoes sort of disappear with the outfit, don't show when they are splashed with mud, and can easily be polished and cleaned at home with a tin of Kiwi and a rag. I highly recommend getting shoes comfortably worn in before wedding to an event. Keep in mind your feet will swell with time and standing, so choose shoes that can handle that. While any color can do, it's important to look professional and successful and to me, that means well-cared for shoes over trendy shoes. And if you wear open toes, you have to have a pedicure to have the whole look complete.
Speaking of beauty products, this is a way for you to look glam, festive, and polished. I choose long-wearing formulas of makeup and waterproof mascara so it stays in place when I don't have time for touchups, and doesn't run when I tear up during the vows or on a sweltering hot day. In your supply bag, tuck in powder or blotting sheets for when you can freshen up; I usually choose a tinted balm, gloss, or chubby stick for my lips that I can put on without looking in a mirror. I'll stick my lip product in my pocket for quick refreshes on the go.
As for hair, I usually start with my hair up because I know it will end up in that manner after a few hours. By starting off that way, I can control how it looks. I often do a purposeful messy updo and hold with plenty of barrettes and humidity-proof hairspray, or else a topknot with sideswept bangs bobby-pinned in place. I then will myself to not fiddle with it so it remains polished throughout the day. Just in case, I usually tuck one of those elastic headbands and an extra hair elastic in my supply bag so if, hypothetically speaking, I have to reattach bunting to a rose-covered trellis and my hair gets caught in the thorns and looks as though I stuck my finger in an electric socket (oh no, this never happened to me, completely hypothetical), I can dash in the bathroom and pull the hair into a ponytail or bun and use the elastic to hold back wisps and bangs.
Though I know you are tired of having a work uniform, you may find having a new version of a uniform may make your days easier. Once you decide what sort of ensemble is perfect for you, consider a variety of that. I used to have three pairs of the same black suiting trousers because they had perfect drape, didn't cling, and had pockets that could be filled without making me look lumpy. I had the same blazer in black, cream, and gray-blue because it fit perfectly, took well to Tide-to-Go pens, and again had pockets that could hold a lot without making me look lumpy. I'd love to have a wardrobe of shirt dresses with a wide belt (great for holding walkie-talkies), deep pockets, and in a variety of sorbet shades in silk, shantung, and cotton (and a couple black ones too!).
The overall goal is to look like someone who has taste, knows style and current trends, knows how to have a good time but still gets the job done. You don't want to be a delicate flower who is afraid to get her hands dirty – I have gotten many new jobs from wedding guests who saw I was willing to go the extra mile to ensure perfection and an easy day for the couple. Control, confidence, class (and comfortable shoes!).
Best wishes on your new job!
Follow Me | Twitter | Facebook | Instagram