This article may contain affiliate links; if you click on a shopping link and make a purchase I may receive a commission. As an Amazon Associate, I earn from qualifying purchases.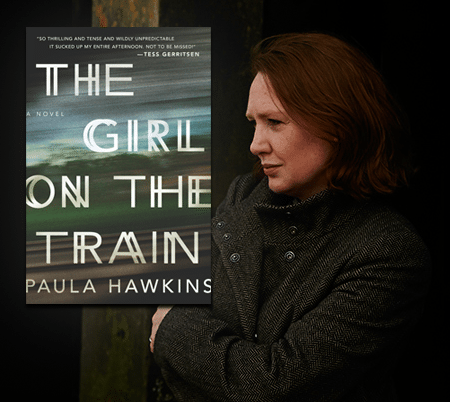 I heard about The Girl on the Train on NPR; I caught the last bit of an interview with the author Paula Hawkins and was interested. I had finished the second book in the Outlander series and was looking for a change of pace before I delved into the third. I listened to The Girl on the Train via Audible on my commute to and from work and ended up not just with a change of pace from Dragonfly in Amber, but a new perspective on blogging, social media, and its audience.
The Girl on the Train is a thriller, very reminiscent of Gone Girl, but it's also a great example of how looks can be deceiving and what happens when people become invested in the lives of strangers. Rachel Watson is a lonely, lost woman; she's recently divorced and her life is a mess. She takes the train every day, and every day she passes the same row of houses next to the tracks. One is her old house, still inhabited by her ex and now accompanied by his new wife and baby; but the one that interests Rachel is a few doors down. A couple lives there, a couple that she sees as perfect. She doesn't know them, but she imagines their lives between glimpses of them sipping wine or coffee on their patio or rooftop terrace. In her head she imagines their relationship, their professions, their hobbies; she even creates names for them – Jason and Jess. When tragedy strikes, Rachel ends up being involved in the life of this couple and realizes they aren't the people in her morning commute fantasies.
Unlike bloggers and social media celebs, Jason and Jess don't realize they have an audience. But like bloggers, what Rachel the audience sees is only a snippet of their life and she is making the decision to fill in the blanks.
While listening to this book, I couldn't help but think about how bloggers and Internet personalities are analyzed, criticized, and sometimes idolized. I see on Twitter, on message boards, and on fan/hate blogs how people like Rachel Watson in The Girl on the Train make the decision to fill in the blanks. That somehow, if one looked hard enough at the photos chosen by a blogger for their blog or how a paragraph is phrased they can determine if someone is having an affair, miserable at their job, upset that she can't conceive, a terrible friend, a neglectful parent. Or the opposite, that by examining one's Instagram account enough one can determine if someone's husband really loves her, she's such a nice and giving person, or she's a really good mother.
The thing is you don't know why someone chooses to share what they do. Maybe all the pictures turned out terrible except the one where she's looking down at the ground. Maybe she always wears sunglasses because even after all these years she's still awkward in front of the camera and the oversized shades hide her deer in the headlights gaze. Maybe she doesn't share her husband on Instagram because he's uncomfortable being photographed.  Maybe the post was written in a rush before the baby woke from his nap and she hit publish before proofing.  And maybe she knows how to play the game and sees from her analytics that she makes more sales when she has that smug smile than when she shows her teeth, or that when she writes something controversial she gets more pageviews, more hate followers, more fame, and more money.
The Girl on the Train is a good reminder that with those we follow on the Internet, and even those we know in real life, we make assumptions and fill in the blanks. And often, our assumptions are dead wrong.
I'm not saying getting invested in a blogger, vlogger, or even reality show star is a bad idea. I love blogs, and I have many favorite bloggers and personalities on social media, some who have become friends in real life and some who feel like a friend though I have never met them and likely never will. This isn't bad, the Internet is a way to not feel so alone or unusual, to connect and relate to others across the globe. To find kindred spirits and gain inspiration. But it's important to remember you don't really know them, you only know what they choose for you to know and through the filter they have picked. It's entertainment, it's art, but it's never the whole story.
The Girl on the Train was a well-written psychological thriller. I don't want to share much more because it's definitely the type of novel that is more enjoyable when you have no idea what happens before you start reading. And it's clear I enjoyed how stereotypical characters were proven to be far more complex than originally thought; something that holds true for everyone you meet in real life, and on the Internet.