This article may contain affiliate links; if you click on a shopping link and make a purchase I may receive a commission. As an Amazon Associate, I earn from qualifying purchases. 
When I was a sophomore in high school, a senior asked me to go to Prom with him. I went to a relatively small high school for the area (fewer than 1,000 students) and there wasn't a Junior Prom, so going to Prom as an underclassman was a pretty exciting thing. It was also exciting to go with this guy, I had been crushing on him all year long.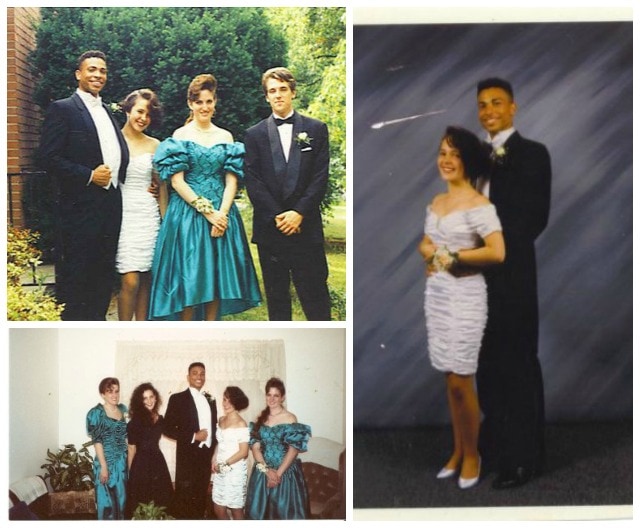 I went all the way to Potomac Mills to look for a prom dress, and found THE ONE at Nordstrom Rack. It was ruched white satin, off the shoulder, and I felt like Marilyn Monroe in it. Shoes were easy – I bought a pair of white satin dyeable pumps from Payless Shoe Source, high enough heel so I could comfortably dance with my tall date. At the time, my head was shaved from ears down and I was growing out a blue-black dye job, so I wore it wavy like a bob, using a rhinestone clip to hold back one side. I remember buying some really sparkly dangly rhinestone earrings and a rhinestone bracelet from Afterthoughts.
When my senior year came around, I felt a bit too cool for school, and for proms. Not only that, but I had some high school drama earlier in the year where I didn't have that many girl friends left and had no desire to spend a lot of money for an evening with frenemies. My boyfriend also felt he was too cool for school; he went to a different high school and had already decided he would NOT go to his prom. However, I read far too many teen romances and heard too many adults tell me I would regret it if I didn't go, so I asked my boyfriend if he would be willing. He was a great guy and agreed to it.
I bought my first prom dress at Merry Go Round in Laurel Mall. It was a black velvet column dress with a pearl beaded halter collar from Zum Zum. Tres chic, and I can recall it being $125 which was an insane price. I vaguely remember either putting it on layaway or having them hold it until I got my next paycheck from my job at the florist. Then a month later, my friend who worked at Merry Go Round told me that our classmate bought the SAME DRESS for prom. This classmate and I did not get along, so I of course could NOT wear the dress, and the dress was not returnable. I went to TJ Maxx and found a short black sheath with a lace overlay. High neck, but the armholes cut out in a cool modern way. I decided I would channel Audrey Hepburn, with a French twist, black stockings, black pumps, maybe even opera-length gloves and a tiara. The dress was on clearance, I think less than $20.
A week before prom, I chickened out on wearing the super short, super tight lace dress. I went into a total panic, and my mom the superhero MADE MY PROM DRESS. We picked a cornflower blue moiré and I was imagining Madonna in the Material Girl video (had yet to see Gentlemen Prefer Blondes). With very little time, there wasn't some crazy bow off the back, no time to search for a giant sparkly necklace, and my mom's white opera gloves did not fit over my arms (always had big arms), so we took the rhinestone detail off the dress I wore to Prom in sophomore year and put it on the front of this dress for some shine. I loved the shade, it was not a trendy color and I believed I'd be the only person at Prom in blue.  Luckily Payless could dye a pair of 4″ heels (very tall boyfriend) and clutch purse on short notice in the same cornflower shade.
I had an appointment to get my hair done, still wanted a French twist. Still had a lot of my head shaved (by this time the sides had grown out but the back was still shorn). The woman at the salon had no idea how to make my hair look like anything, so she put it in a ponytail on the top of my head and hard curled it and pinned the curls like some sort of updo. It was dreadful, and so sprayed and gelled I didn't dare go home and change it. I tried very hard not to cry and mess up my face. My mom helped, trying to make it look a bit better.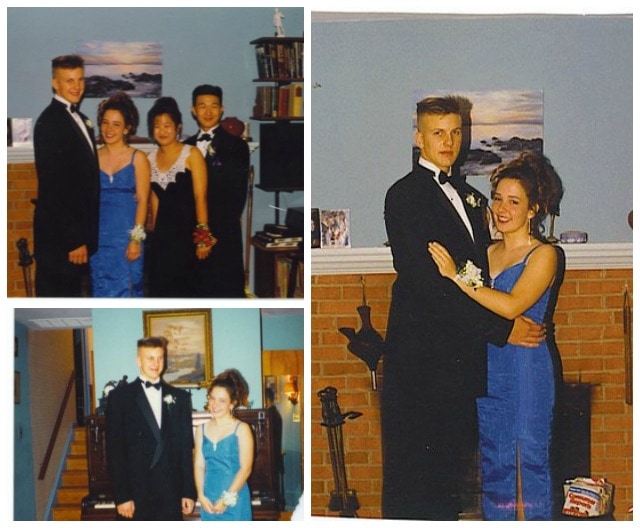 Prom was as terrible as I thought it would be. While I did have a whole table of friends to hang out with, there were people there who didn't like me. And there was one other girl in blue, and of course it was a girl who despised me, the one I got in all that drama with (funny enough, she is one of the few people from high school I am friends with today). I remember dancing with my boyfriend, looking up at the mirrored ceiling and seeing another girl mouth, "bitch" to me and give me the finger. We got our pictures taken, and when my friend said she was ready to go less than two hours after we arrived, we were thrilled.
We went back to my boyfriend's house where he spent an hour taking bobby pins out of my hair. We watched Beavis and Butthead and made out all night. I got back the pro photos, and saw my hair had fallen and the slit of the dress got messed up and the dress folded inside itself making me look like even more of a hot mess. I never gave out any of the photos, though my parents had one of the 5x7s on top of the family piano.
It all worked out though… that boyfriend ended up being my husband 11 years later!
And those two unworn prom dresses? I ended up wearing both of them (the lace one more than once) to sorority and fraternity formals in college!
Follow Me | Twitter | Facebook | Instagram