This article may contain affiliate links; if you click on a shopping link and make a purchase I may receive a commission. As an Amazon Associate, I earn from qualifying purchases.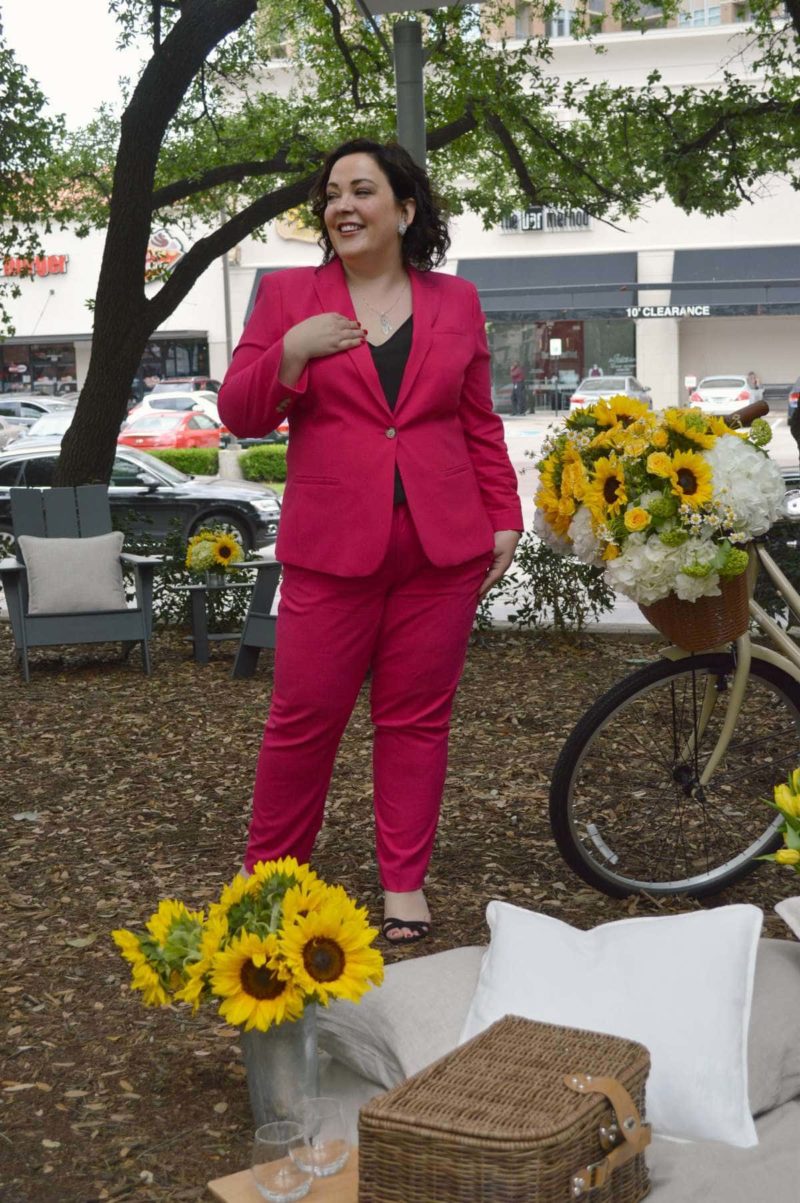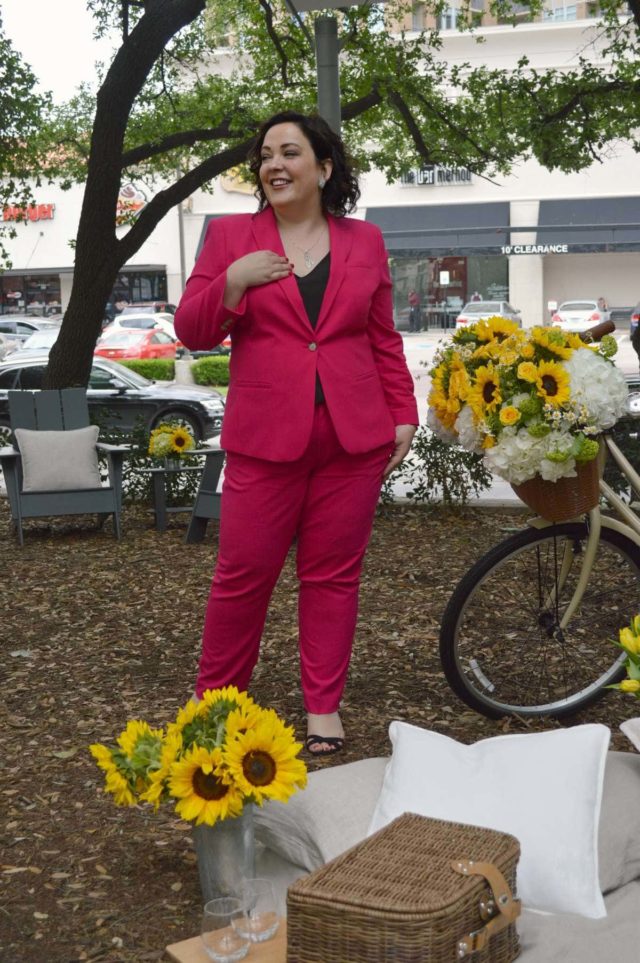 jacket | pants | shell | shoes | bag | sunglasses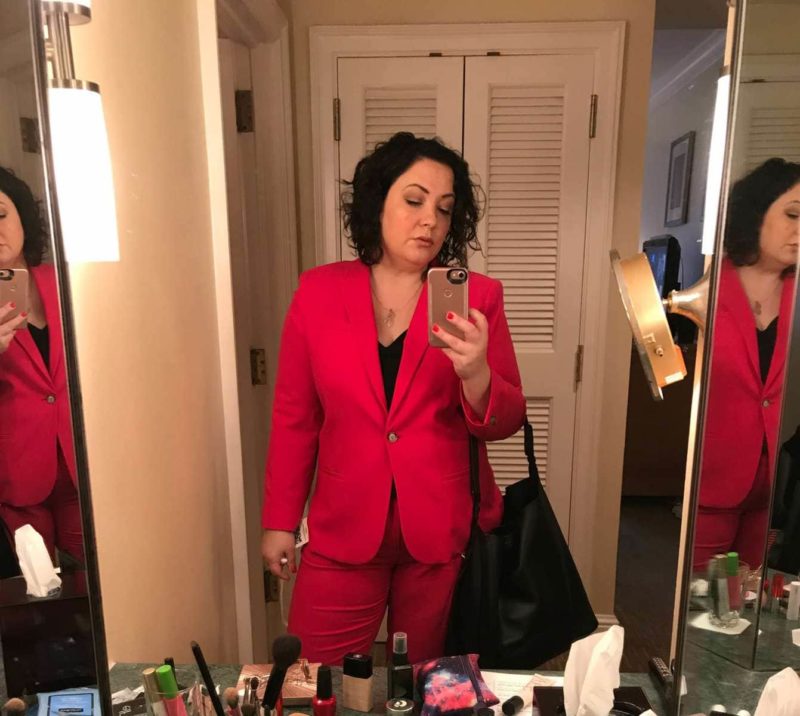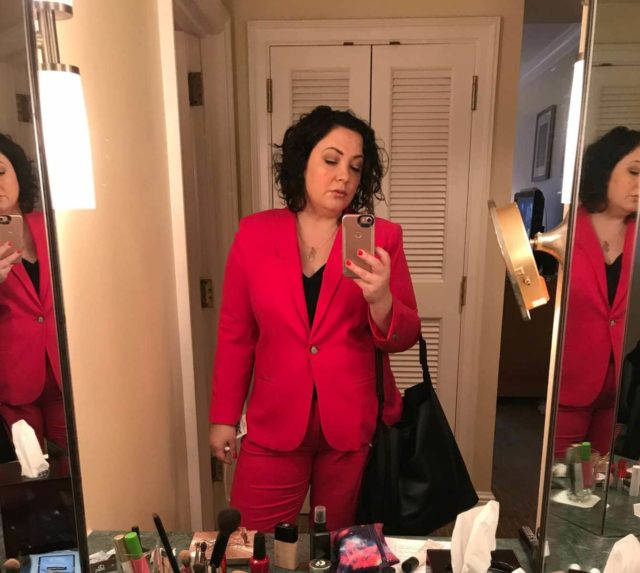 Jacket: Banana Republic (16) | Pants: Banana Republic (14 petite) | Shell: LOFT (XL) | Shoes: ASOS (similar) | Bag: ALLSAINTS | Sunglasses: Ray-Ban
Though I call this Day Two, it's really the first actual day of the conference. Breakfast started at 8, and my schedule was packed until the evening. I knew this Banana Republic pantsuit would do me well. I originally planned on wearing it with my grey Bombelle tee but when I put it on that morning, there was a stain on the front I somehow missed when laundering it. Glad I brought backup clothing! I recently bought this cami from LOFT and I adore it. The XL is big, but I liked it too much to return it (I ended up going back and buying it in a couple other colors and prints, this time in L). With it, some strappy wide width heels from ASOS that are surprisingly comfortable and my ALLSAINTS tote which was big enough to carry everything I needed for seminars and classroom sessions.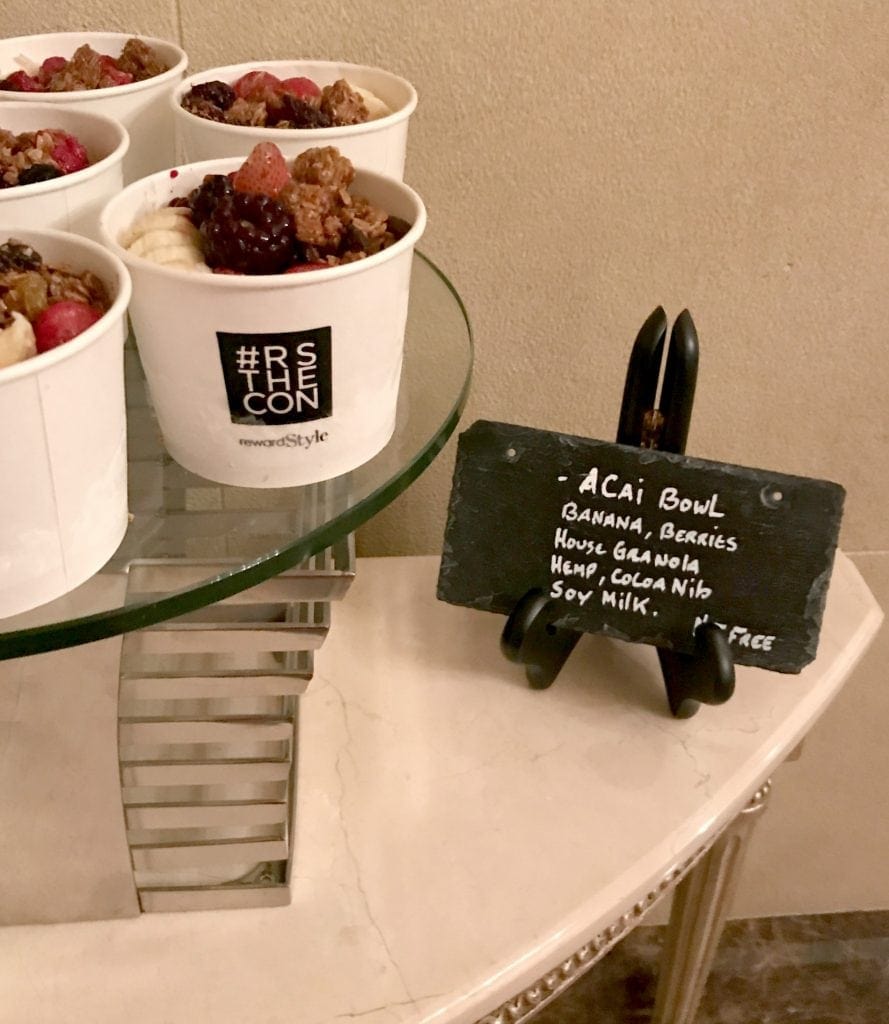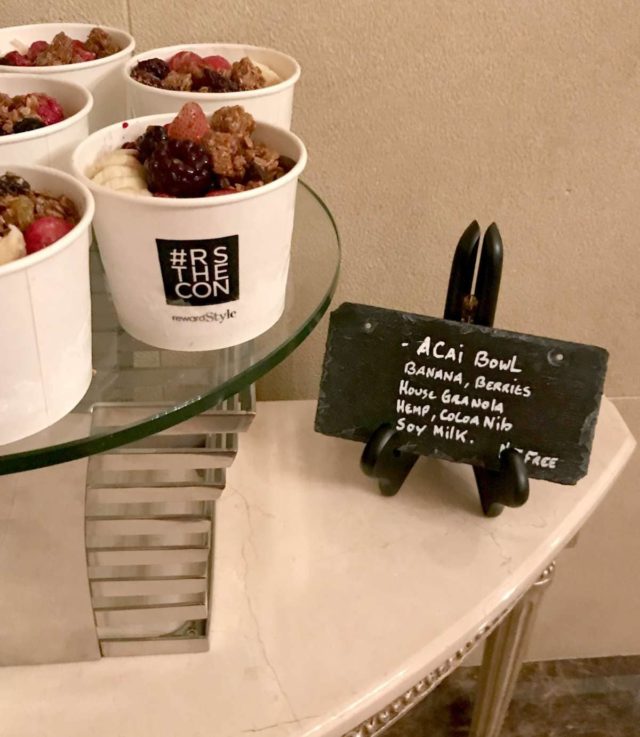 Breakfast was acai bowls and coffee. So trendy, so fashun. Glad I packed a few KIND bars in my luggage. From 9-12 we sat in a ballroom and listened to various panelists. It was entertaining, but not really informative. A few from rewardStyle, a few from the dating app Bumble, and Baxter Box, Co-founder and CEO of rewardStyle. The stage was cool – three giant LED screens that changed with the presentations and chic white leather furniture for the panels. There was no aisle from the side door to the room and we of course sat in the row in front of the door so it got awkward at breaks. I left my laptop in my room and took notes with my orange journal; I find I retain more when writing instead of typing and am more likely to look back at it than notes in Microsoft Word. I was glad to have my room right upstairs when I saw the bathroom line at the breaks.
Notes from the Morning Session:
There are over 12,000 influencers and 4,000 brands part of rewardStyle. Over 100,000 have applied to be part of rS. For those who think this company is fading away you're dead wrong.
There were over 10 nationalities at the conference. There were a lot of Asian bloggers there and it was so fun to meet them and get to know their blogging community!
The new LikeToKnow.it app (available for Apple and Android) is pretty badass. Do you ever screenshot something you see on Facebook, Instagram, or websites? Screenshotting is hot, even in the latest iOS for Apple there's a screenshot folder on your phone. Now with the LikeToKnow.it app, if the photo was loaded into LikeToKnow.it by me or another rS influencer, if you have the app and take a screenshot you'll be able to instantly find out details of the photo. Also from the blogger standpoint it's awesome because even if someone steals your photo or a brand regrams your photo, if someone uses this app, they'll get the details straight from you and you'll still be the one to get commission if someone buys from the photo. I'll delve more into this in a future post.
The blog is NOT dead. They bring in the most traffic, the most revenue, the most conversions. We don't own our Instagram, Facebook, or Snapchat content. If they go the way of MySpace, we have no control. Our blog is our home base, the one thing we do own. I loved hearing this; while social is fun, my favorite place to be is right here at the blog. It's the best interaction and where I feel I can be the most myself.
Good advice for any entrepreneur – don't do it unless it adds users, adds value, and adds revenue. No need to jump on every bandwagon if it doesn't provide these three for your business!
After the panels, we all tromped out of the hotel and across the street to Shake Shack. Shake Shack is right next to a green with picnic tables, bocce ball, and trees. We lined up for a free buffet of sandwiches, fries, iced tea, Arnold Palmers, and bottles of water. While at our seats, Shake Shack staff came around and offered us cups of frozen custard. A lot of people were psyched, they never had Shake Shack before. This chain is in DC, I've had it before, but I must say I was impressed they shut down the place at lunchtime for this event.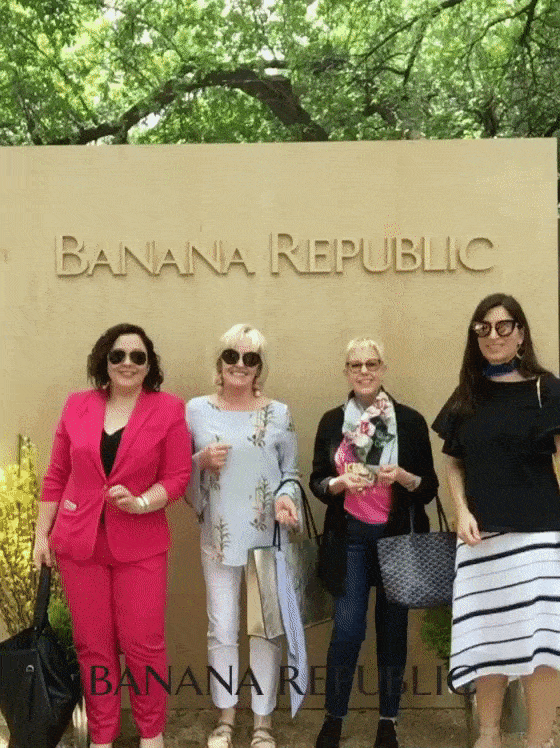 Banana Republic hosted the event; there was a selfie wall with a photo booth that took Boomerang GIFs and a display of flowers in buckets with the occasional bucket filled with Banana Republic scarves. Me, Susan, Jennifer, and Cathy… we couldn't resist! We got in line and had the photo above taken at the station; you can see the three of them wearing their Banana Republic scarves! And those who follow me on Instagram, next week I plan to have a giveaway on there and one of the many things in the prize is the scarf I got at the event!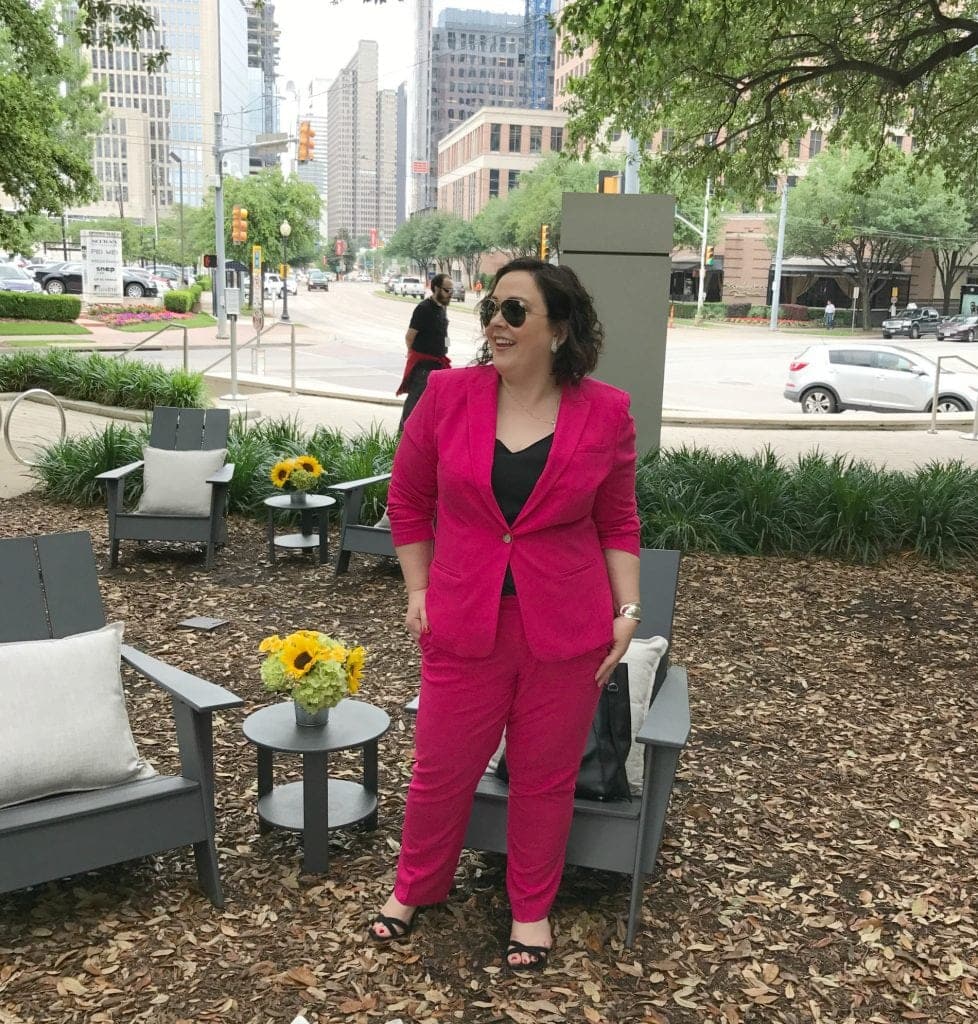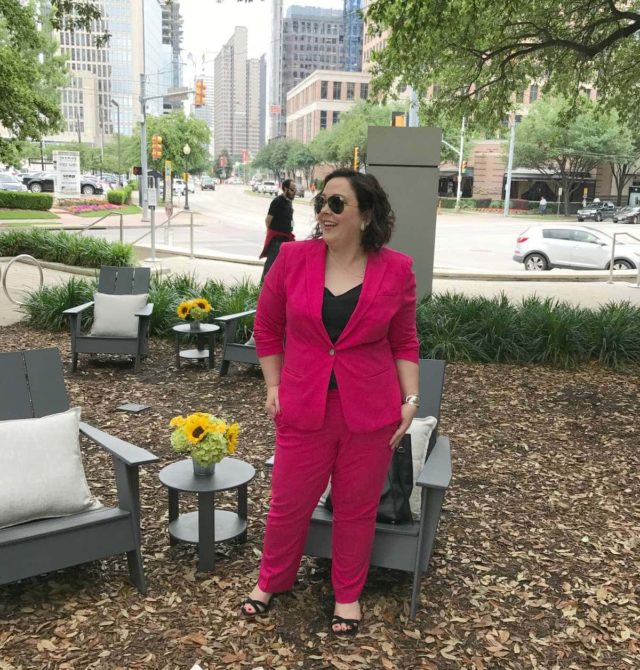 The whole place was set up for photo ops; blankets and pillows on the ground, Adirondack chairs, buckets of flowers, cute bikes. I gotta say, it was really entertaining to watch bloggers set up their photos, especially those who took advantage of the blankets and pillows on the ground! Cathy and Susan both captured some photos of my outfit. The pictures make it look so grand, but really it was hot and muggy out and that doesn't mix well with burgers and fries. Cathy and I thought we saved a table for all of our friends but a group of Asian bloggers took it (miscommunication, they weren't trying to be jerks). Also I must say this is the first time when I noticed my size in comparison to the other bloggers. As you might have guessed, most of the audience was slim I was one of a handful of women there over a size 12, and I was feeling hot and sticky in my blazer but the last thing I wanted the way I was feeling was to take it off and be in a slightly-too large spaghetti strap cami with my over-40 arms eating fast food in the background of their photos.
I'm so grateful to my blogging buddies who kept this conference fun – Susan was so funny screaming, "You're mahvelous, dahling, work it!" while I was getting my photos; Cathy was my buddy the whole time, and after eating she and I caught up with some of the other over-40 bloggers in a shaded corner of the outdoor area where we all laughed and relaxed. I know a lot had to do with being hot and tired (I only got 4 hours of fitful sleep the night prior), but I was glad when the lunch was over.
After lunch, we headed back to the hotel where we all had different schedules. Classroom sessions, brand meetings, and breaks where we could go to the networking hall and meet with the brands sponsoring the conference. rewardStyle set each of us up with three brands and we had ten minutes of one-on-one time with them; we didn't get to choose the brands. We were told to come prepared with media kits and conversion rates. I was dreading these, I despise pitching myself and hate talking numbers and I didn't fully get why I was paired with all three of the brands I got.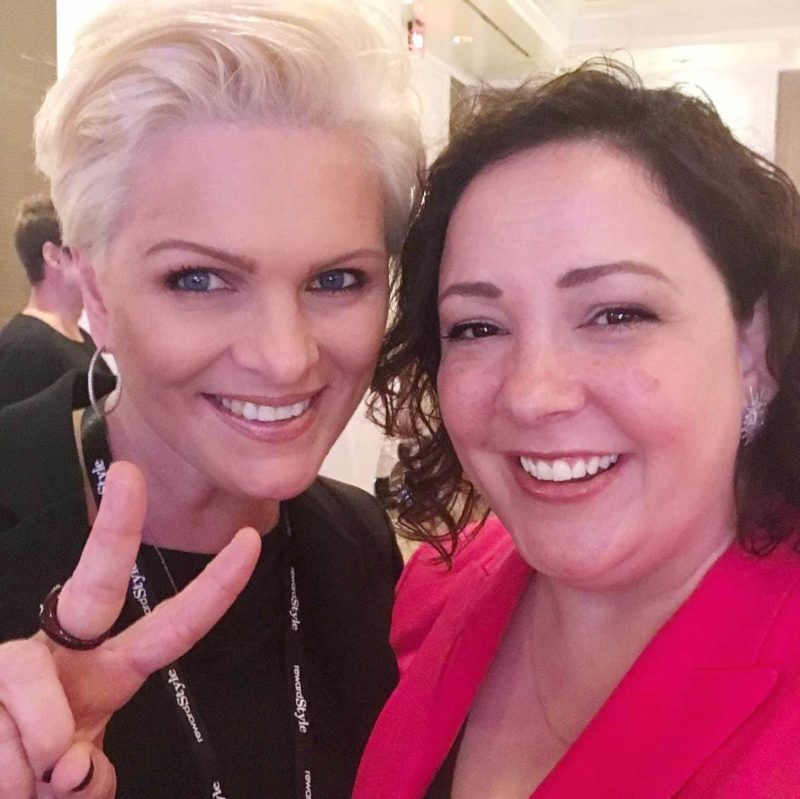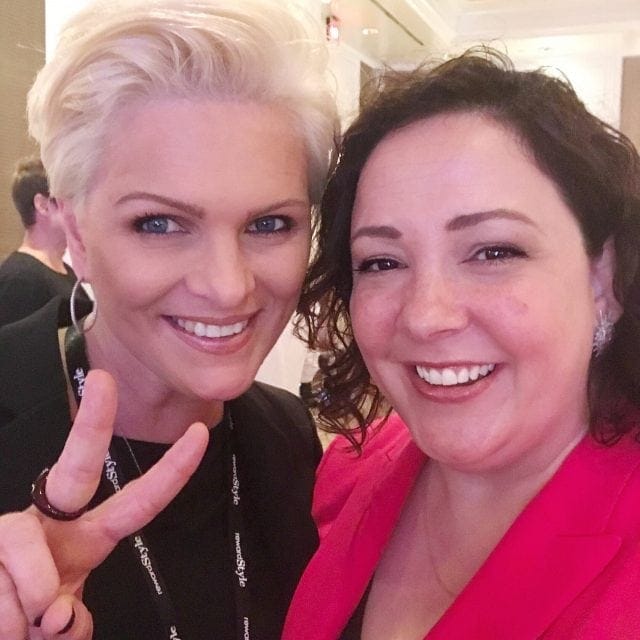 My first session was with Colleen Rothschild, a skincare brand I use and love and have a bit of a relationship with already. I came back to the same ballroom we were in that morning, though now it was set up with little high-top round tables with bar-height chairs. You came to the door, told an rS employee who you had a meeting with, and they'd escort you to the table where one or more brand reps and an rS rep were sitting. My one-on-one was not with a rep from the company but Colleen herself and her husband! This was so cool to me; I'm a fan of the beauty line, I use the Cleansing Balm every night, I follow Colleen on social media, and now I was meeting her in person. Yes, she really is that gorgeous in real life with that beautiful of skin and she's so nice and engaging. Her husband was great, and it was fun chatting with them and getting to know more about upcoming products and them getting to know more about all of you.
I then had a classroom session; it was about marketing yourself and was led by Alex Williamson of Bumble and blogger Courtney Kerr of Kerrently. Fun fact: Alex is the daughter of Cathy, the woman behind the blog The Middle Page! Again, I found this classroom session to be entertaining and inspiring but not really informative. But inspiration can go a long way. It was great to listen to two successful women talk about how kindness and paying it forward and recognizing your audience is a key to success. There's a lot of inflated egos in the blogosphere; it was refreshing to be told that nice girls finish first. If you followed my InstaStories from the event you know I got a bit emotional after it. I've been off my game, feeling stressed and low. The session reminded me of how blessed I am to have all of you here in this community, and so many of you who I have gotten to know and consider friends. How Wardrobe Oxygen has made my life richer, happier, more colorful because of the people I've connected with through it. So while I hardly wrote a single thing down in this session, I'm glad I attended.
Next was my second brand meeting, this time with L'Occitane. I've been a fan of the brand for many years, and almost worked for the company in 2004 when I left The Body Shop (I declined their offer and got a 9-5 job). I met with Christine from the company, who was so full of energy and enthusiasm. Like Colleen Rothschild, I didn't need my conversion rates or media kit, Christine already knew about me and the blog. We chatted about product, about the Wardrobe Oxygen audience, and it was a fun meeting. In fact, we even hugged at the end of the session!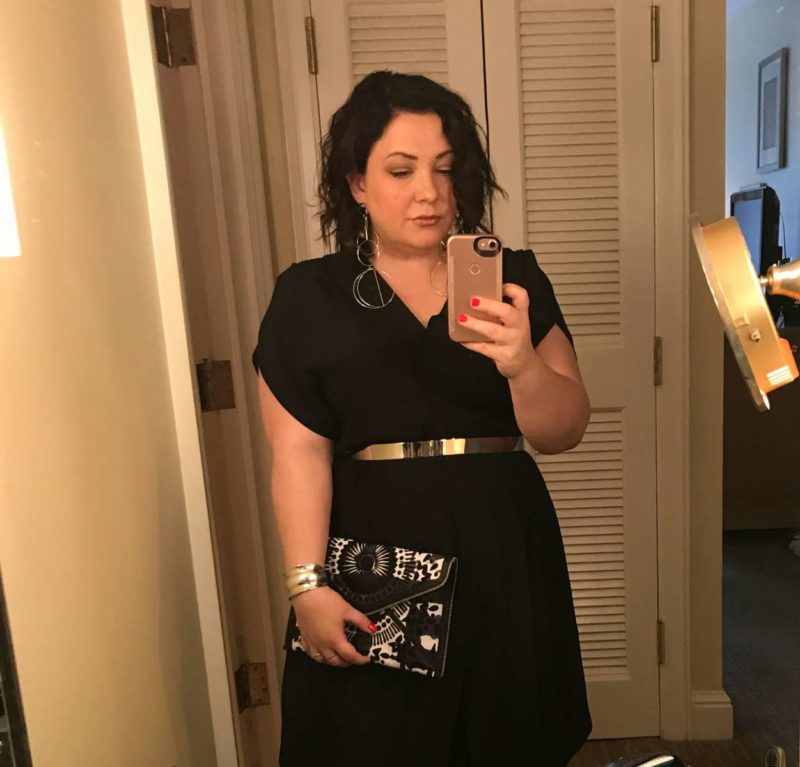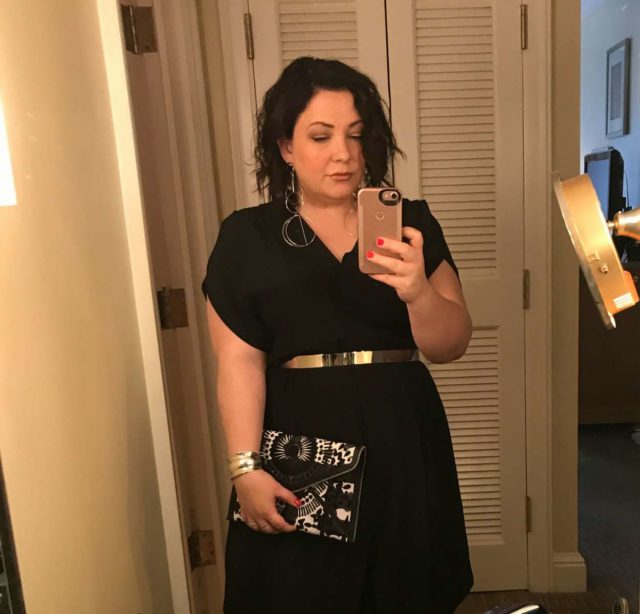 I was finished for the day and was feeling pretty pooped. I went up to my room to get ready for the evening affair. Sigh. I spent the day in heels and a strapless bra and all I felt like wearing was the hotel-issued terry bathrobe. However a shower revived me. It wasn't enough to get me to put back on a strapless bra (I was planning on wearing this City Chic high-low hem dress) but I did put back on the heels with my Myne LA 'Heidi' dress. I bought this dress a few years ago and it has served me well. I styled it with these amazing silver earrings from ASOS I bought a couple months ago, a silver metal belt also from ASOS I already owned, and my Rebecca Minkoff Leo clutch. Again, it paid to have backup clothing!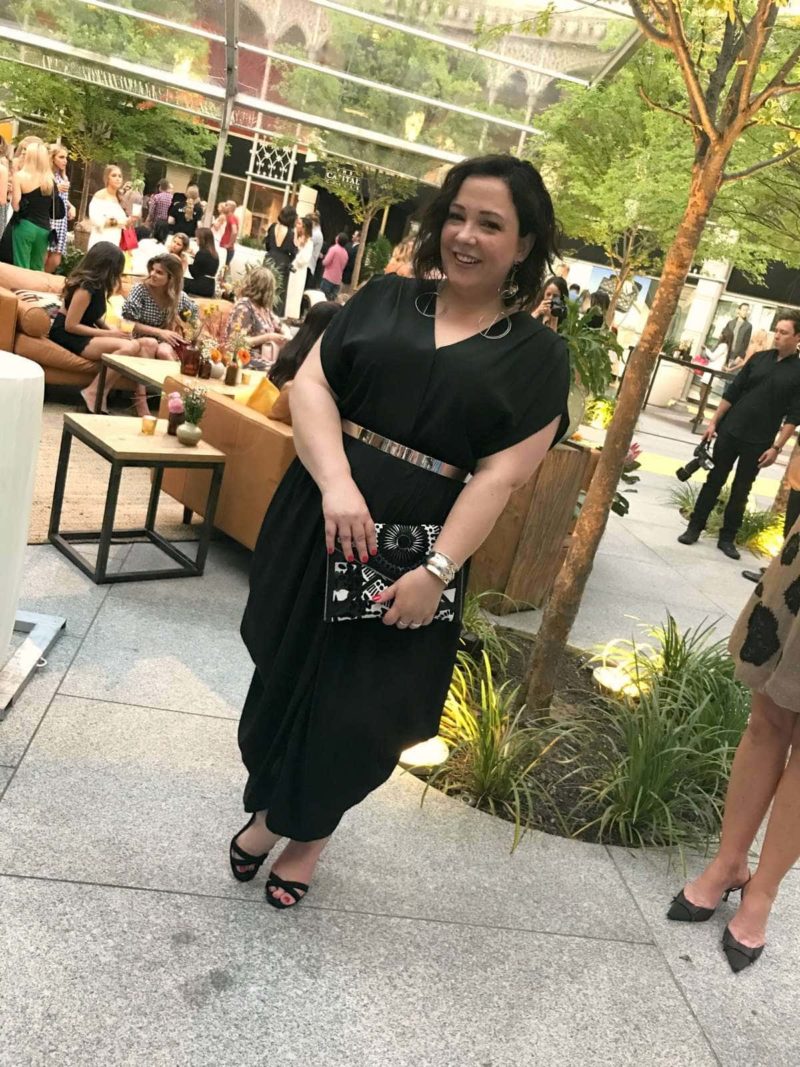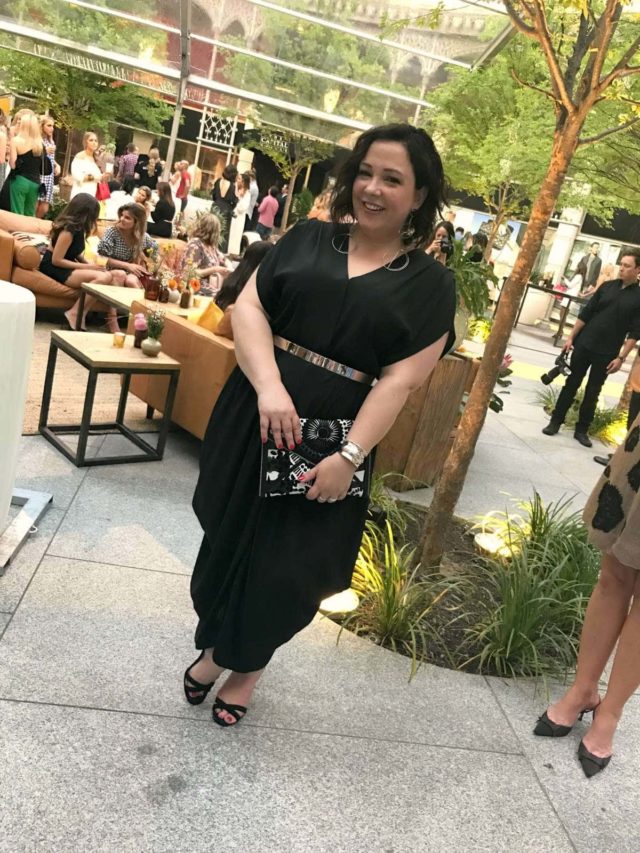 Dress: MYNE (10) | Belt: ASOS (M/L) | Earrings: ASOS | Bag: Rebecca Minkoff | Shoes: ASOS (similar)
That night was a cocktail party in an open-air courtyard of sorts at The Crescent, hosted by Bumble. There was a yellow carpet that led us to the party, leather couches and chairs set up for lounge areas, a giant Lite Brite to play with, a fortune teller, passed hors d'ourves and champagne, and an open bar. The fashion was fascinating – there was everything from denim shorts to ball gowns. It's clear the rules for cocktail party attire have been relaxed, at least for this event.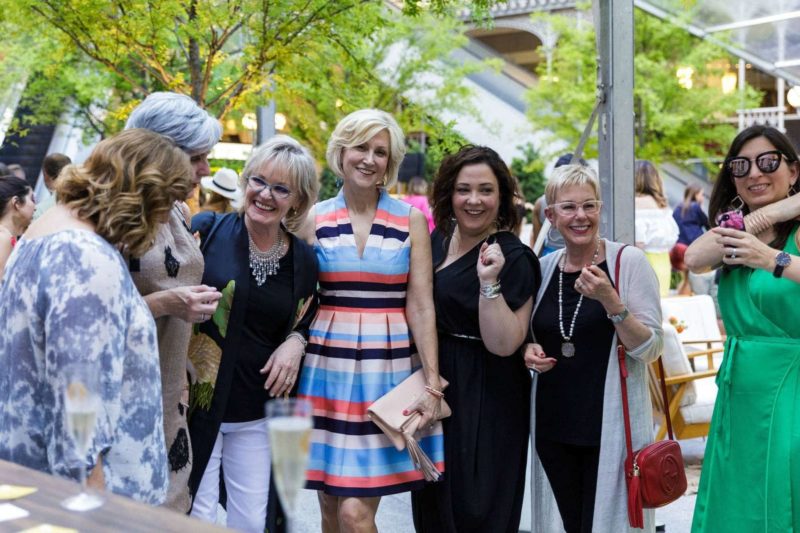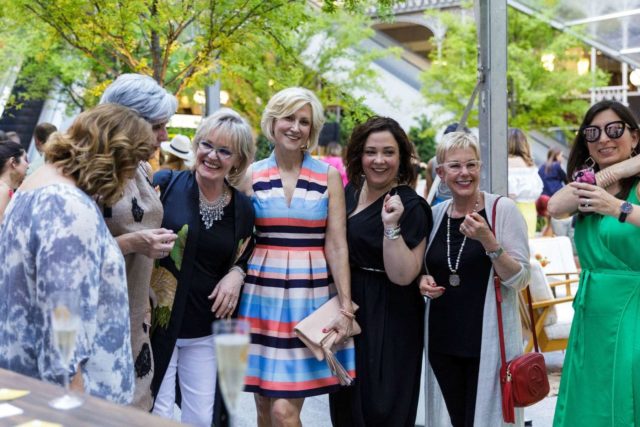 I hung out with fellow over-40 bloggers Deborah, Maria, Jennifer, Susan, Cathy, and Beth and while we had fun, after an hour we were over it and desiring more food than chicken on skewers and mini cheeseburgers. The Capital Grille had one of its doors right in the courtyard where the party was held, so we headed over there for dinner. We could have talked all night, but we left around 10:30 so we could rest up for Day Three.
What I Learned at Day Two of the RewardStyle Conference:
LikeToKnow.it isn't the devil. I've shied from using this tool but I learned how it has changed, improved, and is actually quite cool. Stay tuned, I'll be sharing more about it.
Nothing beats a handwritten thank you note. I'm going to be ordering postcards with my branding on them to send to brands, to readers, to PR people. They're so nice to work with me or chat with me, I want them to know I appreciate them.
Leave the laptop in your hotel room. Unless that's how you think and process, it's not worth lugging around the weight all day. They did have a lab where techs would install rewardStyle widgets on your site; I didn't choose to do that but if I did I would have likely raced up to my room to drop the laptop off for the rest of the day.
Anything goes with fashion. During the day, I saw women in jeans and tank tops, and women in bodycon dresses and skyhigh heels. I felt good in my suit and got a lot of compliments, but it's totally okay to go to this conference in a sundress and sandals or your favorite denim. Same with the cocktail party – a real variety of fashion and I felt perfectly lovely in my years-old dress. What stood out in a sea was those who marched to the beat of their own drum – maybe you're a tomboy, or you rock vintage… don't stop your style for this conference.
Bring backup clothes. They may get dirty, you may change your mind, you may be sick and tired of strapless bras. Whatever it is, don't be afraid to overpack. It IS a fashion event after all!