This article may contain affiliate links; if you click on a shopping link and make a purchase I may receive a commission. As an Amazon Associate, I earn from qualifying purchases. 
It is so easy to reduce your waste without sacrificing time, lifestyle, or quality. Here's a few things my family and I have implemented that we have found to be easy, and better for our lovely planet.
Compost It!
We didn't have a compost pile for years because… well because we were lazy. I perceived a compost pile and requiring regular maintenance – to flip it over, to keep it moist, to deal with raccoons and stink and bugs and more.
A few months ago I acquired a great chair on Freecycle. When I went to pick it up, the owner had two black plastic composters
sitting on her driveway. My husband commented on them and she said we could have them. They were never used, and the classic dome style. We put them in our side yard, less than ten feet from our back door. We used a shovel to break up the land under them, screwed them into the ground, and then tossed in the bag of clippings from the morning's mowing of the lawn. Since then, we just toss things in there. We don't worry about adding water, letting it air out, or even turning very often (and when we turn, we just shove a shovel in there and wiggle it around).
Since April, our composters
have never gotten over half full. The waste breaks down so fast, it is amazing. What we add to our compost bins:
Grass clippings, corn husks and cobs, shells from shrimp and crab feasts, shells from peanuts and pistachios, ends and peels from produce, tea bags, leftovers (no beef, fat or dairy but will include tofu, pasta, rice, oatmeal, beans, bread, as well as regular produce) that are past their prime, fish skin, dryer lint, used Kleenexes and Q-tips, the leftover soy milk in a carton that is expired, egg shells, coffee grounds (we have a French Press but you can compost filters with the grounds), the contents of our bagless vacuum cleaner, Styrofoam peanuts, biodegradable grocery bags that my mom used to send home one of Emerson's dirty cloth diapers (don't really want to reuse even to clean up dog poop).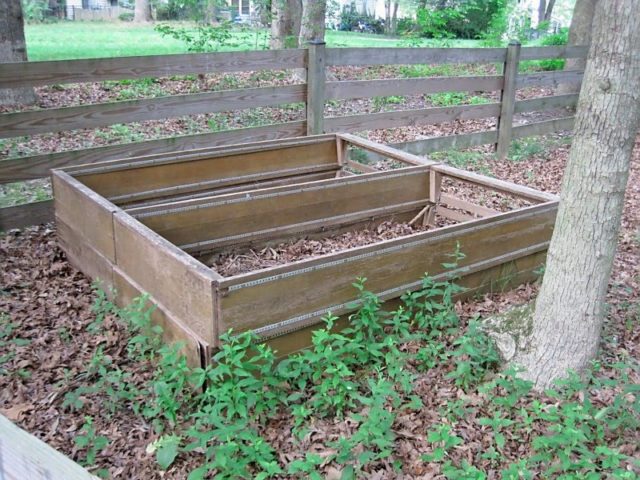 This is a composter that belongs to someone in my town.  You don't even need to spend money on a composter – these folks used some old bookcases to keep their grass clipping and leaves!
We have cardboard/paper recycling in our community but if we didn't, the compost could easily handle torn up small pieces of paper and cardboard (receipts, TP roll, torn cereal boxes, etc.). Since we recycle all paper and cardboard and have our compost bins (and use cloth rags and napkins and cloth diapers and wipes for Emerson), we end up only filling two plastic grocery bags worth of regular trash a week.
I know not everyone has a yard big enough for a compost bin; last week I read a fabulous article in the Washington Post Express about composting in an apartment or small home. There are compsoters specifically created for inside the home
, containers to hold scraps in your kitchen until you can get to your compost bin
, and Washington DC even has a compost pickup service. Compost Cab will provide you with a bin for scraps, will pick up your waste each week. Your contributions will be delivered to Engaged Community Offshoots, a nonprofit farm in Prince George's County. After nine months, if you like, you can get the soil that was made from your kitchen waste. If not, the soil is used at ECO to support sustainable urban agriculture projects. Check to see if your area has a similar service!
We are not a home of green thumbs. Our co-op regularly leaves notes on our door that we need to try to get the grass to grow thicker, to trim our hedges, keep our yard up to standard. We don't compost to pamper petunias or help grow bigger tomatoes. But compost becomes dirt, and dirt can be used most anywhere. Our compost bins have a door at the bottom that we can open and shovel out the Black Gold – we sprinkle over our few gardens and also over the front yard to help the grass grow better. We also have offered the compost to neighbors who are better landscapers than we. You don't have to garden to find a compost bin beneficial – after all, if there is land, there is dirt!
We have three dogs, and that means we have a LOT of pet waste in our yard (and their running around is a big reason why our grass is so nonexistent). I researched pet waste composting, and found it doesn't always work well in the DC area due to the high clay content in our soil. We figured we would at least try a cheap method and see if we have luck. My husband inherited a post digger from his grandfather – it is sort of like a hand-cranked giant screwdriver. Every couple of months, my husband digs a deep hole (few feet) along the back perimeter of our yard. We have a stone patio tile that is three feet square and heavy that we use as the lid. My husband will lift the concrete tile and shovel all the dog waste into the hole. When it gets to be about a foot from the top, he will fill the rest of the hole with soil and create a new hole. The holes are in the very back of our yard, away from any vegetation or other neighbors' gardens. The smell is nonexistent thanks to the heavy lid (and the lid makes it critter-proof and kid-proof). These holes have sunk a bit over time, but haven't completely composted. When they sink, we just add more soil and tamp it down. Far better than landfills full of plastic-encased dog waste!
Recycle It!
So you recycle your cans and bottles, but do you recycle anything else? Check your local government to see what they permit in your recycling bins. Even if your community doesn't recycle, doesn't mean you can't. We keep an old trash can in our pantry and in there goes all paper and cardboard – junk mail, cereal boxes, toilet paper rolls, cardboard egg crates, receipts, shredded bills and personal mail, read newspapers and magazines, the pieces from Emerson's books that she destroys (NOW I see why cardboard books are rarely seen at yard and consignment sales – they get mutilated by children!)… all this goes in the bin. Then on Sundays on our way to the farmer's market we stop by the local Abitibi Paper Retriever dumpster and drop it all there. We find this is easier than trying to have it in our weekly recycling and not have it fly everywhere with rain and wind, and it's nice that profits go to the community.
Yogurt tubs are not often covered by local recycling programs. However there are programs that will recycle #5 plastics. Preserve has a program called Gimme 5 that helps you recycle such containers. Their site has a list of retail locations that take #5 plastics, and they even have a program where you can mail back such plastics. We have a local business who will collect these plastics and ship them back for us – Preserve has done the research and proves it is more environmentally friendly to use the energy to ship back the plastics than have them sit in a landfill. Check it out and see if it is available in your area!
Buy it Used!
I think any savvy shopper knows the beauty that is eBay. So nice to get that designer brand at a discount. Well there are other ways to get great stuff cheap… and even free!
– Craigslist
–
Craigslist
is THE destination for that Crate and Barrel table you covet at a nicely reduced price. Many posts on
Craigslist
show photos so you can see what you are considering before you trek all the way to the seller's home. However
Craigslist
isn't just for dining tables and romantic encounters. I have found some fabulous baby goods on there, have sold things like shoes and cloth diapers, and know friends that have found clothing and even items to complete their wedding registries.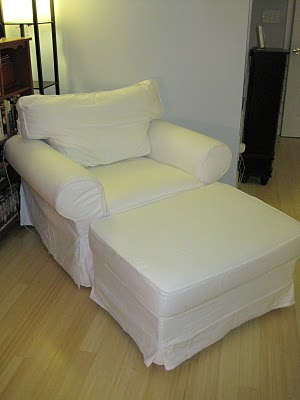 The chair and ottoman I scored off Freecycle – still in their original packaging!

– Freecycle – Oh Freecycle, how I love you. Visit freecycle.org to find the Freecycle in your area. I have gotten my previously mentioned composters
, a $250 new chair from IKEA, toys and clothes for Emerson (some still with tags on them), and gardening tools and plants from Freecycle. I have gotten rid of random things in my house with it as well – one person's trash is another's treasure. I had a 30-year old Crock Pot
with a missing lid. I put it on Freecycle and a woman who had the same Crock Pot
that had died (but lid still intact) took it. It's nice to receive, but Freecycle is also a great place to give that which can't be sold on Craigslist or donated to charity (seriously, there may be someone out there that can make good use of your broken toaster!).
– Consignment – This weekend I went to a consignment sale at my aunt's church and got Emerson a tricycle. I paid $20, and saw on Amazon it sells for $160
. I also got her a bag of clothes and a couple toys and paid less then $20 for the whole batch. My neighborhood consignment store currently has brands like Calvin Klein, Diane von Furstenburg and Marc by Marc Jacobs for sale, the pieces look almost new and the prices are astounding. Google your town or nearest metropolitan area and the word "consignment" and you may find a similarly fabulous shop in your neck of the woods! And for all those items you have that are in great condition but no longer getting wear, consider consigning them!
– Thrift Stores – Thrift stores are really hit or miss, it can be great, or it can be awful or really picked over. Go thrifting with an open mind, a full belly, and a lot of free time. It can often prove very rewarding. And when you have old clothes and house items, if it is usable keep it out of the landfill and pad your tax return with a donation to your local charity thrift store!
– Yard Sales – Like thrift stores and Freecycle, you have to weed through the awful and randomness but you can really end up with some fabulous deals. Funky frocks from the '70s, Fiesta Ware, fabulous classic rock albums, amazing one-of-a-kind furniture, and yard sales are really great for housewares like lamps (amazing what a new shade and a can of spray paint can do for a yard sale score!).
Don't Buy It!
There are so many ways that you can reduce the amount that you purchase and use, while leading a comfortable life. Some of my favorite ways:
– BYOB – Bring your own bag! I have mentioned this before but it is a great way to go – don't just bring your bag to the market, but bring bags for produce and bulk purchases. Bring your own bag to the mall, to Target, to Home Depot.
– Go Cloth – I wrote before about our cloth rag bag. Well since then I have replaced many disposable items with cloth. We now use homemade sponges in place of disposable sponges – they work great and can be sterilized in the washer or dishwasher. There are many styles available on sites like Etsy – we have even found ones with a scrubby side and a soft side just like our old disposables. I also have replaced my cotton rounds with ones made of two pieces of flannel – just as soft and works just as well for removing eye makeup and applying toner. Just toss them in the laundry with my clothes and towels and they're ready to go next time!
– Examine Packaging – If there are two similar items but one has less superfluous packaging or at least packaging that can be recycled, choose that method. Items that can be bought in bulk help reduce packaging waste as well. Our local organic market has oatmeal, cornmeal, pistachios, almonds, brown rice and even spices available in bulk – we bring our own bags and then refill glass containers we have at home. I mentioned deli meats and cheeses over pre-packaged and it does make a huge difference with the amount of trash you accumulate in a regular week!