This article may contain affiliate links; if you click on a shopping link and make a purchase I may receive a commission. As an Amazon Associate, I earn from qualifying purchases.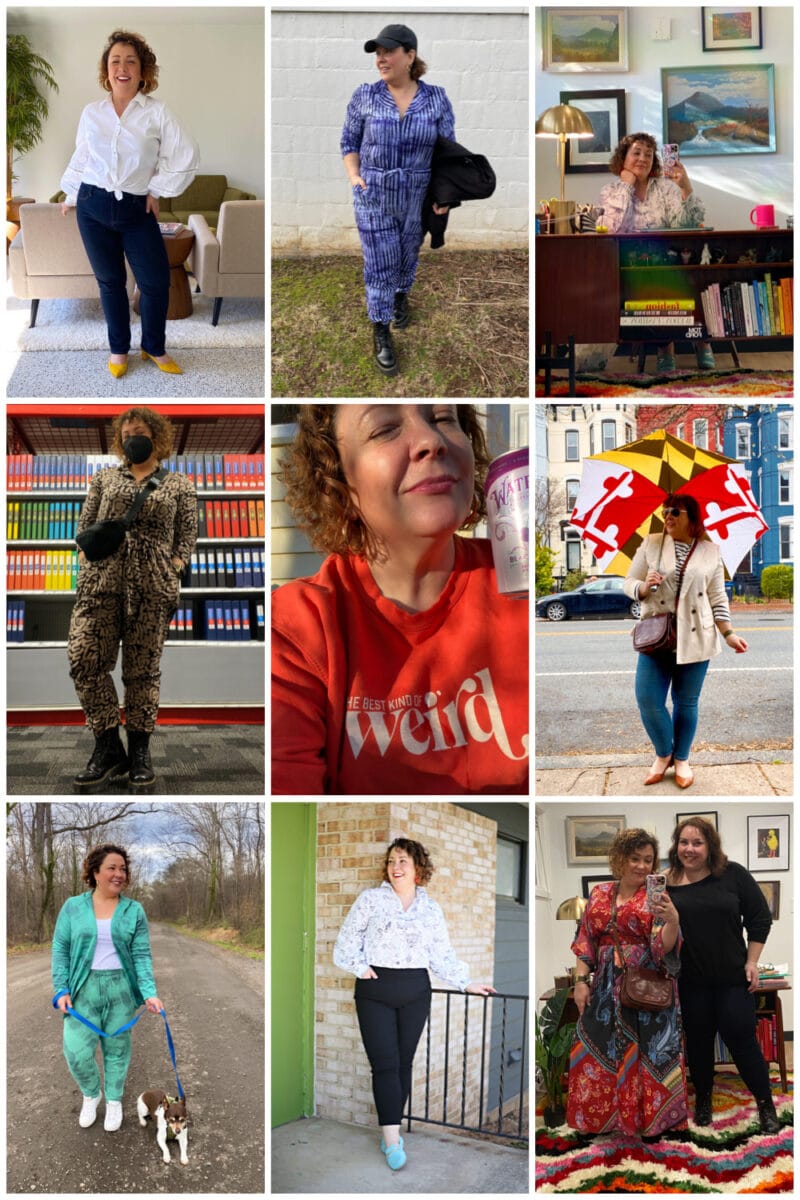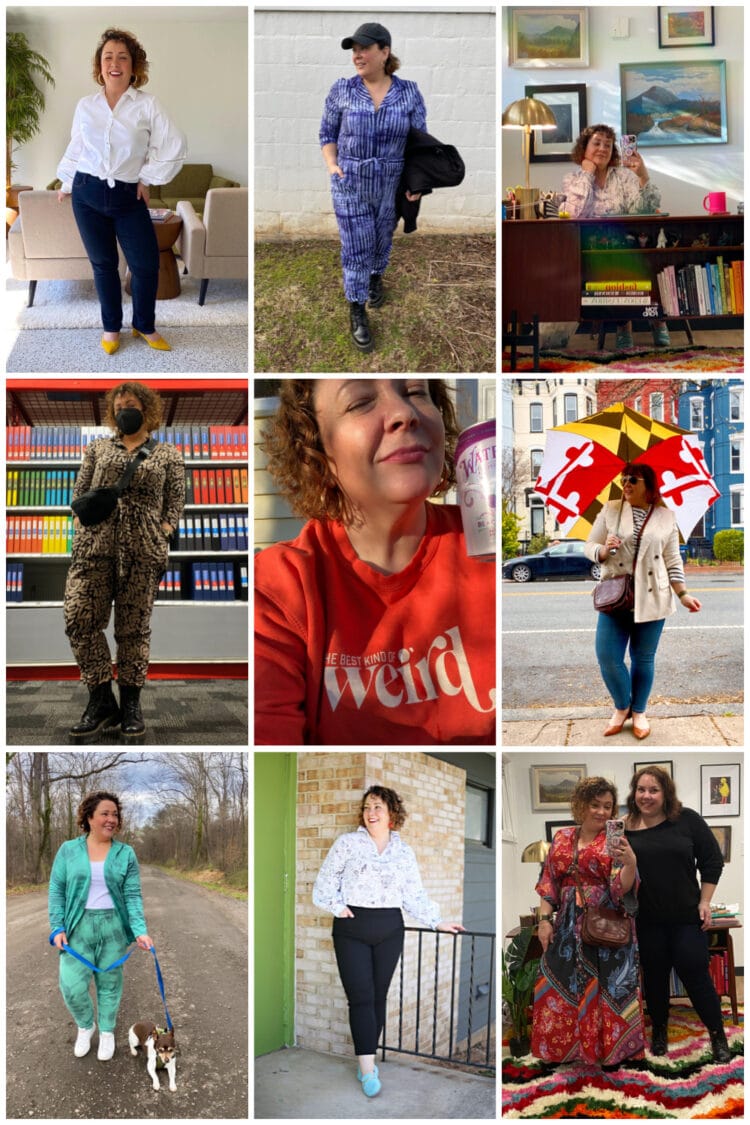 It has been a bit since I have shared what I wore recently on Wardrobe Oxygen. I do on a regular basis on Instagram, and pretty much daily in my Instagram Stories, but things have been hectic lately and I haven't been able to gather them all here on the blog. Well here's what I have on my phone from the past couple of weeks:
Friday Night Social Life
A friend was retiring from being music director at a nearby venue and then a really great band was playing after the retirement party. I had a social life for a Friday night for the first time in a while! I would be indoors and out, likely wanting to dance, be on my feet for most the evening, would want to be able to have a bag I could keep on my person while dancing and chatting and holding a drink and I wanted to look festive.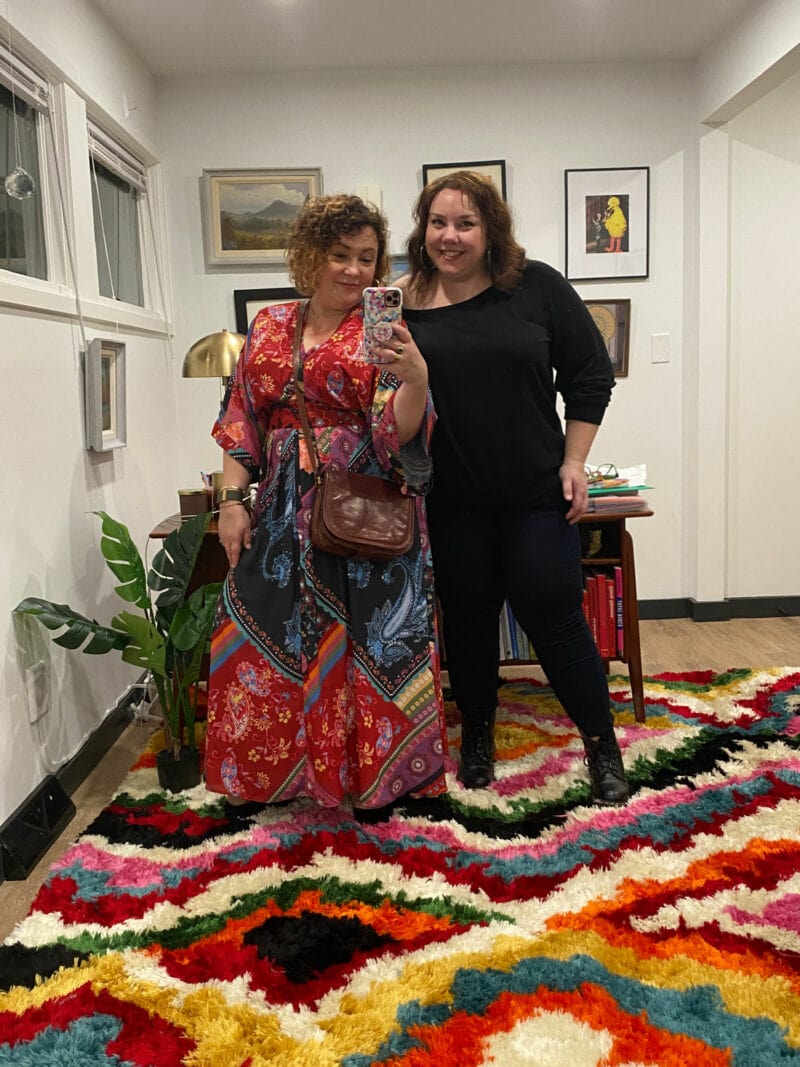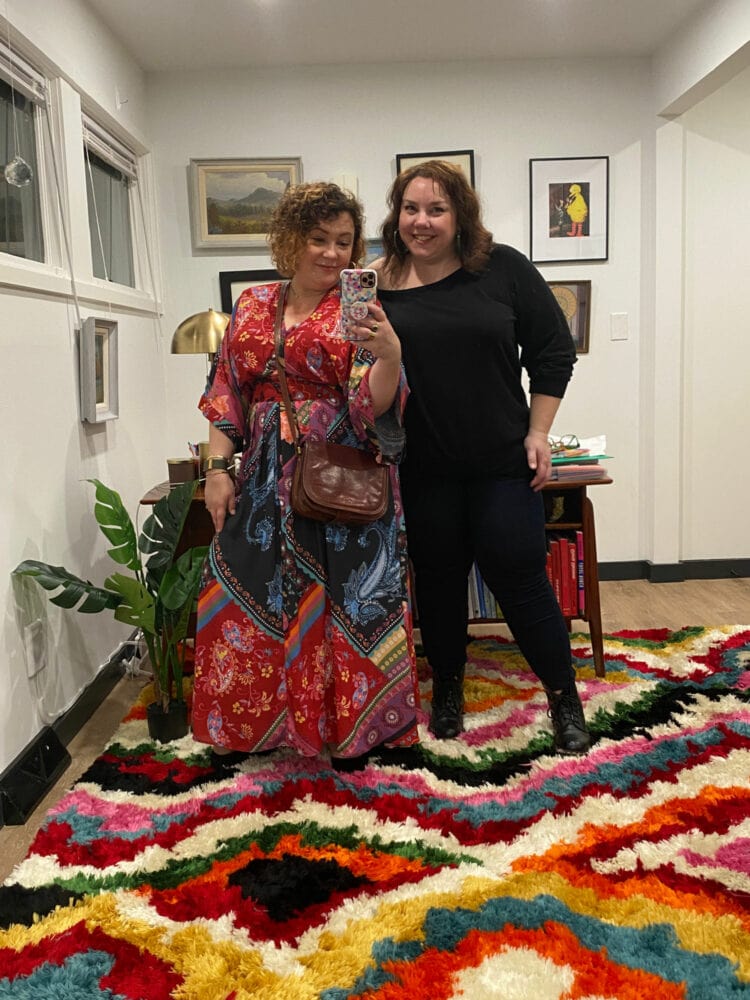 I decided on my eShakti maxi dress which I originally featured in this post from last year. This dress is like a matte jersey, so it doesn't wrinkle and it stretches. The pockets are deep enough that I can put my phone in it, it's a great length where I can wear it with heels or with flats. And this evening I wore flats.
I wore my LISSOM flats in black. Those flats are so great because they offer a bit more grip and stability than a flat like Tieks or Rothy's. My feet don't get sweaty in them, and they are super flexible and comfy even at the end of the day.
My bag is the Maxwell Scott saddlebag I've had for years. Not a cheap bag (though promo code ALISON10 gets you 10% off), and likely wouldn't own it if the brand wasn't generous enough to gift it to me, but gosh this is the kind of bag I could see carrying for decades and even seeing Emerson then carrying as a vintage piece. Love it, and the strap can be a length where it's comfortable as a crossbody, even if I'm bopping to the music.
Such Great Pants
As a Chico's ambassador, sometimes the brand offers to sends me pieces they want to promote. And when they asked if I wanted a pair of their Brigitte pants to review I was like heck yeah! These pants are awesome. They're a pull on style but look really polished. Deep pockets, clean lines, machine washable, bounce-back stretch fabric that looks like crepe (I've worn in the past to the office with a blazer or blouse). Great pants, highly recommend, I wear a size 2 Petite.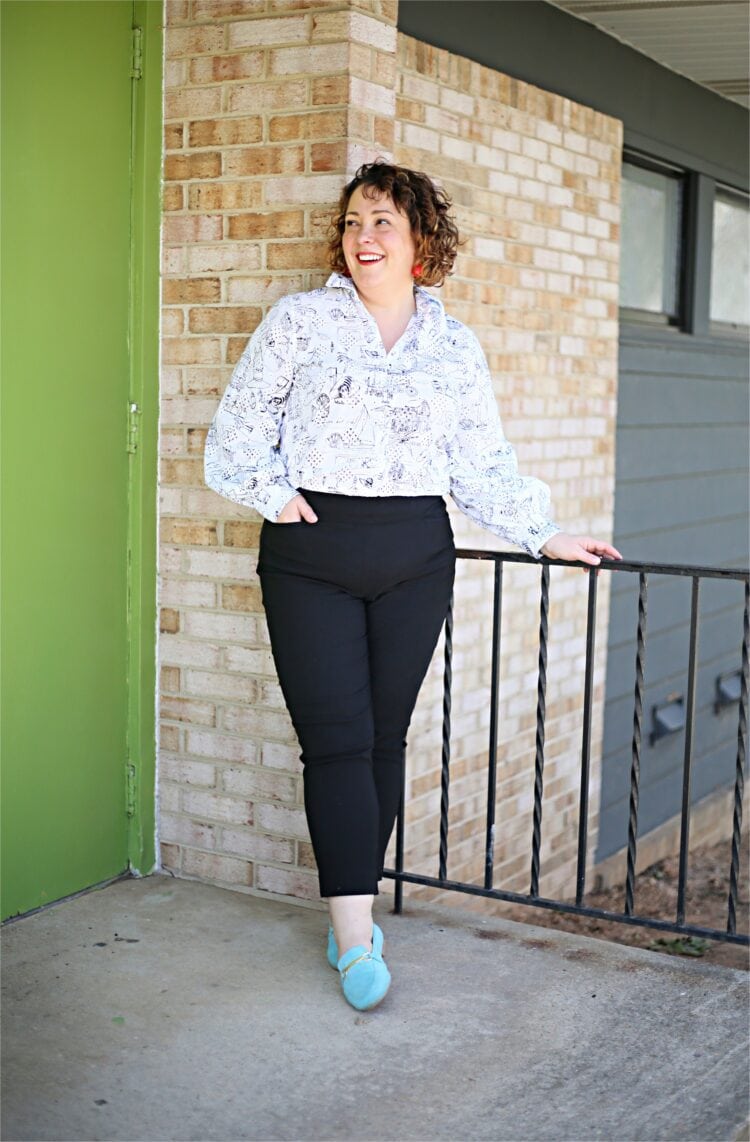 Here I am wearing the Chico's Brigitte pants in 2018, here I am reviewing the Chico's Brigitte pants in 2020. And I wore them earlier this month and showed them in this outfit recap post. And I have washed AND dried the pants since that original showing.
With the pants is a top Chico's sent me to celebrate their Sanibel Island, Florida origins. It's a white eyelet top with black drawings on it representing the beach of Sanibel. This is not something I would usually wear or pick, but it is a really beautiful blouse and unlike most eyelet pieces, it's quite soft and not so open that you require a camisole. I'm wearing size 2.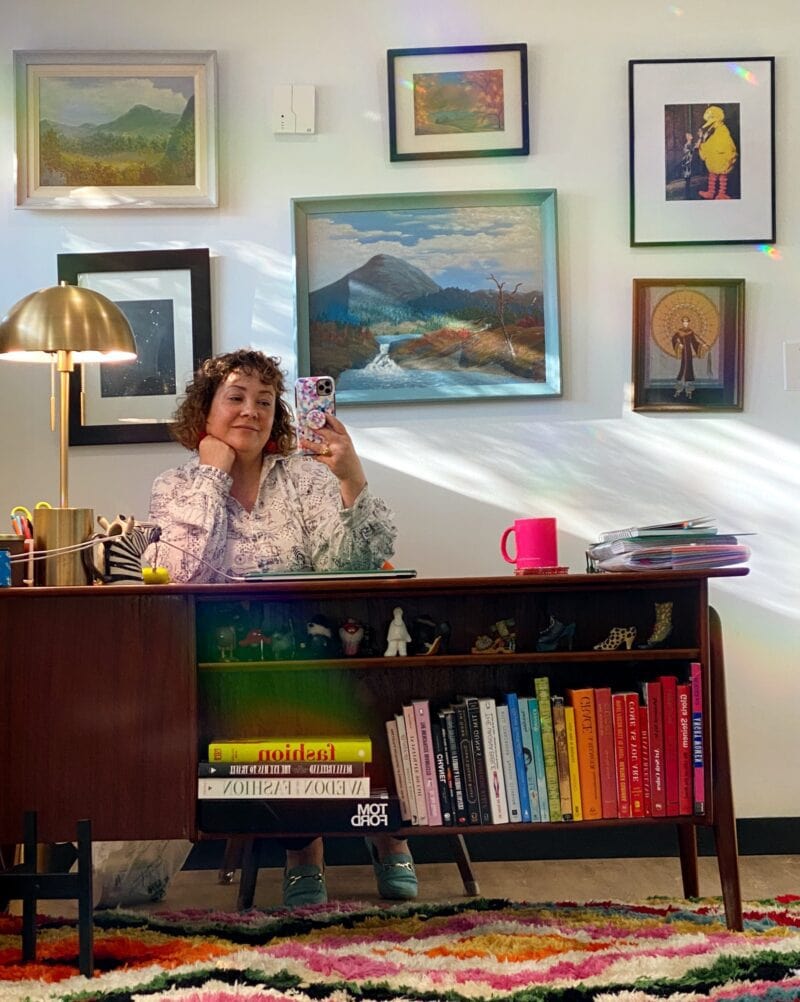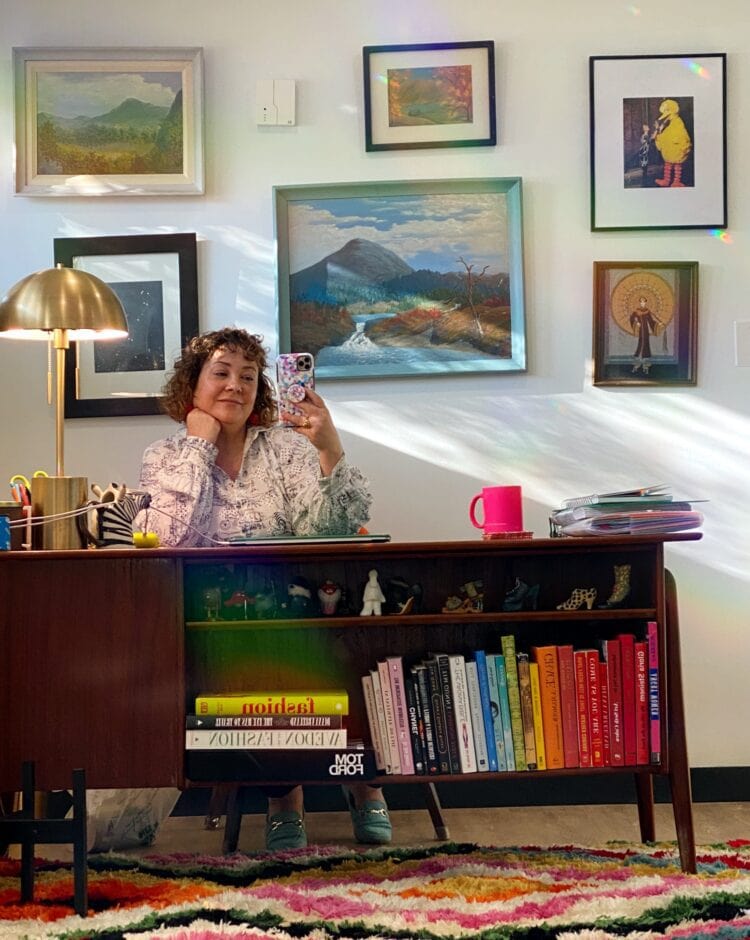 Because I can't just wear a black and white outfit, I had to add some pops of color. The loafers are from ASOS and a few years old. I don't even think they're real leather but they're comfy and roomy. They look a lot like the ASOS 'Verity" which this season they have in red patent and blush leather look. Also like these cream linen-like loafers with tan leather trim. These looks to be the same loafers but in pink. These beige croco loafers with a block heel look great for work but also for dresses and jeans.
ASOS is a fantastic place to find fun and on-trend wide width shoes. I also find them a great place to find dressier heels like the strappy "nude" styles in wide widths. I can't guarantee all are comfortable, but luckily ASOS has a really easy shipping and return policy. Some styles they currently have that caught my eye:
Weekend Walk
As a Chico's Ambassador, I get to pick a look to style each month. I wasn't sure what to style because I liked a few things from their New Arrivals so I ordered a mix. One outfit I picked was this tie dye jacket and matching joggers from Chico's Zenergy line. I got both in size 2.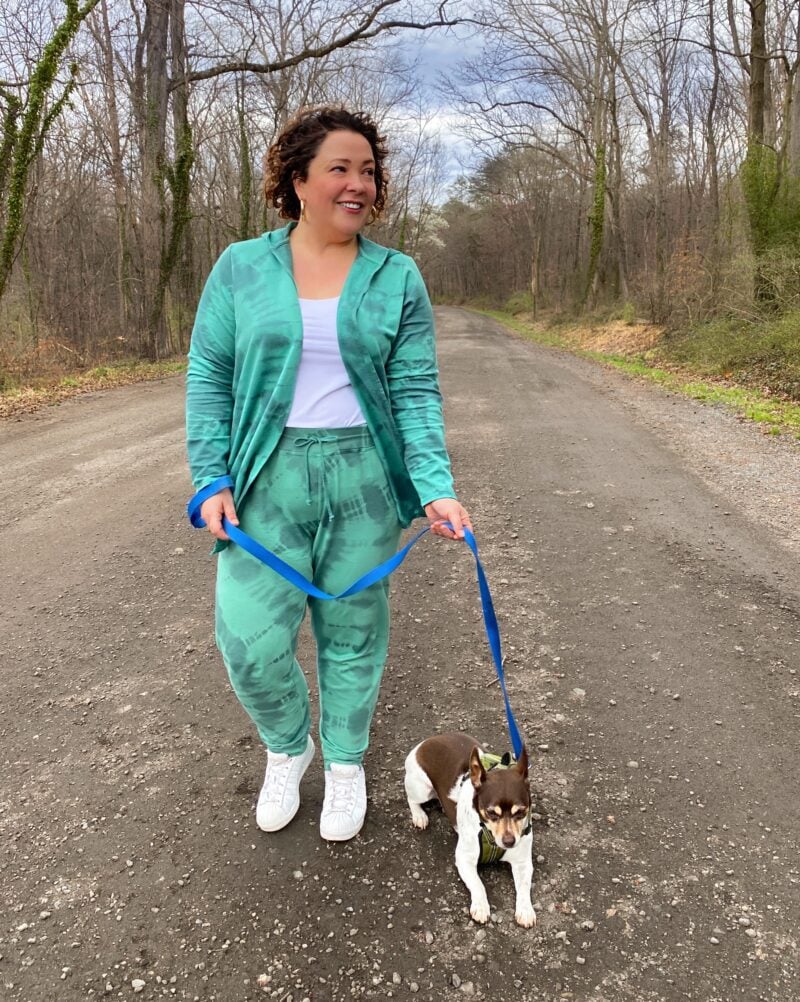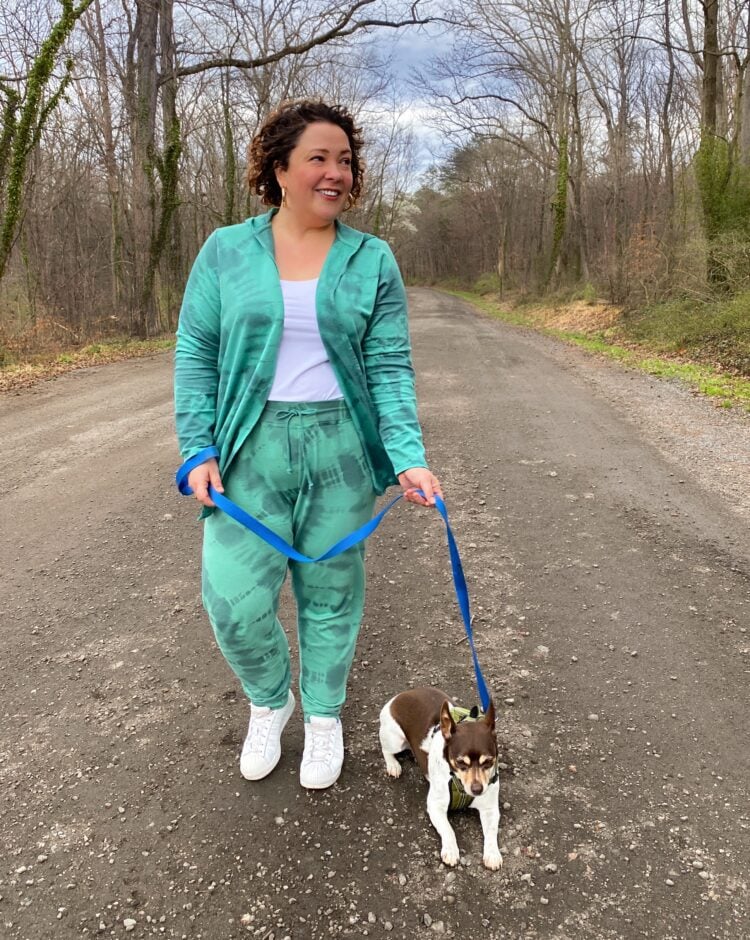 I think this is a really nice spring-weight knit set. Inside isn't fleecy but loop terry, and it's lighterweight than a typical sweatshirt making it great for the season. The colors are true to what you see on the website and I found the pieces washed up nicely.
Underneath I am wearing the Chico's Microfiber Tank in size 2. I own several of these and love them. They are fitted enough to be a camisole or replicate a bodysuit, but not so tight you feel naked. The finish is polished and opaque, a tight weave with shine that is dressy enough that I've worn under a pantsuit and with a pair of slouchy trousers or a maxi skirt for an evening out. The sneakers are Adidas Superstars.
Such Great Jeans
I'm also a fan of Chico's Girlfriend jeans and on a Friday decided to wear them to the office. I decided to dress it up with this blouse, also from Chico's. At first, I tucked it in, but then I felt I needed a belt and didn't have any belts that felt right with the shoes I wanted so I untucked it and tied it in a knot so no belt was needed.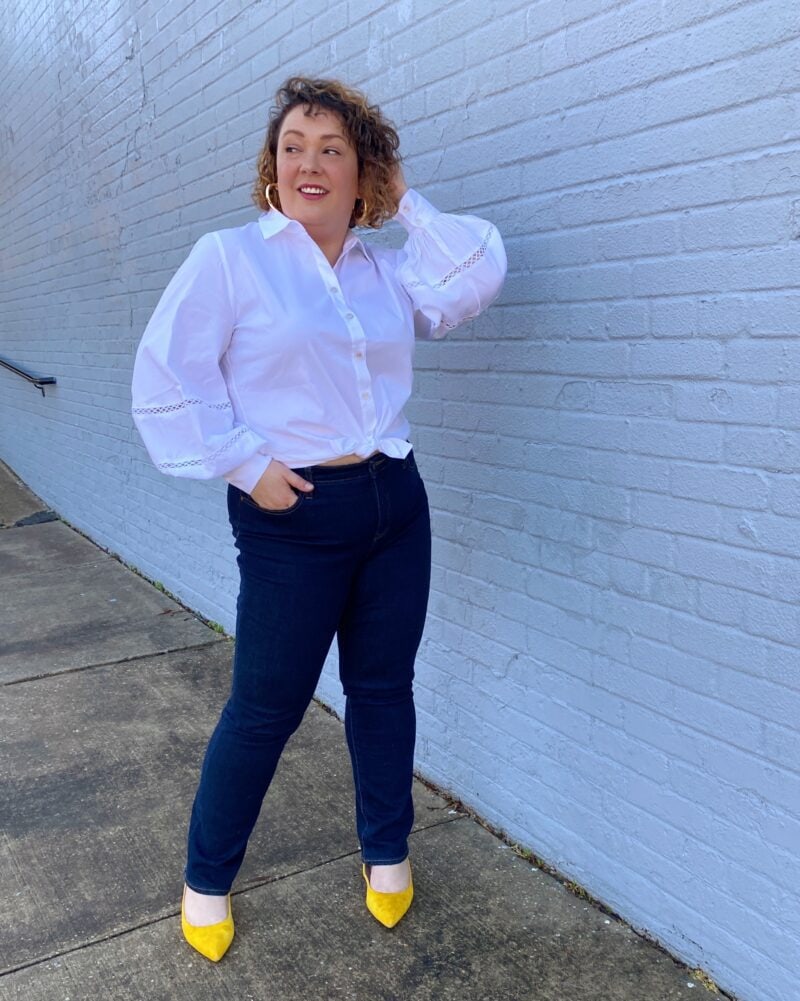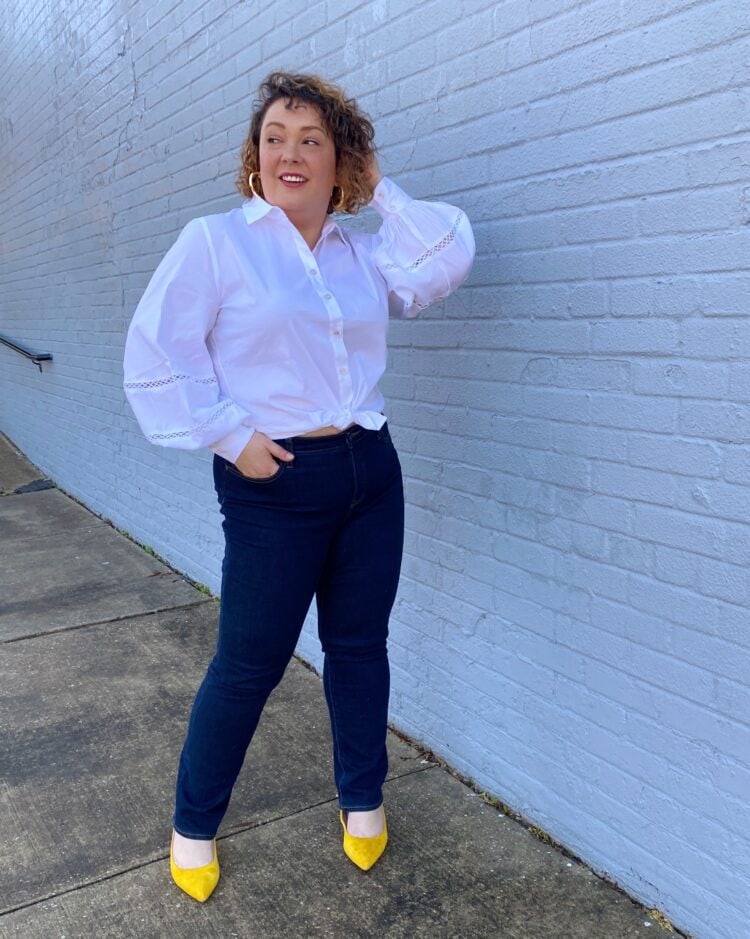 The jeans are 2 Petite for the non-ankle length style. I have the Girlfriend Jeans from Chico's in a range of colors, lengths, etc and I am pretty much always a 2 Petite. FYI, the top has a lot of volume. If you have a small bust, you may even consider sizing down; I am wearing a size 2. The top also comes in green, blue, and black. The earrings are Baublebar.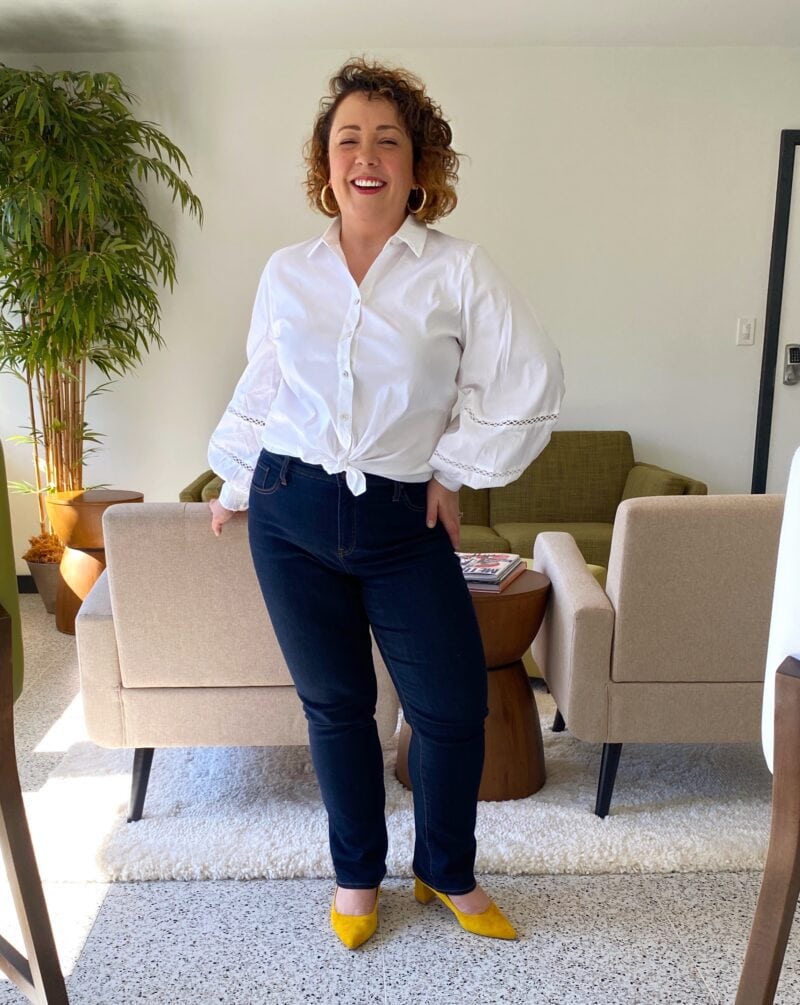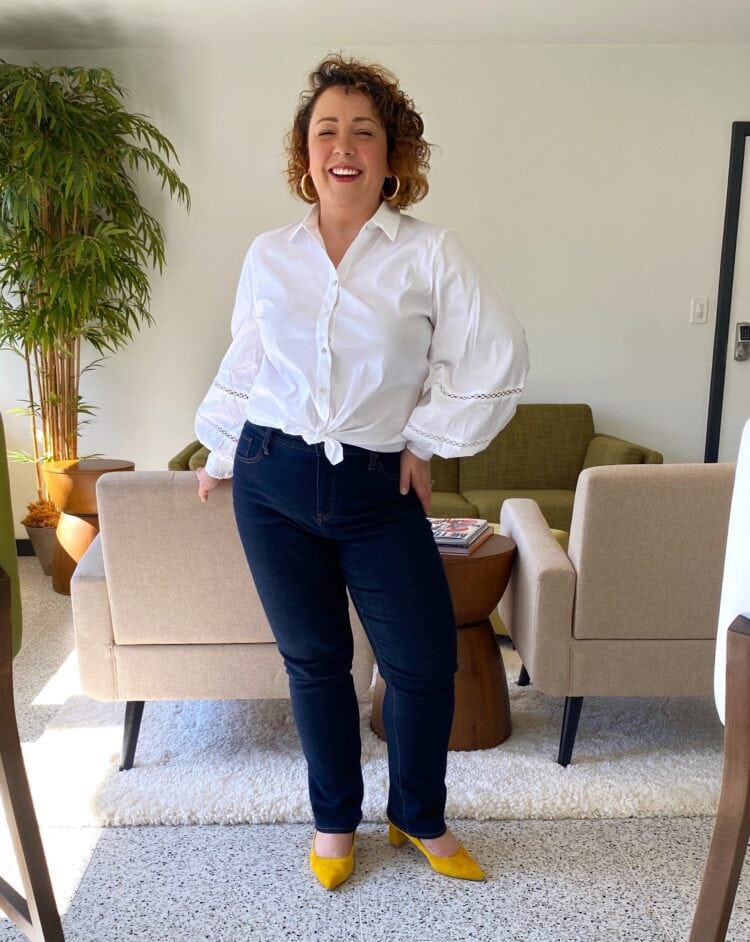 The shoes are the block heels from Ally, which is a footwear brand I have featured often. Founded by an AAPI woman in collaboration with a Black woman podiatrist and Latins designer, these shoes are really high quality, classic style, come in four widths, and a really extensive size range.
I love this saffron yellow, I wore them before in this post but here with a simple white and denim outfit, it gives just the right pop of color without being over the top.
Taking Myself to Lunch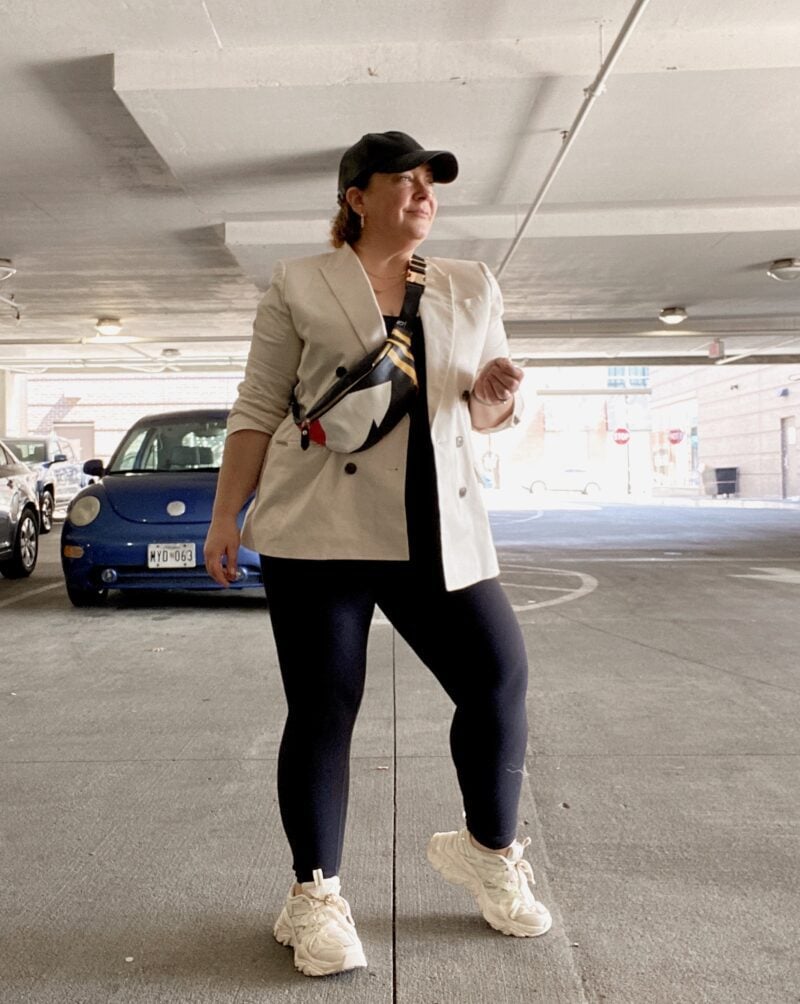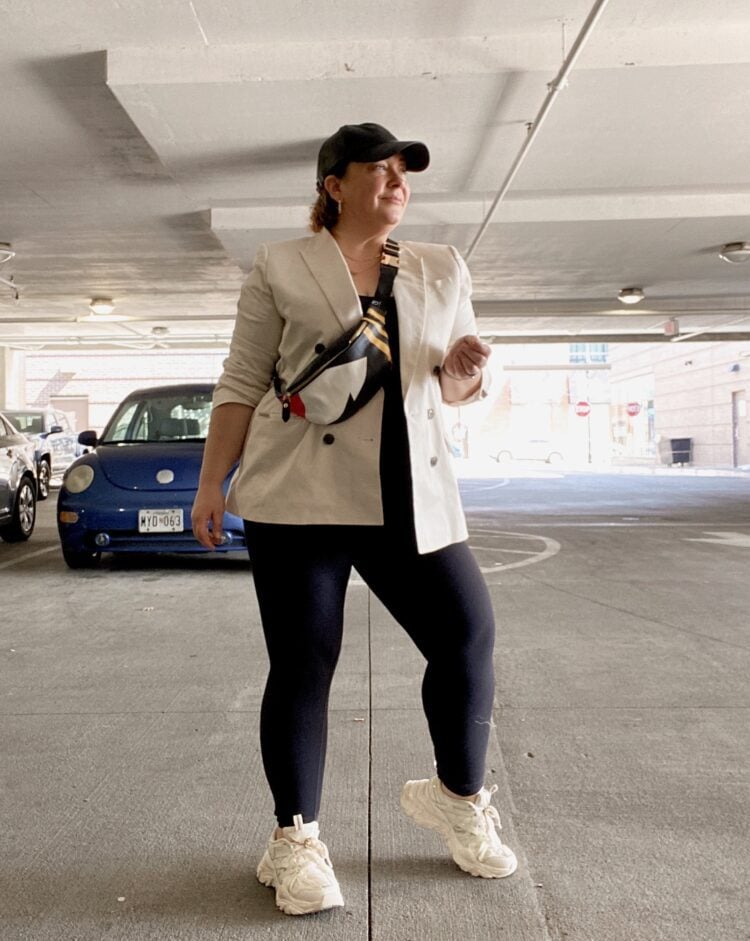 I had a day the other week where I had a coffee meeting with someone and totally forgot and had 30 minutes to go from still in pajamas to at the cafe a few blocks away. This is what I ended up with. And later that day, having writer's block, I took myself to lunch. I took this photo in the restaurant parking lot.
You've seen this look before in this post. It's the Universal Standard Next to Nothing bodysuit in XS with this blazer from J. Crew in size 16. Since I didn't have time to do my hair I put it up under a faux leather baseball cap (this one from Target I bought back in August that is now on clearance). I added my FILA Elektrove sneakers and a belt bag so the baseball cap looked purposeful
This belt bag is from B.Younger, a Richmond-based woman-owned small business that makes wearable art. It is handpainted leather and it is on its longest setting to be a comfortable crossbody over my busty self. I like the gold hardware, and B. Younger has more than one pattern of leather belt bags.
More of the Same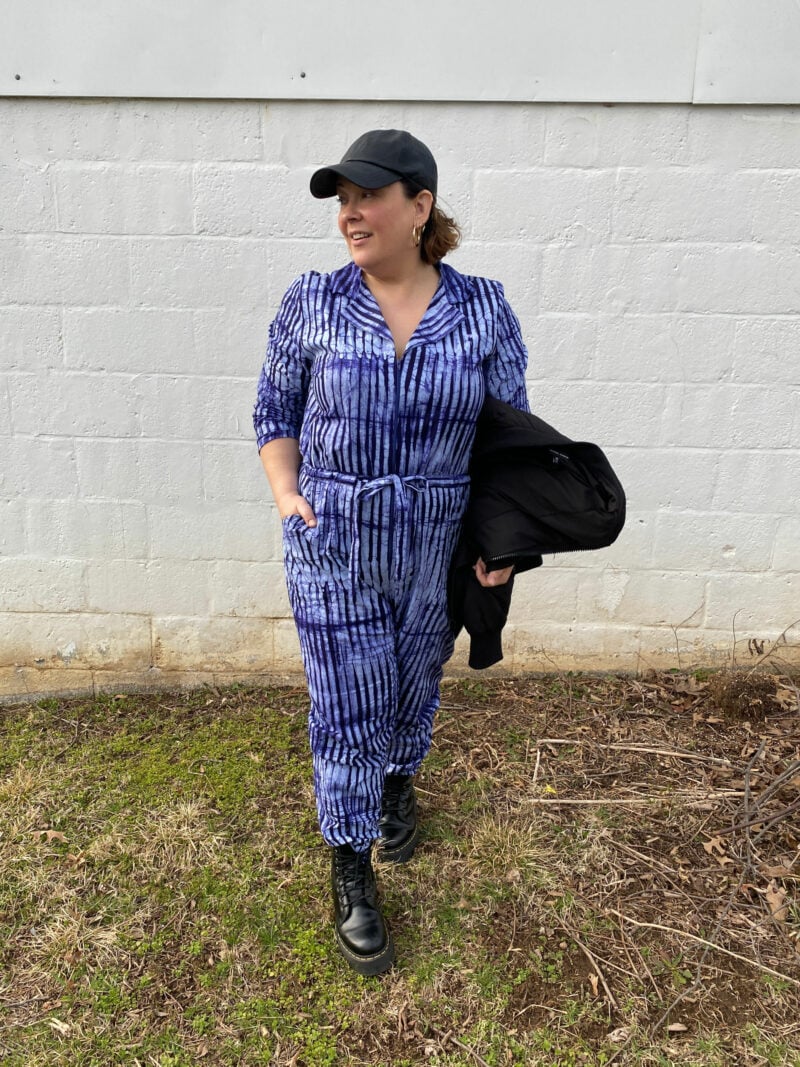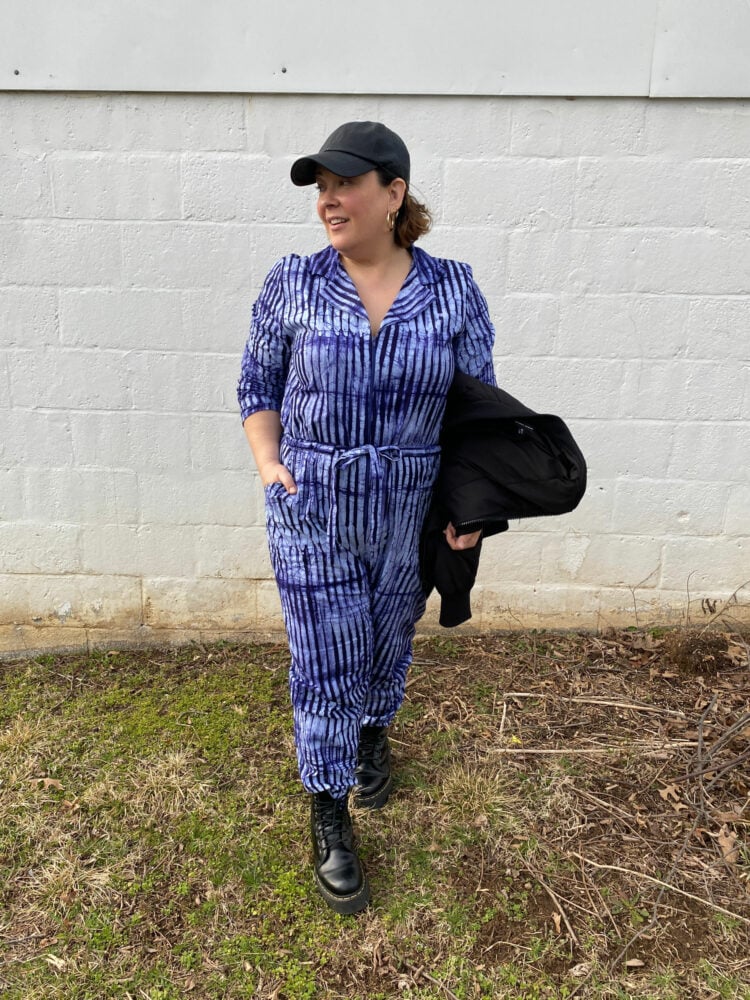 I was organizing my closet and thinking about what I wear often. And I realized I wear my Osei Duro jumpsuit a LOT (read my original Osei Duro review). It's the thing I grab when I'm low on time, when the idea of clothing restricting any part of me sounds like torture, when I want to look interesting though I am lacking any interesting or creative choices. So I bought another one!
This is size XL. I believe it says dry clean only, but with my last one I washed it on the gentle cycle alone the first time for fear the dye wouldn't hold. I air dried it. The next time, I washed with other items on gentle and line dried. And after that… well it has gone in a regular wash cycle and even in the dryer. So I plan to launder this one in the same way, starting slow and seeing how it fares. I'm wearing my Doc Marten Jadons and again the faux leather baseball cap to cover up incomplete hair.
Speaking of Which…
Speaking of which, this past week I had a day of running errands and it was kinda cold, then kinda warm, cloudy then sunny, and I didn't feel like futzing with my outfit so I whipped out my original Osei Duro jumpsuit.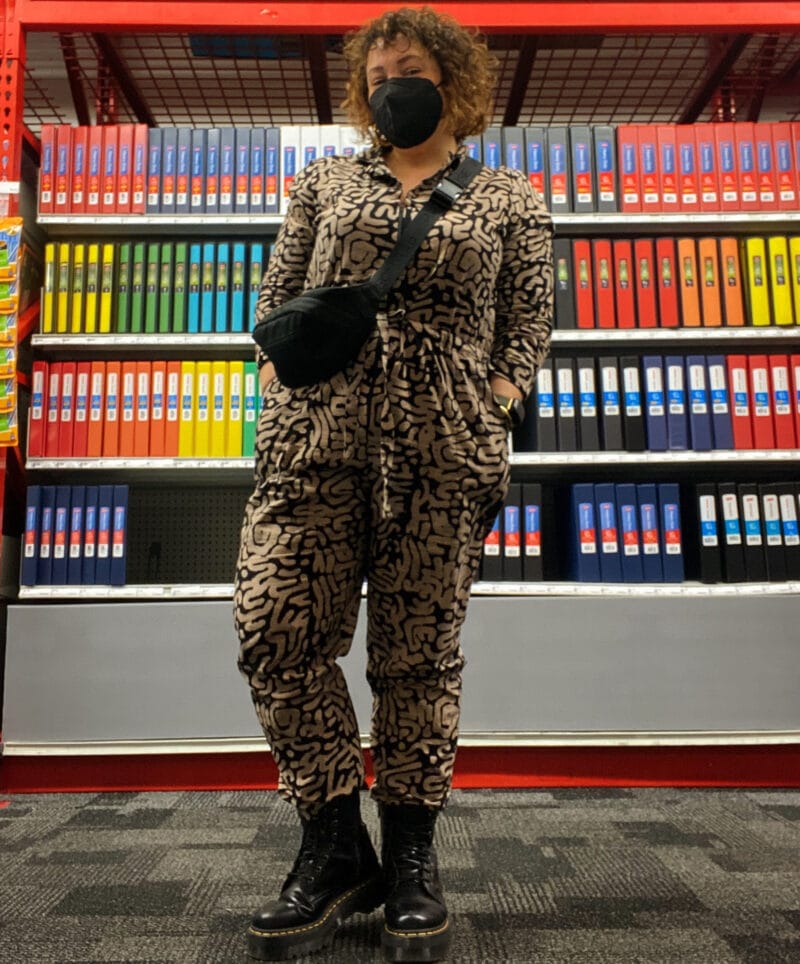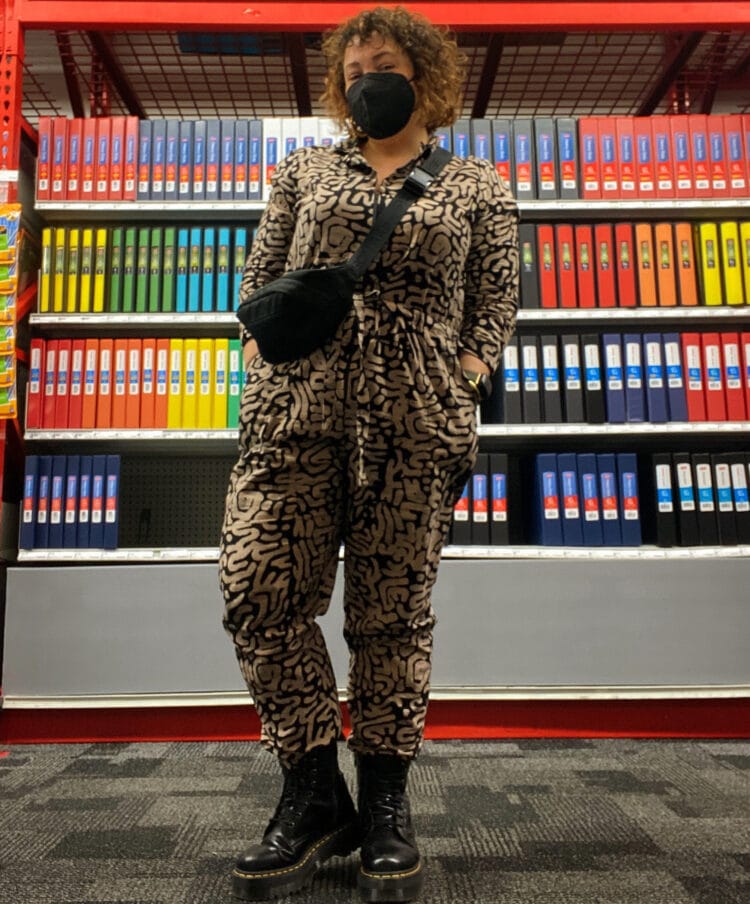 This jumpsuit is a year old, has been laundered several times, and is just better for it. Softer, more adjusted to my frame. I love this jumpsuit because the zipper makes it easy to get on and off. The drawstring keeps it from looking too full, and it looks good cuffed a couple of times with sandals, cuffed once with sneakers, or tucked into boots for a flight suit effect.
I took my Girlfriend Collective belt bag and wore as a crossbody, and then my Doc Marten Jadon boots. I am at Staples, where I dropped off some returns and ended up buying a bunch of office supplies I didn't really need!
Always a Classic
It was rainy and chilly and I was to meet a friend for lunch in DC. I decided to go with a pretty classic look of jeans, blazer, and a Breton.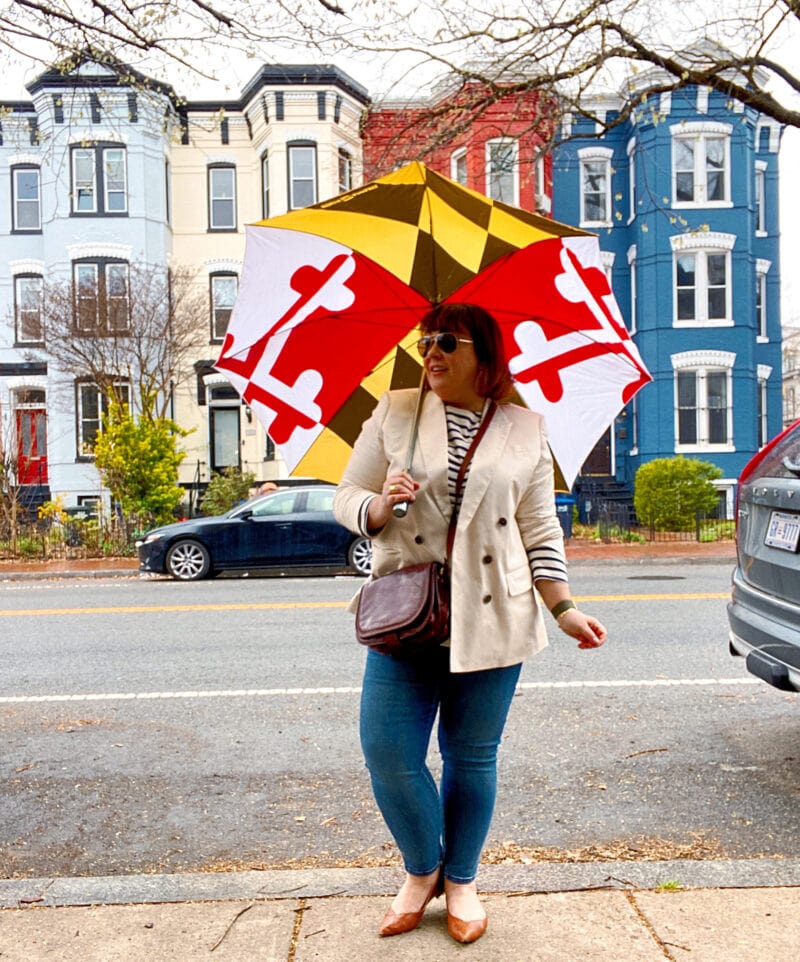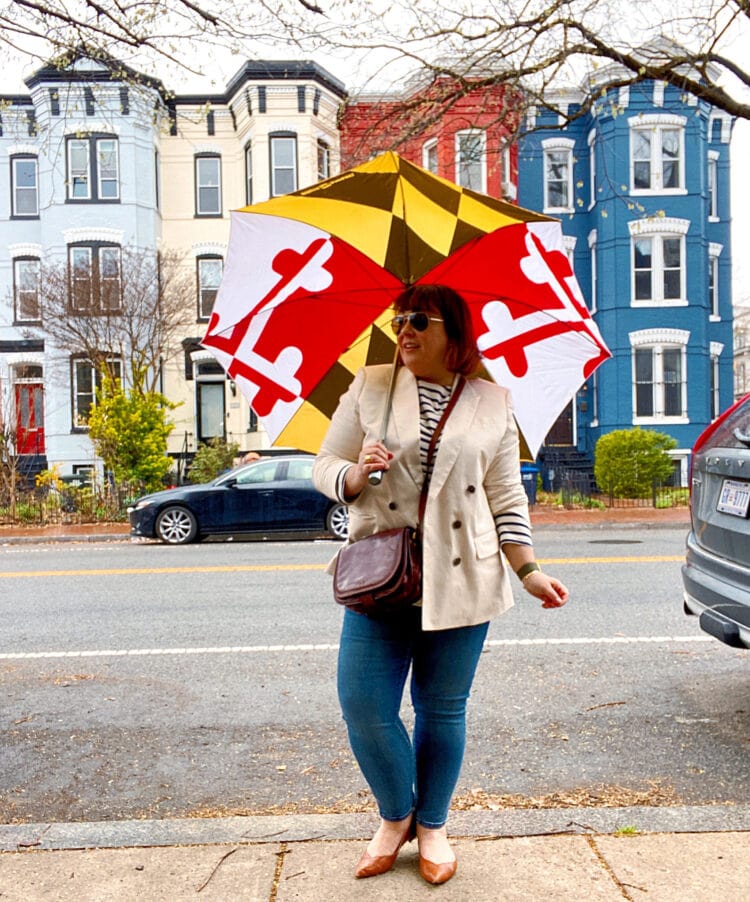 This is the same J. Crew blazer I am wearing above. With it I have the high-rise Universal Seine jeans in size 10 in the 27″ length. The shirt is a Breton from the Breton Shirt Company, size XL.
After writing about my favorite Breton that is under $25, I had a few recommendations for the Breton Shirt Company, which has been around since 1988 and has Bretons up to XXXL. I got this one in size XL. It is more a tan than an off-white with navy stripes. It is long, hits mid-hip on me and the sleeves are also long. This runs extremely boxy and straight and I had to do a lot of adjustment to get it under the blazer and not be bowing out everywhere.
I didn't return it because I have to return my cost to the UK. And while it's not the fit I desire, it is a nice quality and I want to see how it does after being washed and worn a lot. I will be taking it to the tailor to shorten the sleeves and probably the length too since I can't wear it untucked at this length without looking like I borrowed a much taller person's clothes or else shrunk my dress. So stay tuned!
The umbrella is from Route One Apparel, the flats are from Ally NYC, and the bag is again the saddlebag from Maxwell Scott.
A Weird Friday in the Best Way
The end of a week, I switched into sweats and sat outside with a sparkling water to enjoy the last bit of sun.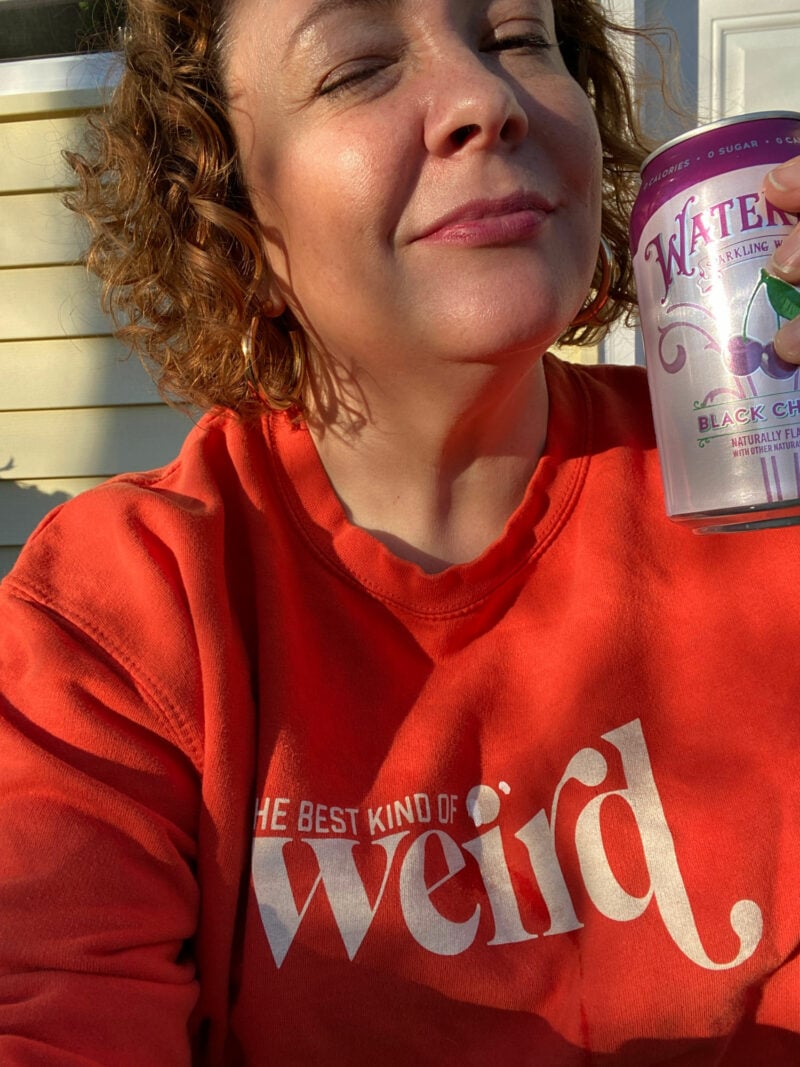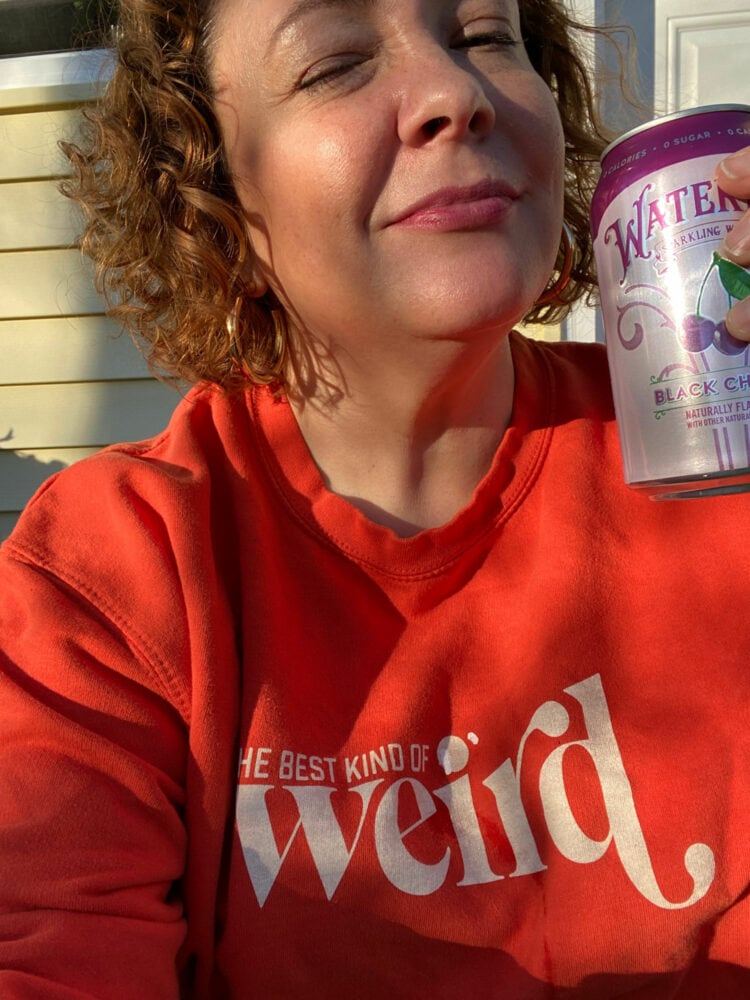 This influencer is often influenced by my fellow influencers, and I also like supporting them. Rachael from Banyan Bridges is an artist/muralist with a merch shop and I got this sweatshirt because I liked the motto and the color and wanted to pay her back from the joy I get from her Instagram account. The sweatshirt is available up to 3X, I got 2L because I wanted a relaxed weekend fit. It doesn't shrink in the wash and is very soft inside.