This article may contain affiliate links; if you click on a shopping link and make a purchase I may receive a commission. As an Amazon Associate, I earn from qualifying purchases. 
"Jewelry takes people's minds off your wrinkles."
– Sonja Henie
I don't believe in holding onto clothing for sentimental reasons. Somehow that ratty sweatshirt from your college boyfriend, or that Jessica McClintock tea-length cotton frock end up sliding to the front of the closet and get worn. If not, they are just adding confusion to your wardrobe. And don't bother holding on to an item once its trend is over – trends may return in fashion, but never exactly like the first time. Seriously, if you pull out your stirrup pants from the '80s, they will not look like the stirrup pants being sold now (and that should be reserved for True Fashionistas and not us normal folks with normal lives!). If it doesn't fit your body or your lifestyle, get rid of it.
I totally believe in this mantra… except when it comes to accessories.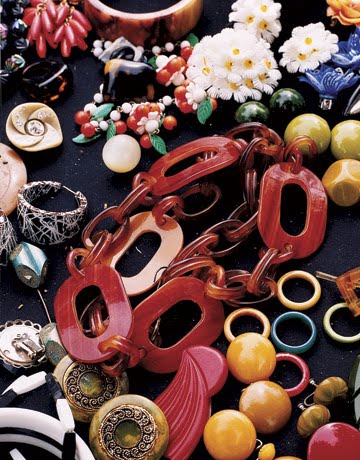 Accessories are small, they won't take up your entire wardrobe. And unlike stirrup pants and pleated jeans, when they come back in style, they won't look so obviously dated or as though you are a fashion victim.
Back in the late '90s I worked for the women's retailer Express. I was a manager, and then a visual merchandiser for the company and was expected to dress completely in the brand's clothing, accessorize with their accessories. I had to look like a million bucks on a small salary. I found that if I bought Express' wardrobe staples (loved their Jet sweaters, ribbed knit turtlenecks, and their microtwill suiting – I think I owned ten pairs of the Editor pants), I could make them look fresh and different with their accessories. Hip-slung belts were hot at the time, and I bought almost every single one that was made by Express. A black turtleneck and camel pencil skirt was jazzed up with a snakeskin skinny belt, a black Jet sweater and trousers looked chic with a silver chain-link hip belt.
After leaving Express, my lifestyle and my figure changed and I didn't have need for these belts. Instead of donating them to charity, I carefully rolled them up and put them in a cardboard boot box. This box only takes up about two feet of space on my closet shelf, but it holds over a dozen different belts.
A few years ago, my husband gave me a jewelry armoire as a present. It's a great way to organize and store all the accessories I have acquired over the years – one drawer for earrings, one for bracelets, one for hair clips and pins. The side cabinets I don't use very often so in them I house necklaces that are currently out of style or not fitting with my current personal style. My jewelry collection is larger than most due to my previous jobs (a new costume jewelry necklace is cheaper than a new dress) and a Great Aunt who was a jewelry designer; however I do believe in having a designated place to keep your accessories organized, readily accessible and protected.
This morning I was getting dressed and I remembered that box of belts. I recently wrote about skinny belts, and how I was wearing one from my Express days. I pulled down the belt box and was amazed at the collection in there – that snakeskin belt is very on trend right now, and would look fantastic with many items currently in my wardrobe. I saw a silver leather skinny belt with a modern chrome closure that would totally transform a simple black dress in my closet. These are belts that would cost a lot of money in 2010 – they weren't cheap in 1998, and by keeping them protected in the box (I also wrapped them in tissue to keep the metal from oxidizing), they look like new. With my current figure, I can't wear these belts slung around my hips, but they fit perfectly at my waist and will look great cinching a cardigan or accenting a dress.
Today a college friend posted on Facebook that she found a bunch of small square chiffon scarves in her closet – she remembers wearing them back in college and wondered if she should keep them – will they come back in style? Not every accessory comes back in style, and if it does, it's not always in the way it originally was worn. And with that, I told her to keep those scarves. I too have amassed a bunch of these small square scarves. Back in college, I would wear them tied at the throat with a crisp white button down, or a little a-line dress. Now, such a look would make me resemble an overweight flight attendant. However such scarves can be cute folded on the diagonal into a 2" strip and tied at the nape so it makes a pretty headband. Tie one onto the strap of your purse for a pop of color. Again fold on the diagonal and then knot in the center, 1" from that knot on either side, then tie to other scarves and you can make a belt or loop around your neck for a creative unique accessory. And as I told my friend, if all else fails, your old scarves can make for new fun toys or dress-up objects for the child in your life!
I encourage all of you to look at your accessories with fresh eyes – that necklace with the clasp could become a belt or a bracelet, that random earring with a bit of modification could be a gorgeous pendant, try those brooches on your simple silk clutch for a custom look. And if you have the space, hold on to them – accessories take those wardrobe staples and make them an ensemble!