This article may contain affiliate links; if you click on a shopping link and make a purchase I may receive a commission. As an Amazon Associate, I earn from qualifying purchases.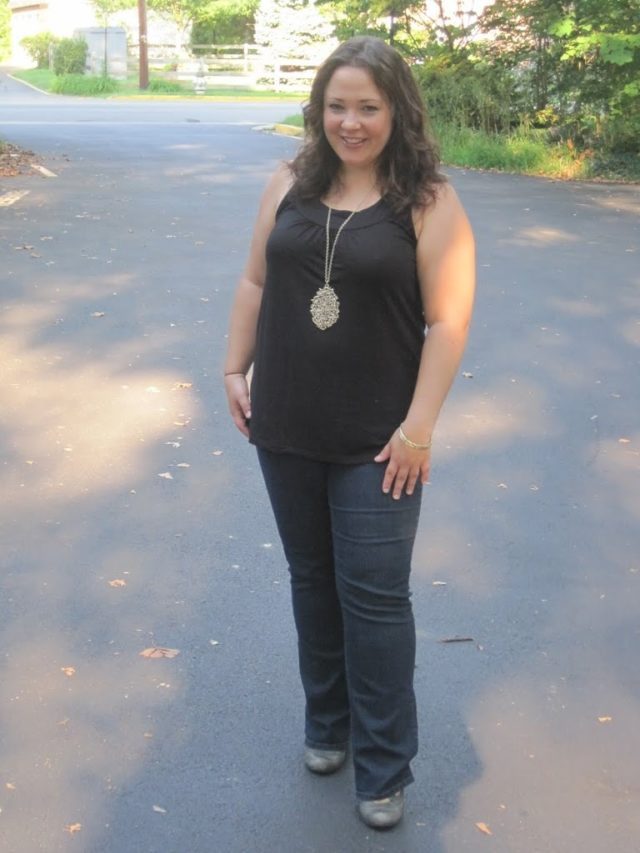 Black tank from Jessica Chaus, which I got at Marshall's during the first trimester of my pregnancy. I loved it then because it wasn't maternity, but worked with my changing shape. It was funny, after I had Emerson I tried on this tank and it looked so DUMPY, I was surprised. I now realize it was because I had more hips and tummy postpartum than I had at 12 weeks of pregnancy. Now it seems to fit again – nothing spectacular, but a tank that is work appropriate and I think is more flattering than this picture leads you to believe. With it are my straight dark jeans from NYDJ – the only jeans that still fit and flatter. I whipped out some fall shoes early – my gray strappy heels from Miz Mooz (do need some black or funky colored sandals but haven't seen any I adore and fit…). The necklace is new and from Ann Taylor (sale), and the bracelets are old and also from Ann Taylor.
Hair is washed and conditioned then air dried. Our bathroom is still unavailable as that the contractor came by this week to retile it. The tiles never quite stuck properly after the remodel and have gotten loose. He is working on another house in the neighborhood and offered to come by and fix a couple things around the house for free. So the bathroom is off limits, and it is keeping most of my beauty products hostage (the husband didn't think to clear the medicine cabinet before they started work). So no product, but I do have my curling iron available so I just put it on high and hit big sections, let it cool, put a bit of face moisturizer on my hands and finger combed to separate but not frizz up. Makeup is Max Factor Pan-Stik
, Nars blush in Orgasm
, Pop Beauty shadow palette for Brown Eyes
(khaki and black), Tarte's Indelible Wink
in black, Bare Escentuals Buxom lip gloss in Dolly
, and DiorShow mascara
.
The other day I saw an article on The DC Goodwill Fashionista about how she used to loathe Ann Taylor until this season. I have to agree that this season is looking pretty fabulous at Ann Taylor, but I have always been a fan of the store. I don't feel that there is anything wrong with being a destination for great corporate wear. In this day and age, it's hard to find good suits and workwear that isn't dowdy, and isn't Amanda Woodward. But the past couple of years Ann Taylor hasn't been all corporate. They have had fantastic accessories, flattering and chic cocktail dresses, and some really great wardrobe staples like pencil skirts, current yet not overly trendy denim, fun casual tops. In fact, I am a bit sad that Ann Taylor isn't as reliable of a shop for the ever-necessary interview suit. I don't want to have to buy a new black pantsuit with every new New York Fashion Week – I don't have that sort of fundage and most of the country is in the same boat as me.
But Ann Taylor has been a fave of mine for over a decade. Every time I am rocking a cool piece of jewelry and get a compliment from a stranger, they are always shocked when I say it's from Ann Taylor (especially this necklace). Though it's costume jewelry, the golds and silvers hold up great – these bracelets are years old yet still look fresh. This necklace is unique looking, expensive looking, versatile. Last night after work I changed into a bright cobalt scoop tee and my mom commented on how nice it was – the fit and the unique color. Ann Taylor! My two favorite summer wrap dresses (black and blue) are from Ann Taylor and with a quick change of accessories they can go from flip-flop casual to looking great for work or even a wedding. Yes, it is weird to be wearing an item and walk down the Metro platform at Gallery Place/Chinatown and see another woman in the same frock, but I have that happen FAR more often with Target, Gap, Banana Republic, Old Navy, J. Crew and I have even had that happen with ten-year old items from Express and with items I have found at thrift stores.
Ann Taylor, and really any other chain store is a great place to find wardrobe staples and little accents. I know and have worked with and been friends with those women who have a bit TOO much brand loyalty and they look like a walking billboard for a store. I remember when I worked at Express I would have women who would come in sometimes more than once a week to make purchases. They had more clothes from the store than I did with my 40-55% discount (and the need to wear it every day). Having that intense of brand loyalty can make life easy, but it can make life pretty darn boring. But one can't blame the retailer for every woman in DC running around in triacetate suiting, you have to blame the shoppers who are afraid or not educated on how to take such items and put their own personal spin on them. I am an Ann Taylor fan, and love them more than trendier mass retailers like J. Crew and Banana Republic because though their concept and look may change from season to season, their sizing hasn't changed that drastically, their quality and pricing hasn't changed that drastically, they maintain a clear concept, know their customer, and provide just the right balance of really wearable corporate attire and fun trendy pieces to update a woman's entire wardrobe. So thank you Ann Taylor, for making necklaces I have worn as Matron of Honor at an elegant evening wedding, have worn to the beach with a vintage tee and flip flops, on casual Friday, to an art exhibit opening and to a job interview. And thank you Ann Taylor for making clothes I can wear out to a club, dinner with the husband, a wedding, a bridal shower, work, and the grocery store. Yes, there are millions of women with this same necklace or the same denim skirt, but your store makes it easy for those pieces to look unique on my body!