This article may contain affiliate links; if you click on a shopping link and make a purchase I may receive a commission. As an Amazon Associate, I earn from qualifying purchases.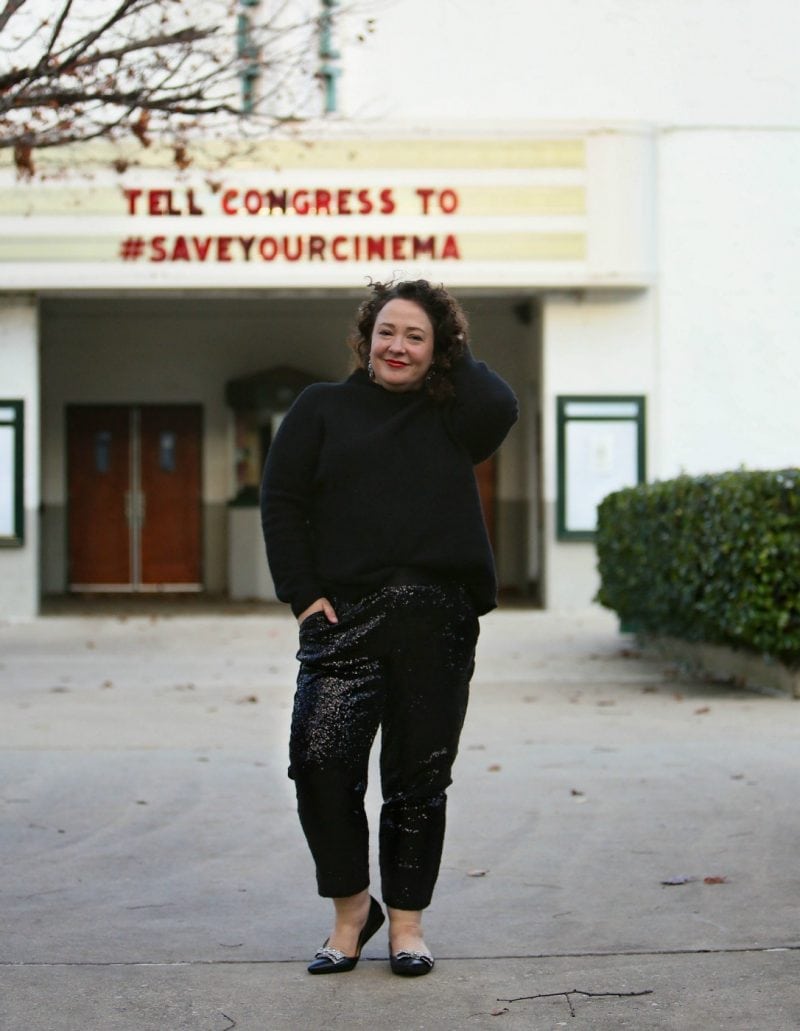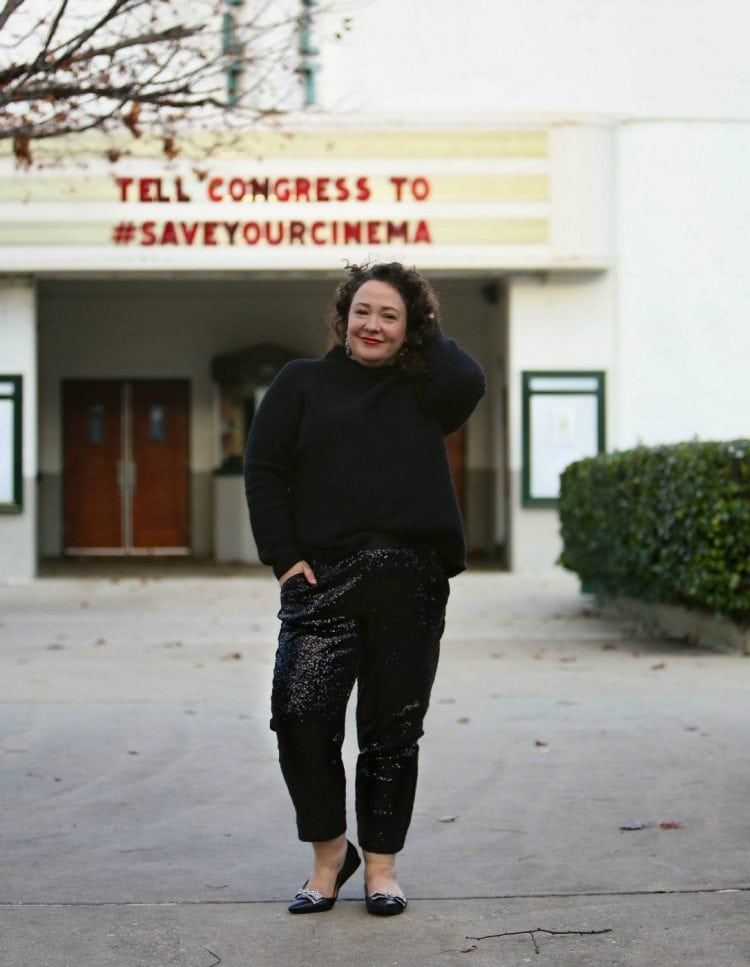 It's the holiday season, but let's be honest, our social calendars aren't full like they were last year. We need to remember that is a GOOD thing. Even without a lot of places to go and people to see, it's still fun to be festive. Maybe it's a Thanksgiving meal with your immediate family, a holiday get together with your "quaranteam," a community outdoor happy hour, or a Zoom cocktail party, you may desire a festive yet comfy holiday outfit.
For one thing, we've learned this year is that our comfort is not something we really wish to sacrifice anymore. And I am going to share tips on how to make a festive yet comfy holiday outfit, possibly using items already in your closet!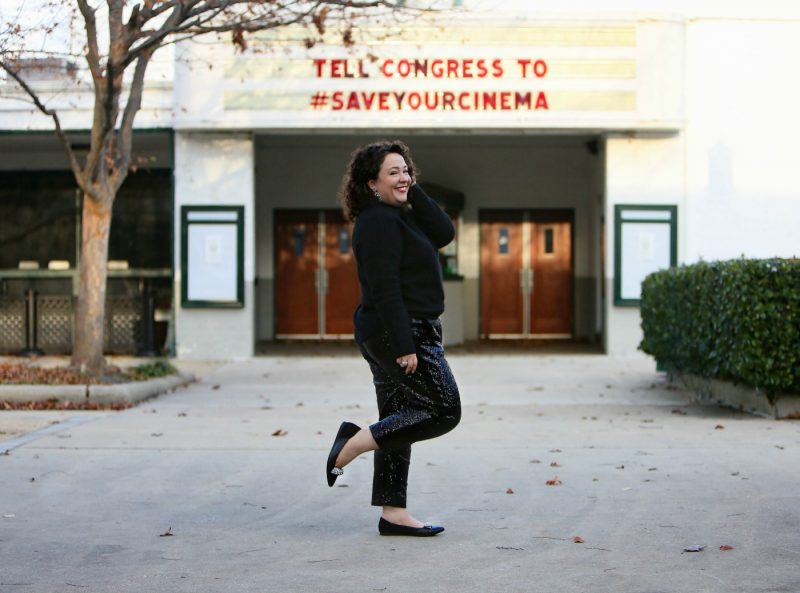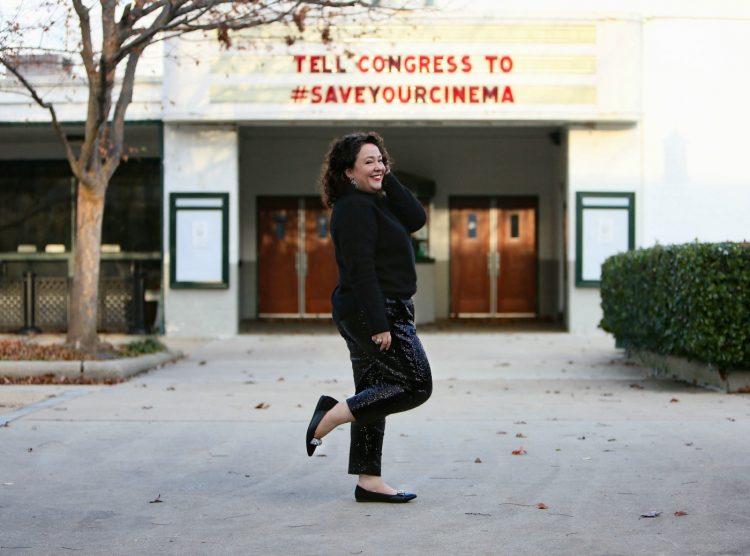 Sweater: Cashmere Mock-Neck Sweater c/o Chico's (size 2) | Pants: Sequin Jogger Pants c/o Chico's (size 2 Petite) | Shoes: Naturalizer | Earrings: Gray Simulated Crystal Chandelier Earrings c/o Chico's | Shoe Clips: White House | Black Market | Lipstick: L'Oreal 'Matte-Traction Red' with Fenty 'Cheeky' gloss over it
For this look, I did go with new pieces. Chico's has a holiday collection of fashion that is pretty fabulous. I have desired sequin joggers for over a year, but every pair I've found is too tight, those flippy sequins that can look cool on some things (but not on the bum or crotch of a pair of pants), or just plain uncomfortable. I knew Chico's would do sequin joggers in a comfy yet stylish way and I was right.
Pandemic Party Pants: Festive Yet Comfy
These joggers have no elastic bands at the ankle, are lined with super soft fabric, have a soft non-sequin stretchy waistband that is dressy enough to show (looks a bit like a cummerbund), tux stripes down the side, and pockets.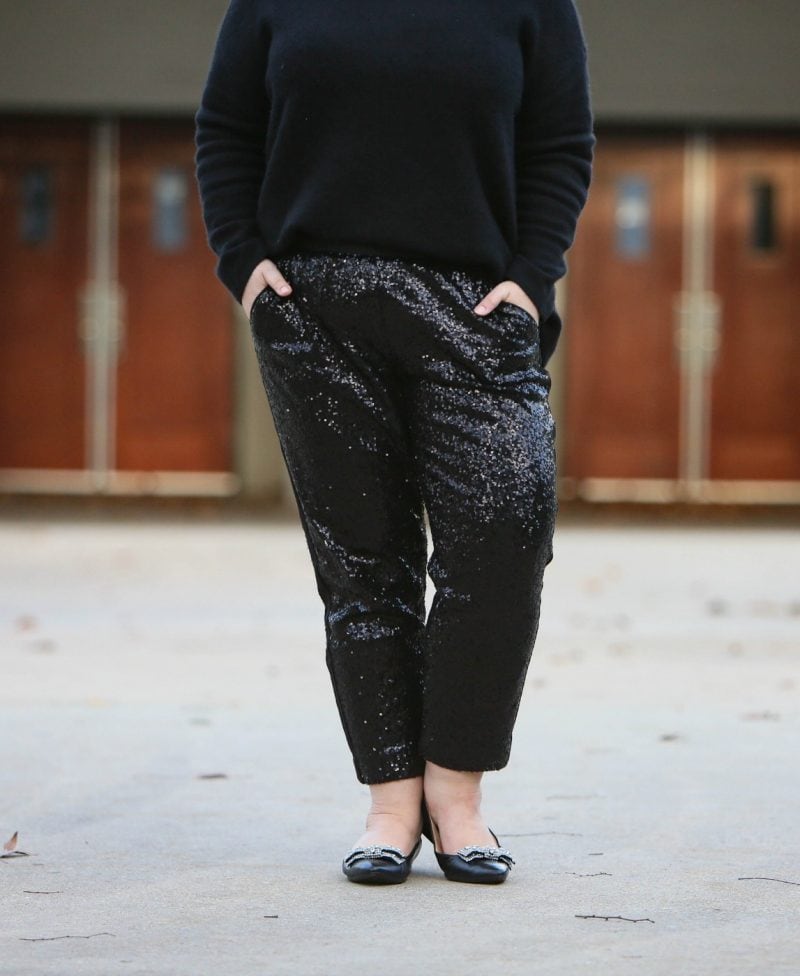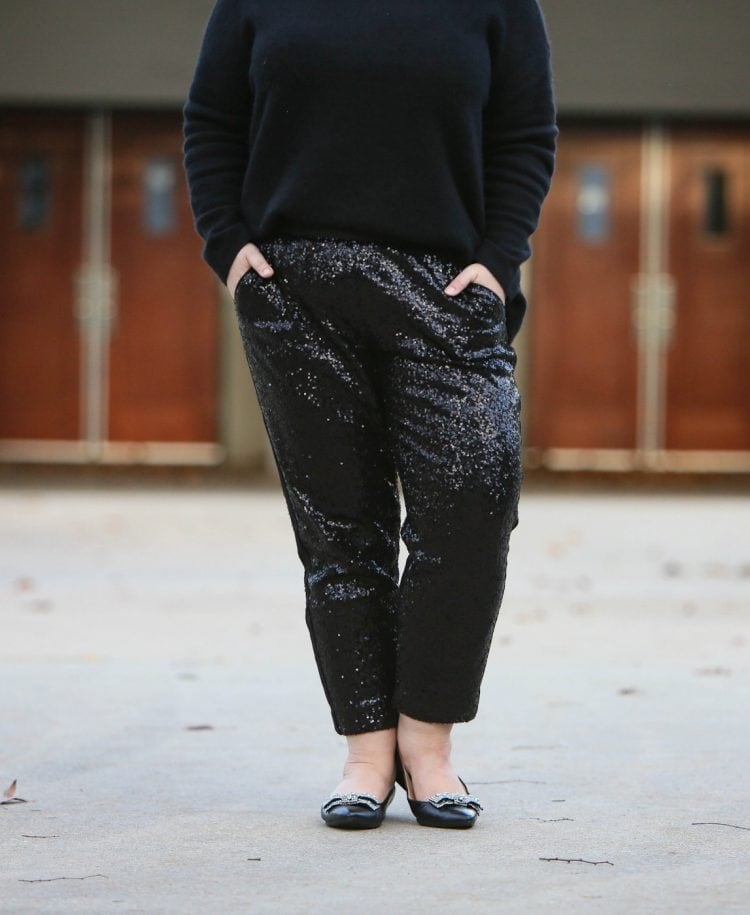 I'm calling these my pandemic party pants, because they're super festive but also super comfy. Like get on the floor and play with the kids or curl up on the couch (as long as it's not made of textured fabric that will get caught on sequins) comfy. And with the double layers and the sequins on top, the pants are surprisingly warm on this cold windy day when we shot this look.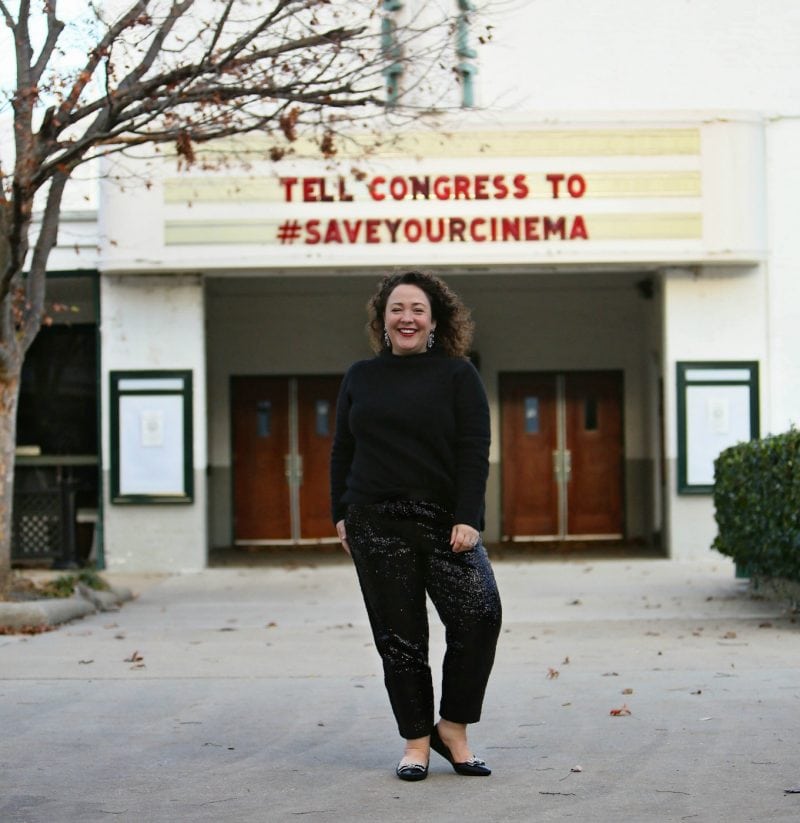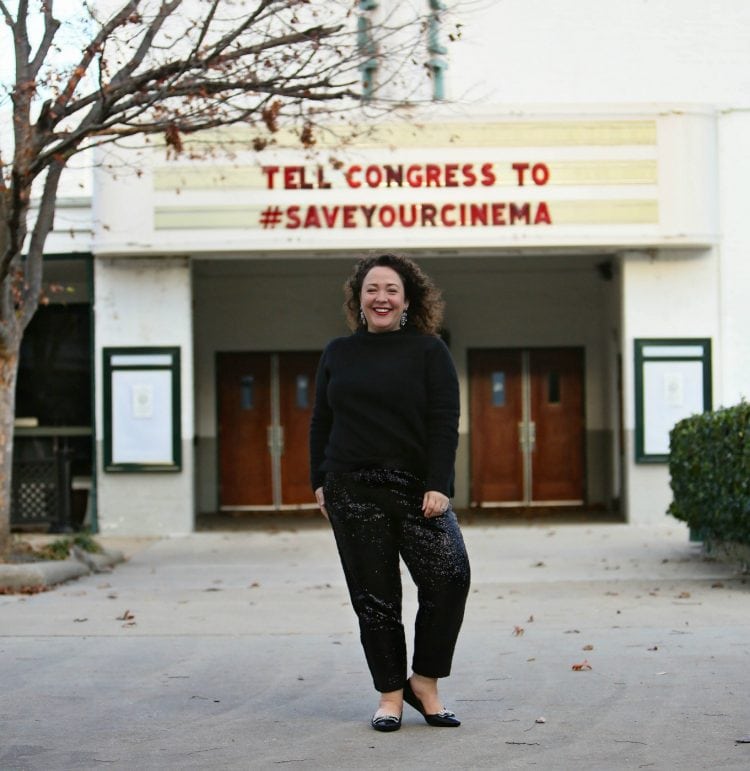 10 Ways to Style Sequin Joggers or Another Dressy Relaxed Pant
These ideas are to get your creative juices flowing, thinking of what you may already own that only needs a pair of pandemic party pants or a dressy flat to transform into a festive yet comfy holiday outfit.
Elevating the Comfy Shoe
The shoes I am wearing here are a pair of leather Naturalizer flats, the kind you wear to work, on the weekend, pretty nondescript. But I made them look festive with shoe clips. Yes, they still make shoe clips and they're brilliant for this season of buying less and focusing on comfort!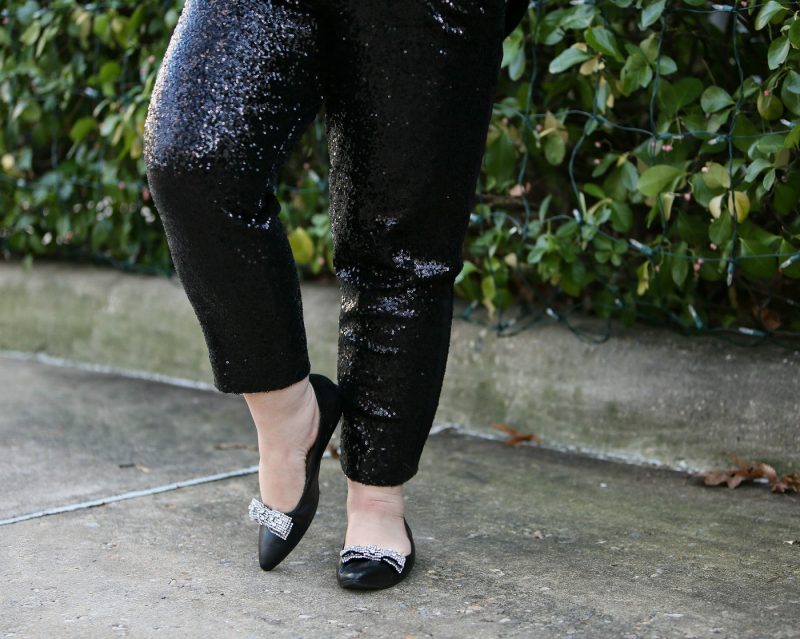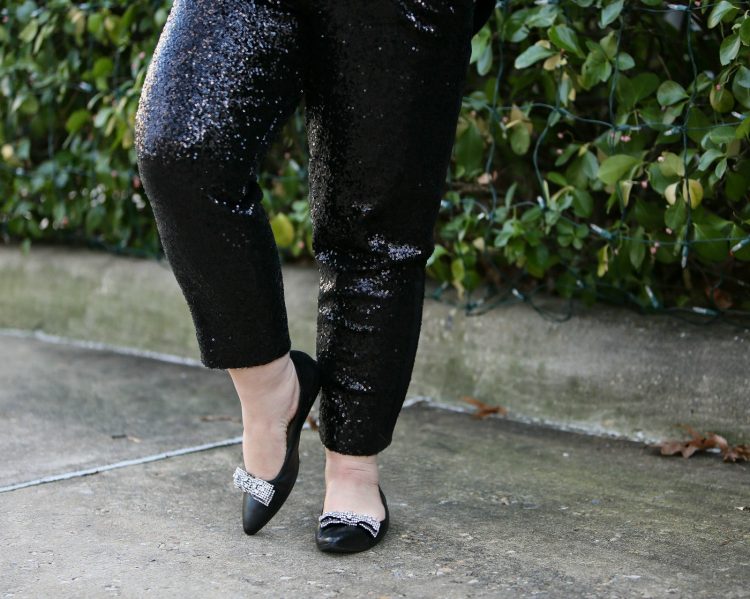 My shoe clips are from White House Black Market and are a few years old (see me wear them before in this blog post), but WHBM is still making fun shoe clips that clip right onto the front of any pump, flat, or mule to add interest, sparkle, and festive fun. And these look an awful lot like the ones I have and are on clearance for a very nice price!
Who says you need to buy new footwear? Clip on a bit of sparkle and transform what is already in your closet!
Luxe Fabrics and Texture
Not sure why, but a cashmere sweater reads dressier than one from cotton. If you're updating your wardrobe with new sweaters, consider one with texture – mohair, cashmere, eyelash, fringe, or metallic threads. Just by adding this texture to an ensemble, it reads luxe and festive even if the look is black on black.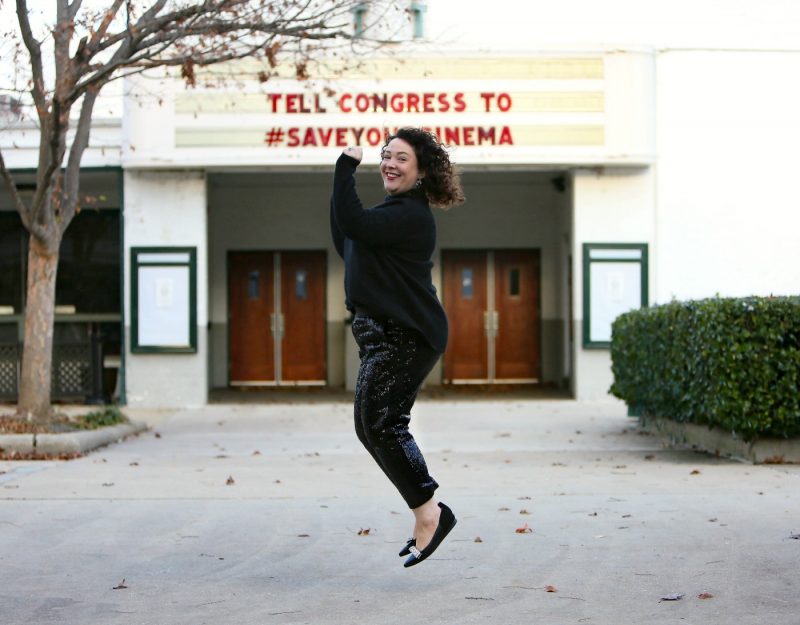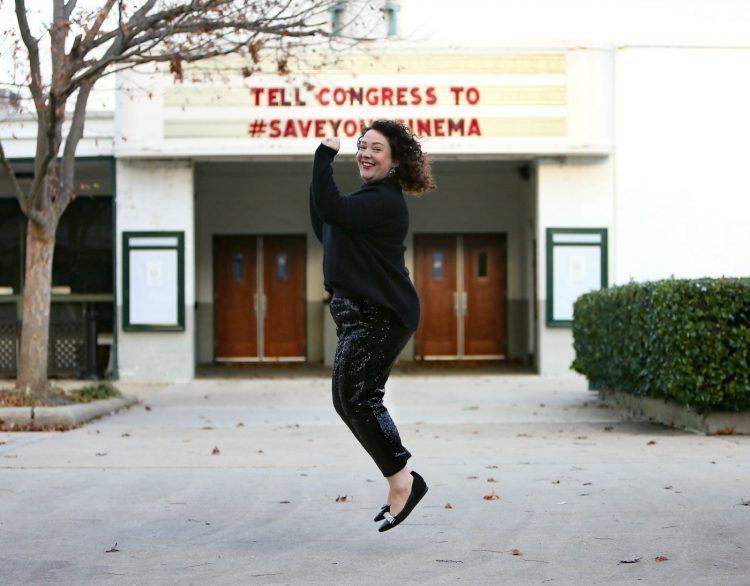 I am obsessed with this cashmere sweater from Chico's. It is a mock neck so it keeps me warm without suffocating. It is very thick but well shaped in the arms and bust so it doesn't make me look like a pillow and is a fabulous length for tucking in (here I did a French tuck) or leaving untucked.
Festive Accessories FTW
Along with shoe clips, the addition of a sparkly festive brooch, glittery statement earrings, or a fabulous necklace can elevate simple black pants and a sweater to holiday party territory.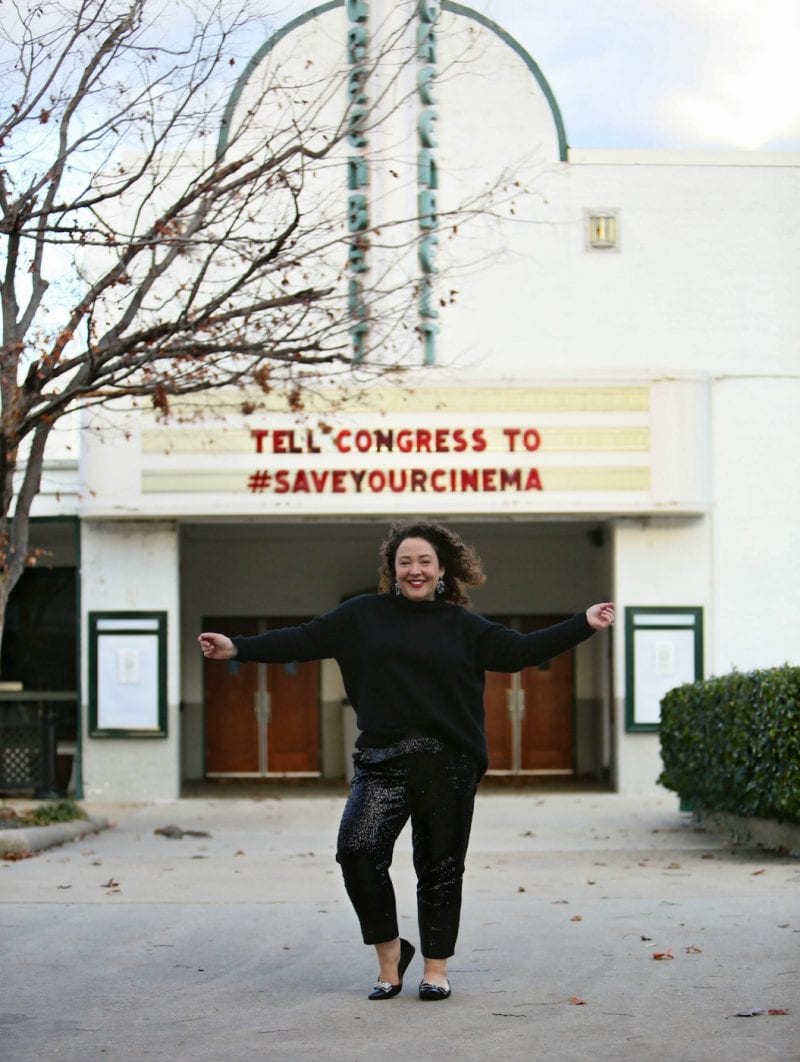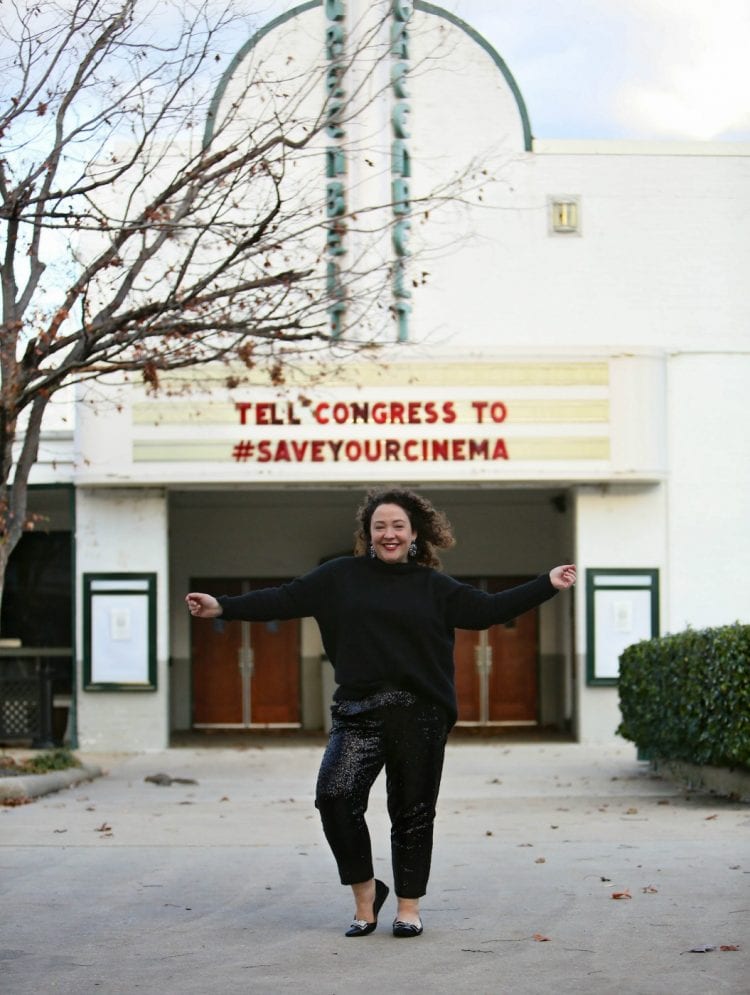 What is great about festive accessories is you can wear them year after year and no one tires of them. You can wear the same snowflake brooch at 30 that you do at 70 and it's seen as chic and timeless, not tired. I bought this snowflake brooch a few years ago and love pinning it to my breast, the top button of a collared shirt, or onto the lapel of my coat or blazer.
However, my highest quality and most sparkly and attention-grabbing holiday brooches are from Talbots. I have one that is a decade old that is a favorite; I even pin it to a clutch purse for a bit of sparkle.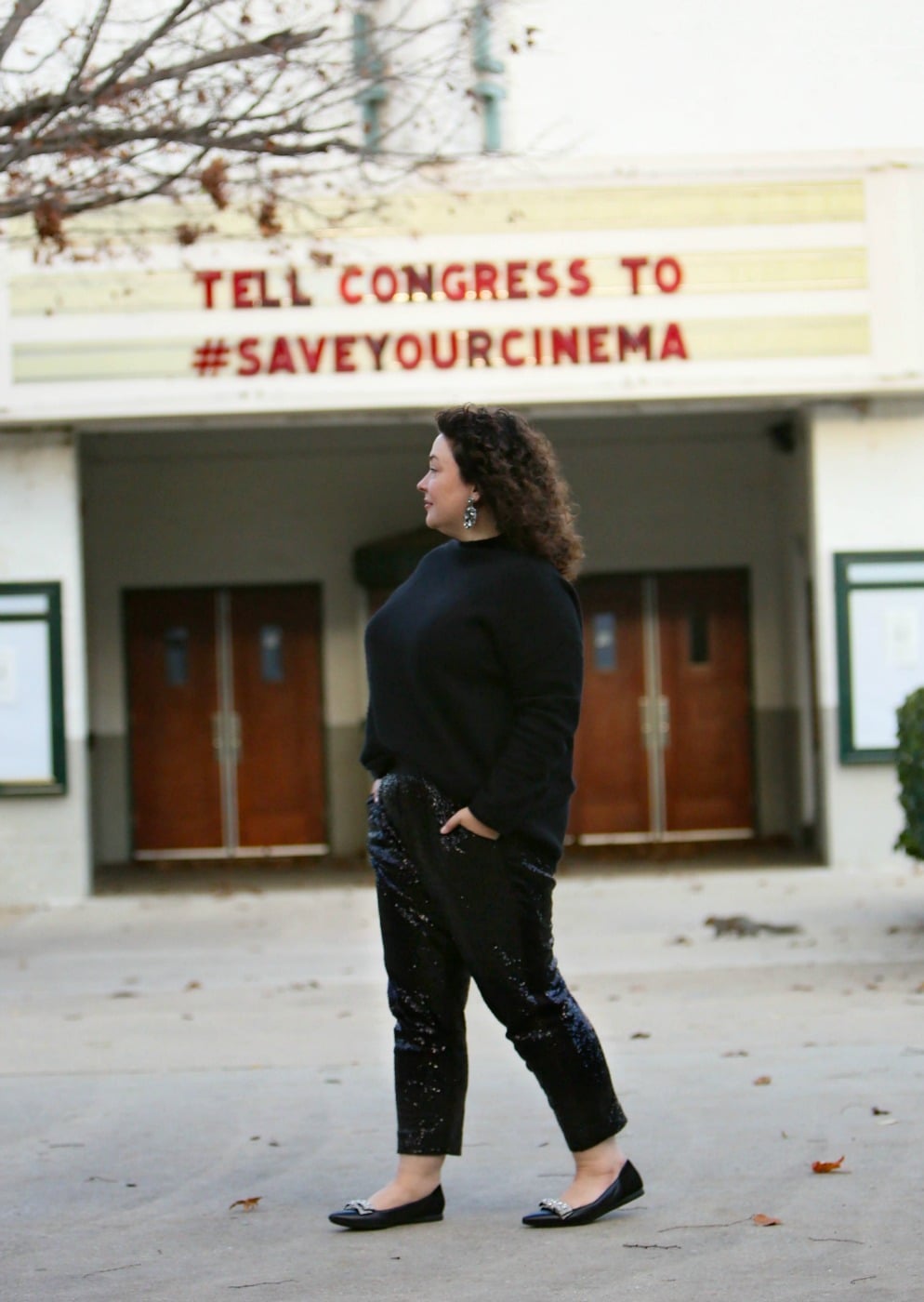 We all know Zoom blouses, but I am also a big fan of Zoom earrings. While statement earrings can prove annoying when you have to put on and remove a mask, they are the perfect bit of festive tabletop dressing for video calls this season.
These earrings I'm wearing are from Chico's and have a matching necklace. These earrings are deceptively lightweight with a fabric backing you can't really see, making them dressy but also comfortable.
I bought these from Baublebar which I think are too cute. Baublebar is my go-to for festive earrings any season of the year because the price is right and the quality can't be beat. I keep my festive costume earrings in plastic Ziploc bags so they remain shiny year after year.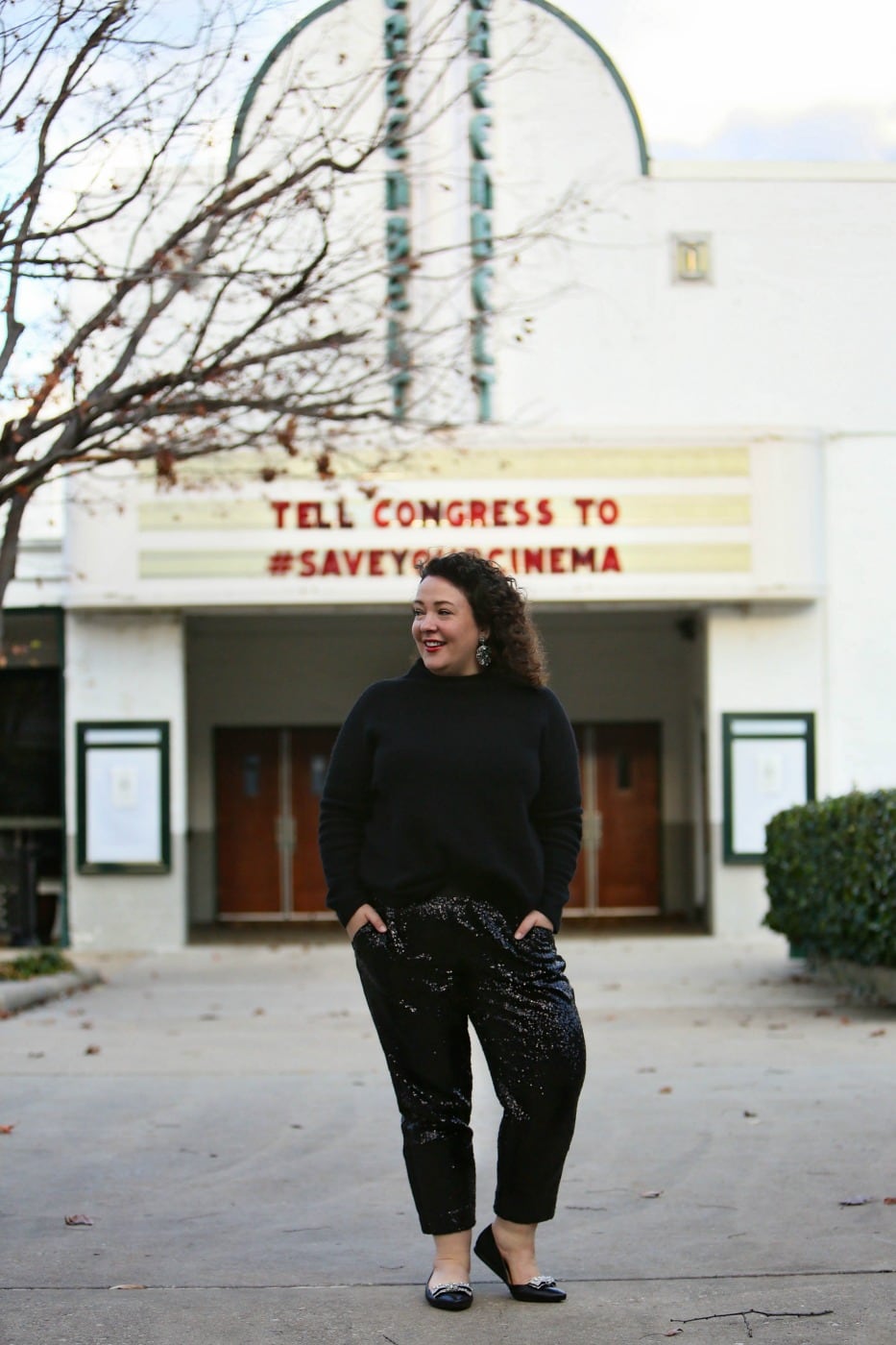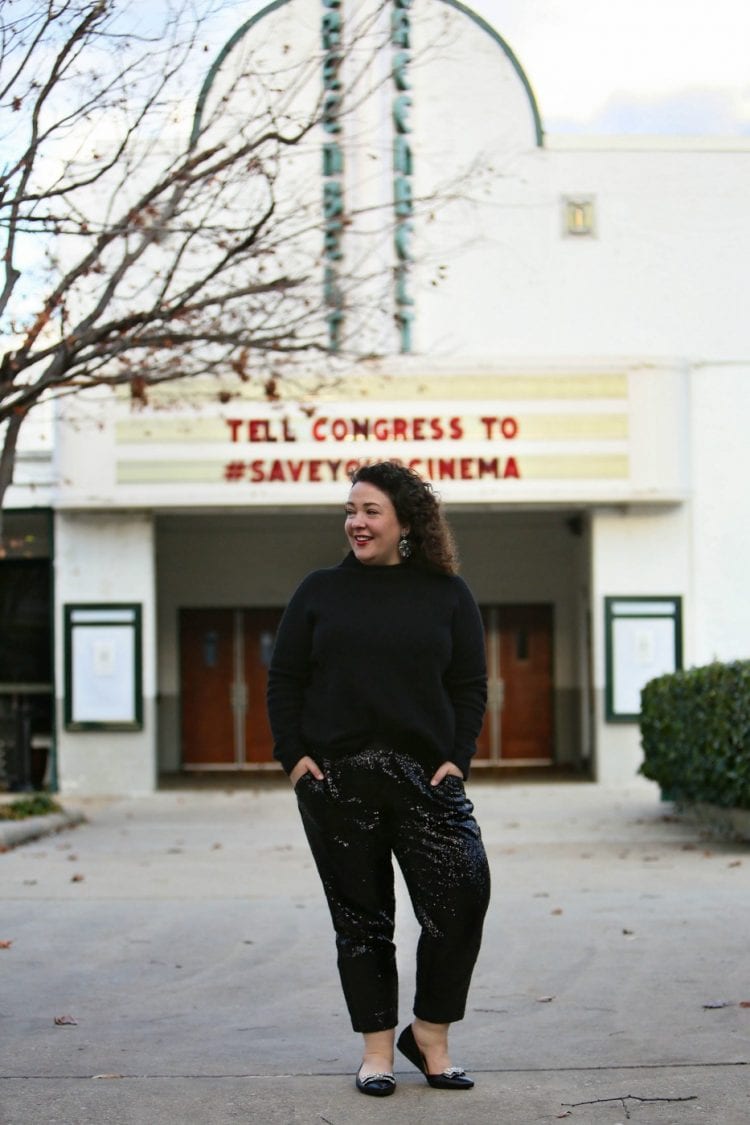 Creating Your Festive Yet Comfy Holiday Outfit
I hope these ideas get you thinking about how you can create a festive yet comfy holiday outfit for this season. While there isn't much need for a cocktail dress, we can still have fun with what we wear and make it appropriate for our new normal. And I have found that dressing up and adding some holiday spirit to my wardrobe has done great things for my attitude too!
About this Shoot Location
These photos were taken outside the Old Greenbelt Theatre in Greenbelt, Maryland. This is an historic theater completed in 1938 and an icon for this New Deal-era city. Remodeled in 2014-2015 by the city, today the theater retains its original auditorium but now features 363 seats, a 40' CinemaScope screen, two Simplex XL 35mm projectors, a Christie 4K digital projector, and a Dolby Digital 7.1 sound system. In 2015, Friends of Greenbelt Theatre signed a contract with the City of Greenbelt to operate the Theatre as a non-profit organization.
Movie theaters like the Old Greenbelt Theatre are struggling through this pandemic and need your help. Click here to visit the National Association of Theatre Owners and learn how to #SaveYourCinema.