This article may contain affiliate links; if you click on a shopping link and make a purchase I may receive a commission. As an Amazon Associate, I earn from qualifying purchases.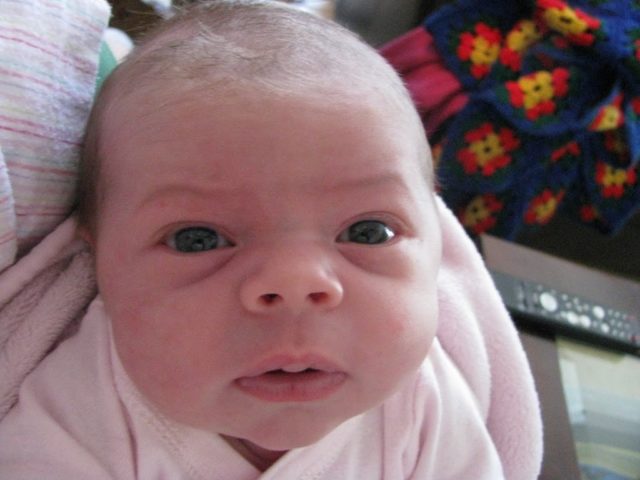 Emerson and I are chillaxing this morning. She has been on a bit of a feeding frenzy – yesterday it seemed as though I constantly fed her from dawn to dusk. Well, not constant feeding, but constant fussiness between the feedings so there was no break. Somehow she realized we were a bit exhausted, and she decided to take a three-hour nap after the 8pm feeding and since then has been taking naps between eats. Whew! I got a few rounds of sleep and now I am letting my husband crash for a few hours. He decided to crash on the couch downstairs so Em & I are hanging out in the bedroom, which means I have time to hop on the Internet while she coos in her sleep next to me.
Camera is downstairs; must say these pictures are from last week but she doesn't look like this any more. She has gotten so much bigger, and now makes so many more awesome facial expressions – smirks and smiles and such. She has also grown into that nose more… she is all cheeks (good eater!).
Tomorrow is my 34th birthday. It's funny, usually I would be considering drinks with the girls, sushi or some cool restaurant with the husband, my annual gift to myself (usually from Sephora). This year… my best friend Shelly said we could go for pedicures (close enough to home that we could dash between feedings), and on the actual day I plan to go to Target.
I know, TARGET? But do keep in mind that I have been in the house with Emerson for almost three weeks, only leaving for the pediatrician or my own doctor appointment. Spent a week prior in the hospital, and before that I was on bedrest for like a month – again only leaving the house for hospital appointments. Through all this my house has been renovated and I am in desperate need of certain things like shower curtain rods, bath mats, trash cans, deodorant and razor blades. I look forward to wandering through the aisles, getting what I need and checking out what's new. Maybe I'll even get a decaf latte from Starbucks on the way home!
My mom is coming over that night with dinner – her fabulous mac and cheese and spinach (since I am on a spinach kick) and dessert. My dad used to always get me a Boston cream pie for my birthday. Well I asked her to get me one. He passed away in '98 and I think I have only had that dessert once since. Often I see my dad in Emerson's face, especially when she yawns or looks concerned. It would be nice to start up that tradition again.
As for my present to myself, I can't think of any material item I really want or need right now that is pampering and indulgent. I know… not too much fun especially for this type of blog. But really, life is pretty good and I want for nothing. Once I head back to work, I may be craving some new clothes or a fab lip gloss but right now I have what I need to be happy.
For those who asked, I will be going back to work full time; since my husband works for himself (photographer and yoga instructor) and makes his own schedules, he will be staying home with Emerson. My mom will watch her if he has any shoots that are during the day, but he plans to try to keep classes and shoots to evenings and weekends.
I know my birth story was scary to many who have yet to have children. Do know it's less than three weeks after the fact and I am feeling pretty good and for over a week have been pain meds free. I won't go into details, but I can tell I am healing well and progressing nicely. I would do it all over again in an instant for the end result that is squirming and cooing on the bed next to me. 🙂