This article may contain affiliate links; if you click on a shopping link and make a purchase I may receive a commission. As an Amazon Associate, I earn from qualifying purchases.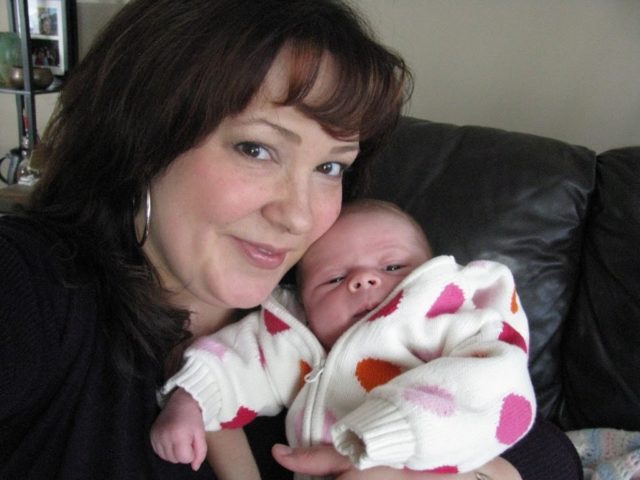 I know there haven't been any pictures of me – I have been the main photographer so it makes it a bit tough. 🙂 However I decided to go the blogger route and do a self-portrait with Emerson…
Today we took Emerson to visit her paternal great grandparents. They were so excited to meet her, they cried when they saw her and said they could see their son (my husband's father who passed in October) in her face. Sometimes I see him in her face too.
But she was very good on the long car ride and interacting with Gi Gi Ma, Gi Gi Pop, her Great Aunt and two Great Uncles.
I had a reason to get out of the house so I cleaned up a bit. Always feels nice to do so, and it's good training for when I go back to work. Whole face done while bouncing Emerson on my shoulder (all except the mascara which I did a few minutes later)!
Attire:
Philosophy Dane Lewis – Blackberry cashmere deep wrap front sweater
Banana Republic – black knit camisole
Old Navy Maternity – black ponte wide leg trousers
Sofft – Black suede "Veronica" Mary Janes
Silver hoops and cuff
Hair:
Let air dry
Smoothed super fast with round brush and dryer
John Freida Brilliant Brunette Satin Shine
Beauty:
L'Oreal – True Match foundation in C3
Laura Mercier – concealer and loose powder from Flawless Face Kit
Nars – Blush in Orgasm
Avon – Pro-To-Go Lipstick in Warm Pink
Clinique – Shadow duo in Like Mink
Cover Girl – LashBlast mascara in Rich Black
For those who contacted me about weight loss… well I know at my one-week checkup I had lost 15 pounds (had gained 50 pounds with the pregnancy); I know I have lost more since then – I fit into size 16 trousers from Gap, some L tops, some XL (this sweater is a L). I'm not really too worried about it. I did buy a Belly Bandit before I gave birth in an attempt to assist with the tummy tightening, but ended up returning it because it wasn't comfortable, showed under clothes, and was a PITA to deal with on top of everything else. Yes, my stomach looks like a deflated balloon, but I knew this would happen and it doesn't really bother me. It has only been three weeks… gosh I don't even expect to look back to pre-pregnancy at three months. It took nine months to gain the weight, it's crazy to think it will take a few weeks to lose it (no matter how quick Angelina lost her baby weight). I am comfortable in my skin, my husband still finds me gorgeous, and I am working very hard to eat a nutritious and balanced diet for her, and for me. 🙂