This article may contain affiliate links; if you click on a shopping link and make a purchase I may receive a commission. As an Amazon Associate, I earn from qualifying purchases. 
By Erin Twitty Johnson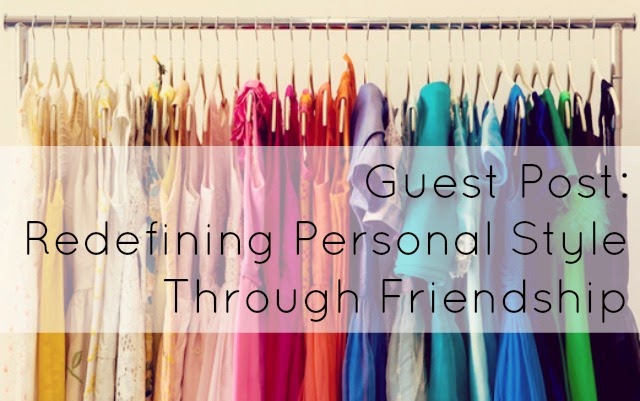 I spent a couple of years, in retail management, specializing in resale. There is a lot of freedom in your wardrobe when you work in resale. A lot. I stretched out into it. I met all that freedom right at the edge of crazy, and it felt like home.
And then.
I decided to take a job as a usability analyst. For the first time in a long time, I had to dress like a professional. And it was terrifying. I had become accustomed to dressing with no rules. I had to find a way to navigate my personal style in a direction that was work appropriate, but still felt true. Still felt like me. I have always felt I say a lot with my clothes, and I don't like the idea of not saying what I mean.
I had no idea where to begin. I struggled to get dressed every day. I felt lost in my own closet. My husband encouraged me to move towards basics, but I hate basics, they have always seemed so boring. So I started nowhere. I made do with what I had, supplemented with a couple of blazers from Zara. And I thought about it. For a few months.
I started by simply taking a look around at my girlfriends and co-workers. What were they wearing? What did I like? Dislike? Who was consistently dressed in a way I found appealing? I narrowed the list down to three friends who always looked amazing, and chose to focus on them.
Jessi, Stevie and Vicki. Paying close attention to Stevie's style was nothing new, to be honest. I have always paid close attention to what Stevie is wearing and copied as much of what she was doing as I could. I never even bothered to hide it. She just knows what she's doing. She's a rock and roll bohemian princess. She is amazing. She has evolved in our time together to become a much classier, high fashion version of the girl she was when we met. Her style would be the anchor. To bring the old into the new.
Jessi and Vicki though. They were something else. I started to watch what they were wearing. And something started to show up as a pattern. They were wearing basics. A lot of them. I liked what they were wearing, and on them, basics seemed wonderful. They served as building blocks, holding together outfits with amazing jackets, or show off shoes. And they were never boring.
But I had no idea how to translate what they were doing into my own closet. My husband and I went shopping several times, he pointed out basics and suggested things to try on. And I hated all of it. It was so defeating. I knew what I wanted but I didn't want it.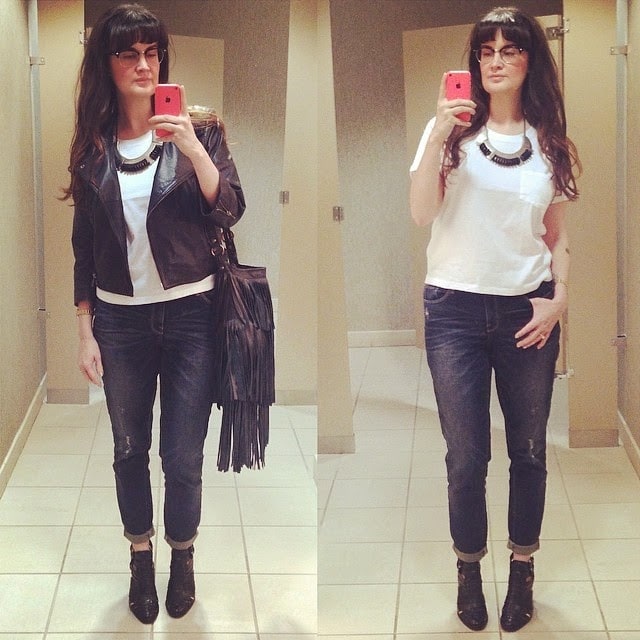 And then we went to Zara. And something clicked. I found tees in shades of grey and black and they drape on them was so pretty I didn't mind. And a blazer in dark grey jersey. I had found the thing that separates bad basics from good. Fit. I found great fitting tees at Zara and Everlane and stocked up.
My new go-to look consists of a black or white t-shirt, black ankle pants or dark wash denim, and a blazer or long cardigan. It sounds boring, I know, but the truth is that it just highlights all of my great shoes, jackets and jewelry. I can wear as many accessories as I want, and not look overdone. And it's so easy and quick to get dressed in the AM now! I feel like myself again. And I owe it all to a few girlfriends and the joy of good basics.
Erin used to blog (and you may recognize her from my True Fashionista series), but now she takes selfies in the bathroom at work.  Follow her on Instagram!
Follow Me | Twitter | Facebook | Instagram