This article may contain affiliate links; if you click on a shopping link and make a purchase I may receive a commission. As an Amazon Associate, I earn from qualifying purchases.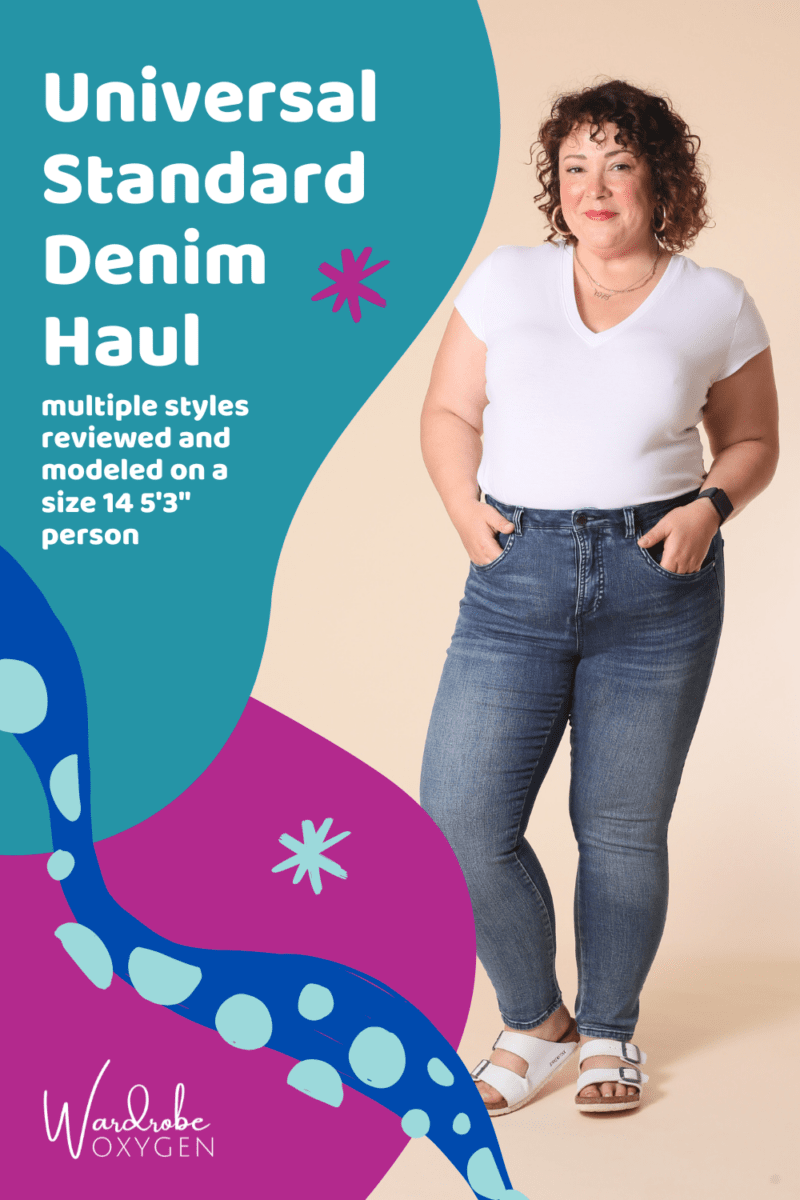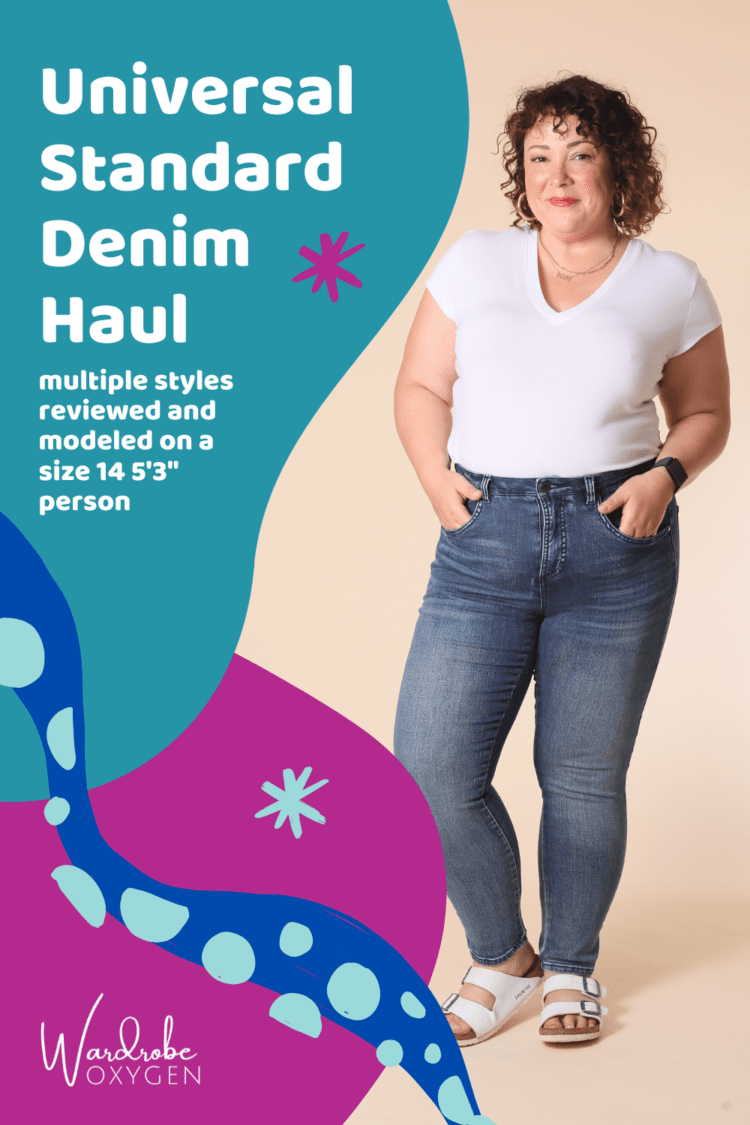 I've done a few denim hauls before – a Madewell denim haul, a Gap denim haul, and most recently an Old navy denim haul. But the one I really wanted to do was a Universal Standard denim haul. Universal Standard is one of the most size-inclusive brands out there and I've found their quality quite great. I own several pairs of Universal Standard jeans but haven't bought any in a couple of years and wanted to see some of the new styles and how they'd work on my frame.
For reference, when Universal Standard launched their denim line beyond their original Seine skinny jean, I was sent a few styles to provide an honest review. But since then, they have discontinued some of those styles and added new ones. And that review left me wondering what styles would actually fit me, a 5'3″size 14 woman. I have found that a lot of styles of Universal Standard denim are just made for a taller body.
I reached out to Universal Standard to see if they would send a few pairs of their jeans that I thought would work on my frame for a denim haul. I know many of you are closer in height to me than website models, thinking I'd maybe find the elusive "not skinny, faded, and comfy" jeans I desired for the season, and also offer a resource for those of you looking to shop Universal Standard jeans.
Why I Was Excited to do a Universal Standard Denim Haul
Y'all know I am a BIG Universal Standard (US) fan. I have been showcasing the brand on Wardrobe Oxygen since 2017 when I got my first Geneva dress (which I have since donated and replaced with the same dress in petite, in multiple colors, when US launched petites!). I love the quality, the edgy yet classic style, and I adore the size inclusivity.
Universal Standard doesn't offer just a few pieces, but their entire collection in sizes 00-40. And when Universal Standard collaborated with other brands (Rodarte, J. Crew, Adidas, and Erdem for example), they ensured the entire collaboration was available in a full size range.
I have struggled with denim most of my adult life (hence me doing so many denim hauls). Even though I am per the CDC, the average height of a woman in the United States, I rarely can find a pair of jeans that fits me right off the rack. Few brands offer petites over a size 10, and sometimes petite is too short in the rise to accommodate my stomach and rear.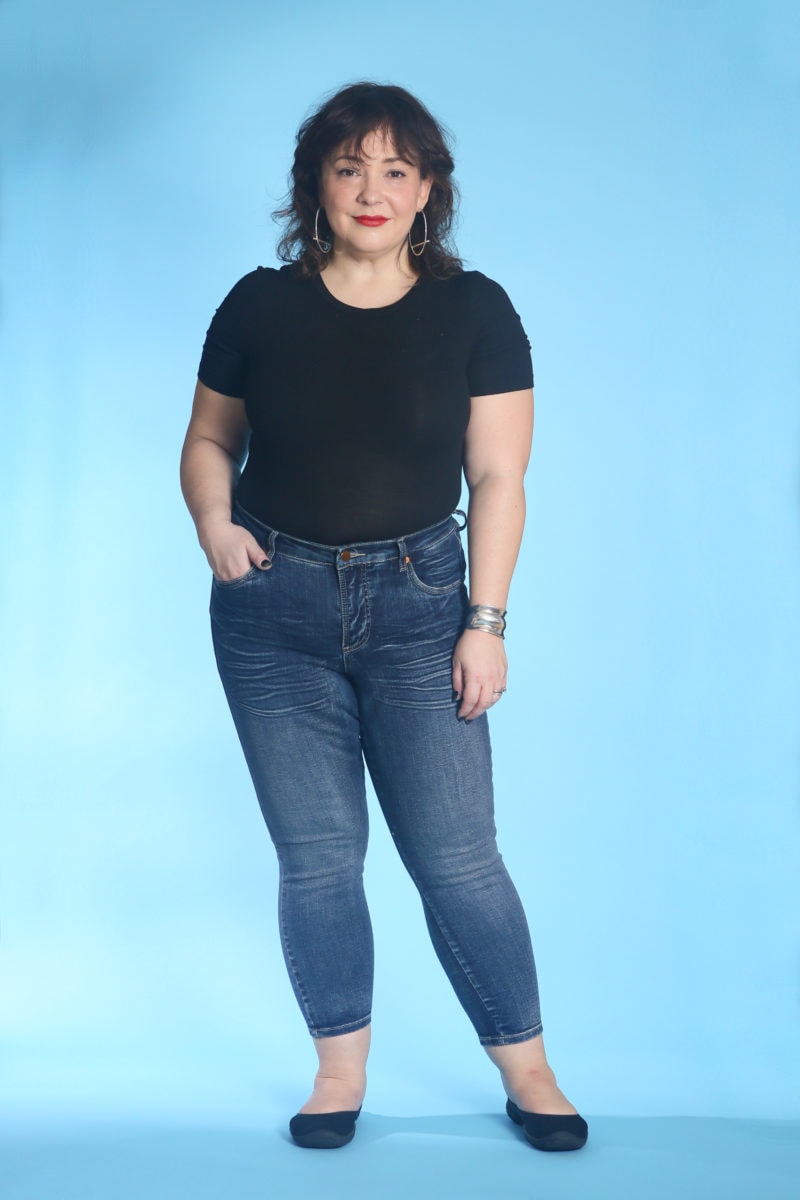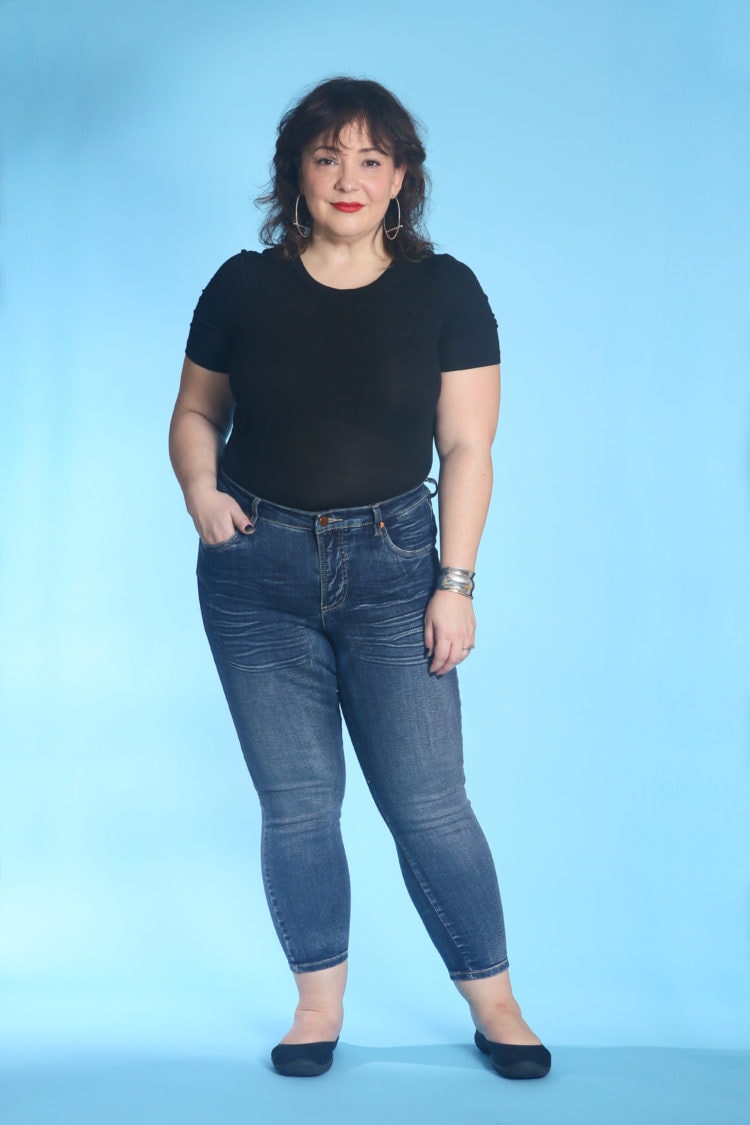 When I tried Universal Standard Seine jeans, I became a total convert. They were the first high-quality skinny jeans I had ever tried that fit well, looked good, kept their shape all day, and I didn't have to hike up constantly. I since added other styles of Universal Standard jeans to my wardrobe and in general have been impressed with the quality, though some styles were clearly only designed for taller bodies.
I wanted to do a Universal Standard denim haul so I could show their great jeans on a shorter body, one that is closer to our country's average height for women. And honestly, I was exhausted from trying pair after pair from brands that were inconsistent with fit, quality, and style. I have always found Universal Standard to be more consistent with sizing and I saw some styles that looked like they may be exactly what was missing from my wardrobe.
What Jeans are in my Universal Standard Denim Haul:
I'll admit, I requested a lot of pairs of jeans from Universal Standard; they sent me some that were at the time in stock in my size. US jeans are pretty popular and sell out but you can "join the waitlist" and be emailed when they come back in stock. To make this a fuller Universal Standard denim haul, I added two pairs of their jeans from my wardrobe that are still available online. The six I will review below:
As I mentioned above, I am usually a size 14 with most retailers. However, I have found I am consistently a size XS or 12 with Universal Standard. And like many others, I find their Seine skinny jeans to fit better going down even one more size; I own two pairs in size 10 and one in size 12 and the 12s look good at first but slide down while the 10s stay in place all day.
Since I am 5'3″ I chose the shorter length available in US jeans and cropped or ankle styles so they wouldn't be too long. I did not alter or tailor these jeans in any manner; what you see is what you'd get if you ordered these jeans yourself.
Universal Standard Denim Haul: What I Got and What I Thought
Spoiler alert; other than the two pairs of jeans I already own, I only kept one pair for my wardrobe – the Bae Boyfriend Crop Jeans, which are more like a basic ankle jean on my frame. However, depending on your lifestyle, personal style, and body these other jean styles may be just what you're looking for. I found them all well made and the sizing consistent from one pair to another.
Universal Standard Bae Jeans Review
The Universal Standard Bae jeans had been on my mind for a while. Wanting a pair of faded jeans that weren't skinny but weren't weird and super trendy, they looked to fit the bill but I didn't know how they'd end up on my 5'3″ self. And to be honest, if I hadn't gotten them free from the brand, I may have immediately returned them… and regretted it.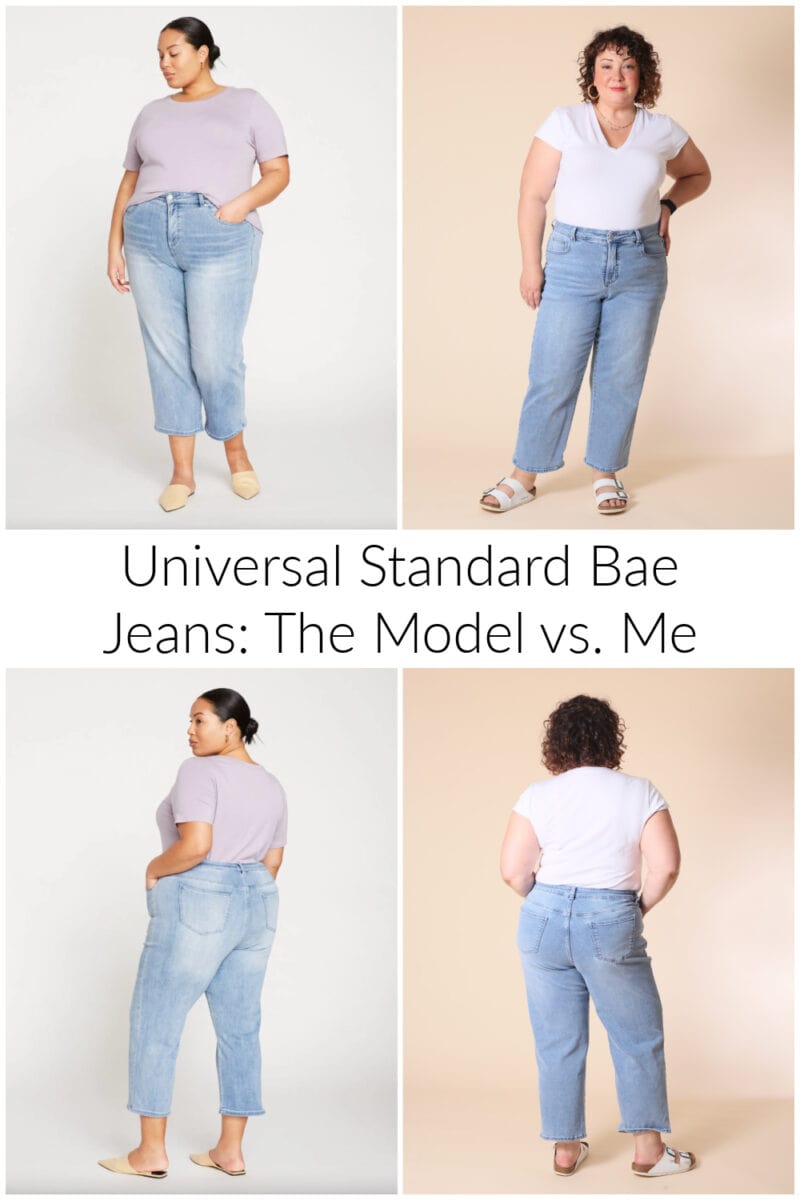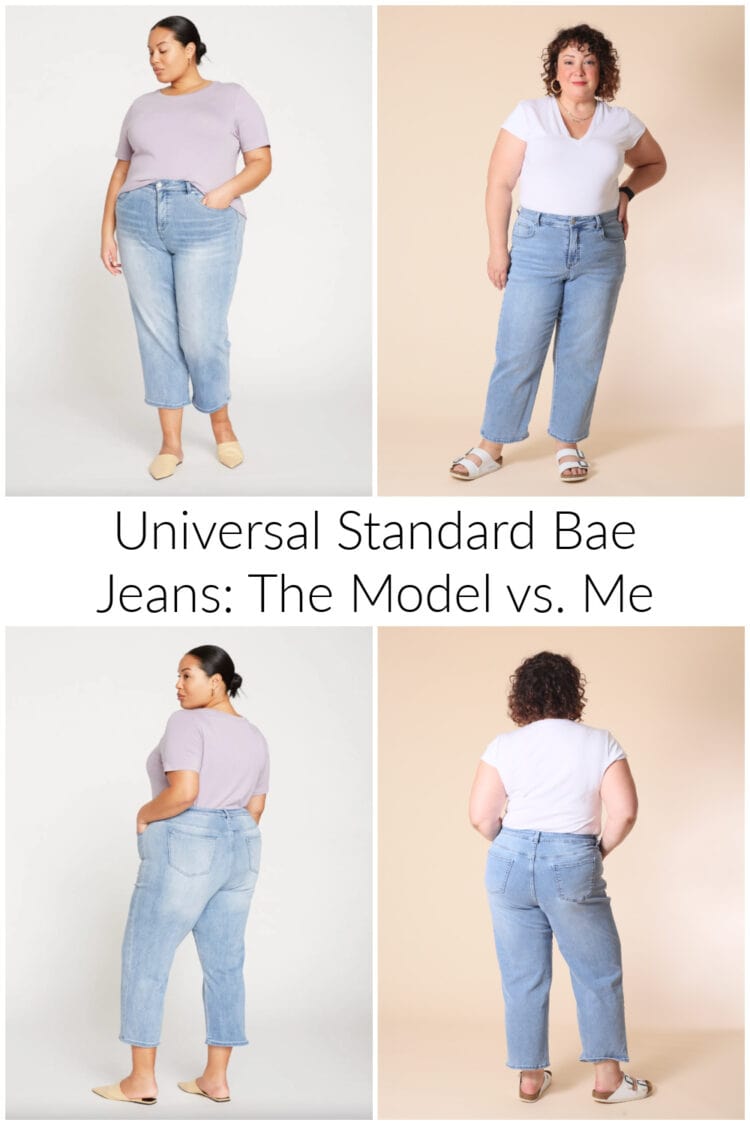 Made from 91.8% Cotton, 6.8% Polyester, and 1.4% Elastane these jeans are soft and stretchy, but I find these jeans keep their shape. The waist felt a bit too loose and I feared it would stretch out or fold over and the jeans would fall down. The length was fine with my Birkenstocks or Tevas but looked like highwaters with flats, sneakers, and cold-weather shoes. I wasn't impressed enough to exchange for a smaller size or consider tailoring.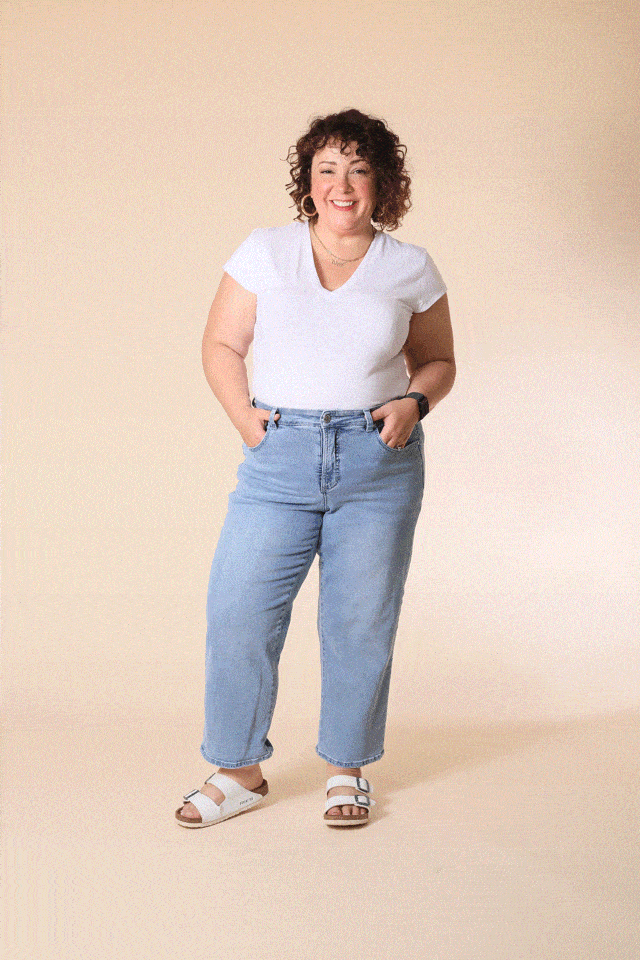 After trying them on when they arrived, they sat folded on the chair in my bedroom with the other pairs, waiting for this shoot. And one day when I had an outfit in my head that included my faded Athleta jeans and my Athleta jeans were in the wash, I put on the Baes. And I haven't looked back.
The Baes look like normal jeans but they are stretchy. But not that cheap stretchy; a thicker stretchy like the Universal Standard Joni jeans (reviewed below) that's soft and not claustrophobic on an early summer day when styled with sandals and a t-shirt. However, they also offer them in a lighter-weight denim (which I now must try). And while they aren't snug at the waist they don't stretch out or shimmy down. These Baes are giving my Athleta jeans a run for their money.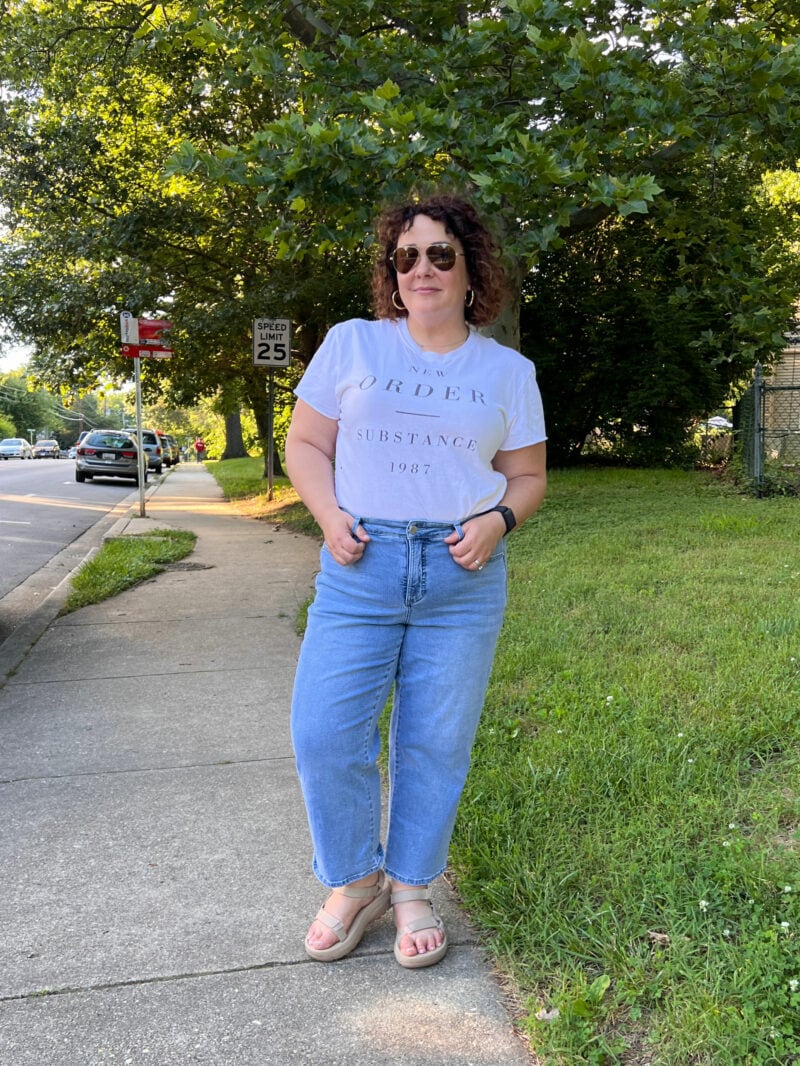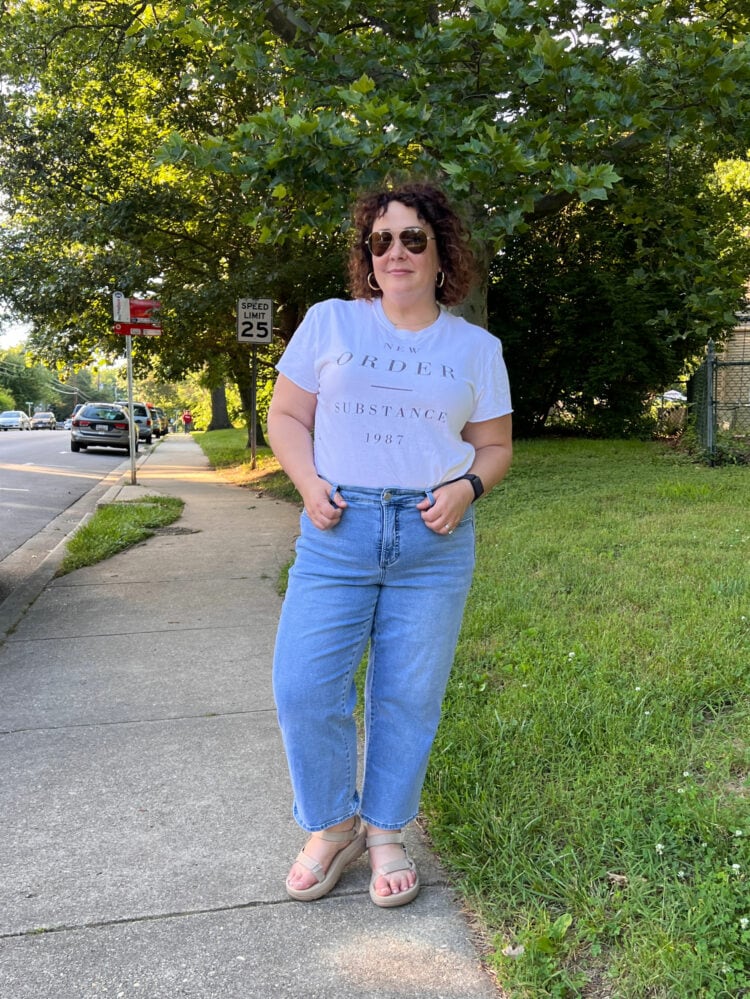 I've been wearing these jeans regularly for about two weeks and have laundered them twice (once air dry, once in the dryer). They have not changed shape or size; the only thing is the hem doesn't like to lie flat but that's pretty par for the course with softer denim that isn't fitted/skinny.
Universal Standard Diana Jeans Review
With the Diana jeans, I really hoped they'd work. I've been loving a wider-leg pant or jean with a tucked-in or knotted t-shirt or tank. Even better if they're soft and stretchy which I could tell the Dianas would be from the fabric composition (73% Cotton, 23% Polyester, and 4% Elastane). I figured they'd be long, but I was okay with having my tailor shorten them and take up the hem. Sadly, even with accepting that, they were a no for me.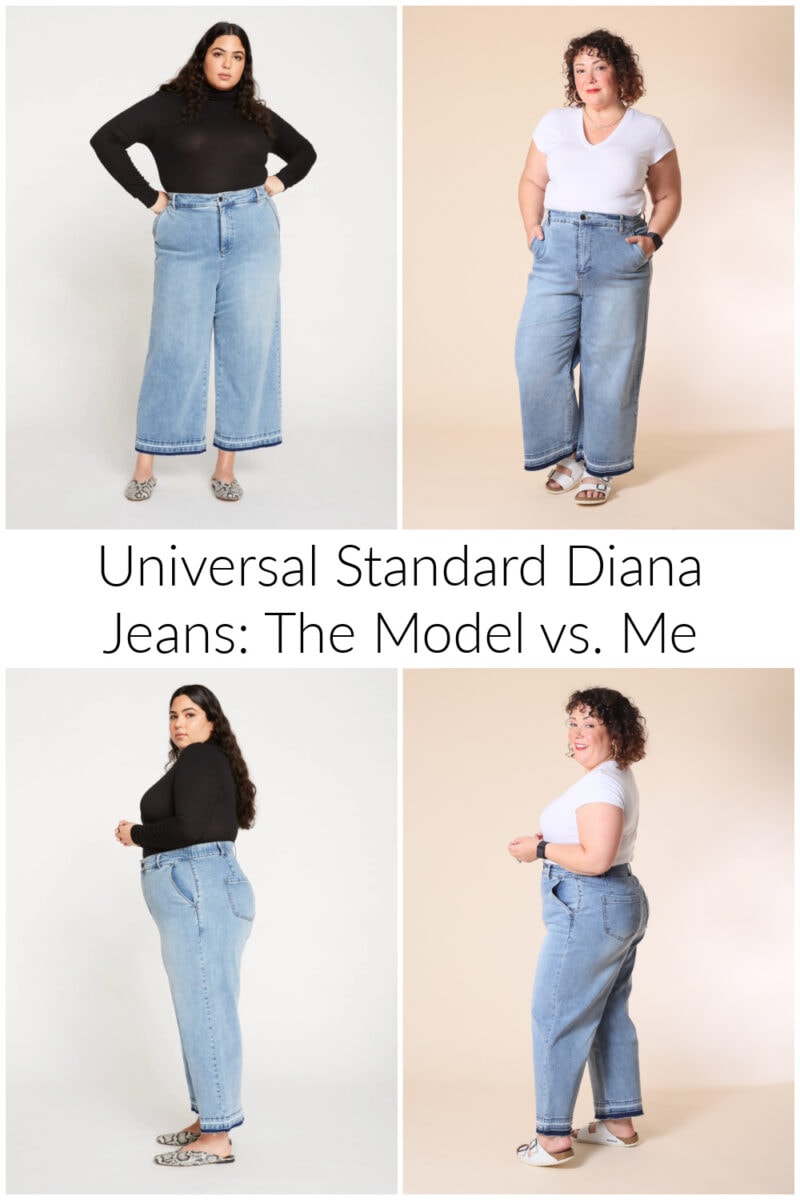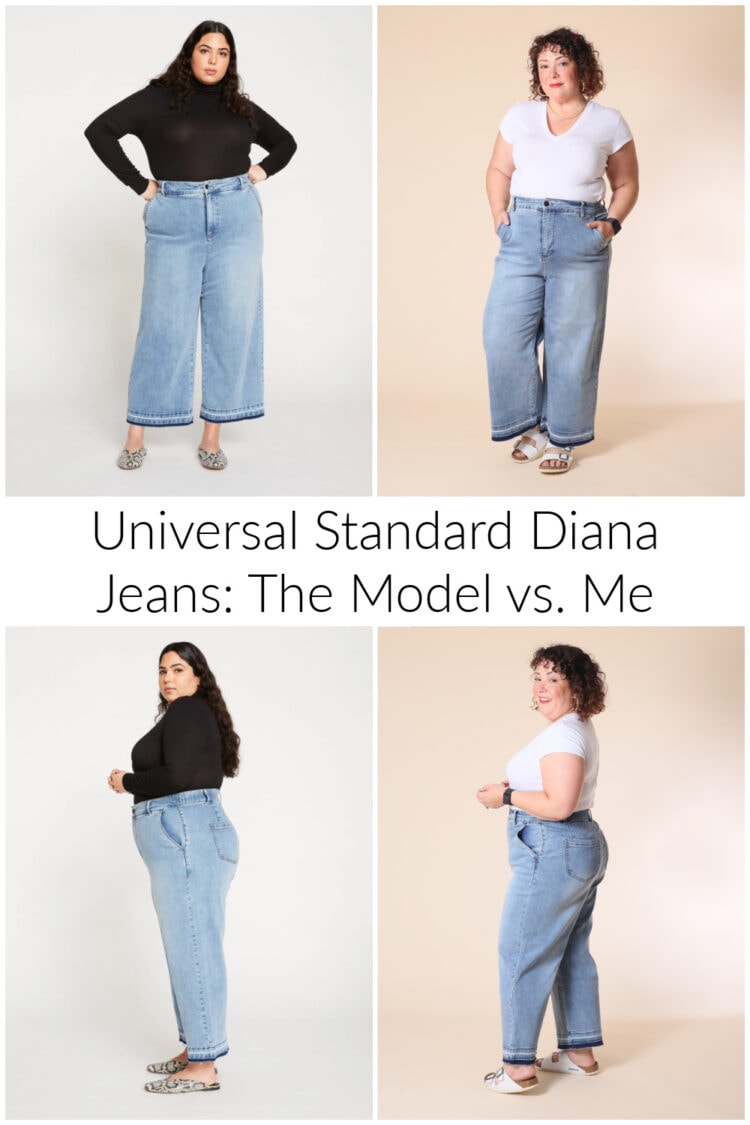 The Diana jeans are soft and stretchy, yet look like classic rigid denim. To increase comfort and improve fit, the back of the waistband is elasticized. I really liked both the denim and the idea of the waistband, but these jeans are just NOT made for my body, even if I was willing to pay to have them hemmed.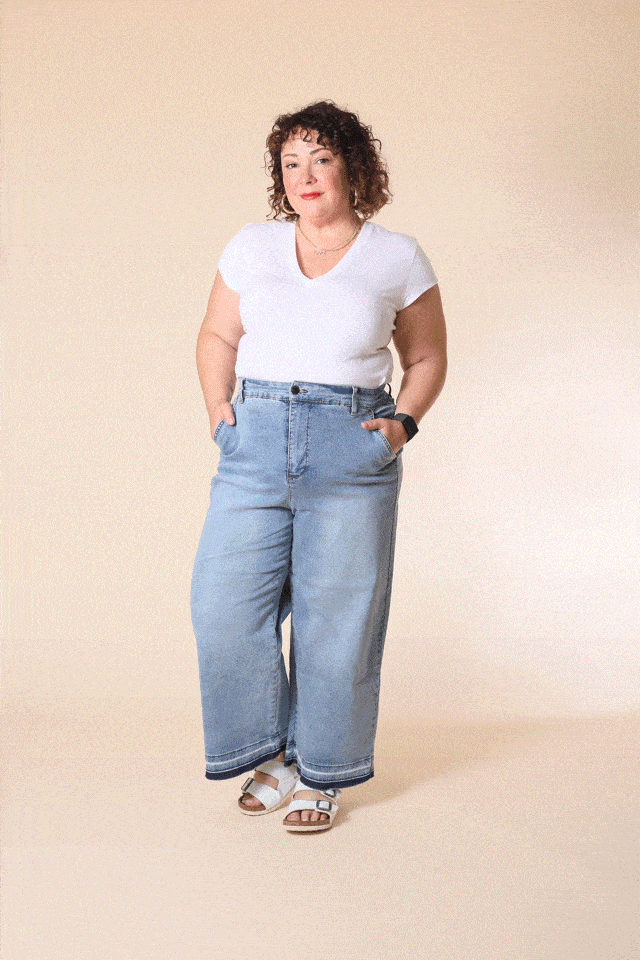 These jeans are so incredibly high rise, I could pull them up to the bottom of my bra. My rise is just not long enough and I struggled whether to wear them drop crotch or bra-height for this shoot. I went with drop crotch, thinking it would provide a better example of fit. But that ended up making the pockets act weird. These are just not jeans for Alison, and that's okay because we're all different and one person's yuck is another's yum.
I think if you're 5'6″ or have a long torso, these jeans could really work. These kind of pockets always appeal to me but gape because of my stomach and rear. But these… if they came in petite I think the pockets would like nicely. I'd love to see these jeans, full-length or cropped, with a wide clean hem and in some other colors (cream, olive, black, maybe a black cherry or plum).
Universal Standard ComfortDenim Drawstring Jean Trouser Review
I actually purchased the ComfortDenim Drawstring Jean Trousers with my own money as soon as they came out, thinking they looked like a great alternative to joggers that were a bit more refined. And I didn't like them, went through Happy Returns for the return label, was ready to mail them back, when Universal Standard agreed to this haul. When picking jeans available in my size for this review, I saw these jean trousers were sold out in my size. I decided to hold onto them so I could include them in the haul.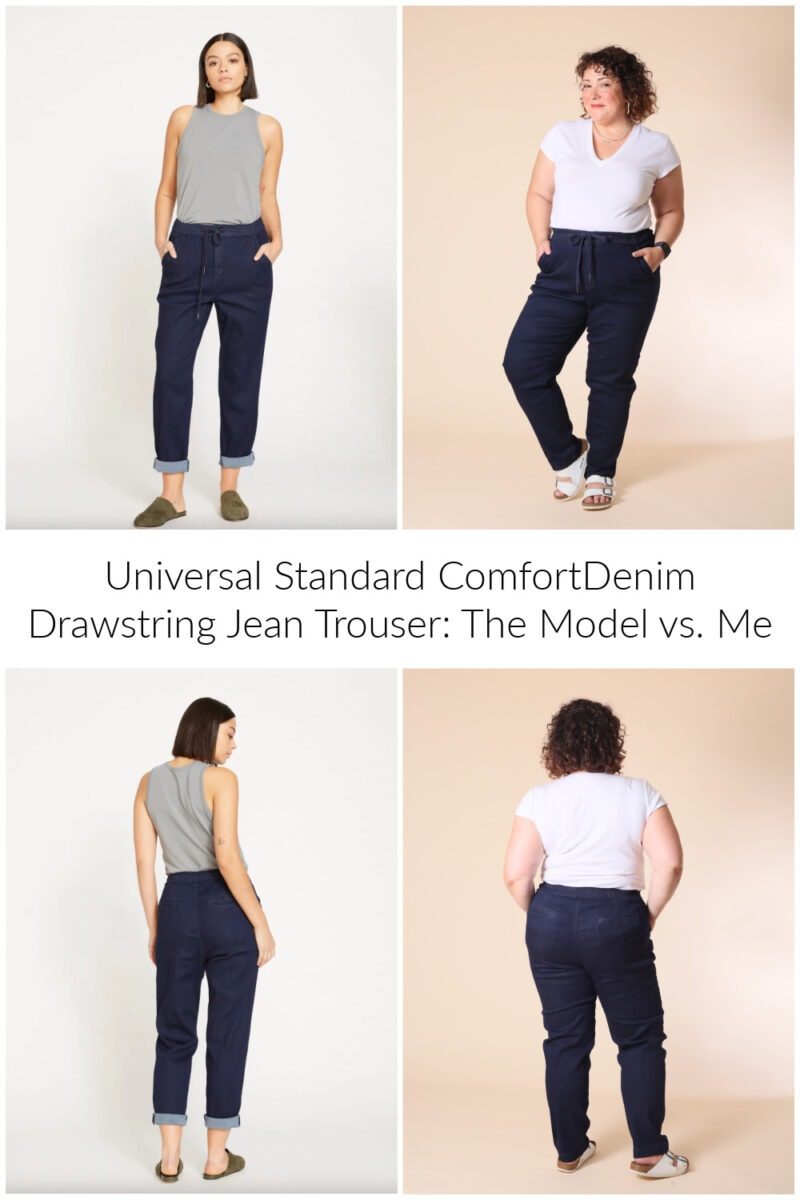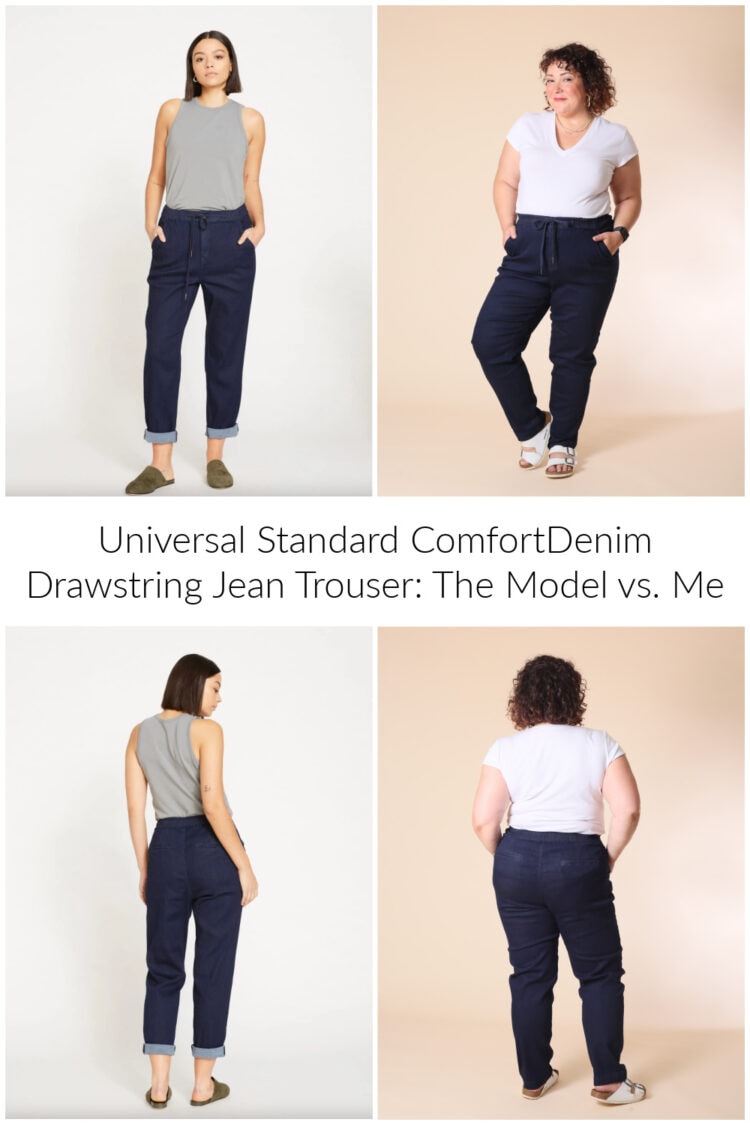 On the model, these denim trousers looked adorable. Lightweight denim, drawstring and the cuffed hem… oh how darling with a Breton top, with a perfectly rumpled linen shirt, with a graphic tee and a denim jacket. While they are lighter weight than traditional denim (74% Cotton, 21% Polyester, 3% Viscose, and 2% Elastane), they were heavier than I expected or desired and the fit on me was not cute.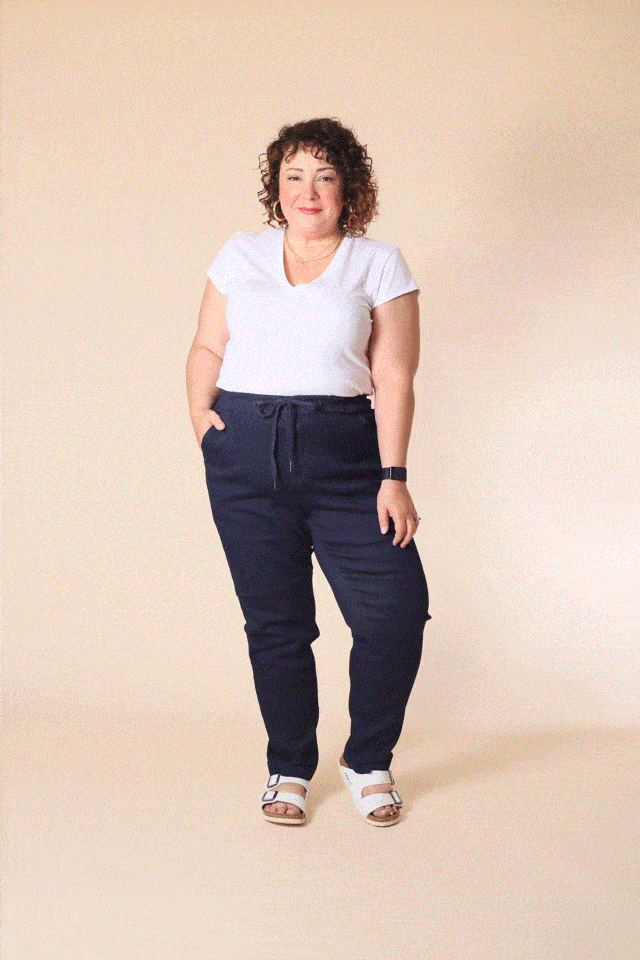 I have chatted with a few of you in the Wardrobe Oxygen Community who have purchased these denim trousers and love them. All of you I chatted with are at least 3″ taller than I am, and have a different body shape (either an athletic or straight shape, or more of a pear shape). You like how they are casual, but refined. One shared she had them shortened to a cropped look, another said she wears them to her smart-casual office with blouses and lightweight sweaters and flats.
On me, especially with the drawstring waistband, I think they look like the kind of pants they have sold in budget-friendly mail-order catalogs for many decades. You know the catalogs, the ones your mom and maybe grandma also got that offer pant sets with coordinating knit tops embroidered with flowers.
Like many pieces with Universal Standard, these denim trousers will look one way on one person, and drastically different on another. So yeah, these pants are not my jam but that doesn't mean they suck.
Universal Standard ComfortDenim Pull-On And Go Anywhere Pants Review
I asked for these ComfortDenim Pull-On And Go Anywhere Pants from Universal Standard in the 28″ length (they also come in 32″ length) because I felt these were the kind of dressy jeans/casual pants hybrid many of you are looking for. Made from 74% Cotton, 21% Polyester, 3% Viscose, and 2% Elastane just like the ComfortDenim drawstring pants above, these are more polished, looking at home with a blazer or dressy blouse as well as your favorite sweatshirt.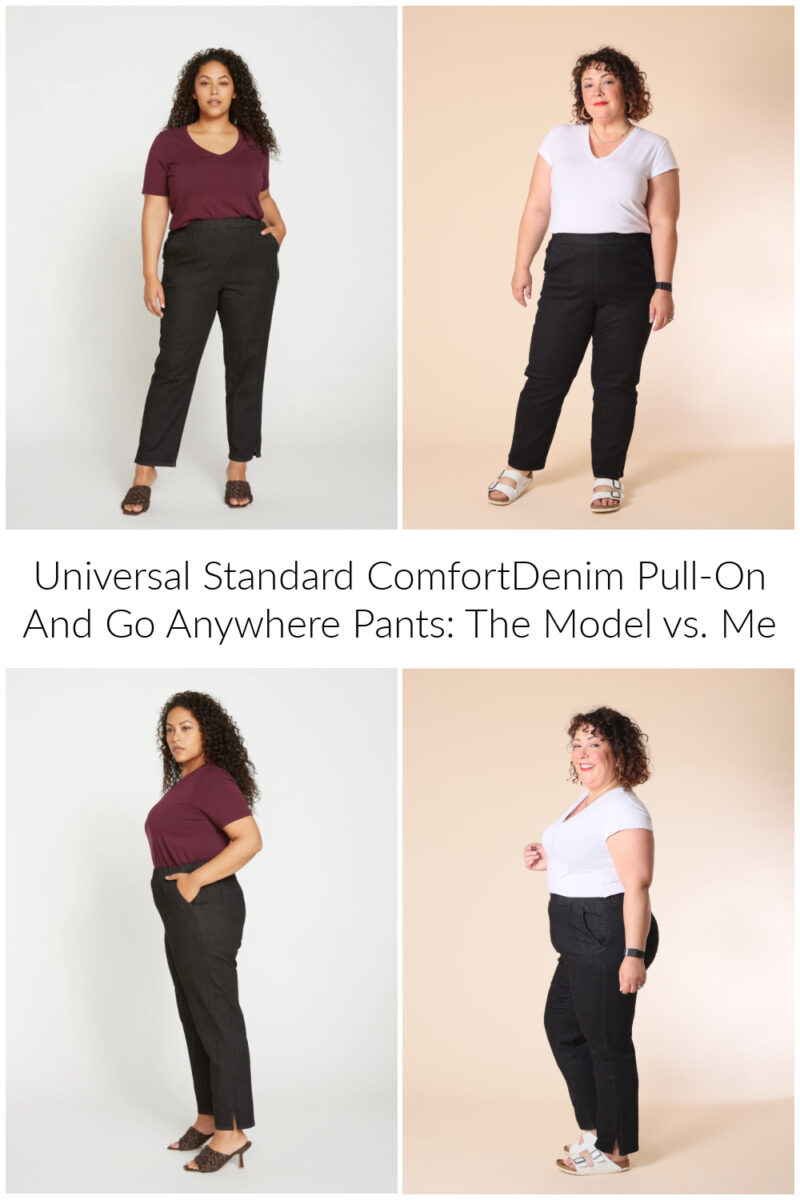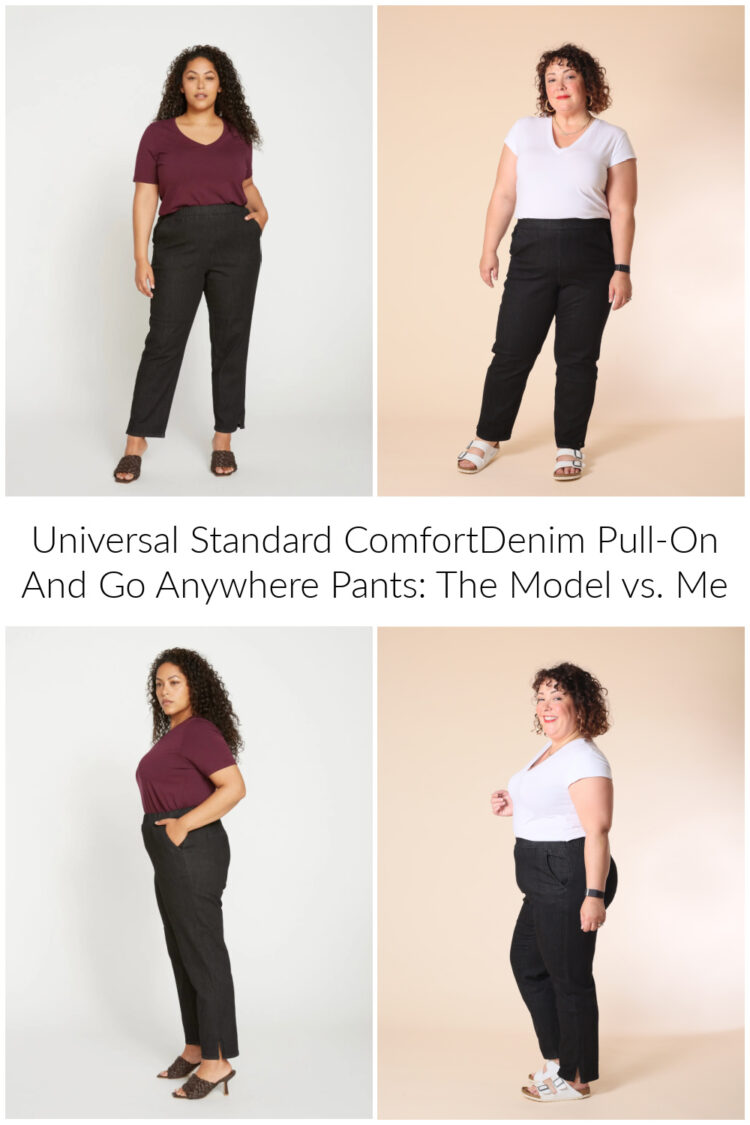 While these pants, even at the 28″ length, are too long in the inseam and the rise for me, I still think these are great pants. They look like dressy black denim, but the ankle slits and slim profile dress them enough that they'd be great for a night out as well as running errands or a casual Saturday. The fabric has stretch, but a hint of structure. I did a few squats and went up and down the stairs and sat before this shoot and didn't find them to stretch out.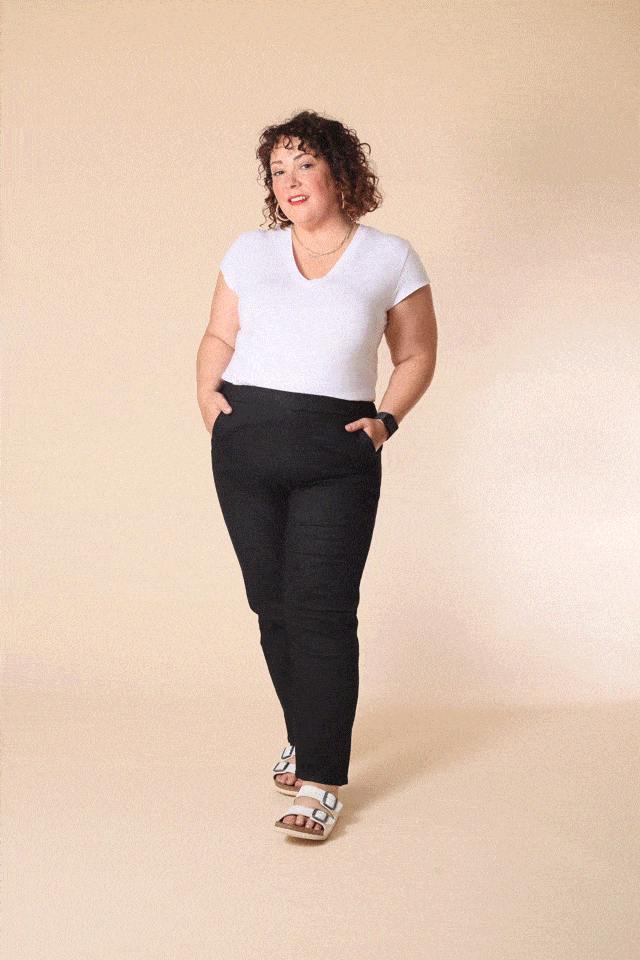 The clean front free of buttons and a fly makes these great pants to wear with untucked tops. If you can't see the waistband, you'd have no idea these aren't jeans or a side-zip no waistband style of pant. And because the waistband is so clean, you could have it show if you desire a more casual look.
Made of the same exact fabric as the previous denim trousers, these are more appealing to me because of the crisp, clean styling. In my opinion, both are made from a premium fabric but these pants are worth the pricetag because of how smart I think they would look on a range of bodies while also being really comfortable.
Note that length really determines styling, and tailoring will be more complex due to the slits on the sides, which I think really elevates the trousers. But I think these are a cut that doesn't have to be a specific length to be stylish. These trousers could be an ankle pant or a capri. However, I do think they are too long for me and my footwear wardrobe.
Some reviews say that they ride down when you sit and are snug on hips and thighs. I could see both happening if you are curvier on the bottom than I am. These have less room in the rear than any other style of jeans I tried in this Universal Standard denim haul. That being said, I think these pants are worth a try if you're looking for such a denim trouser.
Universal Standard Joni Jeans Review
I think these are the most worn jeans in my wardrobe (that is after the now-discontinued Athleta jeans I will wear until they are completely threadbare). I love the color, the weight, the fit. If you are familiar with Universal Standard Seine jeans and just find them a bit too skinny, the Joni is a fantastic alternative. I am wearing the 27″ length; they also come in a 32″ length.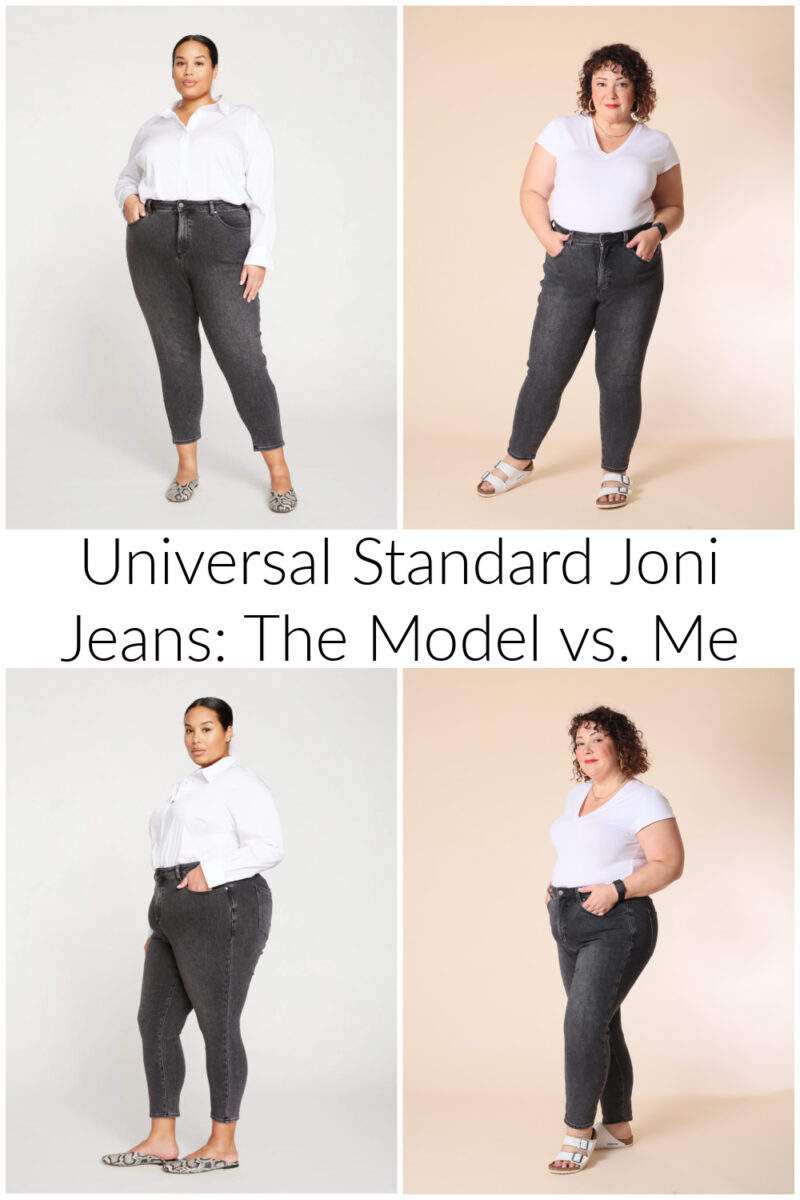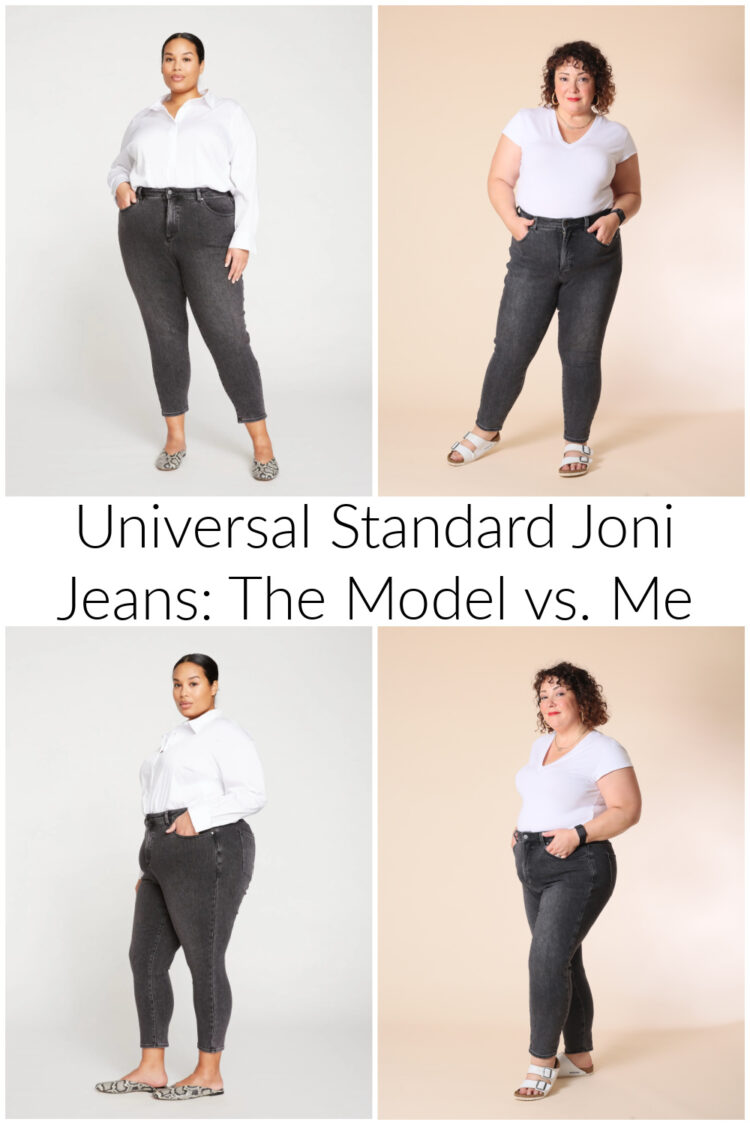 These are a great transition jean if you want to dip your toe into non-skinny jeans. Not skinny, but still slim, and still with the stretch, these jeans are a bit heavier in weight than my Siene skinnies from Universal Standard. The denim is soft, and as you can see, these have held up really nicely over dozens of wears (and many washings). I've thrown these in the dryer a couple of times (I know, I know) and have seen that doing that has affected the Elastane, but they still look and wear great enough that I reach for them not just for casual situations but when I want to look all cute.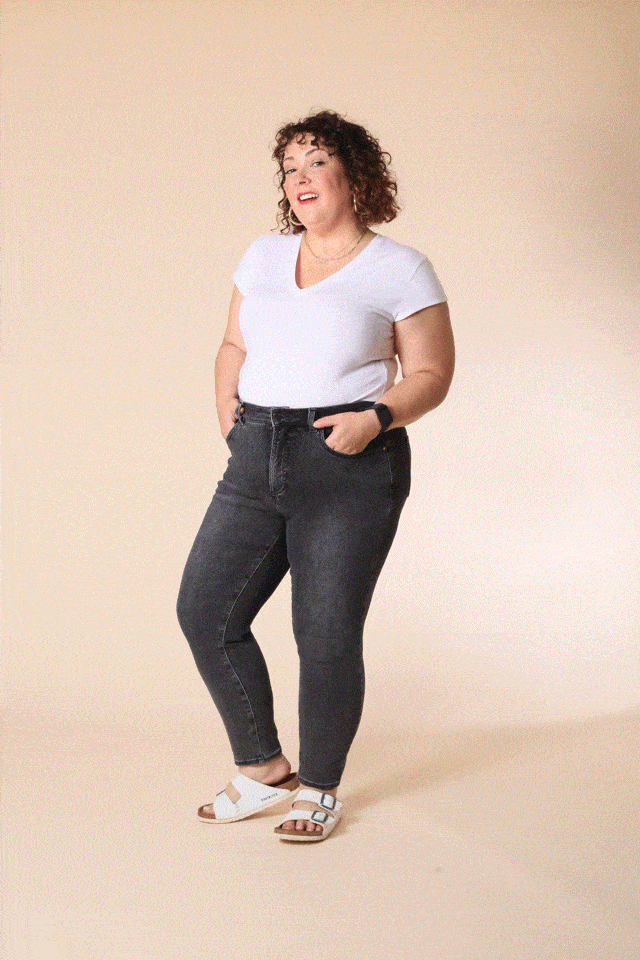 I find this soft black color to be extremely versatile, though I don't wear it much in the warmer months. But it's a great option if you have too much blue and feel other colors are too strong and not as versatile. If you're around my age you may have some less than positive feelings about wearing faded black jeans, having done them before. But I think that because these are free of distressing, don't have any kind of creative wash or hardware, they look modern. I wear them with almost everything that I wear with a traditional blue-tinted jean.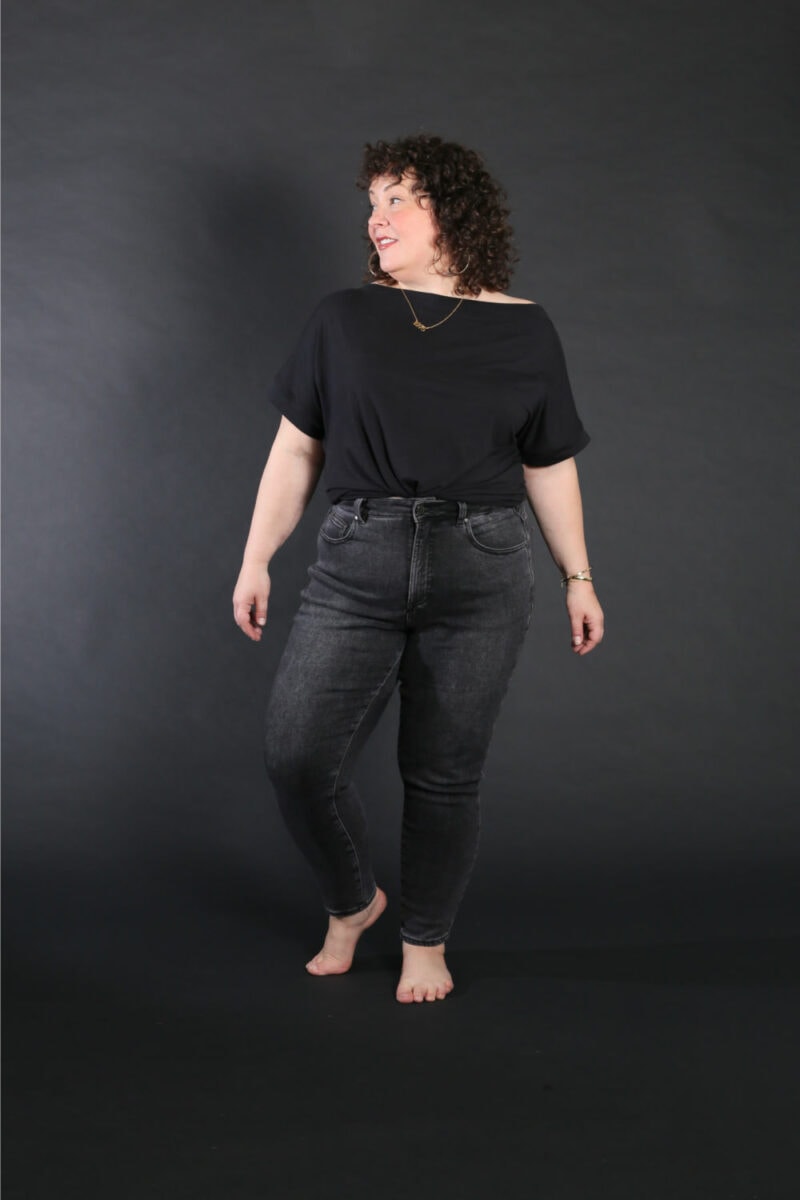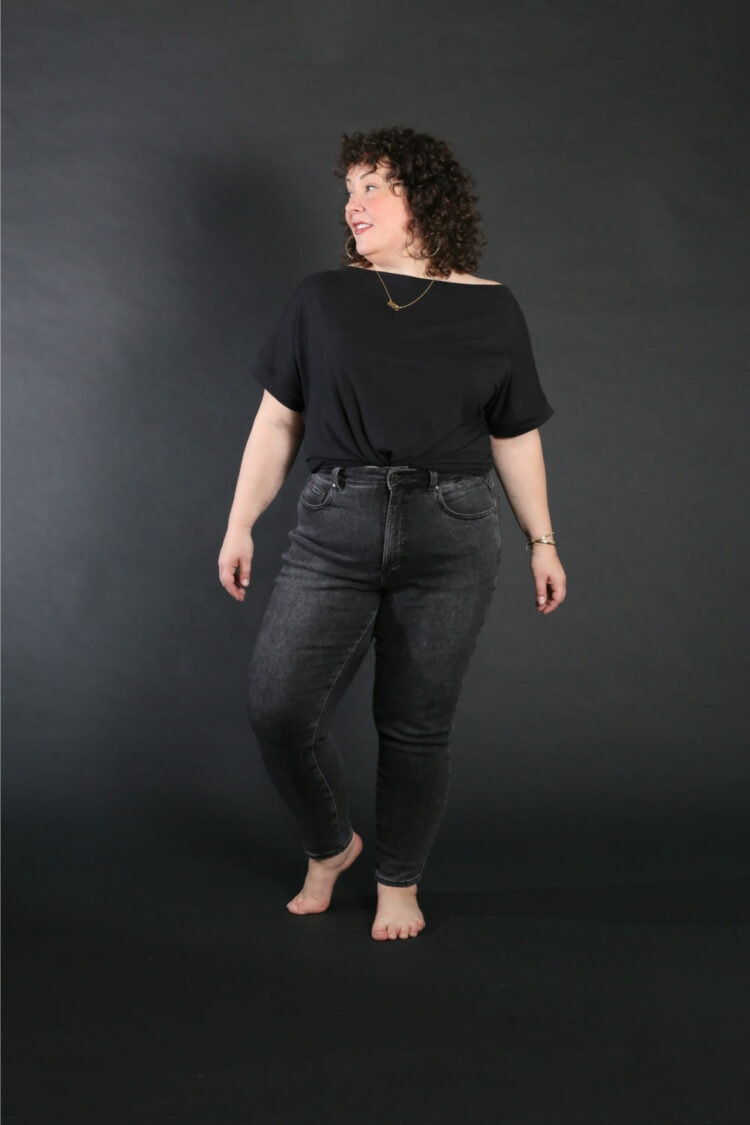 The 12 in the Joni jean is a great fit on me, no matter the time of the month or the point I've been in the pandemic. I also find them really comfortable and have worn them for situations where I knew I'd be sitting for long periods of time. These and the Athleta jeans were the only ones I chose to put on my body from like March 2020 to August 2021. As someone with a booty, the back darts really help me have a good shape and not gape or sag at the waist. Clearly, I'm a fan. I'd love to see these jeans available in white and cream.
Universal Standard Seine Jeans Review
The Seine is the first style of jeans Universal Standard created, and has been a bestseller ever since. Now available in two rises (high and mid), three lengths, an ankle zip version, and five colors, the Seine is the only skinny jean I have felt comfortable and confident in, and continue to wear and love (yes, even after writing this).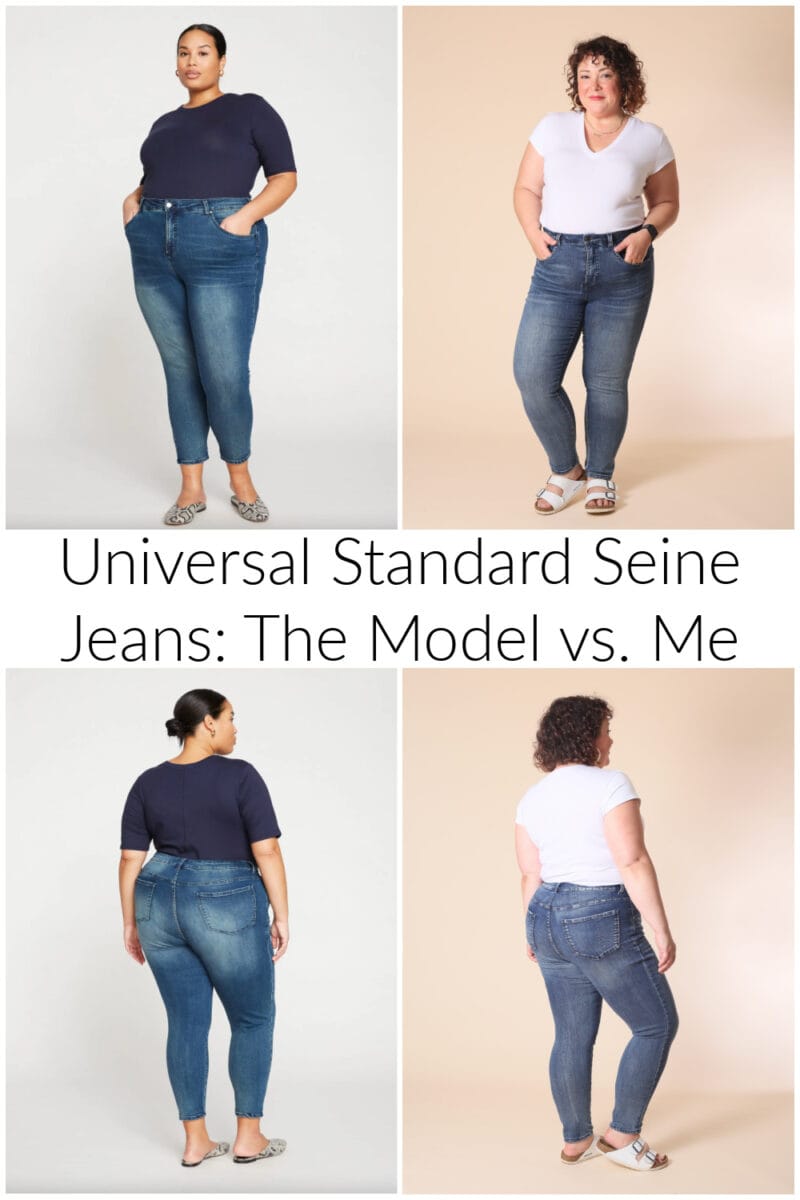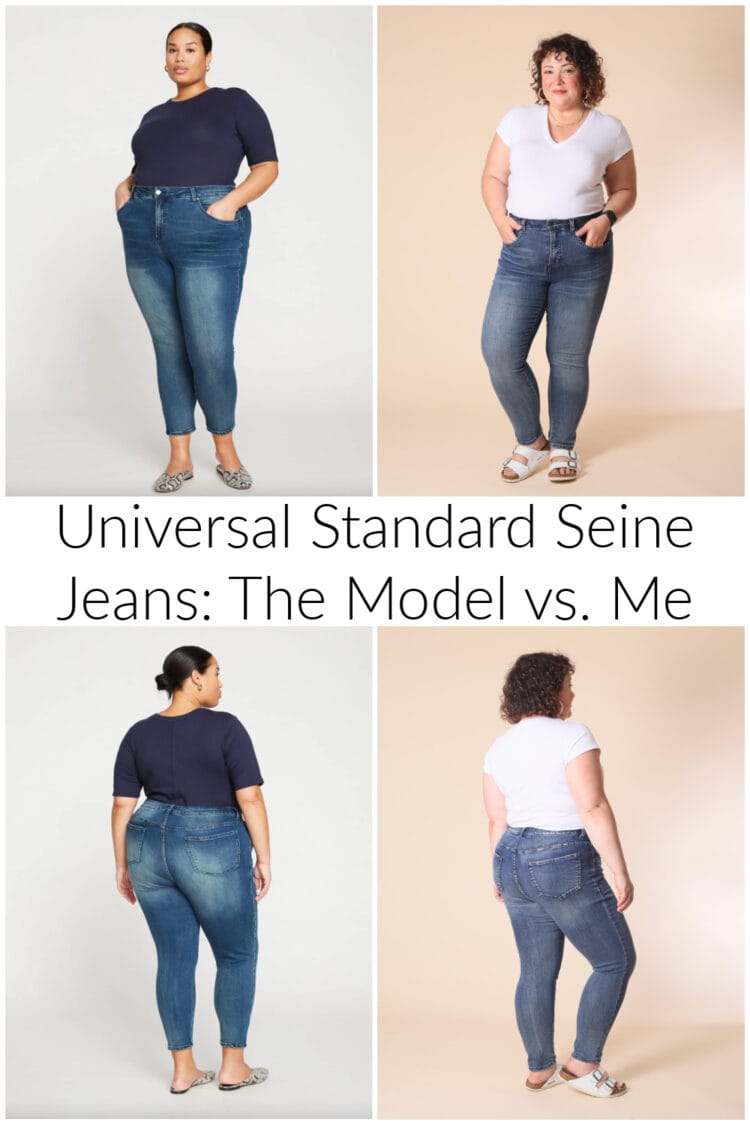 I have tried both rises, size 12 and size 10, the petite and the regular options and the colors Dark Indigo, True Blue, and Distressed Blue. The Midrise hits right at the curve of my belly button in a way that the waistband folds over and I get muffin top (you can see them on me in this post). The petite high rise fits as though they were custom designed for me, but the length is too short (you can see them on me in this post).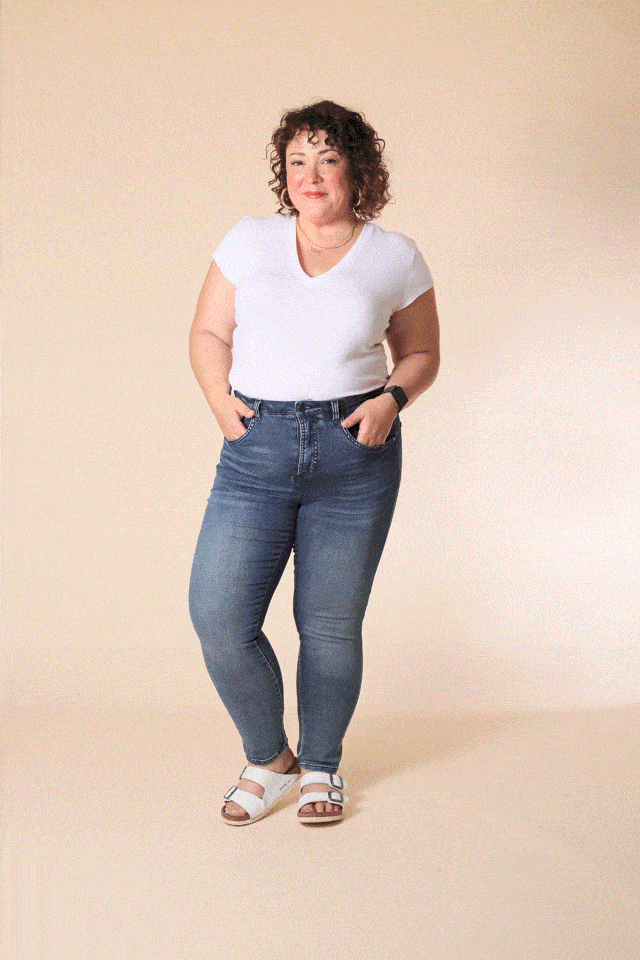 For this review, I chose the size 10 High Rise in Distressed Blue Seine jeans from my closet. While I have a few pairs, these are my favorite of my Seines and the ones I wear the most. I like the distressing, I like the fit, these feel the most "me" and they have held up so beautifully. I have put these babies in the dryer more times than I'd like to admit and twice I laundered them at super hot industrial machines and they're still rocking.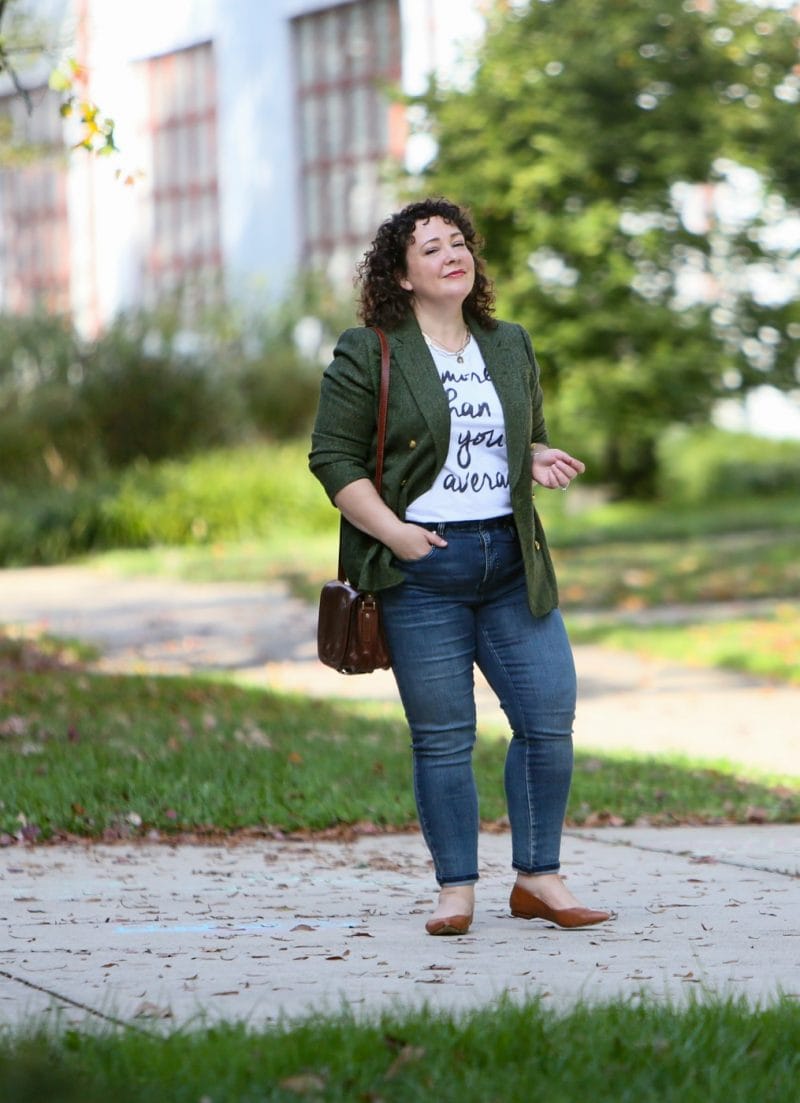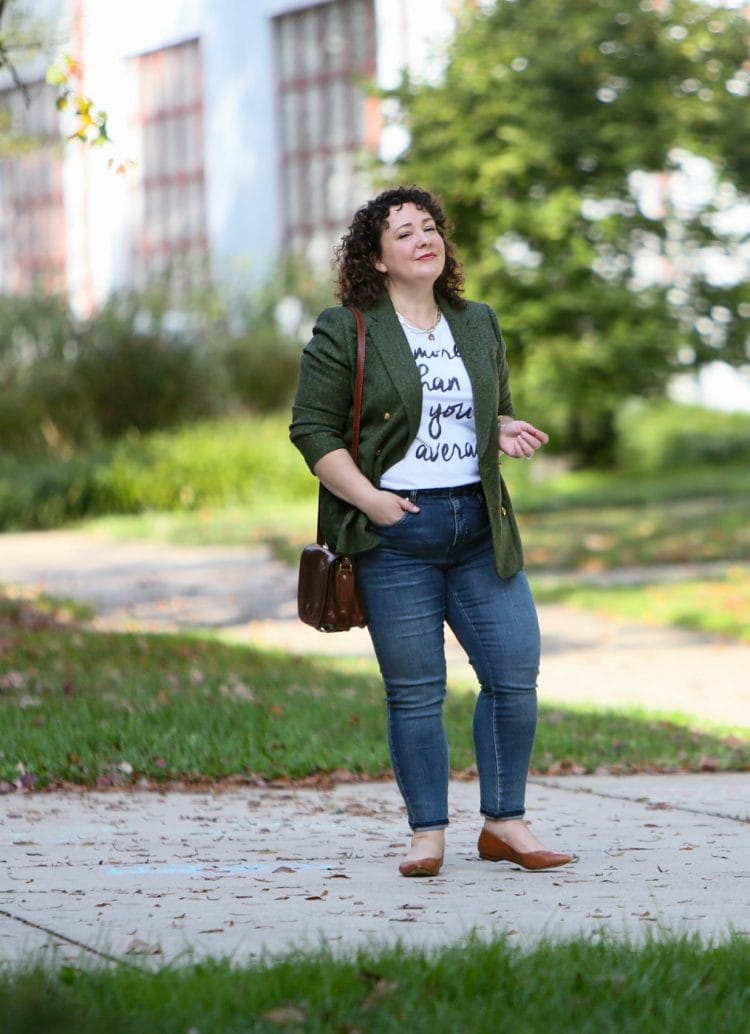 I am a size 12 in other Universal Standard jeans, but these are better on most people when you go down a size. For reference, these are the same style of Siene jeans in size 12. They look good in the photos, but they gaped at the waist and after an hour or two I could have pulled them off without unbuttoning. I tried them again recently since I am not the same size or shape I was in 2018, and they still gaped and fit weird. I ended up donating them. The Seines are meant to be skinny; Joni and other styles are meant to be slim.
I know some of you have dealt with your Seine jeans wearing out at the thigh or doing weird things with the Elastane. I have to say I think some washes hold up better than others. My Dark Indigo Mid Rise Seines are around the same age and have some weird stretching/bubbling near one knee and are a bit thin on one one leg near the upper thigh (I think this is the last time I wore them).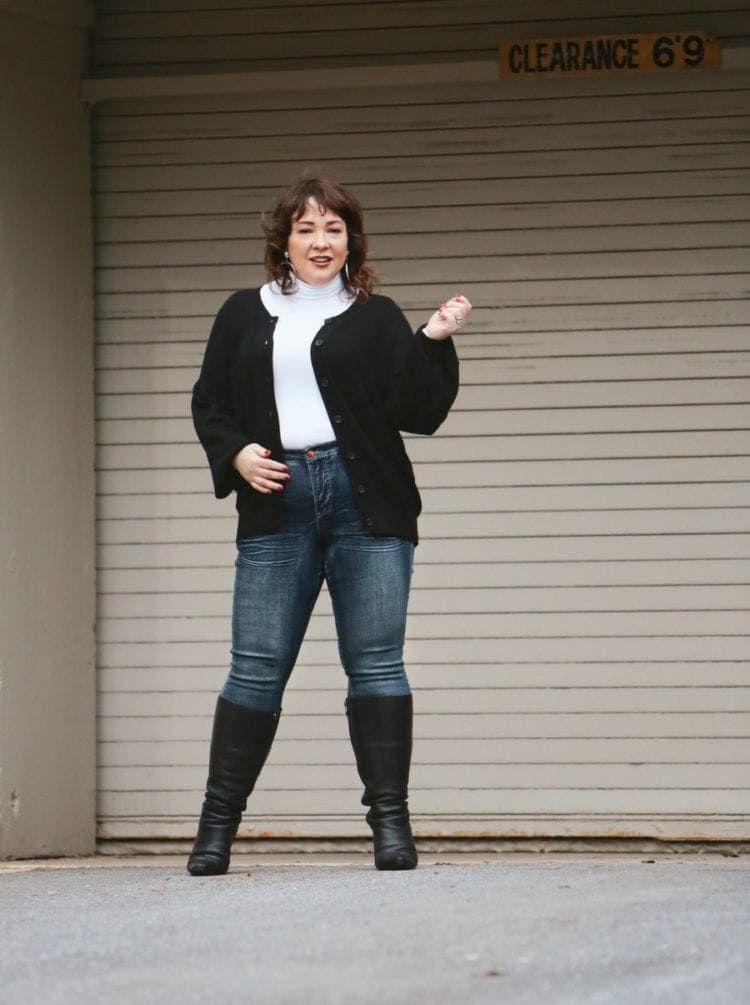 I've discussed quite often in the past couple of years that skinny jeans are no longer the default denim silhouette, but that doesn't mean you need to toss what you own, or that you shouldn't buy more. It's a very… easy silhouette that works with looser and longer tops, jackets and blazers, and the stretch is really forgiving. I'm still wearing my skinny jeans, but now that I've experienced the Seine I have no desire to try other brands or add more to my wardrobe.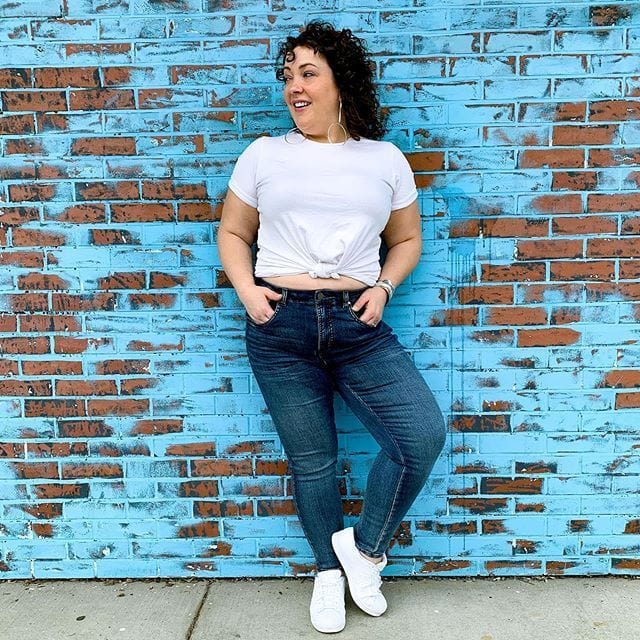 But that's me, and you and I are not the same. We don't have the same lifestyle, personal style, body, or desires. If you love a skinny jean, rock the heck out of it. And if you're looking for a great fitting skinny jean, the Seine, in my opinion, is one of the best out there.
---
I hope you found this Universal Standard denim haul helpful. And if you can't imagine wearing jeans in the summer, I get you. Luckily, Universal Standard is the kind of brand that keeps styles for more than one season, so be sure to bookmark this article for your fall fashion shopping!
If you have tried any of these styles of Universal Standard jeans and have more feedback that will help readers, do share in the comments. And if you think there are any styles of Universal Standard denim not seen here that are worth checking out, please share that as well! Your comments help make this an even more valuable resource for those looking for a great pair of denim!