This article may contain affiliate links; if you click on a shopping link and make a purchase I may receive a commission. As an Amazon Associate, I earn from qualifying purchases. 
I must say, navigating life without my dominant arm has been an adventure! They say that mastering your non-dominant hand benefits your brain. It's fun when I notice my left hand and arm getting stronger (carrying a stack of plates from the dining table), more flexible (I can now scrub, shave and deodorize my left pit, yeah baby!), and more skilled (change the sheets on Em's bed and empty the dishwasher without breaking anything). And I'm learning ways to accomplish everyday tasks we take for granted.
Like makeup. And hair. And bathing.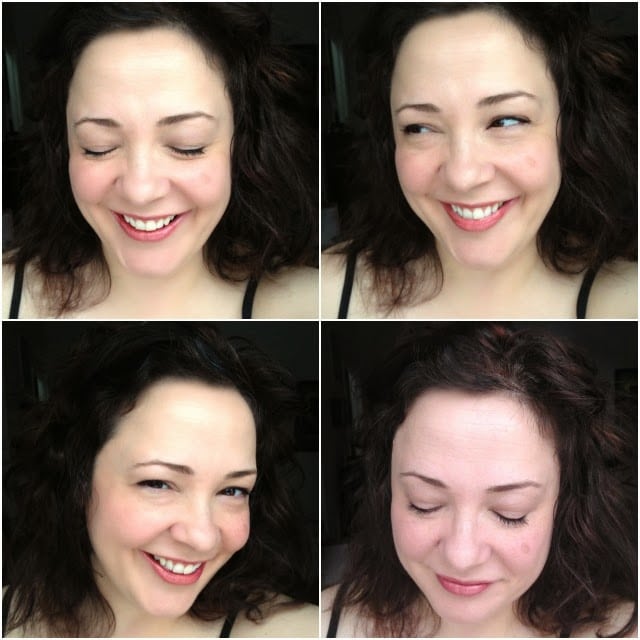 Doing my face and making my hair not look like a rat's nest is nice when a neighbor stops by unexpectedly to check on me, but it also does a lot of good for my morale and outlook on the day. Learning how to work with my non-dominant hand is like learning from scratch. I thought my tips may help to those who are beauty novices as well as those who may be learning how to work with a non-dominant hand.
Hair
Once I got off the painkillers and felt good enough to leave the house for a bit, I made a hair appointment. I asked for lowlights instead of a single process to add depth to my wavy hair and cover gray without visible roots. I told her how I can spray product on my head, but lotions, creams, and hair dryers aren't happening for a long while. She cut it to let the bangs grow out gracefully and cut long layers that would wave and curl in a beachy way when washed and air dried.
I ordered one of those waterproof cast covers that looks like a giant blue condom, but the largest size was so tight on my upper arm that it worked like a tourniquet making my fingers tingle in just a minute. So I am resigned to baths with my well-wrapped arm sticking out of the tub. I squeeze shampoo directly onto my scalp and scrub it in, and then I slide down to rinse out as much as possible, Karl making sure I don't slip or miss washing out any product. Conditioner, I squeeze onto the edge of the tub, then scoop it into my hair so I can bypass the scalp and focus on the ends.
When I get out, I put a towel on the bed and bend my head onto it and blot dry. To keep my hair more on the ringlet size and less on the Kip Winger side, I invested in a DevaCurl towel. It's small enough to use one-handed; I scrunch blot, apply product, then sometimes scrunch blot again if any spot is too drenched. The biggest issue is my bangs; they sometimes curl nicely into my hair, but more often than not they part in the middle and curl up like horns. So I sometimes have Karl point the hairdryer at my roots and I brush my bangs back and forth in a window washer style with a paddle brush (thanks Ted Gibson for the bangs tip!), or use a curling iron and carefully curl them into my hair (random grabs actually work for the bangs, looks more natural).
As for styling products, I have a shelf of spray-bottle products now. Liking Nick Chavez Amazon Infinity Mist for waves, TIGI Bed Head Foxy Curls for ringlets, and once dry, TIGI Bed Head spray shine. For second day, I'll use Batiste dry shampoo in deep brown which gives body, reduces shine, blends without a ton of rubbing, and provides some control to keep bangs merged with the rest of my hair.
Makeup
I've put my tube of Miracle Skin Transformer in my medicine cabinet so it's easy to have a minimum of nice skin each day. It has replaced my traditional moisturizer, going over treatment and serum. I know it may be contaminating the tube, but I squeeze the product directly on my face then blend with my fingers.
If I know I am going somewhere or wake energized, I put on actual foundation and concealer. My foundation (Revlon ColorStay Whipped) is in a jar, so it's easier to apply. When I started, I would dip my Beauty Blender right in the jar and blend onto the skin. Now I feel confident applying with fingers then using the Beauty Blender to blend around the nose and jawline. Concealer goes over the foundation, using Laura Mercier Secret Camouflage, which is dry enough to not be a smeary mess. I pat it into places with my finger, then go back and blend so it has time to dry a bit. This helps because I don't have as light or precise of a touch and letting it dry a bit keeps me from rubbing it all off.
Next is brows; I've found the easiest and most natural is tarte Amazonian Clay Brow Mousse which is sort of a cream, sort of a wax and comes with its own brush. Not nearly as precise as I like but at least my brows are filled in. Better to be too gentle than too hard of a hand; if need be I can go back and tap the brush where there's pale spots.
Blush is my best friend these days, it really makes me look finished and healthy. I've returned to an old favorite, NARS Orgasm, which gives me a healthy glow and doesn't make me look like a clown if I am too heavy handed. With less other makeup the shimmer in this blush looks more glowy than disco. I switched to my bareMinerals Flawless Application Face Brush, which is fluffier with longer bristles than my blush brush. A traditional blush or powder brush made obvious streaks if I had too heavy of a hand; this brush gives more of a wash of color.
For eyes, I was curling my lashes until I had quite the mishap. Now I'm just using CoverGirl Clump Crusher Mascara which has a tube that can stand up on its own and doesn't bend when I open it with my teeth (hello metal capped mascara). The formula is water resistant and a bit dry, so I don't end up with raccoon eyes from shaky application or tears. I sometimes apply shadow, but just one of the nudes from my Urban Decay Naked Basics 1 palette, also applied with a fluffy brush so there's no strong lines. As I have gotten more skilled with my left hand, I sometimes add a brown shadow in the crease for dimension. I've always felt confident with liquid liner, and when I'm feeling really good I'll do a thin line with Maybelline Line Stiletto right along the lash line, from middle of lid to outer corner; otherwise I put a dampened slant brush in black or black-brown shadow and tap along the lash line which hides the missing lashes.
As for lips, my daily go-to is Revlon Balm Stain; my two faves are Romantic and Adore. When I go out I sometimes wear Revlon Matte lipstick in Really Red which stays nicely, is elegant, and with my glasses makes me look finished.
Finishing touch is e.l.f. Studio Makeup Mist & Set which helps everything stay in place without looking dry. Not too done, and more refined than a bare face!
Follow Me | Twitter | Facebook | Instagram